Posted on April 26th, 2023

I don't understand people who don't find space exploration utterly fascinating.
The United Arab Emirates has a Mars probe (named Hope) that sent back one of the most amazing shots I've ever seen. It's of the moon Deimos above The Red Planet, and the image composition is so amazing that you'd think it was Photoshopped. Or CGI. Or a painting. Or anything except a photograph...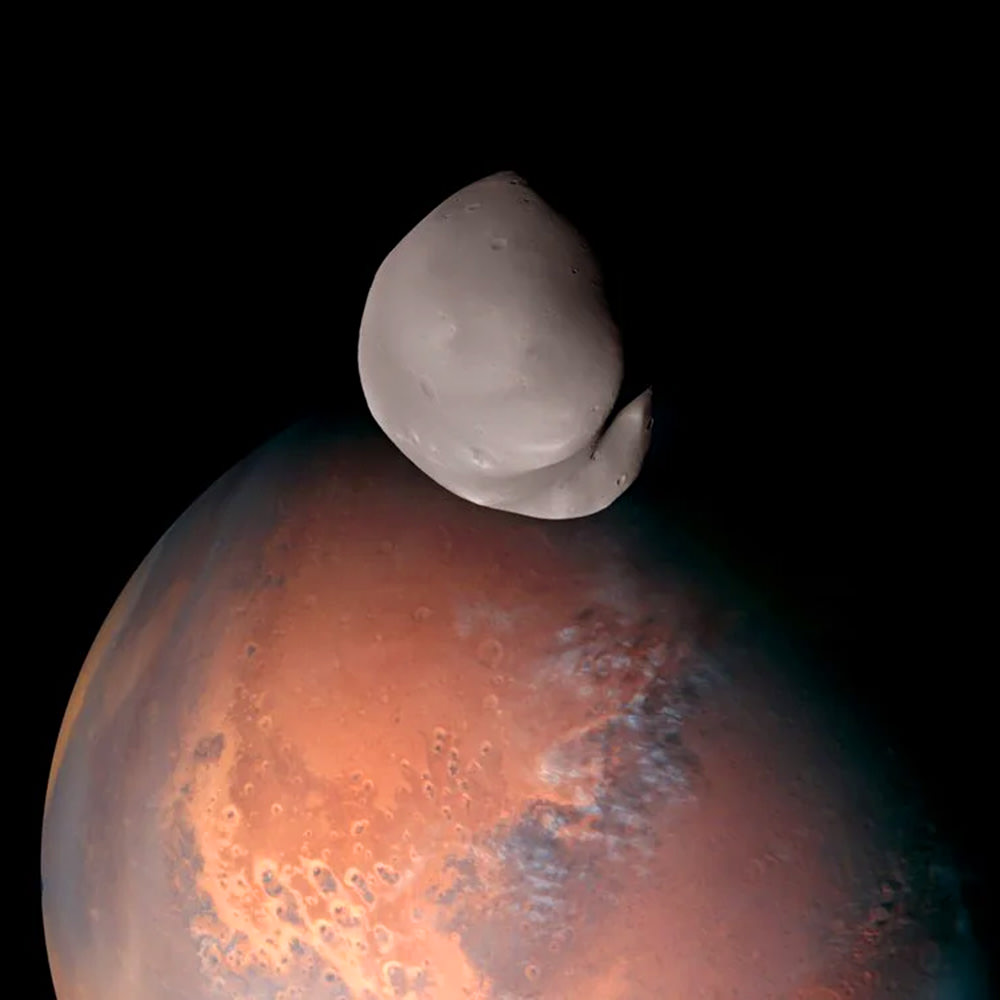 Photo from Emirates Mars Mission
The mission was originally set to end by now, but the UAE just extended it another year. The probe's wide orbit of the planet allows study of the planet and its moons in a way we haven't had before.
My fascination with Mars is directly attributed to the Edgar Rice Burroughs Barsoom novels...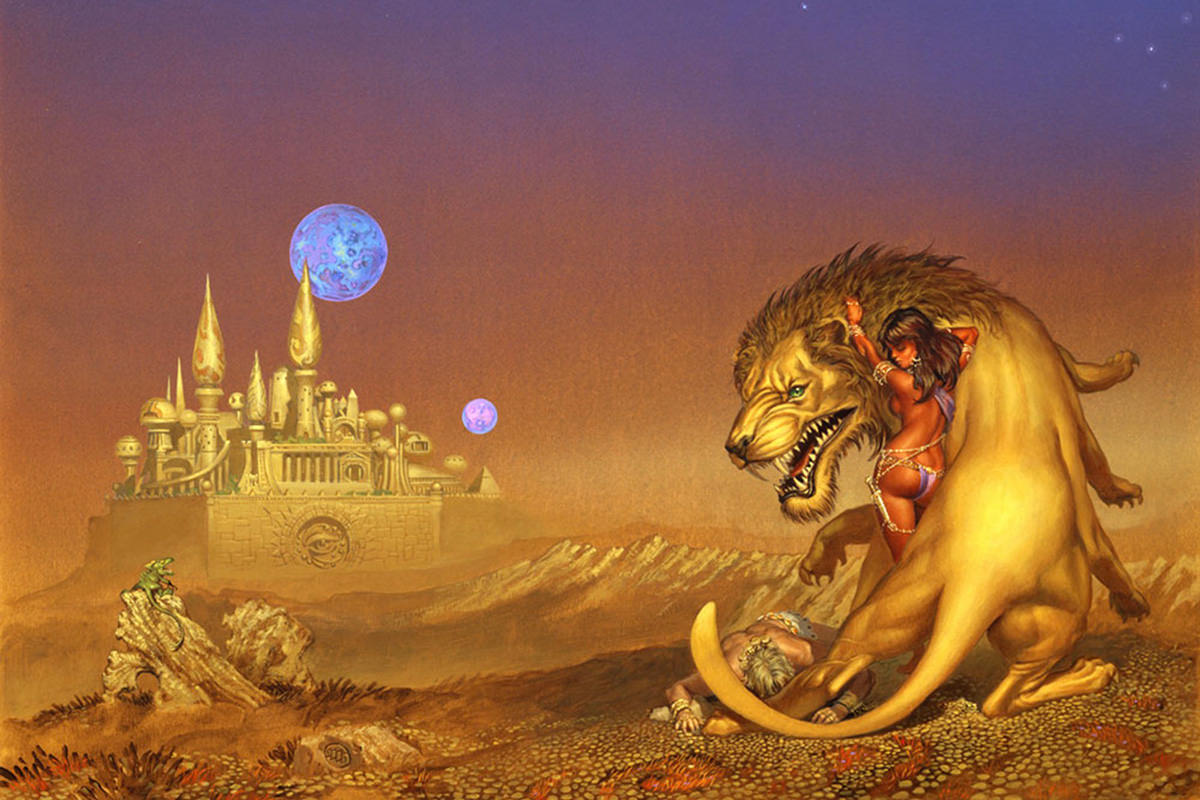 Incredible painting by Michael Whelan shown the Martian moons of Barsoom for Thuvia, Maid of Mars
Burroughs had a fascinating take on the moons Phoebus and Deimos, which Barsoomians (AKA "Martians") call Thuria and Cluros. Because the moons are very small... just 17 miles and 9 miles across, respectively)... people shrink when they approach them. John Carter visits Thuria in the book Swords of Mars only to find the surface area was similar to that of Mars, relative to his tiny size.
Phoebus and Deimos are notable not just because they are so small, but also because their orbits are really close to Mars. Phoebus is just 5,800 miles away... Deimos 14,500. Earth's moon, for comparison is 238,900 miles! But it gets worse. Phoebos's orbit is decaying 6 feet every hundred years. Which means it's likely to break apart (Mars gets a ring!) or crash into the planet in another 50 million years.
Thanks to NASA's Perseverance rover, we actually know what a solar eclipse looks like on Mars...
I could go on for pages writing about Mars and its moons. The exploration of our neighboring planet is a fascinating subject on which there are volumes of research, photos, speculation, and fiction available. It's a bottomless pit from which I'm happy to keep falling.
Posted on March 9th, 2022

This is the tenth anniversary of Disney's epic disaster, the movie John Carter. I was reminded of this sad fact because there's a look-back at the movie happening over at The Wrap. I don't have anything more to say about this heinous abomination of a film than what I said in my initial scathing review... but I do have a new perspective.
A perspective that comes from the successful adaptation of Dune after the initial failure of that film in 1984.
If only somebody like Denis Villenueve with reverence of the original books could have been put in charge of John Carter of Mars, then maybe it would have had a shot at success. Instead we got a movie which bore only a passing resemblance to the novel. They ignored some fairly major things that made the series work as books, and instead added a bunch of stupid shit that didn't work at all.
As a massive fan of the Edgar Rice Burroughs novels, I fucking hated this film. And my opinion hasn't changed one bit in a decade. I tried watching it again tonight to see if there was any redemption to be had, but there was not. Terrific visuals and special effects which are pounded to shit by a horrible script.
Part of the article at The Wrap was Andrew Stanton talking about the plan for sequel films. The second of which was to be Gods of Mars and the third of the trilogy being Warlord of Mars...
Given how badly the film portrayed the holy Therns and their role in things, there could be no doubt that the sequel would have totally fucked up Gods of Mars just like it completely ruined A Princes of Mars. And so... a part of me is relieved that John Carter failed so utterly that we never had to suffer through the sequels. But the bigger part of me is still angry that we had to suffer through any of this shit at all.
Oh well. The books haven't gone anywhere, so I can return to Barsoom... the actual fucking Barsoom... any time I like.
And then there's this...
If there's anything that can redeem Star Wars after the shitty fucking prequel trilogy, this would be it. Ewan McGregor as Obi Wan Kenobi was one of the few good things to come out of those crap films (another being Samuel L. Jackson's Mace Windu).
I guess all we can do is hope for the best.
And then there's this...
After an incredible first season, Star Trek: Discovery became one of the shittiest Star Trek shows to ever air, which is why I am really, really hoping that the best thing to come out of it... Captain Pike, Spock, Number One, and the crew of the original-original Enterprise... will redeem that franchise.
I guess all we can do is hope for the best.
Posted on November 14th, 2017

With all the crazy shit that's going on in this country right now, I'm afraid to turn on my television, look at a newspaper, or even go online. I've been beaten down and just don't want to hear it any more.
The bad news is that bad news is unavoidable now.
And so I'm reading all the Tarzan books again, starting with the brilliant original, to take my mind of everything...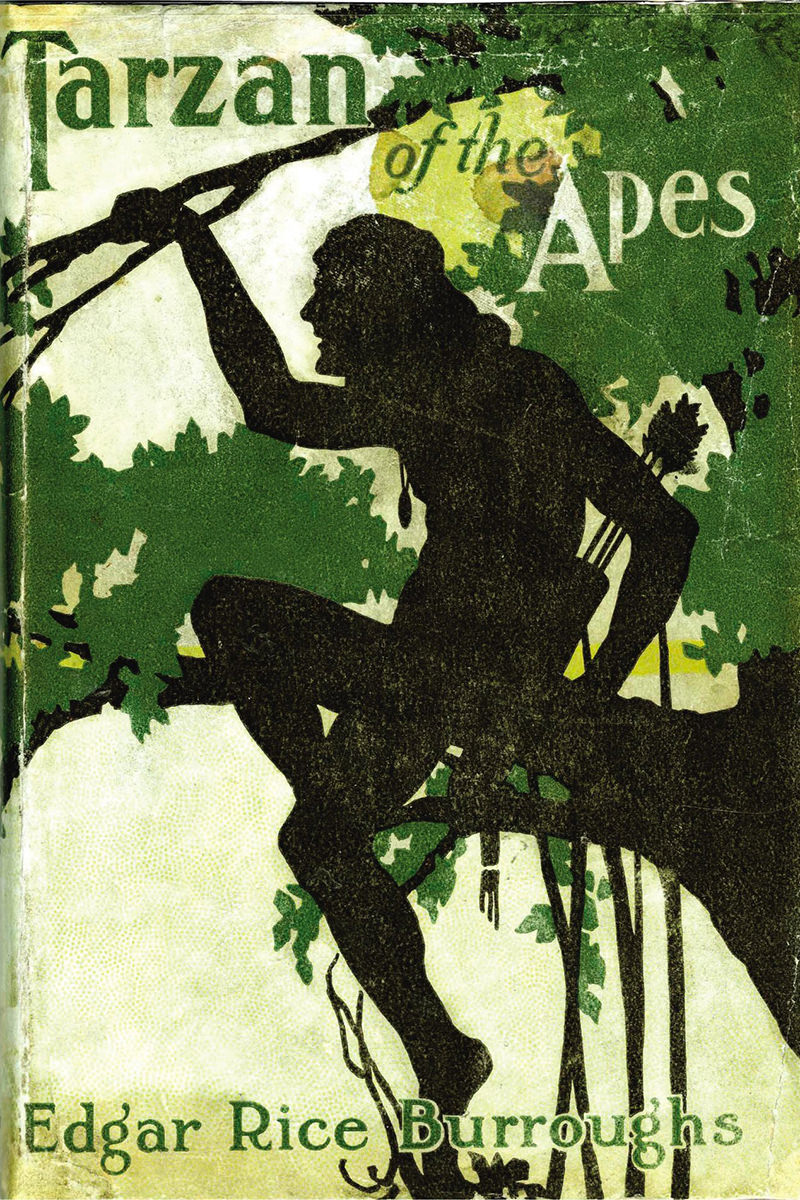 Yes, it's a bit dated... the thing was published in 1912 for heaven's sake... yet it's surprising just how well it holds up. Incredibly imaginative and engaging fiction that's very different than so many of the stupid "Tarzan" movies that were inspired by it. The Lord of the Jungle is far from the grunting ignoramus he so often gets portrayed as on the silver screen and television. He's smart, crafty, and can be oddly devious when the need arises.
Much like the apes who raised him.
If you've never read the original book that started it all, I highly recommend giving it a read. It's just the ticket for escaping these trying times.
Posted on April 30th, 2017

Time to celebrate another week down the toilet, because an all-new Bullet Sunday starts... now...

• DC! I have made no secret of my love of all things coming out of the Marvel Cinematic Universe... and my deep loathing of all things coming out of the DC Cinematic Universe. This fan video puts the reason why in vivid relief...
100% accurate. DC has a habit of taking fun, exciting, uplifting hero stories and degrading them to joyless sequences of death and destruction that are a chore to watch. Why in the hell they don't put the team in charge of their TV shows in charge of their movies I will never know. At least they know how to make the characters fun to watch. Justice League, a movie I should be on pins and needles to see, is something I honestly don't give a shit about. Not when we've got Marvel's Guardians of the Galaxy Vol. 2, Spider-Man: Homecoming, Thor: Ragnarok, and Black Panther coming up. Not to mention Infinity War, which promises to blow the doors off of any super-hero film yet seen.

• Piper! I never got to see Finding Dory in theaters, but bought the Blue-Ray in 3D so I could watch it at home. Never had time to explore the "extras" on the disc, but today discovered it has a Pixar Short called Piper included...
That snippet is just the tip of the iceberg. Such a wonderfully adorable bit of animation! Well worth tracking down if you haven't seen it yet.

• Tarzan! The novels of Edgar Rice Burroughs are some of the most imaginative and entertaining reads I've ever experienced. That he started writing them in 1912 just goes to show how incredible a storyteller he was. Between John Carter of Mars and Tarzan of the Apes (and a slew of others), he has a wealth of material just begging to be adapted into movies.
And they have been.
Unfortunately, they've mostly sucked. John Carter was a total shit-fest that abandoned everything that made the character so compelling. And Tarzan? In the books he is an extremely intelligent character who speaks dozens of languages and is as accomplished in civilization as Lord Greystoke as he is in the jungle as Tarzan. But what do we get? Every time Tarzan comes to the screen, he's a grunting ignoramus that barely knows how to speak because he's written more as an animal than a man. For any Tarzan fan it's a massive disappointment, and I'd all but given up hope that we'd ever get an adaptation of The Lord of The Jungle that wasn't crap. Enter The Legend of Tarzan...
Now, this is not a perfect film by any stretch of the imagination. It's not even a flawless adaptation of Tarzan. But holy crap... it's the closest thing I've yet seen, and I loved it. All that plus it has Samuel L. Jackson and Christoph Waltz in it! And gone are the days of Tarzan being a stupid savage! Hell, they even made an effort for Jane to be more than a damsel in perpetual distress! Sure the CGI, which actually started out quite good, ultimately degrades to a level that was below-par, but it didn't destroy how much I enjoyed watching the story unfold. So... ignore the critics. If you like Tarzan... the REAL Tarzan... this is a film that's definitely worth a look!

• TRADER JOE'S CONSUMER ALERT!
"Have you got any more Black Bean and Jack Cheese burritos? I took the last two."
"I think that's all we got. Have you tried the Super Burrito? It's the same except it's made with quinoa and sweet potatoes. Really good."
"Okay, I'll try it, thanks!"
And so tonight I decided to have a late lunch /slash/ early dinner and give it a try. I take a bite and it's not bad... light on the sweet potato and heavy on the quinoa... but it's got a nice spicy bite to it. And then... AND THEN... I take another bite and there's something crunchy/leafy/weird. Is that spinach, I wonder? I dig the wrapper out of the garbage and... IT'S NOT SPINACH... IT'S FUCKING KALE!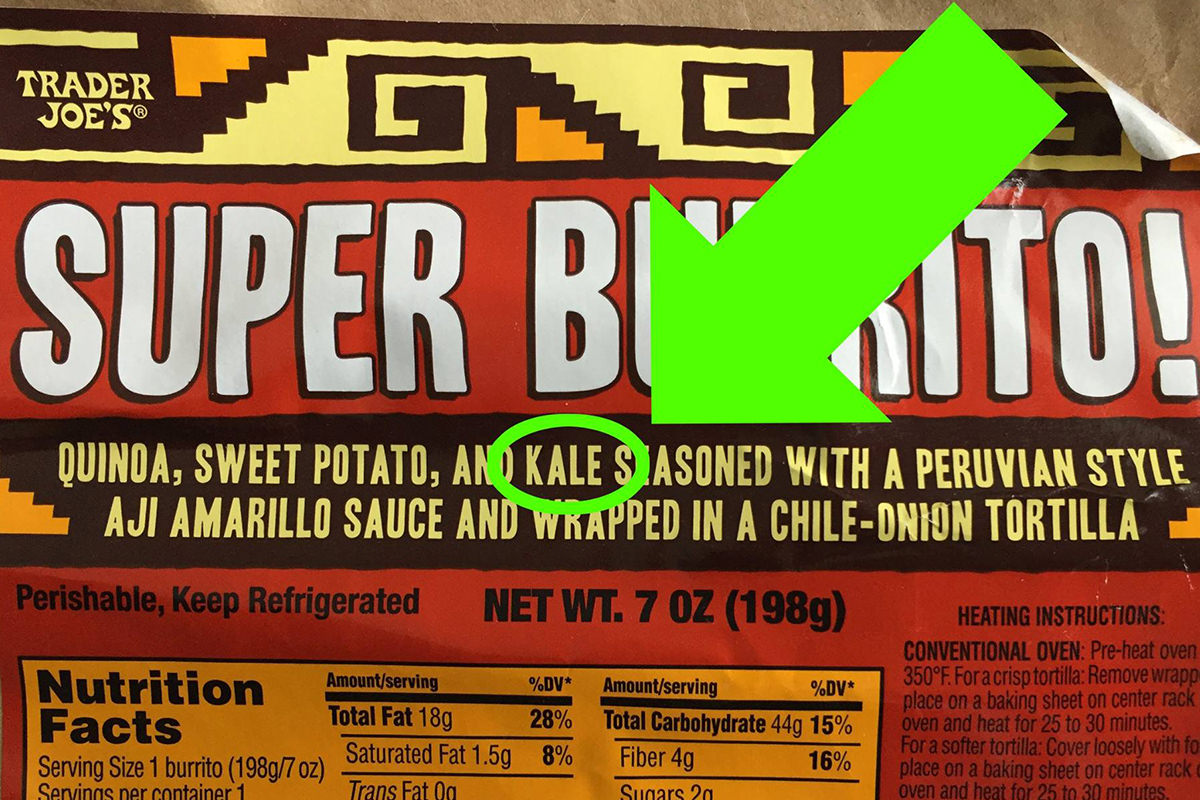 TRADER JOE'S TRICKED ME INTO EATING KALE AND NOW I FEEL LIKE I'M GOING TO DIE!!!
KALE!!!!!!! GAH!!!!
Needless to say, I am not in a good place right now, and I appreciate everybody's understanding as I attempt to mentally and physically recover from this tragedy. I will soon be setting up a GoFundMe page in an effort to help with the massive costs involved in getting me healthy again. WAAAAAHHH!!!! WHO PUTS KALE IN A BURRITO?!? WHY, LORD? WHYYYYYYY?!?.

• Let's Play! Alrighty then... time once again to play the "Will the piece of shit turn out to be a godless liberal... or will they be from the party of family values and moral righteousness?"...
JUDGE ARRESTED ON CHARGES OF HUMAN SEX TRAFFICKING OF A MINOR.
Oh yeah. Big fucking surprise... he's not only Tea Party and Ku Klux Klan supporter, but also a former Trump campaign chair! Because disgusting shit like this is only bad when Democrats are doing it, I guess? Republicans do this kind of heinous shit and "their base" elects them to the school board!
BONUS ROUND!
"Will the piece of shit turn out to be a godless liberal... or will they be from the party of family values and moral righteousness?"...
GOVERNOR RESIGNS AMID SEX SCANDAL.
Hmmm... let me guess...

• Bullshit! And lastly, an article that's well-worth a read, regardless of religious affiliation is here: America Isn't Growing Hostile Towards Christians, It's Growing Hostile Towards Religious Bullies. Because, look... so long as you can walk into a post office and buy a stamp with Jesus on it for Christmas... I've had just about enough of this bullshit notion that Christians are some kind of persecuted class and there's a war on Christian ideology. As somebody who is not a Christian and sees just how pervasive the religion is in dominating so many aspects of American culture, it's embarrassing that people are trying to keep this one alive. And yet FOX "News" is undoubtedly already warming up new ideas to make "The War on Christmas" become something out of nothing again. Because what plays better than victimization on TV?

Time to reload...
Tags:
Animation
,
Bullet Sunday
,
Edgar Rice Burroughs
,
Food
,
Kale
,
Marvel
,
Marvel Studios
,
Movies
,
Pixar
,
Tarzan
Categories:
Books
,
Bullet Sunday 2017
,
Food 2017
,
Movies 2017
—
Click To It:
Permalink
—
1 Comment: Click To Add Yours!
Posted on June 12th, 2012

This morning began with me staring into the mirror in horror as I saw that my once-beautiful tattoo had started smearing as I put on some healing cream. "GAH! IT'S MELTING!" I shouted to the world as I grabbed the tube of ointment. My first thought was that I had somehow used too much of the stuff and I was reading furiously to see if I had missed any warnings in the instructions. But then I noticed that my fingers had flakes of inked skin on them, and realized that it wasn't smearing at all... the dead skin was just mixing with the ointment to make a smeary mess on my arm. Jester said that would happen, so I stopped freaking out and just left it alone.
By this evening, most of the blackened dead skin had rubbed off when I put more ointment on, so everything was back to normal.
Well, not everything was back to normal.
My Blu-Ray copy of John Carter had arrived so I decided to take a look. Since it was based on one of my favorite books of all time, A Princess of Mars, and the preview footage looked awesome, I was always mad that I had missed it in the theater despite all the bad reviews...
Now, I should start off my "review" by stating that I had extremely high hopes for this film. Director Andrew Stanton was a self-professed fan of the original Edgar Rice Burroughs novel, and his track record for telling a story with Finding Nemo; Toy Story; Monsters, Inc.; and other amazing Pixar flicks was solid. So when the bad reviews rolled in, I was unconcerned. And when Disney announced they had a massive flop on their hands and were going to lose 200 million dollars on the film, I was even more unconcerned. Obviously Andrew Stanton had created a movie that was so faithful to the source material that the idiot masses of the movie-going-public-at-large were too stupid to appreciate it. And I also blamed the shitty film title and horrible marketing that did nothing to explain the concept of the film. It couldn't be the movie, it was everything else that was bad... right?
RIGHT?!?
Um. No. This movie sucks balls and has to be one of the biggest cinematic disappointments in the history of the movies. If you are sensitive to sporadic graphic language, a warning...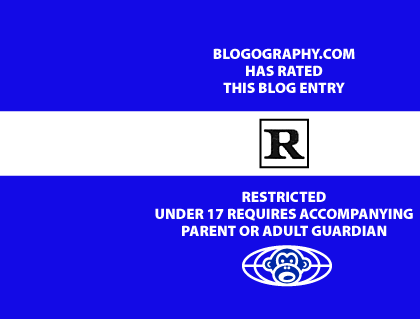 My spoiler-filled "review" is in an extended entry...
→ Click here to continue reading this entry...
Posted on January 15th, 2010

Finally.
At long last.
The news I've been waiting over 25 years to hear has just been released by Disney...

BURBANK, Calif. (January 15, 2010) - Principal photography is underway in London for Walt Disney Pictures' "JOHN CARTER OF MARS." Academy Award-winning filmmaker Andrew Stanton brings this captivating hero to the big screen in a stunning adventure epic set on the wounded planet of Mars, a world inhabited by warrior tribes and exotic desert beings. Based on the first of Edgar Rice Burroughs' "Barsoom Series," the film chronicles the journey of Civil-War veteran John Carter, who finds himself battling a new and mysterious war amidst a host of strange Martian inhabitants.
After I had watched Star Wars in 1977, my 11-year-old mind was ensnared by science fiction and I was desperate for more. I had read a few teen sci-fi books here and there, but the genre never really caught hold. It wasn't until Star Wars that an obsession was born. I quickly became bored with the "kids" version of science fiction and decided to see what awaited me in the adult section of the library. That's when I found A Princess of Mars by Edgar Rice Burroughs...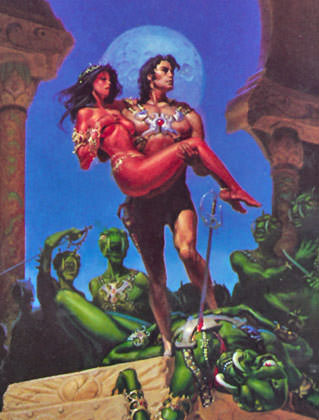 I devoured all of the Burroughs "Barsoom" books, and used it as a spring-board to the worlds of Asimov, Bradbury, Heinlein, Herbert, and other science fiction giants.
But it was the John Carter of Mars books that remained my favorite (so much so that I even "became" Edgar Rice Burroughs when joining in on Kapgar's "The Lost Blogs" contest).
Sure they are relatively flimsy stories filled with outrageous coincidences and tacky dialogue, but the bizarre creatures and fantastic places that are a hallmark of the stories more than compensated. It was those things that had me dying to see John Carter movies on the big screen.
And, after numerous false starts, that day has finally come.
Here's hoping Andrew Stanton doesn't fuck up a childhood dream...