Posted on August 5th, 2022

Sandman (on Netflix) is a fantastic adaptation of one of my favorite comic book series. And something I never thought I'd see happen despite numerous attempts to turn it into movies.
The 10-episode series is loyal to the source material... almost to a fault. There are segments which blew by in the comic at a brisk pace which have been dragged out to tedium to fill a one-hour runtime, and it hurt the series a bit. As an example, I wish I could have watched the fifth episode in 3X speed instead of the Netflix max of 1.5X because it was so slow and so tedious... attempting to fill 50 minutes with material that would have been a stretch at 20.
Much ado has been made about the "gender-swapping" and "race-swapping" of various characters. This is a bunch of rubbish, because these are not real-life people being portrayed, but fictional characters. "Death" being Black doesn't change a thing, and the actor they got to play her is fantastic, which is all that really matters...
Probably the biggest "controversy" (if you can call it that) was casting Gwendoline Christie as Lucifer. Now, in the comic book, it was never a secret that Neil Gaiman based his Lucifer on David Bowie at his most androgynous. So casting a woman... especially one as incredibly talented and nuanced as Gwendoline Christie... is not a stretch at all. I mean just look at this...
The casting of this series is impeccable... with one minor exception. I thought Patton Oswalt was distracting as Matthew (much as I love him in other stuff). But otherwise even small roles were cast with such care, and it enriched the series in every way.
So... yeah... worth the wait.
If you're a fan of the comic, you've likely already watched it. If not? Worth a look for sure.
Posted on June 6th, 2022

One of my favorite comic books of all time is Alpha Flight... in particular the Vol. 3 version by Scott Lobdell and Clayton Henry. Their story would be a perfect fit for a really good Disney+ series, so I keep hoping that one day they will show up.
And they really should, because I think Canadians would appreciate seeing their own super-group brought to life...
Another of my favorite comic books... The Sandman has already been developed as a series for Netflix, and it looks very good indeed. The visuals are highly reminiscent of the source material...
Needless to say I'm quite excited about seeing it, and August 5th seems a long time away.
Fortunately, we've got Ms. Marvel coming in two days, Thor: Love and Thunder coming July 8th, and Season 04 of What We Do in The Shadows coming on July 12th to help occupy our time until August...
Also? The sequel to one of my favorite comic book adaptations ever, The Old Guard, starts filming this month... assumably for release in 2023 some time. But before that? She-Hulk: Attorney at Law debuts on August 17th, Black Panther: Wakanda Forever coming November 11th, and Nick Fury's Secret Invasion (assumably) shortly thereafter!
An exciting time to be a comic book nerd, that's for sure.
Posted on April 10th, 2022

Winter may have come back, but there's warmth in my heart... because an all new Bullet Sunday starts... now...

• Two No More! I wanted taco salad for dinner. I had the lettuce, tomatoes, avocado, cheese, salsa, sour cream, veggie crumbles, thousand islands dressing, and frozen corn... I just needed tortilla chips. So I stopped at the store on my way back from Home Depot. The "$2 ONLY!" Santinas Brand I've been buying forever are now "$2.29 ONLY!"
I know that prices for all the food I buy is through the roof, but this shook me. "$2 ONLY!" ain't "$2 ONLY!" any more.

• Cumin! The "Martha Stewart and Marley Spoon meal service has been a huge source of culinary happiness for me. So many new recipe ideas and flavors. But they keep raising their prices which, on it's own is not a deal-breaker... but they refuse to do anything to protect their ingredients, even after I've made numerous complaints. Nor do they compensate you any more. It used to be that when something was missing or damaged... they'd at least give you a token credit on your next order. Not any more! Your sour cream packet was smashed open and smeared everywhere because it was placed under ice bricks? OH WELL! Missing your carrot? SORRY! Tomatoes pulped by a can of beans? OOPSIES! And so I canceled. And replaced them with "The Cumin Club," and Indian-based food service that you prepare from little packets...
So far I am quite pleased. Fairly economical, promised authentic flavors, easy to prepare, and tasty (if a little on the spicy side). If you're interested in giving them a try, here's a link that gives us both 15% off.

• What? A director I like with a movie starring a bunch of actors I like is usually guaranteed to grab my attention. It is not, however, guaranteed to please. Enter The Bubble...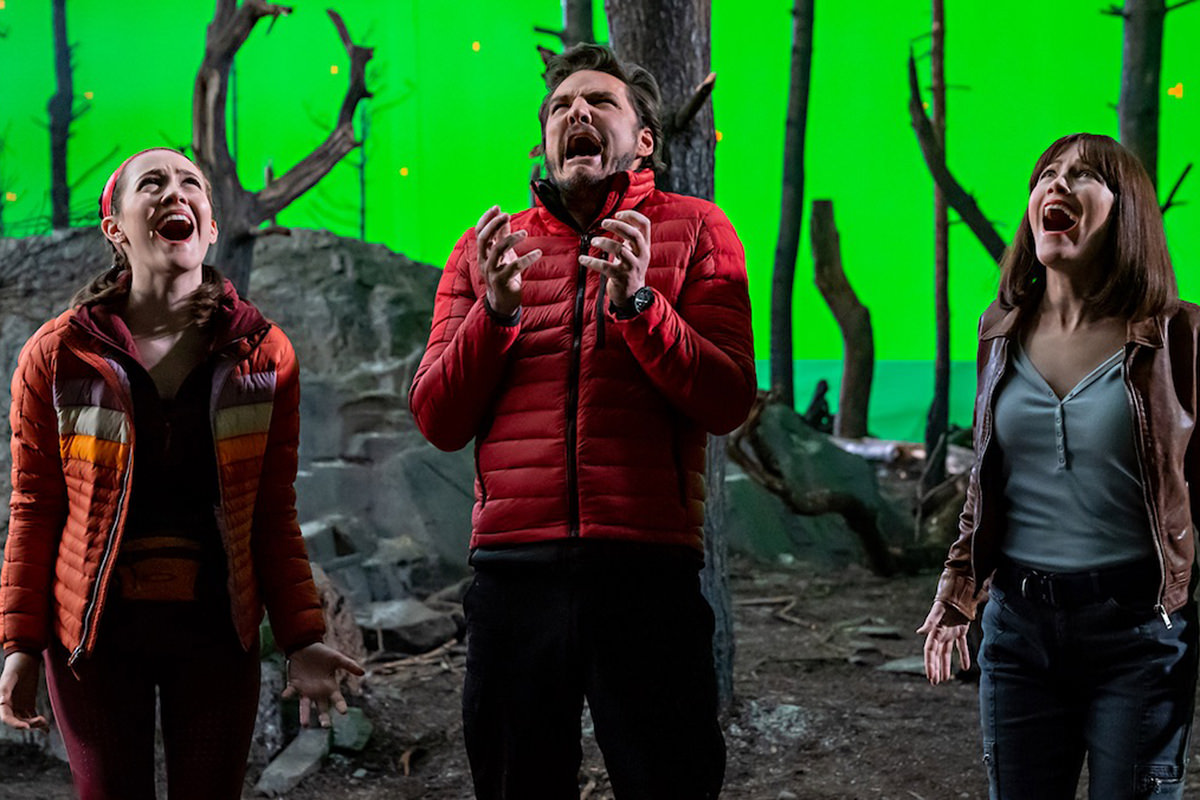 A movie about making a movie in the middle of the pandemic... which is supposed to be funny, but is actually about as unfunny as it gets. What a waste of talent all the way around.

• Gooshing! Chipotle Mexican Grill keeps sending me emails telling me how close I am to getting enough points for a free entrée. I always order a rice & black bean burrito with salsa, sour cream, guacamole, and extra cheese. But the last burrito I bought was INEDIBLE. I always have to order double tortilla wrap so it doesn't bust open while I'm attempting to eat it... but this time even a double wrap wasn't enough because (and I am not exaggerating here) the entire first half of the burrito was entirely guacamole, sour cream, and salsa. That's it. And how can even two tortillas compete against THAT? — I was half-way through before I hit cheese and rice, so it was just gooshing liquid the entire time. By the time I hit beans, the tortilla had disintegrated. It was one of the grossest things I've ever eaten and I had to dump a bunch of it back in the bag so my clothes didn't look like a murder scene...
So... yeah... I guess I'll keep ordering until get my free burrito, but then I'm done. It will just be chips and guac from then onwards. The burritos aren't worth the trauma.

• =eyeroll= Real NASA Astronomer Reviews Flat Earth Simulator...
I mean... holt shit. It defies all possible common sense, yet here we are.

• Discovery! When you read this fascinating story... be sure to read the caption under the photo: Woman Discovers She Isn't The Biological Mother Of Her Own Children.

• Brain Hurty! Veritasium is a YouTube channel that I watch because it's interesting and challenging. Even when Derek breaks down items and concepts into something that I can mostly understand... there's always elements that lay just outside my grasp. This video I've watched at least three times over the years. It's actually not overly-difficult to understand... there's a reference point change that explains things quite well... the thing that I have a hard time grasping is how there exists within science concepts which are absolutely horrifying to contemplate. Such as the idea that there were people thinkning that eventually the earth would flip over...
Now, this turns out not the case... science has an explanation as to why that's not going to happen... but for a while there it seemed like a possibility. And this has me wondering about all the horrifying things that haven't got science to explain it away.

And that's all the bullets for today, buckaroo.
Posted on March 13th, 2022

I've been watching too much television lately, but never you fear... because an all new Bullet Sunday starts... now...

• UPLOAD! HOW ABOUT THAT UPLOAD SEASON 2?!? This show could have so easily... so very easily.... just kept doing what what it was doing in the first season and stagnated into irrelevance. But they decided to really go for it...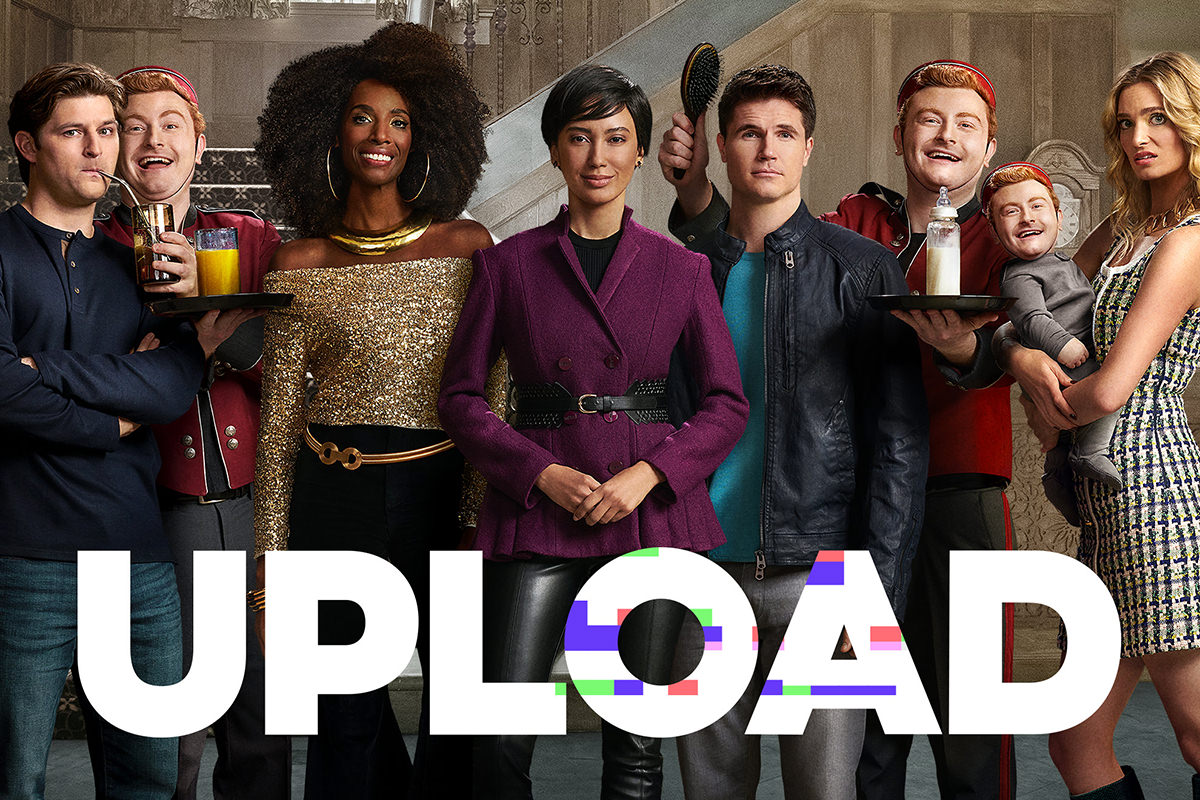 Alas, they dropped it with yet another cliffhanger. Which is fine IF WE GET A THIRD SEASON. But an official renewal has not been greenlit, so who knows. The first season seemed to be just the right length at 10 bingeable half-hour episodes... but we only got seven episodes this time, which seemed a bit rushed. But that's the COVID world we live in, I guess.

• Presence! Well that was unexpected. Easily one of the best Hallmark movies I've ever seen (which is saying something considering I've seen... well... most all of them), The Presence of Love is worth a look if you enjoy the occational rom-com flick...
Gorgeously shot on location in Cornwall and beautifully-acted by Eloise Mumford and Julian Morris, this is a very special film that caught me entirely by surprise.

• Unintended Use! Now that I have a new chair, I've been working on sprucing up my studio so it's more comfortable and productive. A big part of that is getting rid of the cardboard box that's clamped to my drafting table to hold all my stuff. It doesn't really work very well and I have to dig through it to find things. So I bought these little kitchen trays that have just enough friction to keep from sliding around. As a bonus, the soap holder fits inside the tray to organize my pens...
It's always nice to run across something that works for what you need when it's not the intended use of the item!

• Adam! Ryan Reynolds makes even bad movies watchable, so I knew I'd enjoy his latest for Netflix... The Adam Project...
And while not in any way groundbreaking, it was darn entertaining. It also had a story that wasn't terrible, assuming you don't think about it too hard. If you're a fan of Ryan Reynolds and sci-fi fun, this is the movie for you.

• Construction! The guy from Primitive Technology is back at long last. I love his videos...

• ER! The second season of Transplant, which has been playing in Canada for MONTHS has finally been released here in the USA on NBC (I just bought the Season Pass on iTunes again). This is hands-down my favorite medical drama ever (and my third favorite show of 2020 after Ted Lasso and The Mandalorian). If you're not watching it, you're missing out...
If you give it a try, be sure to start with the first episode of Season 01, because it starts out with a bang you don't want to miss.

• Edward! Ever since finding out that Mitchell Ryan passed away on March 4th, I've been rewatching the first season of Dharma & Greg, where he was in top form as Edward Montgomery. He was hilarious in the show, which was really great for a couple seasons...
Rest In Peace, sir.

Until next week there, buckaroo.
Posted on November 15th, 2021

I love Ryan Reynolds so much that my cat is named after him... "Jake Ryan Reynolds Simmer." He's just sheer entertainment from start to finish, and even though he's basically the same character in all his movies... I honestly don't care. He partnered with Netflix for the great movie Six Underground (which I'm still hoping gets a sequel) and now a new movie, Red Notice with The Rock and Wonder Woman. It was, as expected, highly entertaining...
Of course the critics gave it bad reviews because they don't give a shit about having fun at the movies, but I really enjoyed it. And it's apparently the biggest streaming debut Netflix has ever had, so there's that.
And now there's this... which might not make sense unless you've seen the movie...
I think the movies left on my 2021 Bucket List are Eternals, Spiderman: No Way Home, and Matrix: Resurrection. Fortunately I can see The Matrix on HBO Max, but I'm not sure if I'll risk a trip to the theaters for the other two.
Maybe?
Posted on September 26th, 2021

I may have finally turned the heat on and bought some Swiss Miss hot chocolate mix, but it's still toasty here at Blogography... because an all new Bullet Sunday starts... now...

• Dream! Oh yay. It looks like The Sandman is going to be very faithful to the comic!
The people putting this show together actually understand that what made such a good story doesn't need to be changed or "improved" or shit on... the reason it was so popular as a comic book was because IT WAS ALREADY GOOD!

• SOURCE! MATERIAL! On the other hand... Everything I feared about the AppleTV+ Foundation series is coming to pass. Boring as fuck. They are dragging shit out just to keep the same actors in the story for a while because if they followed THE ORIGINAL BOOKS (which is what we all want to see) it would leave the initial characters in the dust after 15 minutes. I mean... who gives a fuck about roast peacock and all this other stupid shit?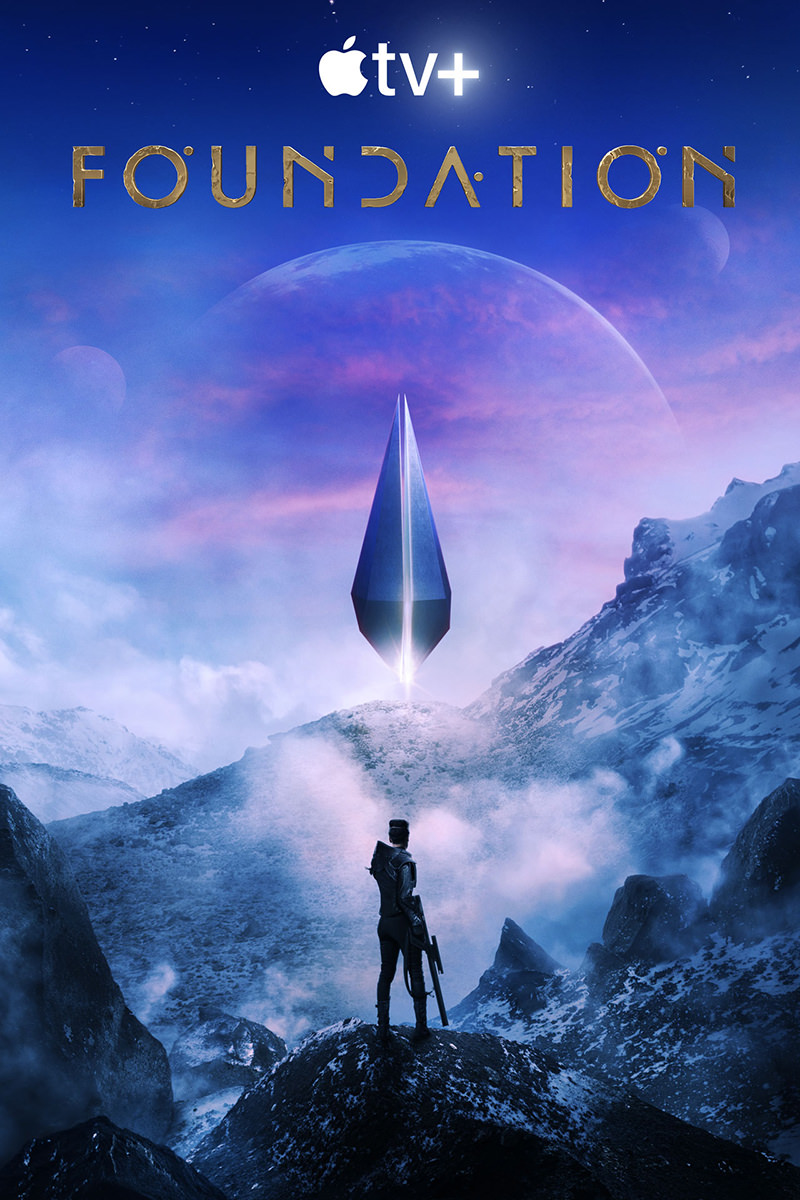 What they should have done was followed the original trilogy as it was written and hire a bunch of guest stars to make small appearances throughout the series. But NOPE! Boring as fuck it is. At least they spent money on an effeccts budget... the show looks beautiful.

• This just in from the No Fucking Shit Department... The Discredited GOP Election Review In Arizona's Largest County Also Finds Biden Won I simply don't understand how people can honestly continue to believe that the election was "stolen" when it keeps getting proven over and over and over again that it wasn't. I keep waiting for the "My Pillow" idiot to put up or shut up with all his claims of election fraud, but the evidence never materializes.

• Joe! There's a new show on Peacock (NBC) called Ordinary Joe. It's an okay show... nothing revolutionary. But what entertains me are the REVIEWS. a good chunk of people are completely baffled by the three timelines concept and I find that hilarious. THEY LITERALLY BROADCAST WHICH TIMELINE YOU'RE IN WITH EVERY SCENE! In the "NURSE" timeline, Joe wears glasses AND THEY PUT THE COLOR GREEN EVERYWHERE! Green lighting. Green props. Green clothing. — In the "ROCK STAR" timeline, Joe has a beard AND THEY PUT THE COLOR RED EVERYWHERE! Red lighting. Red props. Red clothing. — In the "POLICE OFFICER" timeline, Joe is clean-shaven and glasses-free AND THEY PUT THE COLOR BLUE EVERYWHERE! Blue lighting. Blue props. Blue clothing...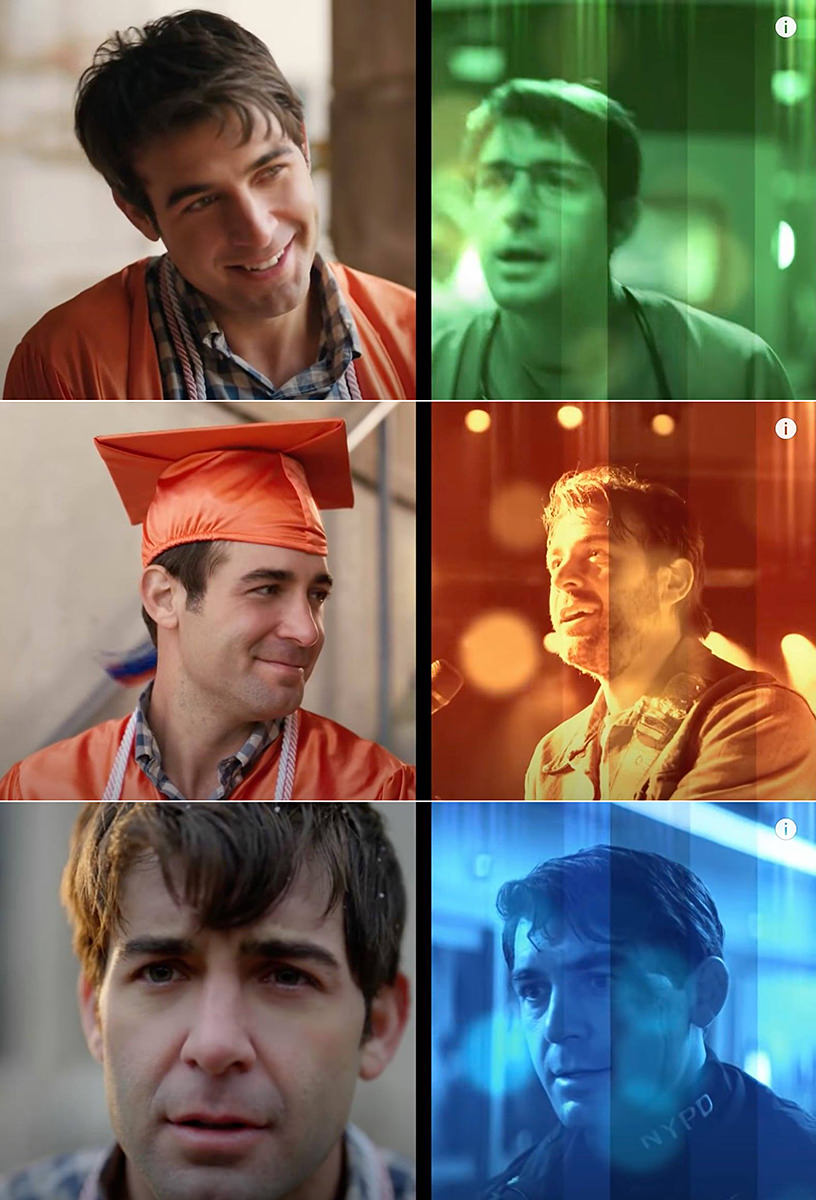 How can you not understand which timeline you're in when they literally hold your hand through the entire episode?!? I mean... I learned a long time ago to not underestimate the intelligence of the average human, but this is next level. There are genuine criticisms that can be made about this show, but it being "confusing?" I don't get it.

• I'm No Superman! I am rewatching all the episodes of Scrubs because I do that every couple of years. Every time I start, I remember back to when I first watched it. I liked it from the start. Then loved it completely on the third episode when Erasure started playing. It's no accident that Bill Lawrence wrote for both Scrubs and Ted Lasso. Excellent television is what he's about...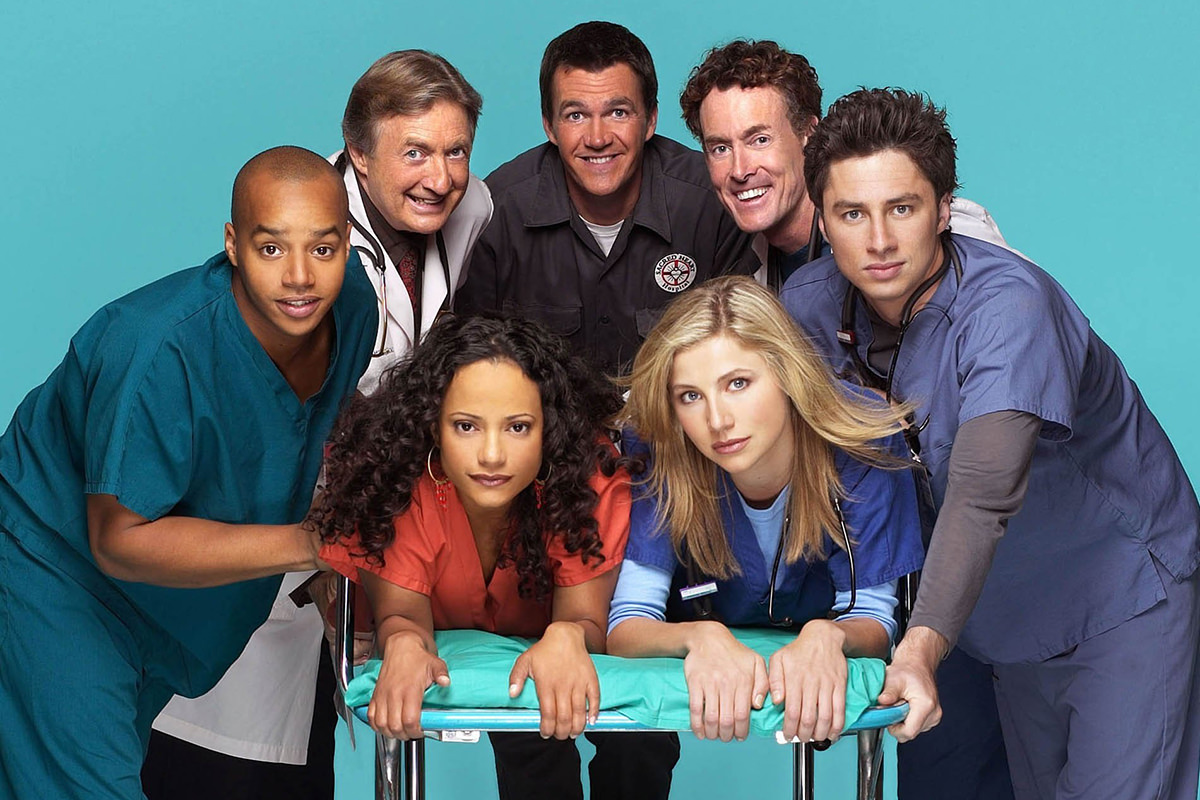 I will say, however, that the one thing that sticks out SO badly to me when it comes to Scrubs is the passive misogyny that seems baked-in to the show. Dr. Cox constantly referring to JD by girl names and such. On one hand it feels like political correctness can go too far and people latch onto it way too aggressively now-a-days. But, on the other hand (especially in cases like this), I'm glad things are changing. Because unrelentingly implying that girls are less than boys isn't all that funny. Seeing how often it happens in Scrubs really makes me feel for young girls... and women even... that they have this being drummed into them so often that they may actually believe it. But even worse? The boys and men having this drummed into them so they believe it. Absolute trash.

• Apple Be Apple! It is categorically stupid that Apple hasn't moved the iPhone to USB-C like everything else they make (well, not Apple Watch for obvious reasons... though it would be nice if the MagSafe charging puck had ISB-C instead of USB-A, which you can't find on any current Apple computer). Maybe we'll have the EU to thank for Apple finally getting off their dumb asses and letting us have ONE charger standard.

• Experience! My day yesterday summed up completely...
HULU: "Which ad experience do you prefer?"
ME (screaming at the screen): "DO YOU HONESTLY THINK THAT I GIVE A FLYING FUCK ABOUT WHICH SHITTY AD YOU'RE GOING TO INTERRUPT MY SHOW WITH?!? WHO AT YOUR COMPANY THINKS THAT PROLONGING THE FUCKING 'AD EXPERIENCE' BY MAKING ME FIND THE STUPID-ASS REMOTE CONTROL SO I CAN CLICK ON 'McDONALD'S FRIES' INSTEAD OF 'EGG McMUFFIN" IS IN ANY WAY A SERVICE TO YOUR CUSTOMERS? WHOMEVER IT IS, FUCKING FIRE THEIR MORONIC ASSES FOR BEING SO GODDAM STUPID THAT THEY WOULD EVEN COME UP WITH THIS IDIOTIC SHIT!!!"
(sorry, Hulu, I'm just salty that I can't afford the ad-free version)
(not sorry, McDonald's, for your signing off on this fucking bullshit)

And now back to my hot cocoa, already in progress.
Tags:
Apple
,
Apple TV+
,
Bullet Sunday
,
Dumbassery
,
Elections
,
Idiocy
,
iPhone
,
Netflix
,
Presidential Election
,
Sci-Fi
,
Television
Categories:
Apple Stuff 2021
,
Bullet Sunday 2021
,
Television 2021
—
Click To It:
Permalink
—
3 Comments: Click To Add Yours!
Posted on August 29th, 2021

So much good entertainment news this week, but I'm keeping my expectations in check... because an all new Bullet Sunday starts... now...

• Old Guard! My favorite movie of 2020, by a large margin, is getting a sequel! Starring Charlize Theron and based on the comic book of the same name, I literally can't say enough good things about it...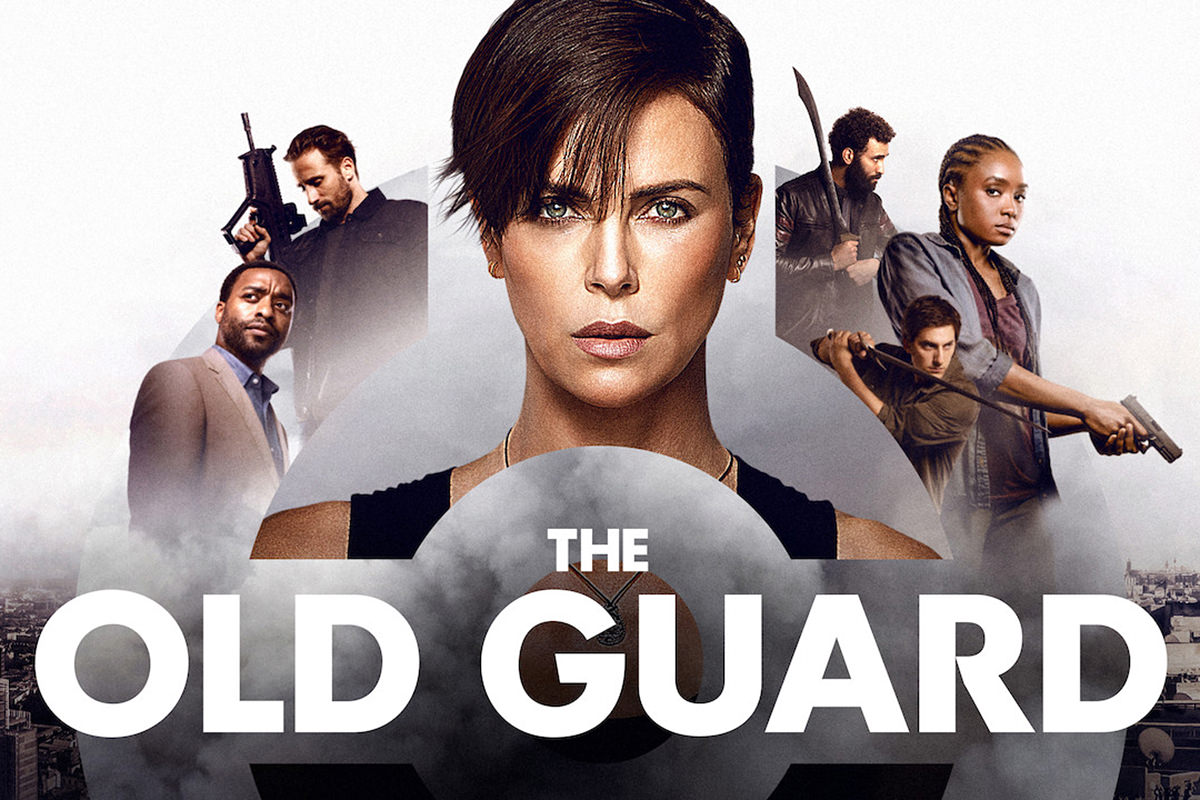 Apparently everybody's coming back, though a major shift at the end of the movie adaptation have me wondering if the follow-up movie will attempt to adapt the story of the follow-up comic book, Force Multiplied.

• Atomic Blonde! And speaking of Charlize Theron... her other amazing film, Atomic Blonde, is not getting just one sequel... it's apparently getting two!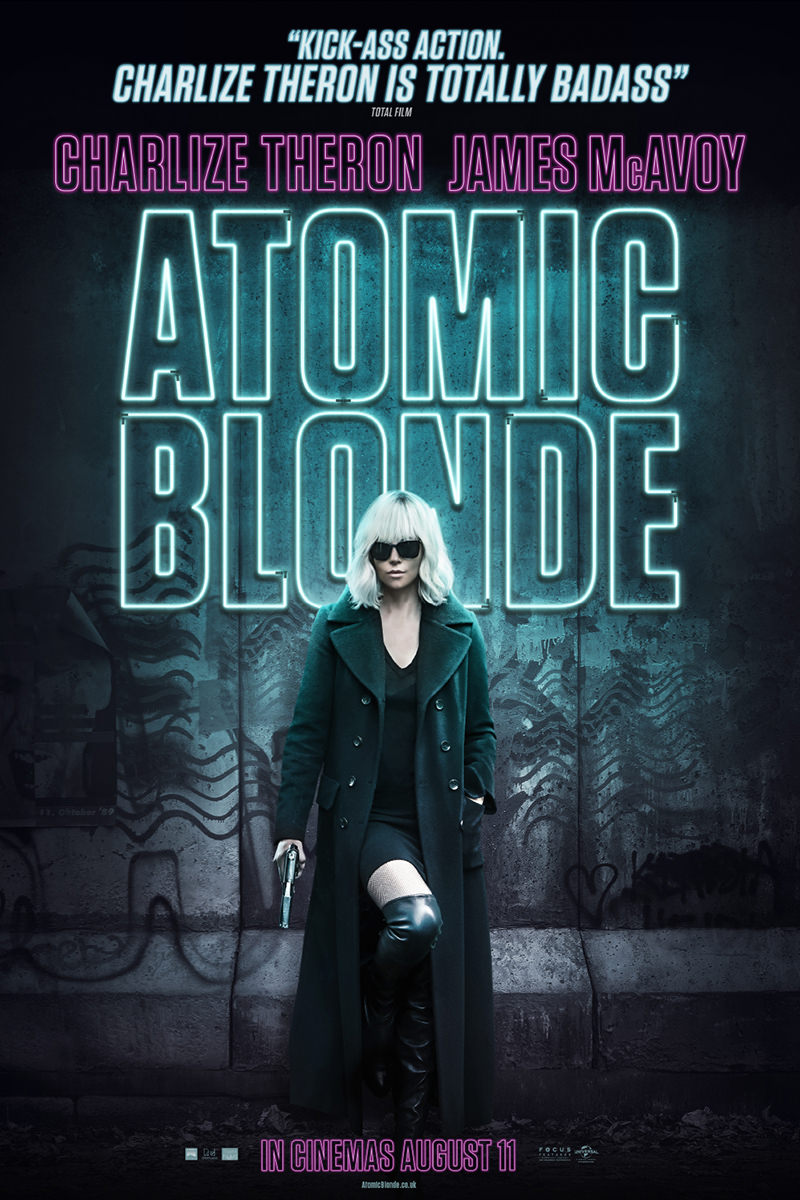 This is phenomenal news, because the first movie was a spy thriller unlike anything I had seen before. I only hope that whomever picked the songs for the soundtrack comes back to select them for the sequels, because that just made an incredible film even better.

• Dark! And I'm not done with awesome entertainment news! Yet another amazing movie has a television series sequel in development... Dark City! But it gets better! Original director Alex Proyas is going to be working on it!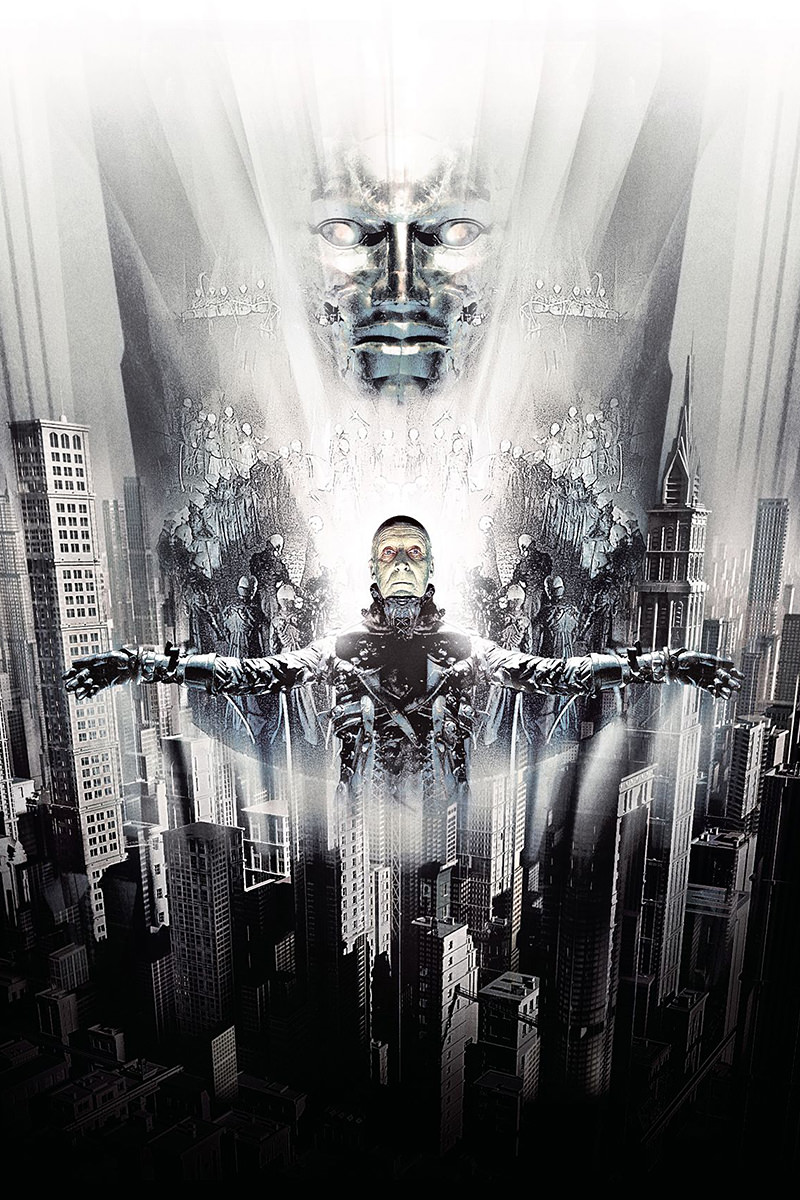 I remember the original film very well. A friend and I had made a trip to Seattle and had some time to kill. There was a theater near our hotel so we decided to see a movie. Nothing looked interesting to us, but we eventually settled on Dark City because it at least was supposed to be science fiction, which we both liked. Nothing could have prepared us for what we were going to see. It was an absolutely fascinating story and had some of the most stunning visuals of any film I had seen up to that point. Visuals, I might add, we've seen copied in any number of films (there were times watching Doctor Strange that I couldn't get Dark City out of my head). No word as to whether any of the original characters will be returning, but

• Happy Little Trees! I finally got to the Bob Ross documentary on Netflix. I was most pleased that they acknowledged that The Joy of Painting with Bob Ross was preceded by The Magic of Oil Painting with Bill Alexander. They were essentially the same program using the same technique... except Bob Ross was ASMR personified. I remember when I was a kid how upset I was that Bill Alexander was replaced with the new guy, but ultimately fell in love with Bob Ross just like everybody else did. I am fairly certain that I saw every single episode of both series, and was a huge, huge fan...

From PBS. But, just in case... © ® ™ Bob Ross Inc. so I don't get sued.
The documentary was quite good, but I didn't learn anything new from it. I was well aware of the battle between Bob Ross and The Kowalskis, and was hoping that we would finally get their side of the story. But nope! They opted out and provided a weak-ass statement, which only makes me believe that they are awful people who didn't honor the wishes of Bob Ross and tried to cheat everybody out of ownership of what they were left after Bob Ross died (not to mention the awful things they did to steal from other artists). Such a shame. With all those millions of dollars there was plenty of money to go around while still honoring Bob Ross's final wishes. UPDATE: Bob Ross Inc. Responds to Netflix Doc.

• Eeelie! DAFUQ?!? CAN SOMEBODY CONFIRM THIS?!?
It's like... I don't even know how to respond after watching this.

• Sheep! "A sheep farmer stuck in lockdown in New South Wales who was unable to attend his aunt's funeral has honoured her memory with the ultimate tribute: a love heart made from sheep."
The innovation of people to escape the confines of the horrors of this never-ending pandemic provides hope amongst the ignorance and selfishness that plagues us.

• Value! "Spread the word. This has to stop." — People really are the worst...
And just as a sample of what this guy has to deal with...
Jesus, humanity. Do fucking better.

Any more attempt at bullets and I'd be shooting blanks. So until next week...
Posted on August 15th, 2021

COVID may be spiking again, but you're never really alone when stuck at home... because an all new Bullet Sunday starts... now...

• Air! When I saw this Emirates commercial, I assumed it was made with computer effects...
But NOPE!
I would crap myself to death if I even attempted this.

• FINALLY! Netflix has finally allowed us to disable the annoying as shit "ARE YOU STILL WATCHING" screens that pop up. Not sure if it's just for the current session or not (I'm assuming so), but I'll take what I can get. This is monumentally stupid. IF I WEREN'T STILL WATCHING, WHY WOULD BE TELEVISION BE ON?!?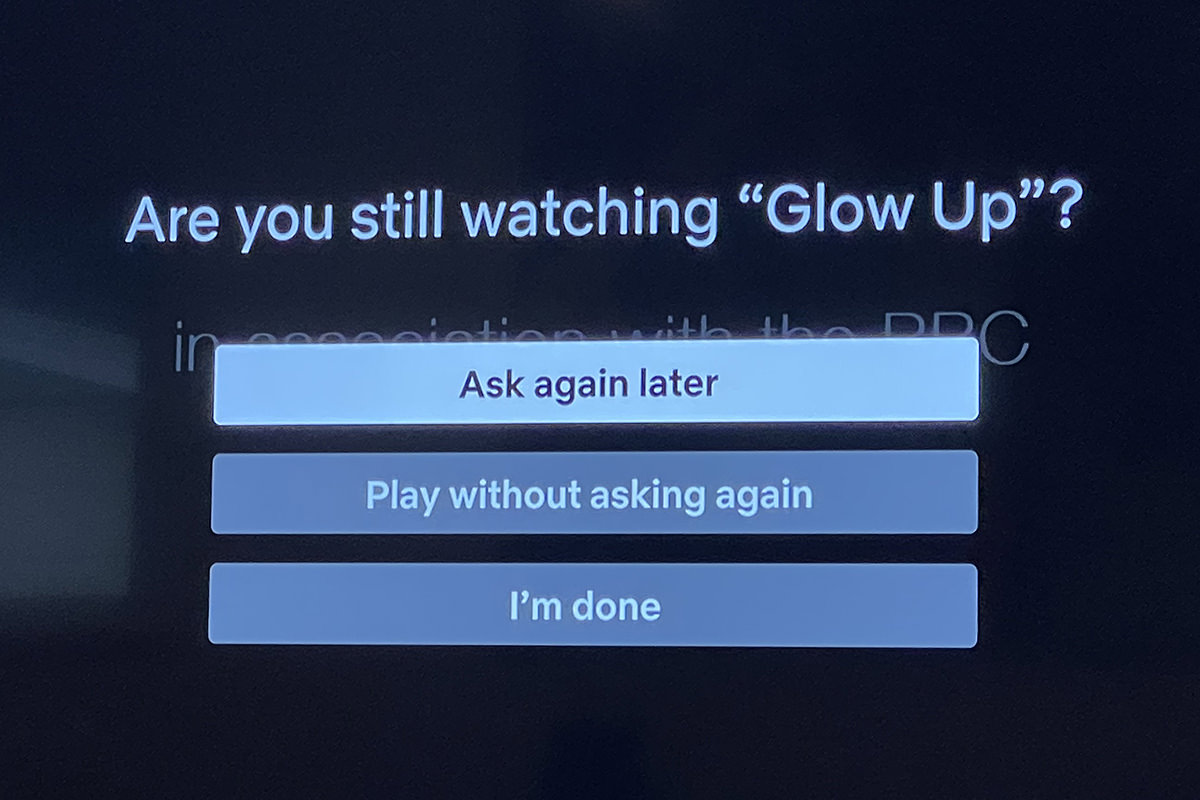 The lapse in logic just boggles the mind.

• CODA! Apple's original film, CODA (Children of Deaf Adults) is fantastic, and you should go watch it immediately...
As if Ted Lasso wasn't reason enough to subscribe to AppleTV+

• Brand Management. Well, this is heartbreaking...
It's frickin' 2021. Who gives a shit what another person's sexuality is? IT HAS NOTHING TO DO WITH YOU! And the idea that you can't hang out with LGBTQ persons because it will "affect your brand?" How does that even make sense to rational-thinking humans? But here we are.

• WANG! There are few things I love more than discovering a new comedian that's hilarious in all the right ways and somebody I hadn't heard of before... Phil Wang's new special Philly Philly Wang Wang on Netflix is EXACTLY THAT...
Highly recommended.

• Modern! I read reviews that made me take a pass on Modern Love... but then I heard somebody talking about how much they are enjoying the second season and decided to give it a try. I really like this one. The first season was wonderful, and the first episode of the second is my favorite yet...
Worth a look if you have Amazon Prime and have a box of Kleenex available.

• Setting Sail! The show is good... and the theme song is really good...
It's Love, Victor all over again!

And now back to your regularly-scheduled pandemic.
Tags:
Advertising
,
Apple TV+
,
Bullet Sunday
,
Comedy
,
LGBTQ
,
Movies
,
Netflix
,
Standup
,
Television
Categories:
Apple Stuff 2021
,
Bullet Sunday 2021
,
Television 2021
—
Click To It:
Permalink
—
2 Comments: Click To Add Yours!
Posted on May 18th, 2021

I subscribe to (or have access to) several streaming services. This makes for a monotonous slog to open up app after app looking for something good to watch. AppleTV and GoogleTV help to remedy this by curating a mix of new content and content recommendations based on the services you have and what you watch. It's been fantastically helpful, and I love it.
At least I did when it worked.
But now all the streaming services have profiles which fuck up the process. Instead of clicking on the movie or show you want to watch on AppleTV or GoogleTV and have it start playing on the streaming service that it comes from... you instead get cock-blocked by profiles, which look like this...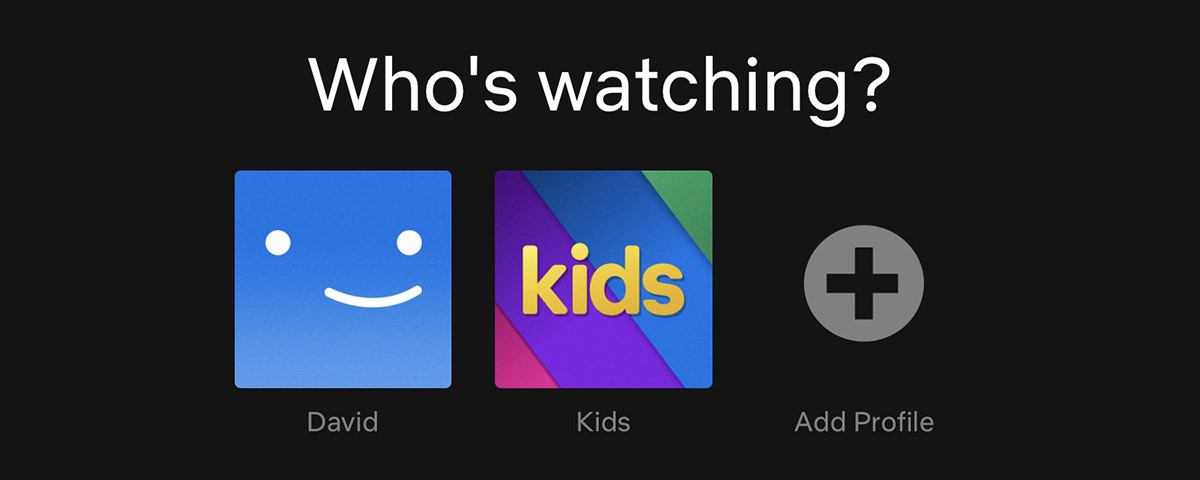 There are some streaming services which are able to bring up the content you clicked on after you're done dicking around with the profiles bullshit. But many of them do not. Instead you're taken to the streaming service home page and have to hunt down what you clicked on. Assuming you can remember what that is, which I often don't because television is what I watch when I want to turn off my brain. Not when I want to remember stuff.
I hate profiles with the burning fury of a thousand suns, even when I am NOT clicking through from AppleTV or GoogleTV. You get asked when you pull up the app directly too. I live alone. I don't have kids. I don't want to add a new profile. SO FUCK OFF ALREADY! Is it really necessary to flash this crap at me every damn time?!?
And it gets worse.
Netflix is so damn shitty about this crap that I will be watching a show downstairs in my living room, go upstairs to my bedroom to finish watching it, ONLY TO HAVE MY PROFILE FAIL TO LOAD AFTER I FUCKING CLICK ON IT OVER AND OVER AND OVER AND OVER AND OVER AND OVER! Which means I have to create a second profile for my bedroom...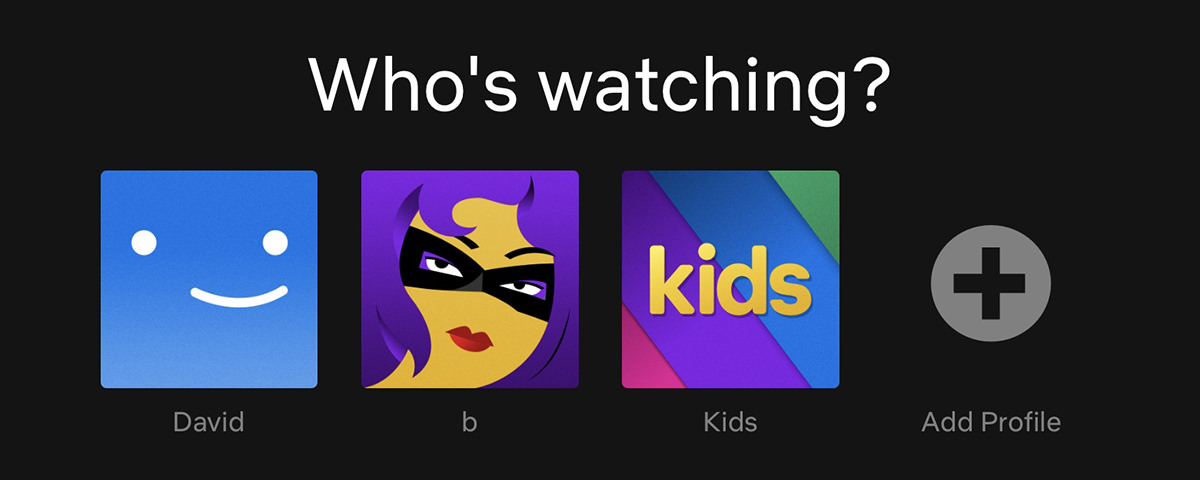 "b" is for bedroom... and I picked the first profile avatar that was available because I just don't give a shit
AND THEN when I watch upstairs, I have to fast-forward to the spot I left off downstairs because the saved point is saved to my downstairs profile. AND THEN since I finished the movie upstairs, the movie will show up in my "Finish Watching..." the next time I open up Netflix downstairs.
Bad enough to have to deal with this shit when you don't want to... but the fact that it fails so fucking badly at doing the one fucking thing that it's supposed to be doing... well... fuck off, Nextflix and your shitty AppleTV app.
Look, I get it. Some families love this feature. Mom has a profile. Dad has a profile. The kids have a profile. But why in the hell is it forced on me? It only causes problems and screws up the enjoyment of the content because I'm immediately angry at having to deal with this bullshit. Just give me a damn preference option to never have profiles show up ever again.
Given the money I and other single people have paid to these streaming service, they owe us at least that much. Especially since it demostrates that we're not sharing our login and password with other people and don't need profiles. You definitely owe us for that.
Posted on May 7th, 2021

I am spoiled. Seriously spoiled. And I have Marvel Studios to thank for it.
You see, Marvel Studios has a philosophy when it comes to everything they do. Every movie. Every TV series on Disney+. You put absolutely everything... your best ideas, the coolest stuff, all the things fans want to see... EVERYTHING... in the project you're working on RIGHT NOW. Yes, they've got plans for the future, but they never lose focus on the project at hand. When they made Iron Man they put everything into it. They could have easily stretched out his origin to an entire movie... but they didn't. They got his origin out of the way then let Tony Stark and Iron Man be all that they could be. They gave people exactly the movie they want to see. And people loved them for it.
"The Marvel Cinematic Universe" world-building came as a consequence of a string of amazing movies.
Not the other way around.
Because the other way around never works. Look at the mess of "DC Comics Universe" movies that has failed so badly that they are likely completely rebooting everything with a forthcoming The Flash movie. Justice League was a heinous failure because they saved all the cool stuff for a second movie that never happened. And look at the Universal Monsters Universe, which failed after a single film because The Mummy reboot was too focused on world-building instead of telling a really good story. You can't put the cart before the horse, yet Marvel Studios is the only game in town that actually knows what that means.
Which brings us to the new Netflix series Jupiter's Legacy.
I'm just going to get this out of the way... I both loved and hated the comic book series. Love it because the Mark Millar story is just so damn good. Love it because the Frank Quitely artwork is just so damn good. Hated it because Millar and Quitely were always late getting the issues out. Jupiter's Legacy #1: April 2013. #2: June 2013. #3: August 2013. #4: MARCH 2014!!! #5: JANUARY 2015!!! And things weren't much better with the sequel, Jupiter's Legacy 2. It took a year and a month for them to get out five frickin' issues. Ultimately it was worth the wait... but I'm not falling for that bullshit again. I'm not picking up the latest series (Jupiter's Legacy: Requiem) until the entire series is done and the trade paperback has been released. I am not here for this George-RR-Martin-level bullshit.
The series is about a group of friends who all gained super-powers after visiting a mysterious island... and the next generation of heroes which followed them. Treated like celebrities, this new breed of hero is usually a disappointment to the older generation. And that's a schism which gets exploited in the most unthinkable way.
And, like I said, I loved the story and art. Everything was sublimely clever, and I devoured each and every issue multiple times (I pretty much had to because there was nothing else to do while you waited months and months for the next issue to come out). The ending felt a bit rushed, but I was not disappointed. I've re-read it many times because it's just that entertaining.
Now it's been adapted into a Netflix series.
And, sadly... almost predictably, they put the cart before the horse.
So instead of a really cool series with some mind-blowing stuff going on... we get a really boring series with some mind-numbingly dull stuff going on so they can stretch things out for future series...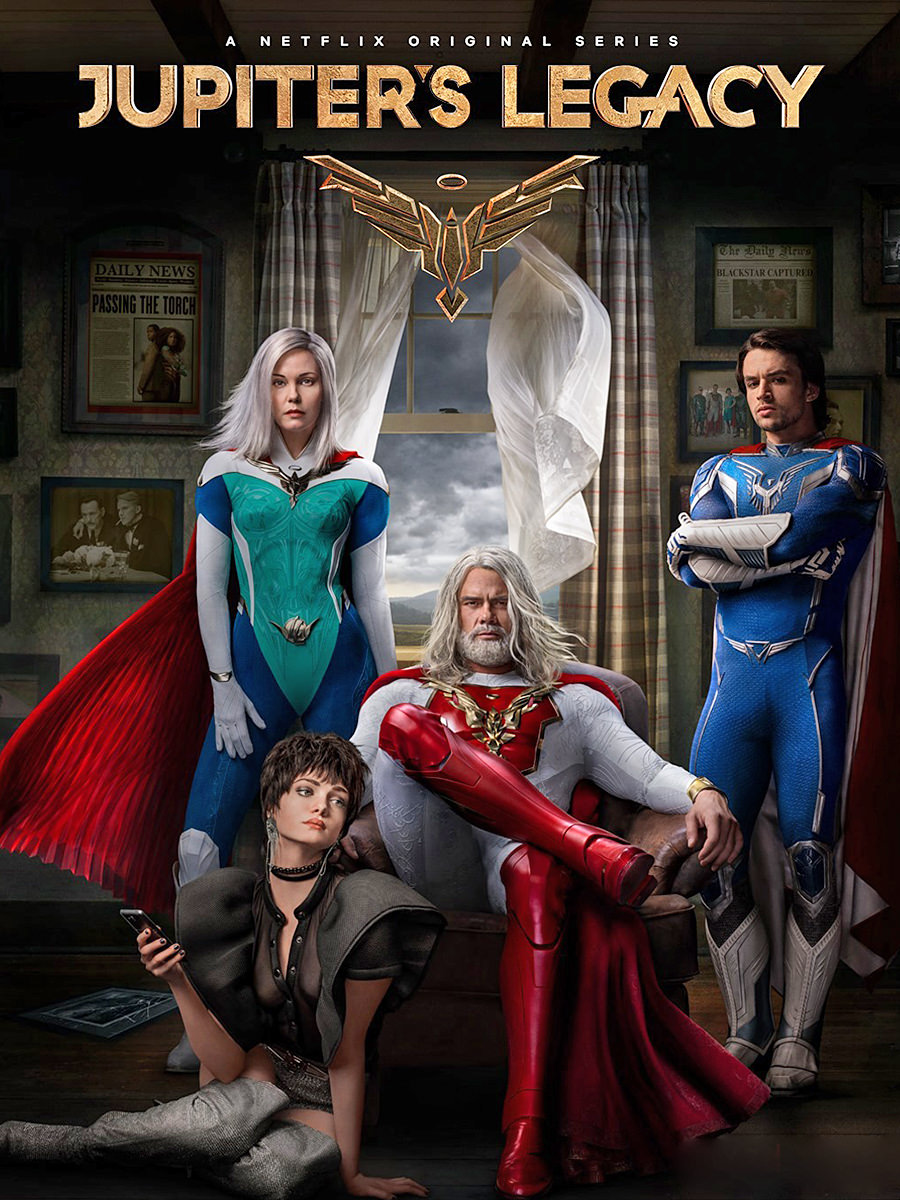 Why is Brandon in a super-suit? THE WHOLE POINT IS THAT HE'S NOT THAT GUY!
Adapting Jupiter's Legacy for Netflix should have been a no-brainer. But instead of doing a straight adaptation of one of the most remarkable series to come out of comics, they tore it apart and made it a boring mess. AND WHY?!? FOR GOD'S SAKE, WHY?!? Why bother to make it a series if you're just going to shit on what made the comic so good? Who gives a crap about the Wall Street crash, Sampson's daddy issues, and all these mind-numbingly boring distractions in the past THAT DON'T MATTER? All the coolest stuff in the series is nowhere to be found. The central pin to the entire series, third-generation hero Jason, doesn't even exist. I can only guess they wanted to save it for seasons two through eight... BUT THERE'S NOT GOING TO BE A SECOND SEASON IF THE FIST SEASON IS SHIT AND NOBODY WATCHES IT!
I am so over these awful adaptations.
It's a waste of time and money that could have been put into something much better. Why is Marvel Studios the only people who get it? You don't hold back. You don't save the best material for future projects that may never happen. YOU PUT EVERYTHING YOU HAVE INTO WHAT YOU ARE MAKING RIGHT NOW! And when it's a success... then you put everything you have into the next movie or series. That's how you build a successful franchise. It's not rocket science.
I was so looking forward to "Jupiter's Legacy"... I honestly thought that with Mark Millar overseeing the adaptation his own material that it would be seriously good television. But he fell into the same idiotic trap that everybody else does... planning for seasons 2-8 instead of making season 1 worth watching. All he had to do to knock it out of the park was actually adapt Jupiter's Legacy then move on to Jupiter's Legacy 2 and then move on to Jupiter's Legacy: Requiem Then if he wanted to adapt the prequel series Jupiter's Circle, he could have done that as a separate series just like it was a separate comic book. But instead we get... whatever the fuck this is. A half-baked series with decent casting and passable special effects that misses the mark by a country mile.
Oh well. I am getting accustomed to disappointment. Boring, boring, boring disappointment.
God I wanted to see this fight on-screen in the worst way...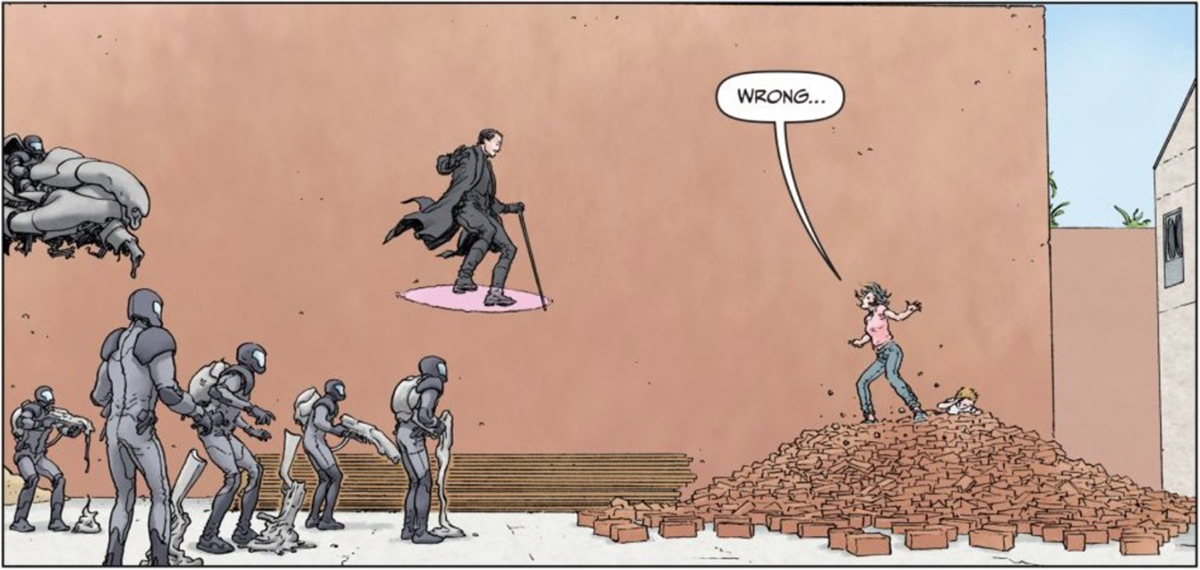 BUT NOPE!!! Saving it for the fifth season or what-the-fuck-ever.
Which is to say that the Netflix series for Jupiter's Legacy is not, in fact, Jupiter's Legacy.
I think of what could have been if somebody gave a shit about honoring the source material and it sends my mind reeling in the best possible way. Then reality rears it's ugly head and I'm back to what we got instead. Good Lord what a waste.