Posted on June 12th, 2023

I hated cable/satellite companies because their idiotic insistence on "packaging" everything made it so that you have to pay for channels you have zero intent of ever watching. Many times they made me pay for channels I actively hated.
Then streaming happened.
Finally, you could buy only the channels you wanted to watch. It was cheaper and didn't mean your money was going where you didn't want it to.
It was good while it lasted.
Now streaming has gotten just as stupid and expensive as cable/satellite ever was. Netflix, for example, has started "cracking down" on password sharing. I don't share my password, but this is the kind of idiotic shit that makes me want to start.
No, I don't think the entire world should be able to share one account. No business could survive on that, and I want to support those services I use. But I do think that if you pay for an account, it's none of Netflix's fucking business who is doing the streaming or where the streaming is being done. Just lock it down so you can't stream more concurrent streams than you're paying for. If I pay for one stream at a time only, then Netflix will only stream for one concurrent user. If I pay for five concurrent streams, then Netflix won't stream six or more at the same time off my account. Software companies have been selling by seat licenses forever.
HBO's "Max" has gone a different route in fucking their customers. Right now in order to keep my subscription when it expires, I'm going to have to pay the $150 annual fee. That's $50 more than the $100 I used to pay. And it's like, whatever, because the price of everything is going up. Except in order to get 4k quality, I will now have to pay $200. So it's like... fuck that. No more paying for a full year. I'll pay once or twice a year for a month of service and just catch up on all the crap I want to see. Because nothing is worth this kind of abuse.
Right now I'm struggling to think of a single service that I'm invested enough in keeping year 'round. I'd say Disney+, but they're planning on cutting and delaying a lot of things I want to watch (Marvel & Star Wars content), so even that will likely be chopped.
It's crazy how streaming won the war only to piss it away like this.
Posted on March 19th, 2023

A bit of a Summer setback for me today as the weather turned cold as balls, but never fear... because an all new Bullet Sunday starts... now...

• Zipline! Whenever I run across something incredibly cool that has been around a while... but I never heard of... that's gold right there. Take this drone delivery system that's been running for SIX YEARS. And I had no clue. This will be one of the coolest things you see in a bit...
Fantastic. Ingenuity like this gives me hope for the future.

• 1D! I keep running into songs by One Direction that kinda blow my mind. Like this song, which I had never heard before. I was scrambling to Shazam it thinking it was brand new. Nope...
It actually feels like a classic soft rock hit or something.

• Topol! The Flash Gordon movie from 1980 was absolute genius... even if most people didn't see it that way. I've seen it a dozen times or more, and will likely watching it many times more. A big part of what makes the movie work is the over-the-top performances, among them being Chaim Topol's performance of Dr. Hans Markov...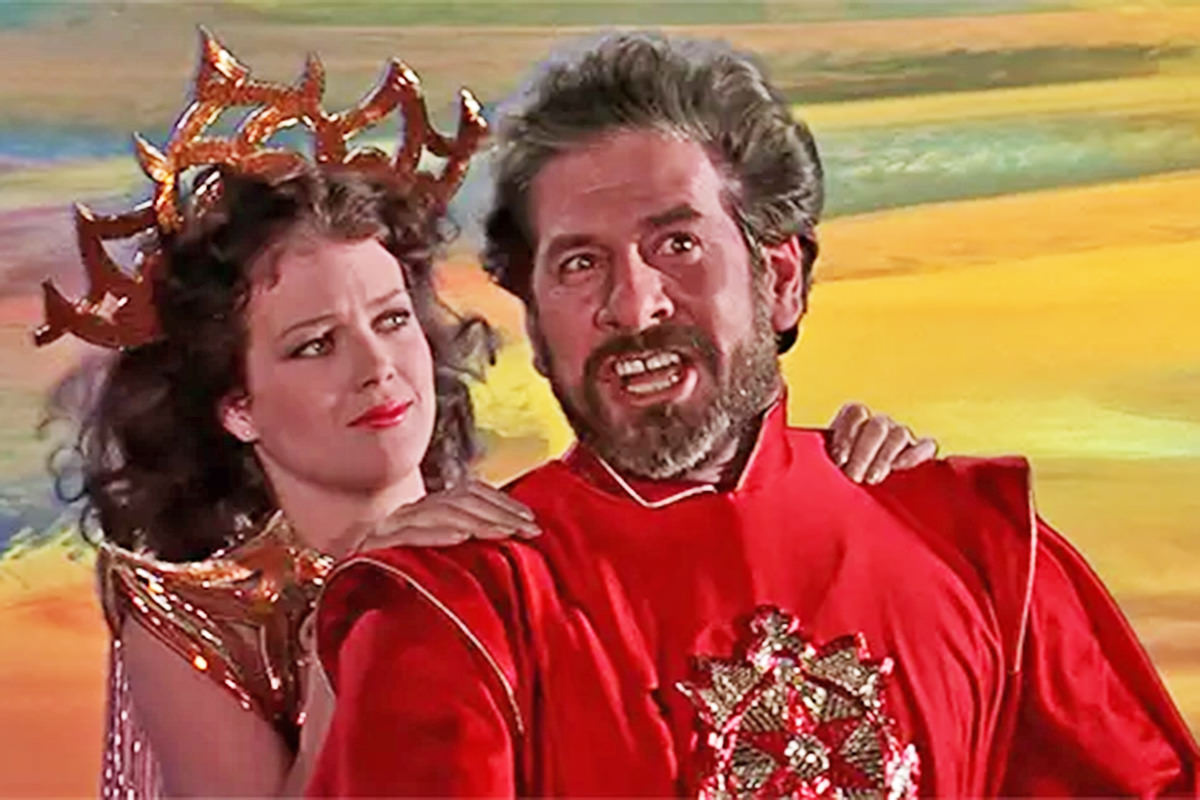 But that's not my favorite role of his. This honor goes to Columbo on the James Bond flick For Your Eyes Only, where he chewed up the scenery unapologetically...
Sadly, Topol passed away a couple weeks ago... but his legacy will live on with his works.

• Hyper-Real! I will never complain about any of my tax dollars going to NASA to explore our solar system and our universe. On the contrary, I wish more of my tax dollars went to NASA. Especially when I see images like this...

Image Credit: NASA, ESA, JPL, SSI, Cassini Imaging Team
You can get a much better view and more information on Saturn's moon Hyperion by going to NASA's website.

• TO INFINITY...! The stuff that you can do with LEGO truly knows no bounds. Take this infinite domino track...
Pretty nifty, isn't it?

• Cunk! Finally got around to watching Cunk on Earth (Netflix)... and it's madness. Absolute madness. Mostly because she sounds like a lot of real-life people...
It's relentless. She doesn't stop unleashing stupid. Ever. It just keeps going. And I am deceased.

• WORF! The first season of Star Trek: Picard was just okay, though the ending was messy. I didn't like the second season because it was a scattered crapfest and tried to shoehorn in characters that should have never been there in the first place. But this THIRD season? Holy crap. Quite probably the best Next Generation show I have ever seen. Cinematic and exciting. It will be very interesting to see if they can wrap it all up in a satisfying manner given that this is the last season we're getting. And ZOMG... WORF! His character has made a radical shift that's absolute genius, and Michael Dorn is playing him with such deft ease...
It makes me wish that this is what we were given from the start. Paramount+... please give Worf his own series ASAP, dammit!

• Flerfer! The thing I will never, ever understand is how there are people thinking that the earth is flat. It makes absolutely zero sense from every possible observable fact. We new about the earth being a sphere thousands of years ago. And yet... ignorance is still here. Which is why I love videos like this....
Of course it makes no difference how many facts you throw at Flerfers. Logic, reason, and common sense has already been thrown right out the window.

And away with you! Begone!
Posted on February 26th, 2023

The weather continues to be a hot (then cold) mess, but I'm committed to warm vibes... because an all new Bullet Sunday starts... now...

• Puppers! Every week I click on the latest one of the "We Rate Dogs" videos to see if the dogs were good again this week... and every week I have to really hold it together so I don't burst out in tears. This week is no exception (here's a link in case TikTok is being a dick)...
Good doggies.

• DIE! TikTok is overrun with funny videos which use music from the Dumb Ways to Die song. I decided to look up the entire thing and was surprised to find that there's a cute video to go with it...
Most of us are going to die dumb. It's a part of life.

• COOKIE! HOW DARE THEY! HOW DARE THEY GIVE A NATIONAL TREASURE LIKE THE WORLD'S ONLY COOKIE FLUTE TO LIZZO TO PLAY?!? OF ALL PEOPLE! I mean, sure, she's a world-class renowned flautist, BUT I AM DISGUSTED TO MY VERY CORE! SHOW SOME RESPECT, SESAME STREET! THESE ARE OUR COUNTRY'S TREASURES!!!
You laugh, but I'm betting Tucker Carlson is writing a rant about it as I type this. The dumbass went off with his manufactured outrage over candy mascots, so you just know his panties are in a bunch over this.

• Busters! The movie We Have a Ghost is actually not half bad. They gave Jennifer Coolidge hair by Tammy Faye, which is epic. And, let me tell you, David Harbour deserves all the awards. His character can't speak, so he has to sell every scene by force of will, and he does a fantastic job with it...
Streaming now on a Netflix near you.

• Facts. There is an actual danger to kids in this country. And it ain't drag queens...
Drag queens have been entertaining people for decades. Hell, Bugs Bunny was in drag in a number of his cartoons. But now that bigots are wanting to divert attention away from what's going on in their own back yards, it's suddenly a problem. Milton Berle and Flip Wilson want their wigs back.

• Life! And while we're on the subject... NEWSFLASH: Proposed South Carolina bill could make abortion a death penalty eligible offense. — Preserving the sanctity of life... as only death can. Jesus.

Onward and upward...
Posted on November 14th, 2022

Wow. Netflix really let The Crown get away from them. It's like they've gone from attempting any form of accuracy and slid straight into parody.
And Princess Diana caught the worst of it.
This is how they have her looking in EVERY FUCKING SCENE...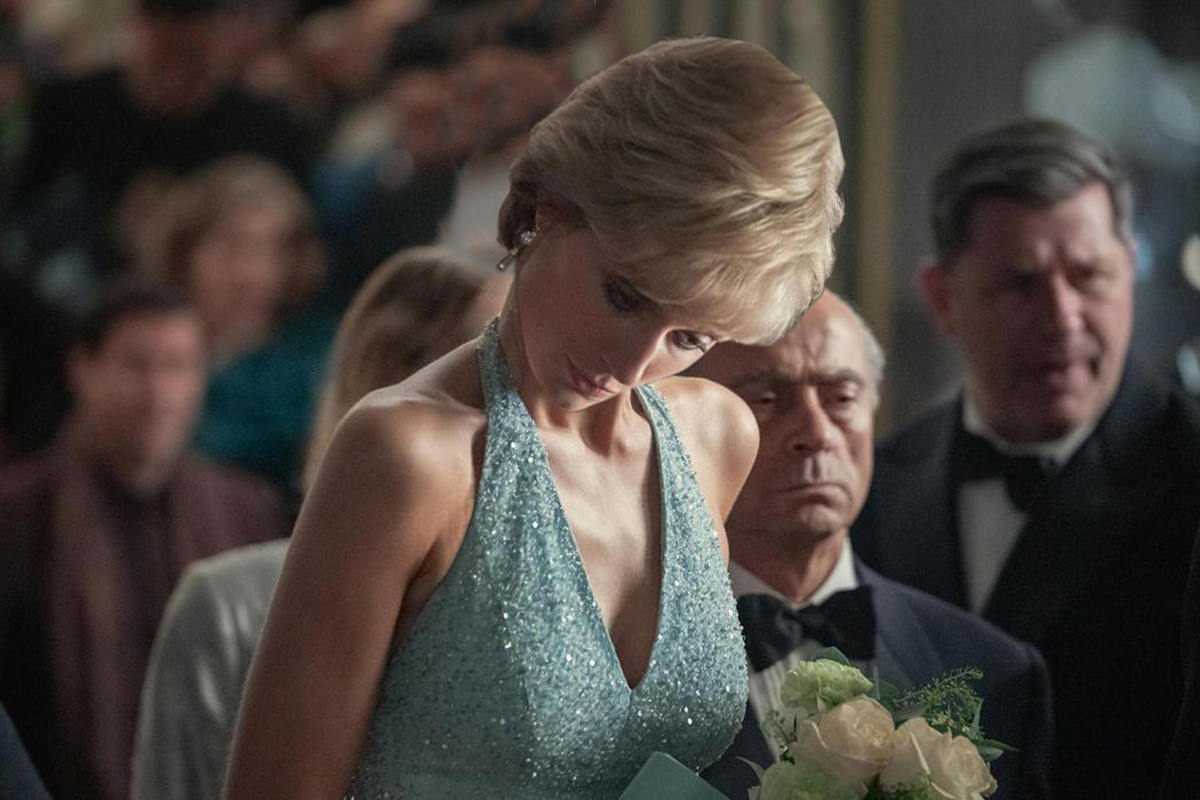 I am well aware that she tended to bow her head in public (especially in her earlier royal days), but they took it way too far. It was incredibly distracting, and a cursory Google Image Search shows that she wasn't like this 24/7.
Lord only knows how the sixth (and final) season is going to go. Hopefully it won't sink further than this.
Posted on November 6th, 2022


Winter is here, snow has arrived, and it's freezing out, but there's warmth in my heart... because an all new Bullet Sunday starts... now...

• Happy Meal! As a huge architecture nerd, it's very easy for me to get sucked into architecture TikTok or YouTube. This morning while waiting for renders to process, I got hit with this fascinating video about the "Rise and Fall of Fast Food Architecture"...
So many good points to be had here. I very much miss the old aesthetic of fast food restaurants, which is why happening upon one of them (which is most often not a chain restaurant) is such fun.

• Whither Twitter! Watching Twitter implode in Real Time has been entertaining... but also educational. Elon Musk bought the services in the interest of "free speech," but he's learning a big lesson on being careful what you wish for. Twitter has become so toxic so fast that advertisers are bailing and Musk is essentially begging the big name Twitter accounts not to leave. The most hilarious indicator of this was when Stephen King said that he wasn't paying $20 per month to have a blue-checkmark verified account... and Musk shot back with "How about $8 then?"...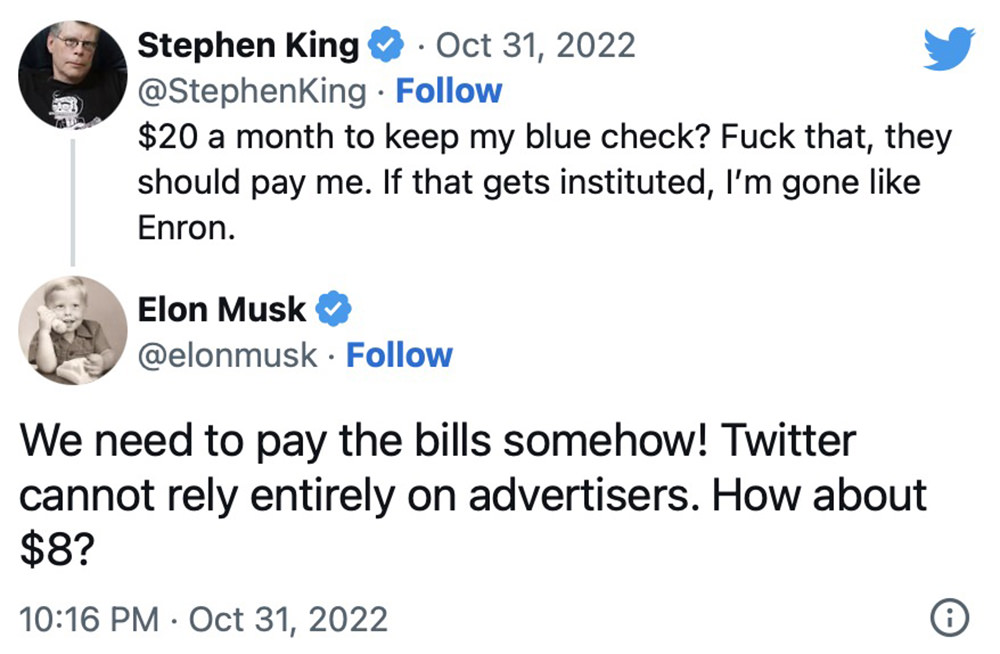 It's easy for me to sit back and not care about Twitter (I rarely use the platform because I prefer to have the ability to lock down my posts for a specific audience), but I think it's a bad idea to hope that Musk and Twitter fail. This is an important platform for discourse and interaction which, naturally, may be toxic (Musk himself has been tweeting out conspiracy theory bullshit) but it's also had a good influence in allowing people to have their voices... their causes... their passions... be heard. Which is why I was happy that one of my favorite YouTubers, Marques Brownlee, has this diplomatic take on how Twitter can save itself from itself...
The one thing that could get me to maybe go back to Twitter would be if there was a way to limit the audience of your tweets (ala Facebook). But even then I have serious privacy concerns about the platform which has me wary.

• More Enola! I liked the second flick even better than the first! These films can get a little convoluted... and repetitive in parts... but are enormously entertaining. And that mid-credits scene has me dying for not only more Enola Holmes films... but a Henry Cavill Sherlock movie as well.
Netflix needs to get on more of these movies, because they've struck gold.

• Glowforge! Michael Alm finally finished his new office so he could set up his Glowforge. If I didn't want one of these things before, I most certainly want one now. But the price for entry is $4,000... and to get the model which is the most capable and flexible, you're paying $7,000.
I know that I would never use it enough to make it pay. But that doesn't stop me from wanting one anyway. Just like a 3D printer, which is another device I would love to own. Ah to be a billionaire where you just buy stuff you want and don't have to care about whether or not you can afford it.

• Joy Noel! The fact that Netflix keeps churning out quality holiday rom-coms is something I am 100% onboard with. While Hallmark continues to release some films which are worth my valuable time... you have to sit through a lot of crap as well. Netflix doesn't have a flawless record, but they do release more good movies than bad, it seems. This year, in addition to the Lindsay Lohan film that's coming up, they also have The Noel Diaries dropping this month...
I know that this is is Justin Hartley from This is Us (a show I could never get into), but the only thing I'm really familiar with is when he played Aquaman in a failed TV pilot that was actually not bad... except The CW decided not to buy the show after the merger with The WB.

• Matter? I keep referring to Thread/Matter in my home automation posts, which has been confusing to many people who don't know what this is. Fortunately, Shane Whatley has a wrap-up which is pretty good about why Matter matters...
Matter is something I have been waiting for ever since INSTEON died, came back, and looks to be dying again. I would prefer not to have to replace all my smart home crap every five years, so having something that isn't tied to any specific company seems like a good idea. But the big news about Matter is that it endorses Thread, which is a technology I absolutely love. It's so smart and so fast and so impressive that it really does seem like the holy grail of automation. The fact that it has pretty good range and is low-power is just icing on the cake.

And now I think I should get back to cleaning my house, which is a full-on disaster with all the work that's been going on.
Tags:
Architecture
,
Bullet Sunday
,
Home Automation
,
Netflix
,
News
,
Television
,
Twitter
,
Woodworking
,
YouTube
Categories:
Bullet Sunday 2022
,
Home Automation
,
News – Politics 2022
,
Television 2022
—
Click To It:
Permalink
—
0 Comments: Click To Add Yours!
Posted on October 27th, 2022

Yesterday it was what I am watching.
Today it's what I will be watching.
Wakanda Forever — No surprise that this is my #1 most anticipated, well, anything of 2022. In addition to getting to see all the amazing characters from Wakanda, there's Namor as well? Sign me up. The reactions from everybody who has seen the film have been great, which only makes me want to see it more...
Ant-Man & The Wasp: Quantumania — My second most-anticipated movie doesn't debut until early 2023, but the new trailer that just dropped looks like it's going to be something amazing...
Guardians of the Galaxy: Holiday Special — Just look at the madness that James Gunn has baked into this amazing-looking show. JUST LOOK AT IT!!!
Glass Onion: A Knives Out Mystery — Few things can compare to how great it was to get a new Agatha-Christie-esque murder mystery with an all-star cast, just like the movie adaptations used to be. This one looks great, and the early review buzz has been surprisingly positive...
1899 — From the creators of Dark? Oh yes. I'll be tuning into Netflix for this... 1000%...
Blockbuster — Yeah, Randall Park guarantees that I would be interested, but it actually looks like there's a clever story here...
Enola Holmes 2 — The first movie was very good, and they were pretty clever as to how they went about crafting a mystery to solve. The fact that the cast was exceptional was just the icing on the cake. And here we are all back again for more...
Nope — This is apparently coming out on home streaming this month. I never got to see it in the theaters, so that's something to look forward to...
Falling for Christmas — Lindsay Lohan in a Netflix Hallmark-style Christmas rom-com? Yes please...
The White Lotus: Season 2 — There was a lot of criticism laid on the first season about things not really coming to a conclusion because so many things were left up in the air... and more criticism because things that the entire season spent building towards were abandoned. I think that's totally missing the point of what the show was trying to comment on. The fact that wealthy privileged people blow in to people live and leave behind nothing but destruction IS the show. And people trapped in lives they try to leave, but don't manage to escape from IS the show. I can't wait to see what the second season brings...
Avatar: The Way of Water — If, for no other reason, that I want to see how the special effects have improved from the first movie...
And these are just the things I can think of off the top of my head. There's probably dozens of others that should be on my radar.
Posted on October 26th, 2022

Now that I've been cutting streaming services left and right to save money for fixing all the stuff going wrong in my home, I'm confining myself to the few streaming services that I still have left. Which is Netflix, Disney+, HBO Max, Discovery+, and YouTube. Some of these were pre-paid for a year... but Netflix will be rotated with with Hulu and Paramount+ and Peacock so I can keep up with all the shows I watch.
Since I missed a week blogging, I thought I'd list out some of the stuff that I've been watching.
I've watched the Season Finale of She-Hulk: Attorney at Law three times, but have held off talking about it because I wanted to make sure that everybody had a chance to see it. There's a lot to love about this series (starting with Tatiana Maslany), but if I had to pick one thing that absolutely thrilled me... it would be seeing Matt Murdock happy. Unlike the dark, dour, depressing Daredevil in the Netflix Universe, which was amazing... the MCU version is the complete opposite and amazing too. Hats off to Charlie Cox... only an actor with some real talent has the chops to pull off both versions of the character. What's so hilarious to me are all the people going on and on about how She-Hulk RUINED THE CHARACTER! No... they didn't. That version is still available to watch if that's what you want. If nothing else, the action was on-point...
In all honesty, I think that the reason people are pouring so much hate on She-Hulk is because it confronts toxic masculinity head-on. Oh well. Stay mad about it, I guess. I thought the series was entertaining as hell and really want a second season.
I'm not done raving about Andor yet. That show is remarkably well thought-out and realized. And the acting is just beyond. Diego Luna is incredible (as expected) but there's nobody falling short of his example, and it's amazing to watch. The eighth episode is fantastic in that you can see they are actually building towards something, and nothing that's come before was by accident. Four more episodes of the first season to go, and I am betting they will just keep amping up as we hurl towards the finish line. Must watch television.
I've been heavily invested in the Netflix series From Scratch with Zoe Saldana. I am fully aware how the show ends (it's based on a true story), but I didn't realize just how heartbreaking they would make it out to be. It's one thing to know something... it's quite another to see it play out with such nuance. After the fourth episode, I only have the heart to watch them one at a time. The problem is that I thought there were six episodes... there are actually eight, and I still have the last two to go. Well worth your time if you're in the mindset for it...
Just have a box of Kleenex ready.
And speaking of knowing how the show ends... I finished the first season of House of the Dragon. Since I've read the book on which it's based, I know exactly what it's all leading to, but that hasn't dampened my appreciation for the show. It reminds me of the early seasons of Game of Thrones. But since the showrunners won't have to make up their own ending, I think Dragon has a much better chance of having a good ending (unlike Thrones which was a complete shit-show)...
Apparently they have the book broken down into four seasons. So three more to go to find out if it actually lived up to its potential, I suppose.
And I'm going to end with this YouTube video of Wayne Brady talking about one of the most hilarious sketches ever to appear on television. This is a deep dive that peels back the curtain in a very interesting and important way...
Posted on September 18th, 2022

You had a bad day, but all of that's about to change... because an all new Bullet Sunday starts... now...

• Leap? I was more than a little excited for the new Quantum Leap series. The original is one of the more memorable shows from my 20's, and there was a lot they could do with the concept. Many ways to freshen it up and make it relevant to today's audiences. Alas, they didn't get anywhere near what I was hoping for. The original was the whole package... charming, funny, smart, exciting, and entertaining. Plus the two stars (Scott Bakula and Dean Stockwell) were exceedingly talented and had chemistry for days. Sure parts of the show haven't aged well at all, but if the new version was even half as good, it would be something special. But this new one is just... there...
I didn't like it. I didn't hate it. I didn't feel anything about it at all (which is probably worse than if I had outright hated it). The actors aren't bad... but none of them seem particularly suited for their roles. The story isn't bad... it just isn't compelling television. And while they make a nod towards Dr. Sam Beckett right off the bat (and Al at the end) I wish they hadn't have bothered, because it just makes me feel even worse about what we've got.

• Click! If you have an iPhone. If you've installed iOS 16. You need to turn on "haptic keyboard" (settings -> sound & haptics -> keyboard feedback). This is SO nice. Feels like you're pressing keys! It's a little less magical if you have "QuickPath" (slide to type) on like I do... but it's still a cool additional to how I interact with my iPhone.

• MegaSHADE! Wow. Nobody roasts like Megatron...
I love it when meet-n-greet characters are a step above.

• Cod! This is funny... but actually speaks to how incredibly stupid it is to complain about Ariel's skin color. SHE'S A FRICKIN' FICTIONAL FISH PERSON! And the actress they got to play her has the voice of an absolute angel, WHICH IS WHAT YOU WANT IN A FRICKIN' MUSICAL!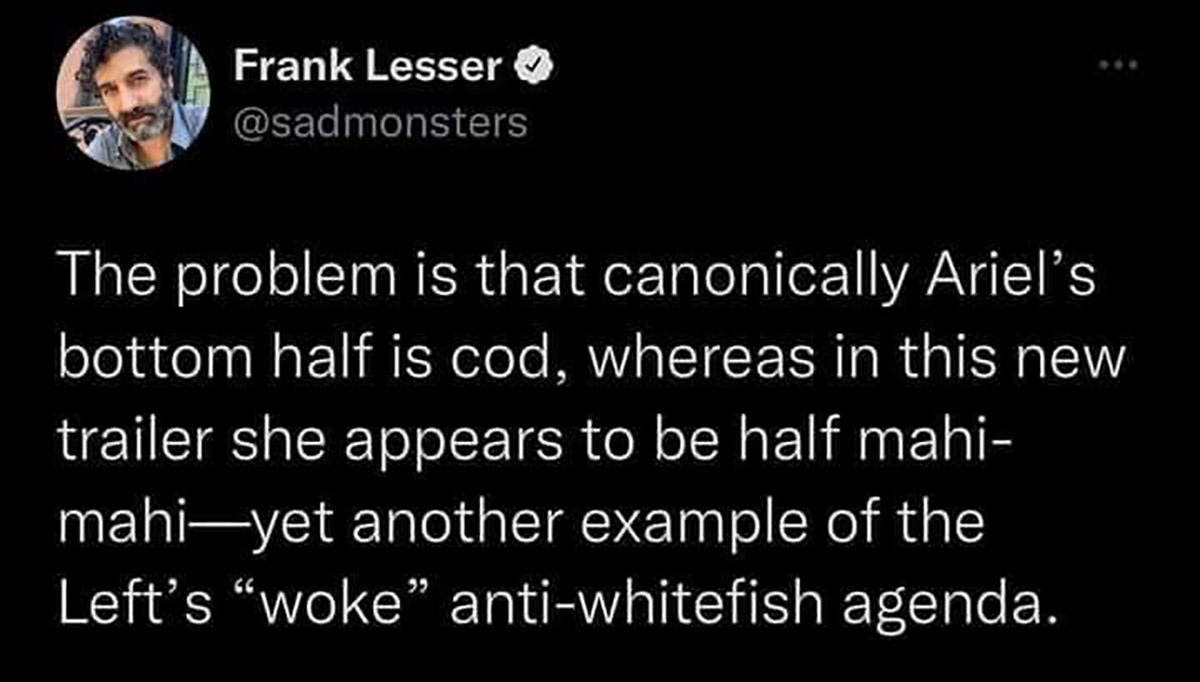 • From Scratch! Sooo... Zoe Saldana is doing a "Hallmark" type series for Netflix? YES PLEASE!
Actually looks like it's trying to be more than just Hallmark, which is nice.

• Nuggies! Dayam! That's cold...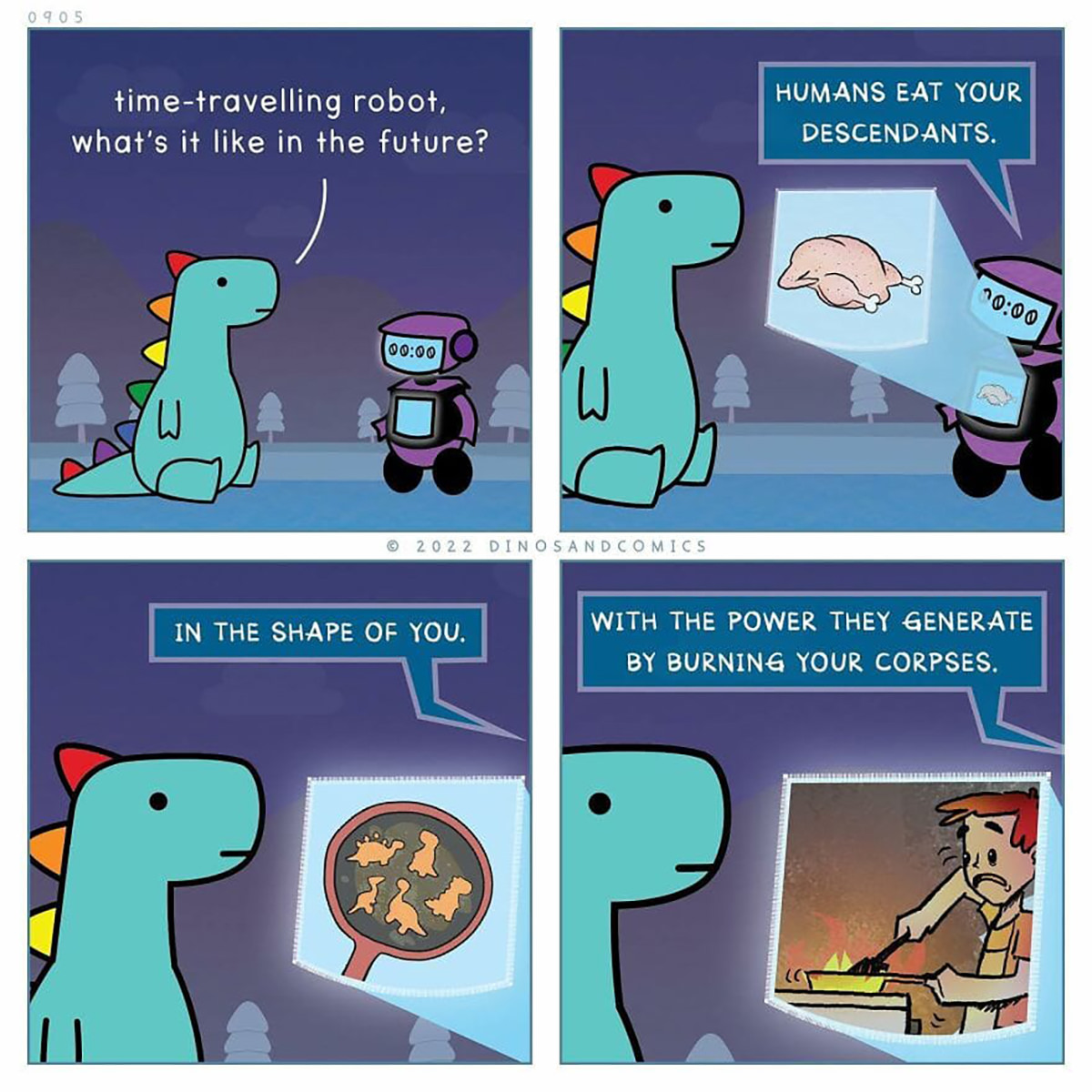 Time-Traaveling Robot really should have lied. More Dinos and Comics here.

• Board! This is great if you watch until the end (and have subtitles on if you don't speak German). I tell you... I've found that some of the funniest people on earth are Germans, and this just reinforces that.

And now I really need to take a nap.
Posted on August 7th, 2022

World War III is back on the table thanks to politician idiocy, but don't let that harsh your mellow... because an all new Bullet Sunday starts... now...

• Wedding! To my fellow Hallmark movie nerds... Wedding Season on Netflix. The concept has been done to death, but this one is way too cute to miss...
I love how Netflix gives a good budget to their movies like this. It makes all the difference in diferentiating them from Hallmark.

• Star Wars Summer! The LEGO Star Wars Summer Vacation Special has a gem of a Weird Al song attached to it, and the video is right here...
Whether you're a Star Wars fan or a LEGO Star Wars fan or both... the special is worth a look! Find it on Disney+.

• Eternally Again! Patton Oswalt leaked that they are working on another Eternals movie. Good. Now leave powerless, annoying Sprite the fuck out of it (or kill her to start off the film). Leave Ajak dead. Leave Ikarus dead. And as much as I loved Gilgamesh, leave him dead. Then kill off Druig (or turn him into the full-on villain he is). Focus on Sersi, Thena, Kingo, Phastos, and Starfox. FIVE characters instead of however the fuck too many were in the first film. Marvel needs to get over themselves that Eternals was an epic masterpiece and come to terms with the fact that they created a bloated, scattered, mess of a film. Avengers Endgame had DOZENS of characters and felt more focused. Don't get me wrong... I enjoyed Eternals and didn't think it was as awful as many people did... but it could have been SO much better. I do hope that Chloé Zhao comes back to direct because her work is so beautiful... but don't force her to cram so much shit in her film that it gets so very sloppy.

• Vacation! This is so accurate as to sting a bit (here's a link in case TikTok is being a dick)...
I haven't had a vacation in three years. Sure I have the hours... but I'm always too busy to actually use them.

• Trash! I will keep saying it... Nancy Pelosi is garbage. Everything wrong with government is right here (And here's a link in case TikTok is being a dick)...
Like most of our politicians, she doesn't give a FUCK how many people she hurts so long as she keeps grabbing that money and power! And she doesn't care if she starts World War III or tanks our stock market to get it.

• PAID! I'd like to leave this Bullet Sunday on a good note... I paid off my blue iMac, Lemon, this week!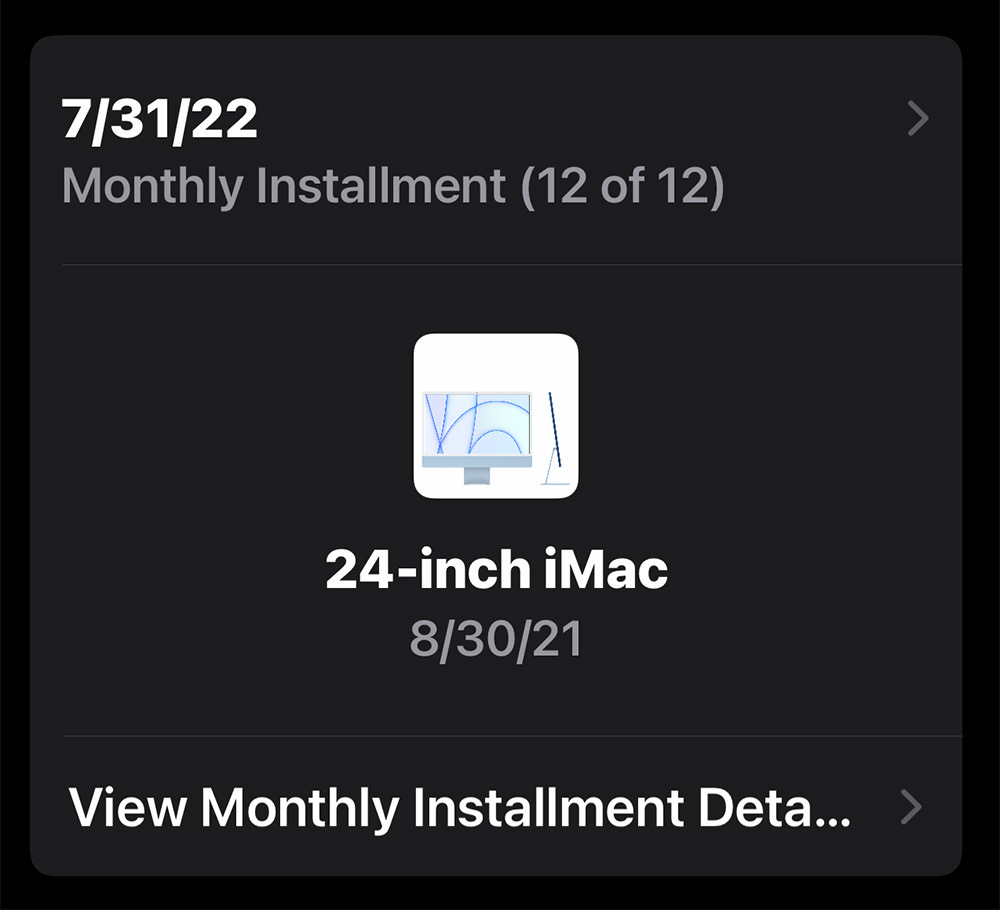 And in two months my MacBook Pro will also be paid off. Which will be very nice. The money not used for making payment can go towards groceries, gas, and everything else that's insanely expensive now-a-days.

TTFN, Bullet fans...
Tags:
Apple Stuff
,
Bullet Sunday
,
Disney+
,
Eternals
,
Marvel Studios
,
Movies
,
Netflix
,
News
,
Politics
,
Television
Categories:
Apple Stuff 2022
,
Bullet Sunday 2022
,
Movies 2022
,
News – Politics 2022
,
Television 2022
—
Click To It:
Permalink
—
0 Comments: Click To Add Yours!
Posted on August 5th, 2022

Sandman (on Netflix) is a fantastic adaptation of one of my favorite comic book series. And something I never thought I'd see happen despite numerous attempts to turn it into movies.
The 10-episode series is loyal to the source material... almost to a fault. There are segments which blew by in the comic at a brisk pace which have been dragged out to tedium to fill a one-hour runtime, and it hurt the series a bit. As an example, I wish I could have watched the fifth episode in 3X speed instead of the Netflix max of 1.5X because it was so slow and so tedious... attempting to fill 50 minutes with material that would have been a stretch at 20.
Much ado has been made about the "gender-swapping" and "race-swapping" of various characters. This is a bunch of rubbish, because these are not real-life people being portrayed, but fictional characters. "Death" being Black doesn't change a thing, and the actor they got to play her is fantastic, which is all that really matters...
Probably the biggest "controversy" (if you can call it that) was casting Gwendoline Christie as Lucifer. Now, in the comic book, it was never a secret that Neil Gaiman based his Lucifer on David Bowie at his most androgynous. So casting a woman... especially one as incredibly talented and nuanced as Gwendoline Christie... is not a stretch at all. I mean just look at this...
The casting of this series is impeccable... with one minor exception. I thought Patton Oswalt was distracting as Matthew (much as I love him in other stuff). But otherwise even small roles were cast with such care, and it enriched the series in every way.
So... yeah... worth the wait.
If you're a fan of the comic, you've likely already watched it. If not? Worth a look for sure.