Back in February a friend sent me a photo of a neon sign they had bought and said it would be cool if I were to make a Bad Monkey neon so I could sell them. And he included a link to a company called YellowPop... a company that custom-makes "neon-style" light-up signs out of LED strip-lights and flexible plastic covers.
I went to their site, looked around, and started thinking that, yes, this would be incredibly cool to do.
So I looked at the color of tubing they had available and drew up a couple options that I could send to them to see if it were feasible...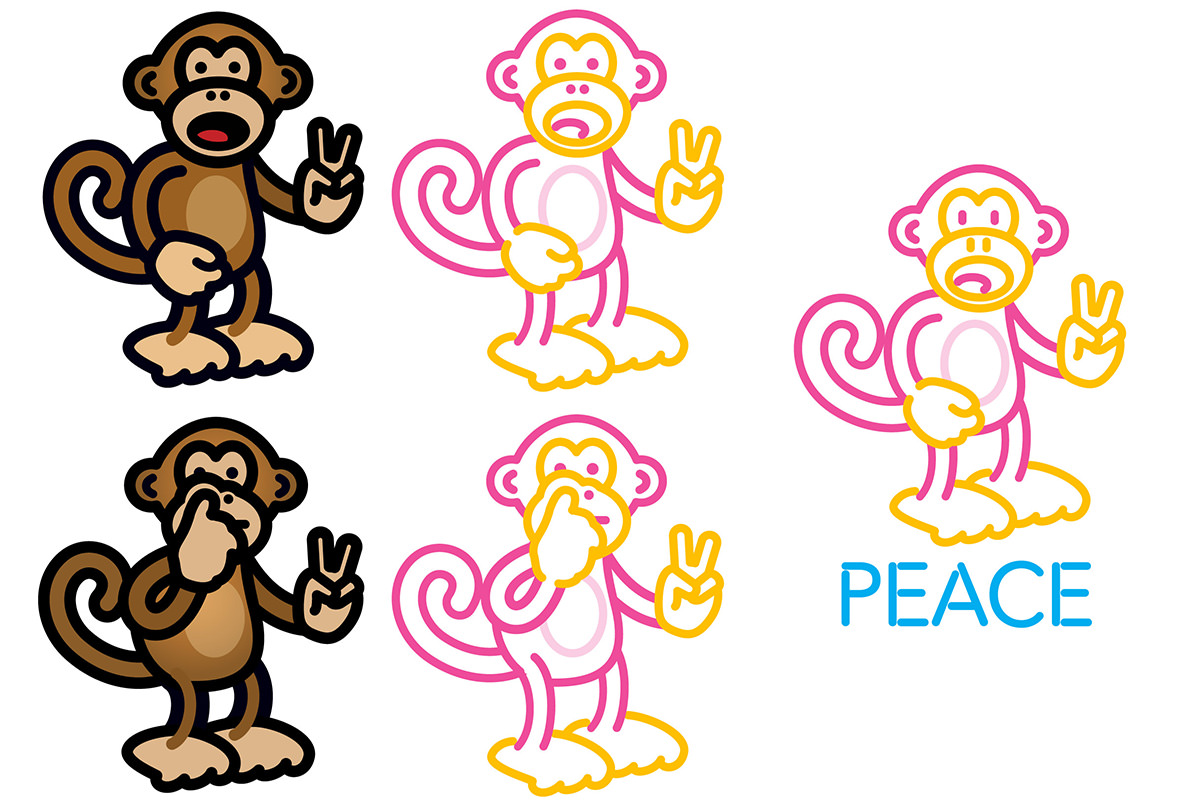 I was assigned a sales team contact and quickly got back a rendering of what they could do...
As much as I liked the idea of Bad Monkey picking his nose, I thought that the overlapping yellows were a bit confusing. So I decided on Bad Monkey flashing a peace-sign... then asked if they could add the lettering below it. I also asked to have it flipped horizontally. Since people "read" from left-to-right here in the USA, I wanted the peace-sign to be the lead instead of the tail. I also wanted them to add the word PEACE at the bottom to make the piece taller. Within hours I got back a revised composition that looked fantastic.
There was some back and forth as I asked for small changes to be made until I was happy (my favorite being "the arms need to be consistent width, like macaroni"). But, to their credit... my sales rep (Hi Kristina!) never once got aggravated or acted the least bit irritated (even though I'm sure they had to be by the time we finished!)...

No idea why it's practically on the floor now.
The sign ended up quite a bit larger than I had imagined (30×42 inches) when I first drew it, but there's only so tight you can bend the plastic tubing, so this was as small as it could get.
Now, one thing I should say right off the bat is that these signs are expensive. Like really expensive. As in ZOMG I WILL BE EATING PEANUT BUTTER FOR MONTHS! expensive. As in $1,200 expensive. I did a little poking around to see if there were shops making them for less money, and there were, but not one of them had the glowing reviews that YellowPop had, and that was worth it to me. What good is saving $300 if the result is crap?
Wiping out the entirety of my Black Sunday savings, I wrote back to my most excellent YellowPop rep to order it.
Fast-forward a couple weeks and my order has shipped. It arrived on Friday.
And, let me tell you... it is GORGEOUS. I had fairly high expectations given how much money I spent, but YellowPop went just... beyond. I unboxed it, plugged it in, and literally gasped when it lit up...

If you look real hard, you can see Jake down there checking it out!
Originally, I was going to hang it in the corner of my living room. But it was so phenomenally good that I just couldn't do it. I cleared out a wall in my dining room so it had plenty of space to breathe and be fully appreciated.
But how to hang it?
The instructions they give you are pretty vague. Essentially "Pop in those drywall anchors, attach the metal pegs, then screw your sign to it! The end!" Problem is that with a sign this big you would need to have two people hold it into position, pencil through the holes in the acrylic backing onto the wall, then install the metal pegs. But I didn't want to have to bother two friends or neighbors on a weekend, so I decided to trace the sign onto the cardboard sheet that came in the shipping box. Then I could cut out the tracing, tape it to the wall, and know where to put the holes all by myself...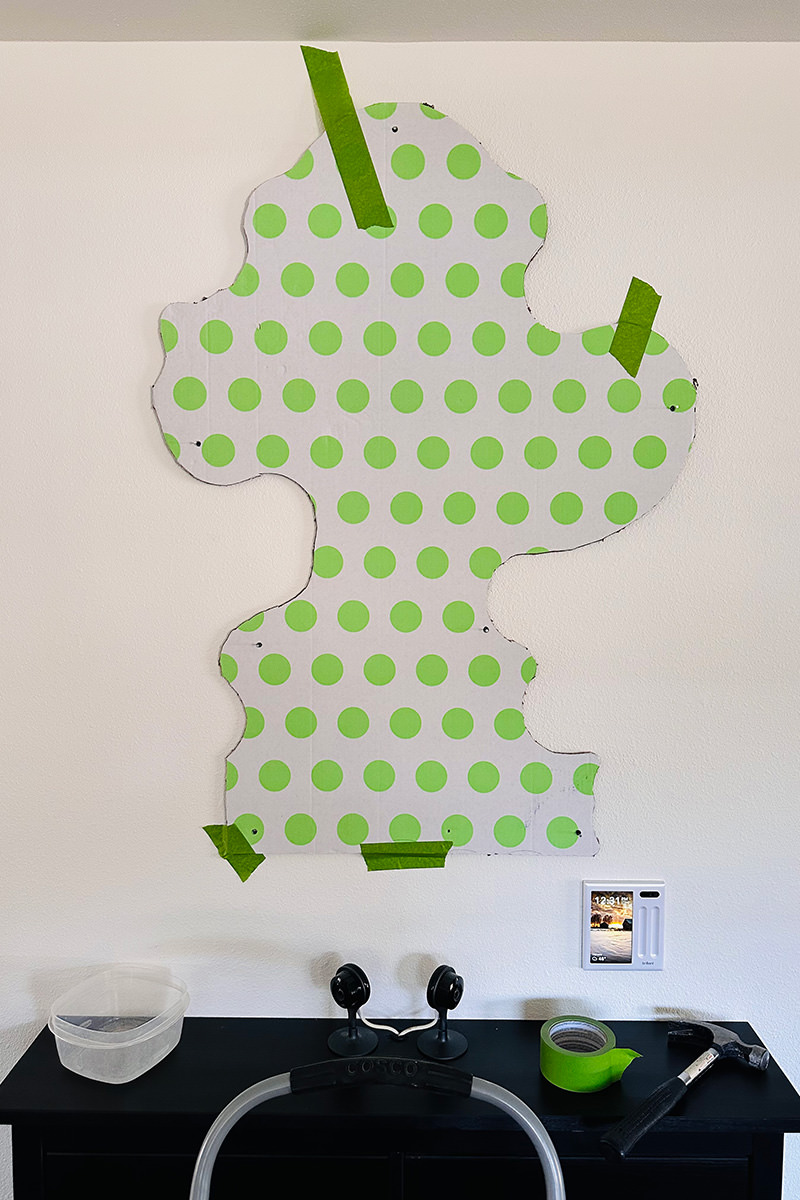 Ask for help? I'm a loner, Dottie. A rebel. I'll do it myself!
The metal mounting pegs are actually very smart, because they set the sign out away from your wall, which makes it look more like glass tubing instead of something that's flat against the surface...
One thing I did to make it easier to hang alone was to move the sign a tiny bit off-center so that the mounting peg at the top was firmly anchored square into a wall stud. Then I could screw in that peg long enough to hold up the sign so I could screw in the rest. If I hadn't put it into a stud, it was heavy enough that it would probably have ripped out from the drywall if I tried this.
And there you have it. My amazing new Monkey Peace sign is up...
LOVE IT!!! ABSOLUTELY LOVE IT!
The problem with this photo is that you can't tell just how incredible this looks in person. The "neon" looks all blown out and blurry in photos... whereas in Real Life, it is perfectly defined and has a beautiful glow to it. Looks very much like actual neon from any angle until you get close and see that it's not really glass tubes. Remarkably, the light is diffused enough that it appears solid, not at all looking like a bunch of little LEDs.
UPDATE: When it gets dark, the light is even more impressive. Gorgeous. Photos still don't do it justice though...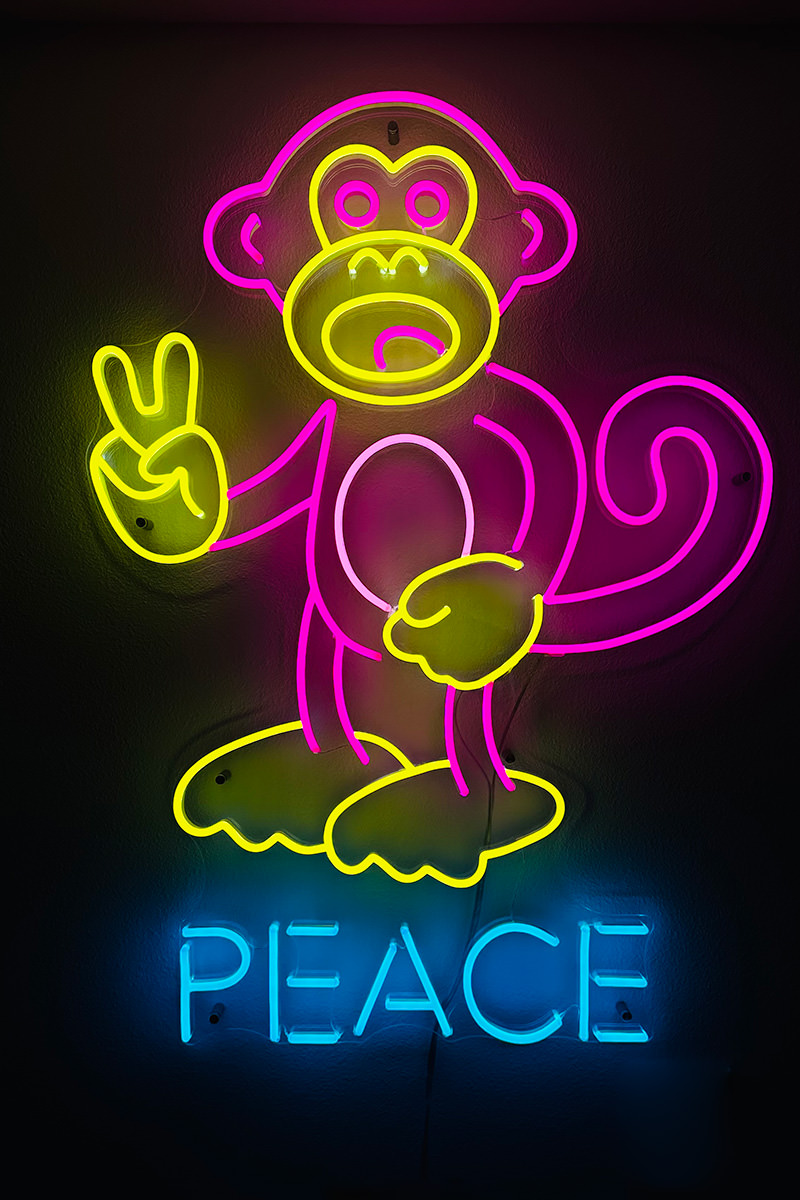 One piece of advice... spring for the dimming remote control ($29). The sign is actually more impressive when it's not at full brightness, and it's nice to be able to turn it off and on from across the room...

Yes, as you can see, my cats are clearly unimpressed.
So, yeah... thrilled with the whole experience from start to finish. If you're looking to have custom "neon" of your own, I highly recommend YellowPop for the job! They're expensive, but worth every last penny. I cannot stop staring at it.
I guess now I'll be saving up for my next piece. This turned out too good not to.