Posted on Wednesday, January 4th, 2023

Number 6,438 in my list of SHIT APPLE DOES THAT NOBODY FUCKING ASKED FOR: Apple Mail Inline Link Preview.
Who the fuck thought that this useless fucking PREVIEW OF NOTHING is needed, desired, or in any way helpful? It's like... here's a link to a Facebook page, and Apple removes the link to put a HIDEOUS BIG-ASS LINK LOGO IN THE MIDDLE OF YOUR EMAIL...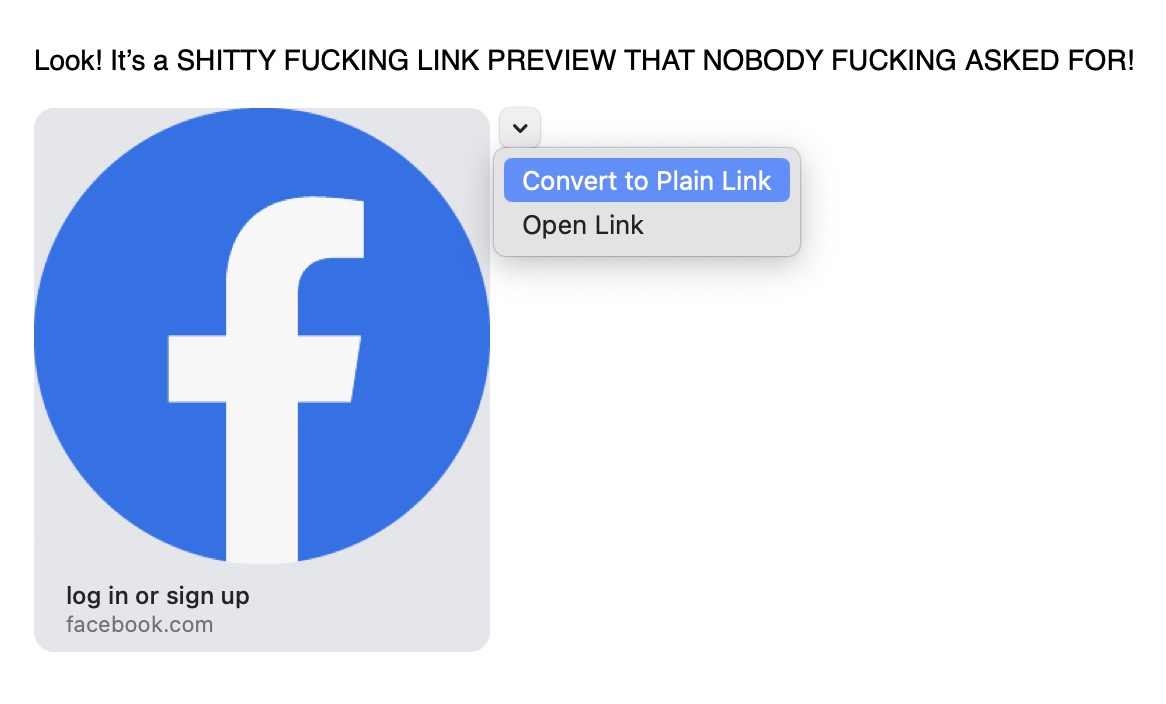 And, of course, because this is fucking Apple, there' no way to turn this shit off by default.
Oh no. You have to right click and tell it to go back to a sane "plain link."
God I am so sick and fucking tired of this kind of crap. It's only slightly less annoying that Adobe changing the way shit has worked FOR DECADES with no way to go back to the original behavior. Or the way that they randomly switch between origin-zoom and scrubby-zoom in Illustrator with no way to force a default. Typical. It's like... PICK ONE. I don't give a shit which way you go... JUST FUCKING PICK ONE!
Posted on Friday, January 20th, 2023

I've been crapping on Apple a lot lately.
But not without reason.
Apple used to be the GOLD STANDARD in interface design. Everything was incredibly well-thought-out and intuitive. But now-a-days? Most everything they do is shit. And I simply don't understand why. Yes, Steve Jobs is gone, but surely there are people in Apple who give a crap about making sure that you can use their apps without wanting to beat the shit out of somebody?
But apparently not.
Because I was reminded about this when I was having to use the GUI abomination that is the AppleTV app (whether it's on a Mac, AppleTV, iPad, or iPhone). This app has been shit for ages. It was made even worse when Apple decided to prioritize AppleTV+ over absolutely everything... ramming their service down your throat like a fucking jackhammer. Even over content you purchased. Like when you search for the movie Ted...
But that's just the beginning with their idiotic search. Want to search your library? You can't just click on LIBRARY and search. If you do that, you'll end up searching within AppleTV+ and their media store content. Oh no. To search your library, you have to type into the SECOND smaller search box. And do you know how many times I forget to use the tiny box? ALL THE FUCKING TIME! And do you know why? The second smaller search box DOESN'T FUCKING EXIST UNTIL YOU CLICK ON A TINY FUCKING MAGNIFYING ICON THAT'S UNDER THE SEARCH BOX!!!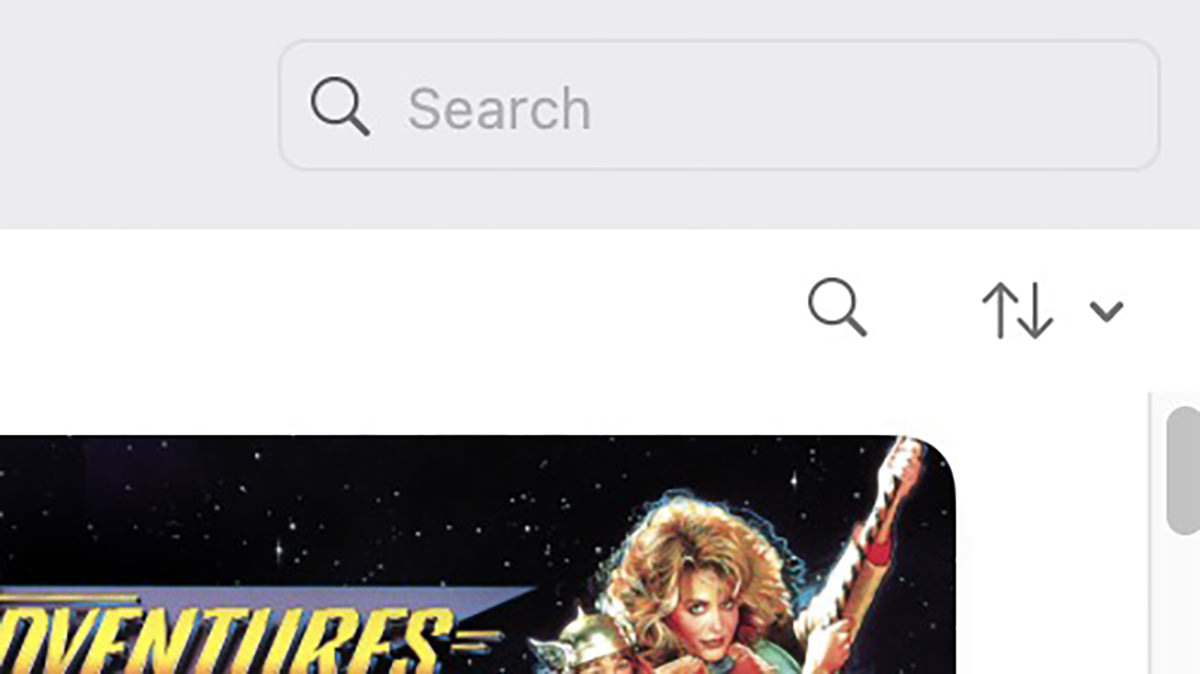 Only then does the search box even bother to appear...
Absolute fucking lunacy.
But wait! It gets worse! Let's say that you use the universal search box anyway to get to your movie because you forgot about the smaller search box. What happens then? As you see from the first screenshot above, you have no fucking clue where the movie is at. Is it on AppleTV+? Is it in the store? Do you have to buy it? Do you own it? Who the fuck knows?
You have to click through to see where in the hell it comes from. In this case, I own it... although it doesn't tell me I own it... I just have to infer that I own it because there's a "Play" button instead of a price tag...
But let's say you're on your AppleTV and don't want to type out the title to get to it since it's a huge pain in the ass? Well, then you get to scroll through your entire fucking catalog of titles! And since I own hundreds of them, that will take a while. Let's say that I want to watch the movie 4th Man Out. With Apple, it's scrolling and scrolling and scrolling and scrolling because Apple puts numbers after letters...
Here it is! Right after Zoolander...
Let's compare that to how Plex allows you to navigate. I use Plex to catalog all my ripped DVDs (which is a legal backup of my massive DVD library). Since I paid for 4th Man Out both digitally and on DVD, it's in both places. Although since Plex puts numbers in front of letters, I don't have to actually scroll anywhere. It's right there at the start...
Not really a fair contest. So let's try another. Zoolander. Another movie I bought on both DVD and digitally. With iTunes, I have to scroll through hundreds of titles to get to it. But look on the right hand side of the Plex interface. See those letters there? No scrolling needed. I just click on "Z" and there it is!
This is especially fantastic on the Plex app for AppleTV... which is far, far superior to what AppleTV itself actually offers.
How embarrassing.
HOW FUCKING EMBARRASSING FOR APPLE!
For the love of God, spend the tiniest fucking portion of your billions of dollars and DO SOMETHING!
Don't get me wrong... there's still a lot of companies who are even worse at this than Apple. But given where Apple started, this is nothing short of tragic.
And I have no idea what it's going to take to get Apple off their stupid asses to actually fix this crap.
Posted on Tuesday, January 24th, 2023

Apple just released their new M2 Max MacBook Pro laptops.
I bought the M1 Max MacBook Pro just over a year ago. But... Apple was claiming a 25% to 30% boost in performance, which is a big deal for me because that's a productivity increase I can't ignore. Less time working is more time I have for other things... IF it were true.
So I decided to trade in my M1 for the M2 with the idea that if it's not noticeably faster, I would return it. The cost to upgrade is huge, and I can't afford to do it if there's not really a benefit.
WELP! KEEPING IT! The speed for the stuff I do most definitely is noticeable. It's almost unreal that it could get even faster when the jump last time was so huge.
Besides... how could I give it up when Jenny loves that new Mac Smell?
Everything in the new model besides the faster chip with faster graphics is pretty much the same. Though you are getting better WiFi 6E (which I can't take advantage of because I don't have a 6E router) and better HDMI 2.1 connectivity (which I can't take advantage of because I rarely if ever run an external display).
Something that hasn't changed but frickin' should have changed is the SD Card slot. It's still UHS-II when UHS-III has been out SINCE 2018! Not that I can take advantage of it either, but when you're paying this kind of price tag you expect that you're getting top-of-the line components. This is just sloppy.
But hey, it's still an incredible machine that I feel lucky to have in my possession.
Posted on Monday, January 30th, 2023

Christ.
There's nothing that indicates just how fucking beyond stupid Apple has gotten than this bit of drama I experienced tonight. The AppleTV remote in my bedroom has never worked. The trackpad on the top doesn't move reliably. So I threw it in a box in the garage and just use my iPhone.
At least I did until tonight.
I went to turn on my TV/AppleTV and got this nonsense...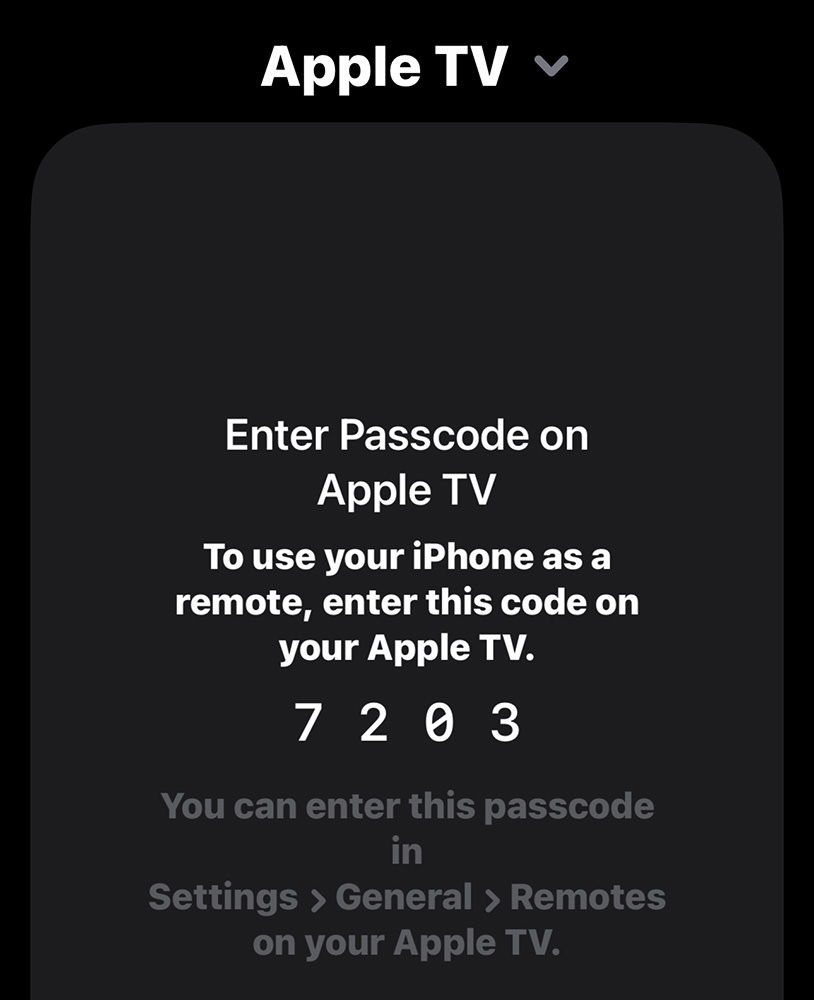 Which is essentially saying that you need a remote to use your iPhone as a remote.
Seriously. How do they come up with this shit?
Is ANYBODY at Apple actually using their products or beta testing shit any more?