Posted on July 21st, 2023

Honest to God I don't understand Facebook. They make billions of dollars off of their users, but actively hates them for using their platform. At least I'm assuming they do because I just got banned again.
And I'm not alone. I've recently seen a number of people saying that their Facebook account got banned. And almost all of them are saying that it's for bullshit reasons that they can't appeal to get their account reinstated. And sometimes they get their entire account deleted because some Artificial Intelligence Bot flags them for violating guidelines that they never violated.
I've been thrown in Facebook Jail multiple times for bullshit reasons. My favorite being "Displaying Graphic Nudity or Sexual Activity" which I was 1000% not doing. A guy had his shirt off in a photo and apparently that was enough of a trigger, despite the fact that he was wearing pants! I appealed... was told it had been looked at... but the ban was not overturned. Which leads me to believe that real people never look at these things because it was painfully fucking obvious that there was no "Displaying Graphic Nudity or Sexual Content" in my post. On top of that... THE FUCKING POST WAS FOR FRIENDS ONLY! LIKE 99% OF MY POSTS ARE!! I'd post a screen capture, but Facebook only lets you access a few of your most recent bans.
I've also been thrown in Facebook Jail for defending gay-parented families. The original post which had a photo attacking LGBTQ persons because "they can't have families" didn't get taken down, but calling out their bigotry by pointing out that gay couples can adopt a bunch of kids or have artificial insemination (or whatever) if they want to have kids... BANNED! Because that's "Nudity or Sexual Activity." Yes, adoption... which by definition is getting a kid without sexual activity is defined as sexual activity. And, again, an appeal did nothing.

And here's the original post, which never got taken down (that I know of)...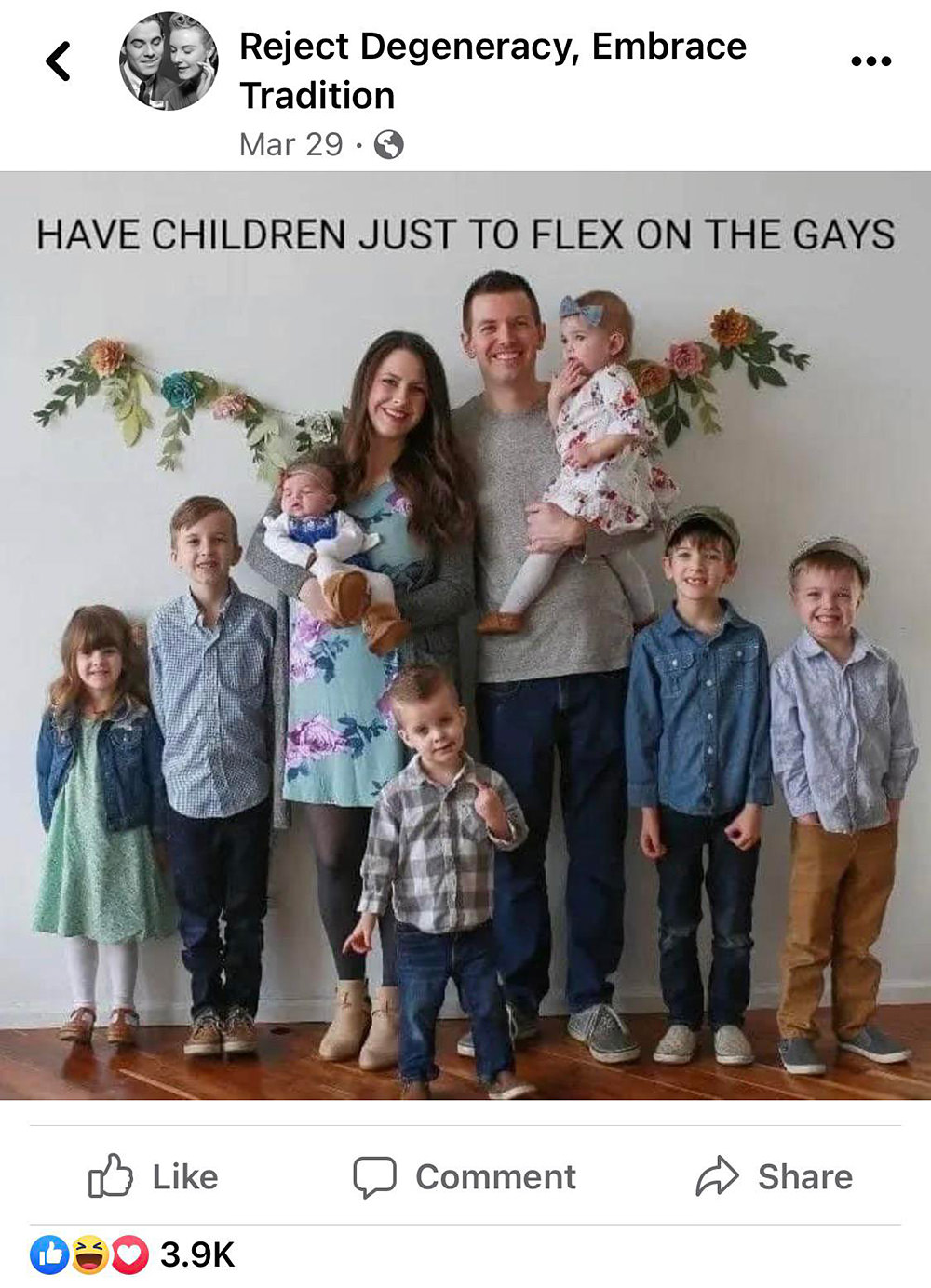 I was also thrown in Facebook Jail for honoring Thích Quảng Đức... a Buddhist monk who set himself on fire to protest the Vietnam War (which I wrote about here). And it's like... okay. I posted a photo that Facebook considers "graphic violence" (WHICH WAS THE ENTIRE FUCKING POINT!) and they are a private company so they are within their right to take it down. But, on the other hand, fuck them for throwing me in Facebook Jail on top of removing it because there was context for the photo that should have been taken into account. I did not deserve to be thrown in jail for reminding people of our tragic history and honoring a man for demonstrating for peace. And yet I was... on two separate occasions... for the same fucking post. Two, two, two strikes for one!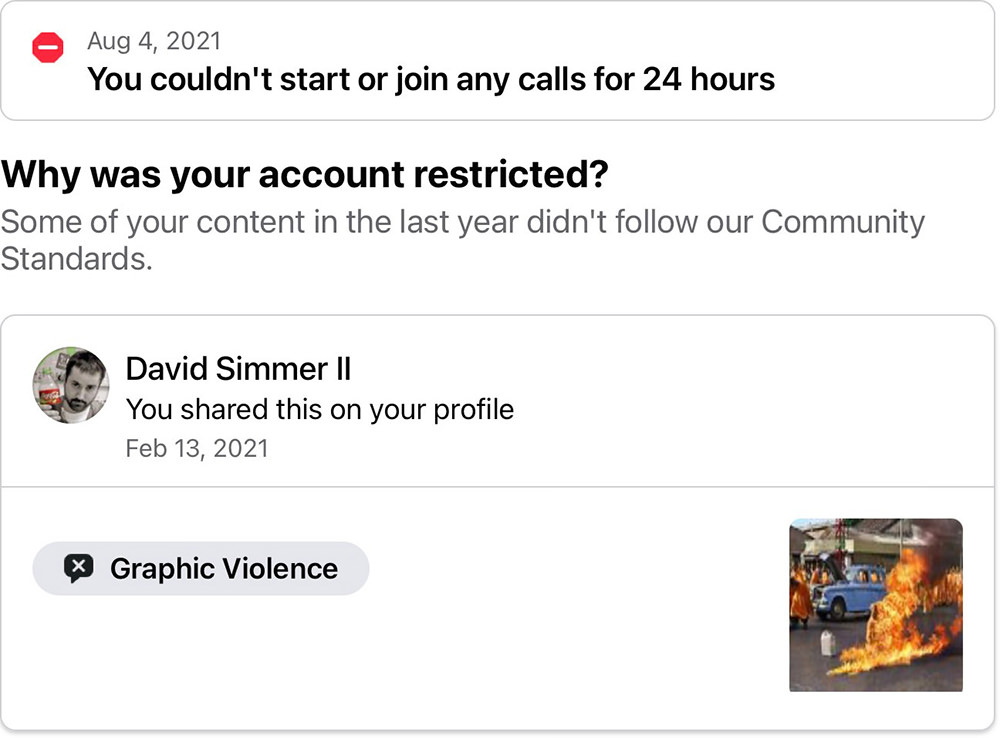 And then I got thrown in jail again this morning.
For posting about buying allergy medication.
To my friends.
And of course I appealed it because there is fucking nothing about "guns, animals, and other regulated goods." But this is what I get every time I've tried throughout the day...

And, for the record, here is my full post... WHICH WAS RESTRICTED TO FRIENDS ONLY!...
During allergy season, I take one-and-a-half Benadryl so I don't drown in my sleep. I buy a large bottle at Walgreens that lasts me over a year. Today I went to buy more. Walgreen no longer offers large bottles of the tablets, only the capsules. WHICH YOU CAN'T CUT IN HALF!! So to save money I bought a bottle of 600 capsules and three boxes of 100 tablets. This giving me 600 doses total. — EXCEPT, guess what, Walgreens will only sell me two bottles total because it can be used for self-harm, I guess. But this is where it gets so fucking stupid. I can buy two bottles of 600 capsules for 1200 total pills. But can't buy four bottles total for 1000 pills. This is the stupidest fucking shit I've ever heard of. All I'm asking for is some common fucking sense. But no. AND THEN… Walgreens wants you to buy more, so they have a buy one, get one 50% off… which means to get the discount I have to buy two boxes of 100 and skip the 600 entirely?? My God. The insanity is fucking insane.
And then this nonsense gets particularly unhinged. Because a local friend in the comments told me that she gets her solid-pill, off-brand Benadryl from Costco in a 600-count bottle. She even volunteered to grab me a bottle the next time she's shopping there! And it's like, yes! Thank you! Things like this are the entire reason I am on Facebook in the first place!
It's things like this (and whatever the fuck is happening over on Twitter) that makes me even more sad that social media has replaced blogging as a way of interacting with friends and family. You will always... always... be under the thumb of others when you're interacting with people. Sure these companies are just trying to remove harmful content, which is fine. Bravo. But it's not working. Content which is actually endangering lives, persecuting and threatening people, and promoting stalking and harassment is still there.
As for me?
I could lose my entire Facebook account because of graphic nudity I didn't post. Sexual activity I didn't post. And "guns, animals, and other regulated goods" I didn't post (BENADRYL IS OVER-THE COUNTER YOU FUCKING DUMBASSES!).
So I guess it's pictures of my cats and what I had for dinner from here on out.
EXCEPT, OH NO...
Though I suppose I could always just post more innocent images... like when Tony Bennett's death was announced. EXCEPT ON NO...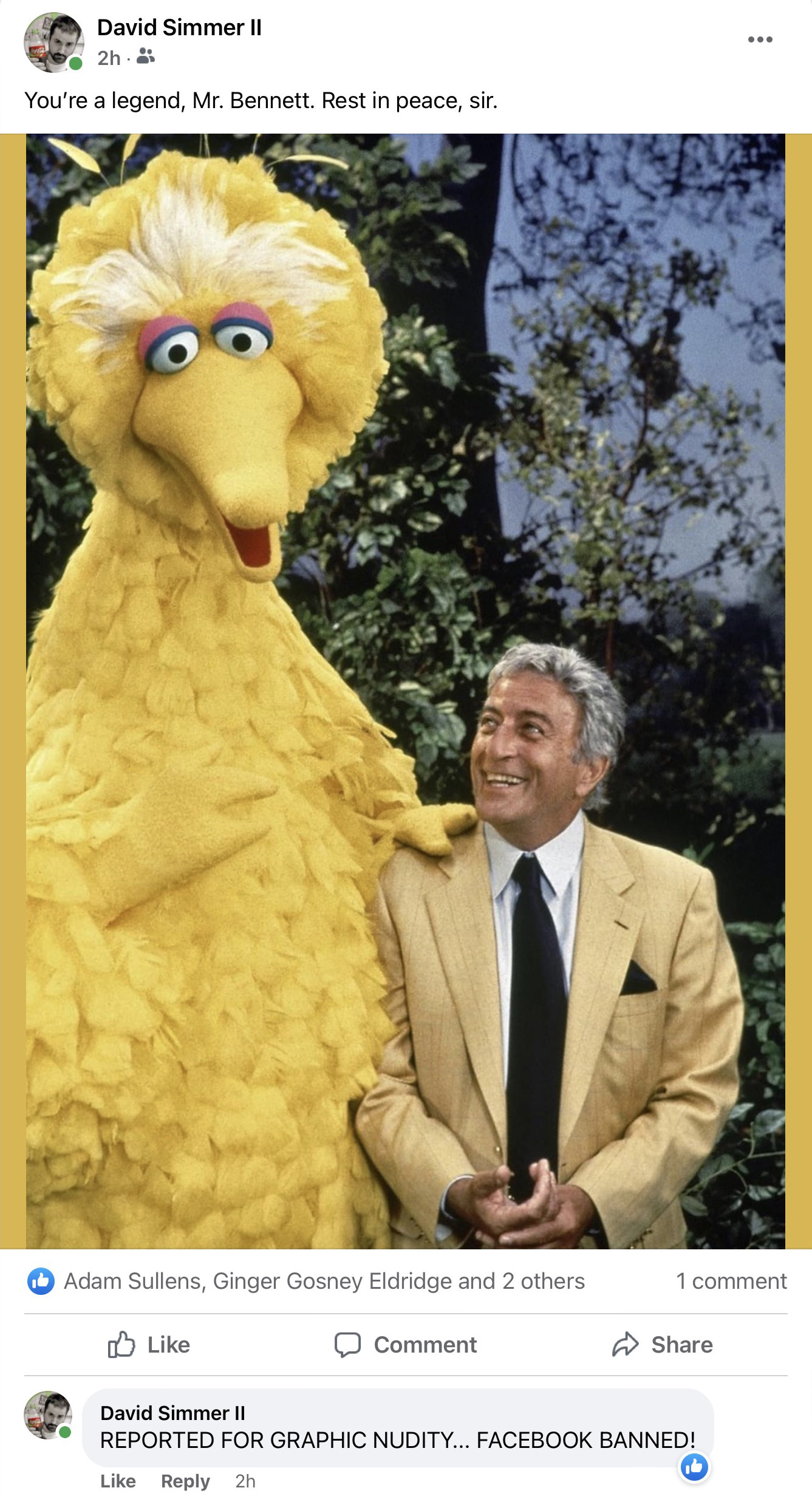 Oh well. I'll always have blogging.
Maybe.
Posted on July 6th, 2023

I've been on a number of boats over the years. Everything from canoes and rowboats to sailboats and cruise ships. I'm comfortable on the water and always have been. I'm especially comfortable on sailboats, possibly because I have fairly good balance and it's easily for me to walk around on them even when the water's choppy.
That being said...
I don't go looking for choppy water to sail on.
Well, mostly I don't.
I did sail over the most treacherous waters on earth in order to go on an expedition to Antarctica. But I was told to stay in bed the entire time, so this is all I saw of it...
The ship didn't roll completely on its side... but it was surely over 45°. It was brutal. There were times I couldn't see sky out the porthole.
But this whole "rough seas" setup is just a metaphor.
The point is that nobody seeks out choppy water unless it's required to get to your destination... and even then you do the best you can to find the calmest path possible.
Which brings us to the latest from Facebook, their Twitter competitor called Threads.
Because I have an Instagram account, I automatically had a Threads account, so I was on it pretty quick to see what's what. Basically, it's a carbon copy of Twitter, which is why I likely won't be using it much. Facebook allows me to hand-select an audience, and that's what I want for my social media. For everything else I have this blog. Threads is not that friendly yet... you can't look at only the people you follow and there's no way to lock anything down... but at least it hasn't degenerated into a toxic cesspool like Twitter.
Yet.
So while I'm happy to check in on my Threads from time to time just to make sure I'm not missing anything, I won't be jumping into Zuckerberg's choppy waters any time soon.
That's a lesson I learned when a fellow passenger on my Antarctica expedition had to be air-lifted to Peru because he was thrown down a stairwell and ended up with multiple compound fractures.
Posted on June 16th, 2023

"I don't want my kid to be gay or trans!" is echoed over and over again as the underlying excuse for the renewed resurgence of LGBTQ+ hate that's infiltrating our laws and society. And I get it. I wouldn't want my kid to be "gay or trans" either. Not because I think there's anything wrong with it... you are who you are... but because this unrelenting toxic bigotry is incredibly dangerous for LGBTQ+ youth.
Except...
Seeing LGBTQ+ representation and diversity doesn't encourage kids to "become gay" or "become trans" any more than seeing somebody who's left-handed encourages them to "become left-handed."
All it does is let them know that it's okay for them to BE gay or trans, if that's who they are, and that they are not alone in the world. That they are accepted.
But entirely too many parents would rather their kids grow up to be miserable adults by denying who they are... assuming they don't unalive themselves first... than to embrace who they are and live their truth. This was made overtly clear to me when I saw the backlash after Pride-inclusive gamer icons were released for the Disney Speedstorm racing game...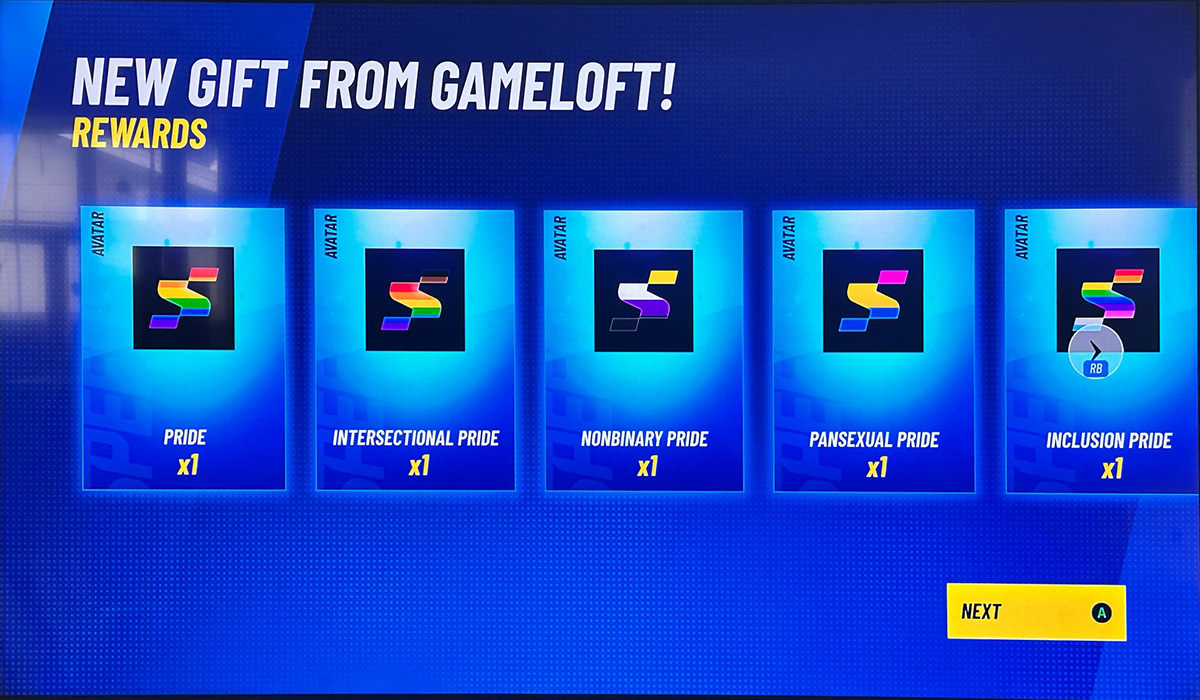 The very first response I saw on social media was along the lines of "I don't have anything against the gays but I am sick and tired of Disney cramming this LGBT stuff down my kid's throat." As if seeing a rainbow Speedstorm logo is somehow an assault on kids?
And it's like... hey, if you're kid is straight and doesn't want to acknowledge Pride, then they can ignore the new icon options and pick something else. But if they are a part of the LGBTQ+ community? Then thank God for Disney and Gameloft, because your kid obviously isn't going to get any support from you. They may be too afraid of you to select a Pride icon for themselves, but at least they get to login and play the game where a bunch of other people are sporting the icons and showing their support for who they are.
It's little things that like that can be the difference between life and death for some people. Literally.
Pride is important because some kid somewhere is being raised to believe that they're better off dead than gay.
So good on you, Disney. Keep cramming that "gay agenda" down our throats.
Posted on June 11th, 2023

Recovering from being deathly sick has never been more fun... because an all new Bullet Sunday starts... now...

• Toast! Awww... my little Toast nightlight arrived!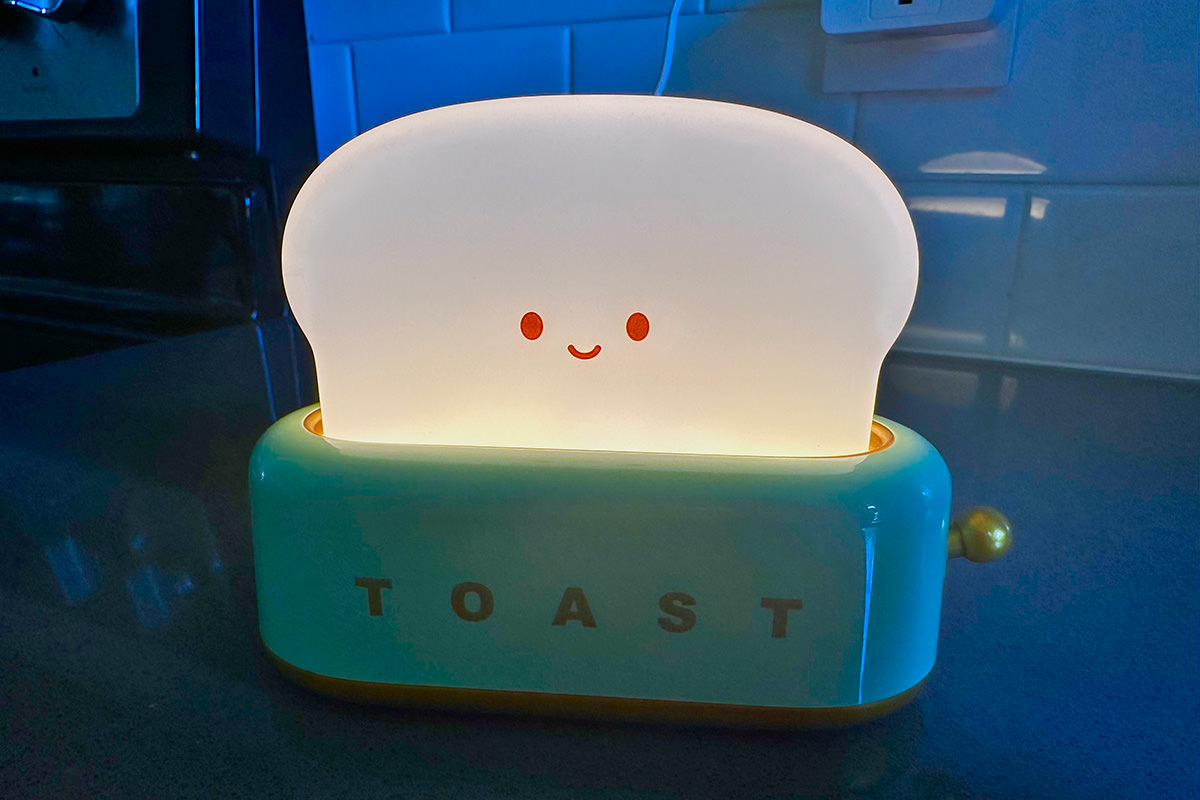 It's a nightlight that I put in the dark corner of my kitchen next to my toaster. Get it?

• Buses? These captchas are getting frickin' stupid ridiculous...
So what? Now we're just supposed to be clicking on every fucking square on these idiotic things?

• Good Omens 2! This looks even better than the first one. The casting was note-perfect for these characters, and seeing more of them is something I am very much looking forward to...
It's weird how flawless the casting was for these.

• Schlage Rage! It went something like this...
ME: "I hate my Schlage Sense smart lock SO much. Flames... flames... on the side of my face... Which lock should I get to replace it? Preferably one with HomeKey."
HOMEKIT FORUM MEMBER: "Definitely the Schlage Encode Plus."
ME: "IS THIS SOME KIND OF JOKE?!? I hate hate HATE the Schlage I have now!"
HOMEKIT FORUM MEMBER: "I understand. I agree. But know that all the bad things on the Sense have been improved one thousand percent on the Encode Plus. And be sure to get the Plus if you want HomeKey."
OTHER HOMEKIT FORUM MEMBERS: "Hard agree!"
ME: "Just so you know, if I hate this lock I am coming back to haunt all of you."
And... they were absolutely right. No more stupid battery pack cable. No more stupid setup fails. No more stupid "lock not found." No more stupid random lock resets. No more stupid random lock cycling. No more stupid HomeKit disconnects. It's an entirely new product. So good on Schlage for listening and improving, I guess. Doesn't change the fact that they unleashed a shitty product that I've been suffering with for seven years though.

• Hilarious! Zuckerberg on Apple Pro Vision: "Our vision for the metaverse and presence is fundamentally social. It's about people interacting in new ways and feeling closer in new ways. Our device is also about being active and doing things. By contrast, every demo that they showed was a person sitting on a couch by themself. I mean, that could be the vision of the future of computing, but like, it's not the one that I want." This is the stupidest fucking thing I've heard this week. How many times have a GROUP OF PEOPLE all put on their Facebook Quest VR goggles and sat around interacting in the same room? Nah, buddy. They're sitting alone on the couch! How is the Facebook headset more "social" when you're wandering around as a cartoon floating torso that's always gripping hand controllers? Apple at least went with uncanny valley avatars that attempt to look like you and leave your hands free...
Apple's take will cost HUGE MONEY... to start... but it will get cheaper over time. Facebook, who has lost millions (billions?) trying to do VR... and ultimately failing... shows Zuck's statement for what it is... fear. And bullshit. I'm not sure ANY of this is the "future I want." But I'd take Apple's vision over Facebook any day.

• Crossing the Street in Vietnam! Not a lie. Which would have been fine... except I had my mom with me, and most intersections are far busier than this one! I'll never forget the first time we went to cross a street. The intersection actually had a crosswalk signal (many don't). But it was totally ignored. We had the light but it made no difference at all... you're just expected to cross like this...
But still... it's s country like no other and worth a visit. As is this guy's TikTok.

• Church & State? Okay, government funded Christian schools are a thing now... so are they going to also fund Muslim schools? Buddhist schools? Hindu schools? So much FOR FUCKING SEPARATION OF CHURCH AND STATE!! This is a big slap in the face to all Americans, even if they consider themselves "Christian." Absolutely outrageous. Can't wait until the government is forced to sponsor Church of Satan schools because they're so fucking stupid that they don't have the fist clue about the can of worms they are opening. Jesus. OR NOT. THAT'S *YOUR* FUCKING CHOICE IN THIS COUNTRY!!!

And now I guess I had better make my bed, take a shower, and try and get some sleep .
Tags:
Apple Stuff
,
Bullet Sunday
,
Home Automation
,
HomeKit
,
Internets
,
News
,
Politics
,
Television
,
Travel
,
VR
Categories:
Apple Stuff 2023
,
Bullet Sunday 2023
,
Home Automation
,
Internets 2023
,
News – Politics 2023
,
Television 2023
,
Travel 2022+
—
Click To It:
Permalink
—
0 Comments: Click To Add Yours!
Posted on April 25th, 2023

My favorite YouTuber is Marques Brownlee (MKHD). He has a way of talking about tech and reviewing products that is on an entirely different level from his peers. He isn't just out there regurgitating marketing spin, he's speaking from a place of knowledge and has an easy manner to deliver his thoughts that makes his videos a joy to watch.
So imagine my surprise when his latest video dropped... and it was him talking about the new shoes he designed...
This is the ultimate form of "Putting your money where your mouth is," and you love to see it.
If I had $189 burning a hole in my pocket, I would absolutely buy a pair. But that's more than double the cost of what I usually spend (at the Nike Outlet Store, natch) so I'll just have to admire them from afar.
In a bit of marketing genius, Atoms and Marques sent pairs to a bunch of YouTubers, and the videos of their unboxing are showing up everywhere. Including other favorites like Tyler Stahlman...
And Zack over at JerryRigEverything...
And even Linus got in on the action... in his signature style, of course...
Dave2D (LOLOLOLOL!)...
Ugh. I want these more than is rational and certainly more than I can justify financially. Maybe this is one of those rare times that I throw fiscal responsibility to the wind and just spend money I don't have!
Posted on April 10th, 2023

To say I love CGP Grey videos is a gross understatement. That's like saying "Cheese is okay" and "I guess baby kittens might be a little cute." His videos are frickin' EPIC!
And today he unleashed one SO good and SO true that I cannot bring myself to save it for Sunday bullets.
No, you're getting it right freakin' now...
Couldn't possibly agree more with his assessments.
And the fact that he made it hysterically funny is just S-tier work. Keep it up, Grey.
Posted on July 22nd, 2022

It's amazing to me how the things that people enjoy are always up for judgement. Right now Comic Con is going on in San Diego and, of course, there are a lot of attendees dressed up like their favorite characters from comics, television, and movies.
I, for one, am amazed by the sheer creativity that goes into the costumes that people construct. Some of them are ridiculously smart and clever, and those who create such cool things have my respect.
As well they should.
But whenever I see photos and videos posted of these cos-players, there are always always always people in the comments seeking to tear them down. Always.
Usually it's in the vein of making fun of grown adults who like dressing up in costumes. But sometimes you get somebody truly deranged. One "Good Christian Woman" weighed in with her unwanted 2¢ by saying that cos-play is a tool of Satan to lure children to adult so they can be groomed for "sex abuse." She ended her lengthy tirade by calling all the cos-players "sick freaks."
And all I could think of was who the real sick freak was in this scenario.
And it is most definitely not the people who are having fun dressing up for a comic book convention.
Posted on April 28th, 2022

It's uncanny how often I Google something... then come to Facebook and see an ad for what I Googled pop up first thing.
What's bizarre is that most of the time the ads I'm served are useless. I Googled to find local landscapers. As predicted, Facebook has an ad for landscaping services as the second thing in my feed. But it's for a company 3-1/2 hours away? That company just wasted their ad dollars because Facebook apparently can't tell my location... despite them having my address.
We're told all the time that we should welcome being tracked because it allows companies to serve us information that benefits us. But the only beneficiary in this case is Facebook, who gets paid for serving a useless ad. Neither me nor the advertiser benefits at all. But, yeah, you keep selling that utopia, Facebook.
Posted on April 1st, 2022

Here are the YouTube creators I can't live without... meaning that I watch every single last one of their videos... PART TWO!
(in no particular order)
Marques Brownlee
Nobody... and I mean nobody... looks at tech the way that Marques does. Not only is his approachable, relatable, smart takes on tech essential viewing for me... the guy is so good that I wish he would produce more videos on non-tech issues as well.
Phillipp Dettmer (with Team Kurzgesagt)
I've raved about Kurzgesagt many, many, many times. A deep dive into very cool subjects.
CGP Grey
Probably one of the most entertaining people on planet earth, Grey tackles all kinds of subjects to excessive degrees and I love every precious minute of it.
Thomas Flight
Thomas loves film. And his deep dives into film discussion is the stuff of cinephile dreams.
Julian Baumgartner
Julian restores art, and his videos are like soup for my soul. Relaxing, informative, entertaining... and always fascinating... you don't have to even like art to appreciate these soothing videos.
Tyler Stalman
There are a lot of photographers on YouTube. Tyler is my favorite. He's very talented, mostly Apple-based, and has a unique approach to talking to photographers about the tools we use.
Arun Maini
Arun has a plethora of tech videos with an interesting look at the tech I love. But he also has cool videos about extreme tech, weird tech, and unbelievable tech that are entertaining as all get out.
Johnny Harris
One of the most fascinating travel bloggers around, Johnny has been around for a while (I first became a fan when he was doing Borders at Vox). He always has a unique take on cool stuff I love... travel... maps... international news.
Nathaniel Drew
If you crave adventure and travel from a more intimate perspective, Nathaniel makes videos just for you. But he also makes videos about what it means to be fundamentally human, and those are worth watching too.
Derek Muller
Derek's videos run the gamut. Some of them are just interesting looks at information or concepts that make life fascinating. Others are technically complex subjects broken down into (mostly) understandable chunks. Then others are just... science weirdness.
Posted on March 31st, 2022

Here are the YouTube creators I can't live without... meaning that I watch every single last one of their videos... PART ONE!
(in no particular order)
Jay Foreman
It's like... it should be illegal to be this entertaining while being this funny. And so very, very British.
Lachlan & Jaxon Fairbairn (with Darcy Ahrns)
These videos are just nuts... but in a good way. Aussie vlogger Lachlan Fairbairn comes up with funny takes on just about everything, and enlists his brother and friend to make videos about it.
Linus Sebastian
If you're deep, deep into geek tech, then I don't need to tell you about Linus and his channel of high-powered tech nerd porn. You already know. The guy is an institution, and now has an entire team making videos for his channels. I watch most of them. But I watch every one of Linus's videos. There's not much hand-holding here... but I don't want to waste the time, so it just makes me a bigger fan.
Mark Rober
This guy makes the absolute coolest stuff.
Quinn Howard
I happened across Quinn after a video he made about Dune landed in my suggestions (the guy talks about Dune a lot). Then proceeded to watch all of his videos because he's got such a great take on the nerdy stuff I love.
Patrick (H) Willems
The guy has really cool takes on popular cinema... and also some weird stuff that pops up from time to time as well (to varying degrees of success).
Kevin Perjurer
If you're a theme park junkie like me who just loves to think back to all those great rides that don't exist anymore, then Kevin's channel will fill you with the nostalgia that comes from a deep dive into defunct attractions of days gone by.
Matt Broussard
Chefs on YouTube are a dime a dozen (I actually prefer shorter format cooking videos on TikTok because they waste less time with stuff you don't care about). Matt has this approach where he posts his TikToks on YouTube, thus neatly bringing me what I want to see on a platform that's less annoying. But he does have interesting content built for YouTube as well.
Andrew Rea
That other YouTube cooking channel I watch, which became popular as "Binging with Babish" but has grown into something so much more. Most of what's here is cooking famous dishes from television and movies... even when the idea is absurd. But it's all entertaining.
Dean Nicholson
This guy found a stray cat, Nala, while biking around the world and now takes her with him everywhere. As if seeing the world wasn't good enough, being able to see it with a cat? Priceless.