Posted on January 5th, 2017

If I had a nickel for every time I've heard somebody tried to use "The Bible" as their argument... when they clearly have no idea what they're talking about or what The Bible is actually saying... I'd have a lot of nickels.
And it drives me insane.
You would think that people would make an effort to understand a book they're (purportedly) devoting their lives to, but that's apparently asking too much. Rarely can you find somebody who can name The Ten Commandments... let alone put what scraps of Scripture they think they know into Biblical context.
This exchange on Tell Me Everything is a classic example...
Stupid indeed.
But so very typical.
Posted on February 12th, 2015

My work commute is around five minutes. Five minutes I must drive in a car because I have loads of materials that have to accompany me back and forth.
You'd think that such a short amount of time would eliminate any possibility of drama or excitement.
You would be wrong.
Both coming and going, it's a drive I have begun to loathe with every fiber of my being. For whatever amount of time on the road now-a-days, there are simply too many idiots and assholes out there to escape it... driving is torture.
Will somebody please give me a billion dollars so I can afford to hire a car and driver?
Because the ten minutes I spend on the road is now responsible for over 50% of my rage each day.
Rage that would be much better spent hating the Yankees.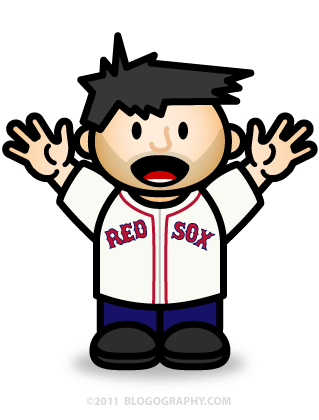 Posted on February 11th, 2015

Yesterday three people were murdered in Chapel Hill, North Carolina.
It's horrific to think that killings are so commonplace in this country that many people's reaction would be something along the lines of "So? People get murdered every day!"... and that's pretty much what the reaction has been. I don't watch a lot of news, but what little I've seen hasn't mentioned it. I don't have tons of time for social media, but my Twitter and Facebook feed has been mute. The mainstream print media? Nope.
And I guess that's understandable. If a murder happens in your local community, it'll most certainly make your local paper. But, with around 15,000 murders in the USA each year, it probably won't go national or enter the public consciousness unless there are extraordinary circumstances surrounding it.
Extraordinary circumstances like... ohhhhhh... let's say... it was a murder committed by somebody claiming to be a follower of Islam, for example.
If a family were to be murdered by a Muslim killer, that makes national news. You wouldn't be able to turn around without that story being broadcast out of every available outlet. Hell, FOX "News" would be hyping the heck out of a story like that every hour on the hour. On the half hour. Gotta keep the Muslim hate machine going, after all... gotta keep the fear running hot... and Muslims murdering innocent people (especially innocent white people) on US soil would be mana from heaven for FOX's non-stop "America-is-a-Christian-Nation-and-Everybody-Else-Should-Get-the-Hell-Out-of-Our-Country" agenda.
You can't promote your fictional "War on Christmas" propaganda outside of Christmas season, after all. You have to have something for the other six months of the year.
Okay then. Let's run a different sequence of events. Let's say it was an atheist who murdered an innocent family. What happens then? Well, that scenario isn't going to get FOX and Friends as much traction as a Muslim murderer... but, still... any time the murderer is a non-Christian, it's fuel for the agenda right? Any time you can spin non-Christians as immoral animals destroying this country is time well spent when you're FOX "News," right?
You'd think so, wouldn't you?
And you're probably right.
EXCEPT...
Except when the people who were murdered by the atheist are Muslim.
As is the case with the tragic events in Chapel Hill yesterday.
If you're FOX "News," providing sympathetic context for innocent Muslims being murdered is counter to the agenda that governs your very existence. And so... no twice-hourly news coverage of the murders then. A quick mention in the headlines to maintain the appearance of being "Fair and Balanced," perhaps, but that's as far as it goes.
But that's just FOX "News."
You expect something like that from FOX "News."
But what about the rest of the mainstream media? Where in the hell are they on this story?
I don't know.
Maybe Kim Kardashian got a new haircut or something?
Or perhaps the general feeling is that there are 15,000 murders in the USA each year, and three people getting murdered over a parking space just doesn't merit a national news story.
And yes, if you hadn't heard, the reason being given for a psychopath murdering three people next-door to him was a fight over a parking space. He was a violent man. He was filled with hatred for everybody and anybody. He had clashed with people over parking in the past. This was just a sad, but most likely inevitable, culmination of events which have been building for quite some time. Nothing to see here. Move along.
Or so we're supposed to believe, I'd imagine.
The very idea that the lack of coverage might be because the three dead people in Chapel Hill are Muslim and therefor don't matter because we've been conditioned to believe that all Muslims are terrorists and the only good Muslim is a dead Muslim... well, that would be a horrific reflection of American society... home of "freedom of religion."
Wouldn't it?
Yes. Yes it would.
And yet... given the extraordinary circumstances surrounding these murders... circumstance which, if reversed, would cause a media firestorm that would blanket the nation with news cycle after news cycle of coverage... what other conclusion can be drawn?
Because, honestly, does anybody think this all seriously comes down to a parking space? Anybody?
Or does it come down to an angry person inundated by anti-Muslim sentiment day in and day out finally getting just the excuse he wanted to kill people. People who don't matter. People so vilified that they deserve to die. People whose murder might even end up making him a national hero. Somebody Judge Jeanine would be proud of...

To all my Muslim friends who want nothing more than to live their lives in peaceful coexistence with their fellow Americans and share in the freedoms this country was built upon... I am sorry.
I am sorry that a tiny fraction of the world's two billion Muslims who dedicate their lives to terror are made to define you.
I am sorry that every possible negative connection to your religion... no matter how tenuous... make the news where positive reflections of your faith rarely do.
I am sorry that you have been made into an object of fear and loathing by a systematic campaign of hate meant to dehumanize you, your families, and your friends.
I am sorry that our society fosters an environment where your community is marginalized and your contributions are dismissed.
I am sorry that you have to find a way of explaining to your children how their very existence is a catalyst for exclusion and hostility... not by your country's enemies or by religious radicals in a land half-a-world away... but by a frighteningly large segment of their fellow citizens right here at home.
But most of all... most of all... I'm sorry that nobody is asking the hard questions that need to be asked about what lead to the horrifying events in Chapel Hill yesterday.
Because three human beings gone too soon from this earth deserve more than to be reduced to a parking space.
Posted on March 10th, 2014

And here's that missing bullet from yesterday...
When it comes to the politics of religion, I generally remain silent because the fallout just isn't worth it. Even when I make a simple observation on the topic with no opinion whatsoever, it seems I end up with hate-mail or nasty comments. And it's not just here on Blogography. I once made the following comment on Facebook...
"Separation of church and state only seems to work one way, and that's to the sole benefit of the churches. They are given tax-exempt status so that their financial operations are kept separate from the government, as interpreted by the First Amendment, and that's fine. That's the law. But more and more we are seeing churches being actively involved in politics and government. They use their monies to sponsor candidates for public office, back legislation, contribute to lobbying efforts, and otherwise influence or control matters of the state. They are clearly not maintaining a separation from their side of the bargain. And yet there are no repercussions for them doing so. Get caught stepping over the line and you should be getting your tax exempt status revoked. But how often do we hear of that happening? Our government is tasked with upholding The Constitution and protecting the religious freedoms of the people they serve. Apparently this doesn't include protecting a person's freedom from religion. Which is why I want to vomit every time I see somebody claiming that they're being persecuted because they can't put Jesus on top of a post office... or same-sex couples can get married... or somebody says "happy holidays"... or whatever. Clearly, they have no fucking clue what "persecution" even means. Some churches have evolved into tax-free political action committees operating outside the law, and nobody does shit about it. The truth is that the only people being persecuted in this scenario are people wanting to live their lives free from religious rule and have a government free from church influence."
I ended up having to de-friend two Facebook "friends" and completely blocked a third over it.
And so I try to avoid the subject entirely, even though I think things are far worse now than they were when I wrote that five years ago. As churches and people of faith... namely, the Christian Right... feel more and more threatened by things they don't like (e.g. marriage equality), they've stepped up the persecution rhetoric to an all-time high. Many times I've wanted to write about this grotesque mockery of people who are enduring actual religious persecution... and the height of hypocrisy fueling it... yet I have resisted.
But now I don't have to write about it because somebody has written about it for me: News Flash to Christian Right: Religious Freedom Doesn't Give You the Right to Control Other People. So thank you, Robert Boston.
The only reservation I have over endorsing articles like this is the same one I always have... it does not apply to all Christians. I'm guessing it doesn't apple to most Christians. Not only that, but it could equally apply to any religious organization which feels their beliefs should dictate how other people live their lives in a society built on freedom of religion.
Or Freedom from Religion, as the case may be.
Posted on October 16th, 2012

Yesterday I took a look at a sampling of various Christian archetypes. This was a preface to talking about how The Creation Museum is making a concentrated effort to reach all Christians with a literal interpretation of God's six days of Creation. It's an ambitious goal to be sure. Our modern understanding of the universe and "how things work" are more often than not in direct opposition to Scripture, so it's a hard sell. But, I'm here to tell you, the people behind this museum give it their best shot.
Before I go any further, I am compelled to admit that I am not a Christian and believe absolutely none of it. When it comes to life on earth, I put my faith in science and evolution. I fully believe in scientific methods like "carbon dating" to reveal the true age of the earth and when it was that various creatures lived upon it. I do not buy into The Flintstones world-view where dinosaurs and man existed at the same time. I do however, believe in God... though what constitutes "God" to me is radically different than what can be found in The Bible.
That being said, my studies of various world religions over the decades have me concluding that it's not my place to judge others for their beliefs, just as I would hope that they don't judge me for mine. For all I know, we're all plugged into The Matrix and none of this is real anyway. So who am I to say what is the absolute truth?
And so...
I have wanted to visit The Creation Museum ever since I saw this photo...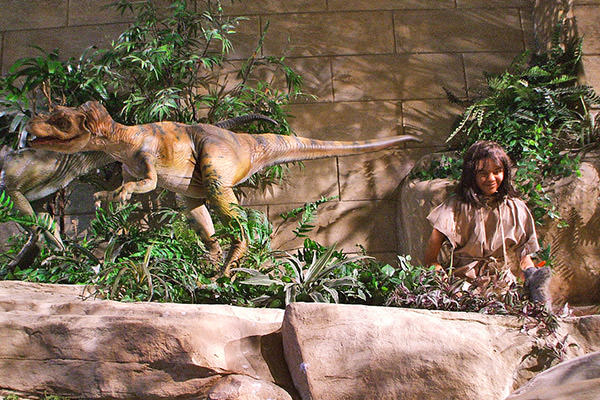 Photo by Mavra Chang on Flickr
I love dinosaurs. And my favorite thing about dinosaurs is that there were so many of them that were brutal killing machines. I've watched Jurassic Park dozens of times because seeing those nasty velociraptors hunt down people is pretty darn cool. So when I saw this image, I was freaking out. Why in the hell isn't that dinosaur ripping that little girl to shreds and eating her for brunch? "RUN LITTLE GIRL! RUN AWAY... EVEN THOUGH IT WON'T DO ANY GOOD! YOU'RE DEAD! D-E-A-D, DEAD!!! BWA HA HA HAAAA!" I'd say out loud to nobody in particular.
Curious to know how this insane photo could exist, I tracked down The Creation Museum and was mesmerized. Here was everything I didn't believe in... all in one building! I made a vow to visit. And this past Sunday, I finally did...
Now, don't let this boring exterior fool you. This is hands-down one of the most beautiful museums I've ever seen. It is a thorough exploration and explanation of a literal interpretation of The Book of Genesis unlike anything you could imagine. And, even though I think it's all fiction, I fully admit it is really well done. Exceptionally well done, even. And you feel that the minute you walk inside...
The continuing theme of the museum is "Same Facts, Different Conclusions" and they often times meld science with Scripture to support their arguments. To that end, they create scenes like this to establish that they are not disputing facts in evidence...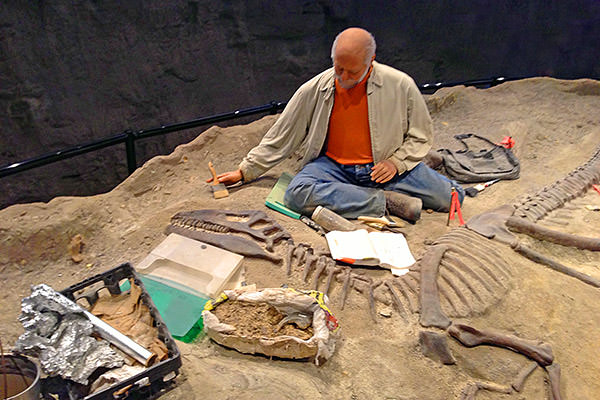 Dinosaur says "Oh this crick in my neck!"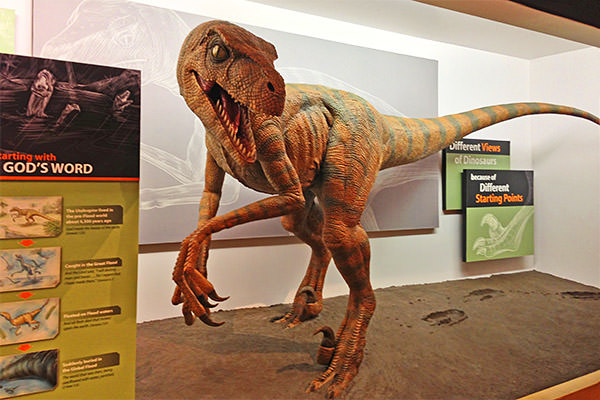 "Anybody seen a little girl feeding carrots to a squirrel around here?"
And then ease you into a "debate" of Scripture vs. Science with nice displays that pits Man's word vs. God's Word...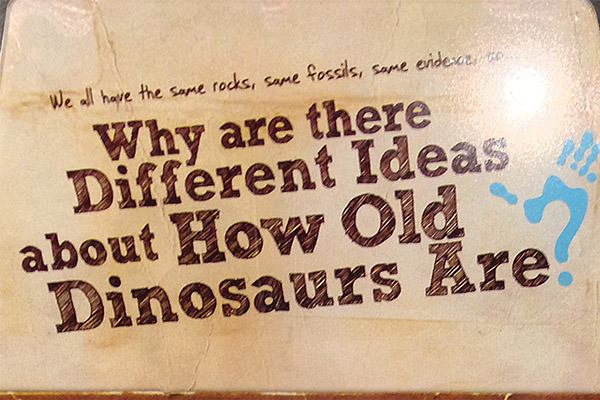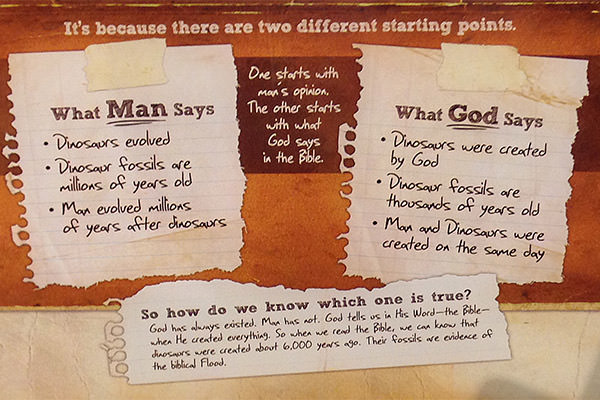 After that they explain how silly an idea it is that we have a common ancestor with monkeys, complete with holographic evidence over a model of Lucy, the famous Australopithecus...
The single most important piece of Biblical Scripture used to explain how dinosaur bones got to be where they are and why scientists are mistaken as to how old they are is The Great Flood. The museum posits that the flood was practically instantaneous and provided such massive pressure that things like coal formation happened in weeks instead of millions of years...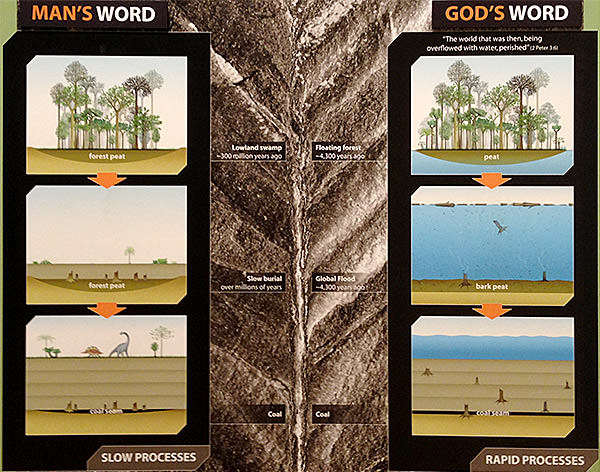 This is not an easy pill to swallow given the geological evidence. But over and over again the museum claims that their Biblical truth is no less valid than other scientific theories. They just have a radically different starting point for the beginning of life on earth. Science = ~14 Billion Years... Scripture = ~6,000 Years...
You're hit with a lot of information before you even enter the exhibit space. God's plan for Creation has been fully laid out and supported as truth by their interpretation of scientific evidence. I may not agree with that interpretation, but I can respect their viewpoint. At least I did... until I got to this...
Really? Really? Playing the victim never really sells me on your position no matter what it is. If you're going to whine about separation of church and state, save it for your newsletter. It doesn't have a place here. This one section completely undermines the entire museum, in my humble opinion. Let your arguments stand on their own without this kind of bullshit.
Anyway... off we go to the exhibits, which is preceded by a series of videos showing just how awful human beings are today...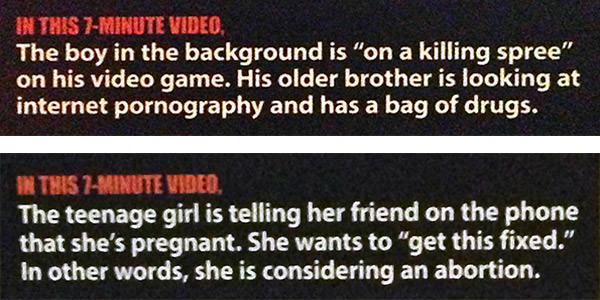 I guess the films are supposed to set the stage for what we lost when you turn the corner and get dropped into a really nice recreation of the Garden of Eden...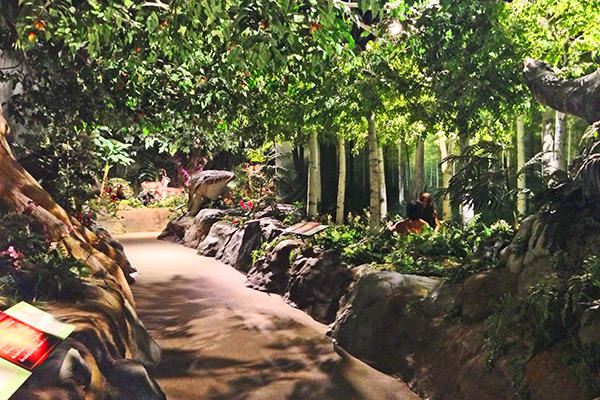 It starts out with the creation of Adam who is naming all the animals while a dinosaur eats a pineapple nearby. There was no death in The Beginning, so animals didn't eat each other...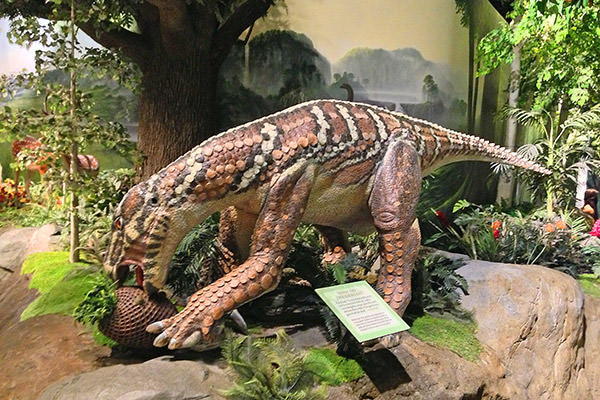 Then Eve comes along, which results in some steamy scenarios worthy of high-budget porn...
All is not perfect in Paradise, however, as that nasty serpent is hanging around, ready to doom us all...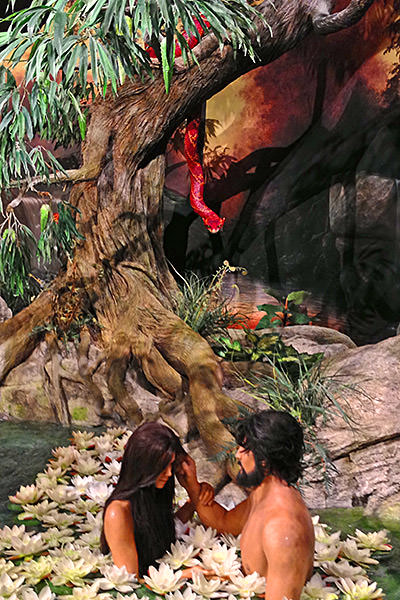 And here it is... Eve convincing Adam to eat from the Forbidden Tree. What a bitch!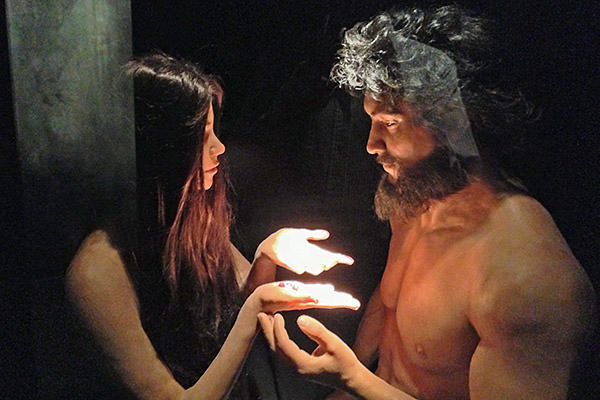 Adam gives in to temptation, and then what happens? You turn a corner and... ZOMFG! IT'S HITLER!!!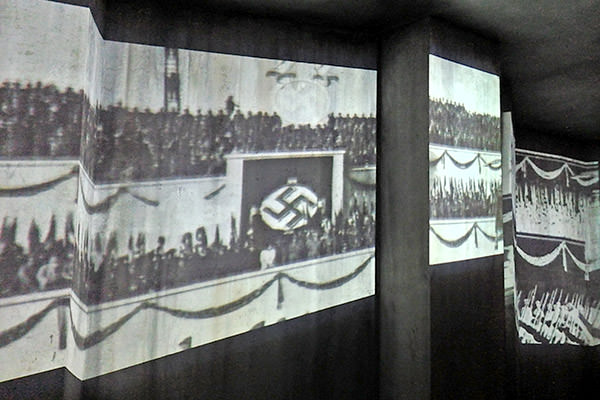 Now THAT'S Shark Extreme!
God is most displeased, so now Adam has to work for everything instead of having it handed to him. What was once Paradise, is now a horrible place filled poisons, diseases, and weeds... DAMN WEEDS! But just look at how ripped Adam gets from working in his garden...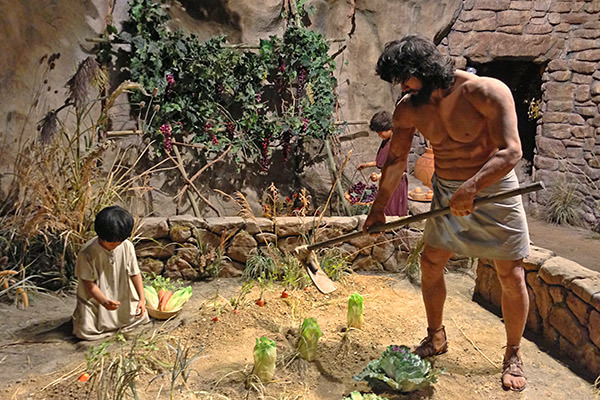 And, of course, dinosaurs are prancing around Adam's house. Though, it's after The Fall now, so I'm guessing they're no longer going to be satisfied with eating pineapples. LOOK OUT, LITTLE CAIN AND ABLE!!!
It's right about here that the museum explains how all of humanity is descendant from Adam and Eve. Their children married each other and had kids who married each other, which was not considered a bad thing back then. Apparently their DNA was so pure that inbreeding didn't cause The Hills Have Eyes-type genetic defects like you get when brothers and sisters reproduce today (even though science dictates the "purity" isn't the problem... it's the lack of genetic diversity).
But even God-approved inbreeding didn't work out that well for humans, who ended up becoming people so horrible that God decided to wipe the earth clean and start over again. Time for Noah's Ark!
Now, of all the stories in The Bible, Noah's is probably the hardest to believe. The guy really gathered up two of every animal, insect, bird, and creature from the entire earth? Seriously? And, now there's dinosaurs in the mix as well. How in the heck did he manage that? Well, the museum would argue that God was involved, so all things are possible... and the dinosaurs Noah found were probably just babies, so they could actually fit in the boat. A construction project which took poor Noah and his sons around 100 years to complete. Still, he ended up looking pretty good for someone of his advanced years...
In addition to being beautiful and well-crafted, the museum also has a good sense of humor about things, which I got a kick out of...
And... scene! End of the exhibits.
We now move on to theaters featuring films that further explain the museum's position on Creation. They play on continuous loop, which makes it easy to catch them all in your visit.
By far the most fascinating was a movie about dragons. The Creation Museum fully endorses the idea that dragons were actual creatures, and support this by saying how dragons are found in literature and stories around the globe by numerous disconnected civilizations. Coincidence? I think not! But why? Why would the museum drag magical creatures into their story? Well, it's because they claim dragons were actually dinosaurs (Pterodactyls, perhaps) which were embellished over the ages to breath fire and stuff. And if dragons were, in fact, dinosaurs then this means dinosaurs existed at the time of man. Ergo, everything in Genesis must be true, and God created everything at the same time on the sixth day...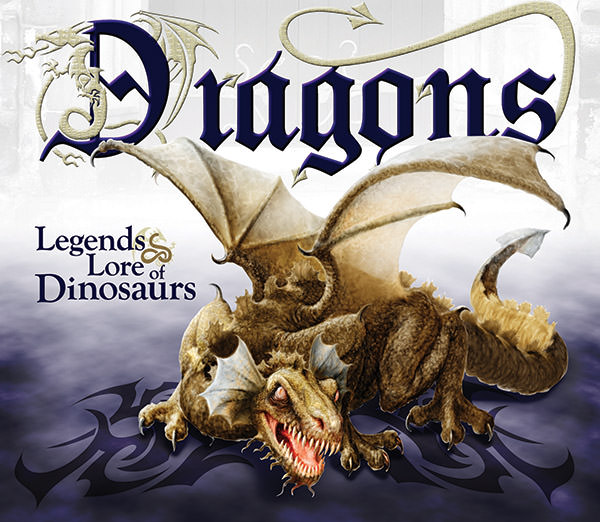 Yes, it's a stretch, but... hey, I wasn't there.
At the end of your tour, there's restaurants and a really nice gift shop. Sadly, as it was a Sunday in the off-season, I didn't get to eat at Palm Pizza, which was located in a really cool little plaza...

So...
It would be easy for me to write-off The Creation Museum as a wacky pseudo-science museum which shoe-horns Scripture into facts. And logic dictates that their wholly unbelievable and unscientific exploration into life on earth should be dismissed as outright fraud and a futile attempt to support a faith-based worldview. Many other people have said just that.
But...
That's taking the easy way out. The truth is that I greatly enjoyed the museum, and was grateful to be given such an amazing look into how some of my fellow humans see the world. The reason I have spent such a great amount of time studying the earth's religions is to better understand humanity. And, much like the beautiful Holy Land Experience in Florida, this Creation Museum is just another piece of the puzzle for me.
And it's a piece that's really well-done.
The cost of a 2-Day admission ticket is $29.95 for adults and $15.95 for children with free parking. Even with the jaw-dropping quality of the museum, I think this is a bit high. $19.95 feels like it would be much closer to the mark. Admission to the museum's planetarium is an addition $7.95 per person (I skipped it, because I didn't have an extra $8 to spend, and I've been to planetariums before). Moms get free admission on Mother's Day, just as dads do on Father's Day (all the more reason to be fruitful and multiply!). US Veterans are admitted free on Memorial Day, Independence Day, and Veterans Day. Everybody gets free admission on Christmas Eve.
In Summary...
Despite my being a non-Christian, I had a really good time at the museum... even if I can't get behind the content. The staff were very nice and helpful. The exhibits are top-notch and near-Disney-quality. The organization and "flow" of the layout is well-planned. There's plenty to see and do and a lot to think about. A lot of love went into crafting The Creation Museum, and it shows in even the smallest detail.
For fundamentalist Christians who believe that Creation took place over six 24-hour days, it's a no-brainer to come here.
As for other Christians who struggle with "the Creation myth," well... it's hard to say. You might very well be convinced after visiting. As somebody who believes in science, it's tough for me to recommend you come here and possibly lose your grip on what I consider to be reality, but... eh, I still do.
For everybody else, it's a toss-up. Maybe, like me, you want to understand the fundamentalist Christian world-view better... it's definitely worth visiting for that. Maybe you are a non-believer who just wants to mock people's faith... well, I could think of cheaper ways than spending $29.95 to do it, but there's a lot of material here for you to mock (but, honestly, making yourself feel better by belittling other people's beliefs is pretty pathetic). Maybe you just like really good museums... in which case this one certainly qualifies and is worth a trip. Or maybe you just want something to do on your way to Cincinnati Airport for a couple hours... then this might do the trick if you can get past what they're presenting.
And Lastly...
To the creators of The Creation Museum, this property isn't the end of the story. The museum has been wildly popular, so they are looking to build something even bigger. Enter... ARK ENCOUNTER! A new exhibit which will recreate a full-sized Noah's Ark...
Not ambitious enough for you? How about the ark being merely a small part of an entire theme park?
Pretty amazing. If it's anywhere near the quality of The Creation Museum, I'd visit that! They've purchased the land and hope to have "Phase One" (the ark itself and a petting zoo) completed in 2014.
Posted on October 15th, 2012

This will be an entry in two parts.
This is Part One.
On my way back to the Cincinnati Northern Kentucky International Airport yesterday, I stopped off at The Creation Museum. For those not in the know, this museum was built to explain the origins of life on earth as interpreted by a literal reading of the Book of Genesis in The Bible, which contains this pertinent bit...
And God said, "Let the land produce living creatures according to their kinds: the livestock, the creatures that move along the ground, and the wild animals, each according to its kind." And it was so.

God made the wild animals according to their kinds, the livestock according to their kinds, and all the creatures that move along the ground according to their kinds. And God saw that it was good.

Then God said, "Let us make mankind in our image, in our likeness, so that they may rule over the fish in the sea and the birds in the sky, over the livestock and all the wild animals, and over all the creatures that move along the ground."

So God created mankind in his own image, in the image of God he created them; male and female he created them.

God blessed them and said to them, "Be fruitful and increase in number; fill the earth and subdue it. Rule over the fish in the sea and the birds in the sky and over every living creature that moves on the ground.

Then God said, "I give you every seed-bearing plant on the face of the whole earth and every tree that has fruit with seed in it. They will be yours for food.

And to all the beasts of the earth and all the birds in the sky and all the creatures that move along the ground—everything that has the breath of life in it—I give every green plant for food." And it was so.

God saw all that he had made, and it was very good. And there was evening, and there was morning... the sixth day.
So... all living creatures were created by God on the sixth day. Including man.
And dinosaurs, of course...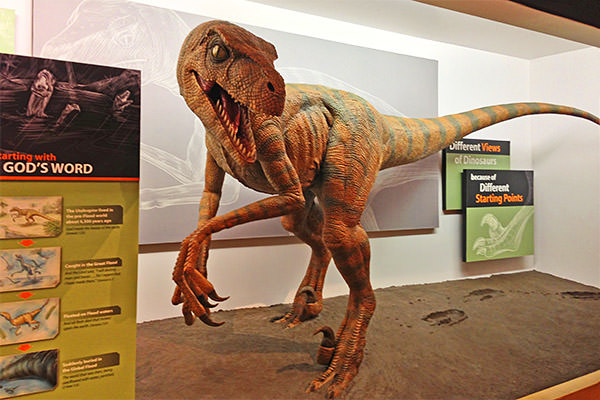 This may sound crazy given that science clearly shows that dinosaurs actually existed millions of years ago and became extinct long before man even entered the picture... but... if you believe in a literal reading of The Bible, well... science is clearly wrong. God's own Word tells us that all living creatures were created by Him on the sixth day mere thousands (not millions) of years ago, and there's nothing more to be said...
Now, before I go any further, let me be perfectly clear... this is not the belief of all Christians. There are many, many Christians who have different belief structures based on different interpretations of The Bible. One belief, for example, says that what God considers a "day" could be very different from what man considers a "day" to be. Perhaps a "day" for God consists of millions of years. This would mean that our flawed perception of time and our "science" doesn't necessarily negate God's Word.
And it goes on and on. There are as many ways to look at Creation from a Christian perspective as there are Christians on earth.
When I was in the middle of my initial Christian studies, I came up with a kind of sliding scale that had a "Sample Christian" loosely defined at each of five points. It was not meant to define people directly, but an attempt to understand how a single group called "Christians" could be composed of such vastly diverse perspectives... even amongst the different branches...

5. I Believe That The Bible is the ONLY Word of God. It is without flaw or error, and its every passage is to be followed exactly without any deviation from what is literally written. All events in The Bible transpired precisely as recorded and are historical fact. Its authors were directly controlled by God to transcribe His exact thoughts, and no part of it can be contradicted or ignored. Every word is of God, so everything within must be given equal weight and no part or parcel of it is to be given precedence over any other. The Bible is perfect and complete, thus there is nothing more for God to say on matters... all answers can be found within. Any translations to different languages were likewise directly controlled by God, so they are also without flaw or error. Any variant of The Bible which is different from the version/translation that I have accepted as God's truth is a false document. Any interpretation of The Bible which is different from mine is not of God and must be dismissed utterly as non-Christian. Anyone not accepting Jesus as their Lord and Savior is damned in the eyes of God and doomed for all eternity.
4. I Believe That The Bible is the LITERAL Word of God. As above, everything written in The Bible is correct and true and must be taken exactly as presented. It is historically accurate and there can be no deviation from the texts since they are recorded facts. However, as God is a Living God who still speaks to our hearts even today, He directs us to those parts of The Bible which are most applicable to our lives. God continues to inspire people to explain and teach The Bible in new ways so that it can more easily apply to the modern world. While The Bible is the ultimate authority on all things, God's grace and gift of free will means that His truth will reach people in different ways... thus there will be a variety of versions/translations/interpretations of The Bible. But, despite our different approaches to God's Word, we are all one under Him. I embrace anyone who has accepted Jesus to be their Lord and Savior as a fellow Christian, even though the way they believe in The Bible may differ from mine. We are all following different roads to the same destination and that's God's plan. Those who have not yet given their lives over to Christ are potential Christians who must open their hearts to Him to be saved.
3. I Believe That The Bible is the INTERPRETED Word of God. While everything in The Bible is correct and true, the contents have been interpreted by man and are thus imperfect. Yes, events recorded in The Bible actually happened... but they've been colored by the writers of the day to fit into the world as they understood it. Because of this, people living in the modern world can't take things presented in The Bible literally. It is more a tool to know God and learn about the life and teachings of our Savior Jesus Christ rather than an exacting historical account with rules to be followed implicitly. Non-Christians who accept Jesus as their Lord and Savior... even if it's after their death... are saved in the eyes of God.
2. I Believe That The Bible is the INSPIRED Will of God. While the overall message of The Bible is correct and true, it was written by man, thus cannot be considered the literal "Word of God." It is more "parable and allegory" to learn from rather than exacting truth, and it is up to individuals to decide how to best use The Bible to define their faith. I believe that Jesus is the Son of God and his teachings are the way to salvation, but those teachings are not first-hand accounts and open to re-interpretation. It's my belief in Jesus that defines me as a Christian... not a blind acceptance of everything recorded in The Bible. God judges people based on their good deeds, which is following the example of Christ... not an adherence to somebody's interpretation of words inspired by, but not directly of, God.
1. I Believe That The Bible is a Book About God. I don't actually believe everything in it to be true, but The Bible contains some things that resonate with me spirituality. In this respect, The Bible is merely one of many tools that a person can use to help them better know whomever or whatever God may be. I call myself a "Christian" because that's what people who believe in God are called, and Jesus as the Son of God sounds like he is a wonderful person I'd like to emulate.

Now, one would assume that The Creation Museum is gunning for "Sample Christians" from groups 5 and 4 whose world view coincides with their literal read of The Bible. But then you see their motto... Prepare to Believe... and you get the feeling that they're reaching deeper.
Then you step foot into their beautiful museum, and you're certain of it.

To Be Comcluded!
Posted on October 9th, 2012

Today when I checked my grandmother's mail, a small DVD package fell out. The interesting thing about it was not that she doesn't own a DVD player to see it... but that it's a movie promising to fill you in on "what the future holds."
And what a future it is...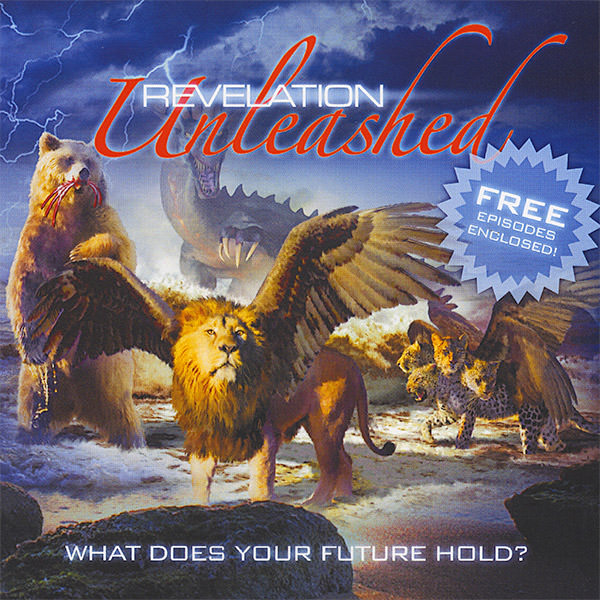 I don't know about you, but I am totally stoked that the future is going to look like a heavy metal album cover! How fucking awesome is that? A bunch of cool stuff that doesn't even exist today is going to be coming soon!
Leopards running around with three extra heads and two pairs of wings stuck on!
Lions with wings that are way too small to ever lift their weight and fly, but look badass!
Bears running around with bloody ribs in their mouth!
And... here's the big one... DINOSAURS ARE BACK!!
Needless to say, I ran to my DVD player to pop this bad boy on my television. I didn't even make popcorn I was so excited.
Unfortunately, there were no dinosaurs and winged lions to be found. It's just a recording of a guy giving a sermon on the same world-ending Bible prophesies that people have been sermonizing for the past 2000 years ("No, seriously! This time it is REALLY happening!"). Having read The Bible and studied The Book of Revelation, I found the movie to be pretty boring, so I turned it off and watched The Avengers again. That movie is so kick-ass that I can't watch it enough times!
Which made me realize that they really should have gotten Josh Whedon to direct Revelation Unleashed. Maybe he would have put The Hulk and Iron Man in there to fight the bears, dinosaurs, lions, and leopards. And that future? I would totally watch that.