Posted on September 11th, 2017

Last year I took a blogging break for several months. I was at an all-time low in my life, and sitting down to write in a blog... which was usually therapeutic... became a form of torture that I didn't want to endure any more.
But I came back to write a post on 9/11.
Then subsequently dropped off the face of the earth again for another month-and-a-half.
I've asked myself more than once why 9/11 was the trigger which compelled me to write something serious after two months of nothing. I never have an answer. Maybe it was because I had a personal story which I had been holding onto for 15 years and it was finally time to let it go? Maybe I just missed blogging? Maybe 9/11 is such a scar on my soul that I couldn't not write something on that day.
Maybe.
What I wrote was an entry called The Last Night of the World.
I think it will probably be my last word on the subject. For this blog, anyway. Don't ask me why... I honestly don't know. It's just a feeling.
Because while I can never forget... would never want to forget... this is how I choose to remember here.
Maybe I'll feel different about it one day. Maybe even next year.
Maybe.
Posted on September 11th, 2016

I had been to New York City four or five times previously for work, and had done all the "touristy" stuff I wanted to do. Then one trip I decided to take my mom with me so she could see the big city, which meant I ended up doing all the touristy stuff all over again. Since I was not a Broadway fan, I had never seen a show and had no plans of doing so... but my mom thought a trip to New York would be incomplete without "The Broadway Experience" and so I relented. Problem was... good seats at a show were expensive, and I didn't have the money for good seats. I fretted a bit about my mom's first Broadway show being seen from the back of the theater, and mentioned it to a co-worker. She told me about TKTS, a place where you could get half-off same-day shows that had seats left. I was also told that the Times Square location could get a bit nuts and I should try the location at The World Trade Center. And so the next morning, off we went... where I got us third-row seats, center-stage for "Miss Saigon." Since we were already there, I suggested we visit "The Top of The World"... which I hadn't planned on doing since we had already been up The Empire State Building. It ended up being a pretty great day... got to see NYC from the top of the Twin Towers... went to a couple cool museums... ate lunch at the Stage Deli... visited Central Park and the world-famous FAO Schwartz toy store... all topped off by the lavish stage production of Miss Saigon.
Years later, 9/11 would happen and I'd be forever grateful that fate took us to The World Trade Center for theater tickets so my mom got to see The Top of The World. She wouldn't have another opportunity.
And this is why I can't think of The World Trade Center without hearing "Last Night of the World" from Miss Saigon in my head, and the irony of it all is not lost on me.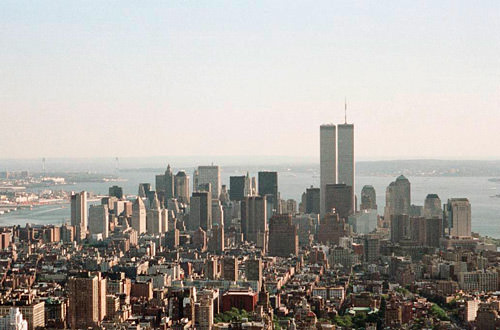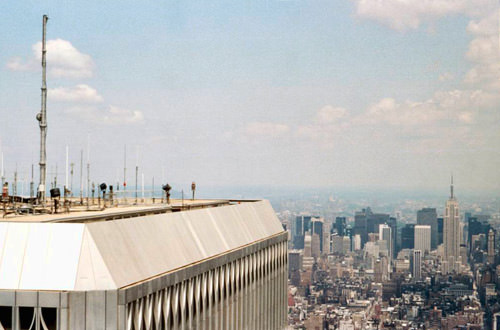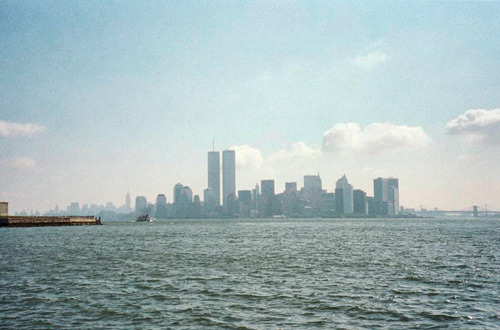 Fifteen years later. The song still haunts me.
Posted on September 11th, 2015

And so today a sculpture titled The Spirit of America... a tribute to the victims of the 9/11 terrorist attacks... was commemorated in my tiny home city of Cashmere, Washington.
And I cannot find the words to express how much I hate it.
And given that "hate" is a word that I try to avoid using when at all possible, you can probably guess just how serious I am about the situation here.
From what I understand, the sculpture was originally going to be placed in our State capitol of Olympia, but the city rejected it. Then it was going to Kirkland... then Issaquah... but they both rejected to it as well. For reasons I can't even hope to comprehend, my city said "Okay! We'll take it!" and now here we are...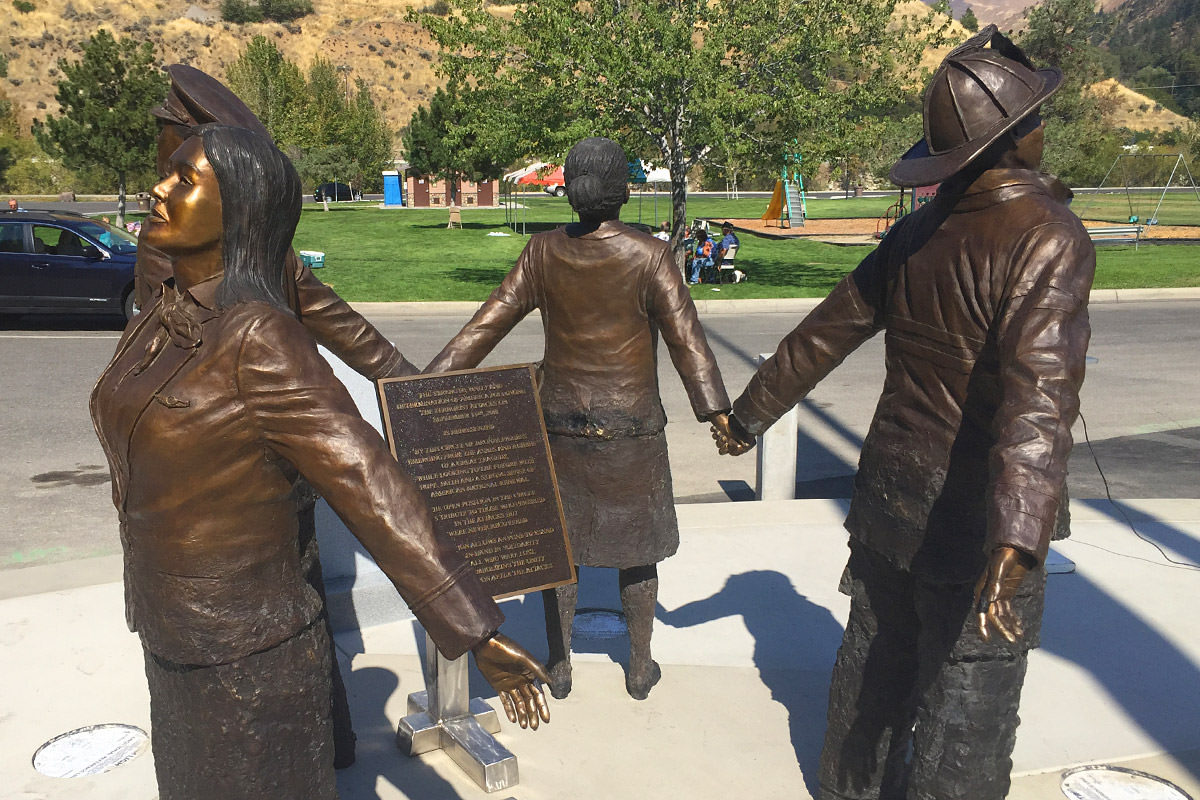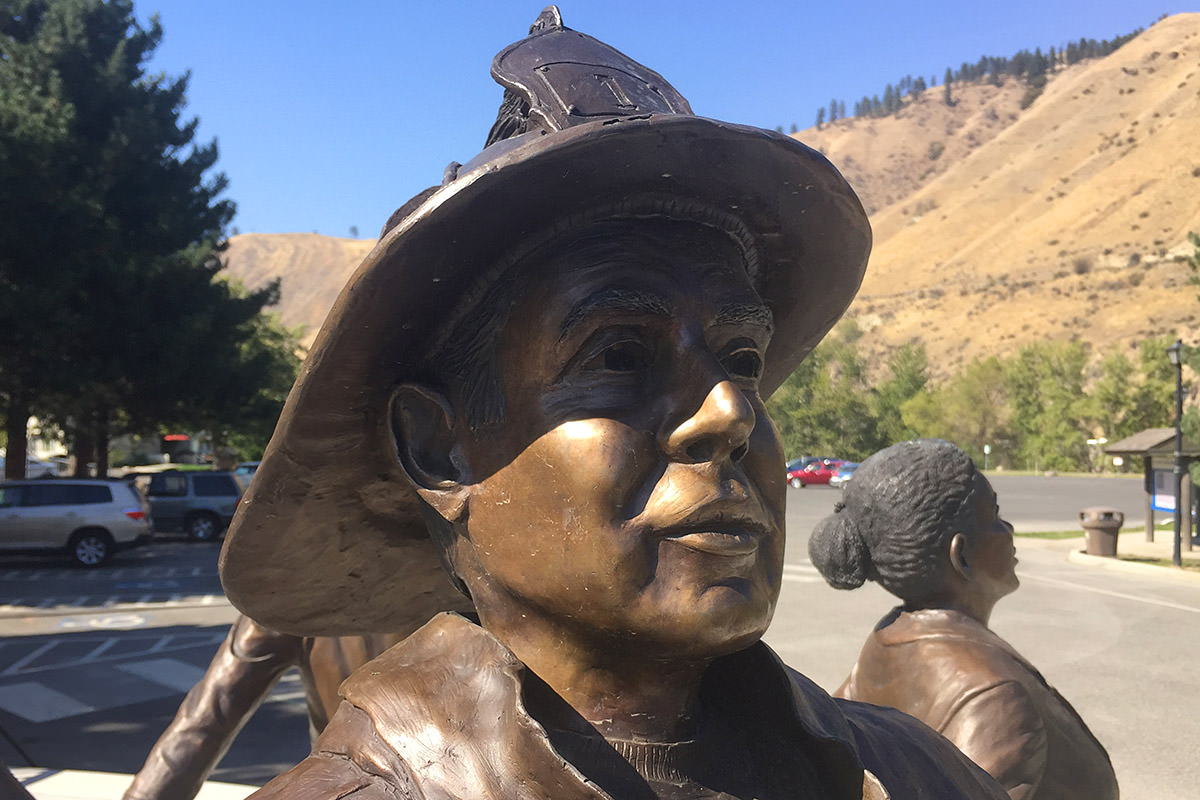 The four people depicted in the sculpture... a fireman, a flight attendant, an office worker and a military guy... are smooth and realistically rendered on their top half. But then, as you pan downward, they char and blacken as if being consumed by flames...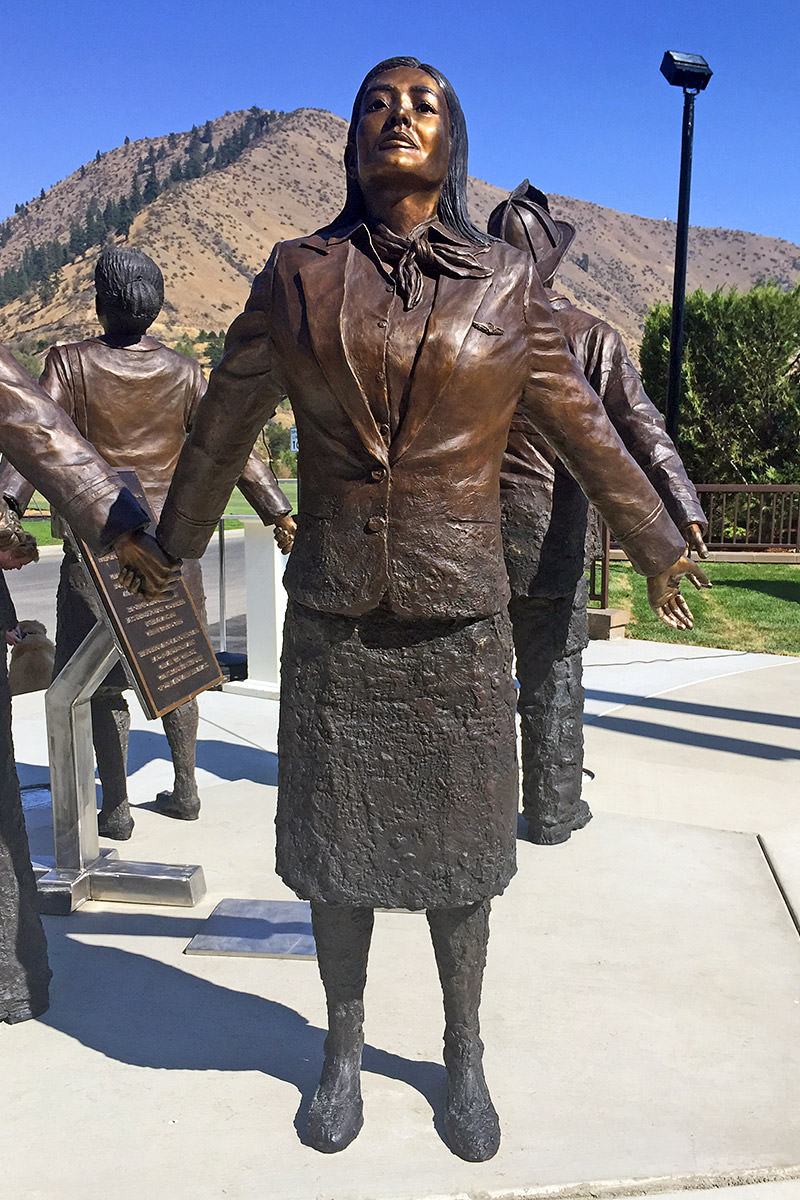 What the hell?
Seriously, what the hell?
I would hardly call this a "tribute"... it feels more like a grotesque mockery of those victims who lost their lives. With that in mind, I find it detestable and disgusting, and am horrified that it's now a permanent fixture in my home town. Even putting all that aside, could there BE a place that's least affected by the events of 9/11 than a tiny city all the way across the country? I mean, obviously all Americans are affected by 9/11, I would never debate that... but having a monument here feels entirely disrespectful to those who actually lived through 9/11 half-a-world away. Is a Pearl Harbor memorial next?
Now, before people jump all over me for "misinterpreting the art" or start calling me "unAmerican," let me just state for the record that I am sure the artist's intention were good and noble. I have no doubt whatsoever that his heart was in the right place. But I am absolutely certain that I am not the only one who will "misinterpret" the piece as people being burnt in terrorist effigy. To be completely honest, I don't know how else to interpret it. And for that reason I'm pretty broken up over this case of good intentions gone horribly wrong being just minutes from where I live and work.
Outside of actually being at Ground Zero, where a 9/11 memorial is entirely appropriate, it seems the proper way to pay tribute to those who lost their live is to remember them in our heads and hearts.
Whereas here people were thinking with their hearts... but seem to have left their heads behind.
Posted on September 11th, 2014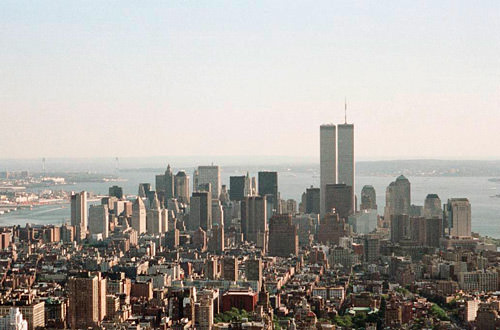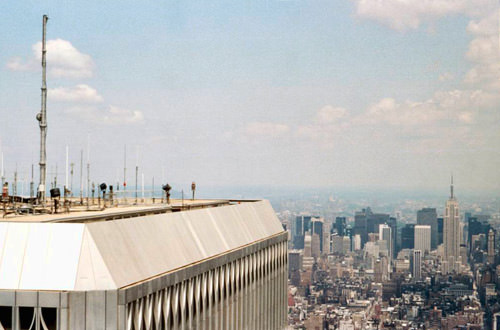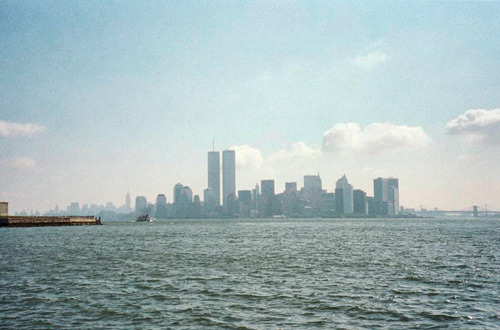 Posted on September 11th, 2013
As if I could ever forget.
Posted on September 11th, 2012

Honestly, I tried to come up with something better than I wrote last year. I tried last night. I tried this morning. But I just couldn't do it. Everything I have to say I said 365 days ago, so I'm just going to reprint it and hope that the me from the past can speak where words are failing me in the present.

Originally Posted on September 11, 2011
I deleted my blog from ten years ago so I can't tell you with any certainty what I was doing back then. I might have a vague idea over a span of some weeks or months but, if you were to pick an individual day, I'd be hard-pressed to tell you what was happening.
For every day save one, of course.
I was working as a consultant and running late for a meeting on the morning of September 11, 2001. I didn't have time to turn on the television, nor did I have time to turn on my computer. I went directly from my bed to the shower to my car for the 20 minute drive to work. When I arrived, I vaguely remember some talk about an airplane crash as I walked through the lobby. But, for all intents and purposes, I was completely unaware of what had happened three hours earlier at the World Trade Center.
It wasn't until I walked into the conference room and saw the television replaying footage of The Twin Towers collapsing over and over again that I knew of the horrific events unfolding in New York.
And, like most everybody else on the planet, that news coverage became my life for the next several days.
As the tragedy would become our lives for the next ten years.
Because those iconic structures may no longer be with us... but they're not gone either. I watch a rerun episode of Friends, and there's the Towers in an establishing shot. I pop in my DVD of Eddie Murphy's Trading Places and the Towers are there. I read an old Spider-Man comic book and there they are again. I look through old photos and...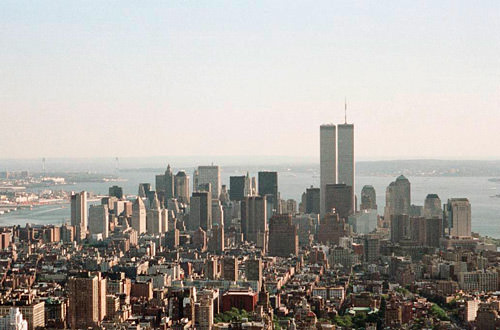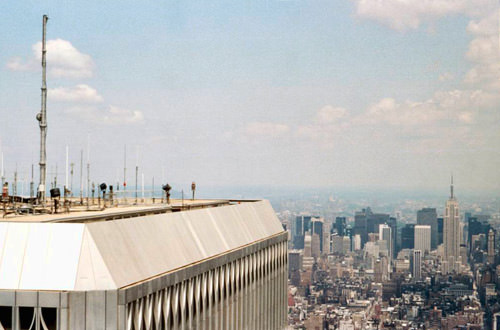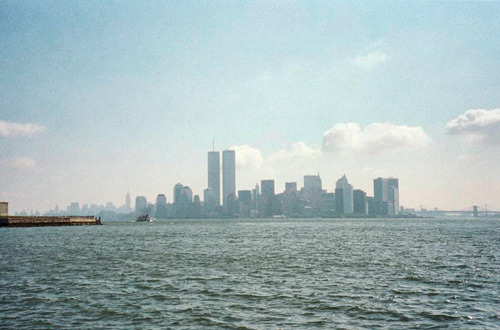 But that's me.
For those directly affected. For those orphaned or widowed. For friends and family of those who lost their lives. For those who now suffer from the debilitating effects. For those whose lives were forever changed. For so many people, I'd imagine it's quite different. They don't need a TV show or a movie or a comic book or a photograph. Their reminder is everlasting.
As is their pain.
I'm sure at some future date when all the people who were alive to remember the world before 9/11 are gone, perhaps the nightmare will start to fade.
In the meanwhile, we remember.
Because we need to remember.
Because it's impossible to forget.
Because our hope for peace must prevail.
Posted on September 10th, 2012

They say that even a stopped clock is right twice a day, but in my case it's just not true.
The batteries in my Mickey Mouse wall-clock at work died at 7:28 while I was in Chicago. And since I arrive both after 7:28am and before 7:28pm I don't see the clock being correct even once. And since I don't even know if my office exists when I am not there, I'm not going to make assumptions about what happens when I'm gone. Logic would dictate that the clock does indeed read correct at 7:28am and 7:28pm, but I'm not going to drive to work to find out.
Because I have more important questions on my mind...
What time is it in Bahrain since there's a Hard Rock Cafe I'd like to visit there one day? Google says it's 8:08am tomorrow in Manama, Bahrain.
Manama? Mahnahmahna!
I miss the Muppets. I wish Pixar would do something with Muppets, like a Pigs in Space movie. I love Pixar. I wonder when the Monsters Inc. prequel is coming? Ugh. Not until June 21st of next year. I think Monsters Inc. is my favorite Pixar film. But I loved The Incredibles too. Why don't they make a sequel to that film?
Ooh! What was the name of the woman who played the sexy voice of Mirage in Pixar's The Incredibles? IMDB says it was Elizabeth Peña of I Married Dora fame. A show that ended with the lead character flying off to Bahrain.
Why in the heck am I so obsessed with Bahrain now? Probably because I haven't been there.
But isn't it odd how I'm thinking of Bahrain and a totally unrelated question leads me back to Bahrain? Everything is connected, I guess. Or all roads lead to Bahrain.
And wasn't it Bahrain where Chandler was moving so he could get away from Janice on Friends? No... that was Yemen. Another place I haven't been. I haven't been to a lot of places because I keep going back to the same places.
Well, not all places. How many years has it been since the fortune teller I visited in Hong Kong told me that I'd be back to Hong Kong in a year? It was 2005. And since I haven't been back yet, he's off by seven years. so far.
I guess predicting the future is a crapshoot. They never get it right in the movies. Have any movies got it right? Not really. Not even Strange Days from 1995... and they were only predicting four years into the future for 1999.
Argh. Who was the actress in Strange Days that I don't like? Not Angela Bassett, she's awesome, but the other one? Ah. It was Juliette Lewis that played the toxic waste bitch that Ralph Fiennes was obsessed with.
How in the heck did Juliette Lewis become a thing? Holy crap! She was in I Married Dora, which means all roads really do lead to Bahrain!
Ah Dora. It seems like only yesterday that show was on. What was I doing yesterday? I was flying back home from Chicago with a First Class upgrade in the Mickey Mouse plane.
What was I doing one week ago? I was mourning the loss of Michael Clarke Duncan and waxing poetic about American Cheese.
What was I doing one fortnight ago? I was worrying about a cat that's been wandering around my parking lot. I've named her Spanky.
What was I doing one month ago? I was flying to Portland for friends, free hummus, really good ice cream, Batman, and a zine show for Thrice Fiction.
What was I doing one year ago? I was preparing for my trip to Australia and admiring Kate Winslet.
What was I doing one decade ago? Blogography didn't exist. My previous blog that I was writing back then is gone. So I don't know what I was doing. It was a Tuesday. It was also the day before the one-year anniversary of 9/11. At some point I'm certain that I was deciding which of the five photos I've taken of the World Trade Center I was going to post to my old blog in the morning.
Which means nothing has changed, because that's what I'm going to be doing right now.
Well, that... and planning a trip to Bahrain.