Posted on December 4th, 2022

Be thankful that's all over... because an all new Bullet Sunday starts... now...

• GoTGv3! Looks like Rocket is going to be an experiment by the High Evolutionary in the MCU, which makes perfect sense. Can't wait for this movie...
I'm sad it's the last Guardians film. But who knows where these characters will pop up next?

• Oh My! I had heard pieces of this story before, but not all together like this...
Epic. And hysterical.

• Balance! Some of the wealth on display here is... staggering...
My checking account is positively anemic by comparison.

• The Mickey Mantle Letter. Definitely NSFW material (in text), so proceed at your own risk... but holy crap!

• Dial of Destiny! Sure looks better than Kingdom of the Crystal Skull...
And hopefully it is better, because nothing would make me happier than Indy going out on a high note.

• Rogue Wave! It seems odd to me that cruise ships sail to Antarctica. I went on a research vessel that was built like a tank with limited people onboard, and the water got so rough that one person ended up with a compound fracture and others were hurt. Our boat was tossed around like a cork in a blender, and it still feels miraculous that we made it through without suffering more injuries than we did. But a cruise ship?? That just seems like a recipe for disaster. And for this ship it was.

Now I really need to take a long winter's nap.
Posted on November 27th, 2022

Be thankful that's all over... because an all new Bullet Sunday starts... now...

• GoTGHS. The Guardians of the Galaxy Holiday Special was absolutely bonkers. I couldn't have loved it more. Very interesting how they dropped a very important couple pieces of information in advance of Guardians of the Galaxy 3...
Really sad that James Gunn is heading up the DCU now, because he gave us something completely new in the MCU, and that's getting increasingly rare.

• The Star Wars. If I had to wager a guess, my favorite TV show of 2022 will be Andor. The show is spectacular. The best Star Wars to happen since The Empire Strikes Back. It's just so... real. And smart. And entertaining. And brilliant. But let's get back to the part about it being real...
Now that the final episode has aired, all I want to do is go back and watch it all over again. How's that for an endorsement?

• Into the Abyss. It's really tough to diminish the movies that James Cameron has created... though people are always trying. When you take a look at the major films in his writer/director oeuvre, of which there are currently just seven, he really doesn't falter. They are all mind-blowing, fascinating entertainment. So to hear him run through it all is kinda a different level of fascinating...
If I were to rank his movies, it would go something like this...
Aliens It's just so good on every possible level. It works as a sequel. It works on its own. It works for action. It works for thrills. It works for horror. It works as sci-fi. And absolutely everything about it is as cool as movies get. This is Cameron's masterpiece.
Terminator 2: Judgement Day Another sequel that takes everything good about the original and ramps it up to eleven... but this time from one of Cameron's own films.
The Terminator The film has haunted me from the day I saw it because it was gritty and real sci-fi that really makes you think.
True Lies Proving that Cameron can tackle any genre he sets his mind to, this action-comedy spy flick was so much better than it had a right to be. Most likely from the genius casting of Jamie Lee Curtis and Arnold Schwarzenegger in the leading roles.
The Abyss In many respects, this could be my favorite of his films. It certainly has one of his most shocking scenes that still makes me uncomfortable to this day just thinking about it. I saw this one in the theater three times because I just couldn't believe what I was seeing as I was watching it.
Avatar The film still holds up. Mostly. Kinda. I mean, yeah, it's a retread of other movies and stories (most notably Fern Gully) but it was a fully-realized world at a scale that was unheard of at the time. That alone made it worth a look. The special effects may be a bit dated, but ask anybody who saw this movie in 3D theaters circa 2009, and I bet money they still remember the experience as nothing less than groundbreaking.
Titanic It's just not my thing. But it was an entertaining way to kill three hours... and still is.
And of course Avatar 2 is coming very soon...
Given his track record with sequels, it's bound to be a darn good film. And considering it needs to gross $2 billion to break even, it had better be.

• Be Hated. Okay... of all the movies and TV shows I've seen this year, The People We Hate at the Wedding is the one I laughed at the hardest...
If you've got Amazon Prime, it's worth a laugh.

• Lisbeth. David Fincher's brilliant take on The Girl with the Dragon Tattoo is one of my all-time favorite films. I was all kinds of mad that he never got to complete the trilogy. Sony instead cheaped out and "re-booted" the series with The Girl in the Spider's Web. I finally got around to watching it, and now I'm mad all over again. Lisbeth Salander is one of the best and most iconic fictional female characters ever created... nuanced and complex, using her smarts to outwit and outplay truly awful people. But now? It's just balls-out vanilla action hero that's been done dozens of times before (and done better... by Yu Shu Lien, Charly Baltimore, and many others). It would be comical if it weren't so sad...
If this is what the books are like after Stieg Larsson's original works, I am beyond thankful that I never bothered to read them. I mean, okay, the movie is a nice distraction (by a director who is obviously trying very hard to be David Fincher), and Claire Foy is not bad as Lisbeth. But this isn't Lisbeth Salander. It's a pale shadow of what she is... and should have been in this film.

• Beyond the Obvious. NEWSFLASH: Eli Lilly CEO says insulin tweet flap "probably" signals need to bring down cost. — PROBABLY?! YA THINK?!?? YOU CHARGE $250 FOR SOMETHING THAT COSTS $5 TO MAKE, ASSHOLE!! What good are all these "new and improved" drugs if only people with money can afford to buy them? Big Pharma has been lining the pockets of politicians for decades to not do anything about their price gouging. Washington State Senator Patty Murray has probably piled up a half-million dollars by now to keep Big Pharma profits at absurd margins. Little Timmy may not be able to afford insulin to keep him alive, but hey... Eli Lilly just bought another private jet for their CEO, so it's all good. Great job, Patty! Fuck.

• Steve! Even though I was way, way, way past the intended audience for Blue's Clues, I was a fan. I watched the show. I had some of the toys. I even had a "Handy Dandy Notebook" laying around. It was just such a pure explosion of creativity that I couldn't look away. And Steve Burns being so invested in his character was part of the reason why....
He's still got it.

Until next week then.
Posted on November 20th, 2022

It's time to be human... because an all new Bullet Sunday starts... now...

• Again. The shooting at the Colorado Springs nightclub "Club Q" last night is yet another in a string of violent attacks on marginalized communities. And it's like... I just don't get it. LGBTQ persons are not made to feel welcome in general society, so they carve out a space where they can enjoy life for even a short time away from general society... and that's not good enough? Senseless violence has been out of control for as long as humans have existed. That's just fact. But the hatred behind the violence is quickly reaching unsustainable levels as the weapons to act out violence keep getting more powerful. Dozens of people can be cut down in an instant by a single individual, and pretty soon that's going to be the only thing we have.

• Let's Go Brendan! This GQ "Iconic Characters" series is always great. But this one? Oh wow...
I want... quite badly... for Elizabeth Hurley to get one of these.

• Todd! If you are not watching So Help Me Todd on Paramount+, then you are missing out on one of my favorite shows on television. It almost makes me forgive Paramount Network for canceling Magnum P.I. (which, thank God for Peacock TV and NBC, is actually returning despite it all)...
Skylar Astin is a gift, and this show uses him to maximum effect. So COLOR ME SHOCKED that CBS actually renewed the show for a second season! Yay!

• Big Animation! Floor 796 may very well be the coolest thing I've seen in my browser in a minute...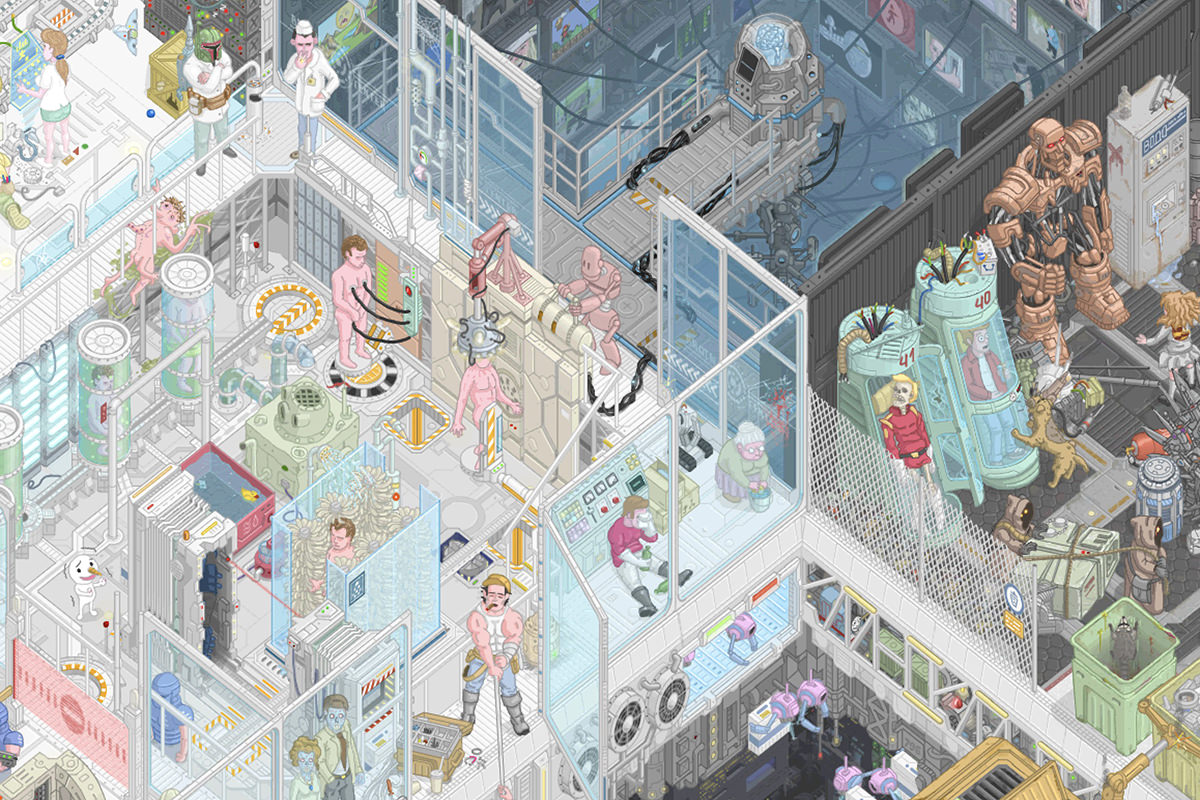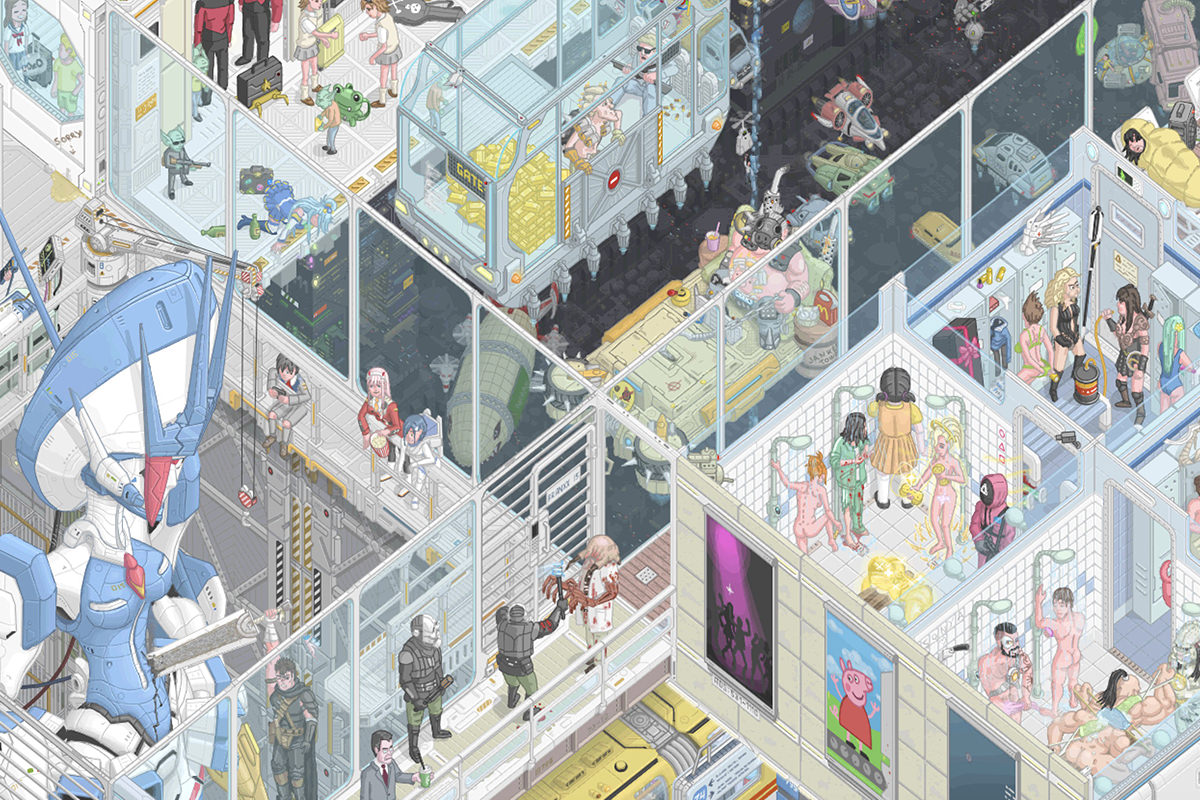 Worth a visit if you like looking at cool stuff!

• I'm Batman! And here's what I wish I would have had to post when Kevin Conroy passed...
A lot of people... like a lot a lot... have Kevin Conroy as "their" Batman. This will go on for a while.

• SHIT! And here we are again. Apple's HomeKit... which has always been HomeShit... is still a pile of shit. And Apple doesn't fucking care. It is absolutely outrageous how there are known issues plaguing the system and Apple doesn't even acknowledge that there are problems. A company worth billions of dollars, but they won't fix it or offer any solutions. For me the biggest problem is that Automations tied to timed events (like sunset or a time of day) don't fucking work! The event arrives and nothing happens. Which is shitty, because I have all kinds of things set up. Like turning my outside lights off and on. There are hundreds of threads on various forums with people trying to find a way to get their timed Automations working. Some things work... for a while... but the overreaching problem of HomeShit being garbage can only be addressed by Apple. And, once more for the people in the back, Apple doesn't fucking care.

And now back to your regularly scheduled Sunday antics.
Tags:
Apple
,
Bullet Sunday
,
HomeKit
,
LGBTQ
,
Movies
,
News
,
Television
,
The Internets
Categories:
Apple Stuff 2022
,
Bullet Sunday 2022
,
Internets 2022
,
Movies 2022
,
News – Politics 2022
,
Television 2022
—
Click To It:
Permalink
—
0 Comments: Click To Add Yours!
Posted on November 13th, 2022

Don't worry about Christmas coming early... because an all new Bullet Sunday starts... now...

• Rebel Rebel! Finally got around to watching E10 of Andor. Holy crap! The quality of this series is unreal. Serious talent and money were put into it every aspect of the show, and it's all on screen. There's nothing currently on television that can touch it. The series transcends Star Wars to become something more... a gritty, surreal form of entertainment that will haunt you for a bit...
Two episodes to go in the first season.

• I'm Batman! I was saddened to learn that Kevin Conroy died. Batman: The Animated Series endures in a way that the Batman movies struggle to do. A big part of that was the voice of Kevin Conroy. Another series that I remember him from was Tour of Duty where he played Captain Rusty Wallace, a character that helped define the first season...
He truly will be missed. Rest in Peace, sir.

• SOCK-LIGHT?? My new light switches do not have dimmable controls, which means I have to have dimmable lights. Which is not a problem, as I found pretty good pricing on Philips Hue can lights. Problem is... one of them I got had the clips bent and A DIRTY SOCK IN THE BOX! And it's like WTF? Returns are not inspected for this kind of gross crap?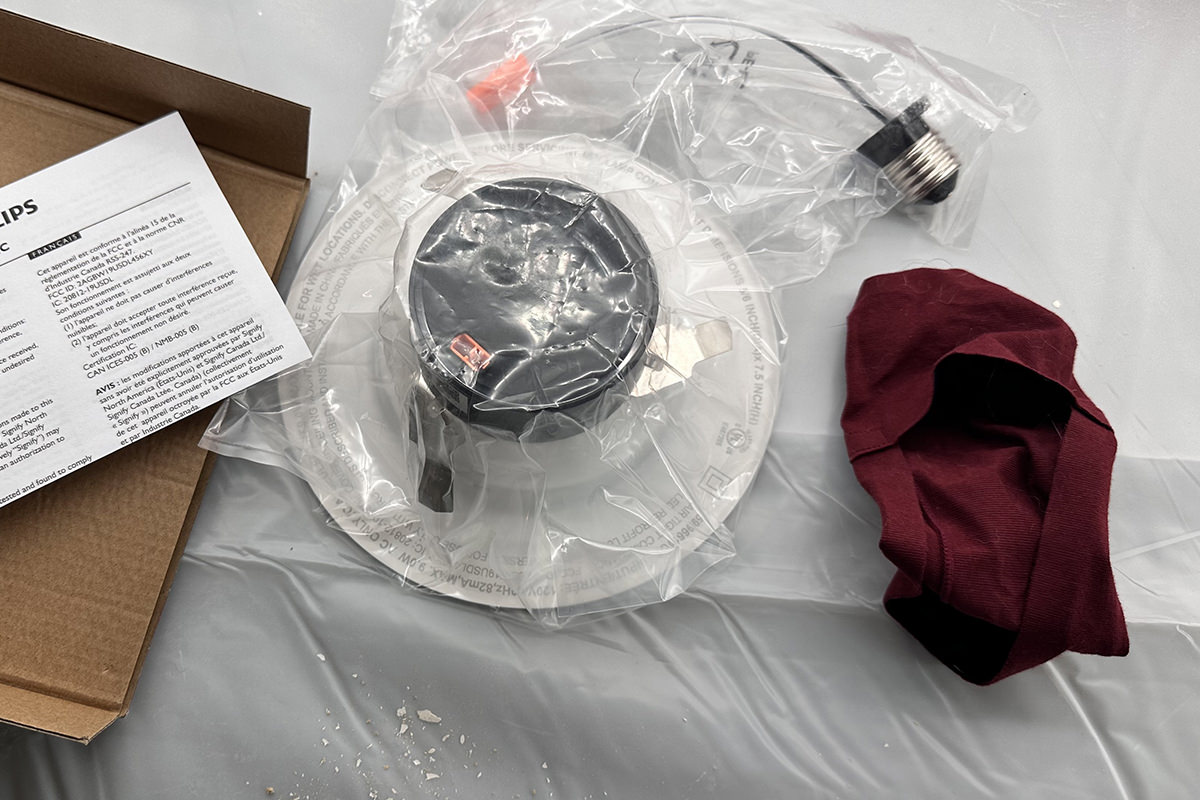 Every time something like this happens when you are purchased a "new unopened item" it feels like merely replacing it is not enough. Not only am I losing time, but I'm also having to literally deal with somebody's dirty laundry.

• Whoopsies! Couldn't happen to a nicer piece of shit company raking in huge profits over a drug which the inventor meant to be free. He famously sold the patents to the University of Toronto for $1 saying "Insulin does not belong to me, it belongs to the world." But of course Eli Lilly, Novo Nordisk and Sanofi couldn't let that stand when there are billions to be made...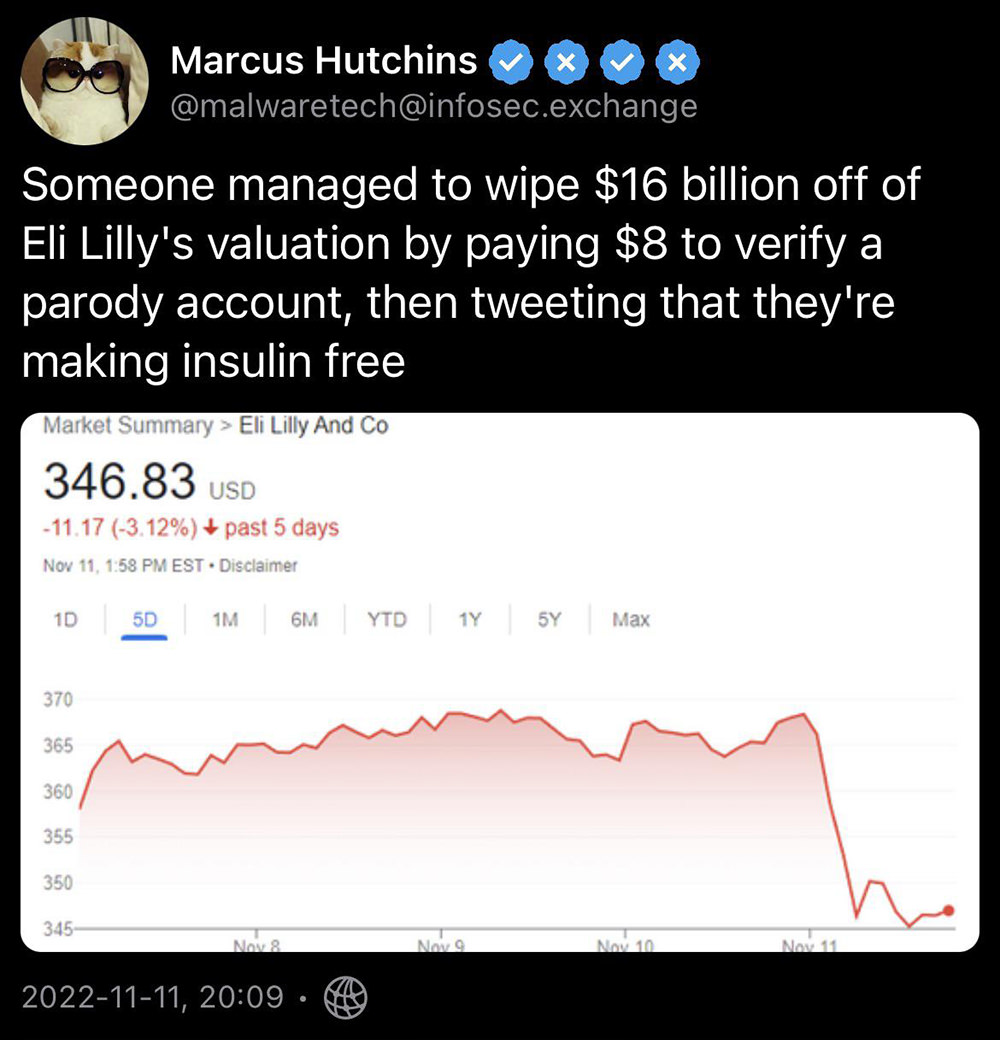 Insulin should be manufactured and sold at cost. It needs to be a function of government for the public good... not Big Pharma's balance sheet. It's disgusting that this isn't the case.

• The Merchant Tribe mourns. This past week Black Panther: Wakanda Forever opened up. I found out that last year Dorothy Steel died at 95 years old, and this was her final acting role...
I remember reading an article when the first Black Panther was released about how she started acting at age 88. Which just goes to show that you're never too old to chase your dreams!

• Ribbit! The Red Wave that wasn't has come and gone. It would appear the Democrat's strategy of not doing a damn thing about preventing the things their base cares about getting destroyed (like codifying Roe) so they can scare people into showing up to vote actually worked. It's like "Oopsies! Sorry you lost the right to choose, but we needed a way to survive the midterms, so we let you lose it so you'd show up." An incredibly fucked-up strategy, but there's no denying the result...

I COULD HAVE GOTTEN AWAY WITH IT IF NOT FOR YOU MEDDLING KIDS!
Wonder what they'll be throwing away next so that they have a chance in two years?

Time to make the chimichangas...
Tags:
Andor
,
Animation
,
Bullet Sunday
,
Elections
,
Movies
,
Politics
,
Star Wars
,
Television
Categories:
Bullet Sunday 2022
,
Home Automation
,
Home Renovation
,
Movies 2022
,
News – Politics 2022
,
Television 2022
—
Click To It:
Permalink
—
1 Comment: Click To Add Yours!
Posted on November 1st, 2022

One of the reasons that I am a YouTube Premium subscriber is that I watch a metric shit-ton of YouTube videos. So much YouTube that I would insane if I had to watch their idiotic commercials.
The vast majority of the YouTube videos I watch fall into three categories... 1) Woodworking and Home Renovation (50%), 2) Education (30%), 3) Apple/Mac/iPhone (10%). The final 10% is entertainment and general nonsense.
Woodworking is a bottomless pit. There are so many great content creators in this field. My newest favorite is Michael Alm and Alm Fab...
It's like... if I had millions of dollars, I'd just build a woodshop and do stuff like that all day every day. And then there's this magic out of wood...
Then there's behind the scenes stuff like this...
And this deep, deep dive into Zack Snyder's crap movies is pretty amazing. And, for what it's worth, it actually gives me a larger appreciation for the guy (even though I still think most of his movies are awful)...
And, of course Taylor Swift is back. Her first video from the new Midnights album is brilliant. Unfortunately, there are people trashing her for her struggles with an eating disorder. Despite speaking about it multiple times, people believe what they want to believe instead of even attempting to understand. In the video she had a clip of her looking at a scale which says "FAT" and people lost their minds, calling her "fatphobic," when she's actually trying to show what she feels when she looks at a scale thanks to our toxic society. And it's this toxicity of people feeling that they must be thin in order to be accepted THAT'S THE ENTIRE POINT. It's the opposite of fatphobic. But oh well, she took the clip out of the video because she doesn't want her art misinterpreted by people who are looking to tear her down instead of try to understand how she (and a lot of other people) are made to feel...>
And then there's frickin' DITA VON TEASE!!!...
Brilliant. And now I have another hundred videos to watch.
Posted on October 27th, 2022

Yesterday it was what I am watching.
Today it's what I will be watching.
Wakanda Forever — No surprise that this is my #1 most anticipated, well, anything of 2022. In addition to getting to see all the amazing characters from Wakanda, there's Namor as well? Sign me up. The reactions from everybody who has seen the film have been great, which only makes me want to see it more...
Ant-Man & The Wasp: Quantumania — My second most-anticipated movie doesn't debut until early 2023, but the new trailer that just dropped looks like it's going to be something amazing...
Guardians of the Galaxy: Holiday Special — Just look at the madness that James Gunn has baked into this amazing-looking show. JUST LOOK AT IT!!!
Glass Onion: A Knives Out Mystery — Few things can compare to how great it was to get a new Agatha-Christie-esque murder mystery with an all-star cast, just like the movie adaptations used to be. This one looks great, and the early review buzz has been surprisingly positive...
1899 — From the creators of Dark? Oh yes. I'll be tuning into Netflix for this... 1000%...
Blockbuster — Yeah, Randall Park guarantees that I would be interested, but it actually looks like there's a clever story here...
Enola Holmes 2 — The first movie was very good, and they were pretty clever as to how they went about crafting a mystery to solve. The fact that the cast was exceptional was just the icing on the cake. And here we are all back again for more...
Nope — This is apparently coming out on home streaming this month. I never got to see it in the theaters, so that's something to look forward to...
Falling for Christmas — Lindsay Lohan in a Netflix Hallmark-style Christmas rom-com? Yes please...
The White Lotus: Season 2 — There was a lot of criticism laid on the first season about things not really coming to a conclusion because so many things were left up in the air... and more criticism because things that the entire season spent building towards were abandoned. I think that's totally missing the point of what the show was trying to comment on. The fact that wealthy privileged people blow in to people live and leave behind nothing but destruction IS the show. And people trapped in lives they try to leave, but don't manage to escape from IS the show. I can't wait to see what the second season brings...
Avatar: The Way of Water — If, for no other reason, that I want to see how the special effects have improved from the first movie...
And these are just the things I can think of off the top of my head. There's probably dozens of others that should be on my radar.
Posted on October 23rd, 2022

The wildfire smoke appears to have abated at long last, but there's no time for celebrating... because an all new Bullet Sunday starts... now...

• Rest in Peace I was saddened to learn that Angela Lansbury had died. What's strange is that just four days prior I had seen that Murder She Wrote was running on Hallmark Channel. After catching the tailend of it, I looked her up to see if she had done any new projects recently (turns out that she has a cameo appearance in Glass Onion, the new Knives Out mystery movie, that's coming to Netflix on December 23rd)...
My mom was a huge, huge, mega-huge fan of Murder She Wrote. After her memory started to fail her, she would watch the episodes constantly. Jessica Fletcher was somebody she could remember...
She will be missed.

• SQUIRREL! These videos never disappoint...
Sad that this third installment is the final installment. Hopefully Mark Rober changes his mind and brings us another.

• More Maximo! I cannot oversell how wonderful the show Acapulco is on Apple TV. The first season was brilliant, sweet, funny, and charming in all the best ways... and they've lost nothing of that magic in Season 02...
I can't believe that Apple managed to strike gold twice with both Ted Lasso and Acapulco. If you're not watching, you absolutely should be. Already hoping that it is renewed for Season 03.

• Ho Ho Ho! Very early this morning I ran to the Big City for some shelf pins, because 1/3 of the ones I had were cracking when I pulled them out. Fresh new pins might prevent shelf collapse and breakage maybe? I dunno. But it was only $6 to replace all of them, so worth it, I think. — Hard not to notice that Home Depot had put all their Christmas stuff out...
Since I don't celebrate the holiday, I am relieved that I won't need to buy anything (I have a wreath for my door to blend in with the neighborhood, and that's plenty). But I'm also a little sad, because my mom liked decorating for Christmas. Every once in a while I toy with the idea of putting a tree up for old time's sake... but Jake and Jenny would undoubtedly destroy it, and that's something I can do without.

• Countdown to Christmas 2023! It's my first Hallmark Christmas movie of the year, Noelle Next Door, and we're off to a good start. Amazing enough that it has one of my most favorite Hallmark stars, Natalie Hall... but Corey Sevier plays a guy who had a stroke and is dealing with some challenges that make him a bit of a Christmas Scrooge... something that shocks me because it's just such a terrific bit of representation that makes for a good film...
This is a simple story with a simple concept that's wonderfully told. Showing that even after all these years, Hallmark still has new corners to explore.

• Movies! I rented Bullet Train which was fantastic. I am shocked that it wasn't dumbed down more, as it's fairly complex and has plots within plots. The entire cast was amazing... but Brad Pitt was just beyond. He has a way of making casual characters be capable of carrying an entire movie, which is a rare talent. Bloody fun!
Then I finally rented Bros, which was actually darn funny and sweet. Liked it a lot even though Billy Eichner's acerbic and abusive wit which works so well in 5-minute Billy on the Street episodes is wearing really thin after a a while. Still, they nailed the ending, and Luke MacFarlane's Hallmark history served him well (as well as provided a hilarious series of in-jokes). I wish they hadn't felt the need to have self-deprecating "Why is it that gay guys..." exposition for the straights, because it kind of dumbs down the film in the wrong ways. Was thrilled to see Guillermo Díaz again (Huck on Scandal is one of my all-time favorite characters).
Lastly I rented Confess Fletch. I am such a massive fan of the Chevy Chase originals that I was almost afraid to tune into this. But it's very good. I like it just as much as the Chevy version, but in a different way. This version is much closer to the original novels, and Jon Hamm is fantastic for the role. I sure hope we get more...

And that's it for the penultimate Bullet Sunday of October 2023.
Posted on October 6th, 2022

Last night I was in a movie chat room where the topic of discussion was Spielberg films. Not something I'm incredibly passionate about, even though he's made a dozen films I've really enjoyed.
Eventually talk turned to which of his films were our favorites, at which point I was mentally ranking them in my head. But them I decided to rank them in my computer when I couldn't think of more than a dozen.
Luckily I have a blog where I can dump things like this...
Raiders of the Lost Ark
Minority Report
Jurassic Park
Close Encounters of the Third Kind
Schindler's List
Indiana Jones and the Last Crusade
Saving Private Ryan
Jaws
Catch Me if You Can
Always
The Terminal
E.T. The Extra-Terrestrial
Munich
Lincoln
The Color Purple
A.I. Artificial Intelligence
Indiana Jones and the Temple of Doom
War of the Worlds
Bridge of Spies
The Post
The Lost World: Jurassic Park
The Sugarland Express
Amistad
War Horse
Empire of the Sun
The BFG
Hook
1941
West Side Story
The Adventures of TinTin
Indiana Jones and the Kingdom of the Crystal Skull
Ready Player One
Usually I like to add commentary about why I rank the things I rank, but Spielberg is so subjective that it seems a little pointless. I will say that after #15 there's a noticeable drop. Like off a cliff. From #16 onward they are films I just don't like very much. Still, that's a 50/50 split, which is better than I could say for some directors!
A few asides here...
Many people consider Always to be one of Spielberg's worst. This always surprises me, because I thought it was such a charming, wonderful film.
Many people would put E.T. at the top of this list. I like the film okay, but there were so many annoyances that I consider #12 to be generous.
I should post a disclaimer that I wasn't able to get all the way through West Side Story because it's just not my kind of flick. But I saw enough to know that I liked it better than TinTin, Kingdom of the Crystal Skull, and whatever the hell Ready Player One was supposed to be. Lord what an awful, awful film. ANYBODY could have crapped that out of their ass... but Spielberg? Spielberg?!?
His next film is The Fabelmans, which I'm hearing good things about. Here's hoping.
Posted on October 5th, 2022

The trailer for Black Panther: Wakanda Forever landed on Monday. I am still processing.
Because while I am excited to visit that world again (especially to see Okoye and M'Baku)... there is something a whole lot bigger that has me very excited for the movie.
And it's Prince Namor, The Sub-Mariner.
It's one thing to see movie stills where he's standing there looking cool as all getout... it's quite another to see him in action, winged feet and all. I MEAN JUST LOOK AT THIS...
Namor (AKA "The Sub-Mariner") has a long and complex history in the Marvel comic books (created in 1939!). His pink skin is inherited from his father (the Atlanteans are normally blue) but he's unique in one other very important way... he's a mutant. To be more precise... he's Marvel's first mutant. His ability to fly comes from neither his human or Atlantean side, and so this skill (along with his winged feet) are a mutation (which is kinda a huge deal in Marvel's comics, and soon to be a big deal in the Marvel Cinematic Universe)...
In the comics Namor bounces back and forth between being villain and hero (which I think has been explained by some kind of oxygen imbalance due to his Atlantean/human physiology). And it sure looks like that's the path he will be taking in Wakanda Forever as well. It is heavily implied that Namor is going to kill Ramonda (Black Panther's mom, amazingly portrayed by Angela Bassett), and this is what drives Shuri to become the new Black Panther (as seen at the end of the trailer).
Though, to be honest, I really hope that Shuri isn't the new Black Panther... I hope that honor goes to girlfriend (and perhaps widow) Nakia. Her fighting skills make her a far more suitable choice, and I think that Lupita Nyong'o would absolutely kill it in the role.
But anyway... Namor. I want to see him everywhere. I want him to guest-appear in other movies. I want him in his own movies. I want him in a Disney+ series. Just one more piece of my childhood slamming home, and I want to have a steady stream of appearances.
Because I'm greedy like that.
Posted on October 2nd, 2022

I may be mired in wildfire smoke and barely able to breathe, but have no fear... because an all new Bullet Sunday starts... now...

• Behind! If you're old like me, get a colonoscopy, y'all...
The fact that Ryan and Rob are willing to use their celebrity for important stuff like this is why I love Ryan and Rob.

• Ch-Ch-Ch-Changes! Just an FYI that Changeland, one of my favorite films of 2019 is now streaming on Amazon Prime. As if the fact that it's gorgeously shot in Thailand isn't enough, the closing credits features Thai cats! It's a bit deeper movie than this trailer lets on, but it's fun too...
I own the film, so I can watch it any time I want... but I will be giving it more than a couple views on Amazon just to give it some love for studio execs who need to be making more films like this.

• Diego! Well, crap. Now I love Diego Luna even more than I already did...
If you're not watching him being brilliant in Andor, which is the best Star Wars since Rogue One, then you should get on that.

• Play On! Explain to me again how Lizzo playing a fucking flute is somehow controversial. SHE IS A CLASSICALLY-TRAINED FLAUTIST FOR FUCK'S SAKE! Just listen to this...
IT'S NOT LIKE THEY HANDED IT OVER TO SOMEBODY WHO DOESN'T KNOW WHICH END TO BLOW INTO! IT'S NOT LIKE THEY GAVE IT TO PETE TOWNSEND WHO SMASHED IT ON STAGE! IT'S NOT LIKE LIZZO SHOVED IT UP HER ASS AND SHIT IT OUT ON THE CONSTITUTION WHILE KICKING A PUPPY. AND TELL ME THAT BEN SHAPIRO EVEN KNEW ABOUT THE FUCKING FLUTE BEFORE LIZZO PLAYED IT. THE WAY THIS PIECE OF SHIT TRIES TO CREATE FAUX OUTRAGE TO CATER TO PEOPLE WHO JUST WANT TO BE MAD ABOUT EVERYTHING ALL THE TIME IS THE ACTUAL FACE TATTOO PHENOMENON AT WORK...
But that's not all... how the fuck is Lizzo twerking with a slave-owner's crystal flute more disrespectful than it's past-owner James Madison LITERALLY ENSLAVING PEOPLE? I will never in a million years be able to wrap my head around the faux outrage and blatant hypocrisy of these assholes...
Good on Lizzo. I hope she keeps pissing people off for a very long time.

• Expired! Petco rewards points used to expire after 90 days. Then it was 45 days. Now it's 30 days. They really, really don't want you to be able to cash in your points. I look forward to the email telling me that they expire in 24 hours. Guess the only thing I'm buying there now will be their bulk kitty litter... and it's probably cheaper and more convenient to get it from Chewy anyway, so maybe not even that. In adjacent news... look forward to your local Petco announcing that they will be closing soon.

• Avalon! I have only ever been a casual fan of Brian Ferry and Roxy Music. That being said, I played there Street Life: 20 Greatest Hits album to death, and still fire it up from time to time...
Most of my favorite tracks from Roxy Music is from their masterpiece album Avalon. Which is why this look at the album and its recording is so cool to see...
And... now I'll be listening to Street Life on repeat for the rest of the evening.

Until next Sunday then. Here's hoping your air is smoke-free.
Tags:
Assholes
,
Bullet Sunday
,
Fucking Assholes
,
Hipocrisy
,
Movies
,
Music
,
News
,
Television
,
Worthless Pieces of Shit
,
YouTube
Categories:
Bullet Sunday 2022
,
Movies 2022
,
Music 2022
,
News – Politics 2022
,
Television 2022
—
Click To It:
Permalink
—
2 Comments: Click To Add Yours!