Posted on September 9th, 2020

To say that I'm excited for the new Dune film is a massive understatement. The original Frank Herbert book is one of my favorite novels ever, I've read it at least a dozen times, and have been mesmerized with the entire "universe" that Herbert built since I first read it on summer break before my freshman year of high school.
There was a previous Dune film in 1984 by David Lynch that I very much enjoyed... despite it not being a very deep take on the material. This is not really Lynch's fault because the novel is essentially unfilmable. Much of what's going on is what's in people's heads and that's difficult to translate to screen. Even so, Lynch did an amazing job of translating the worlds and technologies to the big screen, and any subsequent readings of the book had his visuals in my head.
We don't talk about the 2000 Sci Fi Channel mini series adaptations.
The new Dune film by director Denis Villeneuve is apparently on track for release in theaters on December 18th, and I will likely risk COVID-19 to see it. His track record in cinema is exceptional... Prisoners, Sicario, Arrival, and Blade Runner 2049... so I'm guessing his take on Dune will be, if nothing else, interesting and visually stunning.
And that was my take before I saw the trailer, which was released today...
There's a lot to unpack here.
And since there are many, many geek websites doing exactly that, I'm going to restrain myself and just focus on a few things I saw which interest me.
SETS
What makes Dune so incredible is the "world-building" that Frank Herbert accomplished. The planets, the politics, the social structure, the technology... it's just all so solid. It's so deep that you feel it actually exists, and translating that to screen is not an insignificant challenge. I thought Lynch did a brilliant job at a time where practical effects were the norm. Now, of course, you can CGI whatever you can dream up, so of course the visuals have a better chance of mirroring what your imagination built from the books. Villeneuve's take on Blade Runner was about as perfect as you can get, so I have little doubt that his vision for Dune will be incredible. From what little I can see, it looks like he is trying for a muted, less ornate and fussy take on the sets, which is smart... I think? The Lynch film was so warm, lush, and gorgeously visualized, that you can't blame Villeneuve for striking out in a different direction. His take on Caladan feels much more Game of Thrones being more rough-hewn and utilitarian...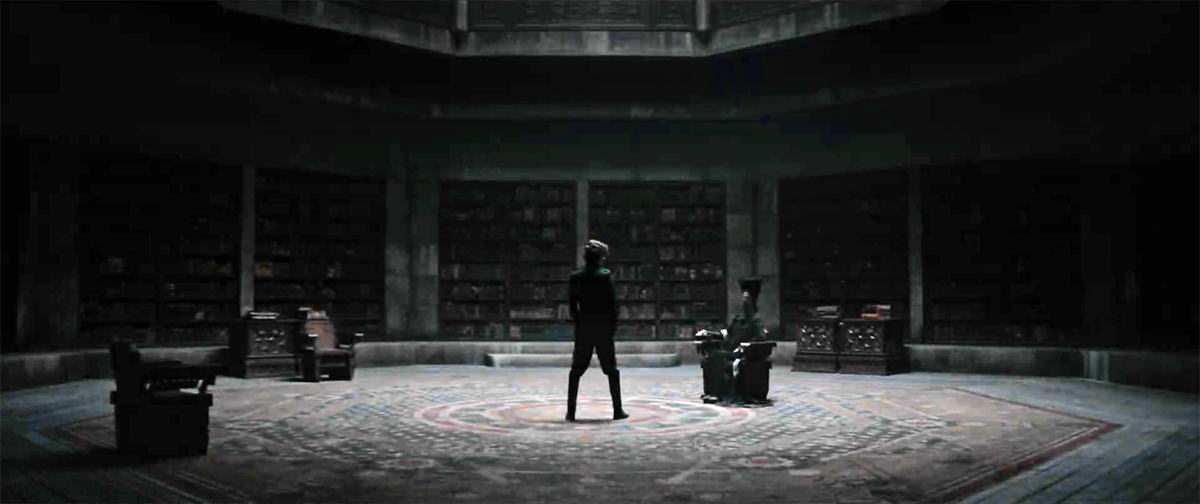 Contrasting with the deep shadows of Caladan is the blown-out sunlight of Arakis...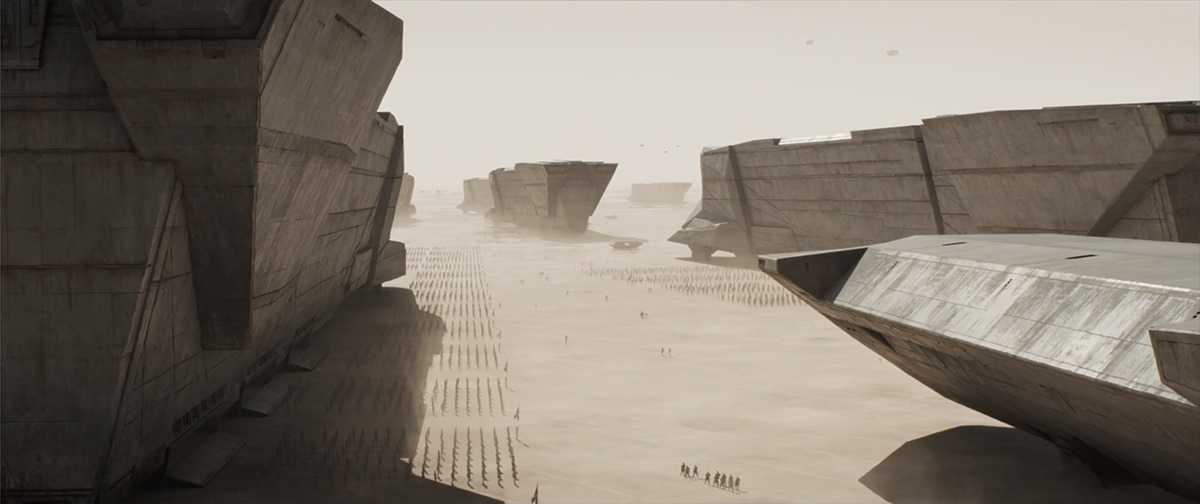 Interesting to see that the sand seems to permeate everywhere on a planet full of the stuff...
CASTING
PAUL: Timothée Chalamet as Paul Atreides seems a good fit. He's 24, but looks younger, which is what we need. In the book, Paul is like 15 or 16 or something, and that's an important point. He's a kid thrown into a situation beyond his years and his story is becoming a man under extraordinary circumnstances. I think Kyle MacLachlan was also 24 in the first Dune film, but looked older than Chalamet, which was a bit of a misstep, in my opinion...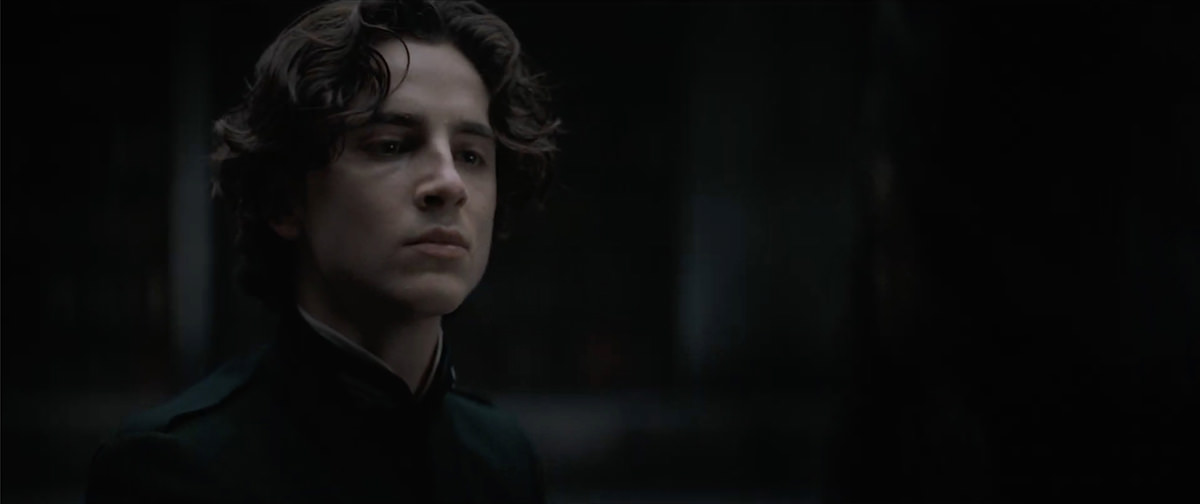 CHANI: Like Chalamet, Zendaya skews younger in this movie than Sean Young did in the previous Dune. In the books, if I remember correctly, she's older than Paul by a bit, but I like the idea of her also being a kid being thrown in a war spanning the known universe...
DUNCAN: Jason Momoa wouldn't have come to mind for Duncan Idaho, but it looks as though he's playing it a bit more "every man" in which case he's a good choice.
LETO: I admit that I know precious little about Oscar Isaac outside of his character on the final Star Wars movies, but he certainly looks the part of Duke Leto...
BARON: Villeneuve has said that he's wanting the Harkonnens to be more evil and menacing than we've seen, which certainly has my stamp of approval if he can pull it off! Stellan Skarsgård was an inspired choice, especially if you've seen him in The Girl with the Dragon Tattoo!
RABBAN: Dave Bautista is a delightfully versatile actor, and it will be very, very interesting to see his take on The Beast, especially if we're getting something truly villainous from the character...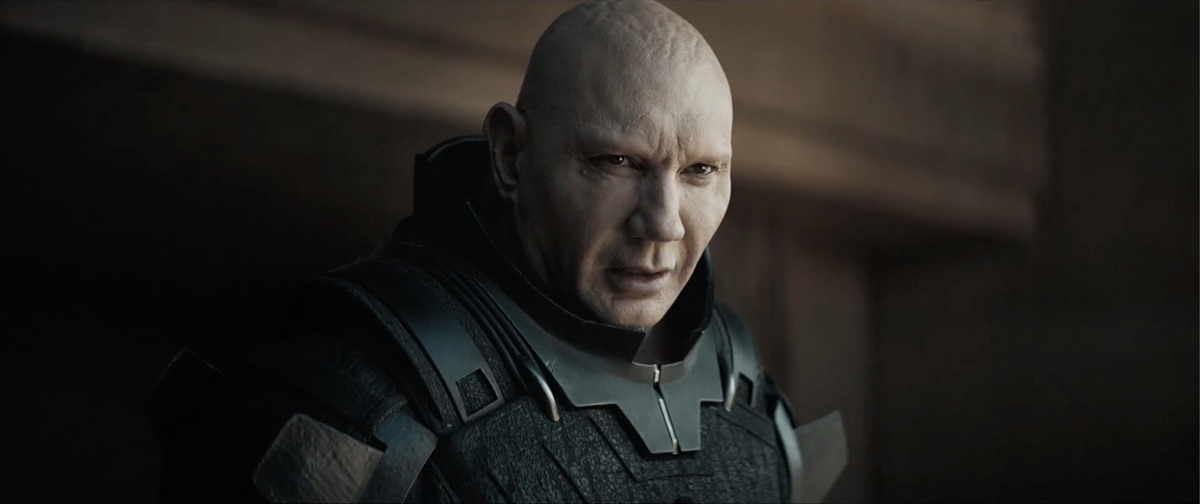 MOHIAM: If there was one area where I thought Lynch's film faltered, it was the weird shaved-head look given to the Bene Gesserit. It absolutely played into the cult-like elements from the sisterhood, but it was distracting. Going with these heavy veils seems a lot more interesting, and you couldn't ask for a more interesting choice as Charlotte Rampling for The Reverend Mother...
GURNEY: Okay, Josh Brolin is perfect for Gurney. No surprise at all he was cast, because it really is flawless. What surprised me is...
THUFIR: Holy cats, that's Stephen McKinley Henderson as Thufir Hawat beneath that parasol in back there! I loved him as Omar in the 2008 series New Amsterdam, and this is truly inspired and brilliant casting news. And boy did Villeneuve come up with a fantastic look for the Mentat Master of Assassins! Completely unexpected...
TECHNOLOGY
If you've read the Dune novels, you know that technology has a bit of a strange place in the story. Thanks to an uprising by "thinking machines," artificial intelligence has been banished and any advancements are strictly utilitarian. We don't get to see much in the trailer... but we do get a glimpse of the Emperor's Sardaukar troops dropping in with their battle armor...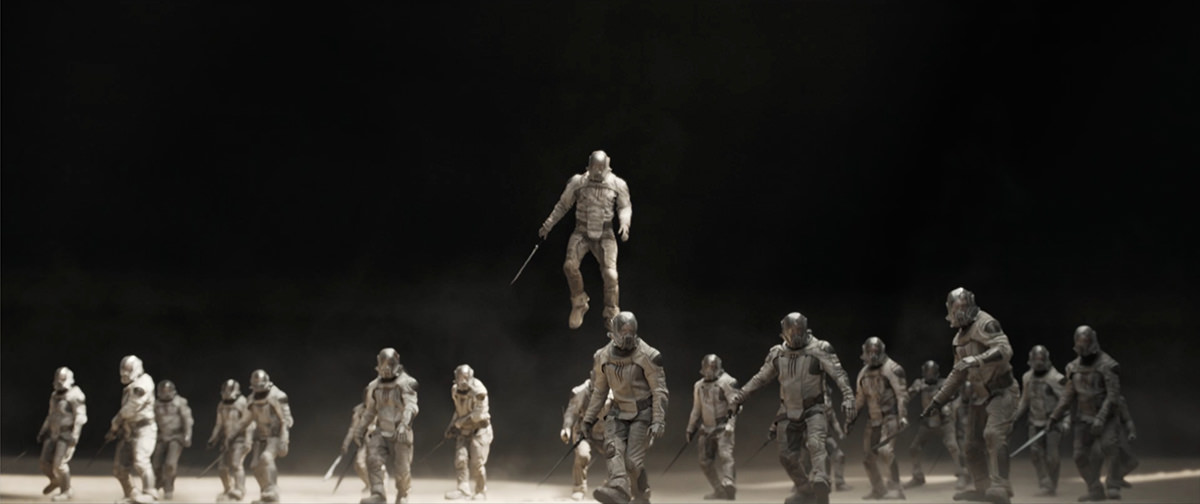 We do get a better look at the Holtzman personal shields in use. I have to admit that I think Lynch's take was a more visually interesting approach... and his having it centrally located on a belt seems a more logical place to have it instead of on some kind of hand-strap. That being said, Villeneuve did come up with a look that seems a heck of a lot more realistic...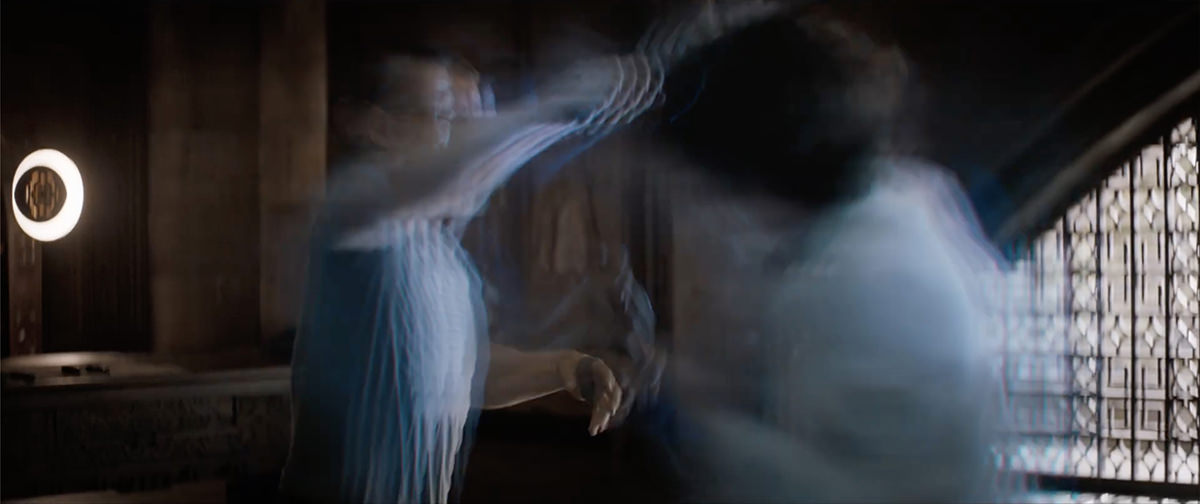 SANDWORMS
Now, as cool as giant worms may sound when you read about them in a book... it's an absolutely absurd visual when translated to the screen. Lynch did as best he could, but the effort ultimately looked silly. We were told they were terrifying instead of seeing they were terrifying. Welp... thanks to CGI, that's not a problem any more. Sandworms are like something out of a nightmare, exactly as they should be...
STORY
Dune is Dune. The political backstabbing and intrigues... the fight for power... the complex family interactions... the fascinating religion and customs of the peoples... it's all woven together into something far more amazing than the sum of its parts. Lynch's movie had to gloss over a lot of it out of necessity. There's only so much you can do in a two-hour movie. Villeneuve caught a bit of a break in that he was able to split the movie into two parts... plus he is getting a companion series on HBO Max. Whenever Dune: The Sisterhood airs, it will allow considerable more world-building than two films could accomplish on their own. This is truly exciting, because it will (hopefully) allow for many of the subtleties and complexities to play out in a way we've never seen. We get a tiny glimpse of this when Paul says "My father rules an entire planet." The Reverend Mother responds "He's losing it." Paul fires back with "He's getting a richer one." Reverend Mother nips that one at the bud with "He'll lose that one too." It's this kind of immense scope that you truly need if Dune is to have the proper weight to it.
With any luck, we're going to get a movie which Dune fans have been dying to see for over 50 years. And if it fails? Well, I guess I can always re-read the book for the hundredth time.
Posted on September 6th, 2020

Summer doesn't seem to be ending any time soon, but don't let 100° days get you down... because an all new Bullet Sunday starts... now...

• Growth! I don't remember how I ran across this video, but it's really, really cool...
Jake and Jenny seemed to grow up exactly this fast.

• Squirrel! I somehow missed this amazing Mark Rober video, which is a must see...
His channel is one of those that I wish posted more often... but you just know that it wouldn't be this good if he did.

• Die! And the new James Bond trailer is out...
Looks almost worth risking your life going to a movie theater for!

• Expecting! I watched the HBO Max series Expecting Amy which is absolutely fascinating. Not because of Amy Schumer, but because of her husband Chris Fischer. In her Netflix special, Growing, her talking about him and his being on the autism spectrum is the absolute best part of the show. In Expecting Amy you get to see the reverse side of it all. The guy seems as sweet as can be and is a massively famous chef, so he's a lot more than "just Amy Schumer's husband."
So, yeah, worth a look. And also watch their cooking show Amy Schumer Learns to Cook on Food Network.

• Bash! Earlier this week I had mentioned that NBC had picked up the amazing medical drama, Transplant, starring Hamza Haq. I know absolutely nothing about the guy, so I searched YouTube for some interviews. He does not disappoint...
But the real treat was spending the day with him during Ramadan during quarantine...
Very much looking forward to a second season.

• Christie! Back when cable TV first came to town, we got a 6-month trial package that included HBO or Showtime or both or something. It was then that I discovered that one of my favorite Agatha Christie novels, Death on the Nile, had been turned into a film. I watched it many, many times. Now, after a successful remake of Murder on the Orient Express, we're getting a remake of Death on the Nile as well...
Interesting to note that both versions of the film has quite a few name-brand stars...
| | | |
| --- | --- | --- |
| ROLE | 1978 VERSION | 2020 VERSION |
| Hercule Poirot | Peter Ustinov | Kenneth Branagh |
| Louise Bourget | Jane Birkin | Rose Leslie |
| Linnet Ridgeway Doyle | Lois Chiles | Gal Gadot |
| Marie Van Schuyler | Bette Davis | Jennifer Saunders |
| Jacqueline de Bellefort | Mia Farrow | Emma Mackey |
| Mr. Ferguson | Jon Finch | |
| Rosalie Otterbourne | Olivia Hussey | Letitia Wright |
| Manager of the Karnak | I.S. Johar | |
| Andrew Pennington | George Kennedy | |
| Andrew Kathchadourian | | Ali Fazal |
| Salome Otterbourne | Angela Lansbury | Sophie Okonedo |
| Simon Doyle | Simon MacCorkindale | Armie Hammer |
| Colonel Race | David Niven | |
| Mrs. Bowers | Maggie Smith | Dawn French |
| Dr. Ludwig Bessner | Jack Warden | Russell Brand |
| Euphemia | | Annette Bening |
| Syd | | Adam Garcia |
| Bouc | | Tom Bateman |
Looks like it will be worth a look!

And that's the end of that. No more bullets to be had this week.
Posted on August 30th, 2020

Summer may be coming to a close, but the bullets are just beginning... because an all new Bullet Sunday starts... now...

• Forever! This weekend I held a Chadwick Boseman memoral marathon... starting with 42, Gods of Egypt, and Marshall yesterday... then blowing through all his Marvel movies, Captain America: Civil War, Black Panther, Avengers: Infinity Gauntlet, and Avengers: Endgame today. Mr. Boseman was diagnosed with third stage colon cancer in 2016. Which means he had to be feeling effects while filming Civil War and Marshall... and was battling it in force while filming Black Panther and the Avengers movies. His amazing acting talent is on screen for all to see. But the strength it took to be filming while undergoing treatment for cancer? You never saw that...
It's been weighing on me all day. I've read that he said that he prayed that he would get the role of Black Panther before he was cast. I can only imagine that playing the character kept him going. I don't know. What I do know is that I sure would have loved to have seen more movies from him. But, man, what we got was sure amazing wasn't it?

• Jeopardy! Seems an apt time to remember when Chadwick Boseman was responsible for one of the funniest sketches to ever air on Saturday Night Live...
And now I want potato salad.

• EXCELLENT! One of my favorite movies of all time is Bill & Ted's Excellent Adventure. Far from being a high school stoner comedy (albeit without the drugs), it was actually an incredibly smart film. Time travel was handled exceedinly well, the soundtrack was fantastic, and the casting was genius. George Carlin was an inspired choice as Rufus... and of course Keanu Reeves and Alex Winter were genre-defining in the title roles. The sequel, Bill & Ted's Bogus Journey fell short, but was still a fun ride. And now, 30 years after the original debuted, Bill & Ted are back...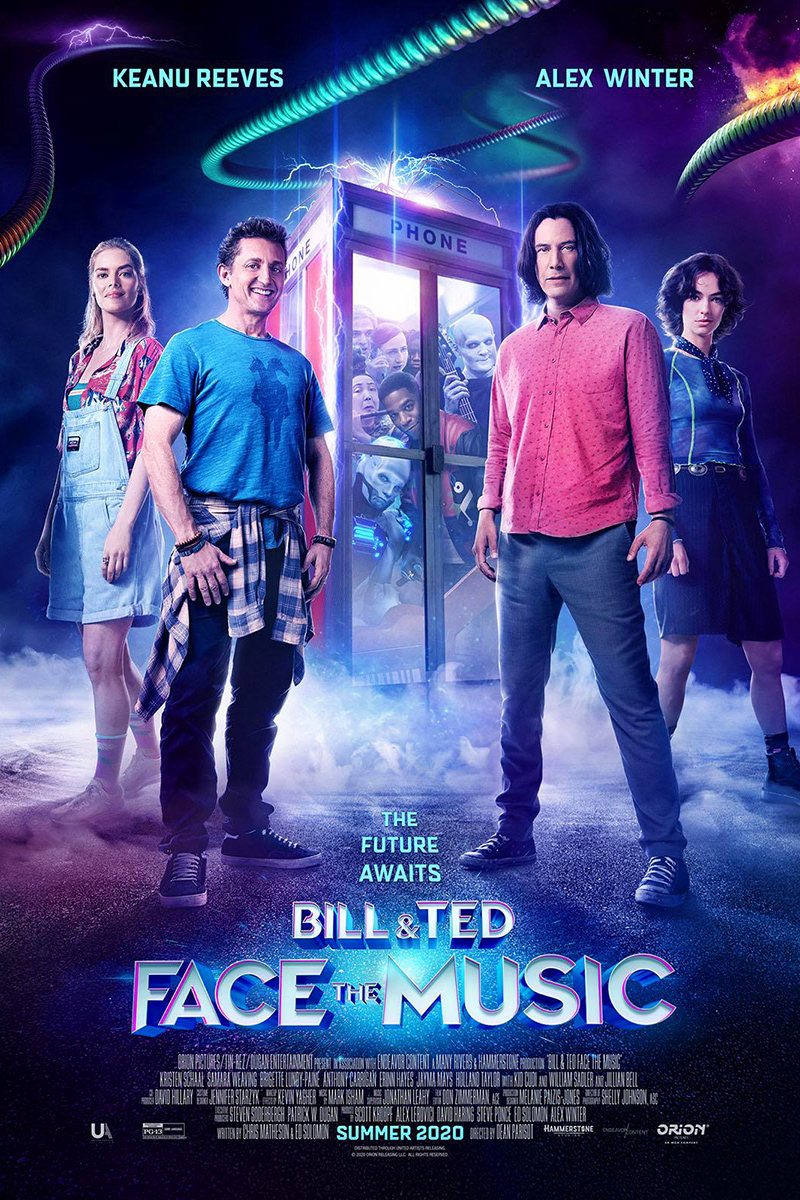 While it's not in the same league as the original... and how could it be when George Carlin is gone?... it was still pretty darn entertaining. I am not going to say a word about the movie because you really need to see for yourself. And you can do that with a $20 rental or $25 purchase price through iTunes and other streaming services. I don't know if it's worth the first-run cost, but it's not like you can run out and see it in theaters.

• #GiantMeteor2020! Well, dang.

• Bird Shit! Johnny Harris does it again... this time with a fascinating video on why the US has all these islands scattered around the Pacific...
Truth is so often stranger than fiction.

• HAN SHOT FIRST! Restoring old films so they will appeal to modern audiences is nothing new. Cleaning up the dust and scratches. Minimizing grain. Sharpening the picture. It's pretty cool what technology can do to help make old films look new. But there is such a thing as going too far. I first remember this kind of controversy when Turner Network Television "colorized" old black-and-white movies. I never thought this was so terrible, but a lot of people did. What I do think is terrible is when classic films are altered so that the story changes. Guns becoming walkie-talkies in E.T. The Extra Terrestrial... and, of course, Greedo shooting first in Star Wars.
There was a lot of outcry over Star Wars... so much so that when they released the modified "Special Edition" on DVD they included a "Bonus Disc" which had a cleaned up version of the original film. I was happy to have it, because the only way I could watch the original was on my LaserDisc copy, which was a very nice picture for 1982, but disappointing for 1997. I didn't mind so much that they replaced the special effects shots with new CGI versions... but the other changes (like Han not shooting first) were pretty crappy.
Now there's a new technique for "stacking" multiple sources of the film so that you can build a more detailed picture...
Here's a still from the original film off LaserDisc...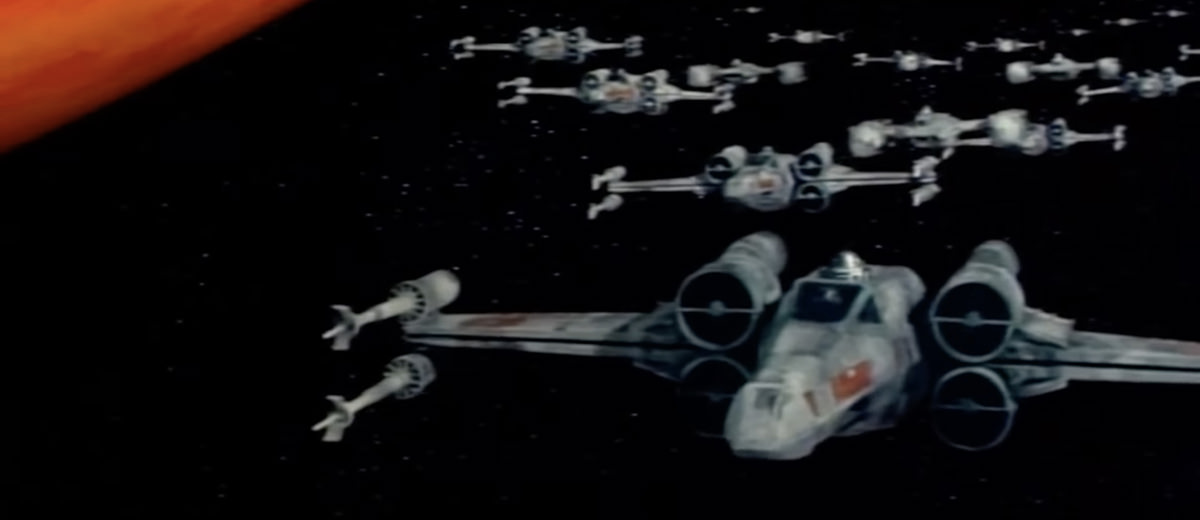 Here's the same still from the DVD Special Edition Bonus Disc of the original film...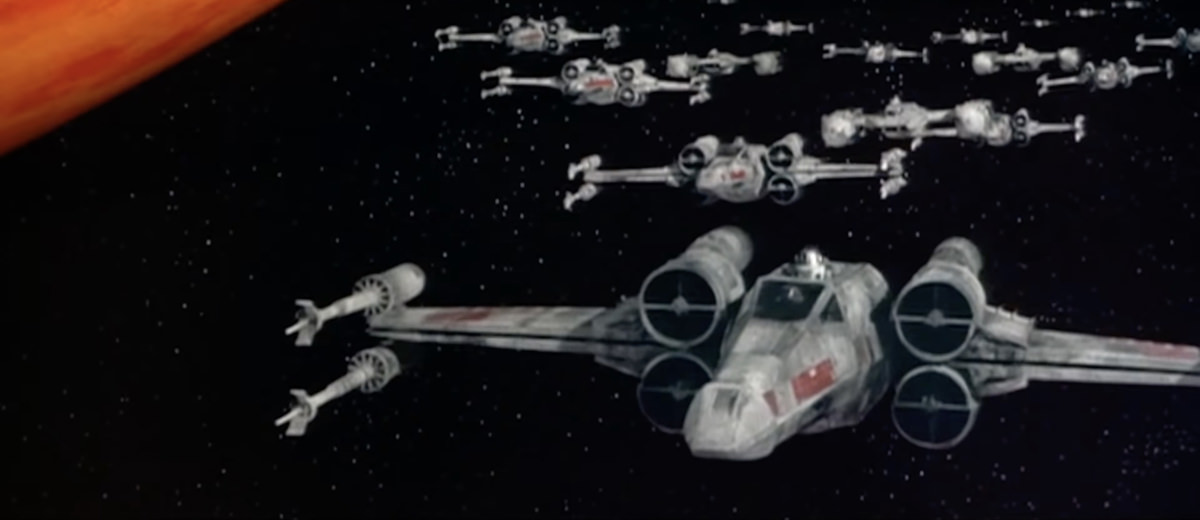 And here's the restoration version which uses details from multiple sources to create a far sharper version...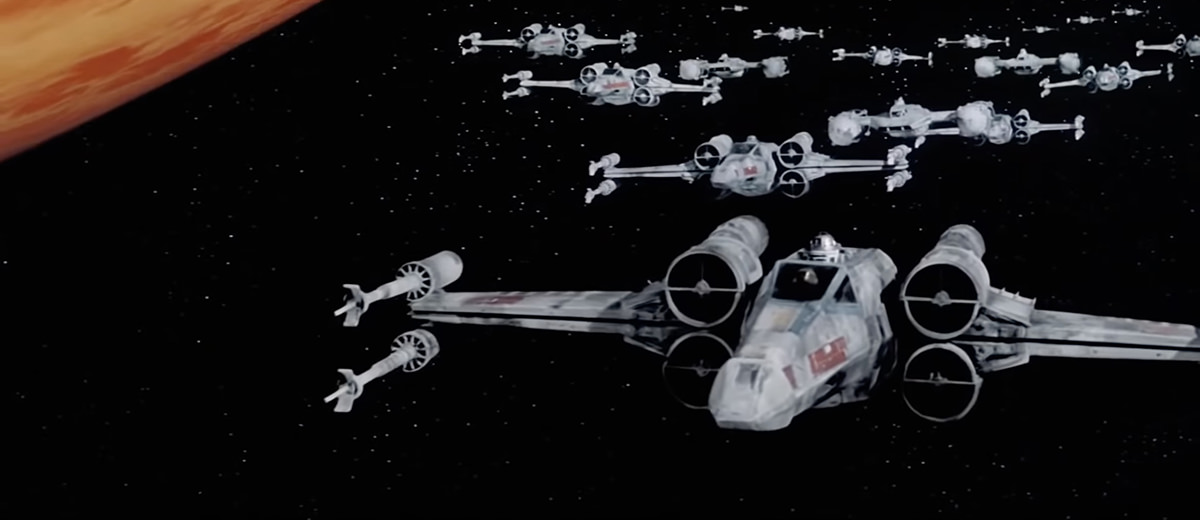 Pretty amazing. Here's an explanation video. Fast forward to 40 minutes if you just want to see what's happening...
Technology so nifty, eh? THIS is a kind of restoration that does more good than harm.

And that's a wrap on my Sunday.
Posted on August 28th, 2020

It's strange how you just kinda get numb to the horrors of the day. A pandemic is ravaging the world. California is burning from wildfires. Louisiana is getting devastated by a hurricane. It just never stops. Everything is awful and seems to be getting worse.
Then today Chadwick Boseman dies... at 43 years old?
Best known for playing Jackie Robinson in 42 and T'Challa in Black Panther, this is truly awful news. The guy was incredibly talented and his career had just gone stratospheric...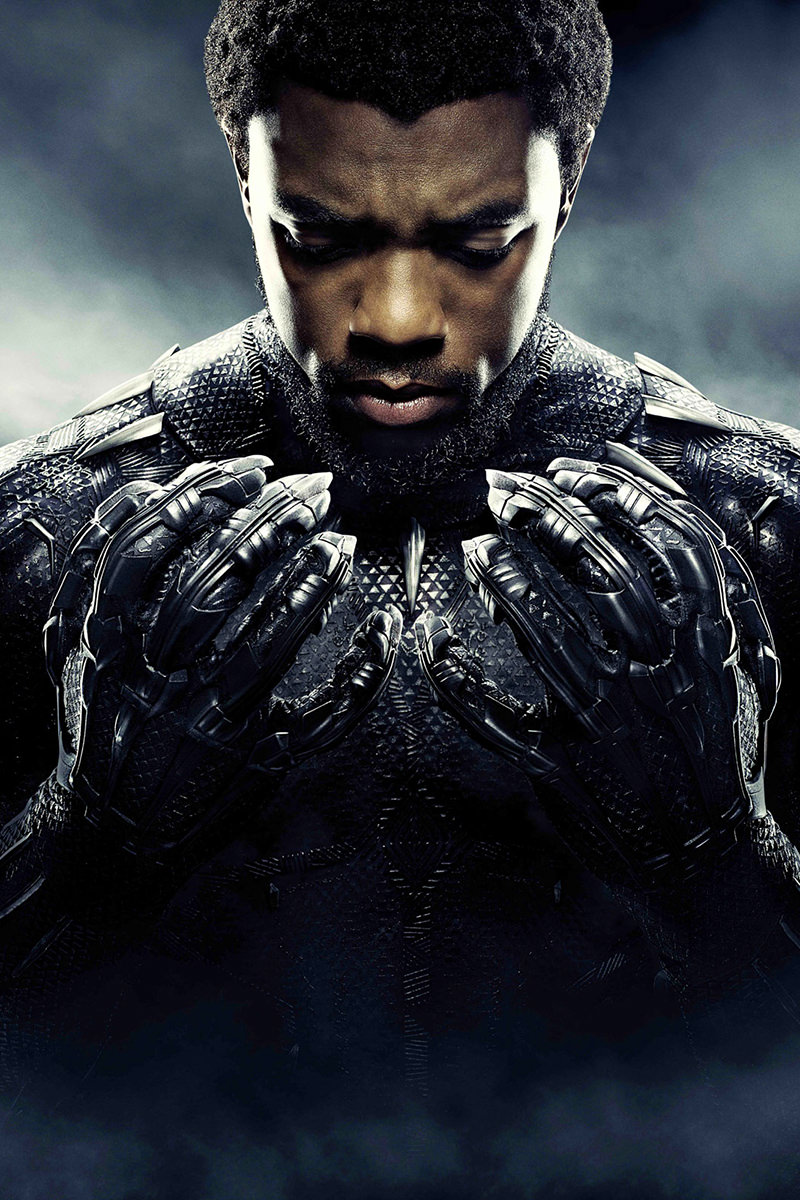 I was so looking forward to seeing him in Black Panther 2. It's one of the things that's been keeping me going through these dark days.
Condolences to Boseman's wife and family. So incredibly sorry for your loss.
Posted on August 23rd, 2020

Fan conventions may be on hold, but don't get your super-suit tights in a bunch... because an all new DC Comics Fan Dome Edition of Bullet Sunday starts... now...

• FAN DOME! In the absence of fan conventions (like Comic-Con) there's been an awful lot of "virtual cons" happening. DC Comics held their own virtual con event this weekend, called Fan Dome. The only thing I actually tuned in live for was Wonder Woman 1984 and Suicide Squad. Everything else was just when it hit YouTube. Precious little information was dropped for Aquaman 2, Shazam 2, or a new Superman film, but everything else happening in the next 2-3 years was touched upon. Let's take a look, shall we?

• THE SUICIDE SQUAD! Technically, this is Suicide Squad 2, but in order to distance James Gunn's take on the franchise from the previous installment, they added "The" in the front and left "2" off the back. Packed to the gills with characters even more obscure than the original team, Gunn promises a unique take on the material which follows his incredible success with the Guardians of the Galaxy flicks over at Marvel. Out of all the films DC is unleashing on us, this has the best shot of my liking it...
ODDS TO LIKE IT: 85%

• WONDER WOMAN 1984! I was completely unprepared for Patty Jenkins' incredible Wonder Woman movie, released in 2017. It was a fantastic, faithful, and fully entertaining representation of everybody's favorite Amazon for the silver screen. Three long years later, we're finally getting a sequel. I am not 100% sure how exactly how this wacky throwback is going to play out, but the trailer sure looks encouraging...
ODDS TO LIKE IT: 75%

• THE BATMAN! When it comes to Batman live-action movies, the character has fared better than most, but there have been some serious missteps...
Batman (1989) Demented Tim Burton Batman fun!
Batman Returns (1992) Memorable for Danny DeVito and Michelle Pfeiffer and an absurd story.
Batman Forever (1995) Joel Schumacher taking a huge, stupid dump on the franchise.
Batman & Robin (1997) Joel Schumacher's nail in the coffin of Batman movies.
Batman Begins (2005) Christopher Nolan reinvigorates Batman for film in a new trilogy.
The Dark Knight (2008) The pinacle of Batman movies with the definitive Joker.
The Dark Knight Rises (2012) A drastic step down has Batman ending on a whimper.
Batman v Superman: Dawn of Justice (2016) Zack Snyder shits all over Batman, specifically, and super-heroes, in general.
With the exception of The Dark Knight Rises, the best Batman going has been the LEGO games/movies and the animated cartoons. And here we go again, this time with Matt Reeves directing Robert Pattinson in The Batman. Alas, it's looking like a bit of a mess in the trailer, but who knows?
ODDS TO LIKE IT: 25%

• BLACK ADAM! I hate hate hated the Shazam! movie. Now we're getting a movie around one of Shazam's biggest villains, Black Adam. I have no clue what this is supposed to be. Is he fighting Shazam? Is he going to be an actual villain? Who knows. I'd abandon all hope, except Dwayne "The Rock" Johnson is starring in it, so I guess that's something.
ODDS TO LIKE IT: 20%

• THE FLASH! One of the worst parts of Zack Snyder's shitty Justice League was his take on The Flash. Wrapped in one of the shittiest movie super-hero costumes of all time, Ezra Miller's godawful versions looked like a pile of junk instead of the sleek, elegant character from the comics. And those horrific "jokes" that he simply would. not. shut. up. with (courtesy of Joss Whedon, I'm guessing?). has me not giving a crap about this movie. About the only thing even remotely interesting to me is the fact that Michael Keaton's Batman will be making an appearance. Otherwise? Ugh.
ODDS TO LIKE IT: 10%

• JUSTICE LEAGUE: THE SNYDER CUT! One of the worst super-hero films ever created, Justice League was a horrific pile of shit that followed Zack Snyder's truly awful Batman v Superman Dawn of Justice and Man of Steel fiascos. While the fact that Snyder has created it guaranteed it would suck, the fact that Joss Whedon was brought it to make it "funny" in the hopes it would perform like his two Avengers movies made it even worse. An inconsistent mish-mash that I hated more than I ever thought possible. Now Zack Snyder has been given millions of dollars so he can "restore his vision" for the film. Which means it's still going to be a pile of shit... it's just going to be a consistent pile of shit.
ODDS TO LIKE IT: 2%

I suppose if theaters ever open up in the USA again, I might actually get to see some of these. But, more likely than not, I'll just be waiting for home-video. If I'm going to risk death in a theater, it won't be for anything coming out of DC Comics, that's for sure.
Posted on August 10th, 2020

It's always a pleasant surprise when I watch a television show or movie for entertainment value and walk away learning something. I'm not talking documentaries and true-life story adaptations and stuff like that... I'm talking fictional stories built for entertainment purposes which have at their core some real knowledge to be had.
Most of the time, this happens with something small. Maybe you learn the capitol city of some country you never knew about. Maybe you learn some oddball scientific fact. Or maybe it's something really off the wall like the way a particular poison can be used to get away with murder. There's all kinds of small facts that are weaved into TV and movies, and it's these facts big and small which can lead your head to accepting the larger fiction.
A recent example of this is the Tulsa Race Massacre of 1921. Most people had no idea that such a horrific event ever happened until the HBO super-hero show, Watchmen, made it a primary plot point for the mini-series. I'm sure some people even thought it had been invented just for the show. That's how buried it was in our history.
For me personally, the movie that most comes to mind about learning something was a 1991 film starring Danny DeVito, Gregory Peck, Penelope Ann Miller, and Piper Laurie called Other People's Money. It was based on a play of the same name by Jerry Sterner...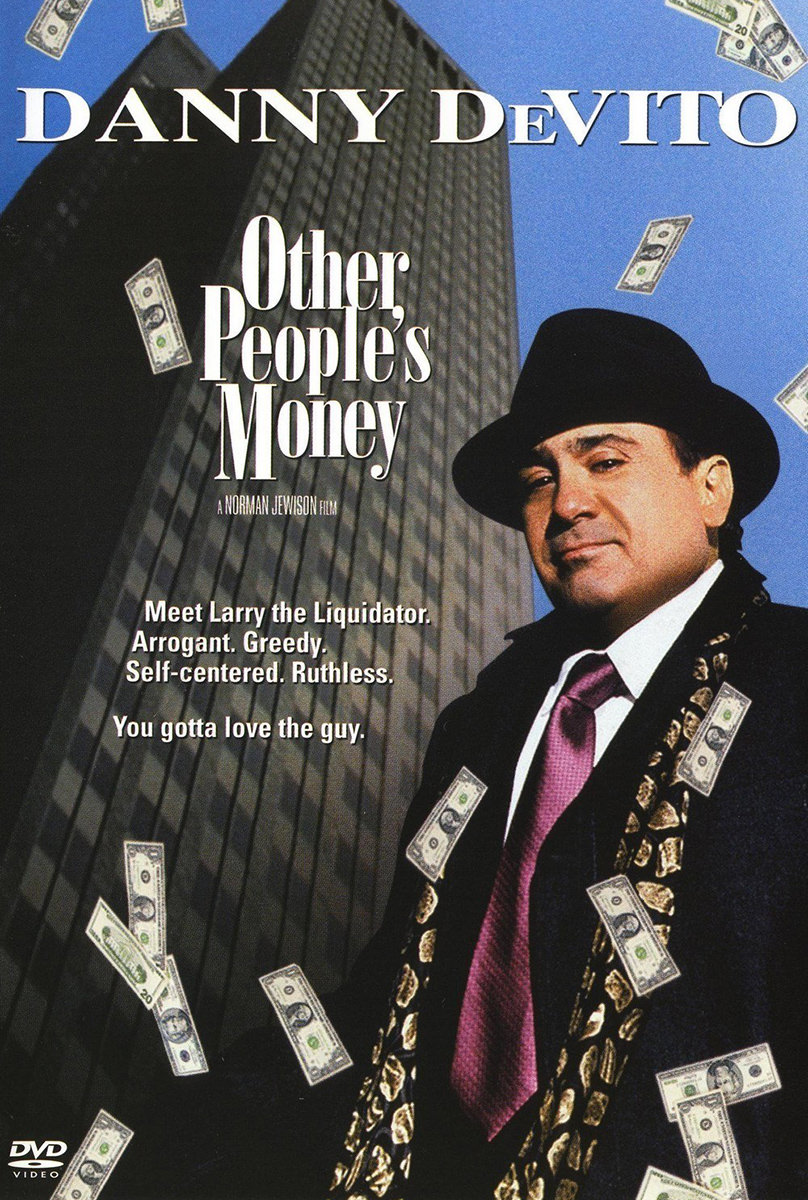 I went to the theater to see the movie because A) I fell in love with Penelope Ann Miller after she appeared in Kindergarten Cop and I realized she was Brenda in Adventures in Babysitting, and B) It was Danny DeVito starring in a movie that looked like he might be doing something along the lines of Ruthless People, a movie I love, and C) Piper Laurie was hot off of Twin Peaks, a show I love, and D) Gregory Peck...
Looking back at a film from nearly 30 years ago, you just know that there's going to be plenty of problematic moments. And there truly are. The sexism alone paints Other People's Money as a dinosaur from another age.
But man if I didn't learn a heck of a lot about how Wall Street works, how stocks and shareholders work, how hostile takeovers work, how money works. Just look at this scene that gets the movie ball rolling...
And don't think that the movie is all money talk. We got lawyer jokes too!
But the real education came at the end of the movie when I learned how proxy fights work. Now, if you have any plans to see this movie... and I suggest that you do see it... this video is a bit of a spoiler here. Gregory Peck has just made an impassioned plea to the stockholders to save his wire & cable company and not give in to Danny DeVito and his culture of greed. The room goes wild and he is lauded with thunderous applause. And then it's Danny DeVito's turn...
Fantastic performance there. And here's the thing... Danny DeVito makes an argument that is completely air-tight. You can't argue with what he's saying in the context of the movie. And the big lesson I took away from this was that when it comes to situations like this, it's not always black-and-white. It's shades of grey. Or, in this case, shades of green.
I've been thinking a lot about Other People's Money as it relates to contemporary times.
There are industries that are dying yet we keep propping them up just because it's politically advantageous to do so. There are many, many examples I could drop here. Many. But the one that got me thinking about this movie is the coal industry. Coal is dead. It's beyond dead. Many of its uses have become antiquated. Nobody burns coal to heat their home or make a train run any more. And while I'm sure there are some industrial uses for it... like coal-fired pizza ovens and such... coal has fallen out of use in favor of cheaper sources like natural gas and renewable energy sources (both of which are cleaner as well). The use of coal for electricity production is plummeting year-over-year. It's quickly getting to the point where nobody wants to buy coal any more. The pandemic has put that fact in vivid relief. Coal mining companies are declaring bankruptcy left and right.
And yet politicians keep dragging it along with their campaigns so that they can pick up some electoral votes in states like West Virginia, Kentucky, and Pennsylvania.
And it makes zero sense.
Other than the fact that voters fall for it hook, line, and sinker.
And you know who gets hurt by all of it? The coal miners. Coal miners get screwed along with all the workers associated with coal mining.
Because no matter how long politicians want to prop up coal... whether it's with subsidies or by coming up with idiotic nonsense like the notion of "clean coal"... it doesn't change the fact that coal is dead. And rather than accept that coal is dead and move forward by creating new jobs for coal workers with new renewable energy technology jobs, politicians keep dragging it along while foreign countries invest in renewable energy jobs which won't be going to American workers.
And why is that?
Lobbyist money, of course.
Big Coal and Big Oil and Big Pharma and all these "Big" companies OWN our politicians. They BUY them off to promote their bullshit so they continue to make money while American workers lose their jobs and American citizens get screwed.
And we have nobody to blame but ourselves because we keep re-electing them.
I feel badly for the people who keep voting for politicians who don't have their best interests at heart because the lie is always so much easier to believe. They trust the people who say they will take care of them even though it rarely turns out to be true... and is getting less true by the minute. I probably learned that from a movie somewhere, but the best way to learn is to just look at the news.
Assuming you can find actual news any more.
Much like the buggy whip and coal, actual, factual news seems to be dead...
So, game over, I guess.
Posted on July 30th, 2020

With life being more virtual than in-person now-a-days, I've been spending more time socializing online. It can't take the place of Real Life, but it's better than nothing... and it does actually have some advantages. Namely that you don't have to get dressed or leave the house. Also? You can find like-minded individuals much easier on the internet.
And yet...
Because there's no in-person interaction, things can go sideways very quickly.
Tonight I left an anime discussion group when there was a fight because somebody started a chat over the upcoming Studio Ghibli film Aya to Majo, which is a computer-animated film instead of traditionally animated feature...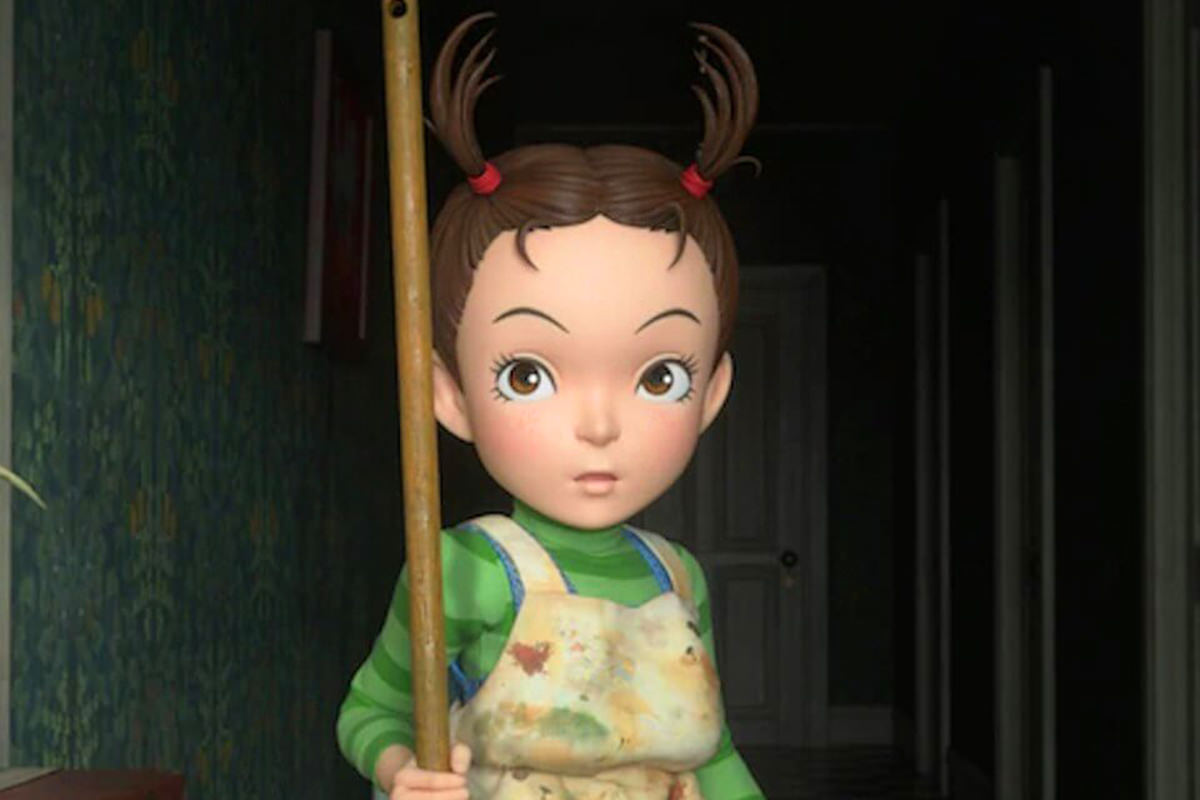 "COMPUTER ANIMATION IS NOT ANIME!"
"ANIME LITERALLY MEANS JAPANESE ANIMATION AND THIS IS JAPANESE ANIMATION!"
It ended up in a shouting match with name-calling and everything.
Yeah, I'm ready for this whole COVID thing to be over.
Posted on July 26th, 2020

Comic-Con San Diego may have been canceled this year, but you can't cancel Bullet Sunday, which starts... now...

• EXCELLENT!! Not only did we get a brand-new trailer for the upcoming Bill & Ted movie at Comic-Con at Home, we also got a release date of September 1st. But the best news? It's going to be released for streaming rental day-and-date with the theatrical release!
Sure it will probably cost $20 to rent early, but I would pay it in a heartbeat to avoid having to go to a bogus COVID-19-infested theater!

• NANDOR! I watched a few virtual panels and, by a wide margin, my favorite of the bunch featured the cast of What We Do In The Shadows. If you're a fan of the show, there's no need to tell you what to do...
I know the second season just ended, but I want a third season right now.

• SEEKERS! What I want more than anything else from Simon Pegg and Edgar Wright is a sequel to their incredible movie, Paul. But outside of that, I'll take whatever I can get. Including their new paranormal hunter show... Truth Seekers...
Alas, no date is given as to when the show debuts on Amazon Prime, but here's hoping it's soon-soon rather than later-soon.

• DECKS! I have no problem with an animated Star Trek. The original animated Star Trek series was pretty darn great. But a comedy? I don't know that I get why that has to go under the umbrella. It seems an odd fit...
Guess I'll see how I feel once I've seen an episode or two. Lower Decks drops on CBS All Access on August 6th.

• Jack! Not exactly Comic-Con-related, but Jack Whitehall has a new Netflix special out. If you like Jack, it's a great waste of time...
I sure am sad that we likely won't see any more episodes of Travels with My Father, but watching this special makes me want to watch all the episodes we got all over again.

• Cutesplosion! And lastly, I leave you with this...

And that's a wrap, True Believer.
Posted on July 19th, 2020

The USA may be leading the world in COVID-19 infections, but that's not the worst news you'll hear today... because an all new Bullet Sunday starts... now...

• Psych... Again! NBC's new streaming network, Peacock, launched this week. To entice people to subscribe to yet another service, they are making some content free for a while. Including Psych 2: Lassie Come Home...
I had forgotten how much I love this show. The one-liners are as fast and funny as ever and the story is actually pretty darn good! It features the return of Timothy Omundson (Carlton Lassiter) after his stroke, and he is wonderful. Everybody is. I tell you, bringing back Psych would be a sure-fire way to get me to subscribe to the network, that's for sure.

• Coming 2! Heaven help me, it might actually be worth getting infected just to go see this...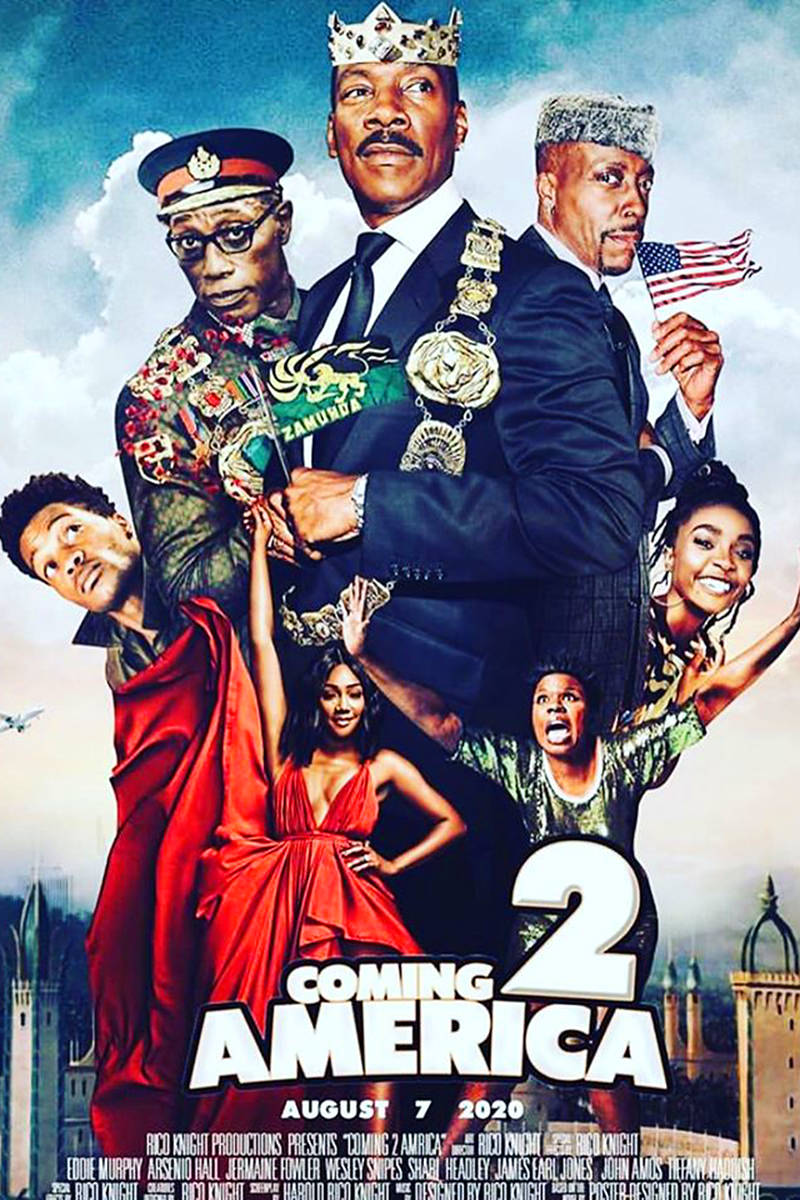 With the exception of all the Marvel Studios movies waiting to be released, this is what I most want to see.

• Leibovitz? In my work I've seen this many, many times. Photographers shooting Persons of Color the way they shoot white people because they cannot be bothered to learn how to create a shoot for darker skin. And apparently it can be a challenge for even the best photographers. Annie Leibovitz is a true artist, but she completely and totally failed in her shoot of Simone Biles. The Vogue shots are dim, murky, and poorly adjusted...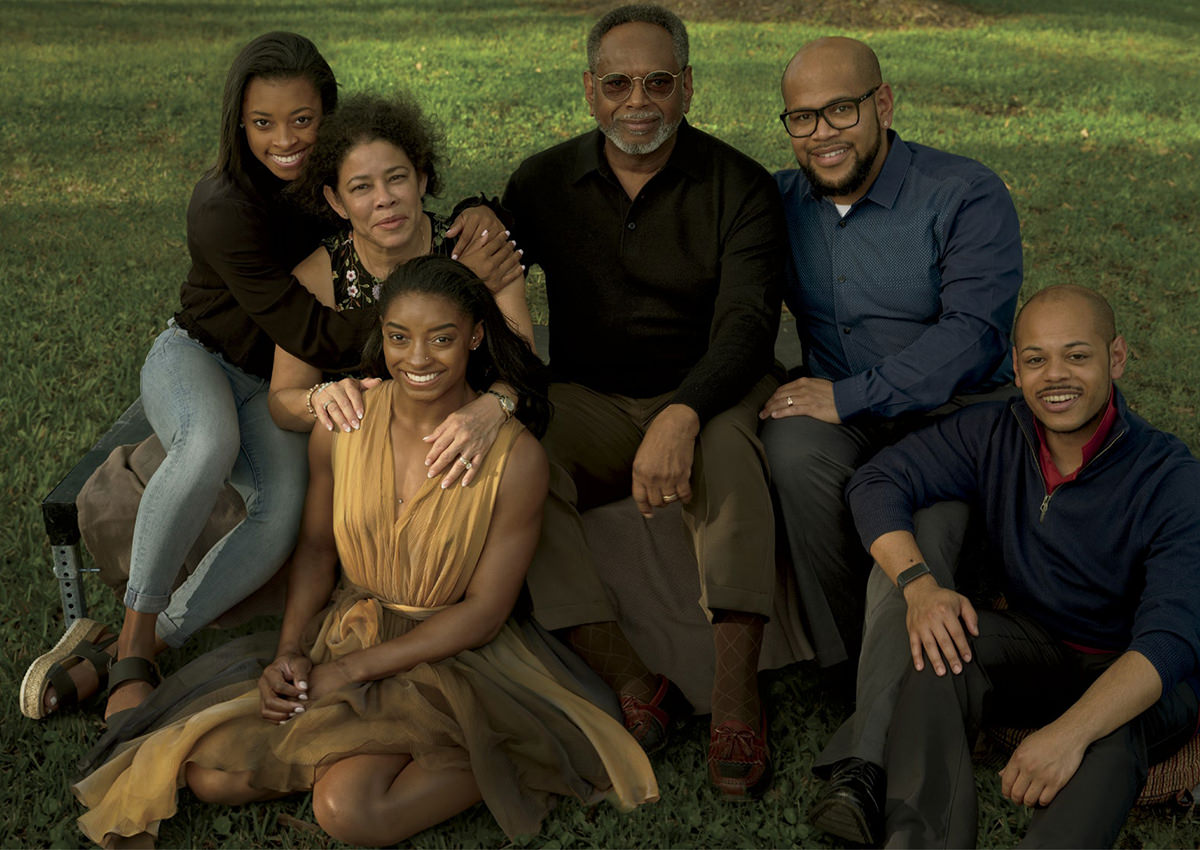 My guess is that Leibovitz is of a caliber that she can dictate nobody modify her photos, which is a shame because Simone Biles is a beautiful young woman who deserves far better (as does her family). Any pro photographer worth their salt will be able to get stunning shots regardless of skin tone because that's their job. Or, you know, Vogue could hire Black photographers who have a lifetime of experience shooting Persons of Color... just sayin'.

• Viola! Case in point? Meanwhile over at Vanity Fair where they hired the first Black photographer in the history of the magazine to shoot a cover story of Viola Davis...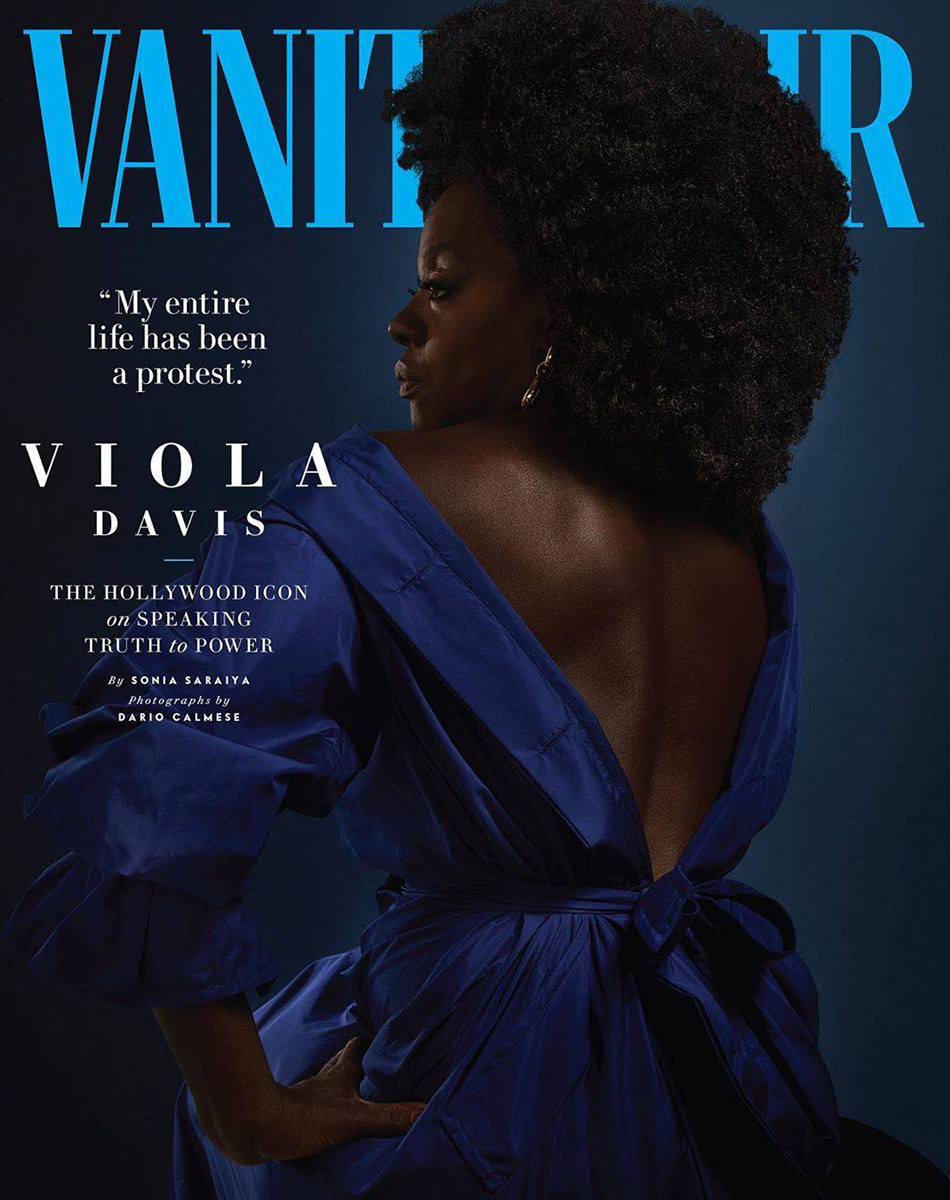 Viola Davis would probably look amazing even if she was murky and tinted green... but, boy, this is phenomenal work by Dario Calmese.

• STOP! I've seen demos of SawStop technology before. It still takes my breath away to see it in action, and here it is in slow motion...
I use a table saw as an absolute last resort because I am well aware of how dangerous they are. No matter how careful you may be, accidents do happen. SawStop is a pretty brilliant way of keeping the damage to a minimum.

• Hobbes and Me! As a massively huge Calvin and Hobbes fan, I can't believe that I missed these shorts when they were released back in 2014...
You can see the entire series right here. You're welcome!

And that's a wrap. Enjoy your pandemic, everybody.
Posted on July 14th, 2020

ScreenRant recently published Every Steven Spielberg Movie Ranked from Worst to Best and I have thoughts. In some places I definitely agree with their assessment. But in many places I do not. But since lists like this are subjective, that's only natural. If there's one thing I think we can all agree on it's that Spielberg is responsible for some truly great movies. He's got vision that propels stories to movie blockbusters and there's no denying his talent.
Except...
If Spielberg had only made the first ten films on my list, he'd be one of my favorite directors of all time. But it's the bottom ten than kinda sink him for me here. It has me wondering if Quentin Tarantino's plan to only direct ten feature films is a good idea. This focuses the director on making ten of the best films they could have possibly made instead of squandering their talents on a scattershot oeuvre that's uneven and mired by mediocre efforts. Heaven only knows how much better some of even Spielberg's best works could have been if he hadn't been distracted with some of these projects.
Food for thought.
My list is ordered "best to worst" instead of "worst to best" because I don't buy into the idea that there's any suspense to be found from saving the best for last. My favorite movies deserve to be first on a list! So here we go...
Raiders Of The Lost Ark. I disagree with the ranking of much of ScreenRant's list... but have no argument whatsoever that Raiders deserves the top spot. I've seen this movie more times than I can count, and it still delivers each and every time. Sure, much of the credit goes to the inspired casting of Harrison Ford and his sublime performance, but I don't discount Steven Spielberg's contribution in just how brilliant it all turned out. Amazing set-pieces. Thrilling action. Humorous moments which accent but don't overwhelm. And let's not forget plenty of punching Nazis in the face as God intended. Everything good about movie-making can be found right here.
Jurassic Park. Nothing quite prepared me for the dinosaur effects in this movie when I saw it in the theater very early in its run. So many awe-inspiring scenes handled so wonderfully. I would rather watch this again that revisit any of the sequels that followed. That pretty sums up my feelings on just how good Spielberg can be when he isn't mired in over-sentimentality and unnecessary drama.
Jaws. This is a brilliant film that transcends the "special effects" possible at the time it was made. Now-a-days it would be remade with a CGI shark that would be over-used, killing the suspense and build-up that made the original such a fantastic popcorn cinema effort. In some ways, Spielberg's direction was all downhill from here, but that's not necessarily a slam on his talents. It's more blind-admiration that somebody managed something this good so early in their career.
Schindler's List. A punch in the gut that everybody should see. It paints a picture with such vivid relief that you simply cannot believe the inhumanity of it all... but then look at current events and see how history does indeed repeat itself.
Minority Report. Sure there were some problems here... and plot holes you could drive a truck through, but I really, really enjoyed this sci-fi thriller. It's a fantastic near-future vision that is executed very well. Absolutely agree that this is one of Spielberg's best efforts and one of his most underrated.
Saving Private Ryan. Sometimes the horrors of war have to be shown so people understand why it's to be avoided at all costs, and this movie takes an unflinching look at exactly that. The opening invasion scenes are hold-your-breath-edge-of-your-seat brilliant, then get tempered with hope and heart in a way that elevated above your average war flick. Performances were gut-wrenchingly amazing at every turn, and the fact that Spielberg managed to hold it all together is an amazing effort.
Indiana Jones And The Last Crusade. This movie tried to fix all the things that went so wrong with the previous installment... and succeeded far more than it deserved to. Harrison Ford and Sean Connery were flawless in their roles, and I can't believe this smart, funny, high-action, escapist cinematic delight was allowed to devolve into the utter crap we got in the next movie in the franchise, Kingdom of the Crystal Skull.
Close Encounters Of The Third Kind. I know. I know. This is a brilliant movie on every possible level and has performances which deliver in spades... but it's also kind of overwrought where it should be thrilling. There's no denying I love the movie... I've seen it multiple times... it just doesn't impact me like other films on this list do.
Munich. This was a well-crafted film that held my attention from start to finish... something that Spielberg rarely accomplishes with me. The complex morals at play here add a depth that he doesn't reach too often, and the performance he got out of Eric Bana was sublime. This was a smart, taught film from a director at the top of his game.
Catch Me If You Can. This is a fun film that didn't have much depth... but boy did it deliver in entertainment. Sure it goes over-the-top at times, but it's fantastically reserved for Spielberg, and the thrill of the chase drives the entire film forward with few stumbling blocks.
Empire Of The Sun. While it gets so many things right... and it certainly feels ambitious... it also suffers from an uneven flow that disrupts the narrative far more often that it should have. Even so, I really like this film because it does what films are supposed to do... take you to another place. Yes, it's exhausting. Yes, sections of the movie seem to trivialize war. Yes, it's strange in not-so-great ways. But it's also really good movie fare.
Duel I had no idea that this was a Steven Spielberg film until I saw it on the list! I mean, at some point I must have known... I've seen the movie at least twice... it just never registered to me. This is Spielberg's directorial debut and it's everything you could want. Suspense and thrills on overdrive, it's no wonder this lead to him getting to direct Jaws.
Bridge Of Spies. Most of my enjoyment of this film can certainly be set on the Coen Brother's script... but there's something to be said for Tom Hanks' brilliant performance and Spielbergs cunning in letting the movie unfold as it needs to. Espionage thrillers are among my most favorite movie genre, and this is a darn good effort amongst a lot of truly great efforts.
The Color Purple. The best thing I can say about this movie is that it made me want to read the original novel, which turned out to be more enjoyable and far more impactful to me. Even so, the actors were all fantastic. Whoopi Goldberg turned in the performance of a lifetime, and it's unreal that this is her first feature film role.
Always. This film was dead-last in ScreenRant's list. They called it "cloying" and a "slog" which I find surprising. To me, it's exactly the opposite of that... a charming movie which takes its time to delivery a beautiful message about life. Audrey Hepburn was her brilliant self, and her final role in Always was a treat to behold.
The Terminal. Second-to-last on ScreenRant's list, I couldn't disagree more that this movie "languishes" and that Tom Hanks is "too starry" for the role. It's actually a sweet story with great characters that doesn't go "full-on-Spielberg" and have over-the-top emoting with annoying kids injected for no reason.
The Post. This was a good film that strives to show the merits of journalism in a time of "fake news," but it didn't necessarily translate into a good story. Ultimately I enjoyed the film very much, but it falls flat too often and takes way too long to truly get moving. For what it was about, I was expecting a more exciting film than what ended up on screen.
E.T. The Extra-Terrestrial. For whatever reason, I do not care for this movie at all. Yeah, yeah, it's an iconic film... but it suffers from cloying drama that is so blatantly manipulative as to be criminal. The best thing I can say about it is that I didn't hate the kids, as they were only mildly annoying instead of hugely annoying like what you usually get in movies like this. The John Williams score was also next-level amazing. What I did hate was the stupid 2002 revision that served no good purpose. Turning guns into walkie-talkies? Seriously?
Lincoln. Eh. I mean, it was a good film with stunning visuals and an epic performance by Daniel Day-Lewis... and it was complex in a good way... but it still fell a little flat for me. The camera choices were distracting. The god-like take on Lincoln was trying. And the attempt at turning history into myth was amateurish. I just don't have the same reverence for Lincoln that so many people seem to.
Indiana Jones And The Temple Of Doom. There's moments in this infamous sequel which make you wonder what could have happened if only somebody with actual storytelling ability were to take a run at the script. Instead you've got Kate Capshaw being made to say stupid things and screaming a lot... an annoying kid injected for no good reason who is responsible for such brilliant lines as "No time for love, Doctor Jones!"... and a borderline-racist and highly ignorant look at other cultures. Ouch. Even so, I think this movie gets a bit of a bad rap because, at its core, it's got Harrison Ford turning in a really good performance of Indiana Jones that you really can't fault.
Amistad. While I appreciate Spielberg's effort to not gloss over slavery as a vehicle for some kind of idiotic white savior character, I still think that this movie didn't really do the real-life story much justice. It was just so... dull. A slog of a courtroom drama interrupted with moments of brilliance that are quickly buried. Even so, I'd recommend seeing it for the opening scenes alone... and a truly great performance by Djimon Hounsou.
War Of The Worlds. While there were some really great moments here and the Spielbergian tension was among his best efforts, things just kinda fell apart in the third act. I 100% agree with ScreenRant that Spielberg having Tom Cruise's son end up alive didn't make sense and was a huge misstep that undercuts the narrative. I had exceedingly high expectations for this movie, but ultimately felt it would have ended up a better film if somebody else was at the helm.
The Adventures Of Tintin. This is a really good story that somehow fell apart in the animation for me. It's uncanny valley times one hundred, and I was pulled out of the film more times than I can count because the character design was just so inexplicably horrific. If only this were traditionally-animated... or made live-action... or something to keep the viewer from having to look at these freaky-ass characters for the entire runtime, it would have been a far better movie.
Sugarland Express. I was very late to this movie (seeing it in 2010, maybe?) and that's the problem. Despite some good performances and nice style choices, the movie just felt oddly displaced to me. Not necessarily dated, but not anchored enough in its time to feel real. Still... not a bad film by any means, and really good for a directorial debute.
The BFG. The source material seemed like it was a good fit for a movie... but it didn't quite work out, despite a lot of effort put into the CGI animation to stay faithful to Roald Dahl's story. It just seems so pedestrian given the amazing visuals, and that's a real problem. It's just a slow, forgettable effort that I'll never watch again.
A.I.: Artificial Intelligence. This was a wholly depressing story that had an inexplicably stupid ending-on-top-of-an-ending that sunk any emotional weight that had been building for the entire movie. Painfully manipulative at every turn, this is Spielberg at his worst. Stanley Kubrick's idea should have died with him, because I find it impossible to believe that this is what he would have given us.
War Horse. I never saw the stage play or read the book... both of which I'm told are fantastic... but this was just plain bad from start to finish. I felt terrible for the poor horse, not because of the character in the story, but for being forced to appear in this movie to begin with. Spielberg's biggest fault is that he's so absurdly and obviously manipulative, but this a manipulative fiasco that takes it to an entirely new level.
The Lost World: Jurassic Park. 100% agree with ScreenRant's assessment that this is just a retread of the original movie with better effects but worse story. I remember walking out of the theater wishing I could have those two hours back.
1941. A painfully unfunny "comedy" that squandered the talents of everybody involved.
Hook. Total disaster of a movie which was poorly conceived and felt forced every step of the way. Heaven only knows what other movie we might have gotten from Robin Williams if he had taken a pass on this dud.
Ready Player One. While I liked the book okay despite a lame plot and even more lame ending, the translation to screen was awful. Visuals were awful. Performances were awful. World-building was awful. Pile that one all the faults the novel had and you end up with a mess that's so unwatchable that I ended up fast-forwarding through many, many parts of it.
Indiana Jones and the Kingdom of the Crystal Skull. Absolutely shitty fourth installment of one of the best characters in cinematic history. Doesn't help that I fucking detest Shia LaBeouf's "Mutt" character so badly that this alone destroyed any chance of this film having any redeeming qualities... Harrison Ford, Cate Blanchett, and Karen Allen aside. Nuking the fridge... fucking ALIENS... dumbass Mutt Williams... it all adds up to one of the worst movies I've ever seen.
See you in the movies, cinema fan.