Posted on November 13th, 2017

When I put in my two cents on Thor: Ragnarok, I mentioned that I was questioning if it were my new favorite Marvel Studios movie. Ultimately, I decided it just couldn't be. When The Avengers came along, it was my every comic book fanboy dream come true on the screen. The magic from that movie hasn't gone away. Yet.
But then I had somebody ask me... How would you rank the rest of the Marvel movies then?
Well, this is how... at this moment, anyway...
The Avengers (A+) — My comic book fanboy dream come true. Not much else I can say.
Thor: Ragnarok (A++) — Hilariously funny while staying true to the character. A complete surprise.
Captain America: Winter Soldier (A+) — Technically Marvel's #1 movie because it was just so flawlessly put together.
Captain America: Civil War (A++) — If The Avengers was my fanboy team-up dream come true... this... this is the cherry on the top.
Guardians of the Galaxy (A+) — A D-list team given one of the best Marvel movie treatments.
Captain America: The First Avenger (A+) — Brilliant origin story that plays on nostalgia rather than blind patriotism.
Spider-Man: Homecoming (A+) — Everything you want a Spider-Man movie to be.
Doctor Strange (A) — Mind-bogglingly brilliant, beautiful, and fun.
Iron Man (A+) — The movie that started it all. Still holds up today.
Guardians of the Galaxy: Vol. 2 (A) — A terrific follow-up to the original made great by Baby Groot.
Ant-Man (A) — A complete home-run for a character that doesn't seem movie-worthy.
Iron Man 3 (A+) — A great Shane Black spin on the character that pays off because Robert Downey Jr.
Avengers: Age of Ultron (A) — Though I enjoyed it, this was not the movie I was hoping for. Ultron was not made at all scary enough for a villain to take on The Avengers.
Thor (B+) — Timing issues aside, this is an underrated gem of a movie.
Thor: The Dark World (B) — I actually liked this movie a great deal, it just has a hard time when pitted against the others in this list.
Iron Man 2 (A-) — Again... I really liked this movie (hey, it introduced us to Black Widow and Rhodey!), but it just falls short in comparison to the others.
The Incredible Hulk (B) — A decent-but-not-great movie that feels divorced from the rest after the role was switched to Mark Ruffalo.
Interesting to note how some movies rank higher when I grade them, but lower when compared to other movies in the list. Iron Man 2 with an A- rating, for example, comes in below Thor: The Dark World with a B rating. On its own merits, Iron Man 2 had so much to love with Black Widow and Rhodey coming onboard. But it's just not as good a story as what we got with Thor: The Dark World (though, admittedly, not by much).
But what's even more interesting to note? There is not a clunker on that list. I love all the films. Marvel is firing on on cylinders, and the movies they release just keep getting better and better and the universe they're building continues to grow.
And they show no signs of slowing down. Still to come? Black Panther, Avengers: Infinity War, Ant-Man and The Wasp, Captain Marvel, Avengers 4, Spider-Man 2, and Guardians of the Galaxy: Vol. 3.
And, if rumors are to be believed, we may actually finally get a Black Widow movie after 2019, so.... bonus points.
Posted on November 10th, 2017

It is tempting... so very tempting... to say that Thor: Ragnarok is my favorite film to come out of Marvel Studios. Except... how can it be? Surely my favorite film is the first Avengers movie. Isn't it? I mean, that was the prize. That's what everything had been leading to. Finally, at long last, we had a super-hero team movie that actually worked. That was actually good.
And yet... holy crap was Ragnarok amazing. Hilariously funny, but not so farcical that the action beats and serious bits fell flat. Game-changing, but still completely faithful to the source material. Different in feeling and tone from the Marvel we're accustomed to, but still familiar and wholly entertaining.
Thor: Ragnarok is the complete package.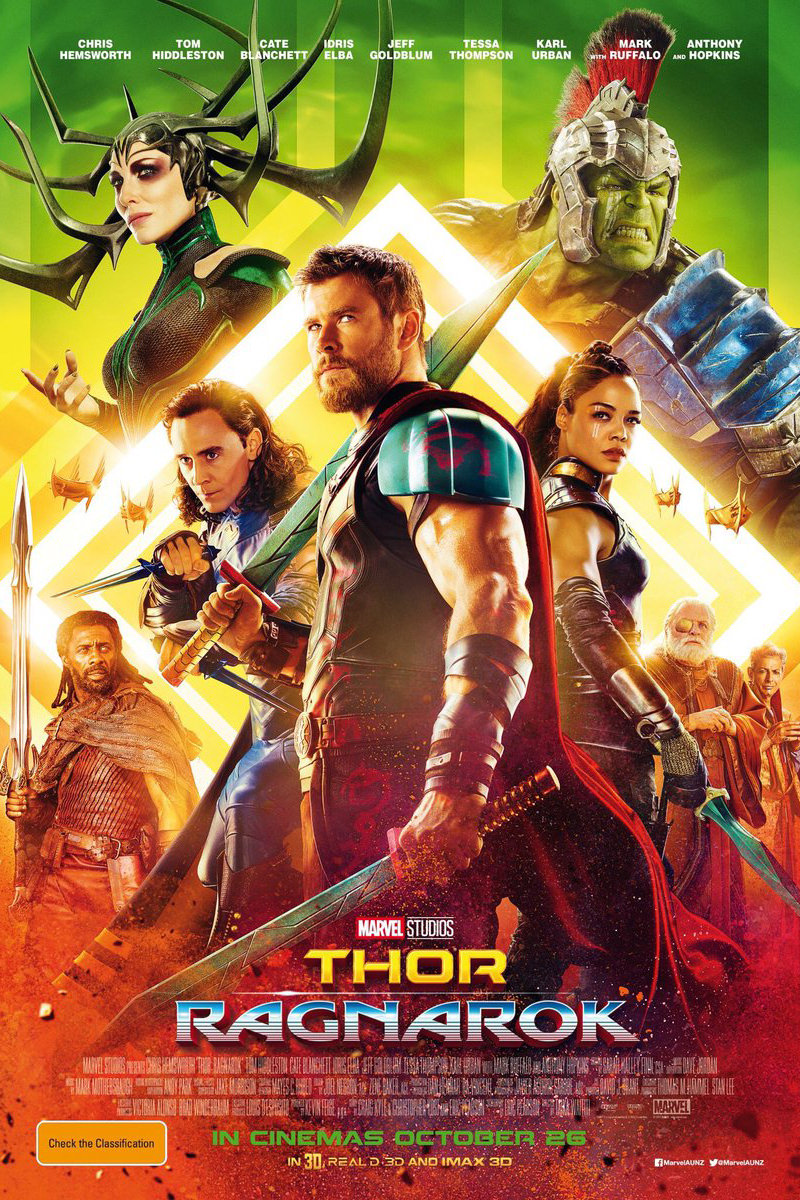 There are precious few things about this movie I don't love. A short list, just to name a few things off the top of my head, that I love most...
Chris Hemsworth's considerable comedic talents on full blast.
Cate Blanchett as Marvel's best (and most deliciously evil) movie villain yet.
Jeff Goldblum being the most Jeff Goldblum we've ever seen... or will likely ever see again.
Loki. Just Loki being Loki.
Every second Valkyrie is on the screen.
A smart... so very smart... evolution of The Hulk.
Idris Elba. Finally being given something worthwhile to do as Heimdall.
Kirby-inspired amazing visuals.
Mind-bogglingly awesome special effects.
Just a really good, funny, highly entertaining story.
I have no idea what the coming Avengers: Infinity War means for Marvel's original character base. Iron Man? Captain America? Thor? will any of them even survive it? If Thor does, they could do a lot worse than to invite back Ragnarok director Taika Waititi (who says he'd love to do another one).

Time to update my "Y2K Super-Hero Comic Book Renaissance" scorecard...
Ant-Man... A
The Avengers... A+
The Avengers: Age of Ultron... A
Batman Begins... A
Batman Dark Knight... A+
Batman Dark Knight Rises... A
Batman vs. Superman: Dawn of Justice... D
Big Hero Six... A+
Blade... B
Blade 2... B
Blade Trinity... B-
Captain America... A+
Captain America: The Winter Soldier... A+
Captain America: Civil War... A++
Catwoman... F
Daredevil... B-
Daredevil (Director's Cut)... B+
Doctor Strange... A
Electra Woman and Dyna Girl... B-
Elektra... D
Fantastic Four (2005)... C
Fantastic Four: Rise of the Silver Surfer... D
Fantastic Four (2015)... D+
Guardians of the Galaxy... A+
Guardians of the Galaxy: Vol. 2... A
Ghost Rider... C
Ghost Rider: Spirit of Vengeance... D
Green Hornet... D
Green Lantern... C+
Hellboy... A
Hellboy 2: Golden Army... A
Hulk... C-
Incredible Hulk... B
The Incredibles... A+
Iron Man... A+
Iron Man 2... A-
Iron Man 3... A+
Jonah Hex... F
Kick-Ass... B+
Kick-Ass 2... B-
Man of Steel... F-
Punisher... C+
Punisher War Zone... C
Scott Pilgrim vs. The World... C
Spider-Man... B+
Spider-Man 2... A
Spider-Man 3... D-
Amazing Spider-Man... B
Amazing Spider-Man 2... B-
Spider-Man: Homecoming... A+
Suicide Squad... D
Superman Returns... C+
Thor... B+
Thor: The Dark World... B
Thor: Ragnarok... A++
Watchmen... B
The Wolverine... B
Wonder Woman... A
X-Men... C
X-Men 2: United... D
X-Men 3: Last Stand... F-
X-Men Origins: Wolverine... D
X-Men: First Class... B
X-Men: Days of Future Past... B-
X-Men: Apocalypse... D+

Posted on November 6th, 2017

The big news of the day is the rumor that Twenty-First Century Fox is in talks to sell off most of the company to Disney. Not exactly groundbreaking, as movie studio consolidation has been ongoing over the years... except one thing.
Disney is the corporation that owns Marvel Comics and, more relevant to the point, Marvel Studios.
And since Twenty-First Century Fox had bought the Marvel movie rights for X-Men, Fantastic Four, Silver Surfer, and Deadpool (and subsequently crapped out a series of shitty X-Men films and even shittier Fantastic Four films plus an awesome Deadpool movie) buying the studio would mean the potential to fold these stellar properties into the Marvel Cinematic Universe proper. I mean, look how frickin' incredible bringing Sony's Spider-Man rights into the Marvel cinematic fold ended up being?
What could possibly top Avengers: Infinity War? I dunno. But Avengers vs. X-Men might do the trick, if handled properly.
Because a part of me wonders if merging the X-Universe with the Avengers universe would be a good thing. First of all... the entire concept of "mutants" would have to be woven into the Marvel Cinematic Universe. Until now, they haven't even existed. The creation of mutants could easily be dropped into the fourth Avengers film... maybe Thanos explodes and the energy washes over earth and mutates a bunch of people... but would that be too much in an already crowded universe of characters? Maybe. Then again, to finally... finally get a decent X-Men film after years of mostly shit would sure be a treat. I am just not convinced that they shouldn't remain separate, even if Marvel takes over the property.
The Fantastic Four, on the other hand? No such reservations. Integrate them into the MCU as soon as possible!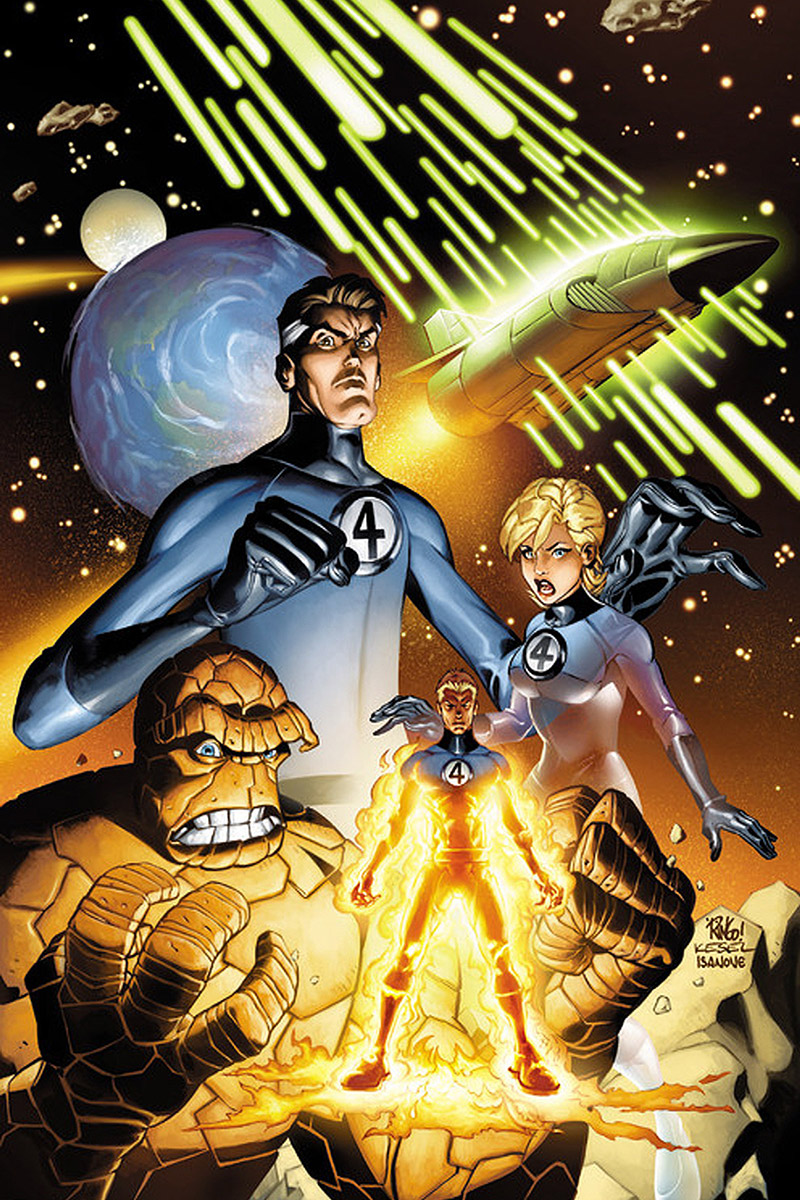 In the comics, The Fantastic Four was Marvel's first "super team" and is literally the cornerstone of their entire integrated super-hero-verse. Their footprint looms large over everything that came after, and it has always amazed me that with such a wealth of material (over 50 years' worth!) that we can't seem to get a FF movie that's worth a shit.
My hands-down favorite version of The Fantastic Four was Mark Waid and Mike Wieringo's take which began with an arc called "Imaginauts." In an effort to make them more than Just Another Super Hero Team, Waid/Wieringo imagined them as a team of explorers who happened to have super-powers, and their relationship as a family was put front-and-center. It was entertaining as all get-out. And, despite being one of Marvel's oldest franchises, it felt fresh, new, and exciting. As the MCU passes 10 years of existence, isn't an infusion of fresh, new, and exciting what they need to carry them into the next 10 years?
Marvel hardly needs counseling on how to handle their movies... I mean, holy crap, they just keep getting better and better... but please. Can we pretty please finally get a Fantastic Four movie that lives up to their potential? We've been waiting for so long.
Posted on November 5th, 2017

Snow may be here but be of good cheer, because an all new Bullet Sunday starts... now...

• RAGNAROK! I haven't seen Thor: Ragnarok yet because life has been insane lately... but I will be doing so sometime soon. I hope. If you haven't seen it yet and want a spoiler-free experience, DO NOT watch the video below, which is somewhat spoilery, but hilarious...
Of course, the commercials are more spoilery than this, but, yeah.

• Tokyo! There are many places on this earth I feel at home in when I visit. Tokyo is one of those places. Which is strange, because it's a city on my list that's very much removed from my "normal." Maybe I lived there in a past life? I dunno. But I love it there. And because I love Tokyo, I also love films which feature the city (Lost In Translation is a great example). And now there's a short film called The Tokyo Project...
If you have HBO and a half-hour to kill, I highly recommend it. Clever story. Beautifully shot. Well worth your valuable time.

• Miyazaki! One of the many, many reasons I love Miyazaki films so much is the incredible attention to detail that goes into every frame. I watch them over and over and over because the wealth of details is something to be savored. Here's an Instagram by en93kitchen that focuses on the food in his films, and shows a side-by-side comparison to actual food that's been prepared to look like what's in the movie...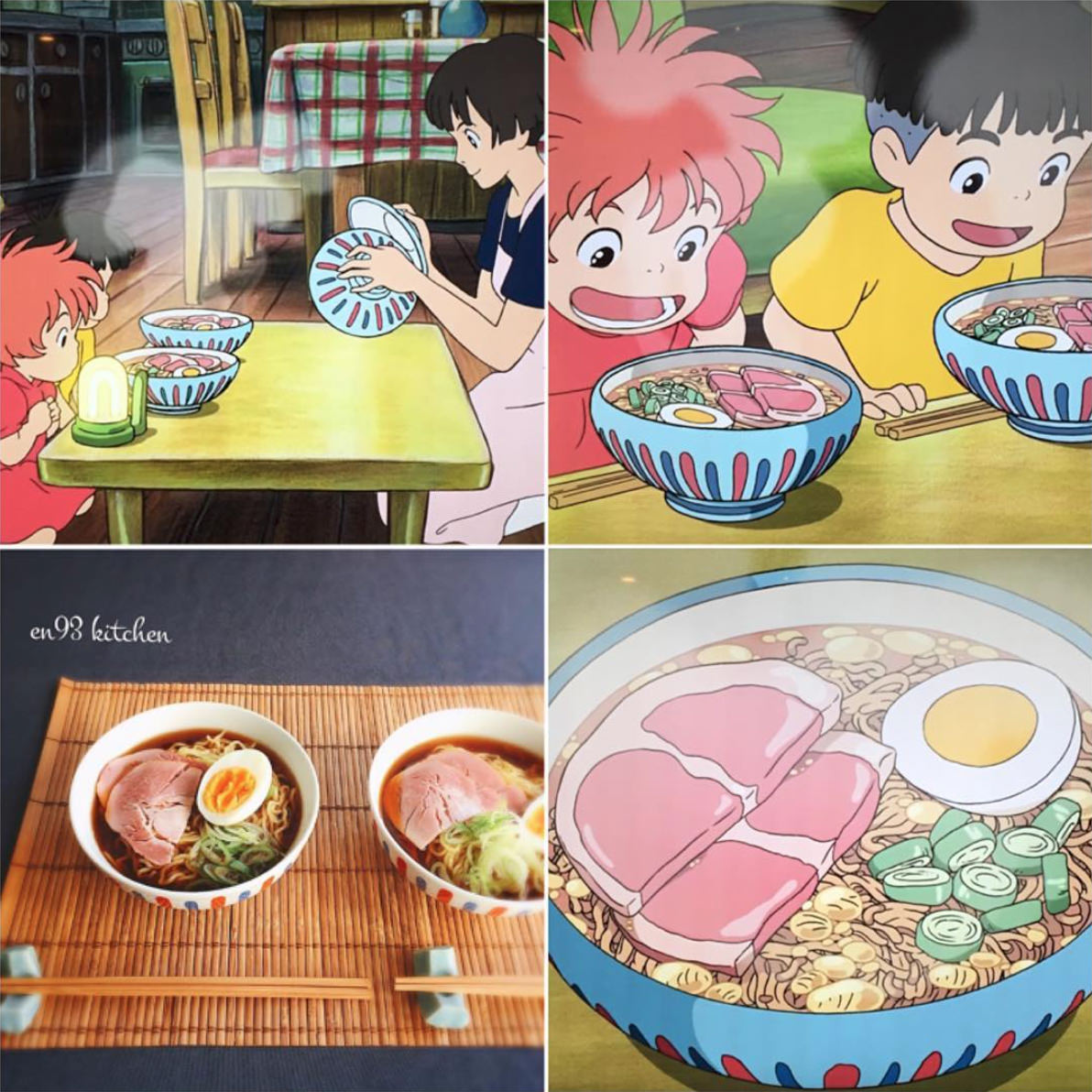 Amazing!

• Busted! Despite the fact that "Mr. Plinkett" is a fictional character (played by Red Letter Media's Mike Stoklasa) the movies analyzed under that monicker are, for the most part, spot-on. His reviews are as insightful as they are entertaining, and I've spent a lot of time watching the Red Letter Media YouTube channel. The latest Mr. Plinkett in-depth was for the Ghostbusters 2016 reboot. A film I mostly hated, but could never really articulate why. Luckily, I no longer have to try. It's nearly an hour long, but balls-on accurate and worth your valuable time...
That fact that the review also includes smart analysis of what made the original Ghostbusters so damn brilliant is just a bonus.

• What Happened? So... essentially you can take Hillary's book, rip out the pages, insert this Politico story, and then read What Happened for reals I guess? My loathing for Hillary Clinton is well documented. The fact that I was forced to vote for her because I didn't want a Trump presidency is something that enrages me to this day. The more information that comes out about how there is nothing "democratic" about the Democratic Party should shock nobody. That's the way politics work in this country. What should shock people is that nothing will be done and nothing will change. Ever. We just don't want it badly enough.

• Dip! I swear... Eric Trump discovering Fun Dip on Saturday Night Live's "Weekend Update" is one of the best thing I've seen all week...
Dies. Again.

It's the end of bullets as we know it...
Posted on October 22nd, 2017

I am Sundaying so hard right now, because an all new Bullet Sunday starts... now...

• Feral! This past Monday was "National Feral Cat Day." My cats, Jake and Jenny, were feral kittens when they were found. I don't think they quite adapted to foster care, and were still very much feral little scrubbers when I adopted them. Weeks of patience turned into months of building trust which has turned into 1-3/4 years of the best furry friends I could hope for. They are still, in their hearts, feral cats who are very slow to trust. And they hide the minute anything out of the ordinary happens. Sometimes, on rare occasions, they are even wary of me. But most of the time they love crawling all over me for pets and attention and I've never been lonely since they took over my home. Feral cats are more work than those kitten raised around people... but I wouldn't trade mine for the world. If anything, I think I appreciate them more than I would other cats because I had to put effort into getting them to accept me. And once they did? There's no better feeling...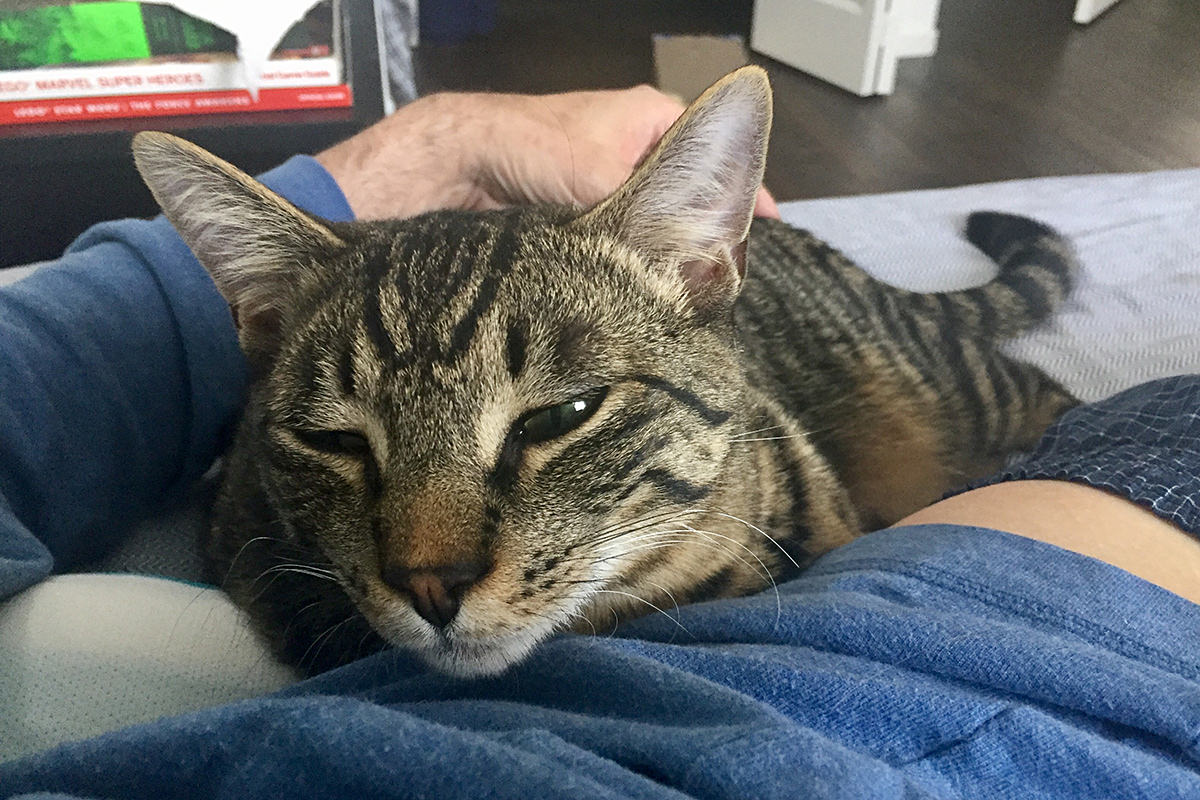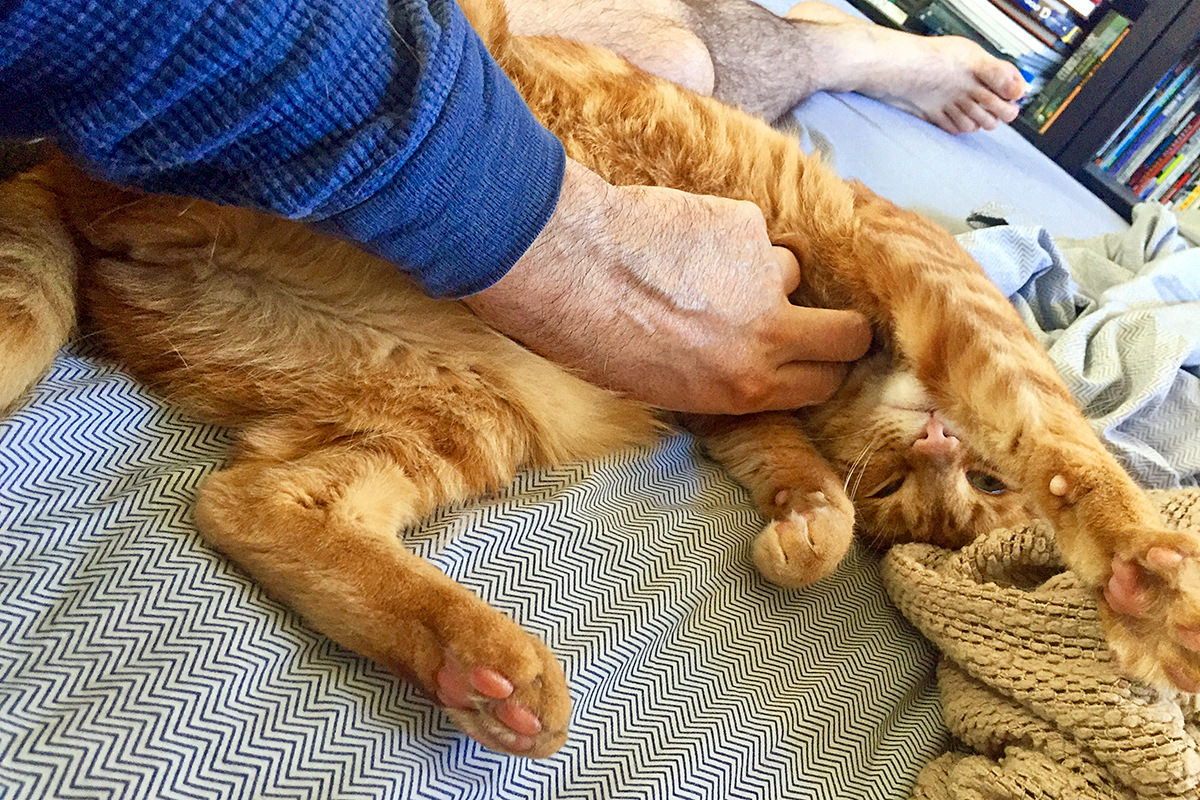 If you have the opportunity to help out a feral cat, the work is definitely worth the reward!

• Dimensions? And so... it would seem that LEGO Dimensions is no more. Typical. Oh well. The gameplay was getting tired... but it was kept fresh by the licensed properties they kept bringing to the table.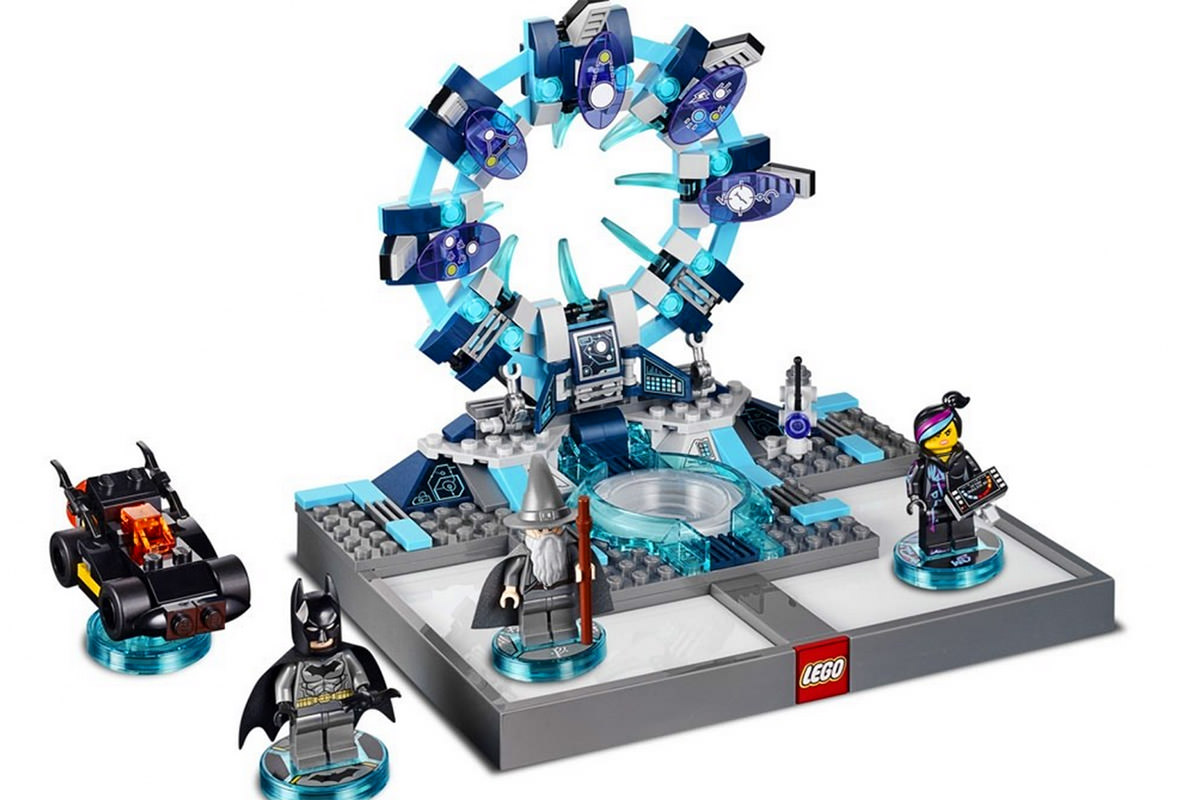 Wish they would have got LEGO Star Wars in the mix before signing off... after Disney Infinity dried up, it seemed a natural.

• Get Help! The reviews for Thor: Ragnarok have been stellar. And with each new clip released, I just want to see it more...
Cannot. Wait.

• Lucifer! Right now there's a lot of good television going on. In addition to The Good Place, which is the best show on television right now, we've also got Star Trek: Discovery, The Flash, The Orville, and Supergirl... not to mention some of the indy oddball stuff (like Dirk Gently), which makes it tough for me to keep up with my shows. But that one show I will always make time for? Lucifer!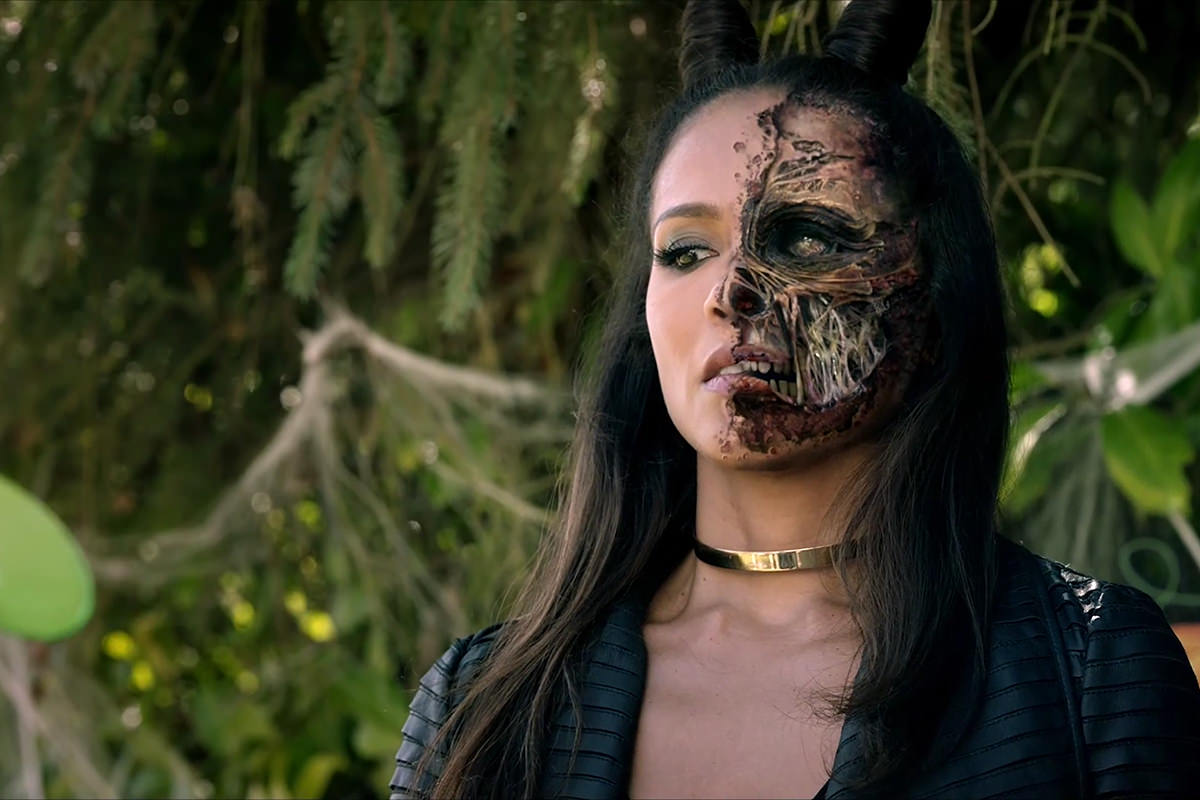 Last season was fantastic because "Mom" came to visit, which led to some interesting directions for the show. Now they seem to be focusing on fleshing out secondary characters instead of bringing in new ones, and I couldn't be happier. Maze is probably the best character on the show after Lucifer, but has been largely marginalized. But this last episode (S03:E03 Mr. and Mrs. Mazikeen Smith) puts her in the spotlight and the results are so amazing I find myself wishing they would spin her off into her own show. If you're not watching, you really should be.

• Jack! Another show I've been very much enjoying has been the revival of Will & Grace. Though I strongly dislike the two main characters, secondary characters Jack and Karen always seem to salvage the show. The latest episode (S09:E04 Grandpa Jack) is no exception. Jack, who discovered he had a son (thanks to a sperm bank "donation") gets an even bigger surprise when he discovers his son had a son, so he's now a grandpa!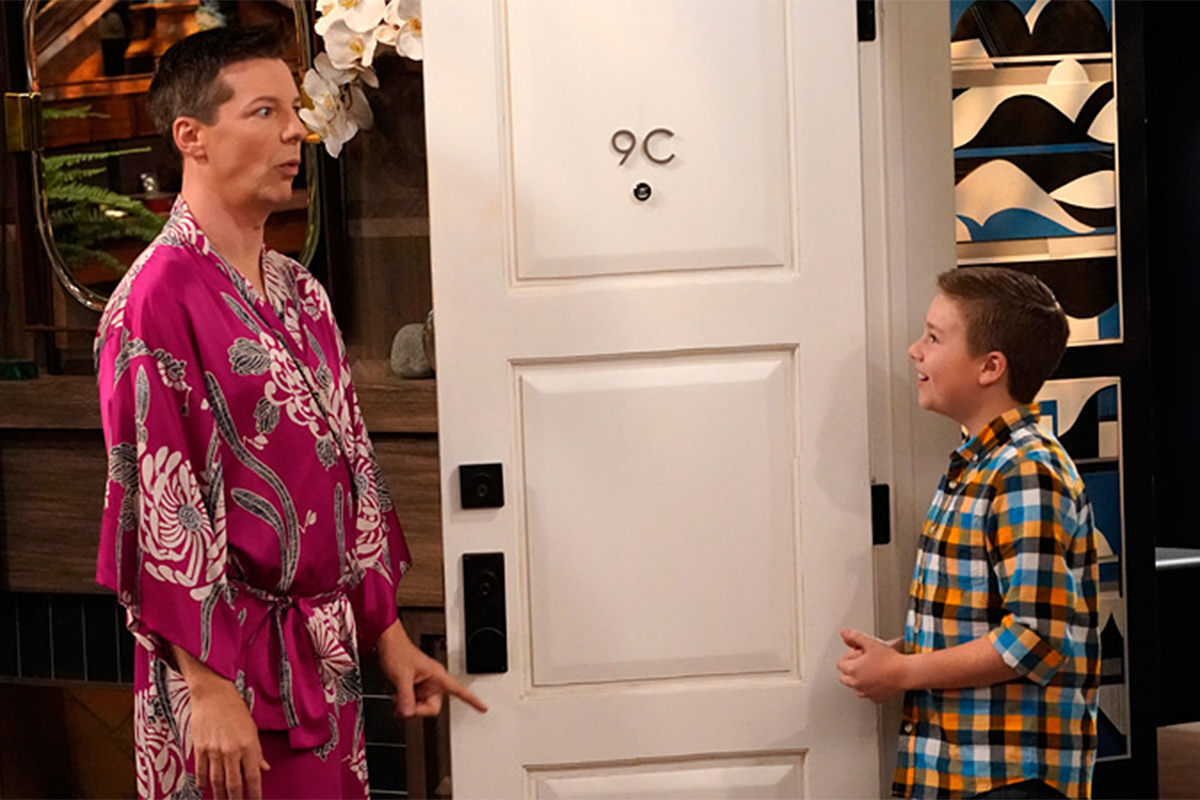 I will not spoil the story except to say... it's both hysterically funny and emotionally devastating at the same time. And it has two guest appearances that are absolute gold. When they restarted the show, I was hoping that we'd see Jack's son again. I never expected that his story would be this good. Well worth a look.

• Decor! When I moved into my home, I noticed that the previous owner had left a lot of decor scattered about. None of it was too my taste, so I made it my mission to toss it all out. The only thing left is a lion head above my doorbell and a weird dried flowers plaque with hooks I use for my keys and hats. The plaque was useful, but I vowed to replace it when I found something better... I never did. The lion I was going to ditch when it was removed for painting... but I ended up putting it back. Don't know why. I kinda like him, I guess...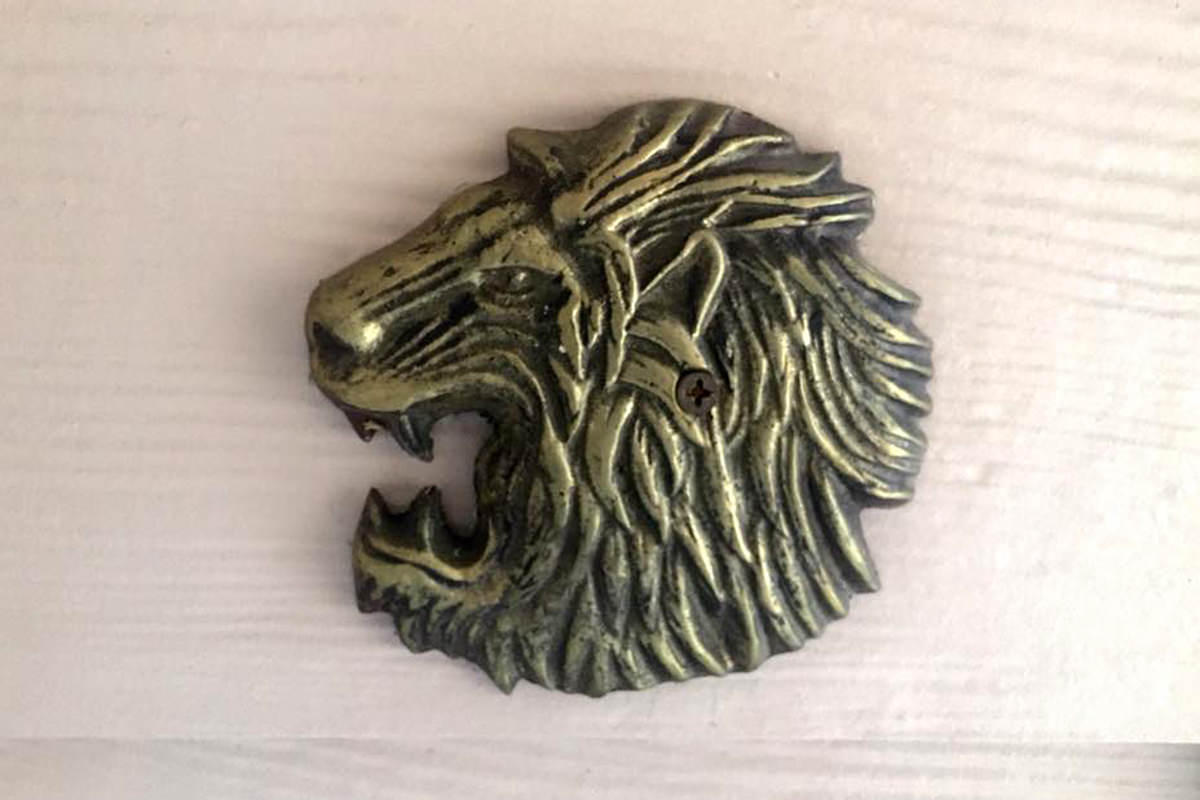 I suppose one of these days I really should go shopping to find a replacement for my key hooks.

And... Sunday is over. So too are the bullets.
Tags:
Bullet Sunday
,
Cats
,
LEGO Dimensions
,
Movies
,
Star Trek
,
Television
,
The Good Place
,
Thor
Categories:
Bullet Sunday 2017
,
Cats 2017
,
LEGO
,
Movies 2017
,
Television 2017
—
Click To It:
Permalink
—
0 Comments: Click To Add Yours!
Posted on October 13th, 2017

And so I went to see Blade Runner 2049 last night. When it was announced, I did not have my hopes set very high because A) Twin Peaks returning was one of the worst things to happen to that franchise and I was certain they would destroy a classic film that's one of my all-time favorites, and B) I don't care for Ryan Gosling that much... probably because he's not cast in the type of movies I like to watch (the only appearance I could remember was The Nice Guys where he was great).
Then the reviews started pouring in... each one praising the film for both story and visuals, some saying the effects were as stunning as the original. I was baffled that this could be happening, but totally bought into it.
Walking into the theater, my expectations were very, very high...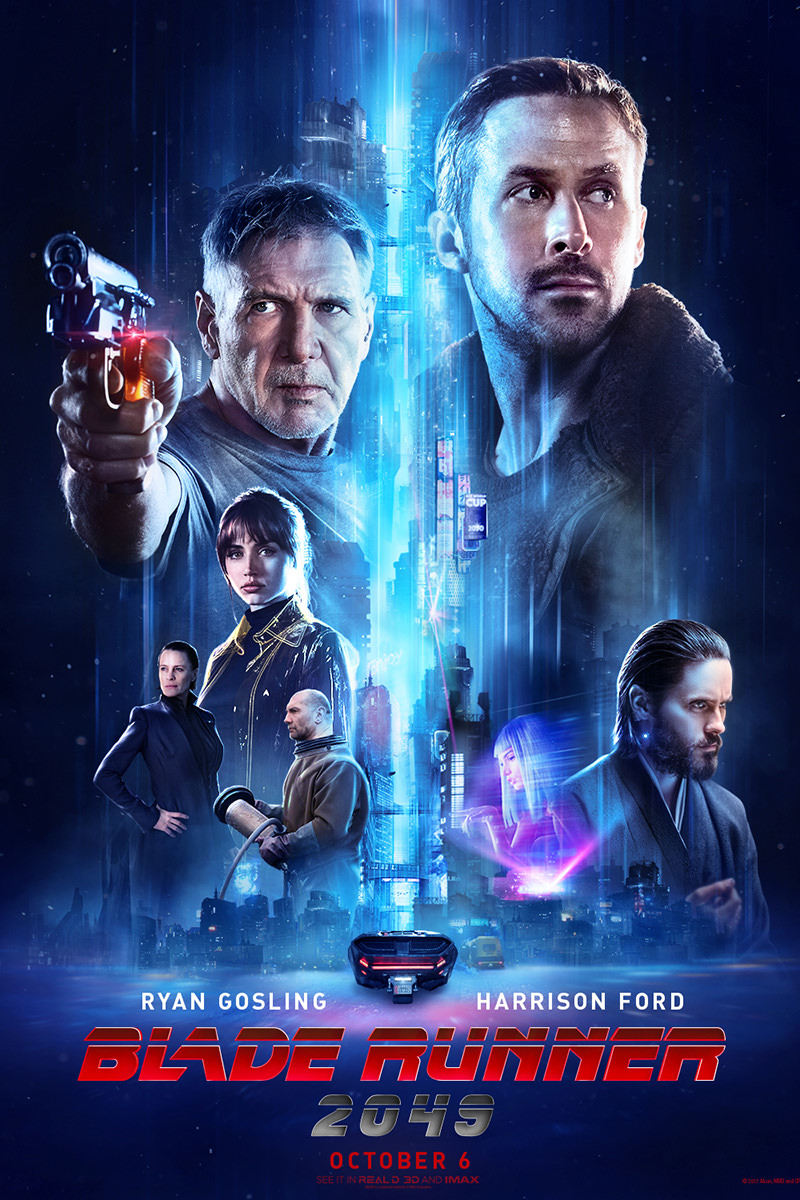 And I was not disappointed.
First of all, I think they continued the story in a way that made perfect sense and was painstakingly faithful to the original film. Second of all, Ryan Gosling was absolutely perfect.
I am not going to spoil anything here. This is a film you need to experience for yourself. The only thing I will say is that it's a long, long movie and scenes go on for just a little more than they have to. But overall I think this leisurely pace sucks you into the world that is being built, and was not necessarily a bad thing.
If you were a fan of the original, see it.
If you like good science fiction, see it.
If you appreciate beautifully-crafted films, definitely see it.
Posted on October 1st, 2017

Time won't give me time, because an all new Bullet Sunday starts... now...

• Discovery! I can honestly say that the new Star Trek: Discovery is shaping up to be my favorite television Trek since the original series. Rather than recycle the same old thing, they seem to be intent on taking the show in entirely new directions. Some for the better (ditching the "one big happy family" concept is refreshing), some for the worse (why in the hell re-imagine the Klingons yet AGAIN?). Tonight's episode introduces us to Captain Lorca (brilliantly played by Jason Isaacs) and the USS Discovery (with a gorgeous saucer section married to a butt-ugly triangle body) along with a rather unique premise for the show involving "space spores" which is just bizarre enough to work...
Given the exceedingly high production values, I'm not going to bitch about the $6.00 a month fee to watch the show on "CBS All Access." But, if what I'm hearing is true, CBS plans on airing the first half of the season now, then waiting until 2018 to air the rest. Thus dragging out the length of time their subscribers have to be subscribed (assuming they aren't smart enough to cancel Access until Discovery starts airing again). This is just shitty as all get out (if true) and I have to wonder if CBS realizes how pissed off people already are that they have to pay a premium in the first place?

• So Sick! I've been wanting to see The Big Sick since it debuted. I finally got my chance...
Such a good film. The fact that it's based on a true story is just icing on the cake. Other than playing Dinesh in Silicon Valley, I haven't seen Kumail Nanjiani in anything but bit parts previously (including his hilarious spot in an otherwise awful movie Mike and Dave Need Wedding Dates). He's pretty fantastic, and this movie just goes to show how somebody's real life can be every bit as entertaining as fiction. If you're looking for a movie to rent, it's worth a look.

• So Sicker! Apparently co-writing and starring in "The Big Sick" is not Kumail Nanjiani's only brush with brilliance...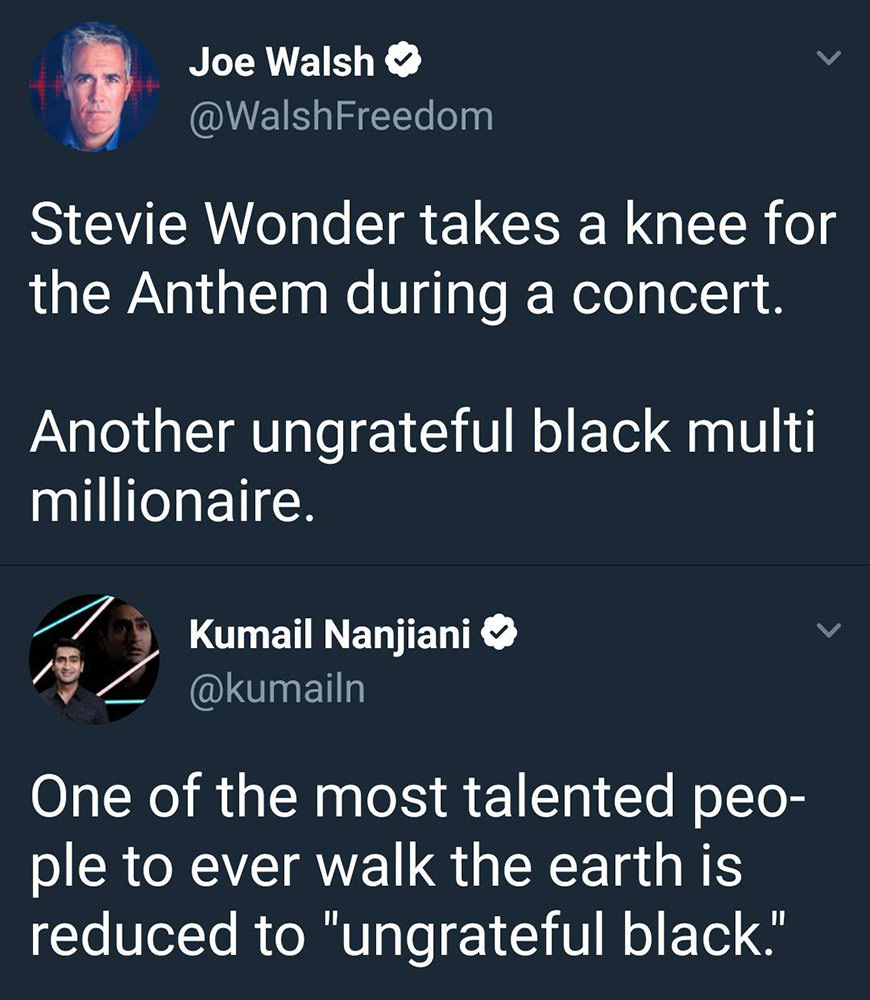 Joe Walsh is fucking garbage.

• Gag! And speaking of fucking garbage... Megyn Kelly is fucking garbage. For years she was a divisive shill for the far right masquerading as a "journalist," and now she's decided to reimagine herself as a non-political talk show host...
I cannot fathom why NBC hired her. Did they really think they were going to attract FOX "News" viewers?

• Tweeter! If you mine President Trump's Twitter feed there's a dose of hypocrisy to be found for everything he does...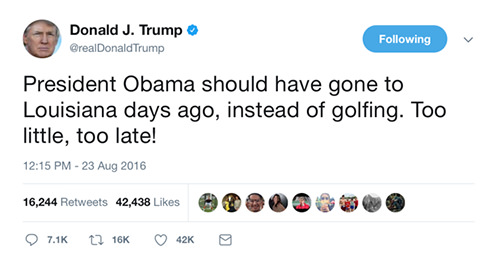 But the Toxic Cheeto Dumbass dedicated his golf trophy to Puerto Rico, so I guess that makes all the difference?

• Just Jack Plus One! I love British comedian travel shows. As if having funny moments isn't enough, they always visit interesting places. Jack Whitehall and his father are in Thailand, Cambodia, and Vietnam in this first season and it's great. If you enjoy travel shows... it's worth a look!
Jack Whitehall: Travels with My Father is available on Netflix now. And, while you're at Netflix, be sure to check out Master of None and Hasan Minhaj: Homecoming King.

See you next week