Posted on June 17th, 2018

Time to celebrate all the good that's left in the world, because an all-new Bullet Sunday starts now...

• The Carters! As if there could be any news bigger than Beyoncé and Jay Z dropping a duet album out of nowhere called Everything Is Love... there's the fact that they shot the first video for the single Apeshit in the frickin' Louvre. I mean, seriously! They rented out THE LOUVRE! Who does that? Who has the money to do that? Beyoncé and Jay Z, that's who...
Amazing stuff. Can't wait to get my hands on the finished album.

• Part Two!And so this popped up on the internet last week...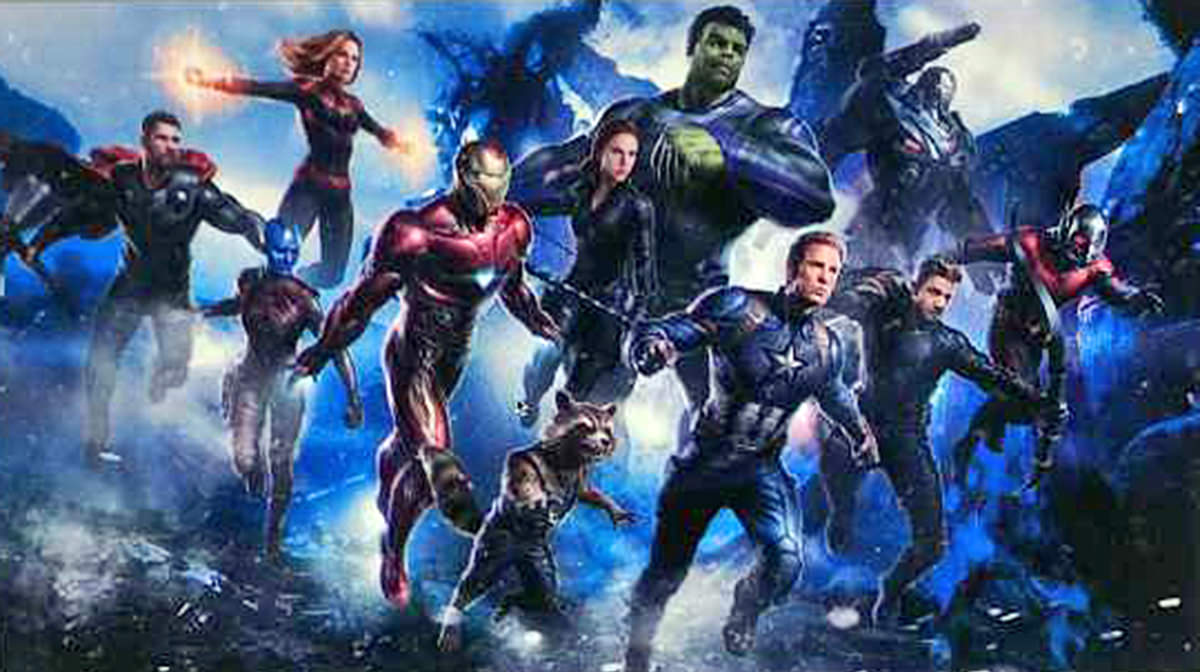 I have some thoughts...
Captain Marvel! ZOMG! She looks amazing. Needless to say, I cannot wait for her movie to drop. It will be very interesting to see how she factors into the Marvel Cinematic Universe given her raw power that dwarfs everybody else. One thing is for certain, she's going to be one of the most dynamic visual treats to come along in super-hero movies.
The arc they've given Bruce Banner has been an interesting one. At first he could barely control The Hulk and hated the life he lost because of it... then he was near-despair over the destruction caused in South Africa... then he was kind of taken over by The Hulk in Thor: Ragnarok... then he lost The Hulk in Infinity War... and now it looks like he's reached some kind of compromise between himself and The Hulk. It's been a great ride, and I'm worried it might end.
How sad is it that Rocket Raccoon is the only Guardian left?
Disappointed that there's n representation from Black Panther here. T'Challa may be gone... but Shuri? Okoye?
So many questions about Thor and Asgard. Apparently some of them survived. But where does the Thor franchise go from here? Where's Valkyrie?
Ant-Man is there. Where's The Wasp? I'm guessing that she is part of the one-half gone, which is a shame. I thought I heard somewhere that she was in this.
Hawkeye is here. Odds are very good that some of his family is part of the one-half gone, so he's got serious stakes in this.
Odds are incredibly high that this is going to be the final appearance of Steve Rogers as Captain America. To have him go out on a high note, it's almost a given that he's going to sacrifice himself to save the universe. And that's okay... but... is it wrong that I want Nebula to be the one who defeats Thanos? Out of everybody, she deserves it most.
Iron Man's armor has evolved to kind of a weird place. The whole "legs merge to jet" thing in Infinity War was a breaking point for me.
War Machine, on the other hand, has a more logical progression to his look.
Black Widow had better get her own damn movie after all this. Seriously. What character has given more to other characters' films with nothing for themselves? She's woefully underutilized, and a solo movie will help fix that... and hopefully other characters she's supported over the years will support her.
Next up? Ant Man and The Wasp, which looks fantastic.

• Super! Here's the thing. With the exception of Wonder Woman, the DC Cinematic Universe has devolved into a heap of shit. Man of Steel... Batman vs. Superman... Suicide Squad... Justice League... they were all heinous crap that ignored huge portions of what makes DC characters so timeless and special. At the other end of the spectrum is the DC Television Universe (or Arrowverse, if you will) which has been killing it. Yes, Legends of Tomorrow has never quite worked... and Arrow has gotten stale... and the overall story arc for The Flash this past season went way too long and was ultimately pretty lame... but then there's Supergirl. It's been so good. And the season finale was no exception...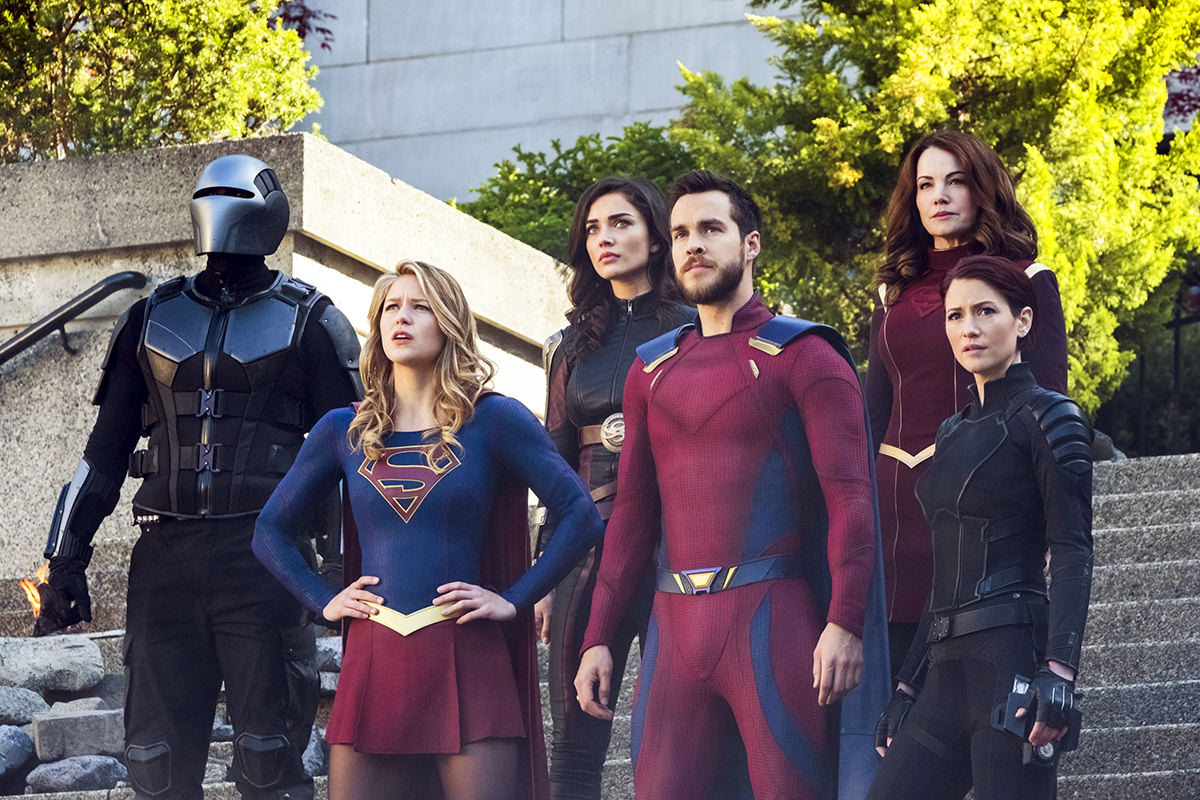 Is it too much to ask that the people in charge of Supergirl give us a Superman show? Preferably a show where the central character STANDS ON THEIR OWN instead of yet another team show? The movie Superman is going nowhere, while Tyler Hoechlin has proven he's the best on-screen Superman since Christopher Reeve....
DC should really just expand the Arrowverse into movies that don't suck. Because haven't we suffered enough? All I can hope is that we get another excellent season of SuperGirl. And a first season of Superman. Oh... and I would totally watch a Legion of Super-Heroes show too.

• 4K! I fell into a YouTube 4K HDR rabbit hole when I found out that my television can display them. Amazing stuff... even if you can't view 4K HDR. Here are some of my favorites...
But if you can watch 4K HDR on your TV...

• Beam! Don't get me wrong, I love my Sonos smart speaker setup, but there are some serious shortfalls that plague the system. Namely... it's stuck in the past. They've been clinging to optical cables for their PlayBar and PlayBase like a dead lemming, despite the fact that everybody else abandoned it a decade ago. And then this past week Sonos released a new product: Beam. Which is essentially a mini PlayBar that costs $399. But the biggest news? It's not using optical cable... it's HDMI ARC. Welcome to the future, Sonos...
It's a step in the right direction, but not a very big one. Still no Dolby Atmos or other modern sound technologies have been announced. On the contrary, they say they have no plans for Atmos at all. Instead we're getting IKEA furniture with Sonos built-in. Wheee.

Good luck getting Apeshit out of your head this week...
Posted on June 10th, 2018

It's been yet another week full of hypocrisy and evil, but it's all good, because an all-new Bullet Sunday starts now...

• Two! I loved everything about the first LEGO Movie... except the ending. When they dropped into "The Real World," everything fell apart for me. With this in mind, I have mixed feelings about the sequel...
Yes, I'm excited to see it. But can we please just stick in the world of LEGO and let Chris Pratt be hilarious? That would be great, thanks.

• No Reservations. There wasn't much I didn't like about Anthony Bourdain. He was responsible for some highly entertaining television. He was a world traveler and advocate for better understanding and acceptance between cultures. He used his celebrity to advocate for worthwhile causes and draw attention to injustices. He was an incredible guest on any talk show he dropped by. He was somebody I liked and admired, which is why his death has hit me so hard. You will be missed, sir.

• Darkness and Light! I was never a fan of the Cloak & Dagger comic books. They all had the same story. Cloak & Dagger hunt down drug dealers. Cloak goes a little crazy because he's hungry. Dagger feeds him a light sandwich. Lather, rinse, repeat. On occasion they team up with other heroes, but their baggage is always the same. And now Freeform TV has created a Cloak & Dagger television show...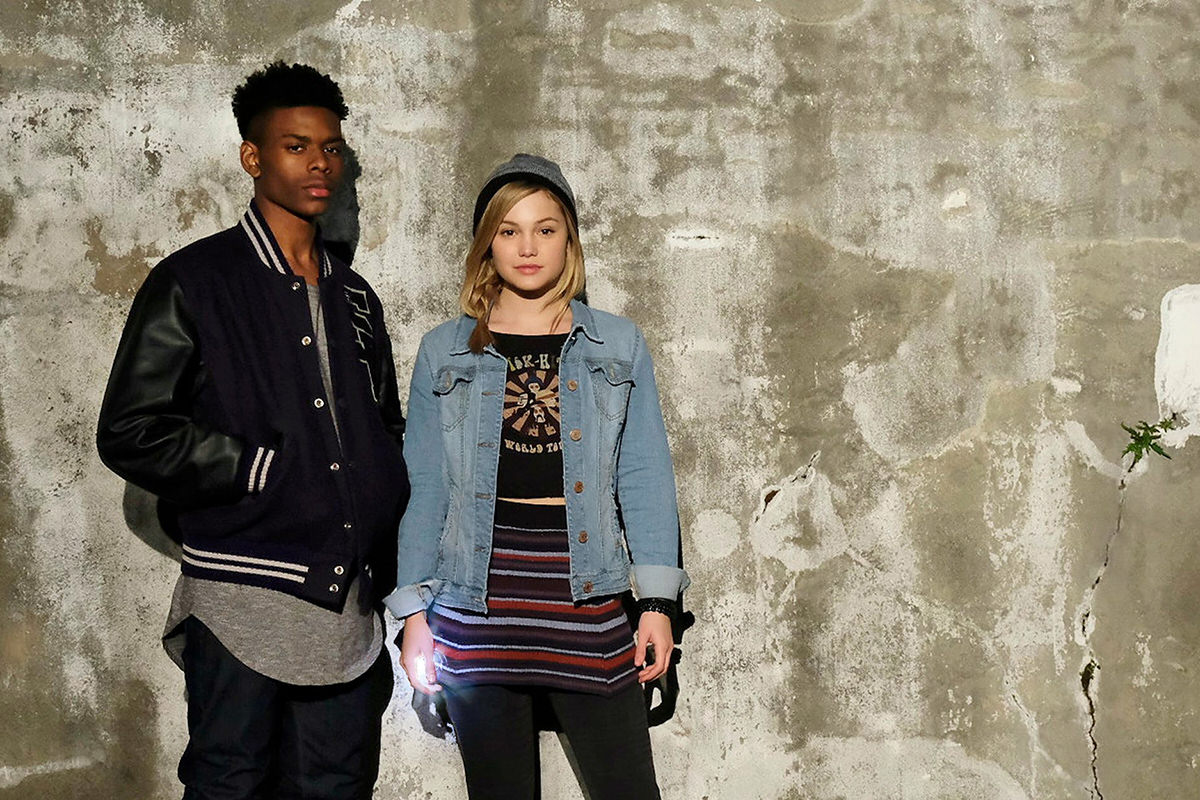 Now, I'm not saying that every super-hero show has to be packed with super-power fights... but there has to be something to make it interesting... otherwise it's just another boring TV drama I don't care about. And if the first two episodes of Cloak & Dagger are any indication, here's yet another boring TV drama I don't care about. Which is a shame, because the actors are very good.

• You! Other than an occasional song here and there, I haven't given much thought to Maroon 5 in years. But now they've dropped a new video for their song Girls Like You that's packed with more guest-stars than you can shake a stick at.
Not a bad song at all. And if you're having trouble putting a name to all the faces, here's a link for you. And, as much as I like it, this is not going to displace my favorite Maroon 5 video...
And if that's not enough Maroon 5 for you... here they are covering Bob Marley's Three Little Birds...
'Cause every little thing gonna be alright.

• NEWS: With deal to close this week, Bayer to retire Monsanto name
Well of course they are retiring the Monsanto name! Monsanto is fucking evil incarnate, and people were finally waking up to it. But now? Bayer is just the aspirin people! Evil + Evil = Bigger Evil.

• A Red Letter Day! As my final bullet of the day, I leave you with one of my favorite Pet Shop Boys songs that's woefully under-appreciated... and highly relevant to my life as of late...
Doesn't get much more Pet Shop Boys than that.

So long until next Bullet Sunday!
Tags:
Bullet Sunday
,
Comic Books
,
LEGO
,
Movies
,
Music
,
Pet Shop Boys
,
Television
,
Travel
Categories:
Bullet Sunday 2018
,
Movies 2018
,
Music 2018
,
Television 2018
—
Click To It:
Permalink
—
2 Comments: Click To Add Yours!
Posted on May 27th, 2018

It may be the last day of the week, but this holiday weekend keeps on rolling... because an all new Bullet Sunday starts... now...

• Pooh! Of all the movies coming up, I have to admit that Christopher Robin is the one I'm most looking forward to at the moment...
With all the advancements in special effects, it's the ability to make films like this which impress me most.

• Whoa! Keanu Reeves and Winona Ryder? Sign me up!
I'm not a romantic-comedy "romcom" kinda guy, but this movie will be worth seeing for the casting alone. Not in theaters, of course, but when it hits HBO or Netflix, I'm on it.

• Hotness! I've been running across a lot of treasures from my past as I work my way through my garage. As an example... look how brutally hot I was on my learner permit!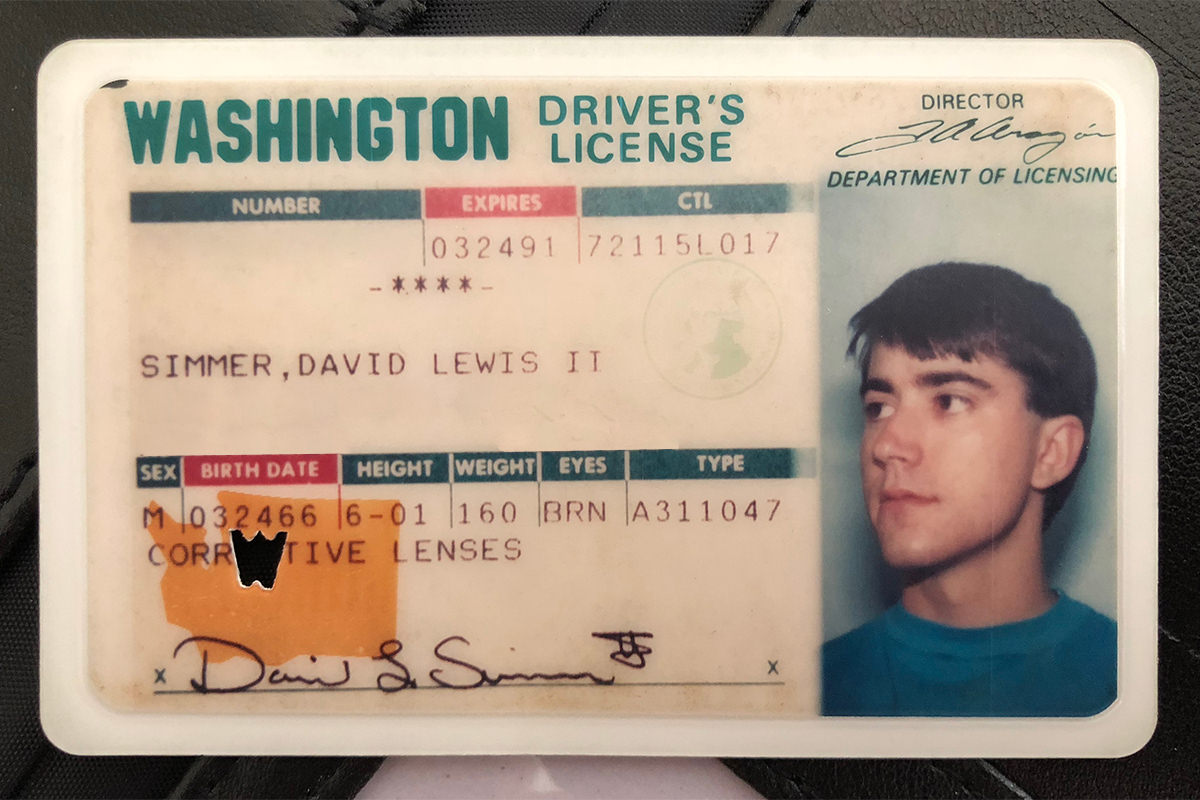 Yep... if I were legal in that photo, I'd do me!

• Togs! The closer they get to making Mon-El have his iconic comic book costume, the closer my inner fanboy gets to peeing my pants...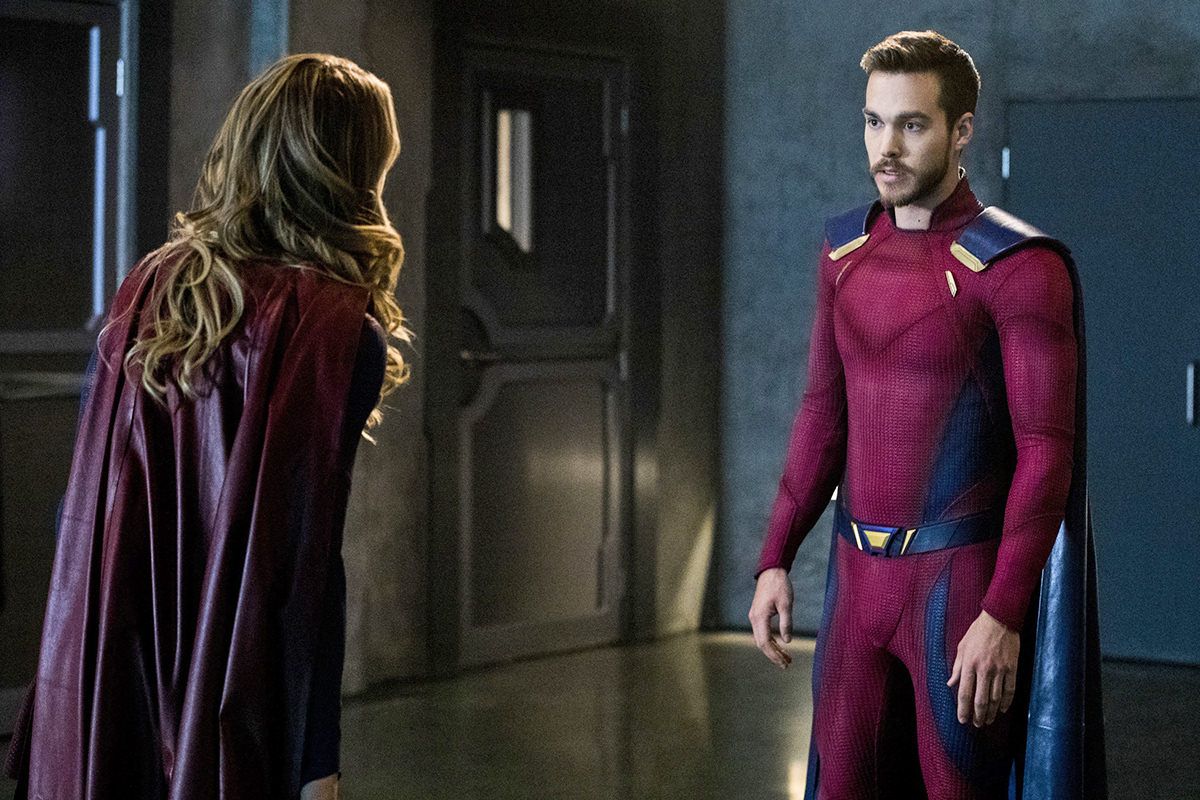 Almost there. Just need that waistcoat... then call it good!

• Thanks, Obama! Yes, I had problems with some of President Obama's policies... but I never stopped admiring him as a person. That goes double Michelle Obama, who was such an exemplary First Lady. So to say that I'm anxious to get my hands on her forthcoming book is an epic understatement...
The unabridged audiobook is available for pre-order at Audible. Since Michelle Obama is narrating all 14 hours of it, I couldn't press the purchase button fast enough.

• Quilt! Hey OG bloggers! Somebody made this incredible quilt for me back in the day, but I can't remember who it was? Does anybody know?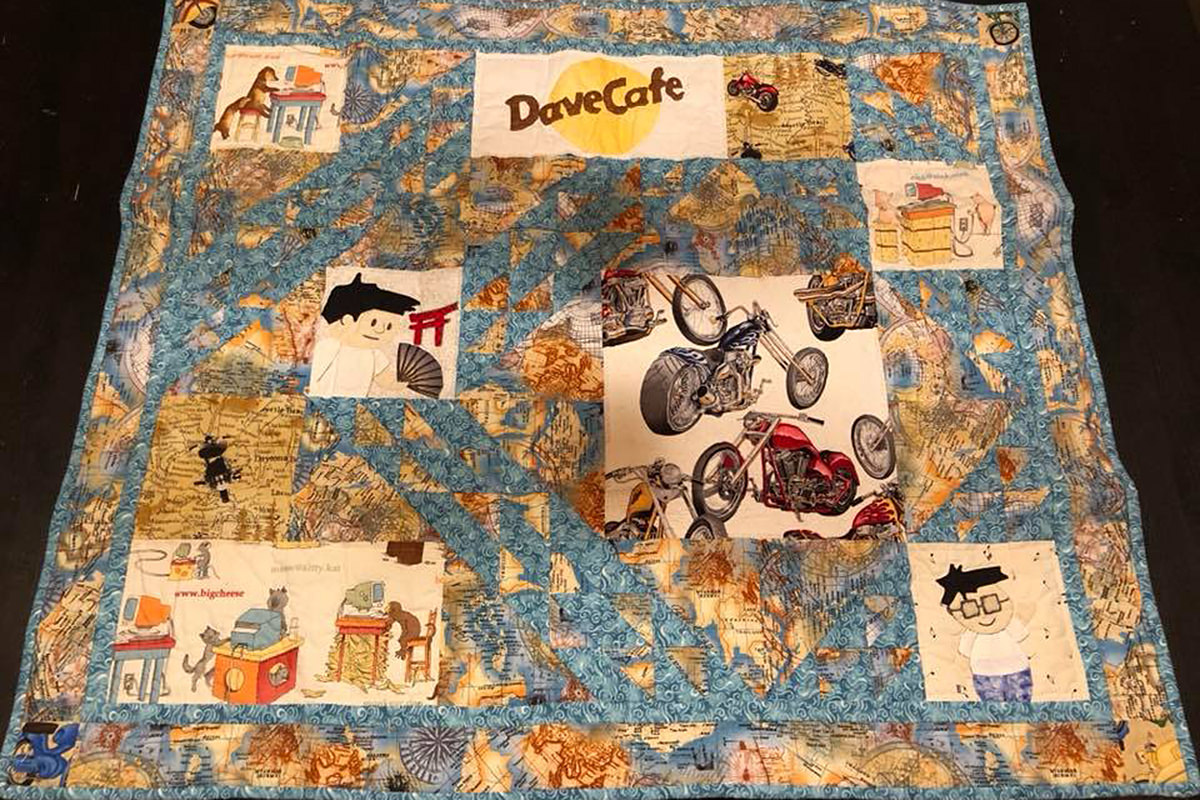 I'm hanging it up to display in my room, and I'd like to attach a tag with the author.

What are you still doing here? The bullets are over. They're over! Go home. There's nothing more for you here.
Posted on May 17th, 2018

You would think that when you pay for a movie in iTunes that the poster art would remain the same as when you bought it. But that's not the case. A while back Marvel started changing all the artwork in their store, which ended up changing the artwork on all the movies I bought.
And it all sucks.
Not that I'd be thrilled if it were better than the originals... I want the art that I recognize so I can recognize the movies I own. I want what I originally purchased.
Take for example the poster for Guardians of the Galaxy...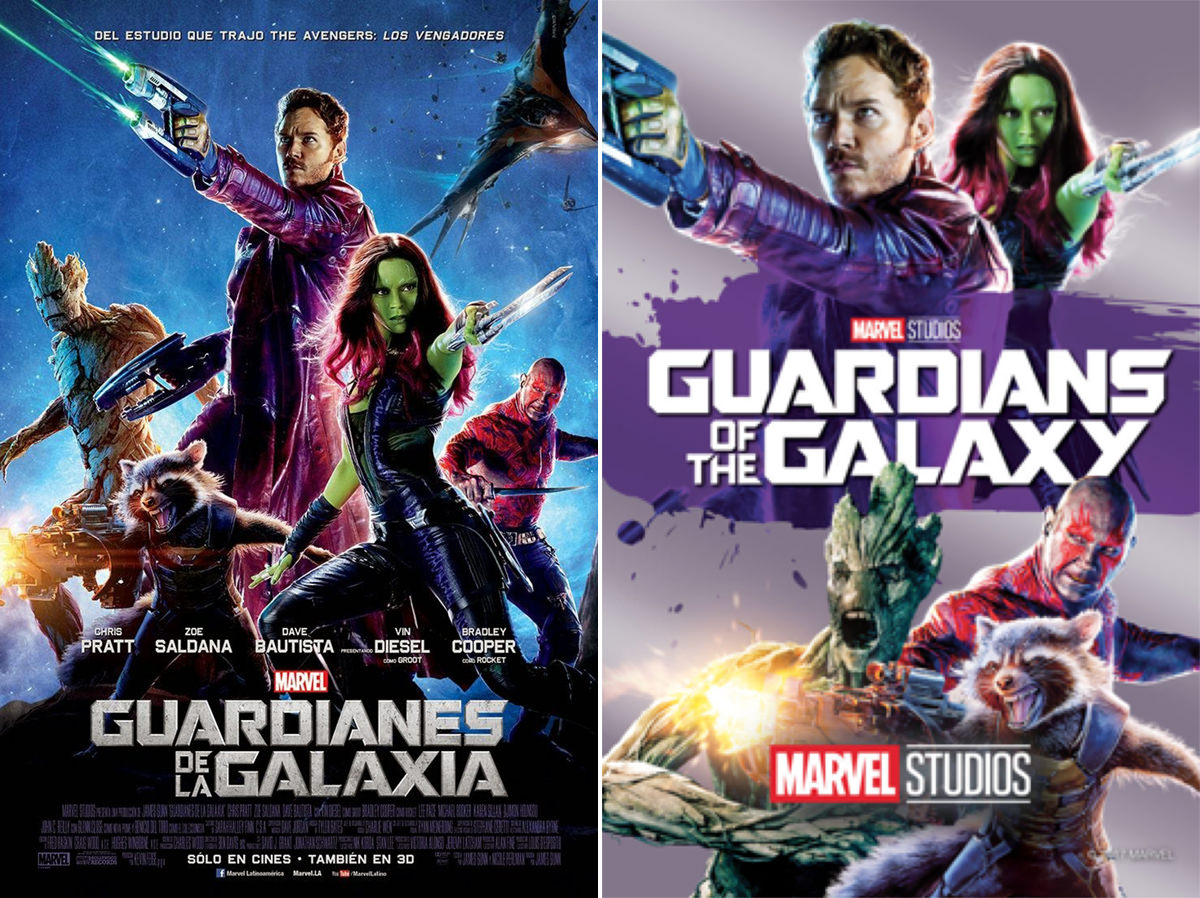 They hacked up pieces of the original poster, rearranged them, then slapped them on a boring-ass background. It looks worse than shitty, because there's no composition or context. Can you tell what in the hell Star-Lord is doing? Holding on to a handle? Who the hell knows?
The sequel poster is even worse. The cool and colorful art with all kinds of cool movie imagery in the background. It's been replaced with something so boring as to be sedate by comparison...
Thor: The Dark World is especially horrific in that he no longer looks like the god of thunder, but somebody in a red cape and bad hair...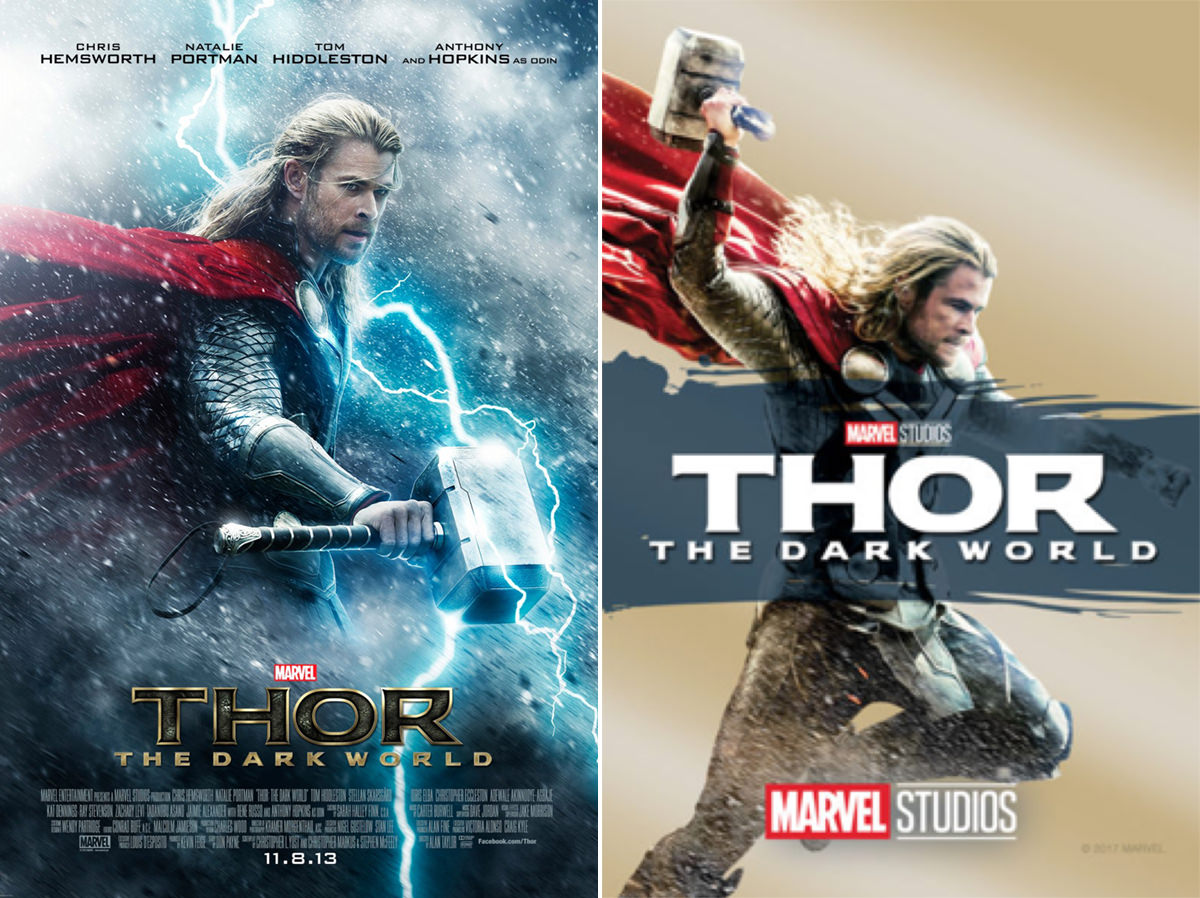 Since most Marvel movies take place in New York City, Ant-Man was a breath of fresh air since it switched it up to the West Coast and San Francisco. To be sure there was no mistaking this, they put it right there on the poster...
When they remade it, they simply stripped away all the cool supporting elements and slapped some ugly-ass faux-metallic effect. Lame.
Group films like Avengers have posters that are carefully crafted to show the dynamic of the team. But now all we get is a grotesque cut-and-paste hack-job that has no interplay between characters and no dynamic. Somebody with a box of Colorforms could do the same damn thing... and probably better, since people wouldn't have their legs cut off and be suspended in air...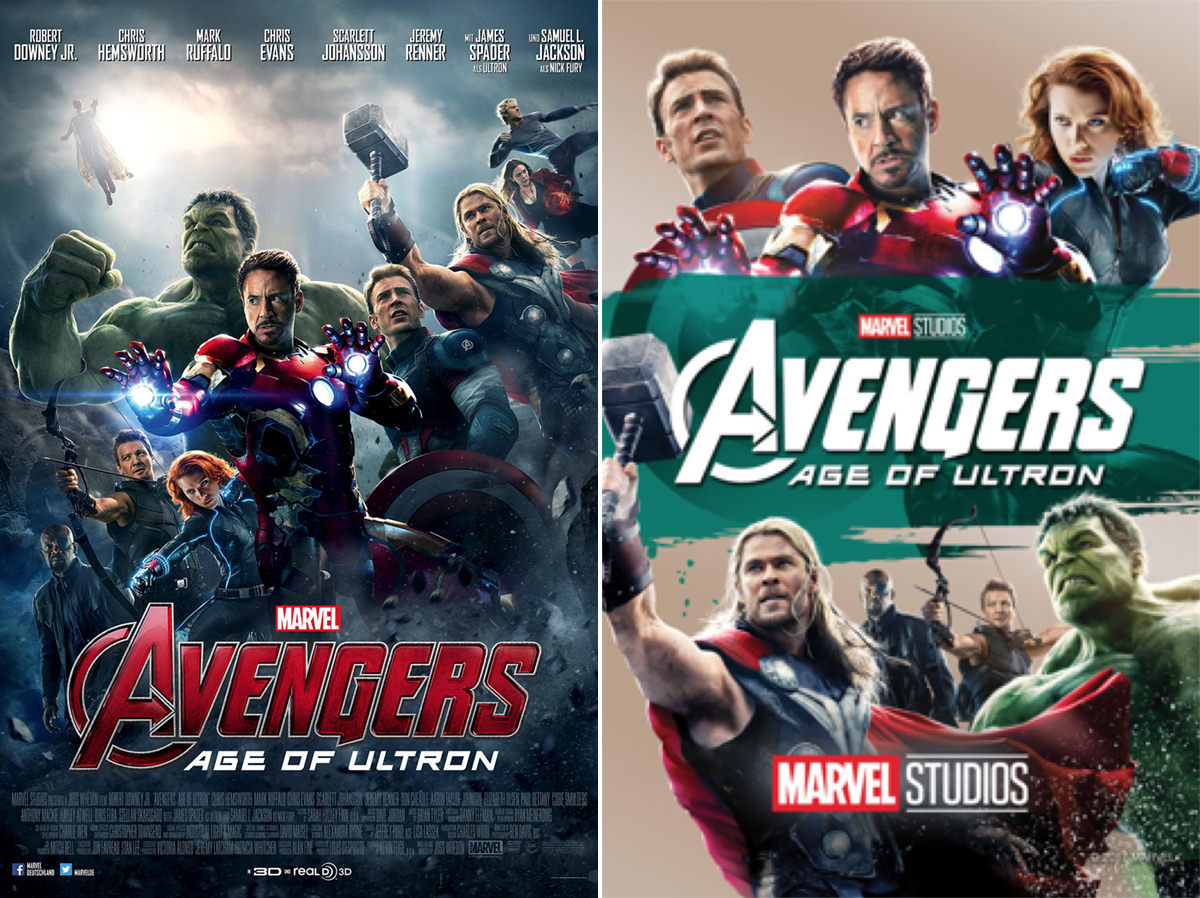 Another great example of this... Captain America: Civil War. What was the most incredible part of the film? The fact that there was a massive battle which pits hero against hero. But the new poster rips this away, completely confusing the story. For all we know from looking at the shitty art, this is a Captain America and Iron Man buddy picture. Or an Iron Man movie with a guest-spot by Cap, since the figures have been reversed and Stark is in the #1 spot...
Doctor Strange is a mind-bending film which introduces magic and other dimensional planes to the Marvel Universe. But now? Some guy in a red cape with a tall collar? Shitty. Utterly shitty...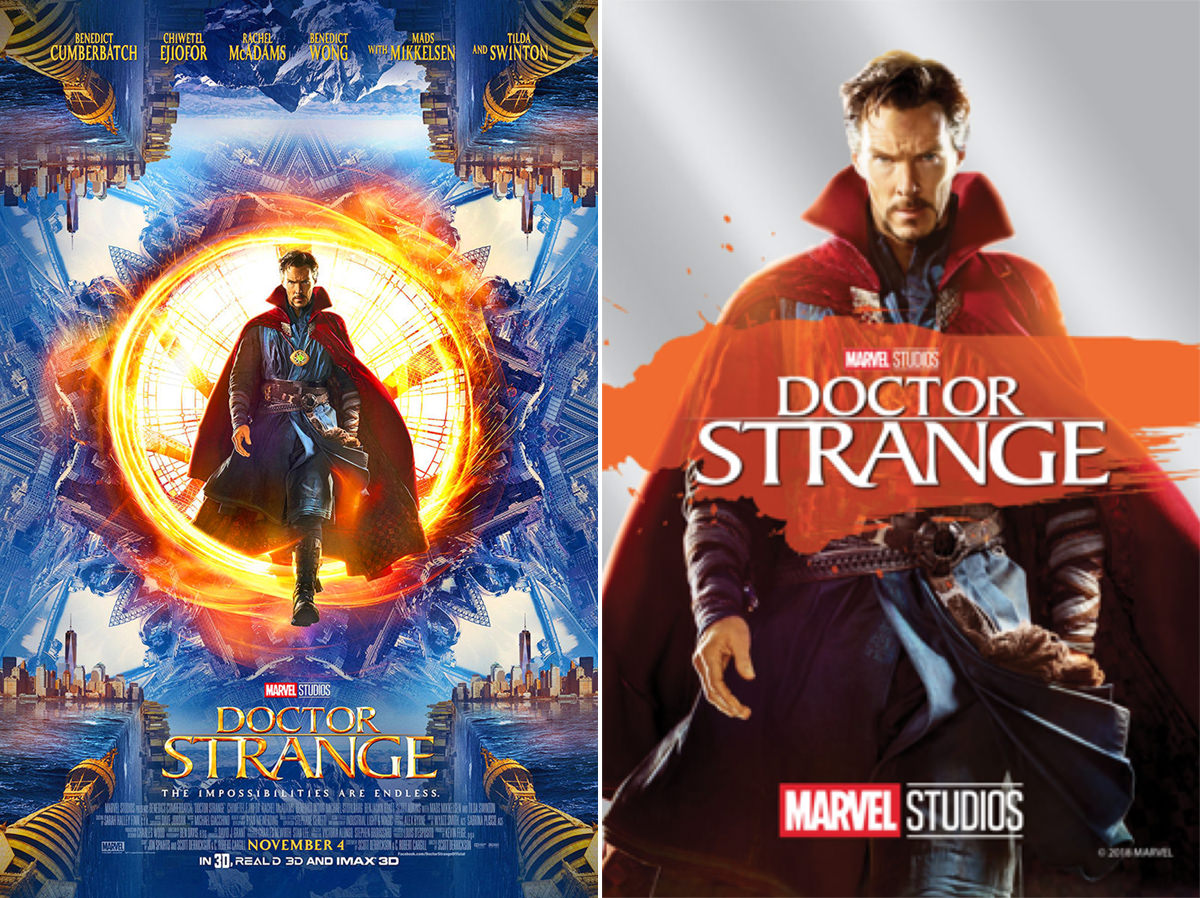 I think my most hated poster remake is for Iron Man 3...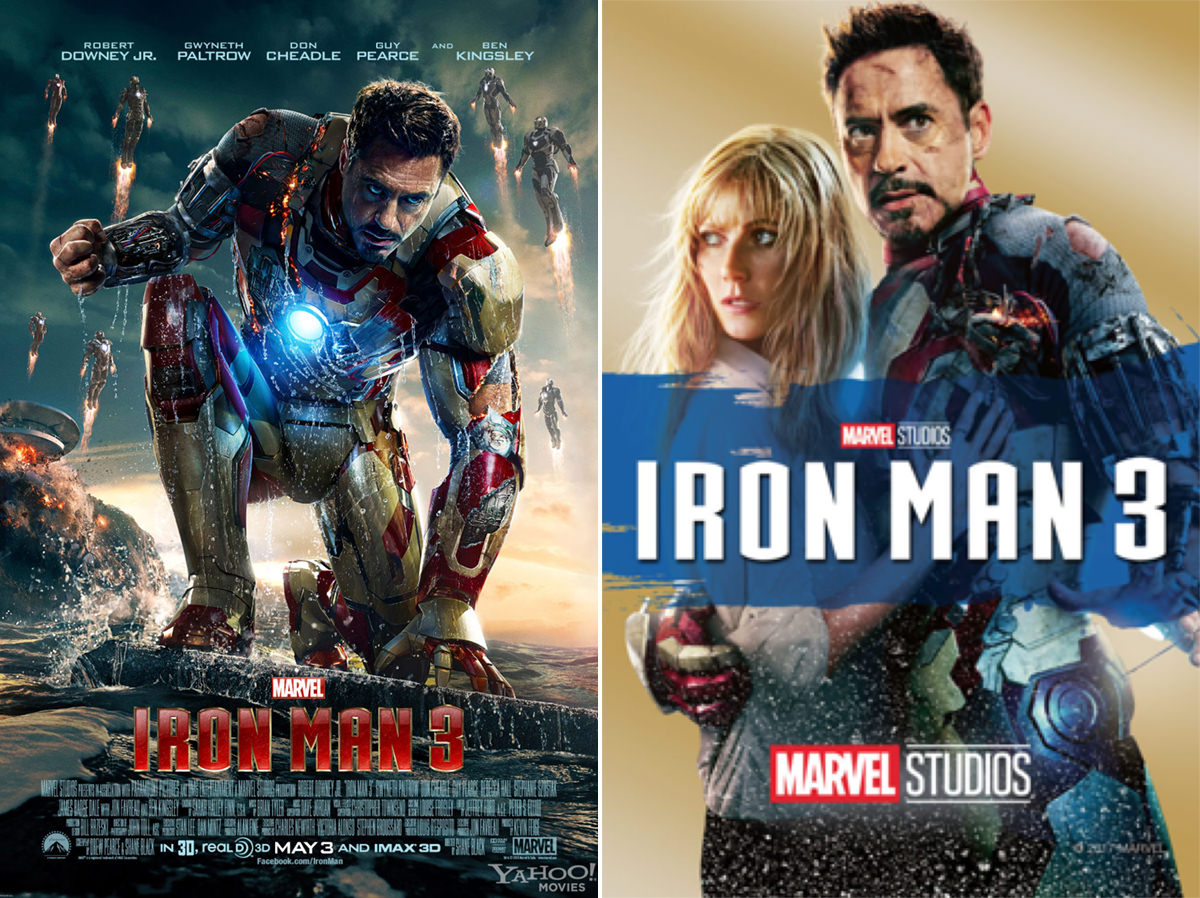 The original poster was SO cool. Foreboding atmosphere, Tony's house exploding, and The Iron Legion are all there... along with a ravaged but determined Iron Man. But the remake? You can barely even tell that's Iron Man. Looks like the cover to some kind of Harlequin Romance or a shitty, low-budget crapfest. And can somebody please explain why the characters are fading into a star-field?
I understand the thinking in redoing the posters. They are trying to create something that will be easily understood at the smaller thumbnail sizes that you'll find in iTunes or other movie streaming services. But when they come up with something this shitty, does it really matter if you more easily understand them? If anything, I'd argue that the original posters are more distinct and interesting... even if you can't fully tell what's going on when reduced to tiny sizes.
At the very least, they could leave it up to the buyer which poster to display in their iTunes library.
Because the new crop is more than just ugly and boring... they're offensively bad design.
Posted on May 2nd, 2018
And lo, Marvel Studios absolutely wasn't kidding when they taunted that Avengers: Infinity War is the culmination of the past ten years of the Marvel Cinematic Universe. This is not idle hype. Though Comic Book Reality being what it is, you have to wonder just how much of what happens in this truly epic film will have lasting effects on where we are going forward.
Something tells me not all of it is going to all be washed away. What ends up sticking is anybody's guess.
Except not really...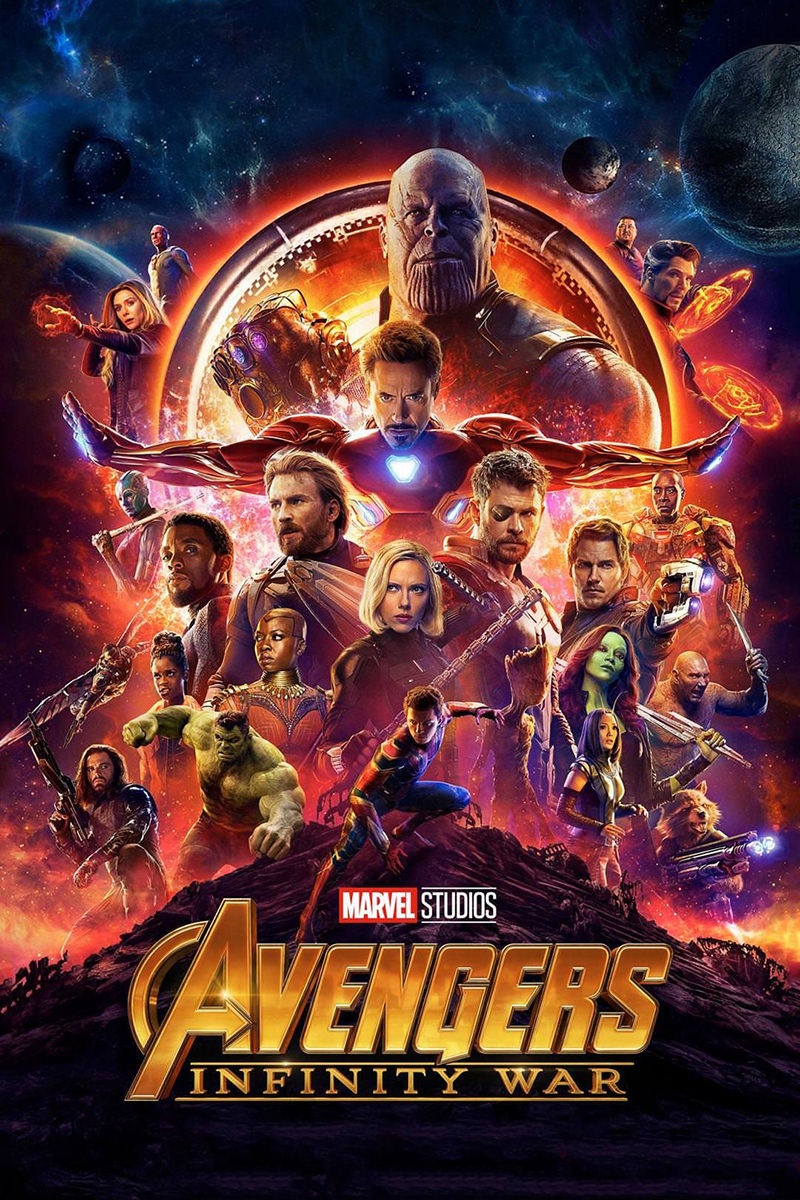 If you've ever read comics before... if you've ever been left hanging in the middle of a two-part comic book story before... then there's nothing much in Infinity War that could be all that shocking to you. Likewise, anticipating the thrust of the story in next year's still-untitled-conclusion-movie also doesn't take much effort.
And yet...
Infinity War actually did redefine the word "epic" when it comes to super-hero movies... or movies in general, really.
Obviously, my thoughts on the film are going into a spoiler-laden extended entry, which you absolutely do not want to read if you haven't seen Avengers: Infinity War yet.
You've been warned.
And also... another warning? Skip any trailers you haven't watched yet. One pretty major spoiler was dropped in one of the trailers I saw, and I'm still pretty raw about it.
And now? This is your last chance. Do not proceed unless having a movie ruined is something you enjoy.
Spoilers await in an extended entry...
→ Click here to continue reading this entry...
Posted on April 30th, 2018
It's tough to fault Marvel Studios for their slate of movies. I love all of them. Some more than others, of course, but each one has a certain something that makes it a comic book geek's dream come true.
One film that always seems to get lost in the shuffle is Ant Man, which is a real shame because it's such a good movie. It's an awesome caper flick that just happens to have a super-hero in it.
And it's really funny.
And now the trailer for the sequel, Ant Man and The Wasp, has dropped. No surprise, it looks like a total home run...
What shocks me about the trailer is just how seamless the special effects are. Every unreal moment is handled so flawlessly as to accentuate the unique nature of the story... not distract from it... and that's not nothin'.
Interesting to note that Marvel is finally addressing one of the biggest flaws of their films. The villain is usually just a duplicate of the hero with the same powers and abilities. This time? Ghost has an entirely different power set, which is great...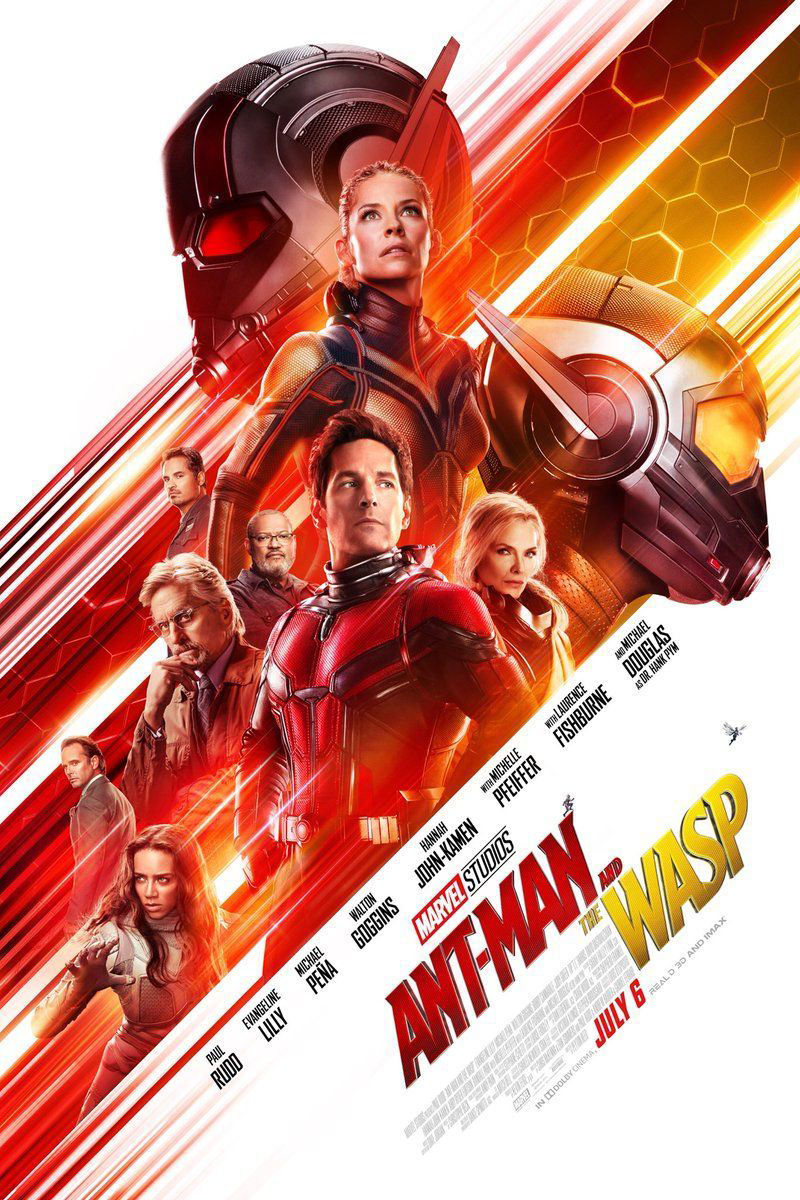 This movie pre-dates Avengers: Infinity War for obvious reasons... it's a two-parter that won't complete until next year. Typical to Ant-Man, this is explained in the best way possible...
I can't wait to see this movie.
And I haven't even seen Infinity War yet!
Posted on April 9th, 2018

Today is a busy day because I am off for vacation starting tomorrow. In an effort to save time so I can pack and clean house before tearing out of here, I thought I would cut-and-paste a ranking of my top-five episodes from each Star Trek series that I had made last week. A fellow fan and I were discussing the merits (or lack thereof) of all things Trek, and this is how we let each other know exactly What Kind of Star Trek Fan We Are. Because, let's face it, wars have been started over this kind of thing.
But then I decided to rank the series themselves.
Then I decided to write my thoughts on each series.
Then I had to go back through my lists and question some of my choices.
Next thing I know, a half hour has passed, and my entire reason for this entry have all come crashing down. I spent more time making a blog post out of something that I would have been much better off starting from nothing. Cat photos take hardly any time at all.
But anyway... here we go, starting with my ranking of all the series best-to-worst...
Star Trek: The Original Series
Star Trek: Discovery
Star Trek: The Next Generation
Star Trek: Enterprise
Star Trek: Deep Space 9
Star Trek: Voyager

And here are my top-five episodes within each, in series order...

Star Trek
The first Trek is undeniably the best Trek with strong stories that hold up even to this day. That they managed to make it look so good given the effects technology at the time is just icing on the cake. Yes, the acting was less than subtle, but there's no denying that the cast was a magical combination that sustained the franchise well past cancelation. If there's a grievous fault in the series, it would be almost the entirety of the third and final season, which saw budgets slashed and shitty stories like And the Children Shall Lead taking a steaming dump on the sublime excellence of the first two seasons. No spin-off even comes close to how imaginative and revolutionary a show Star Trek was, is, and will always be.
Mirror, Mirror
The City on the Edge of Forever
Space Seed
Balance of Terror
Assignment Earth

Star Trek: The Next Generation
Gene Roddenberry's bizarre edict that the future was perfect, everybody on The Enterprise was buddy-buddy, and all internal conflict on the ship was to be purged, made for a bland return to a once-great show. I was on vacation in Maui when the premiere debuted. But I was such a Trek fan that I gave up precious time in paradise to watch the first episode. It was so heinously boring and shitty... from the story to the sets to the effects to the costumes to (some) of the acting... that I was mired in shock and disbelief. How in the hell did anybody making the show thing this was Star Trek? Not to say it was all crap. Things improved after the first season and some true gems were to be found amongst the ruins... but, yeah, it was mostly crap. Though it wasn't the crappiest thing to come out of Star Trek. Not by a long shot.
The Inner Light
Darmok
Yesterday's Enterprise
The Best of Both Worlds
Remember Me -tie- The Ensigns of Command

Star Trek: Deep Space Nine
Despite having the series elevated by the amazing talents of Avery Brooks in the lead (ZOMG! It's Hawk!), this low-rent Trek knock-off was absurd to new extremes. Made infamous for Odo being the shape-changing alien that never changed shape, everything seemed to be done on the cheap. They blew their budgetary wad on the Deep Space Nine space station set, then had no money to go anywhere interesting, do anything interesting, or see anything interesting. They tried to compensate with the whole Bajoran/Cardassian conflict, but it was poorly handled and came across as false drama. The religious angle with the "Prophets" was boring in ways Next Generation could only dream about, and things were off to a bad start from the beginning because of it. Eventually even the people running the show realized what a turd they had crapped out, and added a ship (The USS Defiant) so they could go places... and fan-favorite character Worf... but it was too late. All that had come before had mired the show in mediocrity, and precious few episodes managed to escape it. But when they did manage to escape it, the series showed such amazing promise. A glimpse at what could have been. Unfortunately it was too rare an event to make me care about the show, because they always went crawling back to what made it suck.
The Visitor
Trials and Tribble-ations
Far Beyond the Stars
Little Green Men
Second Skin

Star Trek: Voyager
Holy shit where do I even start? Because I am having a tough time finding the words to express just how much I hated this show. Hated it. There were elements I liked... in particular Robert Picardo as The Doctor and Tim Russ as Tuvok. And eventually we got Jeri Ryan as the Borg's "Seven of Nine" which was another coup. But that wasn't even remotely enough to salvage what a mess things were. First of all... the entire concept of the show was to remove "Star Trek" from everything "Star Trek" so writers could throw out the rules and let their imaginations run wild. A crew formed from conflict! No support system! Limited resources! Life on Voyager was to be a brutal struggle for survival in a strange and hostile universe far, far from home. But we never got that! Well, we rarely got that. What we got was yet another Next Generation retread that didn't even come close to the standards set by Next Generation (such as they were). As if that weren't shitty enough, "button-pushing action" was elevated to new heights. A conflict arises. Buttons are pushed to solve it. All while the "EPS conduits" are failing and the plasma is rerouted. Over and over and over and over again. I barely watched the show, but ended up binging on DVD rentals after everything ended so I could fast-forward through the boring crap. Which is to say I was fast-forwarding most of the time. The fact that I couldn't even manage to think of five episodes I liked well enough to list speaks volumes. It was all Oh... I remember that one with Sarah Silverman! and Oh... that episode with the rapid-evolving civilization was good enough that "The Orville" ripped it off!" Give me a break.
Blink of an Eye
Year of Hell
Future's End

Star Trek: Enterprise
It was a good concept. Go back to all the newness and exploration of the unknown that made Star Trek so amazing by setting a show before Star Trek existed. Then get a big name like Scott Bakula to star in it. Then spend the money needed to make the show actually look great. It would be different. It would build pre-continuity continuity for the original series. It would focus on all the things Star Trek fans love and jettison those things they didn't. It would be a love letter to everything Star Trek! That would be great, right? Well, it sure could have been. Except some genius decided to mire the whole thing in the so-called "Temporal Cold War" which had death-grip on the show for three whole seasons. Sure, they were creative enough to escape it from time to time, but it pretty much killed what should have been an enjoyable outing. The fact that it never really paid off just added insult to injury. No surprise that my favorite episodes are ones that tried to side-step the restrictions that plagued the series.
Carbon Creek
In a Mirror, Darkly
Similitude
Twilight
Dear Doctor

Star Trek: Discovery
And here we are. The latest Star Trek spin-off that has divided fans and set the internet on fire. It seems most people either love it or hate it, though the reason they love it or hate it differ completely. I absolutely loved it. And the reason I loved it is because I felt it finally... finally... recaptured what I loved about the original series. At long last, we had actual Star Trek happening again! And yet there are people who hated it because they didn't feel it was Star Trek at all. And I get it. Honestly I do. It has many problems continuity-wise. It completely and utterly rejects Roddenberry's silly "no internal conflict" edict. There were inexplicably stupid changes made (WTF with the Klingons?). And some of the tech is just plain silly (spore drive?!?). But, as a die-hard fan of the original, I just didn't care about any of that because the "flavor" or what captured my imagination from the start was there. It also had some brilliant re-workings of some of Trek's best ideas. As if all that wasn't enough, the special effects and casting were choice. Sure the last two episodes fizzled, but the slow burn and massive payoff for everything before that was all I could want in a Star Trek show. I cannot wait to see what they come up with for their second season.
The Wolf Inside
Despite Yourself
Into the Forest I Go
Vaulting Ambition
Context is for Kings

Just for duck soup (and a need for completeness), here is my ranking of the Star Trek movies which I took from my blog post here (with details, if you need them!)...
Star Trek II: The Wrath of Khan
Star Trek IV: The Voyage Home
Star Trek
Star Trek VI: The Undiscovered Country
Star Trek Beyond
Star Trek: First Contact
Star Trek Into Darkness
Star Trek: The Motion Picture
Star Trek III: The Search for Spock
Star Trek: Generations
Star Trek: The Final Frontier
Star Trek: Nemesis
Star Trek: Insurrection

And I guess that's a wrap on Star Trek. If all goes as planned, tomorrow's entry will be written from the airport.