Posted on April 23rd, 2017

Everybody have a nice Earth Day?
Good! Because an all-new Bullet Sunday starts... now...

• Sikh! Essential viewing...
The more you know...
Sikhism is a fascinating faith that I haven't studied nearly enough.

• Kingsman! Holy shit! Going back to insert this in Bullet Sunday because it's just too good. I loved the first film, and it looks like the second is going to be more of the same!
Very cool that the American version of "The Kingsmen" makes their debut... " The Statesmen!" I wonder if a spin-off franchise is at hand? So long as Matthew Vaughn is involved, that's fine by me!

• Krypton! Ooh a TV show based on Superman's home planet... Krypton. This could be interesting! Wonder how faithful they'll be to the source material? Will we get to see the Scarlet Jungle? The Gold Volcano? How about Vathlo Island? The Jewel Mountains? Or even the Red Ocean? Can't wait to find out. The series is being developed at SyFy but, for reasons too fucking stupid to comprehend, they're killing the trailer everywhere it pops up. So I can't share the trailer. I can only share this hilarious reaction video from Double Toasted, which only shows parts of it (NSFW)...
The trailer is getting pretty good buzz. God only knows why SyFy is keeping people from sharing it.

• Mountains? When your CAPTCHA tells you to select all the mountain images, so you do... only to find out that they must live in Nebraska and think hills are mountains, which they most certainly are not...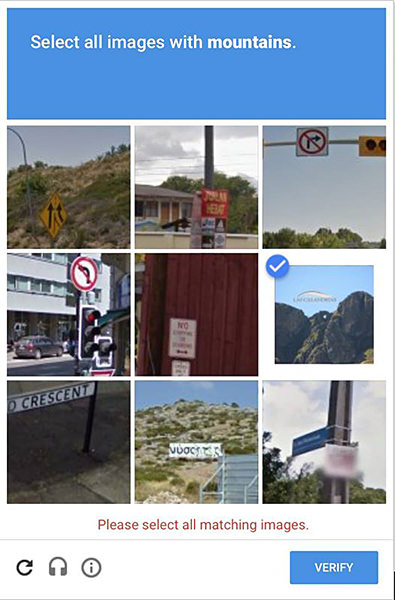 #1 and #8 qualify as "mountains"... alrighty then.

• These Days! "Take That!" is a band that didn't get huge success here in the US when compared to their home in the UK, where they are massively popular. Even so, I've always liked the band, and was surprised to find out that they released an album back in 2014 that I missed entirely called III. The lead single is a track filled with poppy fun that I can't seem to get out of my head...
Kind of cool how Take That! keeps chugging along even after losing two of their bandmates.

• Puppy! And, lastly, your weekly dose of "Awwwww... cute!" is right here...
Amazing how Mother Nature works.

And now... I could really use another day of my weekend.
Posted on April 18th, 2017

This morning when I stepped into the shower, my foot hit the cold tile and I immediately had a flashback to my vacation in Fiji. This is not unusual... most people have experienced sights or smells or other sensations which trigger memories. But usually it's a memory that makes sense. And I could not for the life of me figure out how my foot stepping on cold tile could be associated with Fiji when everything in Fiji is hot. At best, the apartment I stayed at was cool. Nothing in it, including the tile, was cold. So what they heck?
It was an hour later as I was packing up my junk to go to work that it dawned on me...
Steve Jobs.
Last night I had finally gotten around to watching the movie Steve Jobs which was a fascinating (albeit fictional) look at my all-time favorite personal hero. And while people who knew Steve said that it didn't reflect reality and the character in the movie seemed far more hostile and cruel than the Real Steve Jobs (especially later in life where he mellowed quite a bit), it was nevertheless an entertaining movie. Michael Fassbender was a compelling and charismatic Jobs and, much to my surprise, Kate Winslet completely nailed playing Joanna Hoffman. Getting Seth Rogan to play Woz and Jeff Daniels for John Sculley was just icing on the cake. Loved the movie. I give it five stars.
And so... Fiji.
I had been snorkeling with sea snakes and sharks then cruising with dolphins. The boat had just returned to the shallows where I was getting ready to trudge across the mud-flats back to shore. My iPhone, which was safely stored in a waterproof tote, came into cellular range and beeped. There was a text message waiting for me. A text I dreaded, because it was likely bad news. Eventually I made it back to the scuba shop and fished my mobile out of the bag.
It was a text from my brother telling me that Steve Jobs had died.
My feet were still wet. I was standing in the shade on terra cotta tile made cold thanks to a box fan blowing on it.
Posted on April 16th, 2017

Sure it's Easter, but there are other reasons to celebrate the day, because an all-new Bullet Sunday starts... now...

• Kitty! Everything I love about cats can be found in this one clip of a kitty trying to escape the field at a Marlins game...
What a trooper! Apparently a Marlins' employee adopted the cat, who was named "Don Cattingly" in a Twitter poll.

• Kedi! And, speaking of cats...
Can't believe I have to wait until November for this to come out on video!

• Atomic! Okay... putting aside the fact that the trailer for Atomic Blonde features music by both Depeche Mode and New Order... how badly does watching this make me want to see the movie?
Charlize Theron should be in a lot more movies.

• Ragnarok! Speaking of movie trailers... how amazing is the latest Thor movie looking?
I'm part of the minority who actually likes the Thor films. The first one was really great at establishing the characters. The second stumbled quite a bit, but was still entertaining. But this? Probably the best Thor yet. Possibly one of the best Marvel films yet.

• Spicey! Melissa McCarthy is hosting SNL on May 15th. I'm hoping it's just an hour-and-a-half of her impersonating Sean Spicer, playing out the best of his ongoing fuck-ups. Verbatim. In the meanwhile, we have yet another flawless sketch from last night's episode...
What a big, beautiful slice of chocolate cake.

• Politics! The more you know about how politics work in this country, the more you think that we should burn the entire system to the ground and start over...
Politicians don't act in the best interest of those they represent because they don't have to. That's the underlying reason we're as fucked as we are.

Now go eat some eggs, you animal.
Tags:
Bullet Sunday
,
Cats
,
Dumbassery
,
Movies
,
Politcs
,
SNL
,
Thor
Categories:
Bullet Sunday 2017
,
Cats 2017
,
Movies 2017
,
News – Politics 2017
,
Television 2017
—
Click To It:
Permalink
—
0 Comments: Click To Add Yours!
Posted on April 7th, 2017

To 3D or not to 3D?
Before James Cameron's Avatar, I was firmly against 3D movies. They always looked like crap and tended to be more of a distraction than an enhancement to the film. But then Avatar did 3D right. It was stunning. It added to the entertainment value of the movie. I decided to start taking a look at the rash of 3D films that followed... and was disappointed. Unlike Cameron, who developed special 3D cameras, the vast majority of films were "post-processed" into "fake 3D" that were headache-inducing garbage.
But then things started to change.
Even though most films were still not filmed in 3D, they were shot with 3D conversion in mind. The end result just kept getting better and better. Unfortunately, theaters didn't keep up. Faulty equipment and old projector bulbs meant 3D movies were dark and muddy. Even though the films themselves were looking great, you rarely got to see them that way. I gave up on 3D for a second time.
And then I got a 3D television and Blu-Ray player.
After a few "test" 3D films, I became more and more impressed with what I was seeing. After a while, any major movie I had to own was purchased in 3D. It's more expensive, but you often get the iTunes digital version along with it, so it seemed worth the investment.
I mention all this, because I just got Star Wars: Rogue One on 3D Blu-Ray, and while the movie is fantastic, the 3D quality seems to be going backwards. Instead of the stunning 3D conversion we got with Star Wars: The Force Awakens, this film is bland by comparison. The 3D is weak, dark, muddy, and even a bit blurry...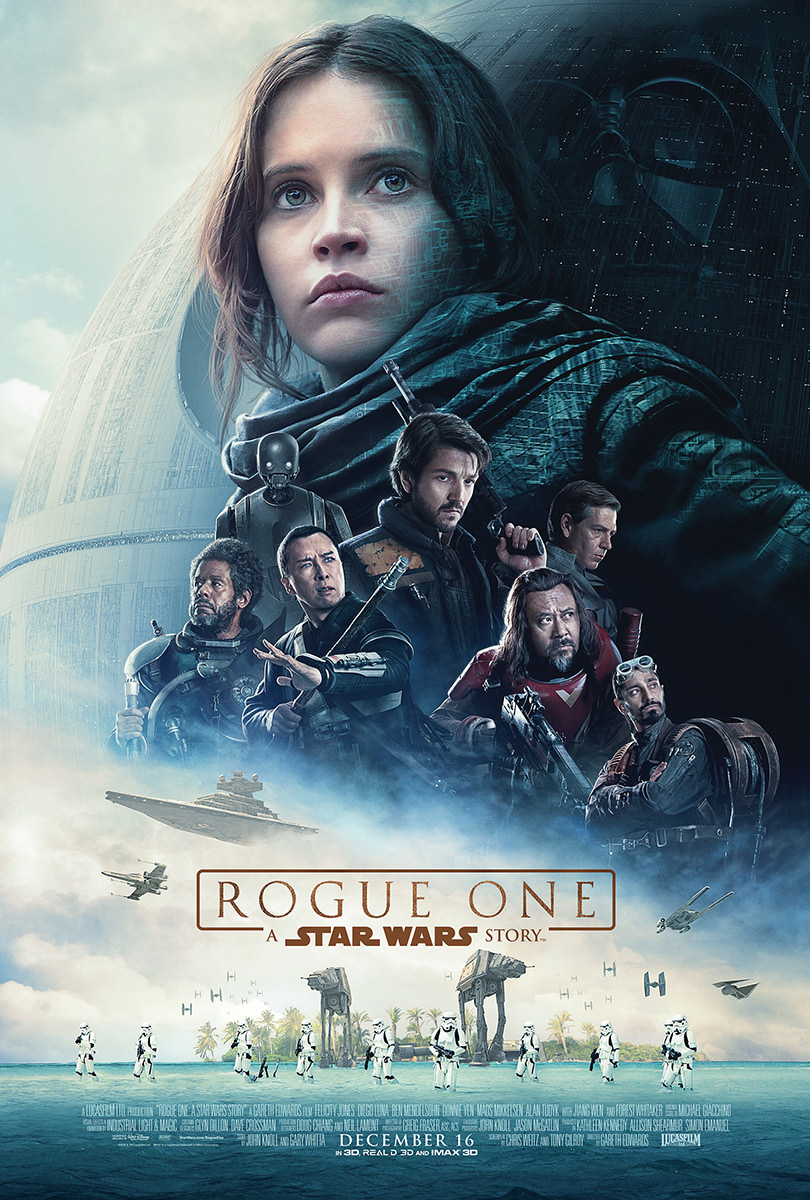 Given how much I loved the movie and how high my expectations were after the last Star Wars 3D Blu-Ray release, this was a major disappointment. Especially given that it cost a whopping $30 plus tax.
Before I get to my spoiler-ridden observations, I think it would be helpful to explain just how much I loved Rogue One by putting it into context of the other movies...

Yes. You are seeing this correctly... I put it above the original Star Wars. It's that good. Heavy on awesome special effects, but with a story that doesn't get overwhelmed by them. Flawlessly cast and faithful to the original "world" in just about every way.
If you haven't seen it yet, don't go any further. If you have, my thoughts are in an extended entry...
→ Click here to continue reading this entry...
Posted on April 6th, 2017

The ScarJo Ghost in the Shell film was a weird amalgam of the original anime movies (based on the manga), the TV series, and a new story arc for the main character. I didn't hate it... and it was very pretty to look at... but the film itself was kinda boring. Maybe it's because I was so familiar with the source material, but it felt like the film was all future-city fly-overs, expositional dialogue, and a misguided attempt to make some kind of statement on technology that completely missed the target. The action beats were good (and pretty faithful), but not enough to elevate the film to any level of excitement for me...
The whole whitewashing issue was not as bothersome as I expected... I mean, I get why they felt the need to do it... but it was disappointing just the same that they didn't give the role to a Japanese actor. Yes, they wrote an explanation for it into the film as a central theme, but it was still kind of half-assed. How frickin' sweet would it have been to get Rinko Kikuchi (Pacific Rim) or Chiaki Kuriyama (Go Go Yubari!) as The Major?
Oh well. It didn't end up mattering. The film is bombing despite the star casting, so I guess that's that.
Major, out.
Posted on April 2nd, 2017

You may be thinking that after 499 Bullet Sundays I'd be giving up! But never fear, because an all-new Bullet Sunday starts... now...

• Whedon! I am beside myself with hope... JOSS WHEDON IS GOING TO DIRECT A BATGIRL MOVIE! Which is both really great... and incredibly odd. Great, because Whedon may actually end up with a seriously good take on the character... odd because you'd think he'd hit Marvel up for a Black Widow movie, since he's already played around in that universe. Especially since Black Widow is, potentially at least, a much more interesting character.
Oh well. I'll take Whedon BatGirl...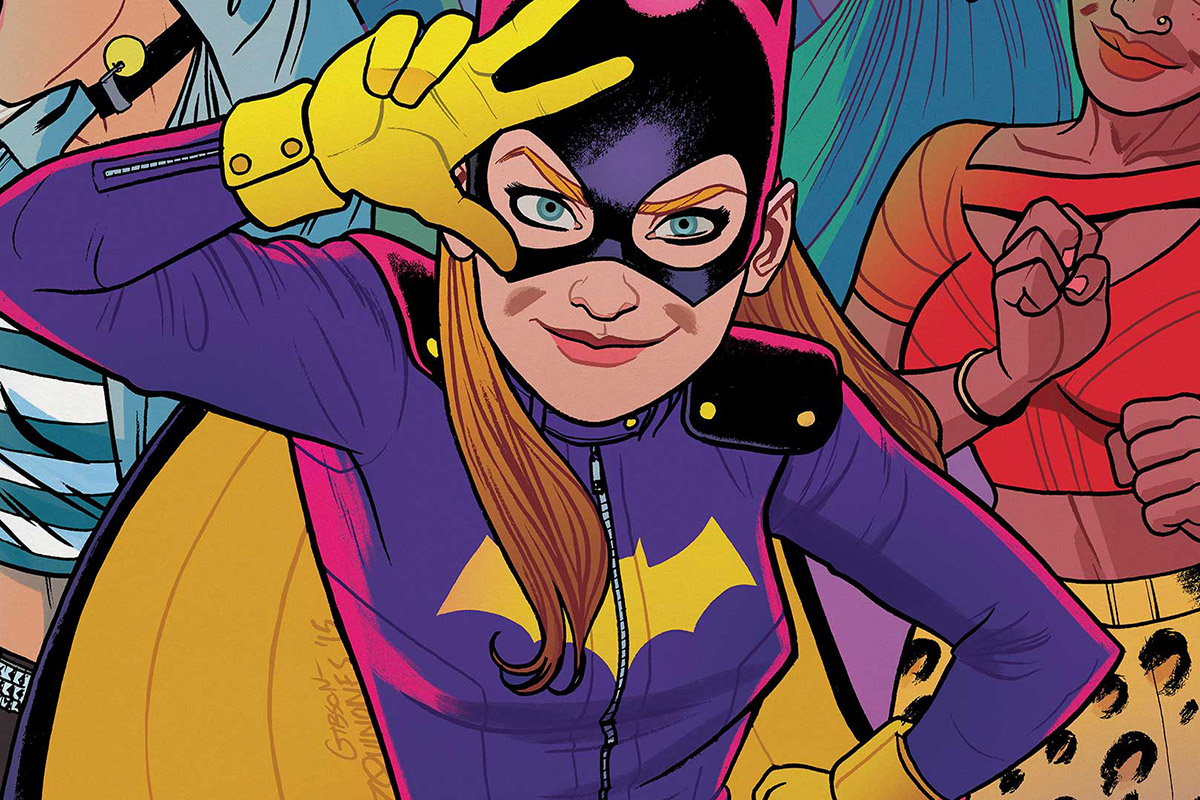 Hopefully he'll make it a fun film instead of glomming onto the absurdly shitty "dark" DC Comics cinematic disasters that Zack Snyder has crapped out of his ass. Nobody wants that.
What I would like is a LEGO BatGirl movie...
How awesome would that be?

• Homecoming. I swear... it's as if Marvel doesn't know how to fail...
This trailer looks like we're getting not only an amazing Spidey-film... but we're also getting a film that's firmly entrenched in the Marvel Cinematic Universe. At last. Can't wait!

• Besson! I know I'm pining away in vain at the idea of a sequel for The Fifth Element... but I guess Luck Besson's Valerian and the City of a Thousand Planets is as close as we're going to get...
It certainly looks like compelling sci-fi. Here's hoping.

• Funneh. Anybody out there watching Trial and Error? I find it surprisingly entertaining and quite funny...
MURDER BOARD! MURDER BOARD! MURDER BOARD!

• Guess. Okay then... will the pedophile principal be a godless liberal from a public school... or a God-fearing Christian from a private Christian school? Let's read and find out together, shall we?
Tulsa School Principal Arrested For Child Pornography.
Big fucking surprise... it's the God-fearing Christian. YET AGAIN. And yet over and over again we're told it's trans persons using bathrooms that's the big danger. It's homosexual teachers that's the big danger. It's gay characters in cartoon movies that's the big danger. Anything to distract people from the actual fucking danger that kids have to face. Give me a fucking break.

• Song Like You. My current earworm...
Just 18 years old. Amazing.

And... onwards towards another 500 Bullet Sundays.
Posted on March 26th, 2017

Time to burn this muther to the ground, because an all-new Bullet Sunday starts... now...

• The Government is Not Your Friend. In all seriousness, I wonder what it's going to fucking take before US citizens wake the hell up to how their privacy rights are being chipped away by elected officials. Our bought-and-paid-for-Senators just voted to undo internet privacy regulations, which means that you ISP can sell your browsing history to advertisers. Our privacy is up for grabs, and fuckers in the GOP are the pimps making it happen. Might want to look into a VPN to protect yourself before this gets run through the House.

• GET OUT! I'm just going to chime in with the vast majority of critics and say that Get Out is one of the best films this year...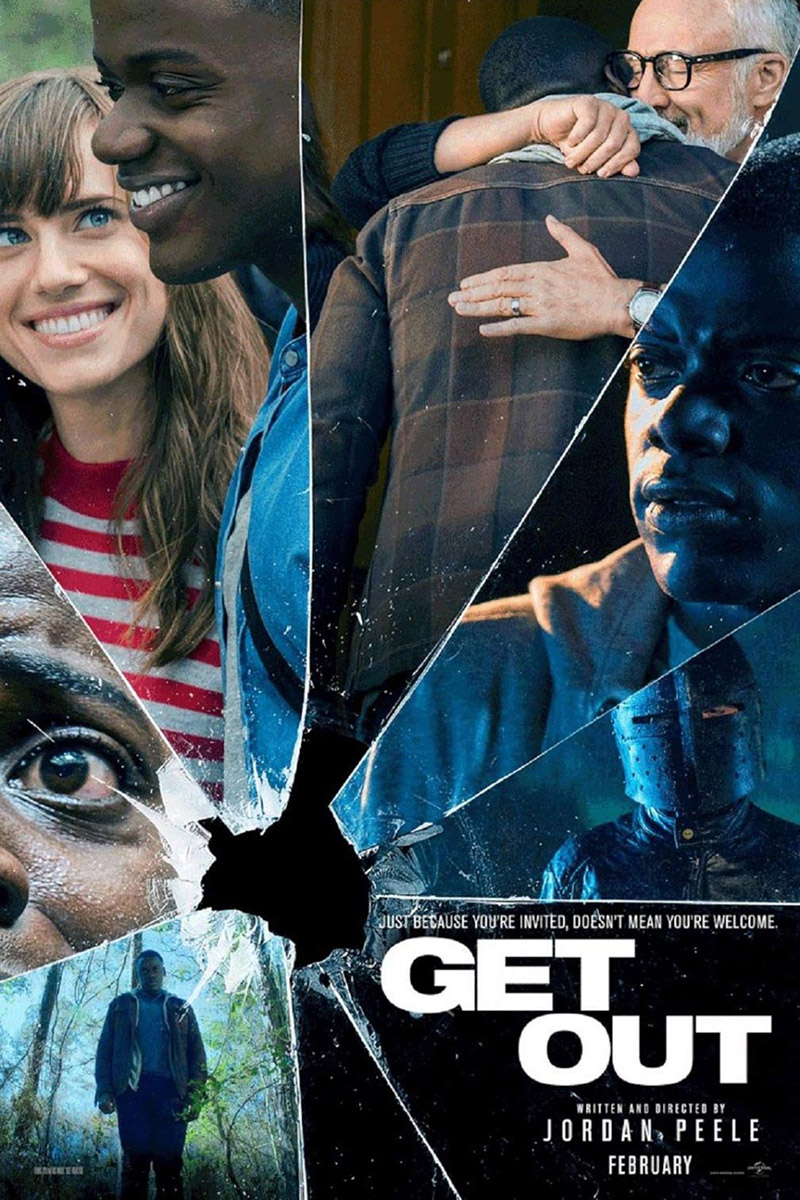 Jordan Peele has absolutely killed it. So far as suspense thrillers go, this is a tough movie to top. Easily going to make y "Best Of" list for 2017. Go see it!

• Final Dimensions? Rumors have been swirling that my favorite game of the moment... LEGO Dimensions is getting canceled. Back in January I was dismissive of such rumors. But now? Evidence is mounting.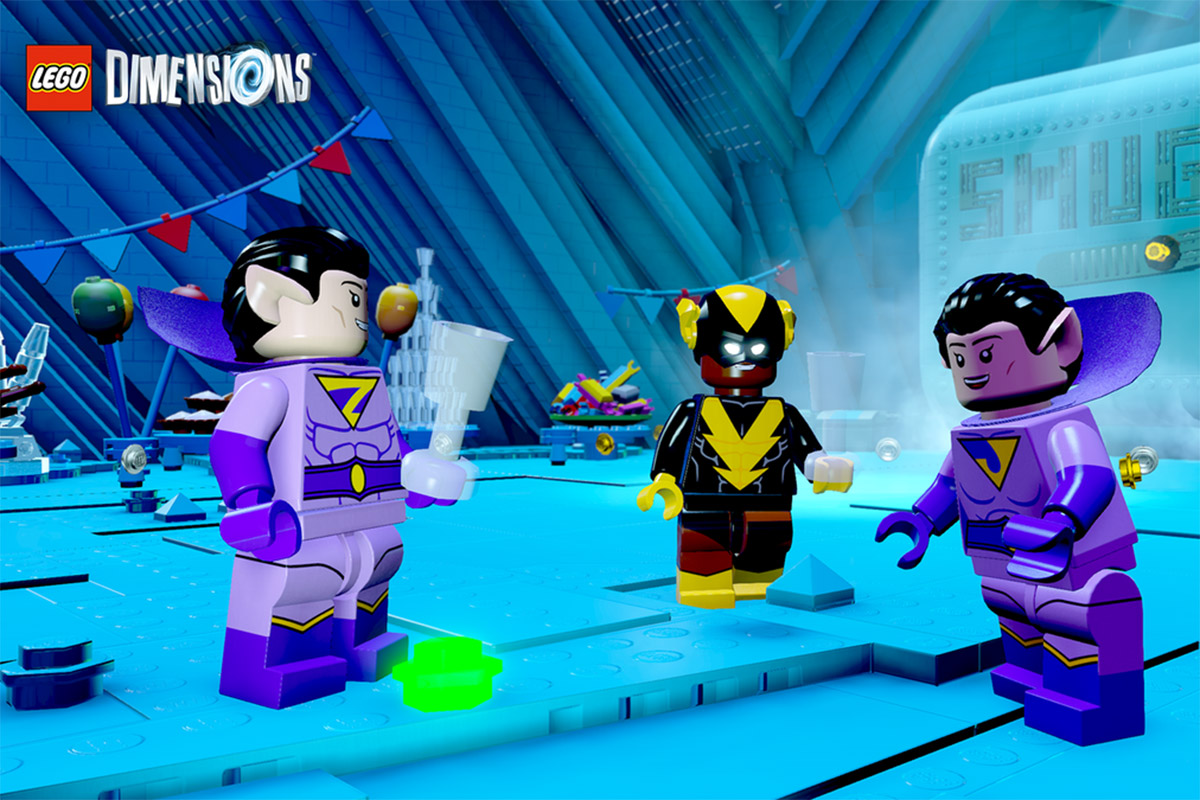 Needless to say... this sucks if it's true. Sucks hard. The sets that have been coming out lately are better than ever, and a lot of fun to play. More sets for properties like Beetlejuice, Powderpuff Girls, and Teen Titans GO! have been delayed, but are still on the way, so there's that. But still... I hope we're getting even more sets before LEGO hangs it up.

• Headlines. So... when you see a headline like this pop up in your newsfeed...
You have to guess... will this be some godless liberal senator scumbag with no moral values... or will it be a "family values" Christian who supports anti-gay, anti-trans legislation? Lets find out together, shall we?
State senator found with teenage boy in hotel room.
Big fucking surprise. It's the "family values" Christian who ends up being the fucking pervert. YET AGAIN! It's always these assholes getting caught texting things like "I'm gonna fuck you like a good little boy if you keep calling me daddy." They can't seem to help themselves. Which is why every fucking time I see some politician asshole going out of their way to shit all over LGBT equality, I automatically expect they're fucking pedophiles. And history seems to back this up.

• Assemble! Oh goody. Justice League looks like a total rehash of Batman vs. Superman... incomprehensible action sequences strung together with boring shit nobody cares about...
At least Zack Snyder is consistent with his suckage.

• Gubermint! There's so much fucked up shit going on with our Trump-infused government that I could fire off another fifty bullets just to touch on it. But doing so will probably make me want to blow my head off, so I'll pick just one...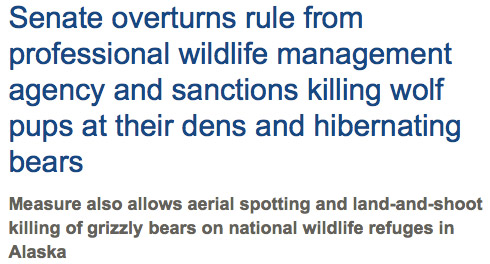 You can read about it here. What a bunch of fucking monsters we have representing us. If they are willing to treat innocent animals like this, there's no hope for us. None.

So over bullets for today.
Tags:
Assholes
,
Bullet Sunday
,
LEGO
,
LEGO Dimensions
,
Movies
,
News
,
Politicians
,
Politics
Categories:
Bullet Sunday 2017
,
LEGO
,
Movies 2017
,
News – Politics 2017
—
Click To It:
Permalink
—
1 Comment: Click To Add Yours!