Posted on September 10th, 2017

Wildfires and hurricanes got you down? Sorry to add to your troubles but another natural disaster has arrived, because an all new Bullet Sunday starts... now...

• Charitable! IF YOU HAVE A KIND HEART AND ARE ABLE TO DONATE TO FIRE/HURRICANE RELIEF... PLEASE VERIFY THAT THE CHARITY TO WHICH YOU ARE SENDING YOUR HARD-EARNED DOLLARS IS GOING TO MAKE GOOD USE OF IT. There are all too many charities which do not. A good place to start is to head to Charity Navigator, which reports on what charities do with their donations.

• Orville! The geek reviews for Seth MacFarlane's new sci-fi show The Orville were pretty bad. I decided to tune in anyway, just to see how awful it really was. Except... I actually ended up liking it. No, it's not Galaxy Quest like everybody expected... it's actually a faithful clone of Star Trek: The Next Generation, but with some funny moments scattered amongst the drama...
Actually, I'd argue it's superior to Next Generation, which I never really got into. My favorite part of the show is the helmsman and navigator (Scott Grimes and J. Lee) who have amazing buddy chemistry. Other characters are a bit glossed over, but the previews of upcoming episodes looks like they'll get their day. Is it a perfect show? No. It's a bit uneven and the pacing drags a bit in spots. But those are things that will improve in time as the writers, actors, and directors get everything figured out. The one thing they've nailed though is the special effects, which are pretty great. I've gone from zero expectations to high hopes over the course of just this one episode. May the rest of the season be worth my valuable time.

• Intermission! Of course, this was back when a candy bar was 5¢ and you could actually afford to GO to the lobby and buy a treat...
It just gets crazier as the video goes on. I remember some of this from the movie Grease where John Travolta has been stranded at the drive-in... branded a fool. What will they say Monday at school?
Oh Sandy.

• Danger! Just when you think you've seen it all, Delta Airlines has to come along and prove you wrong...
Delta claims that the flight was never in any danger. Weather radar implies otherwise, but okay.

• Polydactyl! Speaking of hurricane Irma close calls... I was very happy to learn that all 54 cats at Hemingway House in Key West were sheltered and made it through the storm. I haven't been there in over five years, but the place sure made an impression on me...
Kind of a cool place to visit if you're ever in Key West.

• Orlando! As I type this, Irma is headed to Walt Disney World. Here's hoping Mickey Mouse, Pluto, Buzz Lightyear, and company all stay safe!

And that's a gale-force Bullet Sunday... over and out.
Posted on August 15th, 2017

The movie review compendium site Rotten Tomatoes is both a good thing and a bad thing for the movies I love. Good because movies that critics like which might be missed are getting some exposure and hype they deserve. Bad because movies that critics hate which aren't necessarily "rotten" will dissuade movie-goers from seeing something they might otherwise enjoy.
My movie tastes are all over the map but, in general, I tend to agree with the majority of critics.
But not always.
And apparently I'm not alone, because last night I saw this article pop up: IGNORE THE CRITICS! 10 'ROTTEN' MOVIES YOU SHOULD TOTALLY WATCH ANYWAY. As I read through the films in their list I was all "Yes! Yes! ZOMG, YES!" and so I thought I'd post the link and offer up a short comment on why I agree some of these films are not actually all that "rotten." Though some of them, like To Rome with Love, a film by asshole Woody Allen that stars Roberto Benigni and Jesse Eisenberg (two actors I don't care for at all)... I'll take a pass on.
Anwyay, here we go...
The Secret Life of Walter Mitty is a hauntingly beautiful film that has an overall life message that I strive to achieve. And that's on top of being a wholly wonderful work of art to behold... despite starring Ben Stiller (who is perfect).
50 First Dates is a movie I've seen dozens of times because I cannot bring myself to flip past any channel playing it. Poignant, funny, beautifully shot, and charming to the end... despite starring Adam Sandler (who is not perfect, but actually very good).
Eurotrip is indeed a raunchy comedy that is wall-to-wall offensive and overflowing with bad taste. It's also hilariously funny, despite kinda falling flat at the end. Some of my favorite cinematic comedy moments of all time are right here, and seeing Lucy Lawless as a Dutch dominatrix is everything. SCOTTY DOESN'T KNOW! SCOTTY DOESN'T KNOW!
Mr. & Mrs. Smith is such over-the-top fun that I cannot comprehend that it received bad reviews. The chemistry between Angelina Jolie and Brad Pitt is probably one of the best pairings in modern film, and it is used to brutal effect from start to finish for high entertainment value. As if that weren't enough, the story is well-written and the special effects are great.
Troy is not a favorite, but I did find it an enjoyable take on the genre. Certainly a better film in every respect than horrendous Ben-Hur remake. Yes, it could have been edited with more care because it's "flow" is off and scenes run too long, but it's still worth your valuable time.
Defiance kinda collapsed under its own weight, but it's a great story that gave us a well-crafted film. And you seriously cannot complain about the cast, which was very good. Flawless? No. Worth watching? Absolutely.
Wet Hot American Summer is a movie you absolutely have to be in the mood for... it's silly-stupid in the worst possible way... but that's why I like it so much. Well, that and the great cast, which delivers every raunchy, stupid line like their lives depended on it.
So... if you're ever looking for a movie to watch and you skipped one of these because of poor reviews, you might want to take another look!
Posted on August 5th, 2017

My long-time friend Howard died today and I am lost.
We first found each other through blogging a decade ago, but our friendship went far beyond that. Last night I was sifting through hours upon hours of texts, messages, emails, and comments, and realized that we have been in near-continuous contact since we first found each other. Our taste in music, movies, anime, and so many things were in perfect sync so there was always something to talk about.
And I guess sometimes you just know, you know?
We met in person a half-dozen times, usually when I was in Denver for work. The first was at my "Daveorado" event back in August of 2009...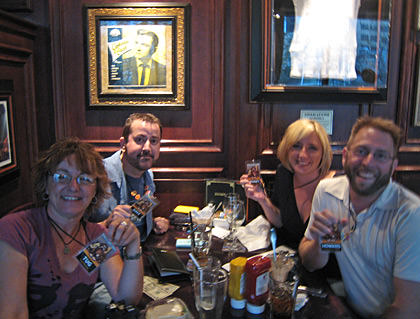 Tug, Me, Hot Doctor's Wife, and Howard at the Hard Rock Cafe Denver!
And then there was that time we flew to L.A. so we could catch a rare US appearance by anime god Hayao Miyazaki, truly one of the best moments of my life.
And then there was the time we went to see Duran Duran at Red Rocks.
And then there was the time back in May when I flew to Denver to celebrate Howard's 50th birthday.
But most of our contact was just everyday stuff. Like when I first got Jake and Jenny and he decided to make them into a meme...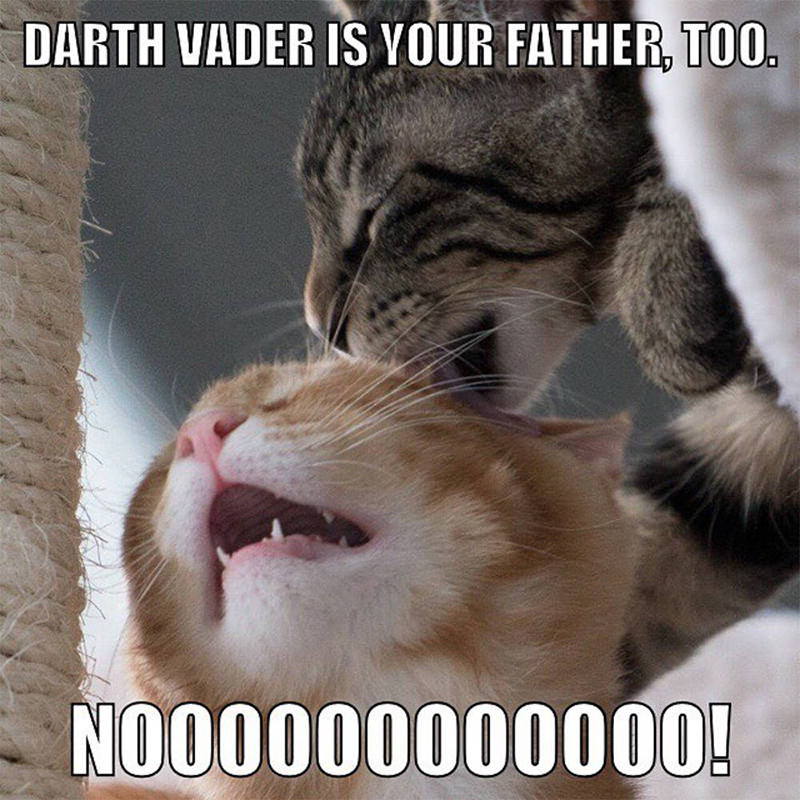 He was forever sending me stuff like that.
And forever talking about music. We have text conversations that go on for hours that are nothing but Pet Shop Boys. But it wasn't just our love of 80's tunes that made for good music talk. Every once in a while he'd turn me on to new music too. Most notably Holy Ghost! and Postiljonen. One minute I'm reading an innocent text... the next minute I'm obsessing over a band I'd never heard of before...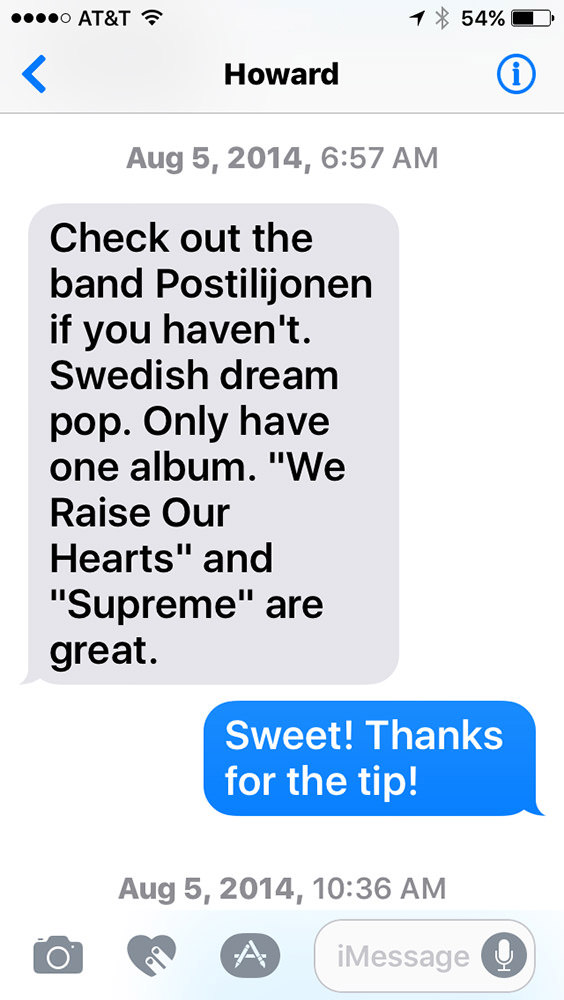 Along with music was the movies we loved to talk about. All kinds of movies... but mostly our shared love of Miyazaki and Studio Ghibli films. Back in February a new one was released, The Red Turtle, and I got more than just his thoughts on the film...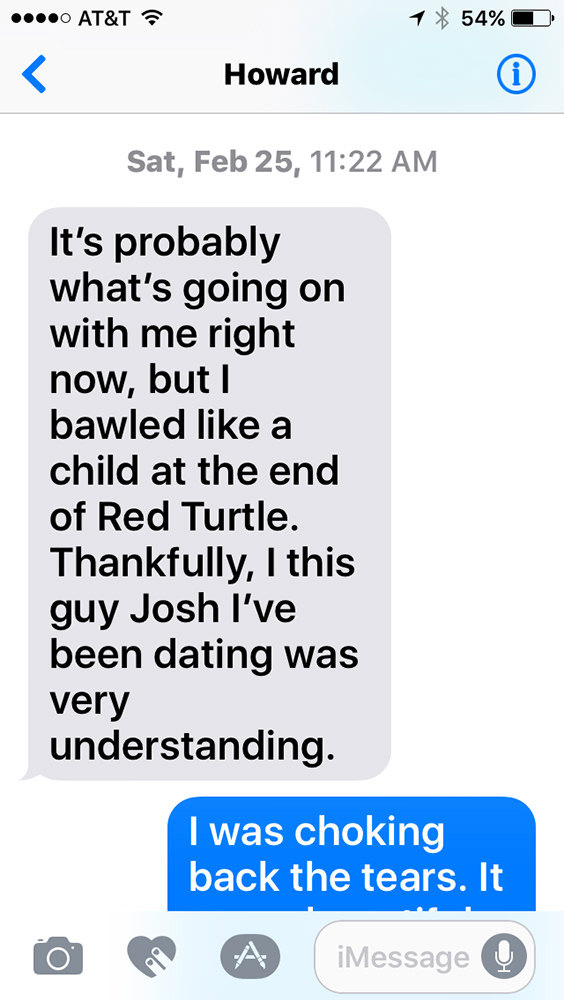 And then this past Monday, Howard and his "understanding guy" got married! I will be forever grateful for Josh bringing light and love into Howard's life these past six months.
Another thing I'll be forever grateful for is that Howard always knew how I felt about him. I loved him dearly, and told him so...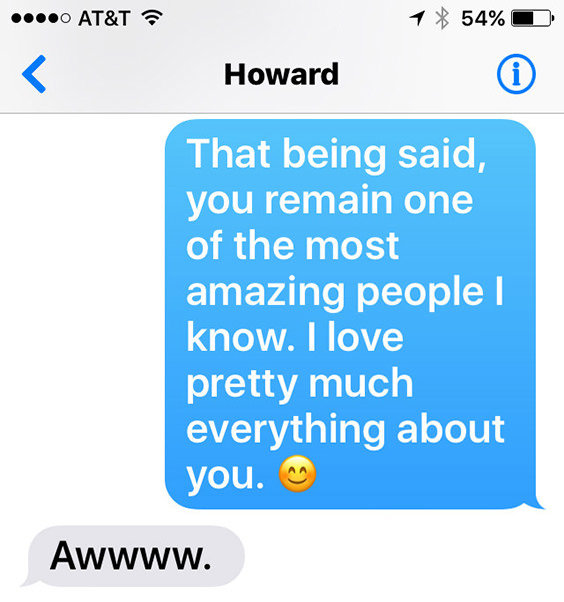 I could write volumes about how much Howard meant to me, but that text probably does a better job of it.
He was a soul mate.
It's as simple as that.
What's not simple is trying to find a way to carry on with life after a chunk of your heart has been ripped out. But I will find a way, because anything less would be an insult to somebody who fought so bravely every day to carry on...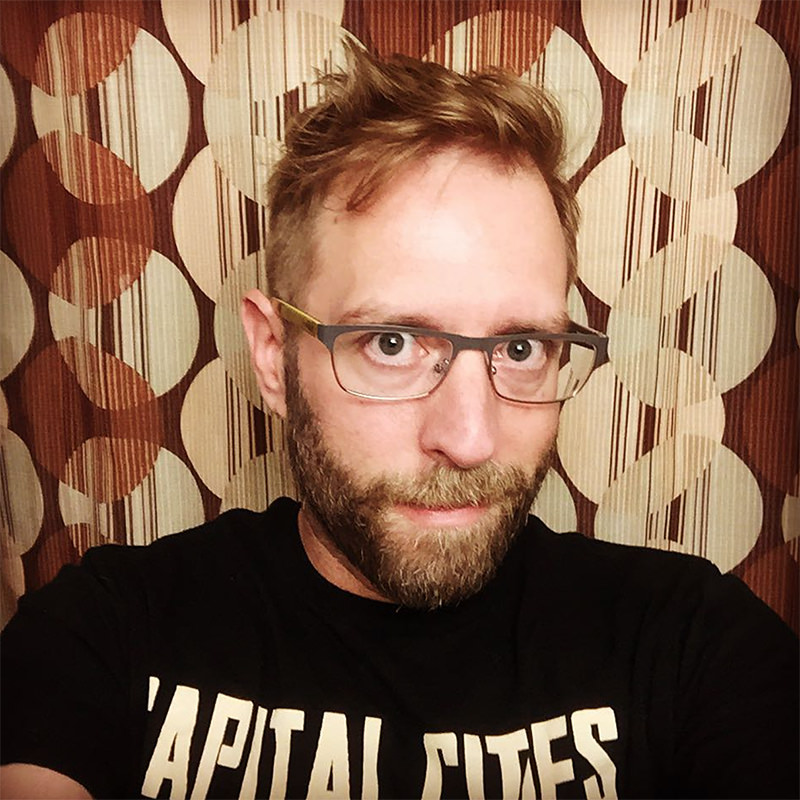 Goodbye, my friend. I will always love you. I will always miss you.
And you don't have to be embarrassed about liking that Katy Perry song in heaven.
Posted on August 4th, 2017

As going to movie theaters gets more and more annoying with assholes texting on their phones and smacking their popcorn and talking non-stop, I've spent a goodly chunk of money building a decent home theater. My setup is not extravagant by any means, but it is nice enough that I don't necessary miss the theater as much as I thought I would.
The cornerstone of my set-up is an Ultra HD 4K HDR television and Blu-Ray player plus a decent stereo A/V receiver capable of processing it all.
But that's only half the battle.
The other half being Ultra HD 4K HDR movies to play on it all. It's the only way you're going to get the fantastic picture clarity and high dynamic range color that the format offers.
And so I've been buying 4K movies from time to time... especially when they go on sale.
The verdict?
Almost too good. The picture is more like what you'd get from a hi-def cam-corder than what you'd see in a movie theater. It looks... fake?... kinda. Not necessarily in a bad way, it just takes some getting used to. It also takes a lot of futzing with your television picture settings to get the best possible visuals. For me that meant upping the brightness, lowering the contrast, and finding a saturation level that works.
What you see, thanks to the 4K Ultra High Definition picture, is even the tiniest details of everything happening on-screen. Every stray hair... every spec of dirt... every line and crease... there is nothing that can hide from such a ridiculously high resolution.
What you also see, thanks to the High Dynamic Range, is a color pallet that's jaw dropping. You only thought that Leeloo's brilliant orange hair was bright... until you see it in HDR. It's so vivid and bright that it almost takes on a life of its own.
So... is Ultra HD 4K HDR worth it?
Yes.
And no.
Yes, because it's the absolute best way to watch movies at home... assuming you have a system that can take advantage of it and a television big enough to do it justice. Newer movies (like Kingsman: The Secret Service) are mind-blowingly beautiful with their stunning color fidelity and clarity. Even older movies (like The Fifth Element tend to be gorgeous, though be forewarned that film grain will be perfectly preserved and on vivid display if you get too close.
No, because I am not entirely convinced that the cost is worth it. My 65-inch television is great, but in order to get any benefit from a 4K picture, I have to be sitting a maximum of 8-1/2 feet away, with the ideal distance being 4-feet, 9-inches. This means I have to push my coffee table out of the way and slide my couch forward every time I watch a 4K movie.
In this respect, the resolution isn't as big a selling point as the high dynamic range color, which is great at any distance.
And so...
If you can afford a massive screen on your television... or just want color that's next level... it might be worth a look. Otherwise? Probably not. For most people 1080p is plenty.
Posted on August 1st, 2017

As anybody who has read this blog for any length of time knows... I am obsessed with Luc Besson's The Fifth Element. In some ways, it eclipses sci-fi greats like Star Wars and Star Trek for me because it was just so damn fresh when it was first released in 1997.
I've spent many days pining away for a sequel that never came.
So you can imagine my anticipation level when I learned that Besson's new film was being touted as the "spiritual successor" to The Fifth Element... even though the source material for the film actually served as the original inspiration for sci-fi films like The Fifth Element.
Thus the French comic book Valérian and Laureline becomes the movie Valerian and the City of a Thousand Planets...
And... well... it's no Fifth Element.
What Valerian is can be summed up as "visually breathtaking and sublimely imaginative." Everything about the film is beautiful to look at and exciting to behold because it's just so fully realized. You get the impression that Besson must have spent insane amounts of time figuring out even the tiniest details of the Valerian universe... and it shows.
Unfortunately... there's too much else lacking for me to fall in love with the movie.
First of all is the casting. Dane DeHaan (Valerion) is certainly doing his best to be charming and interesting amongst the lavish scenery, but he never quite pulls it off. He's supposed to be head-over-heels in love with his partner in the Space Police (or whatever), but it never feels real. Instead of the roguish charms we got with characters like Han Solo, Valerian comes across as too stiff one minute, too detached the next, and downright wooden the next. I could never get vested in him at all. Slightly better was Cara Delevingne as Laureline, but it was hard to buy into her character when the sparring with Valerian feels so forced. The whole "Oh we hate each other, but the whole time we were actually falling in love" trope falls entirely flat, even though Valerian professes his feelings from the get-go.
Where the casting most decidedly did not fall flat was when we got to Rhianna playing a shape-shifting exotic dancer called "Bubble." She gave her performance everything, and the nature of her character's abilities lit up the screen. Sadly, near the end of her screen-time, Bubble condenses into tired platitudes of love that never came across as convincing, thus sabotaging my favorite character in the movie.
As I mentioned, the CGI work is mind-bogglingly good and, if there's a reason to see this film before it leaves theaters, this would be it. The reason would most certainly not be the dialogue that Besson came up with. Encrusted with enough corny lines about the nature of love to make you cringe, it's an even heavier ham-fisted effort than we got from Leeloo in The Fifth Element... which is to say that it was horribly distracting. Too many lines fell flat either by construction or delivery ("Time flies when you're having fun!" - groan, really?).
As for the story?
I don't even know.
Decades ago a peaceful race of beautiful beach-dwelling aliens on planet Mül are wiped out during a battle between two forces above their world. The small group of aliens that managed to survive are trying to get their world back by getting their hands on an adorable alien pet known as a "Mül Converter" who can shake out duplicates of everything it eats... including "pearls," a powerful energy source needed by the aliens. What follows seems to involve the aliens taking over a growing section of the massive space station, Alpha, which causes the Space Police (or whatever) to call in two of their best operatives, Valerian and Laureline, to solve the mystery of what's happening in there... because all other soldiers sent in have disappeared.
I'd hate to say that the story then becomes boring... the wild special effects are anything but boring... but it kinda does. It's also wildly inconsistent. One minute Valerian and Laureline's sentient ship ("Alex") is essential to explaining story elements... then it is completely forgotten and ignored the next. When Valerian enters the "mystery section" of Alpha, Alex loses contact. Then she gains contact. Then she drops off the face of the earth again. These kind of "deus ex machina" interludes drive me insane. If you can't be fucking consistent with a "character," or offer a clear arc for their time on screen, then it's probably best to not have that character screwing up your screenplay with inexplicable drop-ins that are more frustrating and intrusive than anything else.
By the time things finally wrap up, I was almost relieved that I wouldn't have to suffer through it anymore. There's only so far that incredible CGI effects can take you. This isn't "Star Wars Prequels Bad," but it could have been much, much better if there was something... more... to support the visuals.
So... overall? A disappointment. This was not The Fifth Element I was looking for. That being said, I'd still recommend seeing it in theaters just to experience the jaw-dropping beauty of it all the way it was meant to be seen.
Valerian and the City of a Thousand Planets is tanking hard at the box office. As I'm writing this, it's barely cleared $60 million against a production budget of $172 million. This is a real shame, because I think there was room for some very interesting stories to be told in that universe. Given a sequel, I'm confident that Luc Besson could have taken the criticism of what didn't work, fix it, then give us something that truly delivers on everything that Valerian could have been. Alas, it's probably not going to happen.
And now I'll just be sitting over here... still pining away for my sequel to The Fifth Element... something else that, alas, will probably never happen.
Posted on July 31st, 2017

I've been (mostly) awake from 4:00am last Friday. As the hours all blend together, I'm finding it hard to wrap my head around what day it is. Or where I'm at.
This morning I drove from Maine to Boston so that I can fly out tomorrow morning. Early. The plan is to try and get some sleep, but first... falafel lunch and a movie.
Because you just cannot resist Charlize Theron...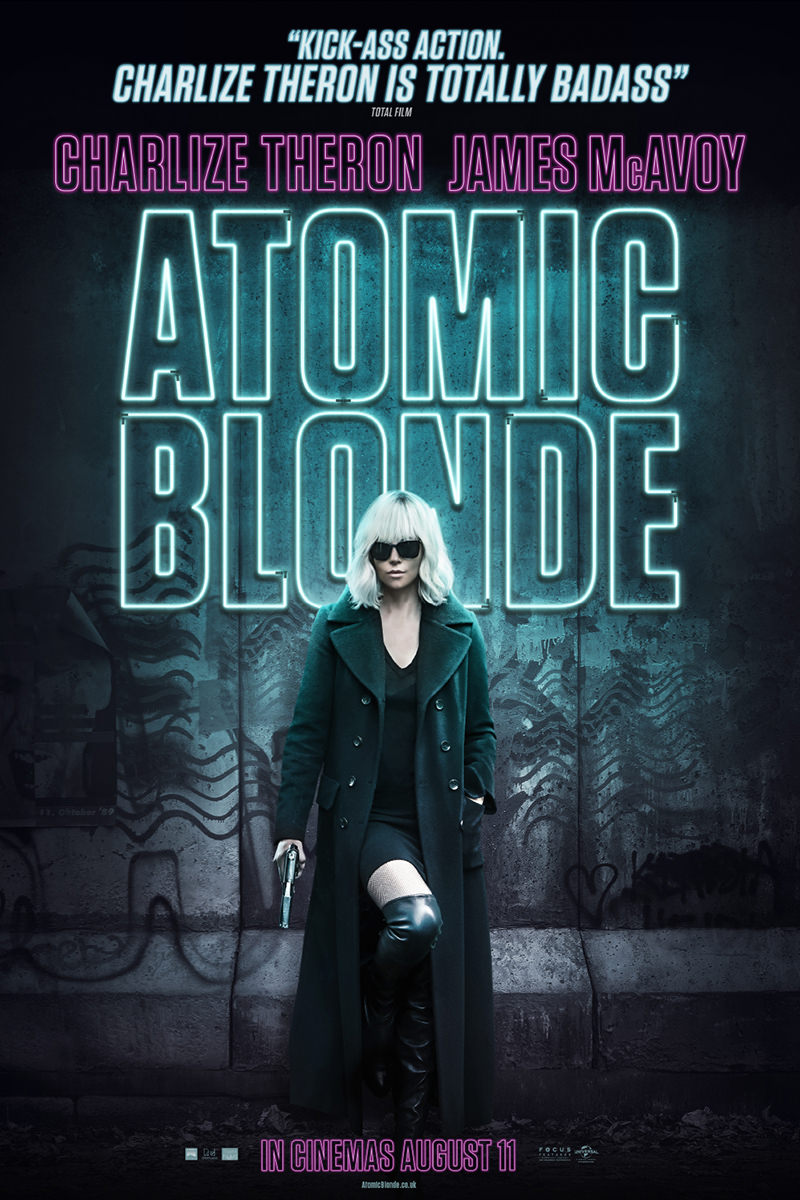 Before I even get to Atomic Blonde... the soundtrack is frickin' amazing (seriously amazing, and the story behind the soundtrack is interesting as well).
The movie is a spy-thriller that takes place during the fall of the Berlin Wall in 1989, and here's (most of) the German-infused/inspired-pop tracks from that era that they picked...
David Bowie - Cat People (Putting Out the Fire)
Peter Schilling - Major Tom (Völlig Losgelöst)
HEALTH - Blue Monday
Tyler Bates - C*Cks*Cker
Nena - 99 Luftballons
George Michael - Father Figure
After the Fire - Der Commissar
Siouxsie and the Banshees - Cities in Dust
Re-Flex - the Politics of Dancing
Marilyn Manson & Tyler Bates - Stigmata
Tyler Bates - Demonstration
A Flock of Seagulls - I Ran (So Far Away)
Kaleida - 99 Luftballons
Til Tuesday - Voices Carry
The Clash - London Calling
Tyler Bates - Finding the Uhf Device
Since I have bought almost all of those songs already, I don't even need to buy the soundtrack... I just need to make a playlist! One song I just had to have was HEALTH's cover of Blue Monday, which wasn't better than the New Order original, but it had a different "feel" I really liked.
Anyway...
As I mentioned, this is a spy-thriller set in Berlin in November 1989 just as the Berlin Wall is about to fall. An MI6 agent is killed by a rogue KGB operative who steals "The List" off him which contains all allied field agents operating in The Soviet Union and Europe. Charlize Theron plays Lorraine Broughton, one of MI6's top spies, who is being interrogated about her actions in Berlin to recover "The List"... meaning that the bulk of the movie is being told in flashbacks.
TEN DAYS EARLIER: Lorraine's contact in Berlin is MI6's top operative there, David Percival (played by James McAvoy). Working together (and even against each other), the movie is a cat-and-mouse game against the Soviets to find "The List" and identify "Satchel," a double agent for the Soviets who betrayed the MI6 agent that was killed. Along the way there are some nice twists and turns that kept me interested... but I have to admit the penultimate "twists" could be seen coming from miles away. The final "twist" was not something I anticipated, but it didn't really have any effect on the story, so it honestly didn't matter much. The film, while pretty great, could have been SO much better had they only made it so that the final moments were an interesting payoff for everything that came before. It wasn't.
That being said, I still recommend Atomic Blonde because the action sequences and soundtrack are just too perfect. And Charlize Theron is beyond kick-ass in every way possible. I would not mind at all seeing a sequel if it gets me more Lorraine Broughton!
If I had a negative, it would be that director David Leitch, who handled most of the movie with such brilliant ease, showed himself to be a fucking hack of the lowest order when he injected a Wilhelm Scream into the action. When are directors going to learn that the gig is up on this bullshit? Everybody knows what to listen for and, when they finally hear it, the sound effect immediately takes them out of the movie. Criminally stupid, and yet directors are still being idiots about using it. I wish studios would forbid Wilhelm Screams until the end of time.
And that was that.
Using the awesome Boston Silver Line, I headed back the the airport and my hotel for an epic nap experience. I would have loved to have gone to the Red Sox game at 7:00, but lack of sleep would have made that impossible.
Oh well. Next time, Boston. Next time.
Posted on July 24th, 2017

I am so far beyond giving a shit about Zack Snyder's shitty DC Comics super-hero movies that I honestly don't know if I'll even bother seeing Justice League in theaters.
I mean, just look at this bullshit trailer...
Some observations...
Dark. Dark. Dark. Dark. And more dark. Jesus, what an awful-looking downer of a movie. The occasional attempts at humor are completely wasted when the atmosphere is nothing but bleak, dire, and depressing.
Cyborg and The Flash look like total and complete shit. Whomever designed their fucking horrifically bad costumes should just give it up. Aquaman is equally incomprehensible, but at least he doesn't look defective.
In an obvious attempt at playing off the tremendous success of Wonder Woman, they lead off with her... but she's fighting a small group of regular human bad guys? Pathetic. FUCKING PATHETIC!!! We've seen this stupid shit over and over and over and over and over and OVER AND OVER AND OVER AGAIN!! IT'S NOT FUN! IT'S NOT INTERESTING! IT'S JUST BORING AND SAD. WHAT THE FUCK?!???
And OH MY GAWD... ENOUGH WITH THE SECRET IDENTITY CRAP! I am so very, very thankful that Marvel gave up on this silly bullshit. They use it when it makes sense (ala Spider-Man, who is ultimately just a kid with a regular life to hang onto) but everywhere that it is just a tired distraction, they've not bothered to bore us with it. But DC? No. We've still got Bruce Wayne crap to bore us. Still got Clark Kent crap to REALLY bore us. And now they've decided to saddle Wonder Woman with Diana Prince working as a fucking museum cleaning lady? WHO GIVES A FUCKING SHIT?!? Seriously... does Zack Snyder EVER take a minute to look at what makes modern super-hero movies work? EVER?!??? Secret identities were a great way to fill time without a need for expensive special effect shots in the 1980's... but we're waaayyyy past that now. We get it. DC heroes have secret identities... but you don't have to fill precious screen time with it anymore. GET OVER IT ALREADY!
Nice to see the Amazons again... but the introduction of the movie's big bad (Steppenwolf?) is almost cringe-worthy. Are DC's costume designers forced at gunpoint to put unnecessary and distracting textures EVERYWHERE? It looks fucking ridiculous. Jack Kirby's creations deserve so much better than this.
At least they make Aquaman's underwater action look good. Maybe there's hope for the upcoming Aquaman movie, and it will be another Wonder Woman rather than a shitty Man of Steel or Batman vs. Superman. If, for no other reason, than we're getting James Wan in the director's chair. Hopefully he'll add some fucking FUN to the film instead of fifty layers of depressing. Again.
Oh joy. I was worried we would get all the way through the trailer without seeing a Wonder Woman ass shot. But, nope... even after helping to win World War I, she's still just another piece of ass to DC's movie division!
After getting a frickin' amazing "speed effect" with Quicksilver in the X-Men films... and a more subtle, but equally good speed effect for Quicksilver in Age of Ultron, just look at the awful thing they came up with for The Flash. Running in slow motion to simulate super-speed? Groundbreaking. Or it would be if The Six Million Dollar Man hadn't pioneered it in the 1970's. Even when they do move him at actual super-speed, the overabundance of lightning is just silly. Does he kill people with all that stupid electricity when he runs by them? I mean, it's fine when used with subtlety, but this? Zack Snyder is obviously compensating for something here. Probably a shitty story.
And... again with the disaster porn. It's as if Zack Snyder doesn't know how to make a movie without the entire world exploding. Which begs the question... how the fuck are there any people left alive on earth when absolutely everything is getting destroyed all the time? This is fucking absurd, and I don't understand how the entire plot of DC's latest film slate can be summed up as "explosions." Doesn't anybody at DC care?
It's said that Joss Whedon is doing extensive reshoots for Justice League after Zack Snyder had to remove himself from the film to deal with a family emergency. I don't think punching up the dialogue (Whedon's specialty) is going to help. It's just pouring more money down a hole. What's really sad here... almost to the point of tragedy... is how much better the DC television division is at making good super-hero live action. They should have turned the Justice League movie over to them and built on the terrific, faithful, and far-superior versions of The Flash and Superman they already have on TV.
But instead we got this crapfest.
Maybe one day we'll finally get a DC Cinematic Universe that doesn't suck copious amounts of ass... but, sadly, that day is not today.
Or even tomorrow, apparently.