Posted on January 4th, 2023

Number 6,438 in my list of SHIT APPLE DOES THAT NOBODY FUCKING ASKED FOR: Apple Mail Inline Link Preview.
Who the fuck thought that this useless fucking PREVIEW OF NOTHING is needed, desired, or in any way helpful? It's like... here's a link to a Facebook page, and Apple removes the link to put a HIDEOUS BIG-ASS LINK LOGO IN THE MIDDLE OF YOUR EMAIL...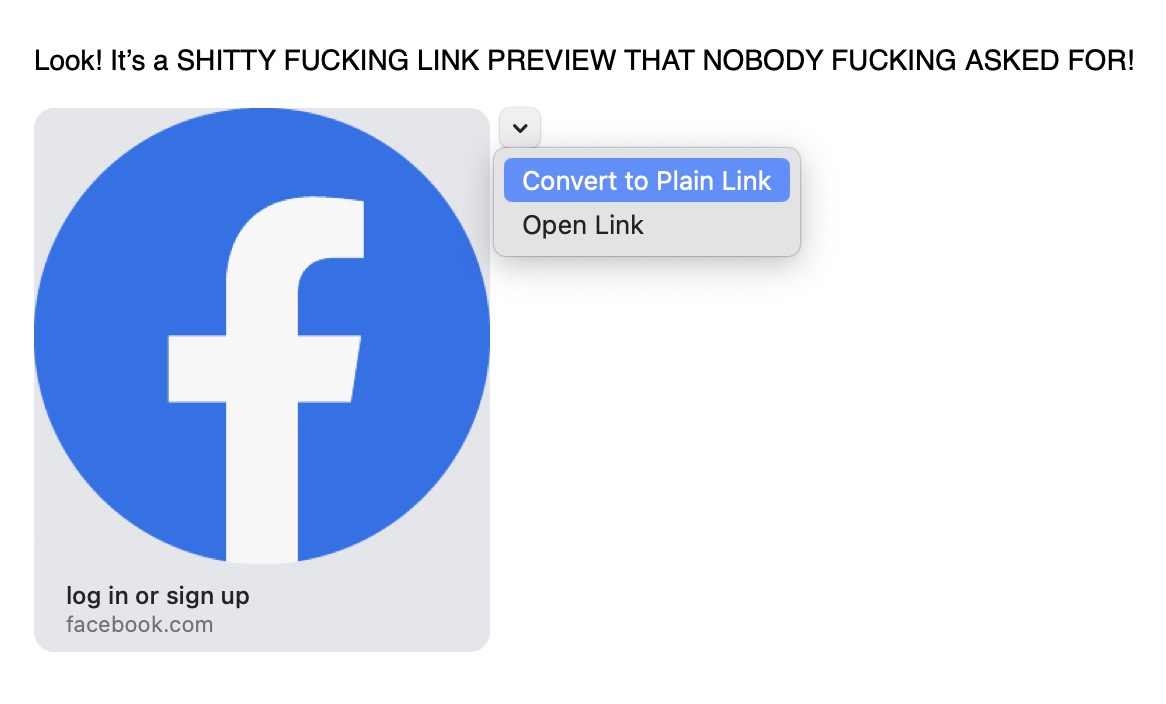 And, of course, because this is fucking Apple, there' no way to turn this shit off by default.
Oh no. You have to right click and tell it to go back to a sane "plain link."
God I am so sick and fucking tired of this kind of crap. It's only slightly less annoying that Adobe changing the way shit has worked FOR DECADES with no way to go back to the original behavior. Or the way that they randomly switch between origin-zoom and scrubby-zoom in Illustrator with no way to force a default. Typical. It's like... PICK ONE. I don't give a shit which way you go... JUST FUCKING PICK ONE!
Posted on October 17th, 2021

My heat is still on, so things are toasty here at Blogography... because an all new Bullet Sunday starts... now...

• AWWWWW! You guys... YOU GUYS...
Derpy puppies are the best puppies.

• Darwinism! Fuck your 12 years of med school... Dr. Google is my god now!
I just feel bad that the kids are at the mercy of this stupid shit. But... I suppose if they are just going to continue propagating it to newer generations, it might be for the best? It sickens me that anti-science has become so prevalent and dangerous that these kind of thoughts go through my head, but here we are. What the fuck has become of us?

• Fury! I didn't just dislike the Shazam! movie... I loathed the fucking thing. It was categorically awful from start to finish. Now, thanks to DC Comics' "FanDome" event there was a look at the sequel...
Honestly? I had zero intent on watching the thing... even when it came out on video. But then they cast Helen Mirren and Lucy Liu as the villains? NOW I AM FORCED TO WATCH, DANGIT! Hopefully i doesn't suck as hard as the first one.

• Cuntry! Not only do I know all of these countries, I've been to all of them except Chile. But I did get close when I visited Argentina on the way to Antarctica, you condescending fuck...
The entire channel is filled with "If you don't get these, you're American" TikToks... and it's like... look... I get it. Americans are largely ignorant of the world outside our borders. But constantly harping on this ceases to make it funny... it just makes you a fucking dick.

• The BATman! BWAH HA HA HAAAAA!! ZOMFG! They went over the top… and not in a good way. Maybe it's the way the trailer is cut together, but this looks fucking embarrassing...
Apparently the Nolan Dark Night Trilogy is still safe as the defining cinematic Batman. Oh well. I guess I'll know for sure once I've seen it.

• DOG SENSE! Jesus. It's just... why. If you disagree with policy, DON'T FLY. It's not fucking rocket science. Though apparently it is for assholes like this...
Please just get the COVID you're dying to get, then pick up your Darwin Award already. I'm so sick of this shit.

• Ending on a Happy Note! Boy... Yes Theory is back and I somehow missed it! This is pretty great...
=sigh= I miss travel. The world is full of such wonders.

And now I'm off again...
Tags:
Batman
,
Bullet Sunday
,
Dumbassery
,
Dumbasses
,
Fuck My Life
,
Fuck This Shit
,
Movies
,
TikTok
,
Travel
Categories:
Bullet Sunday 2021
,
Movies 2021
,
Travel 2021
—
Click To It:
Permalink
—
0 Comments: Click To Add Yours!
Posted on October 11th, 2021

School teachers are sick of the shit they have to endure and are getting out of the profession for something less asinine and stressful... like bomb disposal, I'd imagine.
If communities keep this up, soon there won't be enough teachers to teach your kids. Which is by design, really. The wealth and power running this country want to keep people uneducated. Makes it easier to control them with stupid-ass misinformation.
Critical thinking is dangerous to the puppet-masters who are maintaining their wealth and power, so let's make sure people don't get the mental fortitude to threaten that. You don't need critical thinking to become a labor resource. Just fall in line, believe the bullshit you're fed, hate people different than you to keep the country fractured, and do the work. Everything will be just fine.
Enlightening...
The guy quit teaching after 13 years to become a standup comedian.
Guaranteed he's happier now than he ever could have been dealing with school bureaucracy and having to deal with stupid-ass school board bullshit. He's also probably better-paid.
It's getting so that even people who want to be a teacher... it's their fucking calling in life... are hanging it up. And if you can't keep those people... what's left?
Posted on September 27th, 2021

Well, I guess that work is done for the morning since my mouse ran out of battery and Apple has you charge the fucking thing from the bottom so it's no longer usable.
It's stupid shit like this... design over function... that has plagued Apple for decades. I never even got a warning that the thing was running low so I could charge it. What good is a "pretty" mouse if I can't fucking use the thing? I am so over this bullshit...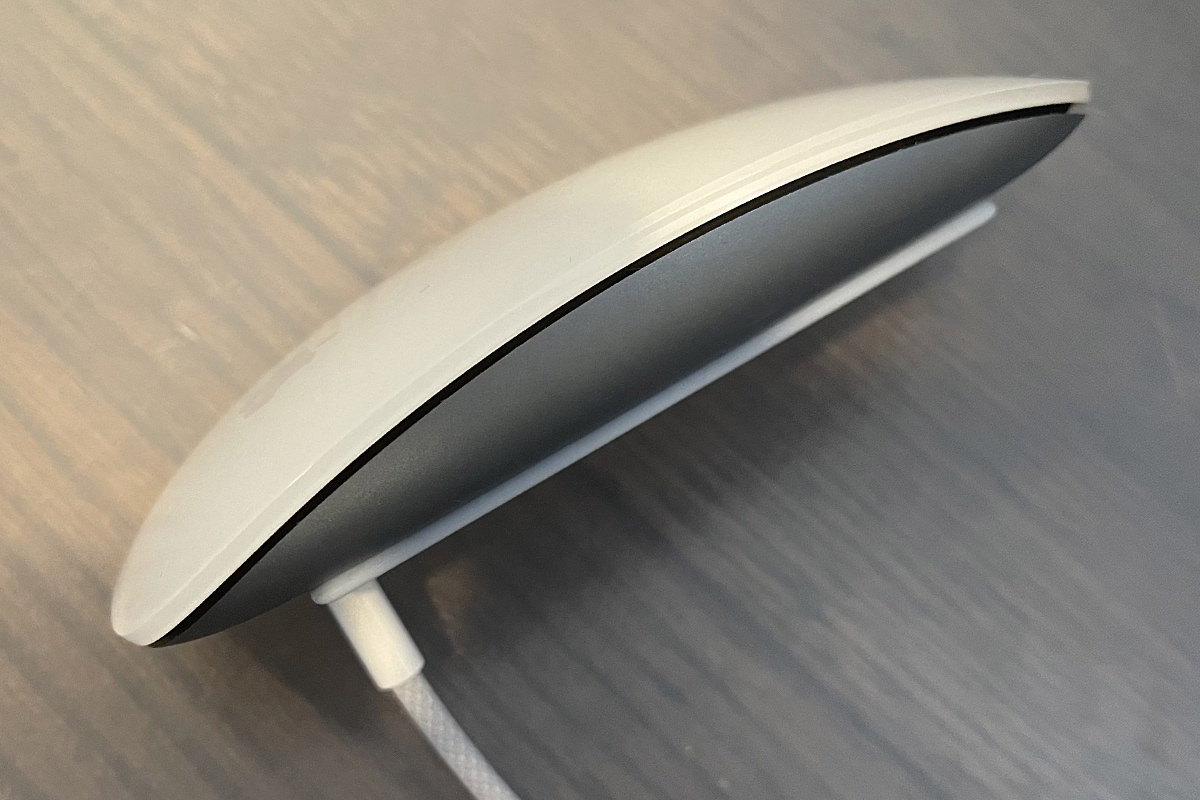 Apple should allow you to NOT order an Apple mouse and keyboard when you get a new computer so you can use the money to buy something that's actually fucking functional with the money. Or... here's an idea... OFFER NON-APPLE OPTIONS WHEN YOU ORDER YOUR FUCKING COMPUTER! Maybe when people stop opting for their idiotic crap Apple will get a fucking clue? Probably not. Jesus. This is a company worth BILLIONS.
All they had to do was have the Lightning plug be at the front edge so you can plug it in and use it like a corded mouse when it keeps charging. But Apple has it on the bottom for some stupid-ass reason that only they give a fuck about.
Lord how I wish that Windows wasn't a flaming pile of shit so I had a viable alternative to this Apple crap.
Posted on September 26th, 2021

I may have finally turned the heat on and bought some Swiss Miss hot chocolate mix, but it's still toasty here at Blogography... because an all new Bullet Sunday starts... now...

• Dream! Oh yay. It looks like The Sandman is going to be very faithful to the comic!
The people putting this show together actually understand that what made such a good story doesn't need to be changed or "improved" or shit on... the reason it was so popular as a comic book was because IT WAS ALREADY GOOD!

• SOURCE! MATERIAL! On the other hand... Everything I feared about the AppleTV+ Foundation series is coming to pass. Boring as fuck. They are dragging shit out just to keep the same actors in the story for a while because if they followed THE ORIGINAL BOOKS (which is what we all want to see) it would leave the initial characters in the dust after 15 minutes. I mean... who gives a fuck about roast peacock and all this other stupid shit?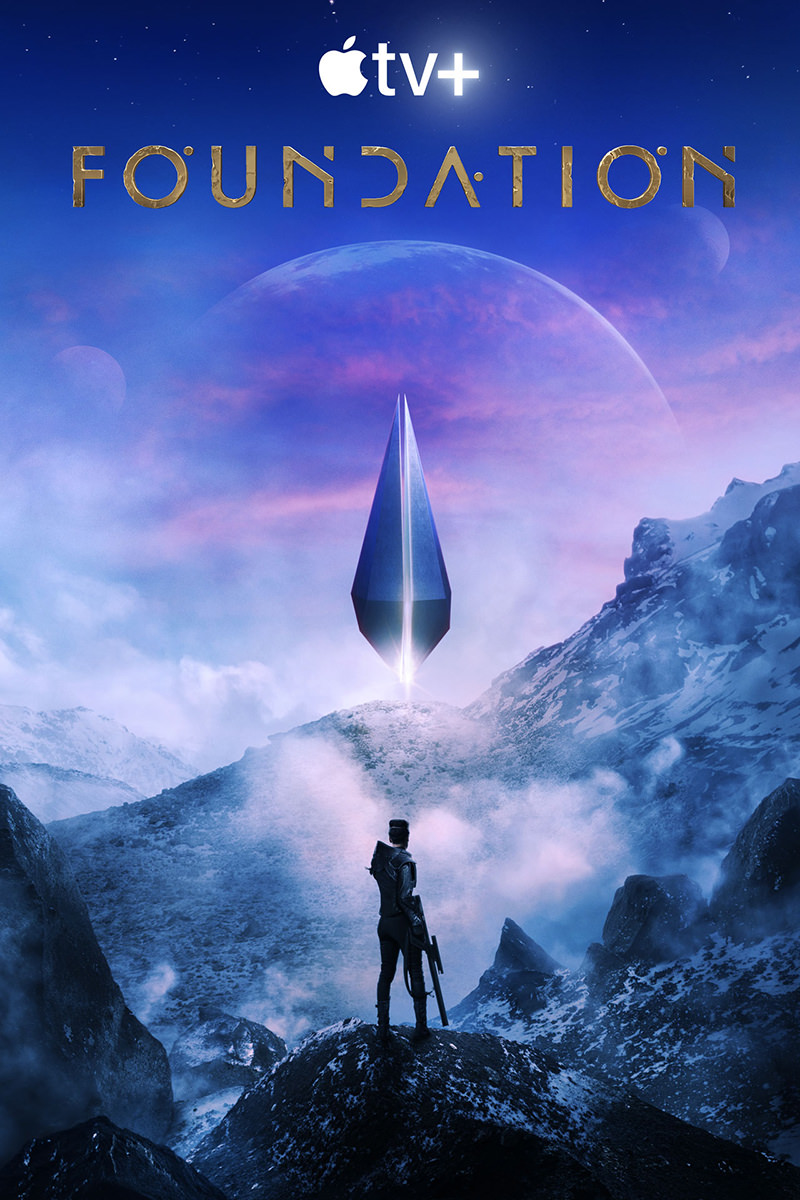 What they should have done was followed the original trilogy as it was written and hire a bunch of guest stars to make small appearances throughout the series. But NOPE! Boring as fuck it is. At least they spent money on an effeccts budget... the show looks beautiful.

• This just in from the No Fucking Shit Department... The Discredited GOP Election Review In Arizona's Largest County Also Finds Biden Won I simply don't understand how people can honestly continue to believe that the election was "stolen" when it keeps getting proven over and over and over again that it wasn't. I keep waiting for the "My Pillow" idiot to put up or shut up with all his claims of election fraud, but the evidence never materializes.

• Joe! There's a new show on Peacock (NBC) called Ordinary Joe. It's an okay show... nothing revolutionary. But what entertains me are the REVIEWS. a good chunk of people are completely baffled by the three timelines concept and I find that hilarious. THEY LITERALLY BROADCAST WHICH TIMELINE YOU'RE IN WITH EVERY SCENE! In the "NURSE" timeline, Joe wears glasses AND THEY PUT THE COLOR GREEN EVERYWHERE! Green lighting. Green props. Green clothing. — In the "ROCK STAR" timeline, Joe has a beard AND THEY PUT THE COLOR RED EVERYWHERE! Red lighting. Red props. Red clothing. — In the "POLICE OFFICER" timeline, Joe is clean-shaven and glasses-free AND THEY PUT THE COLOR BLUE EVERYWHERE! Blue lighting. Blue props. Blue clothing...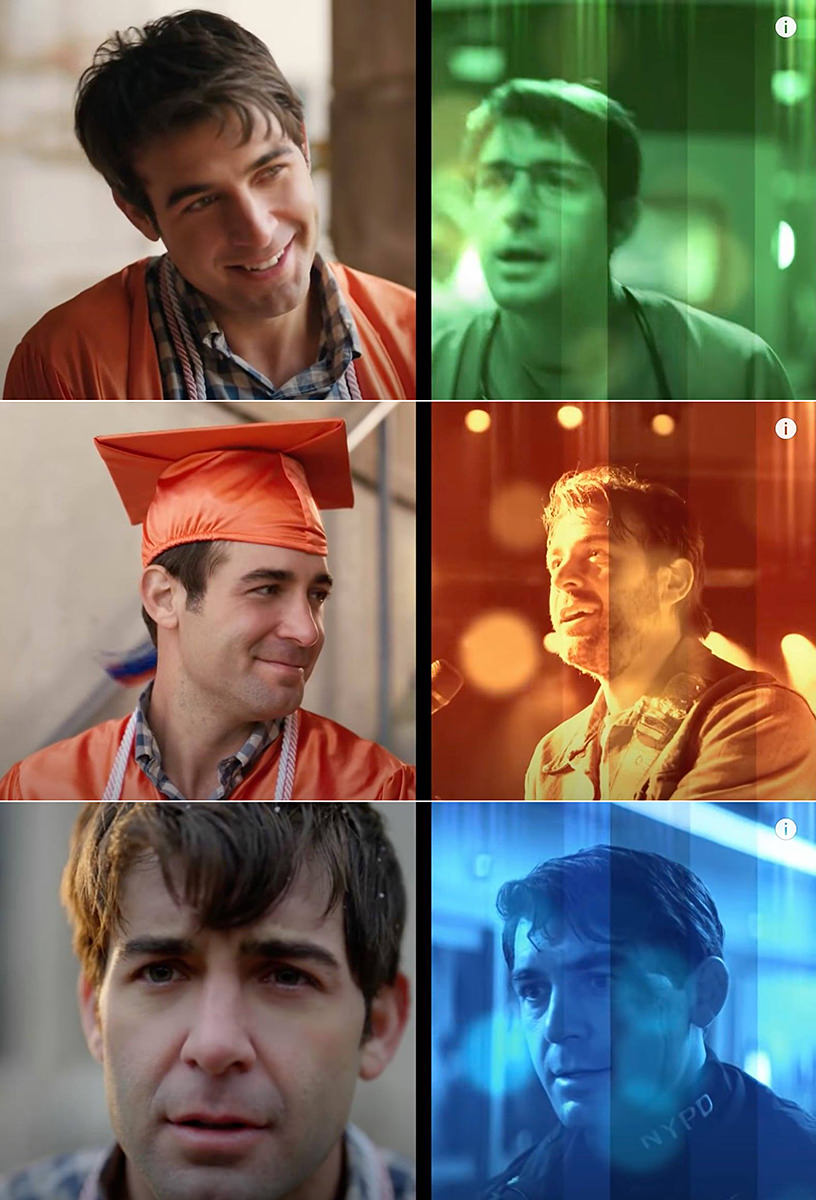 How can you not understand which timeline you're in when they literally hold your hand through the entire episode?!? I mean... I learned a long time ago to not underestimate the intelligence of the average human, but this is next level. There are genuine criticisms that can be made about this show, but it being "confusing?" I don't get it.

• I'm No Superman! I am rewatching all the episodes of Scrubs because I do that every couple of years. Every time I start, I remember back to when I first watched it. I liked it from the start. Then loved it completely on the third episode when Erasure started playing. It's no accident that Bill Lawrence wrote for both Scrubs and Ted Lasso. Excellent television is what he's about...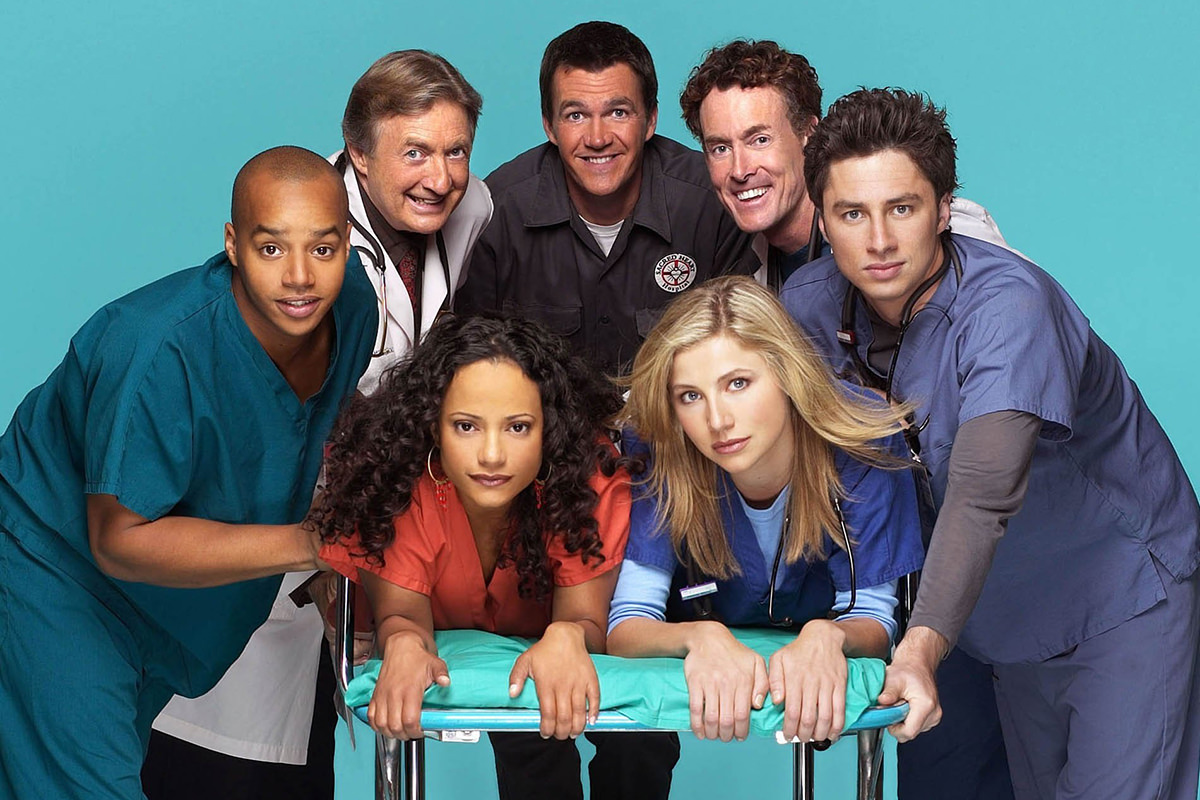 I will say, however, that the one thing that sticks out SO badly to me when it comes to Scrubs is the passive misogyny that seems baked-in to the show. Dr. Cox constantly referring to JD by girl names and such. On one hand it feels like political correctness can go too far and people latch onto it way too aggressively now-a-days. But, on the other hand (especially in cases like this), I'm glad things are changing. Because unrelentingly implying that girls are less than boys isn't all that funny. Seeing how often it happens in Scrubs really makes me feel for young girls... and women even... that they have this being drummed into them so often that they may actually believe it. But even worse? The boys and men having this drummed into them so they believe it. Absolute trash.

• Apple Be Apple! It is categorically stupid that Apple hasn't moved the iPhone to USB-C like everything else they make (well, not Apple Watch for obvious reasons... though it would be nice if the MagSafe charging puck had ISB-C instead of USB-A, which you can't find on any current Apple computer). Maybe we'll have the EU to thank for Apple finally getting off their dumb asses and letting us have ONE charger standard.

• Experience! My day yesterday summed up completely...
HULU: "Which ad experience do you prefer?"
ME (screaming at the screen): "DO YOU HONESTLY THINK THAT I GIVE A FLYING FUCK ABOUT WHICH SHITTY AD YOU'RE GOING TO INTERRUPT MY SHOW WITH?!? WHO AT YOUR COMPANY THINKS THAT PROLONGING THE FUCKING 'AD EXPERIENCE' BY MAKING ME FIND THE STUPID-ASS REMOTE CONTROL SO I CAN CLICK ON 'McDONALD'S FRIES' INSTEAD OF 'EGG McMUFFIN" IS IN ANY WAY A SERVICE TO YOUR CUSTOMERS? WHOMEVER IT IS, FUCKING FIRE THEIR MORONIC ASSES FOR BEING SO GODDAM STUPID THAT THEY WOULD EVEN COME UP WITH THIS IDIOTIC SHIT!!!"
(sorry, Hulu, I'm just salty that I can't afford the ad-free version)
(not sorry, McDonald's, for your signing off on this fucking bullshit)

And now back to my hot cocoa, already in progress.
Tags:
Apple
,
Apple TV+
,
Bullet Sunday
,
Dumbassery
,
Elections
,
Idiocy
,
iPhone
,
Netflix
,
Presidential Election
,
Sci-Fi
,
Television
Categories:
Apple Stuff 2021
,
Bullet Sunday 2021
,
Television 2021
—
Click To It:
Permalink
—
3 Comments: Click To Add Yours!
Posted on August 5th, 2021

Tonight I was finally let out of Facebook prison. I guess 24 hours was all it took to be rehabilitated from stupid shit that should have never got me banned in the first place. But, hey, it's not my world... I just give up my privacy and time to play in it.
I did finally end up doing what most every person who regularly gets hit with the ban-hammer does on Facebook... create an alternate account.
Meet John Baron II...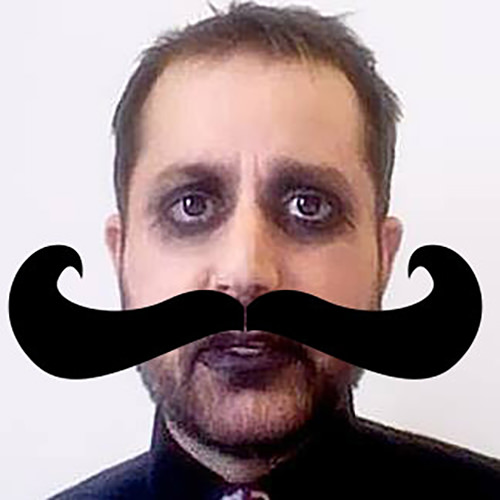 Obviously I can't let my cats on Facebook without a disguise as well... meet Bubair and JennAir...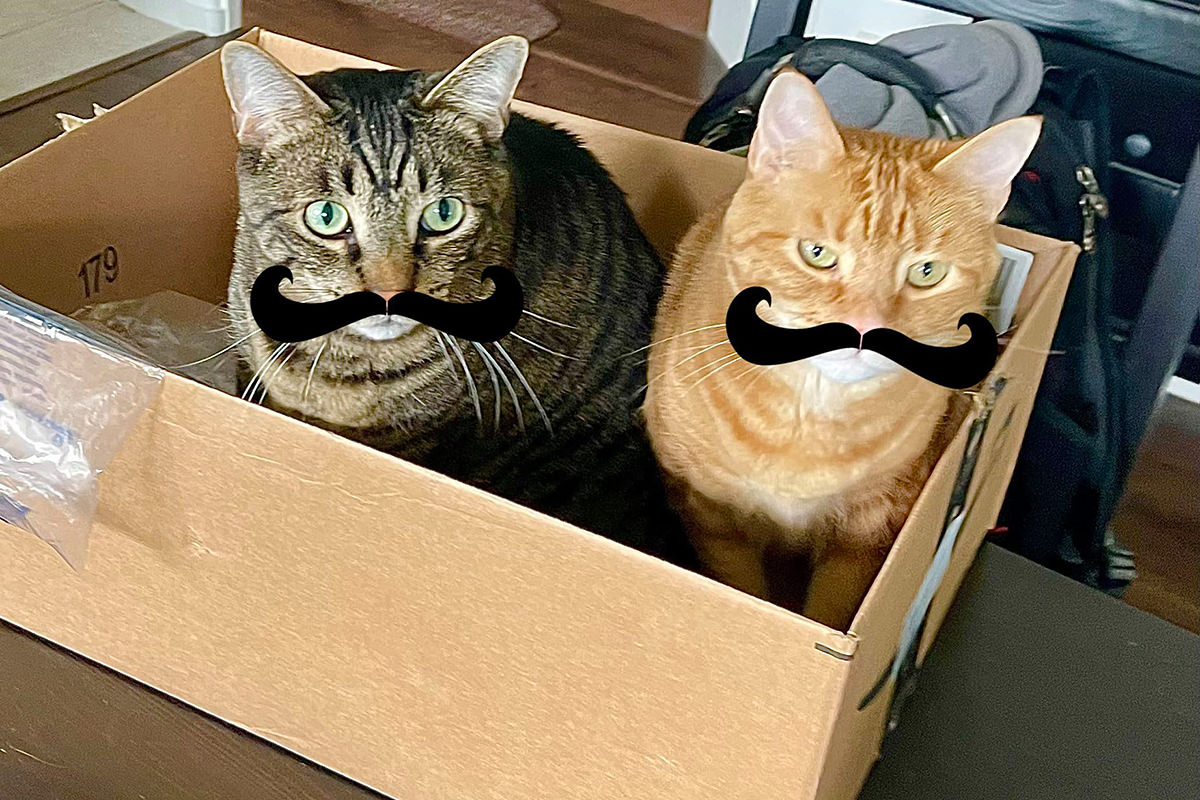 And now that Fake Jake is back, it's time to meet Faker Jake...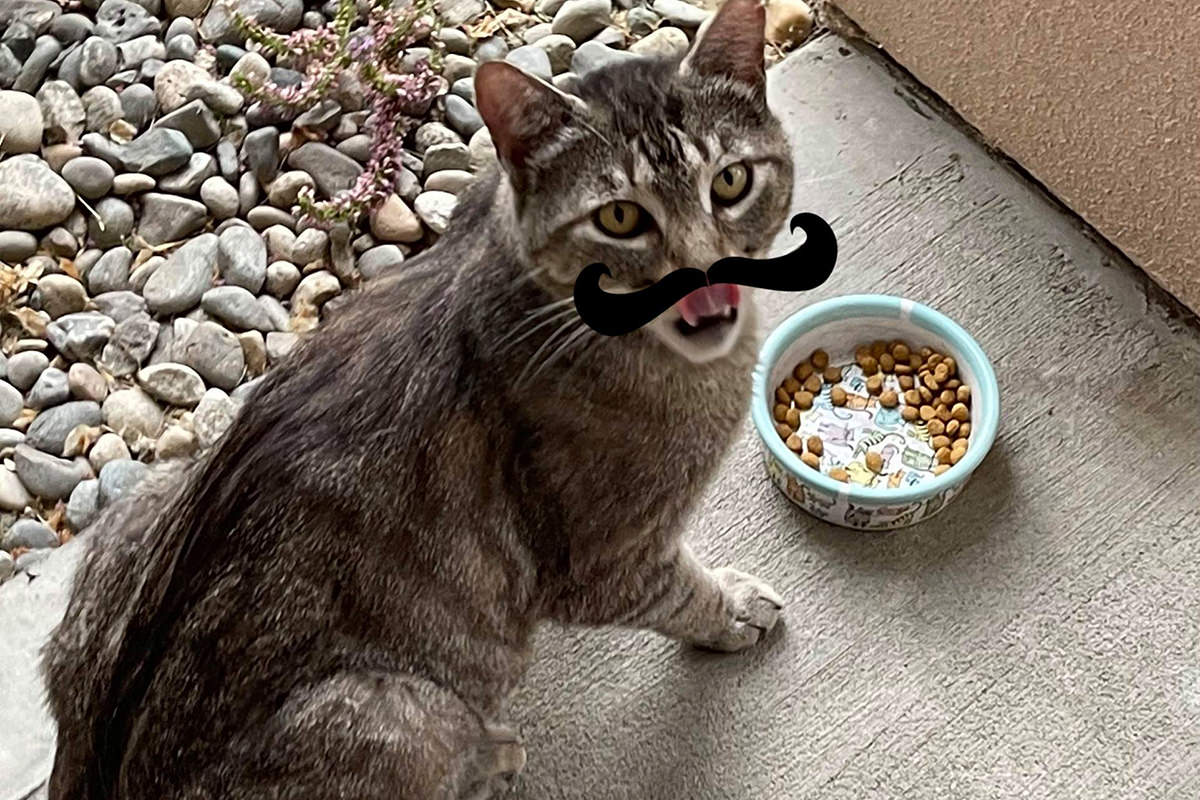 Yes, it's childish and juvenile... but so is stupid Facebook and their inconsistent and absurd policies for banning general statements out of context while ignoring direct threats to specific people.
Posted on July 20th, 2021

It's not that Steve Jobs is spinning in his grave... it's that he can't even maintain a proper etherial state AT ALL because Apple's current UI direction is 100% crap.
ALL OF IT.
Icons are overly-complicated and shitty-looking.
Nothing is elegant, clean, and simple.
Nothing is adequately configurable.
Controls are scattered, unintuitive, and seemingly disappear at random.
Take for instance searching your iTunes library. The DEFAULT for search is not to search your library of songs you own... the DEFAULT is to search Apple Music and the iTunes Store (to encourage you to re-purchase the shit you own, I guess?). In order to search your library, you have to travel ALL THE WAY ACROSS THE SCREEN to controls that are easy to miss so you can specify that...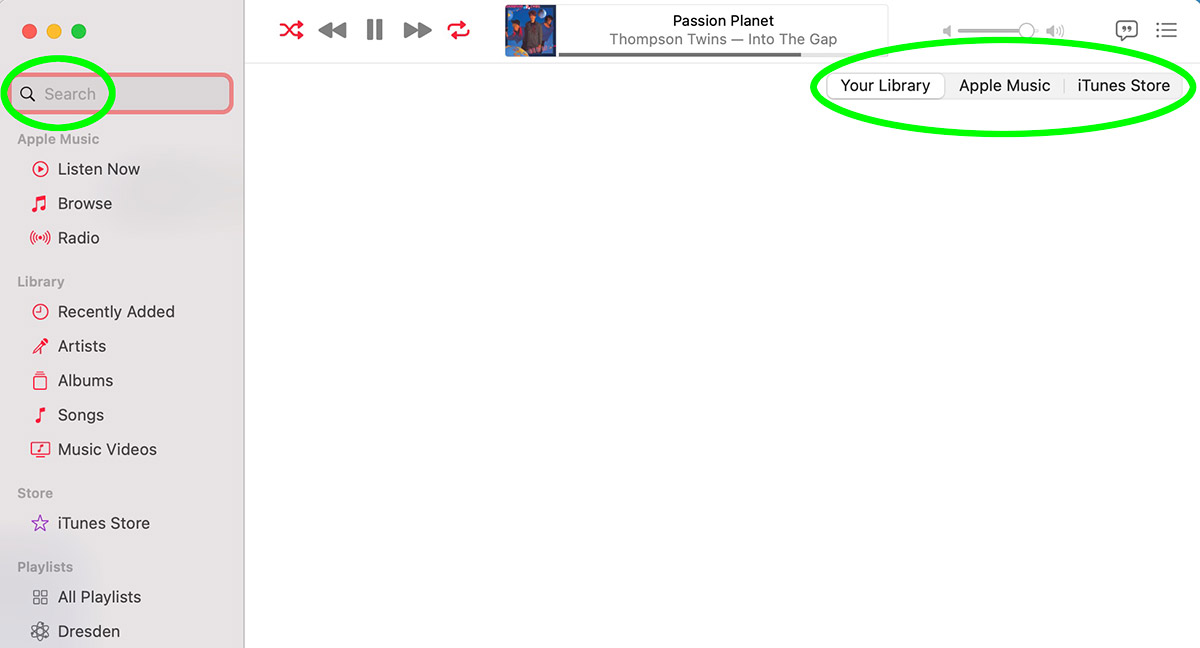 And I inevitably miss it EVERY FUCKING TIME so I waste time searching Apple Music because I forgot to click off of something I DON'T WANT.
JUST LET ME FUCKING SEARCH WHAT I WANT WITHOUT THIS BULLSHIT!!
Why in the name of Steve Jobs can't the search DEFAULT to your library?
And why is Apple Music even an option IF YOU DON'T FUCKING SUBSCRIBE TO APPLE MUSIC? If you must return results from Apple Music, why not just show results from ALL THREE SOURCES on the SAME SCREEN (with your fucking library at the top since, you know, YOU OWN THAT SHIT)? Is Apple hoping that you'll eventually give up and just subscribe to Apple Music so you can find shit without having to go through this hassle? This is senseless.
Who the fuck is running UI at Apple? They used to have the best of the best talents... now they have people who don't know even basic fucking UI design to make the apps not suck shit at a level that even Microsoft hasn't reached. I am so fucking embarrassed for Apple not being able to do even the simplest shit without completely screwing it up now-a-days that I feel like I want to vomit every time I turn on my Mac.
Get your fucking shit together, Apple. The "Music" app has been garbage SINCE DAY ONE!
Posted on June 20th, 2021

I'm back from my quick trip over the mountains, so you know what that means... an all new Bullet Sunday starts... now...

• Happy Father's Day! Here's your Sunday Morning Happy. Watch until the end...
And happy Father's Day to the lucky dad of this adorable baby!

• Blame it on the Rain! Hope your Sunday weather is better than what these poor Guinnea pigs got...
Yeah... there's yet another TikTok rabbit hole I fell down.

• Picard! The first season of Picard wasn't stellar, but good enough that I enjoyed it (despite not being a Next Generation fan). The second season, however? I am very interested in seeing what they do with it, especially since Guinan is returning...
Fascinating to see an 80-year-old Patrick Stewart playing a 98-year-old Picard. Even more fascinating? That an 80-year-old Patrick Stewart would want to. But, thankfully for whatever reason, he does.

• Luca! The sad thing about our pandemic world is that movies get sent to streaming services, which somehow makes them seem "less than" the big movie releases of years past. Like a cheap "straight-to-video" film or something. Take Luca, for example, the latest Pixar film. It is incredible... easily on-par with any other Pixar movie ever made. It's the adorable story about young sea monsters who long for something more on the surface world in 1950's Italy. And it is stunning. It's set in a fictional town, but it easily recognized as a mix of the five fishing villages of Cinque Terre (which you can read about here). And the voice cast has some real surprises that I won't spoil here. Love, love, loved this movie...
Even more amazing? Thanks to the COVID-19 pandemic, this entire film was made from home! Highest possible recommednation. If you have Disney+, it's a no-brain to add to your watch list.

• Citizencide! Holy. Shit. This woman is literally the worst. Her sublime ignorance, stupidity, and complete lack of empathy typifies the horrors of so many of our elected government officials. Unbelievable, yet entirely believable. Even expected...
You can label my political disdain all you want, but this is what has be convinced that our government is actively trying to kill us. And we're voting for them to do it.

• "Today in Christian Love..." And people wonder why Pride Month is important...

• Snap Me! Ending on an LOL-worthy YouTube video seems like the way to go this Bullet Sunday...
THANOS WAS RIGHT!

=sigh= I suppose I really should clean up my house a bit since I was gone all weekend and have to go to work in the morning.
Tags:
Bullet Sunday
,
Disney
,
Disney+
,
Dumbassery
,
Government
,
LGBTQ
,
Marvel Studios
,
Movies
,
Pixar
,
Pride Month
,
Star Trek
,
Stupidity
,
Television
,
TikTok
,
YouTube
Categories:
Bullet Sunday 2021
,
Movies 2021
,
News – Politics 2021
,
Television 2021
—
Click To It:
Permalink
—
0 Comments: Click To Add Yours!
Posted on May 11th, 2021

No amount of facts or science will convince an anti-masker that they are FULL. OF. SHIT. Even their legal arguments are fucking stupid... just as they are. Believe whatever the hell you want to believe, but businesses have the right to refuse service if you aren't wearing a mask and they require it, just like they are able to have you arrested for trespassing. Don't want to wear a mask? Afraid to wear a mask? Order online. Order curbside pickup. Or just stay the fuck home. We just don't give a shit about your drama...
Legal Dad is so great. His take-downs on absurd bullshit are always worth watching. Like this one about voter fraud nonsense in my home state of Washington...
I mean... I've changed my signature twice. I developed my first signature when I first started having to sign stuff. This is how it looked when I got a checking account, registered for the draft, got a driver's license, and registered to vote...
Eventually I found myself losing my middle initial and changing the "II" after my name to "2"...
And do you know what happened? THE COUNTY CLERK'S OFFICE CALLED ME IN TO SIGN A NEW VOTER REGISTRATION CARD SO THAT THEY COULD VERIFY MY BALLOT!
Eventually I changed my signature again so that I could write it faster (I sign my official stuff differently than what you see below... this is how I sign my artwork... but it's kinda-sorta in the same vein as this Mickey-Mouse-looking thing)...
And do you know what happened? THE COUNTY CLERK'S OFFICE CALLED ME IN AGAIN TO SIGN ANOTHER NEW VOTER REGISTRATION CARD SO THAT THEY COULD VERIFY MY BALLOT AGAIN!
But I guess all these stupid rumors by hucksters and liars are all anybody cares to listen to anymore, not actual experiences by actual people telling the truth about shit.
Between the anti-maskers, anti-vaxers, COVID-deniers, voter fraud conspiracy theorists, flat earthers, anti-science dumbasses, and all the rest... I am just so fucking tired. Can I go to sleep until Star Trek times happen?
Posted on April 26th, 2021

Every damn day there's stuff going on that's worse than the day before, and I am exhausted. I just want to crawl under the covers and forget the outside world exists before I even get to my lunch hour because something in the news was the last straw for me.
Flat earthers. Anti-vaxxers. COVID deniers and mask deniers. Q-Anon conspiracy dipshits. Politicians selling us out to their wealthy corporate owners. Asholes making life so much harder for anybody who isn't a billionaire. The list goes on and on, but it generally boils down to mean people and stupid people. And most of the time the worst offenders are both. Those who lack compassion and kindness. Those who are willfully ignorant and not willing to acknowledge truth. It's depressing just how bad things have gotten because these people are intent on fucking it up for all of us.
The good news is that I finally set aside some time to reinstall Wordpress so the PHP update is no longer killing my blog, so there's that.
So I guess there's nothing stopping me from kicking my Monday to the curb a little early and crawling under the covers to play video games for the rest of the day.
Though I'm pretty sure my cats will want dinner come 6:00.
Tags:
Assholes
,
Blogging
,
Cats
,
COVID-19
,
DaveLife
,
Dumbassery
,
Dumbasses
,
Life As We Know It
,
Pandemic
Categories:
Cats 2021
,
DaveLife 2021
,
News – Politics 2021
—
Click To It:
Permalink
—
0 Comments: Click To Add Yours!