Posted on November 8th, 2017

It's going on a year since my last tattoo. Granted, it was a good one... the biggest I've had done yet... but I'm getting antsy for some new ink.
Problem is I don't know what I want. And I'm not sure where I want it.
This is where I'm at now...
My right arm... my Buddhist arm... still has a couple more pieces to go on my forearm, but I'm feeling a little off-balance so I'll probably wait. My left arm... my pop culture arm... has only two pieces. I know I want icons on my inner-upper arm (Batman symbol, Red Sox symbol, Apple symbol, Buckaroo Banzai logo, etc.) and something pirate-themed on my lower outer-upper arm (Bad Monkey fighting a giant octopus keeps popping in my head). If I keep with my arms, it will probably be one of those two things.
I don't think I want anything on my chest or back. At least not right now.
My lower legs are always an option, though I'm not sure what I'd want to do there. I've thought maybe there could be something comic book related or Invader Zim related or, most likely travel related... but it's tough to think of how I might present it in a way that will work with what I've started with.
Oh well. I've got time. I don't like traveling in the winter, so it will probably be Spring before I get back to my artist in San Francisco.
At which time I'll probably just get "LEGEND" tattooed on my forehead.
Posted on November 18th, 2016

I love tattoos. LOVE them.
Had I started getting tattoos earlier in life, my arms would already be covered and I'd be starting in on my back and (probably) my legs. We have no choice as to what genetics are going to deal us in the card game of life, but being able to permanently make visual changes with tattooing is a wonderful freedom I'm fully onboard with.
Today I got my seventh, thanks to the unparalleled line-work talent of Michael Dematty at Black & Blue Tattoo in San Francisco. My right arm tattoos are all Buddhism-inspired designs I've drawn up, but I have yet to get an actual Buddha. The problem being that my arm is too skinny to get a classic "Buddha on Lotus with Om" design that will look how I want it to look.
So I took a cue from the culinary world and deconstructed it into separate pieces... which ended up fitting the space perfectly and turned out exactly as I had hoped. Which I knew it would, because that's what you get when you hire somebody as talented as Michael Dematty to ink your work...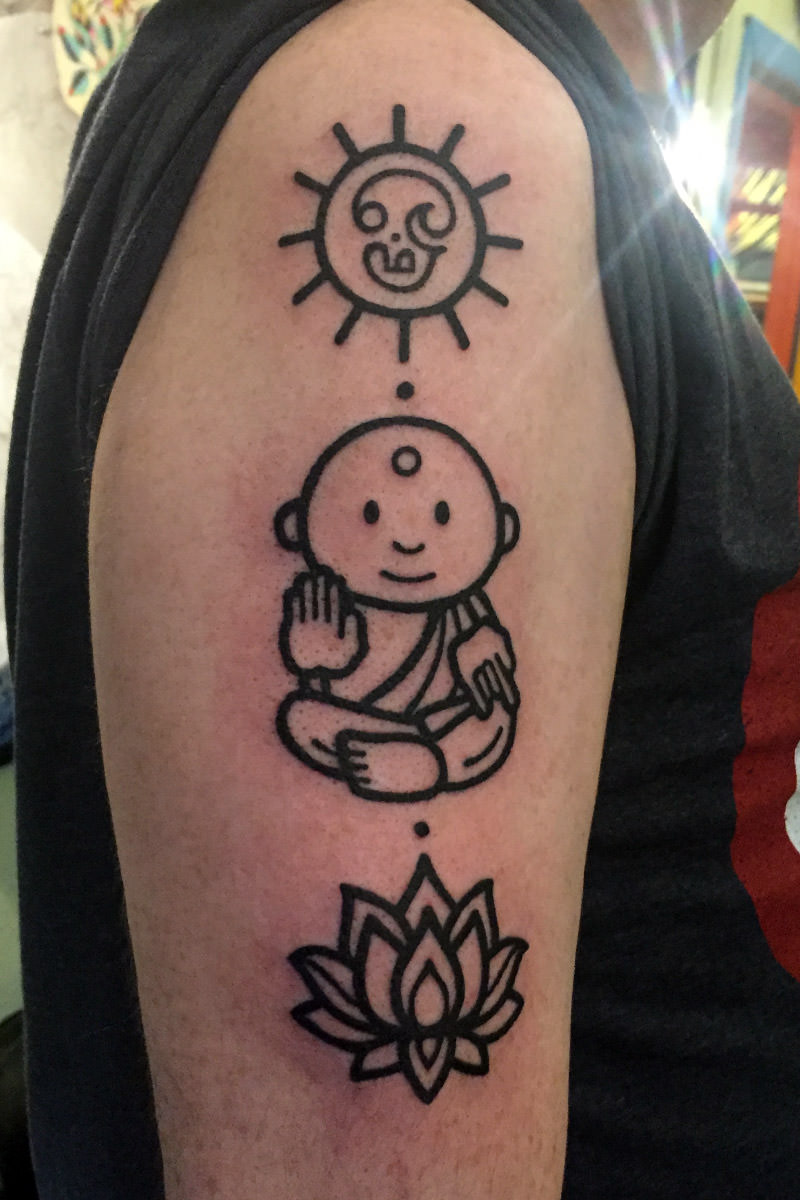 As with all my tattoos, I drew them up in DaveToon black-and-white style. The "om" enlightenment at the top was written in Tamil (one of the oldest languages on earth) so it would look different from the om in my more traditional "om mani padme hum" tattoo that's already on my inner arm...

Annnnnnd... guess it's time to start thinking about my next tattoo...
Posted on October 10th, 2014

A typical day in New Orleans.
If there is such a thing here.
Starting the day out right with beignets at Cafe Du Monde...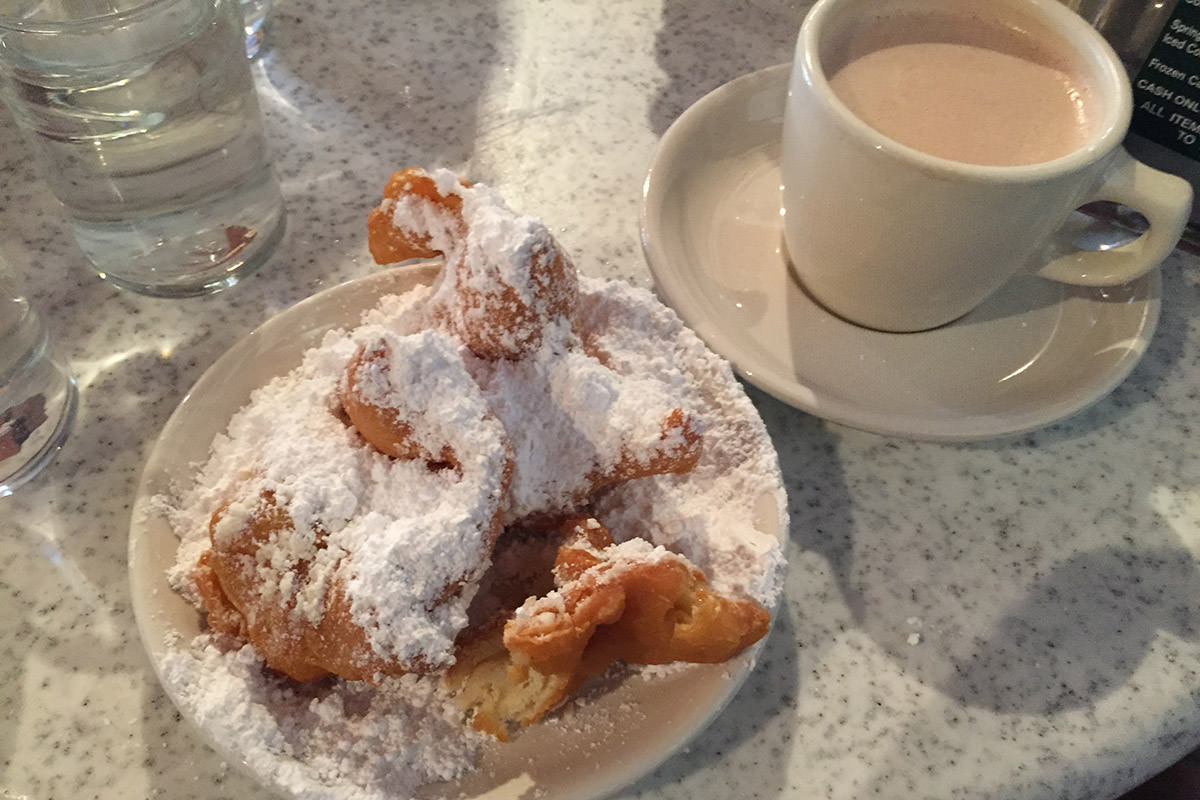 A walk through the French Market... Halloween-style...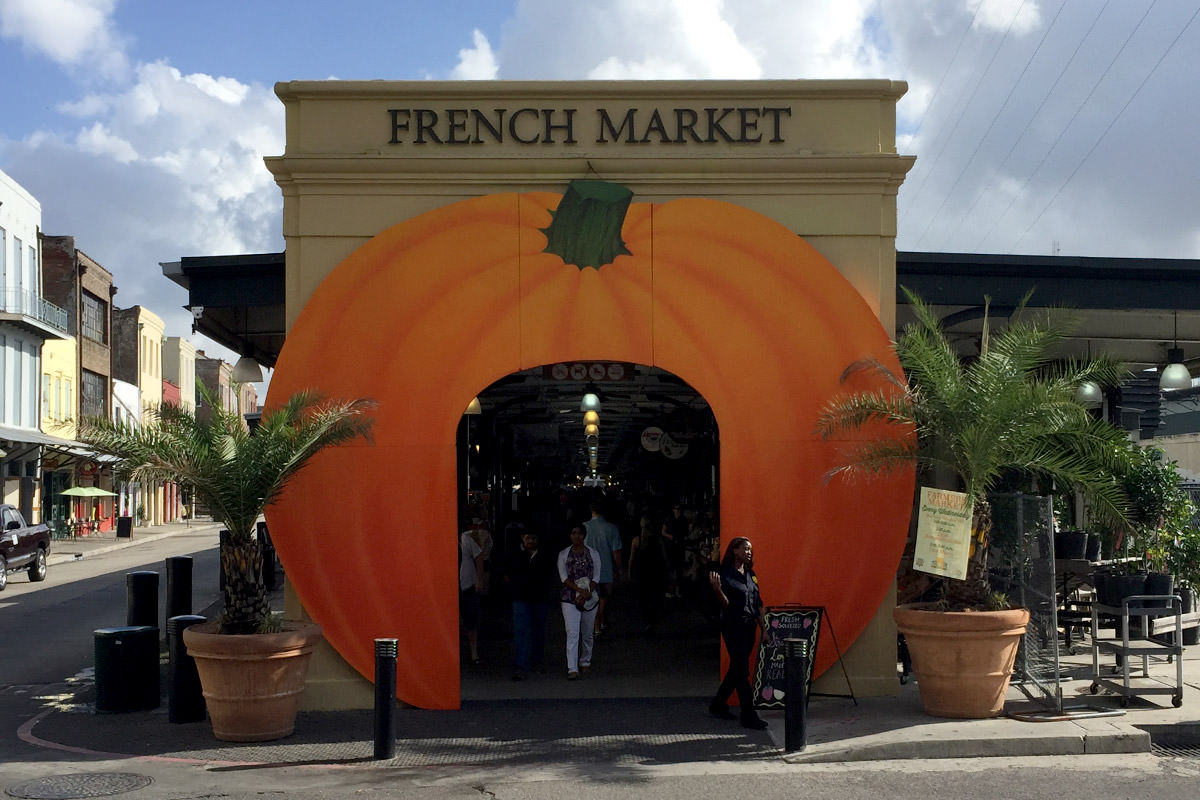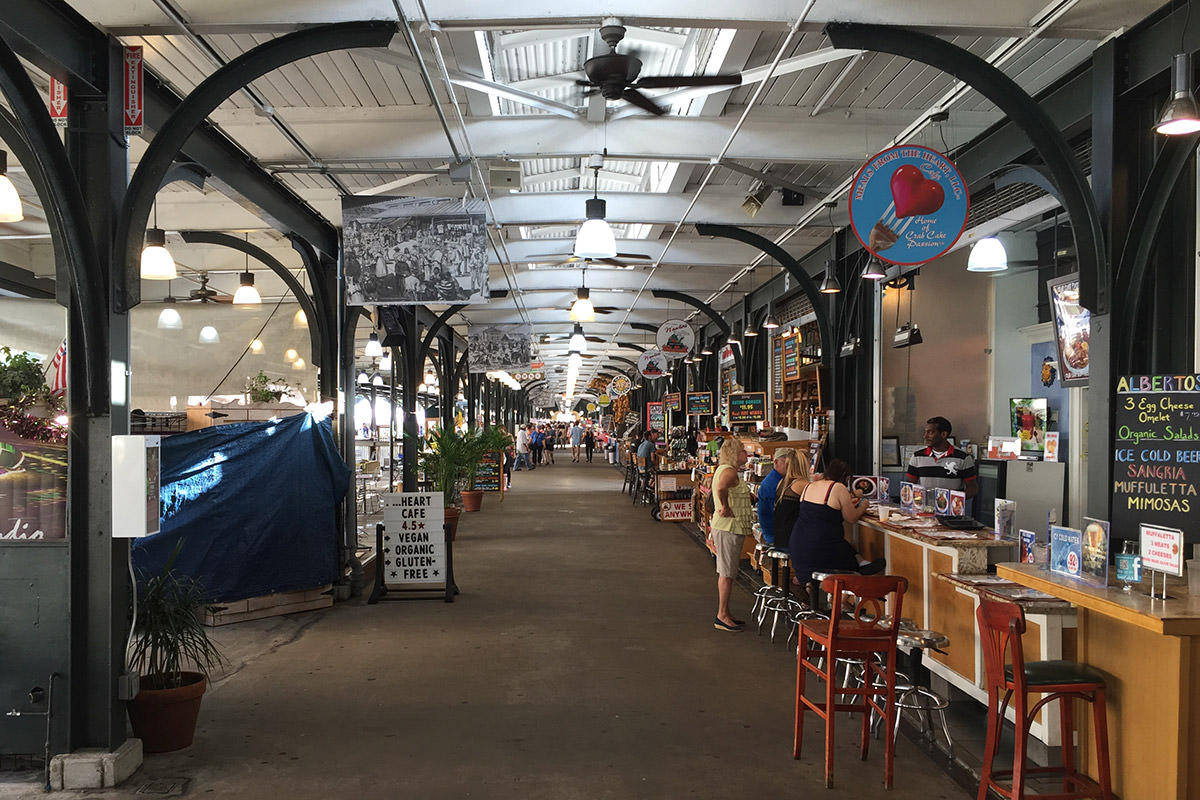 The power of voodoo! Who do? You do!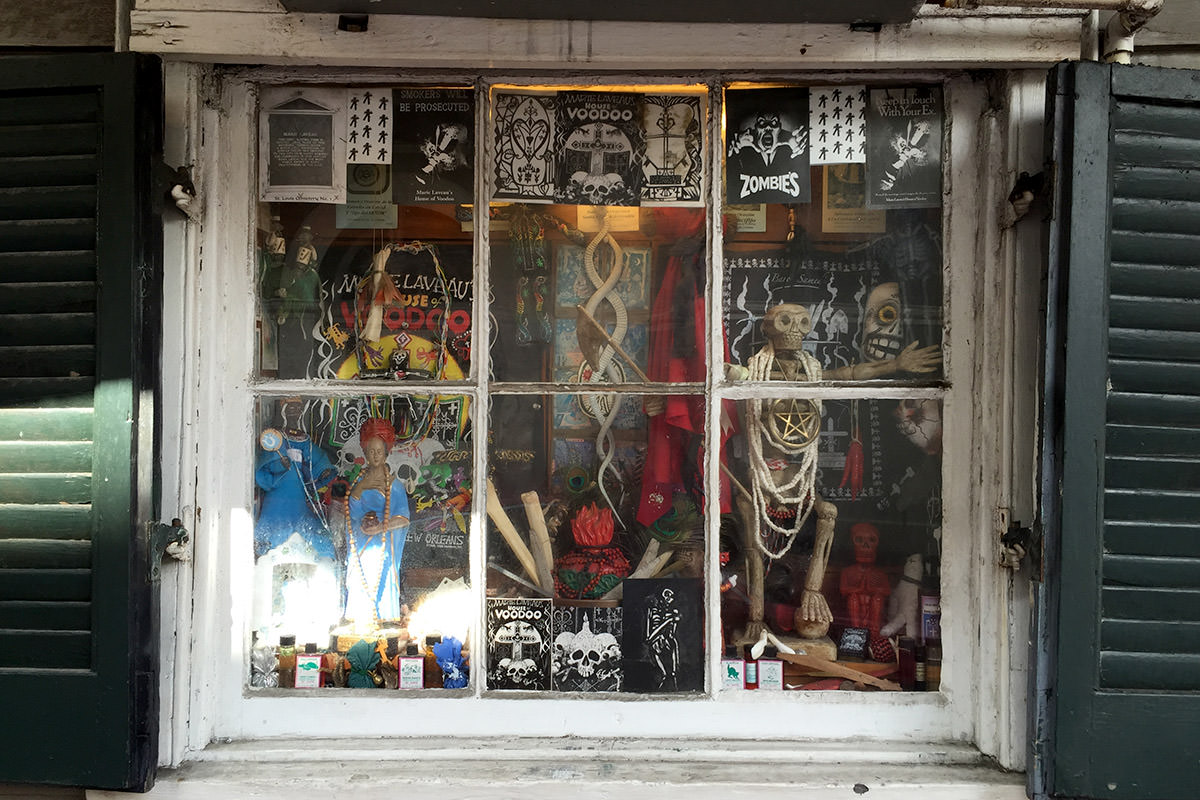 Paying respect to the local Saints...
One of the many cats of New Orlean's many shops...
It's the new drink here!
Incredible Mac & Cheese at St. Lawrence... home of divine food!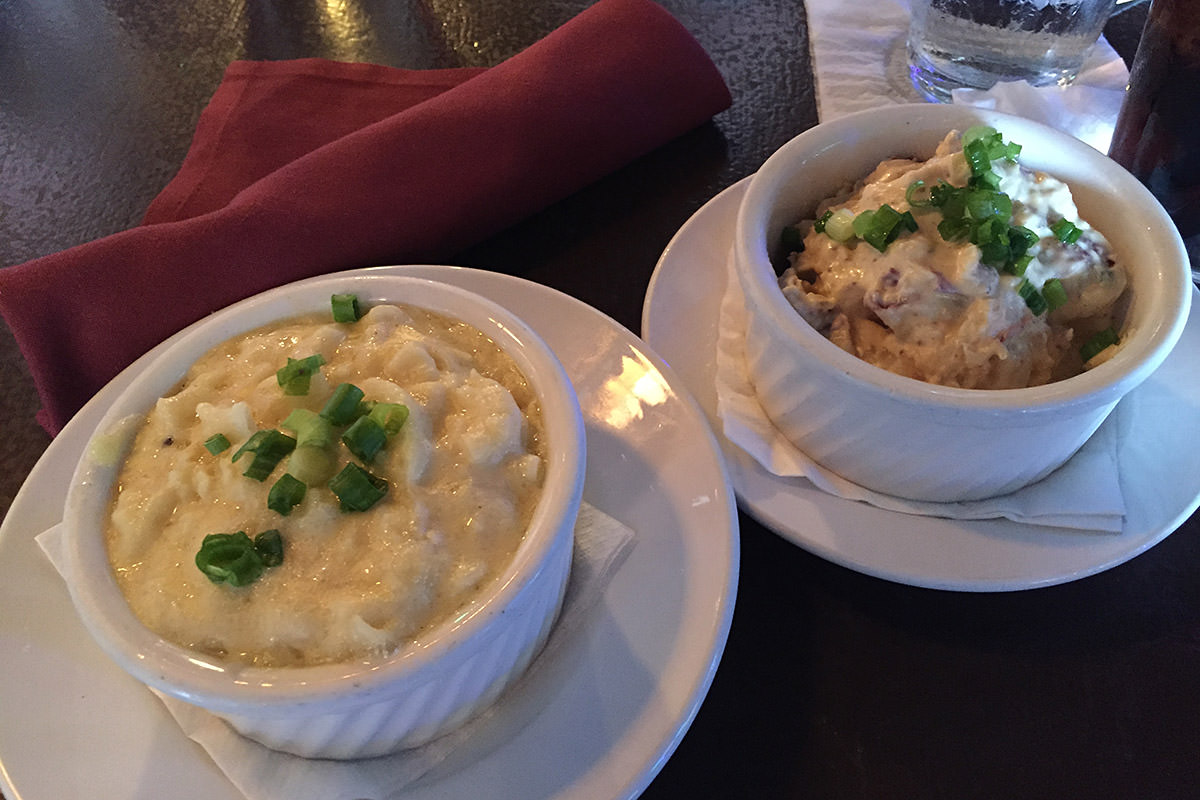 Tattoo No. Six. It's been my motto for decades. Of all the quotes I've ever heard, who knew it would be a line from Buckaroo Banzai that would end up defining my life? Thanks to Electric Ladyland Tattoo for the ultimate New Orleans souvenir.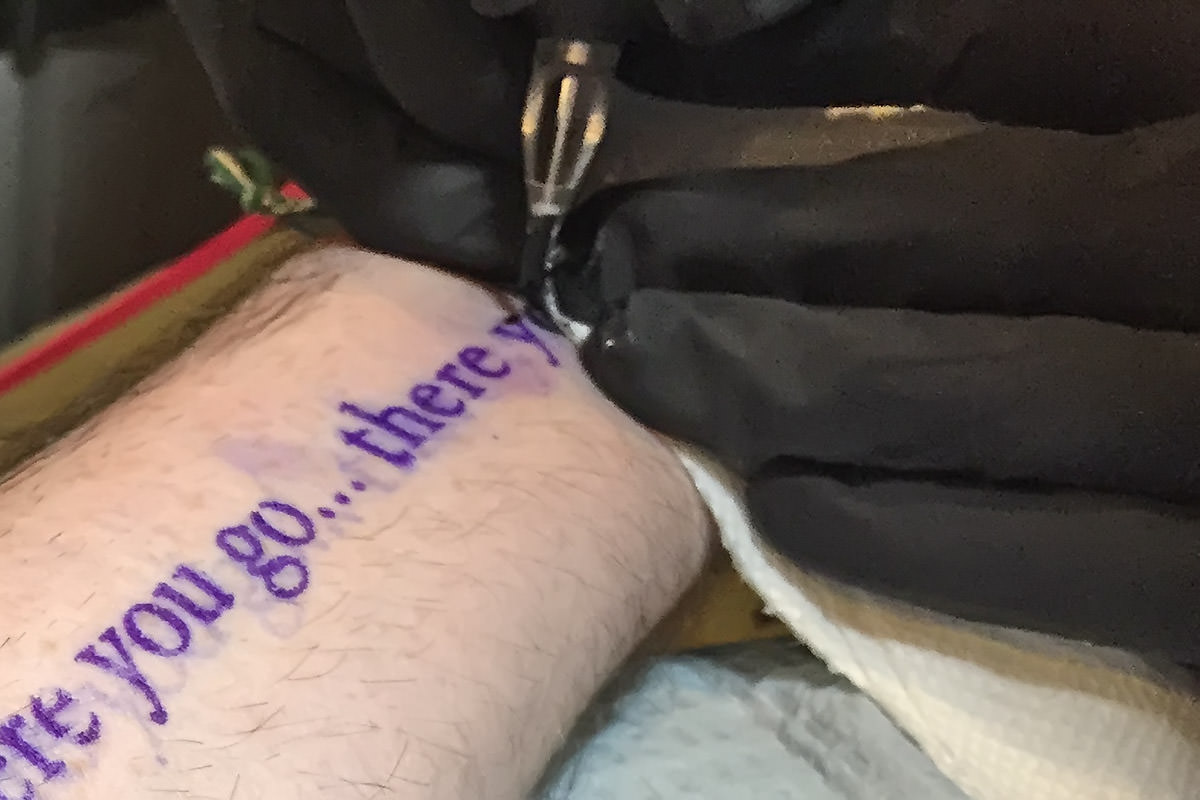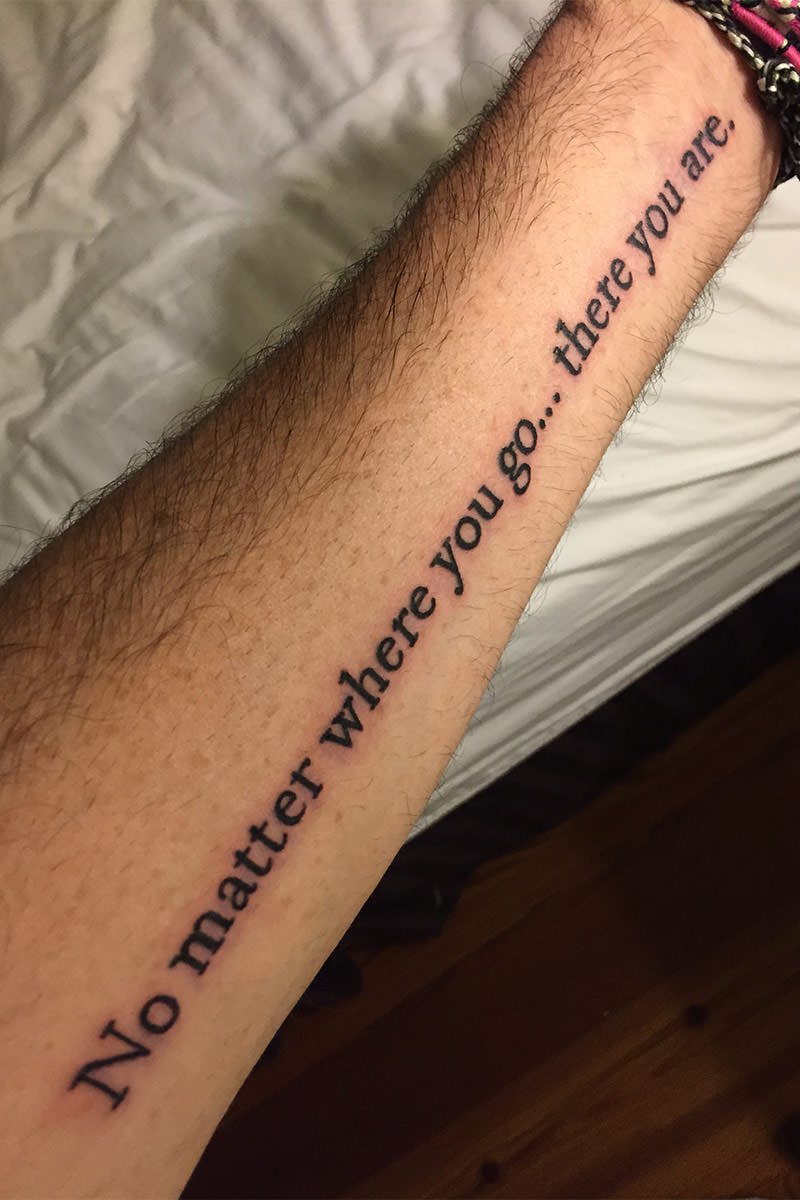 I love it. But still wonder if I should have gone with my second choice...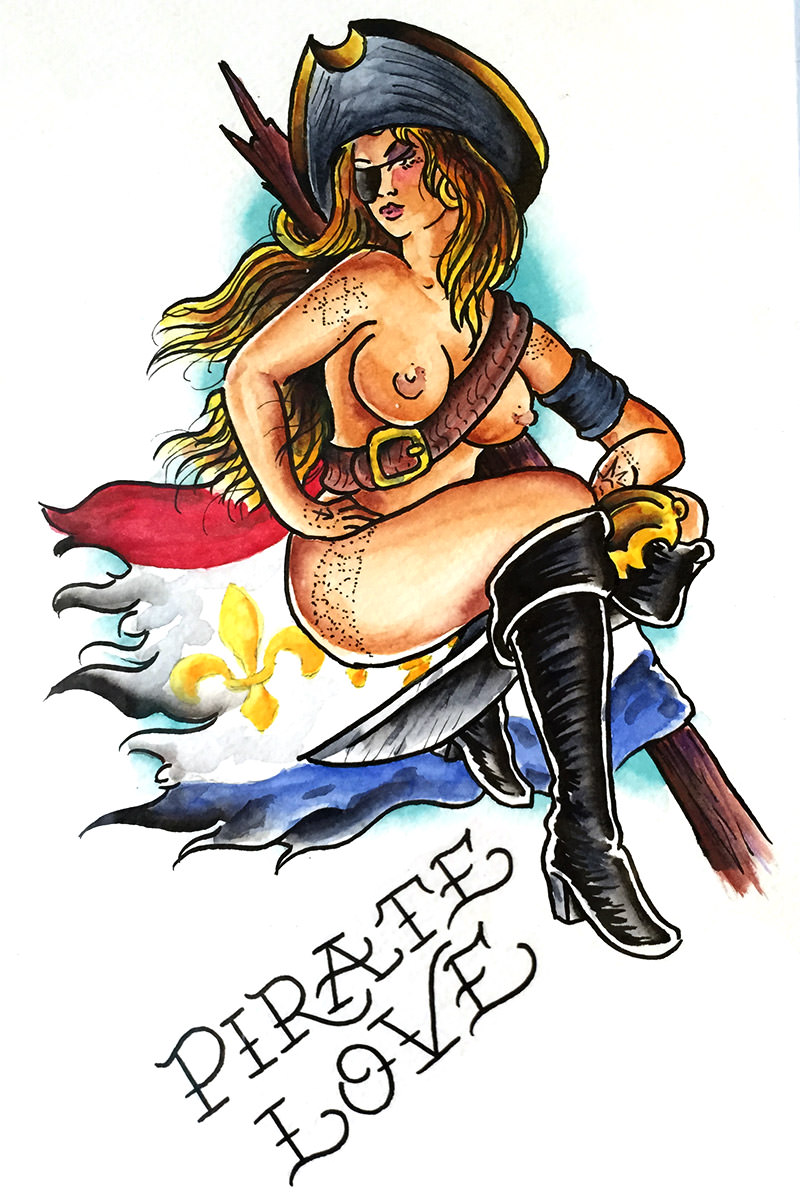 After another dinner at Coop's, it was time to wander Bourbon Street for an evening of debauchery, drunkenness, fist-fights, and famous acts of love (not by any of us, of course... so far as you know)...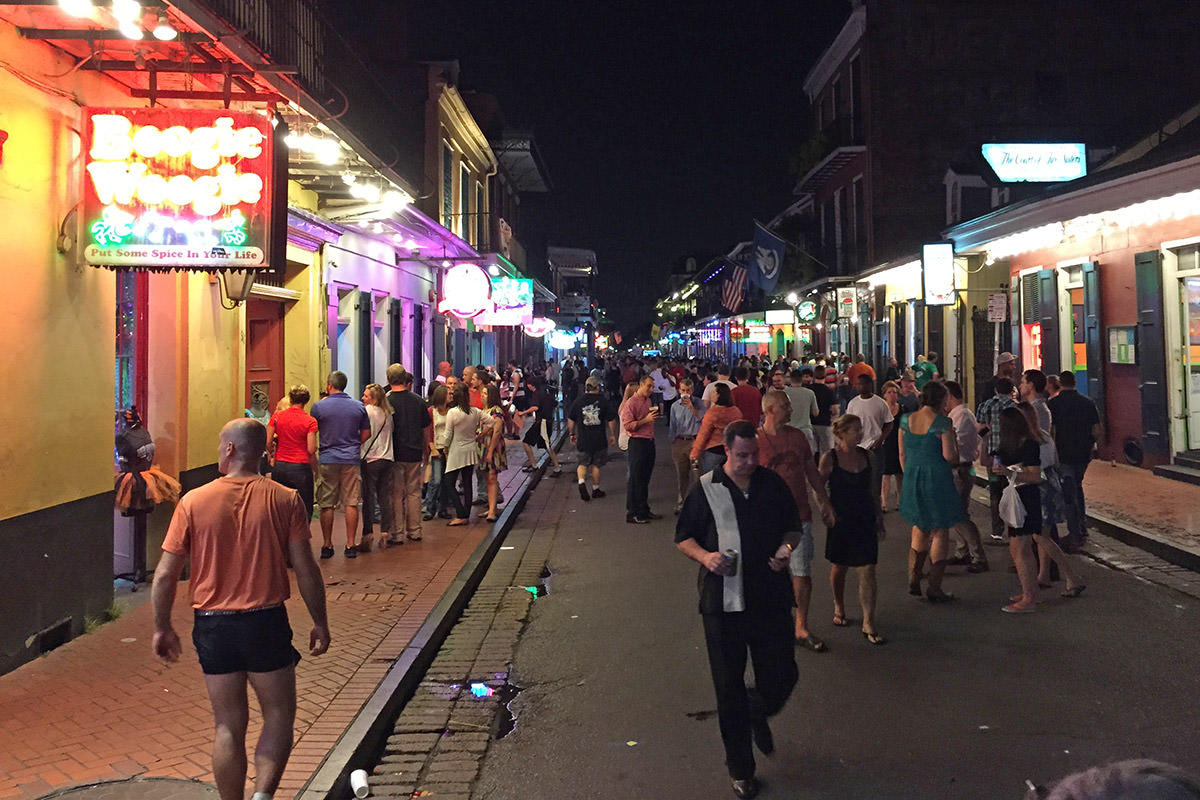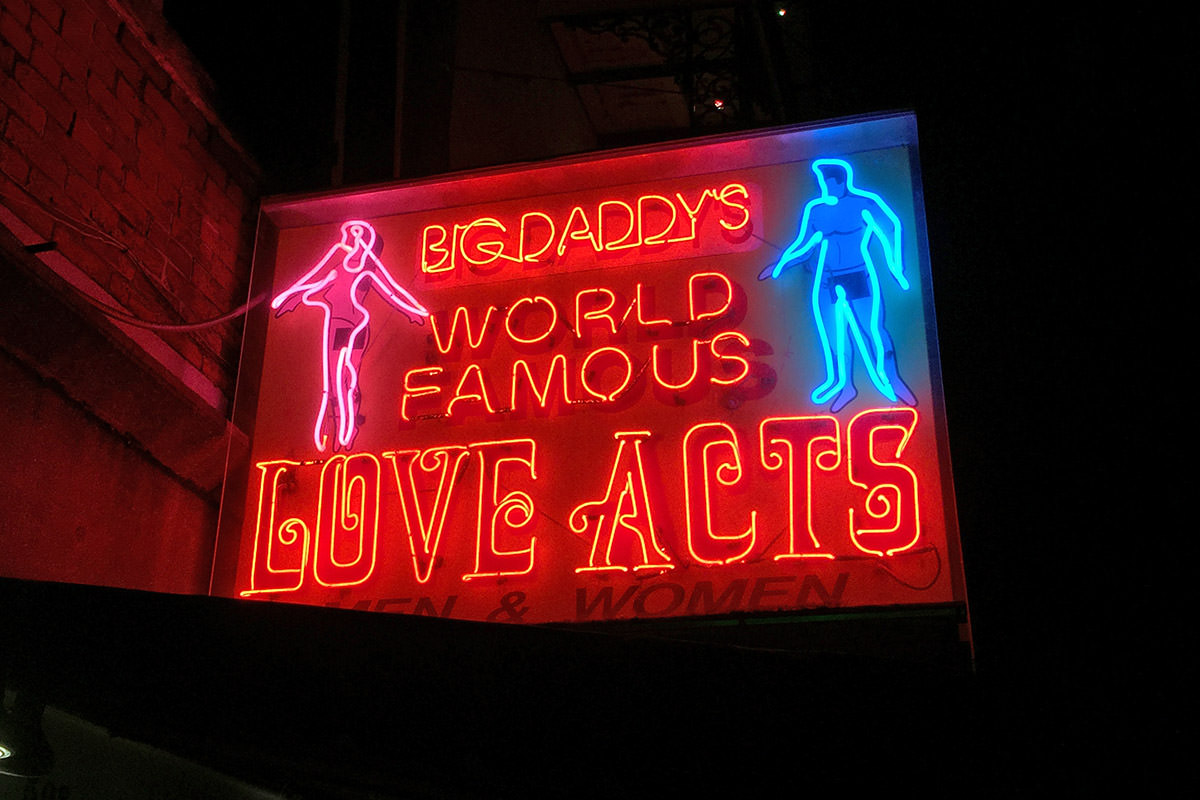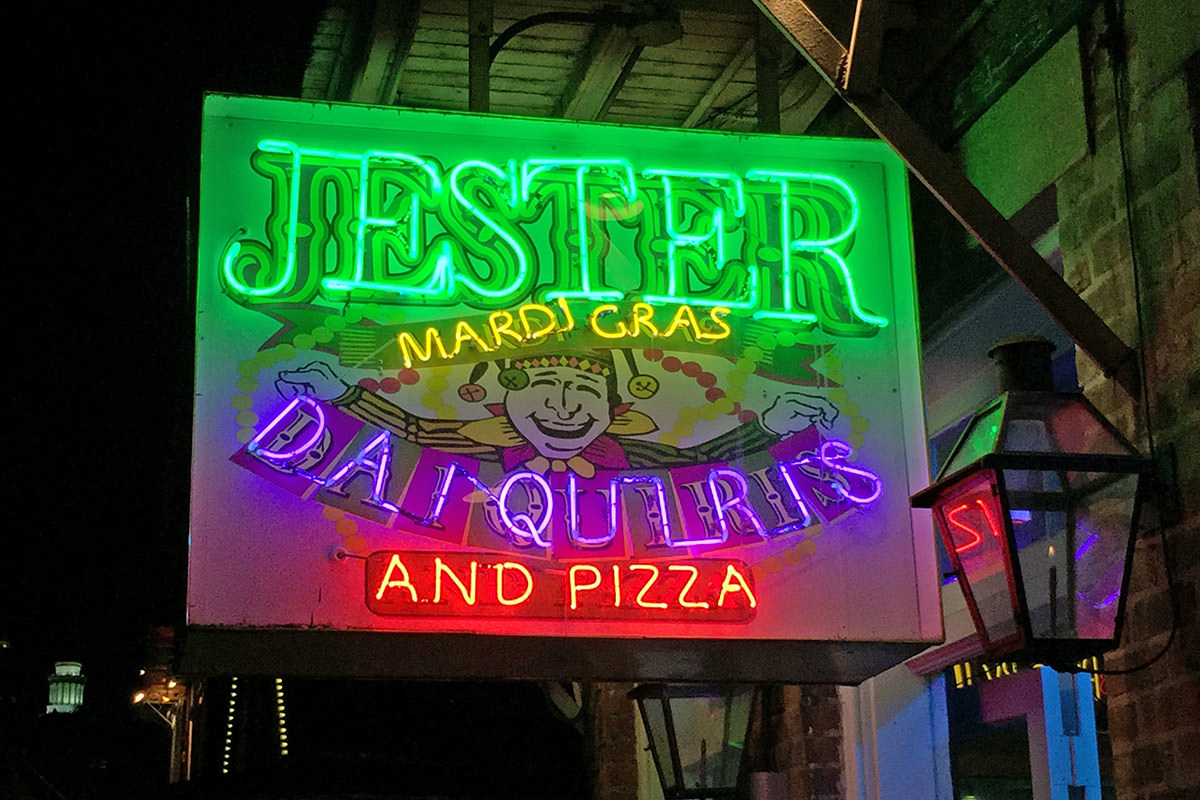 And... it's 1:45am. Since the bars close in 15 minutes, I guess I'll just call it a night.
Posted on April 21st, 2014

Wake.
Work.
Presentation.
Fortune Cookies.
Lunch.
Tattoo...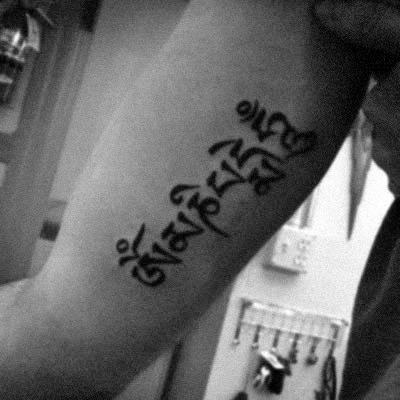 Drinks.
Airport.
Good Bye.
Boarding.
Flight.
Warm Cookies...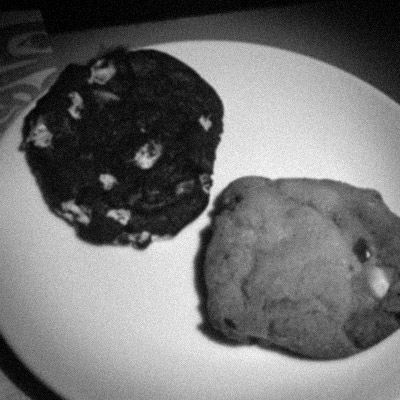 Land.
Layover.
Flight.
Lawn Sprinklers.
Drive.
Home...
End.
Posted on January 24th, 2014

IT'S TATTOO DAY!
Originally I planned to fly back home today. But the layover for the connecting flight was awful, so I decided to leave tomorrow instead. This meant having to add an extra day to my hotel stay at "The Handlery Hotel" (instead of the Parc 55 Wyndham where I usually stay). When I called, they wanted $160 which was surprisingly high for a Friday night... especially for a 3-star property. Usually downtown San Francisco hotel rates plummet over the weekend when there are no business travelers to gouge on pricing.
A quick check at the 4-star Wyndham (which had availability this time), and I could get a much nicer room for $120.
Which meant The Handlery was basically saying "WE WILL PAY YOU $40 TO WALK TWO BLOCKS!"
And so I took them up on that generous (but very stupid) offer.
Anyway...
Time to get more ink work on my forearm band...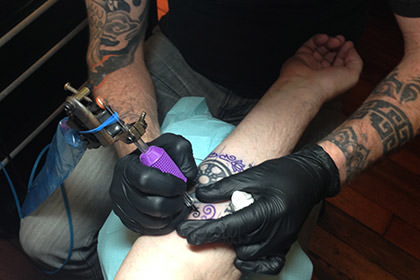 Beautiful line-work courtesy of Michael DeMatty at Black & Blue Tattoo...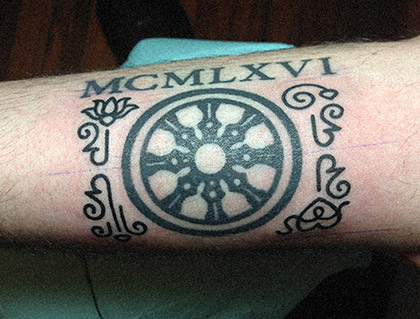 I started with the Roman numerals.
Then added a Dharmachakra, the spokes of which represent The Noble Eightfold Path of Buddhism.
Now I've surrounded the Dharmachakra with symbology representing The Four Noble Truths of Buddhism. You start in the upper-right where there's the acknowledgement that suffering exists, move to the bottom-right which ties our suffering to our desires and craving, move to the bottom-left which is the need for cessation of suffering causation, then move to the upper-left which leads us back to The Noble Eightfold Path and a quest for enlightenment and freedom from suffering.
Which is just a long-winded way of saying that the tattoo is a reminder for me to stay on The Right Path.
And so... three parts down, three to go...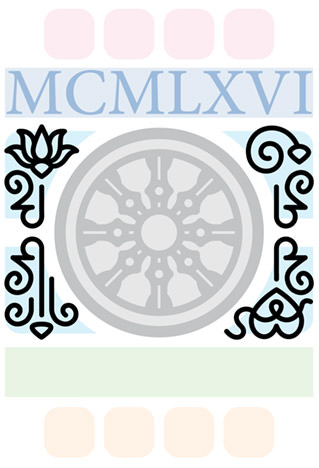 And now I suppose I should pack my suitcase so I don't have to do it at 4:00am tomorrow. Blargh.
Posted on September 3rd, 2013

This morning when I awoke my new tattoo was all jacked up.
Well, let me rephrase that... the skin which was killed as a result of needles shoving ink into my arm was all jacked up. It was starting to peel away like a sunburn, which I'm told is supposed to itch like a mother-trucker but, for whatever reason, doesn't itch me. But nothing works like it usually does when I get tattoos, so I shouldn't be surprised. For me, tattoos are not the least bit painful. There is barely any blood or seepage. I never get scabs. Cleaning it doesn't sting. Putting ointment or lotion on it doesn't burn. And they never itch as they heal.
Just lucky I guess.
The worst part for me is having to wait for all the dead skin to drop off, when what I really want to do is take a piece of steel wool and strip it off. But picking the skin off prematurely may cause you to lose pigment, and we don't want that.
I'll just have to stare at it being all smeary and gross for a few days.
And so I will.
Except now I am going to stare at the televsion so I can watch the latest episode of The Daily Show now that Jon Stewart is back. Everything else will just have to wait...
Posted on August 29th, 2013

I left home at 3:30am. Flew out of my local airport at 6:00am. Was scheduled to fly out of Seattle at 9:55am, but ended up delayed, so I arrived into San Francisco three hours late. This blew both a meeting and an important errand I had lined up, so my day was not off to a great start.
But after meeting up with Jester & friends for drinks and a fantastic falafel dinner, things started looking up.
It was tattoo time!
I promised myself that with each new trip to the Bay Area, I'd visit my tattoo artist, the ridiculously talented Michael DeMatty of Black & Blue Tattoo, to add a piece to the forearm band that I started back in February.
Part Two (of Six) completed!
This is the all-important centerpiece that all the other pieces will revolve around...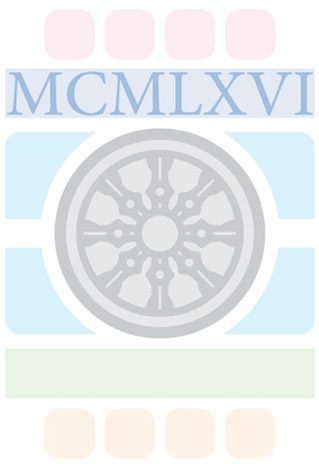 The circle-design is my personal interpretation of the Buddhist symbol known as the "Dharmacakra."
Or "Dharma Wheel."
There's a great deal of meaning behind it, but the most relevant part to me is the eight spokes of the wheel that represent the "Noble Eightfold Path"... one of the primary concepts from the teachings of the Buddha. They are eight ideals that Buddhists follow so as to eliminate suffering. I don't consider myself to be an actual Buddhist, but applying the Noble Eightfold Path to my life where I can has led me to becoming a much happier, healthy person. If you're interested in finding out what the Noble Eightfold Path is all about, Wikipedia has a decent introduction.
And so now I have a constant reminder of the road I strive to walk in life.
And it's cool because it kinda looks like the cockpit window of a TIE Fighter from Star Wars...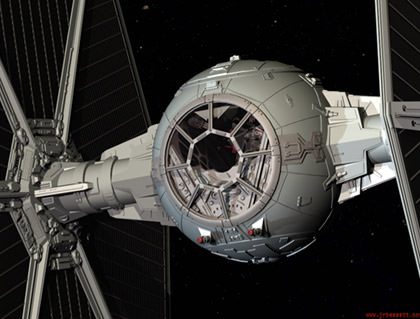 Beautiful TIE Fighter model by JR Bassett!
Different schools of Buddhism have different thoughts on tattoos. Some Buddhists believe that tattoos are a form of attachment that should be avoided. I personally feel that the impermanence of our bodies makes tattoos no more an attachment than fingernails, eyeballs, or the arm my tattoo has been written upon. It's entirely possible that my arm could be lost in a tragic boating accident tomorrow, which means it's kind of silly to think that having a tattoo on it will somehow make it impervious to change or detatchment. But to each their own, I suppose.
I'm just thrilled to have yet another bit of ink on me.
Now I just need to figure out when I can squeeze another trip to San Francisco into my travel schedule.