In my middle school science class one winter, our teacher had one of us run out and fill a beaker full of snow. Once my fellow student returned with the snow, the teacher started up a flame, crafted a snowball, and asked us what would happen to the snowball if he put it in the flame. Somebody raised their hand and said "IT WILL MELT!" at which point the teacher asked to see a show of hands of how many of us thought that was correct. We all raised our hands.
But the snowball didn't melt.
It did start to slowly disappear though. The science teacher then explained that this was due to SUBLIMATION... where something transitions from a solid directly to a gas. We all thought that was pretty cool.
Fast forward to this week where people in Texas are claiming that the unprecidented snowfall is fake and man-made to... well, I dunno... punish Texans for some bizarre reason...
>
Now, my first instinct was to think "Well, since they normally don't get snow in Texas like this, their science teacher wasn't able to provide the same demonstration that I had as a kid, so I guess this is understandable. They just don't know how snow works." I chalked it up to ignorance, and felt bad for them that concepts like "sublimation" and "soot" were absent in their thinking.
And then I actually watched the video.
"Thank you Bill Gates for trying to fucking trick us that this is real snow. You'll see it's not melting, and it's going to burn. Snow don't burn. Snow fucking melts. No water no dripping no nothing. If I put this shit in the microwave it's going to start sparking because there's metal mixed in it."
I went from feeling sorry that this woman was lacking basic science principles I learned in middle school... to feeling absolute rage.
I will never forgive Bill Gates for saddling us with the shitty Microsoft Windows computer operating system... but he is one of those rare billionaires WHO ARE ACTUALLY USING THEIR MONEY TO ACTIVELY MAKE THE WORLD A BETTER PLACE, and I am sick and fucking tired of people making him out to be some kind of evil comic book super-villain because they are idiots who don't possess critical thinking skills.
Bill Gates once said that one the biggest barriers towards having good health care in developing nations was the lack of medical records. And he's right. Because people often get displaced by famine or violence, any records that might have been kept on their medical history are often lost. And how can a doctor provide adequate care without a proper medical history? Gates suggested that perhaps medical records could be put on a tiny chip that could be placed under the skin so that these people would be able to have their critical medical information on them at all times. It was a genius solution by a smart man to solve a very real problem.
Next thing you know this simple concept which can be easily verified via a Google search becomes this sinister plot to microchip everybody so Bill Gates can track your movements. Like he would even give a shit about your boring-ass life. And never mind that everybody has credit cards and mobile phones which make tracking you a piece of cake already, the conspiracy theory bullshit is somehow what people want to believe?
Bill Gates has been using his massive wealth to invest in medical research, medical solutions, and vaccination programs in countries where vaccinations are tough to get. He does all this because he's a genuinely decent human being who wants to leave this world better than he entered it. VACCINES. SAVE. LIVES. PERIOD. and Bill Gates doesn't think that the poorest of humanity should have to go without.
Next thing you know, somebody on the internet decides that vaccines are bad despite history being replete with evidence to the contrary, the anti-vax idiocy movement is started, and Bill Gates is once again painted as a villain who somehow wants to vaccinate everybody so he can get rich or whatever. Never mid that he has so much money that he couldn't spend it in ten lifetimes... never mind that he's done his best to make sure vaccines can be had for free... the conspiracy theory bullshit is somehow what people want to believe?
Bill Gates has been an advocate for combatting climate change. A threat so serious that it is already affecting every living creature on the planet and may one day be our doom. Wanting to divest his investments from contributing factors like fossil fuels, Gates took his money out of oil companies (or whatever) and sunk it into emerging green energy development. He does this because he gives a shit about the world that his kids will be living in.
Next thing you know, somebody who doesn't understand basic fucking science can't melt a snowball with a cigarette lighter, and Bill Gates is trying to control the weather. Ironically, figuring out how to control the weather might be our only option for dealing with climate change if we've reached a tipping point where there's no fixing things. But hey... the conspiracy theory bullshit is somehow what people want to believe?
Being ignorant or uneducated is one thing.
Buying into bullshit anti-science conspiracy theories to vililfy a guy who has invested huge sums of time, effort, and money into helping people live healtheir lives on a healthier planet is another thing entirely.
I am quickly coming to understand how reeducating these people with evidence, facts, research, and logic is a losing battle. They don't give a shit about any of that. They only care about what fits their idiotic narrative regardless of how stupid and absurd. So what to do? If you can't make them see facts or reason, what's left? Tell them to go fuck themselves and move on? Maybe. But too many people are being too stupid for this to be a long-term solution. We've got people who think the earth is flat, for Christ's sake.
In chemistry, SUBLIMATION is the process by which solids (like snow) are converted to a vapor via heat. The vapor can be liquified via condensation, then turned back into a solid via cold.
Outside of chemistry, SUBLIMATION is the act of refining or purifying something to achieve a better, higher state.
I am convinced that Bill Gates has been sublimating into a higher version of humanity due to his amazing generosity and investment into planet earth and the life which inhabits it. He is what wealthy people should aspire to be.
Though why anybody would want to be Bill Gates when some willfully ignorant whack-job who doesn't know how snow works is cursing your name is beyond me. Far easier to just sit on your massive wealth and buy gold-plated toilets for your private jet collection. Sure this just keeps humanity moving ever-closer to its destruction, but at least people don't think you team up with The Joker and Catwoman to battle Batman as you try to loot Gotham City.

It's the Sunday before the Monday before the 4th! And there's even more to celebrate, because an all-new Bullet Sunday starts... now...

• Wonderful! Over the decades we've had DC Comic Book heroes make their way to the movies with persistent regularity. Batman and Superman have had numerous incarnations in dozens of films... including the recent piles of shit that Zack Snyder has unleashed upon the world with Man of Steel and Batman vs. Superman: Dawn of Justice. But what about the other hero in the DC holy trinity? What about Wonder Woman? Where's her movie? She's always been shoved aside, presumably because DC questioned whether anybody would go see her in a feature film. Heck, even Green Lantern finally got a movie back in 2011, and he's not nearly as recognizable as Wonder Woman. Everybody knows who she is.
And then, at long last, our patience was rewarded when Wonder Woman hit the big screen.
And has been completely killing it.
This week Wonder Woman trounced both Man of Steel and Batman vs. Superman: Dawn of Justice to become the top-earning film in DC Comics history at the domestic box office...


Stats taken from Box Office Mojo
Internationally, the film has considerable ground to cover before it eclipses Batman vs. Superman and Suicide Squad, but the point has been made.
It's Marvel all over again, proving that good movies with second-string characters that are faithful to the source material will be more critically (and quite possibly financially) successful than crappy movies with top-tier characters that shit all over the source material. There is a reason that these characters endure. To ignore what got them there is to ignore what people want to see.

• Flash! And, speaking of shitting all over the source material in a Zack Snyder DC Comics movie... everything that's wrong with the new costume that The Flash is sporting in the upcoming Justice League film is on full display when you look at what LEGO had to do to translate it into a minifig...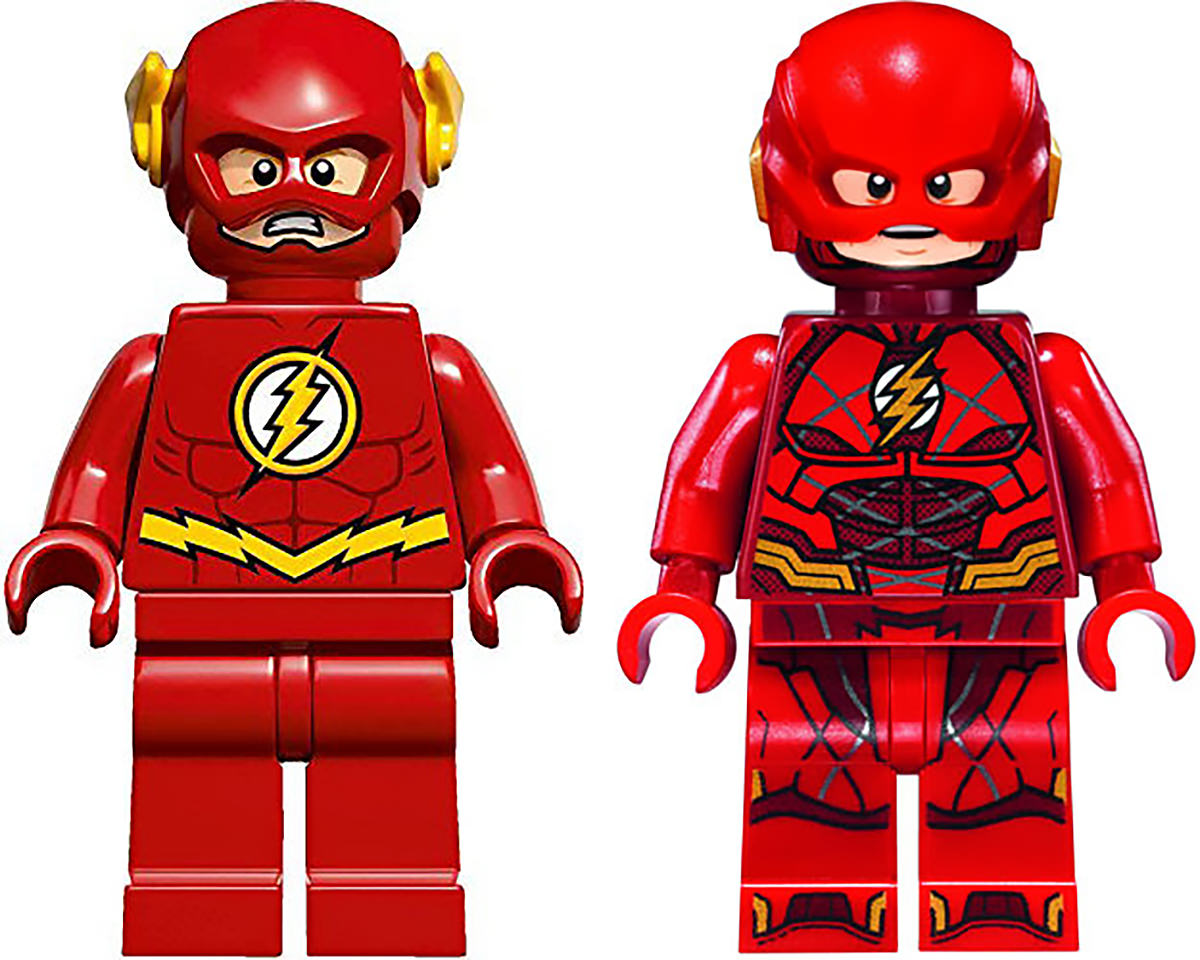 I can't even tell what the hell is going on there. The Flash is the "fastest man alive." As such, his costume has always been painfully sleek and minimal in appearance. But not now. Now they've wrapped him is laughably idiotic armor plating that makes him look anything but sleek. He's the exact opposite of sleek...
I mean, COME ON! He looks like a clunky robot with an inexplicably massive codpiece! Even more clunky and robotic than Cyborg, WHO IS LITERALLY A HALF-ROBOT CHARACTER. Grotesque and more than a little embarrassing for DC, who has had such excellent translations of The Flash in previous endeavors. Particularly in their animation department...
And even their television show...
To "think outside the box" is not a bad thing... sometimes it's critical to making the leap from comics to screen work. But what we have here is a fundamental lack of knowledge about what makes The Flash be "The Flash." Which means the Justice League movie is undoubtedly going to suck ass. What a shame.

• Balls! This past week was the 30th anniversary of Spaceballs, one of my favorite comedies...

Photo from Getty Images
Over the years there have been numerous rumors of a sequel (including this past Spring), but the only thing we've gotten is thirteen episodes of an animated series. My hope is that one of these days it will actually happen.

• Vaccinate! The amount of misinformation out in the world is horrifying. Everybody has an agenda, and you can never be sure what's behind the information you're getting. But the fact that diseases we once eradicated have come back... and come back huge... should give pause when it comes to condemning vaccinations...
Scary. Too scary.

• Hjalmarsson! Though I've found it harder and harder to keep up with hockey, I nevertheless obsessed over my beloved Blackhawks as they battled their way to the playoffs last season. That Nashville took them out immediately did not dampen my enthusiasm for the team. What did dampen my enthusiasm was finding out that one of my favorites players, Niklas Hjalmarsson, had been traded...

Photo from Getty Images
The guy was a big part of what got them to three Stanley Cup wins, so I'm understandably gutted. He would throw himself in front of the puck under circumstances no sane player would, which only made me love him more. He gave everything he had to the team, and this is a serious blow to Blackhawks hockey. Yes, I know that it relieves some salary cap problems, but I can't wrap my head around a team without Hjalmarsson there. Thank you, sir, you will most definitely be missed.

• Freedom! When you use freedom of speech to speak out on the issues that are important to you but criticize others for doing the exact same thing, you're no patriot. You're a douchebag. And speaking of... I don't always agree with Chelsea Handler, but thought this was an important message to share...
Of course, "freedom of speech" doesn't mean "freedom from consequences of free speech," which is an increasingly popular misunderstanding to have... but let's save that for another holiday.

And... I gotta be to work tomorrow, so no more bullets for you!