It took four years... but my kitchen renovation is finally finished. Well, except for the floor, which I can't afford to replace just yet. But most of the remodel is done.
When I moved in, I was blessed with a kitchen that had dingy linoleum countertops and peachy-putty-grey-brown wood cabinets. It was so awful, and I hated it since day one. I am very particular about keeping a clean kitchen, and everything in this place was fighting me on it. How could I tell if something is dirty if it looks dirty all the time?
In addition to the cabinets being such an ugly color, they were these complex carved inlay design which had a literal ledge-on-a-ledge at the top to collect dirt. I was grossed out every time I cooked in my own kitchen, despite scrubbing it constantly.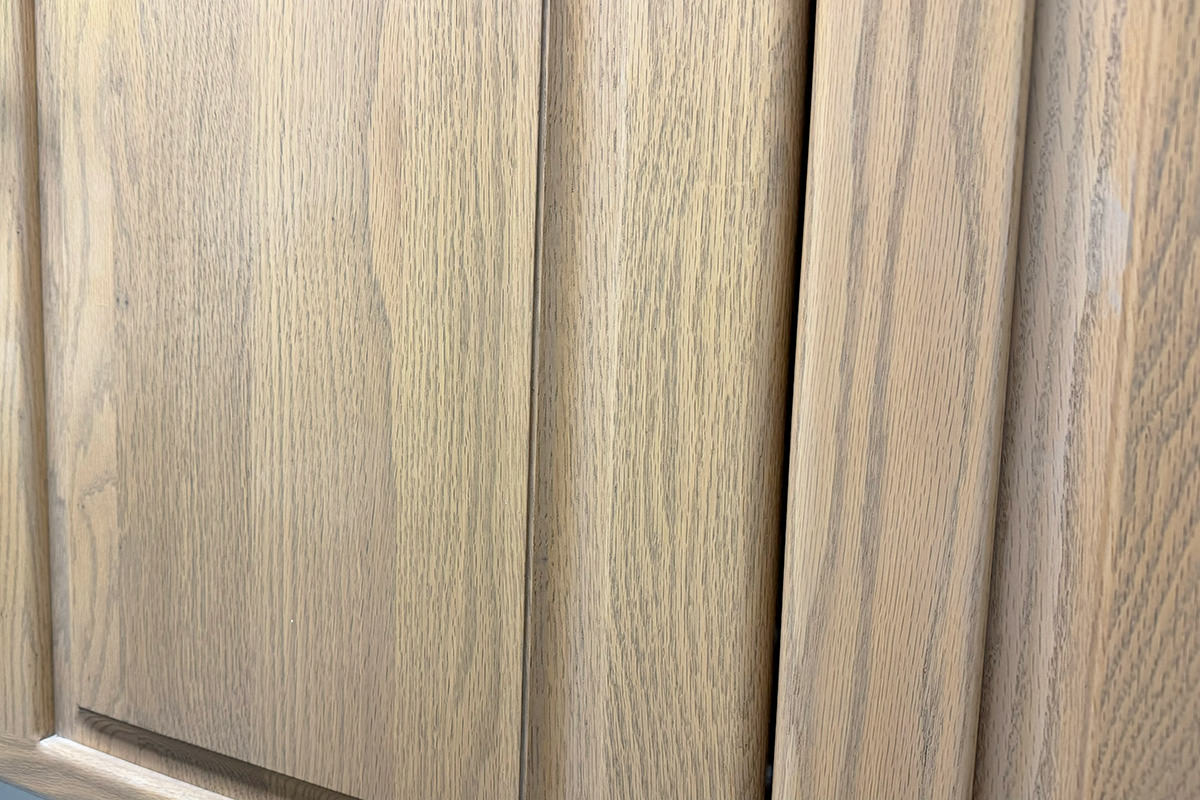 See that tiny corner bevel WITHIN the main bevel? Try getting that clean. You have to use a brush and it's always dirty.
And so I had it in my head that I would rip everything out and remodel it.
Then I looked at all the money I didn't have and decided to wait. Which was really tough to do because I hated this kitchen so very, very much.
Finally, in 2019, three years after I moved in... I couldn't take it any more. I ripped those ugly-ass cabinet doors off and decided I would make my own cabinet doors and drawers then paint it all myself. It may take a while... because I'd have to save the money after each step... but I would have the kitchen I always wanted eventually: cement countertops, white subway tile walls, and white shaker-style cabinets.
But then the pandemic hit, and everything stopped until Fall 2020.
First I painted the cabinet frames (August 27, 2020).
The countertops were installed (August 28, 2020).
A new sink was next (September 1, 2020).
I ran out of money for a year (then had issues hiring somebody because of COVID) but finally got my tile walls (November 4, 2022).
Had my cabinet frames professionally repainted (October 19, 2022).
Ordered my cabinet doors and drawers in late 2022. Then waited months for measurements to be taken. Then waited months for the pieces to arrive so I could select paint. Then waited more months to get them installed after several delays (July 19, 2023). Except the glass for the cabinets I wanted to have windows didn't arrive, one of the doors was the wrong size, and one of the doors was built wrong. But, hey, things were looking nearly finished. Here's a before and after...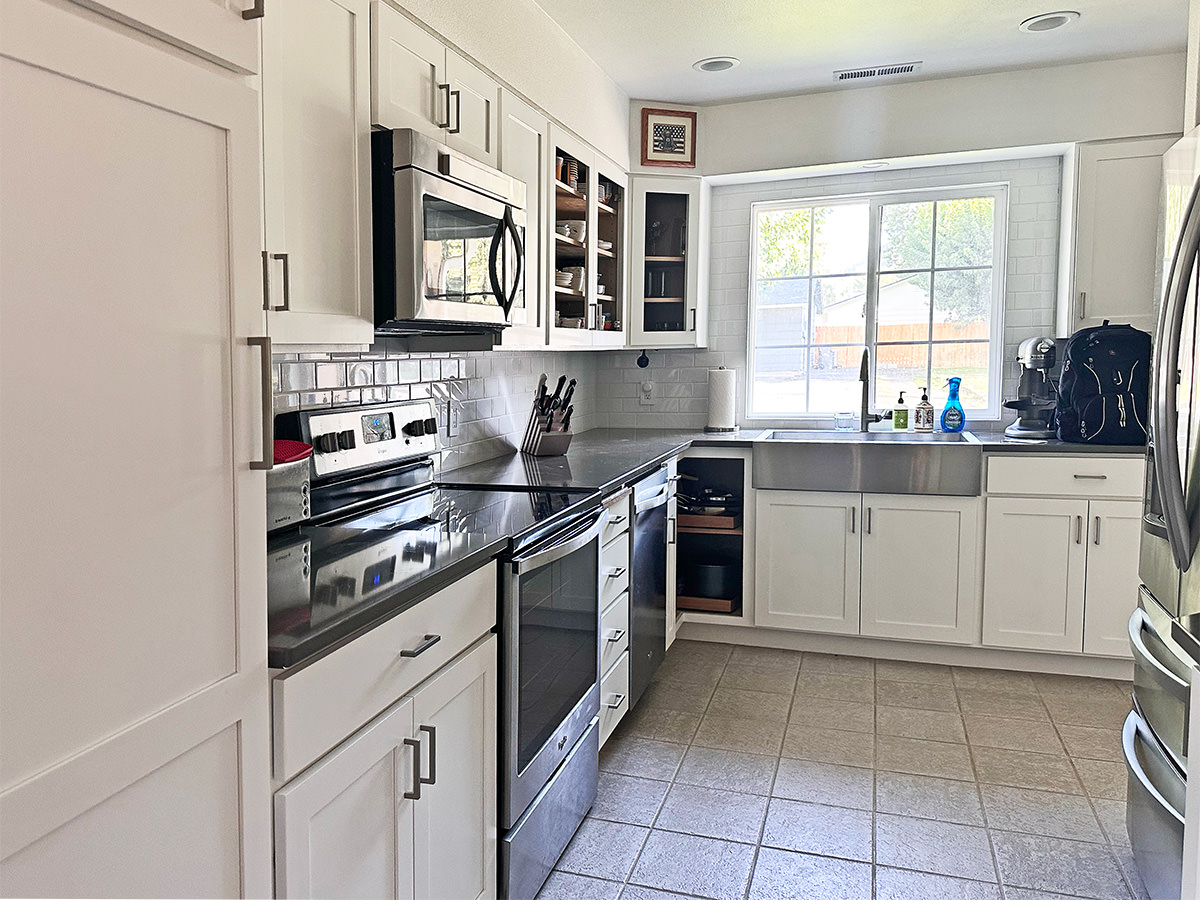 Then yesterday I finally got the last of my cabinet doors installed... with glass (October 13, 2023)...
Ironically I had glass put in the doors with the dishes and glasses so that when I had guests over they could find stuff without openeing every door in the kitchen. But then COVID happened and I stopped having guests. Oh well. At least I won't be forgetting where they are.
Along the way, I also got the cheap-ass drawer glides replaced with glides that are heavy-duty enough to actually support some weight, and they pull out all the way so I can get to things in the back. It's glorious...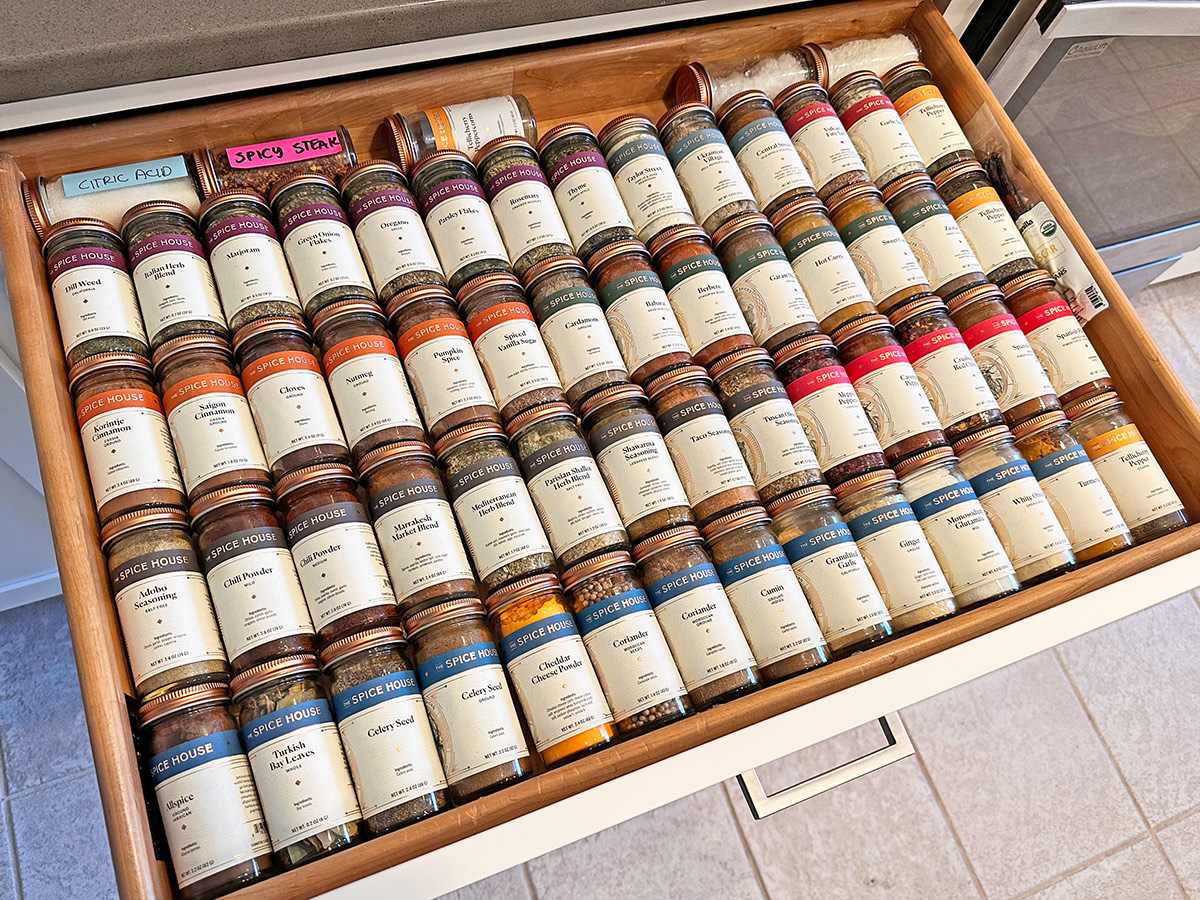 So, yeah. A long time coming. But I have my frickin' kitchen back at last.
AFTER FOUR YEARS.
The first two of which I was living out of boxes on the countertops because I had ripped everything out in anticipation of having work done that never happened.
I don't know if it was worth the wait. But at least I finally have the kitchen I wanted all along.