Posted on June 16th, 2018

One of the first projects I put on my list once I got my wood shop set up was finishing PHASE TWO of the catio. The first part was the ramp, which I installed last weekend. The second part is a giant scratching post that Jake and Jenny can access on three levels... or climb from top to bottom as they wish.
When I drew up the initial sketches for the catio, the pole was already there and installation points were planned. All I needed to do was build the thing. Which was easier said than done, because neither Home Depot nor Lowes had round fence posts in stock. I'd have to wait until I was over the mountains and get it then.
Or so I thought.
A friend from high school on Facebook mentioned that the local farm supply carried them. And so away we go...
First step was to thoroughly scrub it down with soap and a wire brush...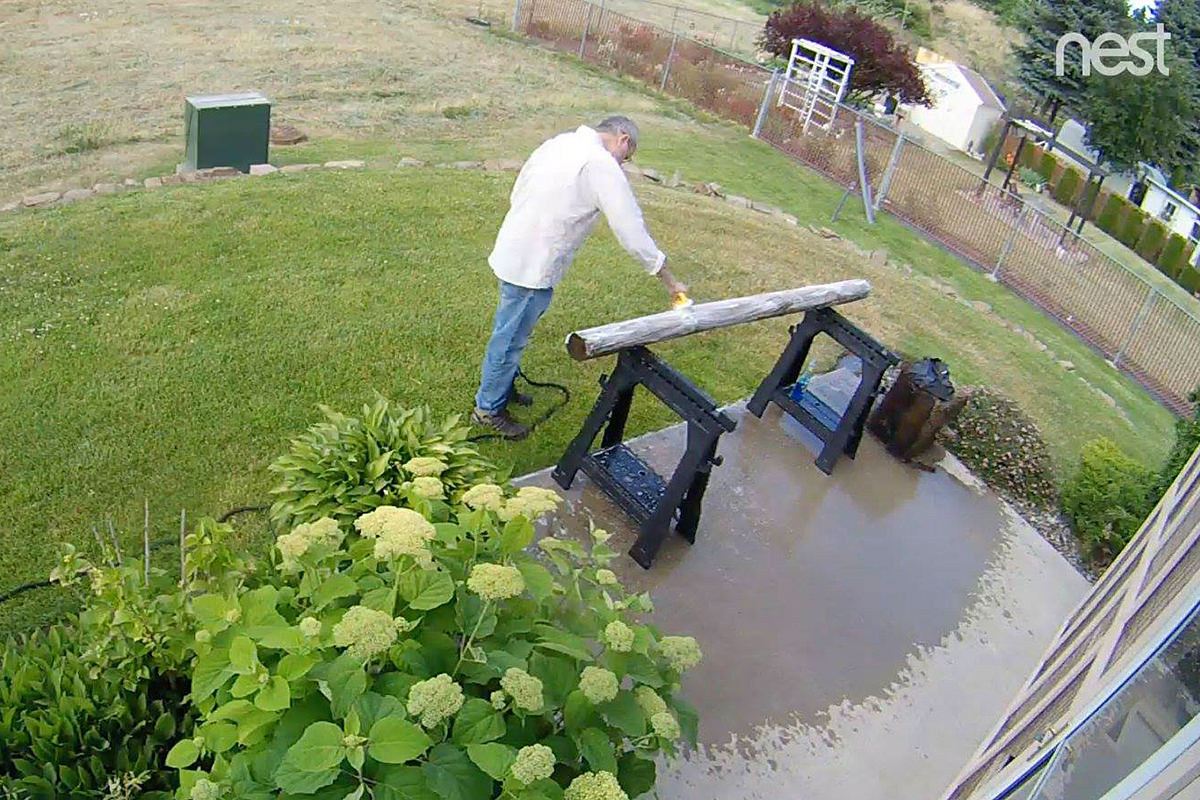 Then it was time to fill all the cracks and sand it smooth...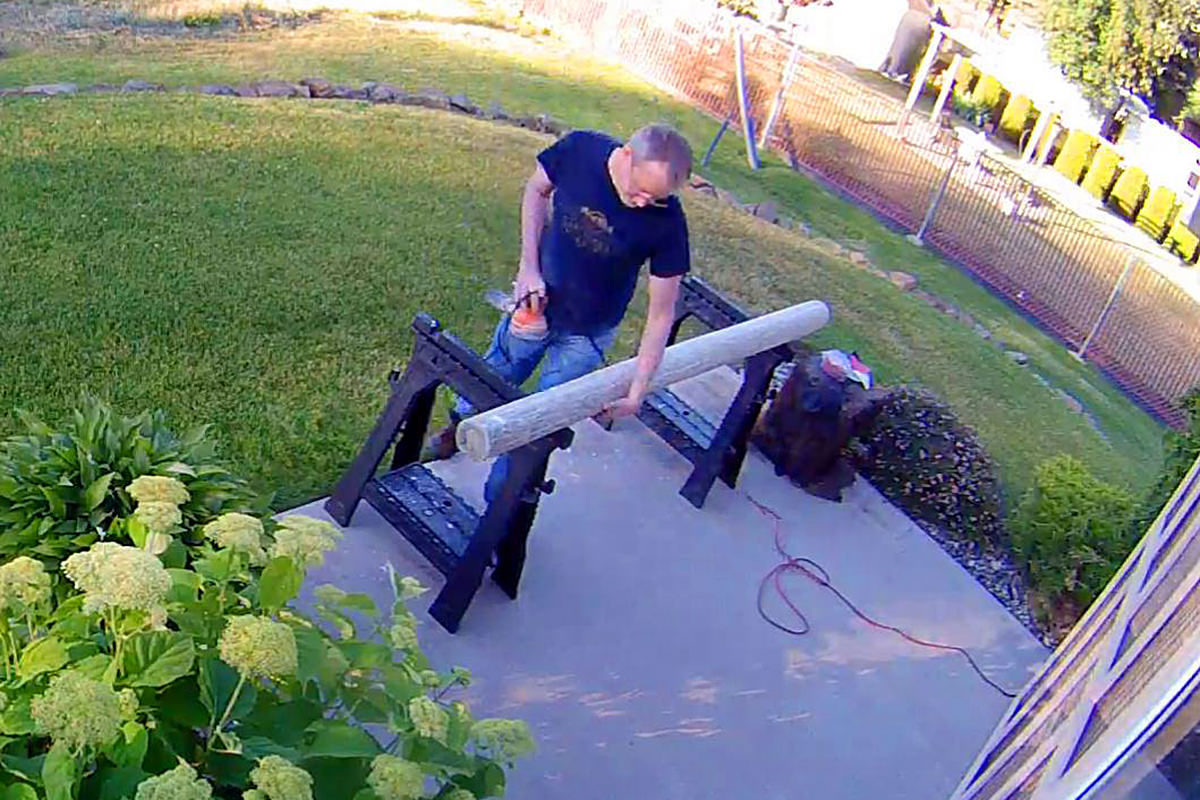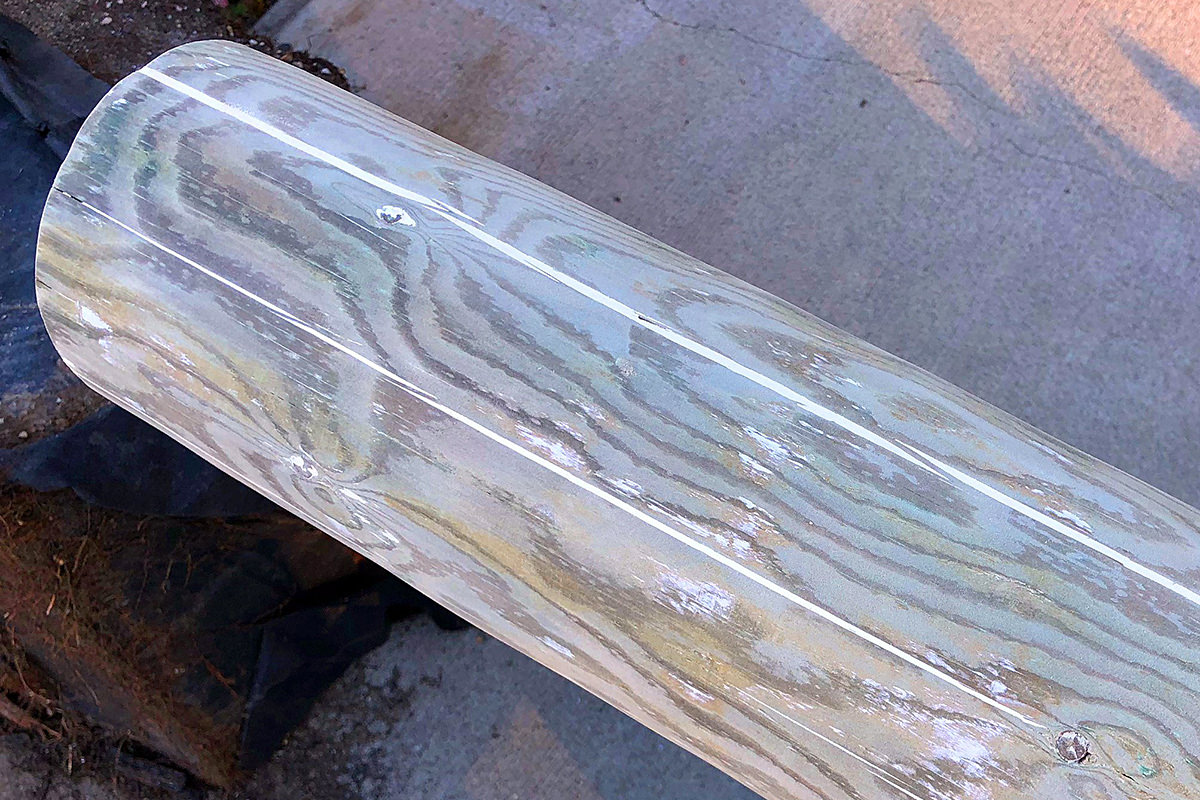 After three coats of shellac to protect it from moisture, I went to see how it was going to fit and discovered it was too tall. And so...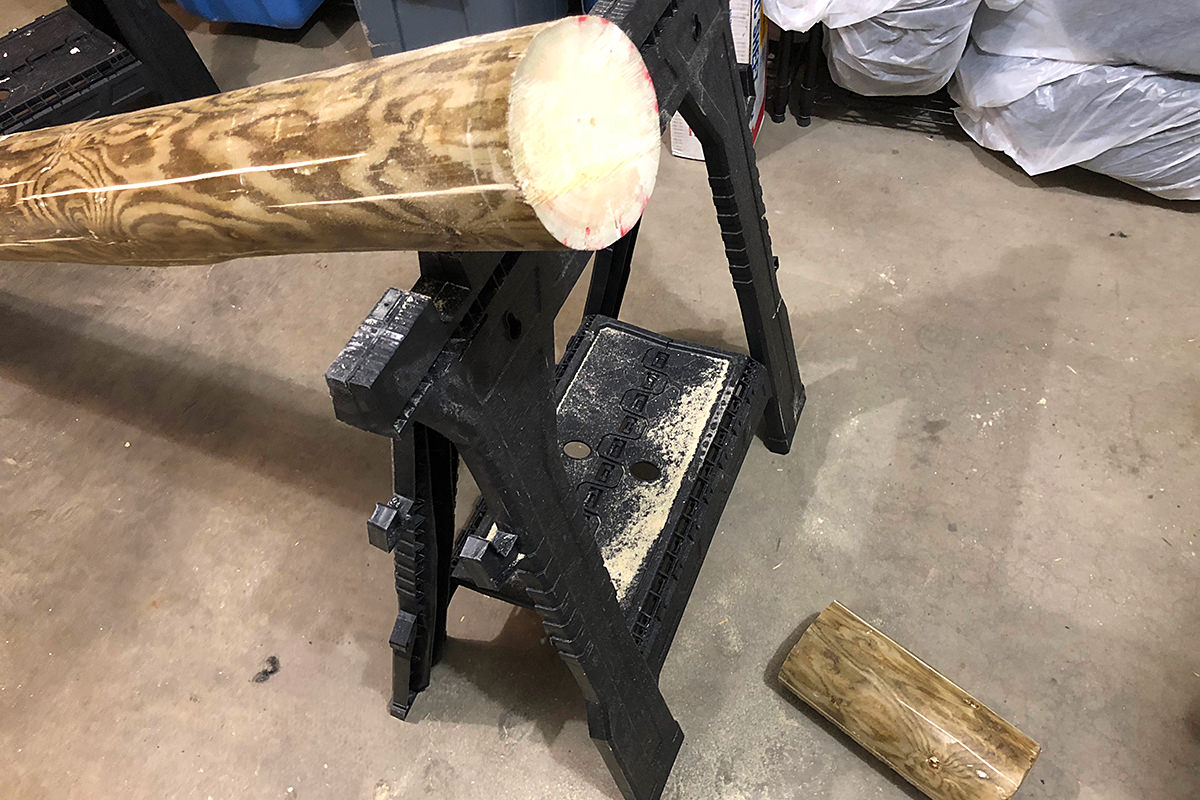 Then it was time to wrap the entire thing in sisal rope so the kitties have something to claw on. I wanted to be sure that it wouldn't come loose, so I bought some cement to glue it in place. Not willing to trust that this would be enough, I stapled it along the way on the back side as well...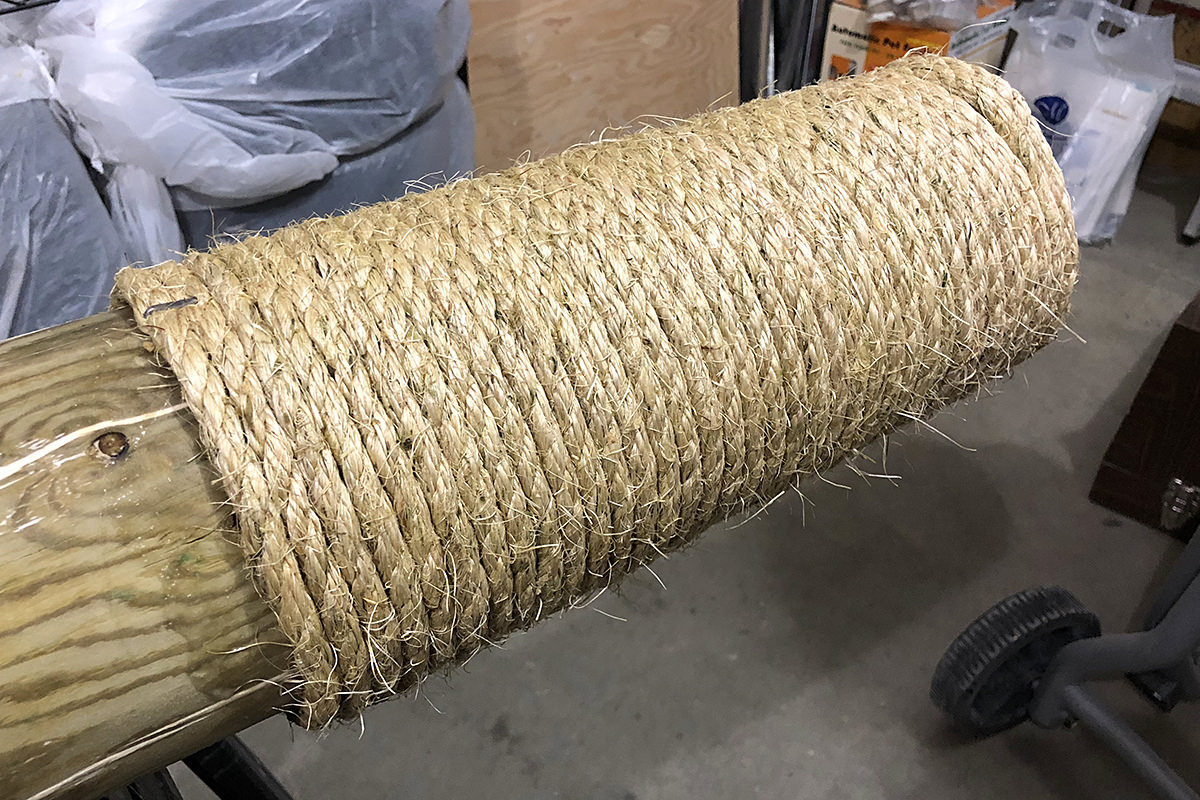 From using maths not quite forgotten (C=2πr) I knew I needed seven rolls of 50-foot, 3/8" sisal. The farm & feed store only had five, so the remainder had to be bought at Home Depot. It was slooowwww going, as I was having to glue-wrap-glue-wrap-glue all the way down...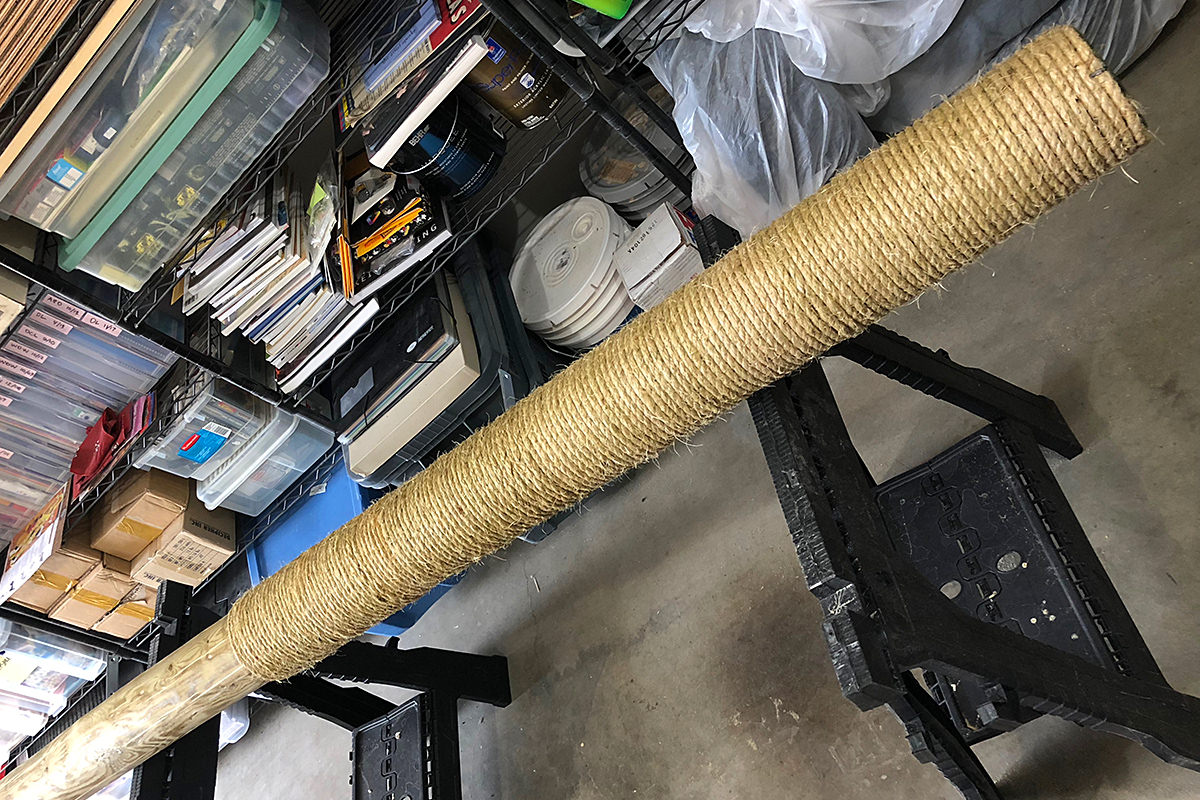 Installation was pretty easy. I had wrapped brackets under the sisal... the ends were protected by shellac and silicone, and the spot I had designed for it was easily accessible. I added a third bracket to the top of the pole so it was secured to the ceiling as well. Once it was all screwed together I couldn't budge it, so I'm confident it will be safe for Jake and Jenny.
And speaking of the little monsters... Jake watched me install it through the window and ran out to start scratching on it the minute I opened the door. Looks like another catio success!
I have one final piece for PHASE TWO that I'm hoping to get to in-between other projects next month. Then, depending how long I'm otherwise occupied in my wood shop, it's on to the finale of my catio plan... PHASE THREE.
Until I dream up PHASE FOUR, of course. Lucky cat bastards!
UPDATE: And... Father's Day came early. Jenny just climbed the entire pole from bottom to top! So proud! Unfortunately, she was climbing opposite the camera, so I don't have video... but here's her little paws peeking out as she scaled to the upper shelf...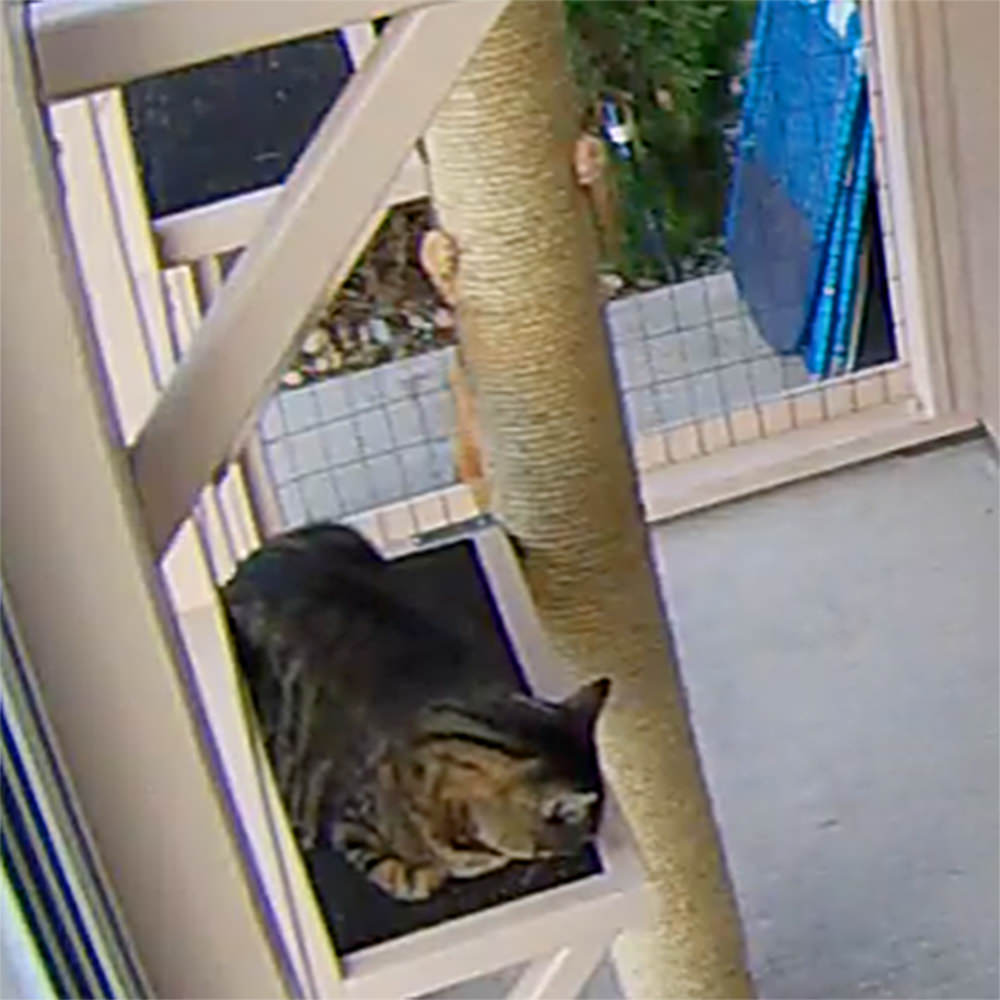 That she ran down the ramp I had installed last weekend is just icing on the cake!
Posted on June 12th, 2018

Now that I've finished a bunch of projects, cleaned out my garage, and prioritized my to-do list, I've finally converted my garage over to a wood shop. All I have left to do is hang up the dust barriers, and I'm good to start building! A month-and-a-half later than planned, but better late than never.
One of the first things I'm doing is finishing up the PHASE TWO catio projects that have been lingering since last Fall. It all started with a "Cat Ramp" I had planned to run up the side of the structure. I had built it months ago... it's just floor mats wrapped around a 1 × 6 &times 10-foot board that was then glued and screwed to a pressure-treated 2 × 6 &times 10-foot board... but I never got around to installing it.
Well, I finally did that...
Jake and Jenny absolutely love it. The ramp gives them an opportunity to use their claws to climb, so it's kind of like and really long scratching post they can climb and run around on...
As you saw at the end of that video, Jenny makes a death-defying leap across the catio, which is something I did not count on. Jake does it too...
They love the ramp so much that I've decided to not wait on the sisal pole and catwalk pieces I planned to add this Fall. I'll get started on those right away.
It's the least I can do to keep them occupied while I'm away from home!
Posted on June 11th, 2018

Too sore to get out of bed. Too tired to go to work. Too worried the cats will eat me to die and not feed them. Especially when Jake is looking at me like this...

And it's a Monday...
Posted on June 8th, 2018

My cats were driving me crazy every time it was close to breakfast or dinner time, because they don't want to wait for breakfast or dinner... they want their food now.
And so a couple months ago I had Alexa set alarms for 7am and 6pm every day so that my cats would learn not to bother me until they heard it was time. And it totally works...
Problem is that I can't set Alexa alarms for anything else or my cats will get confused and think it's time to eat.
Something I learned the hard way when I was baking bread last week.
Posted on June 2nd, 2018

And... I'm back home.
It was nice to have Friday away from it all, but I'm happy to see my cats again. Yesterday I tried to talk to them through the security system cameras and it went as expected. No matter how many times I try to get them used to it, they are still completely mystified by The Voice of God drifting in from nowhere...

I washed my sheets the same way and with the same detergent I've always used... but now, for whatever reason... Jenny is all hyped up over them. She's tunneling under them... biting them... clawing at them... and of course I encourage it because she's too cute about it...
ME: My new sheets don't have enough holes in them!
JENNY: Hold my beer...

Jake's entire day is made when he spots Fake Jake outside and can go running around the house trying to follow him around. Which is why I was greatly amused when Fake Jake came waltzing up to say hello and Real Jake was obliviously looking in the wrong direction...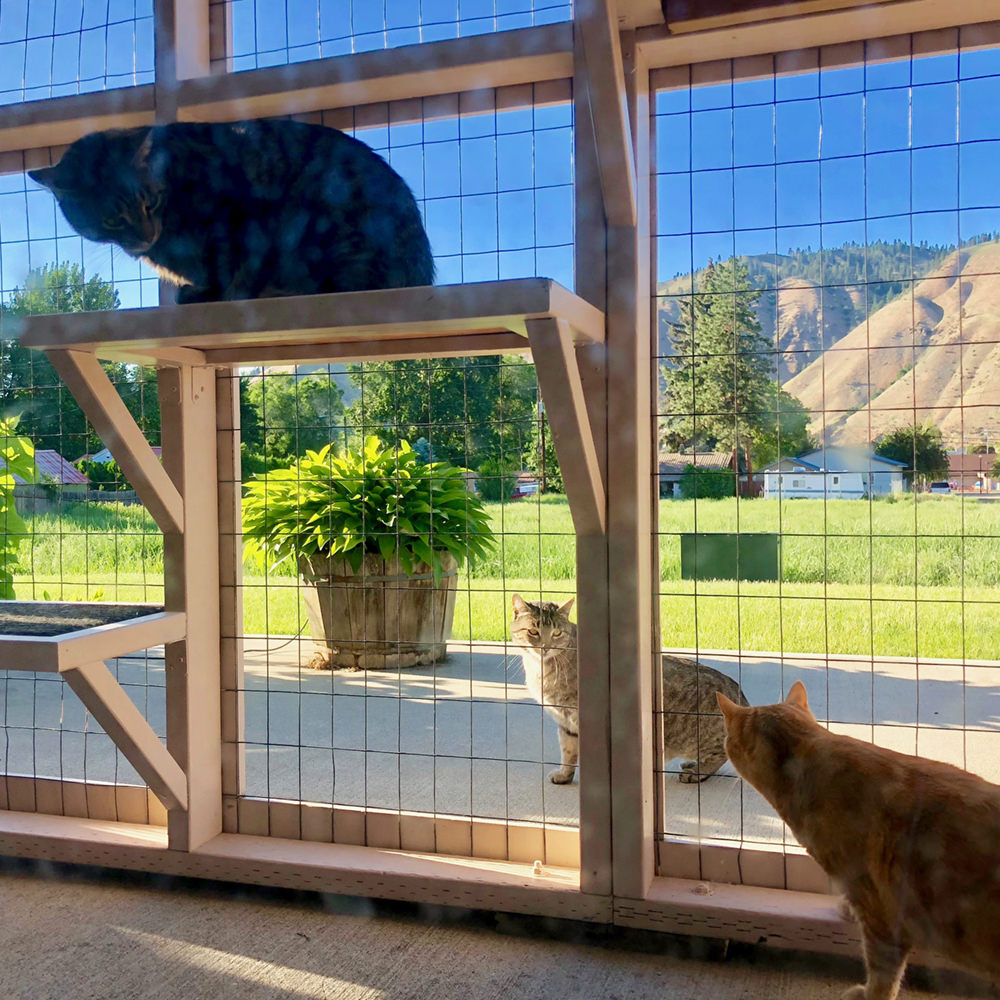 Jenny dropped Mufasa the toy lion in the water fountain this last week, so I had to hang him up to dry. Jake wanders around looking for him, but ultimately seems okay chewing on Moose the Mule instead...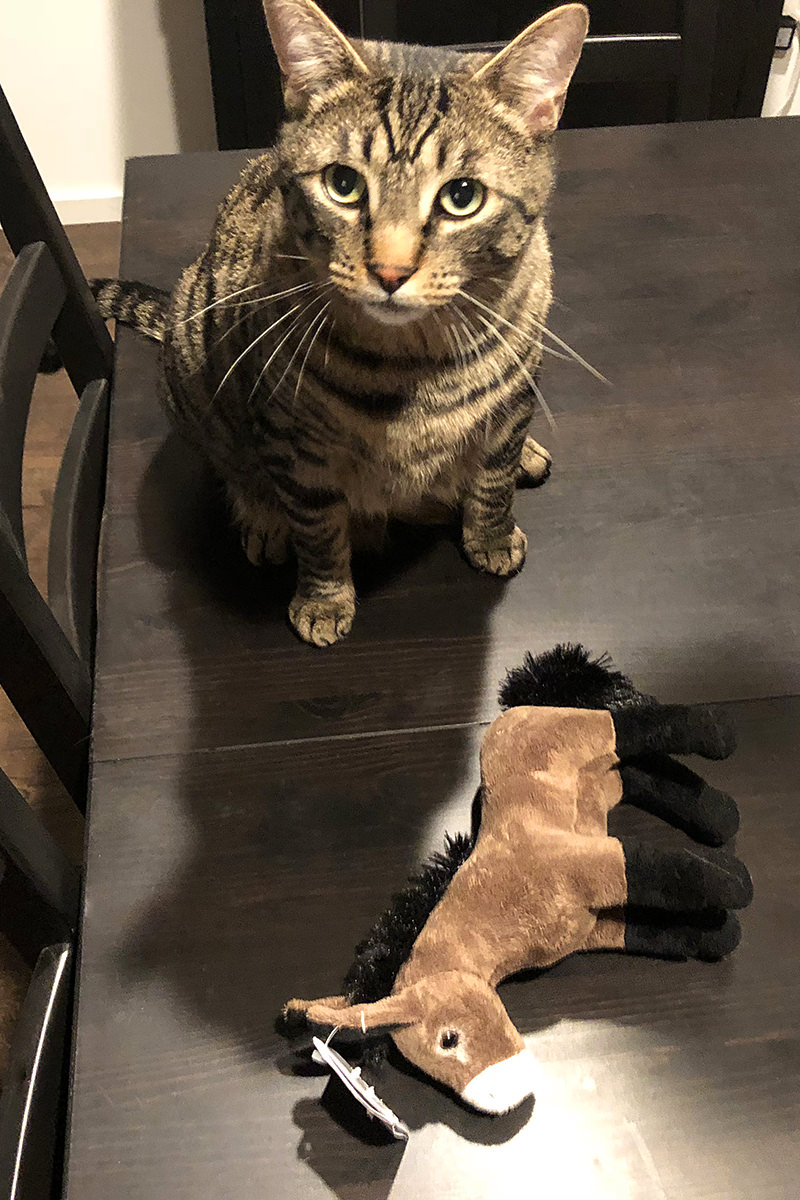 And, yes, Jake is still dragging Moose upstairs most nights...
Which is fine, except a couple of times I've nearly tripped and busted my ass... or twisted my ankle... because I've forgotten to look out for stuffed mules on my bedroom floor...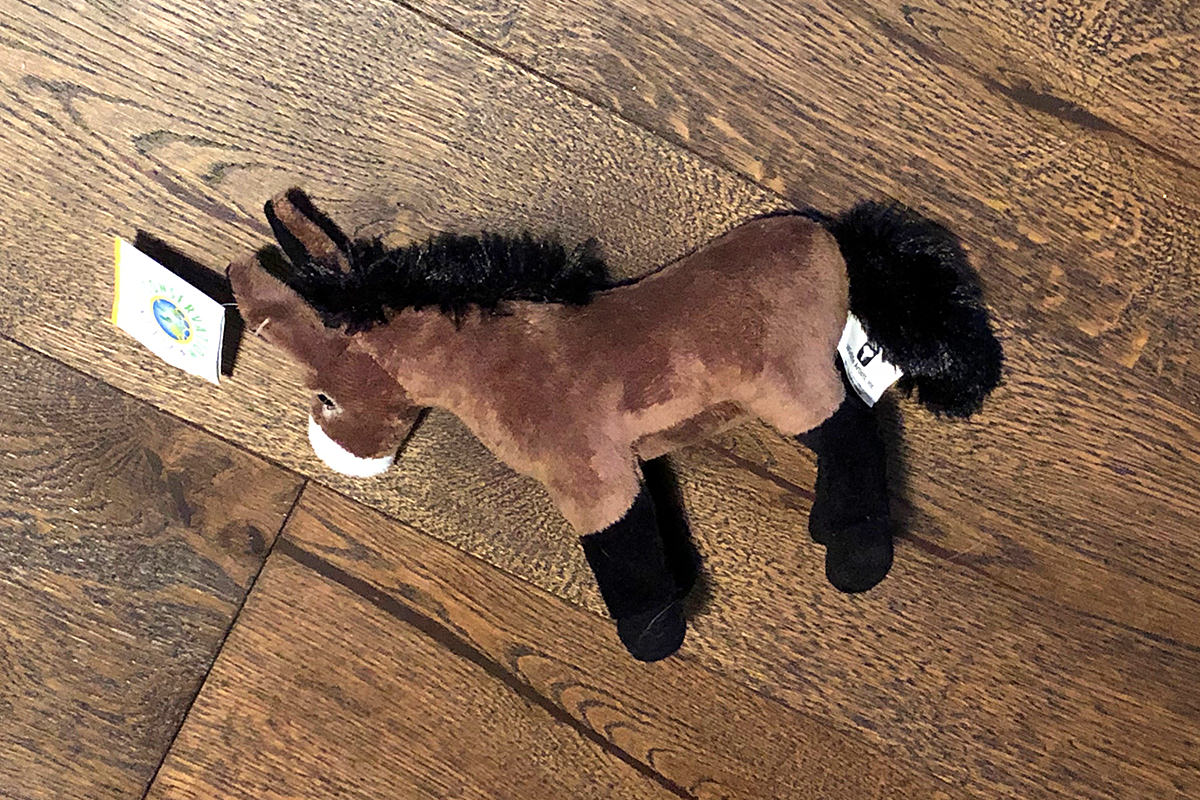 Life with cats.
Posted on May 29th, 2018

Yesterday was supposed to be the day I set up my wood shop in my garage so I can start in on my kitchen remodel. Unfortunately, my garage had more junk in it than I expected, so I'm still working on it. Amazing how even though I'm tossing tons of stuff there's still tons left. It's never-ending. I wish I could make a time-machine, then go back and tell myself "YOU DON'T HAVE TO SAVE EVERYTHING!"
The good news is that I have "help"...
Really hoping that this weekend I'll be done and my shop will be up and running. I'm burning precious time I need to get things done!
Posted on May 26th, 2018

It's a three-day holiday weekend! Except I had to work today, so it's not much of a holiday for me. But hey, I got to come home and clean out my garage for six hours, so it's not like I didn't have any fun.
Last Caturday I posted a photo of Jake all sprawled out and was asked if that's how he always lays down. The answer is "no, not always."...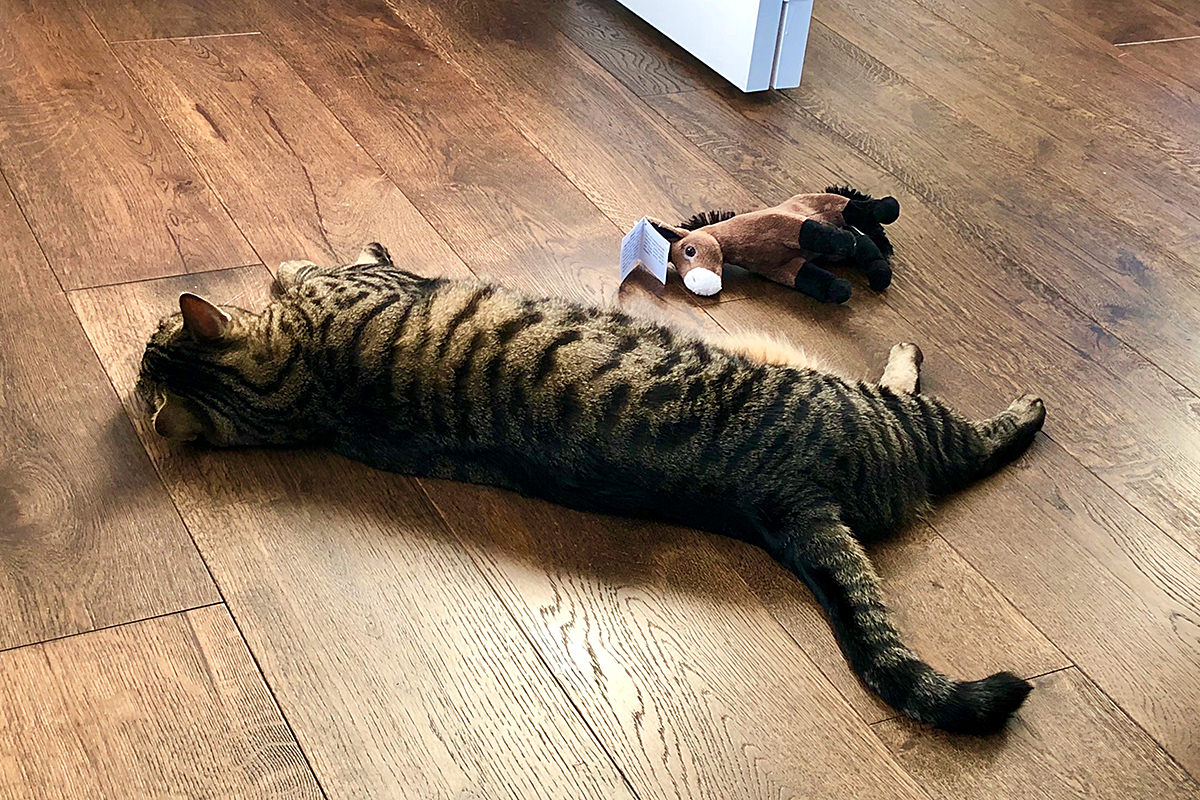 But he does lay like that a lot of times now that the weather is getting warmer and I am trying to save money by not running the air conditioner unless I have to...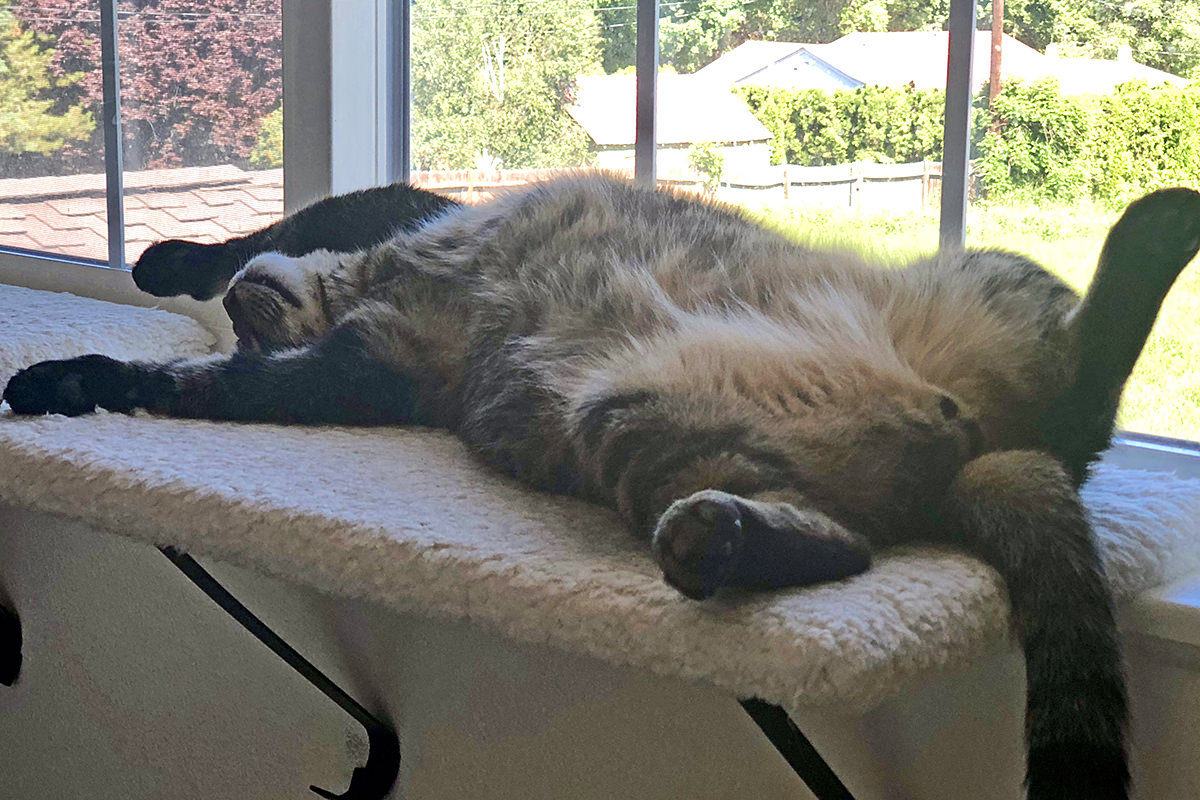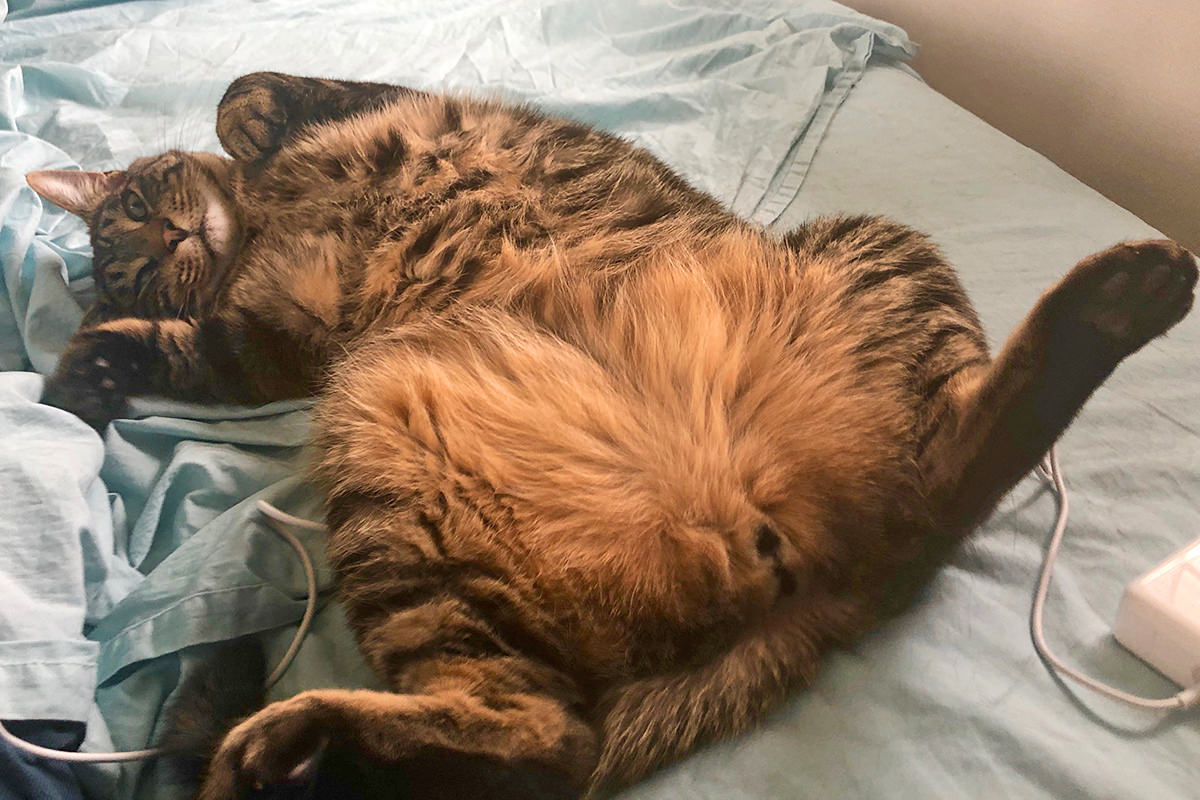 And he doesn't much care what people think about it. You'd probably lay spread-eagle too if it were hot and you were covered with fur...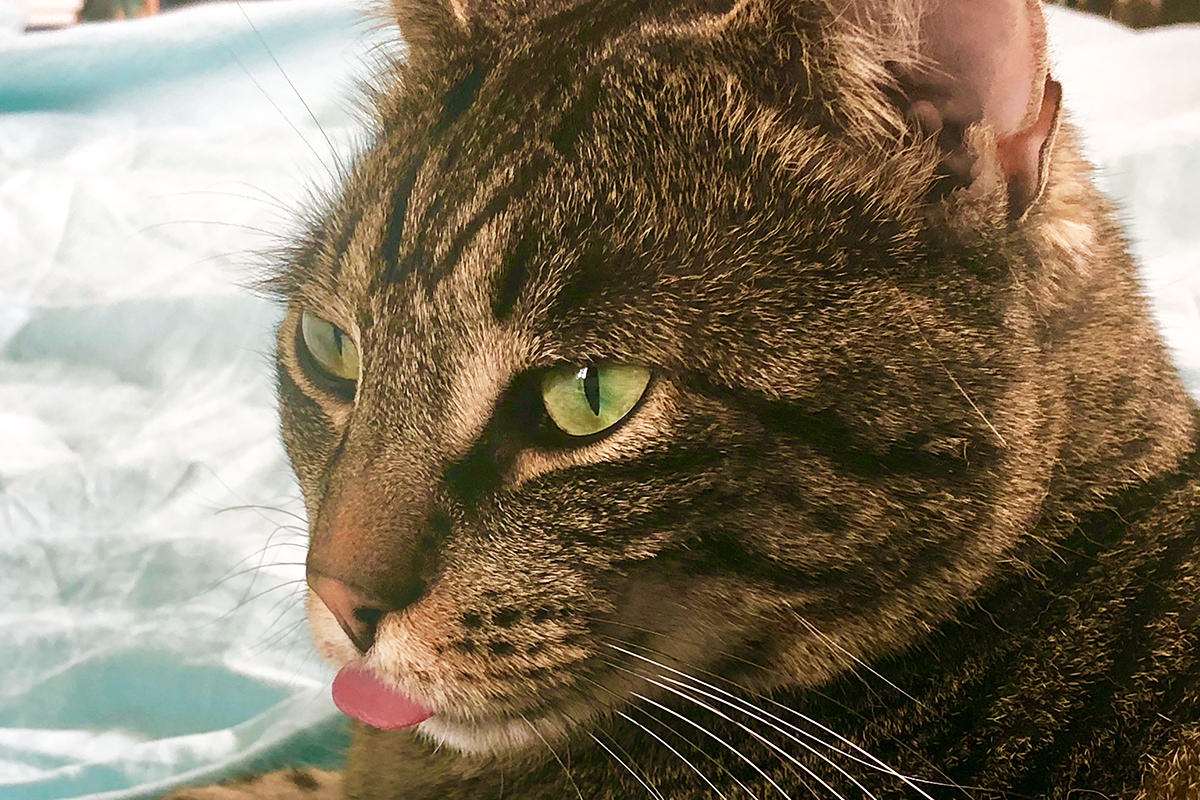 Unless you're Jenny. She's way too much a lady to lay like that.
Speaking of Jenny, she's started getting a bit demanding lately.
So there I was last night, composing an email to head off a major disaster, when I hear the most pathetic WAILING coming from near my feet. I look down to see what in the heck Jenny's problem is, and it's... nothing. Miss Perfect Pretty Princess just wanted to lay down next to me but my computer was in the way. Jeez. You'd have thought she was dying or something. The girl knows how to get what she wants, that's for sure...
Jake doesn't complain, he just jumps up and pushes his way to where he wants to sit. Which means setting down the computer and letting him get his way...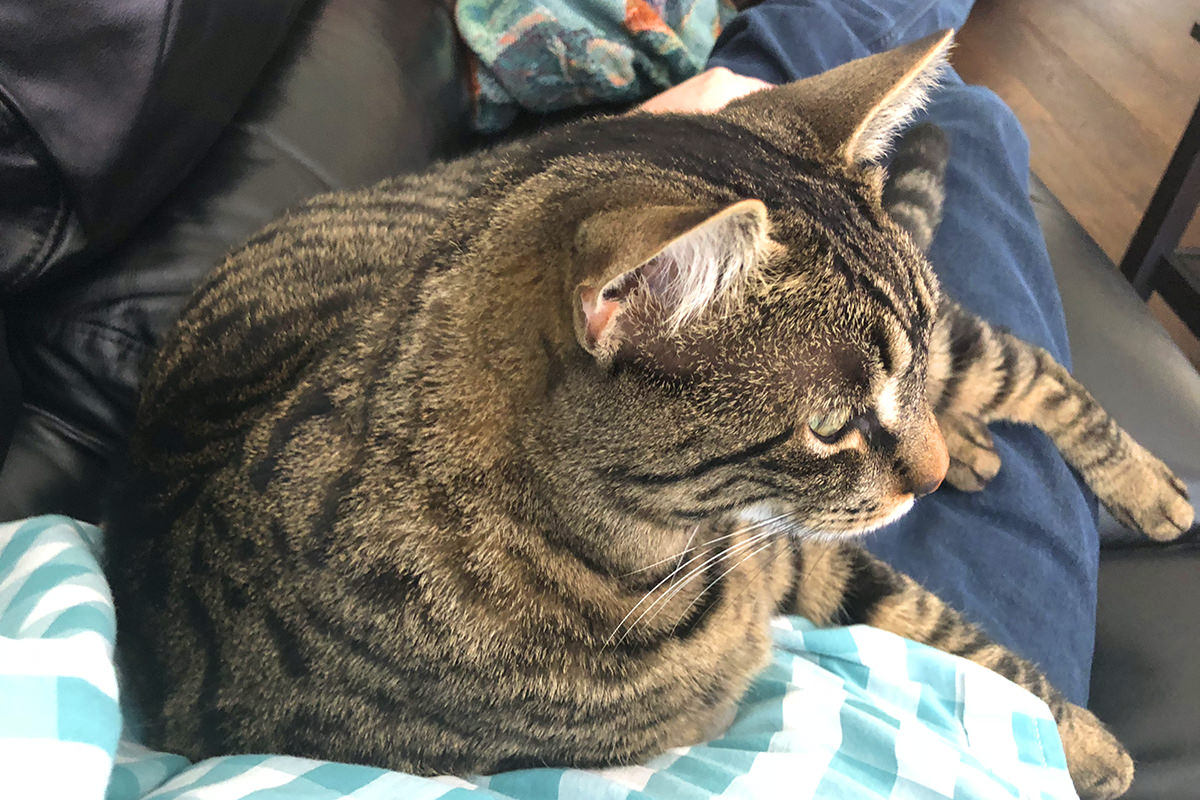 The only one in this house not getting their way is me.
And also any fly stupid enough to wander in. The cats are both completely obsessed with hunting them down...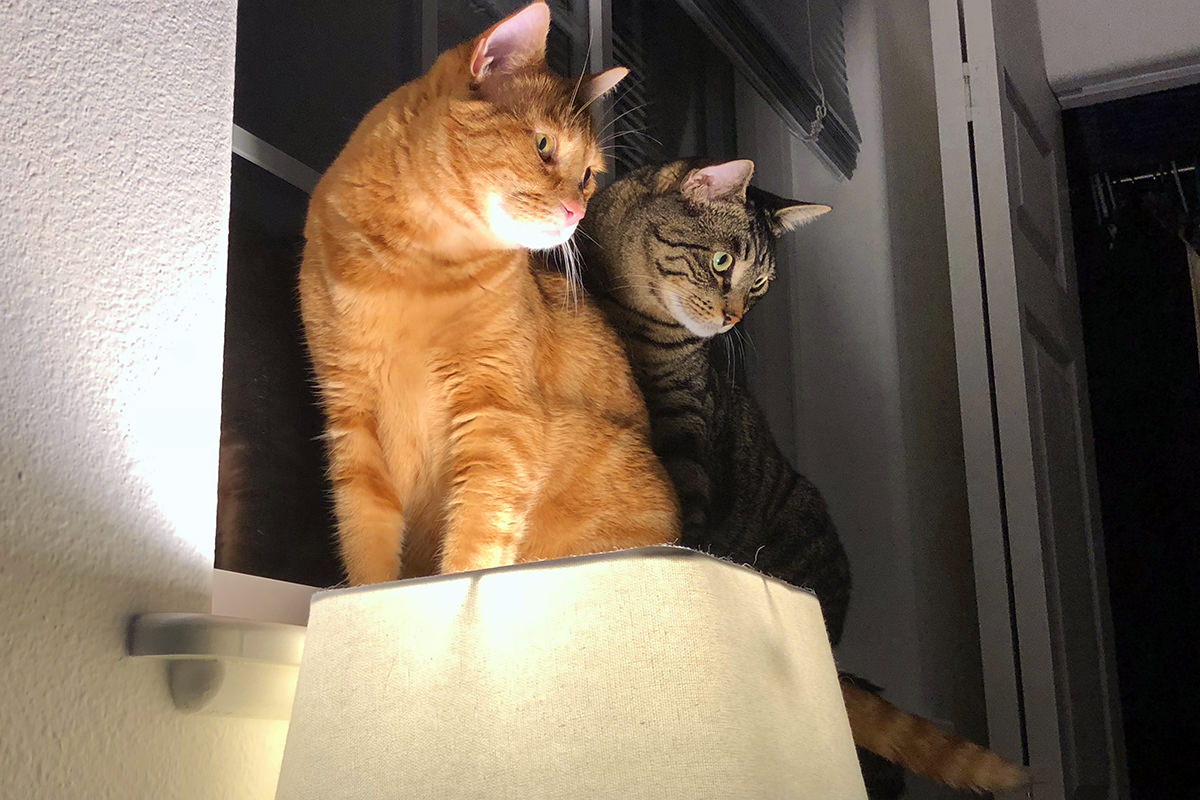 Jake and Jenny are surprisingly good at hunting flies. They're patient. And fast. And resourceful. They catch a lot of them.
Which is fine. Except when they eat the flies. So gross.