Posted on July 22nd, 2017

It's strange how much I worry about my cats when I'm not at home. Not over things like them tearing up the house or making a mess or anything like that... but worry over them being lonely or bored.
Right now I am checking in on them with the security cameras and they are exactly where I saw them when I left yesterday. Jake is on top of the kitty tree and Jenny is laying on the stereo receiver (I think she likes how it gets a little warm... even on the hottest days). She naps there most of the time now...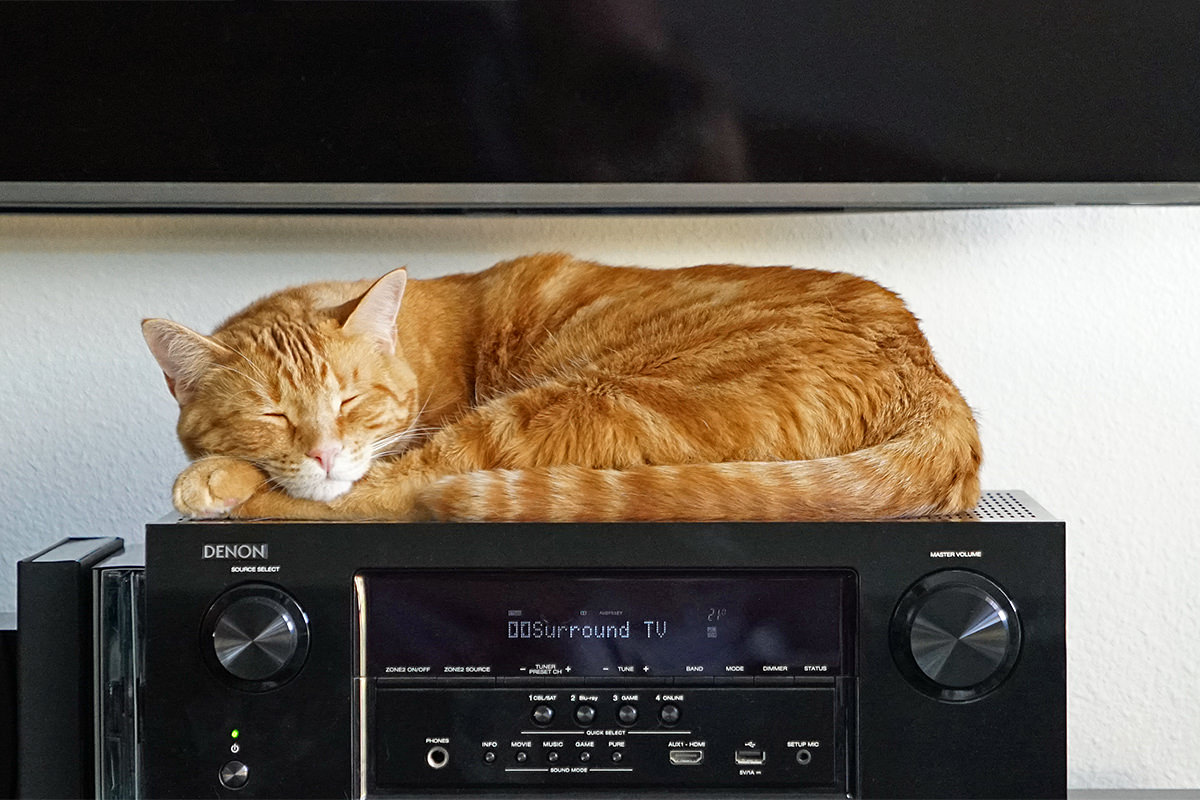 Seriously, she does.
I've been documenting it with my iPhone...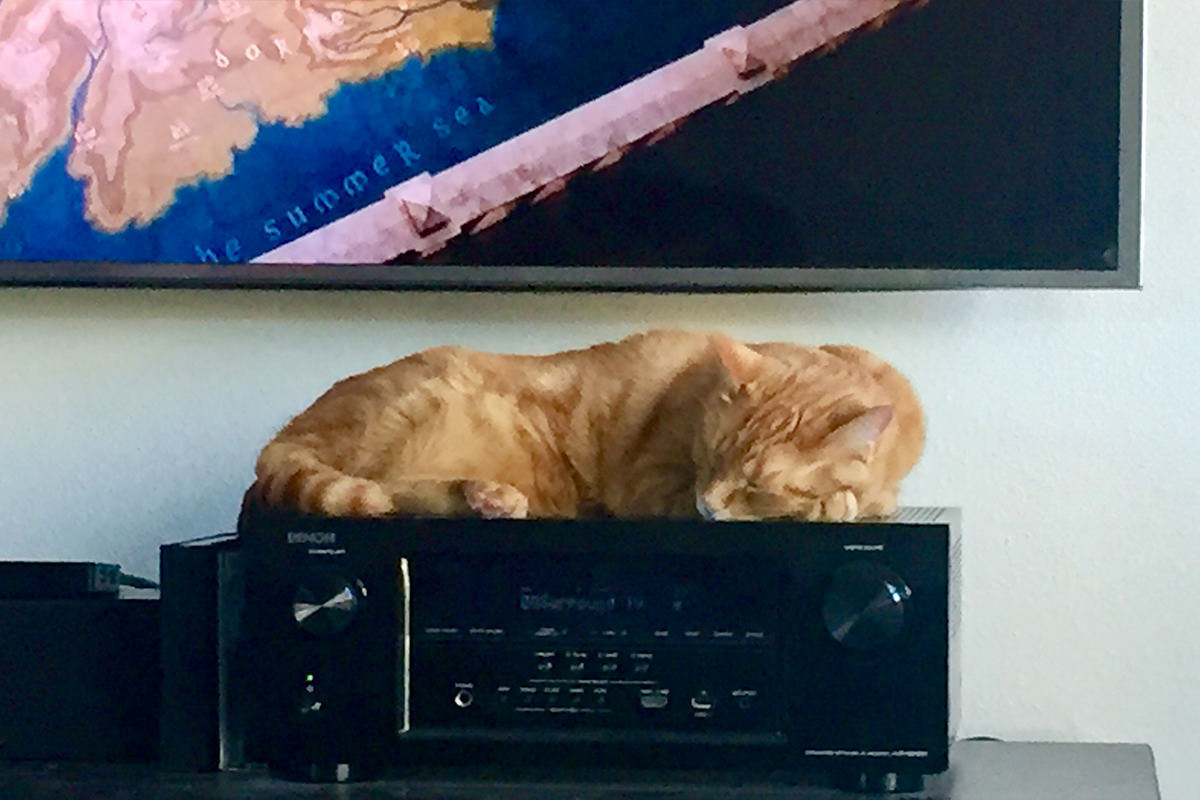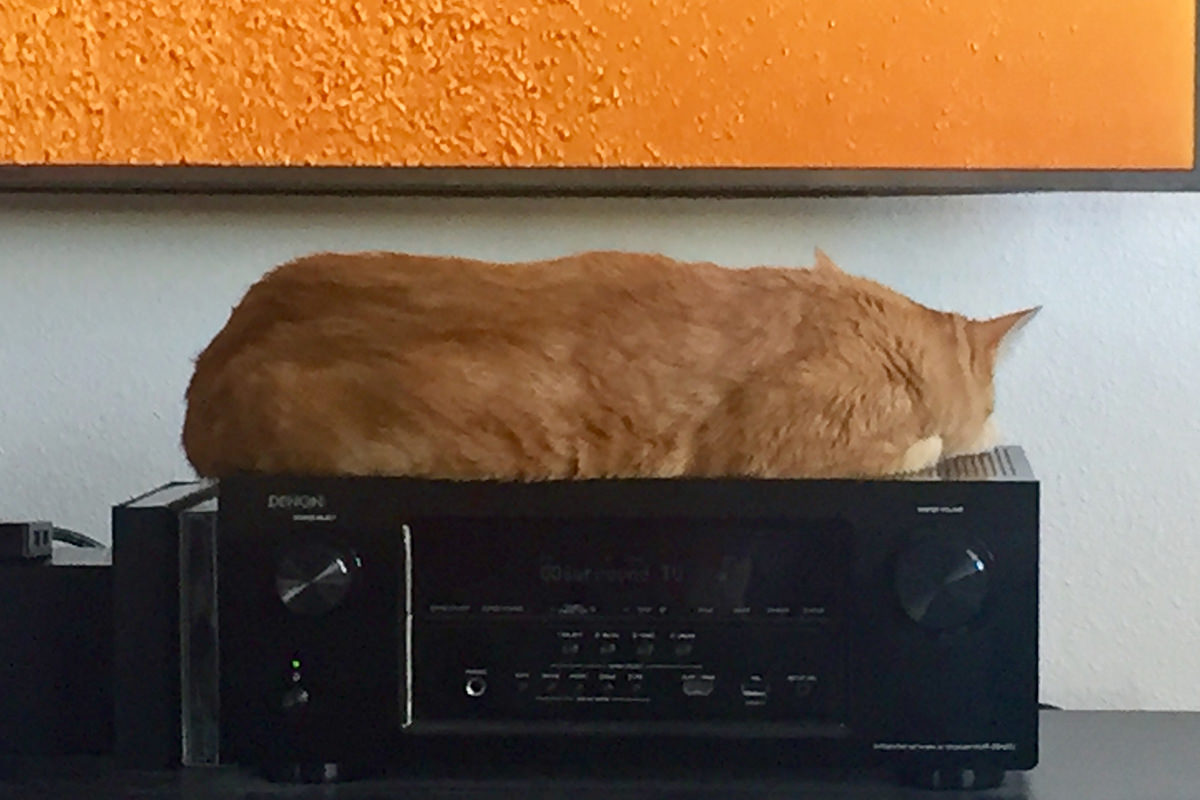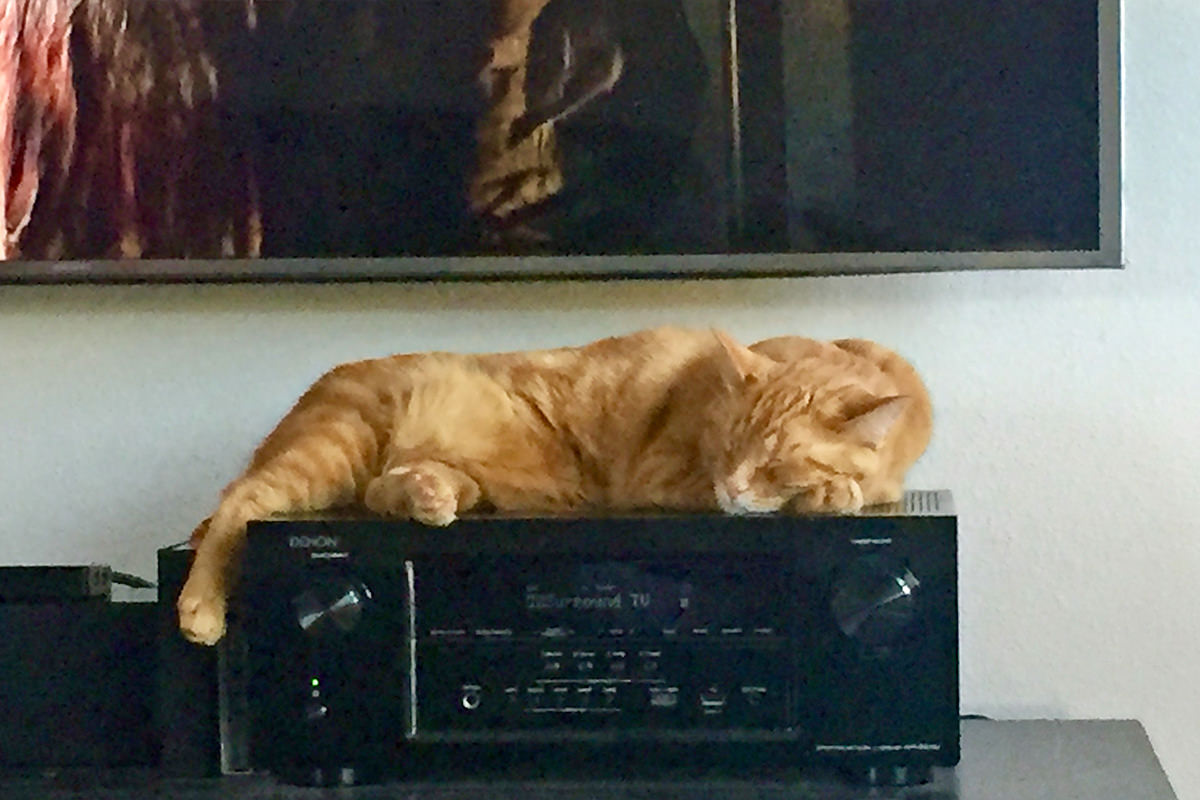 Awwwww... this one is my favorite...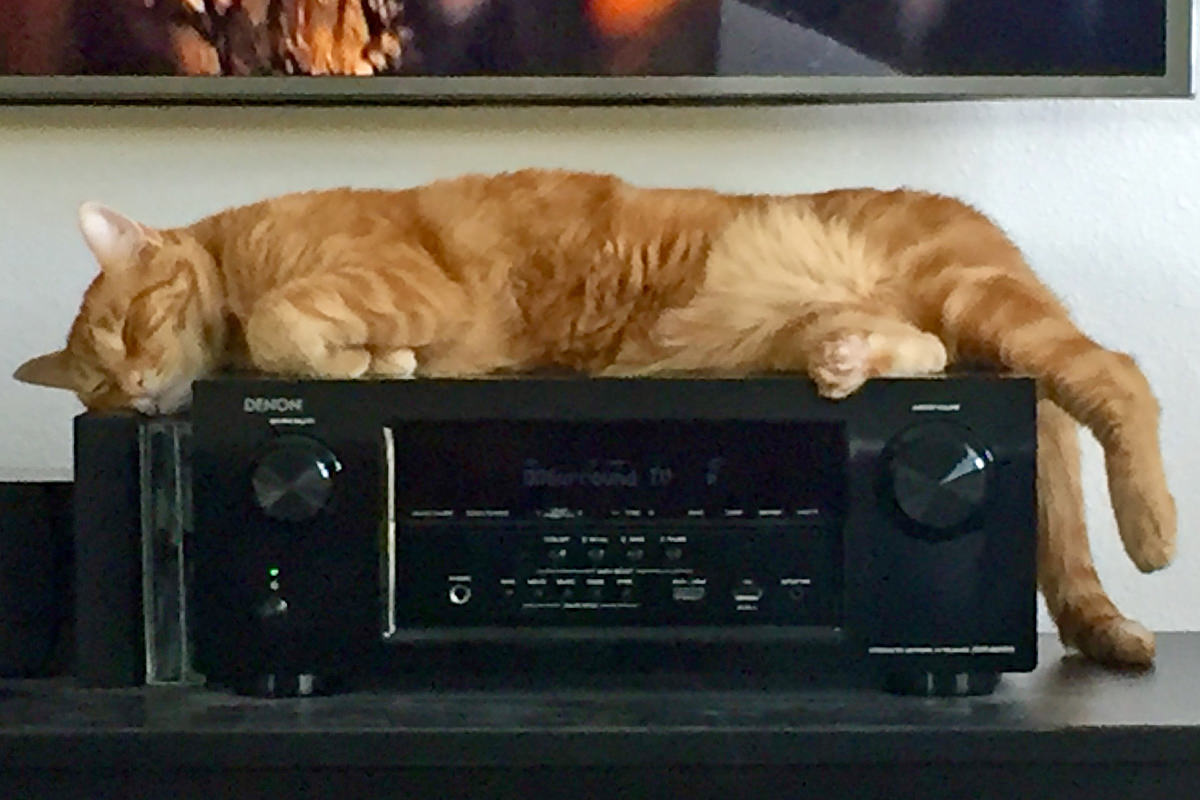 She's making a pillow out of my Star Wars Blu-Ray collections!
As for Jake? He's busy being Jake. When he's not eating, pooping, or napping... he's destroying my expensive books by chewing on them... sometimes as I am reading them...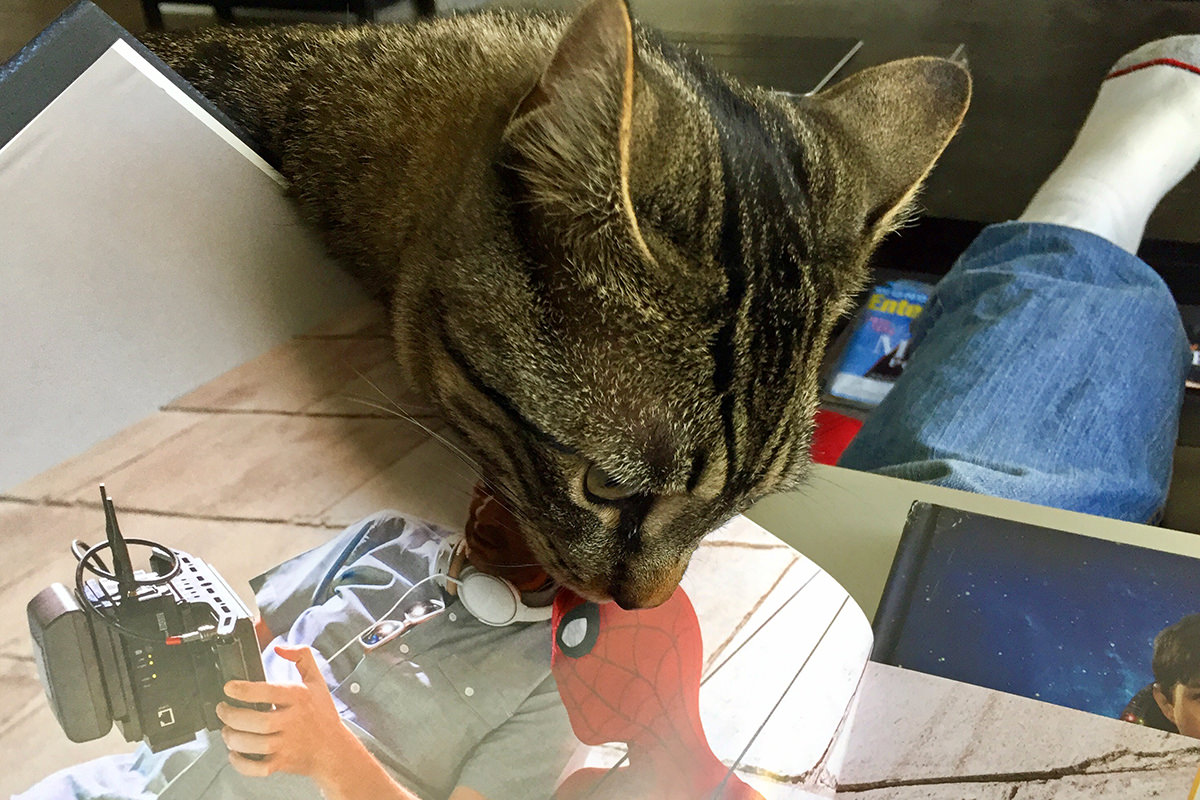 LOOK OUT SPIDER-MAN!!!
And... going to try and be inspired by my cats and get some sleep now.
Which would probably be easier if I were home with them.
Posted on July 18th, 2017

I don't think that my cats have fully grapsed the idea that there are security cameras everywhere throughout my house and I can see most everything they do.
So when I come downstairs, walk into the kitchen, and see that the cupboard with all the cat food, cat treats, and cat toys has been ransacked, their attempt to profess their innocence by pretending to be shocked and saddened that such a tragedy has occurred doesn't do them any favors.
Nor does blaming "ghosts," which seems to be their go-to explanation.
Today I attempted to show Jake some camera footage which clearly shows he is guilty of breaking into the cat cupboard. Again. He remained steadfast in his innocence.
I'd say he's got a huge pair of balls on him, but he doesn't have any balls at all.
Even so, I'm too proud of him to be angry about it.
Posted on July 15th, 2017

I'd have thought that my cats would have settled into their personalities after a year-and-a-half... that no new big surprises would be on the horizon.
It certainly seemed that way. Until this past week, when big surprises did indeed show up.
When I first got Jake and Jenny, they were terribly frightened and shy...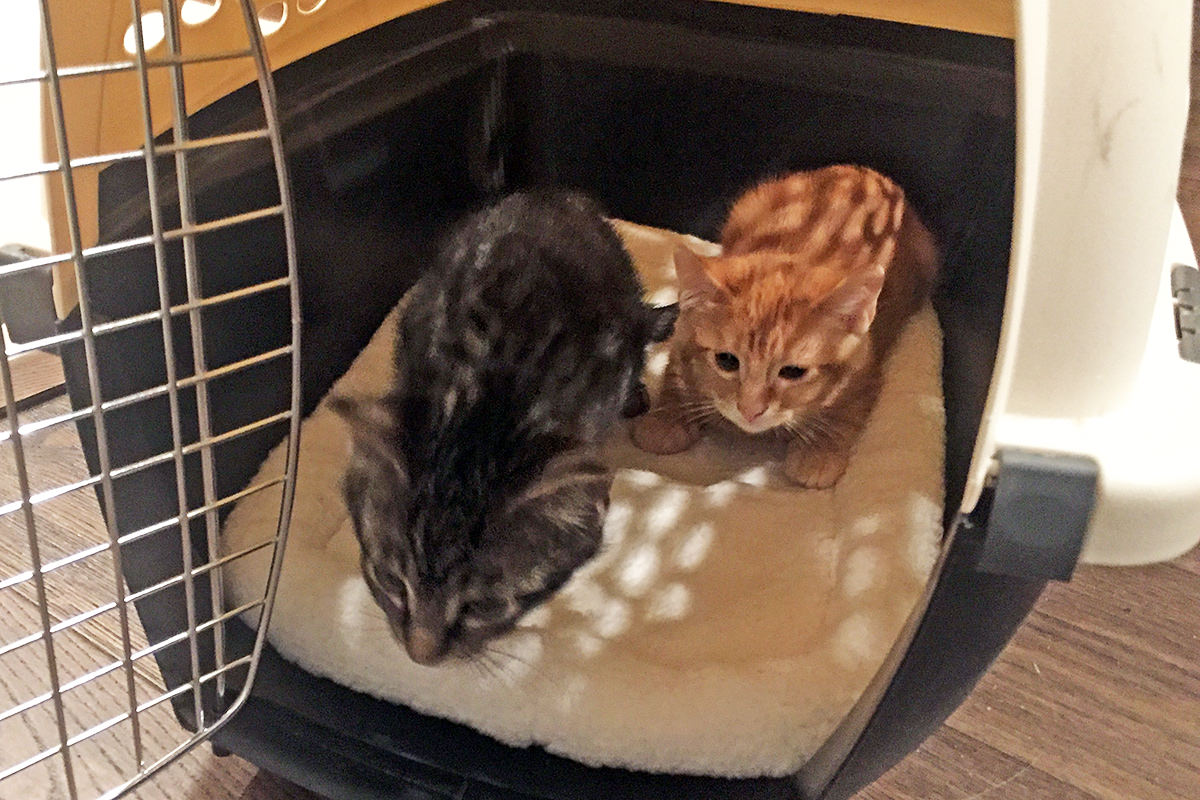 It took a week before I could lure them out from under the couch to play. It took four weeks before Jake would let me touch him... five weeks before Jenny would allow petting. Weeks after that, the cats were fairly sociable and would climb on me if I lured them with a cat charmer. Months after that, Jake would be all over me... Jenny not so much. Eventually she came around, but there were always conditions. If she was laying near me, I couldn't touch her or she'd get scared and run away. Any time I'd be petting her, she'd nervously pace all around me, never laying down or getting comfortable. She'd hop on the bed and watch TV with me for hours... but at a comfortable distance. Every once in a blue moon she'd sit or lay for a few minutes while I'd scratch her ears, but anything more than that just wasn't going to happen.
Until this past week, when all of a sudden she's hanging out with me every morning like this...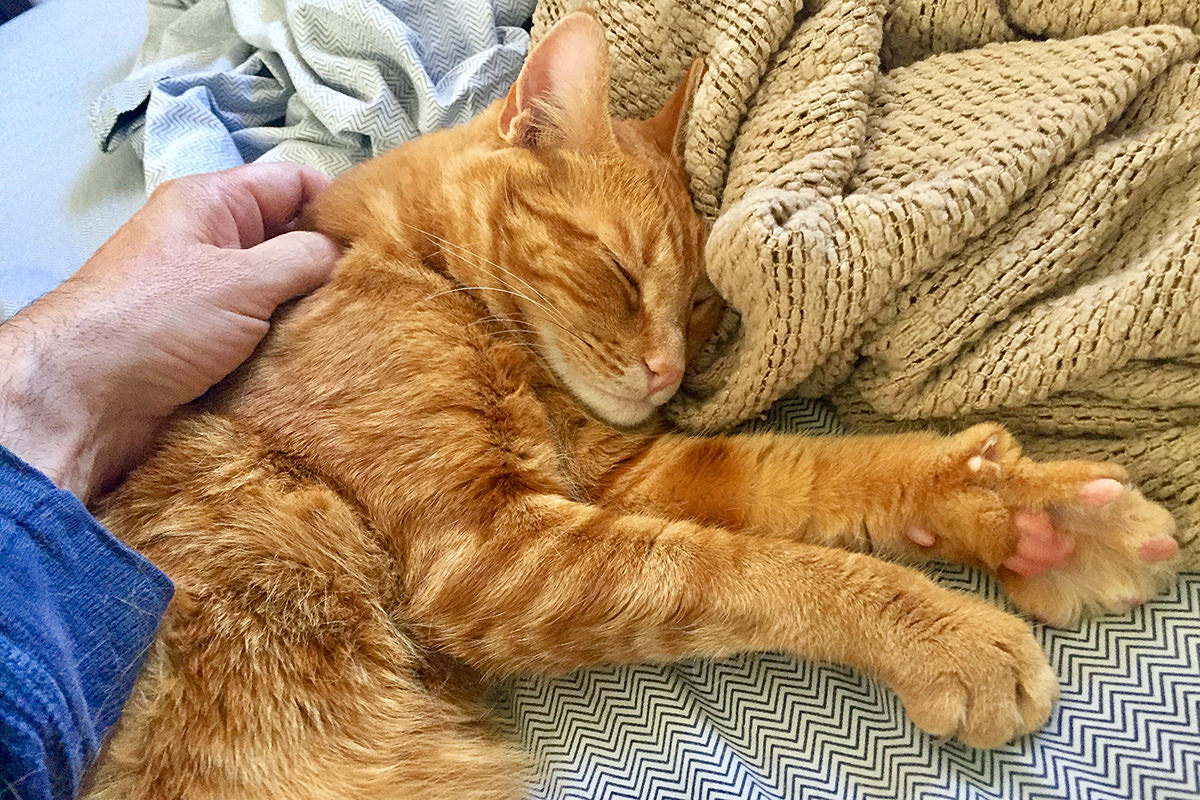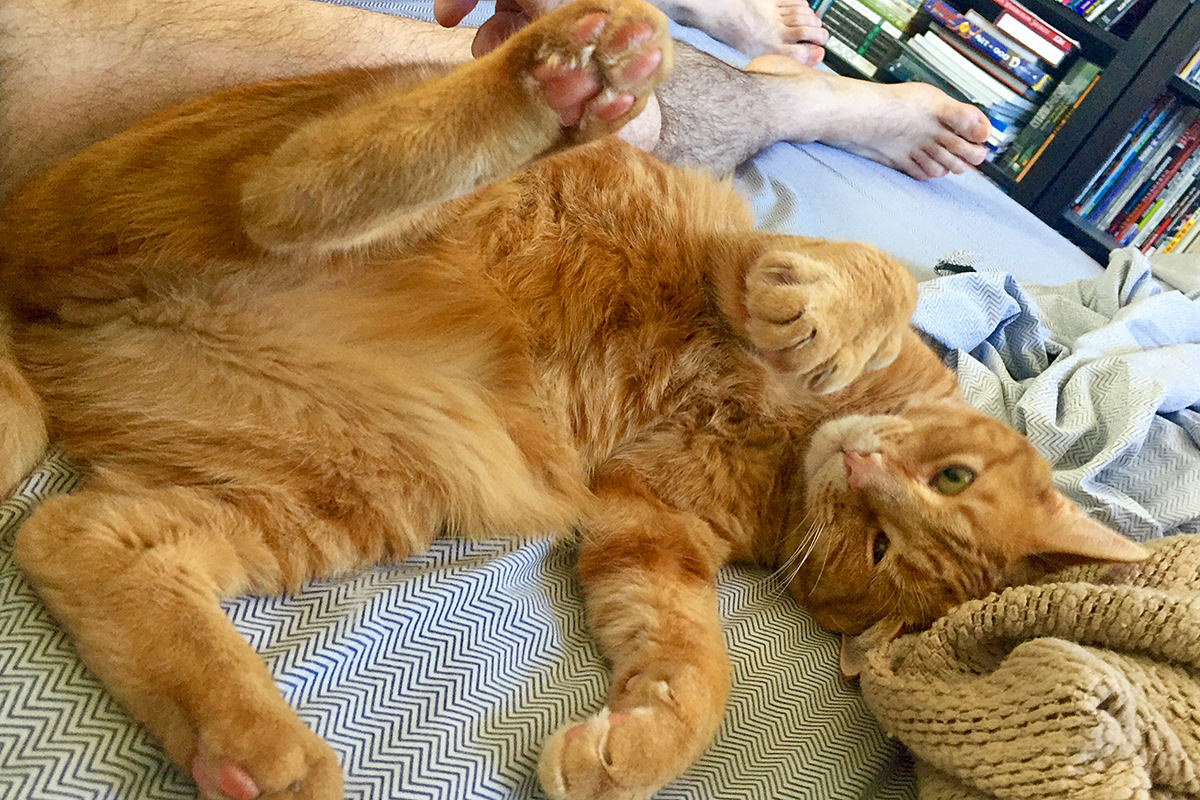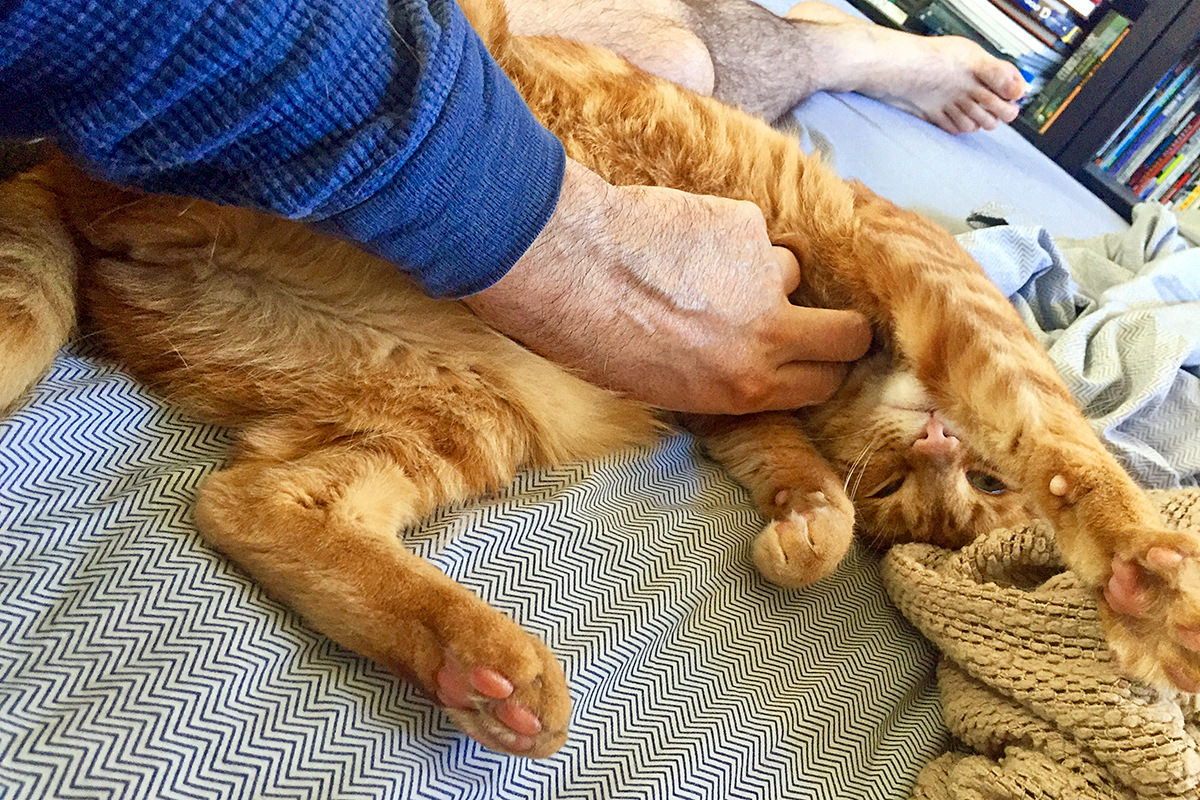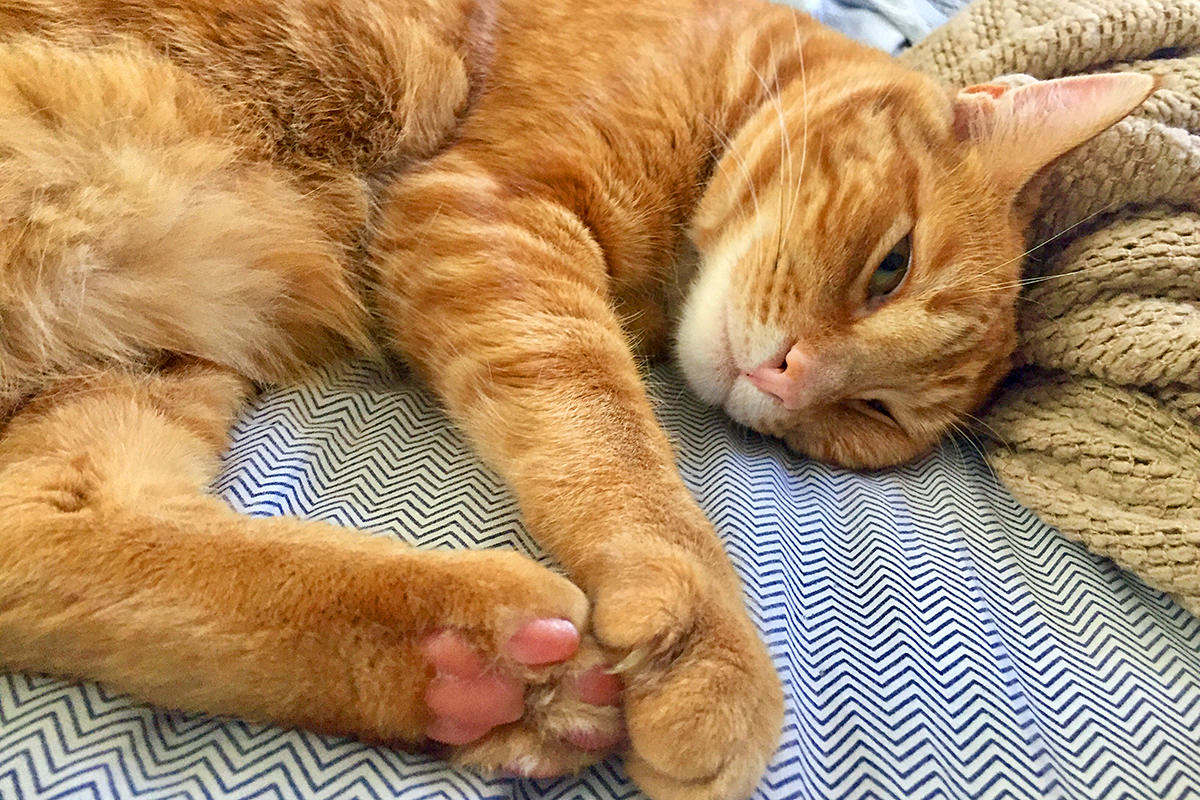 Honestly never thought this would happen.
And then there's Jake.
He'll happily hop next to me on the couch or sit in my lap for an hour at a time. He's been doing this for a long while now. But yesterday it got weird.
I came home early from work around 1:30pm. The minute I walked through the door, Jake was all over me, following my every step... rubbing up against me any time I stopped moving. Then I sat down and he was immediately on me to take a nap...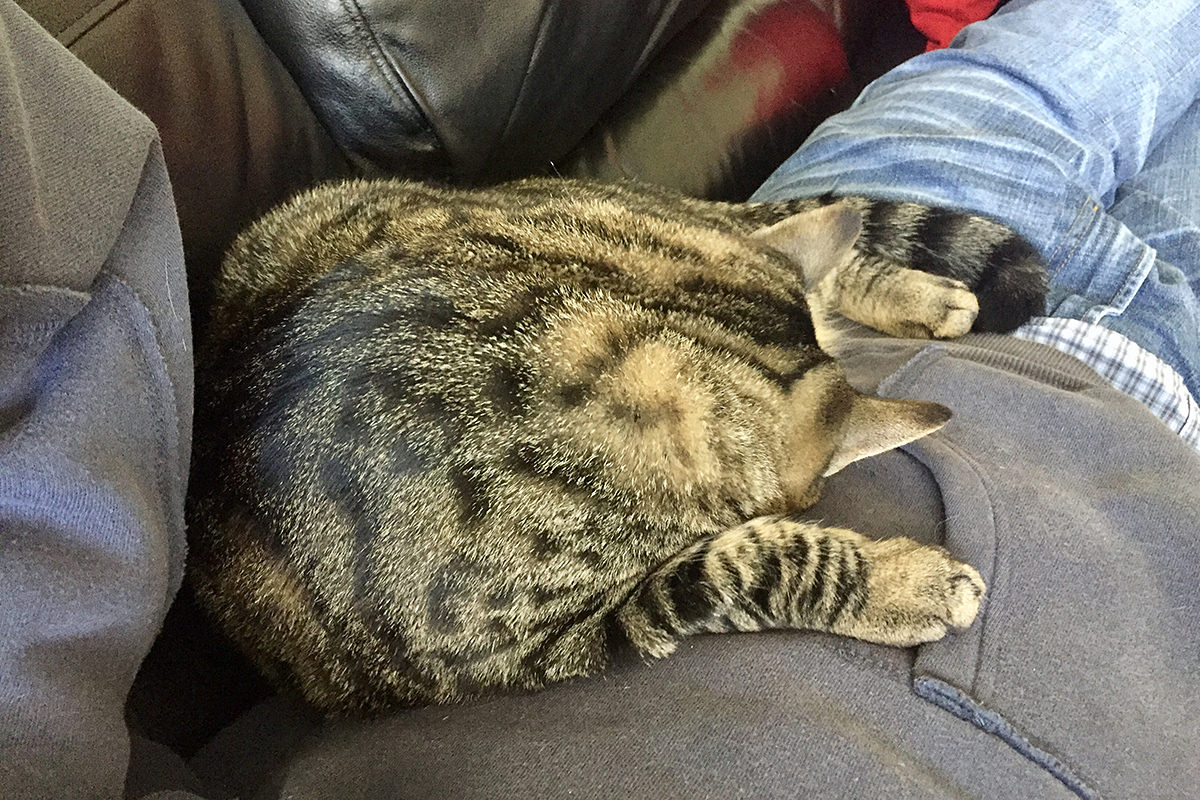 He then stayed on me... for the next ten hours... while I worked, watched TV, and ate dinner. The only time he'd leave is to eat or go to the bathroom. If I got up for any reason, he'd start crying and cling to me. I was starting to wonder if he was sick...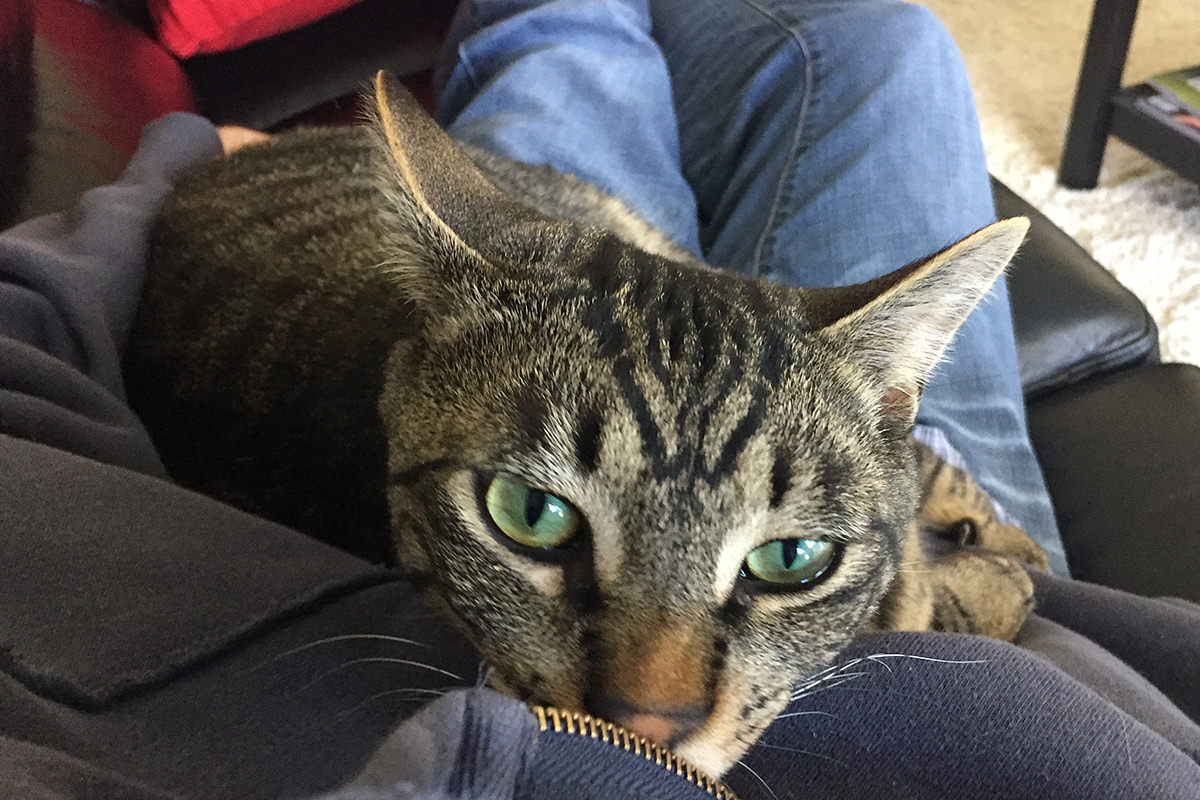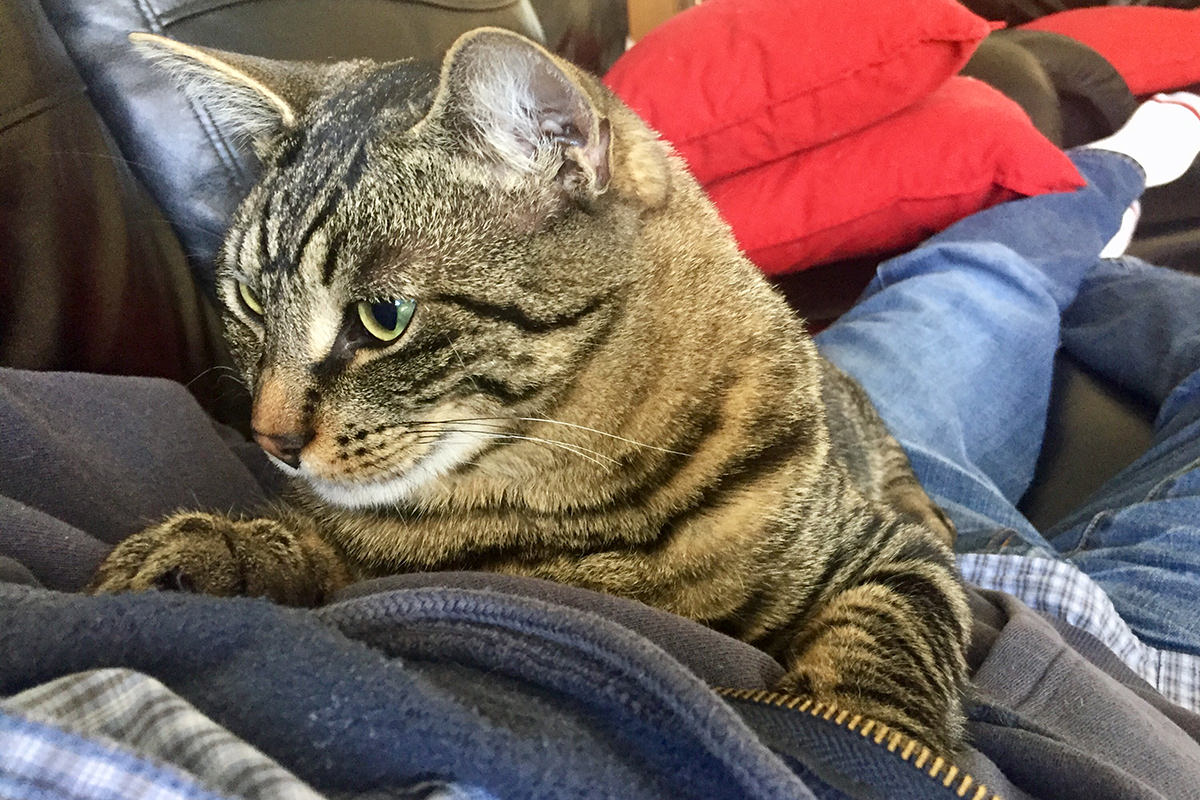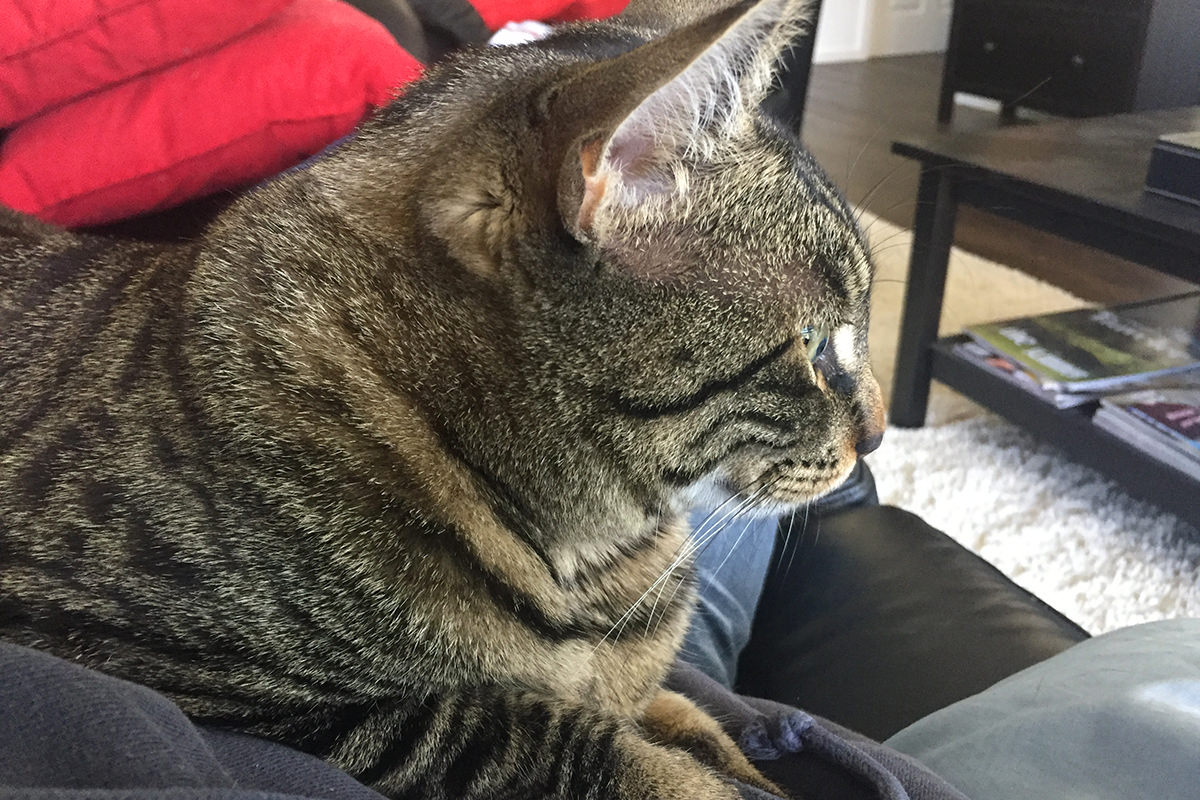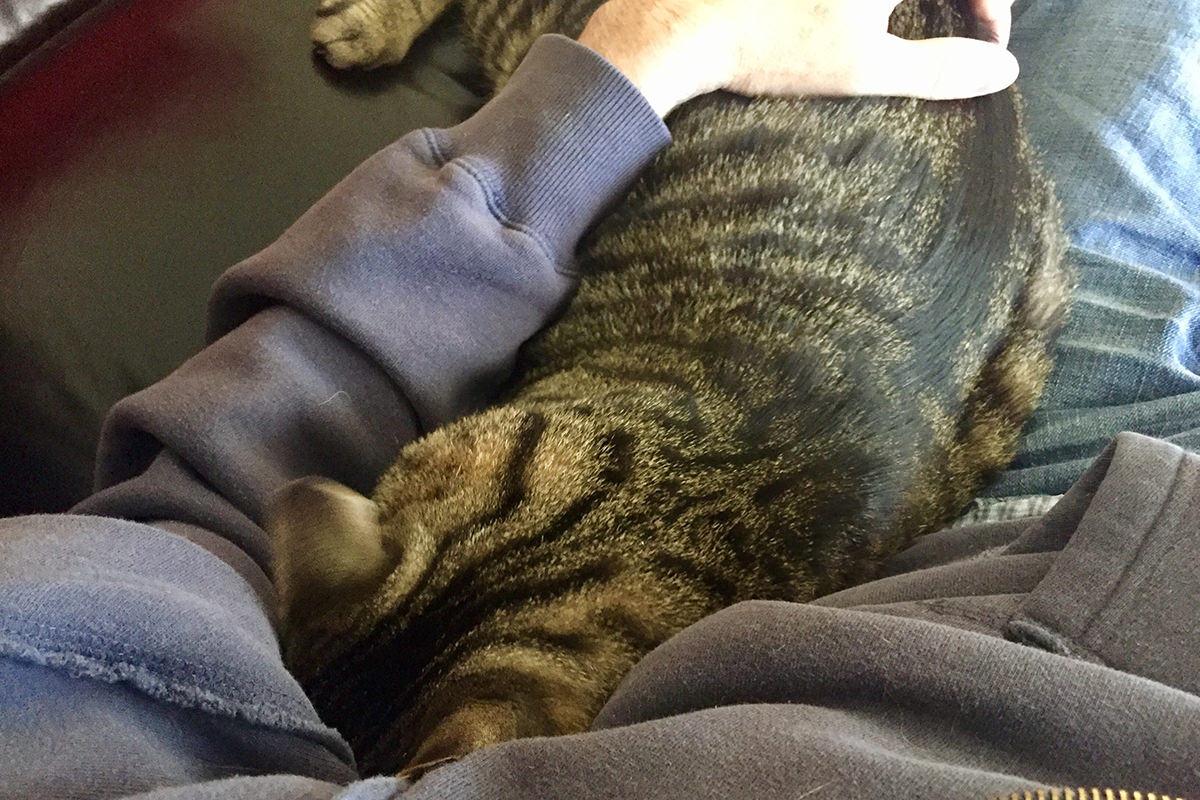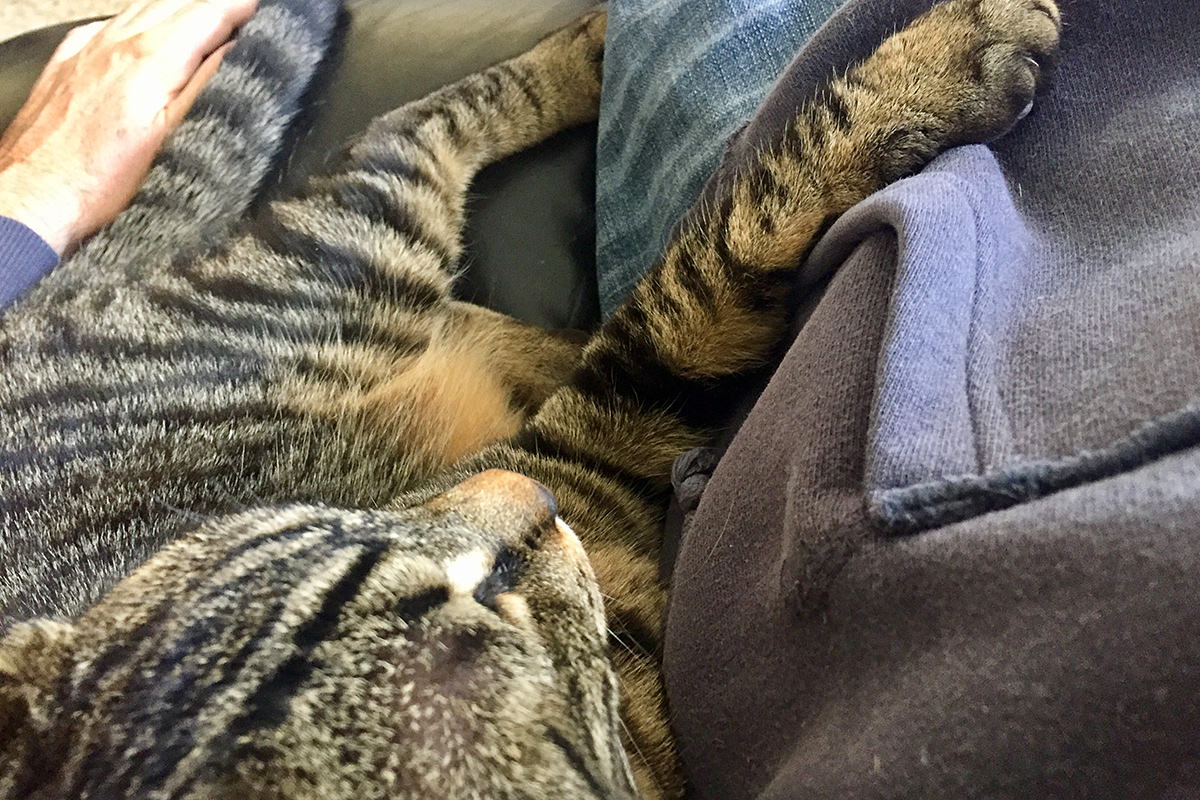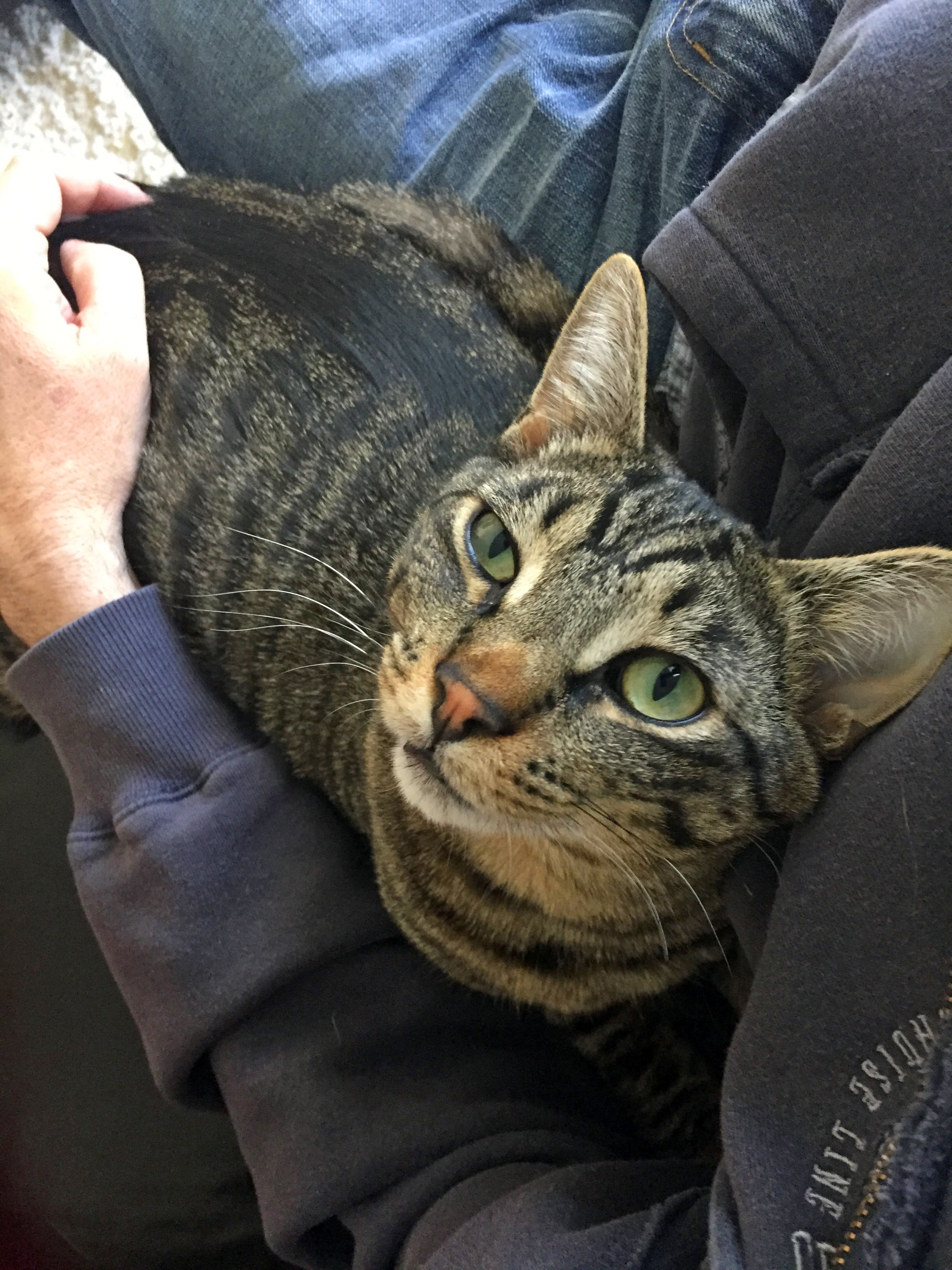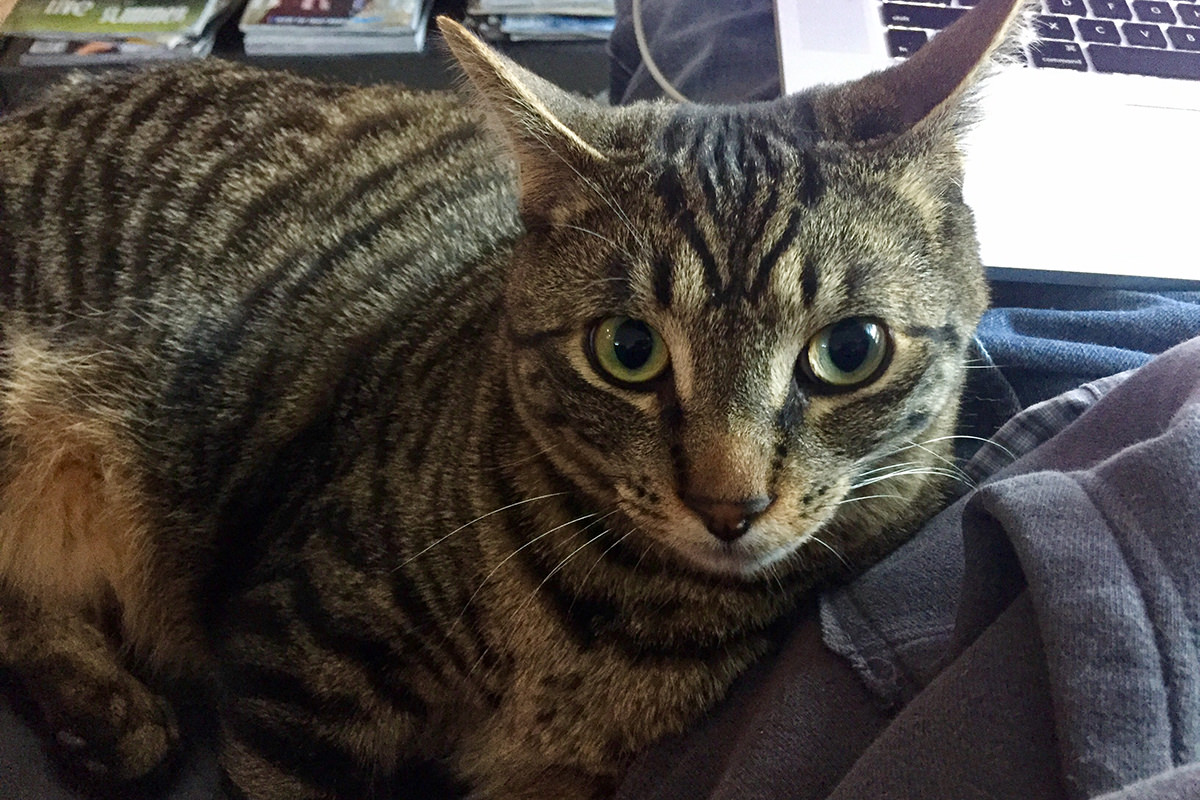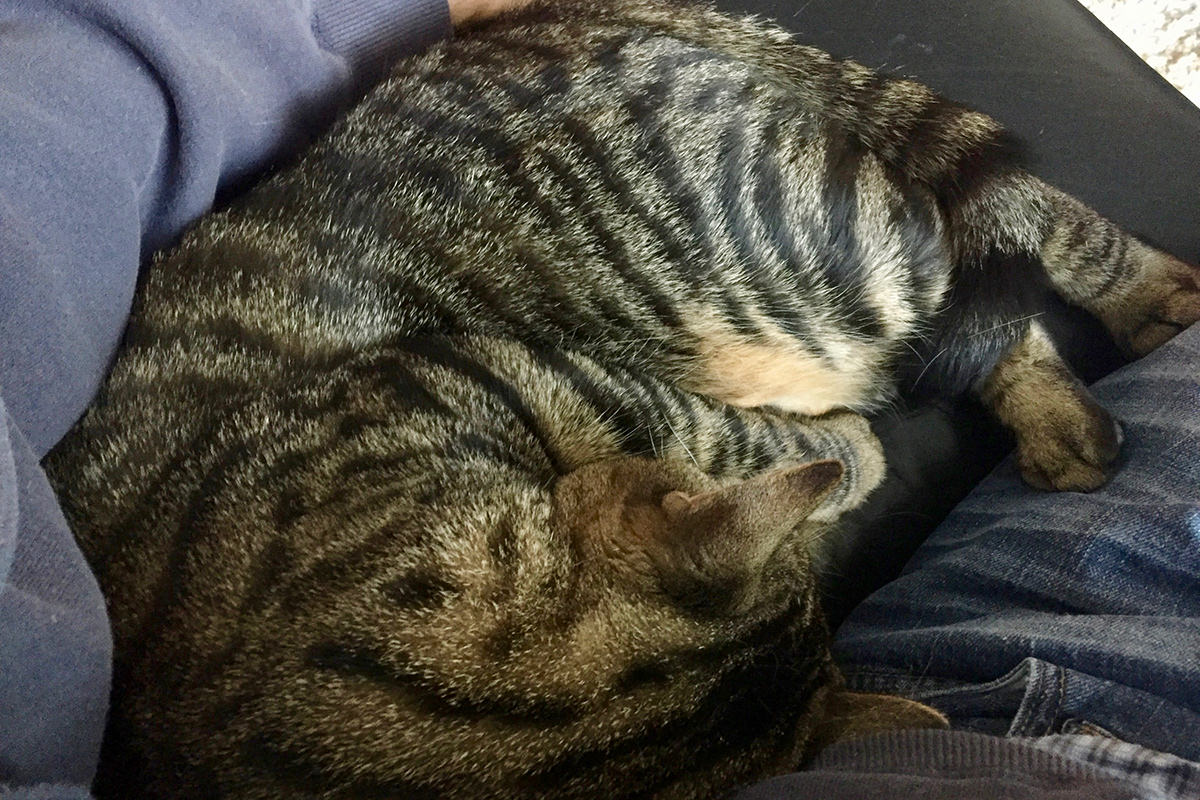 Around 10:30 I went up to bed. He was right there with me until I fell asleep. When I woke around 3am, he was gone. And this morning things seem to be back to normal.
Well, as normal as things can be when you have cats.
Posted on July 10th, 2017

I always feel sorry for animals having to endure the summer heat while wearing a fur coat. It can't be comfortable. Though my cats still like laying out in the catio when the heat is on, so maybe it's not as big a deal as I'm thinking it is.
Jake has his own way with dealing with the heat... catspreading.
I notice when it's hot out in the catio, he'll usually lay on the cool, shaded concrete... then spread out for maximum heat dispersion...

Yes, I desperately need to wash my windows!
Indoors is another story.
The cat tree sits right under the HVAC vent. When the air conditioning turns on, he'll immediately spread out for some cooling relief...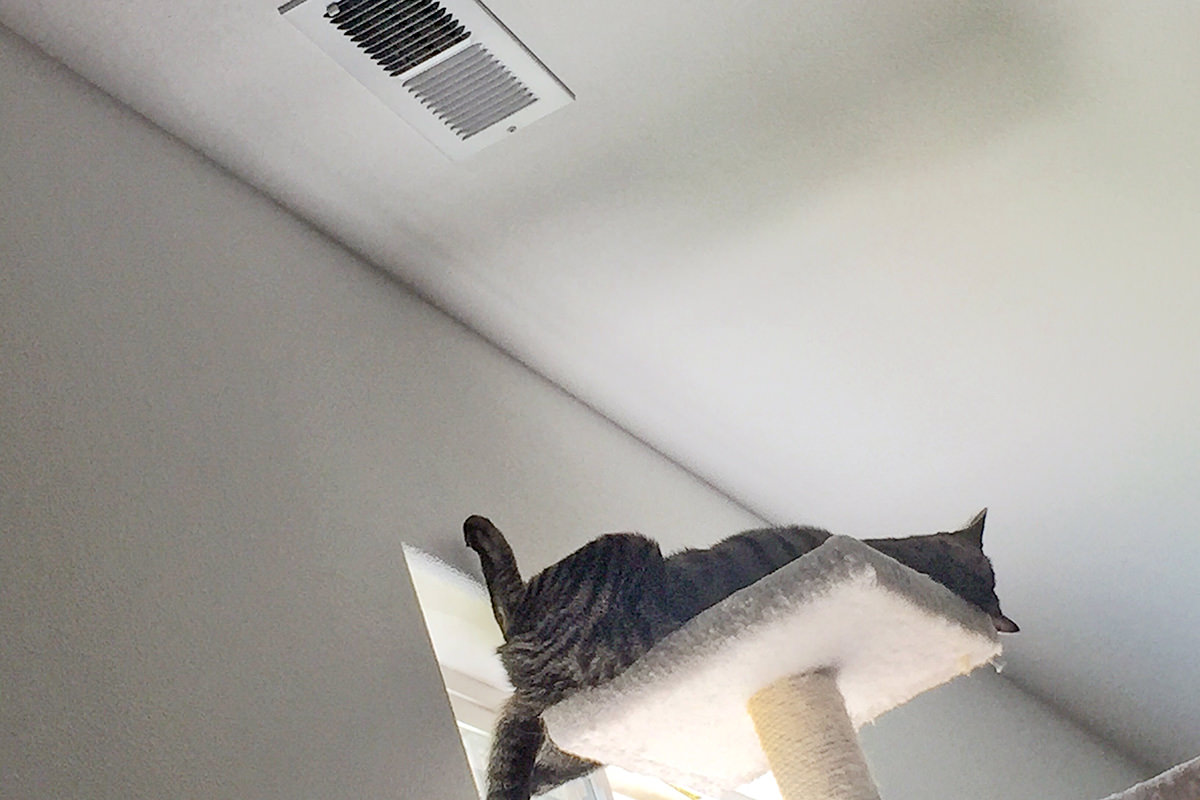 And then when it turns back off, he'll go back to a normal position...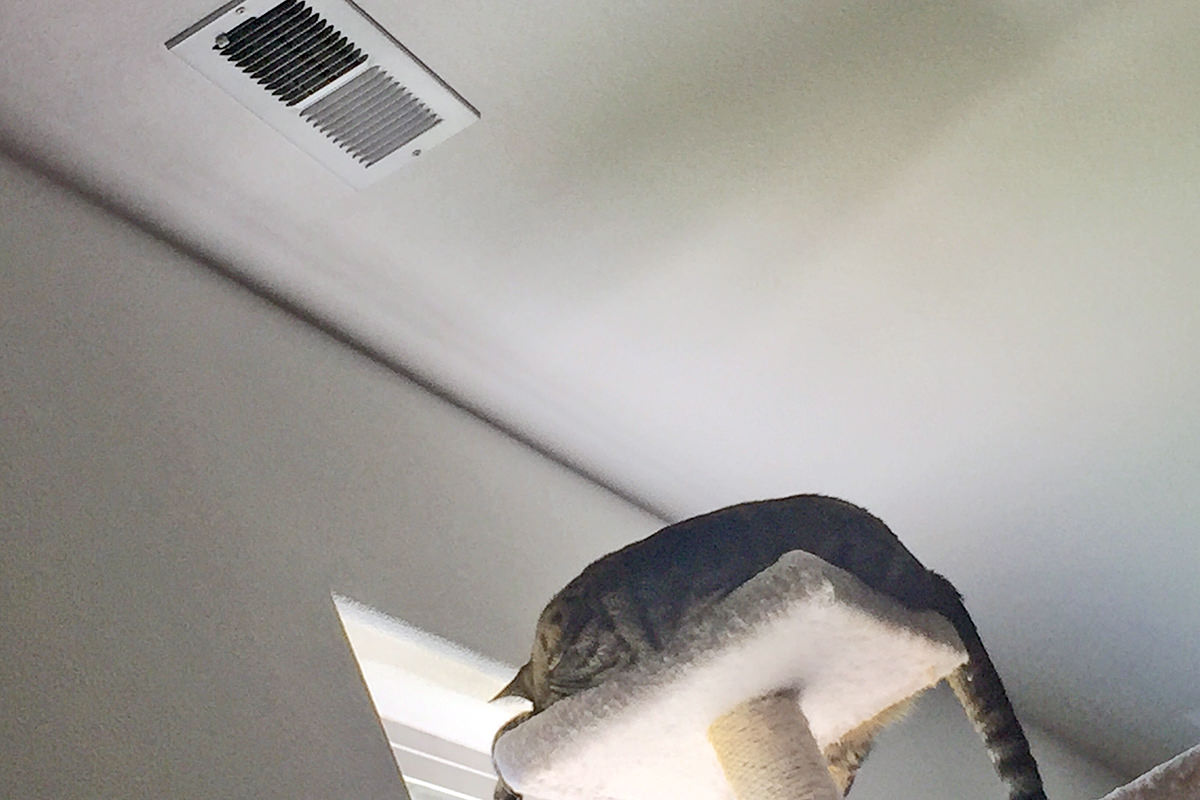 Perfectly logical. Yet still odd.
But whatever floats your boat, little buddy!
Posted on July 8th, 2017

When I went to bed on Thursday night, everything with my cats was fine.
Something happened that night and everything changed. It's as if they suddenly realized that there are no consequences for their actions... no punishment for their bad behavior.
Yesterday morning began with my waking up to Jake pulling my movie posters off the wall...
Iron Man is now crooked. I just left him that way since Jake will just try to pull him down again...
At least Jenny was being a good kitty, right? No. She was climbing around the kitchen where she knows she's not supposed to be...
After serving the kitties breakfast, I went back upstairs to get ready for work and slog through my email. It was then I heard cupboard doors banging...
...IT WAS JAKE WAS STEALING KITTY SNACKS OUT OF THE CAT FOOD CUBBY! And he had just had breakfast!
Then he and Jenny chewed it open to get at the yummies inside...
Clearly my cats have turned a corner and are completely out of control.
Thinking I need to start in on some tough love, I took the advice of Facebook friends and pulled out the squirt bottle. Much to my shock, Jenny was first to get sprayed. She didn't really react. It was like she didn't understand what was happening. Once she figured out she was getting wet, she walked over to the scratcher lounger and started pouting...
Then I felt bad.
Today things were better... though Jake did decide to pull my clean clothes down to the floor. Again.
Tomorrow's a full moon, I'm hoping the cat madness will end once it's gone.
Posted on July 7th, 2017

Temperatures finally breached 100° this week, so the air conditioner had to be turned on. Darnit. Odds are it's going to stay on because the forecast is up there for the next ten days. Probably longer.
So much for tiny electricity bills.
Even though I set the temperature between 74° and 76° and use ceiling fans, it's a goodly chunk of money to keep everything in the house from melting.
Including the cats.
And then...
Back in 2015 when Apple released the latest and greatest 4th generation Apple TV, I purchased one to replace my aging 2nd generation unit (which I moved to the guest room). Despite the remote being shit, I was happy with the upgrade. At first. Eventually I found out that the unit had horrible problems streaming video from Apple. Other sources... Netflix, HBO, Showtime, YouTube, Hulu, you-name-it, were all working fine on Apple TV, it was just my iTunes Store purchases that were stuttering and crapping out... or not loading at all.
So when I ended up winning a second Apple TV from an incentive give-away, I just tossed it in the closet. My bedroom TV has Netflix built-in, so I figured I'd just wait until somebody came up with a hack to turn the Apple TV into a web server or something. Since it had problems streaming my rather large collection of Apple media, it just wasn't worth messing with.
Until Game of Thrones Season 7 was announced to be arriving.
My bedroom TV doesn't have an HBO app, so I decided to dig out the extra Apple TV so I can watch Thrones in bed as God intended.
But first I had to find the thing, because I had no idea what happened to it during the move. I've been searching off and on for weeks to no avail. And then this morning I finally found it.
By accident.
My cats have been acting crazy, so I decided to start putting my iPhone charging cable in the tiny empty cupboard above my range hood and microwave where they couldn't get to it... and... voilà...
My "empty" cupboard contained an old phone book, a Hershey chocolate candle, and... my missing Apple TV. In all honesty, I do not remember putting it in there. I don't remember putting any of it there. I can't even think of why I'd have done it.
Probably so I wouldn't lose it?
Jenny helped me set it up...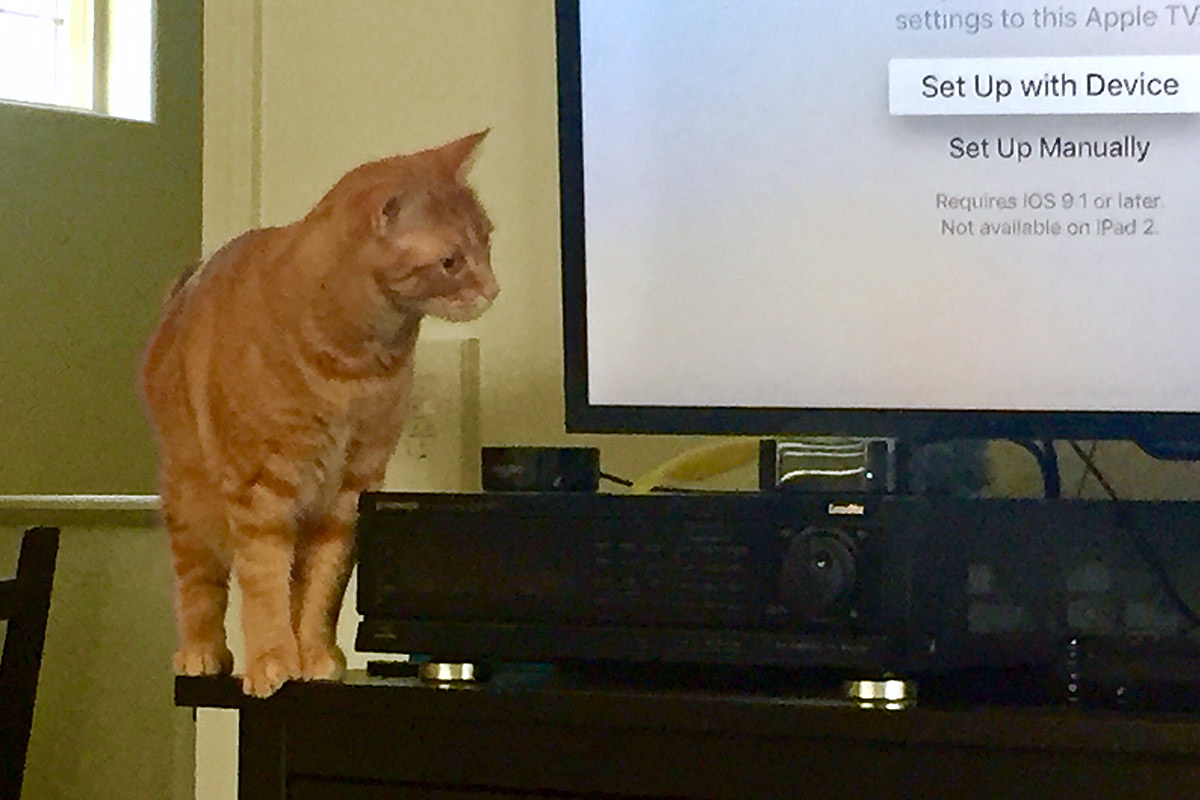 And... ready for new Game of Thrones on the 16th!
Posted on June 26th, 2017

My cats are a never-ending source of entertainment. They are also not of this earth and defy all my attempts to understand them. That, in itself, should keep them at a distance, but the truth is that they have become intricately woven into my life in unexpectedly deep ways. Part of that has to do with the fact that I'm single and all my best friends and family don't live here, so the cats are acting as surrogates. Part of it has to do with the fact that, for the most part, I like animals more than people.
And part of it is because they're the closest things to kids I plan on having.
Which is why all y'all's horror stories about your kids has zero effect on me.
Sure, your baby may have exploded diarrhea at a McDonalds birthday party... but last night I had to chase Jake around with a paper towel because he had a pebble of poop stuck on his sphincter. His efforts to scrape/bite/rub it off only resulted in an inflamed butt-hole, so there I was. And then this morning I had to inspect his sphincter to make sure the irritation and redness had subsided, which it had. And thank heavens for that, because otherwise we would have ended up at the vet, and nobody wants that.
And sure your baby may cry because it wants to be held... but this morning Jenny was crying as I was trying to leave for work because she wants to be petted. And, unlike holding a baby where you can do other stuff, petting Jenny demands 100% of your attention. And since she knows I will drop everything when she's meowing, she will keep doing so until I give in. The good news is that she was so desperate for attention that I was able to spend 10 minutes brushing her with The Furminator.
And sure you spend your days and nights worrying about how you're going to afford to send your baby to college one day... but I'm spending my days and nights worrying about whisker fatigue.
And for those of you who don't know what "whisker fatigue" is... allow me to introduce Dr. Catsby...
Now, most probably like you... when I first heard of "whisker fatigue," I called bullshit. Cats have been eating out of tiny bowls for hundreds of years. This is just some lame marketing ploy, right?
But then I started observing my cats.
There are times Jake will paw food out of the bowl onto the floor and eat it there.
Jenny is always hesitant to start eating. Furthermore, she won't actually stick her head in the bowl and bite the food... she licks it until she can't reach it. But when I put the food in a wide bowl or a shallow plate, she will bite it.
Jake will sometimes stop eating, walk around a bit, then come back and sit in front of the bowl like he wants to eat... but sits there for a while before doing so. I think it is actually hurting my attempts to get him to lose weight, as he's eating more than he normally would because he's making so many trips.
There are times Jenny refuses to eat at all. And by the time she's finally starving enough to force herself to eat, Jake will have eaten all her food.
I've tried plates, but the food gets pushed all over the place. I've tried shallow bowls, but the food still gets trapped in the corners. =sigh!= I guess you win, Dr. Catsby...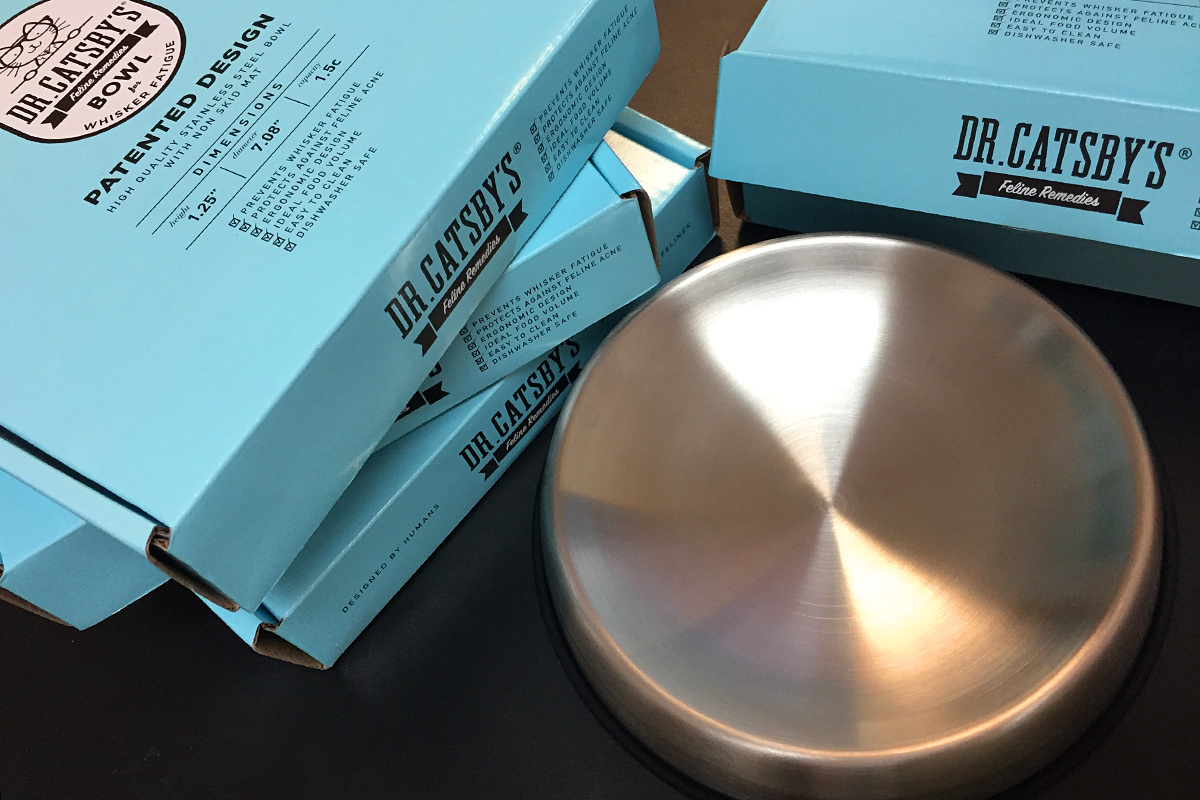 Expensive little suckers.
But if they work? One less thing to worry about!
Though I do hope that Jake can keep a clean sphincter for at least a month before I'm worrying about that again. If I wanted this kind of stress I would have had kids