Posted on July 11th, 2020

As I've mentioned a couple times, Jenny refuses to bite wet food... she will only lick it. So for the past several months I've been puréeing her wet food so she can lick it up. Then this past week something interesting happened. Jenny started sitting in front of where Jake eats so she could see what food he was getting before going to her bowl... and then not eat. This was both disheartening and amusing.
In order to get things back on track so Jake wouldn't end up eating two dinners, I decided to start mixing in a little water with a fork in hopes that it would be easy enough for her to lick but not be so radically different that she'd refuse to eat it. And... it seems to be working. So crisis diverted.
In other news, Jake is back to being clingy again. He seems to be running in cycles. The minute I sit down he's right there...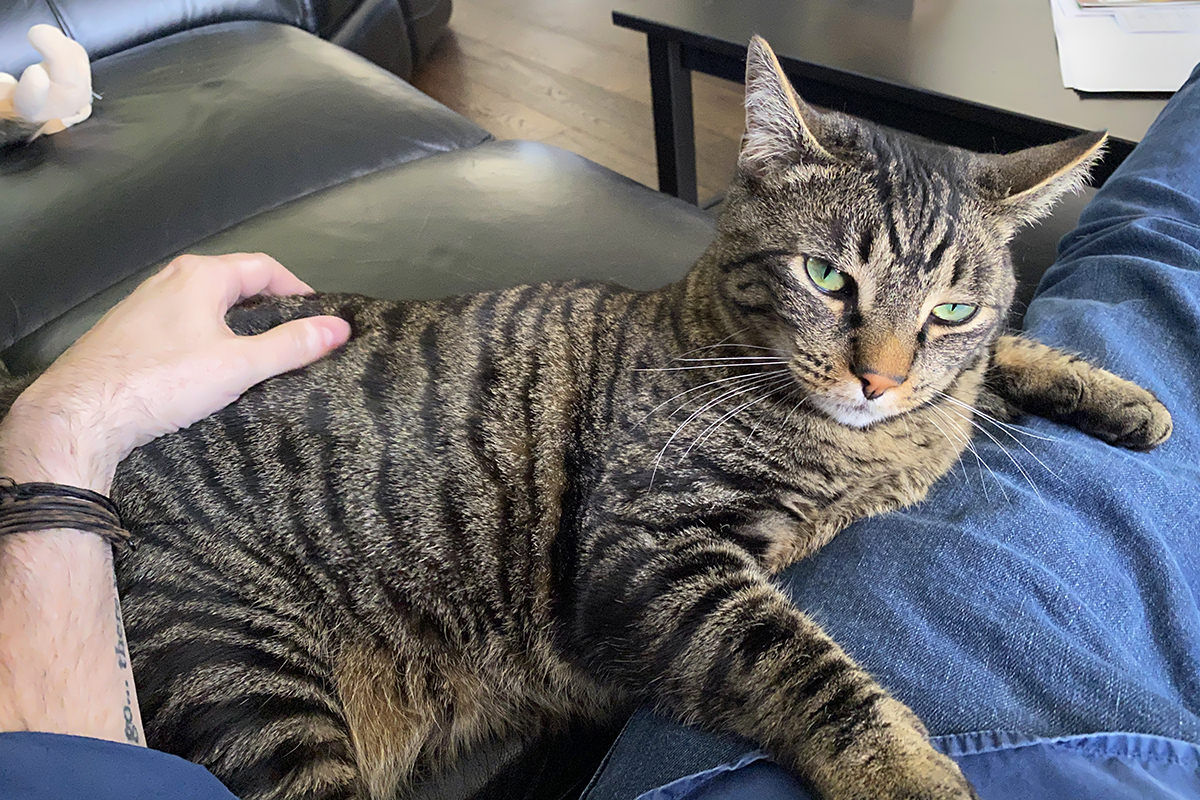 And if I spread out on the couch?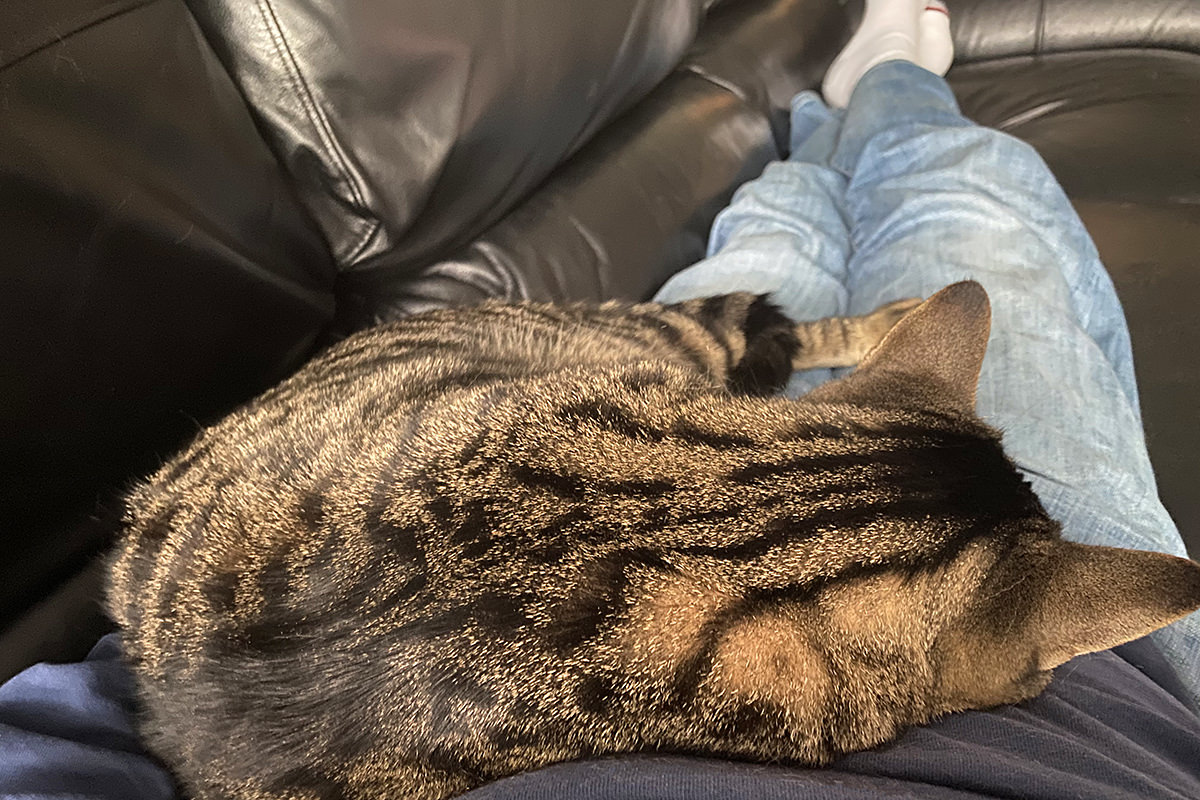 I think the only thing he loves more than me is the sun...
And Mufasa, of course...
Though a couple nights ago something weird happened. I heard him wailing at the bottom of the stairs, which usually means he can't find Mufasa... but when I checked the security cameras he had Mufasa right there with him...
Jenny, on the other hand, is the same as she always is. She either wants a treat or wants belly rubs...
She may have simple needs, but at least she's consistent.
Posted on July 7th, 2020

This was starting out to be yet another killer day at work so I decided to get up early. This way I had a minute for breakfast, which allows me to work on perfecting the perfect egg and cheese biscuit sandwich.
So I got up... I fed the cats... then I went to grab a pan to fry up some eggs... and... whoops. All my pots and pans were dirty. And I just didn't feel like washing them by hand, which you have to do because they don't recommend the dishwasher since it ruins the coating. It's not even like it's that hard. My pots and pans are totally easy to clean because nothing sticks... it's just having to stand at the sink and turn on water and squirt the soap and scrub with a brush and dry them off and put them away... no individual task is tough or takes long, but when taken all together it seems like a lot in the morning when I'm trying to get out of the house.
So instead I went out back to take a look at my hydrangeas.
These things are amazing because after having been chopped to the ground in the Fall, they don't seem to do anything when all my other flowers are starting to sprout in the Spring. Then... in what seems like a few days... they explode with growth. Seriously, it's several inches a day, and then the flowers magically appear out of nowhere. Last night I noted that they were all in full bloom...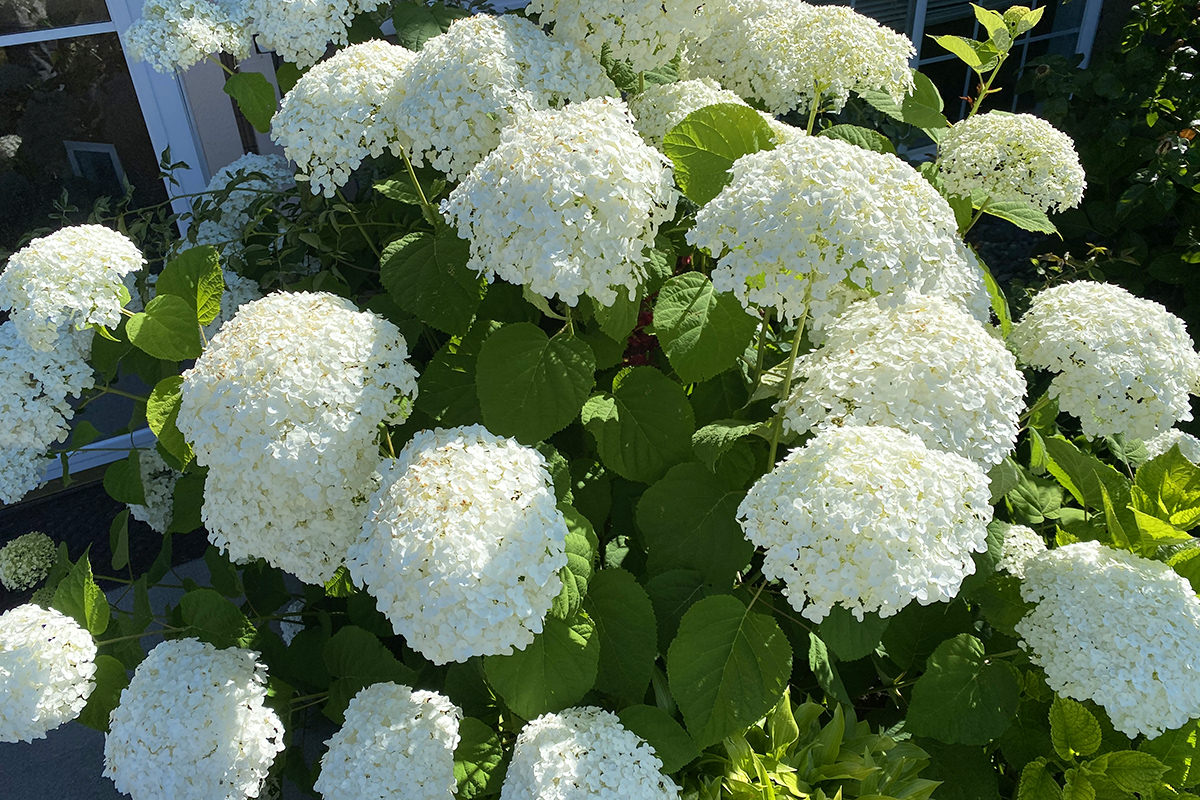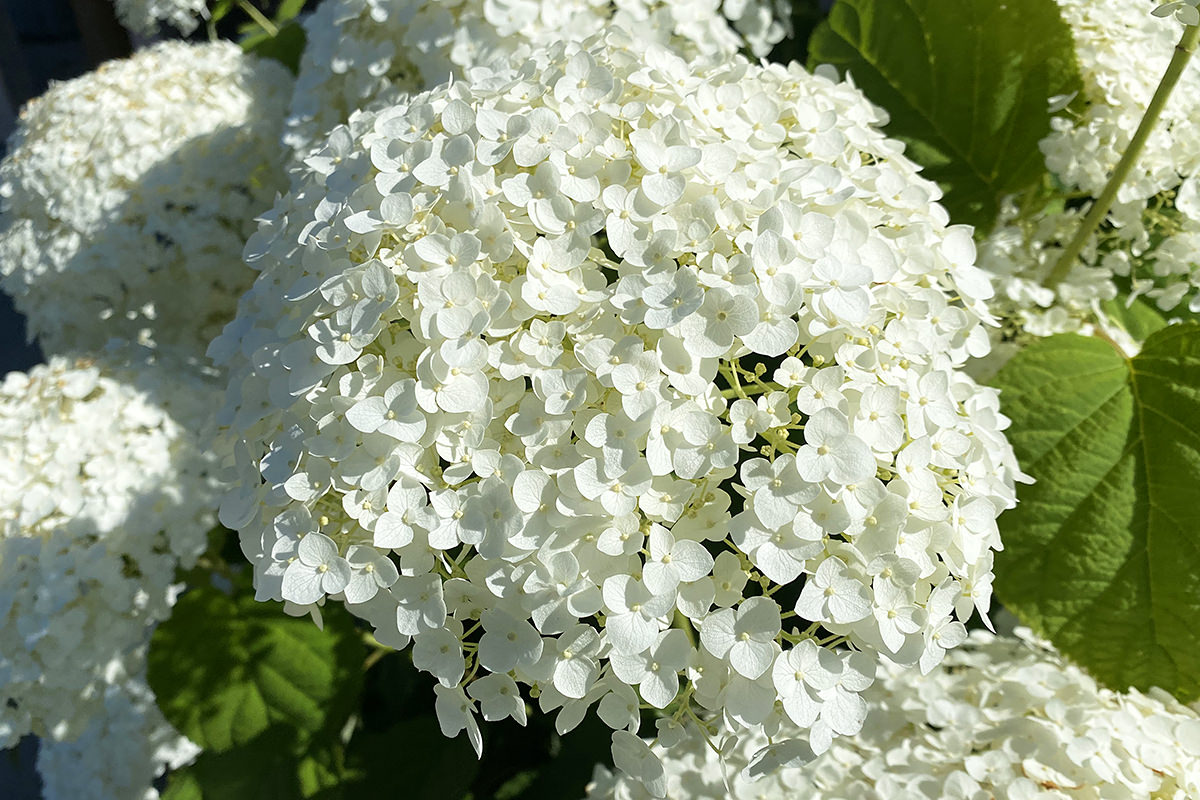 Madonna famously loathes hydrangeas, but I think they're pretty. They certainly take up a lot of space... and they don't stink, which is nice. I'm happy to just let them keep growing year after year since it doesn't require any effort by me (except to chop them down again in October).
When I got home I really wanted some creamy walnut sauce on pasta.
But I was so tired after 12 hours working that, once again, I had very little motivation to scrub my pots and pans. And since every last one of them was dirty, I figured I'd just take a pass.
But then I couldn't bring myself to eat another peanut butter sandwich like I did last night, so I spent the 15 minutes it took to clear my sink and start cooking for 25 minutes.
Totally worth it...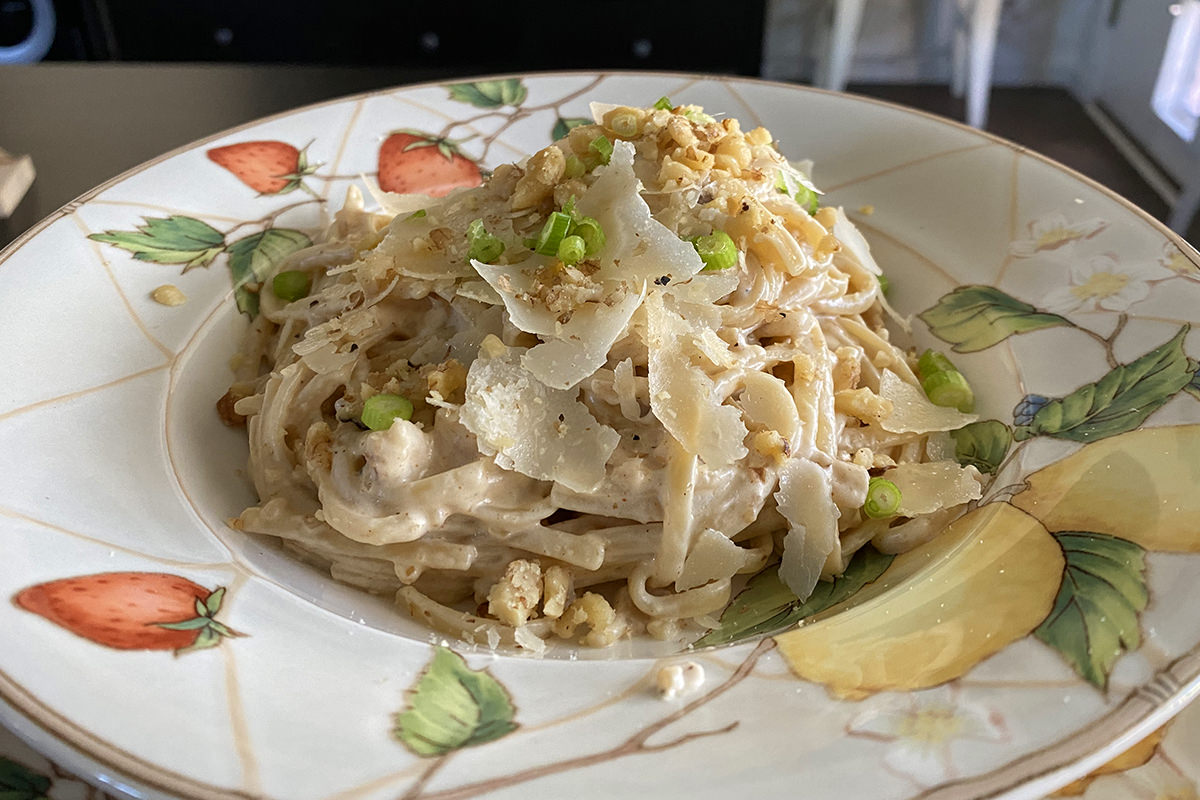 Delicious to the last bite. Except now I've got a sink full of pots and pans again.
Then it was time to ignore the dirty dishes and hunker down with Jake and watch television, which was pretty much all I had the energy for...
Except for a bowl of chocolate ice cream with walnuts and whipped cream, of course.
Posted on July 6th, 2020

Well that was awful.
Rather than put into words how my week started, here's my cats to do it for me...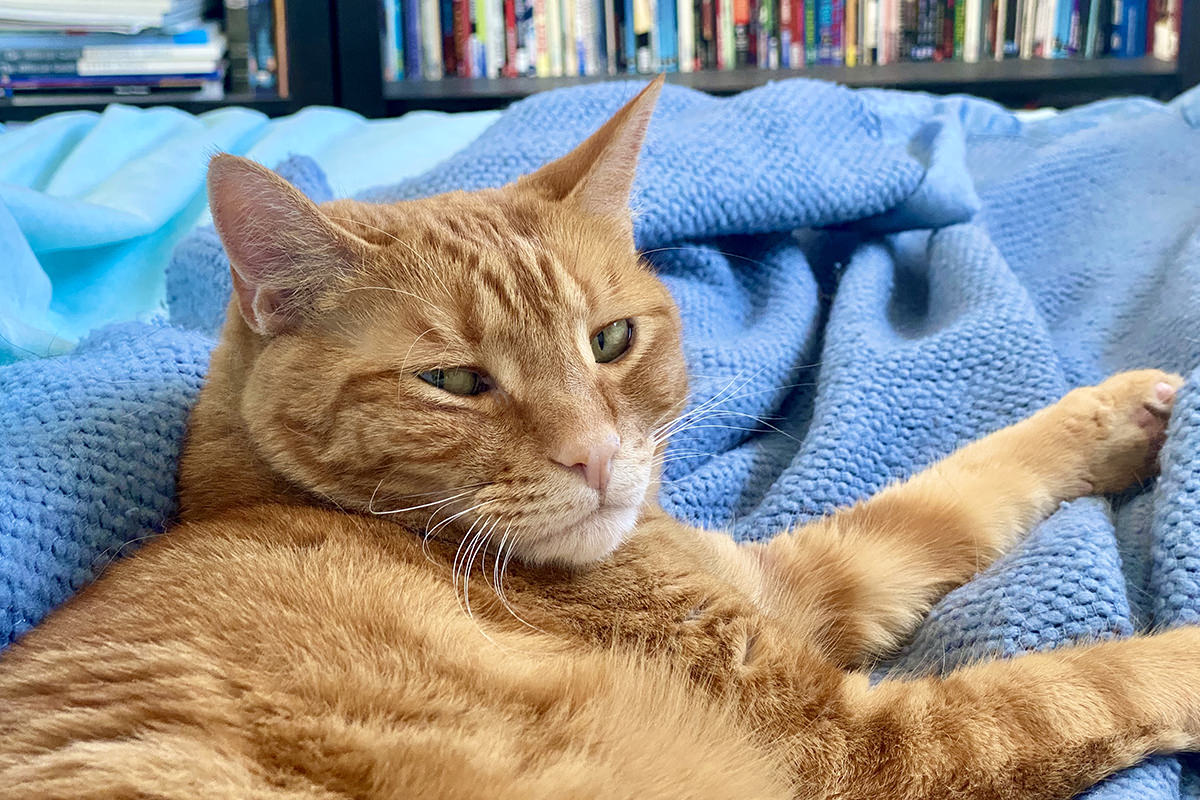 Yep. Pretty much that.
Posted on July 4th, 2020

This has been a tough week. On top of having to cancel plans I've been looking forward to all year, I haven't been feeling well lately. Nothing coronavirus-related (at least I hope not), just tired and bummed.
But at least I have my cats, right?
Though I think Jenny is tired of all this quarantine shit...
Jake, however, seems okay with it...
And now I guess all three of us will be getting back to the same old grind.
Posted on June 27th, 2020

Social distancing comes home.
So there I was, giving Jenny belly rubs because she absolutely insists on it every morning when I'm trying to get some work done when the unthinkable happens in the day-and-age of COVID-19.
I sneezed.
Jenny hops up like she heard a shot, then jumps to the end of the bed.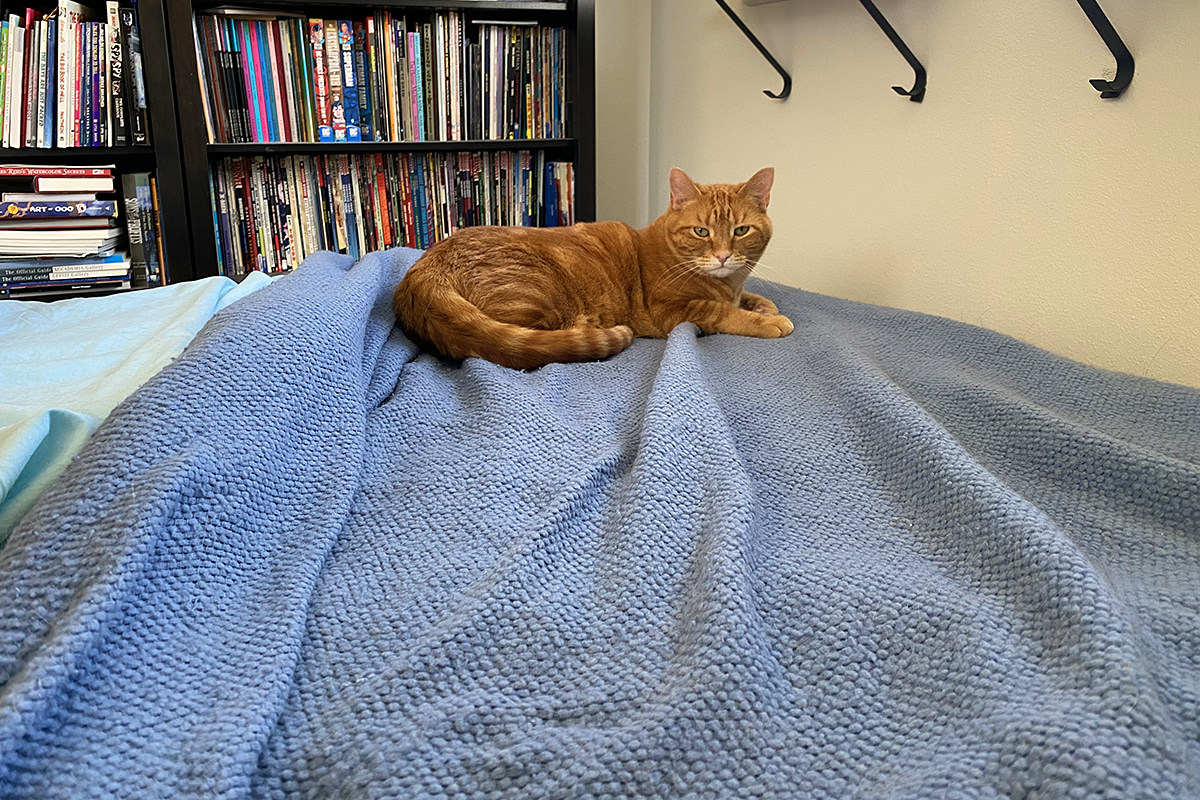 Where she glared at me for ten solid minutes...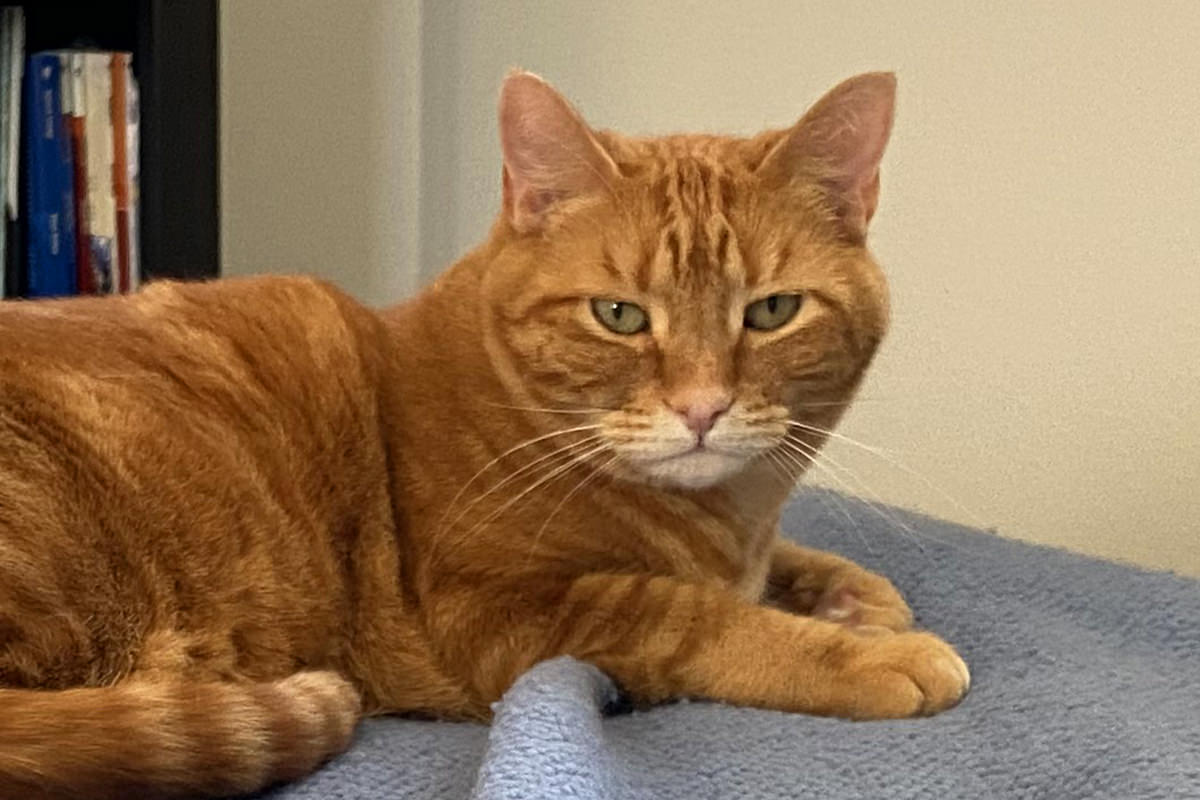 I swear... she may have a cranky face, but she is the sweetest kitty ever. She just believes in social distancing when she suspects you are coronavirus-symptomatic.
Posted on June 20th, 2020

It's Caturday... and I'm sick! Sick of barfing my guts out all day long. Ugh.
If y'all remember, I added a massive sisal pole to the catio two years ago this month. I was happy to see that Jake and Jenny took to it right away. They are regularly scratching on it from all four levels that it's accessible, and they both enjoy climbing it as well. This is something that my catio-cam rarely captures because they climb the side opposite the camera, as it's the side without the hinges that attach it. Then, just a couple days ago, Jenny climbed up the side next to the camera for some reason! I finally had it on video...
My efforts to find a new toy for Jake continue, but he only has eyes for Mufasa. He is still dragging him everywhere and still licking and chewing him every chance he gets. Yesterday morning he was laying on my bed whining for Mufasa... which was laying right behind him... here he is after I handed it over...
As you can see, Mufasa ain't going to last long with that kind of treatment, which is why I am trying to find a replacement. Nothing has worked so far. I finally moved on from stuffed lions and tried a battery-powered floppy fish. Jake is completely unimpressed...
Jenny won't even get near it until it stops moving...
And so... I guess it's back to Mufasa for Jake...
Enjoy it while it lasts, buddy.
Posted on June 13th, 2020

Strangely enough, my cats aren't sick of me spending every minute I'm not at work here at home. They still love having me here and following me around for attention.
Jake is still snuggling up to my feet whenever I'm working or sleeping in bed. I'll nod off, wake up, and there he is. Sometimes in the morning when I wake up he's there too...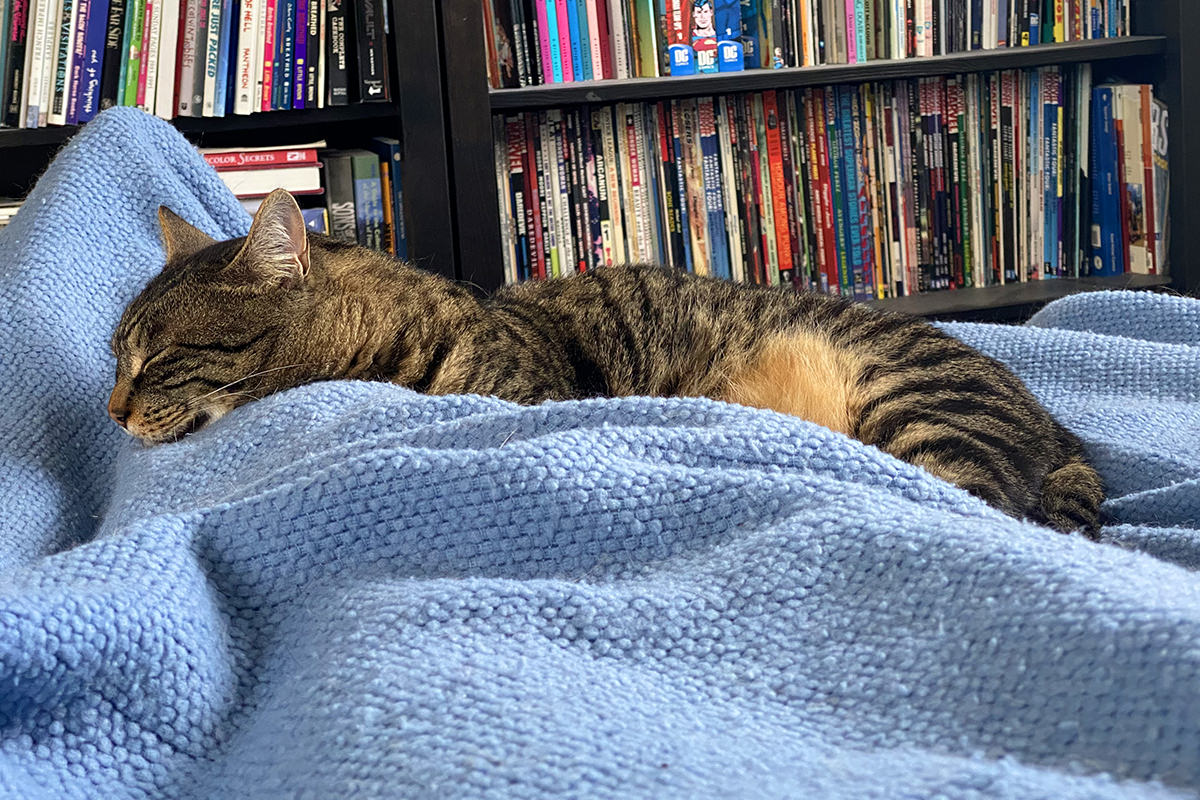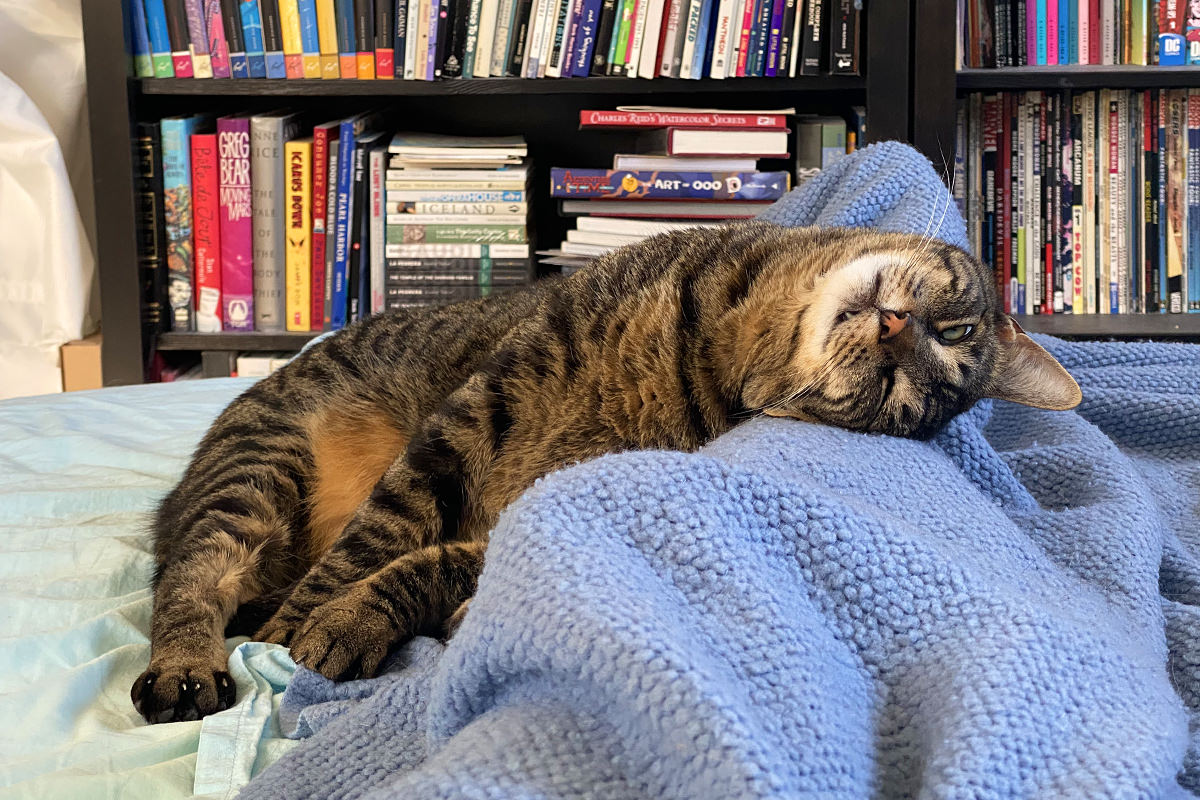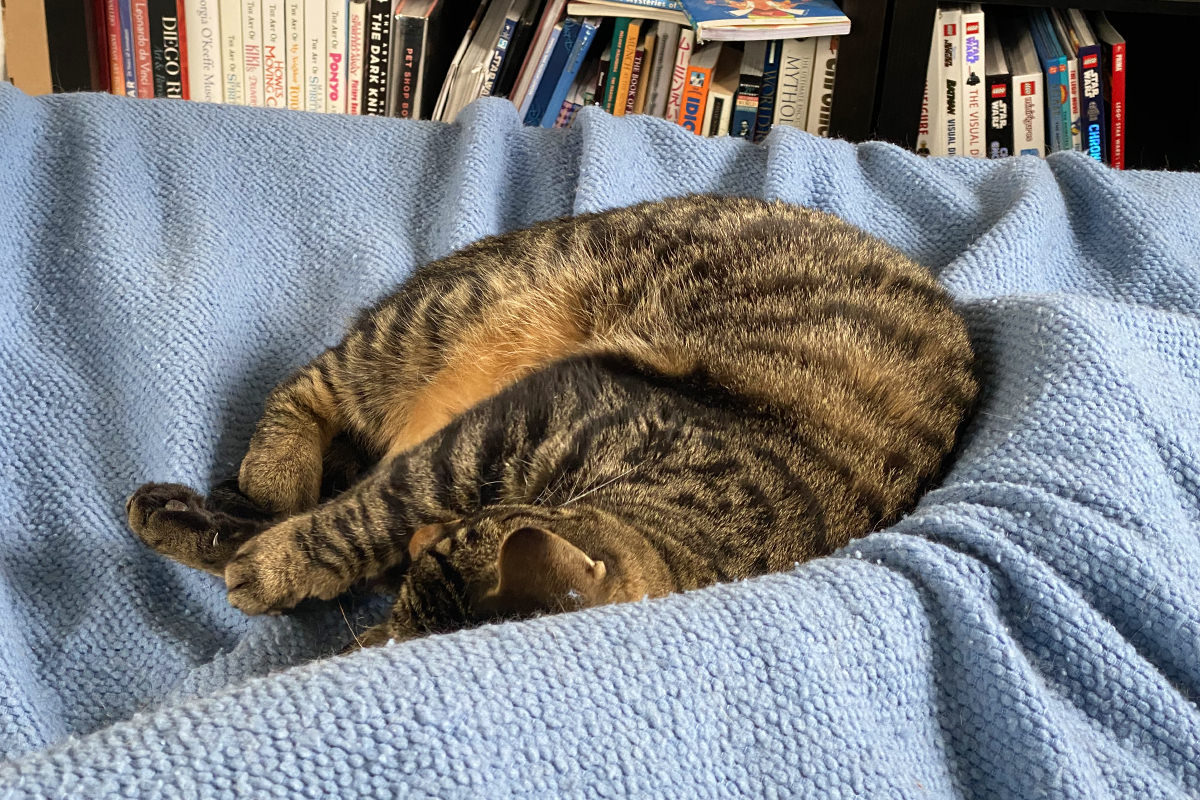 It's his favorite new thing. Jenny's favorite new thing? Sitting in a box, apparently...
Every morning when I walk down the stairs she's sitting there waiting for her breakfast.
A couple days ago I mentioned that I was having to dig through an insane number of cables in an attempt to find a way to connect my photo archive to my NAS drive. I had cables sorted into piles all over the kitchen counters. At the end of the counter I had a small pile of short cables I had thought would be good for travel. When I woke up yesterday morning, some of them were on my bedroom floor (along with Mufasa) and one of them was left on the stairs...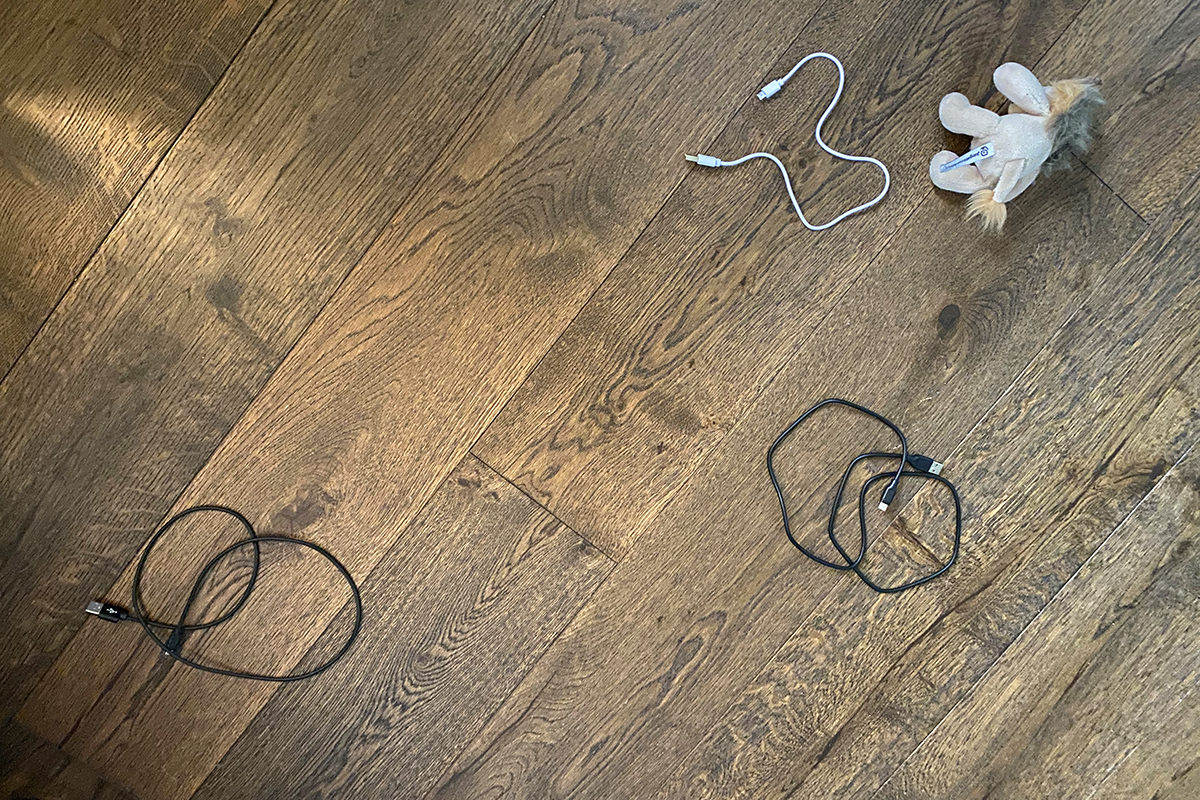 I didn't really need to look at the camera footage to know who did it, but I pulled it up just the same...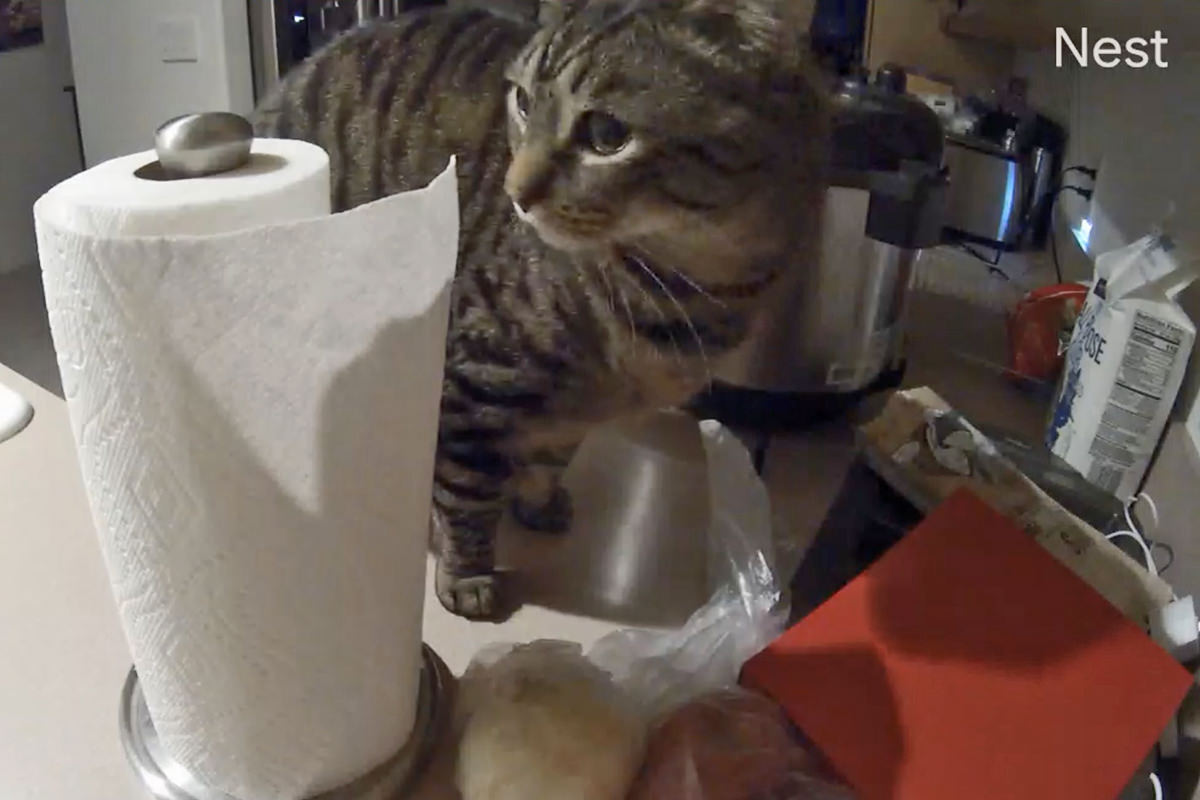 Time to disinfect the countertops again.
And now, before we go... I give you this...
Jake and Jenny were feral rescues, but they were gotten to when they were babies. Some cats aren't so lucky, but all of them deserve a chance.
Posted on June 6th, 2020

My cats like to sleep. A lot. I understand that this is true of most cats, but mine have raised it to an art form.
Especially Jenny, who doesn't seem to do much else now-a-days. Her sleeping is only interrupted when it's time to eat or poop. Other than that I am allowed to pet her in the mornings still, but her playing and exploring seems to have gone by the wayside. At first I thought she might be sick or something, but I honestly don't think that's the case. She just loves to sleep.
A couple weeks ago I was wiping down the coffee table and stacked to the two kitty beds I keep there on top of each other. When I came back from rinsing out my dustrag, Jenny was sitting on top of both beds (each with a warming pad) and loving it.
Ever since, that's her favorite place to sleep...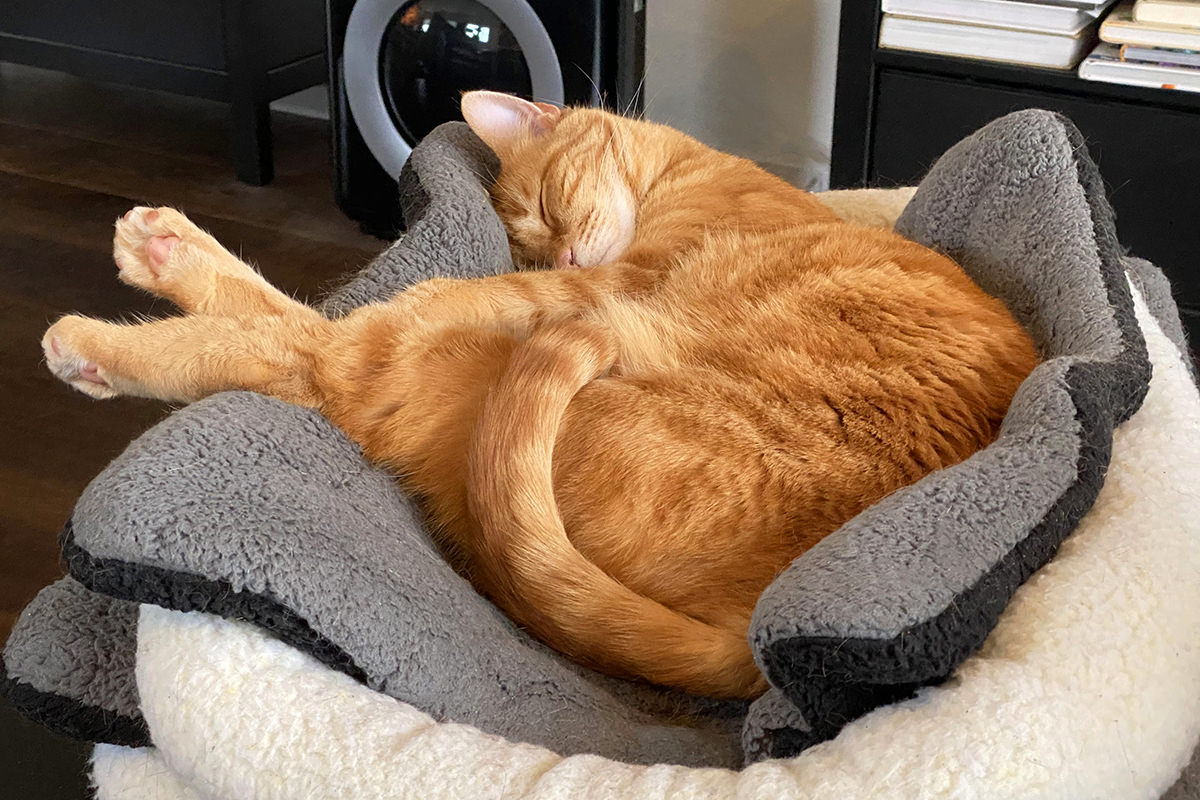 Just look at her! Could she be any more relaxed? Laying in that pillow pit with her legs kicked out. Adorable.
And make no mistake, she is out. She used to jump awake every time there was even a slight noise. Now it has to be me slamming a door or, as in the case of this photo, waking her up with a sneeze...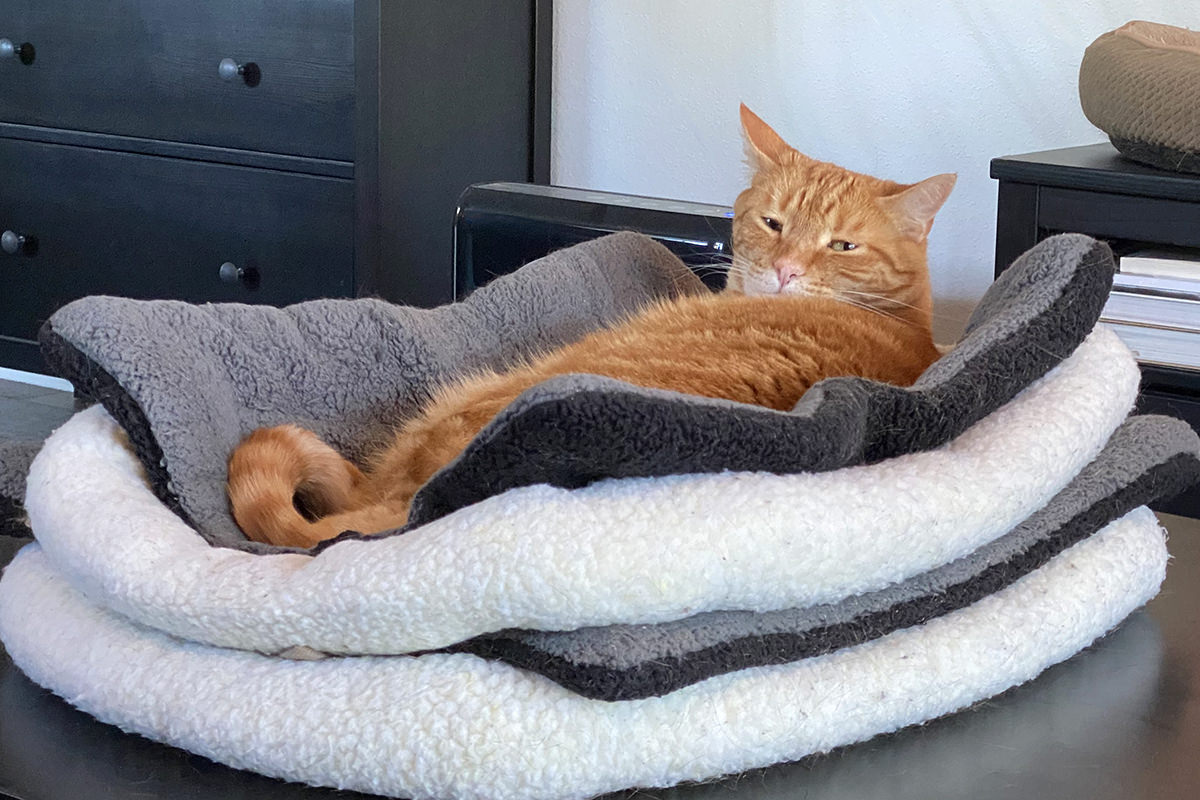 And here's the thing. She was so grumpy from having been waked up that she just stared at me for a long, long time. Eventually she flipped over so she could glare at me from an all new angle...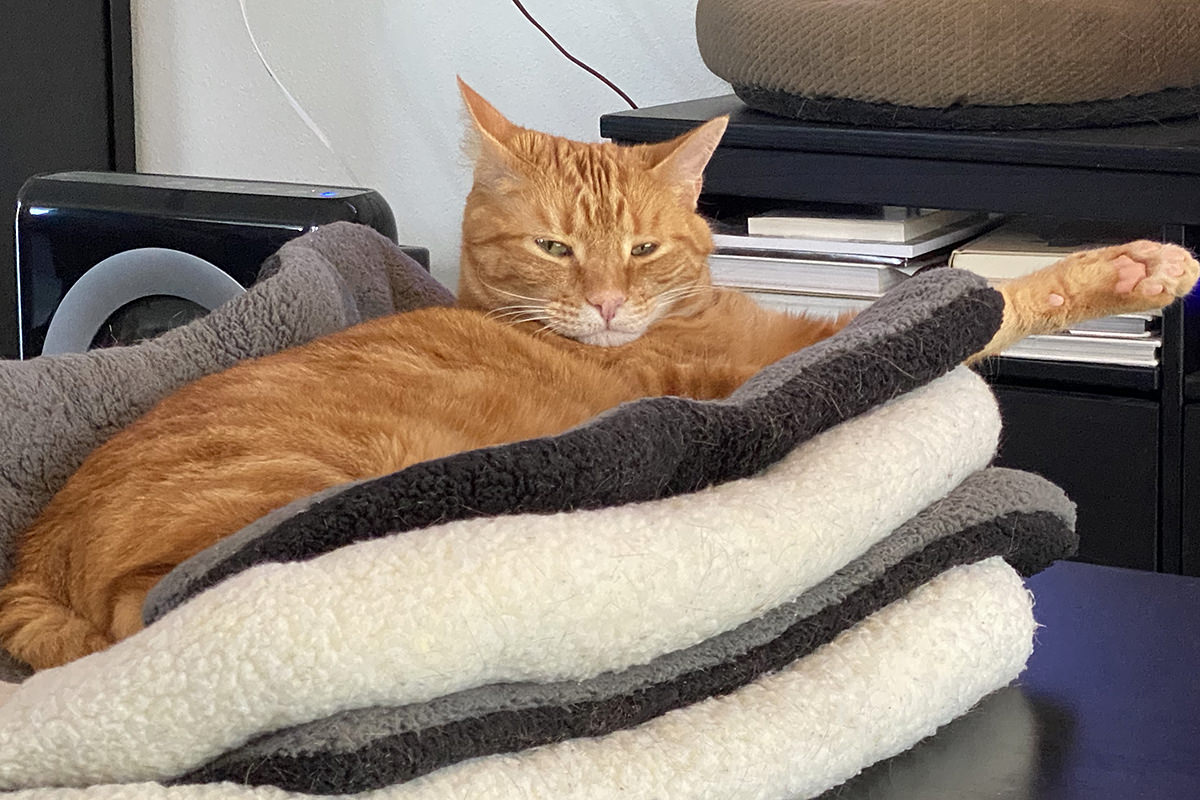 And even that wasn't good enough. She had to flip again to continue staring at me. She wanted to make very sure that I know what I did and it was wrong of my to sneeze...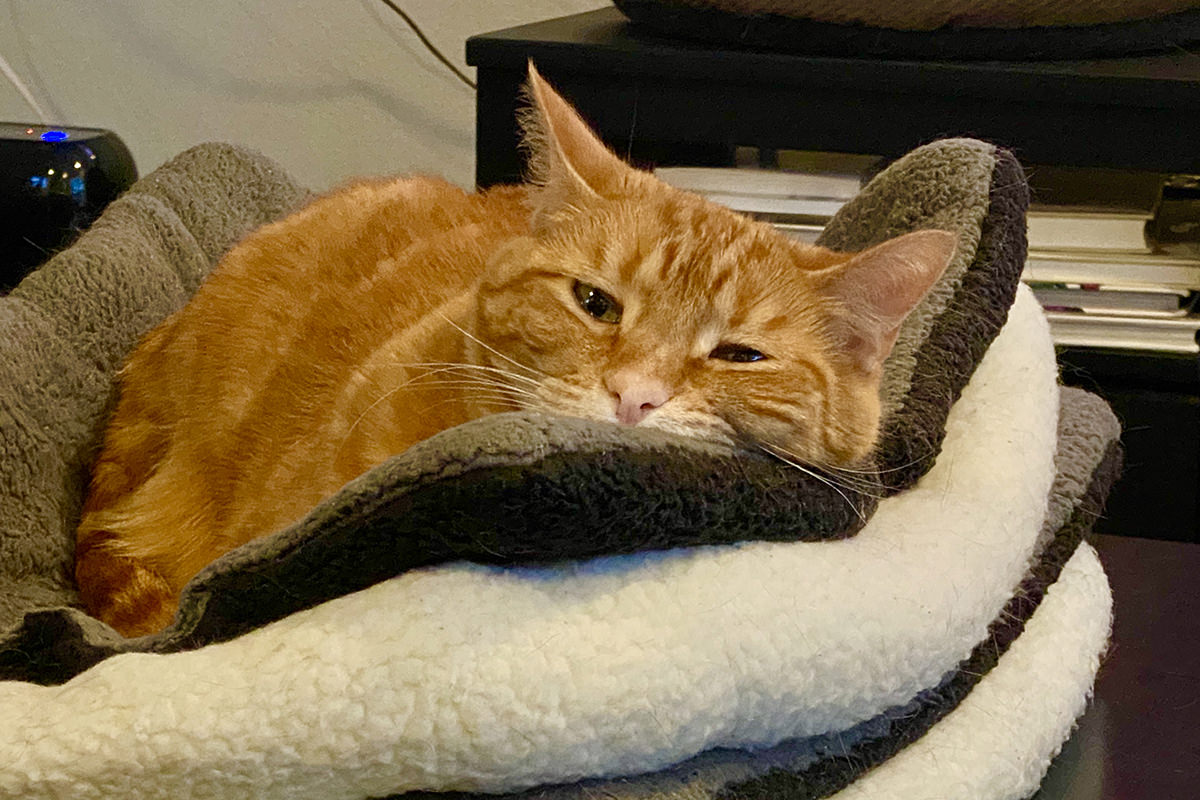 OKAY! OKAY! I GET IT, I GET IT!
And it's not just her double kitty bed. Even when she's laying next to me in my own bed while I'm working, I get a dirty look when I have to get up and get ready to go into the office...
As for Jake? For him it's all Mufasa all the time now. He loves that little stuffed lion and carts him around everywhere, even though Jenny seems to have lost interest in stealing it. Lately Jake dropped Mufasa on my bed then ran away. I guess I'm supposed to guard him or something...
Uh oh...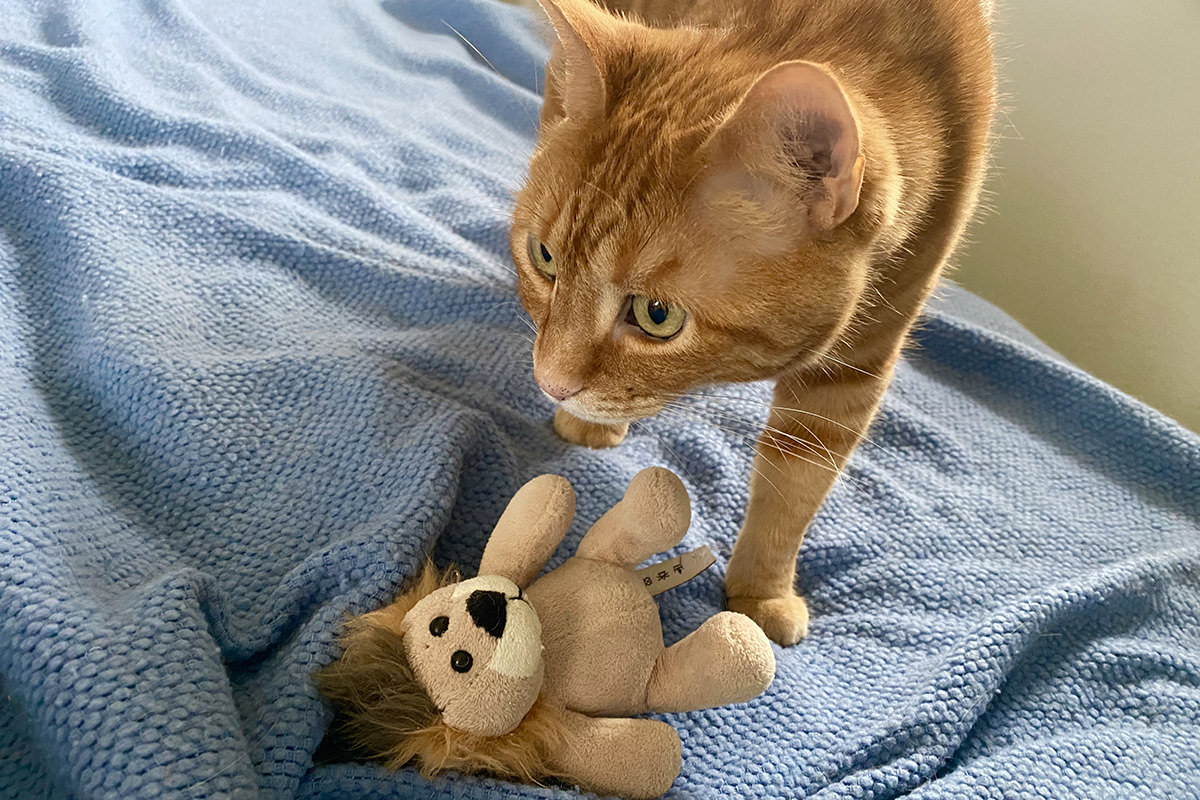 Guess Jenny isn't done stealing her brother's favorite toy after all.
Eventually Jake must have seen her with it, because he dragged it back upstairs and fell asleep with it in short order...
I think Jake even recognizes "Mufasa" by name now. Earlier this week he followed me up to bed with Mufasa in his mouth. Hung around for five minutes, then went downstairs... but left his lion with me. Five minutes later and I heard him wailing because he can't find him... so I had to yell down "JAKE! YOU LEFT MUFASA UP HERE! COME AND GET HIM!" And... so he did! Sweet! Didn't have to take Mufasa down to him!
As concerned as I've always been that Jake will tear apart Mufasa and lose his favorite thing in the world, I'm even more concerned lately. He usually just walks around with it, rolls around with it, and carries it places. But lately he's started really ripping into his lion for some reason...
A few days ago he brought Mufasa up and proceeded to bite all over it pretty rough. Especially tearing at the fur on his mane and tail. I only caught the end of his rampage on film when he was done, but it's still pretty scary because Mufasa ain't going to last much longer with this kind of treatment...
I've tried to get Jake hooked on other toys, but to no avail. He was sitting in the middle of the room looking bored, so I fired up his WhirlyBall (a ball with a stem and a feather on it that rotates) and set it down next to him. He just sat there and let the feather repeatedly smack him in the face.
I know how you feel, buddy. I know exactly how you feel.
After letting WhirlyBall dig on his face for a couple minutes, he ran and hid in the cat tree so he could observe it safely...
Of course I felt awful that I had scared him into being a bunker cat. Guess I won't be trying that again. And so I guess it's back to buying every new toy I find until I get something he likes as well as Mufasa.
Which is probably futile, but I have to try.
Posted on May 30th, 2020

Usually, my cats like to be wherever I'm at when I'm home. And I've tried to accommodate that by having places for them. If I'm in my bedroom, they hang out on the window perches I put up. If I'm in the living room, they are either laying on the cat bed I put on the coffee table... or hanging out in the cat tree. But now that I'm home all the time? They are starting to tire of hanging around me. They're either out in the catio or sleeping in the bedroom.
I kind of miss it though. My cats are entirely entertaining... even when they're doing nothing. Jeny flopped down in some water that leaked into the catio when it rained and was sporting a mohawk for a while. Eventually I managed to mostly get rid of it by petting her with damp hands, so it's almost gone now...
But don't think that they avoid me entirely. I took some shirts out of the wash to hang up... turned around for a second... and suddenly Jenny is there on one of my shirts...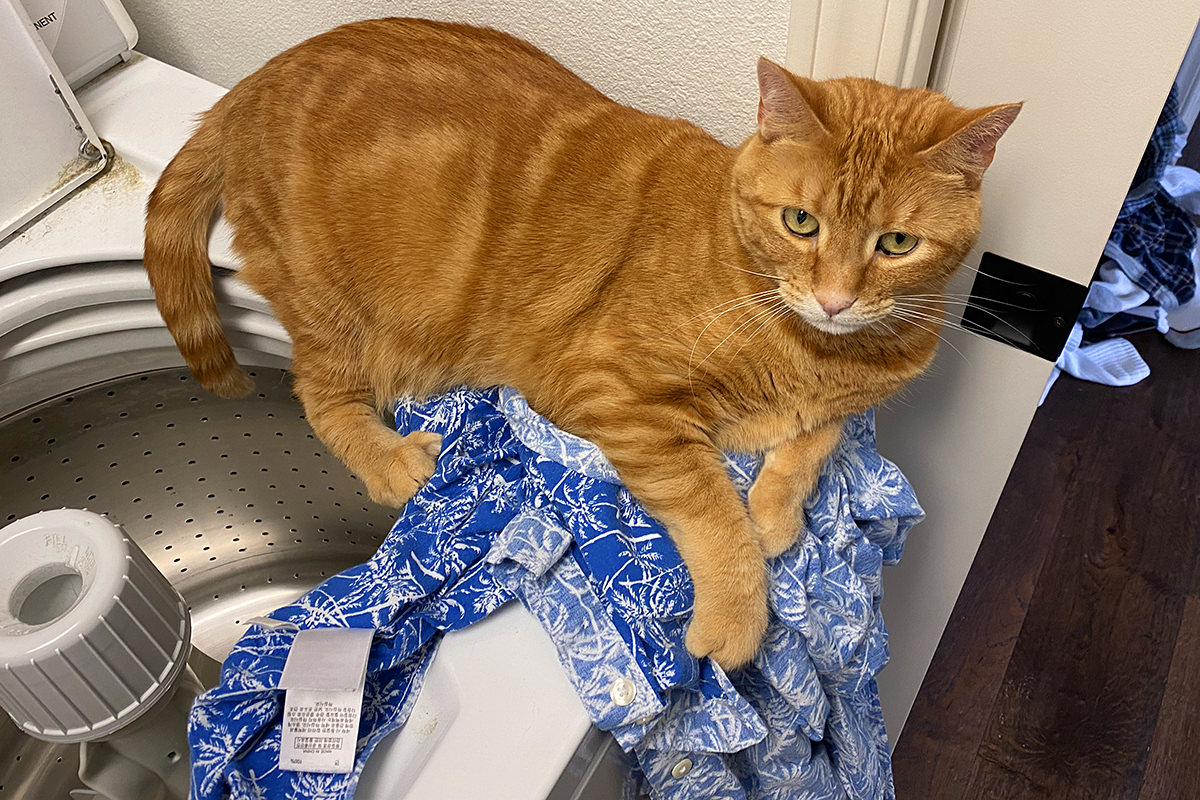 ... and would not let it go. I pull on it, and she pulls it back.
I even tried to distract her with chin scratches...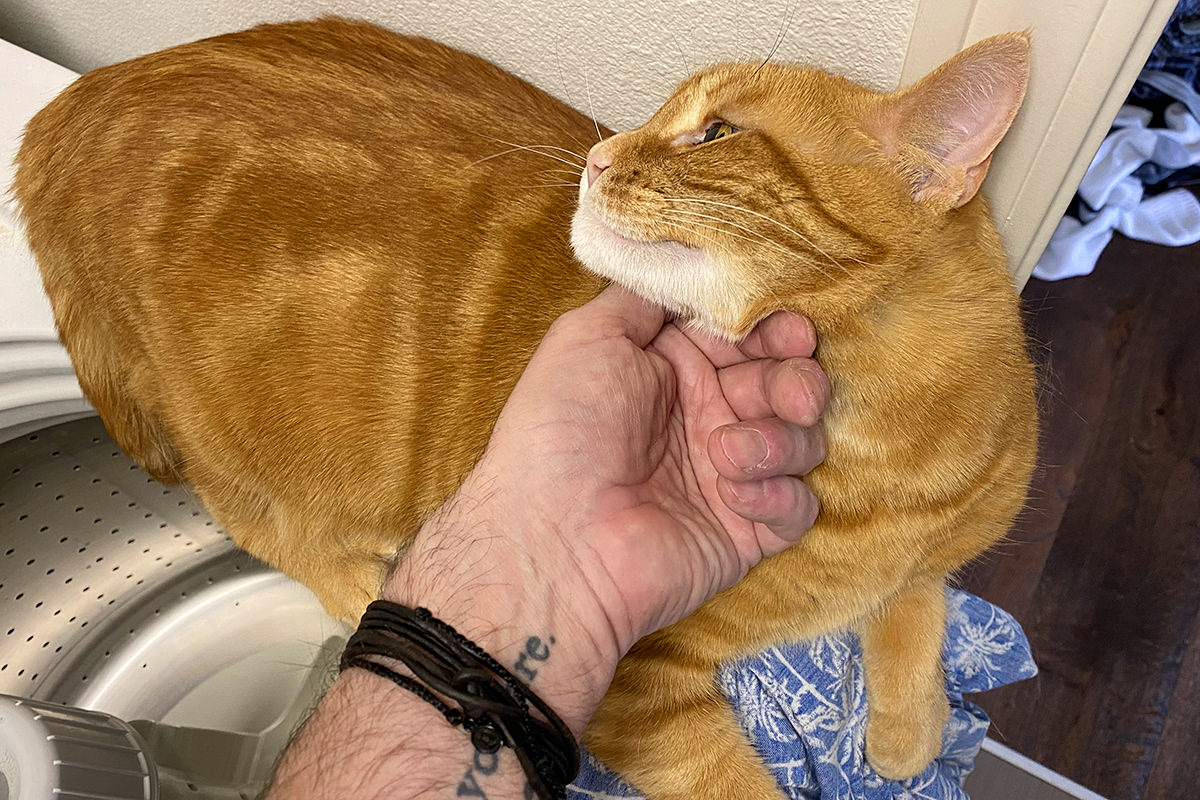 But nope!
Rather than risk battling it out and getting claw marks on a pricey shirt, I decided to just let her keep it. And she did. For over fifteen minutes! Amazing that my cats are now getting hair on my clothes before I even get them dried!
In other news, the Mufasa drama is still in effect, even though Jenny seems to have lost interest. What seems to be happening now is that Jake misses chasing his sister around for his toy, so now he's taken to throwing Mufasa around...
This is really worrisome, because I don't know that this toy can take that kind of punishment day in and day out. And, much of the time now, it's like Jake is literally daring Jenny to take his favorite toy.
Jenny hears Jake running down the steps and waits to see what's up...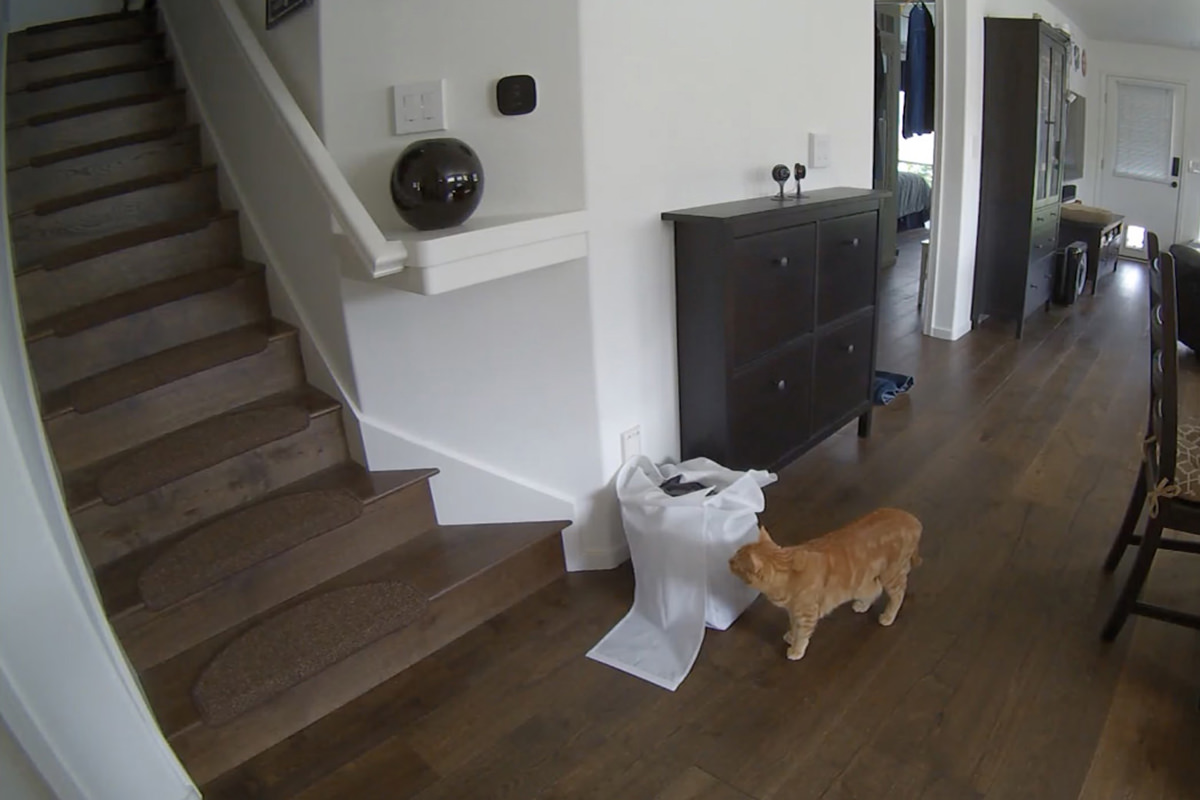 Jake come down, carrying Mufasa as usual...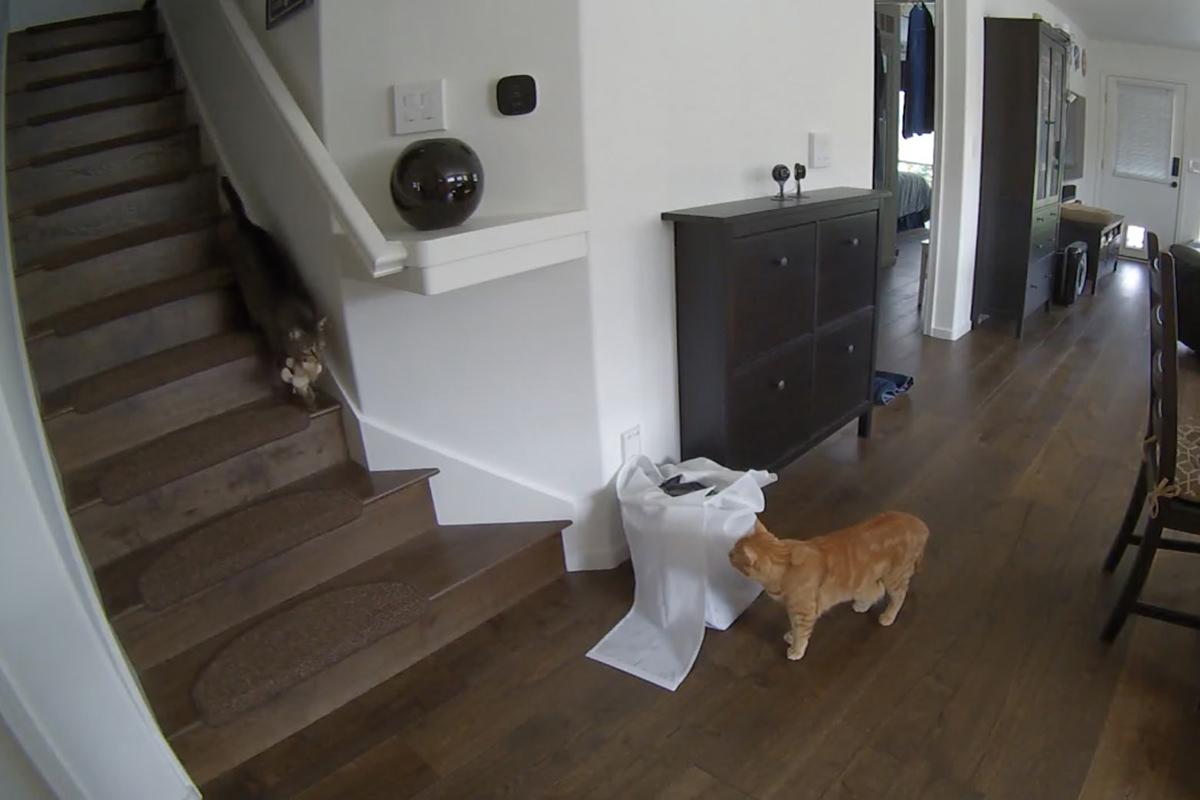 Then Jake will drop Mufasa right in front of her, pretty much inviting her to grab it...
Jenny, not one to pass up an invitation like that, reaches down to pick him up...
At which point Jake immediately freaks out and chases her away which, I'm guessing, was what he wanted all along...
At some point a pair of my boxes was dragged out of the laundry bag I didn't have time to run upstairs, so this is what greeted me when I got home...
Cats. Wouldn't want to do quarantine without them!
Posted on May 23rd, 2020

The Mufasa paranoia continues.
Poor Jake is still dragging his favorite toy everywhere for fear that Jenny will hide it if he lets it out of his sight.
The bad news is that half the time he'll get distracted and leave Mufasa unattended. The good news is that Jenny seems to be over it. For whatever reason she isn't hiding the stuffed lion any more. Whenever Jake is wandering the house crying because he can't find it, I'll see it in some totally obvious place. Like sitting on the stairs...
Which is where he will often drop it on his way up or down...
Jenny is far more clever than that. If she wanted to hide it, she wouldn't be leaving Mufasa on the stairs.
But Jake still thinks that she's taking it, and will freak out when Mufasa is missing and Jenny is available to blame. Here he is waiting for her to come downstairs so he can force her to tell him where Mufasa is, even though he was the one who dragged it upstairs just a half-hour earlier...
Note that poor Jenny is all WTF?!?
Which, as you can imagine, is her default state with a brother like Jake.