Posted on January 16th, 2021

When I first got Jake and Jenny, it was recommended I get a Feliway diffuser which releases pheromones that calm nervous cats. I kept using them even after they had acclimated, because I felt it probably helped when I was away traveling as well. The other night I noticed that the diffuser had ran out, which helped to explain why my cats had been curiously cautious lately. Like when I come home and they book up the stairs and won't come down right away when I call them...
So I replaced it. The next day they were all over each other. When I came home they didn't even come greet me. They were too busy giving each other a bath and couldn't be bothered...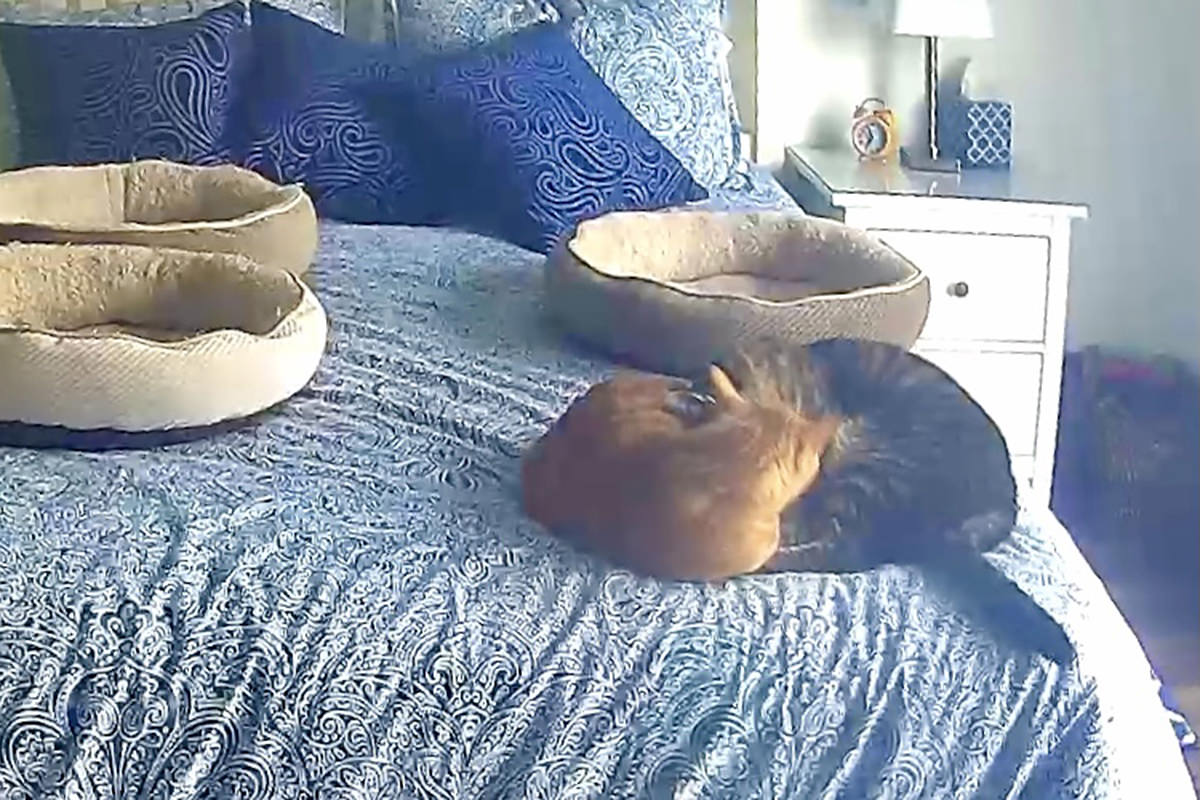 When I looked at the security camera footage I saw they were being sweet to each other all night as well...
In other cat news... Jake came in crying one morning while I was working in bed. I assumed that he couldn't find Mufasa, so I went to look (otherwise I wouldn't be able to get back to work). Mufasa was on top of a pile of toys that Jenny was building, so I grabbed him and went to give him to Jake. He turned his head and would not even look at his favorite toy...
I thought they were friends again when Jake dragged him in the next morning...
But then throughout the day, Mufasa was left on my bed...
I went to bed at midnight, but Jenny woke me up at 2am crying her head off. I had no idea why, so it was back to the security camera footage. Turns out that Jenny was sleeping when Jake came up and woke her up. This made her so upset that she decided to wake ME up. And that's when I noticed that Mufasa was still where Jake had left him...
So is the honeymoon between Jake and Mufasa over?
Keep tuning in to find out!
Posted on January 10th, 2021

Free speech has consequences, which is nothing new to bloggers like me... because an all new Bullet Sunday starts... now...

• Colosseo! My mom's favorite landmark is the Roman Colosseum. She asked to visit it every trip we made to Rome which, I believe, was four times (it was a cruise stop twice and a trip stop twice). I'd ask her why she loved it so much and she'd say "I don't know... I just do." When I told her that maybe she was a gladiator in a previous life, she thought that was funny and started telling people that when showing this photo...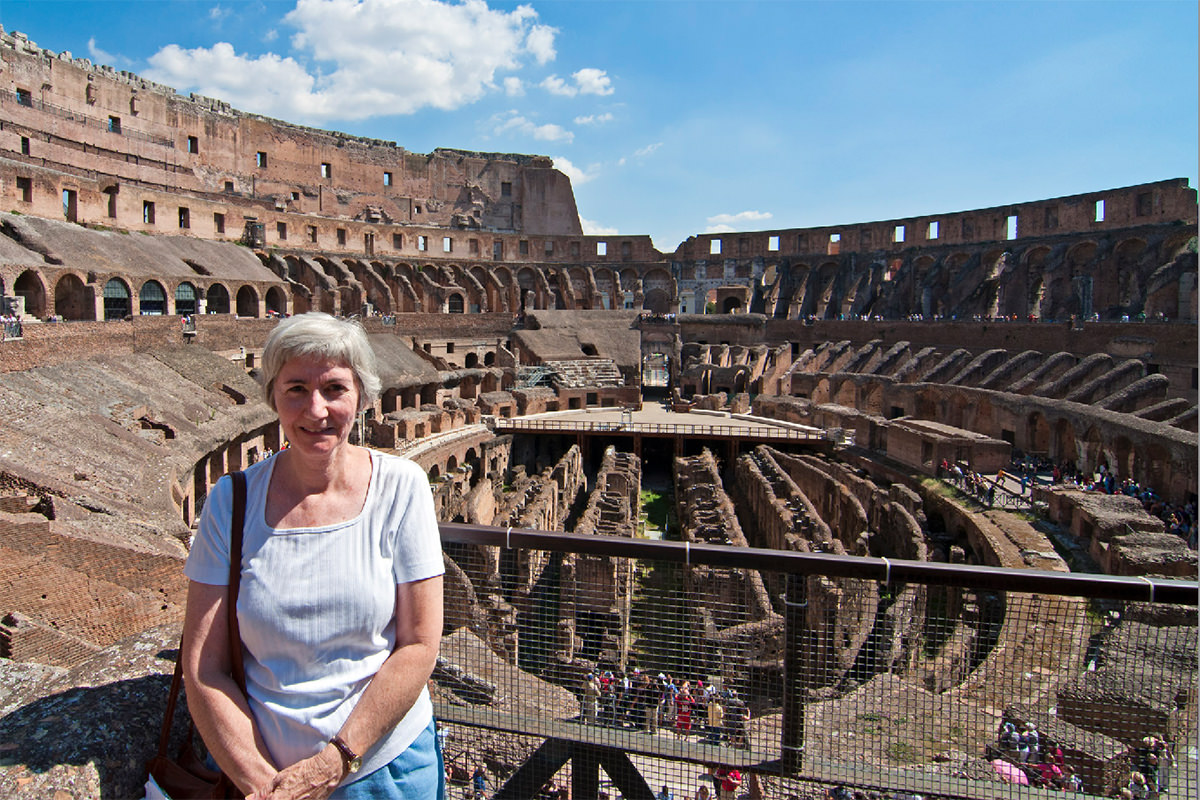 Because of this, I very much wish she was still alive, because Rome is renovating the Colosseum, and I think the idea of being able to stand on the floor of the Colosseum arena would be so thrilling to her that we would have definitely made a fifth trip once it was completed. This is really, really cool, and I'd love to be able to visit again. But it won't be the same without my mom there to share it.

• LEGO! I have to say... whomever works in LEGO advertising which came up with this ad for a "Make Your Own MiniFig" game apparently doesn't have the same filthy mind that I do, because, well...
Is that a hotdog in your pants, madam, or are you just happy to see me?

• PERFECT! I've watched this TikTok more times that I'd ever admit. It's hilarious because it's true...
Though I'd argue the point that this is how girls make coffee, because I see plenty of guys doing essentially this. And given my distaste for coffee, this would absolutely be me as well.

• Cute Gay Shit! TikTok is so much more than funny coffee memes. There is some genuinely touching stuff on there that gives me hope for all humanity...
And just KNOW that this gentleman gets lumped in with people he's condemning because of how he looks and talks. You know it. God bless you, sir.

• NEWSFLASH! FORBES: Close To A Worst-Case Scenario—Former CDC Director Issues 'Horrifying' Outlook For New Covid Strain. If your balls don't shrivel up after reading this, then you probably don't have balls. But you are alive if you're reading this, balls or no balls, which means you should be horrified that there are still people not taking this shit seriously. Protect yourself. Protect others. This has catastrophe written all over it.

• Specs? Apple is the most ridiculous fucking company. They want to make their products as simple to use as possible by taking all the "tech" out of everything. Which is fine. EXCEPT YOU CAN NEVER MANAGE TO GET ANY FUCKING SPECS FOR ANYTHING THEY SELL. Will this cable work for charging? I dunno. What is the maximum transfer rate for this cable? I dunno. Can I quick-charge with this cable? I dunno. What about the charger? I dunno. Can you at least tell me if it is USB-PD compliant? I dunno. They literally tell you NOTHING in their support docs or on anything in their entire store. — If you want to shield your customers from scary tech-speak, fine. But at least have the fucking information SOMEWHERE for the people who need to know this shit. Their solution for everything is to say "Well, if it doesn't work, you can always return it." Which is an astound attitude to take considering that it wastes my time and their resources, and I'm getting seriously tired of it.

• Apolitical! My existence right now:
REPUBLICANS: You're just a Democrat shill.
DEMOCRATS: You're just a Republican shill.
ME: I AM NEITHER A DEMOCRAT NOR A REPUBLICAN! I DON'T UNDERSTAND THE NEED TO WORSHIP POLITICIANS AND FALL IN LINE WITH A POLITICAL PARTY RUN BY WEALTHY ASSHOLES THAT ARE PROPPED UP BY WEALTHY CORPORATIONS WHO DON'T GIVE A SHIT ABOUT US! WHY CAN'T I JUST BE A NON-PARTY SHILL?! WHY DOES MY SHILLNESS HAVE TO BE ATTACKED LIKE THIS? I AM A SHILL FOR ALL HUMANITY! AND A SHILL FOR CATS! TOWANDAAAAAAA!!!
Because, like, how could you not be a shill for floofy bellies like dis?

Stay frosty out there, my friends.
Tags:
Apple
,
Bullet Sunday
,
Bullshit
,
Cats
,
COVID-19
,
LEGO
,
News
,
Pandemic
,
Politics
,
Rome
,
TikTok
,
Travel
Categories:
Apple Stuff 2021
,
Bullet Sunday 2021
,
Cats 2021
,
LEGO
,
News – Politics 2021
,
Travel 2021
—
Click To It:
Permalink
—
2 Comments: Click To Add Yours!
Posted on January 9th, 2021

The holidays being over aren't all that sad for me... I don't celebrate any of them... but I kinda feel bad for my cats. Always something new and exciting for them. Lights hanging outside the windows... Christmas cards they can chew on (which is appropriate considering 5 out of the 8 I received were addressed to them)... and all kinds of other stuff that's new and different...
One thing that I wasn't anticipating was Jake and Jenny shedding like it's the middle of Summer when there are some weeks of Winter left to be had. The fur is literally flying everywhere, and petting them results in handfuls coming off in my hand...
And apparently all that shedding is itchy, because my cats will not leave me alone. They want to be petted and scratched and scrubbed...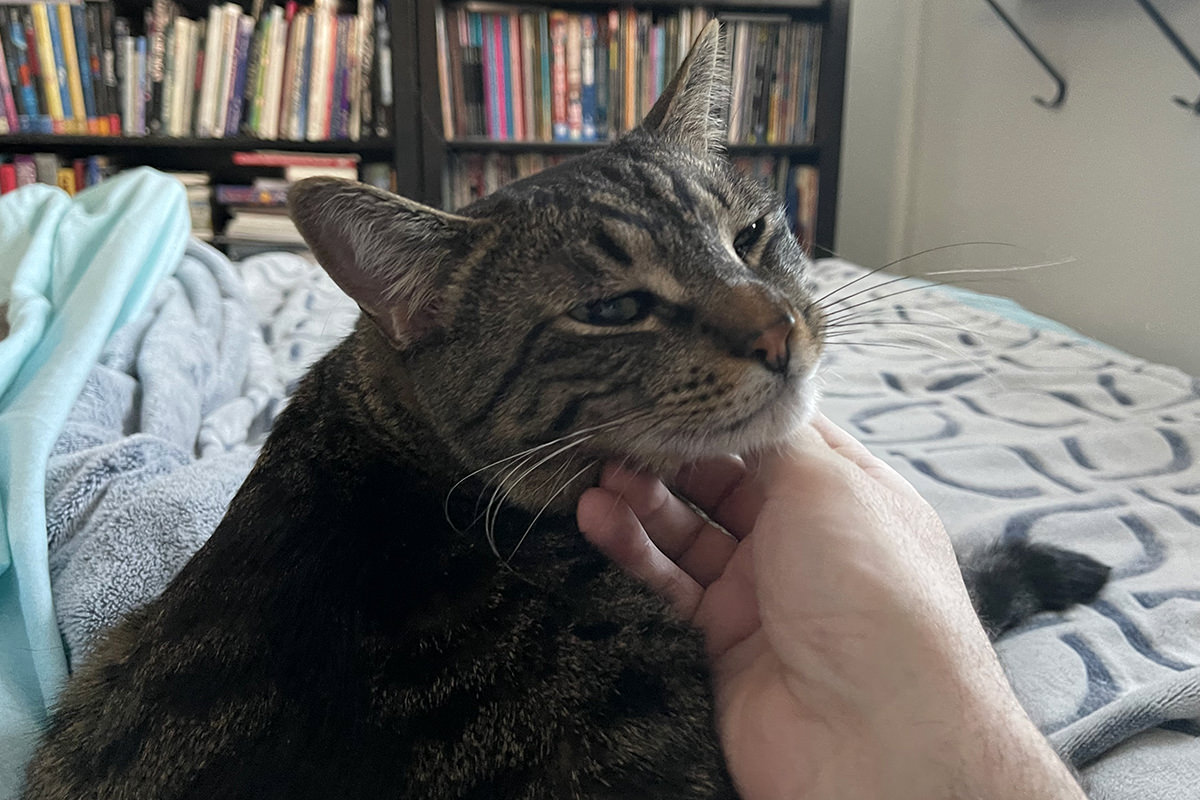 From the minute I get home until the minute I fall asleep, they are wanting never-ending scratches.
I'd write more exciting details about my needy cats but, well, my cats are being needy.
Posted on January 2nd, 2021

When I got my cats, they were inseparable. They would hide together, play together, sleep under the couch together, sneak out to eat together... there was not a single minute that they spent apart. Part of this came from them being rescues that were scared shitless of anything and everything. Over a long period of time I was eventually able to gain their trust, but I was so worried at the beginning that I actually planned for them never wanting to be apart.
One of the first purchases I bought was a dog bed. I figured that when they eventually grew up that they would outgrown sleeping in the cat bed together. Eventually they were able to spend time apart without problem, and the dog bed sat empty. Jenny occasionally slept in it, but it went largely ignored.
Until this past month.
Jenny started sleeping in it all the time. And, of course, once Jake saw that his sister had something she was enjoying, he just had to have it as well.
So now they take turns crashing in it. Or, if you're Jake, crashing out of it...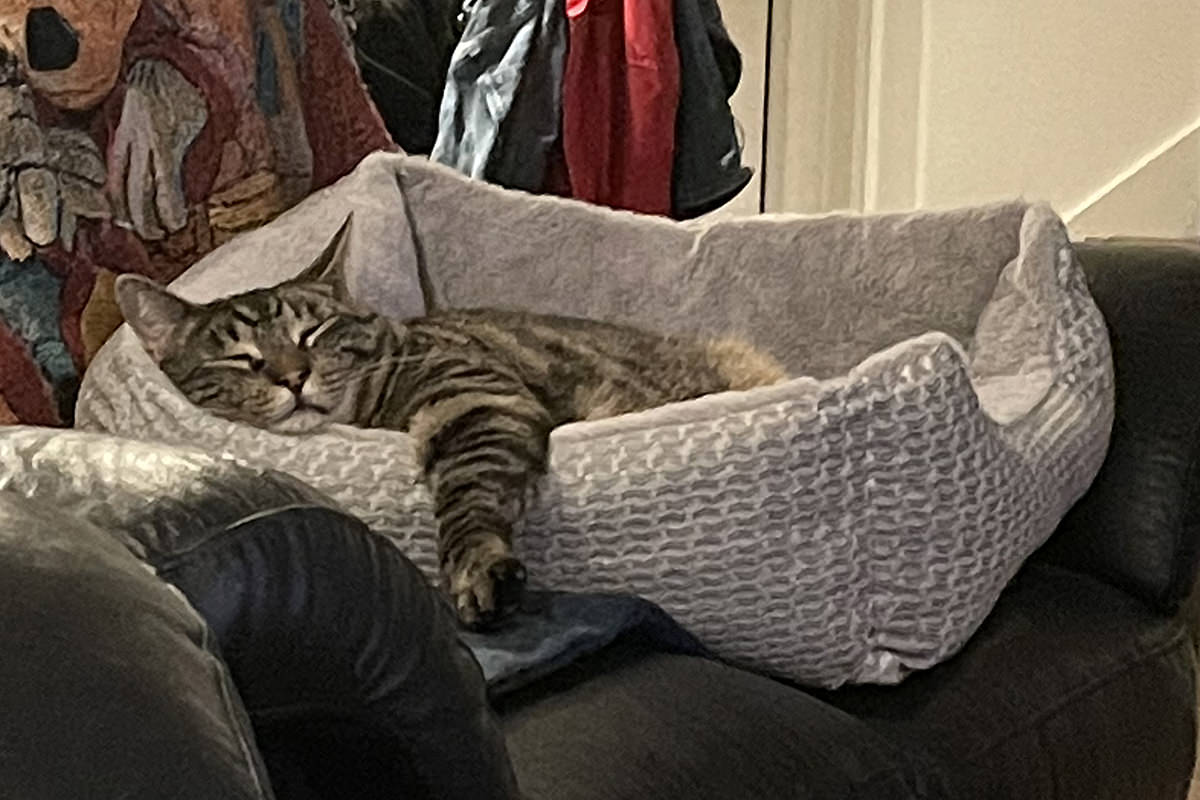 Not that Jenny's immune. For some strange reason, she's started sleeping in the thing riiiiiiiiight on the edge of the couch...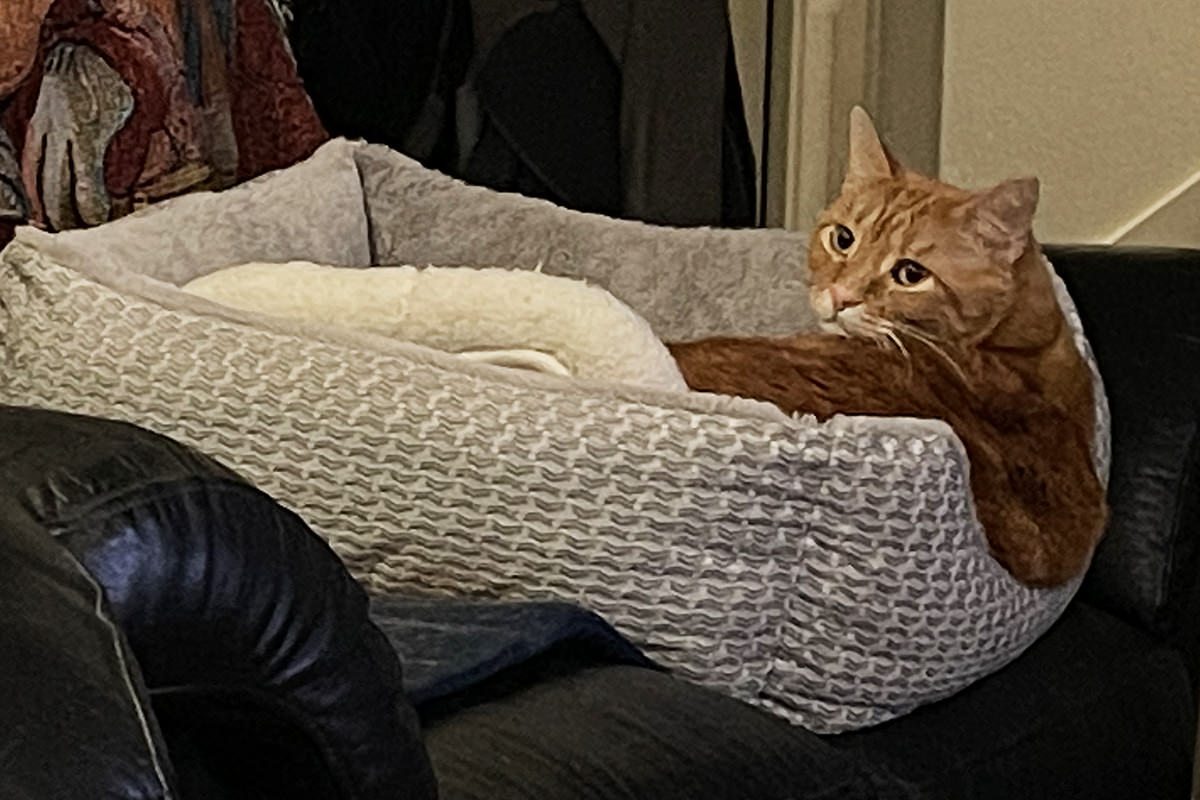 AND THEN... I looked up a couple evenings ago and saw this...
Now, finding them sleeping together is not impossible. I was treated to this sight just a couple weeks ago...
But I had never seen them together in the doggy bed. Needless to say I had to get up and investigate further...
So sweet!
Tonight Jake has laid claim to it all by his lonesome again, however. He's watching television with me all comfy-like...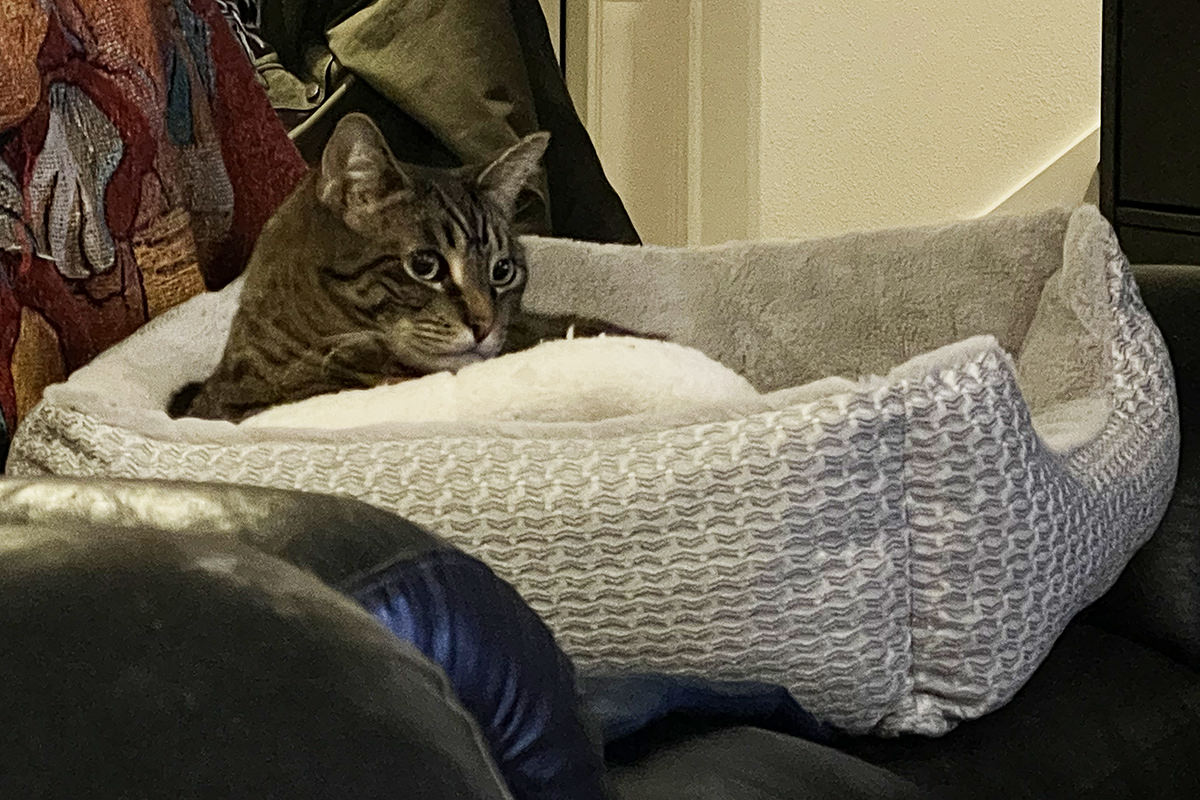 I was a part of a holiday gift exchange. As what has become a tradition, my cats end up getting gifts as well. This year it was these adorable "Baby Yoda" (Grogu) ornaments filled with catnip...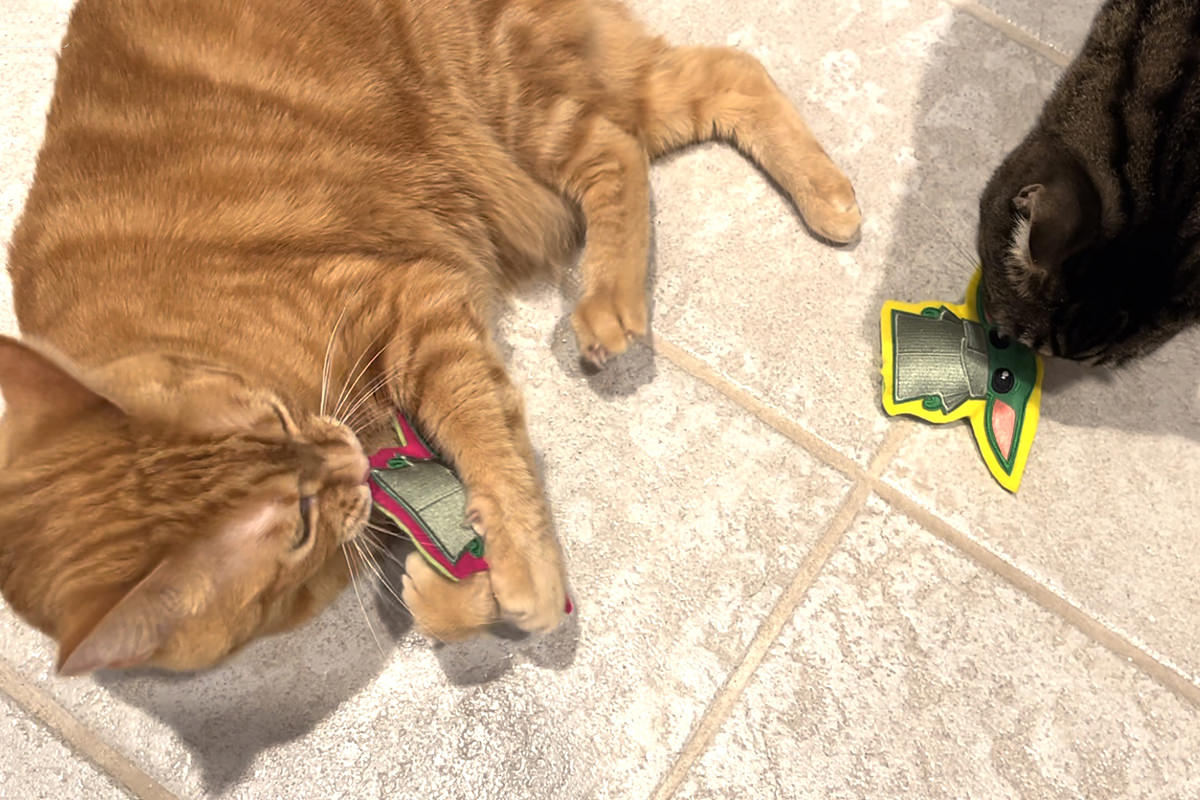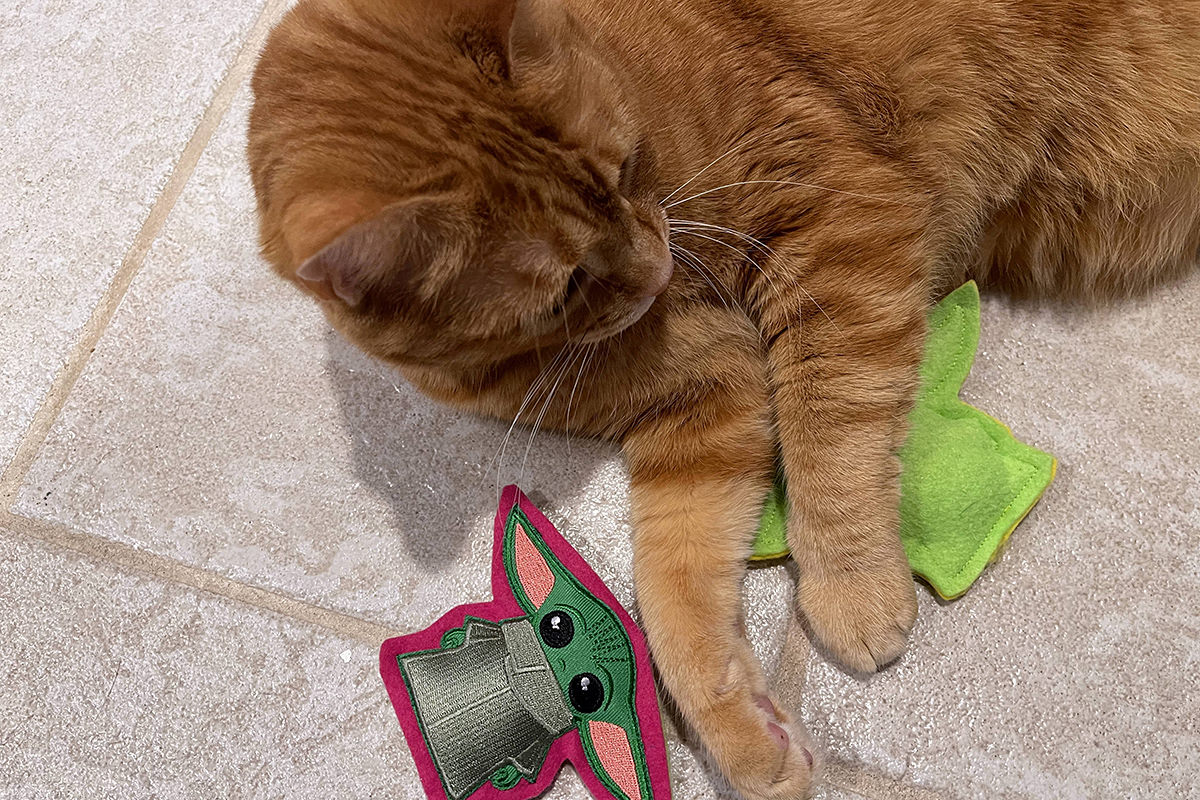 Jenny really goes nuts over the things...
Not surprisingly... Jake, of course, still only has eyes for Mufasa. Other toys come and go, but his stuffed lion is always the favorite.
Posted on December 19th, 2020

Today would have been my mom's 76th birthday. Despite the fact that I tell myself over and over that this was a long life by a number of metrics... it still seems so short. Technically she died at 73-1/2 years old, but the person she was had been dying for years before then. That's the way dementia works.
It's impossible for me to overlook that the reason I have a Caturday at all today is because I got Jake and Jenny to keep mom company while I was at work. She was confused most of the time, but she seemed far less agitated when she was hanging out with Spanky, an abandoned cat we took in to save it from starving or freezing to death...
Never-before-shared video of mom sharing her popcorn with Spanky, who was such a great cat...
When mom's second-story apartment became too dangerous for her and I had to find a safer home, my intent was always to bring Spanky with us. Alas, he disappeared before I ever had the chance.
And so... a week after moving in, I was off to the Humane Society to adopt two feral rescues that warmed up to mom before they ever warmed up to me...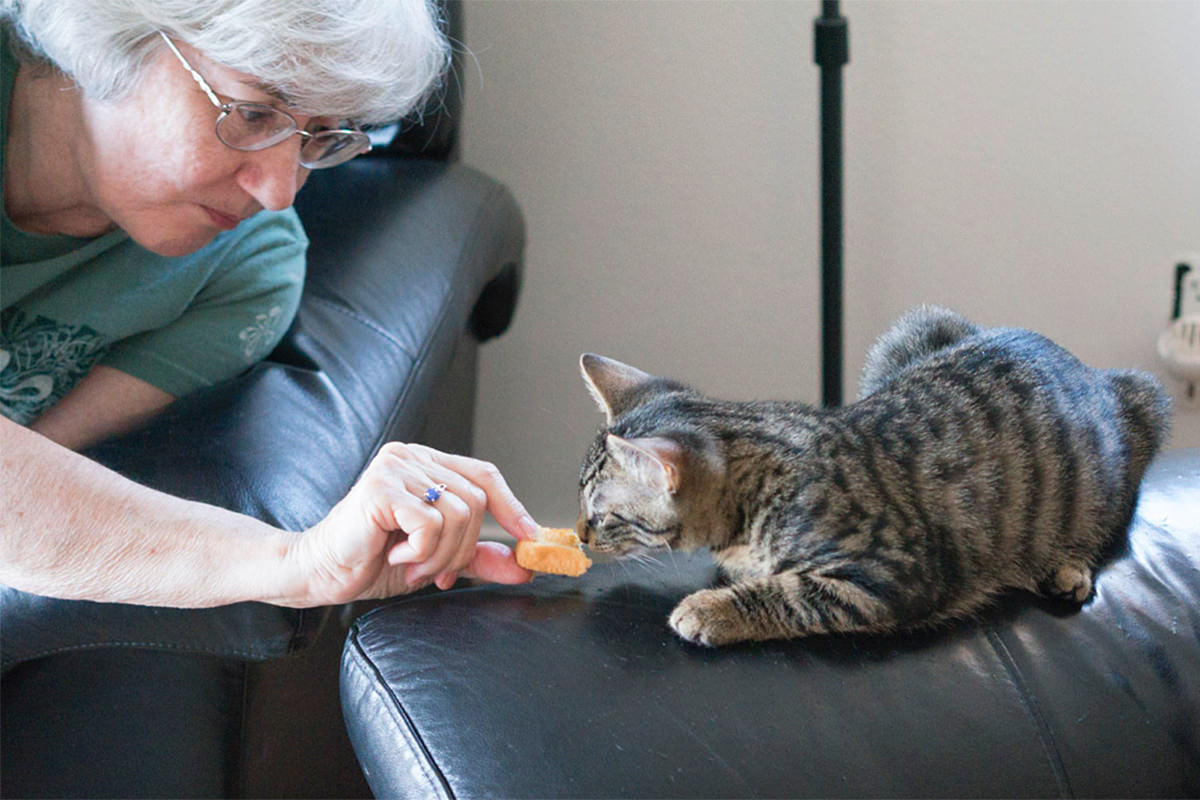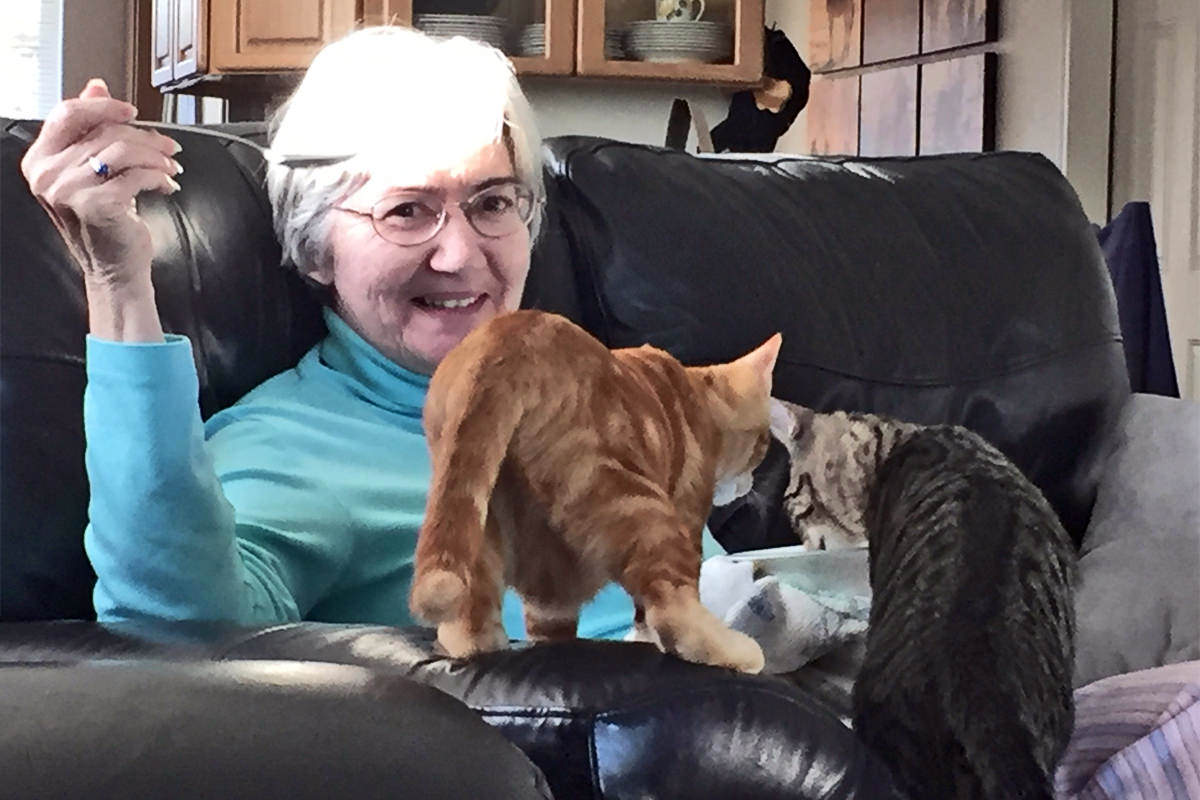 Her life was so much better with constant companions in it. I'd come home to check on her and find her curled up with the cats sleeping, or playing with them, or even just talking to them. They had one job... keep my mom occupied... and they did it perfectly.
After mom left, Jake and Jenny kept me going. And 190 Caturdays later, they're still keeping me going. More or less.
Check in with me tomorrow.
Posted on December 12th, 2020

For whatever reason, my cats have started getting all anxious and agitated when the Alexa alarm goes off for their feeding. This morning Jake was wandering around in circles... Jenny was fretting and pacing... then Jake started squawking as I was dishing up breakfast which encouraged Jenny to start making those nervous meows she makes when she's frustrated.
Other than that? The cats have been pretty chill. Mostly because they have warming pads to sleep on...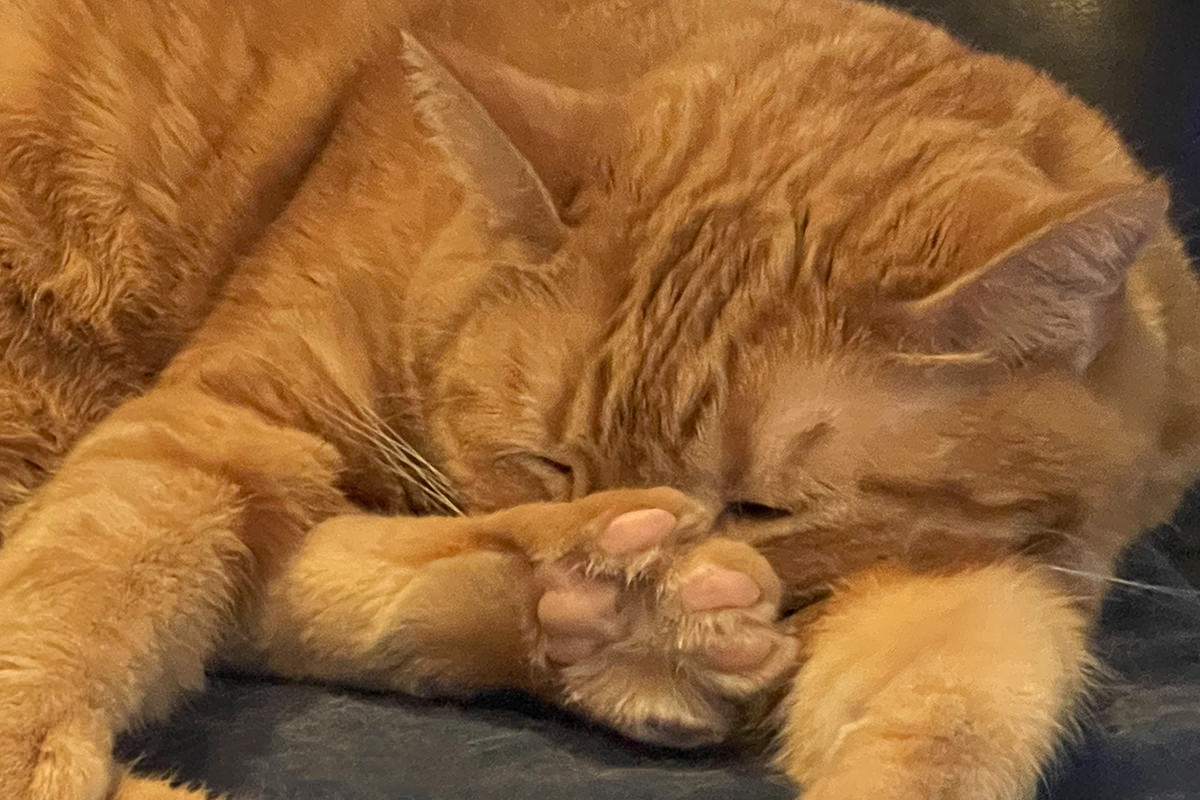 Or stealing my heating pad...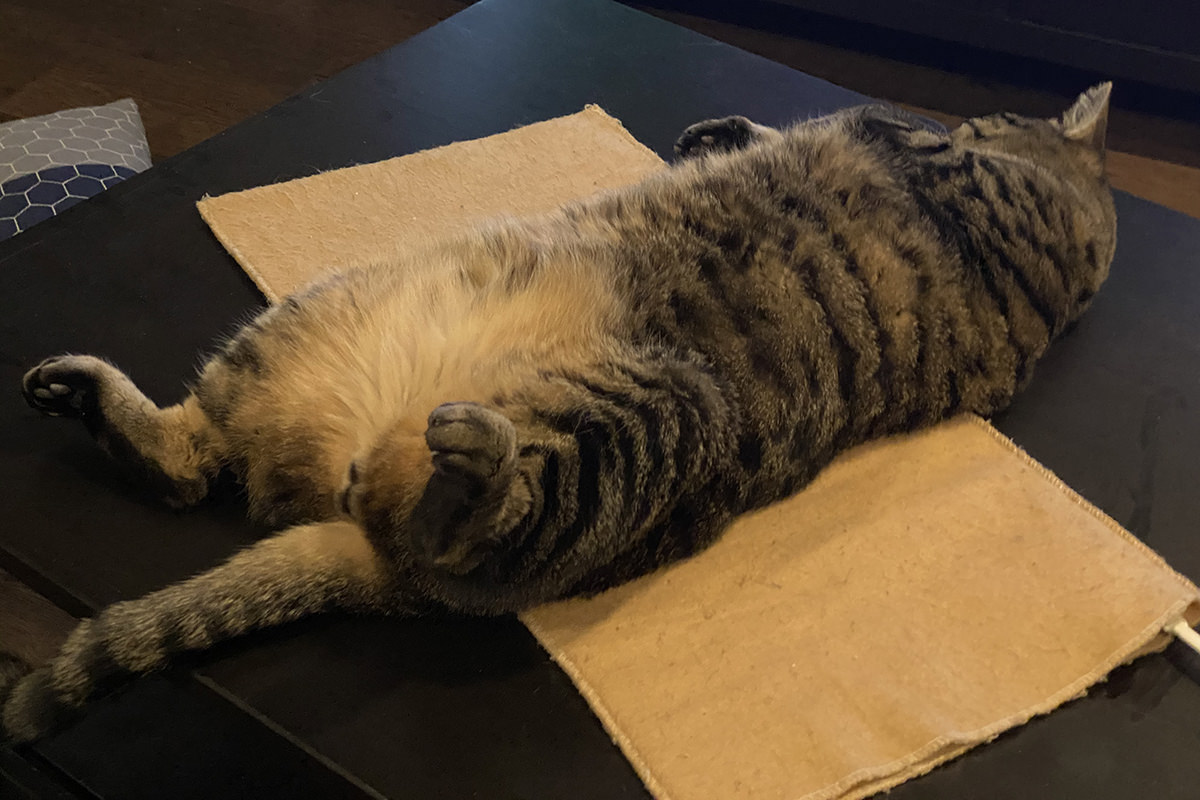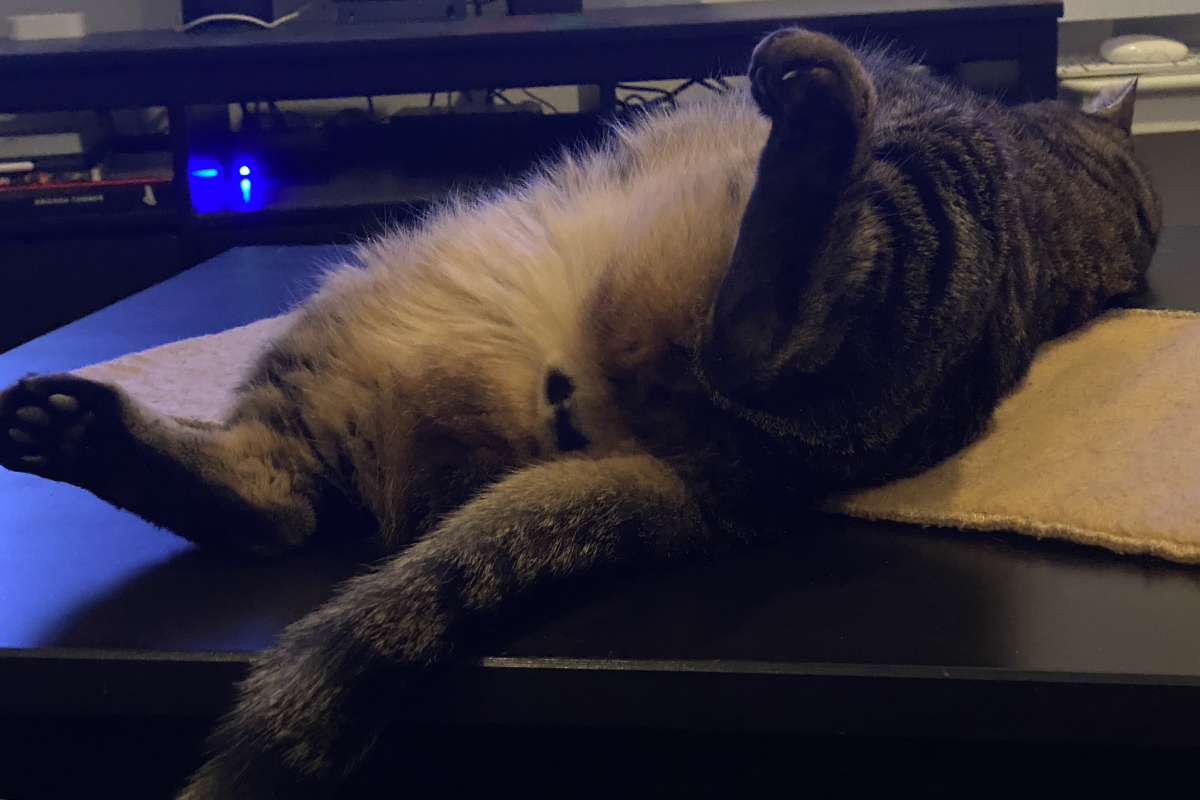 How cats manage to sleep in the positions they get into is a mystery.
I was wrapping up some presents last night so I can get them sent out, only to have Jake drag Mufasa onto the table and lay across the wrapping paper box. I can only guess he was trying to help, but all he did was put off the task fifteen minutes while I waited for him to get out of the way...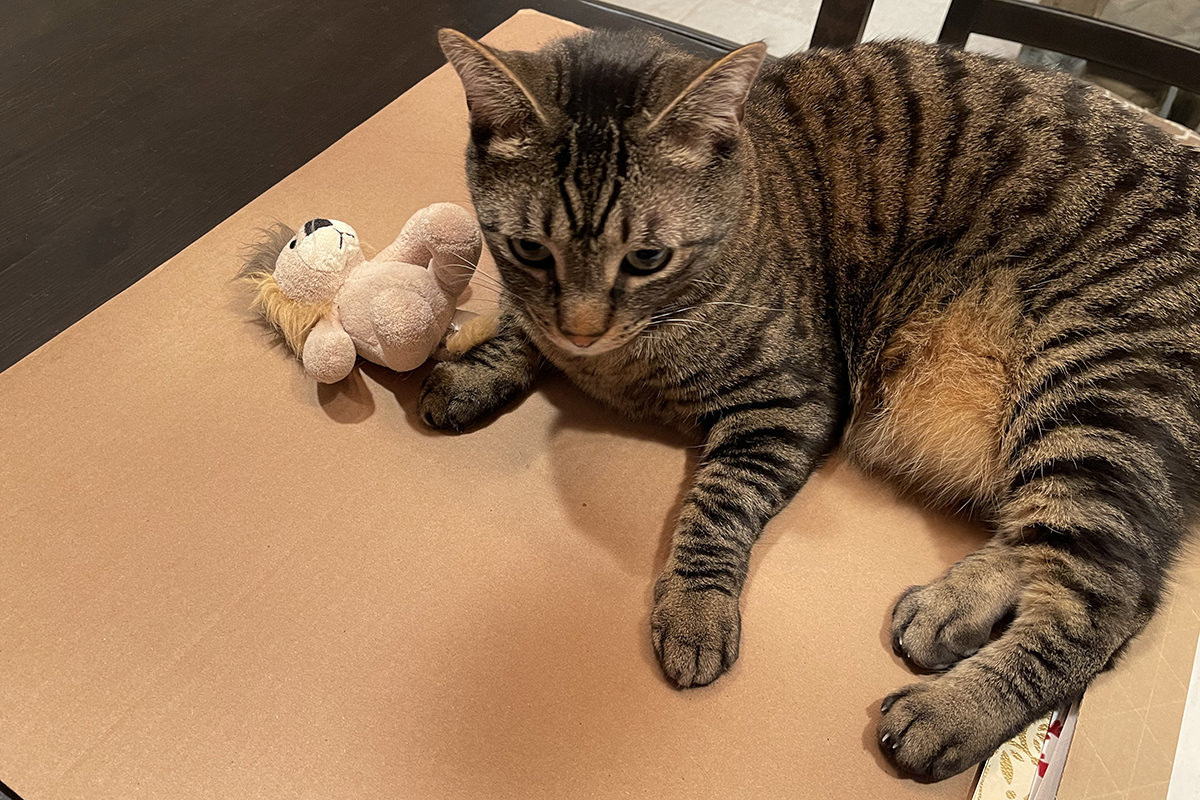 Which he did... when he joined Jenny on the cat tree to watch television...
Mufasa was left behind. Which means Jake will be walking around crying while looking for his favorite toy because he always forgets where he had it last.
Posted on December 6th, 2020

I may be spending my day celebrating, but that doesn't mean I've forgotten about this blog... because an all new Bullet Sunday starts... now...

• Happy Birthday! Jake and Jenny were feral rescues, so their birthdate is kinda-sorta estimated. I think. Maybe the person who found them knew the exact date and reported it when they got to the Humane Society, I'm not sure. In any event, December 6th is what's on all their paperwork and their insurance, so this is the day I wish them a Happy Birthday. And this year I am actually home to tell them "Happy Birthday" in person, which is rare. They weren't available for adoption until they got out of foster care and were fixed, and that was February 16th, 2016 (meaning these photos are of them when they were 2 months and 11 days old)...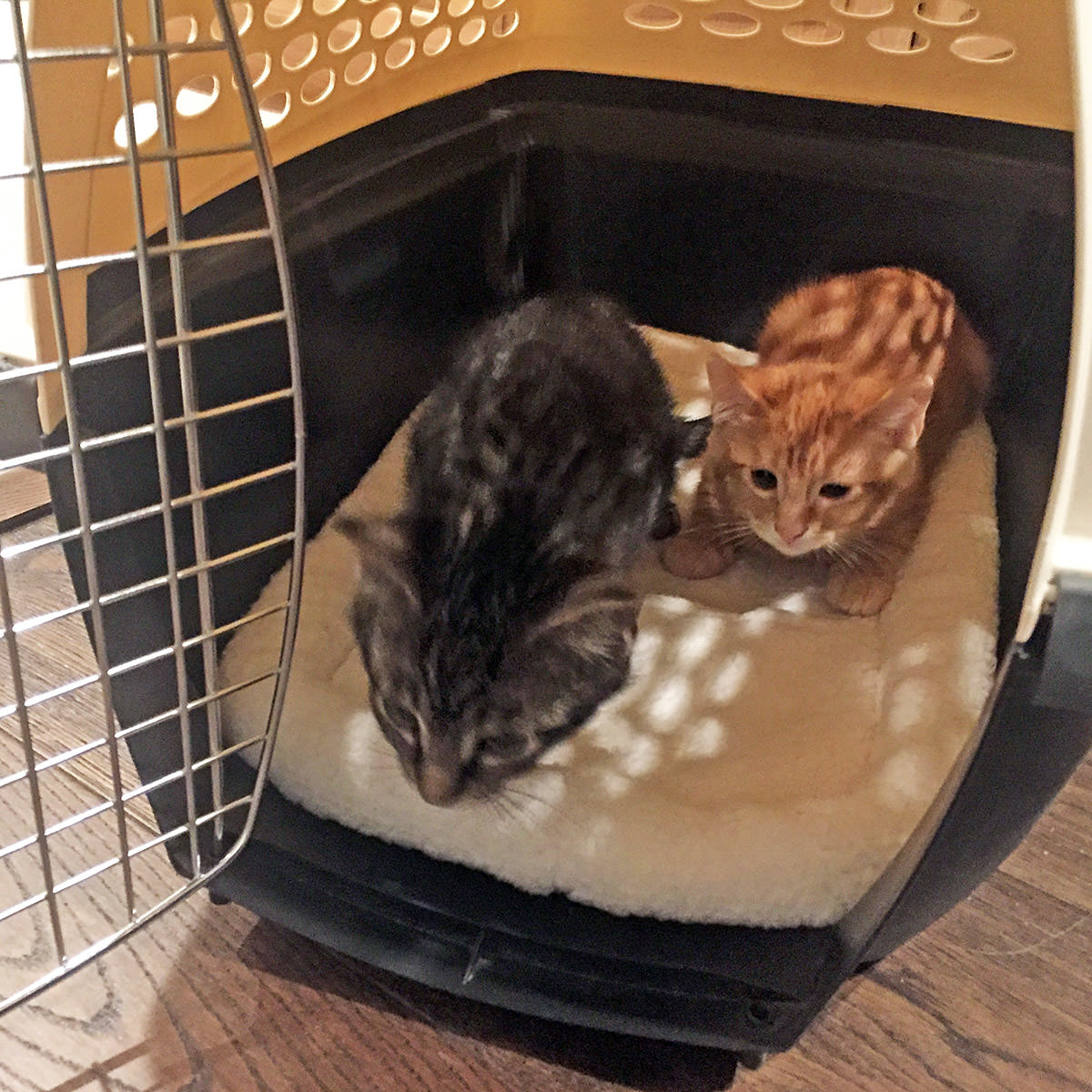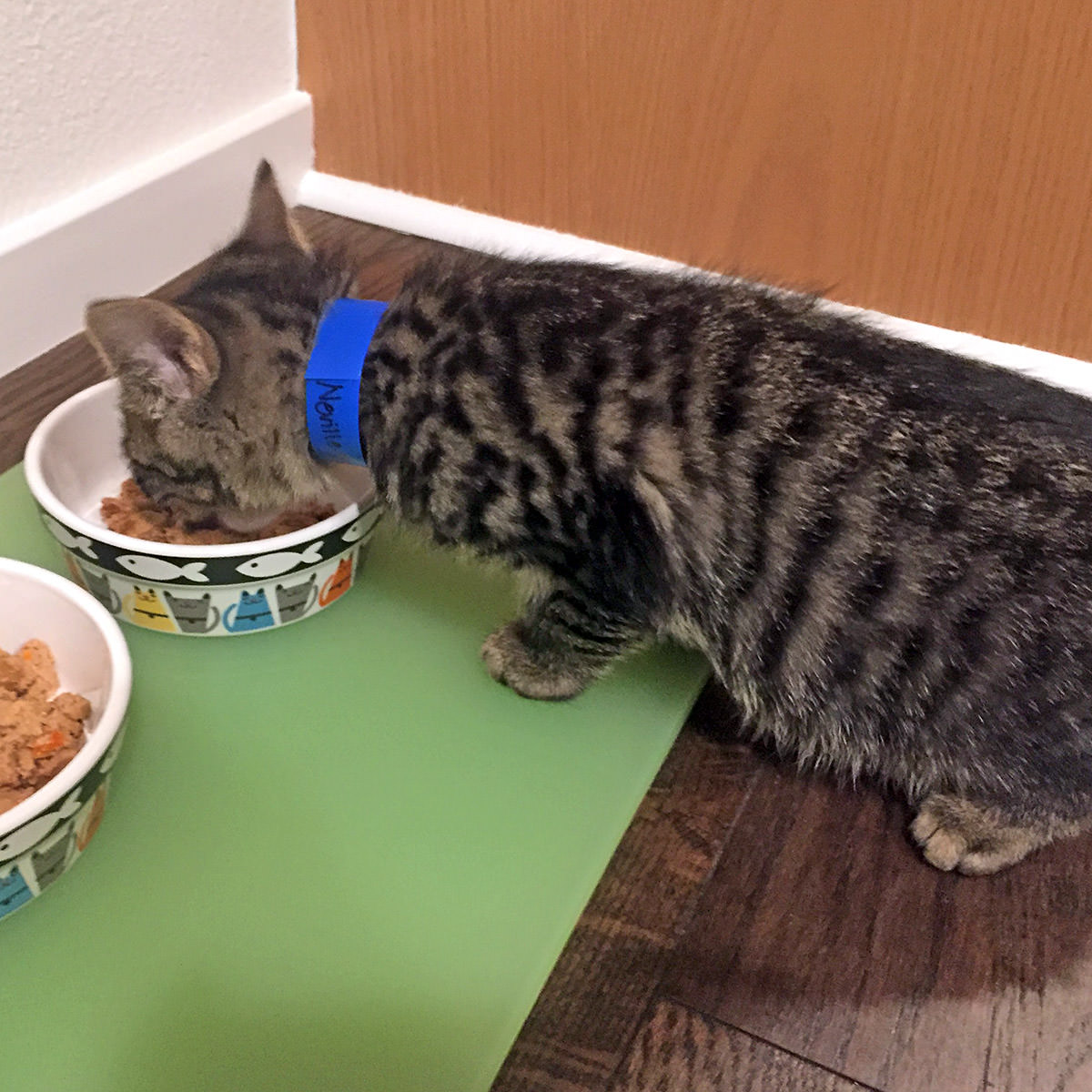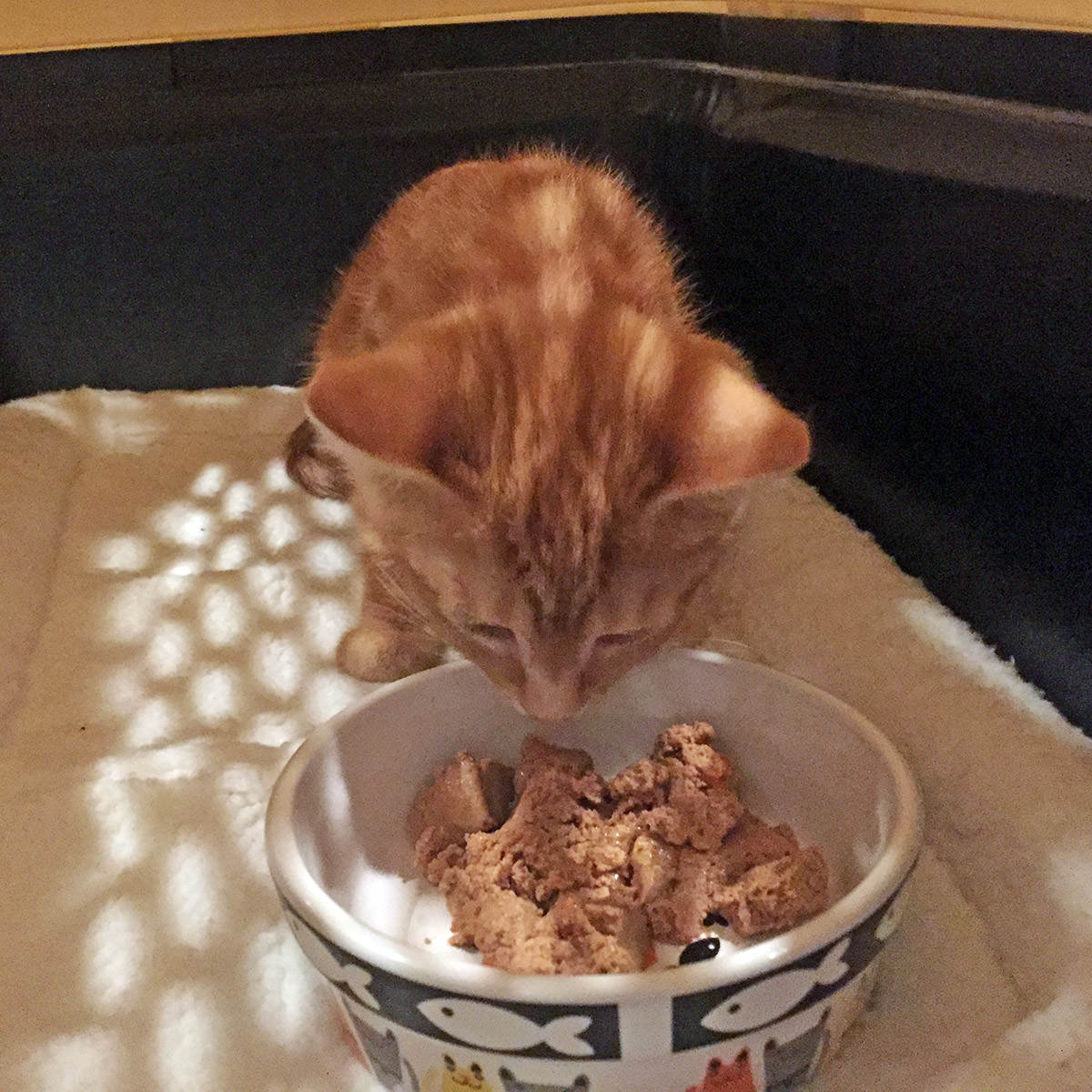 They were both so scared that it took weeks before I was even allowed to touch them. Most of their time was spent hiding under the couch. Jake was easily motivated by food (and still is) but Jenny took much longer because she's so much more cautious (and still is). Adopting them remains one of the best things I've ever done, so happy birthday to my amazing cats!

• AutoSleep! Speaking of my cats... at 3:30am I was awakened by Jake really struggling with a hair ball. My cats rarely have hair balls since I brush them regularly, so I got up to make sure he's okay and clean up the mess. I would have thought that I dreamed it all, except I've been using the AutoSleep app with my Apple Watch and can verify exactly when I got up...
AutoSleep is an app that has all the data that Apple's own Health app is missing... like the most basic of information, HOW MUCH SLEEP DID I GET? Health just gives you a start and a stop time, leaving you to have to mentally calculate it out, which is plain stupid. AutoSleep does so much more in addition to basic functions, which makes it well worth the $5 price tag, and I highly recommend it for Apple Watch owners who wear theirs to bed at night.

• Dysfunction? Since there are so many assholes still not willing to mask up to stop the spread of COVID, maybe this will motivate them... Another Reason to Wear a Mask: COVID-19 May Cause Erectile Dysfunction. We can only hope. Thanks to way too many people not being careful and acting like the pandemic isn't real... and even more of these people getting together for Thanksgiving despite the risks... hospitals are already starting to reach maximum capacity...
This doesn't just affect people who have serious COVID-19 symptoms and will die without hospitalization, it also affects anybody who get a treatable health problem... like a heart attack... who can't get into a hospital because all the beds are taken by COVID patients. Stop being an asshole. This virus doesn't just kill old and sick people, it can kill anyone. A vaccine is just around the corner (along with even more incredible treatments in the pipeline) and everything can just wait.

• Weight! On November 19th, I reached the heaviest I've ever been... 192 lbs. Usually I try to stay at 170 lbs. and not exceed 180 lbs. because that's when I feel my best, but gave myself a pass because of COVID shit happening. But enough was enough, and I started trying to eat sensibly again. No more Family Size Bag of Lay's Potato Chips in a single day... no more Pop Tarts for breakfast... no potato salad at midnight. Two weeks later I'm down to 186 lbs., which means I've got 16 lbs. to go to get to my goal weight. It's shocking to think that I managed to put on 22 lbs. since March, but when you sit around the house doing fuck-all day after day, I guess that's what can happen. I need to eat better and be more active, because I'm getting old enough that the weight doesn't fall off as easily as it used to. Bring on that vaccine! I want my life (and body) back!

• Mulan? Good Lord is the live-action Mulan a boatload of shit. Very, very beautiful and pretty... but shit. Thank heavens I didn't pay the $30 to see it early... which I was this close to doing because I love the Disney animated classic original so much. The story doesn't even make sense anymore. And they left out Mushu, which is just madness when they've given her magical powers from The Matrix which makes the whole thing fantasy anyway...
Ugh. What a waste of money that could have been put into another Star Wars series or Marvel Studios series for Disney+.

• HEADLINE! Warner Bros. Smashes Box Office Windows, Will Send Entire 2021 Slate to HBO Max and Theaters — In an unprecedented announcement, the studio will send 17 films — including The Matrix 4, The Suicide Squad and Dune to its streaming service for 31 days the same day they hit theaters.
Look, as I've stated many, many times, I absolutely hate the "theater experience" any more. Between people texting and talking and letting their kids run around and generally being assholes, it's about the worst form of "entertainment" there is, and I'd rather do just about anything else for fun. The only movies I see in theaters are those that I can't wait for (like Marvel Studios films). Otherwise? No thanks. So, for obvious reasons, I am thrilled by the news that I will be able to watch Dune and The Matrix 4 at home with an HBO Max subscription. But, on the other hand, I wonder what this means for those massively expensive blockbusters that I love. Will they even be able to be made any more if theaters don't exist? My guess is that they will still make them because A) Streaming services are already paying insane amounts of money for movies... B) Special effects are getting cheaper, and expensive actors can be replaced if they refuse to work within the new budgets... and C) This is where the future was headed all along as the home viewing experience gets better and better. So I dunno. I am certainly not rooting for theaters to die off completely... I think they still have a role to fill... but I'm not going to complain about not having to suffer through a theater for the movies I want to watch, that's for sure.

• HEADLINE! Elliot Page, Oscar-Nominated 'Juno' Star, Announces He Is Transgender. — Hi friends, I want to share with you that I am trans, my pronouns are he/they and my name is Elliot," Page wrote in a statement that he posted on Tuesday
And good for him. I'm thrilled when somebody figures out who they are and what it takes to live their best life at a cost of $0 to me. Because this is not about me! Who Elliot Page is has absolutely zero effect on my life what-so-ever. How great is it that he's got it all figured out, because many people never do. My gender identity was a cakewalk. I'm a man. I've always felt like a man. My genitals align perfectly with who I am at my very core. I've only ever been attracted to women. I've only ever had sex with women. And I can't imagine somebody telling me that I can't be who I am... just like I can't imagine somebody feeling entitled enough to tell Elliot Page who they are either. Whether you accept it or not, transgender persons exist. And when they have the strength to come out to the world, it will undoubtedly save lives. Far too many transgender kids are killing themselves because they can't picture a world that they could ever exist in. Elliot Page shows them that they can.

Now it's time to stop slinging bullets so I can go serve Ocean Fish Pate "birthday cakes" to my fuzzy kids. Be safe, everybody.
Tags:
Apple Stuff
,
Apple Watch
,
Bullet Sunday
,
Cats
,
COVID-19
,
DaveLife
,
Movies
,
News
,
Pandemic
,
Television
Categories:
Apple Stuff 2020
,
Bullet Sunday 2020
,
Cats 2020
,
DaveLife 2020
,
Movies 2020
,
News – Politics 2020
,
Television 2020
—
Click To It:
Permalink
—
2 Comments: Click To Add Yours!
Posted on December 5th, 2020

Jake and Jenny have been spending more and more of their day sleeping. I guess Winter isn't very exciting time for a cat, so this is their coping mechanism. Not that I can blame them. Thanks to COVID lockdown, all I want to do is sleep the days away as well.
On Thursday I had the plumber come and rip open the kitchen ceiling to repair a pipe leak. The cats hid upstairs in my storage closet, as they always do when strangers invade the house. Once the repairs were complete, I called up to let them know that they could come back downstairs. It's amazing how they are able to understand me and immediately come running downstairs every time...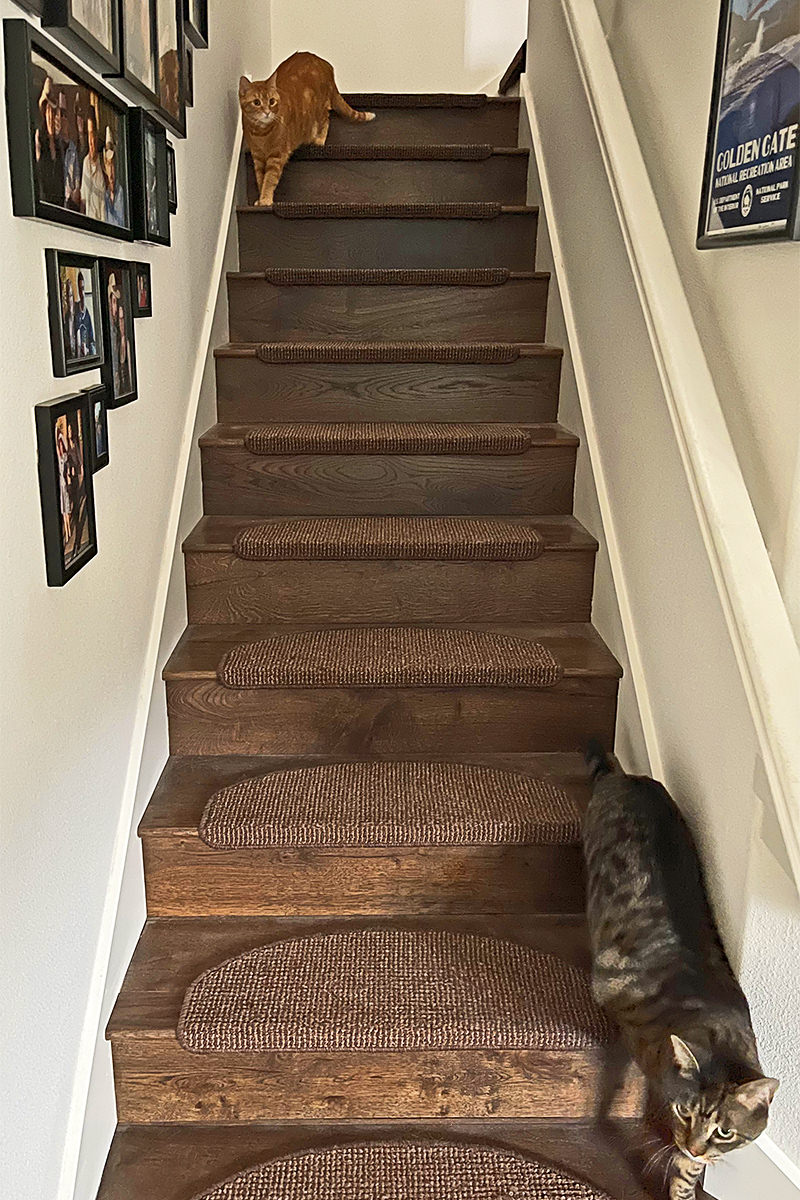 Not that they 100% trusted me. They had to go sniffing around everywhere to make sure the intruder was really gone.
Early in the week I was startled when BOTH cats ran out to the catio after one of them was in the Litter-Robot. I knew that the impending smell must be extraordinarily bad. But once it reached me and I was gagging and feeling my eyes tear up, I had to go to the video feed so I could find out which one of them was responsible so I could check to make sure that they hadn't blown their asshole out. Turns out it was BOTH of them! They BOTH took a dump at the same time!
I don't know that this has ever happened before! I was worried that my home would probably have to be fumigated... or possibly burned down... because it was just that bad. Fortunately the Litter-Robots cycled and got things under control.
And then...
There I was... working away at the office... when I get a PERSON ALERT! on my iPhone. I ignore it because sometimes my cats register as a person to the security system. Then, ten minutes later, PERSON ALERT! — Now I'm really freaking out because I've been convinced that there is, in fact, a person in my home. NOPE!
I guess it was my fault for leaving the kitchen blinds open and having a stepladder staircase left out for them. And I had JUST disinfected the countertops the night before! I had to steam them and scrub them clean AGAIN that night. Blergh. I wonder how come Jake and Jenny never seem to realize that I don't have time for these shenanigans?
And now I guess I had better get back to work. But quietly so I don't interrupt my cats' busy day of sleeping.
Posted on November 28th, 2020

Jenny has now 100% embraced her power over me, and she's getting better at manipulating me every day. She knows that all she has to do is meow and I'm going to do whatever she is wants. Give you a treat? Okay. Get your ball from under the couch? Okay. Rub your belly? Okay.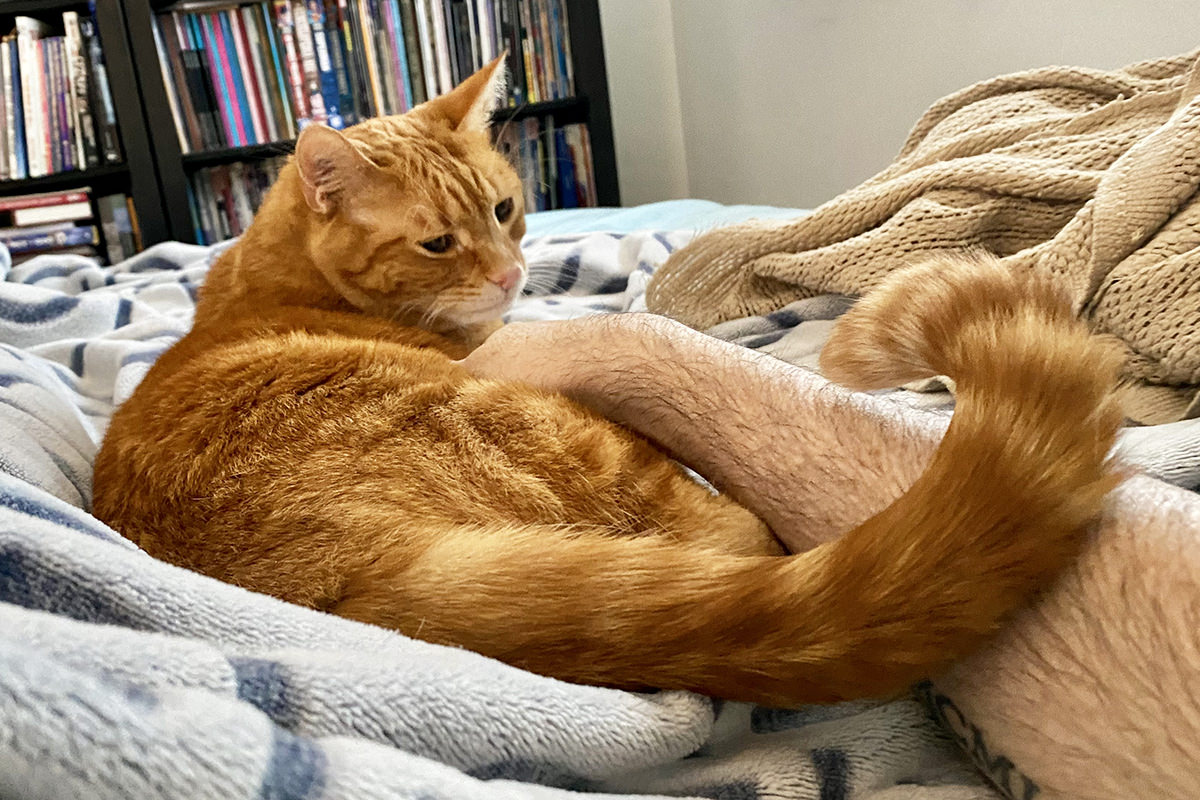 Here she is after she meowed at me to come fix her bed. The pad inside was flipped up and she wanted it put back down...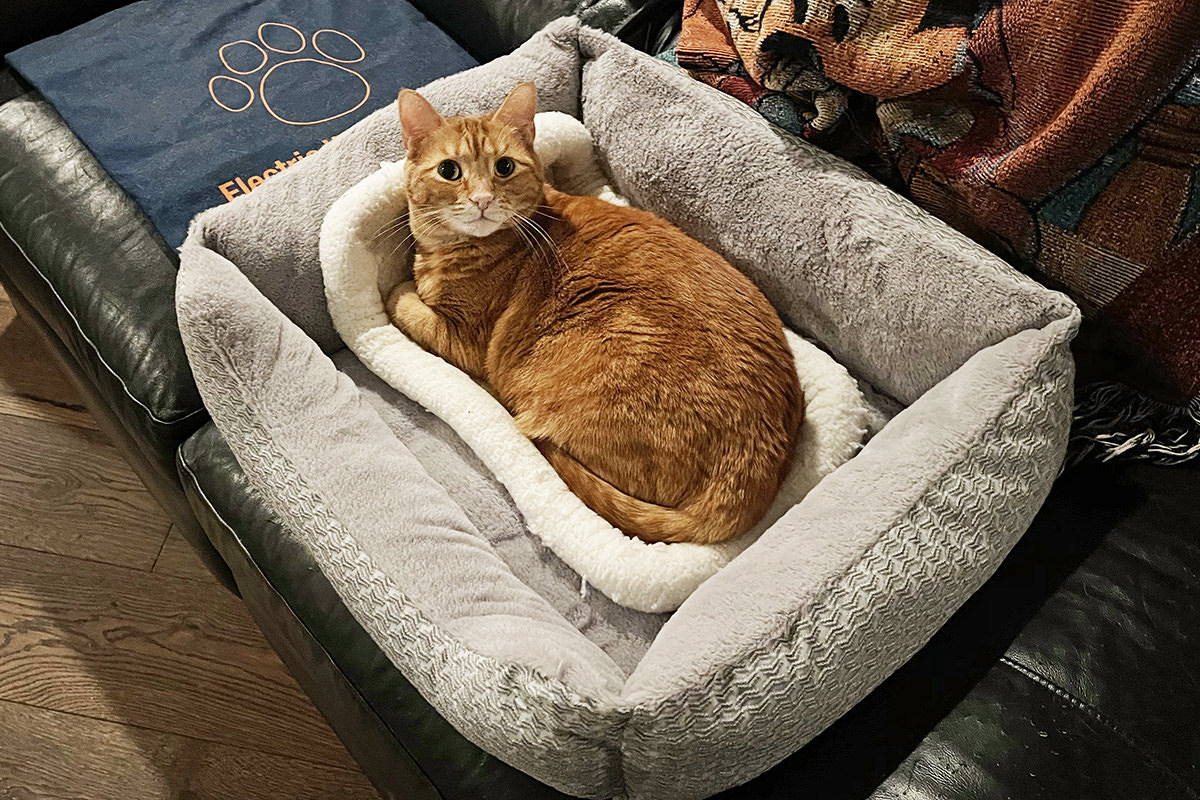 As I think I've mentioned, I don't trim my cats' claws. They don't really scratch anything up and are perfectly capable of maintaining their claws themselves...
Though every once in a while Jake really gets aggressive about it, and that makes me wonder if maybe I should face certain death by attempting to use clippers on them...
As the weather gets colder and colder I am more and more happy that I bought some warming pads to keep Jake and Jenny comfy. They sure do love them.
"You know, there are two of them, guys. You don't have to share."
"I SAID THAT YOU EACH HAVE ONE SO YOU DON'T HAVE TO SHARE!"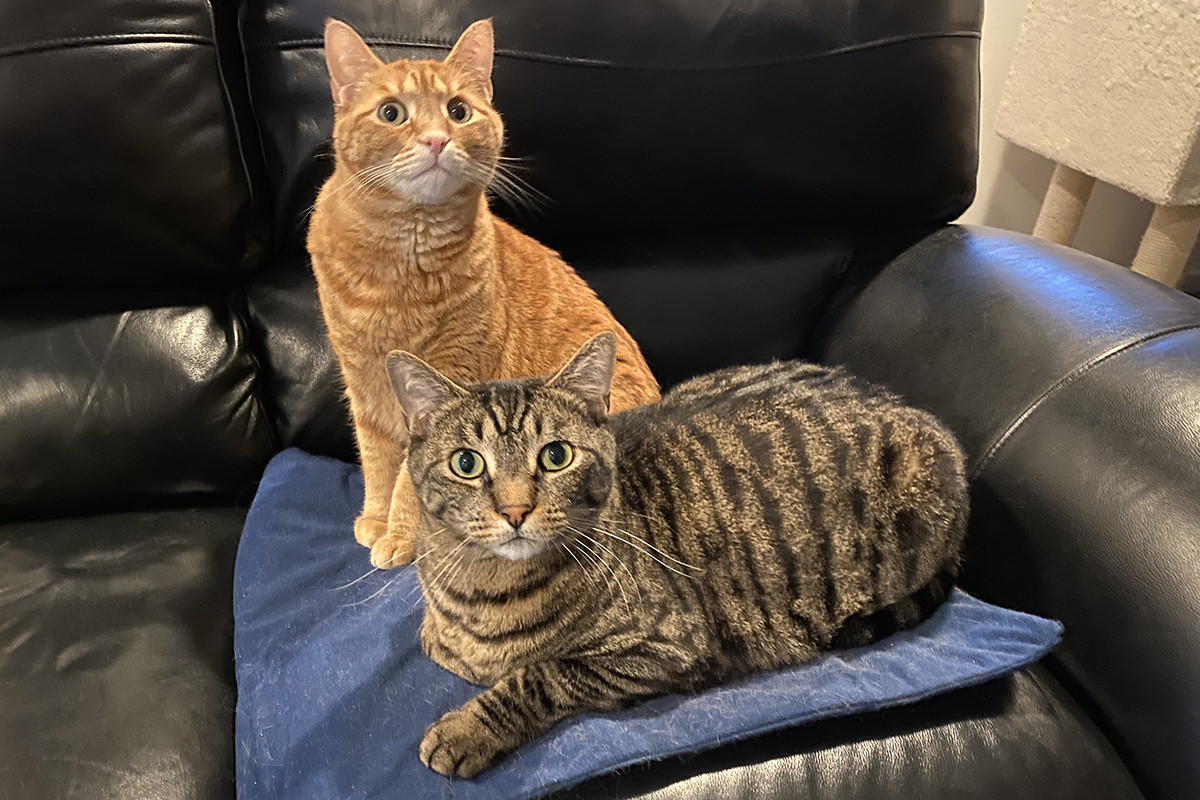 They've spent ten minutes waiting for the other one to move. Eventually the dinner alarm rang and they left at the same time.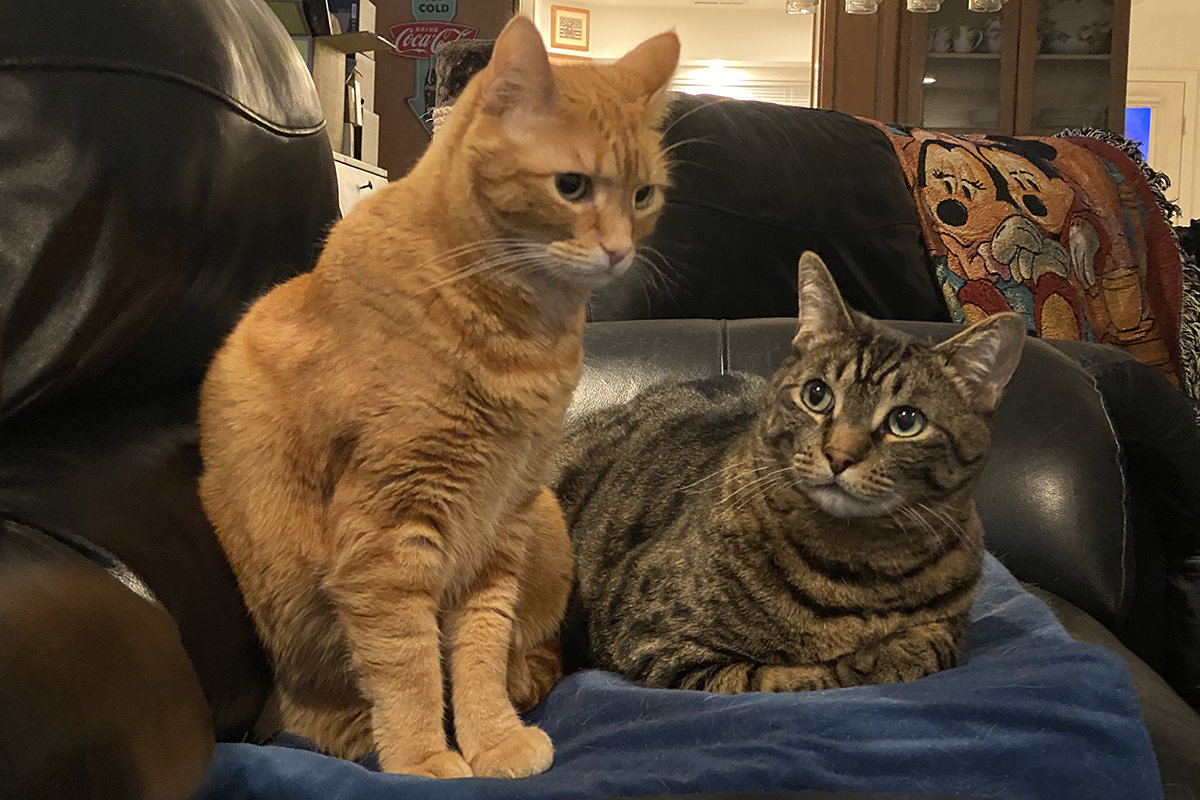 I guess that the only thing cats love more than warmth is food.
Posted on November 23rd, 2020

I'm experiencing a tea renaissance. Last night I had some amazing Winter Chai and I'm still thinking about it this morning. I stopped drinking tea for the longest time, but took it up again when I was served some amazing native tea in Laos back in 2013. After a couple years I started favoring sodas, but now I'm drifting back into tea-land again. Figured I might as well since the tea I ordered for my 2020 guests in January (that wouldn't end up coming thanks to the pandemic) will have to be replaced soon anyway... even though I froze it to keep it fresh like you're supposed to.

Winter Chai Blend from Tea Forté, whose pricey teas I love.
Oh well.
I have a free pizza to thank for my renewed interest in drinking tea.
Last week I went out for groceries and got yet another free pizza. Safeway/Albertsons is forever giving away free pizzas with purchase of something else. And since the "something else" is usually something I'm buying anyway, I always grab one. I don't like frozen pizza, but I'm not going to pass up on free food. This was my fourth free cheese pizza and I had to make room in the freezer by tossing out some old stuff I shouldn't have been saving in the first place... and drinking my tea stash. From there I moved on to cleaning out the refrigerator and found a full carton of eggs hidden behind the fresh carton I just bought. I don't even remember having bought them. I don't shy away from expired foods, but eggs that are a month past their "Best Before" date are probably a gamble I shouldn't be taking, so down the garbage disposal they went.
Last night I had one of those free cheese pizzas for dinner. It was the last thing I wanted to eat, but I didn't have room for my next freebie so I thought I should whittle down my pile. My attitude ended up being "Sure I don't want it, but does it even really matter?"
And it's at that point I realize I've been saying that to myself a LOT recently...
"Does it even really matter?"
When I made a sawdust pile on my garage floor last week and keep telling myself I should clean it up... but realized I'm the only one who will ever see it and left it there.
When I kept putting off giving myself a haircut because I always end up making a mess of my head... but realized nobody will see it to care, so I pulled out the clippers.
When I saw my appointment to get my Global Entry Card renewed... but realized I'm not going anywhere any time soon and rescheduled for next March.
When I started trying to eat a bit healthier this past month... but realized that I could get COVID any minute now because people are selfish assholes, so I bought a box of jelly donuts.
When I got a supplies list together so I can finally tile my kitchen backsplash... but realized I won't be having guests any time soon and stuck it in a drawer.
When I made a list of new clothes to buy on Black Friday... but realized that I'm not going anywhere any time soon to care about new clothes, then threw it in the trash.
When I pulled up my work To-Dos I made so I could take off on Wednesday for Thanksgiving... but realized that I don't get a Thanksgiving this year and ignored it.
When I look at my chores list that's getting way too long... but realized that the entire world is on hold, so why should this list be any different, and took a pass.
Because, seriously, does any of that really matter? No. Not really. Dishes left in the sink. Cleaning that needs to be done. Projects that are lingering. Things I need to stay on top of. It just doesn't matter. Life is just a self-isolating blur of tedium sameness, and I'm mired in it like quicksand.
About the only thing that matters are my cats. Where I'm happy to just let things go in my life, I refuse to let anything go in theirs. I still steam clean their feeding station. I still wash their food dishes and water fountain. I still clean their beds. I still collect their toys. I still play with them. I still drop everything when they want attention. I still do everything I can to make sure they're cared for.
Just like after my mom died, I probably owe it to Jake and Jenny that I find the willpower to keep going day after day. Mostly because they are about the only thing I've going for me right now. But partly because I don't want to keel over and die and have them eat me.
Though with all these exotic teas I've been drinking lately, I'll bet I'm delicious.