Posted on April 23rd, 2017

Everybody have a nice Earth Day?
Good! Because an all-new Bullet Sunday starts... now...

• Sikh! Essential viewing...
The more you know...
Sikhism is a fascinating faith that I haven't studied nearly enough.

• Kingsman! Holy shit! Going back to insert this in Bullet Sunday because it's just too good. I loved the first film, and it looks like the second is going to be more of the same!
Very cool that the American version of "The Kingsmen" makes their debut... " The Statesmen!" I wonder if a spin-off franchise is at hand? So long as Matthew Vaughn is involved, that's fine by me!

• Krypton! Ooh a TV show based on Superman's home planet... Krypton. This could be interesting! Wonder how faithful they'll be to the source material? Will we get to see the Scarlet Jungle? The Gold Volcano? How about Vathlo Island? The Jewel Mountains? Or even the Red Ocean? Can't wait to find out. The series is being developed at SyFy but, for reasons too fucking stupid to comprehend, they're killing the trailer everywhere it pops up. So I can't share the trailer. I can only share this hilarious reaction video from Double Toasted, which only shows parts of it (NSFW)...
The trailer is getting pretty good buzz. God only knows why SyFy is keeping people from sharing it.

• Mountains? When your CAPTCHA tells you to select all the mountain images, so you do... only to find out that they must live in Nebraska and think hills are mountains, which they most certainly are not...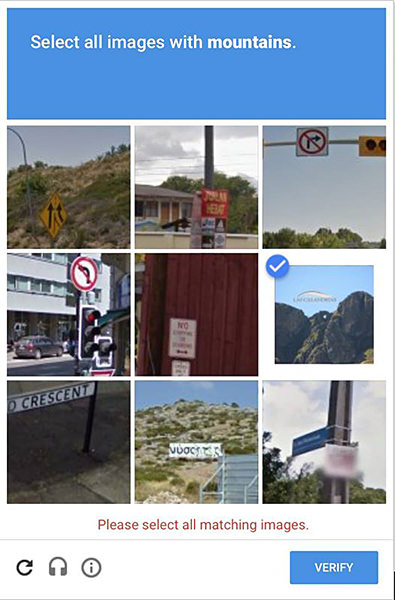 #1 and #8 qualify as "mountains"... alrighty then.

• These Days! "Take That!" is a band that didn't get huge success here in the US when compared to their home in the UK, where they are massively popular. Even so, I've always liked the band, and was surprised to find out that they released an album back in 2014 that I missed entirely called III. The lead single is a track filled with poppy fun that I can't seem to get out of my head...
Kind of cool how Take That! keeps chugging along even after losing two of their bandmates.

• Puppy! And, lastly, your weekly dose of "Awwwww... cute!" is right here...
Amazing how Mother Nature works.

And now... I could really use another day of my weekend.
Posted on April 22nd, 2017

My cats are frickin' adorable.
I mean, most cats are adorable, but every cat is adorable to their human in different ways. Jake and Jenny are very different cats with entirely different personalities and behaviors. And yet... they somehow still manage to get along. They still play together. They still groom each other. They sometimes still sleep together, though Jake has gotten so big that this isn't as practical as it once was.
While reading through a cat forum recently, I saw that people were posting things about their cats they find adorable. I came up with a list of my own, which I am re-posting here for Caturday...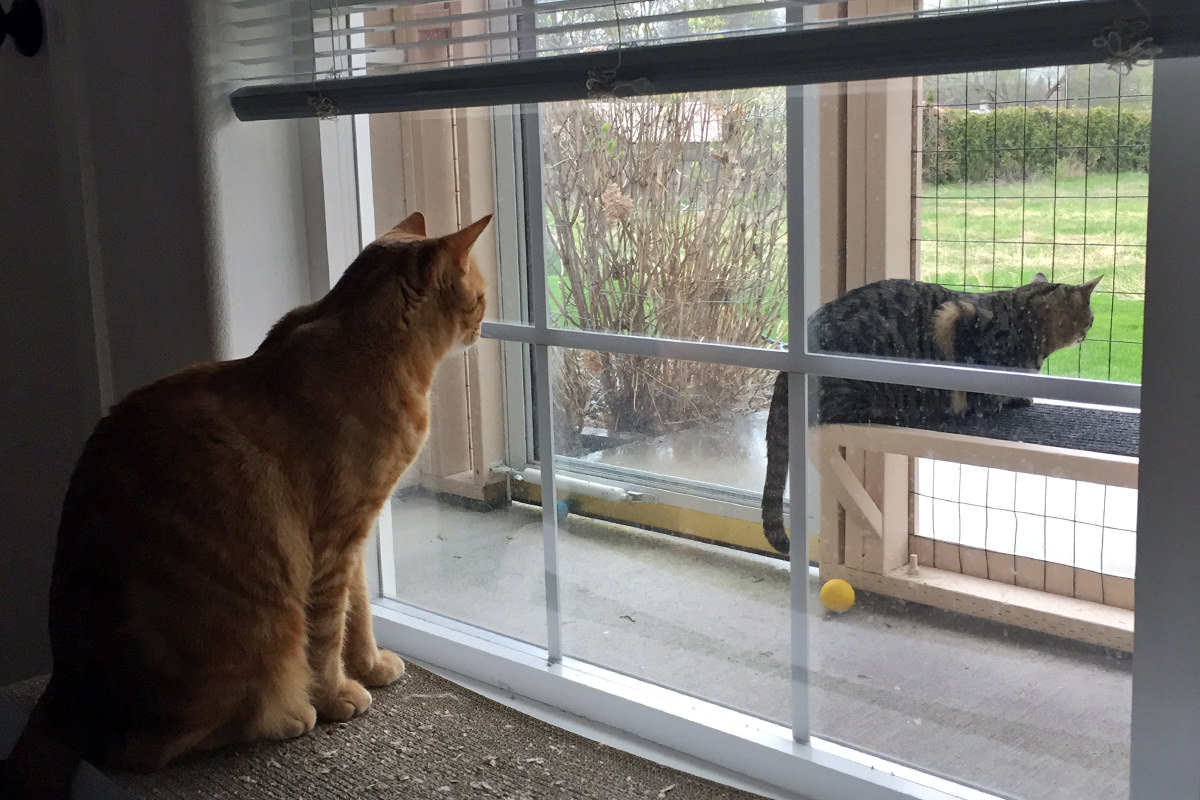 Both cats run to meet me when I get home from work. But it's Jake that gets so excited he just can't stand it. Yesterday when I got home, I had groceries to unload and Jake got impatient waiting for his daily head scratches. So I look down and he's looking up at me with one one paw stepped into the kitchen... a place he knows he is not supposed to go. I look down and say "Jake, Nnnnoooooooo!"... and he draws the paw back. ADORABLE!
When Jenny hears me turn on the shower in the morning, she rushes to the bathroom and patiently waits for me to get out so she can get her head scratches. When I open the door and grab a towel to dry off, Jenny will wait for a minute or two... but start meowing if I don't dry off fast enough. That's already pretty adorable, but last Tuesday she yawned mid-meow and I nearly died it was so cute. ADORABLE!
When I climb the stairs, Jake will sometimes go racing past me and stop on the step so he can cut me off and get petted. I'll pet him for a minute then climb over him. If he's not done being petted, he'll race past and cut me off again so I'll have to pet him more. ADORABLE!
Jenny's favorite thing is smacking her brother in the face. At first she would wait for him to get settled in for a good poop in the Litter Robot, run up and bitch-slap him, then run off. But eventually she got tired of waiting for Jake to poop, and decided to find other ways of smacking him. The latest? She'll haul ass ahead of Jake up the perches in the catio, wait for him to catch up, then smack him in the face as he makes the last jump. ADORABLE?
I think I've mentioned before that Jake can't meow. He just kind of "squawks" instead. Like he opens his mouth wide but can't get anything to come out. It's adorable... but even more adorable is that he doesn't seem to realize he isn't making noise. The other day he wanted my attention, but I just started meowing at him. Each time he'd respond with a longer and longer squawk until I couldn't take it any more and gave him pets. ADORABLE!
When I turn off the lights and go to bed, Jenny will follow me up and hop on my bed with me because she wants to watch TV. This happens almost every night, but sometimes I don't feel like watching television and leave it off. Jenny will meow until I turn it on. ADORABLE!
And... I'm out of adorable for today.
Posted on April 16th, 2017

Sure it's Easter, but there are other reasons to celebrate the day, because an all-new Bullet Sunday starts... now...

• Kitty! Everything I love about cats can be found in this one clip of a kitty trying to escape the field at a Marlins game...
What a trooper! Apparently a Marlins' employee adopted the cat, who was named "Don Cattingly" in a Twitter poll.

• Kedi! And, speaking of cats...
Can't believe I have to wait until November for this to come out on video!

• Atomic! Okay... putting aside the fact that the trailer for Atomic Blonde features music by both Depeche Mode and New Order... how badly does watching this make me want to see the movie?
Charlize Theron should be in a lot more movies.

• Ragnarok! Speaking of movie trailers... how amazing is the latest Thor movie looking?
I'm part of the minority who actually likes the Thor films. The first one was really great at establishing the characters. The second stumbled quite a bit, but was still entertaining. But this? Probably the best Thor yet. Possibly one of the best Marvel films yet.

• Spicey! Melissa McCarthy is hosting SNL on May 15th. I'm hoping it's just an hour-and-a-half of her impersonating Sean Spicer, playing out the best of his ongoing fuck-ups. Verbatim. In the meanwhile, we have yet another flawless sketch from last night's episode...
What a big, beautiful slice of chocolate cake.

• Politics! The more you know about how politics work in this country, the more you think that we should burn the entire system to the ground and start over...
Politicians don't act in the best interest of those they represent because they don't have to. That's the underlying reason we're as fucked as we are.

Now go eat some eggs, you animal.
Tags:
Bullet Sunday
,
Cats
,
Dumbassery
,
Movies
,
Politcs
,
SNL
,
Thor
Categories:
Bullet Sunday 2017
,
Cats 2017
,
Movies 2017
,
News – Politics 2017
,
Television 2017
—
Click To It:
Permalink
—
0 Comments: Click To Add Yours!
Posted on April 15th, 2017

Originally, my guest room was upstairs next to my bedroom. Eventually I decided to move the guest room downstairs so that everybody has a bit more privacy. This left me with an empty room that I decided to turn into an office.
And so I moved a desk and some shelving into the spare room and all was good.
Except the cats decided that they wanted the room. Anything I put in there was immediately thrown on the floor and shredded.
I finally got the message and removed my office stuff. Then I tossed in a litter box, some toys, and a couple cat tunnels. The cats wasted no time taking it over. They have their own play room now and they love it.
And while I usually work from the couch so I can watch television, every once in a while I still need a desk to work at. And so I dug out the laminated slab from my garage that used to be at the head of my stairs... extended it... re-covered it in leftover wood from my floors... then bolted it to the walls.
Voilà... my beautiful new desk...
I then built a roly cart for my laser printer since I didn't have room for it on the desktop.
Needless to say, Jake and Jenny wasted no time taking over my new office space. Just like they have every other space in the house.
Posted on April 8th, 2017

Jake has started thinking he's the Alpha Cat of the house.
I don't know when the shift occurred, and it's not always consistent, but it's as if he realized that he's got four pounds on his sister and decided to take advantage of it. Sometimes. Other times he just can't be bothered...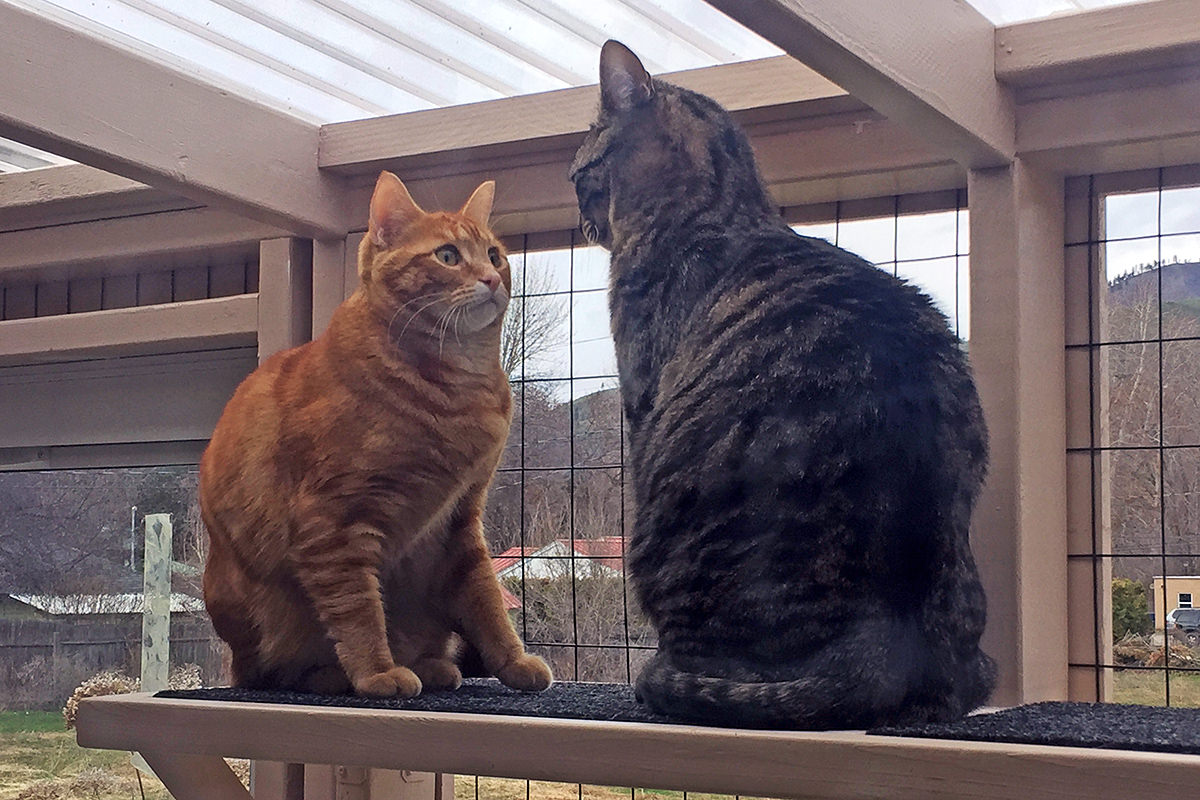 Jenny was birdwatching and Jake snuck up on her. Surprise.
Mostly this Alpha Cat mentality manifests itself on the kitty tower.
Jenny always wants the top perch. If Jake's already on it, she'll take a lower perch, but it's the top one she prefers. Jake doesn't care which perch he's on. But 50% of the time when Jenny is on the top one, he'll knock her out of it just because he can. Sometimes she'll fight him for a little while, but eventually she relents.
This is not to say that Jenny is putting up with Jake's delusions of grandeur. She not only stands up to him when it suits her, she is not above jacking up Jake's shit on a daily basis...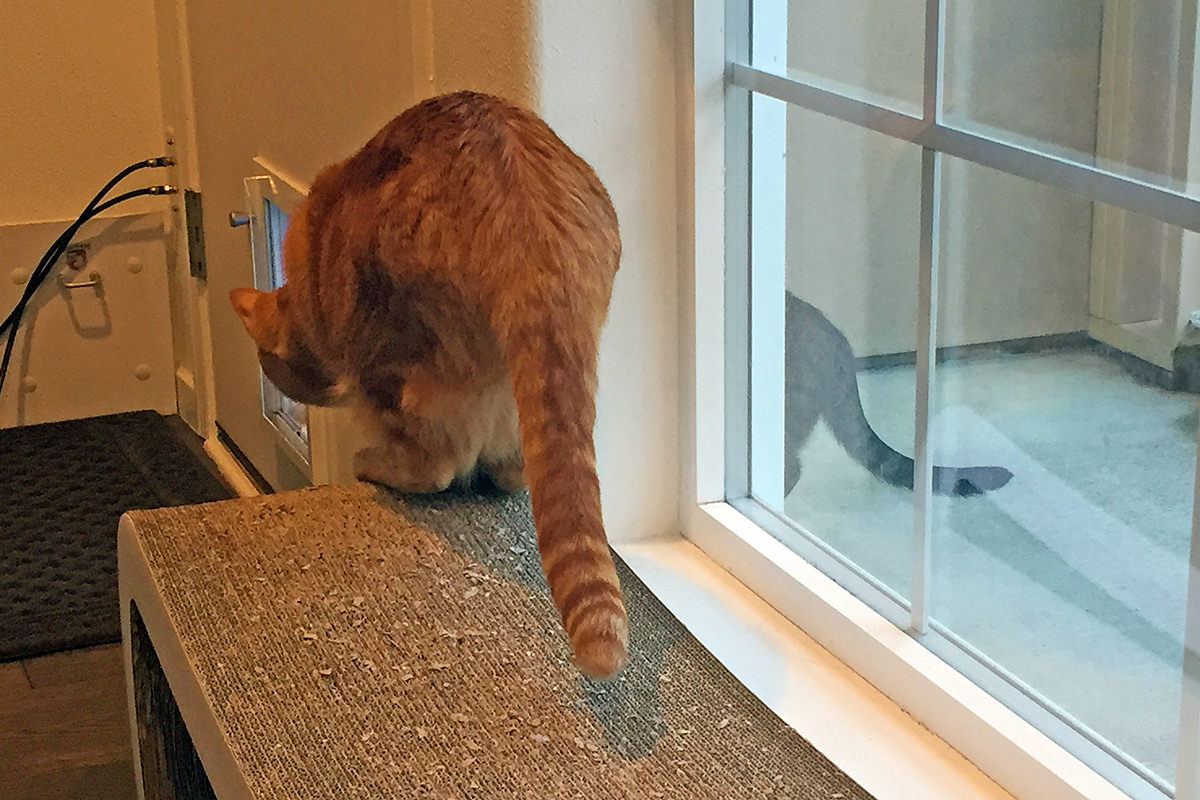 She ended up nailing him good... he didn't know what hit him.
I just feel lucky that they still get along.
Needless to say, as the weather gets better and better the cats are spending more and more time out in the catio. They're even napping out there when the sun is shining. I only hope that if Jenny pukes from the bugs she's eating, that she pukes out there as well.
I think next weekend is the weekend I set up the garage as my wood shop. Then I'll be adding even more catio fun. The construction of which will be fun for me too.
Posted on March 30th, 2017

Oh look!
That cat I planted has finally sprouted!

Guess that means Spring is finally here...
Posted on March 29th, 2017

Jenny?
Can I have your attention please?
Are you listening to me, Jenny?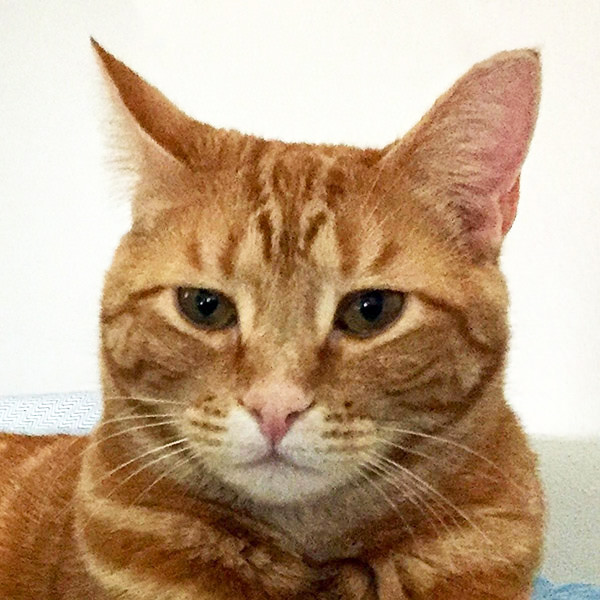 Every morning you bring me a tribute in exchange for my feeding you. It's unnecessary, but I like to encourage this kind of thinking.
Over the past year, you've really put your heart into the task, and I want you to know how much that's appreciated. Hauling a bunch of toys upstairs every day in an effort to please me is dedication you should be proud of, right?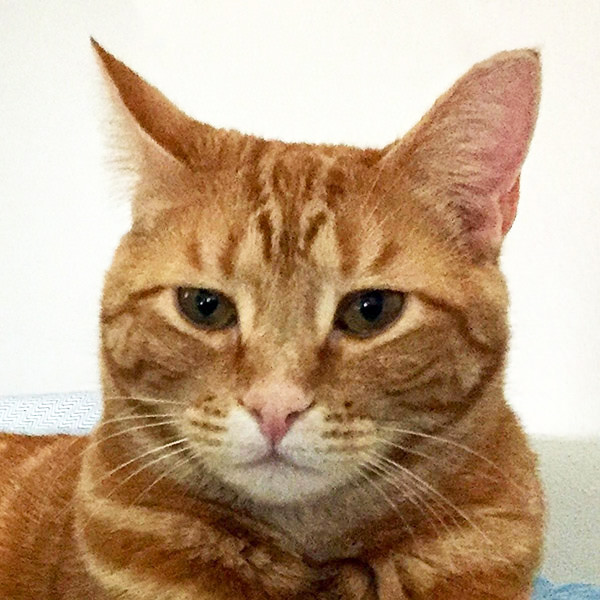 But lately I've noticed a decline in the quality of your morning tribute, and I'm a bit disappointed in you.
Did you hear me, Jenny? I'm disappointed.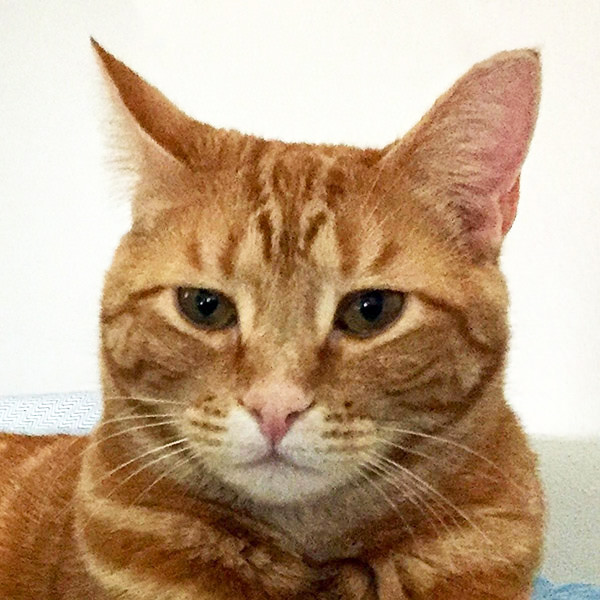 I mean, look at what you brought this morning! Just one tired old toy, a ratty tan mouse, and that's it...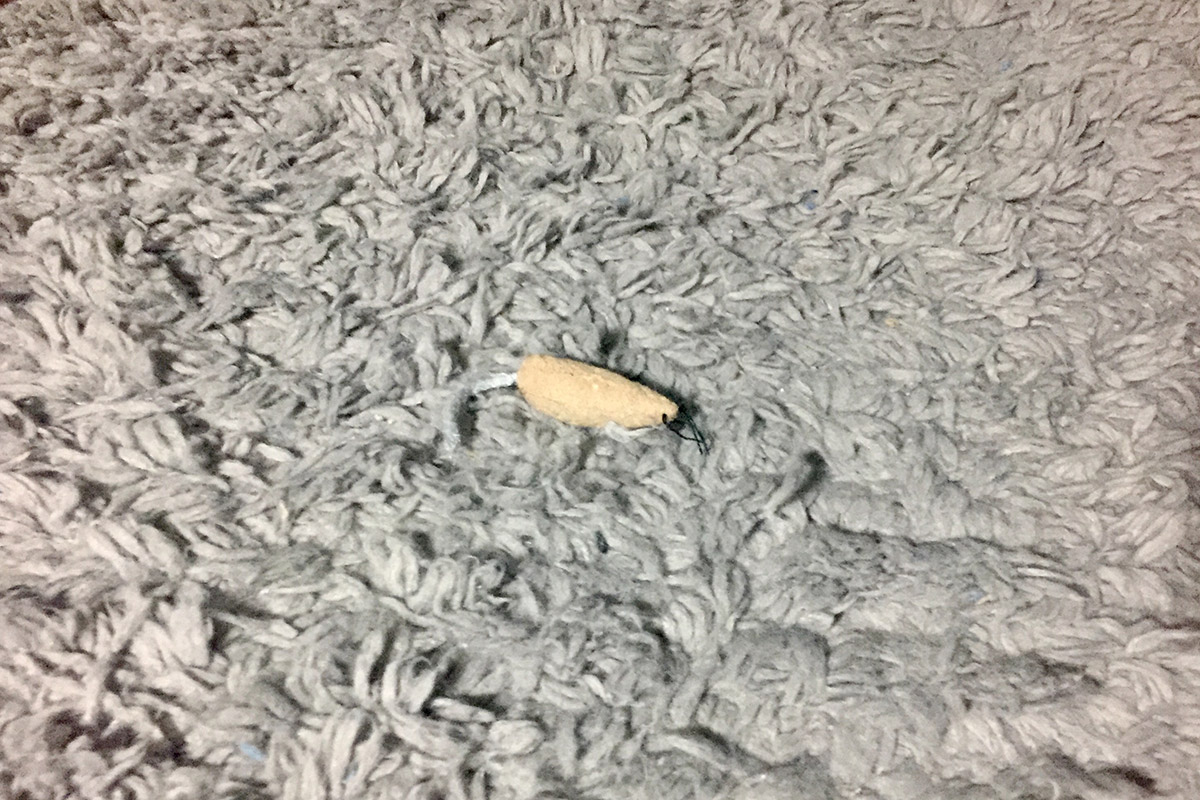 Sad! You're not a slacker, so why are you acting like one? You're better than this! If you're going to do something, don't you think you should give it your best effort?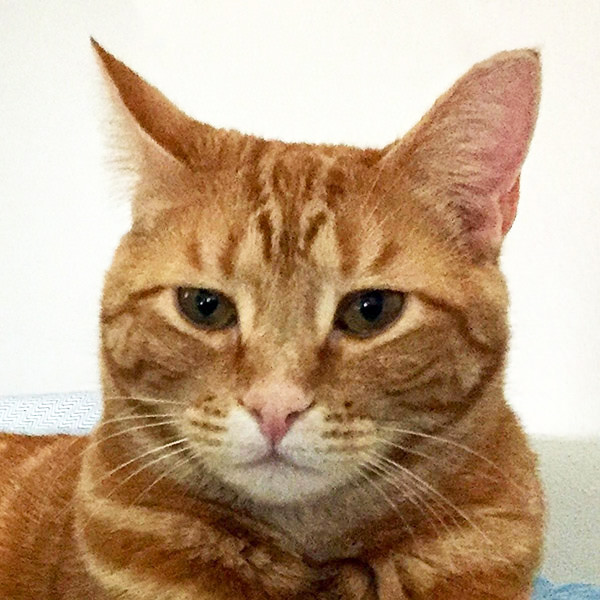 Me too!
Are we agreed that you're going to step up your game? That you're going to take a little less time sleeping, eating, and pooping... and a little more time improving the quality of your work?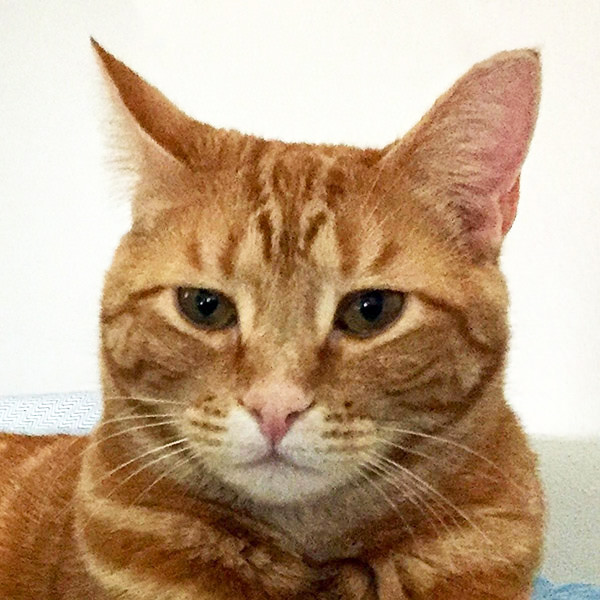 Alrighty then, I'm glad to hear it!
Good talk, Jenny. Good talk.