Posted on August 16th, 2017

Well, the world may be going to shit, but at least I have cats to keep me sane.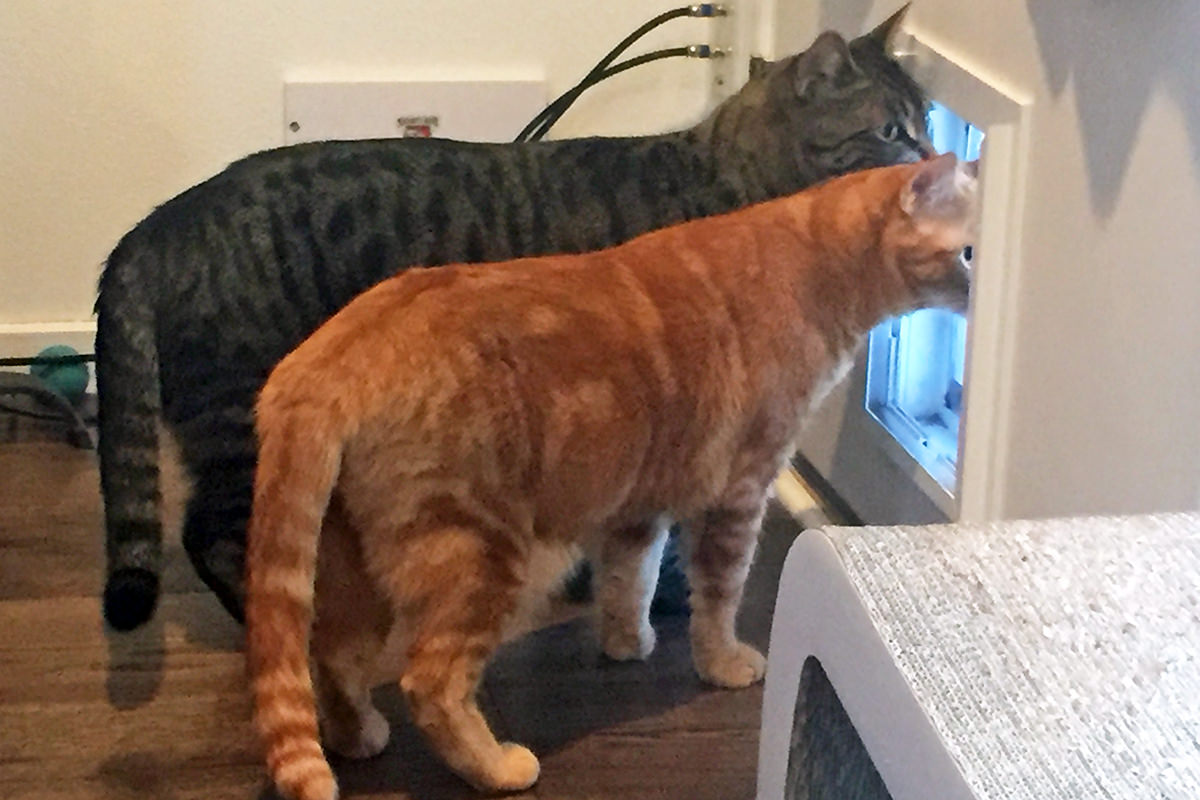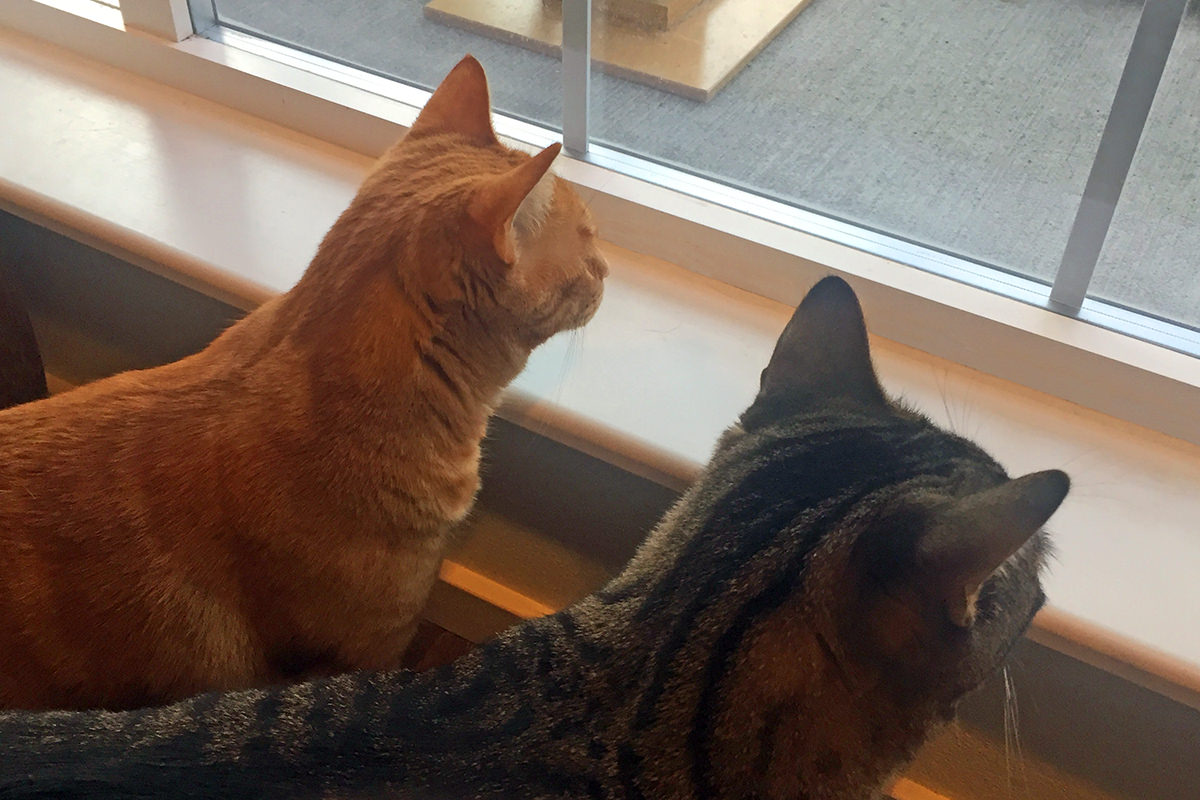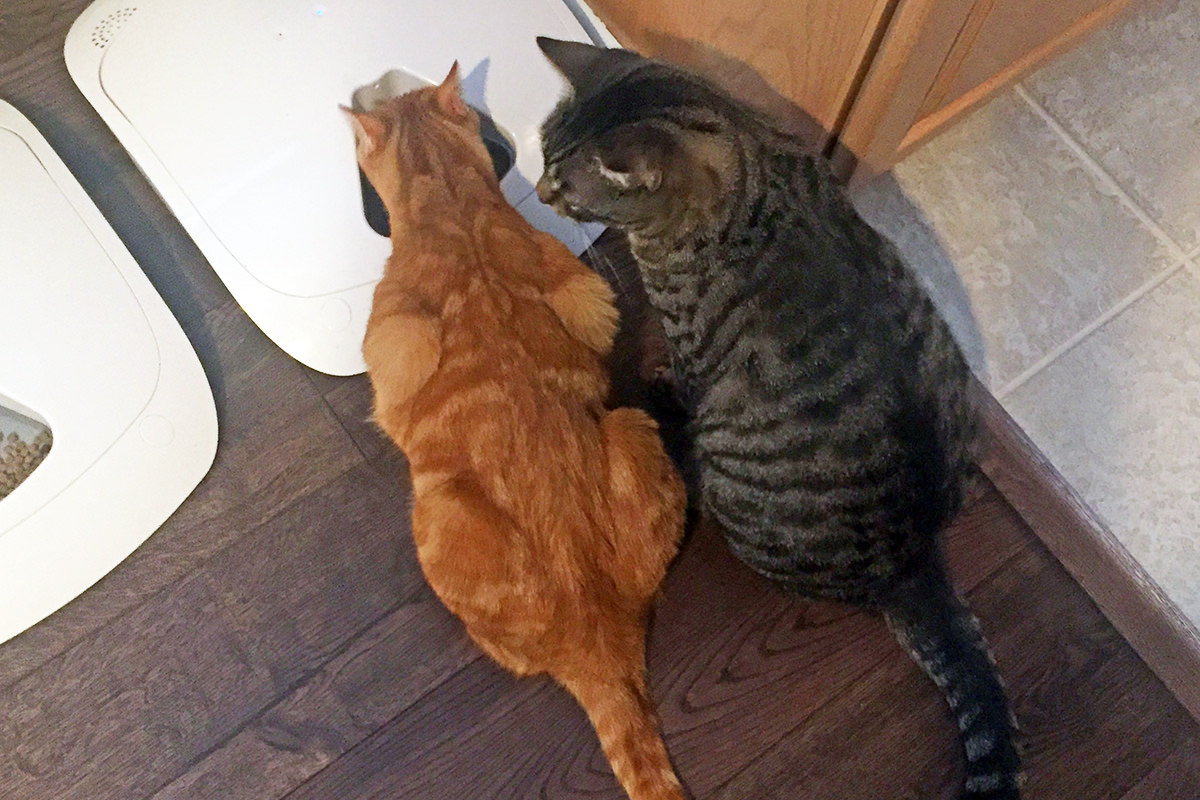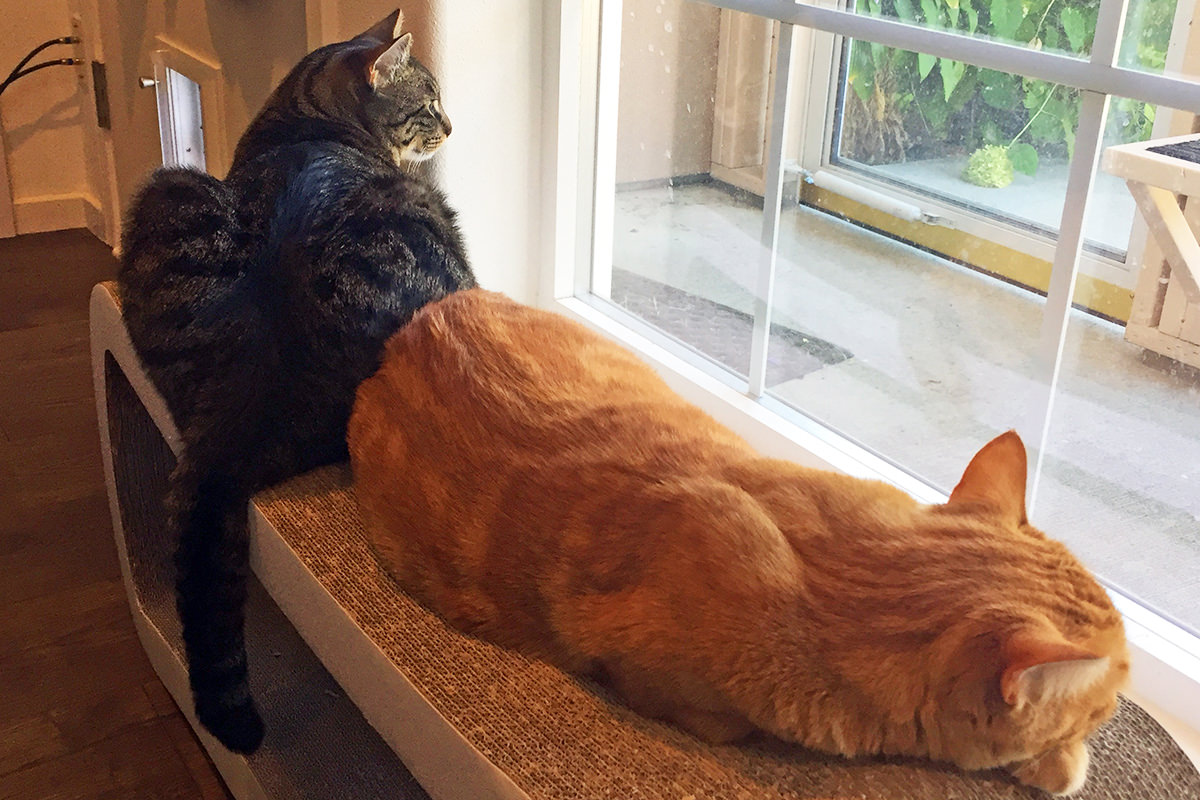 Just like when they were kittens... but not quite so compact...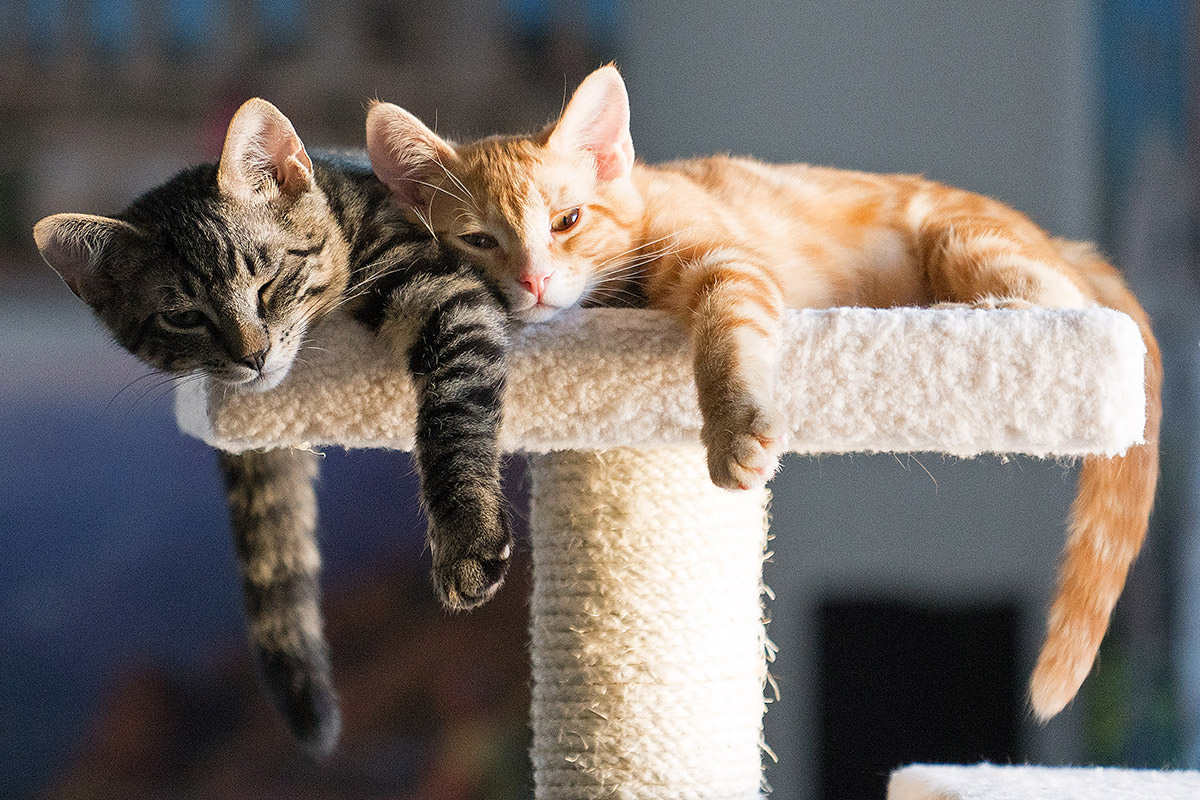 Posted on August 12th, 2017

Thank heavens for cats.
Because, seriously...
Although it's not always sunshine and roses. Jake and Jenny are still evolving in their personalities. And their brother/sister relationship. Which is not always great. Now that Jenny has been more and more enthusiastic about hanging out with me, Jake has occasional fits of jealousy where he'll chase her off so he can have all the attention. Nothing violent... yet, and they are still mostly happy together... but it's a growing concern. Jenny can definitely take care of herself, but Jake is a big bruiser of a cat that has some pounds on her.
She makes up for it in attitude though. Just look at this grumpy face...
Jenny dragged Lion all the way upstairs as her morning tribute, then had to meow so I was sure to see it. Unfortunately, it was still an hour until breakfast time, so my ignoring her did not sit well. She started ripping into poor lion, then getting upset when the fur from his mane got stuck in her mouth...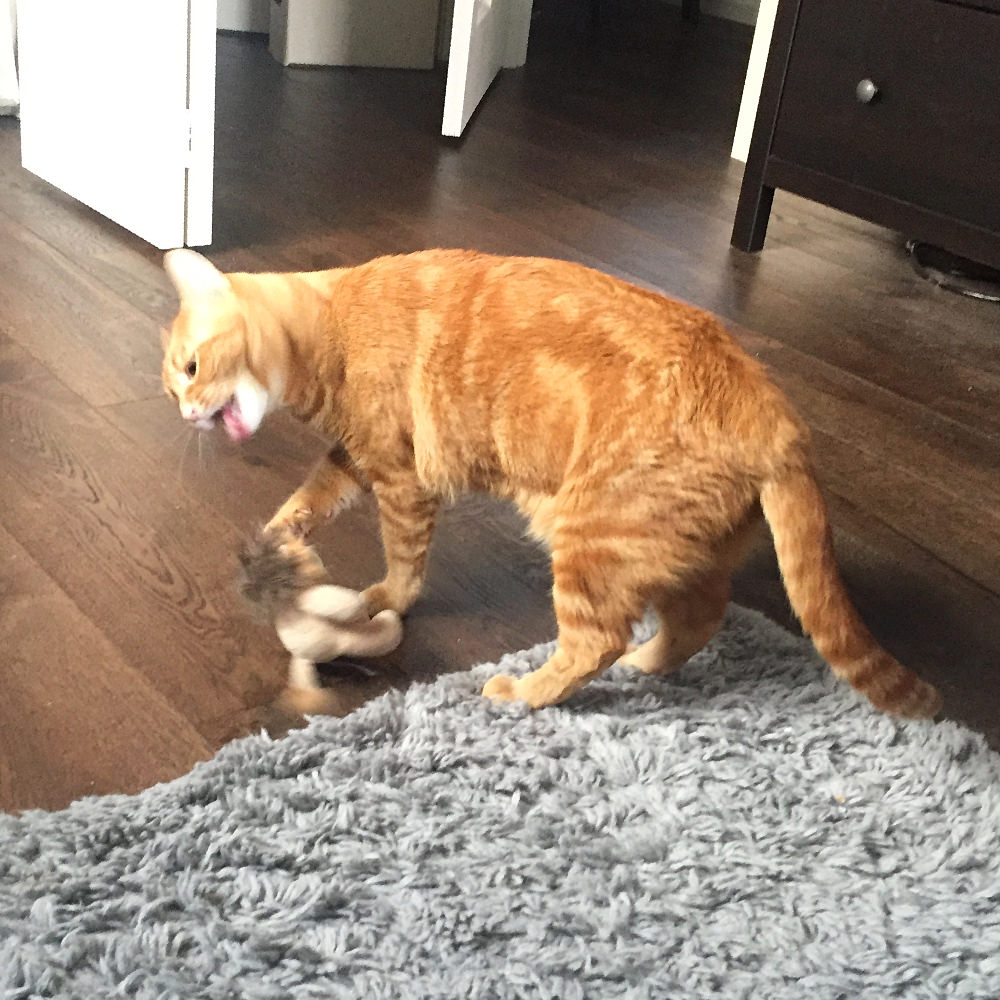 She was triumphant in the end though...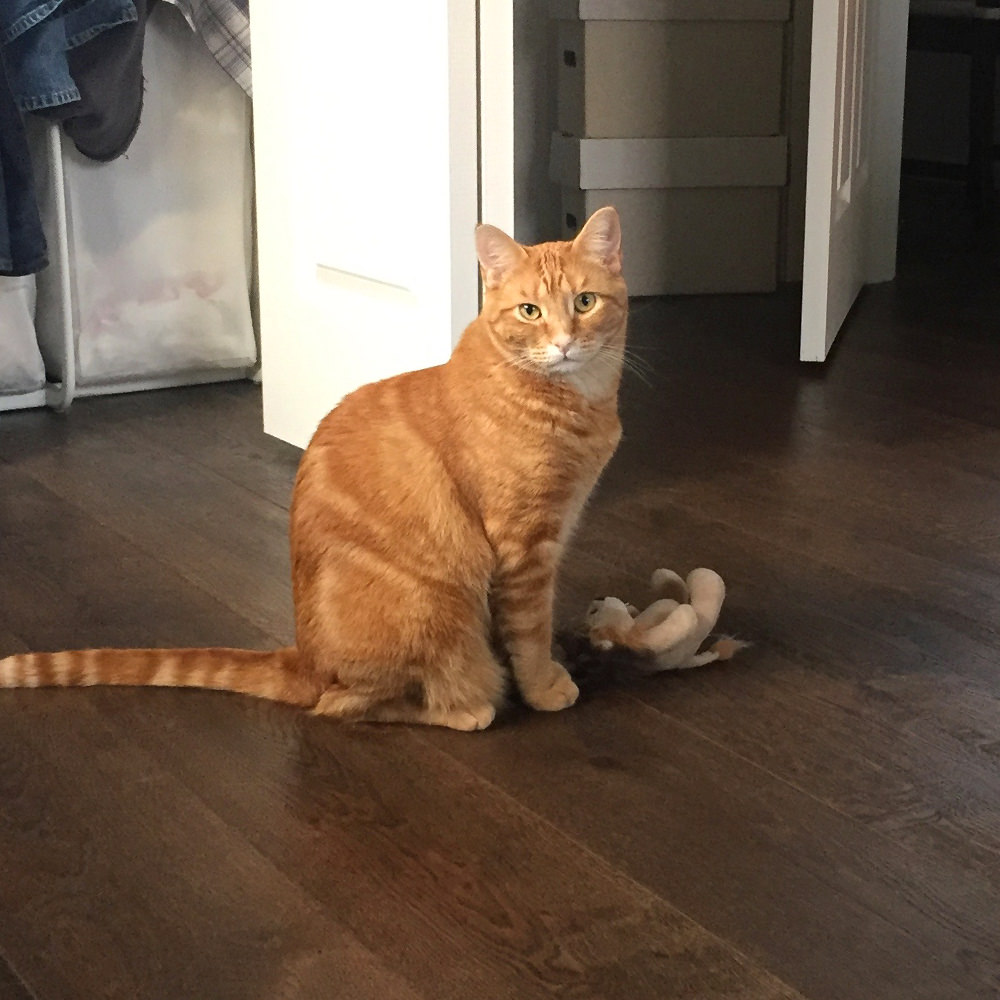 As for Jake? Still loves being Jake. Which means every day when I come home from work, he's all over me...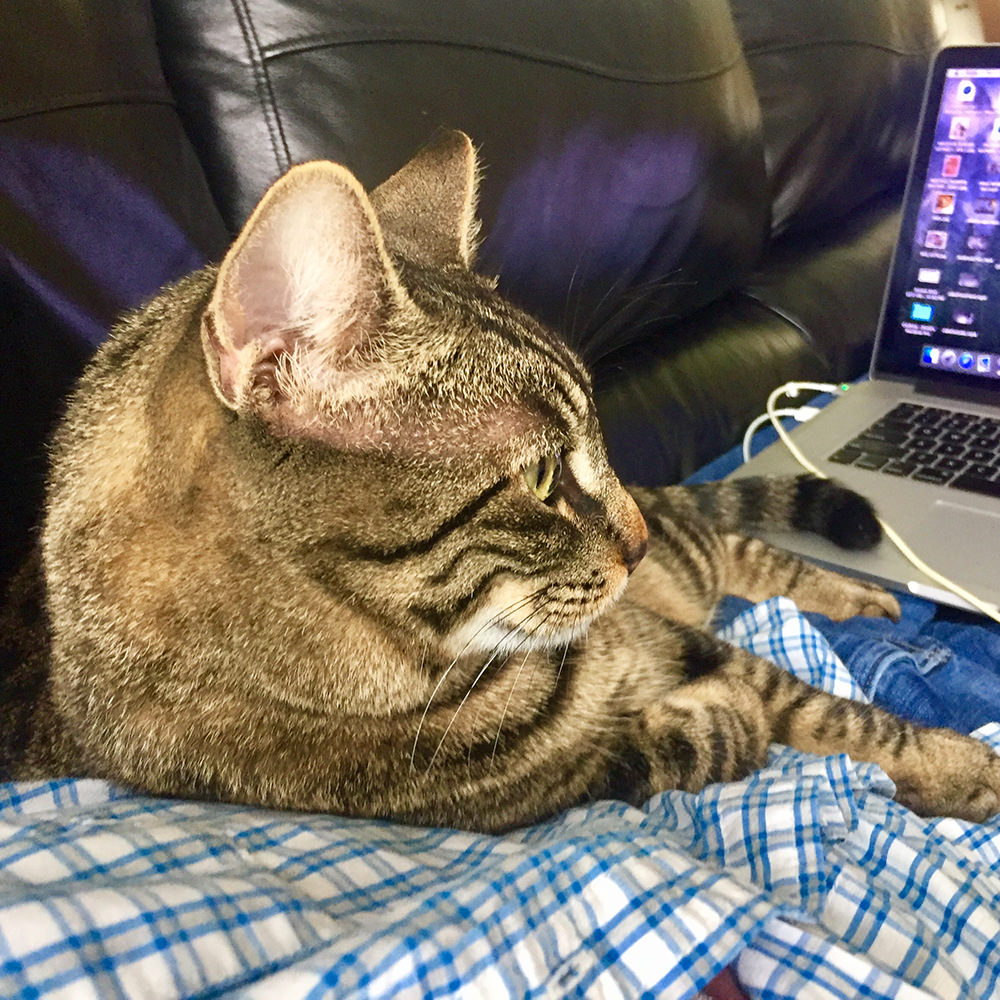 Fake Jake has been hanging around more than usual, which provides endless entertainment for the cats. Jake is no longer afraid of his doppelgänger, which means they actually kind of "hang out" together from time to time. Though I know if the fencing were removed, Fake Jake would likely be on the attack, so catio containment is still critical. This often results in a "Cat Watching Cat Watching Cat Watching Cat" scenario...
Ugh. Unfortunately, they just power-washed the gutters and concrete, so my windows are even dirtier than usual. Such a pity that window-washing is not including with the HOA fees!
And that's it for Caturday Saturday... now I'm off to the other side of the mountains.
Posted on August 9th, 2017

Honestly.
I don't know what it is.
&nbsp
But he's a cat, so...
Posted on August 7th, 2017

The smoke-filled air has become so bad that going outside for even a minute is like painting my lungs with glue. Most days now the haze is so bad that I can't even see the surrounding hillsides. The paper said air conditions would be improving, but that hasn't happened at all.
Which has resulted in my cats being upset at me for limiting their time out in the catio.
I only let them out when I can see through the air... and even then just for an hour. Any more time than that and I worry what might happen to their little lungs.
Needless to say I really worry about the animals (like Fake Jake) that are out in the smoke all day and night. This cannot be good for their health.
Ironucally, my Solar Eclipse viewing glasses and camera lens cover arrived today. Don't know if things will be cleared up enough for that to matter, but here's hoping.
Posted on July 29th, 2017

My new cat sitter doesn't start until tomorrow, so Jake and Jenny are on their own for another day. Not a big deal, as I've been gone a lot longer than this and they've been fine. Thanks to Litter Robot, Feed-and-Go, and my security system, they are in good hands. So there's no need to worry about them. And, hey, if something comes up, I can always call a neighbor to check in. It's all good.
Except...
It's tough not to worry when you're 2,500 miles away and you've got all this crazy crap going through your head.
Take, for example, feedings.
In the past I'd fill the automated feeder to max levels so I was assured that the cats wouldn't go hungry while I'm gone. But then Jake had to be put on a diet, so that wasn't a good option any more. Now I put the exact amount each cat gets in the feeder so they aren't over-eating.
But then I started worrying that if Jake scarfs down his dinner... and wants more (which he always does)... will he push Jenny out of the way and steal her food? This is a genuine concern. He's a much bigger cat and, while Jenny doesn't put up with his shit, she's also not in a position to shove him back when she's such a petite little lady.
Last night I got my answer. The feeders activated and Jake and Jenny came running to eat...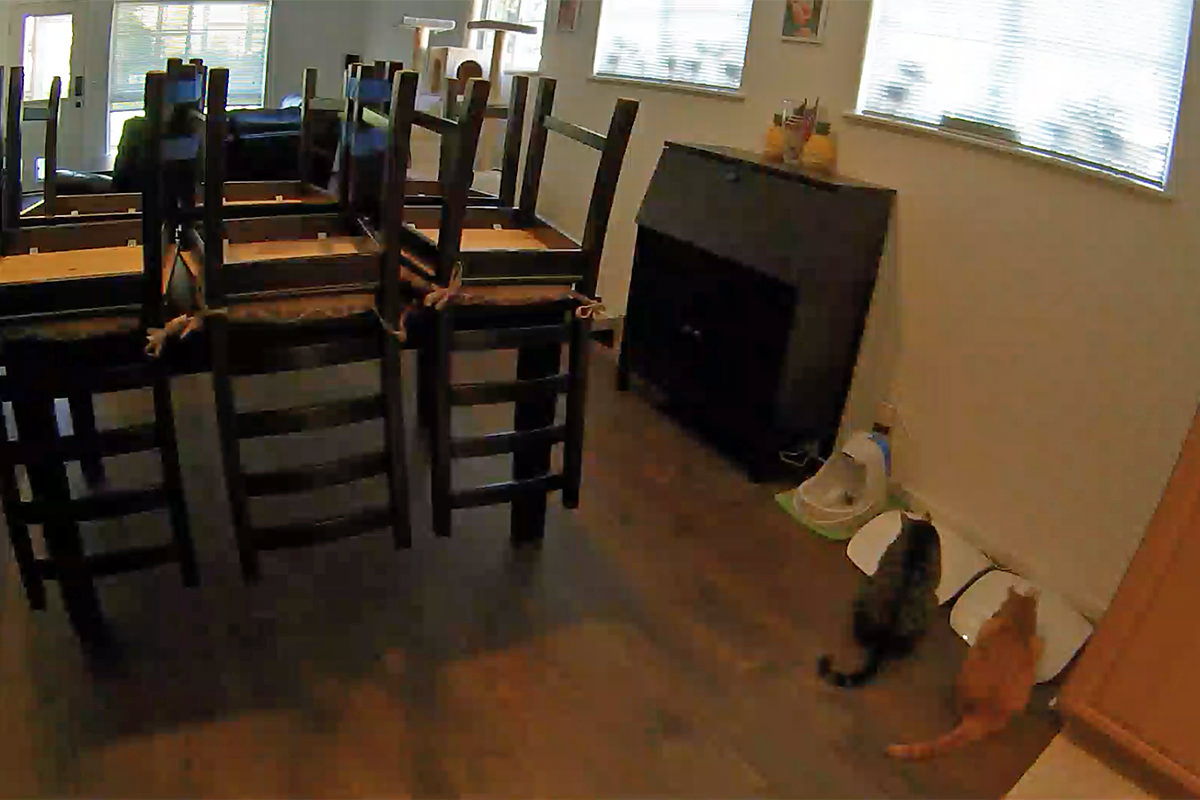 As expected, Jake mowed through the bulk of his dinner before Jenny had even taken a couple bites. Would he force his sister out of the way to steal her food? Turns out... no... he wandered away...
That's a relief... but I know for a fact that when he's hungry later on, he won't hesitate to eat whatever food is left, and he doesn't care whose bowl its in.
In other news... Carl got stuck under the media center this morning. I heard three beeps over the security camera, which means he's sucked up something he shouldn't have. Probably a stray wire underneath. Jake was most concerned when his robot pal stopped working...
I asked Jake to pull Carl out and take him to his charging station, but that was apparently asking too much. Instead Jake climbed the cat tower and took a nap.
Which doesn't sound like such a bad idea. I've been up since 4:30am and work is just getting started now at 2:30pm.
I'm going to need a bigger Coke.
Posted on July 22nd, 2017

It's strange how much I worry about my cats when I'm not at home. Not over things like them tearing up the house or making a mess or anything like that... but worry over them being lonely or bored.
Right now I am checking in on them with the security cameras and they are exactly where I saw them when I left yesterday. Jake is on top of the kitty tree and Jenny is laying on the stereo receiver (I think she likes how it gets a little warm... even on the hottest days). She naps there most of the time now...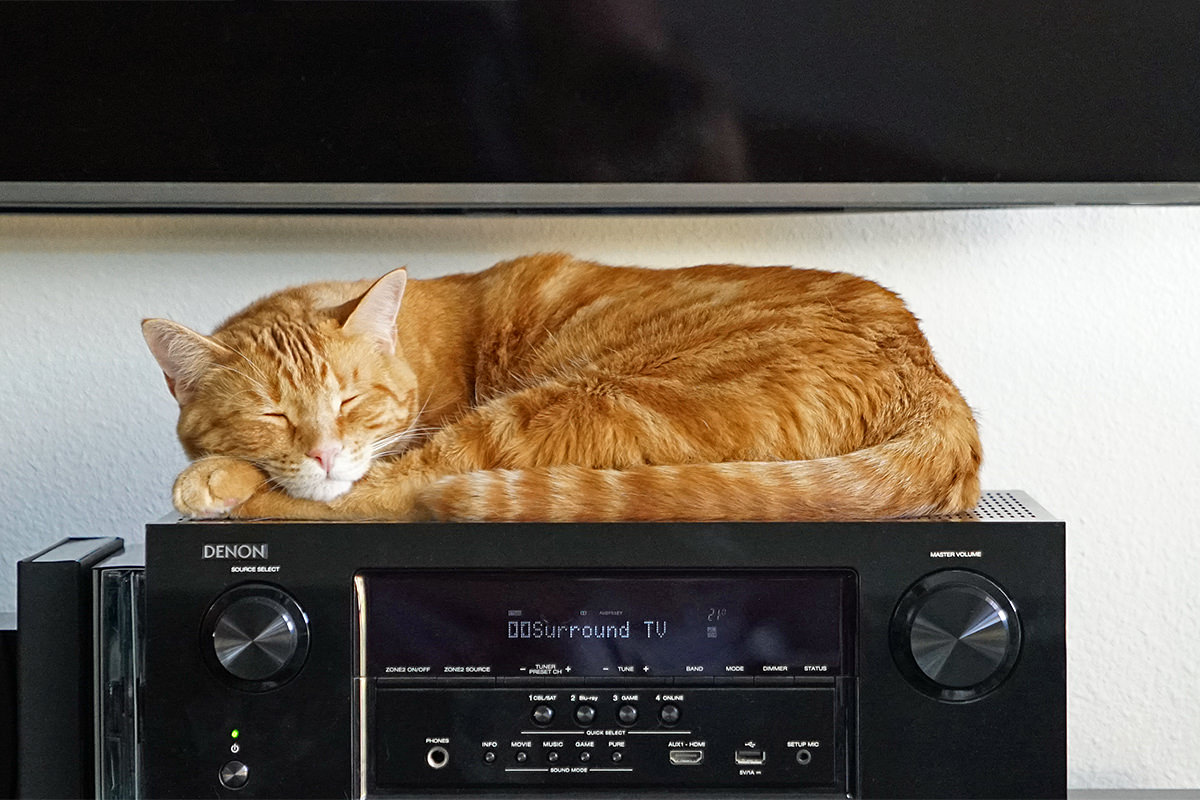 Seriously, she does.
I've been documenting it with my iPhone...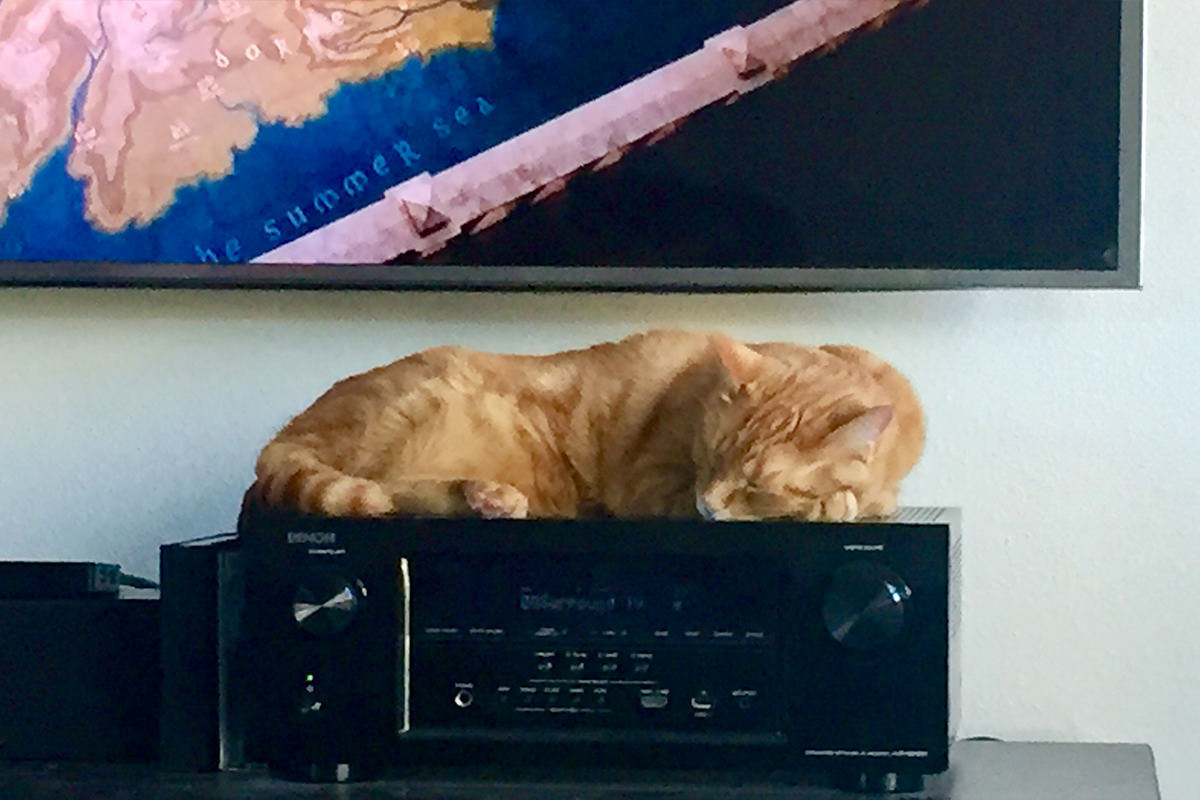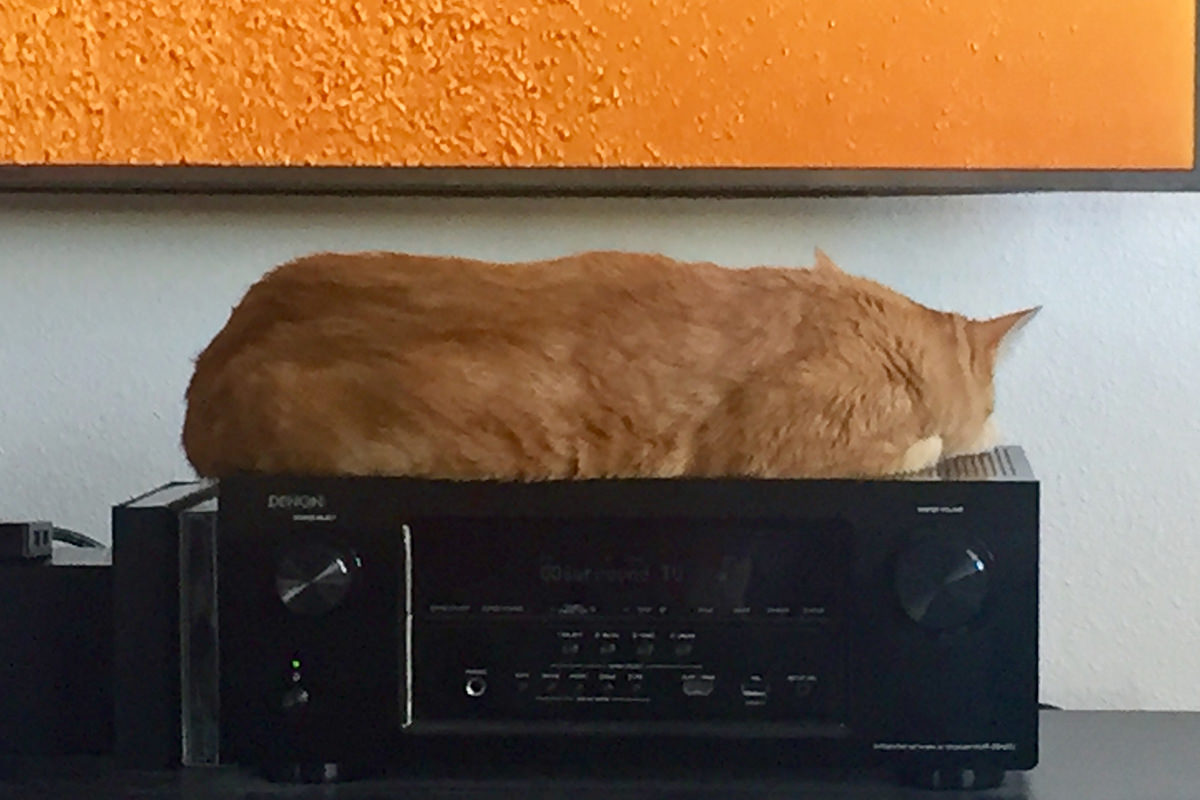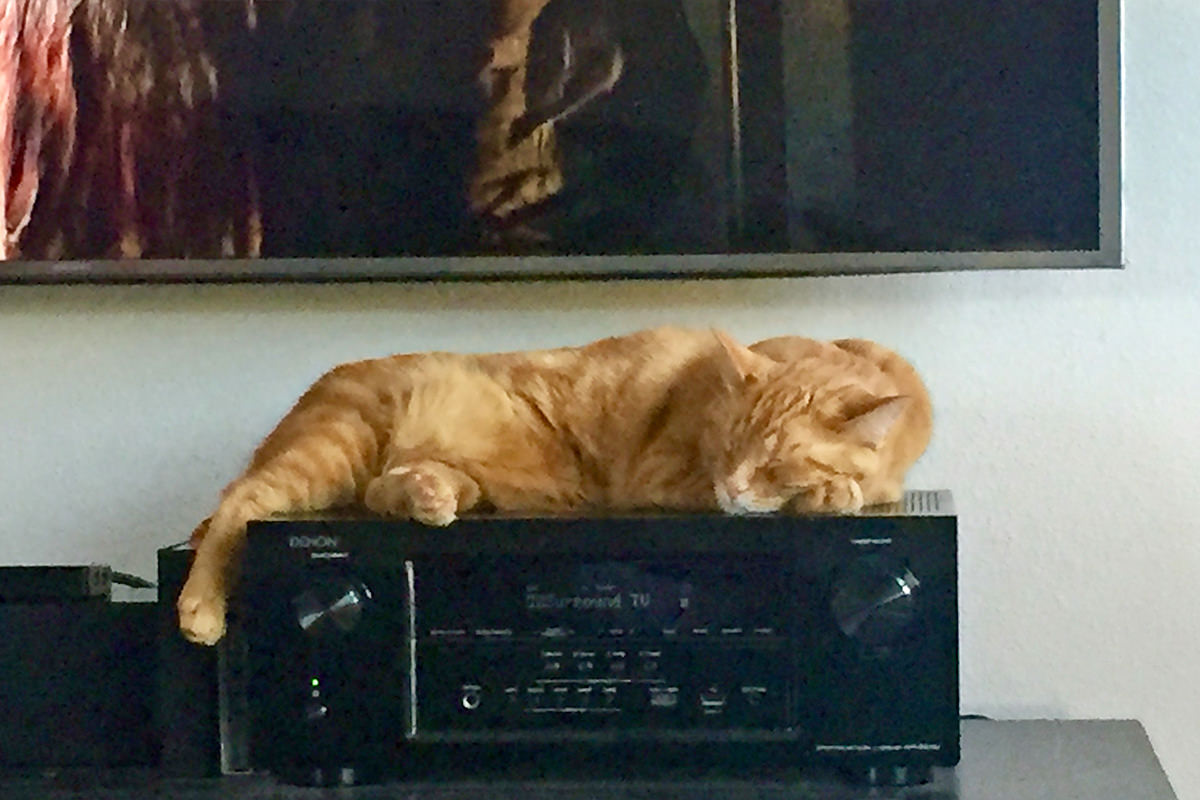 Awwwww... this one is my favorite...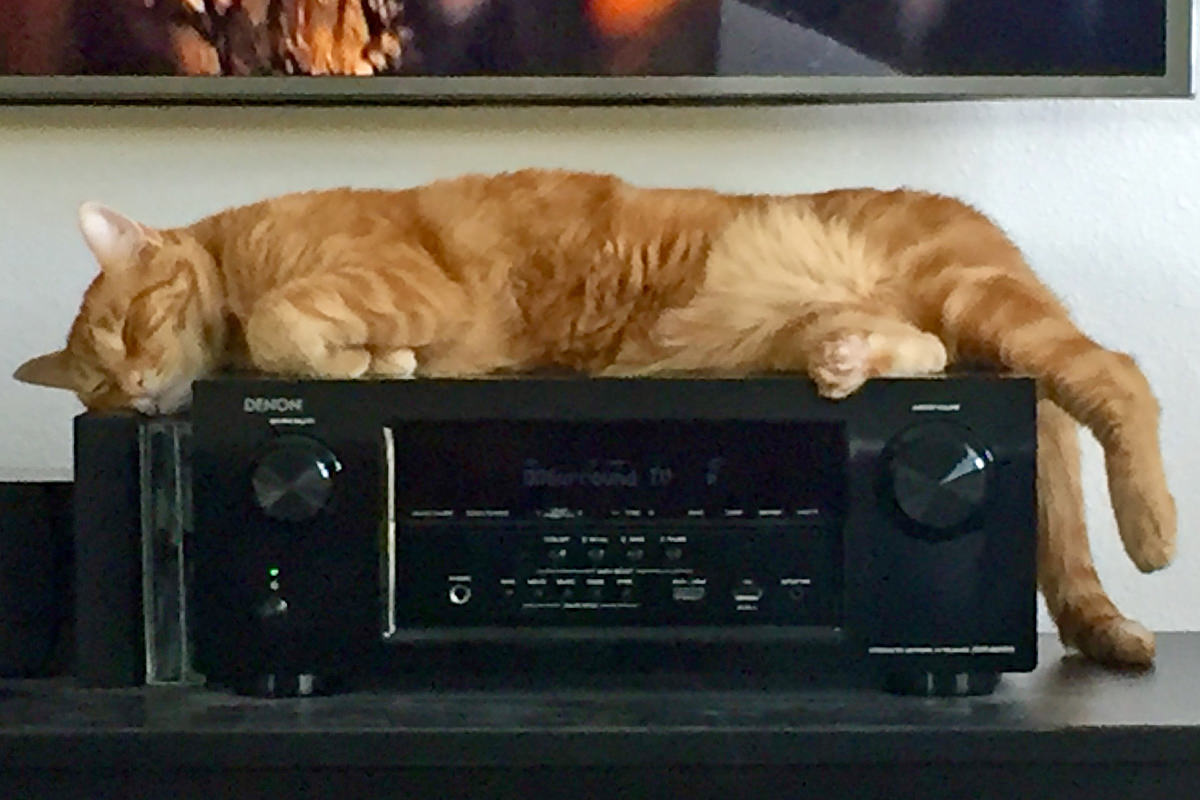 She's making a pillow out of my Star Wars Blu-Ray collections!
As for Jake? He's busy being Jake. When he's not eating, pooping, or napping... he's destroying my expensive books by chewing on them... sometimes as I am reading them...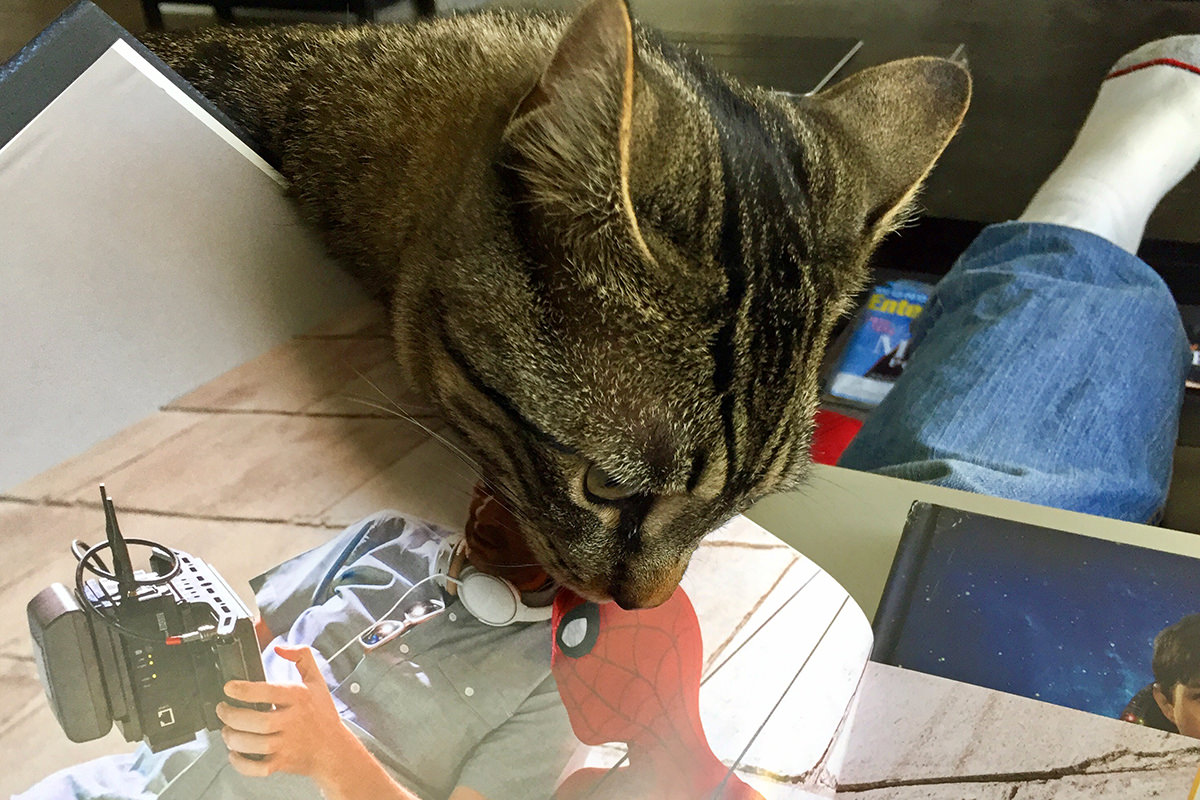 LOOK OUT SPIDER-MAN!!!
And... going to try and be inspired by my cats and get some sleep now.
Which would probably be easier if I were home with them.
Posted on July 18th, 2017

I don't think that my cats have fully grapsed the idea that there are security cameras everywhere throughout my house and I can see most everything they do.
So when I come downstairs, walk into the kitchen, and see that the cupboard with all the cat food, cat treats, and cat toys has been ransacked, their attempt to profess their innocence by pretending to be shocked and saddened that such a tragedy has occurred doesn't do them any favors.
Nor does blaming "ghosts," which seems to be their go-to explanation.
Today I attempted to show Jake some camera footage which clearly shows he is guilty of breaking into the cat cupboard. Again. He remained steadfast in his innocence.
I'd say he's got a huge pair of balls on him, but he doesn't have any balls at all.
Even so, I'm too proud of him to be angry about it.