Posted on November 23rd, 2020

I'm experiencing a tea renaissance. Last night I had some amazing Winter Chai and I'm still thinking about it this morning. I stopped drinking tea for the longest time, but took it up again when I was served some amazing native tea in Laos back in 2013. After a couple years I started favoring sodas, but now I'm drifting back into tea-land again. Figured I might as well since the tea I ordered for my 2020 guests in January (that wouldn't end up coming thanks to the pandemic) will have to be replaced soon anyway... even though I froze it to keep it fresh like you're supposed to.

Winter Chai Blend from Tea Forté, whose pricey teas I love.
Oh well.
I have a free pizza to thank for my renewed interest in drinking tea.
Last week I went out for groceries and got yet another free pizza. Safeway/Albertsons is forever giving away free pizzas with purchase of something else. And since the "something else" is usually something I'm buying anyway, I always grab one. I don't like frozen pizza, but I'm not going to pass up on free food. This was my fourth free cheese pizza and I had to make room in the freezer by tossing out some old stuff I shouldn't have been saving in the first place... and drinking my tea stash. From there I moved on to cleaning out the refrigerator and found a full carton of eggs hidden behind the fresh carton I just bought. I don't even remember having bought them. I don't shy away from expired foods, but eggs that are a month past their "Best Before" date are probably a gamble I shouldn't be taking, so down the garbage disposal they went.
Last night I had one of those free cheese pizzas for dinner. It was the last thing I wanted to eat, but I didn't have room for my next freebie so I thought I should whittle down my pile. My attitude ended up being "Sure I don't want it, but does it even really matter?"
And it's at that point I realize I've been saying that to myself a LOT recently...
"Does it even really matter?"
When I made a sawdust pile on my garage floor last week and keep telling myself I should clean it up... but realized I'm the only one who will ever see it and left it there.
When I kept putting off giving myself a haircut because I always end up making a mess of my head... but realized nobody will see it to care, so I pulled out the clippers.
When I saw my appointment to get my Global Entry Card renewed... but realized I'm not going anywhere any time soon and rescheduled for next March.
When I started trying to eat a bit healthier this past month... but realized that I could get COVID any minute now because people are selfish assholes, so I bought a box of jelly donuts.
When I got a supplies list together so I can finally tile my kitchen backsplash... but realized I won't be having guests any time soon and stuck it in a drawer.
When I made a list of new clothes to buy on Black Friday... but realized that I'm not going anywhere any time soon to care about new clothes, then threw it in the trash.
When I pulled up my work To-Dos I made so I could take off on Wednesday for Thanksgiving... but realized that I don't get a Thanksgiving this year and ignored it.
When I look at my chores list that's getting way too long... but realized that the entire world is on hold, so why should this list be any different, and took a pass.
Because, seriously, does any of that really matter? No. Not really. Dishes left in the sink. Cleaning that needs to be done. Projects that are lingering. Things I need to stay on top of. It just doesn't matter. Life is just a self-isolating blur of tedium sameness, and I'm mired in it like quicksand.
About the only thing that matters are my cats. Where I'm happy to just let things go in my life, I refuse to let anything go in theirs. I still steam clean their feeding station. I still wash their food dishes and water fountain. I still clean their beds. I still collect their toys. I still play with them. I still drop everything when they want attention. I still do everything I can to make sure they're cared for.
Just like after my mom died, I probably owe it to Jake and Jenny that I find the willpower to keep going day after day. Mostly because they are about the only thing I've going for me right now. But partly because I don't want to keel over and die and have them eat me.
Though with all these exotic teas I've been drinking lately, I'll bet I'm delicious.
Posted on November 21st, 2020

Lockdown isn't boring when you have cats!
This morning while I was getting out of the shower I heard a "whomp! whomp! whomp!" I was pretty sure that it wasn't ghosts, so the only explanation was that Jake or Jenny had found something new to entertain themselves. As I was getting dressed, I heard it again... "whomp! whomp! whomp!" When I ran out into the hallway and didn't see anything, I looked down the stairwell and saw this...
Well, obvious that innocent little face wasn't capable of getting into any trouble, so I was at a loss to explain what happened. Until I was walking downstairs and noticed this...
Apparently Jenny is back to redecorating.
And speaking of Jenny...
If you've ever wondered the look you get when you administer butt scratches wrong, this would be it...
Fortunately I seemed to be able to do belly rubs correctly...
That's better!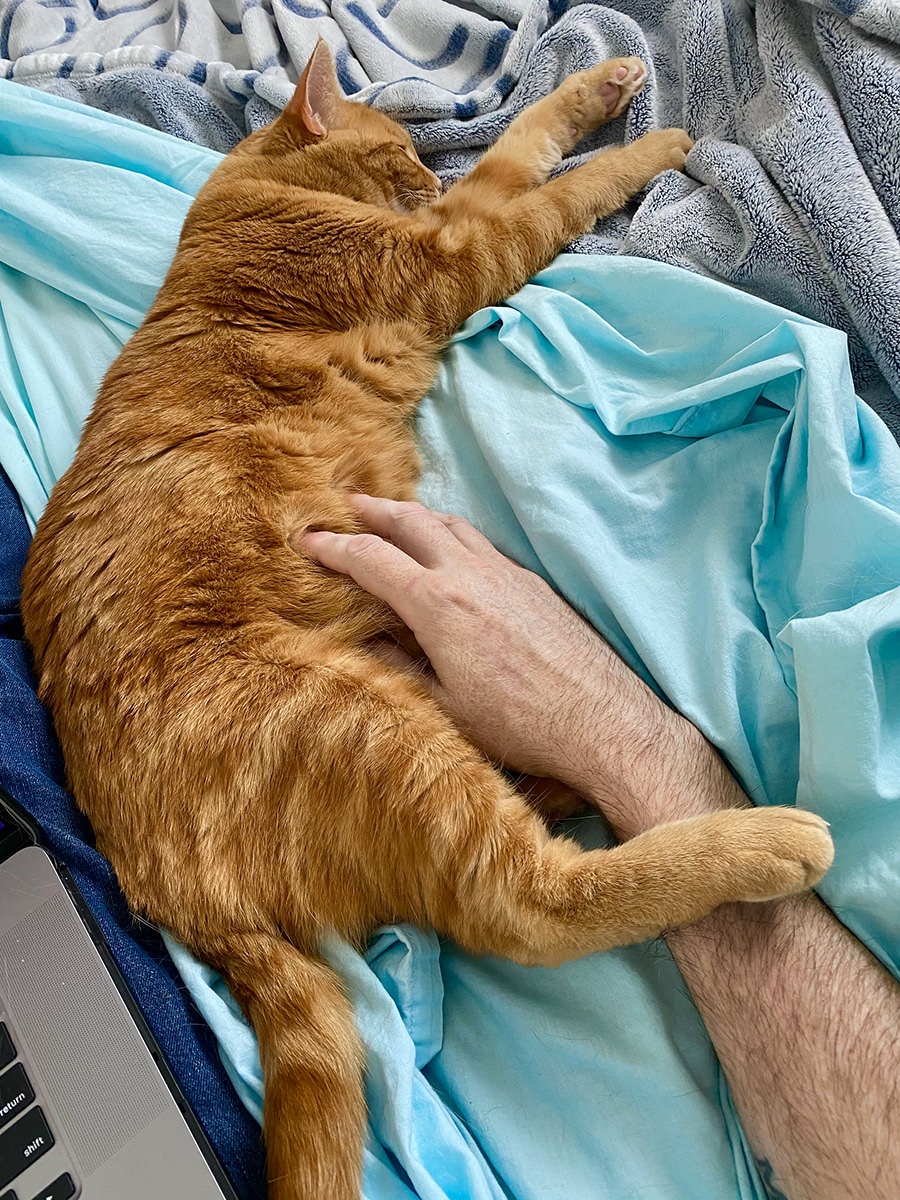 Now I guess I should go straighten all the posters in my stairwell and see how long they stay that way.
Posted on November 14th, 2020

What a day, right?
This evening at 5:10pm, Jenny came running in like she heard the Alexa alarm go off for dinner. I was forced to explain that no, Jenny, you're just being silly... there's 50 minutes until it's dinner time. This was her reaction...
And then I got this for the next 15 minutes until she got bored and took a before-dinner nap...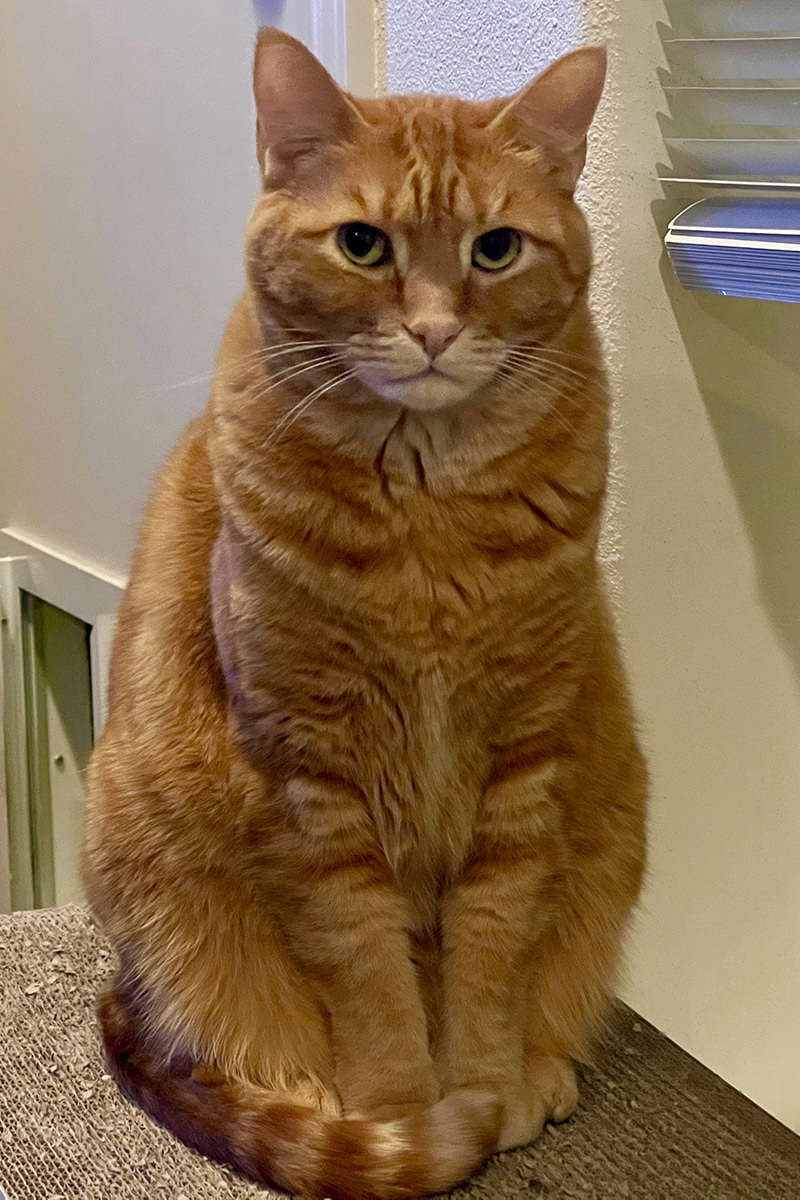 Not that Jake gets a pass. This was him on Friday morning waiting impatiently for breakfast...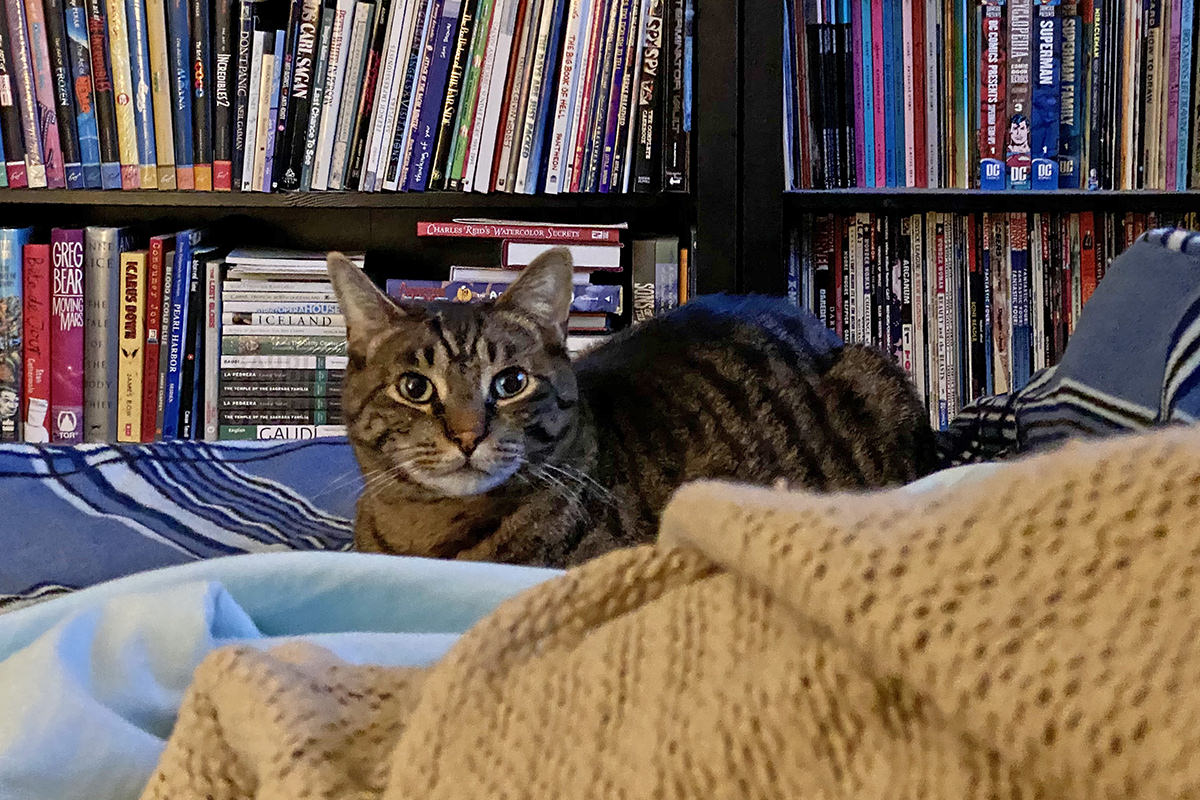 Eventually Jake ran out of the room... but don't worry, he was waiting in his box downstairs for me as usual...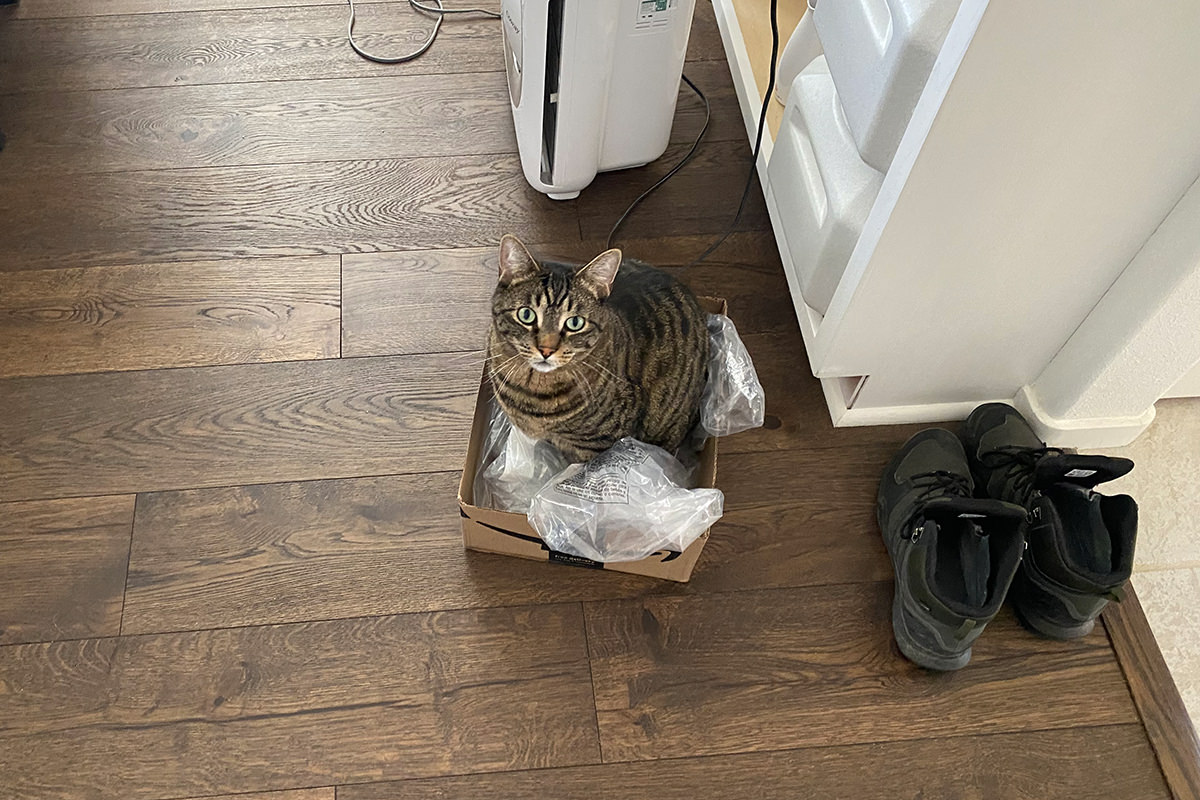 And right now? I just want to put my feet up. But alas...
Such is my life with cats.
Posted on November 7th, 2020

Every Caturday I set aside time to make sure my cats are being well cared for by cleaning everything they come into contact with. I steam-clean their feeding station... take apart and clean their water fountain... make sure their Litter-Robot litter boxes are clean... inspect all their favorite sleeping spots and clean anything that needs it... take a quick look at their toys to make sure that they are all safe and not falling apart... that kind of thing. I'm pretty religious about it all because I know if I depended on somebody for all that stuff that I'd want a clean place to eat, go to the bathroom, sleep, and play.
The one thing I have not yet found a way to clean is the covers on their heated pads. They both love the things and are on them all the time. I've tried washing them in the washing machine, but cat hair and stuff stick to them like glue. I guess at some point I'm going to have to sew replacements that are easier to maintain.
In other heating pad news... they both seem to want to have their rear foot in their face while sleeping on them. I noticed this early in the week and keep seeing it...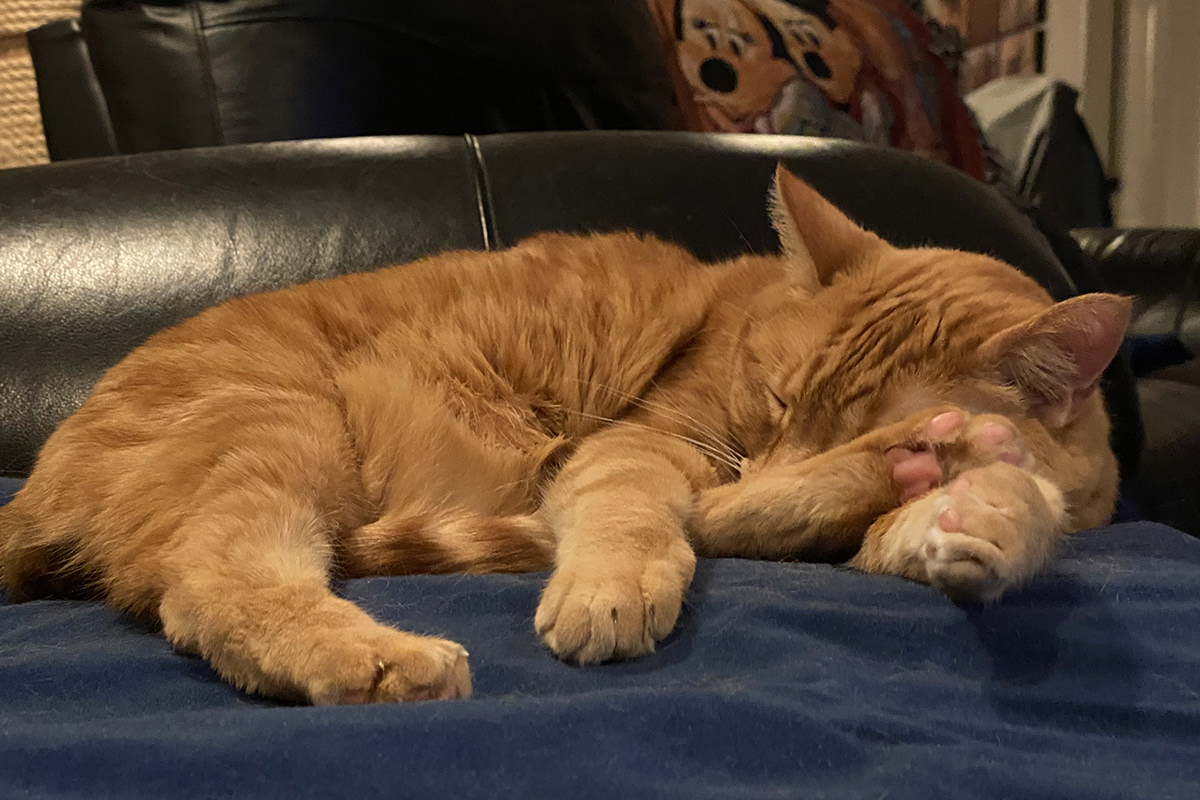 Oh well. Whatever keeps them happy.
I've been keeping a close eye on Fake Jake every night to make sure he's made it to the warming pad in the shelter I set up for him. But sometimes he keeps an eye on me. Or at least comes over for a playdate with Real Jake...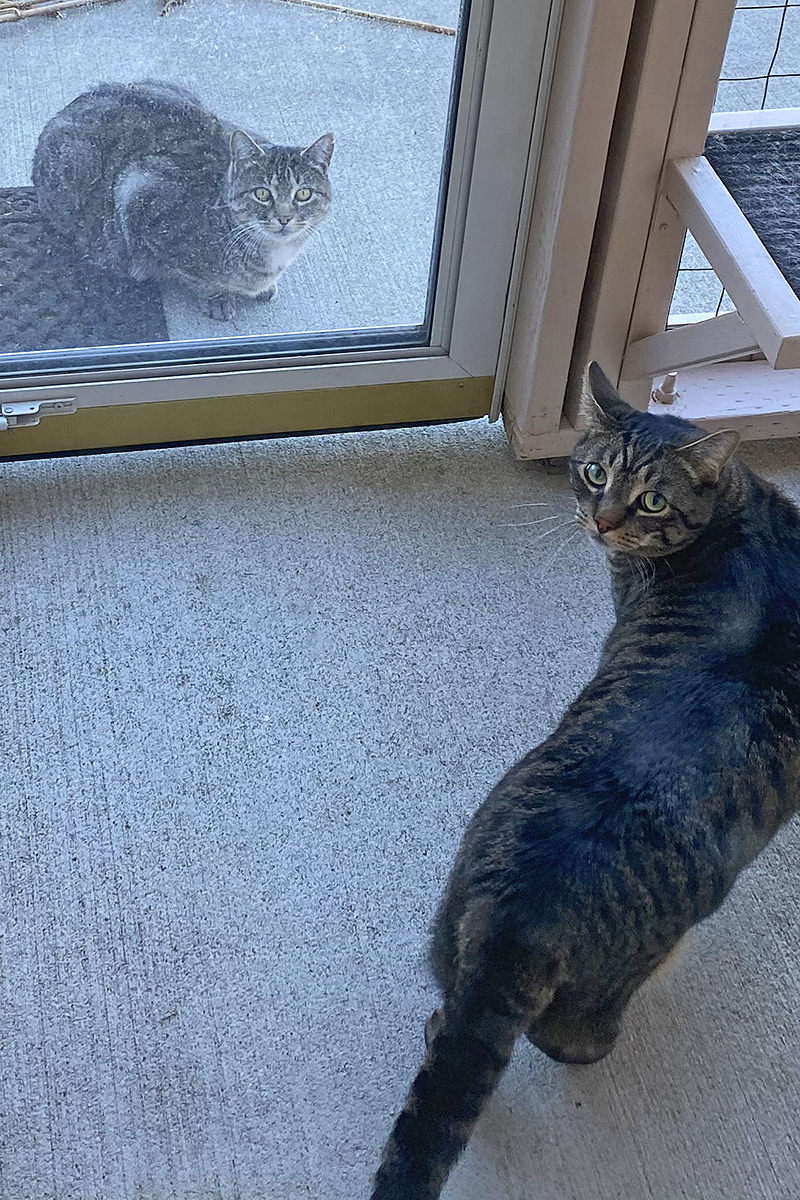 Jake has kinda-sorta adapted to the end of Daylight Saving Time. Or, even if he hasn't, he at least stopped complaining. Jenny on the other hand? Holy crap. Not even a little bit. When 5:00pm rolls around she is ready to eat because to her it's 6:00pm and dinner time, even though I've been easing them into the time change 15 minutes at a time. And when the alarm doesn't sound for food? SO SALTY! She is mad, mad, mad. She just scrunches up into a little anger ball on her heating pad and glares at me...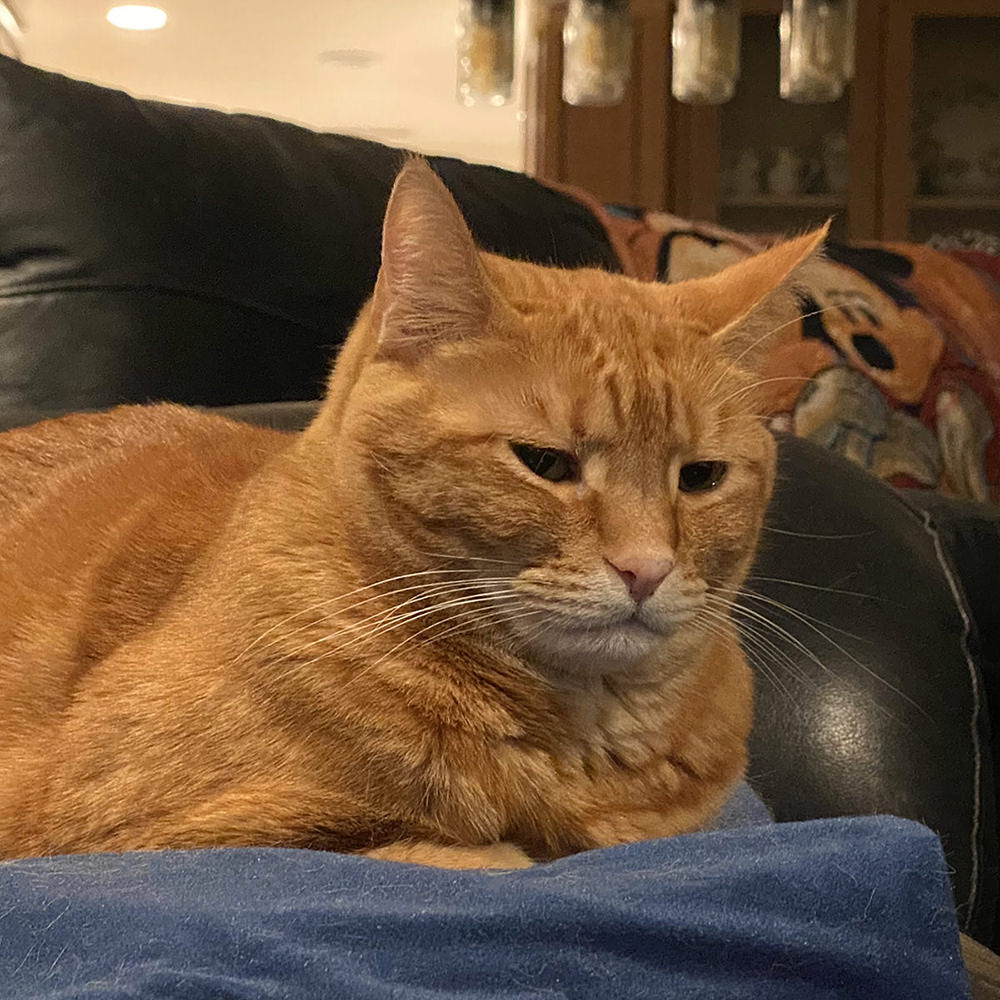 Make no mistake... she is the sweetest cat ever... but she hates the whole dicking-with-the-clocks thing more than even I do, and I didn't think that was even possible.
I sure wish that belly rubs would distract her from things as easily as it does Jake...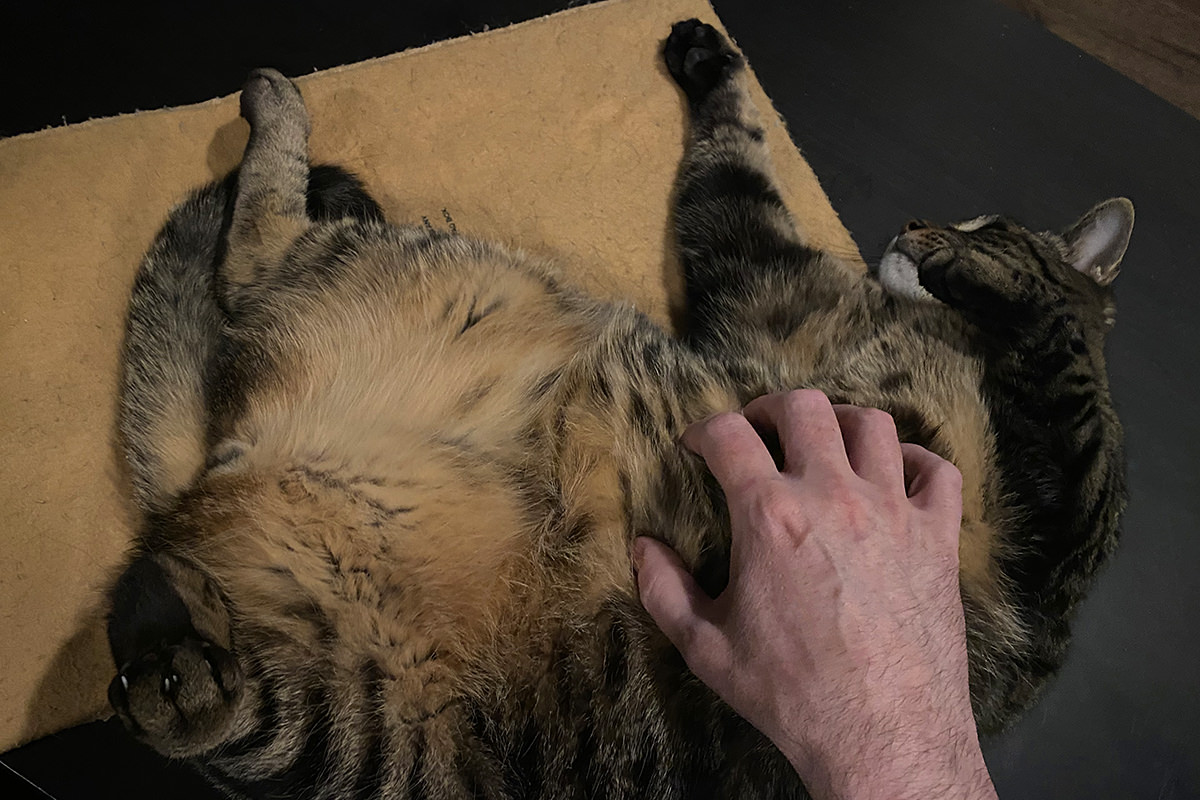 Oh well. So thrilled to think that I get to do it all over again in six months.
Posted on October 31st, 2020

Happy Halloween!
Such as it is.
I bought Halloween candy thinking that I might devise some way of passing it out without the possibility of coming into contact with The COVID. But nope. In the nearly-five-years I've been living in my home, I've never drawn the blinds. I didn't even know if they would work...
On top of that, I had removed the blinds in the cat-tree window so the kitties wouldn't get tangled up in it, so I had to board it up. It's like living in a cave now. Doorbell disconnected. Porch lights off. My cats are not happy...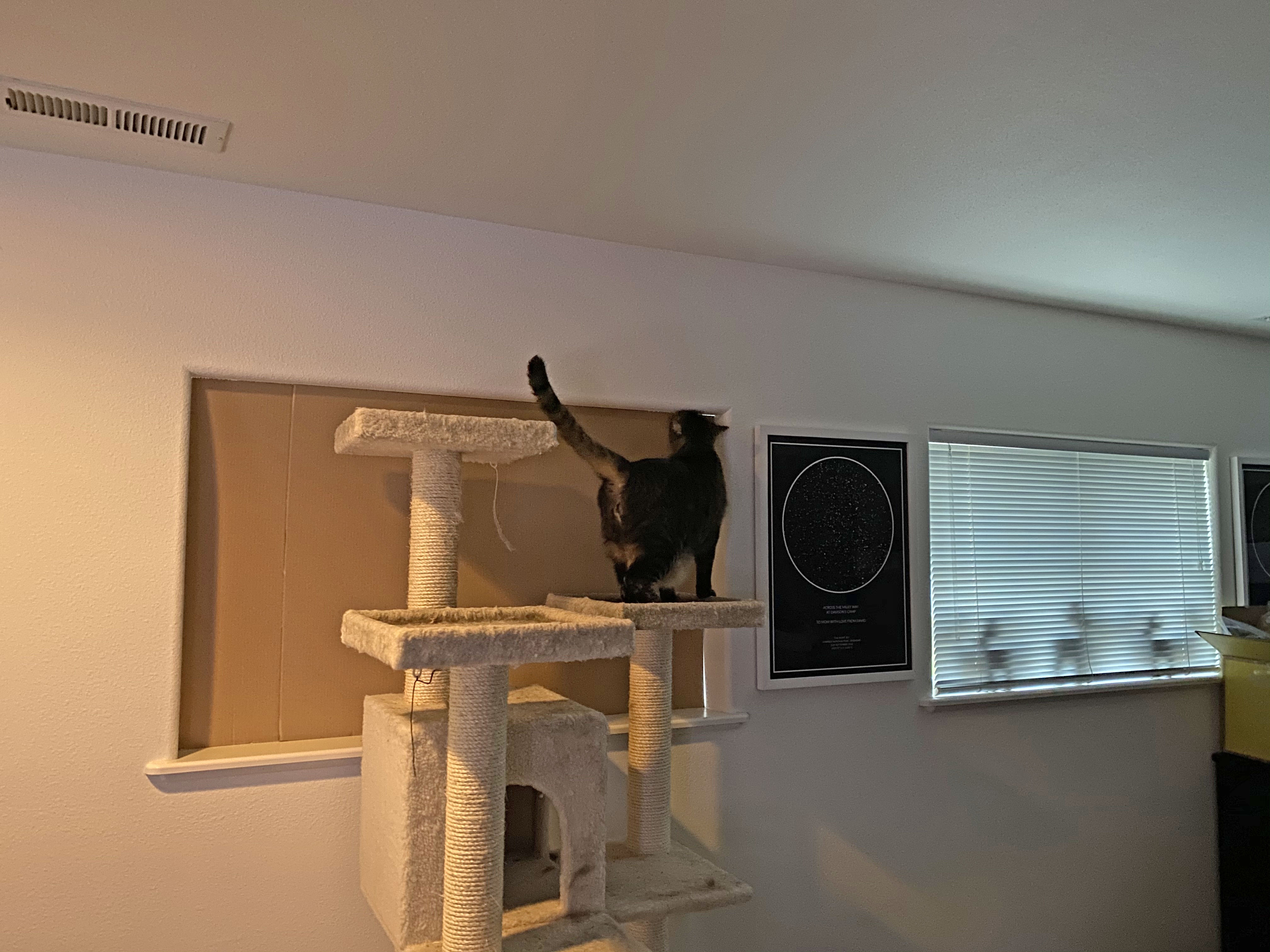 Though they would probably have been even more unhappy with the doorbell ringing and kids screaming "TRICK-OR-TREAT!, so I guess it's one of those six of one, half a dozen of the other situations.
Last week the movie version of Cats landed on HBO Max. It's just as horrific as I was lead to believe and there was just no way I could deal with it all. But then, jussssssst as I was grabbing the remote control, Jenny was suddenly invested...
Luckly, she only lasted about ten minutes, but still... that's something that will haunt my nightmares.
The good news is that I won't be having nightmares all alone. My cats are still all over my electric blanket from the minute I go to bed to the minute I wake up...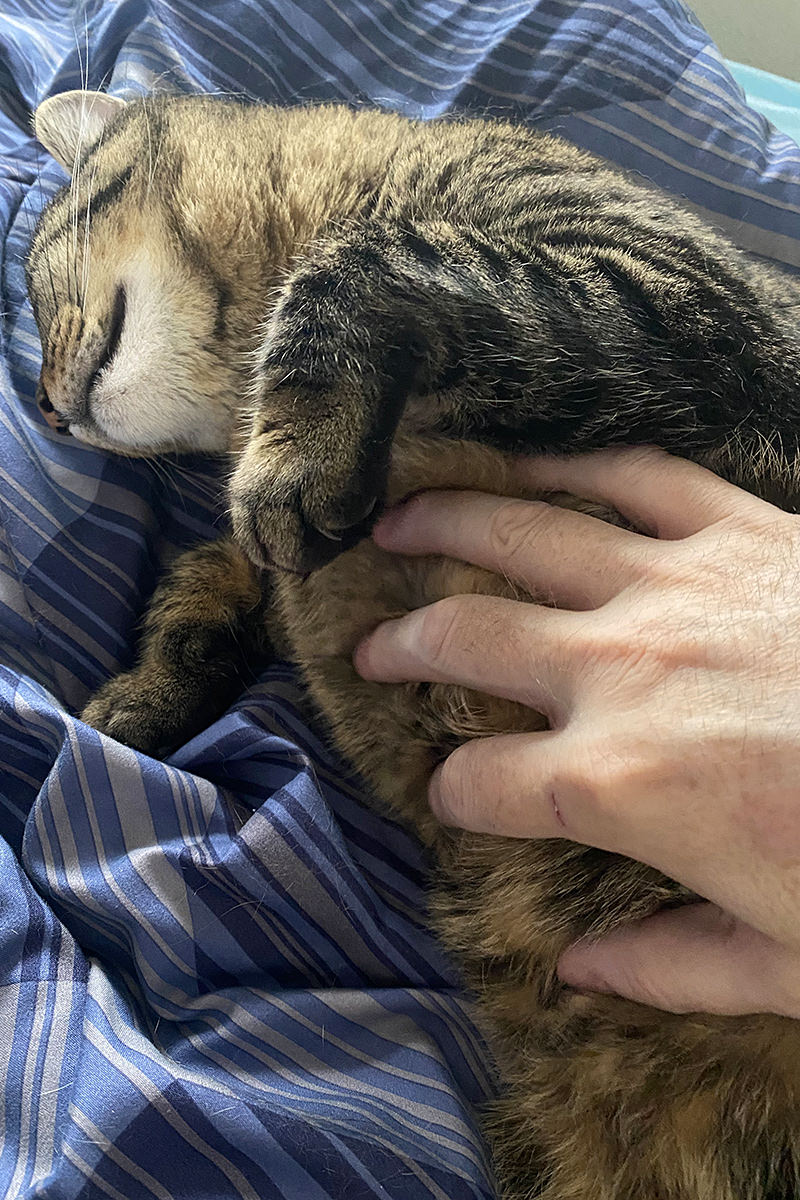 And now I suppose I'll have to deal with two rather upset cats. I explained that they could go out to the catio if they wanted to see outside, but they don't seem to be listening to me. What else is new?
Posted on October 28th, 2020

It was a day where so many things went wrong. Which is no surprise, because this has been the year where so many things went wrong.
12:30am — I have been trying to get more sleep, so I went to bed at half-past midnight. I fell asleep around 1:00am, which is very good for somebody who usually goes to bed around 3:30am. Any sleep I was going to get was short-lived, however.
1:10am — Remember how I paid extra for a kitchen faucet with the sensor under the neck where my cats couldn't turn it on?
My cats rarely jump up on my kitchen counters, but apparently Jake not only did that... but he accidentally found out the hard way how to turn the faucet on. It would automatically turn off after four minutes, but I didn't know what was going on, so I ran downstairs to see if anybody was hurt.
3:30am — I finally fell back asleep at 3:30am which, ironically, is my usual bedtime.
6:30am — I was awakened three hours later when the alarm went off to feed my cats breakfast (I'm easing them into the end of Daylight Saving Time).
7:00am — After taking a quick shower I plugged my shiny new 14 Terabyte backup drive into my NAS. Just try telling my 1986 self that a 14 TB drive would fit in my hand, be available to the public, and cost under $200. Incredible...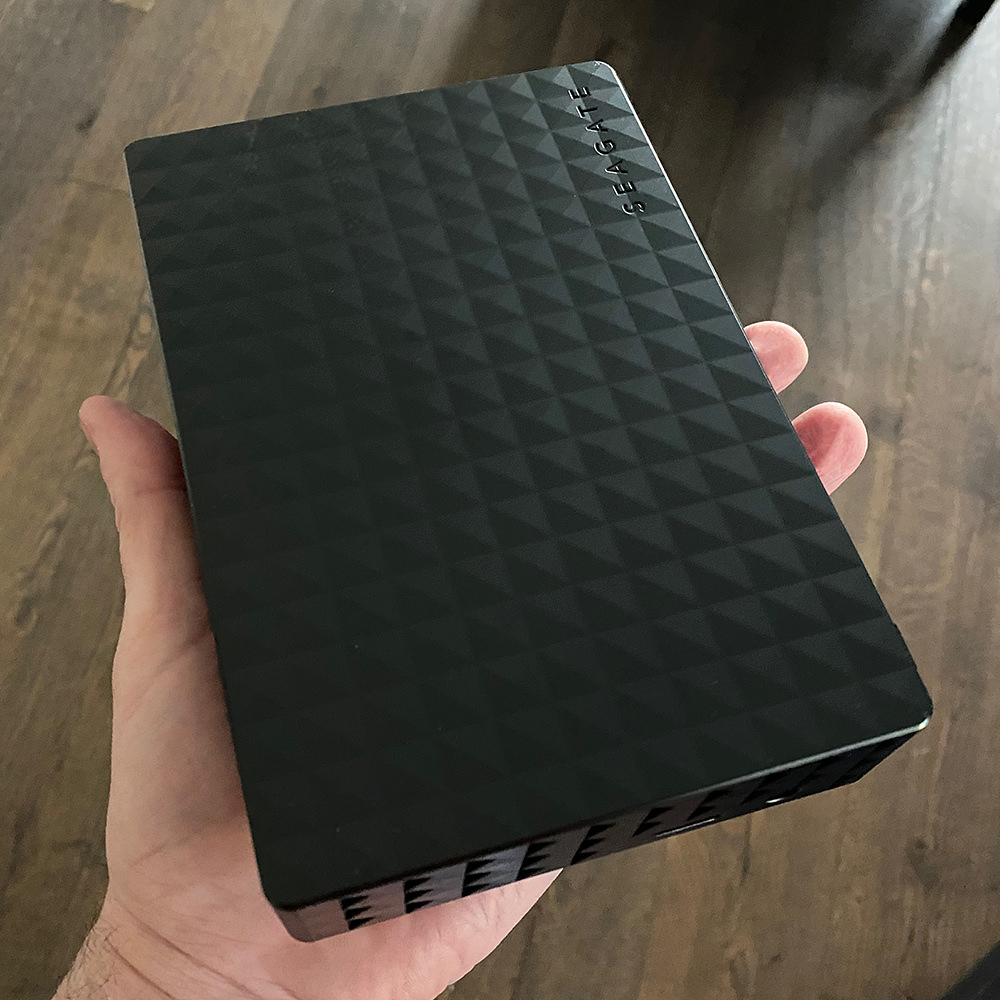 9:00am — After getting everything set up, starting my backup, and working for a bit while making sure everything was backing up, I headed off to work. The first thing I did was call up my NAS back home so I could grab the files I was working on... ONLY TO FIND OUT THAT EVERYTHING WAS DISPLAYED IN ITALIAN! And I could not find a way to change it back to English! My filenames were still as I made them, but all the commands and such are Italian now for some reason. I studied conversational Italian when I ended up going to Italy so often... but that's not at all helpful to me when trying to read technical stuff. I ended up using my memory, best guesses, and Google Translate to get my work done.
10:30am — I learned of another friend-of-a-friend who took their own life after being furloughed from their job due to the pandemic. That makes two. I did not know either of these people, but they were important to people I care about, so that makes them important to me. I honestly don't know what the final straw was which led to something so tragic. If I had to guess, it would be the end of the month being right around the corner and having no money to pay the bills. After not being able to find a job despite months of looking, their only hope was a stimulus check, but Mitch McConnell shut down Congress after shoving an inexperienced bigot into that vacant Supreme Court seat. So here we are.
11:40am — The sun started coming out, so I decided to take the rest of the day off to install some de-icing heat cables on my roof. With temperatures falling day-after-day and rain in the forecast, this might be my last chance to run cables in relative comfort...
12:35pm — Well, I didn't fall off the roof, so there's that. But, alas, the cable ended up being too short to reach the outlet, so I had to run into The Big City to get an all-weather extension cord. On my way out of town, I was reminded of the horrible news I had gotten just two hours earlier. BECAUSE HA HA HA HA! SUICIDE IS HILARIOUS!
12:45pm — And... I get pulled over by the State Patrol. I was not speeding, so I had no idea what the fuck I did to deserve that. Turns out my tabs were expired. Fortunately I had my receipt showing that I bought them online back in August... I just never got them in the mail. Weirdly enough, the officer told me that they were showing in the system as "unpaid." He said he wouldn't give me a ticket if I promised to look into it with the DOL. Nice guy. Even though he was unmasked the whole time.
1:25pm — I stopped at Petco so I could refill all my kitty litter buckets to get my cats through the winter. Alas, they only had enough to fill two of my four buckets... so I ended up having to buy two new ones. There's $6 I'll never get back.
1:40pm — I pick up the extension cable I needed. Whee.
1:55pm — Since I was in the neighborhood, I decided to stop by Burger King for an Impossible Whopper. There wasn't a special going on, so I had to pay full price. Full price! Thanks, 2020! I got my order to-go, but still had to wait for it in a restaurant with a couple of unmasked pieces of shit who were served even though a sign on the door said they had to be masked... and letting them know that if they didn't want to wear a mask they could use the drive-thru.
2:30pm — Before pulling back into town, I make a detour to a licensing office to pick up my tabs. Since they too have no record of the payment going through despite my receipt, I end up having to pay the $68.00 + $2.25 credit card fee. This is turning out to be an expensive day.
2:45pm — I sit down for a minute. My plan was to figure out why my NAS is speaking Italian, but instead this happens...
3:00pm — After wrapping and taping the extension cord connection to keep water out, I zip=tied everything to the gutter struts to keep it out of the trough. Then I plugged the gutter cable and the roof cable into a "smart" outlet switch so my house can turn them on when it snows and the temperature is below freezing. Looks like I'm good to go for winter.
4:00pm — Before it gets dark, I install cameras in the cat shelters I set up last week, then change batteries on the WiFi temperature sensors. This way I can keep track of Fake Jake to make sure he's doing okay as the temperatures drop below freezing. Then I cut back my hydrangeas, loaded the dishwasher, and figured out how to get my NAS speaking English again.
5:15pm — I am tired. My back hurts. My feet are cold. So I grab a sandwich for dinner and put my feet up on my heating pad. I have it to myself for all of ten minutes. Despite having his own heating pad, Jake takes over mine every time...
9:15pm — Fake Jake calls it a night and is all comfy in his shelter. Tomorrow I'll shorten the berms so he'll be a little more sheltered from any wind...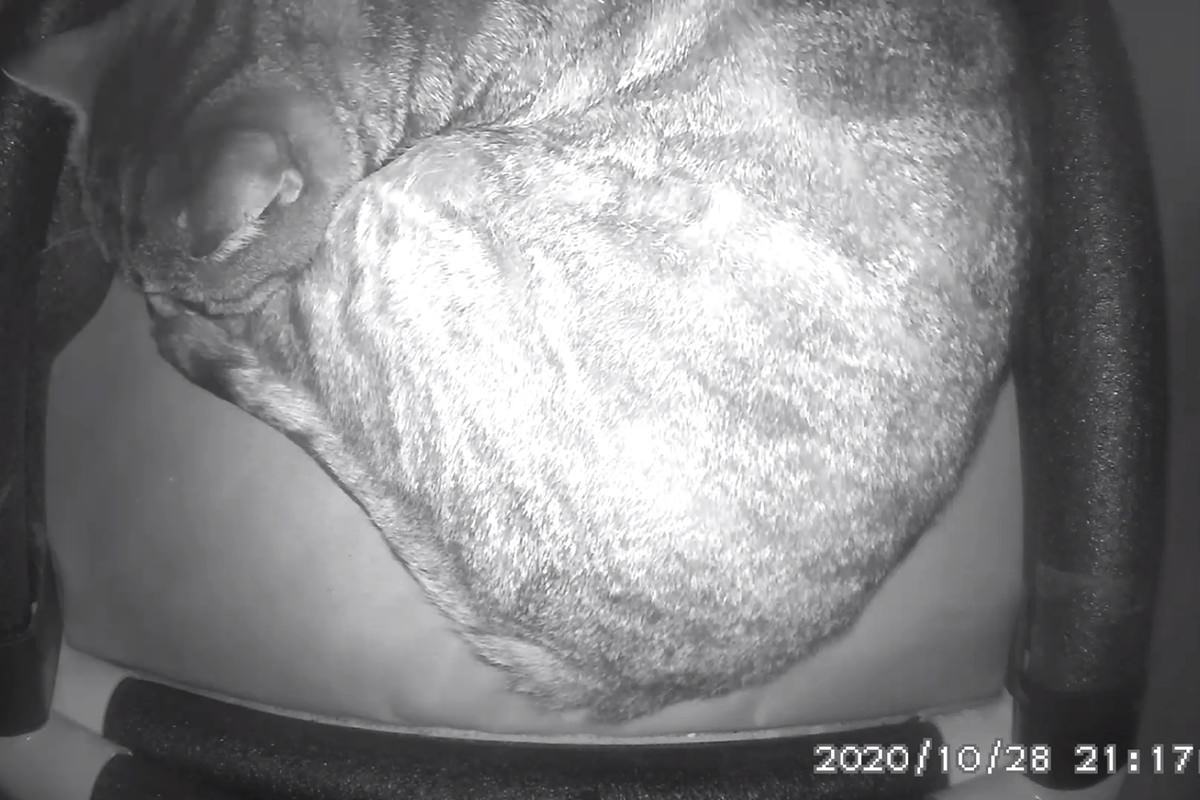 9:30pm — Bloggity blog blog blog. Let's hope I can get to bed before 3:30am tonight.
Posted on October 24th, 2020

Thanks to a combination of quarantine and cold weather, I'm spending a lot of time with my cats. They mostly sleep, which is fine. The problem is that they want to sleep on the heating pad that I use for my feet.
I'll get up to take a load of clothes out of the dryer or grab a snack, and they're all over it, which I talked about last Caturday...
In order to get my heating pad back, I bought Jake and Jenny pads of their own. I was even nice enough to spend extra for a large-sized model made specifically for pets. It took them all of two seconds to completely own them. Jenny claimed the one next to me, mostly, and Jake took the one in the loveseat...
They sleep there almost all the time now...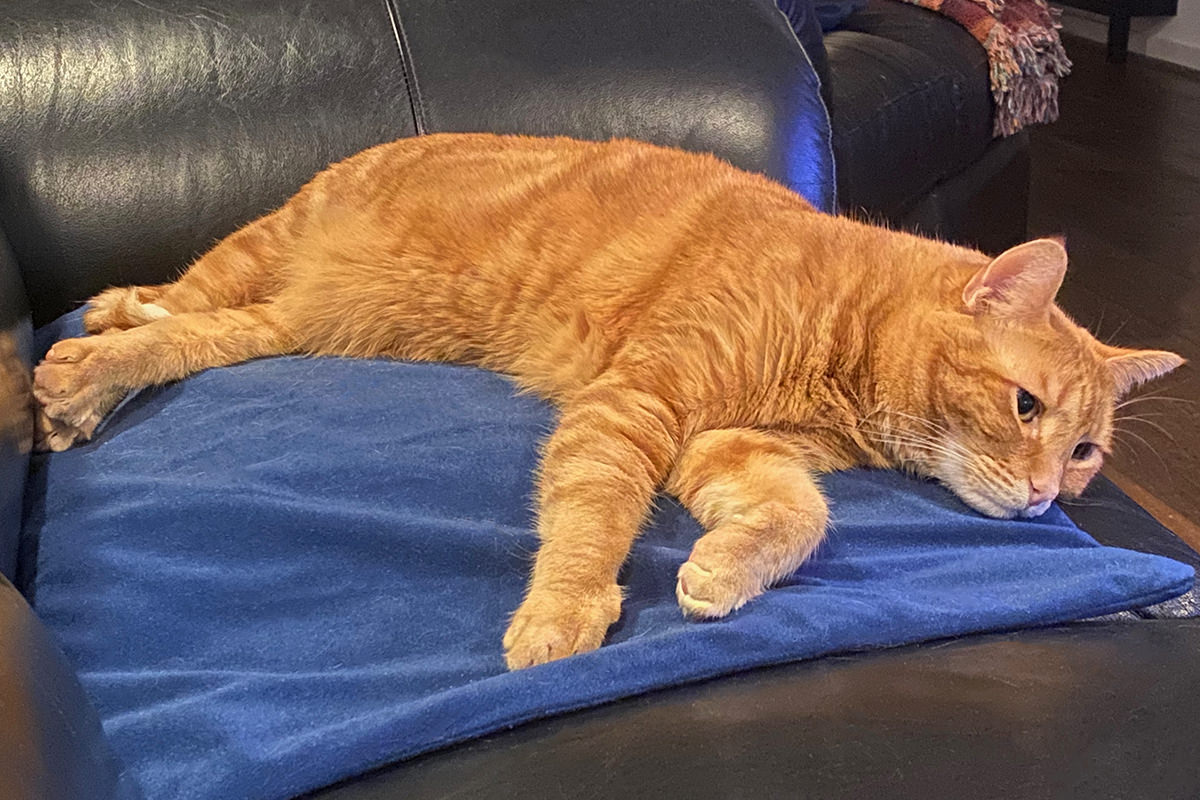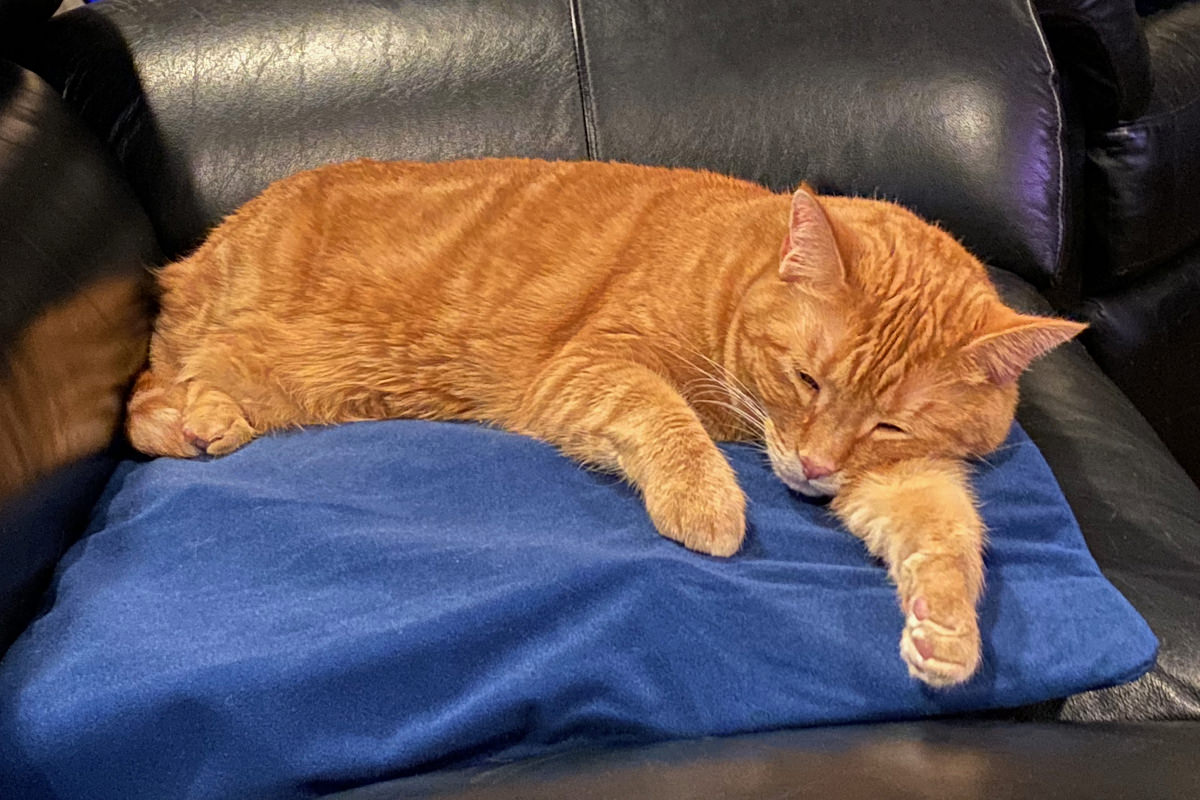 Except... they still want my heating pad too! Here's Jake being all irritated that my feet are in the way of my heating pad...
After he keeps nudging and pushing, I eventually give in...
So I switch to Jenny's heating pad, and... you guessed it...
My feet were trapped for nearly 3 hours.
About the only thing which gets my cats off their heating pads is when a fly that's looking for warmth manages to get inside the house. That gets their attention real quick...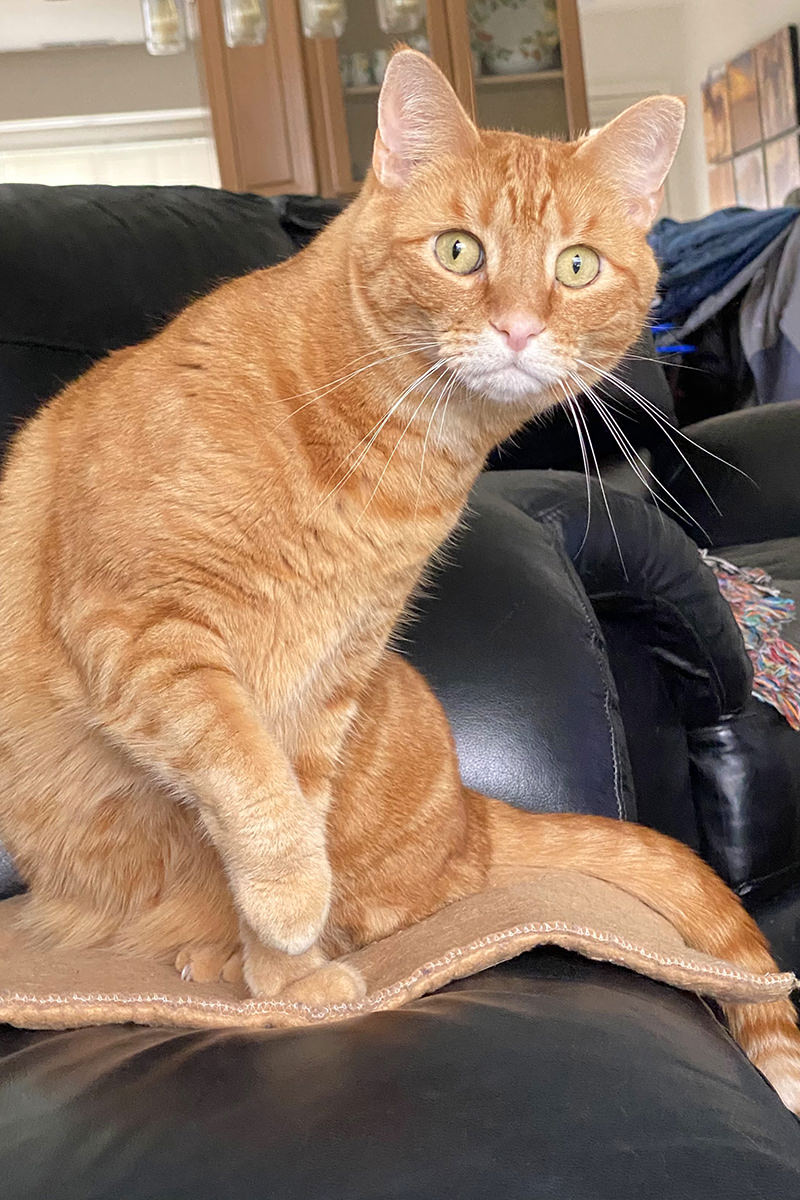 Flies remain the best cat toy ever.
If it wouldn't freak me out more than it ever would my cats, I'd just leave the door open and let the flies in so my cats would be entertained.
Posted on October 22nd, 2020

I read yet another article calling me stupid because I have cloud internet security cameras. It's all BUT WHAT IF PEOPLE HACK YOUR CAMERAS AND SPY ON YOU? Well, first of all, my interior cameras automatically turn off when my iPhone detects that I'm at my house. By the time I walk in the door, all the cameras have switched off. In order for them to turn on again, I either have to leave my home or manually turn them on.
Second of all? Even if somebody hacked my cameras, what would they see? Me partying with cocaine and hookers while cockfights are being held in my living room?
I wish.
In actuality, the worst thing that they might see would be me talking to my cats...
This is me telling Jake that he can't have my bread because it's my food and he just had his dinner. I then go on to explain that bread is probably not a good thing for cats to eat because it's people-food and might make his tummy hurt. When none of that works, I just tell him a story about that time I was partying with cocaine and hookers at a Vegas cockfight.
And, yes, I manually turned on my camera to get that photo. It's okay though because the hookers and cocaine is in the kitchen and the cockfight doesn't start until midnight.
And don't get all judgemental... we'll totally be masked for the cockfight.
I get enough judgement for having cloud security cameras.
Posted on October 20th, 2020

I've written about how Jake crawls all over me while I sleep but, by some miracle, I don't wake up. I say "miracle" because I am a light sleeper.
But it doesn't work the other way around.
Probably because he's (relatively) small and I'm (relatively) big, so me bumping into him is quite a bit different than him bumping into me. Poor guy, I woke him up a half dozen times last night. Here he is wide awake after I rolled onto my side and ran into him...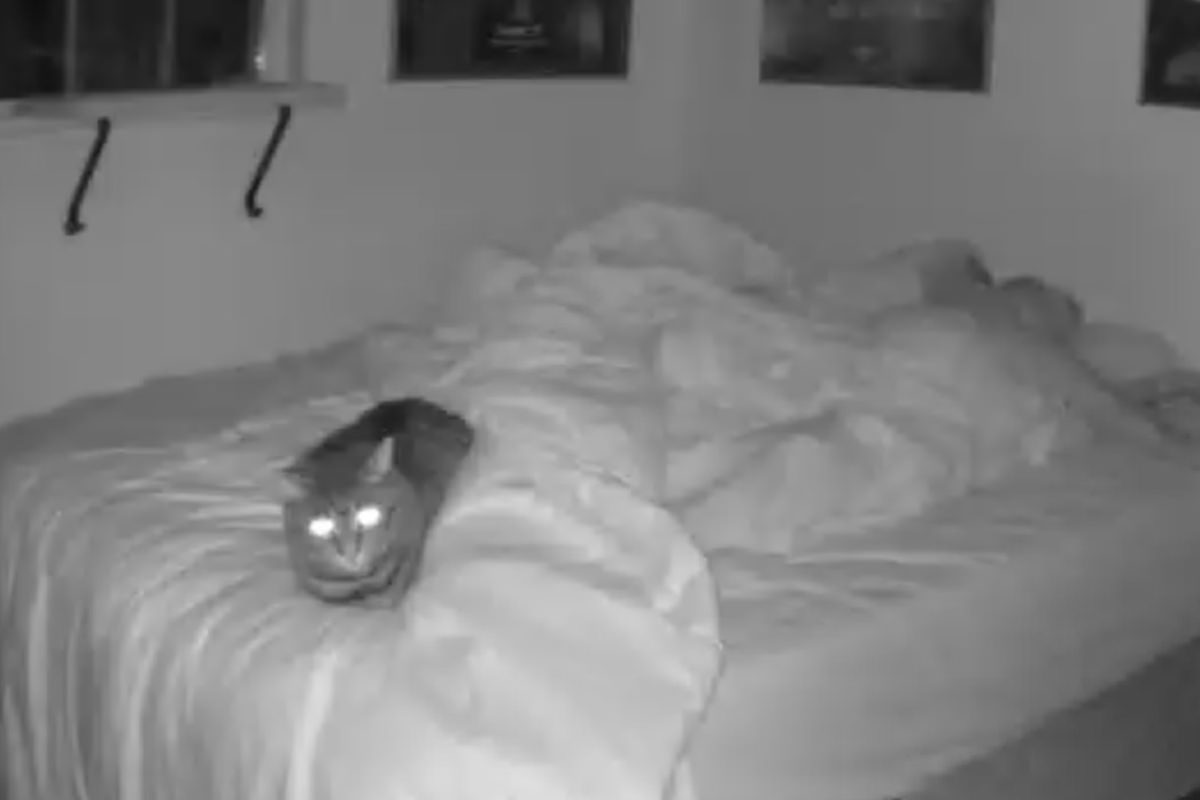 But that wasn't bad enough. I was exceedingly restless and was pushing the poor guy around all night...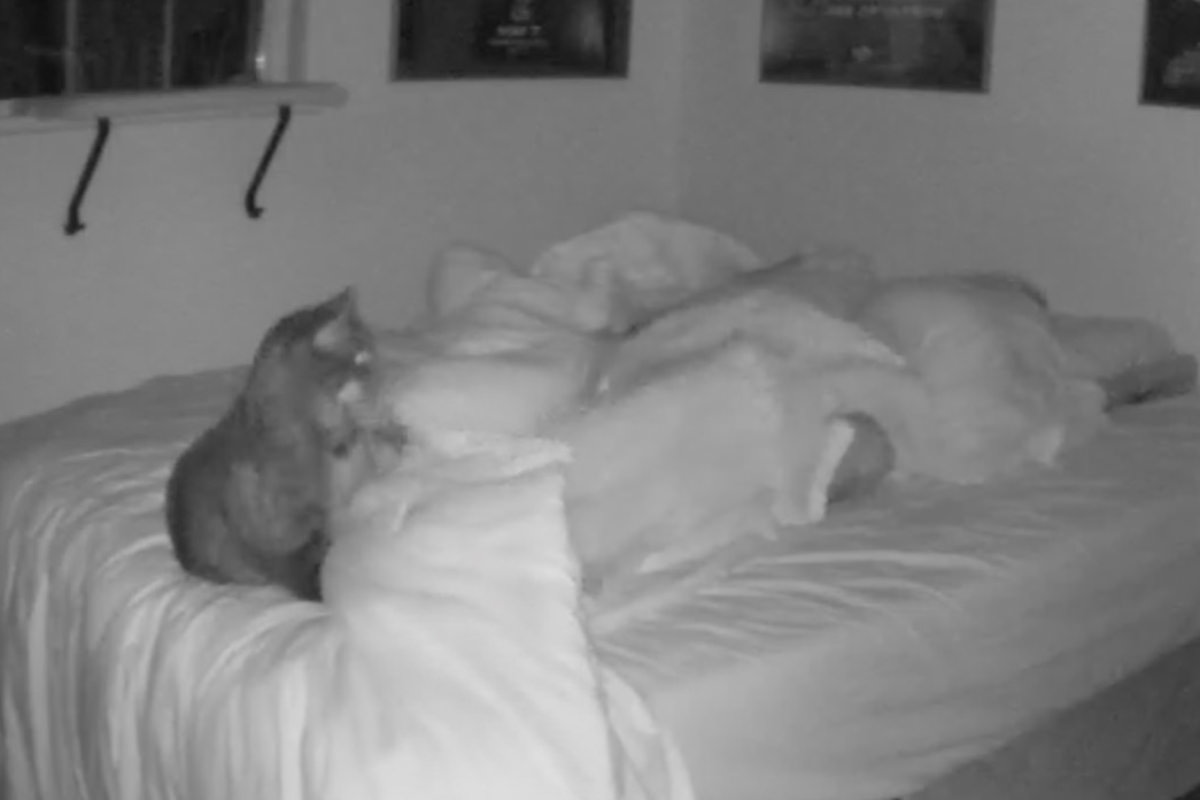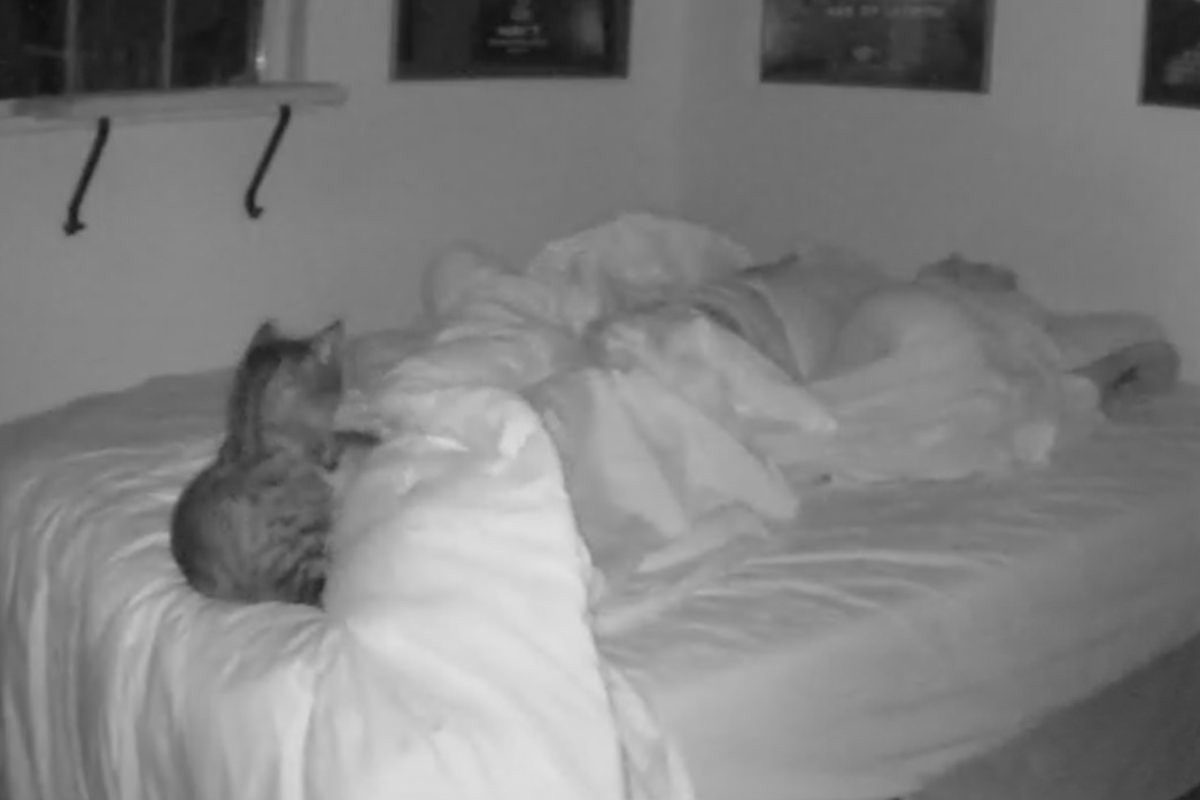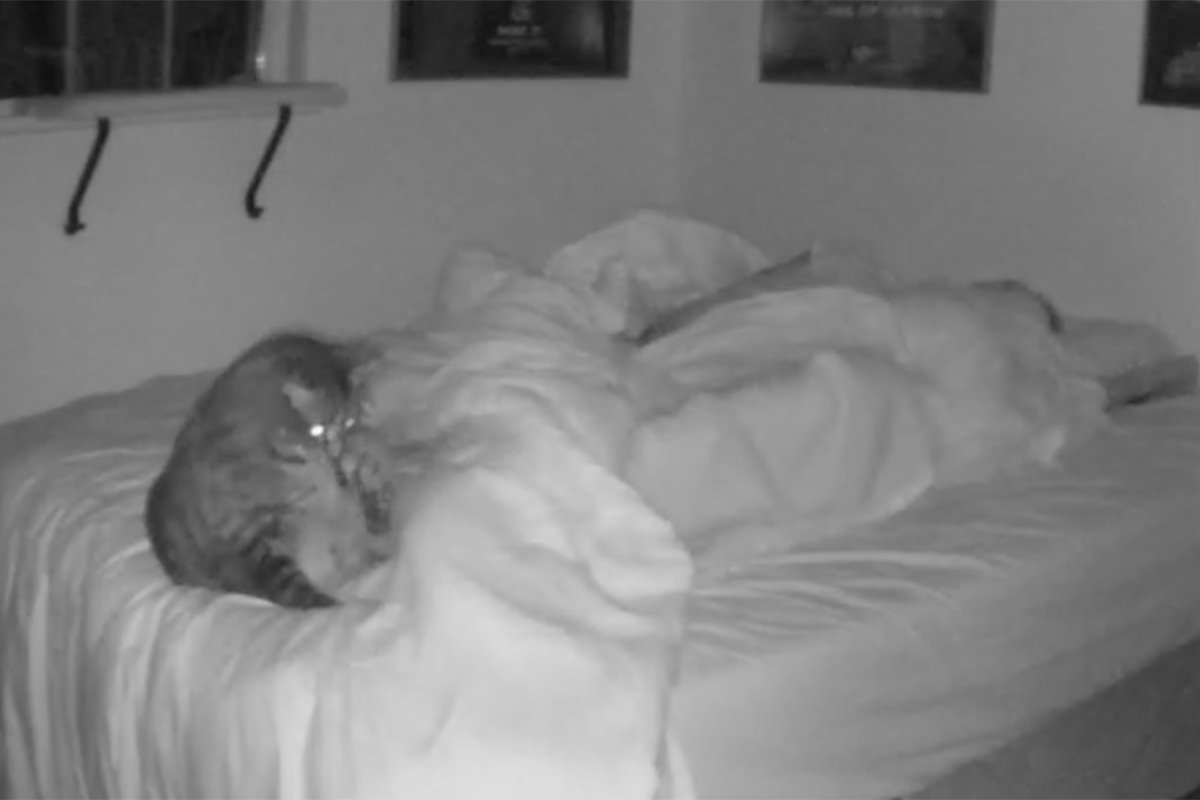 He looks like a Weeble. Just look at that face. He doesn't know what happened...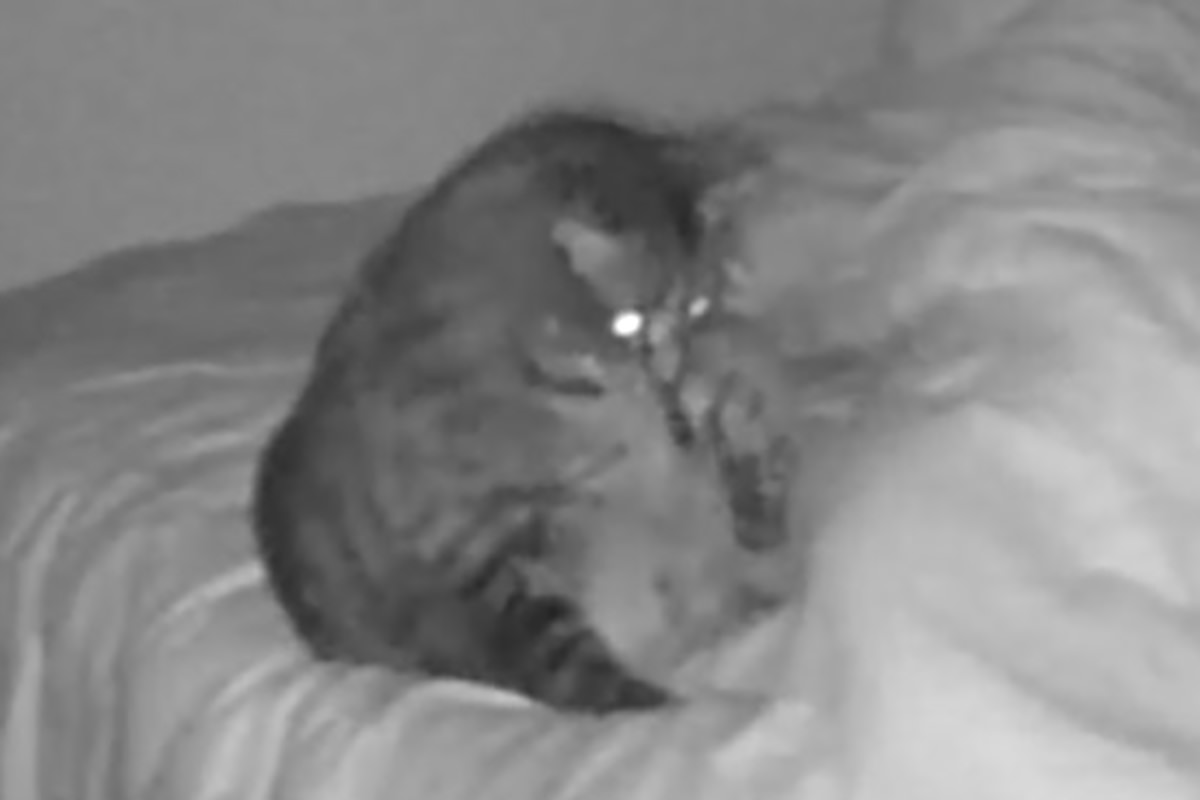 But does he go find a calmer place to sleep? Nope! Curls right back up against my legs.
I'd feel bad, but he sleeps all day long while I'm slaving away at work, so I'm sure he's all good.
Posted on October 18th, 2020

Cooking on Sunday seems like a tough sell before facing your Monday, but sometimes life throws you an easy recipe... because an all new Bullet Sunday starts... now...

• LEWKS! Dolly Parton is one of my favorite people on earth. This video of her looking back on her leaks over the year is a great indication why...
National. Treasure.

• Rona! Thinking that overcoming COVID gives you immunity is most probably a mistake.

• UnHallmark! SQUEEEs in Hallmark...
Amazing how some of the best Hallmark movies aren't actually made by Hallmark any more. This film, for example, features an interracial couple. That is so exceedingly rare at Hallmark that you could reasonably argue that it doesn't exist. But, hey, they're producing a gay Hallmark Christmas movie this year, so maybe anything is possible?

• Meow! This made my week. Do not mess with a cat's pet!
The cat is fantastic, yes... but that puppy is too adorable.

• Pete! I think it's important to revisit this moment in Pete Buttigieg's "town hall" on FOX "News" from 2019. It's where he's asked about what people are labeling "late-term abortion"... something which is not medically accurate ("late-term" is past an expected due-date for birth), but generally accepted to mean 21 weeks or later in pregnancy. I keep seeing "late-term abortion" pop up in conversation lately, and I honestly don't think people truly get what it is. As explained by Mayor Pete in the video below, for the vast majority of women who have been carrying a baby for 21 weeks, they're expecting to carry it to term. They want that baby. So if they're needing to get an abortion into the third trimester, it's not because they've changed their mind, but because of a catastrophic medical problem for either the mother or child. So to deny women a necessary medical procedure under those circumstances is both horrifying and cruel (read this, as just one example... there are thousands more). Yet this is what some very unreasonable and sadistic people are wanting to deny a woman in need at one of the worst times in their lives.
I was initially a fan of Buttigieg, but ultimately problematic in some areas. That being said, I'd sure pick him over Trump or Biden. His thoughtful, measured response to serious issues is something we are sorely lacking in government.

• Flix! I laughed far more than I should have at this...
Lord only knows what people would think when looking at my Netflix!

• T-RAV! One of the best things about visiting St. Louis is their "Toasted Ravioli" (AKA "T-Rav"). Which, most places, is actually deep-fat-fried instead of toasted. It's amazing stuff. It's not always easy to find a non-meat version, but it's always worth it. My problem is that St. Louis is 1600 miles away, so the only way I'm going to get it is to make it myself. Fortunately, it's pretty easy, and I'm giving my recipe below...
I use Buitoni Fresh ravioli (in the refrigerator section at the grocery store) because it's smaller and I don't have to worry about the center not cooking completely. Freeze it for about 10 minutes until the outside of the pasta is chilled. You can use frozen ravioli, but you need to thaw it enough that the center is thawed, then re-chill it because the outside must be cold for stuff to stick properly.
While the ravioli is chilling, mix 1-1/4 cups of panko breadcrumbs, dash of rosemary, dash of garlic salt, scant teaspoon of dried oregano, scant teaspoon of dried basil, and a 1/3 cup of fine-grated parmesan cheese. Beat three eggs until smooth.
After the pasta has chilled, drench each piece in the beaten egg, shake a bit to get the excess off, then put in the breadcrumb mixture. Cover and press down a bit to make sure the crumbs have adhered. Place each piece on a cookie sheet to set.
Put the tray of coated ravioli in the freezer for 15-20 minutes so the batter is frozen to the pasta. If you're going to cook much later, you'll need to transfer to an air-tight container. Otherwise... heat up 3/4" of oil to medium to med-high (range tops vary... you want to quick-fry until golden without burning). Cook about one minute each side and set on paper towels to drain.
Serve with fine-grated parmesan and dried parsley on top and marinara sauce to dip. Enjoy!


And that's a wrap on this delicious Bullet Sunday. THIS TIME!
Tags:
Bullet Sunday
,
Cats
,
COVID-19
,
Food
,
Hallmark
,
Movies
,
Netflix
,
News
,
Pandemic
,
Politics
Categories:
Bullet Sunday 2020
,
Cats 2020
,
Food 2020
,
Movies 2019
,
News – Politics 2020
—
Click To It:
Permalink
—
0 Comments: Click To Add Yours!