Posted on June 19th, 2017

And so I'm dead now.
When I went upstairs to watch Netflix in bed at 9pm last night, Jenny was still out in the catio. When I finally decided to go to sleep at around 11pm, I checked the cameras and saw she was still out there. This is not unusual, as she loves chasing bugs in the catio at night. Jake, I assumed, was off asleep somewhere.
When I woke up at 2am, I checked the cameras and saw that Jenny was still out in the catio. No Jake. I activated all the internal cameras. Still no Jake. I assumed that he was still off sleeping somewhere. So I started scrubbing backwards through the internal cameras so I could figure out where.
Jake was nowhere to be found. The last time he showed up was 7:15pm, when he was climbing down the cat tree.
Holy crap! Did I lock him in the laundry room?
No.
I can't find him anywhere.
No big deal, I grab the cat treats and shake the bag. Jenny comes running in from the catio immediately.
No Jake.
This is unprecedented. For Jake to not show up for kitty snacks is inconceivable. He loves those things. Loves them. The only reason he wouldn't show up is because he's trapped somewhere. Or dead.
And thus begins 20 minutes of total panic as I proceed to tear my house apart.
Still no Jake. He's vanished.
Either he has wedged himself somewhere I haven't thought of or... he got outside somehow?
Total panic becomes a complete meltdown as I start checking outside cameras. And there he is. Wandering around the back yard. At least he was at 1:28am, which was almost an hour previous...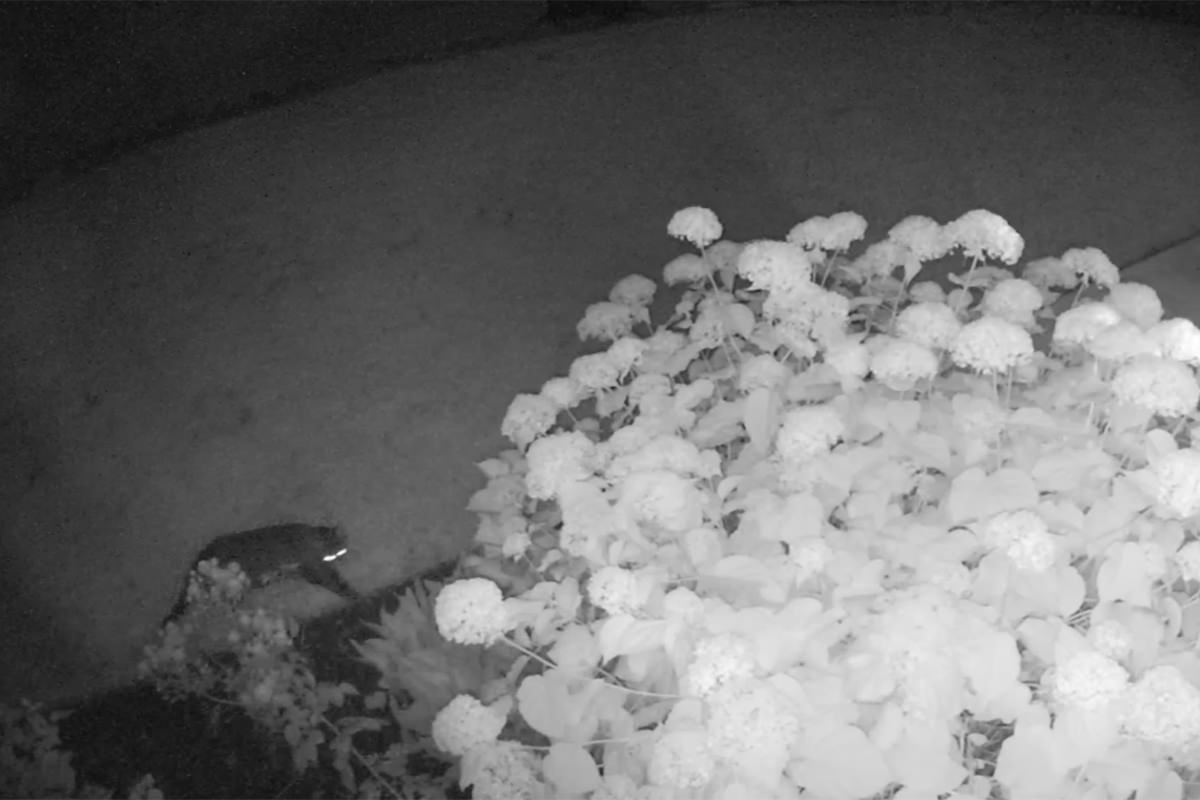 What. The. Hell?
At first I thought it might be Fake Jake, but the more I watch the video, the more I'm convinced it really is Jake, and he managed to escape. Some way. Some how.
I am trying to think if I have ever been at the panic level I was at that moment.
I honestly don't think I have.
And so there I am, out in the catio with the door wide open, shaking a bag of treats. He shows up minutes later...
But... how? How did he get out? He was around when I got home from work, I'm sure of it. Did he escape when I took out the garbage? Did I leave a window open somewhere and he pushed out the screen? Is there a hole in the fencing on the catio?
Back to the cameras. And... turns out he pushed off the roof of the catio (video at 8x speed)...
A couple things to note:
Jake paces back and forth, pushing on the roof at different spots. It's like he knows he can push through somewhere if he can get the leverage.
I can't see where he drops to the ground. I'm guessing he jumps over to the shrub, and climbs down that way?
Jenny totally watches him escape.
Eventually Jenny pushes through the roof as well, but chooses not to leave. Thank heavens.
The catio is now closed, pending my securing the roof panels.
From what I can tell, Jake was never too far away from the catio. He appears on the back porch several times throughout the night (video at 8x speed)...
Though he did circle the entire building once. He appears in the front yard at 11:45pm... goes out of frame at the bottom near midnight... then reappears at the top of the frame exactly 30 minutes later. Heaven only knows what he did along the way (video at 8x speed)...
More than once he tries to find a way back into the catio, and most times his sister is on the other side watching him...
So there you have it... Jake's big adventure.
And my nervous breakdown. Because all I can think about is how this could have happened tomorrow when I'm traveling and Jake would have been stuck outside.
Needless to say, I won't be getting any sleep tonight. If ever.
Maybe if I would stop checking the video cameras every 15 minutes to make sure the cats are still inside and safe...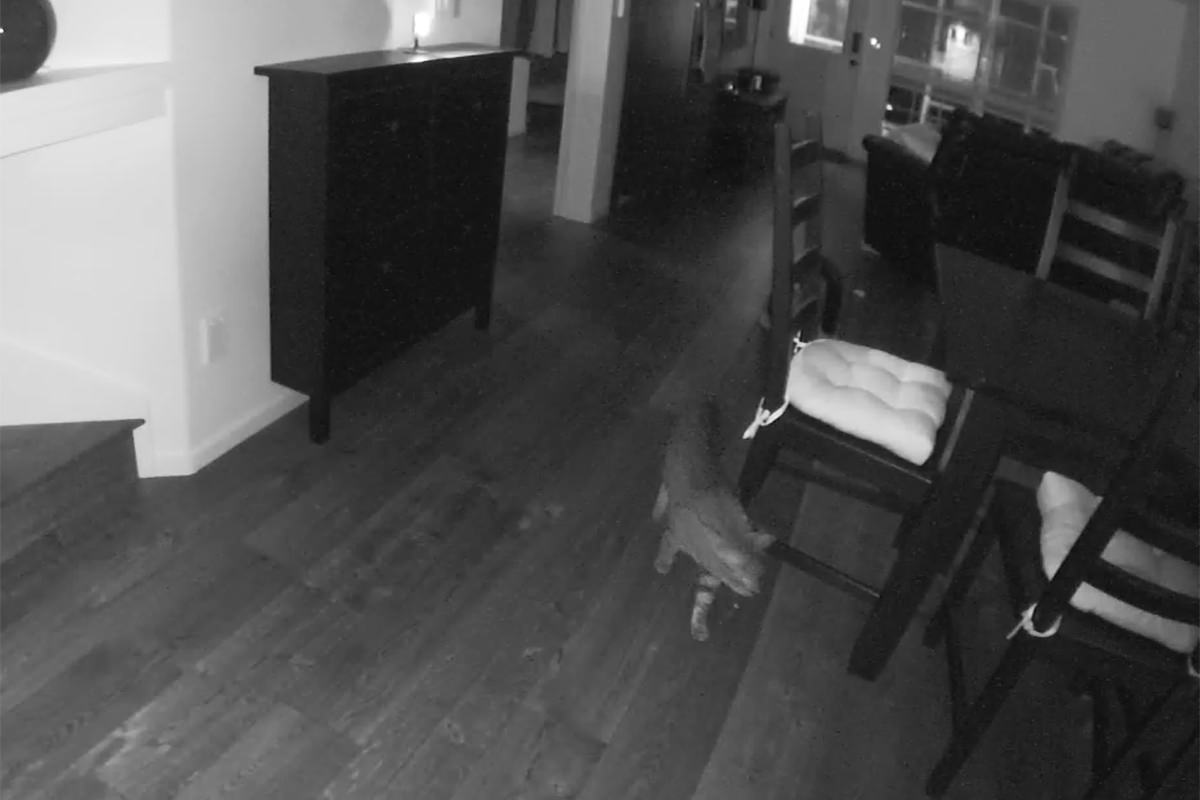 Cats. What can you do?

UPDATE: Turns out my framing contractor (who also made the roof for the catio) used screws that were way too short. They were barely grabbing into the wood. So when Jake was walking back and forth pushing on the ceiling, the screws were popping out like rivets...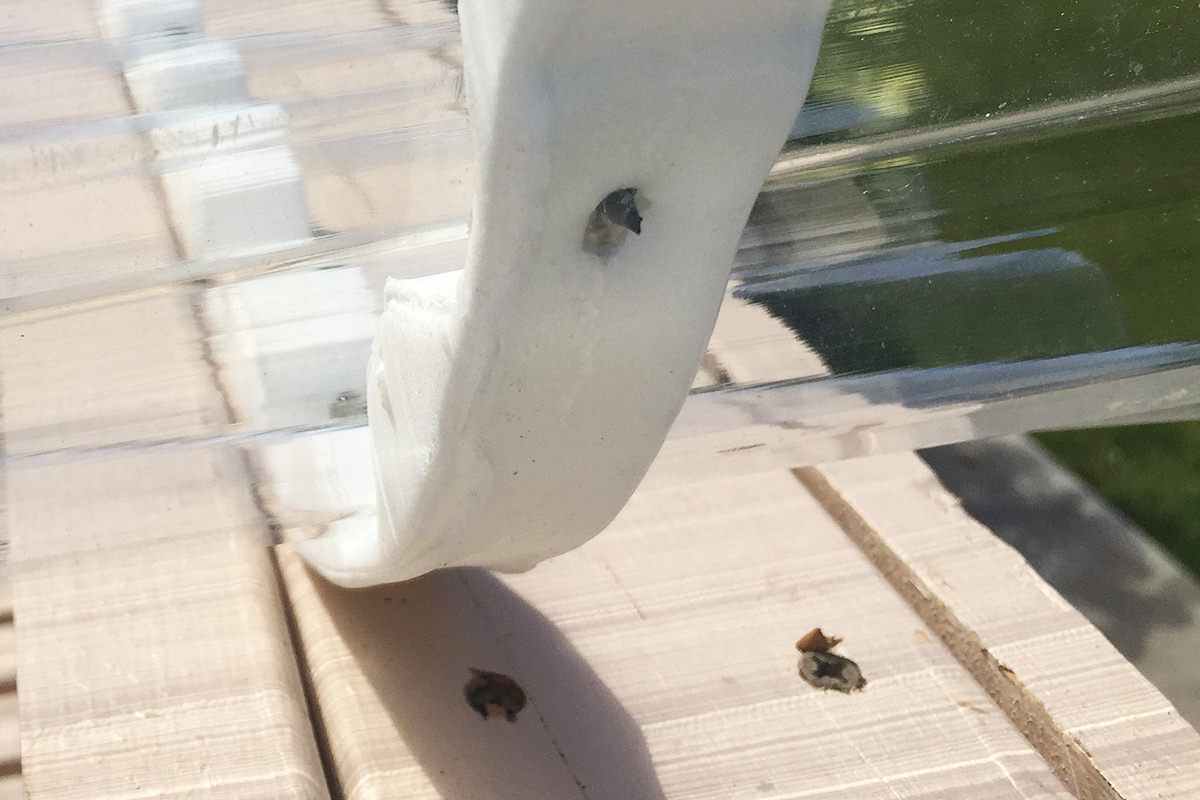 I'm replacing them all with screws that are 2-1/2" times longer.
And... Jake and Jenny can enjoy their catio once again.
And... I can have the peace of mind that the cats can't get out.
Until the next time.
Posted on June 17th, 2017

Life with cats is never boring. Well, actually it's mostly boring. Cats sleep... like... an insane amount of time. But the bits where they are awake is interesting. Mostly because my cats do not exhibit consistent behavior. Just when you think you have a handle on them, they mix it up, and start doing something entirely different.
Jenny, for example, did not "meow" the first 8 months I had her. Unlike Jake, who seems physically unable to "meow," apparently it was because she just didn't feel like it. Then... it started. Just weak little meows from time to time when she wanted attention. That transitioned into this kind of forlorner meow (that was bordering on a wail) when she wanted attention, which breaks your heart. And now? When Jenny really wants your attention, the meows are unleashed. They still sound a bit "sad," but they are numerous and loud.
At first I went running whenever she exhibited this behavior, because I was worried something was seriously wrong. More than once I've gone tearing down the stairs worried that she's sick or trapped under a rogue meteorite that crashed through the ceiling. Nope. She just wanted to be petted, and didn't feel like climbing up the stairs for it.
Most mornings now she will patiently wait for me outside the shower. Apparently she loves rubbing against you when you're damp. Once the water turns off, the clock is ticking. If I take too long drying off, she will start meowing for me to hurry up.
That pussy ain't gonna pet itself, so it would seem.
As I've mentioned many times, Jenny brings me a morning "tribute" in exchange for me getting out of bed and serving her breakfast. She'll waltz in with a toy (or several) and drop them on the floor by my bed anywhere from 30 minutes to 2 hours before she's due to be fed. Here, for example, she's just dropped off Tan Mouse and is looking up at me in expectation of food...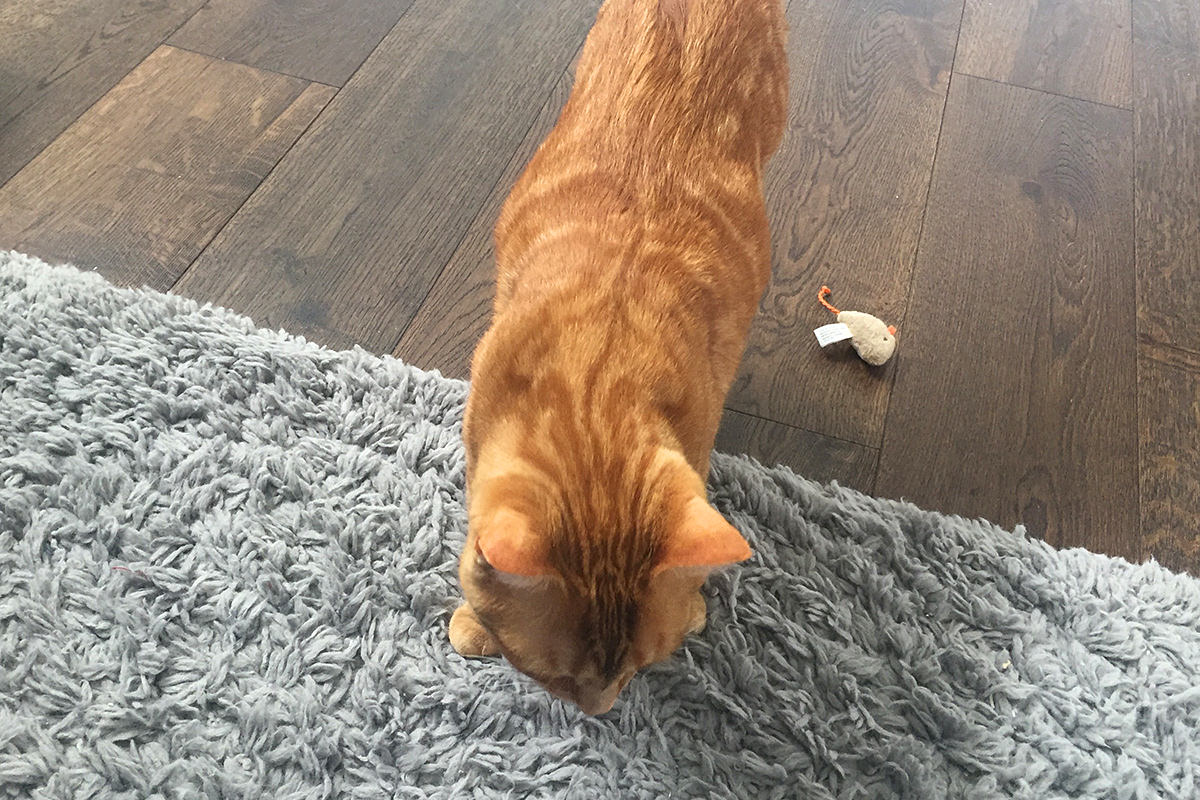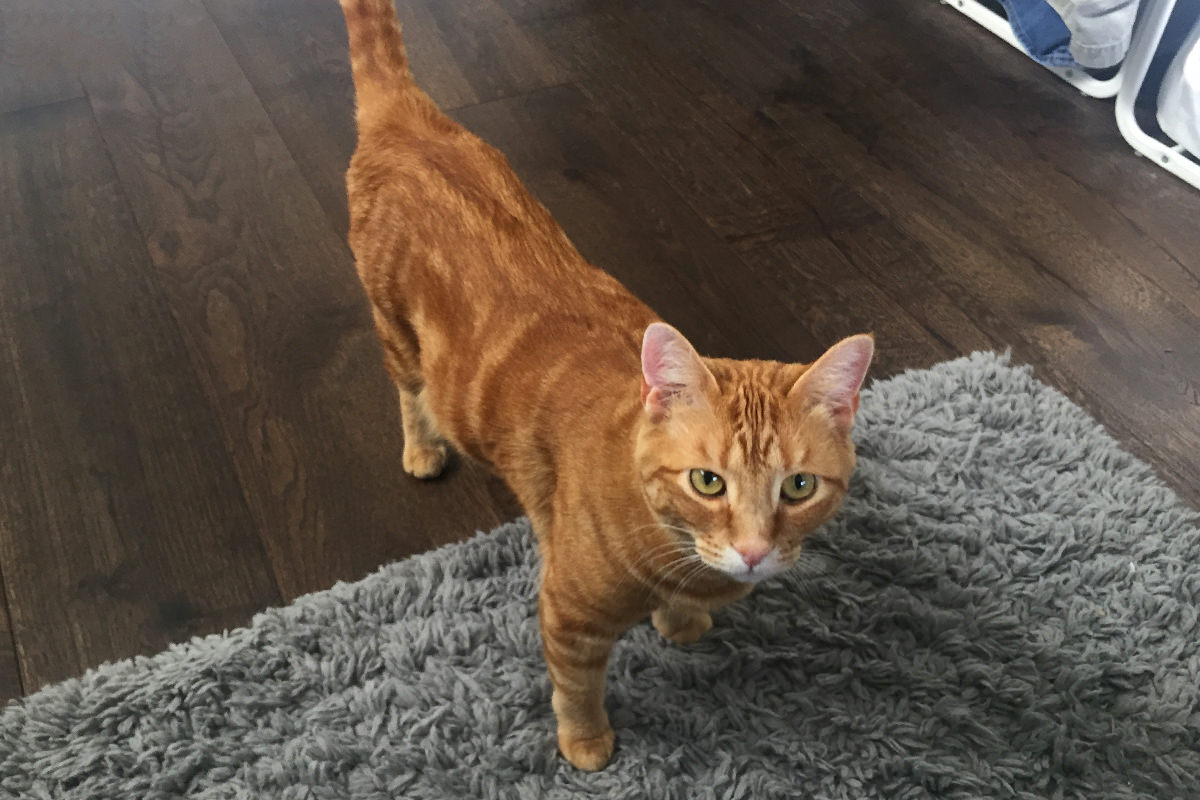 Some mornings she will haul a tribute toy all the way upstairs, but discard it before she gets to my bedroom in favor of a different toy...
There are times this results in a kind of interesting art installation on my stairs...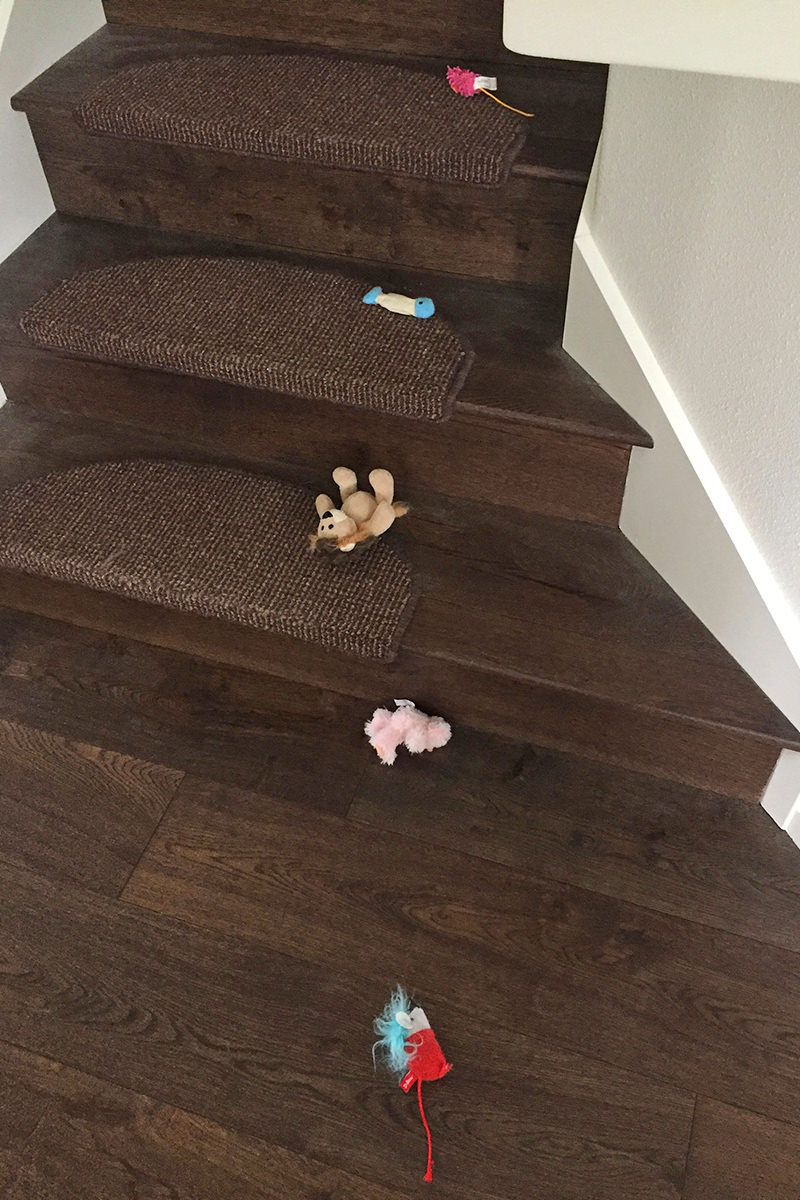 Her favorite toys, these crinkle-fish that have catnip in them, are rarely offered as tribute. She prefers to keep them with her so Jake can't take them, especially when she's ready for a nap. She'll hunt one or two of them down, then crawl into bed. Like she did here with Blue Fish...
You can't tell in this photo (because I was too slow) but she's hugging Green Fish in her little paws...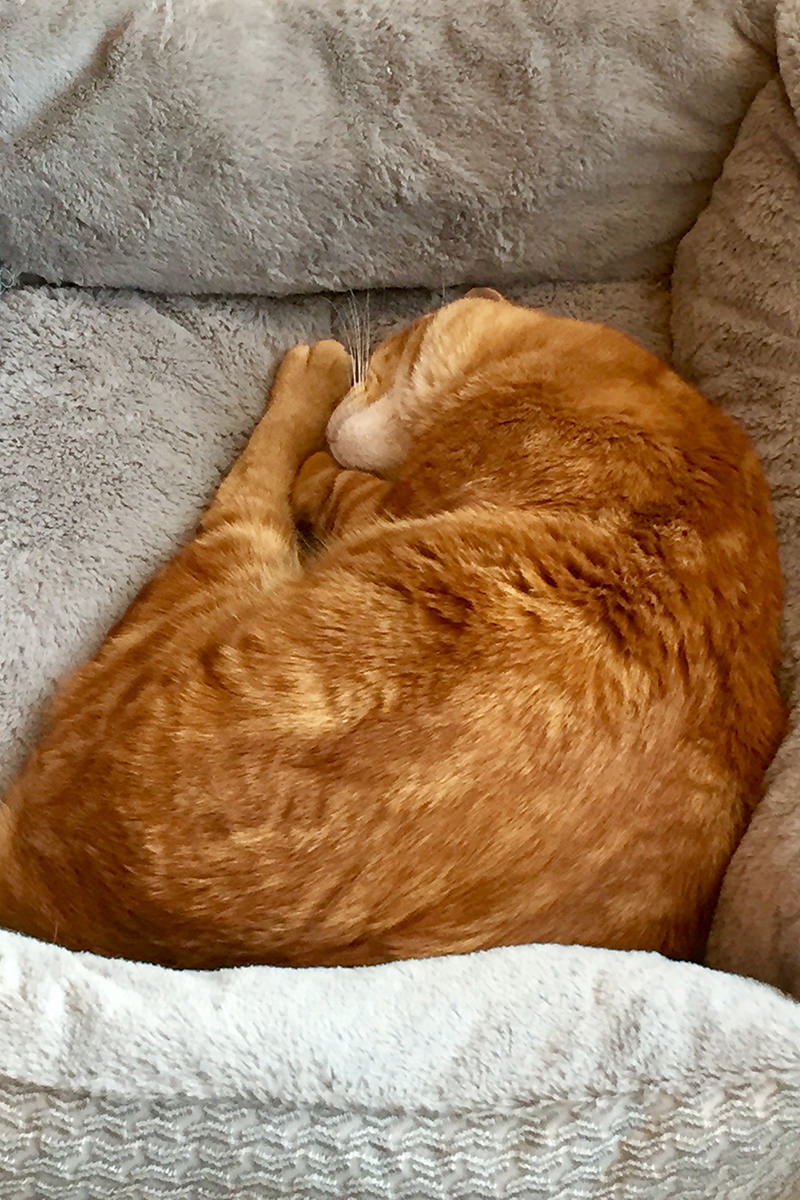 Also new? Jenny has started moving furniture in the mornings while waiting for breakfast to be served. She starts by dragging all the couch pillows onto the floor then moving them around. Then she goes after anything she can physically move. Like the box I've been using for garbage while cleaning out my filing cabinet. Or the brush loop. Or her little scratcher lounge...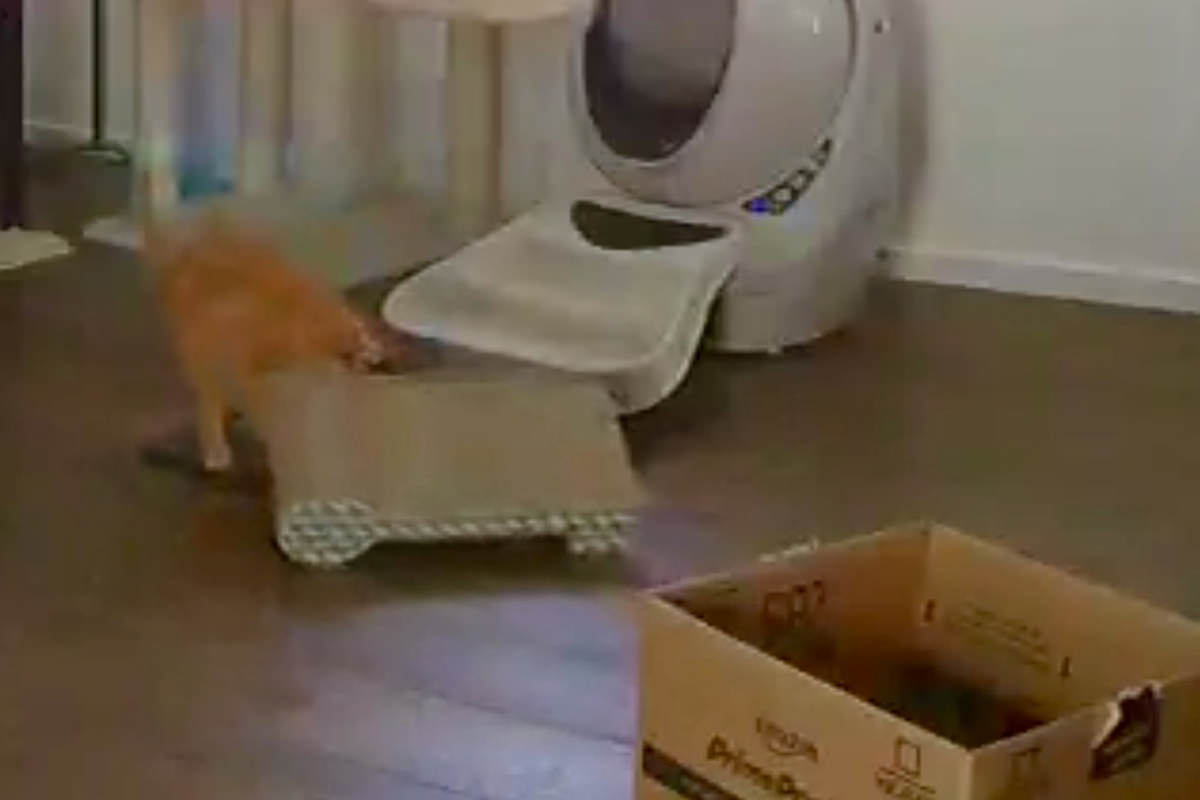 If I hadn't heard it going on and seen it on security camera footage, I would never have believed it. She will drag/push that thing across the entire house. And it's almost as big as she is! I have no idea why she's decided to become an interior decorator, but here we are.
As for Jake?
Still being Jake. Though a little bit grumpier because I've had him on a veterinarian-dictated diet. And since he's a fairly active cat, he's been losing weight quite nicely. His pronounced belly is almost gone...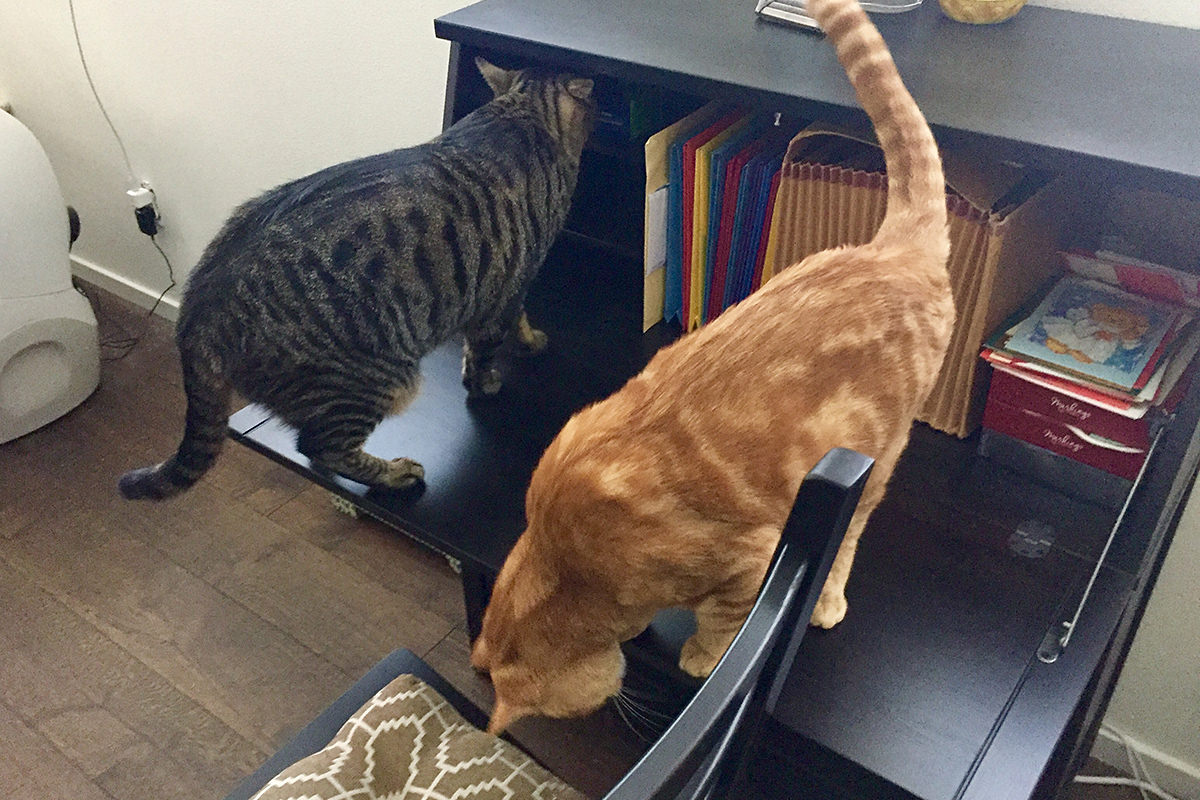 Jake and Jenny's favorite place remains the catio. Now that it's warmer, they are out there all day long. Jenny will even stay out all night, because that's the best time for catching and eating bugs, apparently. Earlier this week they were both out there while I was working on the couch. All of a sudden they come dashing in the house, then take up residence on the loveseat so they can observe the catio from afar. Turns out the giant dopey black lab was back for a visit, which they do not like at all...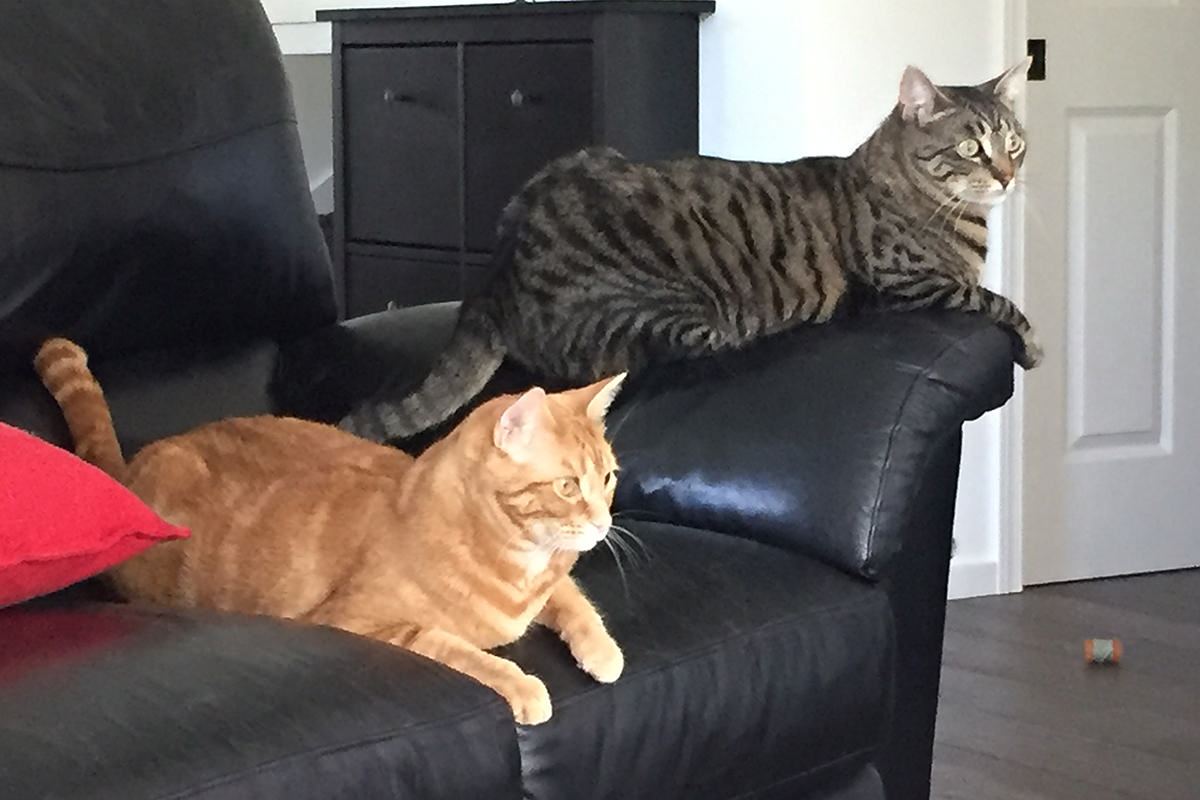 Though Jenny tried to make the best of a bad situation, as always...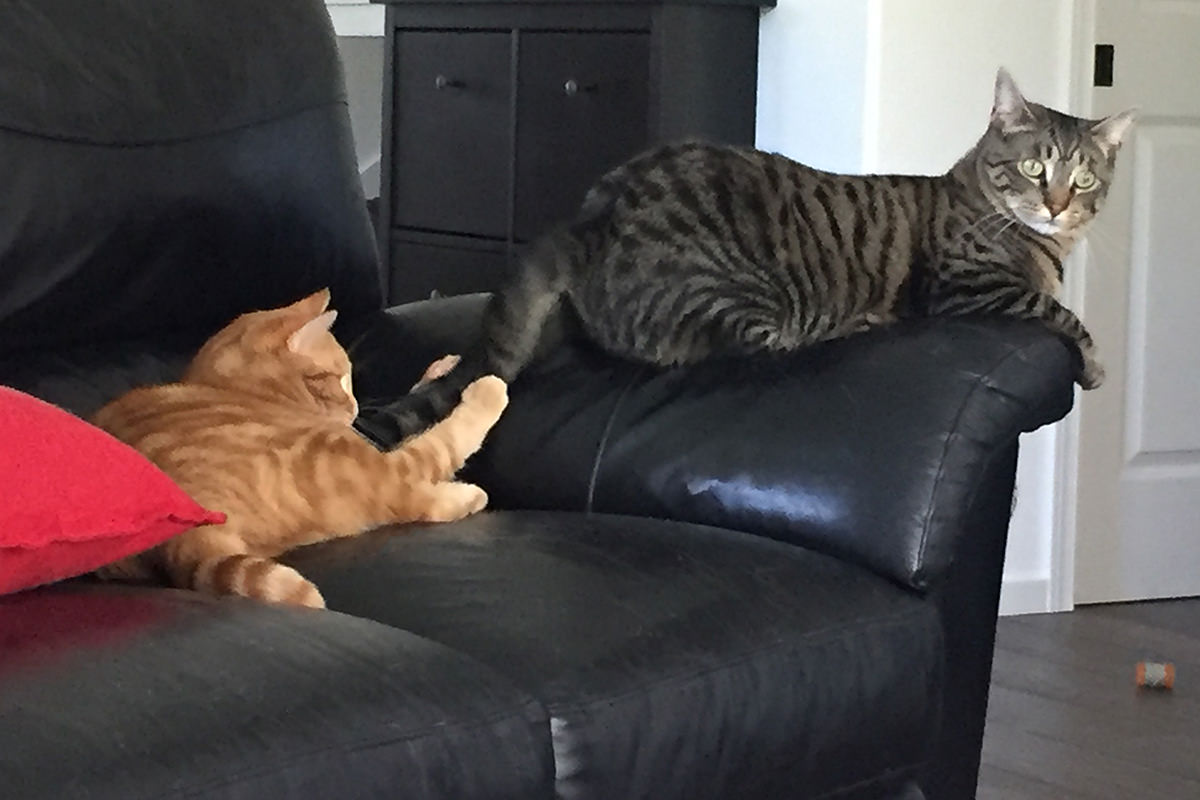 More excitement was to be had this week because they are repairing the stucco on the condos. This included the stucco in the catio, which meant I had to finally use the pet door blocker to keep them from running out...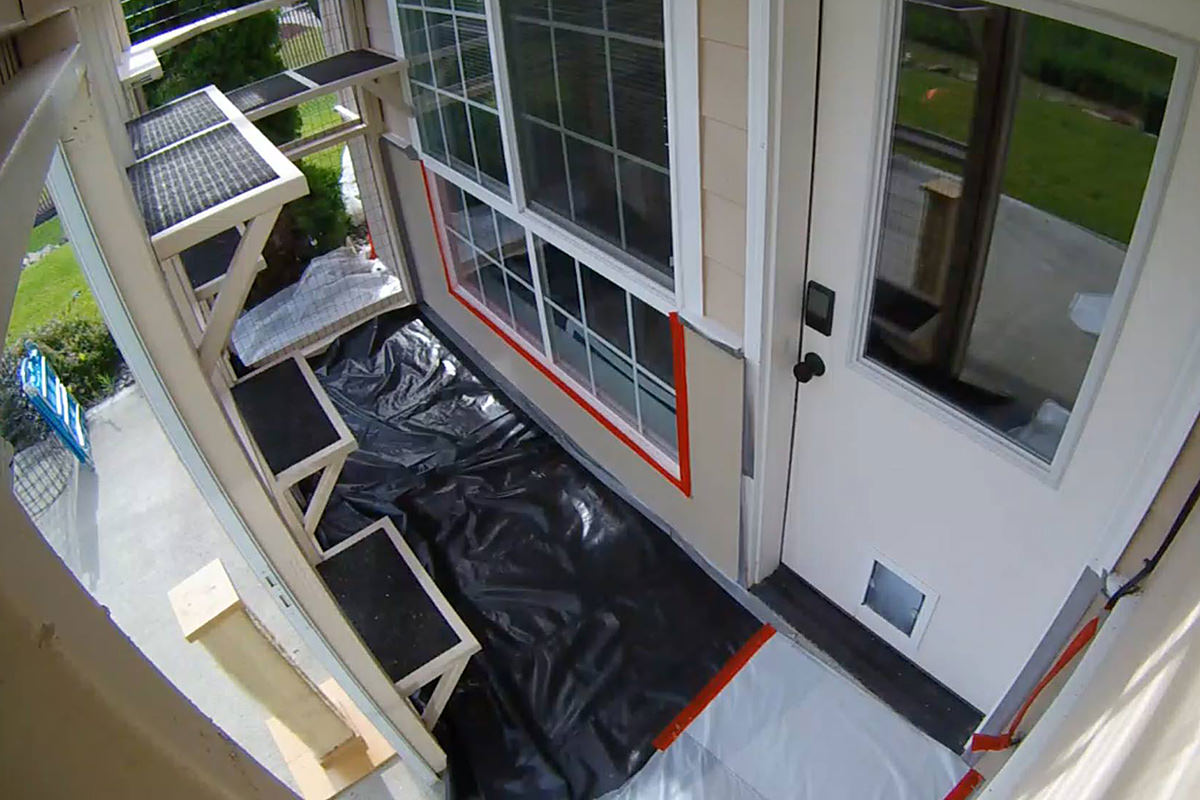 Jake was most definitely not okay with having his catio privileges revoked, because the catio is his favorite place to be. He decided to compensate for his disappointment by being a BAD, BAD KITTY and crawling on the kitchen counters, regardless of how many times I told him to GET OFF OF THERE...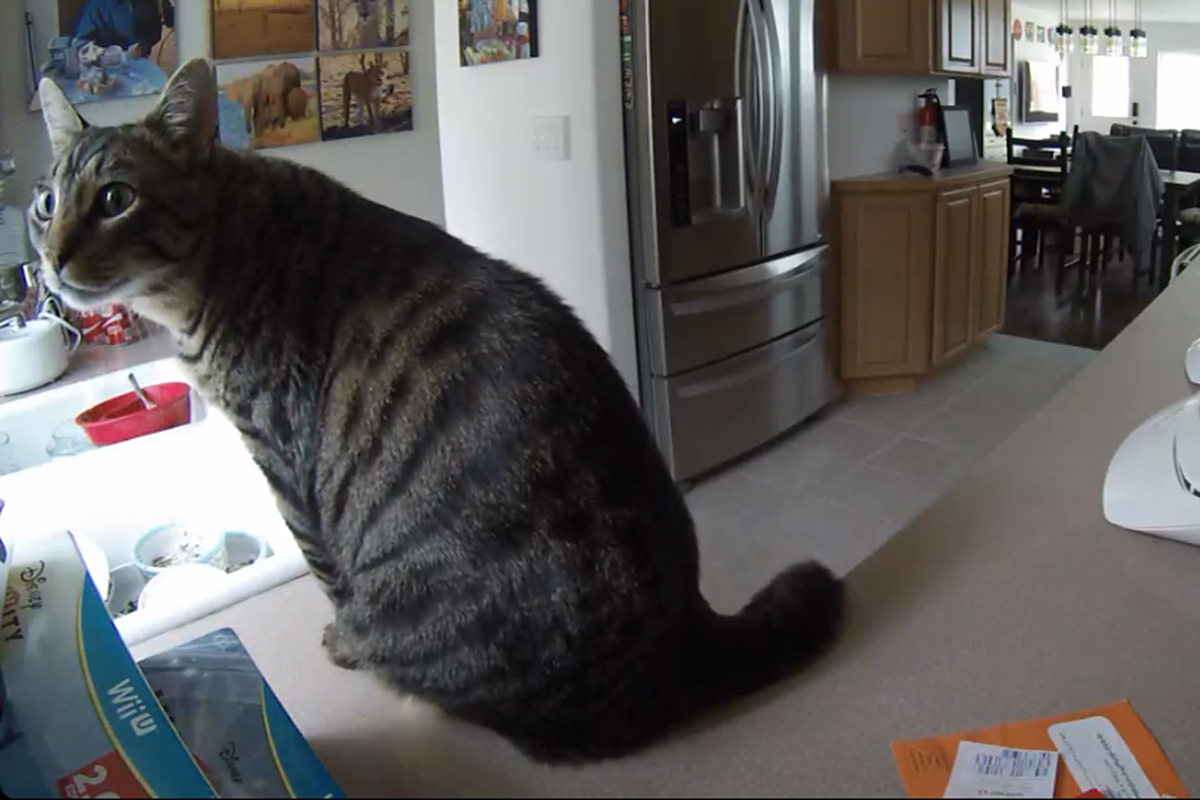 Time for the Clorox Wipes. Again.
Why can't he stay out of the kitchen like his sister?
Oh well. Jake wouldn't be Jake if he wasn't thumbing his paw at authority.
Posted on June 11th, 2017

Time to bask in the rosy glow of the blogosphere, because an all new edition of Bullet Sunday starts... now...

• Batman! It's difficult for me to think about Sunday bullets when my head is trying to wrap itself around the passing of original Batman Adam West. It's even tougher to try and explain how his television show influenced my childhood. Yes, the show was cheesy as all get-out, but my love of comic books and super-heroes all goes back to Batman, which I faithfully watched in reruns every day after school...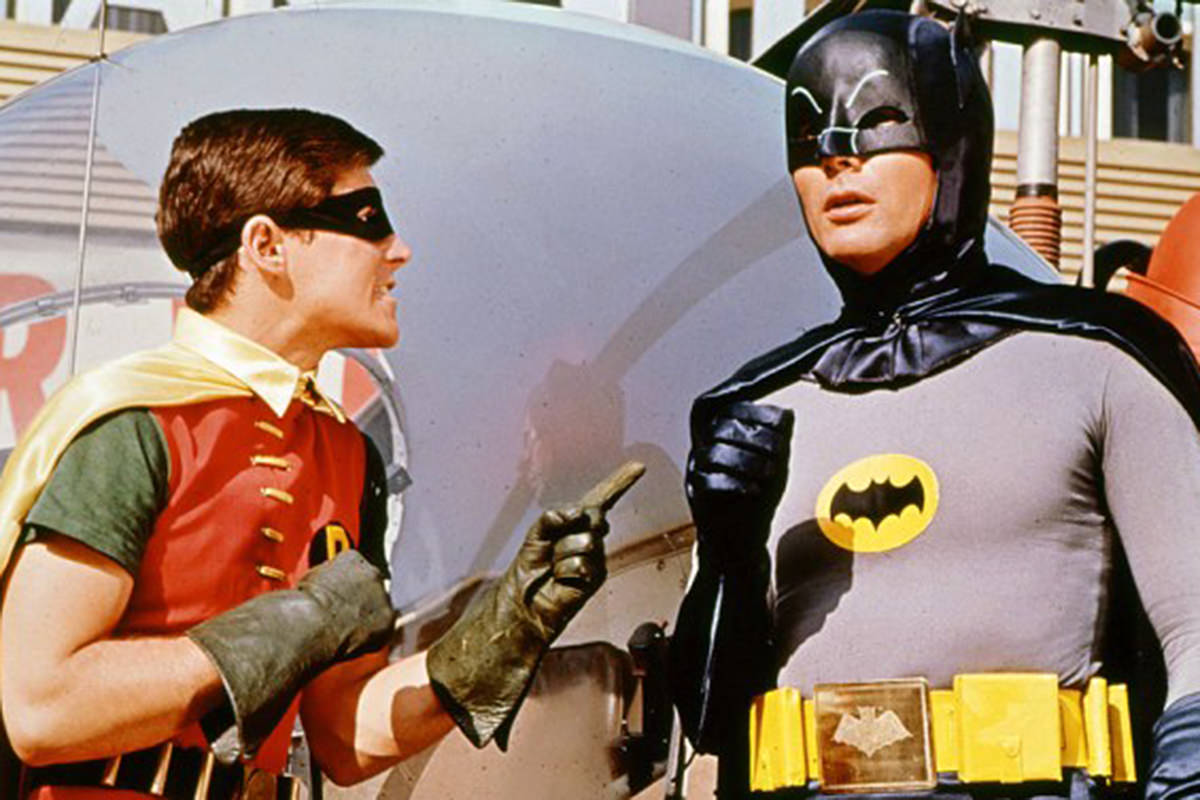 But the thing that cemented me as an Adam West fan is how the actor totally owned his character, and leveraged everybody's love of who he was to get an entirely new career as an animation voice actor. While probably best known for the Mayor of Quahog in The Family Guy, he voiced dozens of roles...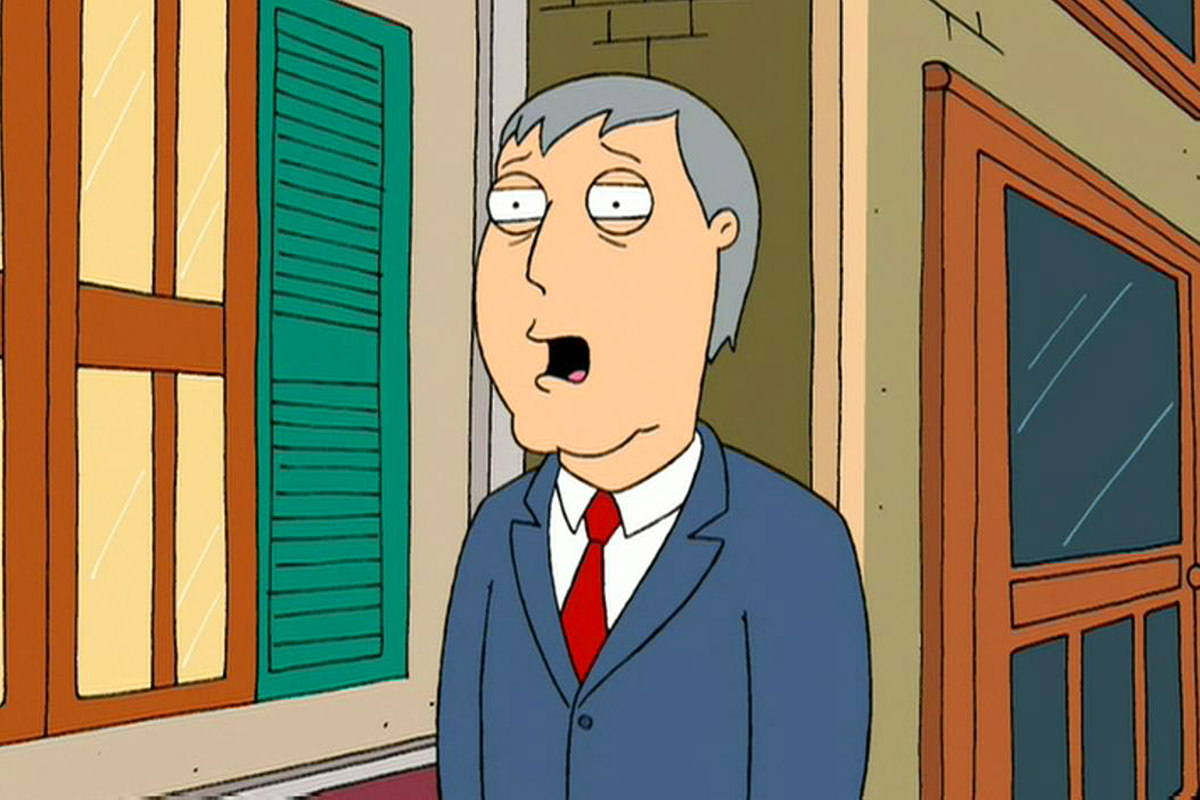 There have been a lot of famous people rushing to express their condolences, but the one we've been waiting for is from Adam West's Robin, Burt Ward. And with that... godspeed, Adam West. You will be missed.

• Black Panther! And... we're finally getting a real look at the long-awaited Black Panther movie. Like everything Marvel touches, it's looking incredible...
And, to think, we've got the new Spider-Man: Homecoming and Thor: Ragnarok movies coming soon! So great.

• LEGO CATS! What happens when two of your favorite things get smooshed into one? There is a company making LEGO Cats!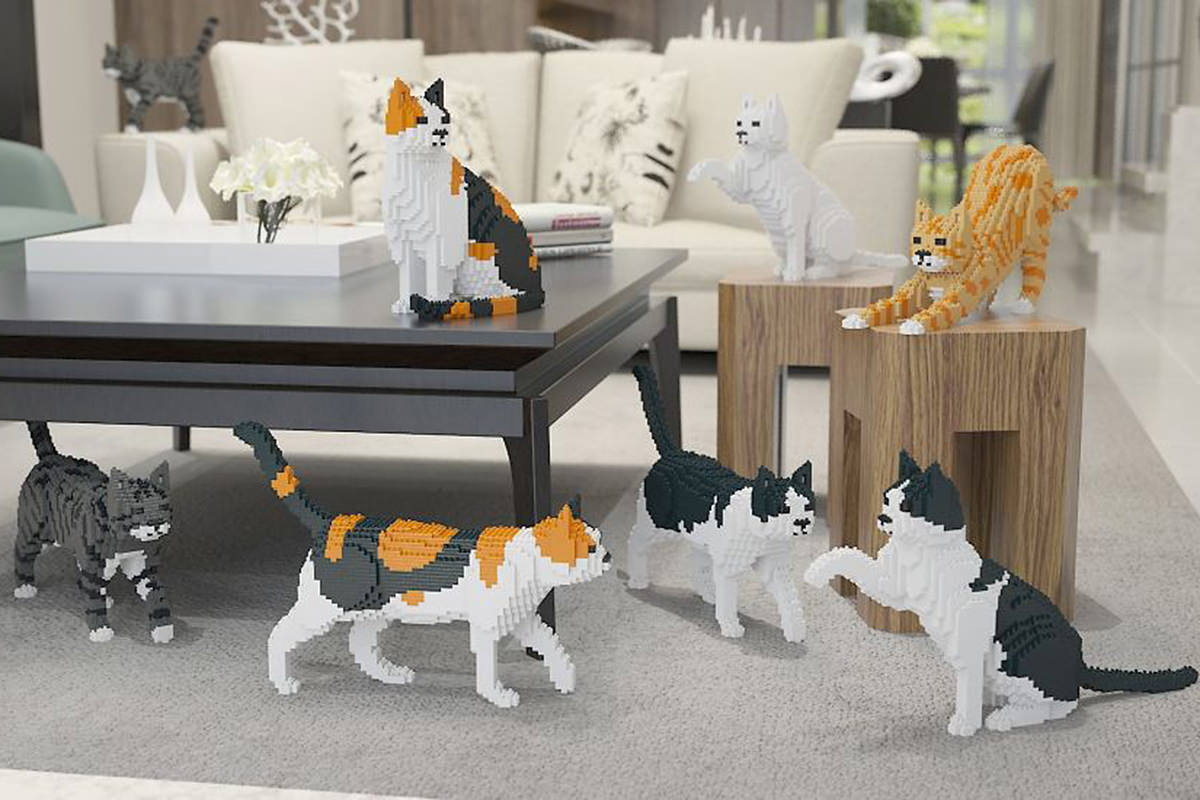 AWESOME! Thanks to long-time friend and food blogger extraordinaire, Foodiddy, for the link!

• Nail Me! Of the many tools I've invested in, my pneumatic brad nailer is one of my favorites. Being able to BAP! BAP! BAP! nails into place is a time-saving bit of wonderful I can't get enough of. There's a price you pay, however, and that's having to lug around an air compressor. For this reason, I've been dreaming of buying a nailer that is cordless and tankless... like the Milwaukee 18-Volt 15-Gauge Angled Finish Nailer...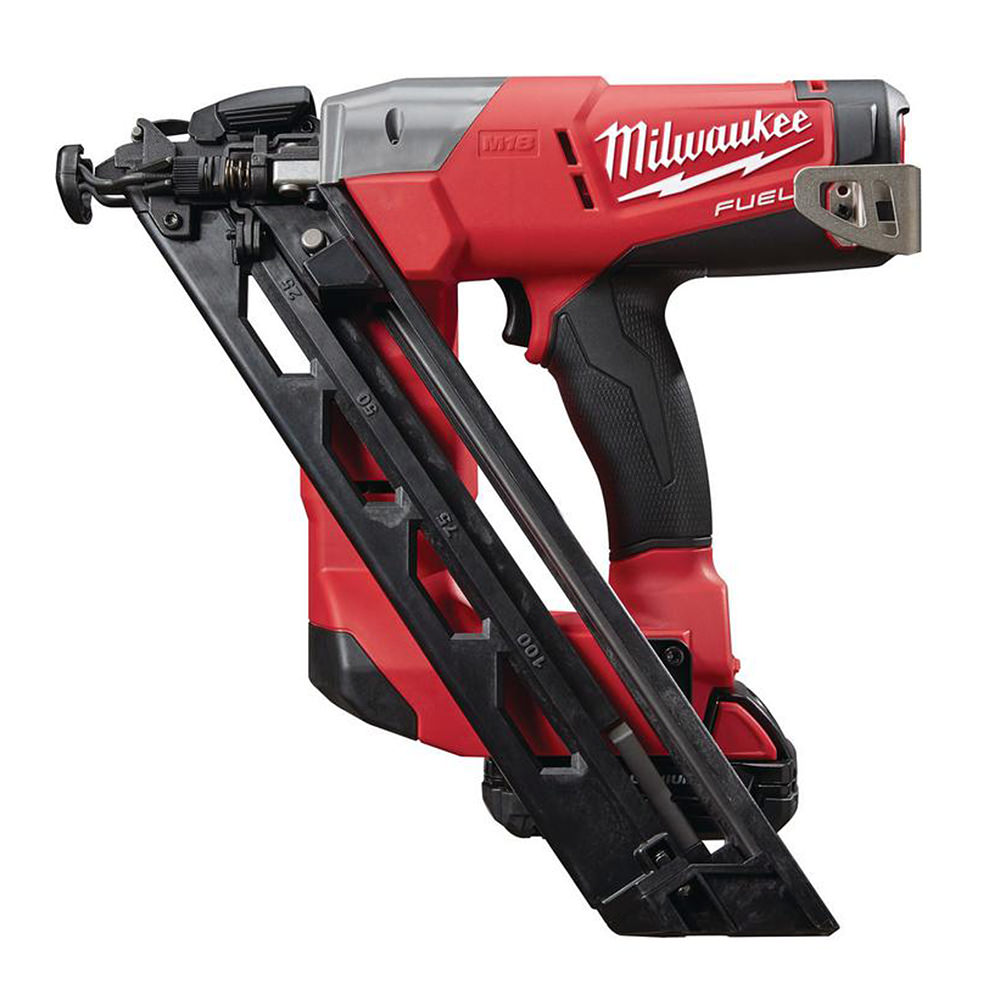 Problem is... it's like $400, which is a lot of money.
But then Home Depot sends me an email saying it's on sale at 40% off... just $240! And that comes with a new M18 Fuel battery! Sweet! I mean, I don't have $240, so it will have to sit on my credit card with my biscuit cutter, but it's still pretty great. If you're in the market for such a thing, the sale runs through June 21st!

• NEWSFLASH: A Studio Ghibli Theme Park Is CONFIRMED for 2020. — And... guess where I'll be going in 2021? There is no way to properly express my enthusiasm for even the idea of such a magical place.

• Humanity! While I think it's awful we have to make commercials to explain lessons in Humanity 101 but, if we must, this is what it should look like...
This wonderful spot on foster homes for kids is not something new for Norway, they are also responsible for this amazing commercial...
And yet I live in a country that would rather build a useless border wall that will ultimately cause more harm than good (while doing fuck-all nothing to solve drugs or illegal immigration problems) instead of put any money towards those who need it most. That's how fucked up things are now, and how far we've fallen from the basic humanity that used to define us. Shameful.

• NEWSFLASH! Jeff Sessions says he's 'surprised' Americans aren't embracing his anti-marijuana stance. I'm betting a LOT of things surprise this dumbass moron. Like electricity. And indoor toilets. And being able to bring a woman to orgasm...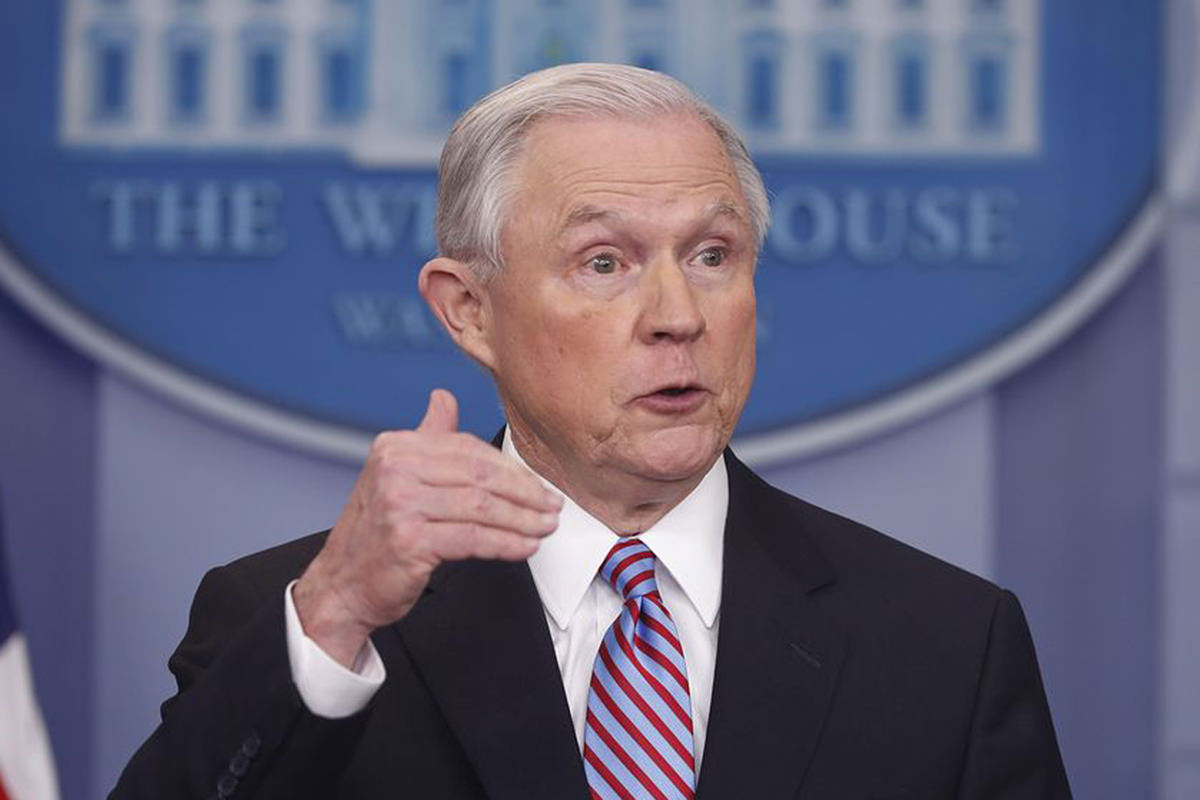 Photo by Pablo Martinez Monsivais / AP
I am sick and fucking tired of wealthy old white men making decisions based on their idiotic, antiquated notions. Legalization of cannabis is a growing trend because THE CITIZENS OF THIS COUNTRY WANT IT, and I find it ironic that Sessions comes from a party who's all about state's rights... except when it comes to something he doesn't like. What a fucking hypocritical douche.

And... no more bullets. There's a new episode of American Gods to be watching!
Tags:
Batman
,
Black Panther
,
Bullet Sunday
,
Cats
,
LEGO
,
Marvel
,
Movies
,
Politics
,
Studio Ghibli
,
Television
,
Tools
Categories:
Bullet Sunday 2017
,
Cats 2017
,
LEGO
,
Movies 2017
,
News – Politics 2017
,
Television 2017
—
Click To It:
Permalink
—
0 Comments: Click To Add Yours!
Posted on June 10th, 2017

I've been doing some construction in my bedroom, which has been a source of much anguish for my cats. They don't like the smell of the paint. They don't like the dust. They don't like the noise of my power tools. They really don't like the noise of the vacuum cleaner running all the time. I try to keep the door closed so that Jake and Jenny don't walk in paint or get hurt on something, and that's the thing they seem to hate most. They are used to going where they please and telling them they can't is tantamount to tragedy for them.
The thing they do like is that the bedroom windows are open for ventilation. Never mind that they have an entire catio open to the outside world... they like experiencing the outdoors from up high...
It worries me that they might find a way to punch through the screen and escape, so I've been closing the bedroom door every day when I leave. But last week I realized I forgot, and had to rush home to make sure they hadn't escaped. Which they hadn't. Thankfully.
Speaking of the outdoors...
Fake Jake still comes running for petting whenever he sees me. One day this past week he got a little bit more... aggressively affectionate... when I was giving him a rubdown and split my thumb open...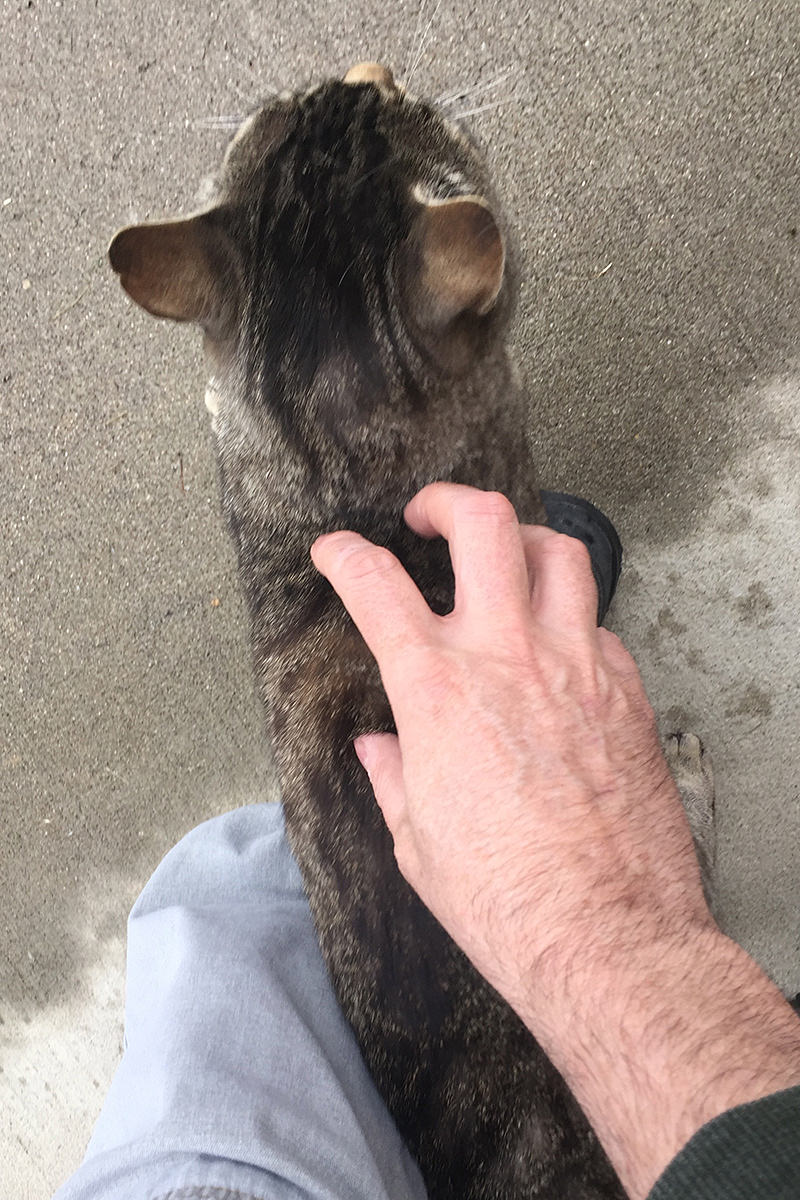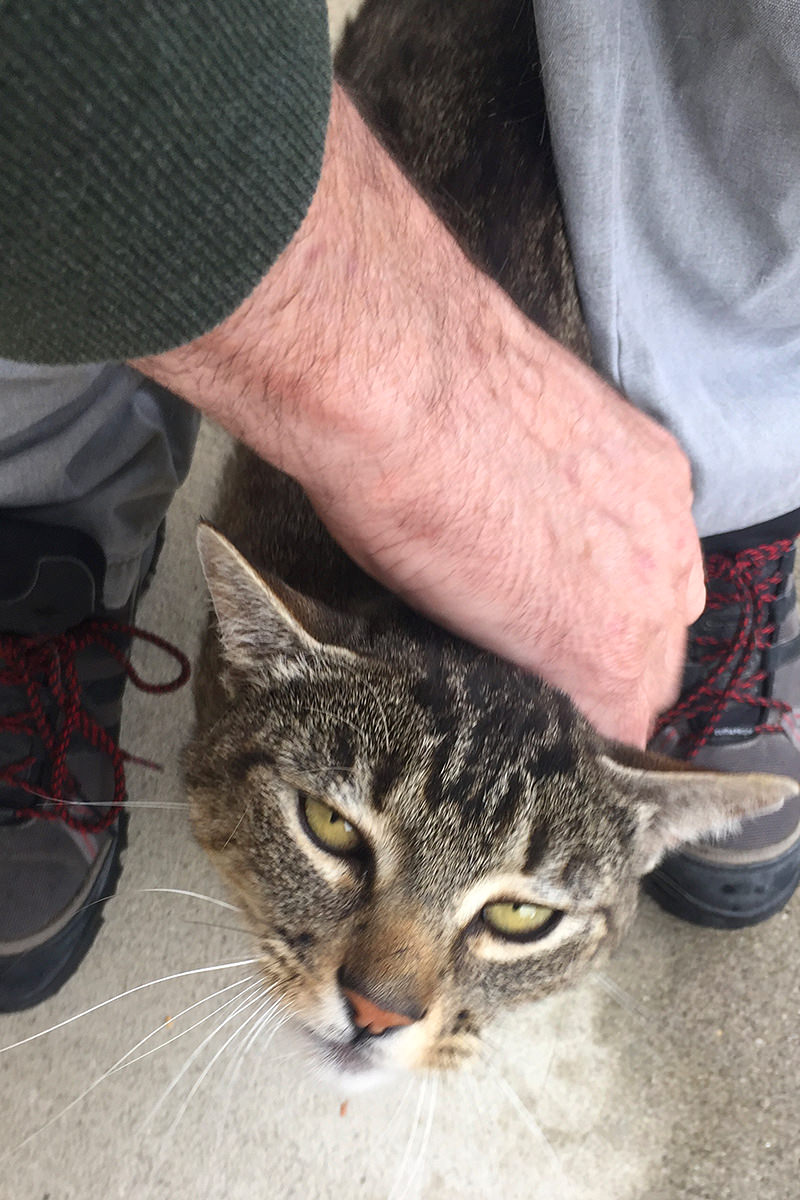 I was taking photos of him, so I actually caught the moment when it happened...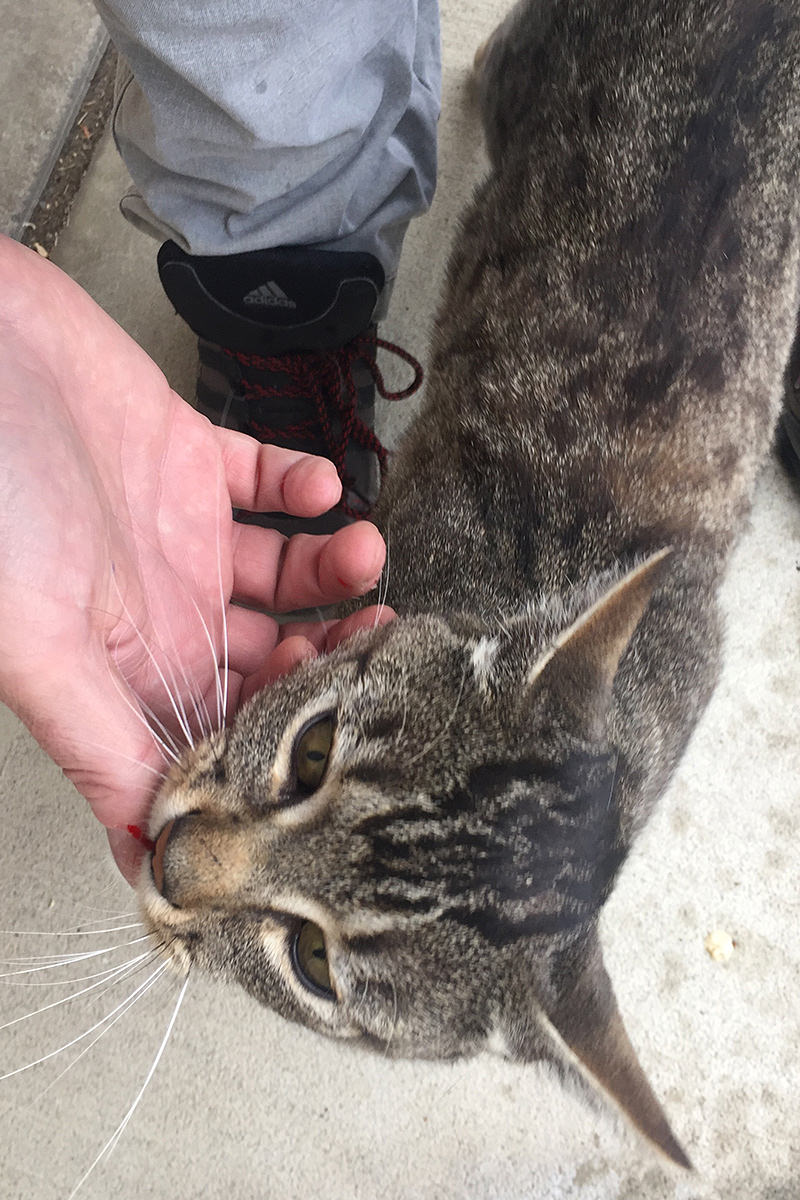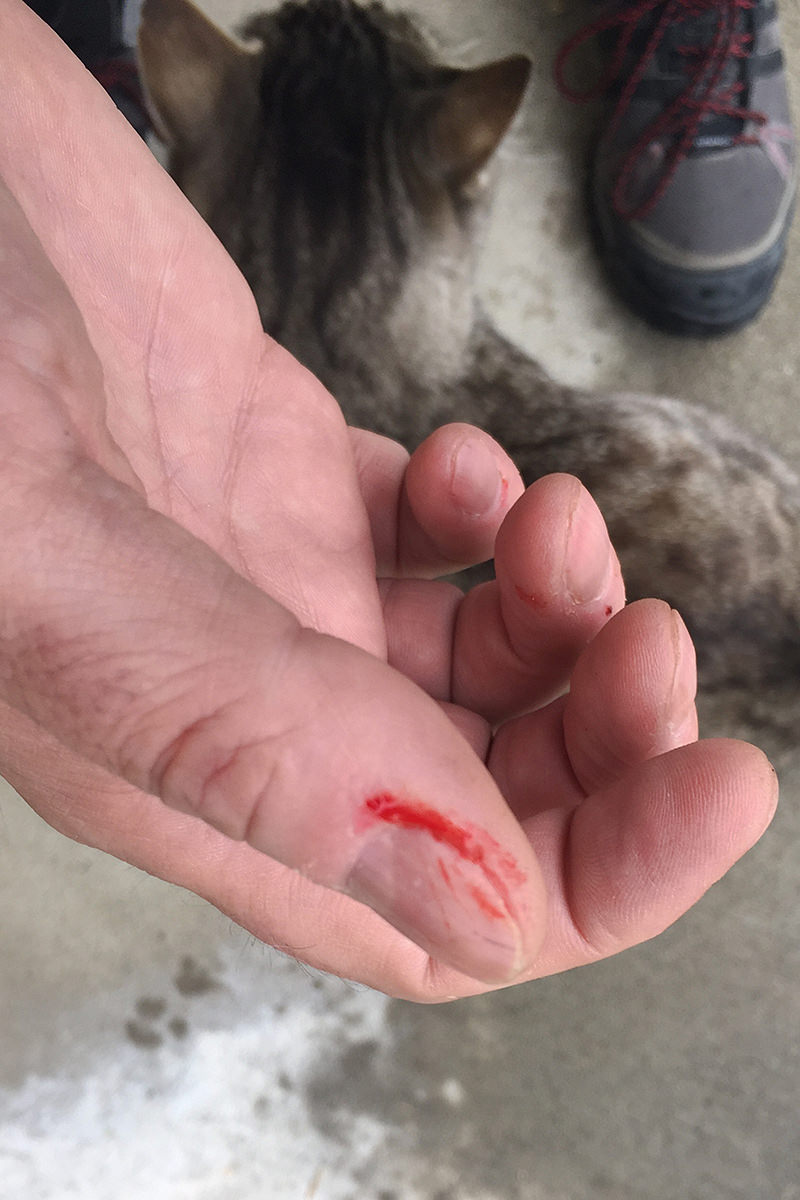 He was undeterred by my pain and didn't let up on wanting more petting...
Such a sweetheart to people... well, he tries to be a sweetheart when he doesn't have you running for antibiotic cream. Not such a sweetheart to other cats though.
Real Jake is as sweet as ever, often laying down with me when I'm in bed watching television or reading...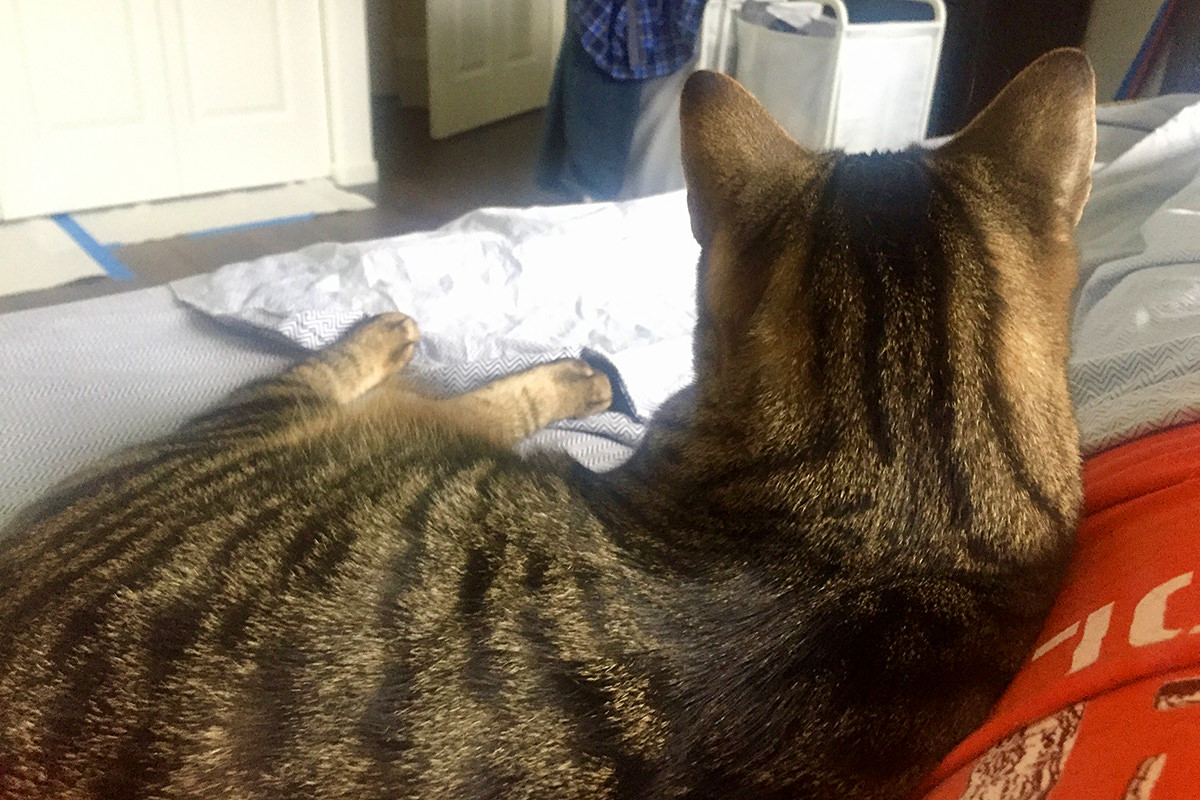 He's not so sweet when he's busting the heck out of the last two crackers in the package...
But at least he eats what he kills...
Jenny has been really skittish as of late. Unless I walk towards her slowly and talk to her, she'll run off and hide. She hasn't acted like this since she was a kitten, so I'm not sure what's going on. Like Jake, she spends most of her time hanging out in the catio. Though with her it's a little more literal...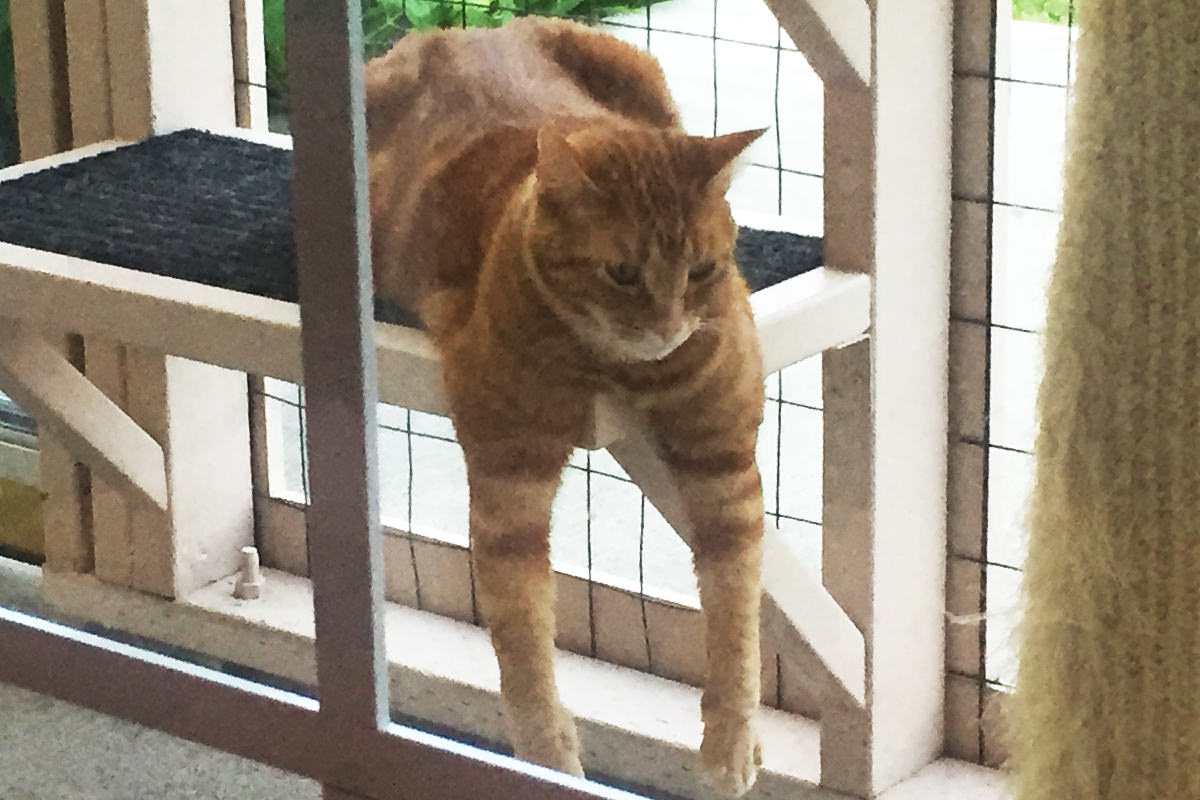 Along with being far more skittish, she no longer allows me to pick her up. And any touching has to be on her terms now. Fortunately, she wants a lot of attention, so I'm not deprived...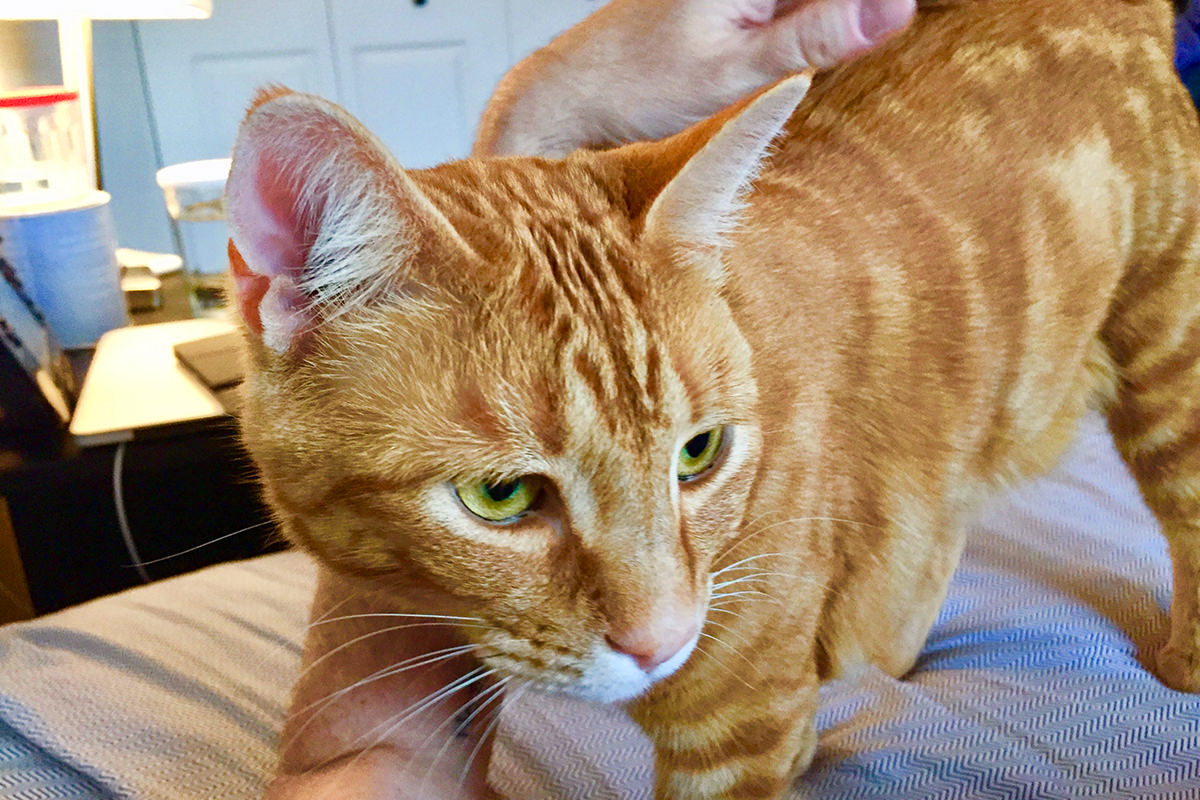 Such a pretty girl.
And, with that, I'm off to make more noise, dust, and stink in my bedroom.
Posted on May 27th, 2017

Shedding.
It's the one part of having cats I could really do without.
Because, let me tell you, Jake and Jenny have really stepped it up a notch when it comes to the amount of cat hair that's blowing through my home. I vacuum and vacuum and dust and dust but there is still loads of the stuff in every possible nook and cranny.
Which is why my most favorite thing ever is now THE FURMINATOR!
It pulls dead hair off a cat like a magnet and, while it doesn't eliminate cat hair in my home completely, it has drastically reduced what I'm having to vacuum up.
At least it was... for Jenny, anyway. She used to love it, but now she's resisting it. I've had to go back to a "regular" cat brush. Not nearly as effective, but it's better than nothing. And she loves it...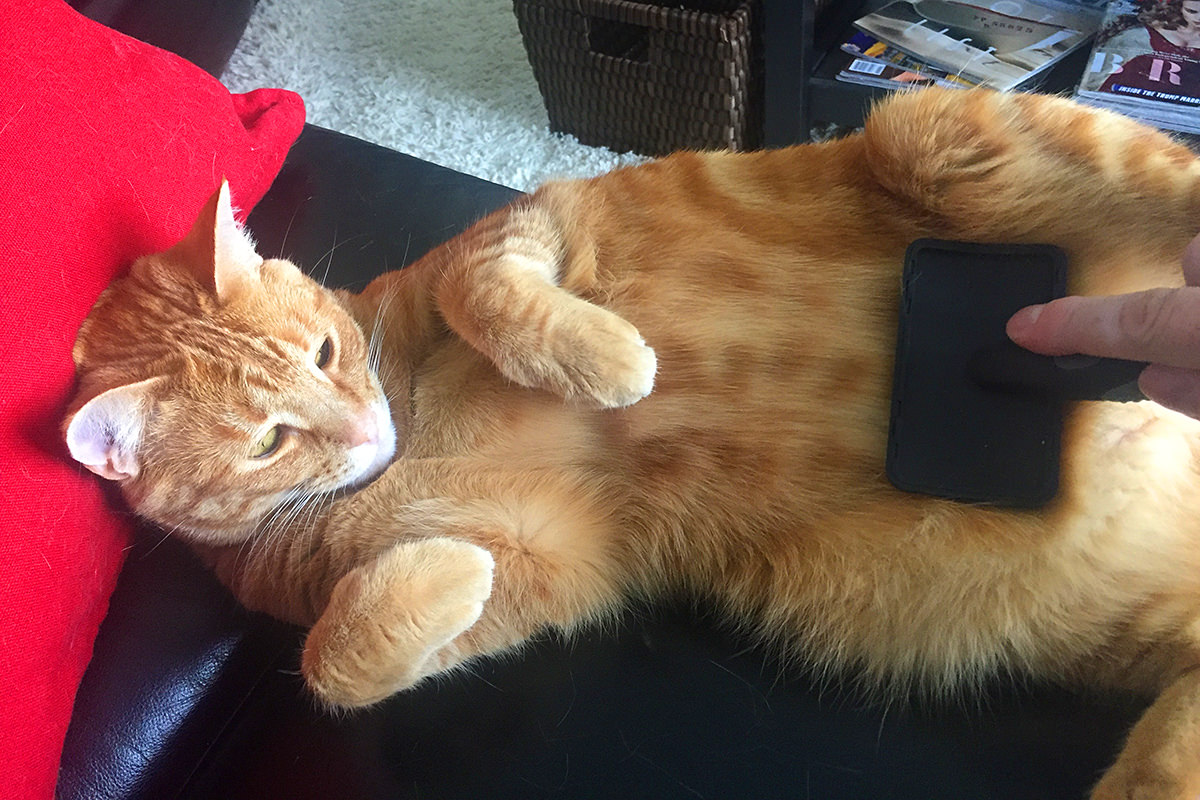 You know it's good when she wants her belly brushed.
Every once in a while I will assault her with The Furminator because she so desperately needs it. Hopefully one day soon she'll be back to loving it again.
Maybe if I get her high on catnip before Furminating her? Jake isn't much affected by the stuff, but it makes Jenny go nuts...
If there's good news to be had in the shedding department, my cats spend most of the time out in the catio as of late. They are out there from sun-up to sun-down most days. The sights, sounds, and smells are vastly more entertaining than what they can find inside the house...
By far the most exciting part of their day is when visitors stop by. Sometimes random dogs drop in, which is always exciting. Jenny wants none of it, and come charging in the house. Jake, on the other hand, is unfazed. Jenny doesn't have a problem with other cats though. Even when Fake Jake is being aggressive, she doesn't get to riled up anymore...
And speaking of Fake Jake...
The poor guy just wants some attention. Some days when I get home from work, he's over in the neighbor's driveway just meow... meow... meowing. My heart goes out to him, so I always call him over to get some pets. But no matter how long I spend with him, it's never enough. He always waits at the door wanting more...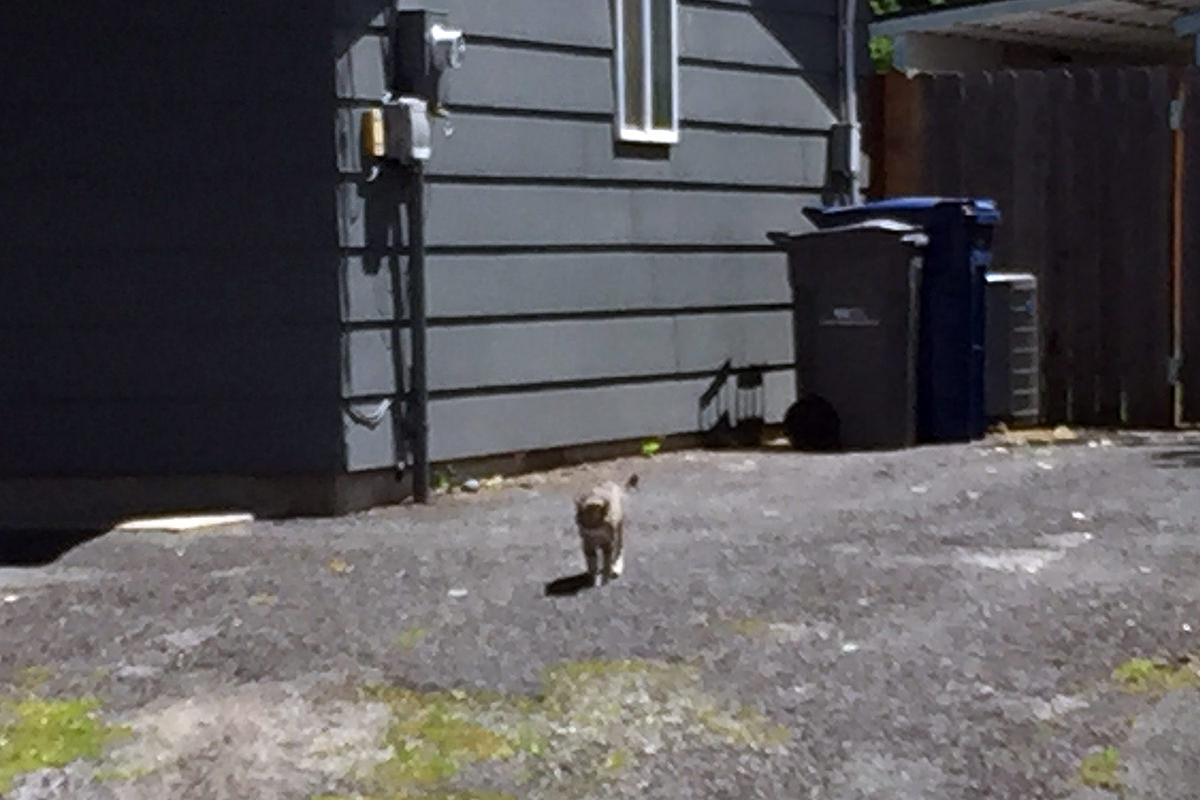 This past week Fake Jake came over for some love while I was unloading groceries. After petting him for five minutes or so, I turned around and saw Real Jake glaring at me from the screen door. I was caught red-handed spending time with another cat, and he was pissed.
In proud cat dad news... Jake's diet has been paying off. He's down a pound since I changed to indoor food and started restricting his access to food! He's still a lovable lump of a cat, but somethings never change...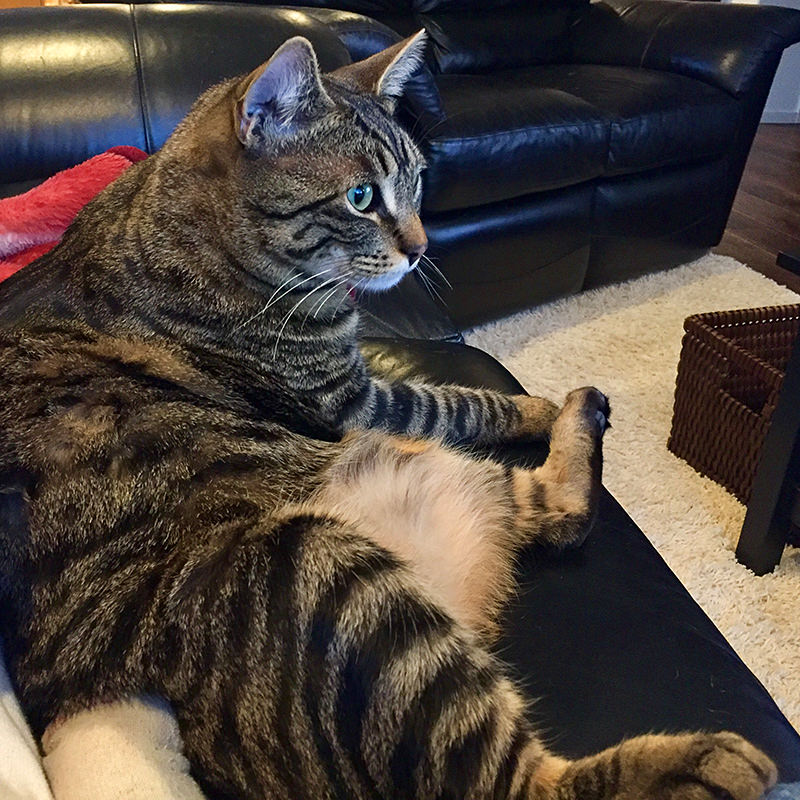 And... that's about it for cat news this week.
Posted on May 22nd, 2017

This has not been a very good day.
Last weekend I thought I had a kidney stone, but the pain subsided and I counted my lucky stars that it was gone. Turns out it was a temporary reprieve. Last night I started having pain again, and it only got worse as the evening went on. By the time I woke up this morning, the pain was stabbing through my back so badly that it was hard to walk.
But I had to go in to work, so I took some pills, put on my tough-guy pants, then headed out the door.
Only to find that most of my irises, pretty as they are, had all collapsed under their own weight...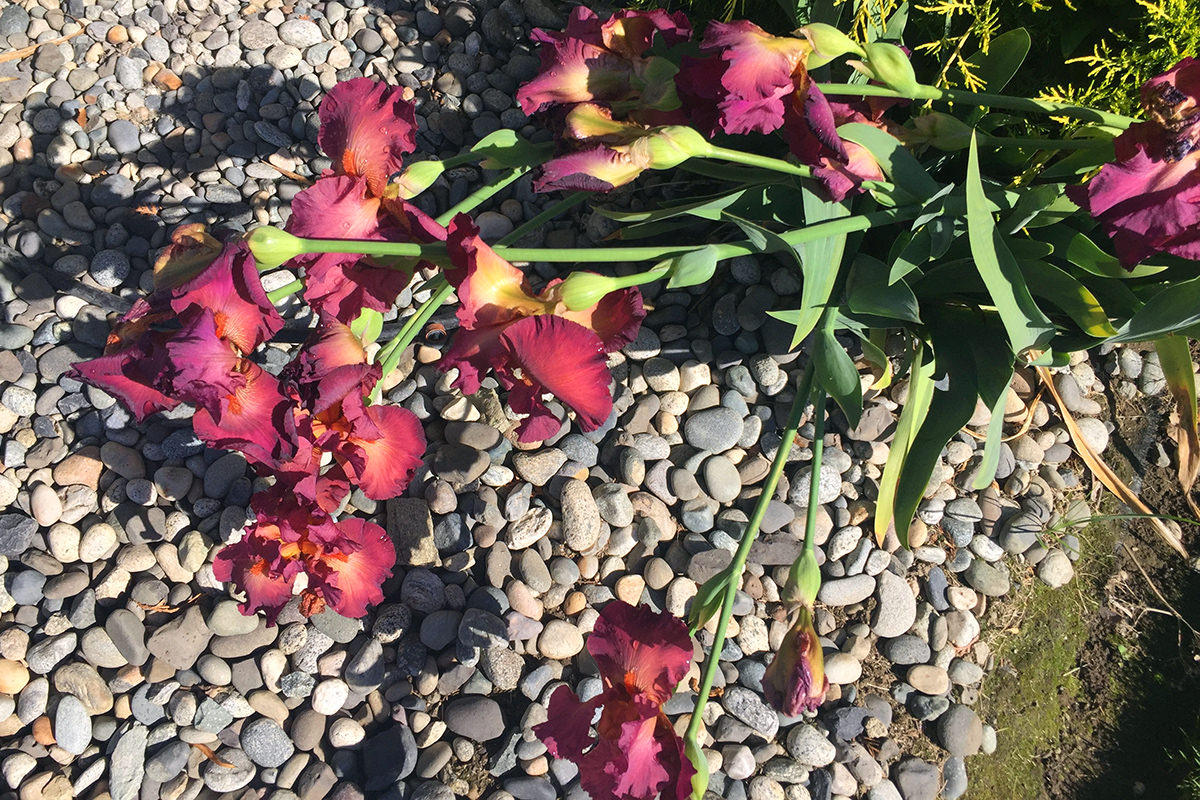 What a stupid flower. I guess bees still pollenate them when they're on the ground, because otherwise I'm guessing they would be extinct. I suppose if they are still alive when I'm feeling better, I'll have to tie them up like last year. Still, those plants that manage to stay upright are as pretty as ever...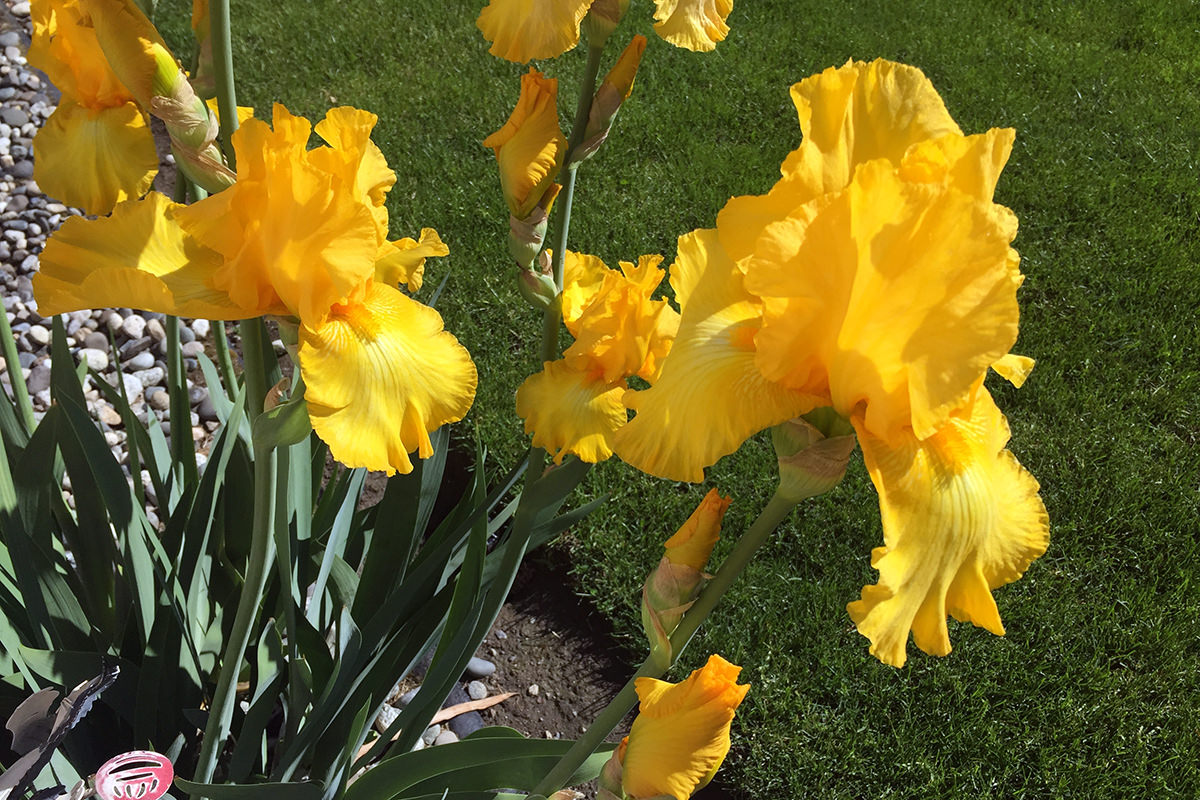 I anticipated that work would be agony, but it actually managed to take my mind off of things... for a while.
By the time noon rolled around I was D-O-N-E.
And so I went back home, took more pills, then had to spend some quality time with Jenny, who was upset with me for leaving her today in the first place. I'm guessing that shedding her winter coat is an itchy process, because she wants to be scratched all the time... and will start crying if you don't comply...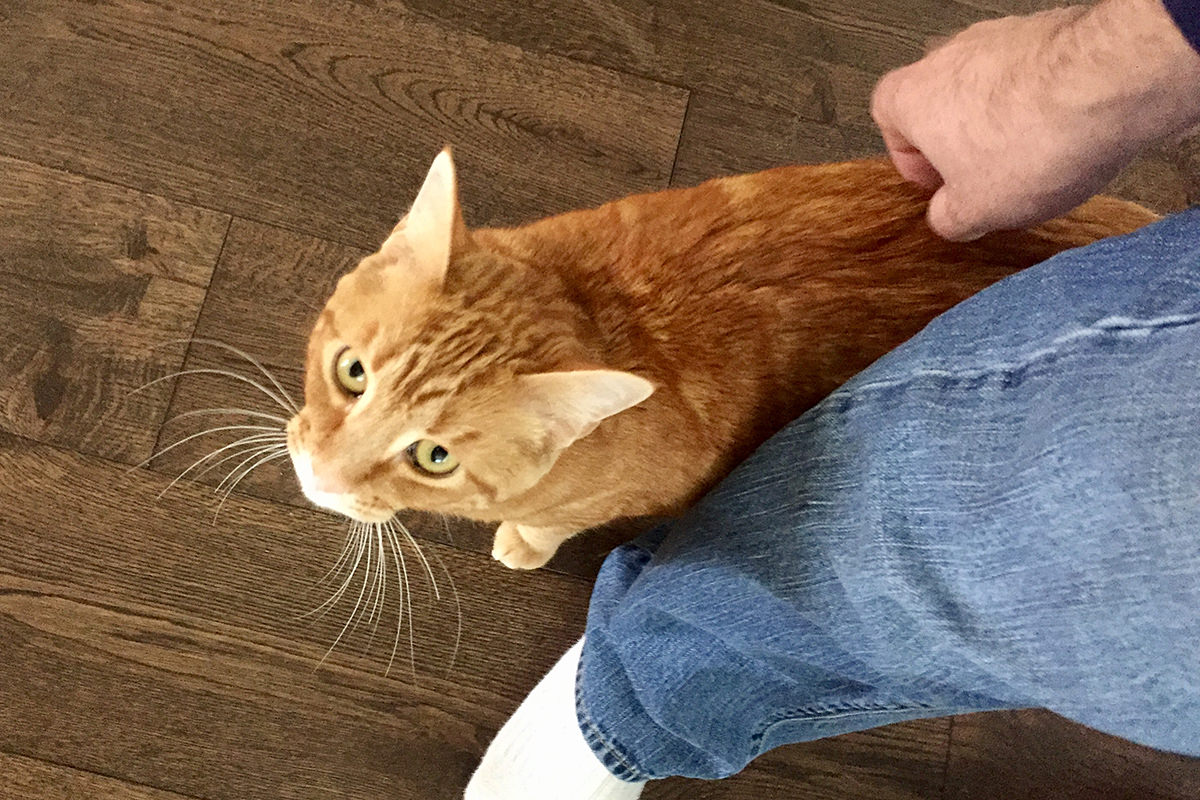 Eventually I managed to disengage so I could go upstairs where I planned to die in bed. It was a good plan... until Jake decided it was his turn for attention. Or maybe he was playing nurse, it's hard to tell...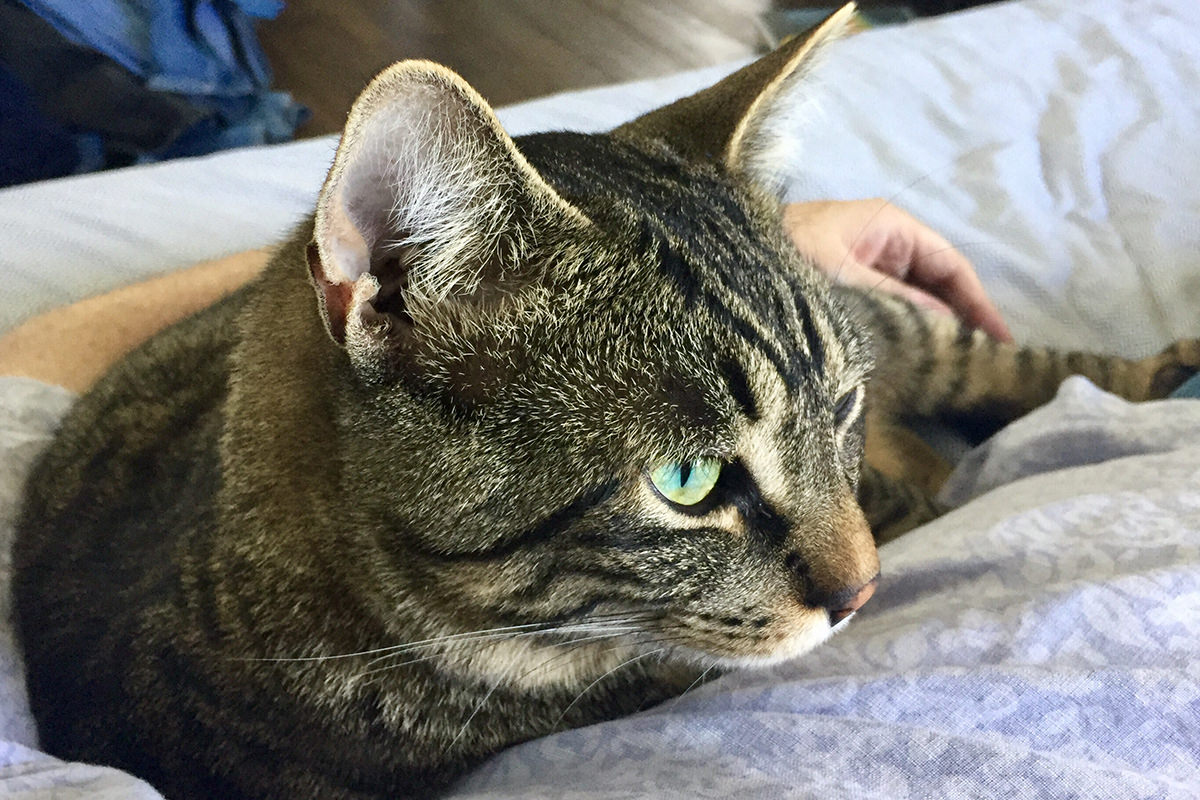 I streamed a couple episodes of West Wing off Netflix, then decided to listen to some music in the hopes I would fall asleep. But Apple's streaming services were shit, as usual, and I couldn't never get my music to load on my AppleTV...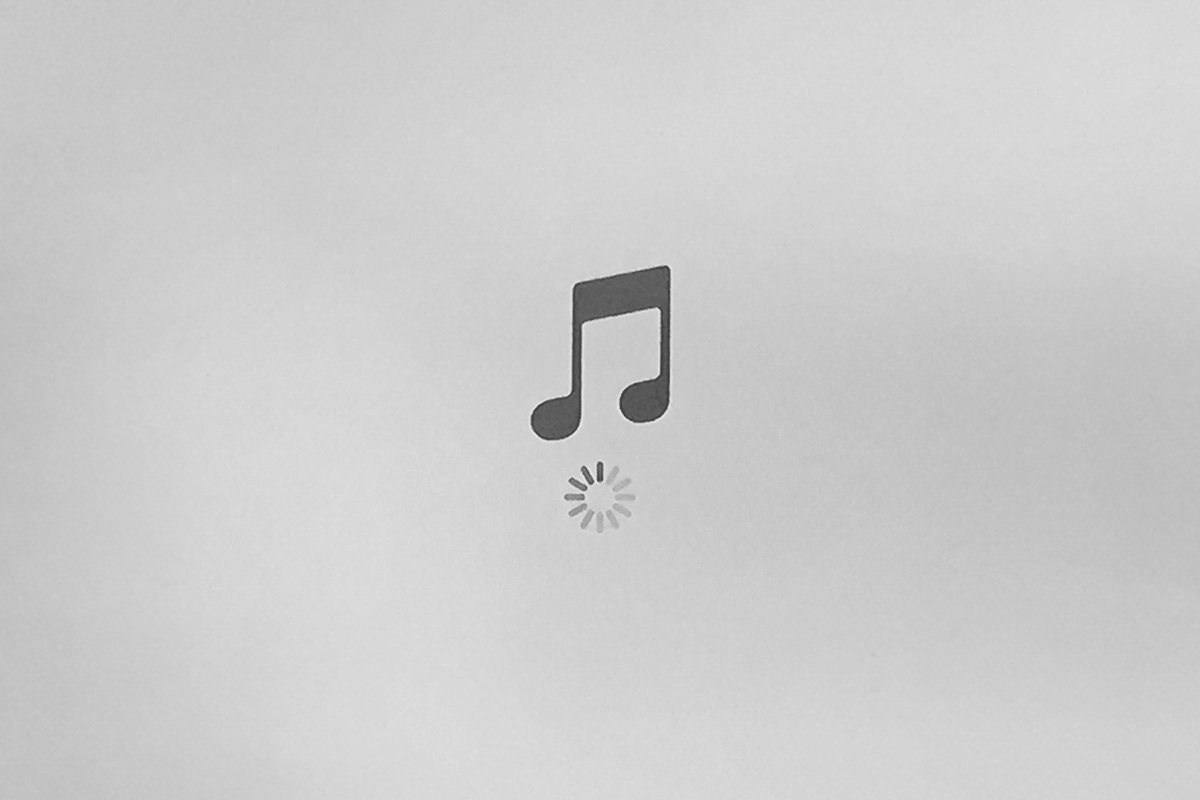 I don't understand why Apple doesn't spend some of their billions of dollars solving a problem that none of their competitors seem to have. I can stream to AppleTV without problem every time I try from Netflix, HBO, Showtime, Starz, Amazon, Hulu, Youtube, and the like... but Apple's streaming rarely manages to work without some kind of issue. If I can get it to work at all. Maybe Apple needs to hire other people to develop their shit since they seem incapable of doing it themselves. When I pay for stuff in the iTunes Store, I expect to be able to have access to it.
Anyway...
Today the heat got up to 86 degrees here, but I never had to turn on the air conditioner... even though I noticed many of my neighbors had. I'm chalking that up to my having installed a ceiling fan in my bedroom, which worked so fantastic for me last year. Such an energy-saver. I wish I had the fixtures in place so I could put them in every room of my house.
And now? Time for more pills and sleep. Fingers crossed. Really hoping that everything works itself out soon, because I can't keep missing work with all the stuff I have to do there.
Much as my cats would probably hope otherwise.
Posted on May 13th, 2017

I am a hundred miles away from my cats this Caturday... which means I'm checking in on them several times a day via the plethora of security cameras that activated the minute I walked out the door. Usually they are out in the catio, but this morning they were nowhere to be found. In order to solve the mystery, I reviewed camera footage and found out where they went, but it's an area served by a battery-backup local camera, so I'll have to wait until I get home until I find out what mayhem they are up to.
The big cat-news this week that I didn't realize would be "cat-news" until it happened: I bought new couch pillows from IKEA.
Jake and Jenny were all over them the minute I set them down...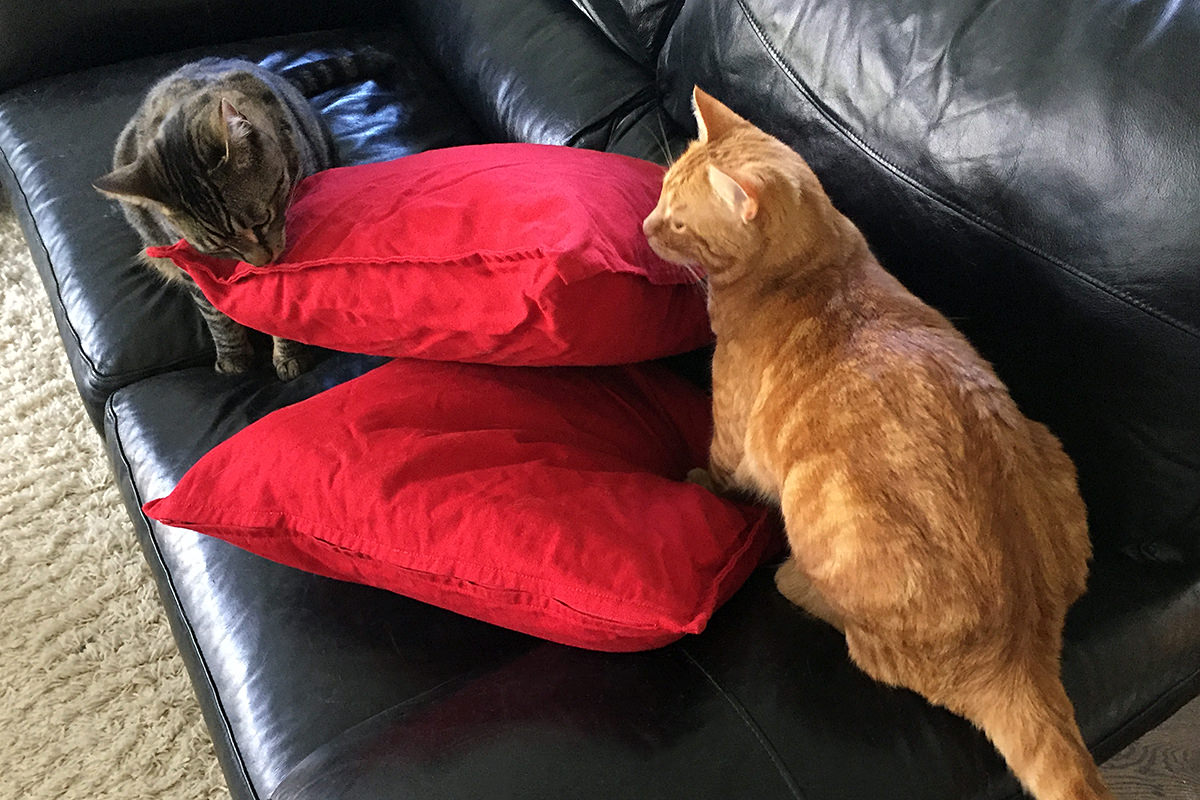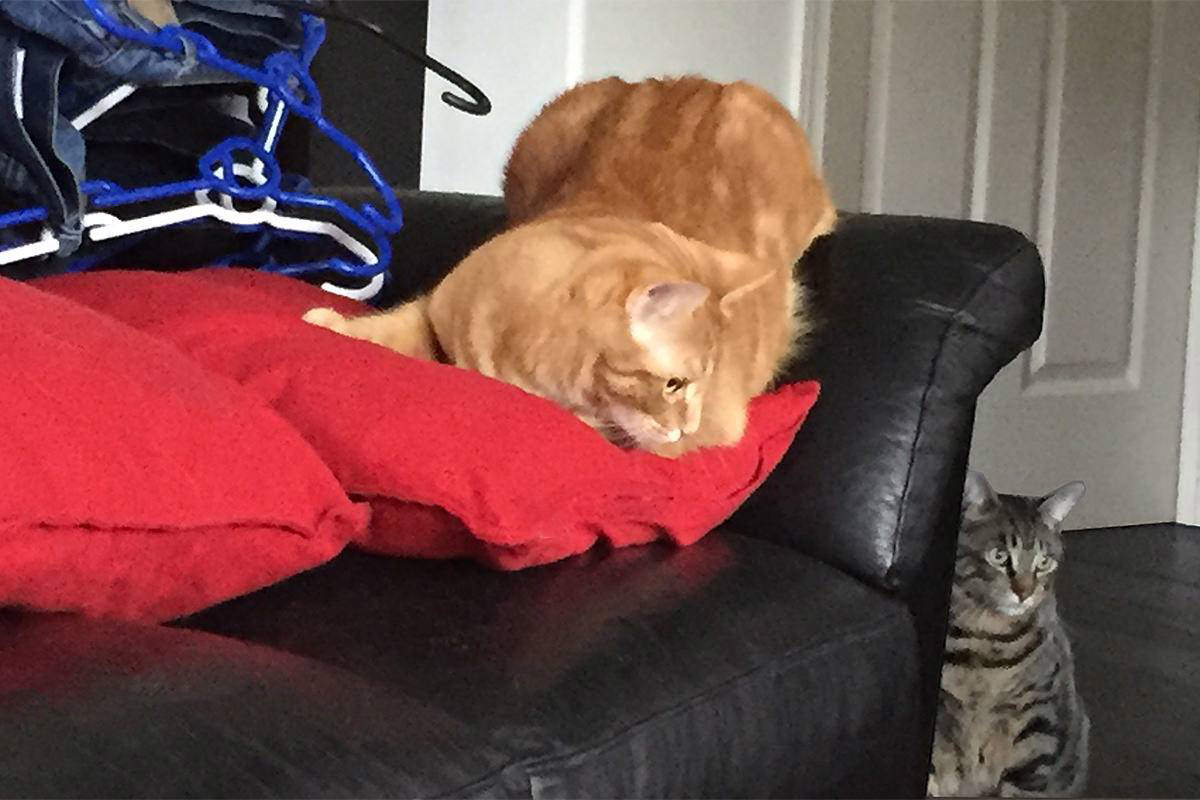 Jenny, in particular, just loves them. She will roll around on them... move them around... bite them... even attempt to tunnel under them like she's building some kind of pillow fort...
The first morning after I set them out, I walked downstairs to find all four thrown on the floor. I went back to the security camera footage and found that Jenny had thrown them off the couches in the middle of the night so she could sit on them. She'd even drag them from place to place so she would have someplace new to sit...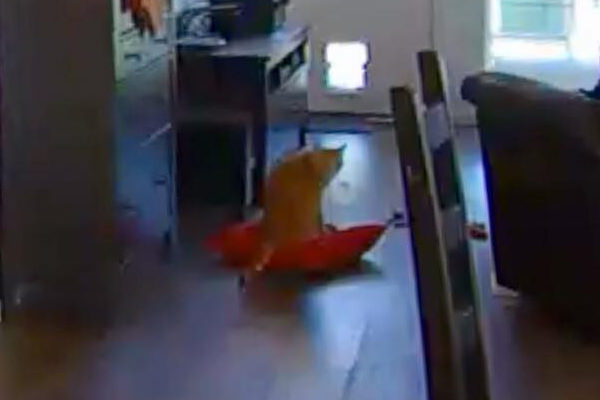 Most of the day she leaves them on the couch, thankfully, preferring to use them as a throne from which to survey her kingdom...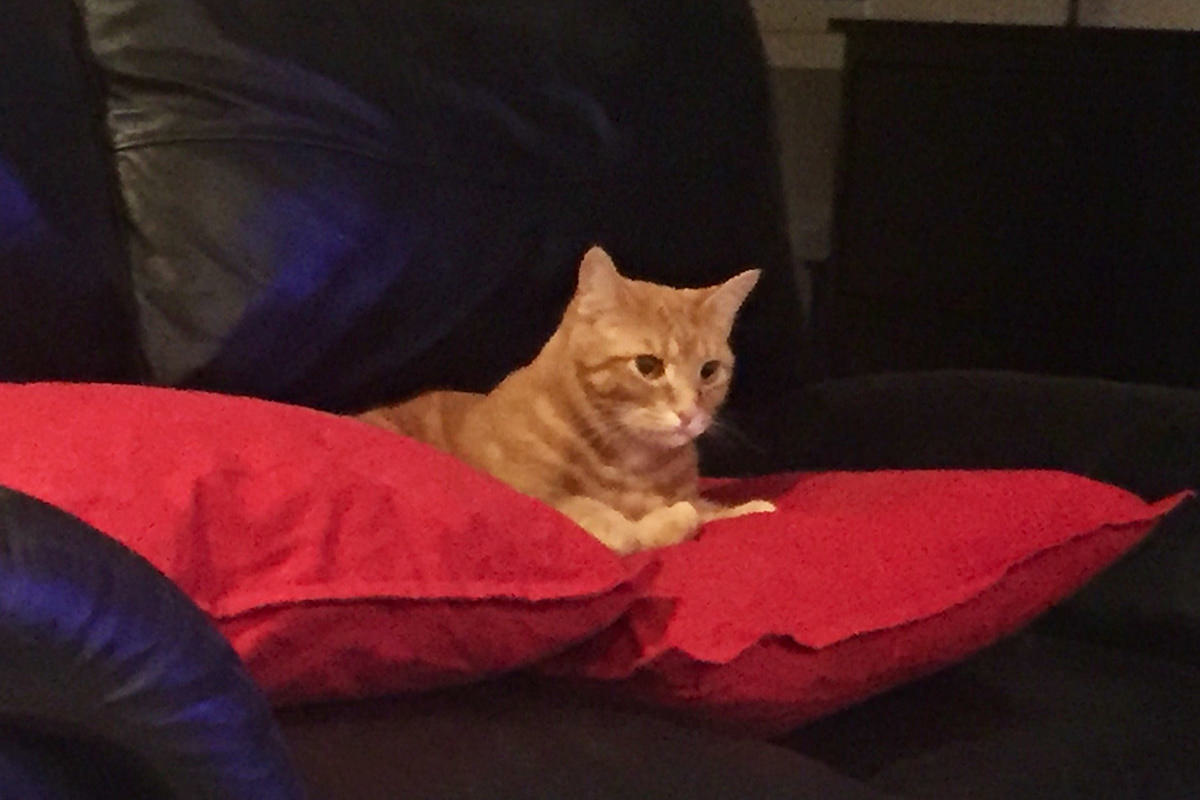 Jake likes to think he's the queen when Jenny is off eating bugs in the catio...
Speaking of Jake... the minute he sees that I've woken up each morning, he's been hopping up to snuggle. Usually with his butt in my face so he can get rump-scratches...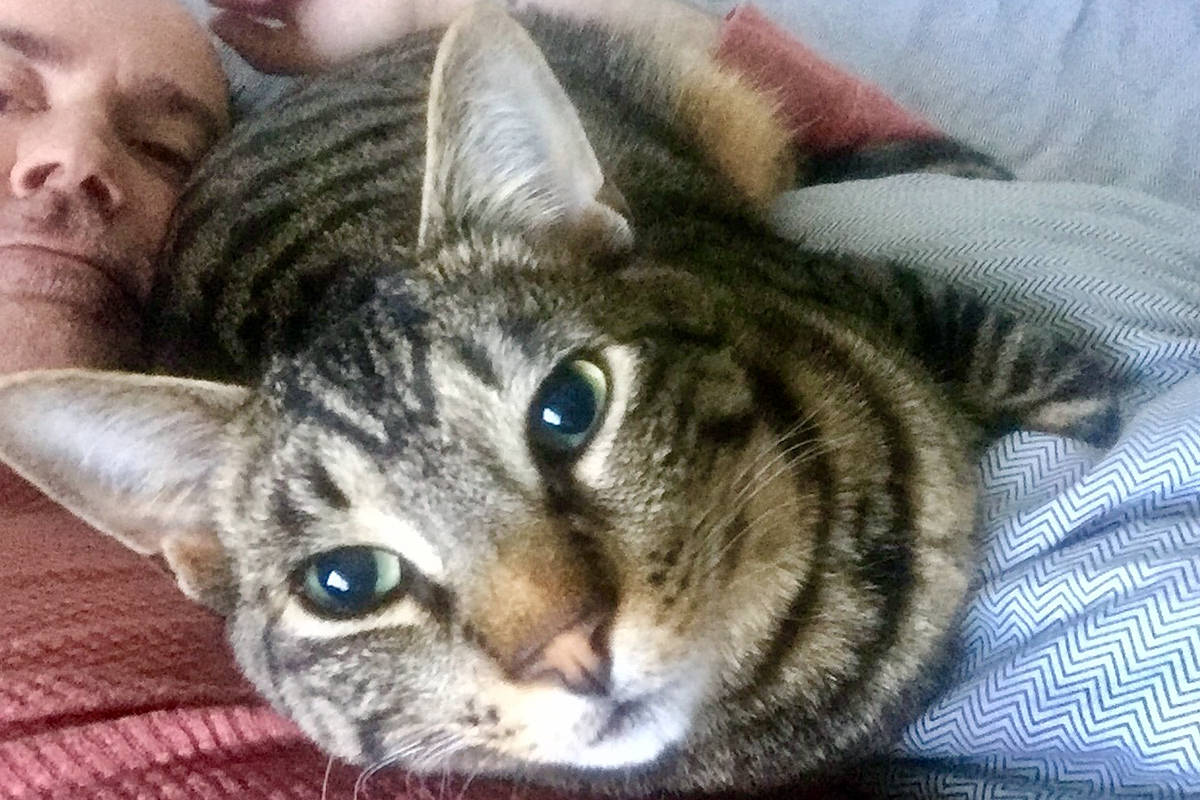 In other cat news... I noticed that there was kitty litter E-V-E-R-Y-W-H-E-R-E when I got back from Denver. Much more than usual. I couldn't quite figure out what had happened, as I didn't remember seeing a kitty-litter fight when I was checking in...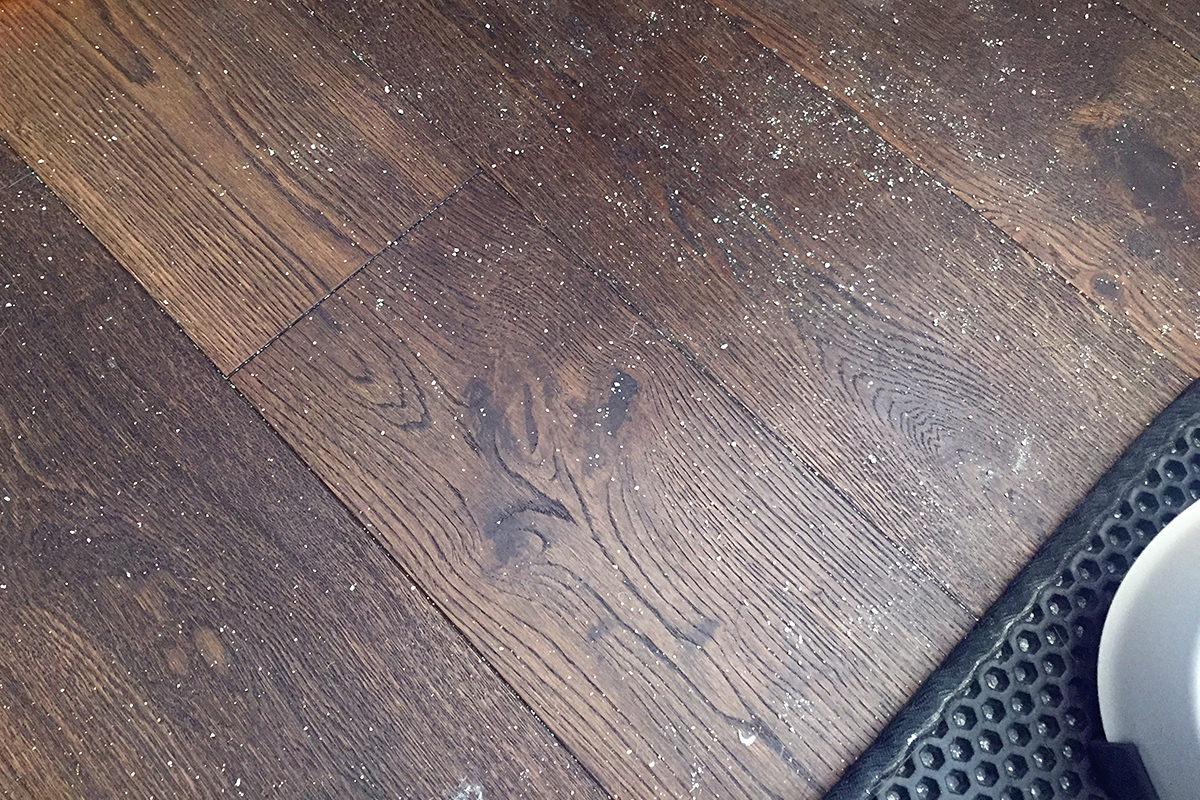 Then it happened again. And last night I finally figured out why. Both cats are trying to climb in the Litter Robot at the same time... something that hasn't happened before... and it's making a big mess. Not sure how to handle this. But if it gets to be a common thing, I'll have to think of something, because kitty litter is expensive.
This evening when I got a text alert that the Feed-And-Go feeders went off, I didn't see either can running up to eat supper. I pulled up the cameras and saw that they were both out in the catio and must not have heard them cycle. So I use the speaker on the camera to tell them "It's dinner time! Go eat dinner!" which is usually all it takes. When I'm home. When I'm talking through the speaker, they get confused...
"HOW DID YOU GET IN THAT TINY BOX, HUMAN?!? WHY ARE YOU NOT HERE FEEDING US?!?"
And lastly...
Meet Barnaby, a cat I found on Facebook...
Barnaby is a 15 year old sweetheart who came to us as a stray. This super affectionate fellow shouldn't be spending his golden years in the shelter. Please come meet dear Barnaby at the VAO soon. He promises to melt your heart.
When I went to the shelter, this is the kind of cat I honestly thought I'd be walking out with. I told them I'd take whatever cat had an eye missing or three legs or whatever it was that was making them unadoptable. I was told "Oh wow... usually we love people like you... but we don't have any cats like that right now." And instead I ended up with two of the most perfect kittens you've ever seen. I hope this sweet older kitty finds a home.
UPDATE: And he has...
Thank you for the outpouring of love and concern for Barnaby. We are no longer accepting applications for him. Barnaby has already received multiple applications and will most likely be going home soon.
Sometimes people are good.