Posted on April 21st, 2018

And so I'm sick.
Which should come as no surprise. I spent over 10 hours trapped on a plane with a girl sitting behind me who was coughing her head off. Of course she wasn't even trying to cover her mouth... parents apparently don't teach that anymore... so I was in the blast zone of the little germ factory as I crossed the Atlantic and then the country.
Luckily, I've got cats who are sympathetic to my Man Cold and willing to offer comfort...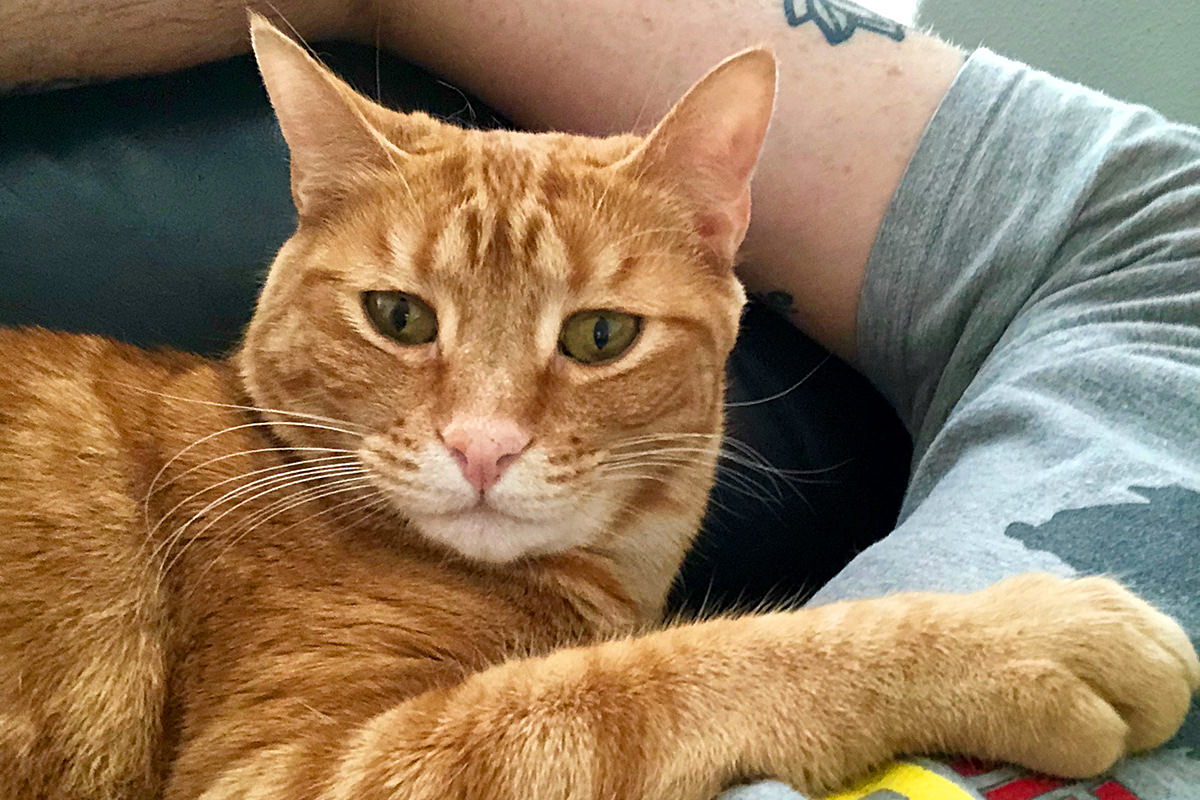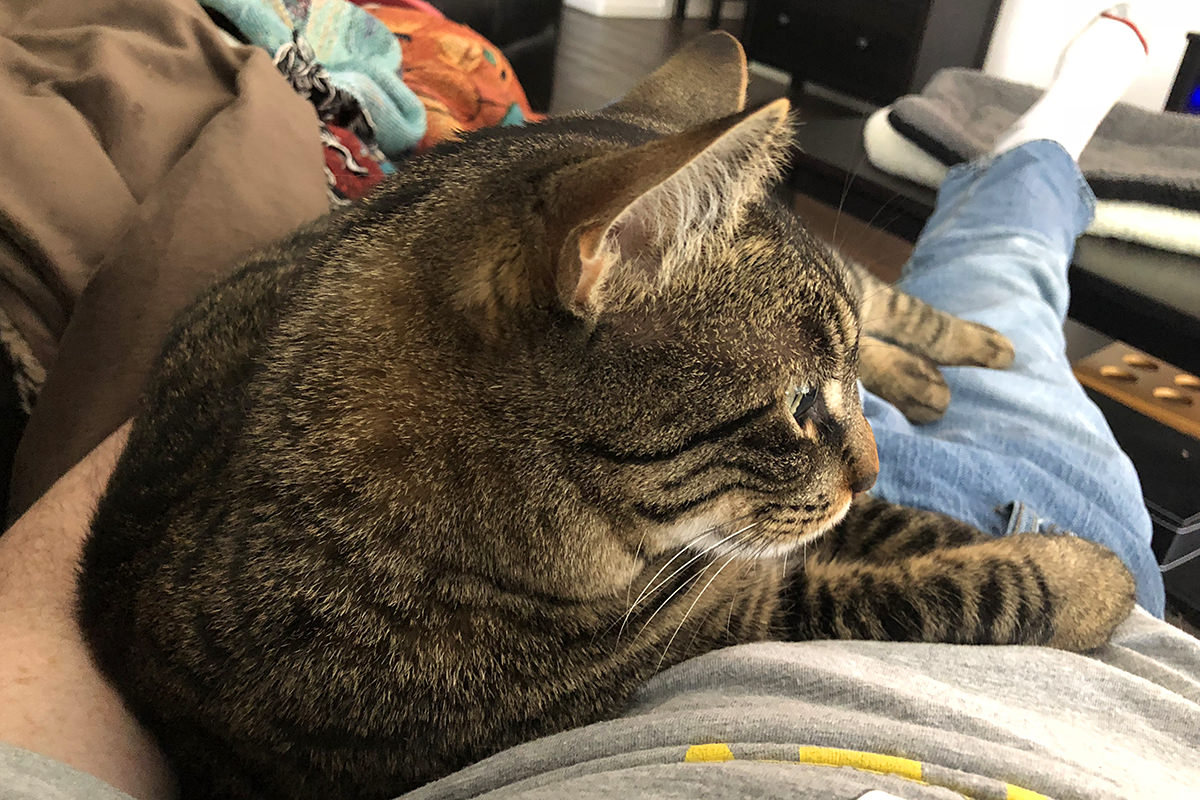 In other news... I heard a big bang against the screen on the catio and knew that Fake Jake was back. What I didn't expect to see was Jenny out there facing him down. If her brother was there with her, then maybe. But alone? That's my girl...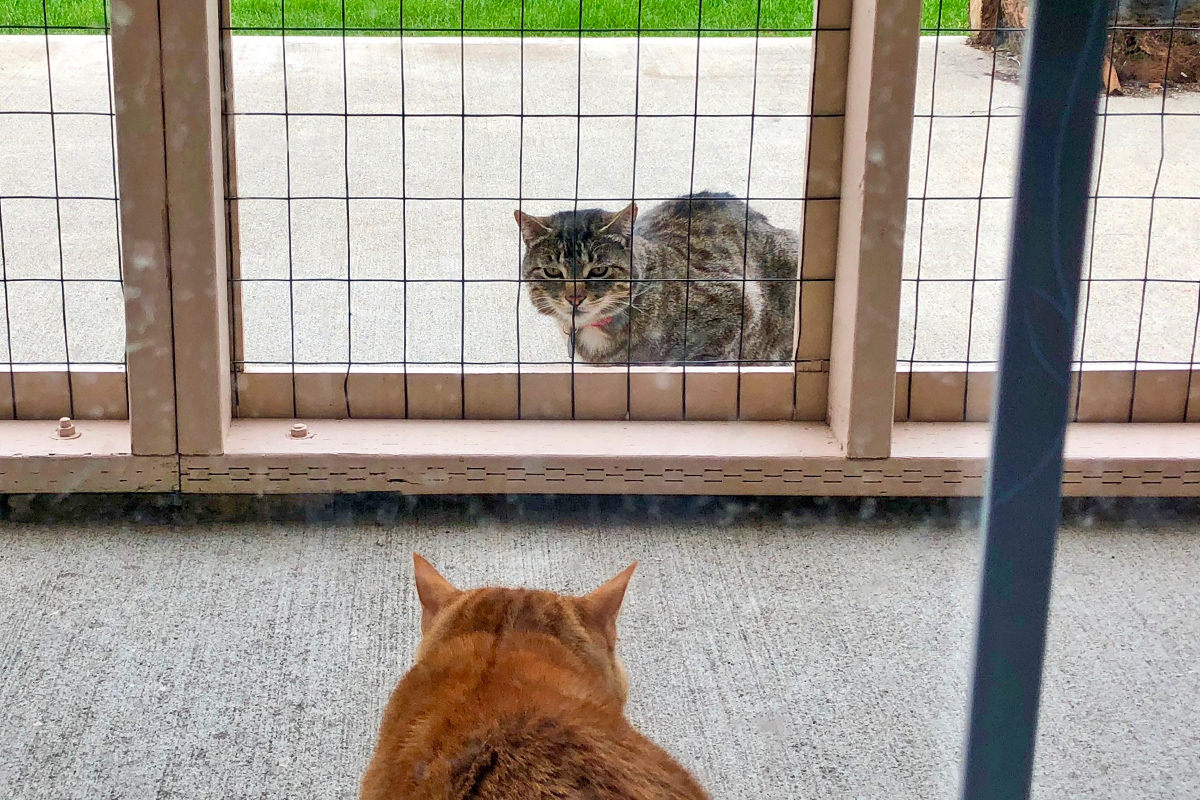 Sheesh. I really do need to clean those windows.
And one last thing before I go... when I was in Vienna waiting for my flight back to Amsterdam, I found a box of chocolates with Kitten Jake and Kitten Jenny on the front...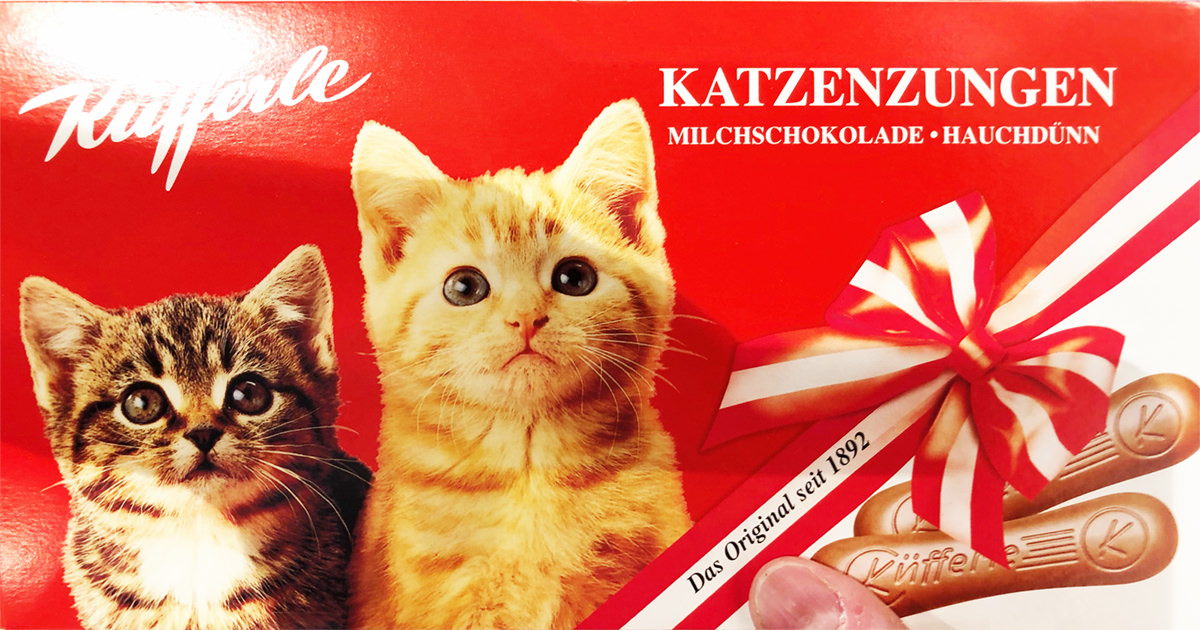 At first I thought it was chocolate cat treats meant for cats, but since chocolate isn't good for cats, I'm assuming it must be for cat-lovers who also like chocolate?
Or maybe chocolate-lovers who also like cats. Who can really say?
Posted on April 7th, 2018

And so Jenny is terrified of my MacBook power adapter for some reason.
No clue as to why, but if she's near me and I so much as move it from one spot on the arm rest to another, she runs away. My guess is that it fell on her while she was goofing around with the cord, and she's been afraid of it ever since. I can't hide it under anything because it would overheat, so I've just started setting it as far out of her sight as I can.
Because heaven only knows I don't want to miss this...

In other Caturday news... Jake's relationship with his stuffed lion, Mufasa, just continues to go deeper. In addition to carting it around with him, he's started taking it to his favorite nap spots so he can sleep with it (probably so Jenny won't take it)...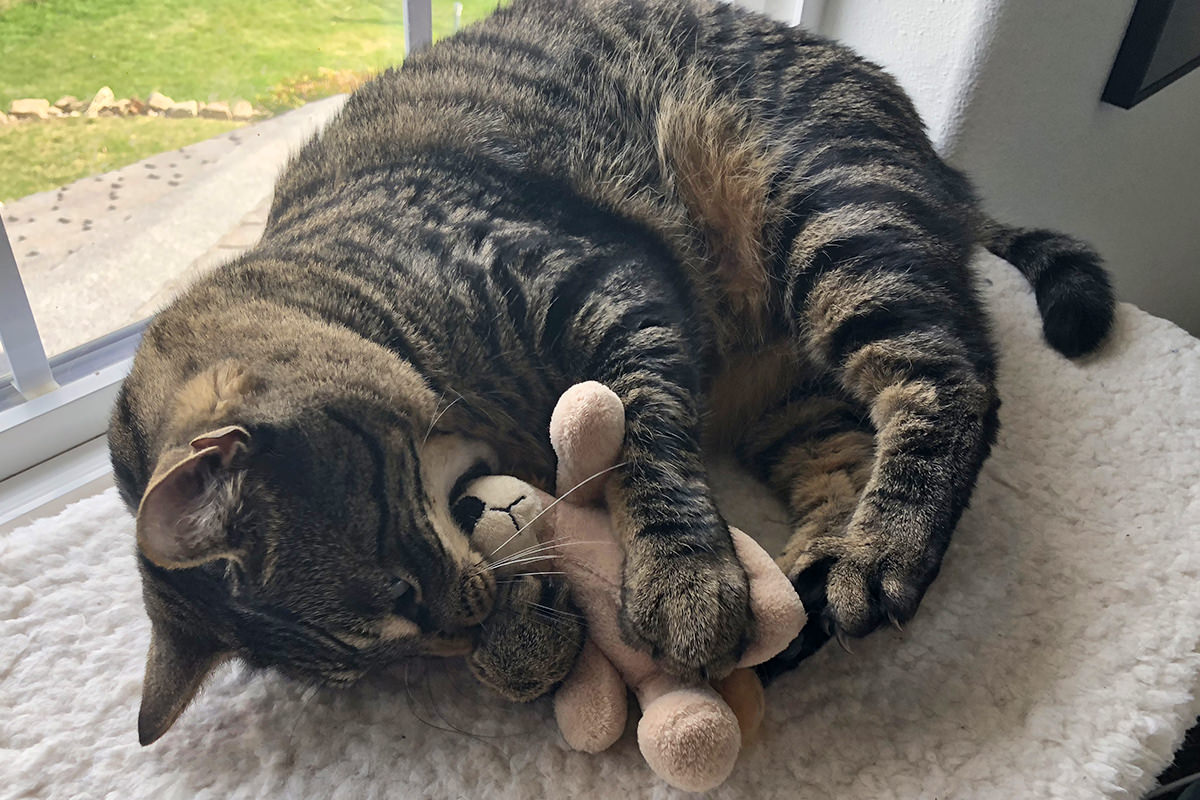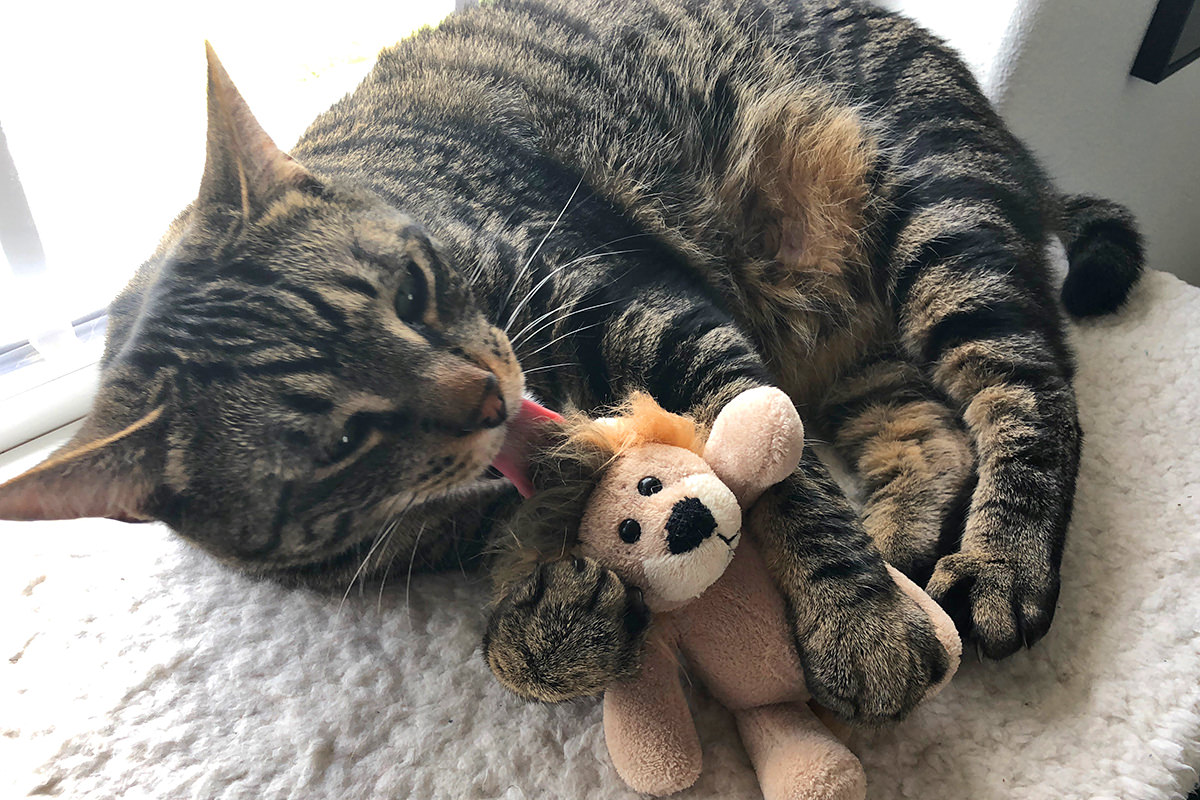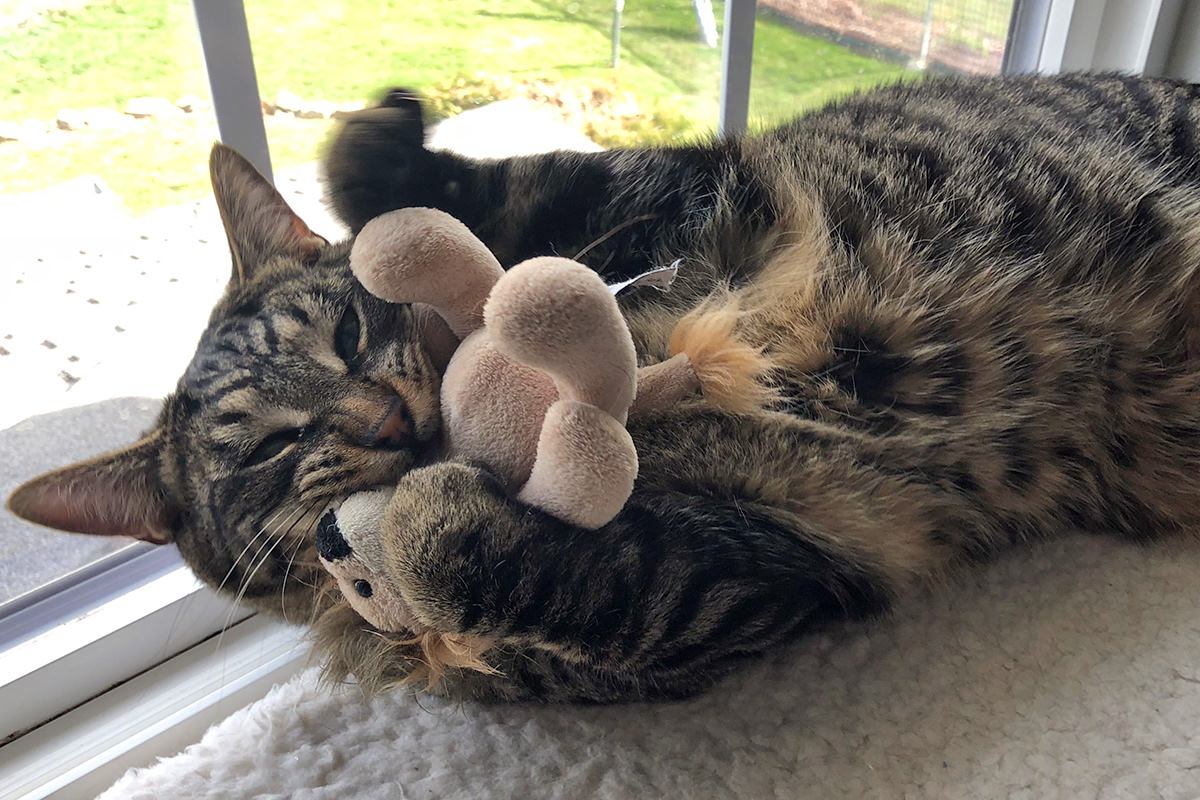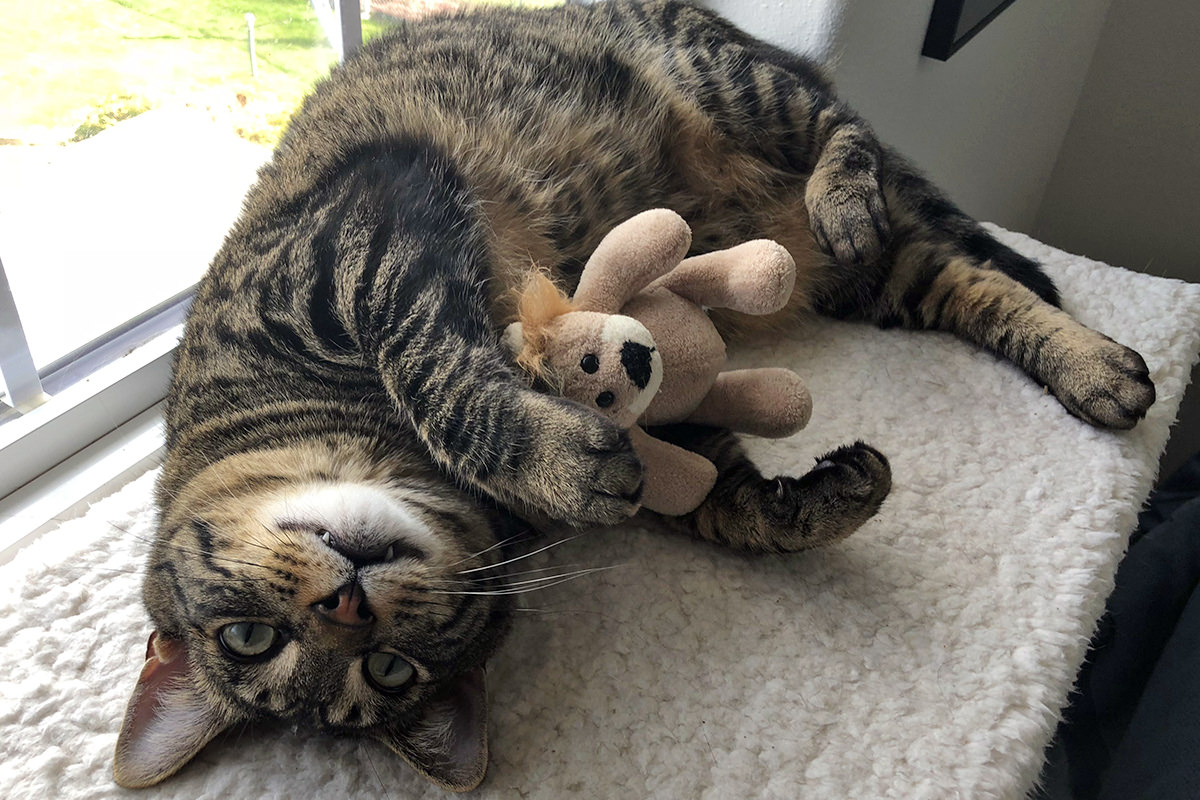 Not that Jenny is in any way dissuaded. She knows exactly how to push Jake's buttons... and the quickest way to do that is to steal his most prized possession.
Last night just before midnight, I heard a major ruckus downstairs which goes on long enough that I climb out of bed to go check it out. That's when Jenny comes tearing into my room with Mufasa in her mouth, dumps him off, then stands there waiting for Jake so she can snatch Mufasa and run off again...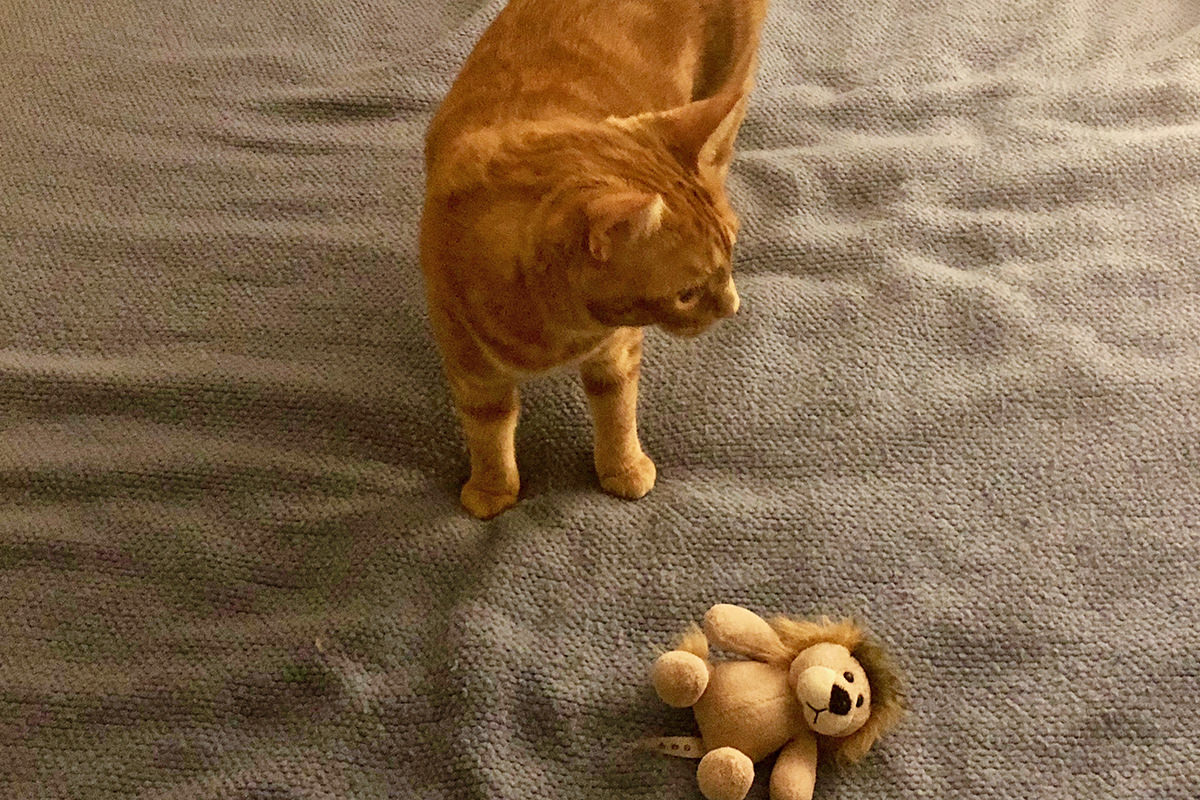 Don't feel too sorry for Jake. He probably ate some scraps of food left in her bowl... or pushed her off the top perch on the cat condo post... or did something else to set her off. That's usually how it goes.
Whether taking Mufasa is better or worse than running up and smacking Jake while he's pooping is open to debate. Jake seems equally irritated by both.
Posted on April 3rd, 2018

Sometimes having security cameras are not the comfort you think they would be.
Like when you call them up and see a black blob covering one of them...
Apparently scaly monsters have invaded my home. Or have they?
Nope. It's just Jake.
Crawling on the counters where he knows he's not supposed to be.
Maybe he's just trying to get a good vantage point to admire the beautiful new ceramic drinking fountain I bought for them?
Yes. That's probably what it was.
Jake took to it right away, but Jenny has been a bit more cautious...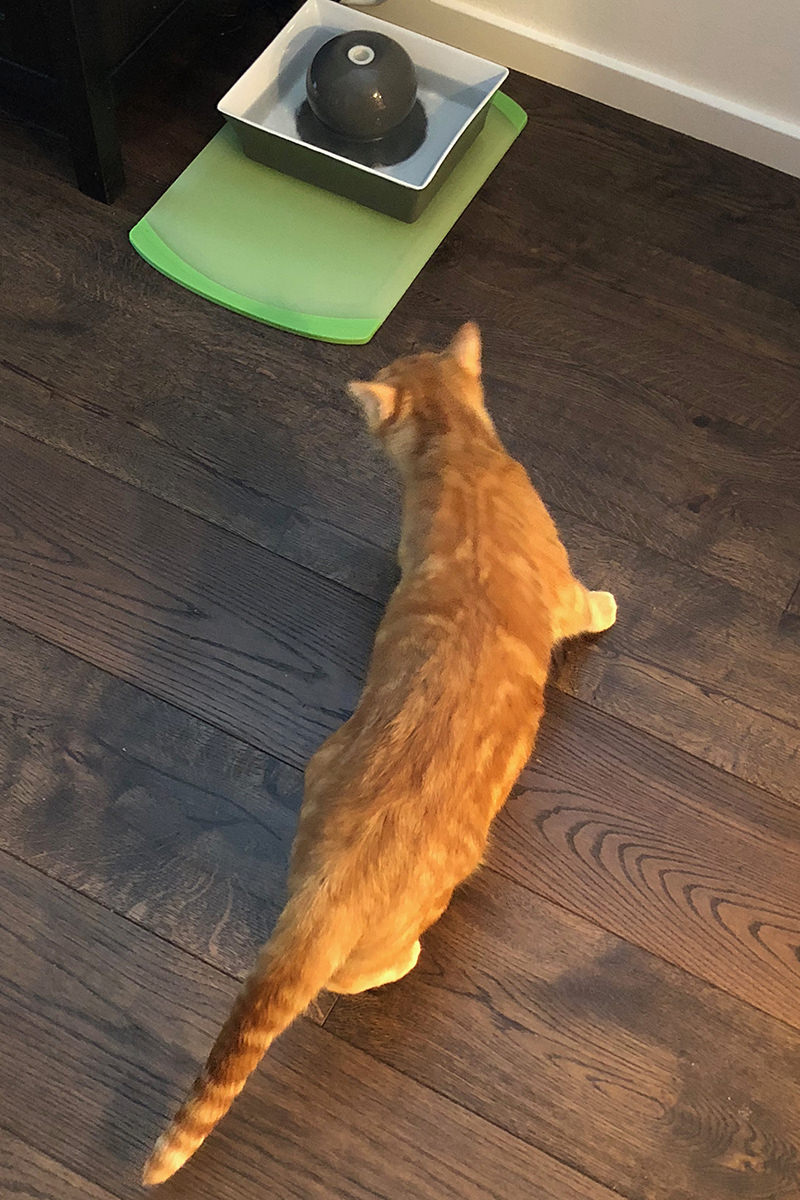 Kind of puzzled as to why. This new one is far, far quieter than the one I replaced.
Cats.
Posted on March 31st, 2018

When it comes to bed sheets, I want them to stay cool and dry. I want crisp, breathable fabric that is tough enough to last. I don't like satin sheets. I really don't like "sateen" sheets, which are cotton sheets pretending to be satin sheets. When a hotel has sateen sheets, I have to kick them off (if it's warm) or wear sweats (if it's cold) because the glossy finish makes me sweat.
After being puzzled for years over things like "finish" and "thread count," I finally figured out that the sheets I want are called "percale," they're made of cotton, and the lower the thread count the better. What's great about this is that the sheets I just described are the cheapest you can buy. Also the opposite of what most people prefer, which is "sateen" in the highest thread count possible... 800 or higher.
So when I was shopping at IKEA and saw "percale" weave sheets at a mere 152 thread count, I was intrigued. Could these DVALA sheets at $25 a set (Queen) be the cool, crisp, breathable, dry sheets I've been dreaming of?
Turns out they totally are the sheets I've been looking for!
They are absolutely perfect.
No, they aren't soft and silky smooth. Truth to tell, they're actually kind of rough... even after having been washed twice. But that's exactly what I wanted because they are cooler to sleep on, they're tougher, and they have that crispy feel I love.
Cat hair sticks to them like glue, however, so I guess you can't have everything.
But anyway...
It's been an interesting morning at my house. At 6:02am I received a robocall from my credit card company saying that I may have fraudulent charges on my account. So I call the number they gave me, only to find out that they have no idea what I'm talking about, and they made no such call. And I'm like "THEN HOW DID I GET THIS NUMBER TO CALL YOU?" and they're all "WE DID NOT CALL YOU!" and I'm all "YOU DID, BECAUSE I JUST DID A REVERSE LOOK-UP OF THE CALLER ID AND IT'S YOU!" — I'm put on hold for a bit, then they come back and say "Oh, there's a problem with our computers calling people." Typical.
As I'm talking to my bank, I hear the cats banging around in the catio. They've heard that I'm awake, and come charging up the stairs demanding breakfast, even though it's almost an hour away. Jake has chunky white dust all over him, and I wonder if somebody threw a bag of cocaine into the catio while being chased by the police or something. I'm not about to snort my cat since I have no idea if the cocaine is premium grade or not, so I brush it all off and try to go back to sleep. Meanwhile Jenny has found Mufasa on the window perch that was left there last night. She starts ripping into him when Jake notices. And so then I have cats chasing each other all over my bedroom when I just want to get some sleep.
When Alexa finally chimes at 7:00am and the cats come back all crazy because it's breakfast time, I see that Jake has straw in his mouth. The only place I have straw is in the garage... I keep some for Fake Jake's winter shelter. So I go running downstairs and, sure enough, I left the garage passdoor ajar and my cats have been having big fun in my garage, including knocking over a bucket which was filled with drywall dust. Which means there won't be a bag of cocaine in the catio as I had first thought.
AND THEN, as if that weren't exciting enough, I can't find Jake and Jenny's Easter baskets. So now I have treats and cat toys for Easter morning, but no baskets to put them in. Looks like I'll be tearing apart my garage looking for Easter baskets this afternoon.
So this is my Saturday.
Posted on March 27th, 2018

As I had mentioned last Thursday, Jake's favorite thing on earth is a small stuffed lion named Mufasa. Given how much he loves the thing, I've started to worry about the day it's no longer around, because things have been getting a little weird around here where Mufasa is concerned.
Namely, Jenny has found out that the quickest way to irritate her brother... or, more likely, get revenge on her brother... is to take Mufasa away. And usually when she does that, she rips into the thing, just like Blue Moppy Mouse, which she's destroyed.
As an example... a week ago Jake pushed Jenny off of the cat tree. Next thing I know, she's grabbed Mufasa and is dragging him up the stairs. I check on the security cameras and, sure enough, she's tearing into it. Then she just sits there behind the doorway... apparently waiting for Jake to realize his toy is gone so she can ambush him...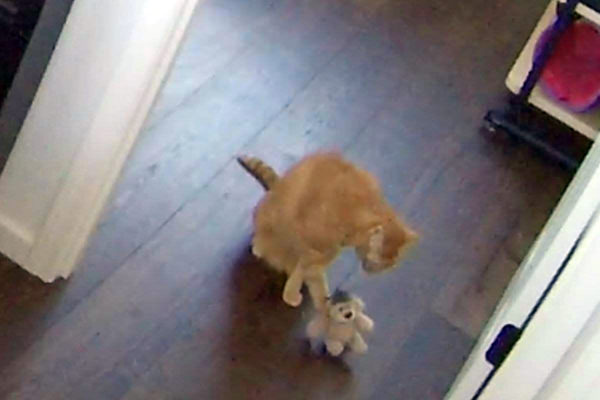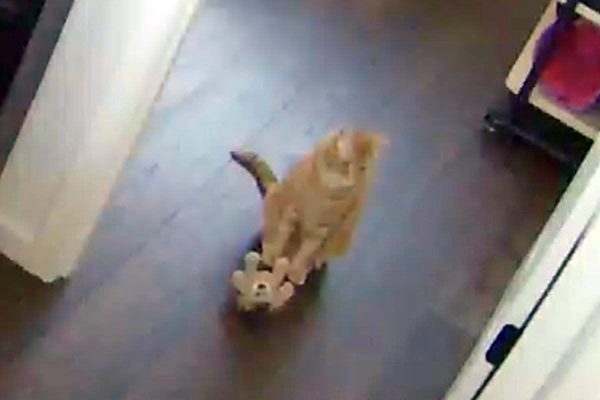 From time to time I'll hear a ruckus going on. Used to be it was general tomfoolery. But now when I investigate, Mufasa is in the middle of it all. Jake does something to piss Jenny off, Jenny steals Mufasa, then Jake will chase her down to get him back...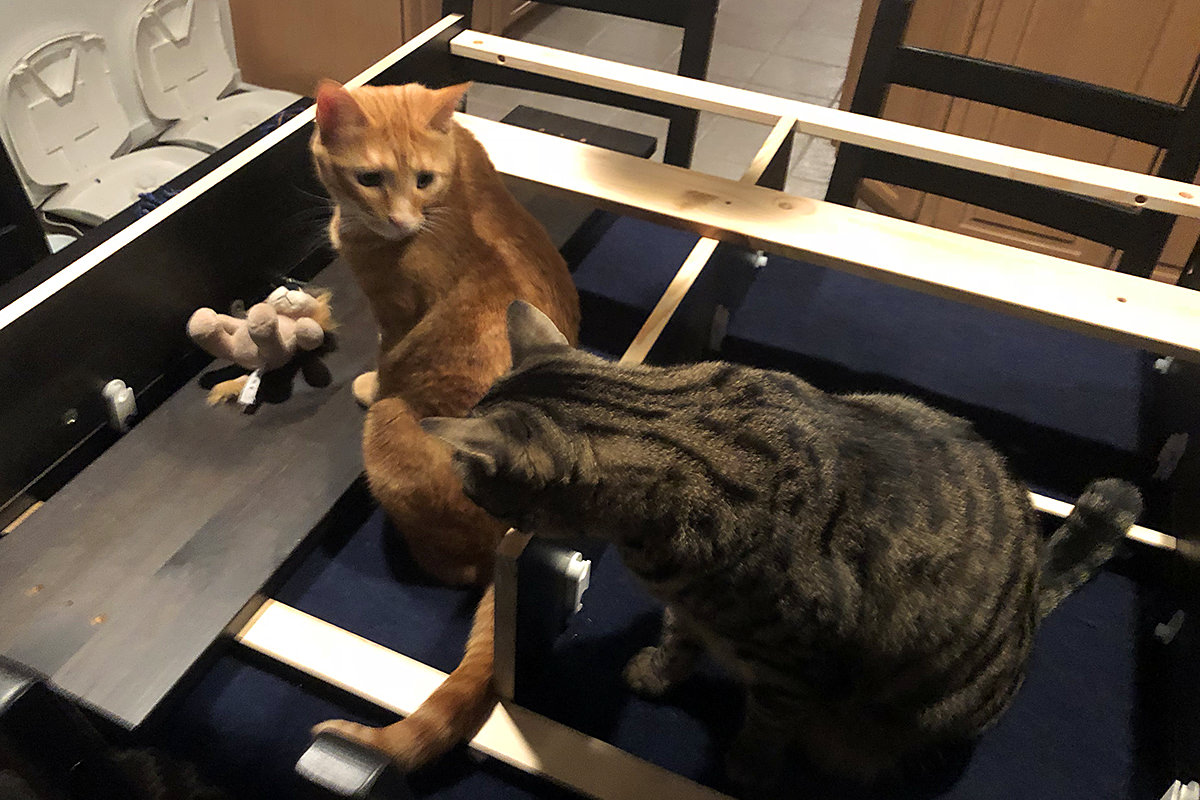 Now-a-days when I check in on Jake, if he's awake he's usually playing with Mufasa...
He carries it with him everywhere...
So while I was waiting for my work files to upload yesterday, I started searching the internet for a Mufasa replacement in case Jake's beloved toy wears out. The way he's been tossing it around and the way Jenny has been ripping into it has me worried for Mufasa's health. No luck so far...
Looks like I need to fly to Johannesburg's airport in South Africa to get a new one. Or seven.
Posted on March 24th, 2018

Sardines are my cats' new favorite thing.
Even Jenny will eat the disgusting giant chunks after she's sucked all the sauce off of them. This is the one food that is guaranteed to be licked clean out of the dish every time. So who cares that my house smells like I'm storing a kettle of fish? My cats are in heaven. =gag=
I mean, just look at this nightmare...
I can't say that sardines are responsible, but Jenny is sure turning into a heck of a lap cat. Used to be that her jumping on the couch was a rarity. But now she's all over me almost every day...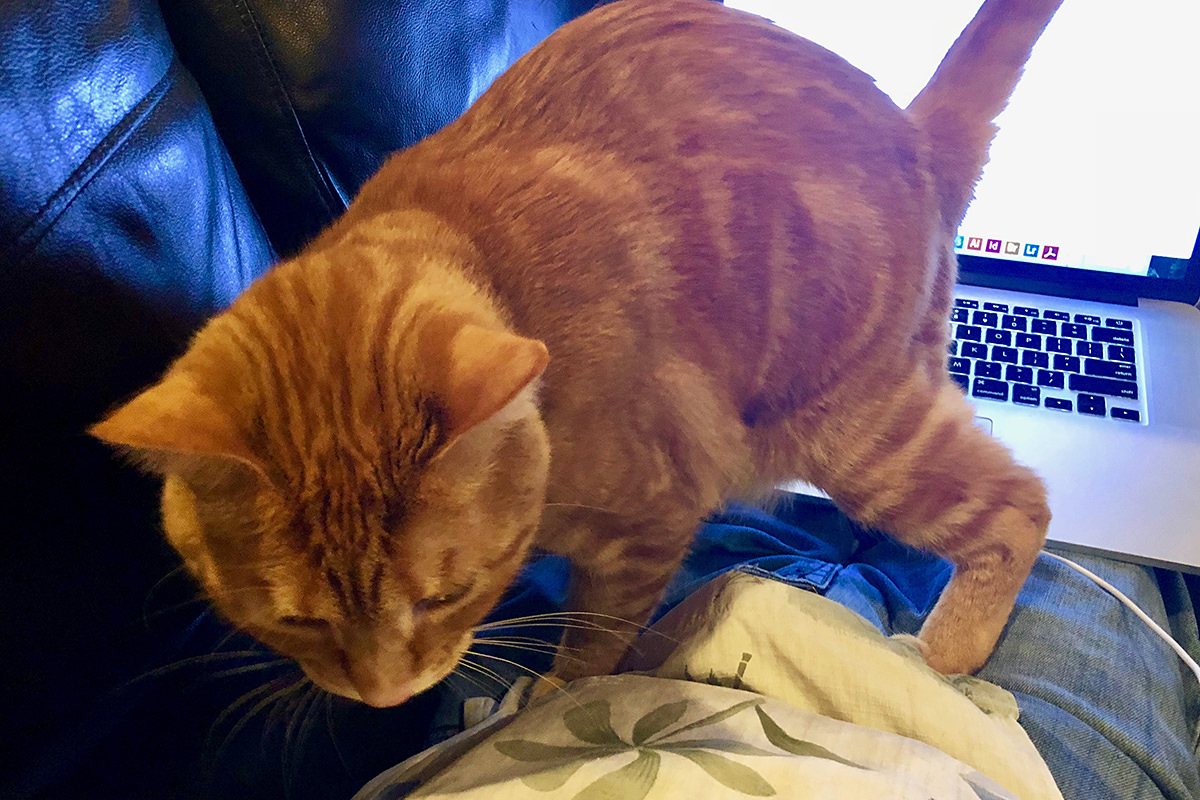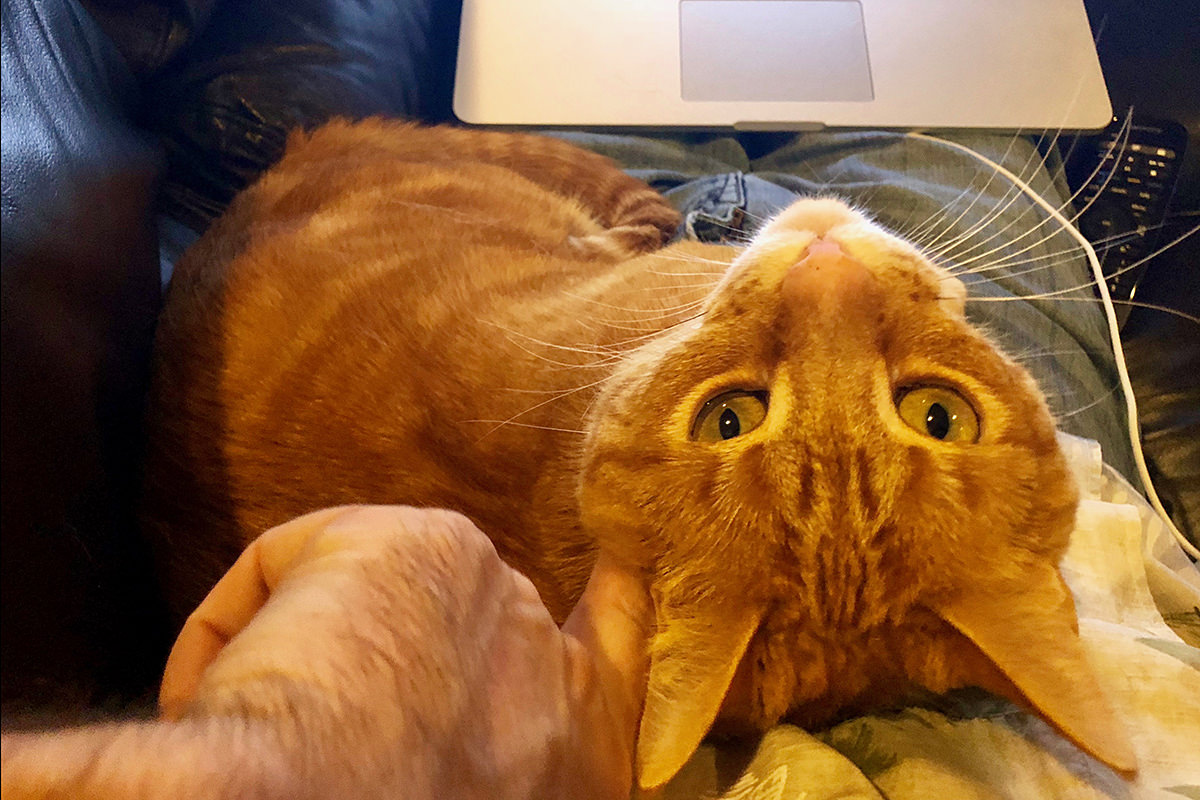 Makes it tough to get much work done, but she's just so darn adorable that I can't say no...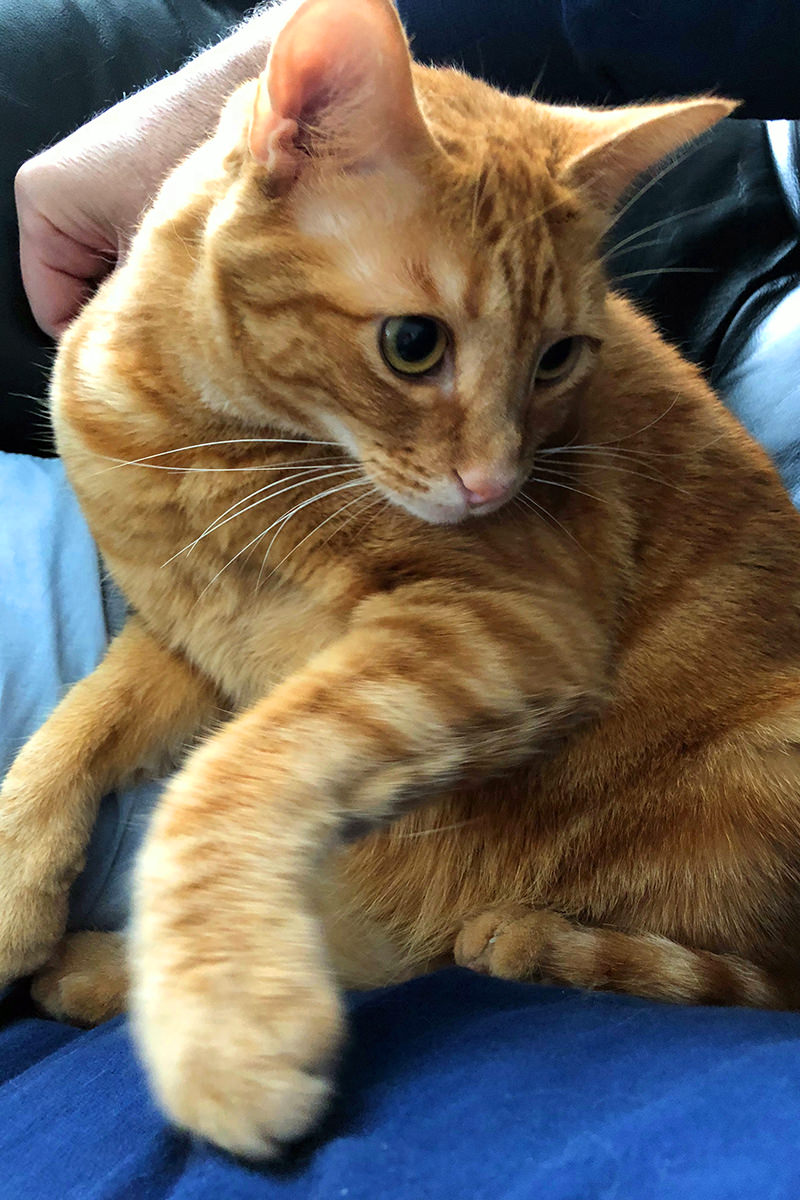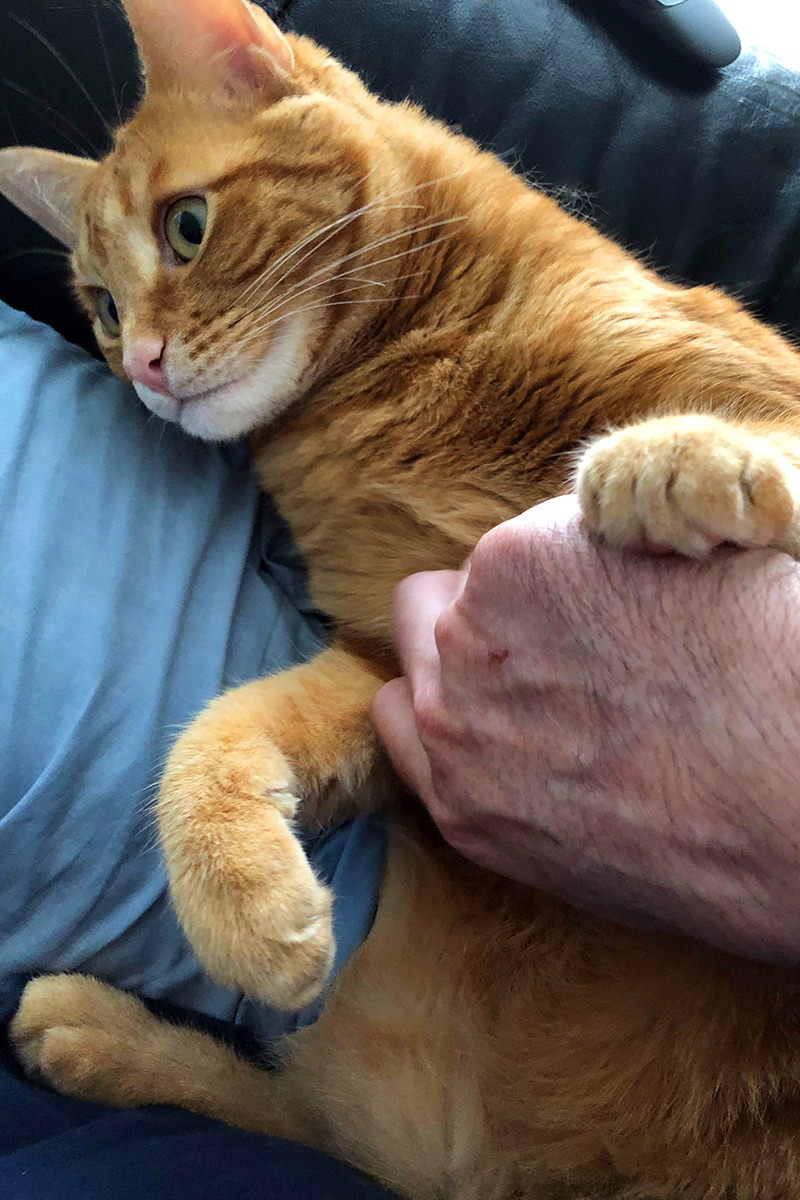 Even when she gets irritated because she wants more space. Then she just keeps kick-kick-kicking me until I move over...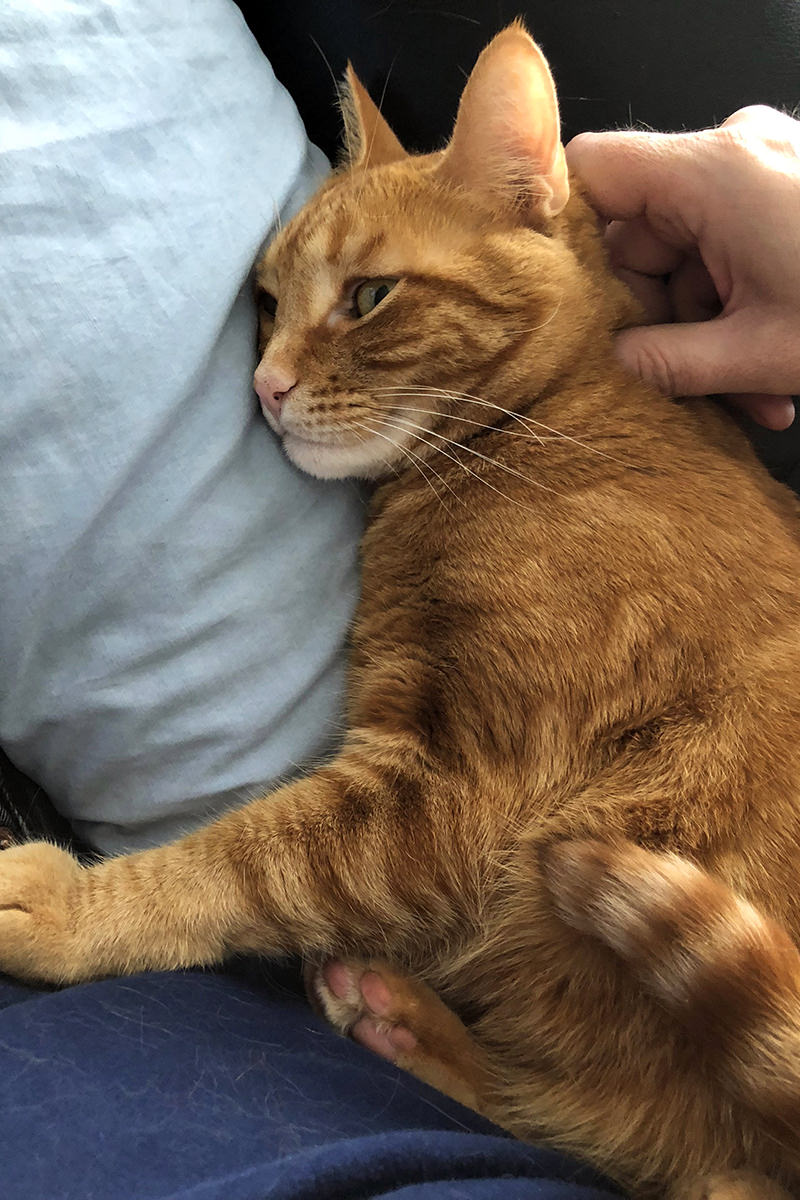 But, so long as she's happy...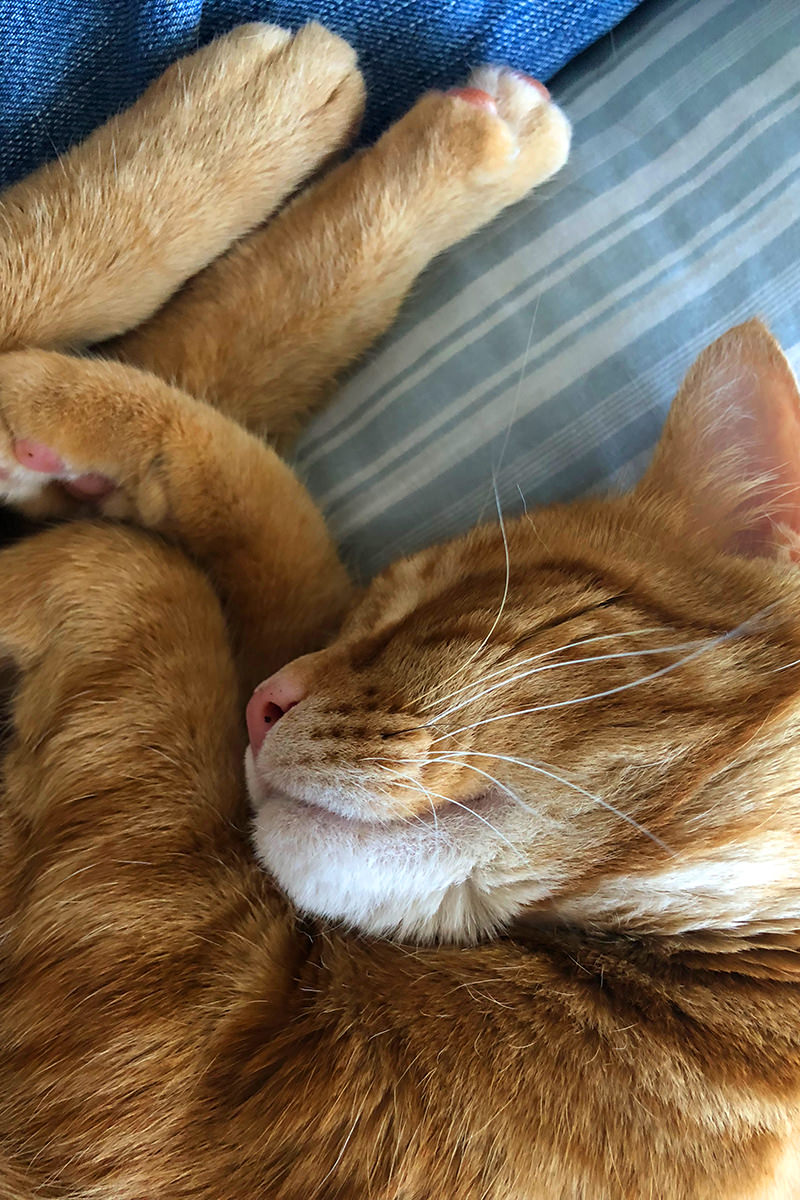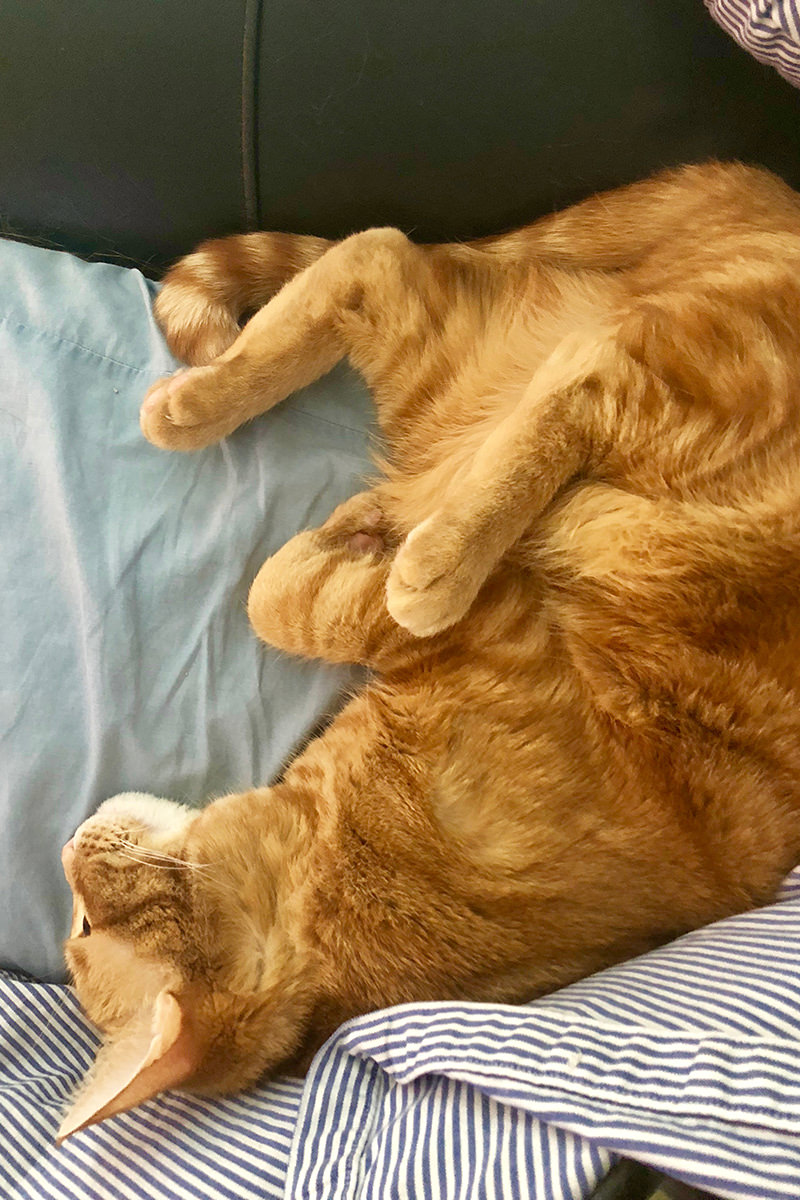 And don't worry about Jake... he still gets plenty of lap-time too...

And now? Time to bring out the bottle of Febreeze. That sardine smell ain't going away on its own.
Posted on March 22nd, 2018

So I come in from working in the garage and hear one of the cats thumping around on the stairs. I walk around the corner and it's Jake wrestling with Mufasa, his stuffed lion toy. The minute he notices me, he throws Mufasa against the wall and pretends he wasn't just playing with it.
Apparently he's too cool for toys now...
After that we hung out watching television for a while...
Well, I say we watched television... but Jake doesn't like TV. He just likes hanging out. Jenny, on the other hand, is enamored with television even more than I am. She can stare at if for hours... especially if it's a show she likes (her favorite is Rick & Morty, and she'll come running any time she hears it)...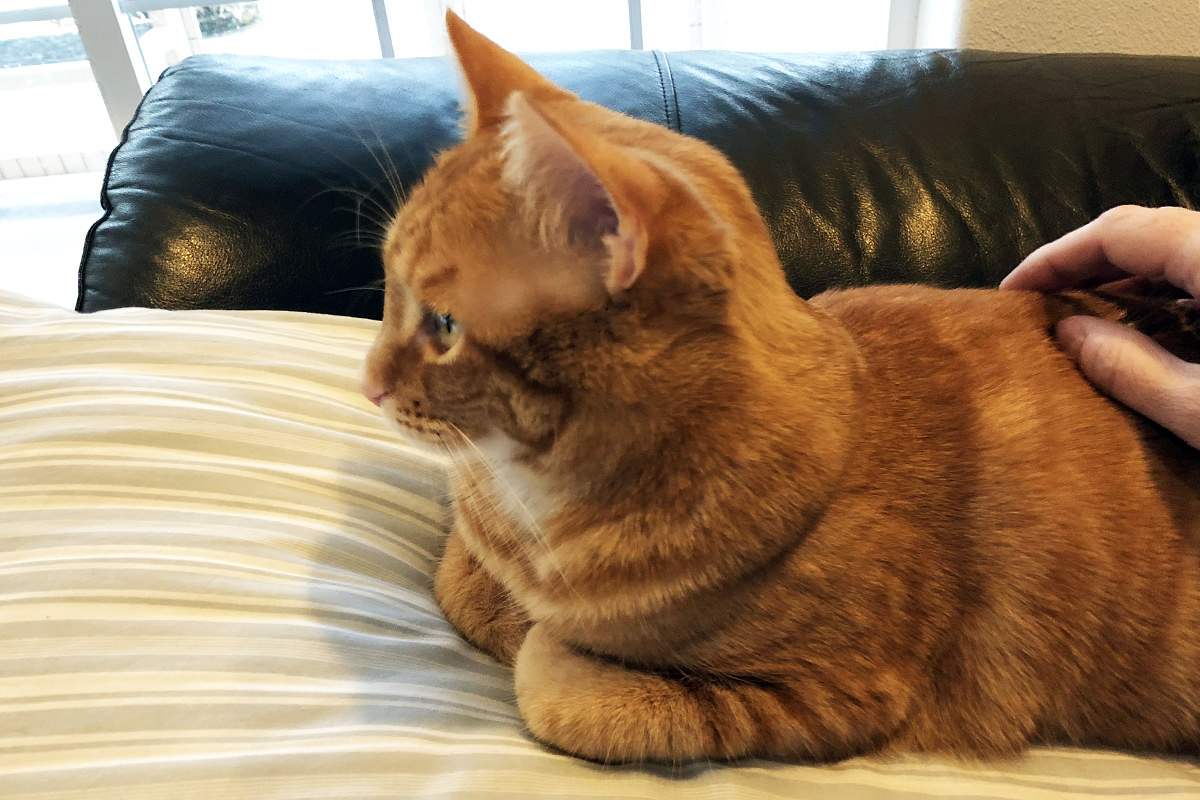 How was I ever entertained at home before I had cats?