Posted on June 14th, 2021

I took down the animal trap. I'll return the hunk of shit to Home Depot later this week when I get caught up with work. I remain no less livid that traps with a defect that's been reported for over five years are still being sold to unsuspecting people. I also remain heartbroken for that little kitten that I wasn't able to save. I sure hope he made his way to a place where somebody will watch out for him.
Posted on June 12th, 2021

Still no sign of the kitten I'm trying to rescue. I should probably just accept the fact that he's move on and try to do the same. It's tough though.
Now that Summer is (mostly) here, the cats can't seem to tear themselves away from the catio. More often than not when I come home from work they'll be out there sleeping or keeping watch over their kingdom. Oh... and another thing they do? Chatter at bugs and birds running around on the roof. Usually one of them will run up when they see something interesting to chatter at whatever's going on... then the other one will get FOMO and have to run up and see what's going on...
Sometimes I'll get an alert on the catio security camera only see my cats taking serious chances trying to catch bugs or swat at birds. It's heart-stopping given that I can't really afford a vet bill right now if they fall and hurt themselves...
And speaking of the catio... It really is the gift that keeps on giving. I finally got a good video of one of my cats climbing my massive pole where they're at a good enough angle that you can actually see them...
Go, Jenny! Usually they are climing on the far side of the pole so all you can see is their little paws moving up the pole, but every once in a while they climb up the side. Fortunately I actually though to save it this time!
And now it's time to go change the food in the trap so that assuming the kitten does come back, he's not eating old, crusty junk. Fingers crossed.
Tags:
Cats
,
Caturday
Categories:
Uncategorized —
Click To It:
Permalink
—
0 Comments: Click To Add Yours!
Posted on June 10th, 2021

I'm in zombie mode now that I haven't gotten any sleep in two days. One night of worrying about the stray kitten I saw as I walked home from work... one night running back to the office every hour to check on the cat trap... and there's only so long that a person can go on like this.
I've had to accept that the kitten is most likely gone because I haven't seen him since before 2:00am and it's now 1am the following day.
He got trapped twice but, because of the known defect in the trap I bought that I was unaware of, he escaped. Then, undoubtedly terrified of the cage that got him, he moved on.
So now I have a camera of the (repaired) trap on my Google Hub and I only set my alarm every three hours to have a look...
I know that kittens get abandoned every day. I know that this cruel world lets stray cats die of neglect all the time. I know this. And yet here was one kitten I could have saved... but ultimately couldn't. And I don't know how to feel about it so I'm feeling everything.
I'm heartbroken that I was so close to saving the little guy but ultimately couldn't.
I am angry at HavaHart for looking the other way when there's a known defect in their animal traps for over five years that's responsible for all this.
I'm disgusted in myself for not figuring out sooner that the trap I bought was defective and not working properly.
I'm sick with worry over not knowing where the kitten is or how he's getting along... or if he's dead.
I'm disappointed that the local Humane Society never bothered to return my call about borrowing one of their traps so I wouldn't have had to buy this defective one.
I'm grateful that my two cats managed to avoid this fate.
I'll keep the trap up for a while yet... even though it's undoubtedly futile at this point. Eventually I'll return it to Home Depot for being a defective piece of shit and contact their coporate headquarters to ask that they stop selling this model trap so that others won't go through what I've had to go through. Probably not going to do anything since corporate schenanigans between companies are always going to take precidence over people, but it's worth a shot.
Now back to sleep again until my alarm chimes in another three hours.
Posted on June 9th, 2021

Remember yesterday when I was talking about trying so hard not to hate because I know where it leads? I've failed for two days in a row now.
Before I get to that, I need to pop some keywords up so Google can index this and perhaps help people who went through what I went through...
HavaHart Live Animal Cage Trap Failure — HavaHart Trap Door Won't Stay Closed — HavaHart Handle Falls Off — HavaHart Trap Model #1079 — HavaHart Trap Defective — HavaHart Victor Trap Manufacturing Defect — HavaHart Trap Won't Work
Last night I had to work a few extra hours so that I could make up the time I lost arguing with shitty AT&T over money they wanted to charge me on a closed account. As I was leaving the office, I thought I saw a kitten running in the parking spaces across the street.
Fast forward to this morning and I was outside social-distanced from my uncle so I could give him some papers my mom had left for him... and I saw the kitten again. My uncle also saw it, so this time I knew it wasn't my imagination.
Well, obviously I'm not going to let a scared, hungry kitten suffer on my watch, so I immediately ran home to get my cat carrier and some food. Sure enough... the little guy (or gal) came running out to scarf it down...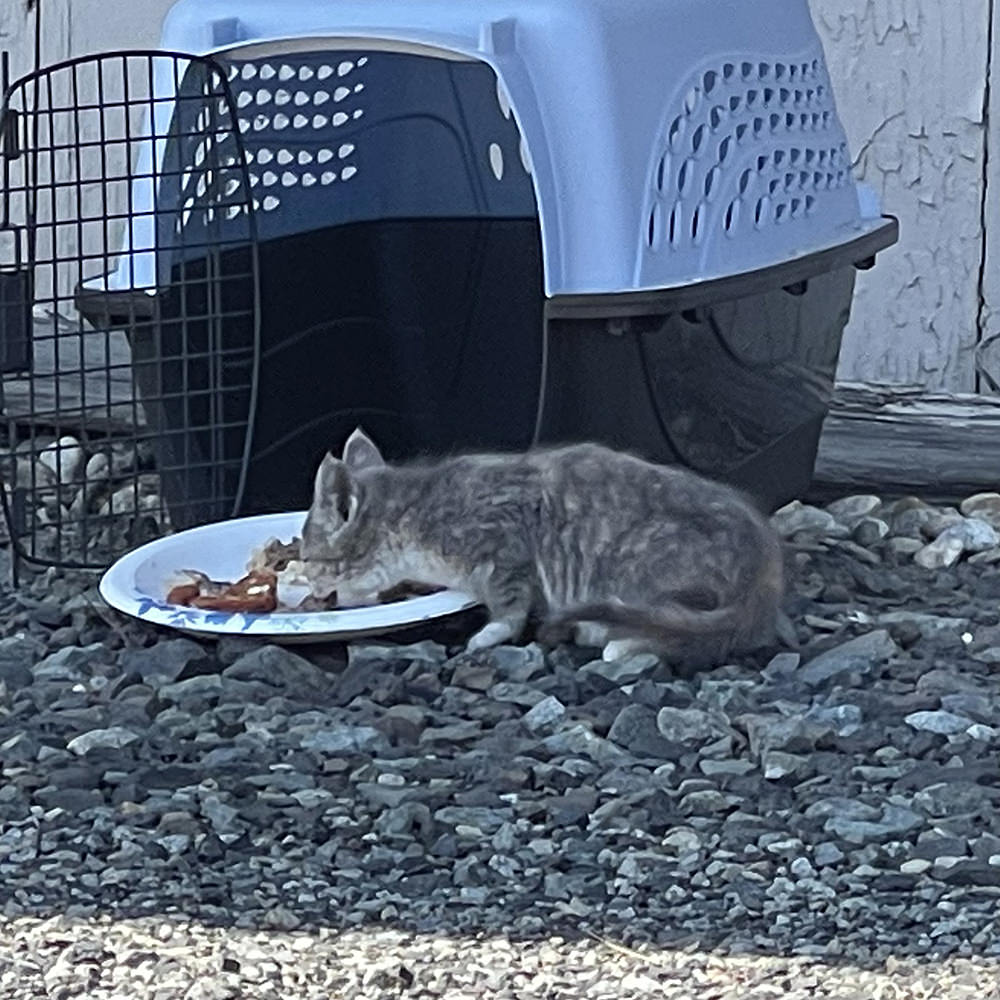 He looked like there might be something wrong with one of his eyes, and he doesn't look 100% well. Which may just be the trauma of being out on the streets trying to survive, but I won't know until I manage to grab him. Except he's so skittish that I couldn't get near him...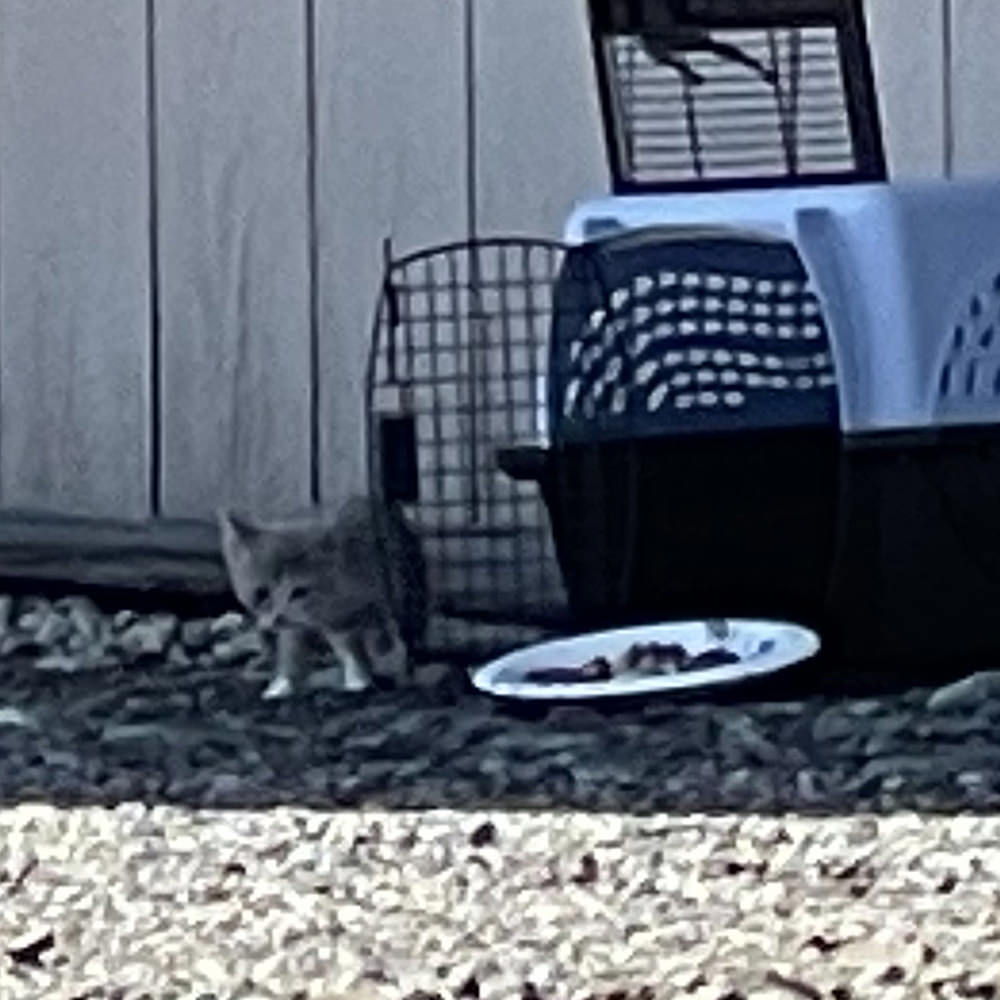 And so I called local veterinarian offices to see if they had a trap I could borrow. They did not. So I called the Humane Society because surely they have one... left a voicemail, but never heard back. Eventually I went to Home Depot where they had them in stock...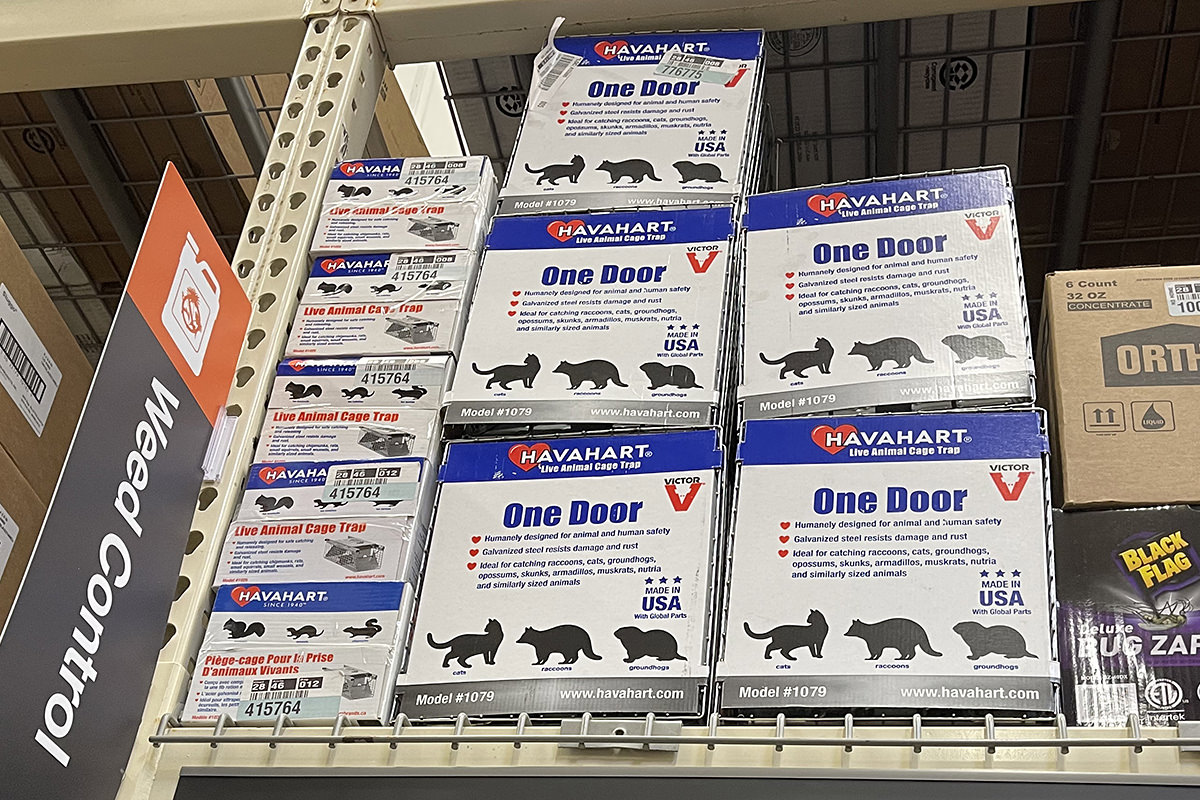 When I got back to the office, I unpacked the trap and followed the instructions to open it. Immediately the "handle" springs off and slashes a nice gash in one of my hand while the trap falls on my other hand to cut it as well...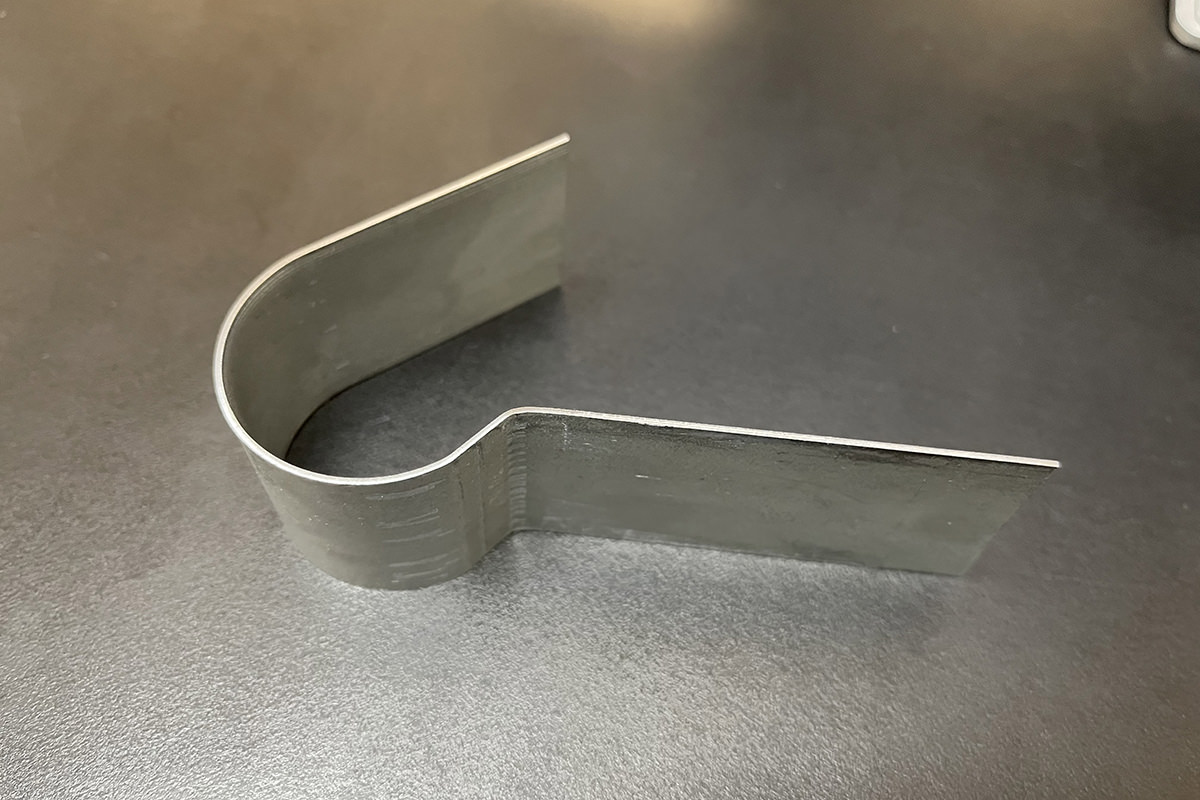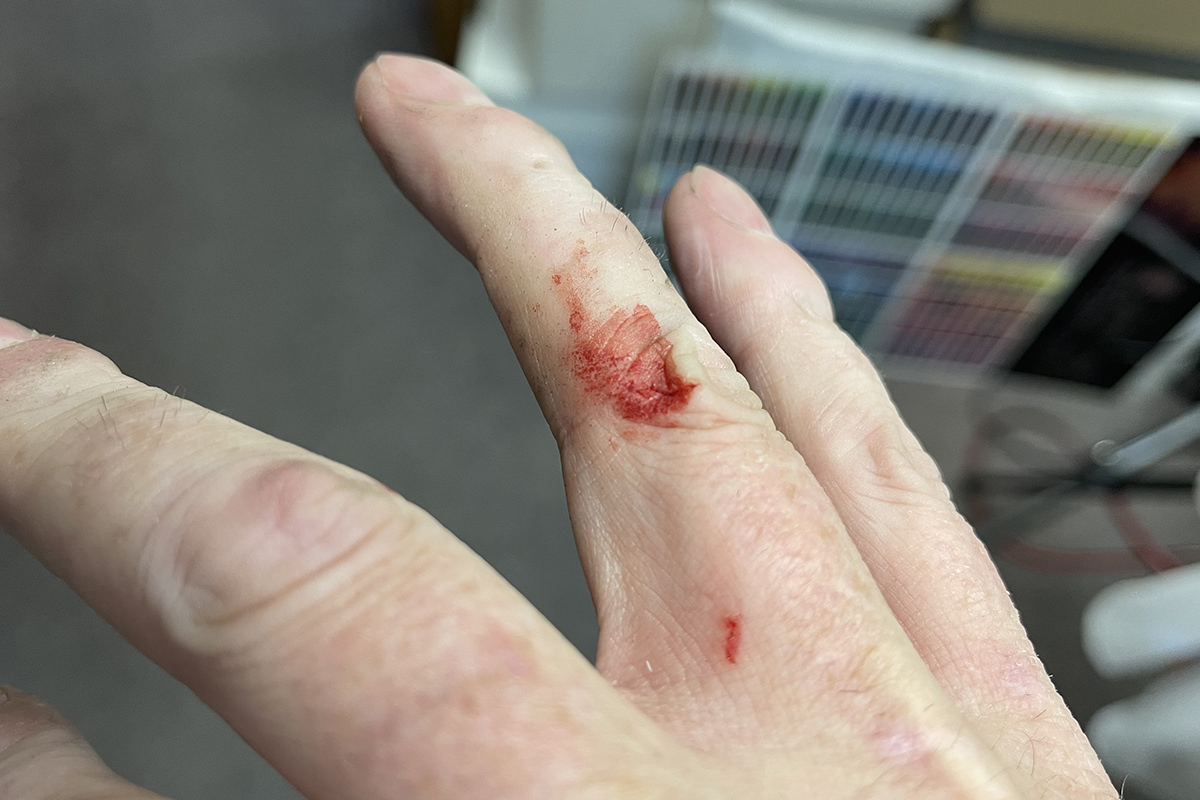 Ouch. But whatever. I have a cat to catch. Train tracks run right next to where he's been hiding, and I am mortified that he might be run over. So I don't need a handle on the door. I set it up with stinky cat food, then covered it like what was suggested by a local cat rescue to make it seem more "safe" to the kitten...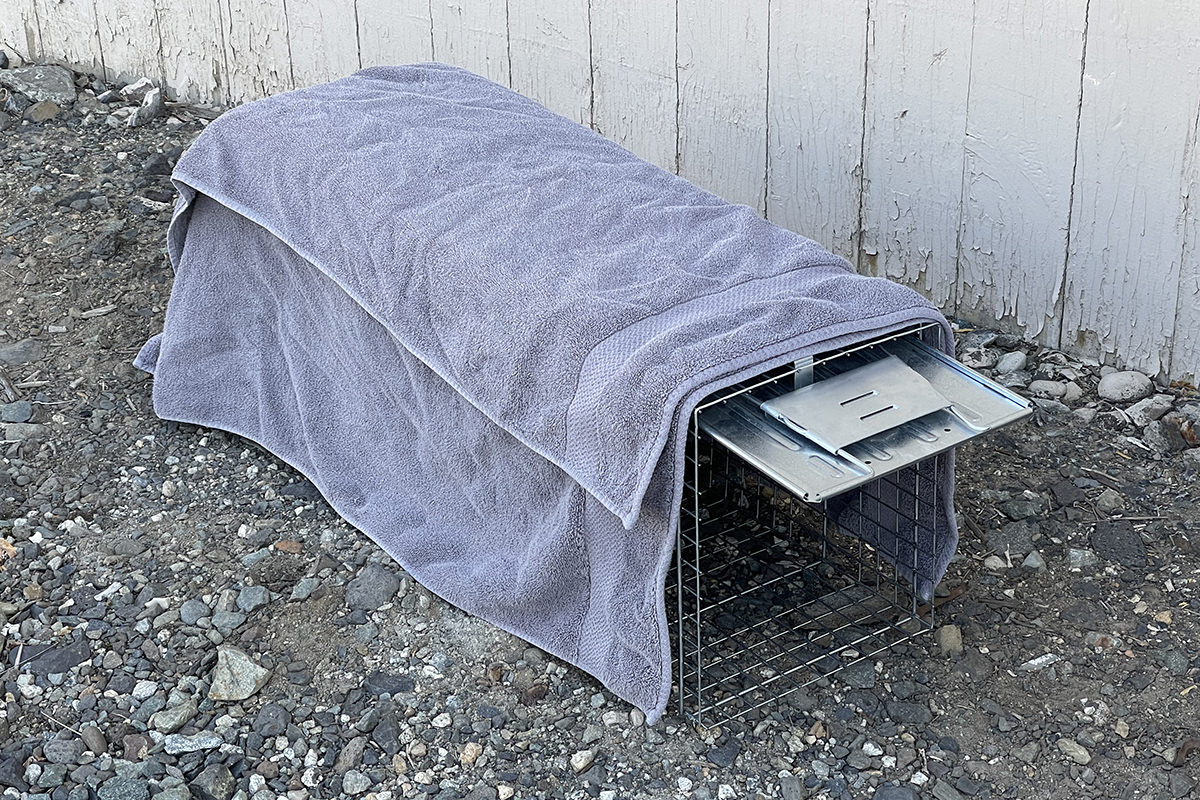 I checked the trap every hour. On the third hour the door had sprung and I was ecstatic that I had got kitty so easily. But when I ran across the street to collect him, there was no cat inside. Thinking that maybe a gust of wind set it off, I reset it to try again. But the cat was wary of it...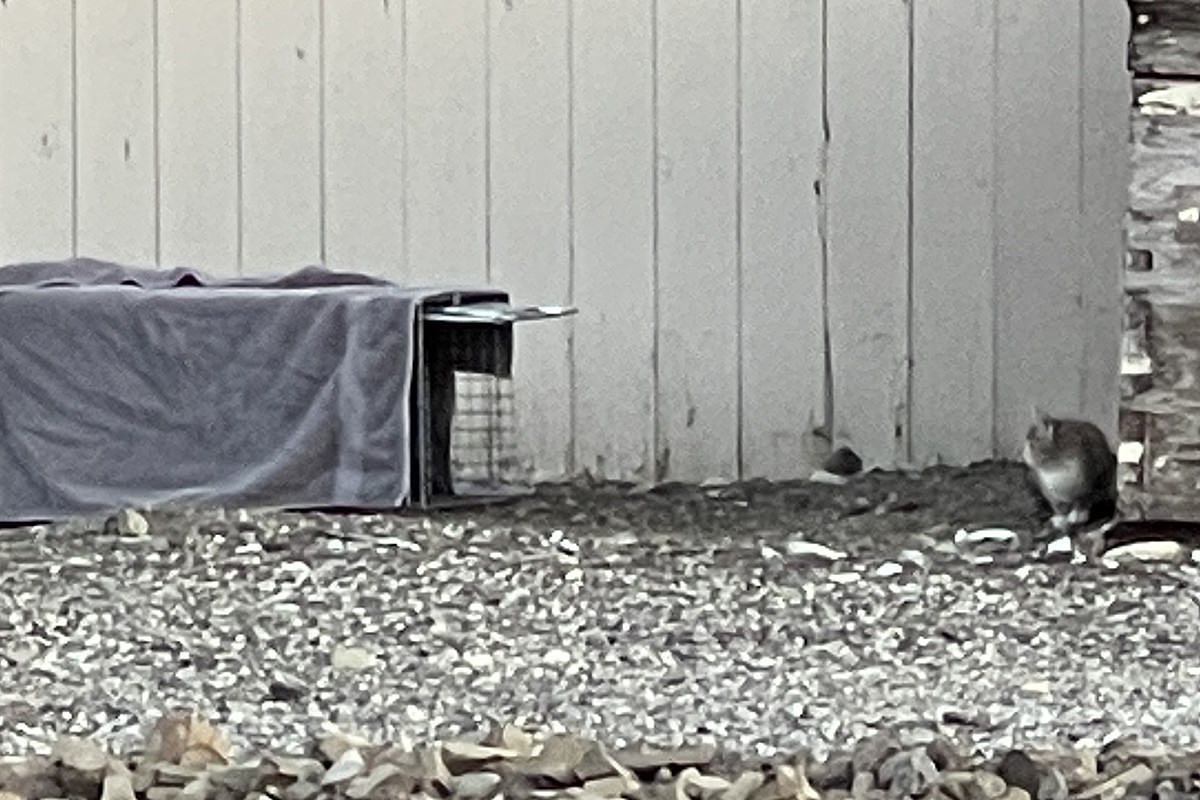 I worked until 10:00pm when it got too dark to see the trap. So I went home and started taking naps between my hourly trap checks. FINALLY at 2:00am my headlights revealed that the trap had sprung. But, once again, not kitten inside. What the hell?
So naturally I went to the internet to see what I was doing wrong. LO AND BEHOLD, WHAT I THOUGHT WAS A "HANDLE" WAS, IN FACT, A CRITICAL CLIP NEEDED TO KEEP THE DOOR CLOSED! There were videos on YouTube about it from FIVE YEARS AGO and everything...
The kitten had actually been trapped twice, but managed to squeeze out from under the trap door.
I was absolutely enraged.
This company, HavaHart, who never responded to a guy telling them that their product is defective... has ibviously known about this problem FOR OVER FIVE YEARS. Probably longer. How shitty is that? The only way I found out that the "handle" was not actually a handle was because one of the comments on that video explained it. With not a small amount of effort and a pair of wide-grip pliers, I managed to get the trap door clip installed in the slots that hold it...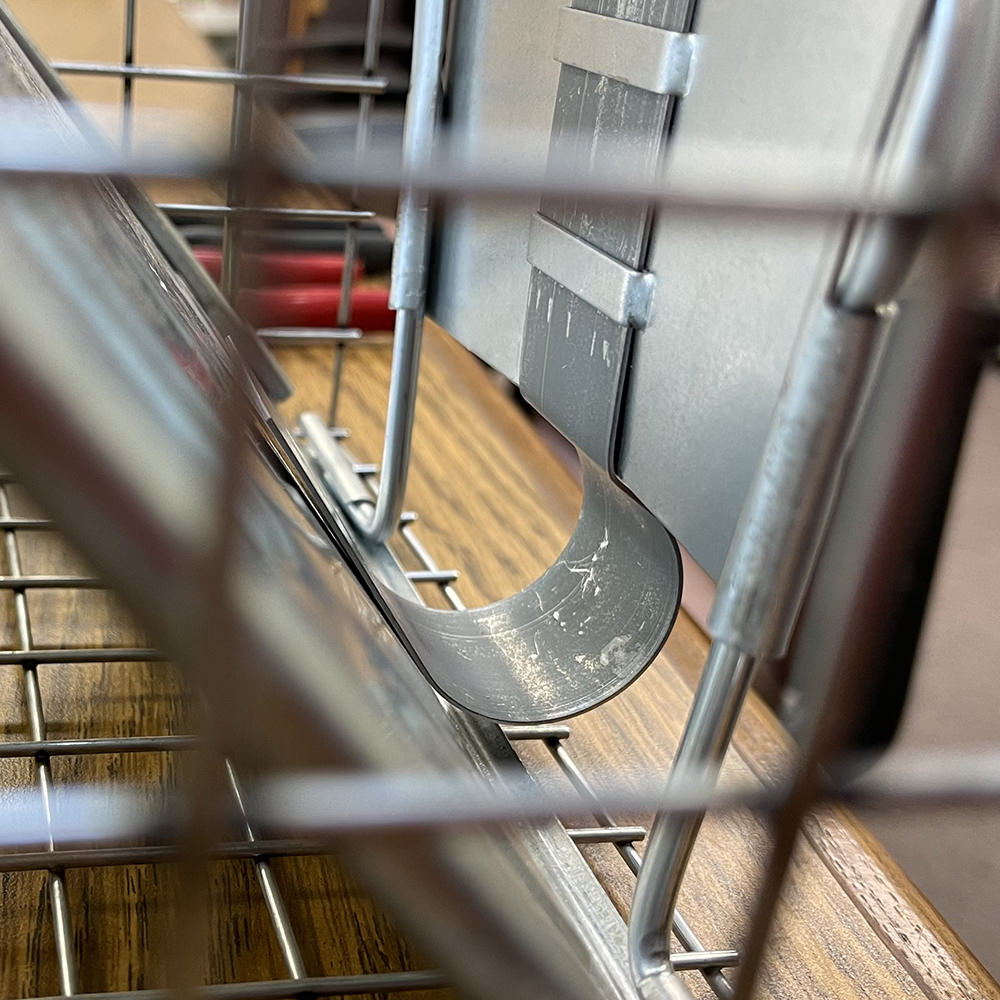 This is so shitty that I can't even express how angry I am. The kitten is probably so frightened about being trapped twice that they may never go back in now that I've repaired it. My God... all it would take is a simple rivet... or a punch-fasten... or a frickin' dimple... to make it so that this clip... WHICH ALSO ACTS AS A HANDLE PER THE INSTRUCTIONS ON THE BOX... won't come flying out and hurting people when you pull on it to open the door. It would also make their product work as advertised. Rage. Rage. Rage...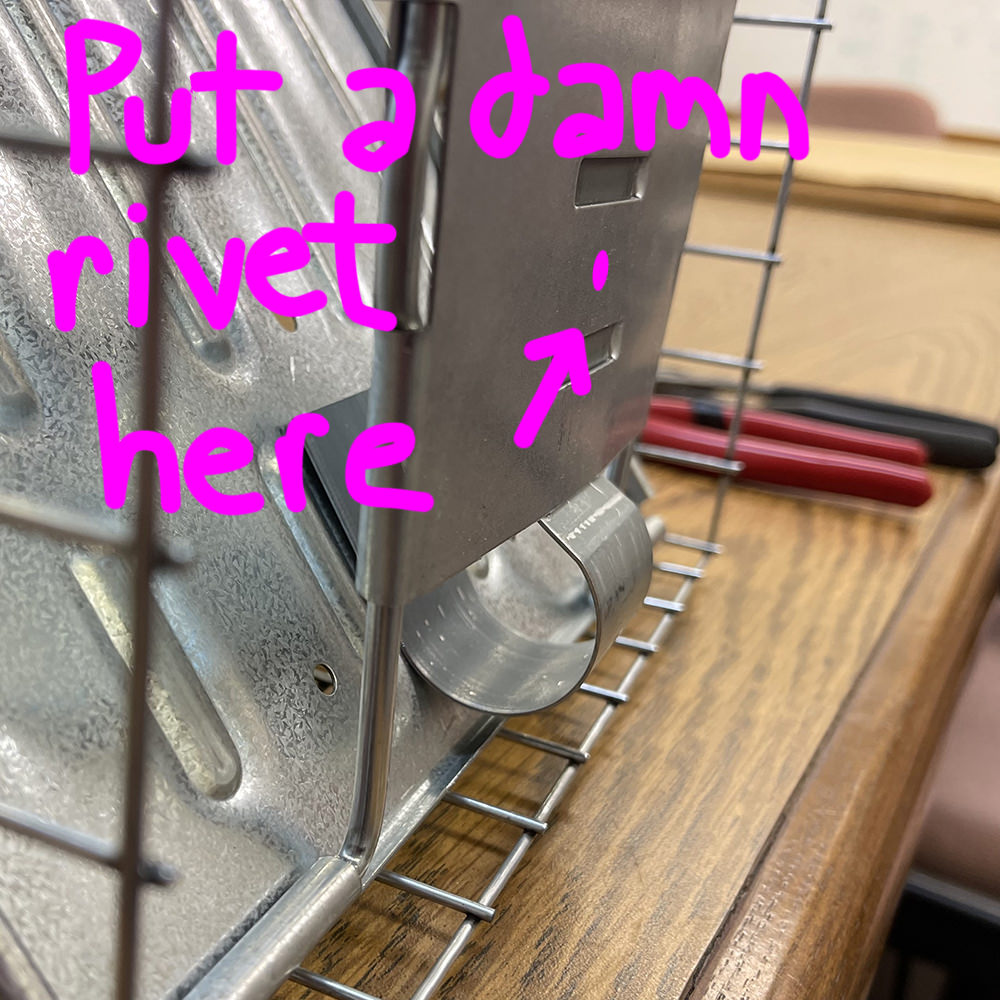 I continued to drive back to the office every hour, but the scared, hungry, possibly sick kitten never went back in the trap. And I don't blame them. I can only hope that they get hungry enough that they'll try to eat from the trap one more time so I can rush him to the vet and make sure he's okay. I'll still be checking every hour... even though I'm exhausted from lack of sleep worrying about a scared kitten getting run over by a train.
I don't really want a third cat, but I may not have much choice in the matter. I'm not going to abandon the poor thing. Which I've decided to name "Loki" whether it's a boy or a girl. Because Loki in the Marvel Studios movies is famous for being able to escape a trap... just like this kitten. And speaking of Loki...
The first of six episiodes dropped. And it's glorious. It's Loki doing what Loki does best, but also has some heart in it that's surprisingly touching. So nice to see that Marvel Studios is killing it not just with their movies, but with their Disney+ series as well. Can't wait to see where this one goes!
Posted on June 5th, 2021

Still hacked.
I honestly don't understand how this stuff happens. Apprently there was a vulnerability somewhere that my protection plugin didn't catch. It only alerted me to the fact that files had changed, and when I look at the source code, I see it there... I just don't know where it's being injected yet.
Reeeeealy hope I don't have to restore from backup.
This will be the look on my face if I have to do a restore from backup...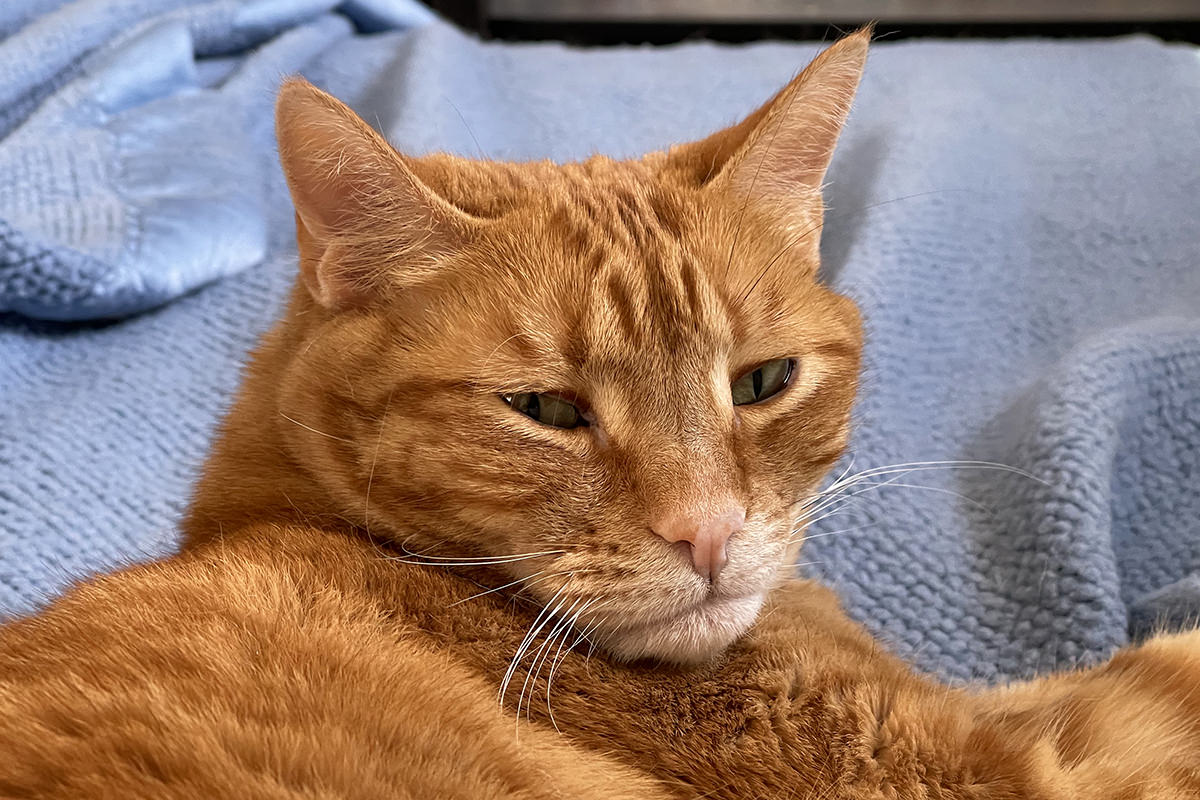 It's Caturday, after all.
Posted on May 29th, 2021

I have loads of photos of my cats. But photo after photo gets boring, so I was looking for something different. I didn't know exactly what that was going to be until I saw one of my long-time blogging friends was painting rocks that she hides for people to find. She paints a lot of cats, so I thought I'd ask about hiring her for a commissioned set for Jake and Jenny. Lucky for me, she accepted. And today they arrived!
There's Kitten Jenny, Adult Jenny, Kitten Jake, and Adult Jake hugging Mufasa. Kim also gave me two Taco Cat rocks to hide.
The only thing I told her is that Jenny needs to have her trademark frowny-face. Everything else... including Mufasa... she came up with entirely on her own! How awesome is that? She captured them perfectly, and I couldn't be happier.
Now I need to build a shadow box to display them.
You can find Kim's Instagram by clicking here.
You can also find her on her Facebook page right here.
Posted on May 22nd, 2021

Whenever I see another cat exploring the great outdoors of my back yard while Jake and Jenny gaze out at them from the catio, I can't help but feel a little bad about it. They're such scaredy-cats that roaming free would probably be traumatic for them (it certainly was for Jake when he escaped!) and even more traumatic for any birds in the area, so I try not to let it bother me too much though.
In an effort to take the guilt away, I bought a "Fresh Patch Cat XL" to drop in the catio so they could at least have some nature to walk on or roll around in or whatever. The stuff is available in different sizes, but I opted for the largest 2' × 4' size to make it more lawn-like. What fun is a miniscule patch? It's grown without dirt and only requires a daily spritzing with water to stay fresh. It's supposed to last three to four weeks, but I'm hoping that it last longer since Jake and Jenny won't be peeing on it and taking dumps on it like a dog would.
The smaller patches come in a waxed-back box. The largest patches do not, so I ordered a tray to go with it. I thought it would be a flimsy thing and was prepared to build a frame for it, but the thing was really tough! The grass itself is okay... though it had sludgey spots and was yellowed already along one side.
After flopping the tray down, all I had to do was roll out the grass and it was ready.
At first, Jake wanted nothing to do with it. But Jenny? she was very curious...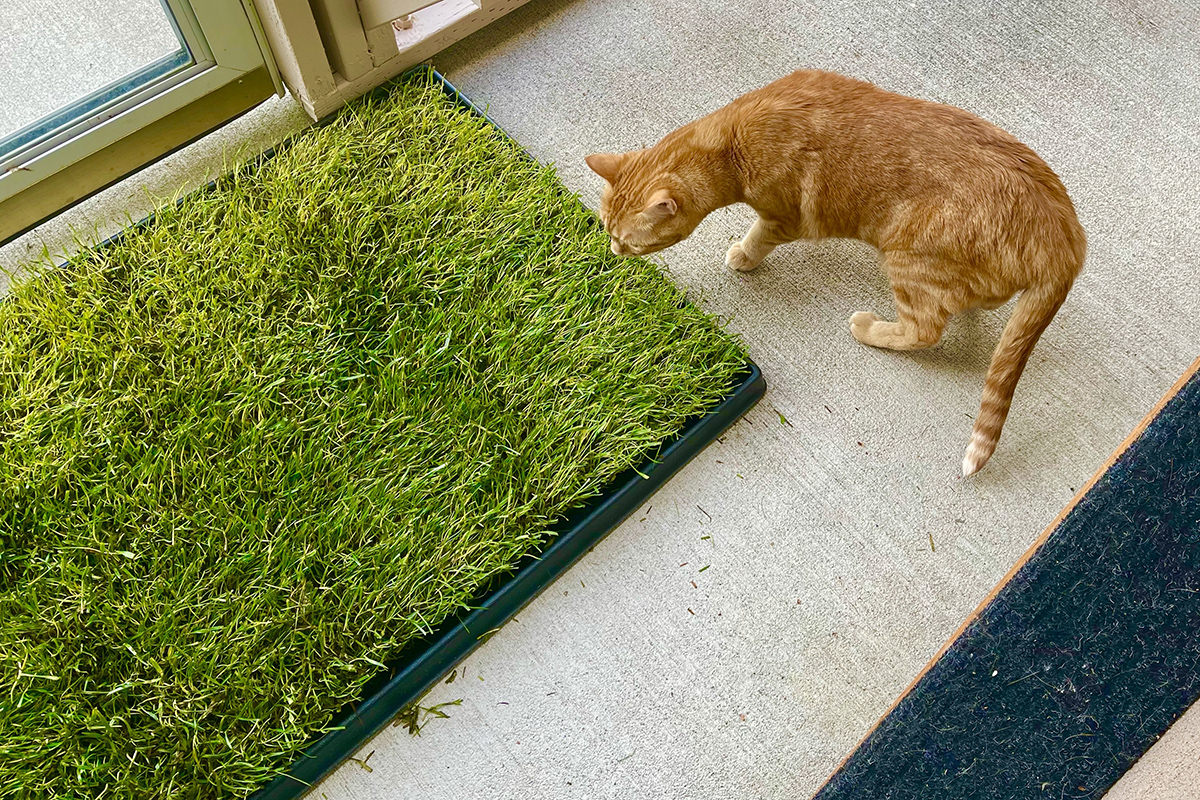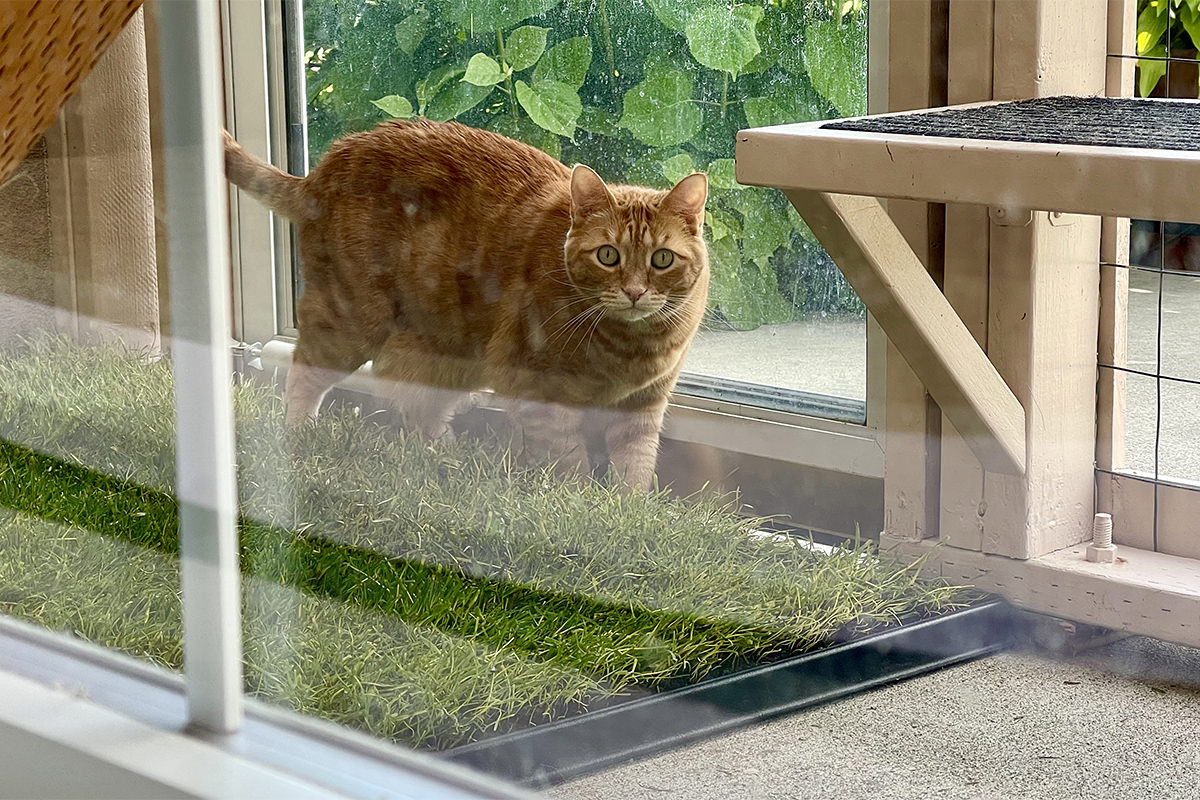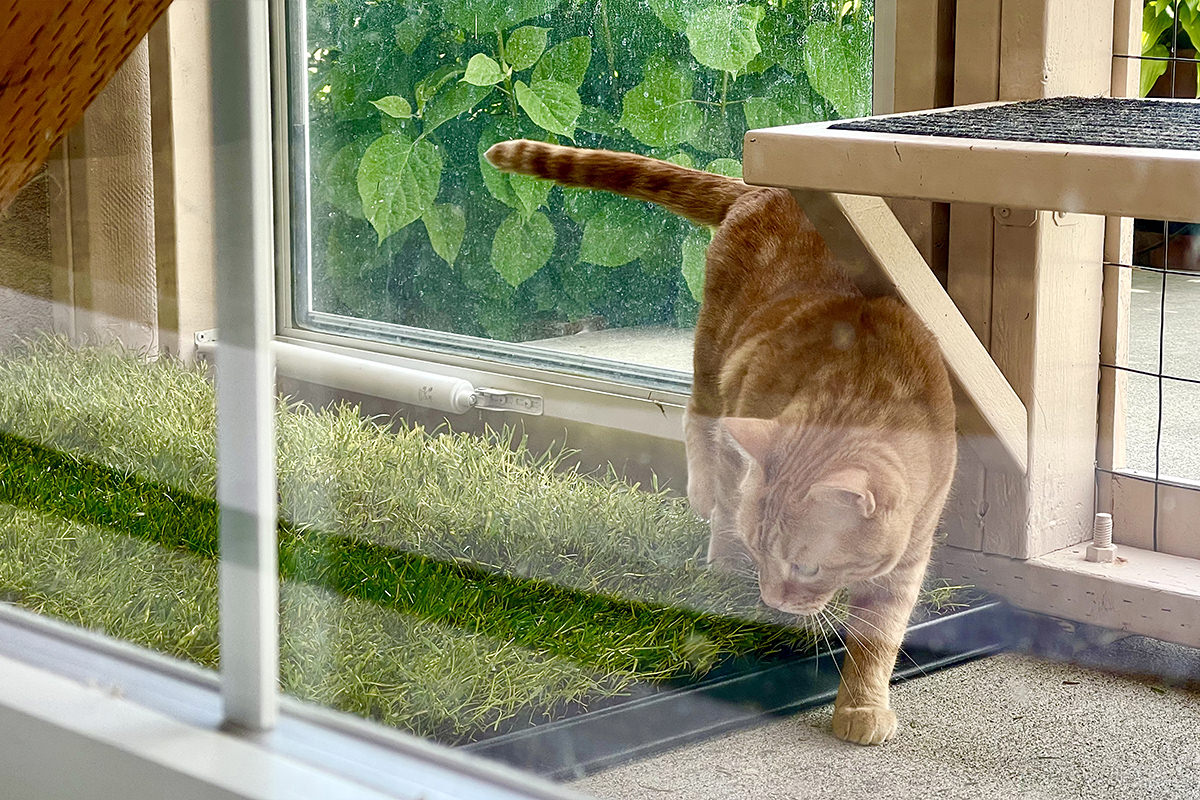 Eventually Jake was onboard though...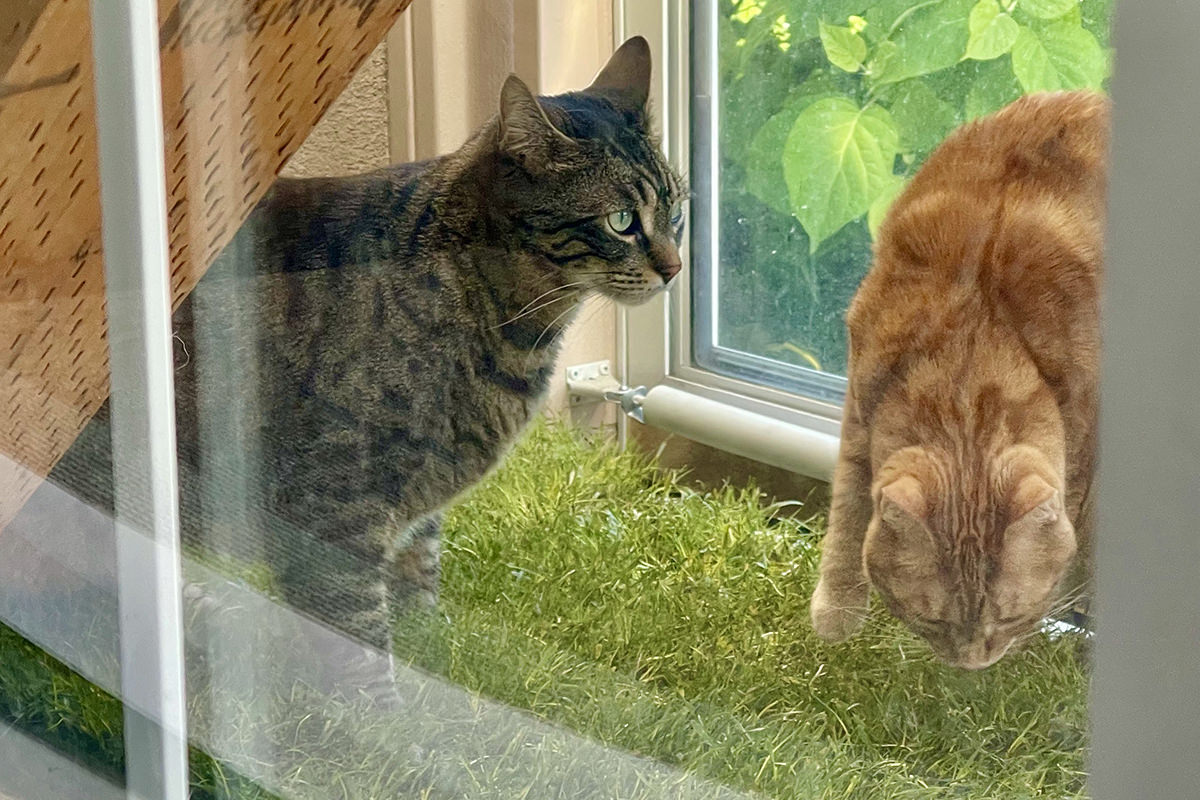 I'm not sure if this will be a passing phase like just about every toy they've ever owned... or if they're in it for the long-haul. I'll have to see how things pan out before having to re-order in three or four weeks.
Posted on May 15th, 2021

A couple days ago when I got out of the shower, I heard Jenny WAILING out the door. I immediately ran out into the hall naked and soaking wet in order to find out what had gone wrong. And there she was... just sitting there meowing her head off. So I start examining her and feeling around trying to find out if she broke some bones or got cut somehow or was otherwise injured. But... nothing. After getting tired of being man-handled by me and my wet hands, Jenny wandered downstairs... apparently no worse for wear.
So I get dried off, brush my teeth, get dressed, gather my work stuff and head downstairs.
Where Jenny is sitting next to the feeding station wailing her head off. Again.
Turns out all this drama was because she was tired of waiting for her morning treat.
So I'm like "Oh thank heavens" and "Holy crap... are you kidding me, Jenny?" Because I've worked hard to resist the urge to reward bad behavior in my cats, and here's Jenny just not giving a crap about anything I have planned. But I be darned if this doesn't make me love my cranky girl even more than I already did. What an amazing cat...
Jake is a lazy boy. He eats when it's time to eat. He never bothers me for food, but it happy to sit and sniff while I eat my food. Jenny, on the other hand, is constantly wanting to be fed. If I even LOOK like I'm headed to the kitchen, she's off like a rocket to follow me in and ask for a treat. What's worse is that now she's the one to snarf up her brother's food if he doesn't get to it quick enough. It used to be the other way around. Earlier this week I tried to correct her at lunch time so Jake could get to his bowl. And she was NOT having it. I ended up having to grab some food out and add new food back to her bowl so that her brother could get something to eat.
I wonder what that's all about?
And speaking of wondering what's this all about with my cats... here's Jake, snuggled up against me as usual. Except he keeps moving north from my feet. Now he insists on sleeping while snuggled up against my butt...
This would be fine... if not for the fact that Jake has a body temperature of 180°. The guy is on fire. Which is not comfortable after a while. So I gently move away... only to have Jake rearrange himself to be snuggled up against me tighter...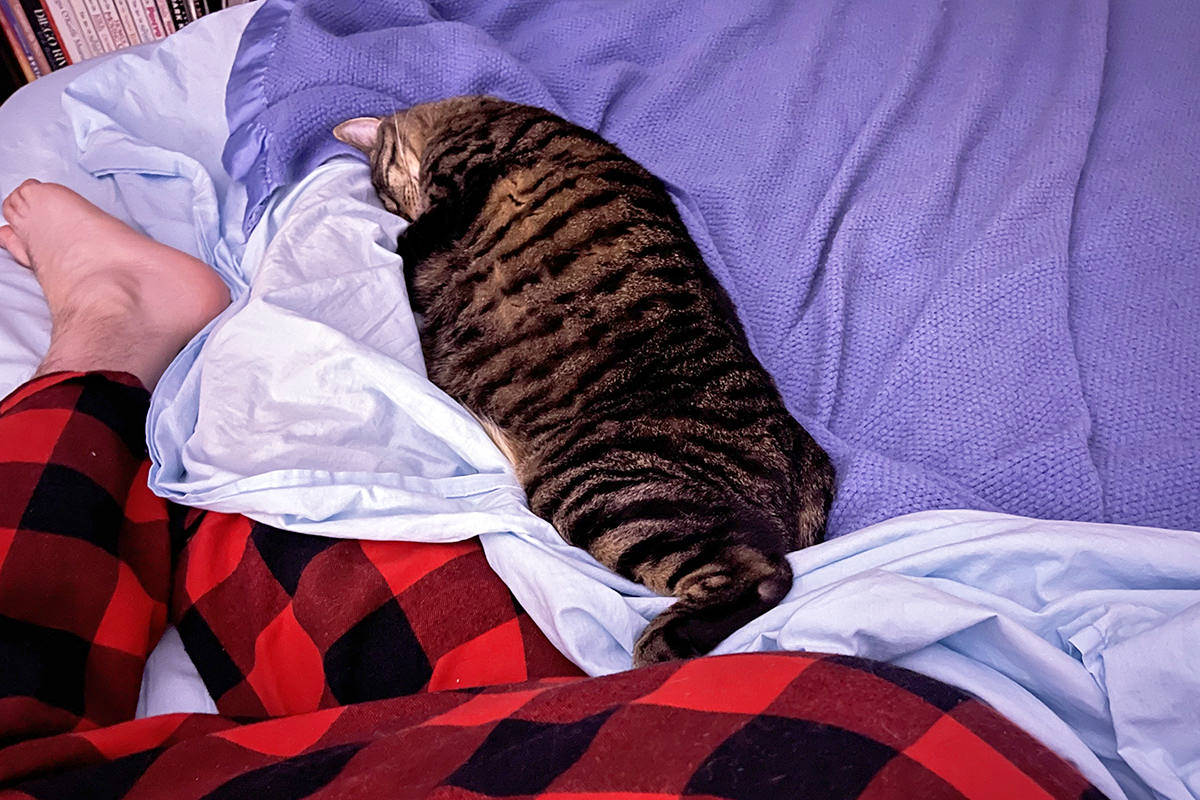 Eventually he's grabbing my leg so I can't escape so easily...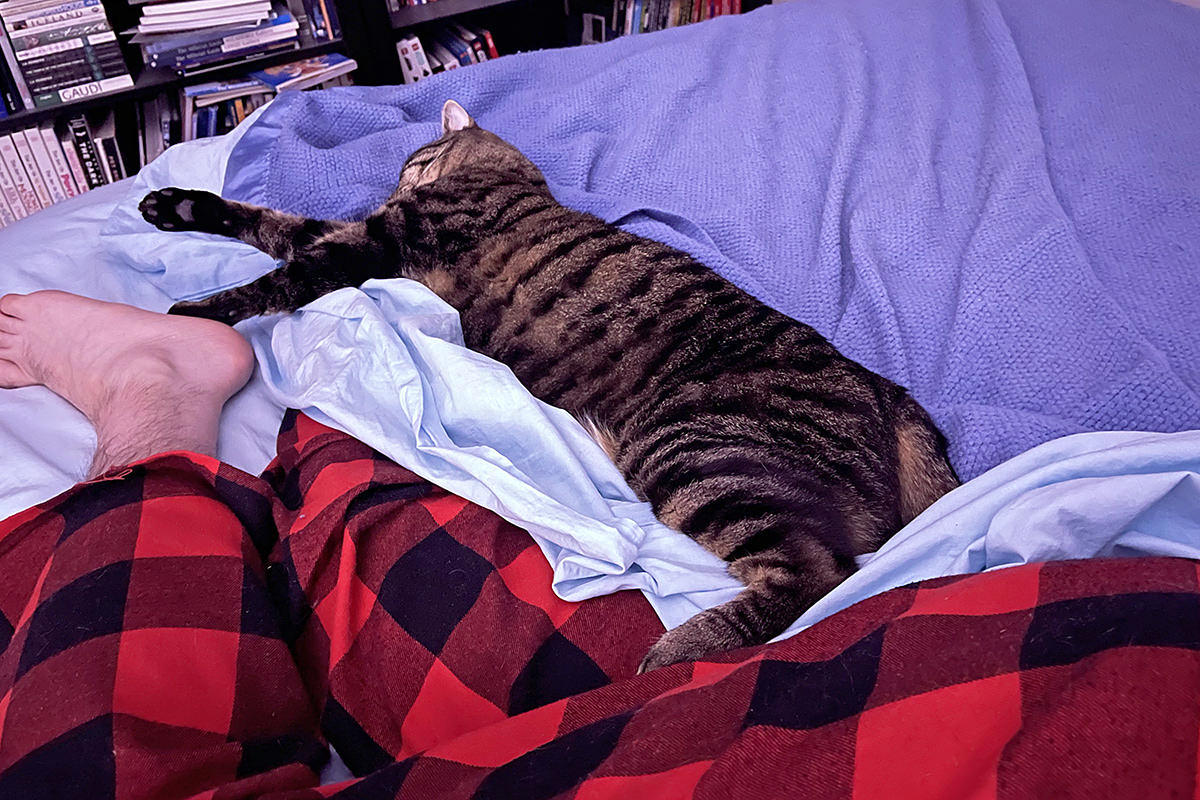 Which would be fine if he didn't have a body temperature of 180° AND HAVE HIS FOOT UP MY ASS...
No exaggeration... I had to pull his little foot out my ass...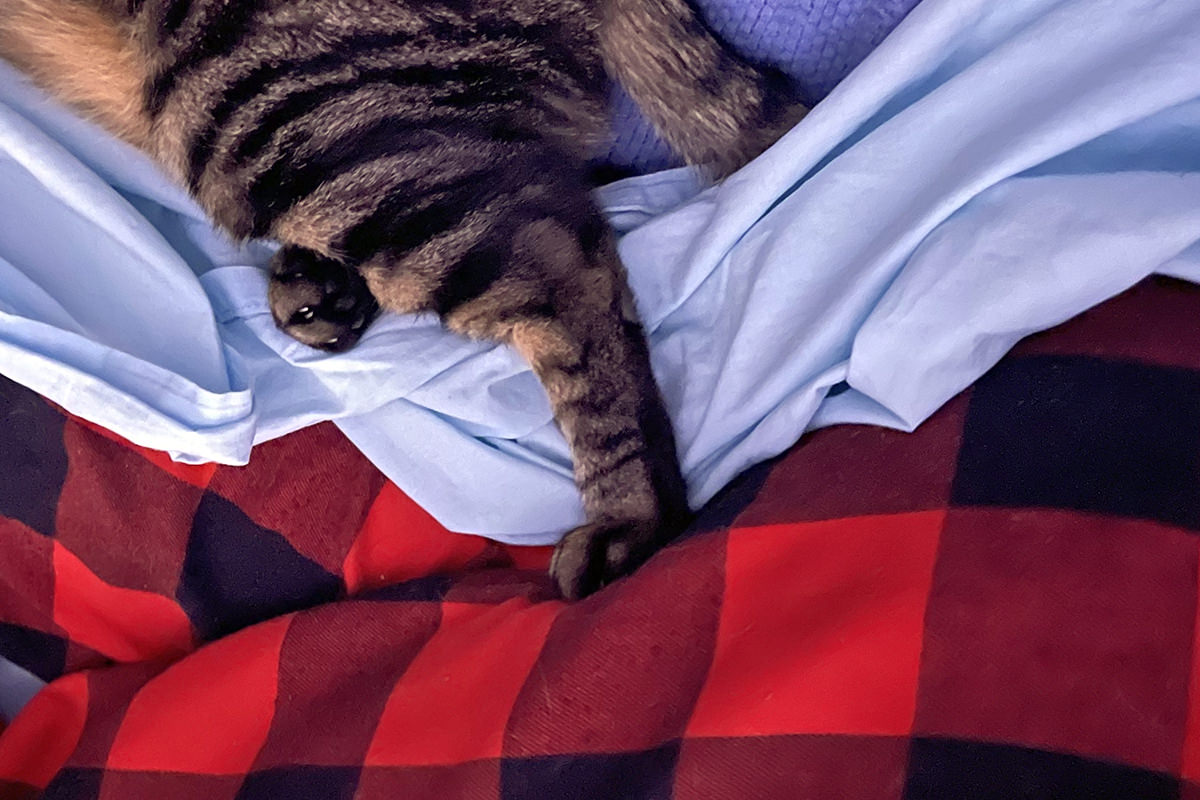 But don't worry. Jake just adjusted himself again. How he does this without waking up just amazes me. I finally couldn't take it any more. My legs (and ass) were on fire. So I freed my legs and swung them over him to have some space. And he didn't even flinch...
Nope. He just snuggled up next to the other side!
After moving over yet again, he finally got the hint and snuggled up to himself instead of snuggling up to my leg...
But then I had to get out of bed. When he finally woke up. And was not happy about it...
But no worries. When dinner time came around, all was forgiven.
Fortunately Jenny didn't eat his food.
Posted on May 8th, 2021

And so now both cats are sleeping with me at night. Used to be just Jake, but now that he's relegated himself to sleeping at my feet each night, Jenny decided that this left the upper half of the bed to her.
Their nightly routine has become painfully predictable.
It starts out when Jake starts sticking to me like glue on the couch about an hour before bedtime...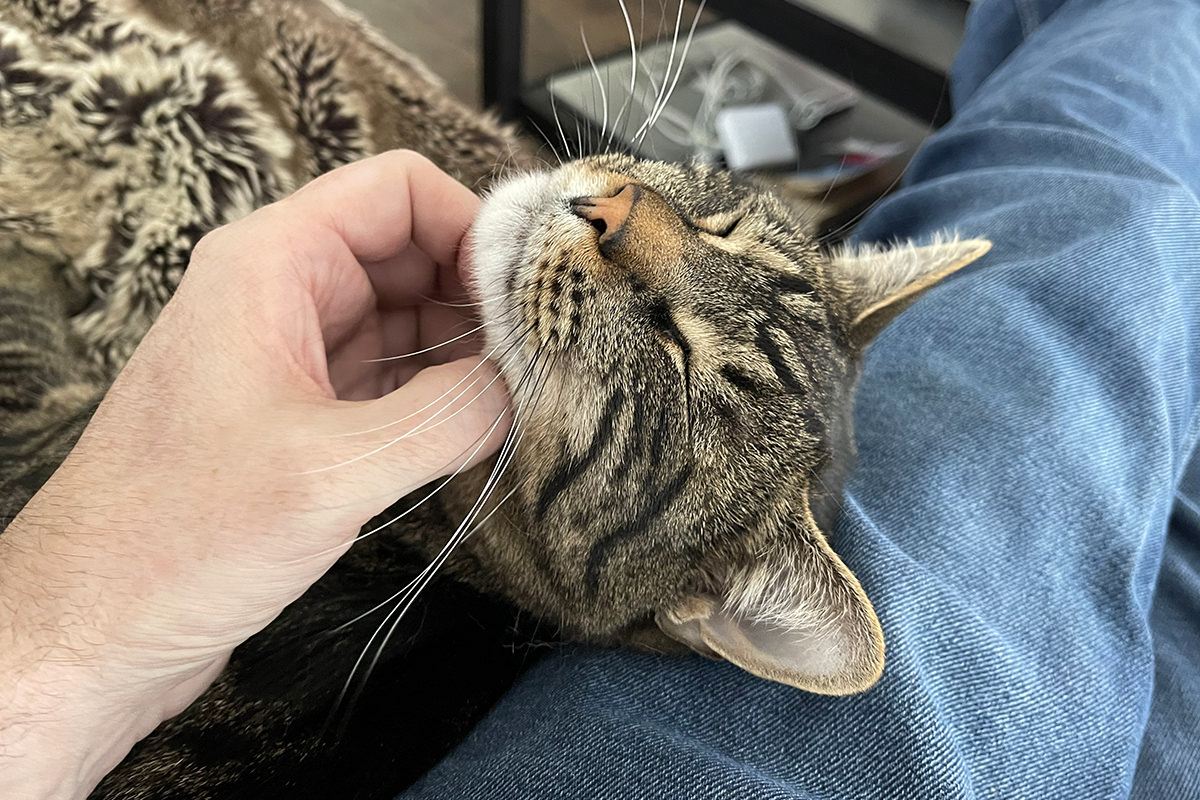 Then he follows me upstairs to my bedroom. After complaining that I'm not changing into pajama bottoms fast enough, he'll flop over for belly rubs...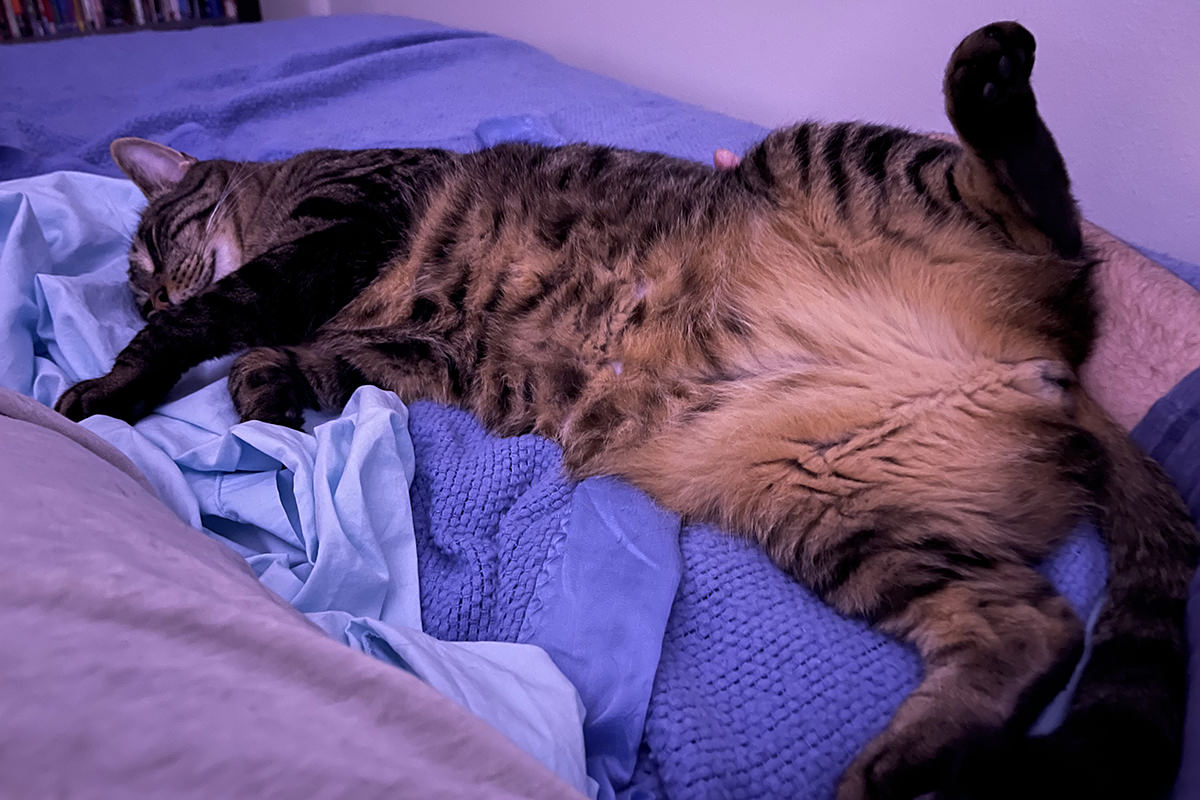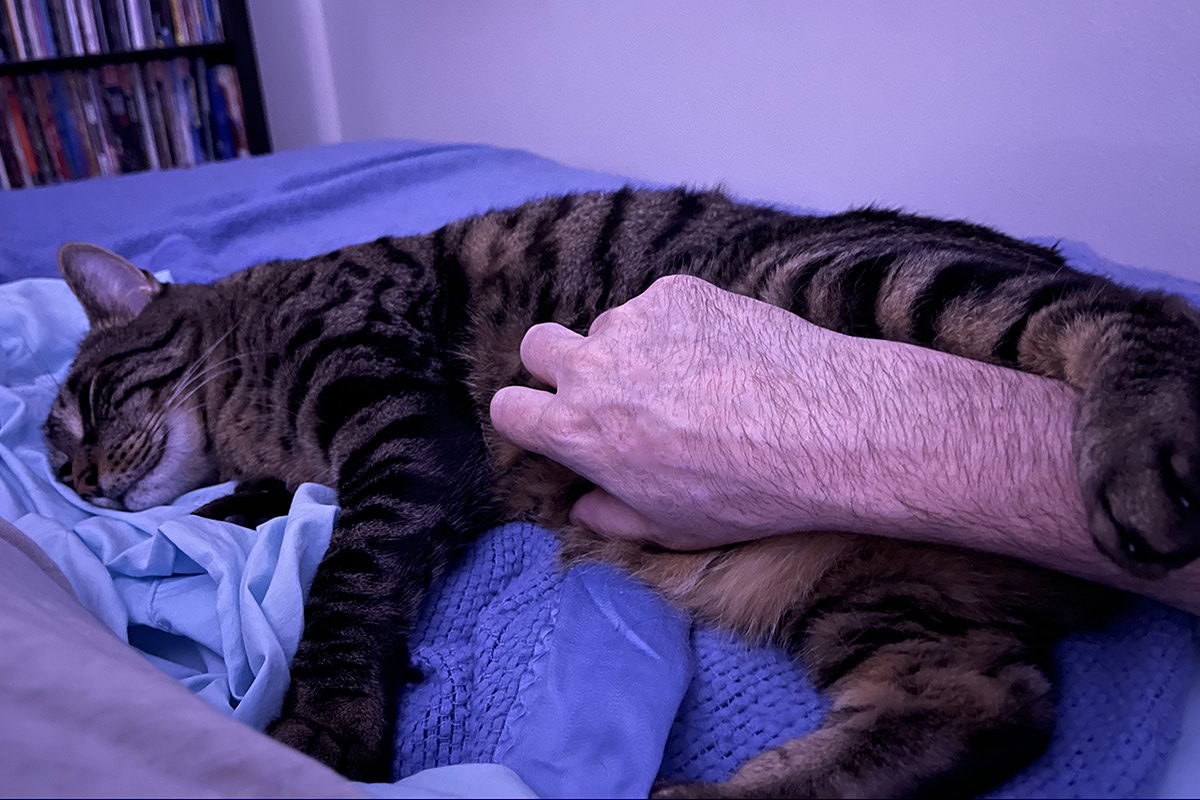 Then, just as he starts to zonk out, he gets up to go fall asleep on or near my feet for some reason...
Then, when Jenny sees that Jake is done getting attention for the night, she hops up for her turn getting belly rubs...
But she falls asleep right next to me, as you can see by this photo of me in the morning...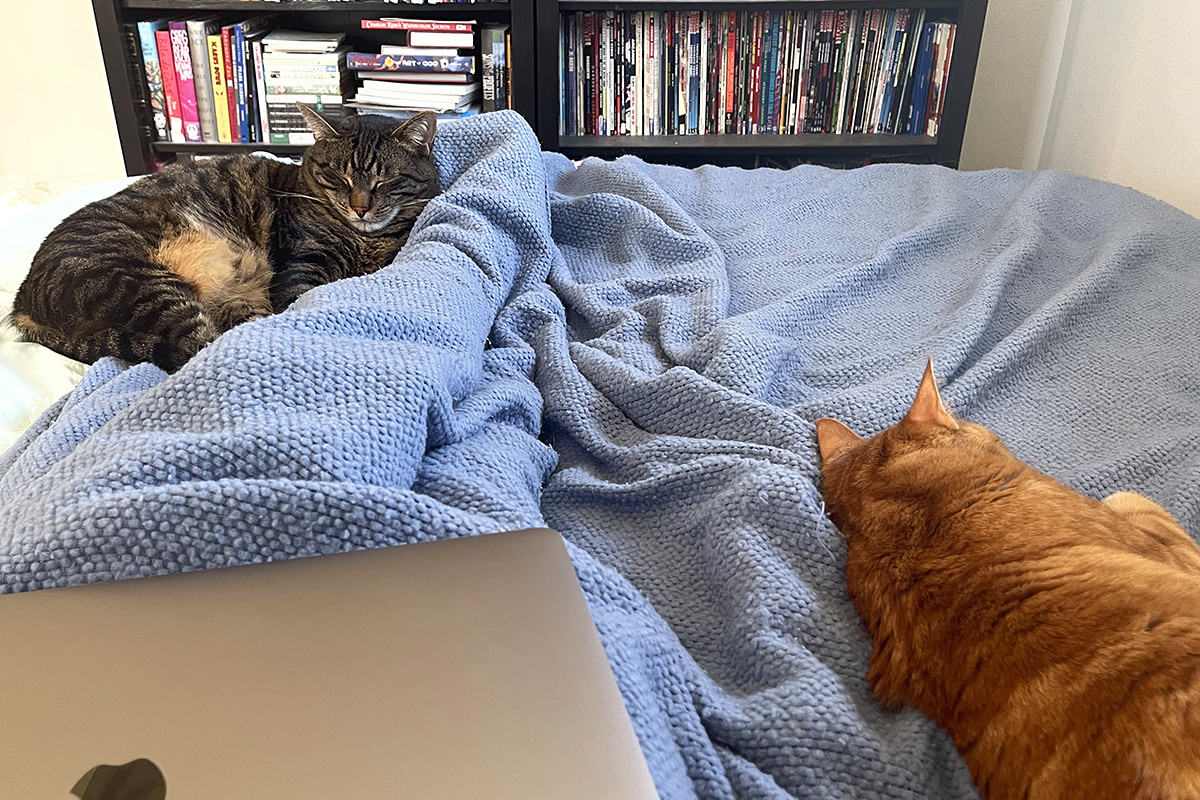 I still find it odd that they choose to sleep next to me when I move quite a bit. Apparently it doesn't bother them. I just hope that I don't end up squishing a cat in the middle of the night!
In the morning Jake usually wanders off as I'm waking up. But Jenny stays right there because she demands more belly rubs to start out her day!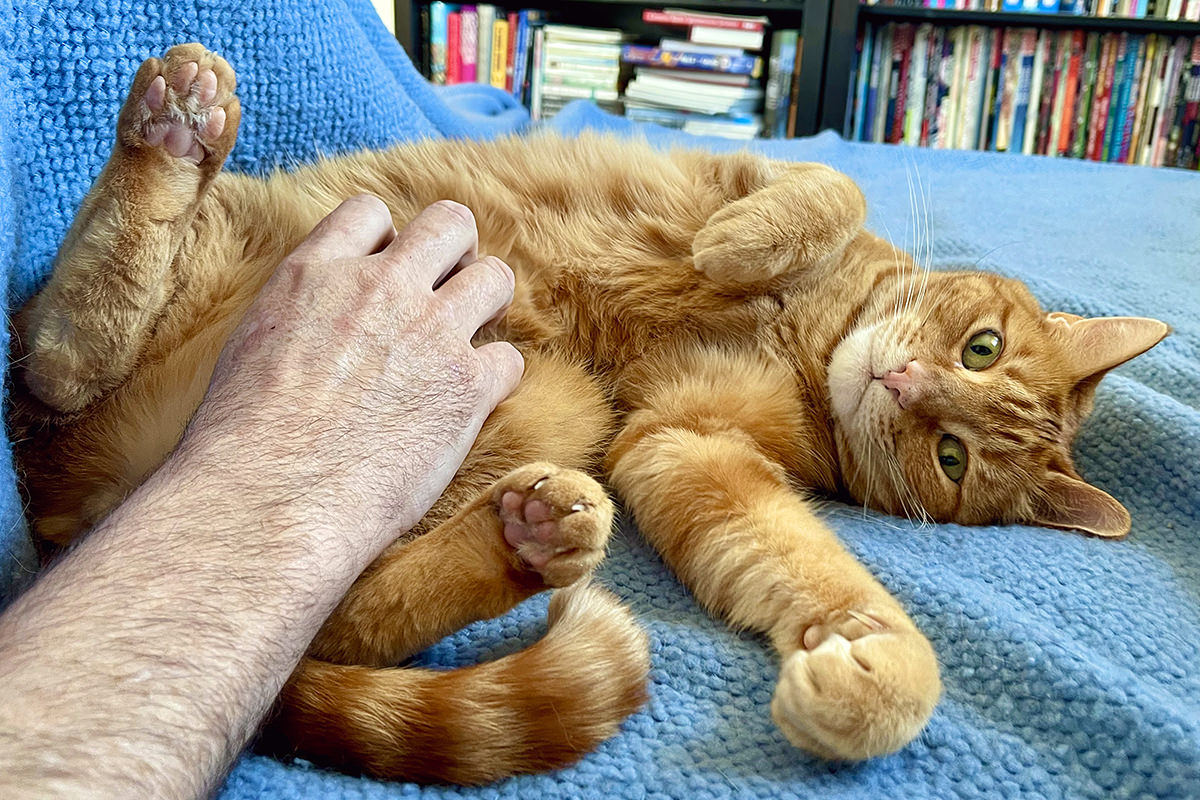 Such an adorable girl. She just can't help be be adorable though. It's her natural state. Whenever the dryer buzzer goes off, Jenny waits for me to pull the clothes out, then hops on top of them. Because they're warm. Then I have to gently pull a piece out so I can hang it up... at which time Jenny is pawing at the pile because she wants all the warm clothes. The paranoia then gets worse and worse as more clothes disappear off the pile...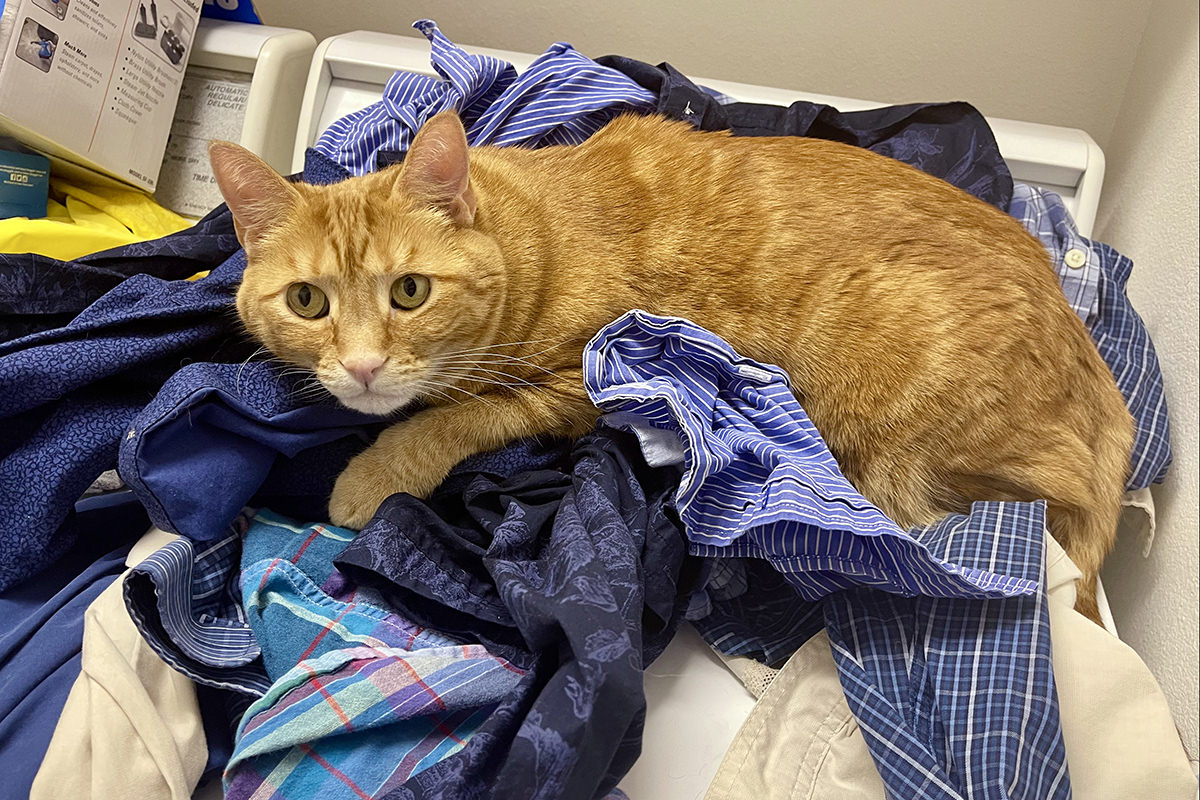 Poor girl. I'm stealing her treasure!
And that's my Caturday today. Spoiler Alert: I'm pretty sure Jenny will continue to be adorable in my next Caturday post.
Posted on April 26th, 2021

Every damn day there's stuff going on that's worse than the day before, and I am exhausted. I just want to crawl under the covers and forget the outside world exists before I even get to my lunch hour because something in the news was the last straw for me.
Flat earthers. Anti-vaxxers. COVID deniers and mask deniers. Q-Anon conspiracy dipshits. Politicians selling us out to their wealthy corporate owners. Asholes making life so much harder for anybody who isn't a billionaire. The list goes on and on, but it generally boils down to mean people and stupid people. And most of the time the worst offenders are both. Those who lack compassion and kindness. Those who are willfully ignorant and not willing to acknowledge truth. It's depressing just how bad things have gotten because these people are intent on fucking it up for all of us.
The good news is that I finally set aside some time to reinstall Wordpress so the PHP update is no longer killing my blog, so there's that.
So I guess there's nothing stopping me from kicking my Monday to the curb a little early and crawling under the covers to play video games for the rest of the day.
Though I'm pretty sure my cats will want dinner come 6:00.
Tags:
Assholes
,
Blogging
,
Cats
,
COVID-19
,
DaveLife
,
Dumbassery
,
Dumbasses
,
Life As We Know It
,
Pandemic
Categories:
Cats 2021
,
DaveLife 2021
,
News – Politics 2021
—
Click To It:
Permalink
—
0 Comments: Click To Add Yours!