Yeah, I flew 270 miles out of my way for pasta.
But the miles traveled were the least of my troubles in a day that started at 3:30am.
From Milwaukee I flew to Detroit to catch my connecting flight to Columbus. But, after landing in Detroit and having to taxi to the gate for 15 minutes, we just sat there. Finally, after 10 additional minutes with nothing happening, the captain announced that the key-card system for the entire airport was down. Nobody could come out to guide the plane to the gate because they were locked inside. F#@%ing stupid Detroit International Airport.
When the airport finally gets their shit together so the pilot can dock the plane, I have five minutes left to run the fifty miles across the terminal to catch my connection. Totally exhausted, I arrive at the door just as they are ready to close it. And, even though there's no chance for my luggage, at least I'll make it to Columbus.
But then something amazing happens. The plane has ice on it, and they need to go out for de-icing. As I sit there waiting, I feel a bump and look outside my window... and there's my suitcase being loaded on the plane! Things are finally looking up...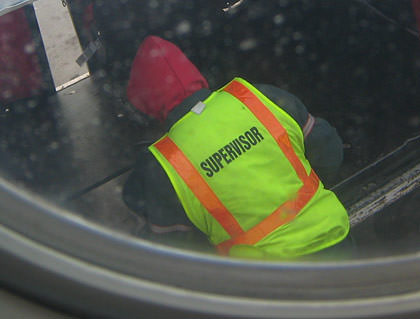 What happens next? The answer to that is in an extended entry...
I haven't been to Columbus, Ohio in seven years.
Turns out everything is exactly as I remember it. This is no big feat, because I only remember two things about the city...
Pasta Salvi from Salvi's Bistro.
How fast you get your luggage at the Columbus airport.
Despite the fact that I flew in first class, was the third person off the plane, walk fast, and made no stops along the way... my suitcase had just exited onto the carousel as I rounded the corner into baggage claim. I have no idea how they manage this freakish... almost magical... instant delivery of luggage at the Columbus airport. I'm guessing it either involves quantum physics or the devil.
Anyway, I grab my rental car and head to the opposite side of the city so I can meet fellow-blogger Delmer for lunch at Salvi's Bistro on this beautiful afternoon...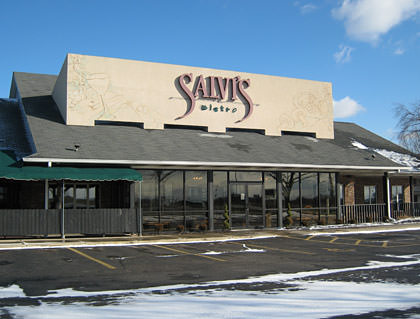 After chatting with Delmer for a bit, pasta perfection was served...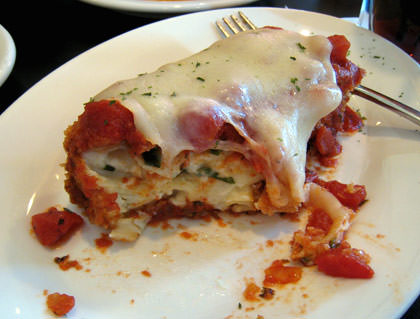 That's lasagna noodles layered with white sauce, rolled in bread-crumbs, then deep-fat-fried and covered with marinara sauce and baked with mozzarella. Heaven on a plate.
Since they're a bit small, I ordered two. This was kind of a mistake because the crispy bread-crumbs get mooshy after a while. Next time I order more than one Pasta Salvi, I'll wait until I'm finished with one before moving on to the next. After saying goodbye to Delmer, it's back downtown for Degas at the Columbus Museum of Art.
The Degas exhibit was kind of disappointing (they were all landscapes that I didn't particularly care for) and the best part of the show was a beautiful Monet on loan from The Shelburne Museum of Vermont to illustrate where Degas got his inspiration or something. Feeling dejected by the less-than-stellar Degas paintings, I walk around a corner and find a nice Dale Chihuly piece...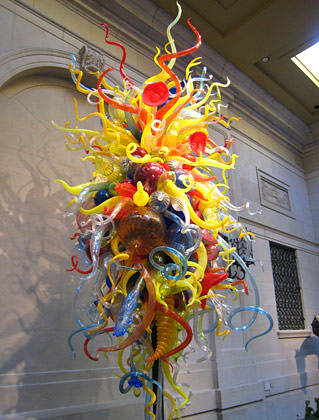 Then I walk around another corner and am knocked on my ass...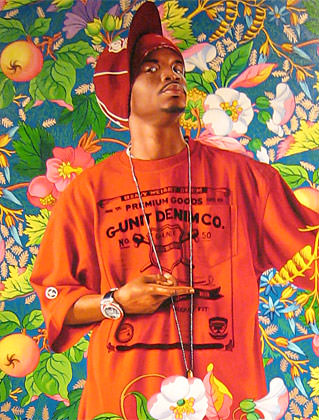 And here's the real reason I'm in Columbus (in addition to my favorite pasta)... there's a Kehinde Wiley show going on! I totally love the way this brilliant artist blends contemporary styling with classic themes of the old masters. I was so impressed that I bought the pricey hardcover show book. Amazing. After that, I head south so I can visit one of the largest book stores in the USA... The Book Loft! At least I WAS going to visit, until I couldn't find a place to park. Frustrated, I finally give up.
It's then that I decided to check into my hotel back at the airport so I can dump off my luggage. That's when I notice my rental car has a flat tire. Lovely. It's back to the rental car agency to pick up a different car (and, thanks to my Loss-Damage Wavier, I don't have to pay a dime). Then it's off to The Motorcycle Hall of Fame Museum...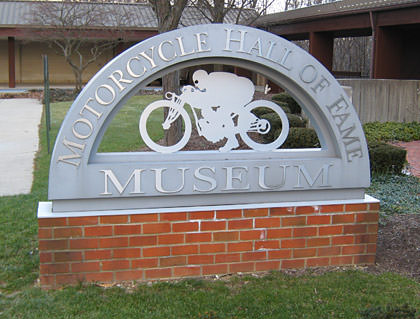 It's kind of cool, but not nearly as big as I had thought it would be. Still, they have quite a collection of award-winning race bikes...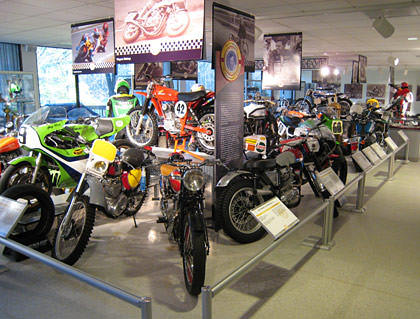 And now it's time to visit Easton Town Center so I can finally see the latest James Bond flick... Casino Royale. At one time, the mega-theater complex here was a "Planet Hollywood: Planet Movies" venture, but switched over to an AMC theater chain after the implosion of both Planet Hollywood and All-Star Cafe. The shame here is that I only got to see Planet Movies while under construction, never after it was completed, and now it's gone.
The movie was excellent, with Daniel Craig turning in a performance that totally killed. I never thought there could be a better Bond than Sean Connery, but Craig actually managed to pull it off. Sure there was a boring bit of "Texas Hold'Em" bogging things down in the middle (and two dumbasses sitting in front of me that could not shut the fuck up, and ended up talking THROUGH THE ENTIRE MOVIE!)... but I loved the film just the same. I can't wait to see what they do with the franchise next.
It was at this point that I had planned to head back for another round of Pasta Salvi for dinner, but I was dead-tired from lack of sleep this week, and it was starting to snow. The idea of driving all the way across town again filled me with dread, so I decided to eat at the Easton Johnny Rockets instead, then dropped by The Apple Store before calling it a night.
Not a bad day's work considering I was only here to eat pasta and say "hi" to Delmer!
And here it is 11:00pm back at my hotel, and I finally have the opportunity to get some sleep. Tomorrow morning it's off to Chicago...