Posted on April 11th, 2017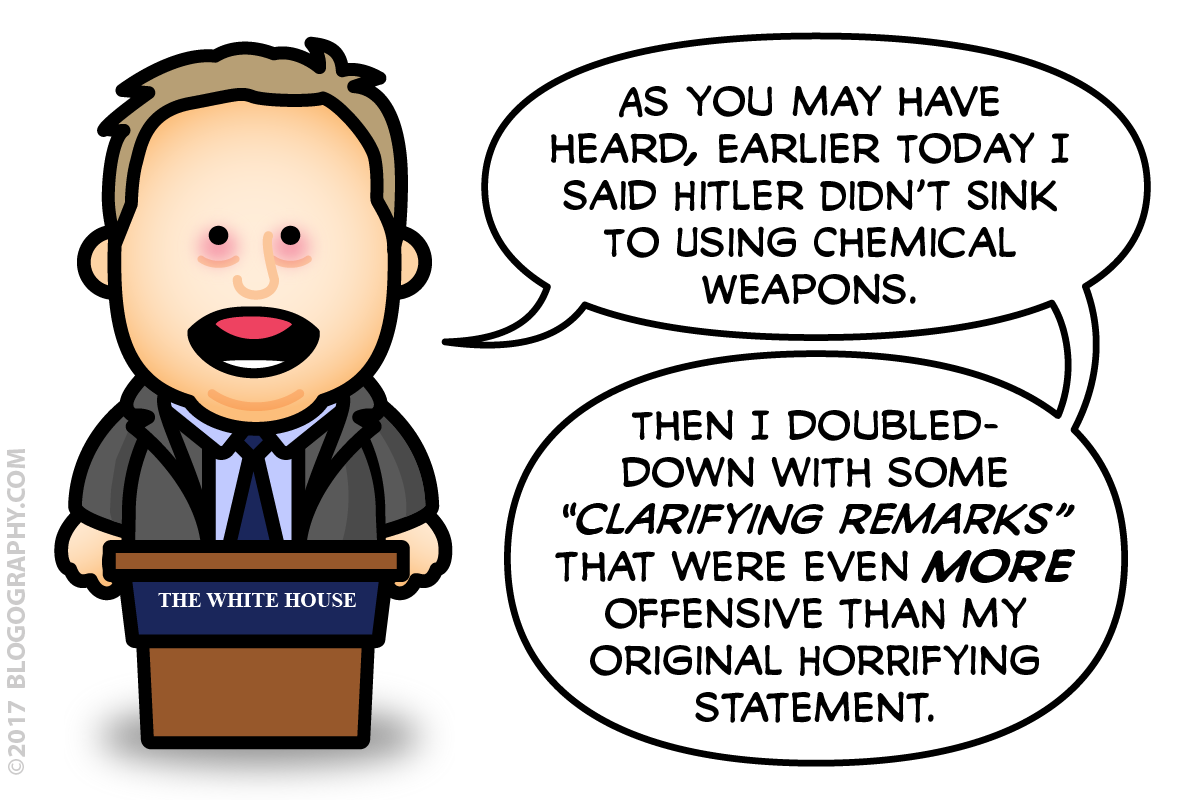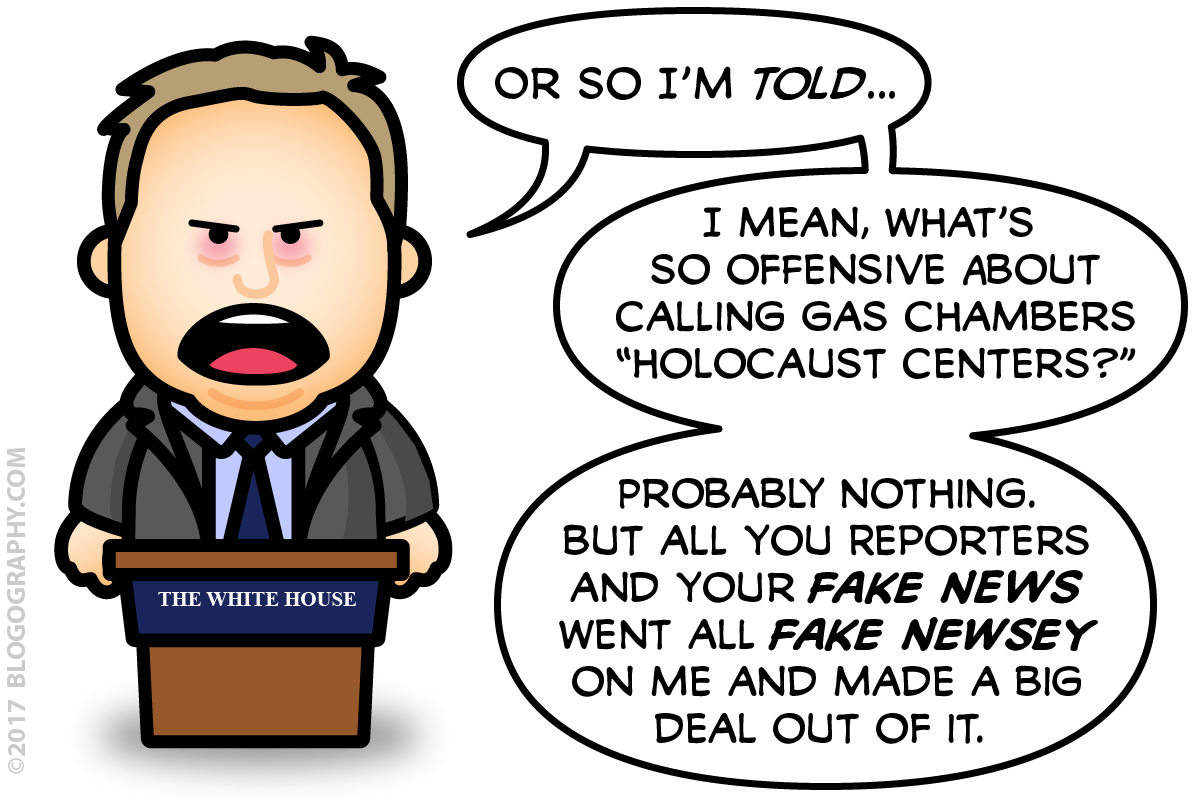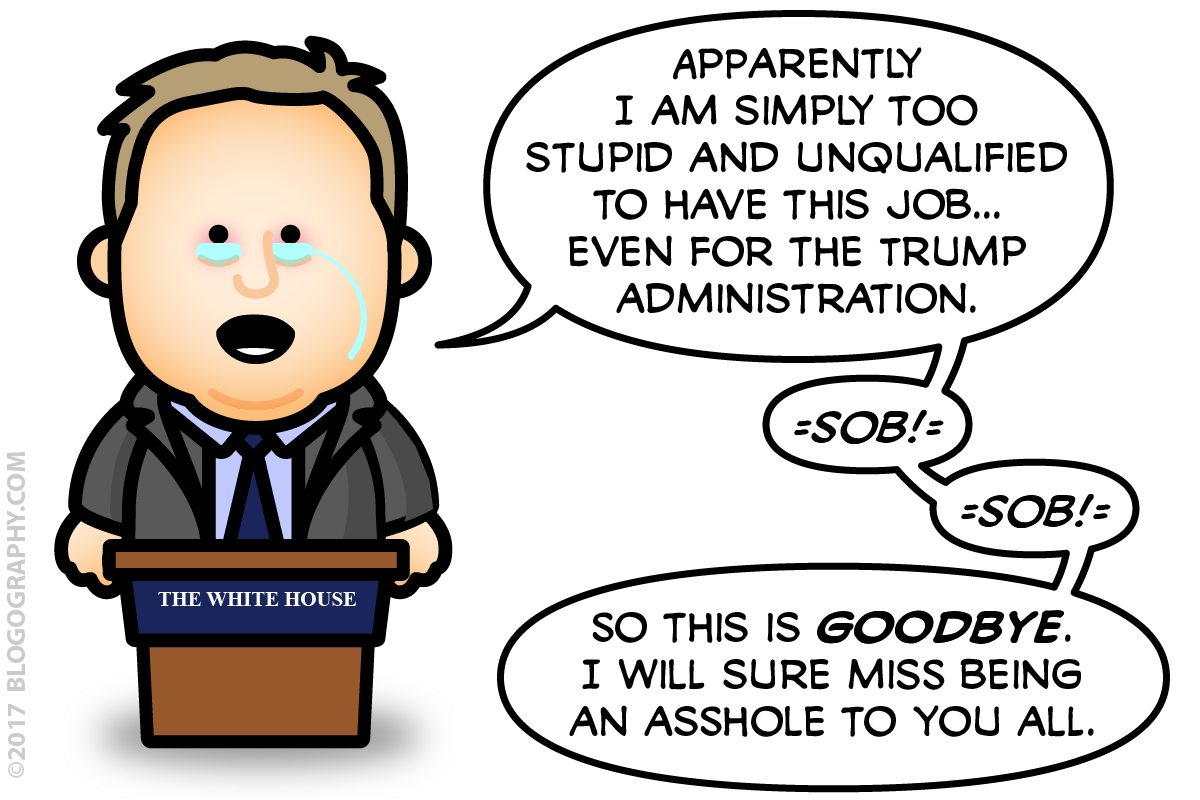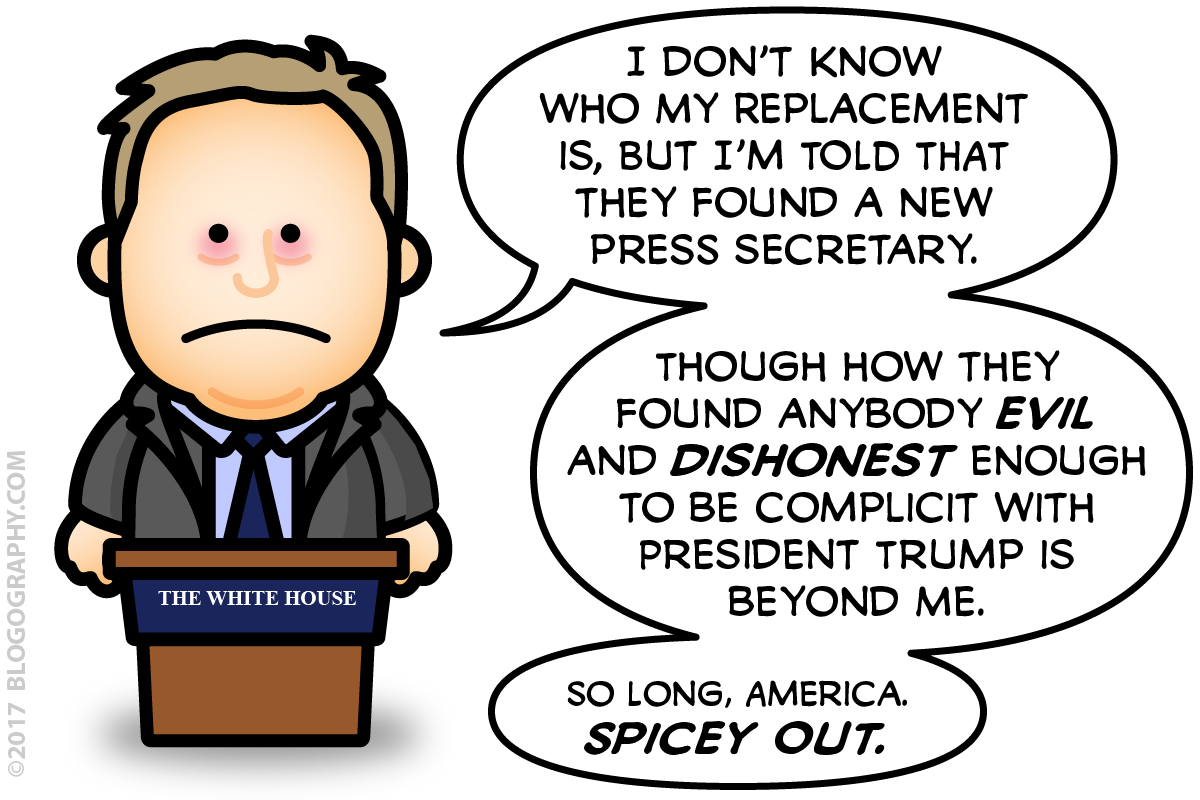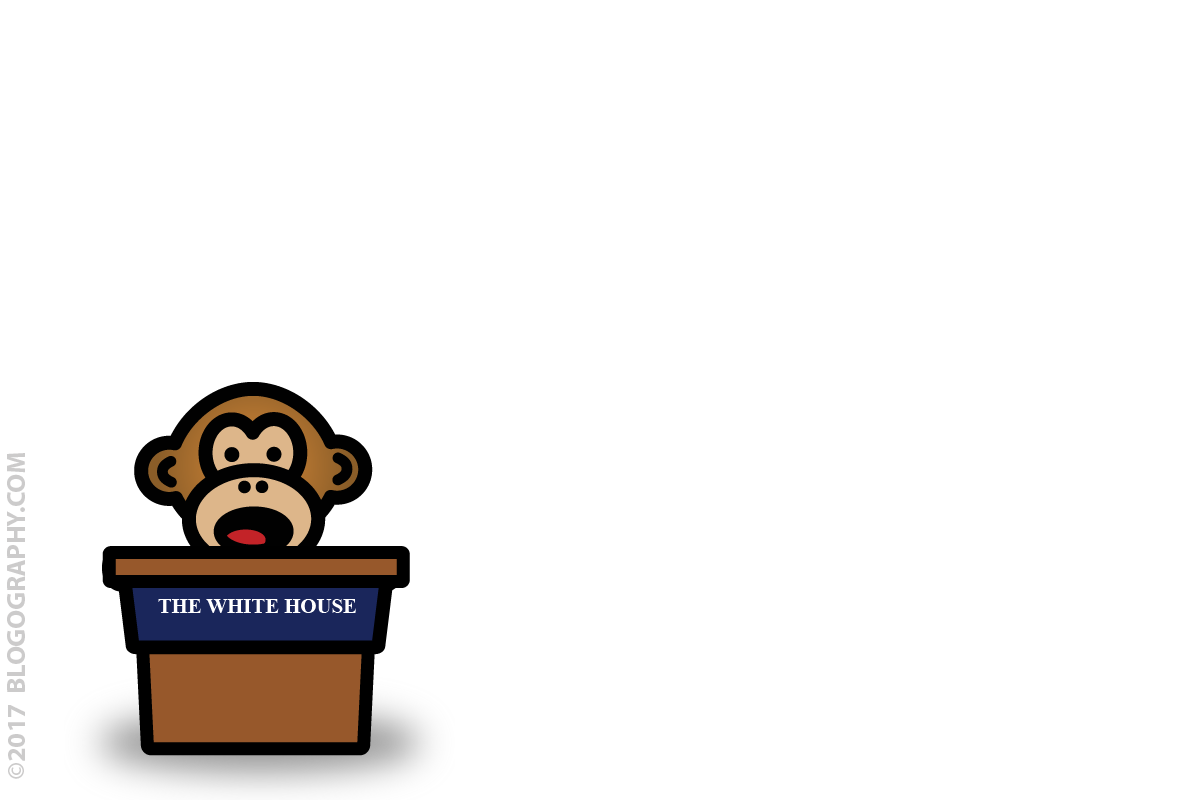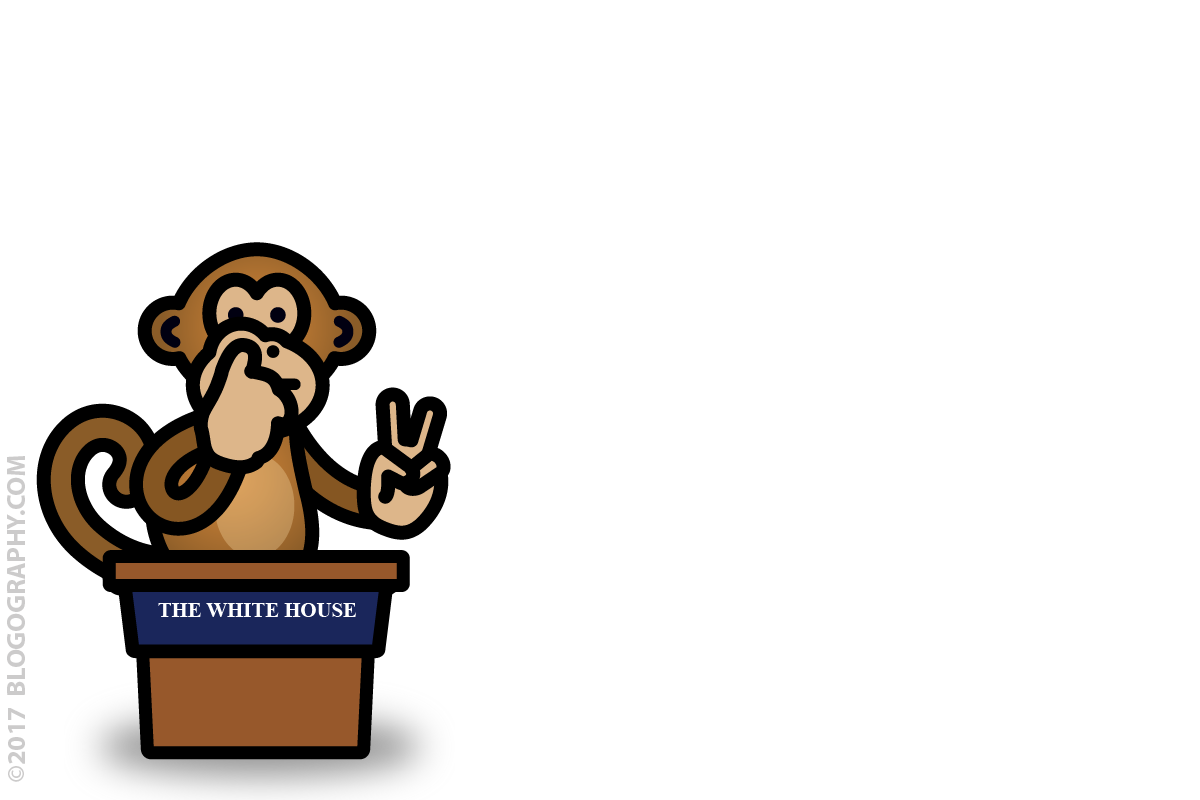 Posted on December 15th, 2016

It's gotten to the point where I should just be numb to the crazy-ass appointments that President-Elect Trump is making to his administration, advisory board, and transition team. But then one of them has to go and open their mouths, and I'm in full-reverse out of numb and back to despair at the horror of it all.
Like today when I saw this video of Trump adviser Anthony Scaramucci making the rounds...
This follows Trump's McCarthy-esque demand to know all the Department of Energy scientists who work on climate change. Something that is already unthinkable and terrifying.
If this interview was meant to make people feel better about the Trump Administration's notably anti-science bias, Scaramucci did a shitty job of it. Not only is he in serious climate change denial despite the scientific evidence of it all... he's also a Young Earther who believes that the planet is only 5,500 years old.
These are the people who will be making decisions for this country.
I've said numerous times that we're all fucking doomed because of this bullshit. I mean it every time. Because when somebody is drunk and playing with matches while standing in a pool of gasoline, you have to say something.
Problem is that the people who can do something about it are apparently looking the other way.
Posted on December 5th, 2016

President-Elect Trump's total ignorance when it comes to other nations (in general) and China (in particular) is catastrophic. But unlike J. Robert Oppenheimer (one of the creators of the atomic bomb), he doesn't possess the self-awareness to realize he has become Death, The Destroyer of Worlds.
Or does he?
As I said earlier, the Chinese mindset is completely different than ours. You cannot apply Western thinking and treat China as if they are another United States. Or, in Trump's self-felating head, a "lesser" United States. They are not. Not by a longshot, and this frighteningly inept "Twitter attitude" of his towards The Sleeping Dragon leads to nothing but ruin. Showing strength is one thing... strength is good. But if it doesn't come from a place of mutual respect and understanding, it's a strength that's going to be turned against you. And shouldn't The President of the United States be smarter than that? For heaven's sake, man... nuclear weapons are involved. Find an advisor who knows what the hell they are doing AND LISTEN TO THEM. Beg someone like Jon Huntsman to join your team so your first act as president isn't fending off conflict with a nuclear power.
Or is this exactly what the President-Elect wants?
I am flabbergasted that people don't seem to comprehend how serious this situation is. It's all "Oh... it's just Trump being Trump!" When, in reality, it's the next President of the United States actively looking for a fight he cannot possibly win... and dragging the rest of the world with him. Everybody knows he's a great deceiver. But maybe he is THE Great Deceiver? The Christian Antichrist come to destroy us all? The Christian's Bible says that the Antichrist will come from ancient Syria (which is parts of modern-day Syria, Lebanon and Turkey). But maybe that's not literal? Maybe it's that his policy will come from ancient Syria? Walid Phares is on his foreign policy advisor team, wouldn't this qualify? And there's a Trump Tower in Istanbul... just sayin'. Any Biblical scholars checking on this? Or maybe he's not the Antichrist at all. Maybe Trump is the lynch-pin which brings about the Antichrist? Who can say. I'm just assuming that the Antichrist is going to be involved in his presidency somewhere. It's just too perfect a fit.
Assuming that Trump isn't party to trying to bring about our total destruction, something needs to change. Immediately. He once said that "acting presidential is easy"... well he'd better damn-well start, because right now Trump's ignorance and stupidity is going to doom us. And don't think just in terms of nuclear war. China doesn't want that any more than we do. There are many scenarios, including economic collapse, that can doom us just as effectively as any bomb. The US is a part of a global community. We are inexorably tied to the rest of the world in complex and incalculable ways. You can't just be all "U-S-A! U-S-A! U-S-A!" and think that will protect you from consequence. 60 years ago, maybe. But not now. Trump's belief that American exceptionalism allows him to strong-arm other countries is a tactic that may play at home, but he is in for a very rude awakening when he steps onto the world stage with that bullshit thinking.
We all are.
Because the end of the world as we know it may be nigh and people are too stupid to see it.
Not that this is surprising. It's the same kind of stupid that got Trump elected in the first place.
Best of luck, everybody.
Posted on March 27th, 2016

Ignore that Easter Bunny, because Bullet Sunday starts... now...

• Gary. Gary Shandling passed away, and I'm more than a little sad about that. There's been some great tributes by his fellow comedians, my favorite being from Jimmy Fallon when he sang It's Gary Shandling's Show theme song on The Tonight Show... I was surprised that I still remembered all the words...
You will be missed, sir.

• FREE! I've used the Nik filters for years. They're amazingly useful and powerful tools that were eventually purchased by Google. And now they're FREE! If you are a Photoshop or Lightroom user, run... don't walk... and click right here to get 'em. The only sad thing is that this is probably the end of development for the set.

• Jailed. Sorry... but I'm siding with North Korea on this one. If you are so fucking stupid as to not familiarize yourself with the laws and customs of a country before stepping foot on their soil, then you get what you deserve. The asshole even tried to conceal his identity by wearing a hoodie... so don't tell me he didn't know what he was doing was wrong. This was no accident that landed him in jail. Pity he didn't seem to grasp the consequences for his actions but, again, not North Korea's fault that he's an idiot.
This reminds me of the stupidest fucking movie I've ever seen called Born American where some drunken frat boys cross over into The Soviet Union on a goof during The Cold War. As the consequences of their actions escalate and a small town is decimated while the Soviet army is after them... they, of course, end up captured. And the whole movie is them whining about their horrible treatment and how they don't deserve it because THEY'RE AMERICAN, DAMMIT! Never mind the damage, death, and destruction they caused... BECAUSE: AMERICAN!!!
Well fuck you. All the dumbasses like this do when being dumbasses is make it more difficult (and more risky) for other American travelers who DO follow the rules and customs and want to travel abroad. And here we are, once again reinforcing the "Ugly American" stereotype we so richly deserve. And now I'm supposed to feel sympathy for you because you're a moron? Oh do go on. Do I feel sorry for the friends and family who will miss and worry about this tool? Of course I do. I feel sorry they came to care about somebody who ended up being dumber than a box of rocks.

• Balls. Well. This is new. Woke up to the cats grabbing their spongey ball, taking it up the stairs, then pushing it off so they can chase it down the stairs... over and over and over and over and over and over again. They are still doing it an hour later...

• Easter. I thought I'd be all cute and give the cats an Easter Bunny for Easter Sunday. Set it next to Jenny while she was sleeping. She woke up and was so freaked out that she grabbed it, drug it upstairs, then ran back to her perch and fell back asleep...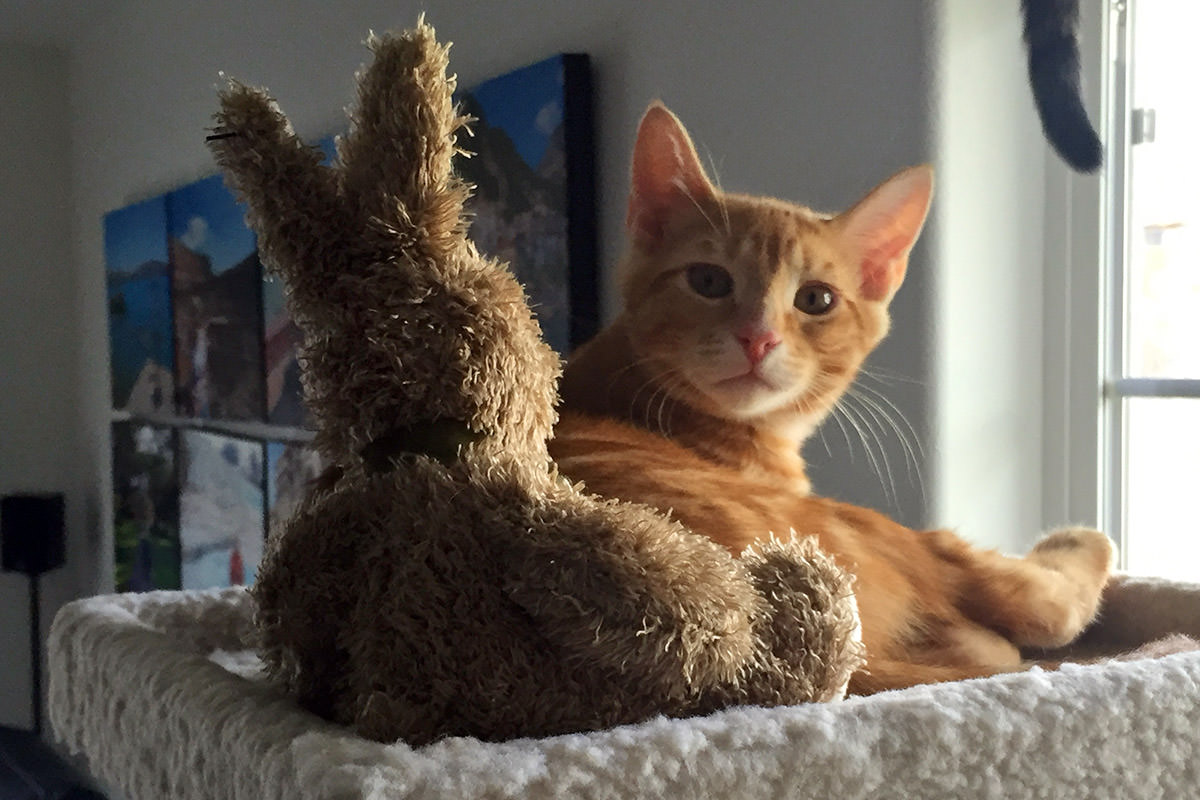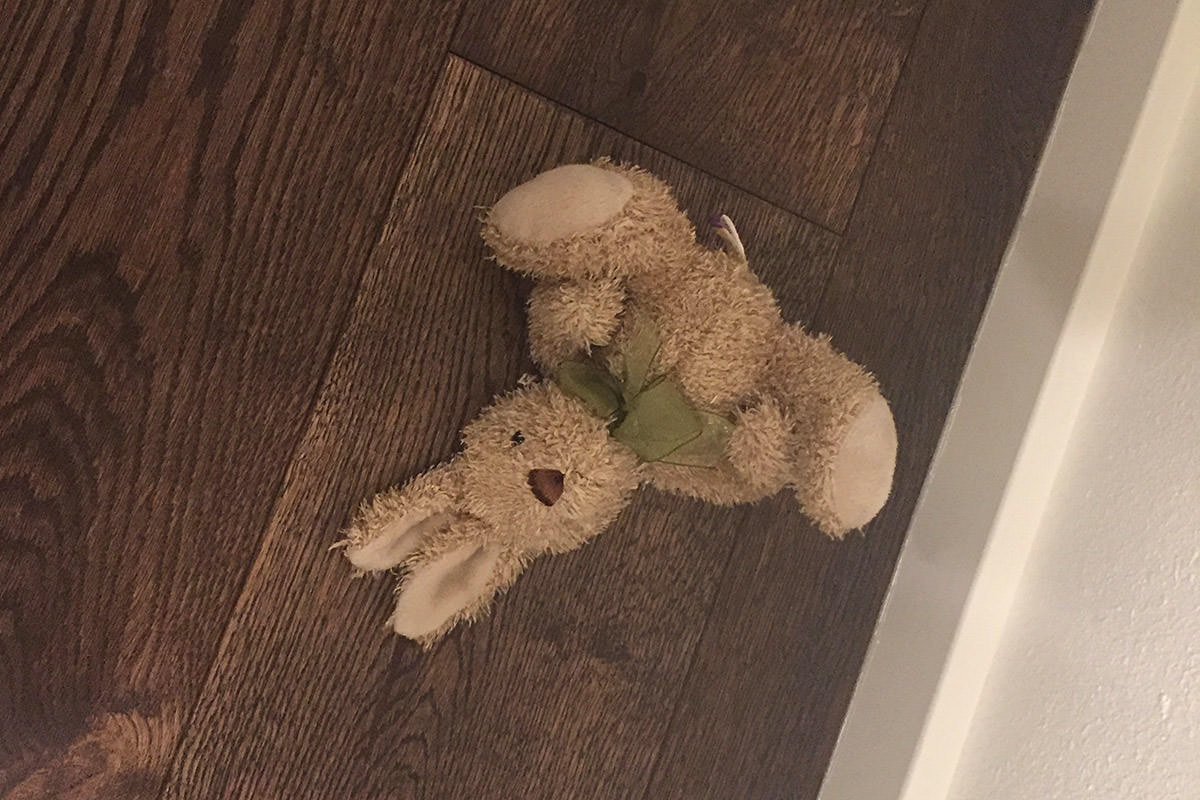 • Thanks. To all the wonderful people who posted birthday wishes on the 24th, THANK YOU. I am truly blessed to have friends that would take the time to say such wonderful things as I inch ever-closer to death. It would be better to have friends that would take the time to send money, but I am grateful just the same. Love you guys. Love you guys and your cheap, cheap hearts.

Enjoy those eggs, everybody!
Posted on January 23rd, 2016

Every time Sarah Palin shows her stupid ass in public, I pray that it will be such an epic disaster that it will entice Tina Fey to make a return appearance on Saturday Night Live.
So when Palin's endorsement of Donald Trump came along, which is pretty much the definition of "epic disaster," I was counting the minutes until Saturday.
I was not disappointed...
What's amazing is that Tina Fey didn't really have to embellish the sheer lunacy that is Sarah Palin in order to capture the hilarity of somebody this idiotic being popular enough to endorse a presidential candidate and have people pay attention.
Such is 'Murica.
Posted on October 4th, 2015

The weekend may be ending, but the fun is just beginning because Bullet Sunday starts... now...

• Bond? Oh Lord. Worst. Bond. Theme. Ever. Seriously... who saddles James Bond with this whiny shit? I cannot believe that the same director who used Adele's amazingly powerful masterpiece Skyfall in his previous film would follow it up with this crap... AND I DON'T EVEN LIKE ADELE!
My expectations are running very high for Spectre, but listening to this mind-numbing drivel has me seriously questioning why. Hell, if Mendes wanted a song called Writing's On The Wall for his movie, I'm sure OK Go would have been happy to re-work their vastly superior song...
Ugh. Just ugh.

• JELL-O! Leave it to The Slo-Mo Guys to crank out yet another entertaining video...
Everything really IS better in slo-mo!

• Restless. Absolutely gutted that Catherine Coulson, "The Log Lady," has passed away just as they were finally getting around to filming new Twin Peaks...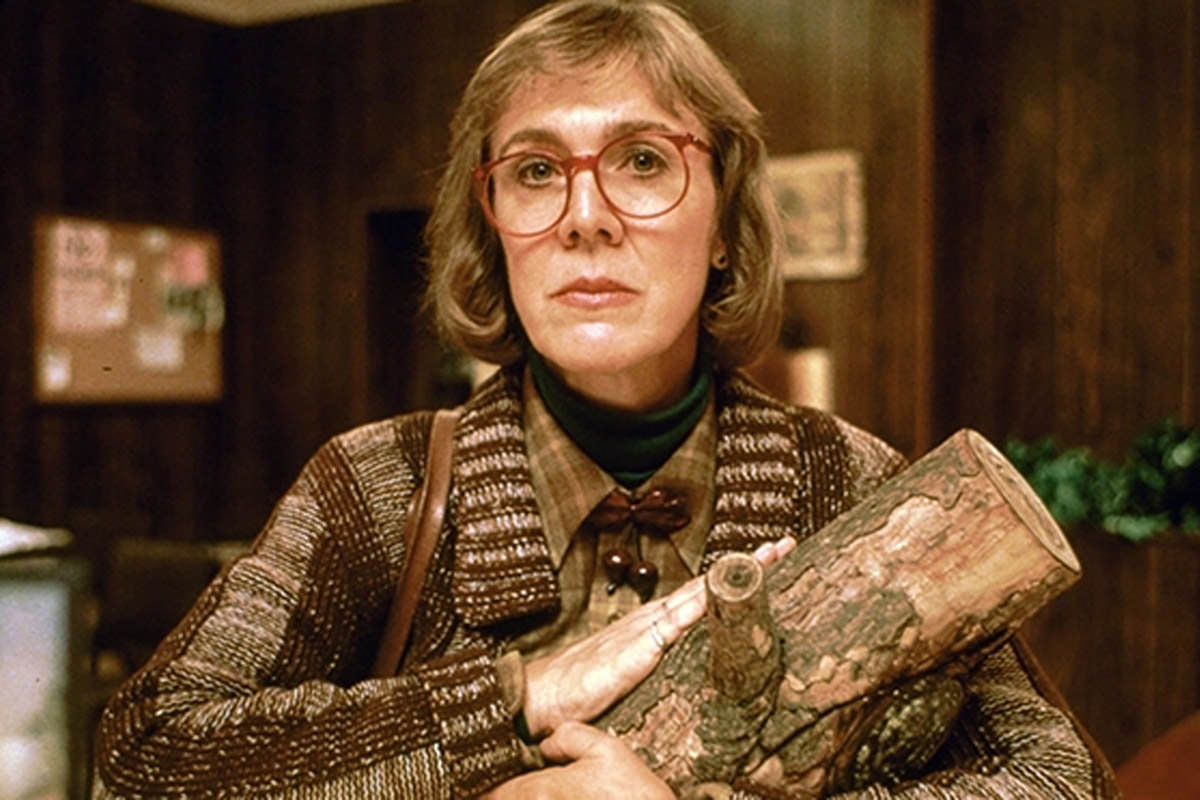 She has one of my favorite character introductions of all time...
You will be so very missed in the upcoming Twin Peaks revival. Rest in peace, ma'am, the owls are quiet at last.

• Water! Liquid love on Mars? Thompson Twins called it...

• Derp! Pretty much...
It burrrrrrns.

• Family! This photo of a father making sure his daughter's step-father was a part of her wedding was the best thing I saw all week...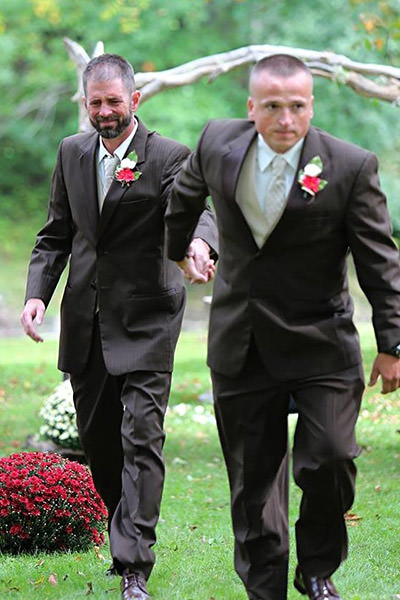 © 2015 Delia D Blackburn Photography, and thanks for sharing such a fantastic moment.
The story here is just great, and proves that people don't have to be horrible to each other all the time. If you want to see an interview with the fathers in question, here's your link.

Until next week... buh bye.
Posted on August 19th, 2015

Jared Fogle, the Subway Sandwich Whore... whom I loathe, but tried to treat fairly when he was dragged to the police station for questions regarding child pornography (because, hey, innocent until proven guilty, right?) is, in fact, apparently going to plead guilty to not only possession of child pornography... but also of having sex with at least fourteen underage kids... THE SICK FUCK! What a piece of garbage. He used his millions in sandwich money to prey on innocent children... and continued to do so even after his best friend got caught producing kiddie porn for him? As much as I loathed him before, he has managed to sink even lower. Holy crap what a repugnant asshole. Fuck Jared for making me watch his idiotic commercials and listen to his pathetic lies all these years. Hope you like the sandwiches in prison, you disgusting pig.
Josh Duggar, the "Family Values" Douchebag... whom I loathe, but tried to treat fairly when he was crucified for having sexually molested five girls (including four of his sisters) as a teenager (because, hey, growing up in that dysfunctional shit-hole of a family was bound to screw him up, right?) is, in fact, not only a teen pedophile... but also an allegedly unfaithful husband who has been outed as a "Life is Short, Have an Affair" Ashley Madison member. That's right, all the while he was dictating morals to people on how they should live their lives... he was apparently living his life contrary to his own standards. Like the fucking pathetic hypocritical piece of shit he is. As much as I loathed him before, he has managed to sink even lower. Holy crap what a repugnant asshole. Fuck Josh Duggar for making me even be aware of his parents' idiotic clown car vagina reality show all these years. From the depths of your very own belief system, hope you enjoy rotting in hell, you disgusting pig.
George Zimmerman, the psychotic asshole that stalked and killed a kid for being Black "in the wrong neighborhood"... whom I loathe, but tried to treat fairly... as in "they-should-have-hanged-the-fucking-murdering-asshole-fairly" because HE WAS CLEARLY LYING AND GUILTY, GUILTY, GUILTY, GUILTY is, in fact...
Donald Trump, the misogynistic pile of shit (and hairspray)... whom I loathe, but tried to...
Pat Robertson, the bigoted...
Scott...
Jan...
I give up. I just give up. If I were to write up all the assholes, idiots, and clowns that are pissing me off today, I'd be here all week. Holy crap are there a lot of repugnant pieces of shit in my newsfeed lately. Some days I think I'd be much better off with my head stuck in the sand.
Knowing what's going on in the world isn't good for your sanity. Not anymore.