Posted on Monday, June 1st, 2020

My drama with my home NAS (Network Attached Storage) is ongoing.
Last December I took money I had saved for a trip with my mom to the fjords of Normway (our next vacation destination after our Africa trip that wasn't to be) and sunk it into a QNAP NAS on which I would store all my photos, music, and other media files. That way I could access them anywhere yet still have them under my control. As I noted in the above link I wasn't terribly happy with the QNAP unit I bought, finding that it provided crap media services that look like shit when connected directly to my television. Instead I had to abandon all the pricey QNAP media extras I paid for and install Plex, a brilliant media organization server app for which I immediately bought a lifetime subscription. It's amazing, and allows my QNAP NAS to do all the things I wanted it to do.
Along with the NAS, I purchased two Western Digital Red 8TB drives to go inside.
Almost immediately after I got everything running, I found out that Western Digital, a company I had loved and patronized faithfully for decades, had started sneaking chaep-ass SMR (Shingled Magnetic Recording) drives into their popular "Red" line of NAS drives. As explained in this video, SMR is a pile of fucking bullshit that should never be used in NAS applications...
Western Digital has been all over the map with responding to customer enquiries. At one point they said that the 8TB drives I bought didn't use SMR, but who knows? They later retracted and said they refuse disclose that information.
Well fuck that, and definitely fuck them. I will never buy another Western Digital product until they start disclosing critical information that people need to know in order to make informed purchasing decisions. Or maybe I will never buy another Western Digital product again even if they do. Right now I hate that fucking company so badly that I don't plan on spending a single dollar more on their crap.
So now that I've saved up a couple hundred bucks to purchase a second set of drives for all my photos, I decided to go with Seagate IronWolf drives since Seagate has categorically denied using SMR in them. Furthermore, Seagate went on to say that they don't recommend SMR for NAS applications and won't saddle their customers with a shitty, inapropriate product. Good enough for me. I will be switching to IronWolf for any future drive purchases... including the one I just made.
It's a strange feeling... being so loyal to a company that you wouldn't even consider using a different brand... then all of a sudden have to switch gears and go with something else because you got shitted on. Same thing happened with Panasonic. I had bought Panasonic gear for years and loved it... until I bought one of their shitty recording DVD players and could never get it to work. They refused to take responsibility, blamed everything on me despite my following along with their step-by-step instructions over six support calls, then said they would only repair it if I paid for shipping both ways. Rather than continue to sink money into a worthless piece of shit, I filed a complaint with the Better Business Bureau. Nothing happened. But I haven't bought a single piece of Panasonic gear since, that's for damn sure.
As word continues to spread about Western Digital's duplicitous behavior and reprehensible response to some serious allegations, I can't help but wonder if they have really screwed themselves. Sure consumer demand might stay steady since home-users won't know... or possibly won't care... that WD is a deceitful company, but IT professionals? Yikes. The pro NAS market is some serious bread and butter to lose en masse.
Oh well. You roll the dice, you take your chances.
But how Western Digital thought people wouldn't notice just boggles the mind. It's as if Coca-Cola switched to New Coke but never bothered to advertise it. They just thought people wouldn't care.
Posted on Tuesday, June 9th, 2020

SONOS released their new OS, called S2, today and I was excited to see what's new.
My Mac made me aware of the new S2 app when I loaded their old app this evening. So I downloaded the new app... only to be told that no S2 compatible devices were found. Since my One speakers are fairly new, I was pissed that they even told me about the update. Maybe my SONOS PlayBar is too old? Then I Googled it and found that apparently you have to upgrade the hardward with the new SONOS iPhone app. So I got that, performed an upgrade to everything, then my Mac S2 app recognized my S2 gear. Why the hell they didn't just allow the Mac app to do the upgrade is a mystery. What if you don't own a smart phone?
Anyway... now my stuff is all running S2. No clue what that does for me, as everything looks and acts the exact same. When I Googled that I found that apparently the only device to make use of the new S2 OS features is the Sonos Arc television bar. An $800 product which adds Dolby Atmos capabilities to your setup.
Soooo... S2 is just a big load of crap for anybody except those who throw out their old gear. Got it.
The sad news is that eventually I will have to replace my PlayBar anyway. It only accepts audio over optical digital, and newer televisions don't really support that. I could get an adapter, but it would be senseless since so few audio codecs can be sent to the speakers that way. It's only dumb luck that the television I bought sends Dolby Surround over optical. Most contemporary sets don't.
My disgust over the disposable society we live in continues. I can only hope that eventually SONOS or some third party releases an upgrade module so the old PlayBar can receive audio over HDMI. Even if it's only Dolby Surround and not Dolby Atmos, it would at least allow me to keep using my pricey investment in SONOS gear.
Tech obsolescence is inevitable. I get that. But sometimes it really doesn't have to be. Like with frickin' speakers. Being able to modify old gear to have new life should be a thing. But it's not, because that's not where the money is.
Confirmation can be found in your local landfill.
Posted on Thursday, June 11th, 2020

Now that I have enough hard drive space in my NAS (Network Attached Storage), I need to transfer the tens of thousands of photos I've collected from my hard disk photo archive to the NAS. That way I can access them anywhere at any time.
Problem is that I couldn't connect them together because I didn't have a cable to do it... despite having dozens of fucking cables piled up in my cupboard. My photo archive drive is Thunderbolt only. My NAS is USB-A only. Which means half of the problem is that support for Thunderbolt has been dropped. The other half is that USB ports keep changing. So even though I was dragging out various old drives to use as "hubs" in the hope that I could find a port/cable combination which would work, nothing ever did. After an hour I finally just gave up.
I finally had to borrow a drive enclosure from work so I could put my photo archive drives inside and get it hooked up to my NAS. I'll get on that tonight and see if everything will copy while I sleep.
At this point I should just come out and say it... the way USB keeps changing? It fucking sucks. There are a ridiculous number of USB port variations, and I have devices which use most of them. And why? Why are there so many?
JUST LOOK AT THIS SHIT...
And it doesn't stop there. All our prayers were supposed to be answered now that we've got USB-C... right?
Um, no. Turns out it's as bad as ever...
And so I guess I can just give up now.
Perhaps what I have to do is throw out absolutely everything everywhere that I own and start over. For every old drive I've got I buy a new drive, transfer the data over, then just burn all the old drives in a massive bonfire.
If anybody wants to give me the hundreds of dollars needed to make that happen...
UPDATE: And it didn't work. Apparently Wester Digital changed the proprietary RAID software they use between my older RAID enclosure and my work's newer RAID enclosure. The drives are incompatible. Instead I managed to find an old Thuderbolt-to-Ethernet dongle. Since my old laptop has two Thunderbolt ports and no ethernet port, that's what I had to use so that I could make the transfer via gigabyte ethernet from my Thunderbolt photo archive RAID to the NAS. Holy shit what a horrific mess.
Posted on Sunday, June 28th, 2020

COVID-19 cases may be on the rise because Americans are too selfish and stupid to wear masks and practice social-distancing, but all is not lost... because an all new Bullet Sunday starts... now...

• Lyrical! Before we get to me being a unhinged, profanity-laden rage-machine over frickin' masks and stuff, watch this video. I honestly don't know which is more adorable... this incredible little girl... or the reactions her dad has...
So many adorable videos...
There's more where those came from: The Kabs Family YouTube.

• Taxing So Hard! Hasan just finished up his current cycle of Patriot Act on Netflix, and he ended on a doozy of an episode. It is reprehensible how Intuit and other asshole companies have made billions over charging American citizens for something they should not have to pay a damn thing for. Democrats and Republicans may not agree on how much taxes we should pay... but can easily agree that the way we file our taxes is Fucked. Up.
I see shit like this, and I just marvel that people aren't consumed with outrage. Lobbyists have hopelessly fucked our government, and this is a perfect example of how.

• Masked, Man! Washington State governor Jay Inslee (who is roundly hated here in Eastern Washington) finally issued a mandatory mask order. He pretty much had no choice. Businesses were having a horrible time trying to enforce it because too many people are just fucking asshole idiots, and I guess he figured that state-wide enforcement was the only way to keep us safe (seeing how countries like Austria which mandated masks had their infection rates drop 90%). Even with the mandate, this is what you'll still witness...
"Excuse me, masks are required to shop here. I'm happy to get you one if you don't have one."
"I DON'T BELIEVE IN THAT!!! STOP INFRINGING ON MY FREEDOM!"
Well, I have news for you... it doesn't matter what you believe or don't believe. THIS IS WHAT'S REQUIRED TO SHOP IN A STORE NOW... SO STOP BEING A TOTAL FUCKING ASSHOLE TO SOMEBODY WHO IS JUST TRYING TO DO THEIR JOB! THIS CASHIER DOESN'T SET THE POLICY, AND YOU'RE A PIECE OF SHIT FOR HASSLING A MINIMUM WAGE WORKER OVER SOMETHING THEY DON'T CONTROL! Go ahead and "don't believe" in masks because you're an ignorant dumbass... don't wear one if you're garbage who doesn't care about others... whatever... BUT DON'T TAKE IT OUT ON SOMEBODY JUST TRYING TO MAKE A LIVING BY DOING THE JOB THEY'RE TOLD TO DO! You can wear a mask for ten fucking minutes in a store even if you're too stupid to "believe in it"... because some retail clerk following the rules doesn't deserve your bullshit.
Fortunately, some good sometimes comes out of abhorrent behavior like this.

• Citizens Arrest The Devil! And then...
There's stupid, and then there's whatever trip this fucking nut-job piece of shit is on. Fuck you. Get your own ass to a psych ward, you crazy asshole. Doctors and nurses are risking their lives every damn day to save lives in the middle of a pandemic and ignorant fucks like you are mocking their sacrifice. If you don't want to give a shit about putting your fellow Americans in danger, go live in a cave somewhere.

• Oxygen! Here's a human with a respiratory system...
It doesn't matter how many videos like this are released, there are still dumbfucks who will not be swayed.

• Statehood! If you watched HBO's Watchmen, you know the American flag was different because in Watchmen's reality, Vietnam was made the 51st state. It's a pretty cool detail in a very cool television show...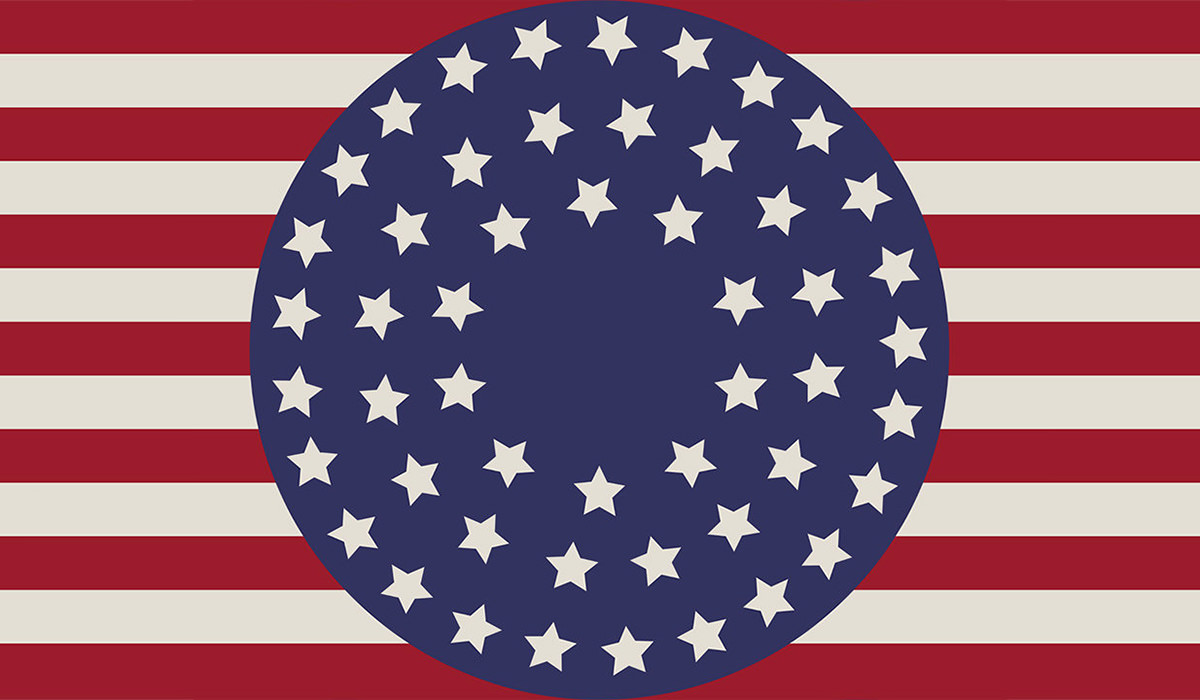 And while we're on adding states... I 100% support Washington D.C. becoming our 51st state... and I also support territories we govern who don't have a voice in government be granted statehood if they wish it. We literally became a country because of taxation without representation. Will it take another revolution to make things right? Despite passing The House, probably. And, yes, Puerto Rico does pay taxes to the US Treasury... $3.5 billion in 2016.

• Cheerio! As anybody here likely knows, I have been on a crusade again Western Digital for the shitty, underhanded way that they have been sneaking cheap, shitty SMR drives into their NAS line of Red drives... NAS being an application where they are totally inapropriate. Well, after enough outrage by their customer base (and former customers like myself), Western Digital finally relented and has said that they will from now on label the "good" kind of NAS drives "Red+" and keep sneaking the shitty, totally inappropriate SMR drives in their original "Red" lineup. Something I interpret like this...
Now that we've been caught shitting in your Cheerios, we promise to let you know which boxes of Cheerios have shit in them... NOT by labeling them as "Cheerios with Shit"... but instead by labeling the shit-free version as "Cheerios+"... thanks to our customers for letting us know they want to know when there's shit in their Cheerios! — Love, Western Digital
Yeah. No. Fuck you. The correct move would be to say that you learned your lesson and will immediately be removing SMR drives from your entire lineup since it is promoted for NAS but wholly wrong for NAS. Instead you just continue shitting in our Cheerios. I won't be buying WD again.

Until next Sunday... enjoy your pandemic.
Posted on Tuesday, June 30th, 2020

I've written a couple times about my love of GigaPan images. It's a really cool technology which stitches together tons of hi-resolution images to form one massive photo that you can zoom into to ridiculous degrees. Most of the time, GigaPan is used for capturing scenery. You see the scene and then can zoom and zoom and zoom to reveal all kinds of little details.
But you can use GigaPixel for all kinds of things.
A really cool application is artwork.
I've been to Milan, Italy in order to see The Last Supper. It's a magnificent work of art by one of my favorite artists, Leonardo da Vinci...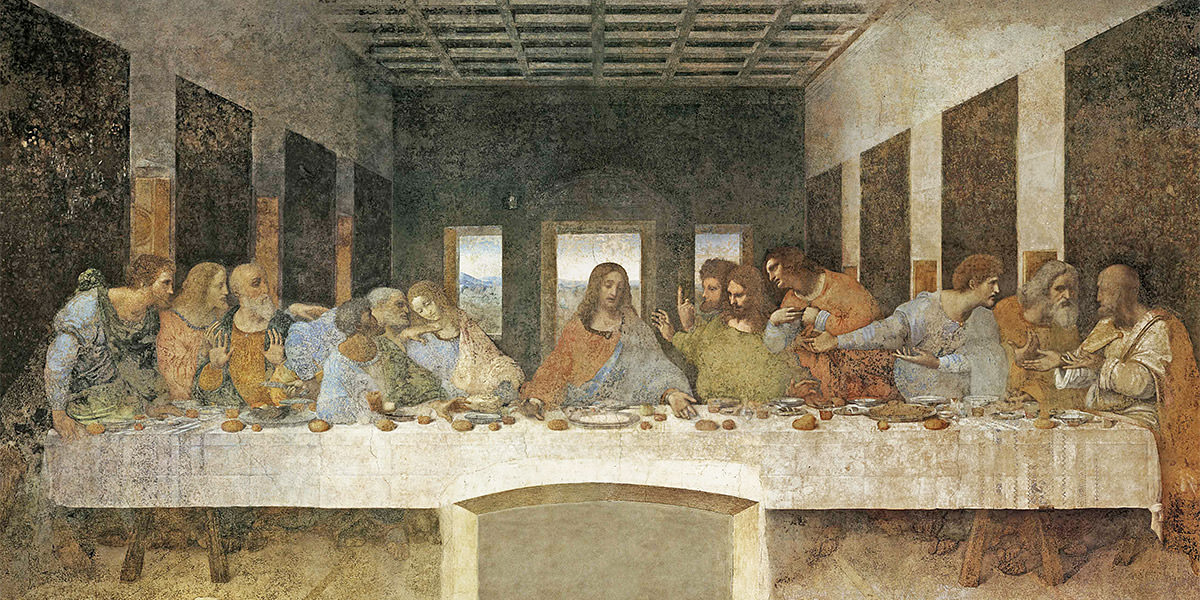 One of you bitches is going to betray me!
And now Google's Arts & Culture has posted a painting of the painting by one of Leonardo da Vinci's pupils which is presented in GigaPan format...

What's interesting is that you can see how the original masterpiece showed Jesus's feet, which were chopped off when somebody decided to cut a door into the wall of the original.
And since this is GigaPan, you can zoom into the canvas to a crazy degree...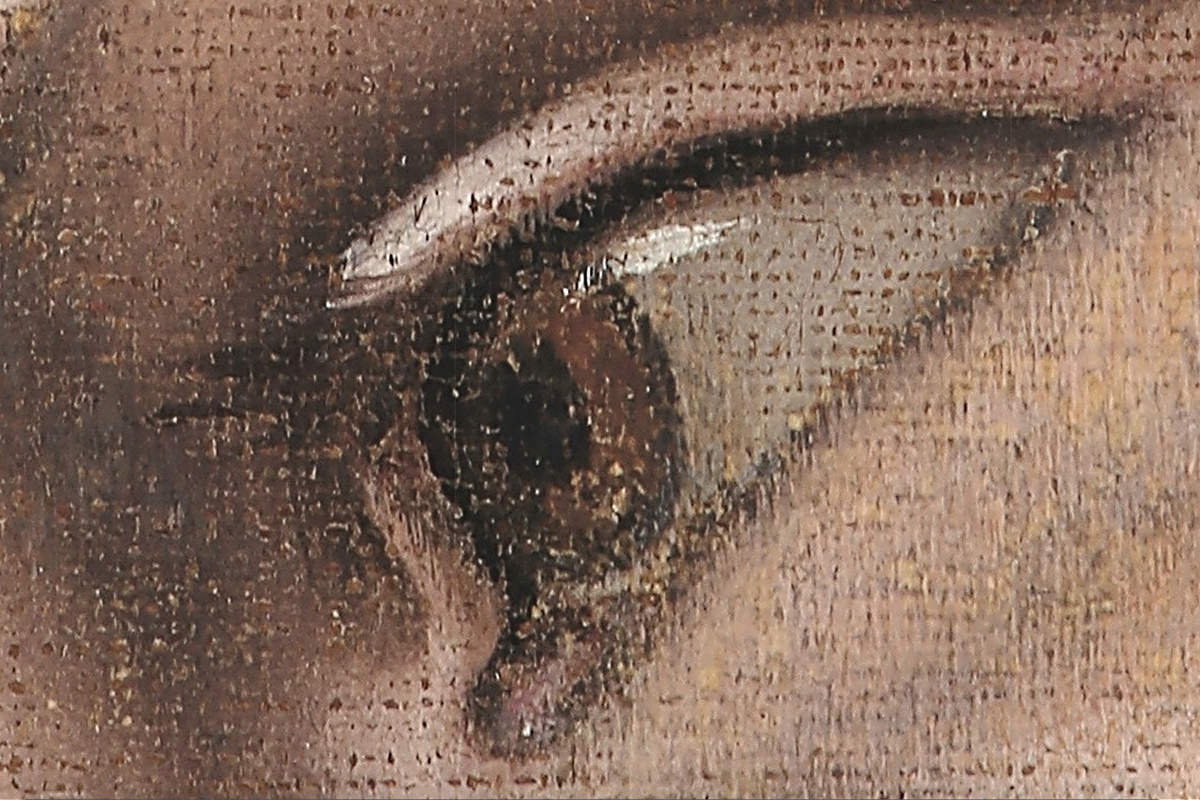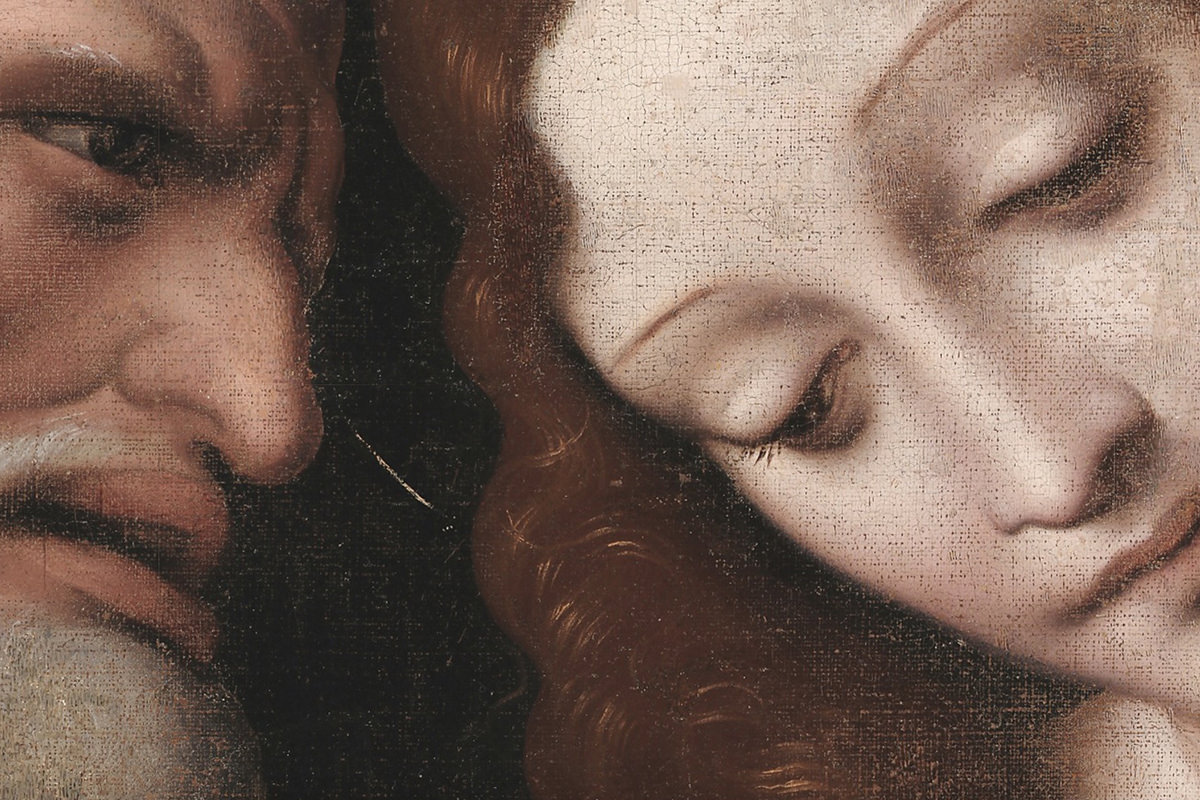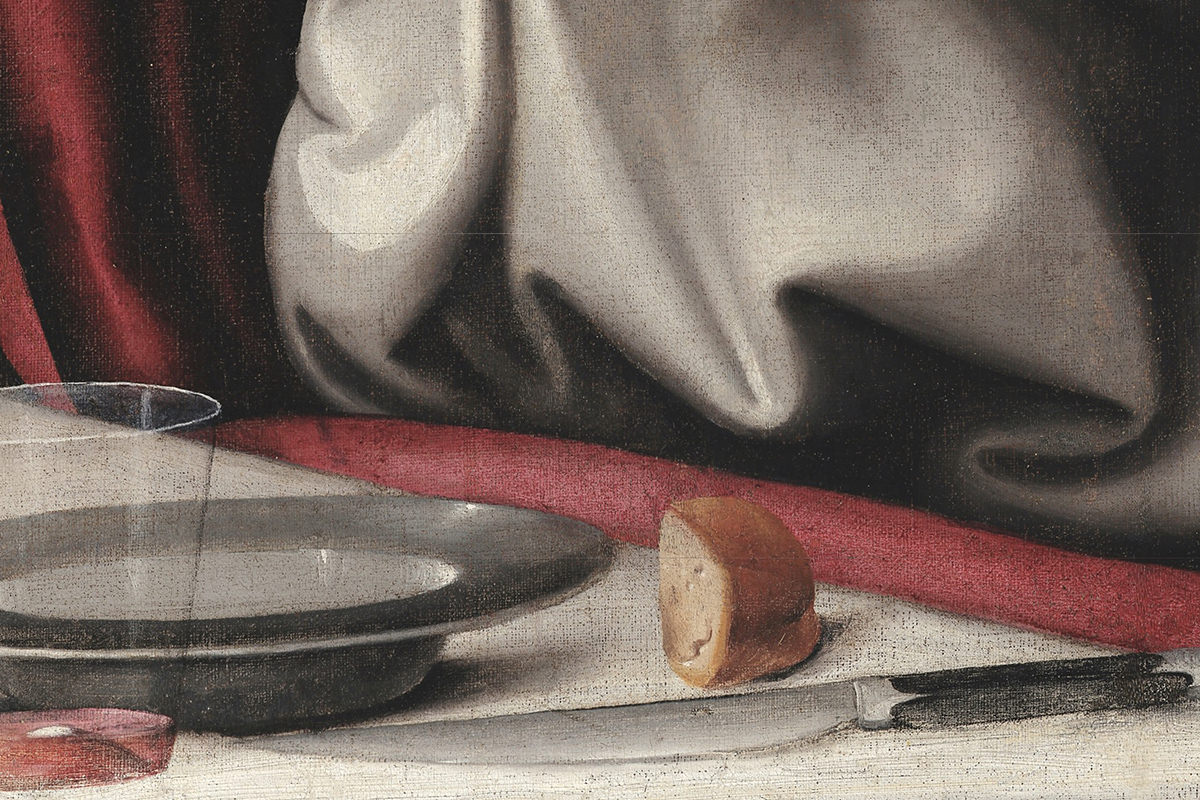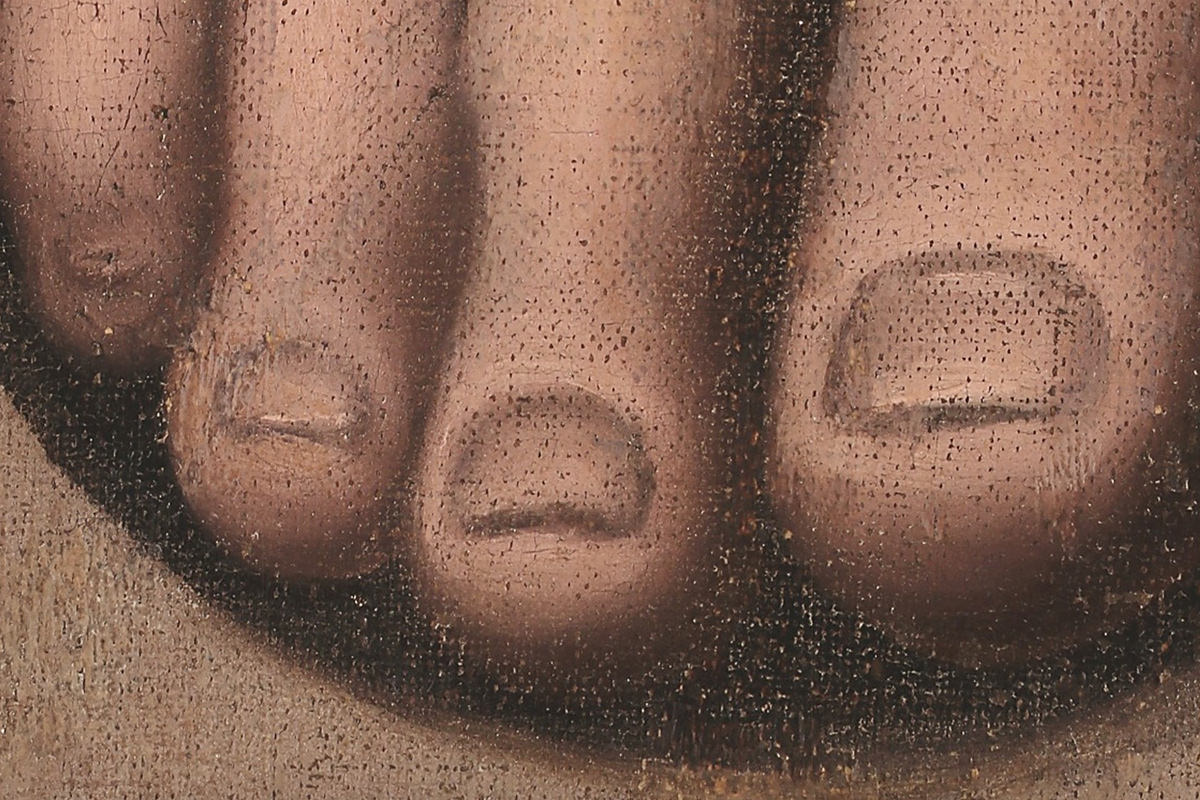 All in all, it's pretty spectacular.
If you want to explore the painting yourself, here's a link for you.