Posted on April 17th, 2017

Back in the early days of personal computing, the World Wide Web didn't exist. Even after it was invented it took a while before it was in wide use, and even longer before it had the ungodly amount of stuff available as we know it today.
So when you were a computer hobbyist in the 1980's like I was, most of your information about what was new and cool in the world of computers came from hanging out at your local computer shop or, more likely... magazines.
As a computer fanatic, I subscribed to a lot of magazines. I started out as an "Atari" guy, which meant my primary source for news, information, education, and such came from ANALOG and Antic magazines. After a while STart and ST-LOG were added. I also subscribed to more "generic" magazines like COMPUTE!, Creative Computing, and Computer Shopper.
These magazines were also the way that companies advertised their products.
Most of the time there was more information available than what could effectively be presented in an ad, so there was a note at the bottom which said something like "For more information, circle 117 on reader service card."...
You'd then hunt down a postcard in the middle of the magazine with numbers all over it so you could circle all the products you were interested in and fill up your mailbox with even more computer-related crap...
There were days that my family's mailbox was so packed with magazines and literature I had requested that I had to take a box to carry it all. I'd then spend the rest of my day looking through info on all the crap my heart desired... that I could never afford.
Now, of course, most of my computer news comes from computer news websites and product information on anything I could possibly be interested in is just a click away.
Convenient, sure... but not nearly as much fun.
Keeping this in mind, let's revisit that ad scan I posted above...
It's a company advertising a custom printer-driver so that you can access printer features from within Atari Writer (an Atari word processor). If you read the fine print, you'll note that you can't call in an order using a credit card. You have to send a check or money order to them, then they'll send the driver to you. You'll also note that there is no web address where you could go online to purchase and download the driver immediately. The World Wide Web didn't exist to make that possible.
Heck, email didn't even exist back then, so there was no way you could get the driver sent to you directly either. Not that early email systems made it easy to send attachments.
And yet... if you were into computers back in the 1980's, none of this was horrible. Back then, personal computing technology was a daily dose of actual magic, and getting stuff you ordered via the post office was an event on-par with Christmas morning.
Something I'm trying to remind myself now that my MacBook's GPU hardware is trashed, and it will have to be sent in... again... for repairs.
Welcome to 1982.
Which would be awful except my phone has a computer in it. That's today's equivalent of actual magic, and something I take for granted every time I look at it.
Which is pretty sad considering the phone I used as a kid was wired to the wall and came with a rotary dial you had to use to make a call.
Posted on July 24th, 2015

It's been reported that North Korea's dictator and fearless leader Kim Jong Un didn't like the design of his new Pyongyang International Airport so he had the architect executed.
It seems a bit extreme, to be certain, but I'd be lying if I said I didn't understand the sentiment.
Case in point...
When it comes to portable storage, the only brand I trust is Transcend's StorJet line of "Military Grade Shock Resistant" 2.5-inch hard drives. They're tough enough to travel the world with me, fairly speedy, and last forever. I am still using the very first drive I bought ages ago while other brands have long-since died.
So... great product. Well done, Transcend!
Since I'm hitting the road soon, I decided to pick up a new 1TB StorJet since all my current projects won't fit on the 750GB drive I'm using. I keep hoping that Transcend will add the option for a Thunderbolt or Lightning connector since you don't have to worry about which way you plug the cord into them, but all that's available is USB 3. I hate USB with a passion because I always seem to have the plugged turned the wrong way... but at least on the drive-side I know which way the plug goes in, which is half the battle.
At least it was half the battle...

On the left is my new drive. On the right is my old drive. Note that the USB plug is now upside-down from what it was.
Who is the sadistic fuck at Transcend that made THIS happen?
The years of conditioning I have as to which way the plug goes in the drive has just been sabotaged. And since it's so automatic that I don't even think about it, I have the plug backwards Every. Damn. Time. And it always takes a second before I realize what's wrong because my brain hasn't reached the point that I know to flip the plug.
I absolutely hate stupid crap like this.
They may make great portable drives, but they obviously don't give two shits about the small details that keep customers happy. It's like the assholes at LaCie who keep changing the power adapter plug on their Porsche drives every six months. After two years I ended up with seven drives and THREE different adapters to keep track of. It finally got so frustrating that I trashed all my LaCie drives and switched to Western Digital.
And now I'm seriously considering taking a look at other portable storage manufacturers so I can avoid the flip-flopping sadists at Transcend.
Now, I'm not saying that I want the engineer executed who made this dick move, but I will say that it's probably a good thing I'm not North America's dictator and fearless leader...
Posted on October 16th, 2014

Another Apple event?
Apparently this is for all the crap they didn't want mucking up their big iPhone 6 slash Apple Watch event last month.
So what's on-deck this time around? Let's take a look, shall we? Needless to say, there will be spoilers for those who haven't seen the broadcast.

• iPhone 6 Launch! Before Tim Cook takes the stage, we get to look at the hysteria surrounding the launch of the iPhone 6 from around the world. Holy crap. As big of an Apple Whore as I like to think I am, even I felt this was way, way over the top and embarrassing. It's not a cure for cancer, people... it's a frickin' PHONE. Albeit a pretty phone. That's too big. I want the same size iPhone I used to have. Not surprisingly, it's the biggest iPhone launch ever, because aren't they all?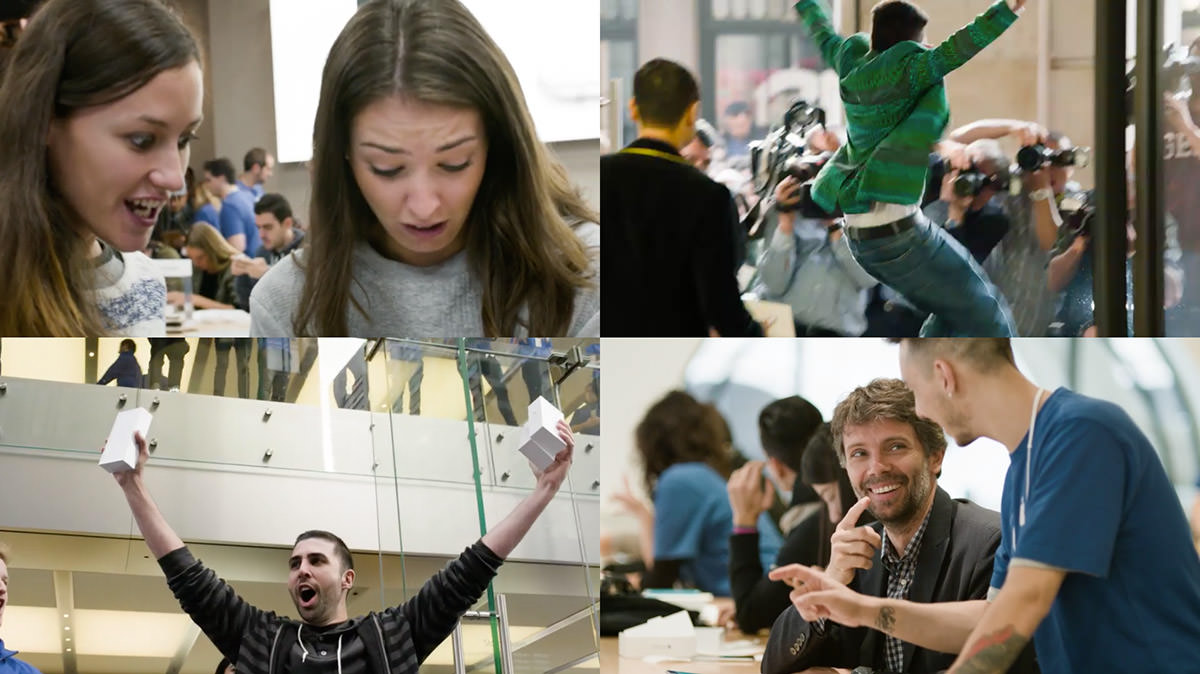 1. ZOMFG, WHITNEY, IT'S A PHONE! ZOMFG, BRITTANY, THIS IS THE BEST DAY OF MY LIFE!
2. There may be genocide in Syria... BUT iPHONE, MUTHAFUCKER!!!
3. SECOND MARKET VICTORY IS MINE! SEE YOU ON eBAY, BITCHES!
4. YOU, SIR, ARE A FUCKING iGENIUS! I'd like to book some one-on-one training!
As if that weren't enough hype, Apple dusts off Walt Mossberg for one of his idiotic quotes designed to make people think that Walt Mossberg is still relevant to tech journalism when all it does is reaffirm that Walt Mossberg will continue to say anything he has to in order to keep Walt Mossberg firmly implanted up the collective asses of giant tech companies so as to give the illusion that Walt Mossberg is relevant to tech journalism.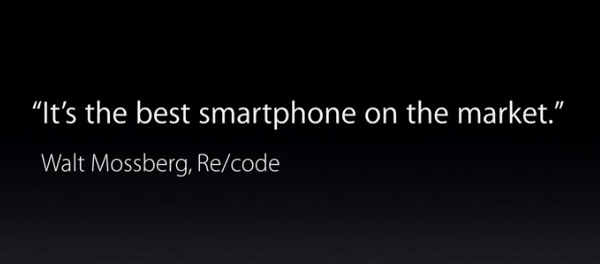 WALT MOSSBERG!!!

• Apple Pay! Heaven help me, I'm actually excited about being able to pay for things with my iPhone and not have to lug around a crap-ton of antiquated credit cards, debit cards, reward cards, and the like...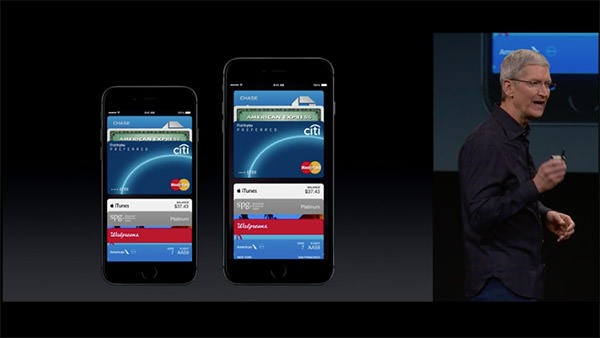 Even
more
exciting is the online component to
Apple Pay
, which will hopefully bury those PayPal fuckers (
THAT STOLE MY MONEY!
) once and for all. The privacy component sounds great (no need to turn over your card number or any personal information)... at least until naked pictures of me end up on the internet. Guess we'll find out Monday.

• Apple Watch! For the first time in a long time, Apple has announced a product that I'm not immediately wanting to buy. Sure, Apple Watch looks great, and it seems a handy thing to have (assuming you own an iPhone)... but until I see one in person, the idea of having a giant klutzy bangle strapped to my write holds little appeal...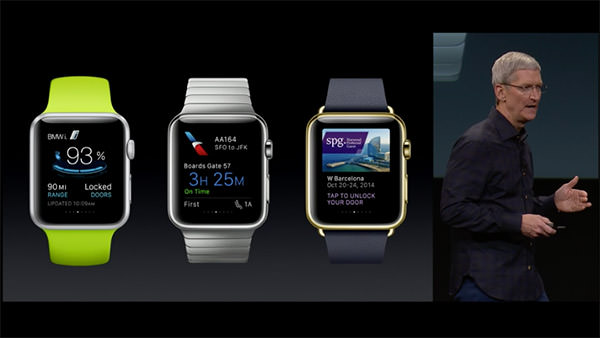 Naturally, it's better-looking than anything else on the market... but I was hoping Apple would figure out a way to make a thinner profile... put the battery in the band or something... to make it not be such a boat anchor. Oh well. Maybe Apple Watch 2.0.

• iOS 8.1! In addition to iPay, Monday's update will also include a beta for iCloud Photo Library. WHEEE! THAT TOTALLY MAKES UP FOR KILLING OFF APERTURE!
NOT!
But if they finally... FUCKING FINALLY... allow you to AirDrop files between OS X and iOS devices... I'll be happy.

• MacOS X Yosemite! I've been using the beta. I'm not too impressed. Yes, there are some nifty features (I am really loving being able to use my Mac as a speaker phone... and being able to send an SMS from your Mac through your iPhone is fantastic)... but it's just so damn ugly. Hideous day-glow colors I thought had been abolished in the 80's permeate absolutely everything. Tacky, distracting, and just inexplicably bad GUI. Perhaps I'll get used to it. But I doubt it.

• Continuity! The ability to seamlessly transition from your iPhone to your iPad to your Mac is a pretty killer feature. The problem being that it doesn't always work the way you'd expect it to. Much like the early days of iSync, it would seem that Continuity has a ways to go before it actually becomes the user nirvana it claims to be. Bonus points to Apple for getting Stephen Colbert onboard for his Supreme Commander of Security bit though.

• iPad Air 2! Not a lot of new features and improvements here. Certainly not enough to get your average iPad Air user to buy the latest model. And yet... LOOK HOW THIN IT IS! IT'S THINNER THAN A PENCIL! TWO iPAD AIR 2's ARE THINNER THAN THE ORIGINAL iPAD! THEY'RE SO THINNNNNNN!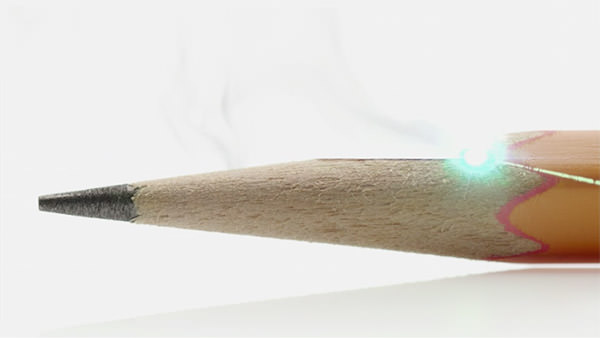 The bonded, glare-resistant display sounds nice. Wish they'd update all their other shit to have less glare on them. A speedier processor is great if you're playing a lot of games and such. Using an iPad as a camera is weird to me, but a lot of people do it, so I suppose they'll appreciate the camera upgrade. Adding Touch ID is a no brainer, as iPad Air 2 can be used for Apple Pay.
The ridiculous thing here is that, like with the iPhone 6 before it, Apple doesn't start the base model with 32GB. $499 for 16GB? Absurd. And then it jumps all the way to 64GB... WTF?

• iMac Retina 5K! Okay... this... THIS... is frickin' incredible. Phil Schiller's presentation pretty much said it all... for the entry price of $2,500 you get a mind-bogglingly beautiful 5K display that's cheaper than most 4K displays... and a computer thrown in for free...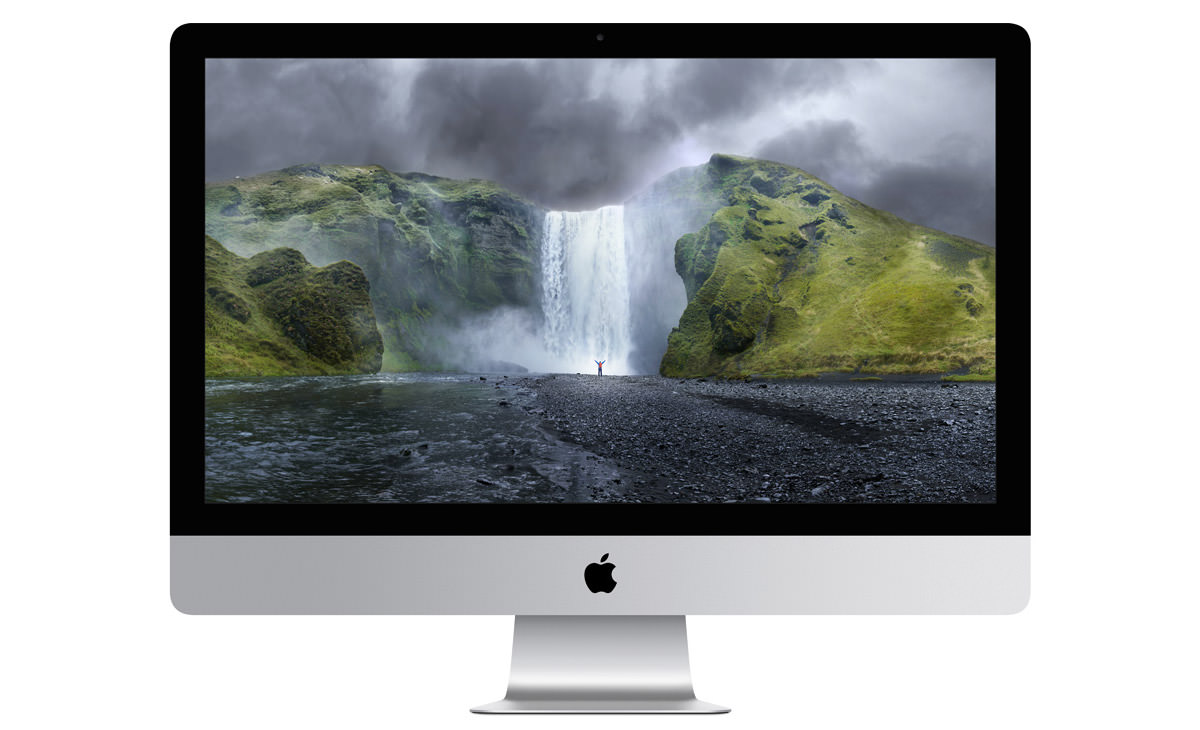 Forget the Mac Pro... THIS is a photographer and graphic designer's wet dream...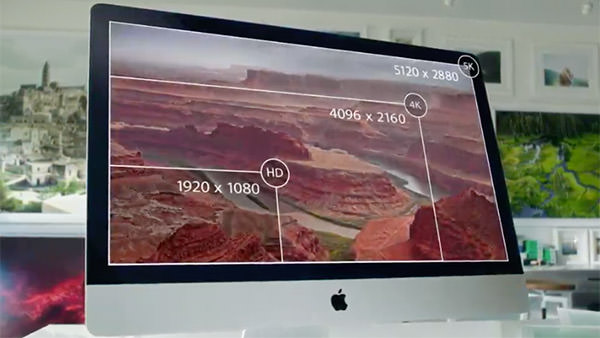 Once I got used to the Retina Display on my MacBook Pro, it's almost painful to use a machine that doesn't have a Retina Display. Assuming I can ever afford to buy this, I won't have to.
WANT!
WANT SO BAD!

• Mac mini! Kind of a wacky product to still have around. I mean, sure, when you were trying to get Windows users to switch, it made sense to have a cheap Mac that could use your existing monitor, keyboard, and mouse... but now? Well... I suppose there's still an audience out there given that Mac mini is half the price of an iMac... but it's really not the best way to experience a Mac, and I'm surprised Apple is still dredging the bottom of a dying computer market.
Then again... market share is market share, and Apple is about the only computer manufacturer out there still able to be in it at a profit, so what do I know?
UPDATE! The internet is having a field day over the fact that the new Mac mini no longer allows user-upgradable RAM. A valid concern, to be sure... and I really hate what this says about the disposability of computer equipment that can't be upgraded... but, again, this is the bottom-feeder Mac of a dying PC market. Can't really blame Apple for cutting every possible corner they can to keep prices at a point that the audience for this item expects?

Annnnd... that's a wrap...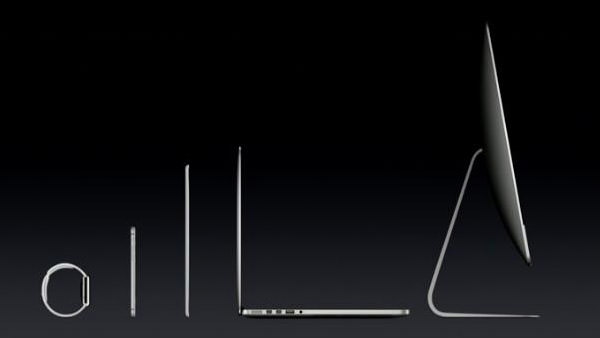 Kind of a lackluster event, so far as Apple is concerned, but it does solidify the ideal that Apple has their shit together when it comes to creating a complete line of products that will integrate into every aspect of your life. They're not just a computer company... or even a tech company, really... Apple is a lifestyle company.
Now if they'd just come out with their own television and DVR service for my lifestyle, I'd be really happy.
Posted on April 11th, 2014

Over the past couple days, I've gone through every website I can think of so I can change my passwords. Not something I planned on doing, but the fucking "Heartbleed Bug" necessitated it.
This has been the single most frustrating and anger-inducing experience I've had in years. I have spent more time screaming at my computer in two days than I have in all previous days since the dawn of computing. It would be nice if I could lay the blame for my rage on a single doorstep, but the reason this has been such a horrible ordeal is that just about everybody is responsible...
WEBSITES
Too many websites make it too fucking difficult to change your password. Not only because they've hidden the option to make the change, but because they have absurdly stupid requirements as to what is acceptable for a password...
SORRY! Password must not be similar to your old password!
SORRY! Password must have at least one capital letter!
SORRY! Password must contain at least one number!
SORRY! Password must contain at least one non-alphanumeric character!
SORRY! Password must not contain two of the same characters in a row!
SORRY! Password must be a minimum of fifty-six characters in length!
The list goes on and on, and it drives me insane. It's MY password. If somebody guesses it because I don't have a number in it, that's MY fucking problem. All your efforts to force me into some absurdly random string of characters only ensures that I will never be able to remember it for those times I am forced to enter it by hand.
But here's the even worse part. Some websites force you to create some abstract password you'll never remember... THEN NOT ALLOW APPLE'S SAFARI BROWSER TO REMEMBER IT FOR YOU! Every time Safari pops up with a note that says "Safari cannot remember this password because the website has requested it not be stored" I want to put my fist through the screen and burn down the company who would make such a stupid fucking decision.
And don't get me started on websites which don't allow you to paste a password from your clipboard, but instead require that it be typed in manually. That should be punishable by death.
APPLE
To their credit, Apple at least attempted to make password management easy by allowing you to have Safari suggest new passwords and then remember the password you enter. Safari then syncs that password across all your Apple devices (including iPhones, iPads, other Macs, etc.), which is astoundingly useful and cool. When it works, it's great. But, as mentioned above, it doesn't always work. Some sites disallow it. Sometimes Safari just doesn't save the hideously complex password it just suggested. Sometimes the login is not associated with the right website. There's all kinds of problems that can happen, and I'm guessing Safari's "remember password" feature only manages to work 50% of the time.
But it gets better.
Apple doesn't allow the stored password in Safari to be applied to other Apple apps! It goes something like this: 1) Go to change my AppleID password. 2) Safari suggests a randomly generated password that you'll never remember. 3) Safari saves your new AppleID password, then kindly asks if you want to apply the password for other Apple Services like iMessage, iCloud, and Facetime... which is so nice! 4) You go to buy a new song in the iTunes Store and APPLE FUCKING ASKS YOU FOR YOUR APPLEID PASSWORD! AND, YOU GUESSED IT, THE ONLY WAY TO ENTER THE PASSWORD INTO ITUNES IS TO TYPE IT IN MANUALLY! And since you can't fucking remember something like "RJ%P-TK3sO-#cD9yp*o-Ibn" you have to switch to Safari, go to the password manageer, locate your AppleID, enter your login password, copy the AppleID password, go back to iTunes, paste the password... then hope that you don't have to copy something else to the clipboard before iTunes asks for the password again since it asks for your password every five minutes (especially if you use iTunes Match, it would seem).
This is MIND-BOGGLINGLY FUCKING STUPID, APPLE! You have to allow iTunes to have access to your AppleID password when a user is logged in. Otherwise, people aren't going to use complex passwords. Which means that when it comes to people choosing shitty, easily-cracked passwords... YOU ARE THE PROBLEM!
UPDATE: BWAH HA HA HAAAA! How fucking embarrassing. I get to work expecting my work computer will have synced my keychain with all the changed passwords... NOPE! I had to enter everything all over again! In order to get the NEW passwords to sync, I have to disable iCloud Keychain Syncing... THEN REACTIVATE iCLOUD KEYCHAIN SYNCING. Apple: It Just Works!
UPDATE UPDATE: And, my iPhone required me to log back into all my Apple apps... like "Find My Friends" because it is ALSO too fucking stupid to use the damn keychain with my AppleID and password THAT IT IS ALREADY SYNCING TO! What a fucking joke. I thought that with iCloud, Apple would FINALLY get syncing done right since they botched it so badly in .Mac and MobileMe... NOPE! Still a horrendous pile of shit. And don't get me started how every time I do fucking ANYTHING with my password on my iPhone, it broadcasts an announcement to all my other Apple devices that it's using FaceTime now... AS IT HAS BEEN SINCE FACETIME WAS AVAILABLE!! Heaven only knows how many years it will be until Apple finally gets this crap all figured out. At this rate, probably never.
1PASSWORD
Long before Apple built a password manager into Safari, I was already using a nifty password managing app called 1Password by AgileBits. I've had a few minor problems with it over the years but, for the most part, it's a terrific piece of software. It does a greatjob of creating, storing, managing, and filling-in all kinds of passwords, credit cards, bank accounts, identities, encrypted notes, and such.
When I started changing all my passwords, I discovered that the version of 1Password I'm using was outdated, and I needed to upgrade to version 4. Well, they don't offer an upgrade, so you have to purchase an all-new copy... but it was on sale for half-price ($24.99) thanks to the Heartbleed bug, so I just went ahead and paid for the shit.
Only to have one of the most frustrating upgrade experiences ever. Seriously... upgrading from 1Password v3 to v4 was worse than getting punched in the fucking face.
First of all, they warn you to sync your Safari Plugin data with your main data store. This is done by creating a new fake login, which they don't really explain how to do. Eventually I just went to a shopping site and created a real login so I could force 1Password to add it to my main data store and be sure everything was synced. But it never worked. Each time I'd create a login, I'd go to the main 1Password app, but the login never showed up. After 20 minutes of this stupid crap, I finally didn't give a fuck, and just uninstalled the 1Password Safari Plugin. Who knows what data I lost.
Then it came time to install the v4 Safari Plugin. I couldn't find a separate link on their download page, so I Googled their site to find it. But after installing the plugin found at the link, Safari reported it was v3. So I uninstalled again and Googled for instructions, only to find that I could choose "Install Browser Extensions" from the 1Password app. Well that's easy, right?
Not so much. I then spent a half hour trying to get it to install. First of all, it kept installing version 3.9.20 even though I was double-clicking on the version 4 plugin. Don't ask me why. I had to reboot my MacBook before it would finally install the new version. But then the real battle began.
The problem being that 1Password must be running for the Safari install to work, but it keeps quitting before the install happens. It was a game of Catch-22 over and over and over again...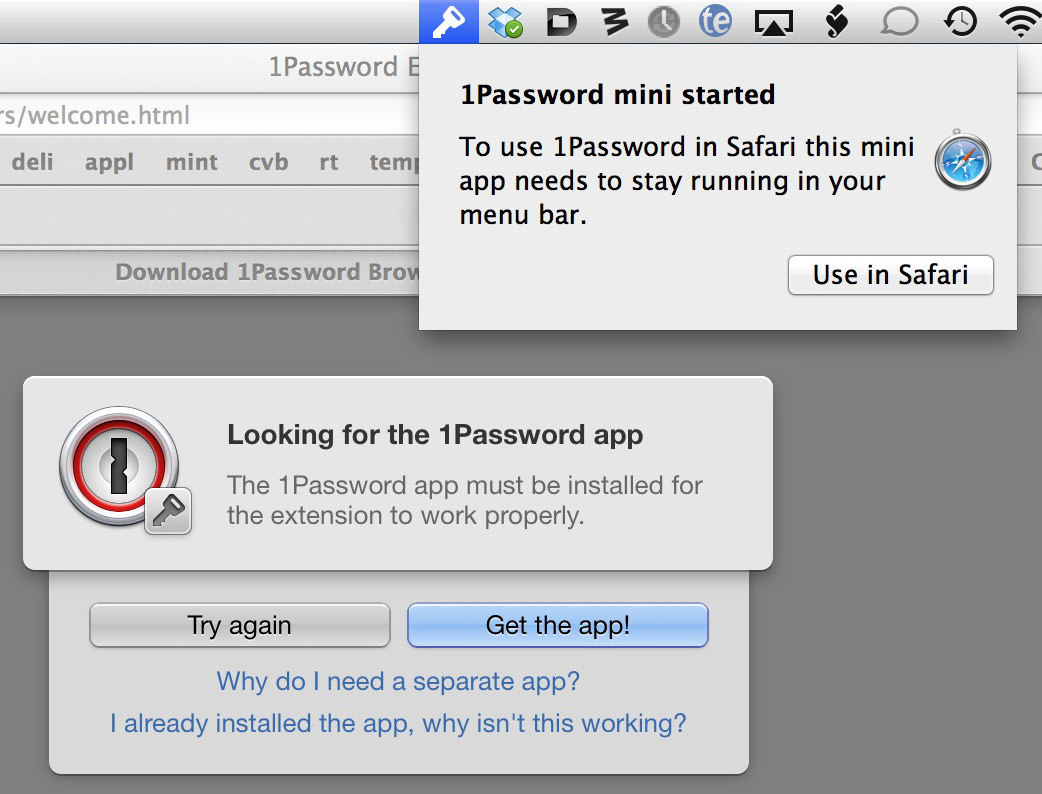 Start 1Password, press "Try again," 1Password quits. Repeat. TIMES INFINITY!
Even a complete re-install didn't work. Eventually I had to uninstall the entire app plus its support files... then start all over again with a backup data store synced on DropBox. What a fucking joke. I just paid $25 to waste nearly and hour of my precious time... for an upgrade. Thanks, AgileBits!
P.S. Why in the hell does AgileBits feel the need to install 1Password 4 inside of a FOLDER? Especially when the app is the ONLY item in the fucking folder. I'm guessing it has to do with problems writing to the Apps folder if the old 1Password is in place... but wouldn't a better solution be to rename the app with the new version number added?
And now, after TWO DAYS wasted, I finally have most all my passwords changed. Whether or not I'll actually be able to retrieve them to log in anywhere remains to be seen.
Posted on February 27th, 2014

This morning I woke up in a panic because I could no longer recall my CompuServe ID number. I don't know why it bothered me so much... I haven't used CompuServe in decades and there is no earthly reason I'd ever need to know it... but it did.
After thinking about it all day, I'm sure it's something like 74724.1609 — but that's not it. Darnit.
There was a time I was more familiar with my CompuServe ID than my own birthday. For those too young or not geeky enough to know what "CompuServe" was, Wikipedia to the rescue...
CompuServe (CompuServe Information Service, also known by its acronym CIS) was the first major commercial online service in the United States. It dominated the field during the 1980s and remained a major player through the mid-1990s, when it was sidelined by the rise of services such as AOL with monthly subscriptions rather than hourly rates.
While nowhere near as magical as the modern-day internet, CompuServe certainly felt more magical back in the day. Despite the fact it was glacially slow and massively expensive, it was 200% wonderful, and I would have spent all day using it if I had the time and money to do so. Finding new friends... joining common interest groups... exchanging information... downloading programs... doing research... even accessing a rudimentary internet gateway... CompuServe had it all. For a big fat price.
Luckily we all had Bulletin Board Systems to fill the gap. They were every bit as entertaining in their own way and, most importantly, free... assuming you could get past a busy signal.
Until AOL came along.
Cheaper, faster, prettier, more expansive, and a lot easier to use... AOL bested CompuServe in almost every way.
Just like the internet would eventually best AOL.
And everything else.
Still, nostalgia for the good ol' days dictates that I should still remember my CompuServe ID...
Nope. I got nuthin'.
Posted on January 16th, 2014

Remember when taking pictures was a relatively complex ordeal where you had to load your camera with "film" and then send it off to be developed and printed? And THEN if you wanted to get those photos into your computer you had to have them scanned, touched-up, color-corrected, and burned to a CD? Hard times. Hard times.
Back in the early 1990's, Kodak came up with a system to cut down on the hassle called "Photo CD." This was a service where you could have your film developed, scanned, and a CD burned all at the same time. I loved it. The scan quality was pretty darn good if you went to a reputable lab, and the convenience was fantastic. It also saved a lot of money over paying somebody to scan them for you or buying the equipment to do it yourself.
Unfortunately, Photo CD never really went anywhere for a number of reasons. Eventually Kodak abandoned their proprietary format, and that was the end of that. Soon after, digital photography caught hold, and film died a long, agonizing death. With that in mind, it's not like PhotoCD had much of a chance had Kodak hung in there. Still, for somebody stuck in the film era, it was good while it lasted.
Flash forward to today, and there are a lot of Photo CDs still floating around out there.
Tonight I ran across a pile of them while tossing out some old computer junk.
Needless to say, you can't just pop a Photo CD in your iMac and look at all the pretty pictures. Modern computers have no frickin' clue how to read (let alone display) any of the images in that dead format. Lucky for me, people have reverse-engineered the proprietary Kodak file scheme and there are decoders out there (assuming you're tech-savvy enough to hunt them down and figure out how to use them). Or, if you have an antiquated computer laying around with old software installed, you might be able to read Photo CDs (Photoshop v5 anyone?)... which is probably the easiest way to do it. Eventually, I might get around to converting them to JPEGs (or whatever) but for now they're just sitting in a pile on my desk.
And it gets you thinking.
Photo CD died less than 20 years ago and it's quickly becoming impossible to read them.
And it's just a drop in the bucket. Think of all the dead formats out there... ZIP disks, JAZ drives, SyQuest cartridges, floppy disks, VHS, LaserDisc, digital video cassettes... the list goes on and on. And can CDs and DVDs far behind? Does Apple even sell computers that have CD/DVD drives any more? How long before they're just two more dead formats on the pile?
If you've got any media sitting around that has stuff which is important to you... I wouldn't wait too long to get it transferred.
In twenty years, you might not be able to. At least not easily.
Posted on May 1st, 2013

Our local Sears store is closing.
I am not entirely surprised by the news, but I am a bit saddened. For the longest time during my childhood, Sears was the place to shop in our valley. There wasn't much competition, and the internet wasn't a Thing yet, so you went to Sears. My first computer, an Atari 800, was bought at that Sears. All the software I saved my allowance to buy came from Sears (mostly INFOCOM games like Zork). Appliances and tools all came from Sears. Clothing came from Sears too. And if there was something Sears didn't have that you needed, you could order it from their catalog.
So yeah, I have fond memories of Sears and it seems strange to think about it closing.
I haven't shopped there in years, of course.
The last thing I bought at Sears was a Kenmore washer and dryer... or maybe it was some Craftsman tools... but that was at least a decade ago. I feel bad about that, but they just don't have anything I want to buy. Not any more...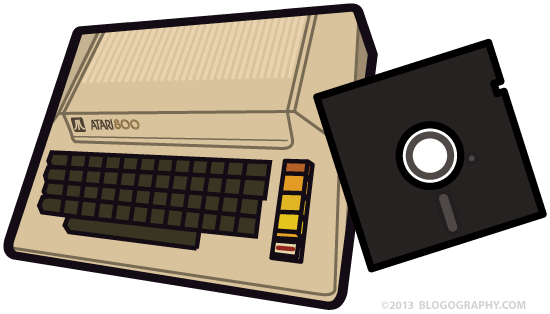 I drew this Atari 800 for the cover of Kevin Savetz's terrific book, Terrible Nerd!

And now I think I'll have a beer and reminisce about the good ol' days when I was a kid and the Sears Christmas Catalog was my world.
Much like Apple.com is now.