Posted on June 25th, 2023

Storm clouds are a' brewin' out my window but I'm still blogging... because an all new Bullet Sunday starts... now...

• Storm! No joke. As I started to type this, all the lights in my house that are on a light sensor came on, thunder could be heard in the distance, and my weather station said that there are lightning strikes in the area...
I swear that it was sunny just two minutes ago.

• Spell! In preparation for the new Wham! Documentary that's dropping on Netflix any day now, I've been re-watching all the old Wham! videos. When I got to Wake Me Up Before You Go Go I was shocked to see that Deon Estus was there...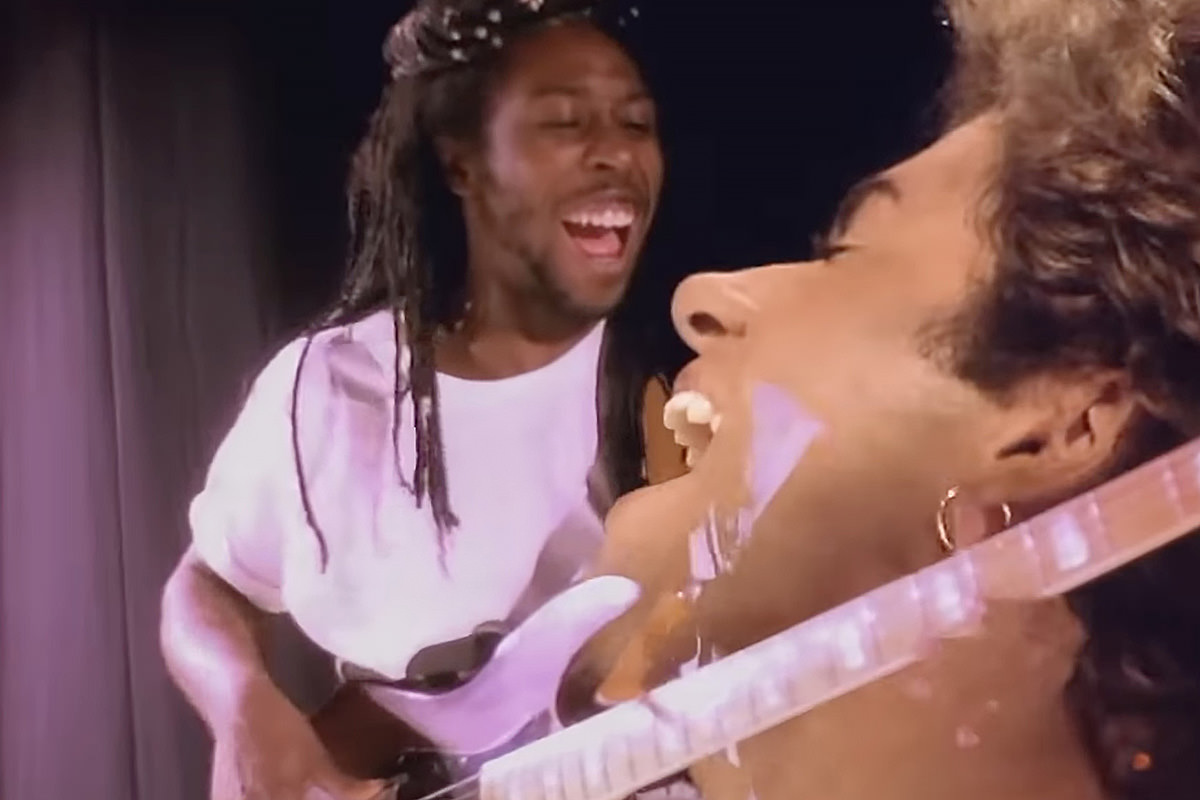 Holy crap! I always knew that Pepsi and Shirlie were backup singers in that video, but I have ZERO memory of Deon Estus being on bass! BUT THERE HE IS! Oh man I loved Deon's album Spell which I listened to constantly. You might remember one of the bigger hits to come off of it, Heaven Help Me...
I was always sad that he never released a follow-up album. And I am very sad now to learn that he died in 2021. He was incredibly talented.

• Strange! New! Different! I'm late to watching the S02E02 Ad Astra Per Aspera episode of Star Trek: Strange New Worlds. I remained shocked at just how frickin good this show is. This episode didn't have any space battles or crazy situations... it was 100% a courtroom case. It was Law & Order in space. And yet it was beautiful to see...
The performances were incredible, as usual... but it was the guest appearance by Yetide Badaki that was the highlight. Holy crap! The ENTIRE EPISODE hinged on her performance, and she did not falter. Amazing, amazing stuff. If you're not watching, you should be. This may very well be my favorite Trek of all.

• Deep Sea Tragedy. James Cameron has one of the few opinions I even care about on any of this Titanic submersible stuff given his massive experience on deep-sea dives... and it's exactly what you'd expect. Those people didn't need to die...
And, like I said a bit ago, billionaires in a preventable situation is still in the news cycle while poor immigrants sinking off the coast of Greece barely gets a mention and is given the "Oh, that's too bad" treatment. Your wealth is directly proportional to your value in this sick, sad world. And that ain't changing any time soon.

• Happy Pride! Crying is gay now? Well, happy Pride to all the gay men who cried when they saw their future wife walk down the aisle at their wedding then. Christ...
Toxic Masculinity at work. The fact that men aren't supposed to have any emotions at all is fucked up beyond all rational thought...
Repressed emotions aren't healthy. And this kind of anti-male trash being propagated creates an environment which leads nowhere good. Just look at the news from the world today.

• Sandwiches! I'm kinda going through a sandwich renaissance. It started with egg salad sandwiches. Then I moved to (f)BLTC on toast (fake bacon, lettuce, tomato, and cheese). And now I am eating grilled cheddar and cream cheese sandwiches with tomato and pesto.
Sandwiches are awesome! Fried egg Sammies are next on the menu. And I really want to fry up a pizza sandwich one of these days soon.

• Mobile Mobile! So when T-Mobile says that my rate is locked in... and I signed up for their service using ApplePay autopay... and now they're saying that if I continue to use ApplePay that I will have to pay $5 additional. Isn't that a breach of contract? I changed nothing from when I signed up and will now have to pay $5 more a month...
Oh how I fucking hate these asshole companies that lie to you when they sign you up and get away with it because they have politicians in their deep pockets. $60 additional a year is not fucking "locking in my rate." And sugar-coating it with "Well, your base rate is the same, we're just changing the conditions of your discount" IS STILL CHANGING CONDITIONS OF THE TERMS I WAS GIVEN WHEN I SIGNED UP!! It's like... "Oh, we mis-promised because expenses are going up, and we are losing money that our CEO needs to fuel his private jet, so how can we squeeze it out of our customers? Oh... by eliminating credit card fees we pay! Genius! Fuck our stupid-ass customers for trusting us! Or CEO needs a new gold-plated toilet for his third house!"
What's interesting is that T-Mobile bought out Mint Mobile. And if I switch to Mint Mobile, I'll pay half of what I pay now. So essentially T-Mobile is going to make a $50 a month customer become a $25 a month customer. OVER $18 A YEAR IN CREDIT CARD FEES?!? Who the fuck is the genius who came up with this money-making scheme? "LET'S MAKE FEWER MORE PROFITABLE CUSTOMERS! THAT'LL MAKE THE MONEY ROLL IN!"

Now, if you'll excuse me, it looks like rain.
Tags:
Bullet Sunday
,
Food
,
Grilled Cheese Sandwiches
,
Music
,
News
,
T-Mobile
,
Television
,
Weather
Categories:
Bullet Sunday 2023
,
Food 2023
,
Music 2023
,
Television 2023
—
Click To It:
Permalink
—
0 Comments: Click To Add Yours!
Posted on September 9th, 2022

Today I will be cooking up a grilled cheese sandwich recipe that I've been working on forever. More on that in a second, because first I feel obligated to put some bullshit story in front of my recipe. Apparently that's The Law of the interwebs...
When we went into lockdown, I spent a lot of time in cooking forums and groups trying to find ways to get creative with limited groceries. One day there was a conversation built around your favorite grilled cheese sandwich.
Now, I have many, many "favorite" grilled cheese sandwiches. I love bread. I adore cheese. I have made so many different combinations of both that I couldn't possibly count them all. Growing up my grilled cheeses were American on whatever white bread was cheapest. I loved them. Still do.
All that being said, here is my favorite grilled cheese sandwich. Which got me some hate, I won't lie...
Blogography's Grilled Cheese
Two slices of rustic bread... my favorite is homemade. But if I'm not making it myself, I like Seattle Sourdough Baking Company's "Waterfront" round loaf.
Thinly-sliced, good quality Cheddar. It doesn't even have to be expensive or an import. I love Tillamook Medium.
Spreadable cream cheese.
Grated parmesan cheese. Not the "real" stuff... you want the cheap Kraft shaker stuff in the plastic bottle.
Thinly-sliced Granny Smith green apples or ripe tomatoes (if you got them, which I do not).
And here's what I do...
On a microwave-safe plate, pile up the thinly-sliced cheese between the slices of bread and nuke it for a short time. Ideally you want to stop just before the cheese is melted. On my microwave it's 12 seconds. Cheddar is a hard cheese that doesn't always melt easily, so this is just to make sure that the cheese gets really gooey when you actually cook it.
Place in a cold pan and turn on the heat to medium-high. Butter one side then turn it over and butter the other. Yeah, yeah, I know it's en vogue to use mayonnaise, and that's fine... but I prefer plenty of real butter.
Grill the one side until it is lightly toasted. You don't want it browned (you'll see why soon).
While the bottom side is grilling, take the top slice off and smear the inside with cream cheese. Stick the thinly-sliced green apples (or ripe tomatoes) to the cream cheese and stick it to the bottom slice.
Flip and lightly grill the top side.
NOW... once both sides are lightly toasted, that means the pan has come up to heat. What you do now is turn the heat down to medium. Lift the sandwich out of the pan with a food turner, then sprinkle a bit of the Parmesan into the pan and quickly place the sandwich back in the pan. Grill until the cheese has fused to the bread and turned deep brown (careful! It will burn quickly!).
Repeat for the other side.
Use a sharp knife to cut at an angle (you want that point on the end for your first bite!). The knife should be as sharp as you can make it so the bread doesn't get too smashed at the cut. I used to use a bread knife, but it really isn't necessary.
Serve on a plate with whatever green apple slices are left.
I didn't have green apple or tomato for this one, but you can get the idea...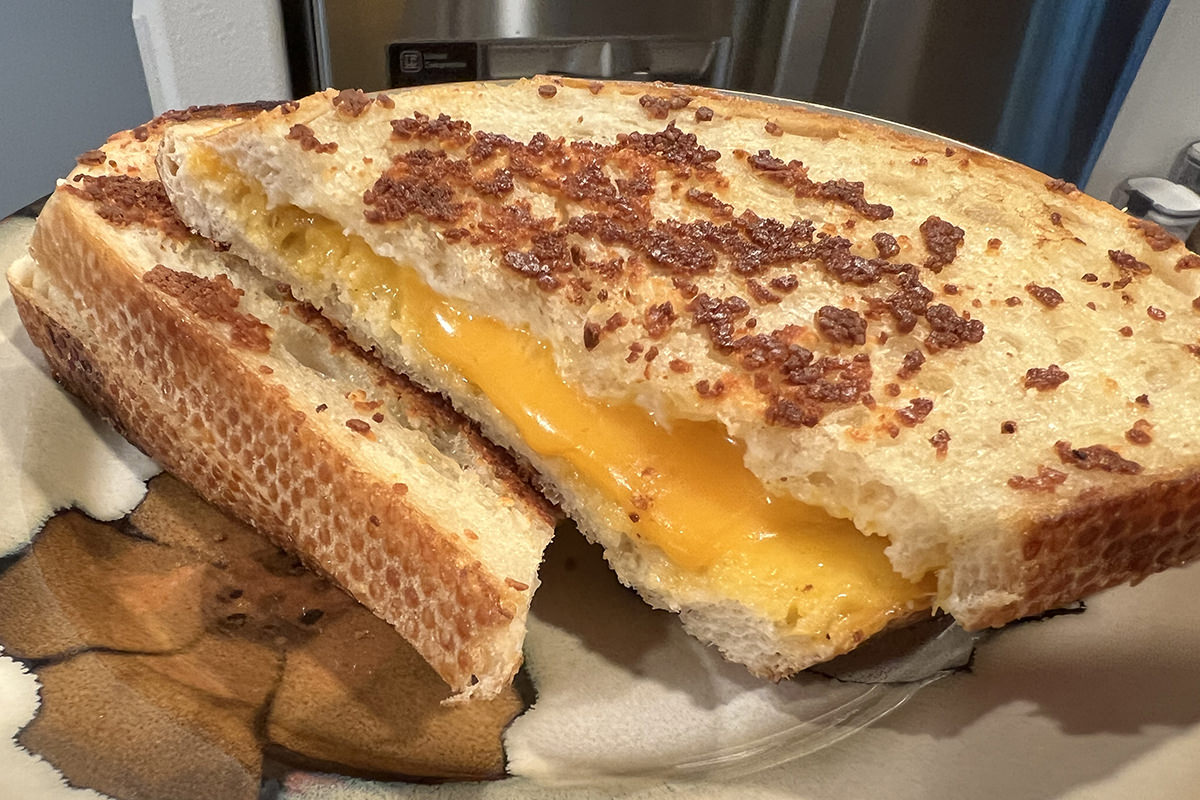 Now, there's some method to this madness. And I ended up having to defend my sandwich to people who were upset about my choices in a frickin' cooking forum...
"IF YOU MICROWAVE IT, THEN IT'S NOT A REAL GRILLED CHEESE!!" — As I said, cheddar isn't the meltiest cheese around and needs a little help. You can skip this step if it offends you so much, but those 12 seconds makes a big difference.
"CHEDDAR IS SO BASIC! THERE ARE BETTER CHEESES FOR GRILLED CHEESE!" — Then use them. Medium Cheddar is my favorite taste for this sandwich, especially when paired with green apple or ripe tomatoes.
"CREAM CHEESE ISN'T EVEN CHEESE!" — According to the FDA it qualifies, but whatever. I use it because it's a lovely, creamy texture addition... and does a darn good job of keeping the apples from sliding out of the sandwich. Unless you go too thick. Or over-cook it.
"GRATED PARMESAN? FROM A BOTTLE? IT'S NOT REAL CHEESE! IT'S SAWDUST!!! — Preaching to the choir. You're telling me something I already know. But whenever I use real parmesan, it sticks "wrong" and makes a mess. But the Kraft grated (with sawdust!) works perfectly for what we need. I don't want the "crustiness" to come from cooking the bread until brown. In my opinion, that's overcooked. But you want that crusty topping! Using grated Parmesan gives you a nice crustiness on the outside while keeping the bread soft and delicious. The texture is remarkable, and that small hit of Parmesan is so tasty.
"THAT'S A FRUIT SANDWICH, NOT A GRILLED CHEESE!" — Then leave off the green apples or the tomatoes. As you can see in the photo above, it's still a fantastic sandwich. I just like that small addition of other flavor to add a bit of complexity to the flavors and elevate it a bit. Cheddar has a strong enough flavor to not be overwhelmed.
"THIS IS A SHITTY GRILLED CHEESE. YOU DO EVERYTHING WRONG!" — If wrong tastes this good, I don't want to be right.
Thus is the politics of grilled cheese sandwiches. If you have a favorite of your own, then by all means keep doing what you're doing and not tell me how much my favorite sucks!
Posted on April 7th, 2013

Don't go going off all half-cocked... because Bullet Sunday starts now...

• Cheese! April is National Grilled Cheese Month, and grilled cheese sandiwches just happens to be one of my favorite foods on earth. Sadly, most people seem to think that a grilled cheese consists of a slice of cheese melted between two slices of bread in a skillet. Not even close. Great grilled cheese sandwiches are creative culinary delights that are a little more interesting...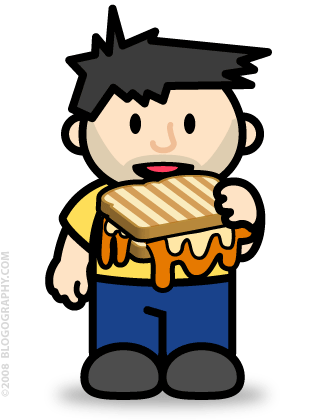 I've already blogged about my "Death By Cheese Sandwich," which is one of my favorite recipes... but lately I've been experimenting with shredded cheese recipes (which melt so very, very beautifully) and adding things like sliced green apples or tomatoes to my sandwiches. The last batch I made had Feta Cheese mixed in, which was mind-blowing. Next up I'm going to try a recipe which is made with potato chips. The varieties of grilled cheese deliciousness are endless. Which is why I want to encourage everybody to take National Grilled Cheese Sandwich Month by the balls and seek out a few of the more inventive ways of cooking one of the world's most classic foods. Go! Go! Go!

• Hannibal! Let's just get this out of the way... I feel that Sir Anthony Hopkins' portrayal of Hannibal Lecter in Silence of the Lambs is one of the most inspired performances in all of cinematic history. It is one of the few times I can use the adjective "flawless" when describing what actors do. With that in mind, I put my expectations into low-gear when tuning into NBC's efforts to turn the character into a Dexter-style television series...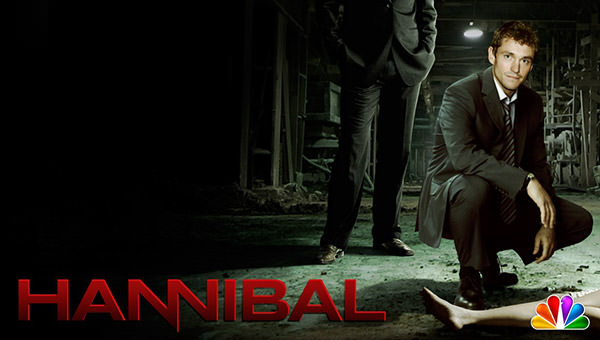 So imagine my surprise when I start watching the premiere episode of Hannibal only to find that creator genius Bryan Fuller wisely decided to sidestep a failed attempt at mimicking the Anthony Hopkins movies. I was riveted as I watched a much more flawed and interesting version of investigator Will Graham (played by Hugh Dancy) rope me into one of the best homicide dramas in recent memory. As the show continued to play out, I found myself excited at the prospect that this might actually work out.
But then Hannibal Lecter showed up and everything went sideways.
No offense to Mads Mikkelsen, who is a fine actor (he was really good in Casino Royale)... but the guy is horribly miscast as Hannibal Lecter. For reasons that escape me, he's playing the part as about as flat and uninteresting as it gets. I certainly wasn't expecting Sir Anthony Hopkins, but I was expecting to see some of the sparkle and charm that makes Hannibal such a compelling character. Well, there's none of that here. It's the idea is that Lecter is so charming and fascinating that you don't want him to be evil. The fact that he IS a psychotic serial killer is what makes him so terrifying. With Mads Mikkelsen being so eerily lacking in charm, he comes off as exactly what he shouldn't... a psychotic serial killer! I dunno. I'm going to keep watching in the hopes that Hannibal grows on me because Will Graham is so beautifully realized here... but, unfortunately, I can see a day when Lecter's half of the coin pushes me over the edge.

• Bridegroom! "It's not a gay thing. It's not a straight thing. It's a human thing." — I was really happy this Kickstarter project got funded, and I can't wait to see what Linda Bloodworth-Thompson has done with a story that everybody needs to see...

• NIK! When Google bought out NIK Software, I was gutted. They obviously bought the company to get their hands on Snapseed, and I worried that the rest of their brilliant apps would be tossed aside. That may yet come true but, in the meanwhile, Google has dropped the price of NIK's plugin suite to a astounding $149! If you're a photographer who uses Photoshop, scrape together the $149 and RUN, don't walk, to their website and snap it up before Google changes their mind. Color Efex and Silver Efex are sheer magic for punching up your images, and all the rest of the tools are just gravy. If 70% off and my praise doesn't compel you to jump onboard, they have a 15-day free trial available.

• WTF? Seriously. I wants to die now.

• Mini! More and more I have been uploading double-sized photos to my blog, then manually down-sizing the dimensions in the HTML. This makes it so that readers with a Retina Display get a much better quality photo to look at...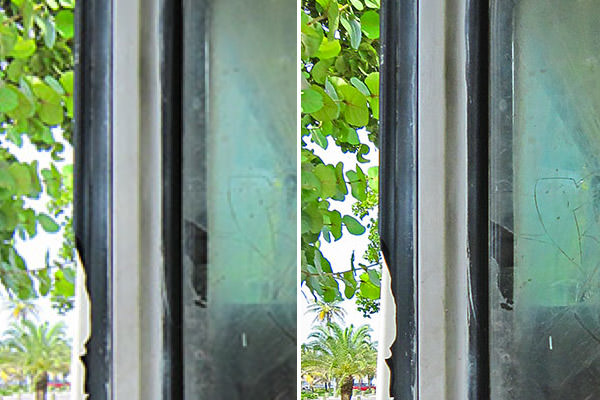 Detail of Non-Retina low-res on the Left... Retina double-res on the Right
The problem is that readers without a Retina Display (or equivalent) are downloading a bigger image file, only to have their browser throw out every other pixel. Kinda a waste of time and bandwidth but, sorry, one day all displays will be "Retina" in quality, and I'm trying to future-proof my images here. To make this as painless as possible, I am using a tool called JPEGmini to reduce the size of my large images (small images don't net much of a savings). So far, it's worked surprisingly well, and my largest images are being reduced as much as half. Yes. Half. But the best part? The image quality is maintained! Looking as hard as I can, I can't spot any difference between the original and the JPEGmini version! It's been working so well that I've taken to compress my camera libraries as well. If you're looking to save some space with your JPEGs, I highly recommend giving JPEGmini a try (there's a free version to check it out, so what are you waiting for?).

• Veronica! If you loved me, you'd donate one measly dollar to the Veronica Mars movie project so it can become the most backer backed project in Kickstarter history. If you don't love me, then you can still donate a dollar and pretend to love me... I'm perfectly fine with that. Just five days left...

And now... TIME TO MAKE FRESH BREAD FOR MORE GRILLED CHEESE SANDWICHES!
Posted on January 1st, 2010

Last year I made five new year resolutions for 2009. I accomplished them all by February 9th.
Perhaps I set my sights too low. More likely I was just trying to be realistic in my goals. But whatever the case, after I fulfilled my resolutions I pretty much coasted for eleven months. Mission accomplished! This year I'm not going to let myself off so easy. Instead of giving myself a list of fixed goals that can be checked off, I'm instead going to commit to more general goals that don't have a finish line I can cross. Things that keep me growing and learning.
Like figuring out how to make the world's best grilled cheese sandwich.
Hey, there's always room for improvement... even when you've got a spectacular recipe already under your belt.
Superior cheeses come along.
Tastier breads.
Improved grilling technology.
All you can really do is create the world's best grilled cheese sandwich for the moment and move on to the next one. Sure that's a lot of cheese, but it's the journey (endless grilled cheese sandwiches)... not the destination (heart failure from high cholesterol levels)... that's important here.
Time to cut the cheese.