Posted on May 8th, 2018

So there we are, waiting for our ghost hunt to begin when Coal Miner's Granddaughter turns to me and says "Hey, did you see that Kilauea erupted in Hawaii?"
I hadn't.
In March of 2008 a new fissure opened on Kilauea, causing a "vog" (volcanic smog) alert to be issued. Not just for The Big Island, but for neighboring islands as well. I ended up traveling to Hawaii later that year, excited at the prospect of finally seeing a lava flow. But, alas, Pele (Hawaiian goddess of fire) had other plans and there was no lava to be found. There was still vog happening though...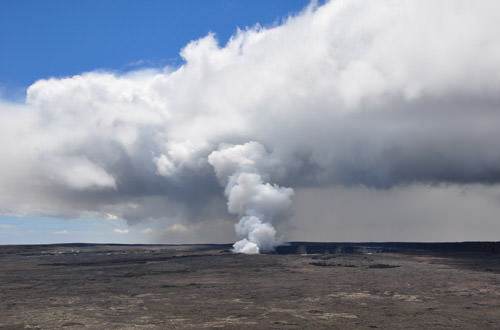 Now Pele has unleashed the Real Deal on The Big Island, and unfortunately there are people in the path of her wrath...

Bruce Omori from Paradise Helicopters via Shutterstock and Time Magazine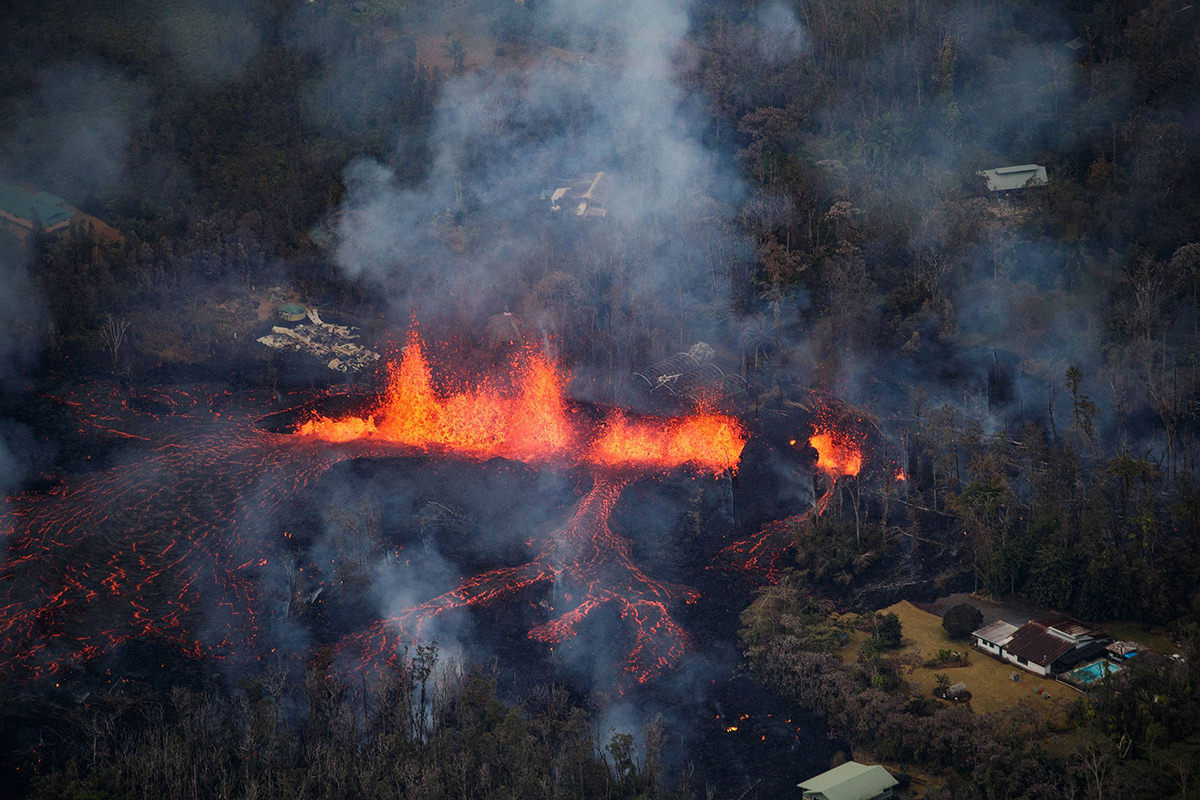 Bruce Omori from Paradise Helicopters via Shutterstock and Time Magazine

The footage is pretty dramatic...

Though this is the story that's probably most disturbing!

Holy Watchmen, Batman!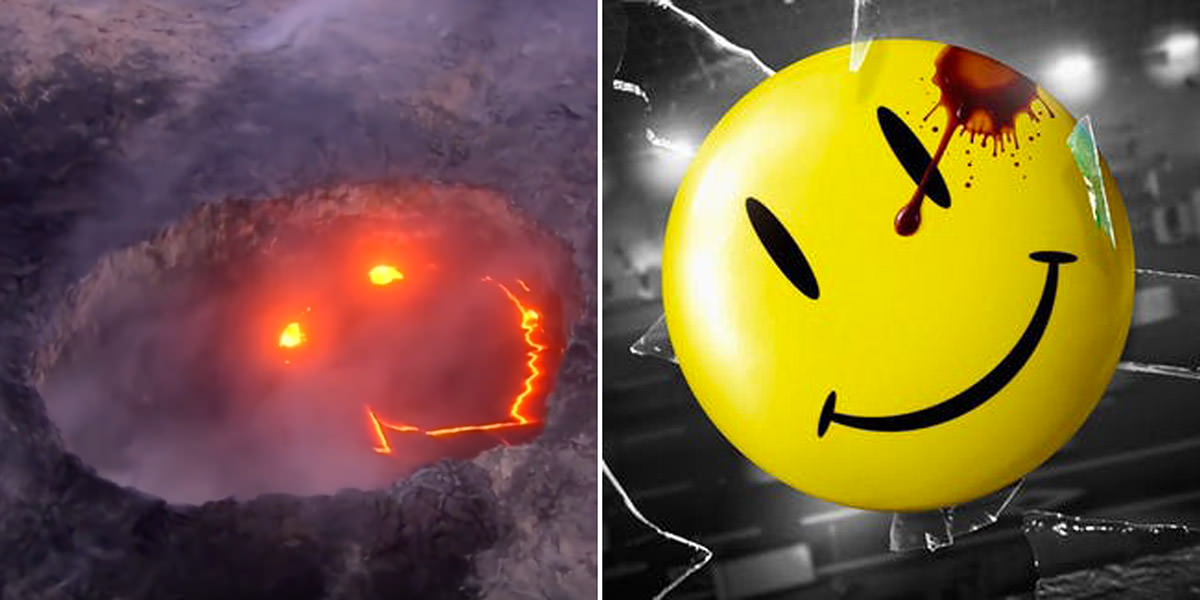 Such beautiful destruction.
I'm in Hawaii later this year. If the lava thing is still happening, perhaps this will finally be my chance to see it.
Assuming the world hasn't ended by then, of course.
Posted on April 6th, 2018

I was looking for background noise to play while I work and ran across Miss Congeniality playing. It's one of those guilty pleasure films that I really don't need to see for the tenth time, which is perfect because I won't be distracted by it.
At one point in the film Sandra Bullock as hapless undercover FBI agent beauty contestant Gracie Lou Freebush is practicing a dance routine and ABBA's Dancing Queen...

And now I'm screwed.
Because any time I hear ABBA, I am immediately sucked down a rabbit hole of their amazing oeuvre of pop genius.
There are few songs of theirs that I don't love, but there's one song in particular that's my hands-down favorite... The Name of the Game. It's so beautifully constructed that it's easy to say it must be one of the greatest pop songs ever written. Couple that with the flawless voices of Agnetha Fältskog and Anni-Frid Lyngstad and... well... it's pretty tough to find fault in the magic of it all...

Listening to ABBA always leads me to A*Teens, a Swedish teen group that hit the Disney circuit back in 2000. Originally formed as "ABBA Teens," their first album was filled with ABBA covers, including their take on The Name of the Game...

What's interesting is that A*Teens ended up having surprising depth, moving past their ABBA covers and creating their own stuff. Yes, it was teen-pop. But it was pretty good teen pop...

A*Teens always leads me to Hoku... aka Hoku Ho, daughter of Hawaiian legend Don Ho... who was gaining popularity around the same time that A*Teens were blowing up in the US. Her one album is actually really good, though the song she's probably most famous for is Perfect Day from the movie Legally Blonde...

As an interesting aside, Hoku is apparently working on new music and plans on releasing an album this year! The EP has her listed as a "Christian Artist," so I can only imagine that she's no longer going to be singing the bubblegum pop songs that made her famous.

Anyway... Hoku always leads me to fellow Hawaiian artist, Iz, and his magical version of Somewhere Over the Rainbow...

The voice of Hawaii obviously leads me back to ABBA and Happy Hawaii...

And now it starts all over again...
Posted on March 22nd, 2012

Juuuuuuust enough time to pack my suitcase. Again.
And draw a new 30 Day Challenge entry. Again.
Then I'm off to The Coast. Again.
It's a vacation from my vacation... just like I always dreamed about!
30 DAYS DRAWING CHALLENGE: Draw Something You Miss...
I miss lots of people that aren't in my life anymore. I miss a few television shows that are off the air. There's even some foods I miss that aren't around anymore. But this morning when I went out to my car so I could go to work... and found snow and ice covering it... I missed Maui most of all.
Posted on May 9th, 2011

A second day of bullets for double damage!
Today's bullets will be fired from Part Three of my "Get to Know an Island" series: OAHU EDITION! Since yesterday was spent exploring the Leeward side of the island, today I decided to head East and take a look at the Windward region of the island...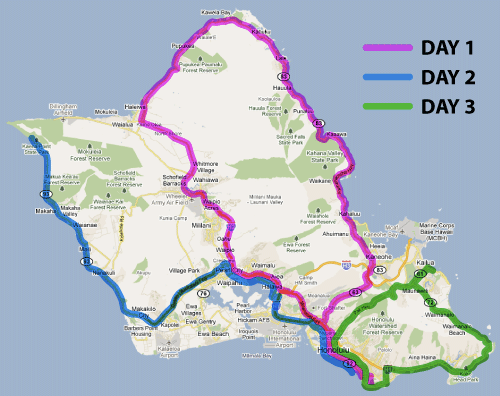 • Nu'uanu Pali Lookout. I had just been here two years ago but, since it was along the way, I decided to stop again. This is actually a pretty gruesome place... it's where King Kamehameha the 1st and his army drove a bunch of their enemies off a cliff into this here valley...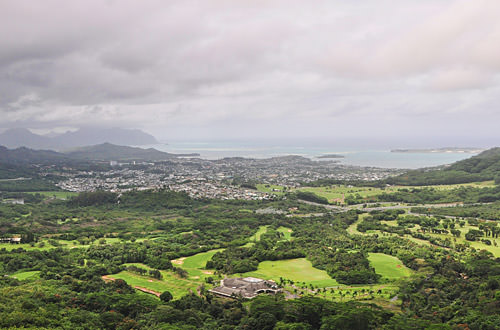 It's a lot nicer when the weather is good, but I was still glad I stopped.

• Kailua Beach State Park. And here it is... the best beach I've seen on all of Oahu: Kailua Beach. It's absolutely stunning, and on-par with my favorite Maui beaches. The surf seems fairly mild, which is why a bunch of para-surfers and wind-surfers were out and about...
The sand is powder-fine and beautiful...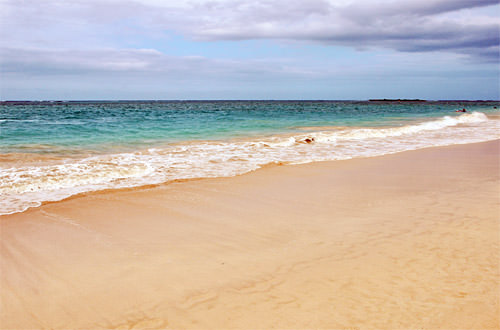 The park is in a residential area, which is kind of a nice surprise. The lack of hotels and resorts means that the beach isn't completely overrun like Waikiki. I'm guessing it's pretty crowded on the weekends, but on this Monday morning there wasn't a lot of people there. All I know is that if I wanted some beach-time when visiting Oahu, it would be Kailua and nearby Lanikai Beach all the way.

• Makapuʻu. Across from Oahu's "Sea Life Park" (where you can swim with dolphins and stuff), there's a strip of rocky beach that's a great place to look for crabs, fish, and other critters that call the place home. Typical of Hawaii weather, I was able to look North and see a rain storm moving in...
Then look South and see sunshine...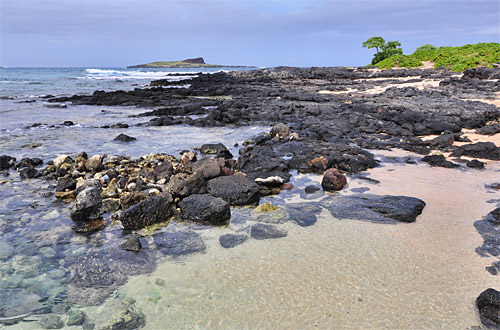 It was kind of nice to see blue skies, because it's been on-again-off-again raining my entire trip.

• Halona Blowhole. And so now I've finally seen a blowhole. This is a geological formation where a sea cave has an opening above it. When waves flood the cave, water is blown out of the hole. Hence the name...
The volume of water that can shoot up is huge and makes a big impression in person. But in photos it's the smaller plumes that look more interesting.

• Lanai Lookout. I'm guessing the reason that this place is called "Lanai Lookout" is because you can see the island of Lanai from here. This seems odd, as I would expect that Molokai would be in the way... but whatever. I didn't see anything. Except interesting land formations and some pigeons chilling out and watching the waves...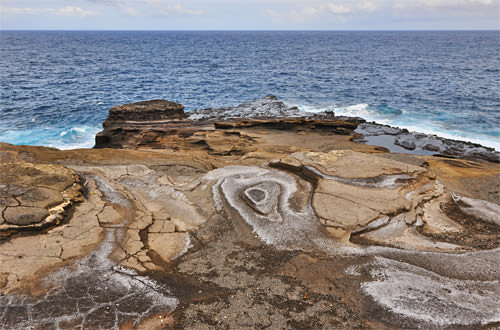 • Hanauma Bay. This is the only place other than Pearl Harbor and Nu'uanu Pali that I've been to in Oahu outside of Honolulu/Waikiki on one of my previous trips. If you like to snorkel, this is an amazing place to do it...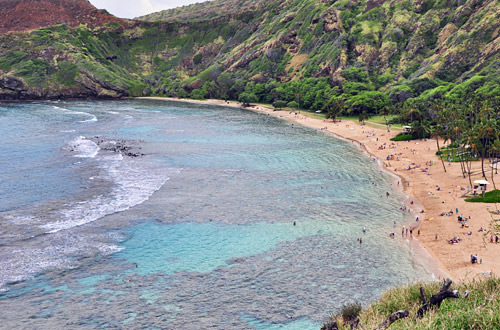 Unfortunately the bay has been ravaged by the masses of tourists who flock here. I'm surprised that the damage hasn't ruined the place completely, but there's still an abundance of marine life to be found. Park rangers are trying their best to educate people about how to minimize their impact, but the thousands of people who show up every day (except Tuesday) do take their toll. I worry that eventually they'll have to close down popular places like this in order to let nature recover a bit, but I suppose that's better than the alternative.

• Diamond Head State Park. This is a very nice park, but parking is crazy. Even on a Monday afternoon. Cars are piled everywhere, so eventually I just waited for somebody to leave and got a spot next to the Amelia Earhart memorial that's there...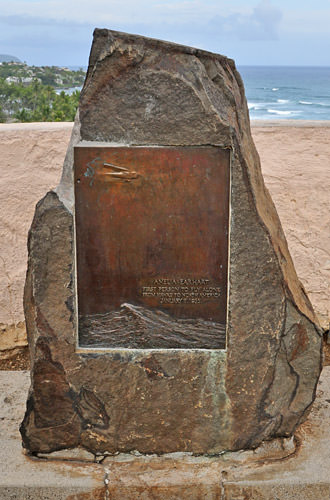 A lot of surfing going on...
And here's the lighthouse I was looking down upon from the top of Diamond Head two days ago...

• Puka! Since I had a late 9:00pm flight, there was time for one last dinner in Waikiki. Despite having eaten there three times already, I could think of only one place I wanted to go... PUKA DOG!!
Despite the $7 price tag, it remains my favorite meal on the island. Soooo good and a fitting finale to my trip.

Annnnnd... that's it for my trip to Hawaii. I am really glad I took the time to explore Oahu and see some of the many great things the island has to offer. Unfortunately, one thing it doesn't offer is free wi-fi at Honolulu International Airport, so I'm afraid this entry won't be posted until I get home. Stupid airport.
Posted on May 8th, 2011

Hope all the mothers out there had a great Mother's Day.
Today's bullets will be fired from Part Two of my "Get to Know an Island" series: OAHU EDITION! Since yesterday was spent exploring the North Shore and Central Valley, today I decided to head West and take a look at the Leeward region of the island...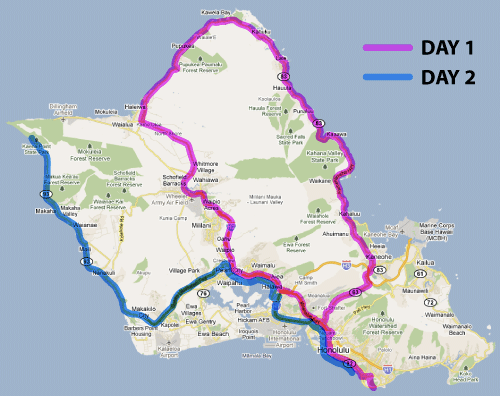 • End of the Road. Rather than having to continuously cross back and forth across Highway 93, I decided to head all the way to the end of the road, then stop at all the spots I wanted to see on the way back. And when I say "end of the road," I mean that literally. The pavement stops and, though a dirt road with craters in it goes on around the point, it's pretty much inaccessible unless you've got a really tough 4-wheel drive rig (which I didn't)...

• How I Roll. And what rig DID I end up with? A KIA Soul. It's not a bad ride, per se, but it does have one horrible flaw that can make it a terrifying thing to drive. MASSIVE FUCKING BLIND SPOTS IN THE BACK CORNERS! So not exaggerating here...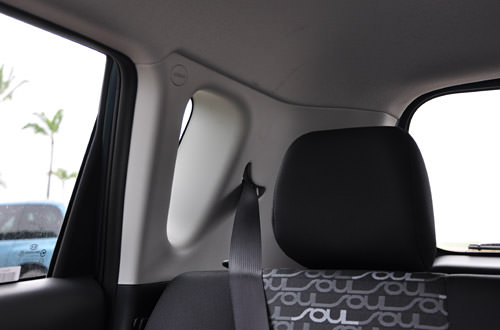 Yes, you've got mirrors, but if you want to confirm that there's nobody sneaking up behind you in your mirror's blind-spot, you can't. I guess those giant hamsters that they use to advertise the Soul on television must drive using The Force or something.

• Kaena Point State Park. Anyway... at the end of the road is Kaena Point State Park, which is actually a very nice place to visit. There's a beautiful aqua-colored tidal pool there...
And a pretty sweet beach...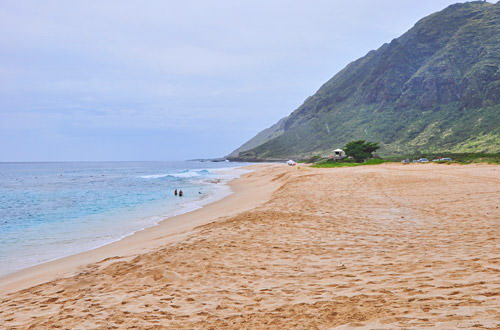 • Kane'ana Cave. About two miles outside of the park, there's a giant cave you can wander into. When I visited, there was a hot dog stand across the street...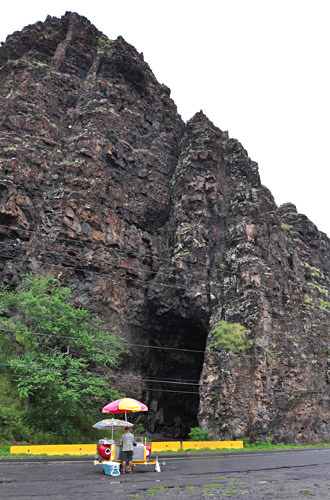 It's not very deep... but it is pretty darn big.

• Beach Culture. I stopped at a few different beaches along the West Coast of Oahu. Many of them were absolutely beautiful. As I understand it, the waves get pretty insane during the winter months, but things were fairly calm today...

• Pearl Harbor Historic Sites. On my way back to Waikiki, I decided to stop at Pearl Harbor to see the new visitor center there. When I was here last time, they were just starting construction, and I decided to make a donation. They ended up putting my money to good use, because the new center is just beautiful...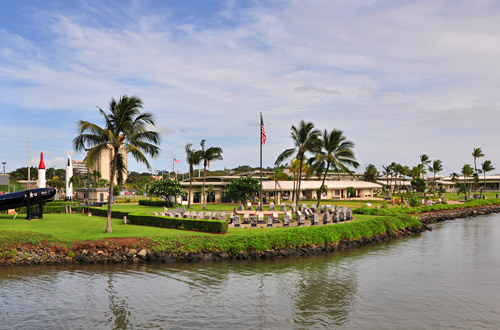 If you ever make it to Honolulu and have even a passing interest in history, this is a must-see.

• USS Bowfin. As I arrived around 4:00, there was only an hour until closing time. This meant there was no chance of visiting the USS Arizona Memorial... or the Missouri... or the film center. This didn't bother me, because I've already been through them more than a couple times (and with much better weather!). But I didn't want to leave without doing something, so I toured the USS Bowfin Sub Museum and Park. The submarine itself has been beautifully restored, and has a very cool steampunk look about it on the inside...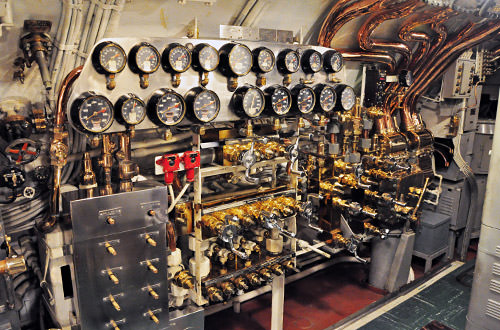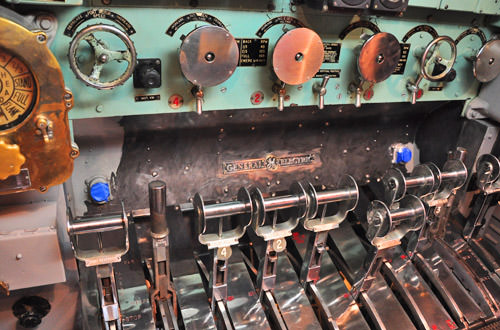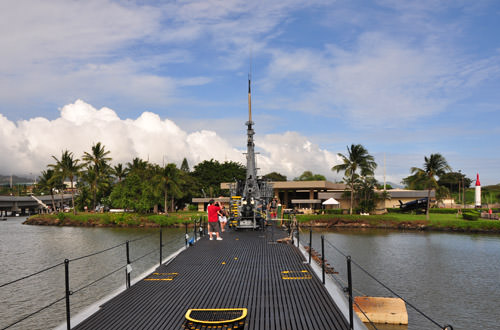 Annnnd... that was enough for today.
Except a stop at Ala Moana Center so I could visit their awesome food court and get me some falafel. As expected, it was totally delicious and worth the wait.
Posted on May 7th, 2011

Honolulu is just a big city like most big cities except it has a really excellent location.
If you're into big cities then you really can't do much better in Hawaii than here, and I recommend it highly as a place to eat, shop, play, and (if you're lucky) work. The problem is that a big city is not really what people want to see when they visit beautiful Hawaii. Myself included. For this reason, I avoid Honolulu like the plague. I'd much, much rather spend my time just about anywhere except here. This usually means I end up on my favorite island, Maui, or taking side-trips to Kauai or The Big Island of Hawaii. I only come to Honolulu when work brings me here or I am changing planes or something.
Except...
For a very long time I had been treating the entire island of Oahu as if it were Honolulu.
All that changed one year when a colleague drove me to Oahu's East Shore for dinner and I was shocked to see that after you get outside of Honolulu, it's an entirely different world. Oahu is just as beautiful and amazing as the other islands... it just happens to have a big city on it.
So this trip I decided to not bail on Oahu the minute my work was over. Instead, I decided to stay here a few days and explore a bit.
And what better place to start than iconic Diamond Head?

It was a nice cool overcast day... perfect for hiking up Diamond Head!

These cool thistle-like things were everywhere.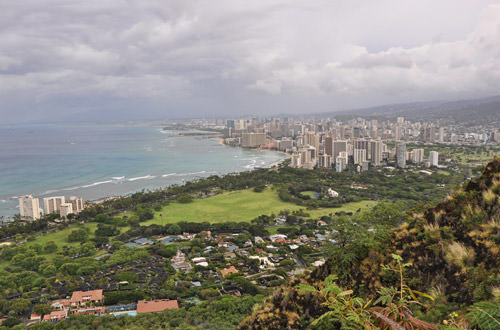 Looking down at Honolulu from the top.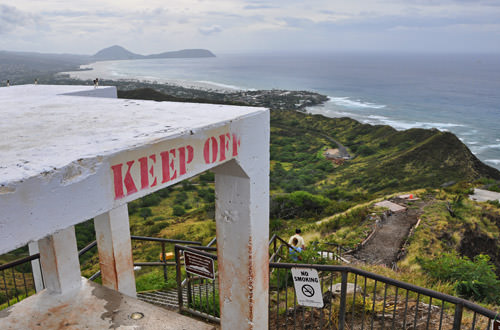 The websites I looked at for Diamond Head had me worried to hike it with my messed-up back, but it was actually a pretty easy hike. I rewarded myself with a bag of fresh-cut pineapple spears when I made it back down to the visitor center...

Yes, it was insanely delicious, just as you'd expect.
Almost as cool as Diamond Head itself is how you get into the crater through a tunnel bored into the side...

It reminds me of the Big-Foot alien's tunnel on The Six Million Dollar Man!
After that, it was time for fresh-n-hot malasadas at World-Famous Leonard's Bakery...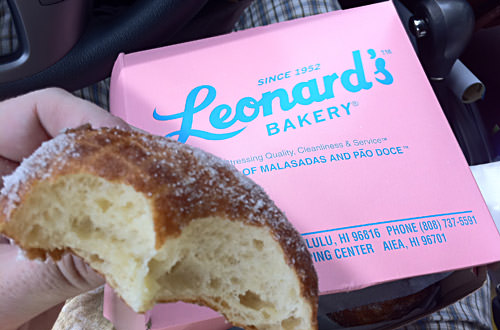 Kind of a Portuguese version of a doughnut... but without a hole.
After stuffing my face with malasadas and getting sugar all over my rental car, I was going to go find a comic book shop for FREE COMIC BOOK DAY, but decided to consult Gowalla to see if there were any cool spots to visit. First on the list? Beautiful Byodo-In Temple...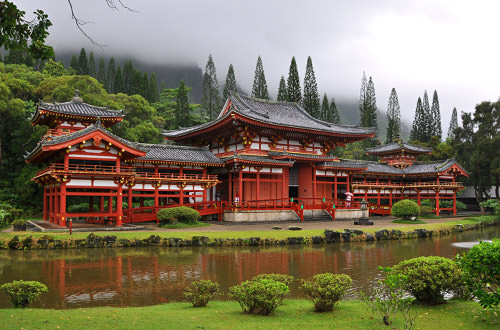 The rainy weather actually made for a prettier visit with the fog in the mountains.
Then I decided to continue driving around Oahu's North Shore. Here I stopped at a number of different lookouts and beaches, with one of the more interesting being Chinaman's Hat Island...

The island is that blip on the right-hand side there.

A better view of Chinaman's Hat.
Despite being fairly close together, the many beaches each seem to have their own personality...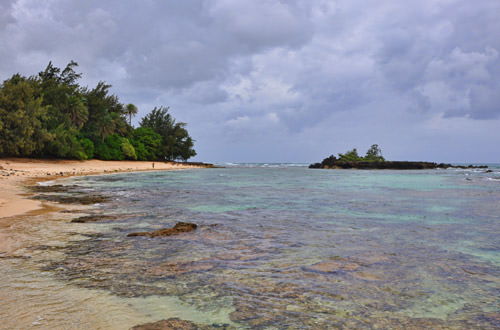 One of the more famous stops was "Sunset Beach" which was fairly empty now but, during the Winter, is overflowing with surfers. That's when some of the biggest and best waves on earth arrive...
Eventually I got tired of beaches and made my way to world-famous Matsumoto's General Store... one of the best places on the island to get a shave-ice treat...

I got "The Hawaiian" which had a colorful variety of tropical syrups on top.
The shave-ice wasn't enough cold sugar for me, so I stopped off at the Dole Plantation for a Pineapple Whip. If I were hungrier, I would have got for the Pineapple Whip Float, which is drenched with delicious Dole pineapple juice...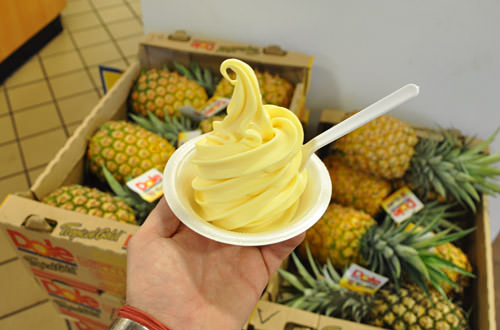 Even though it was still fairly early in the afternoon, I was getting tired and decided to head back to my hotel for a nap. But then I saw The Bishop Museum was on the way, so I had to stop and take a look. It's a beautiful, beautiful museum which does a great job of documenting Hawaiian history...

The Bishop Museum is SHARK EXTREME!!!
Once back in my room, I suddenly realized I was hungry. Since I was dead-tired I thought I might just order in room service, but decided I couldn't resist the urge to have yet another Puka Dog! This time I downshifted to "Spicy" garlic-lemon sauce instead of "Hot" because I wanted the Maui Sweet Onion Relish to shine through. This made a good thing even better...

Delicious Puka Relishes on tap!

And now... I'm done. Time to kick back and read a few blogs before bedtime. All-in-all it was a pretty great day. Despite the off-again-on-again rainy weather, Oahu treated me pretty well, and I'm glad I took the time to get to know her a little better. Hopefully tomorrow will be just a fruitful.
Posted on May 6th, 2011

Aloha!
Today was mostly a work day, but I did get some time to goof off in Honolulu and do some of the things that made me not mind dragging my ass across the Pacific to be here. This pretty much boils down to three things...

#1 PUKA DOG!! Originating on Kauai, Puka Dog eventually opened up a shop in Waikiki (UPDATE: Puka Dog is now Hula Dog in Oahu, still Puka Dog in Kauai. UPDATE 2: Hula Dog in Waikiki was CLOSED when they tore down the International Marketplace! SUCKS!! Check Hula Dog's website for their locations). I can say without reservation that this is my favorite meal in all of Oahu. Just like Chicago, which has a hot dog to call their own, Puka Dog is a hot dog done Hawaiian-style, and they are amazing...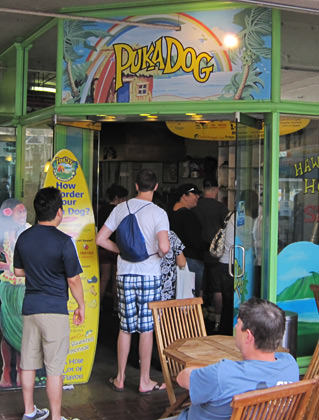 Don't let the line scare you... Puka Dog is worth the wait!
They are also very different and uniquely Hawaiian in oh so many ways...
THE DOG! You can either get Polish Sausage or a Veggie Dog. I must say, the vegetarian option is among the best veggie dog I have ever tasted. Not even a little bit rubbery!
THE BUN! Well... it's not really a bun. It's a tiny loaf of bread that has a hole drilled in the end. They place them on heated spikes, so you get a toasted interior and a soft exterior that tastes like magic. Your choice of white or wheat.
THE CONDIMENTS! And here is where an already unique hot dog goes completely off he rails. Condiments are injected into the hole in the "bun" and the dog is poked down into it...

Secret Lemon-Garlic Sauce! Choose from Mild, Spicy, Hot, or Hot-Hot. Do NOT be scared off because you think it will taste too lemony! It is an AMAZING mayo-based sauce, and the lemon is just a hint. I always go with "hot" which is not too hot for me at all.
Specialty Relish! There's Mango, Pineapple, Coconut, Banana, Papaya, and Star Fruit. The Mango is my favorite (and their most popular) but sometimes they have a "special" flavor. This time it was MAUI SWEET ONION AND I LOVED IT!
Mustard! They have "regular" mustard... or even ketchup if you're insane... but what you really want is the Hawaiian Mustard in your choice of Lilikoi (tangy) or Guava (sweet). Both are good, but the Lilikoi (Passion Fruit) Mustard IS TO FUCKING DIE FOR!
The way you order is kind of "Soup-Naziesque" but they don't treat you too badly if you goof it up. But it's pretty hard to goof up if you follow the steps on their menu board. For example, I order like this: "I'll take a Veggie, Hot, Mango, Lilikoi on White, please!" But, no matter how you order, you're getting an amazing meal that's unlike anything else on earth... in a very good way...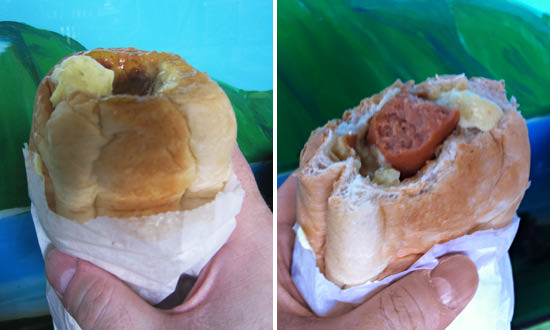 Left is a dog in the hole. Right is down a few bites so you can see all the condiment goodness within!

#2 KISSES!! Everybody loves Hershey's Kisses. Those little foil-wrapped pieces of deliciousness are truly a treat to behold. And then Hershey's took it to The Next Level and introduced Kisses with almonds, caramel, and peanut butter in the middle (among other things). BUT... only here in Hawaii can you get Hershey Kisses with Macadamias in the middle! They are everything you'd dream they'd be. And at $5 a bag, they'd better be...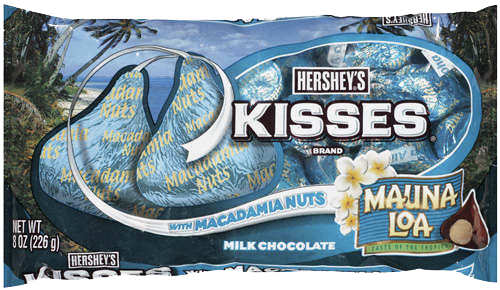 #3 NEW HARD ROCK!! As anybody who follows this blog already knows, I am incredibly disappointed with the "new-style" Hard Rock Cafe properties. Instead of the old-school method of cramming every available surface with awesome Rock-n-Roll memorabilia, they instead put a few meager pieces in glass cases and scatter them on a few walls. So when they moved Honolulu's Hard Rock from the old location to the new one in Waikiki, I was horrified at the idea of it being a shitty "new-style" cafe. And it is. Kind of. Because while there isn't a tremendous amount of memorabilia, it is more than usual. And they DO have this awesome ribbon of guitars running up the wall and across the ceiling of this beautiful, beautiful restaurant...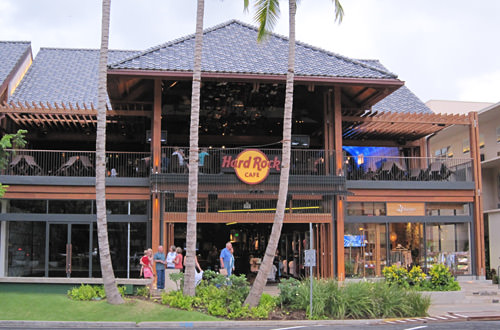 Approaching the all-new dual-level Hard Rock Cafe at Waikiki!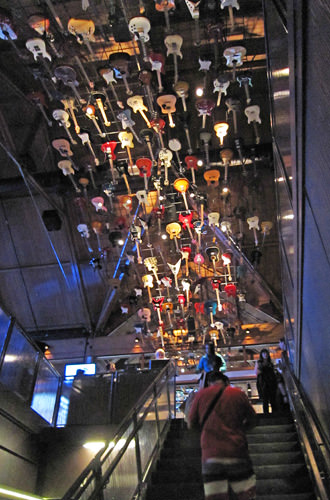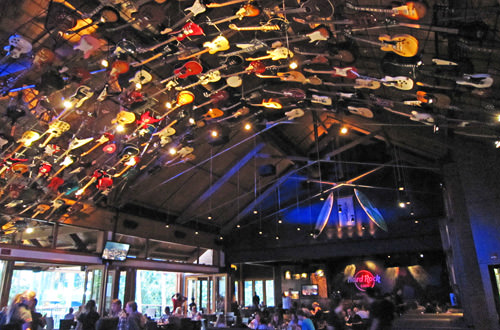 Pretty sweet, eh? And, on that note, I am about ready to pass out, so I'm off to a night of (hopefully) sweet slumber.
BUT, BEFORE I FORGET...
I ran across proof positive that President Obama was BORN AMERICAN, BABY! Because if it's in a children's book, it must be true, right?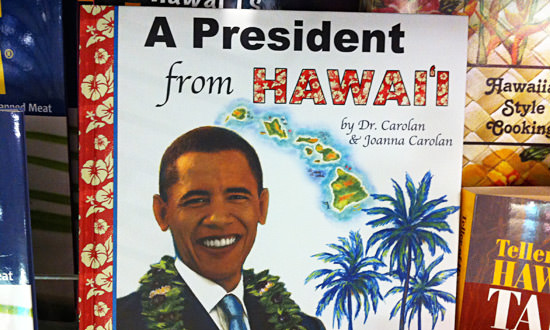 Good night!