Posted on April 10th, 2021

I have been feeling "off" all day. Sick to my stomach... assorted aches and pains... headache... unable to get comfortable... it all added up to a day of sitting/laying on the couch trying to distract myself with television.
When I finally just called it a day and went to bed, my stomache decided to go into revolt. After a half hour of lying in bed trying to decide whether I should ride it out or go puke out whatever is going on, Jake arrives.
"Jake, I'm not feeling very well... maybe you should sleep somewhere else tonight?"
I then put my feet together so he couldn't sleep between them like he usually does.
The little scrubber forced his way between my shins, then kept twisting and pushing so he'd have his favorite sleeping spot. Eventually I relented because he was not giving up...
After this, my decision was made for me. I will be riding out my nausea until I fell asleep.
But first I have to write this blog post. Because it's Caturday, after all.
Posted on April 3rd, 2021

Jake stares out into the catio from on top of the cat tree across the room. Every once in a while he will spot something going on outside and bolt for the catio door at top speed. When you need to worry is when he bolts from the tree up to the catio door then goes into stealth mode. Most times it's birds outside the catio or a moth on the window or something else he wants to murder. No big deal.
But when I look out the window and see that there's a bird who flew inside the catio? Yikes. I open the window and shout "DO YOU HAVE A DEATH-WISH?!?" which causes the bird to fly off.
No idea how he was able to flap his way through the tiny opening in the fence. Good timing, I guess!
This made Jake very salty indeed...
And I'm like "Hey, be mad all you want... but I'm not having you drag a half-dead bird into the house. Or, worse yet, a live bird that I have to trap and release!"
But then he took things up a notch.
Completely ignores me for messing up his fun. And when I do see him? Let's just say that he's holding a grudge juuuuuust fine...
Now I'm starting to wonder if having him murder a bird is better than him murdering me?
Jenny gets salty, but doesn't seem to hold a grudge for any length of time. Whish is a good thing, because she gets upset with me all the time. Mostly when I "pet her wrong." This gets her very cross indeed, and I never know exactly what I've done wrong. I'm guessing that she doesn't even know. She just knows what she doesn't like. To combat this, I've started moving a knuckle up and down so she can manouver where she wants to be scratched and all is good in the world...
Jake on the other hand? He just flops down and says "Do me." He's happy to get scratched anywhere...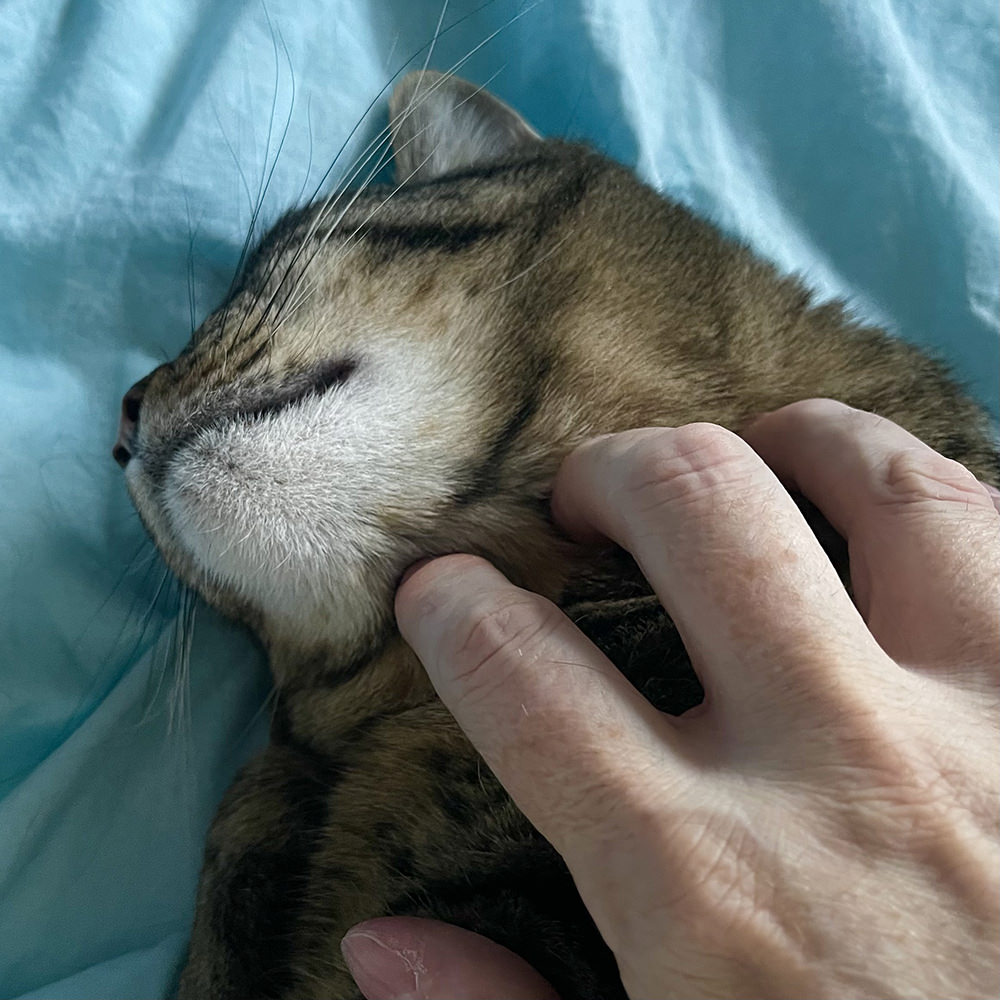 Sometimes he is less receptive to belly rubs than others, so I usually avoid unless he specifically asks for scritches on the belly.
And now we go back to Jake wanting to murder me, already in progress...
Posted on March 27th, 2021

I am sick, sick, sick.
Which means I've spent almost the entirety of my Saturdays in bed. Fortunately(?) my cats have been more than happy to keep me company as I lay here dying while lamenting the fact that all the chores I've been meaning to get to are ignored.
They have provided entertainment, however, as I lay here flat on my back trying not to throw up. Like synchronized butt-licking...
Jake has been doing a lot of undercarriage grooming. So either this is normal and I'm just not seeing it... or he saved it up just for me...
And, yes, as I've mentioned the last couple weeks, Jake is still wedging himself in-between my feet and legs to sleep and groom himself. Any time I wake up now, he's almost guaranteed to be there, which is really strange. I move around a lot when I sleep, but he is not deterred. I mean, look how I woke up this afternoon...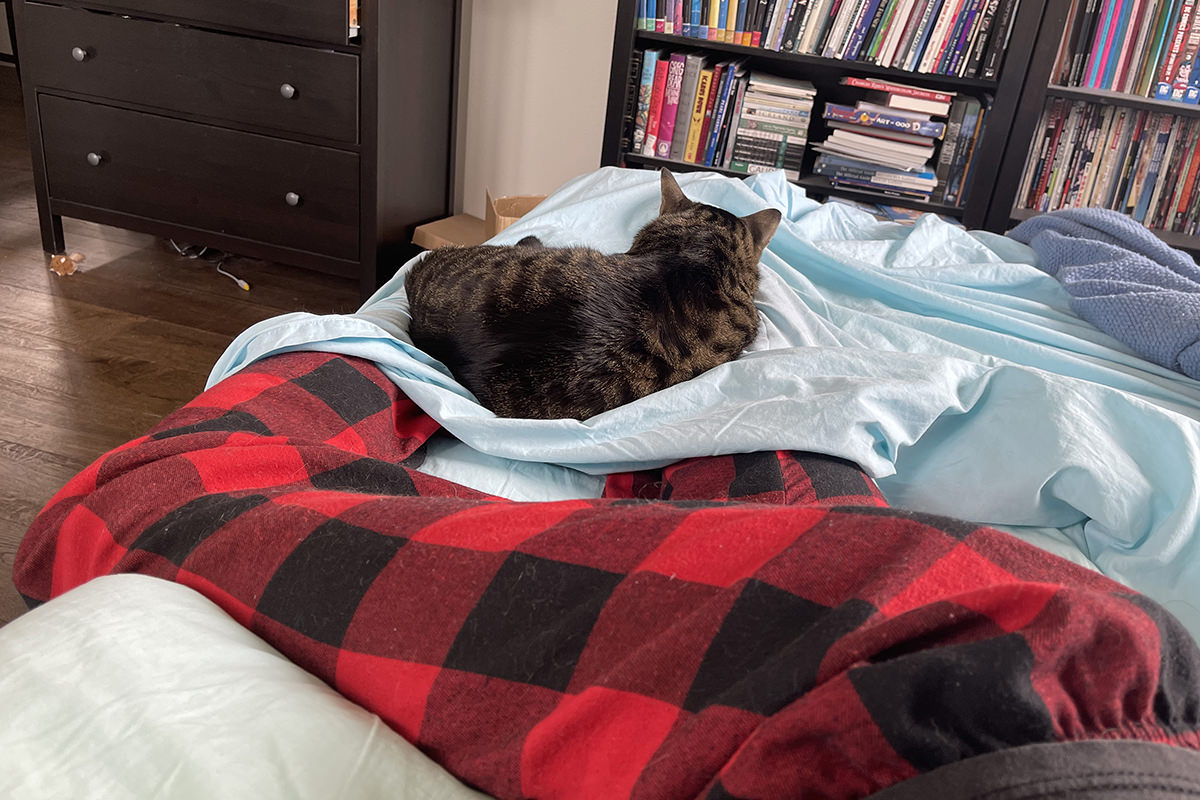 I'm practically off the bed and he just doesn't care. I really had to go to the bathroom here, but when I nudged him by pulling on the sheet? Oh... he just turns around and starts giving himself a bath...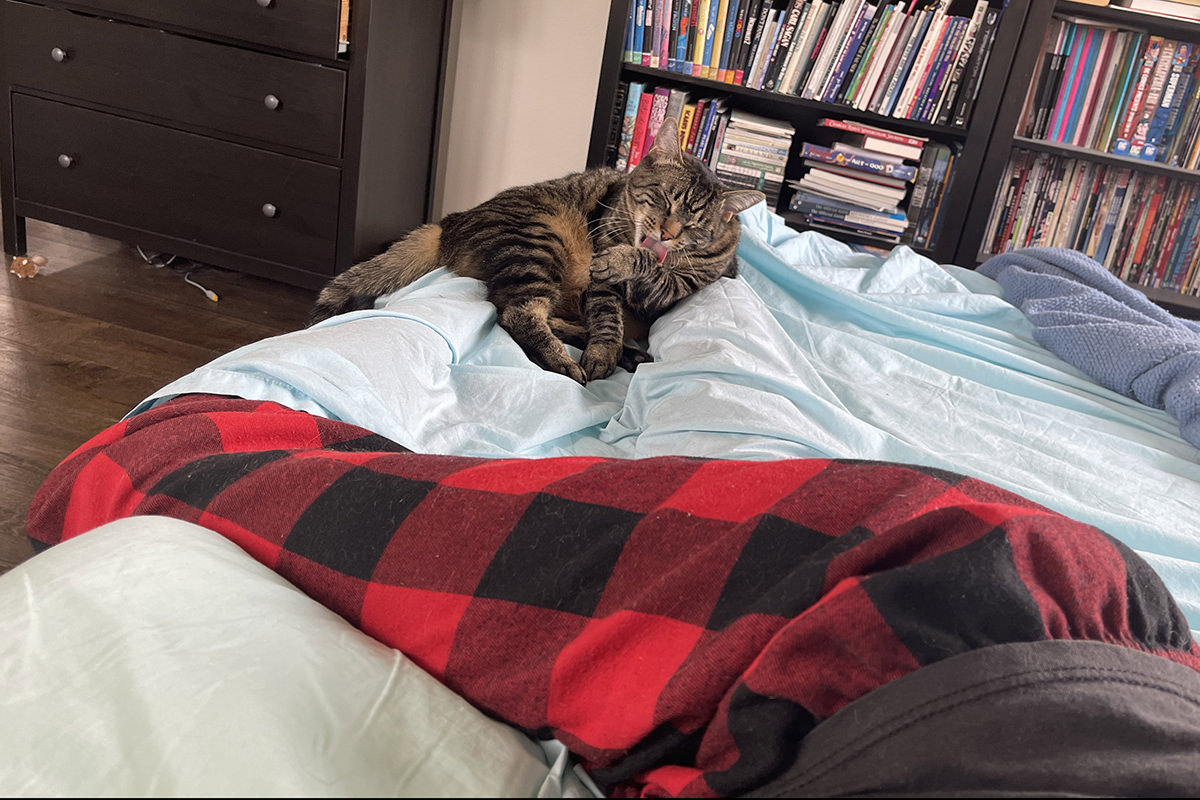 And of course it's too cute so I have no choice but to lay there in an uncomfortable position until he finishes... TEN MINUTES LATER!
In other news... more Mufasa drama last night. Jake will run upstairs to drop off his stuffed lion, then go back downstairs and cry because he can't find Mufasa. So I walk it downstairs and hand it to him... only to have him carry his favorite toy right back upstairs again...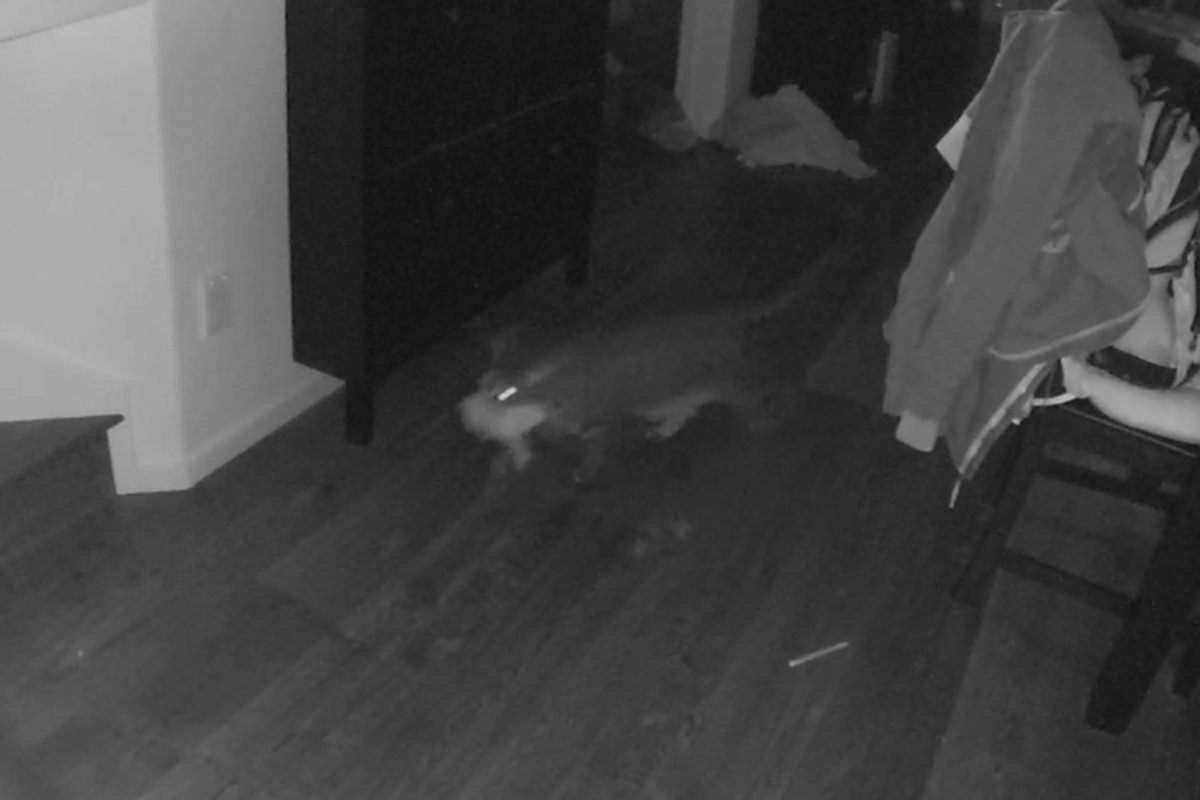 I took it down TWICE, because I'm a sucker like that. But can you blame me? Look at that adorable face!
The third time, which was a while later, I took it downstairs and told him "No more! If you bring it back upstairs, it's staying there!" Not five minutes later, JENNY BRINGS IT UPSTAIRS AND DROPS IT ON THE FLOOR!!
NOOOOOO! She was rather proud of herself...
Now what do I do? Technically, Jake wasn't the one who brought it upstairs. His sister did. So was I obligated to take it down to him? Turns out the answer is no. He came upstairs to go to bed not long after.
And, no, I still have no idea why Mufasa hasn't been ripped to shreds given how Jake treats the thing...
Nobody explained any of this madness to me when I got my cats. They should hand out pamphlets at the Humane Society.
Posted on March 20th, 2021

Another day. Another bit of terrible news to break my heart.
There's a meme going around Facebook and TikTok which says "The last photo in your camera roll is the reason you're alive."
Here's the last photo on my camera roll...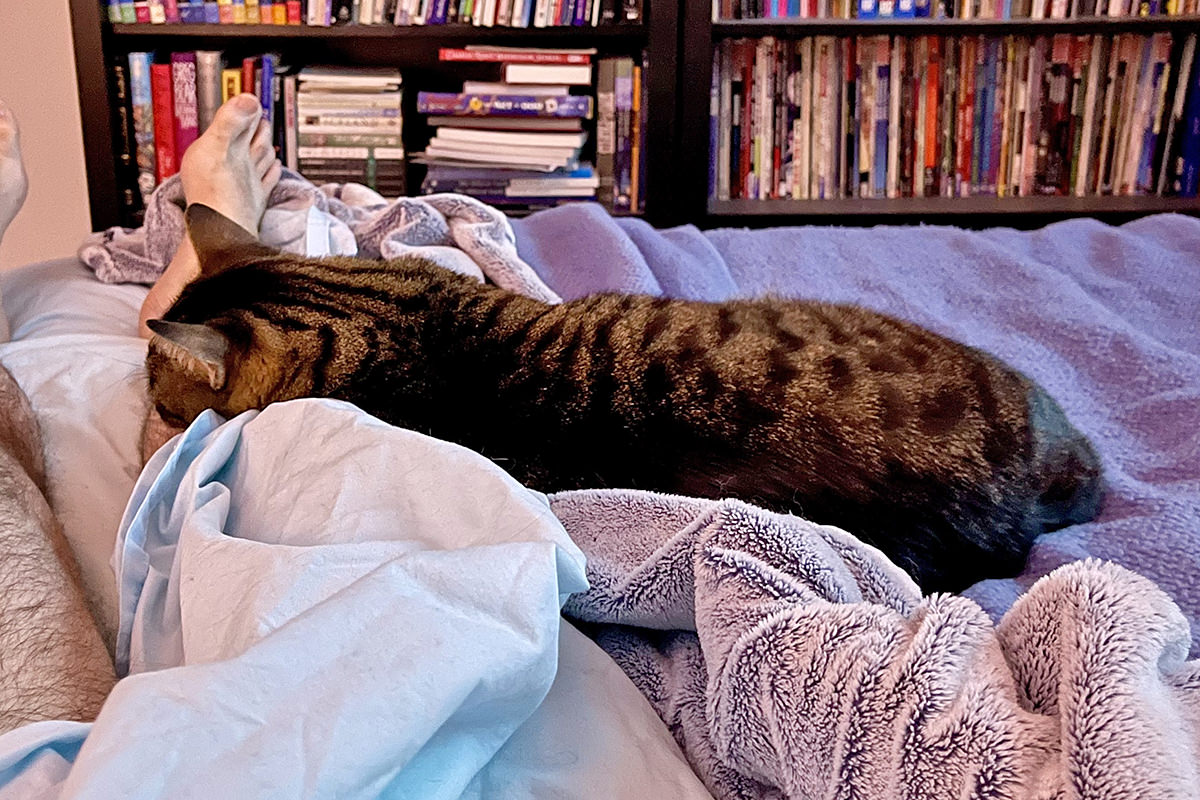 And here's the photo before it...
No surprise there.
And meme accurate.
Posted on March 13th, 2021

Yay! My blog is broke again! Who knows when I'll find time to fix it.
But anyway...
Jake's favorite spot to sleep used to be next to my feet... but now he's upgraded to between my feet. Once he just kind of found himself there... and now he will force his way in there. Sometimes I will wake up and he'll be there sleeping away...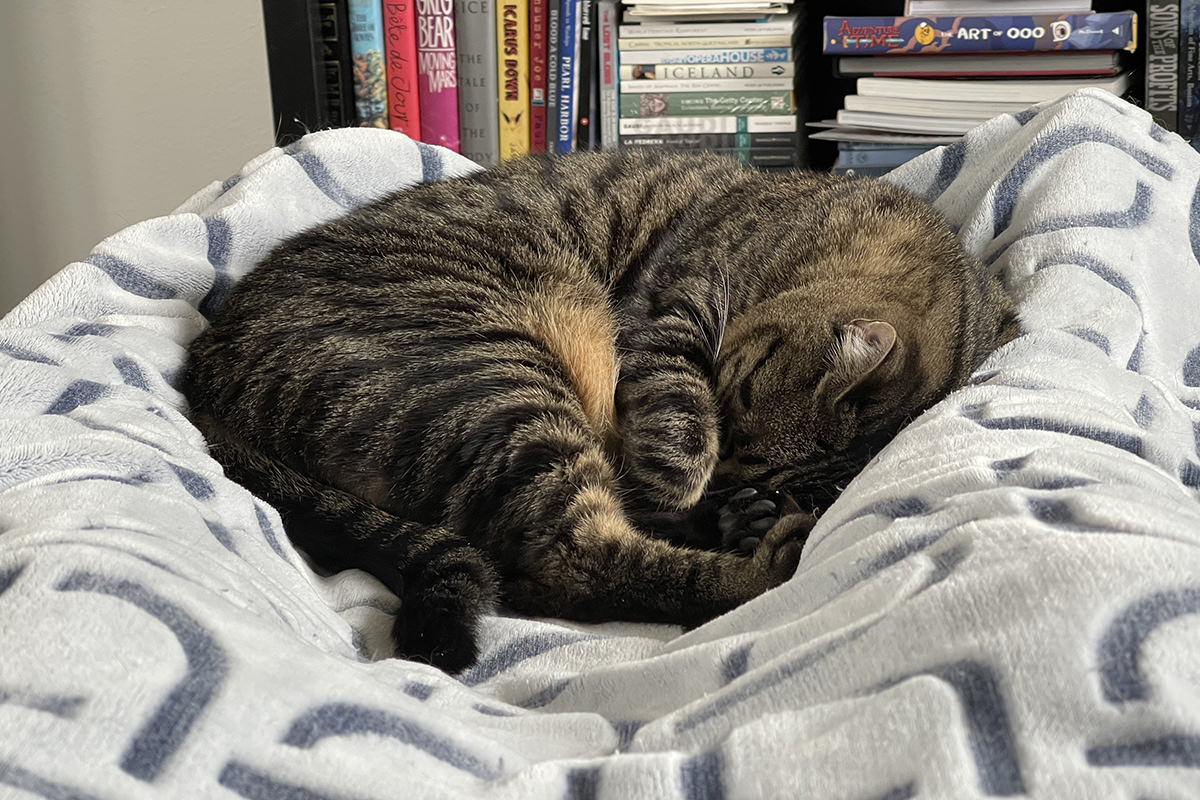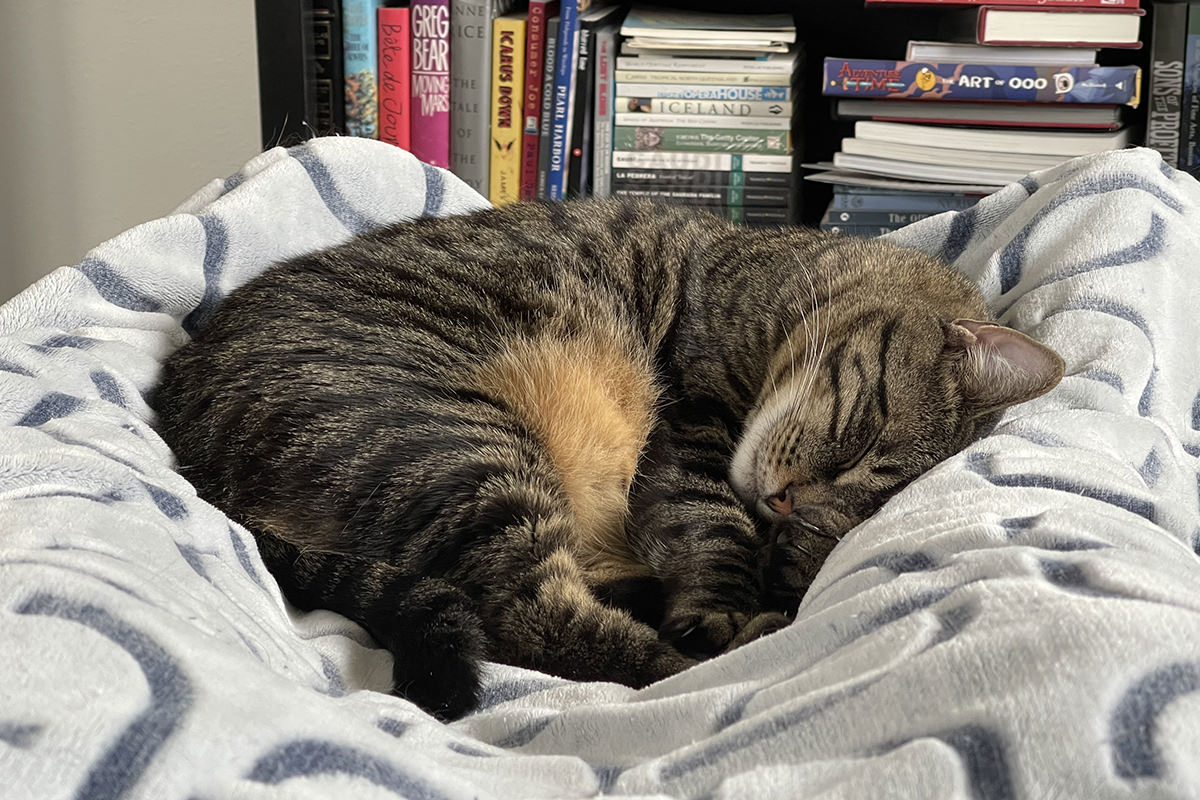 Pretty smart.
But kinda pales in comparison to Jenny, as usual. She's so smart and so cunning in getting what she wants. She comes running to the door when I go to the bathroom because she knows I'll stop and pet her when I come out. She runs to the kitchen when I walk in there because she knows that she might be able to guilt me into giving her a treat. And now? NOW?!? She waits for me to get up to get something, then dash to my spot on the couch and sit there because she knows I'll sit and pet her until she's had enough and I can get my spot back...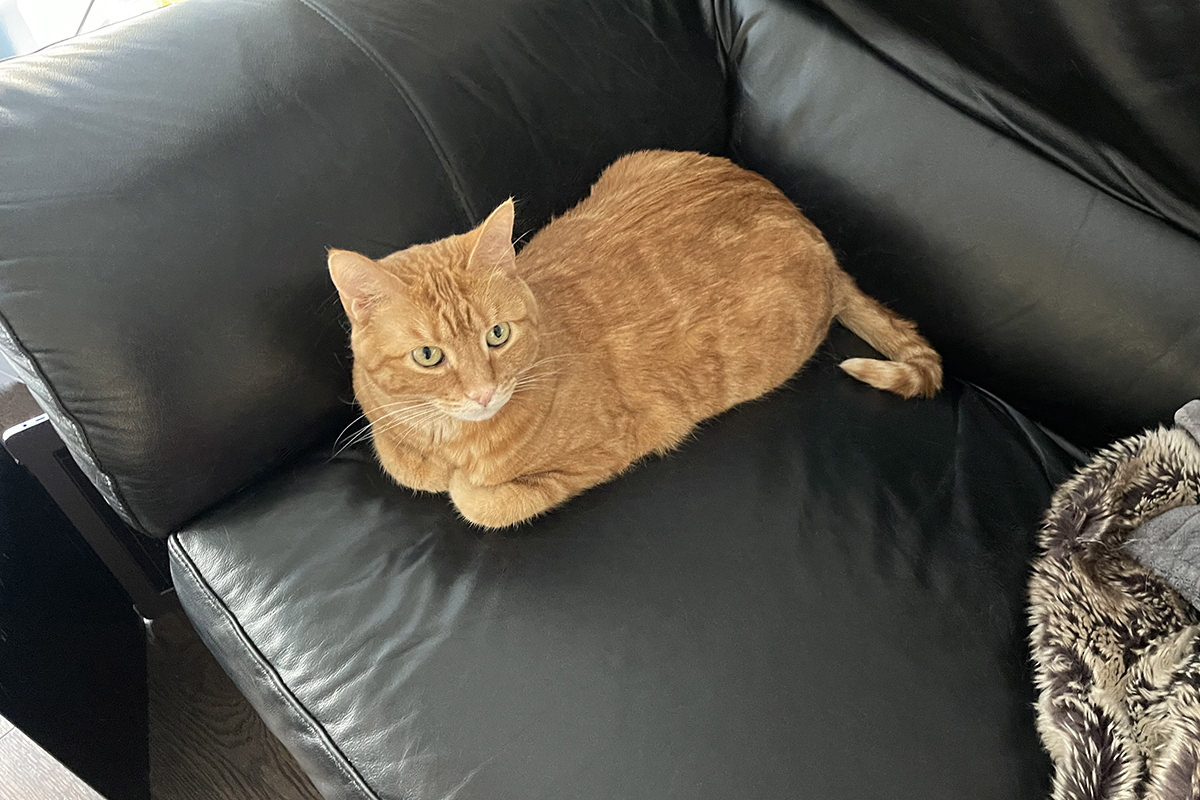 The worst though? She'll run to the door of the bathroom... wait for me to come out and pet her... then, if I stop before she's had enough, she'll run to my spot on the couch for more!
I have no idea what she'll come up with next. But I'm sure she'll find a way to get her way, that's for certain.
And while I didn't find Jake and Jenny in a dumpster, they were feral rescues...
And I feel the exact same way.
Posted on March 6th, 2021

Well would you look at that... the two-hundredth edition of Caturday!
Hard to believe there's still new stuff happening with my cats nearly every week for the past five years to keep this going. Though not really so hard to believe. Since the pandemic started, my cats have lead far more interesting lives than I have.
Though Jenny's life is mostly about wanting to be scratched. She sheds like crazy, and is forever stopping me to get a nice rub-down so I can pull out another massive handful of shedded fur. She'll stop me while doing laundry. She'll stop me while cooking dinner. And she'll stop me while coming out of the bathroom every time!

Jake, on the other hand, is far more interested in staying warm. I turned off the heat on March 1st to save energy because it's been getting warmer and warmer. Alas the nights still get fairly chilly, so Jake has been glomming all over me each night and is still there every morning. I thought this would abate after a week or so, but nope. Still there...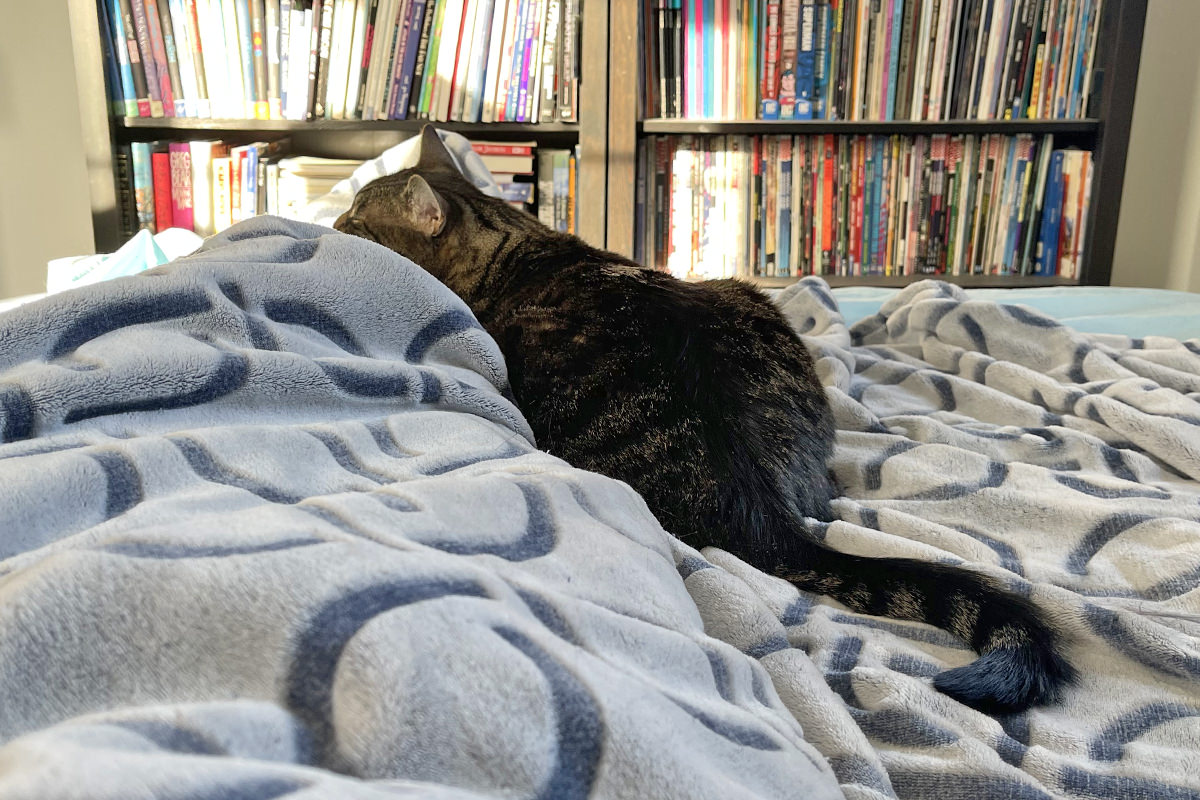 Don't ask me how he is remotely comfortable in the positions I wake up to, because I haven't a clue...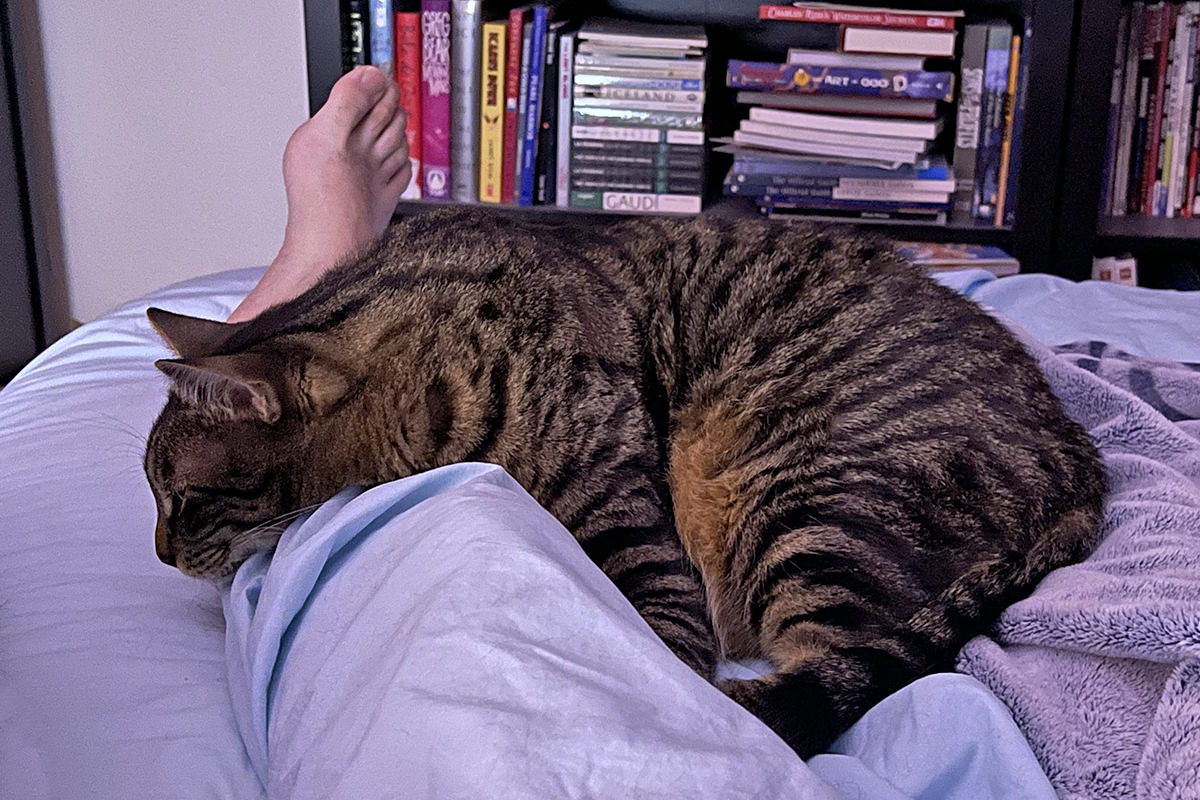 And now I'm off to clean out the catio for Spring. They've been spending a lot of time out there now when the sun is out, so it's probably time. And for anybody wondering if they ever fall asleep out there when it's time to eat... well, have no fear...
They may not hear me when I'm a foot away asking them to stay off the table, but they could hear food dropping from a mile away.
Posted on February 27th, 2021

I clean the cat feeding station, the auto-feeders, and the water fountain every Caturday. Both filters in the water fountain get changed out every two weeks. It's something I'm fairly religious about because A) I want my cats drinking as much water as possible to reduce risk of urinary problems and they drink three times more water from a fountain than a bowl.... and B) If the water isn't fresh-tasting, they will stop drinking it altogether... and C) the last thing I want is for bacteria to build up and make them sick.
So there I am sitting down to dinner well after the cats have had their dinner and Jenny starts meowing off in the distance. Something she only does when she's very, very upset.
Needless to say I waste no time running over to see what her deal is. Turns out I forgot to pull the fountain out of the dishwasher and get it set up for Little Miss Jenny to have her post-dinner drink! And so I dropped everything and took care of that immediately. And she watched me as I did it the entire time. After which she was happily (and noisily) lapping up her refreshing H2O...
Glad we got that all sorted.
Jake didn't care so much for fresh water as he cared about playig with the back scratcher I left out...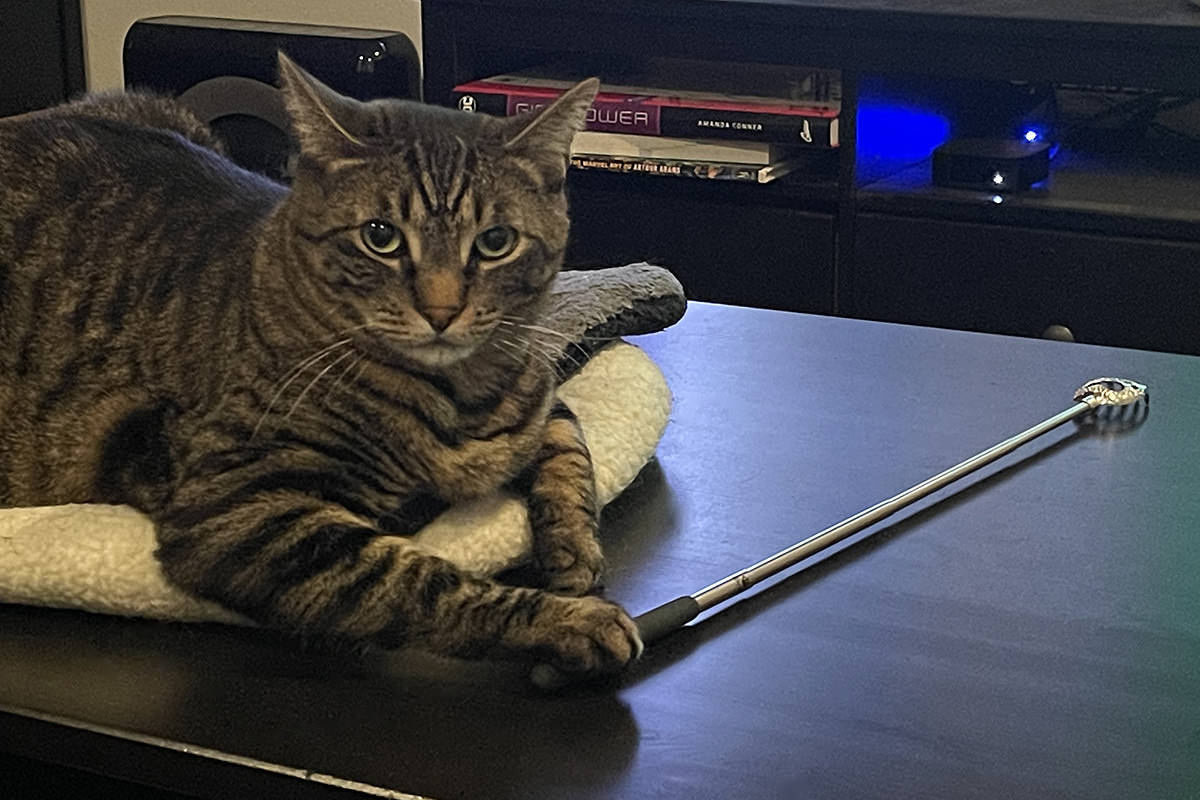 Not that Jake doesn't have his own prima donna moments.
Earlier in the week I had moved the couch so I could vacuum under it. As I was lifting it up, Jake's favorite fuzzy blanket fell off and I had to throw it back up on the couch. Once I sat down after vacuuming, he hopped up and was furious that his blanky was "wrong." He was grunting and fretting and smacking it over and over and over to "fix" it...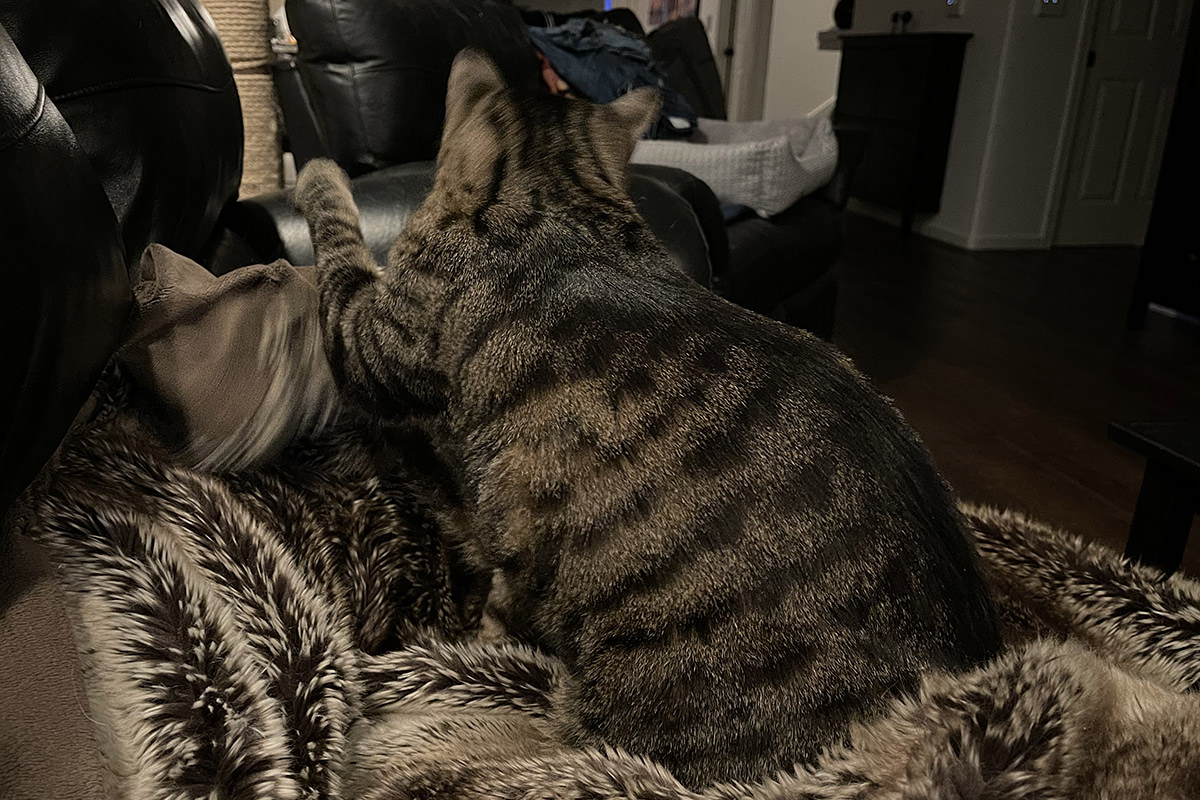 The little guy was so agitated that I finally reached over to scratch his head in an effort to calm him down, only to be brutally rebuffed as he tried to dodge my hand...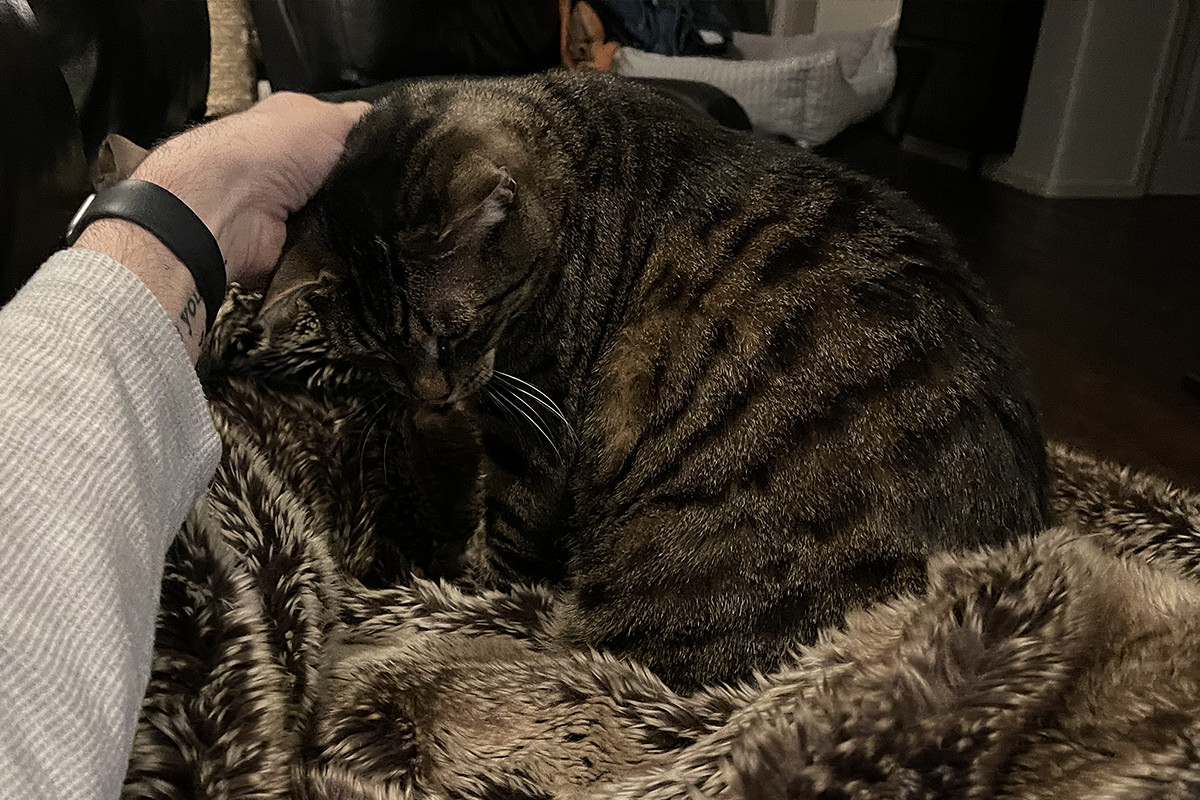 At this point I was desperate, and ended up tapping on the window so he would think Fake Jake was outside and go running out to the catio...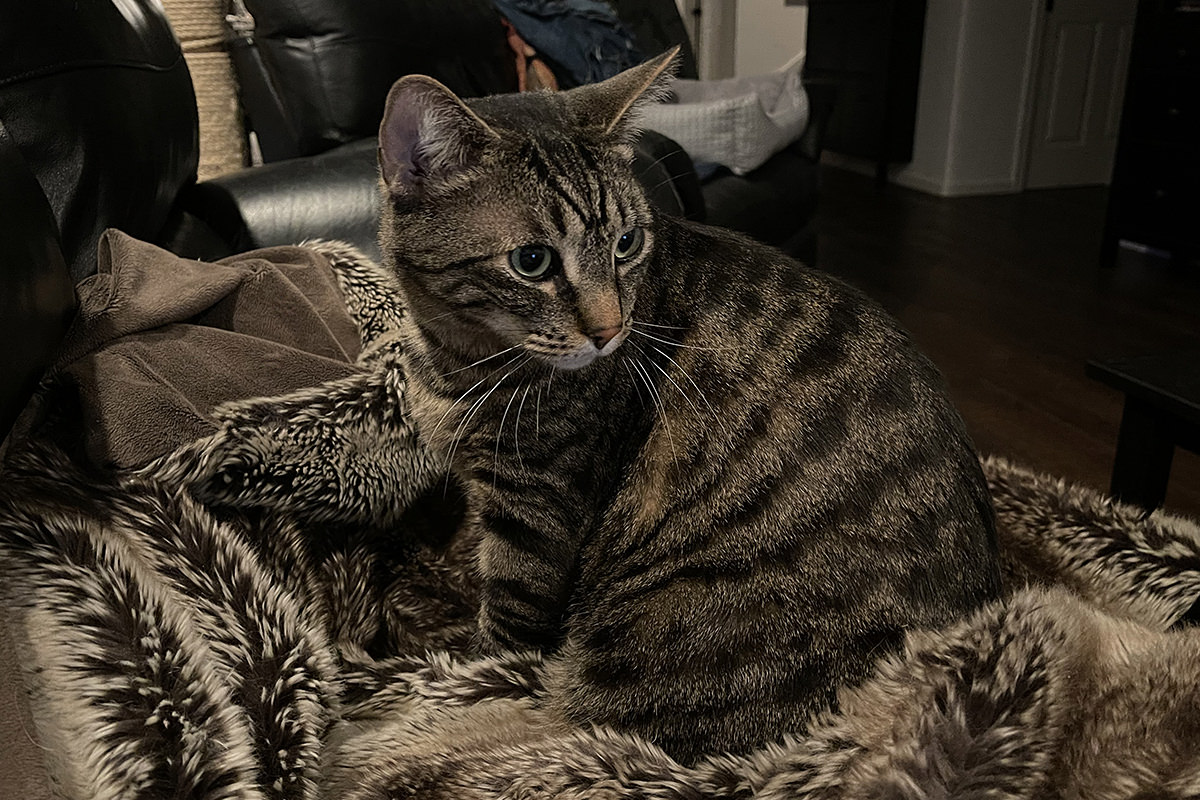 That worked, and I did my best to put his blanky back exactly how he likes it. Apparently I did a good enough job, because when he came back he did only minimal "biscuit-making" before I flopped down for a nap...
Whew. Crisis averted!
And that's what having cats is all about isn't it? Crisis management?
Posted on February 20th, 2021

This past week we experienced a bit of a cold snap. Usually when this happens I turn the heat up a bit so it keeps running, because once the temperature drops enough the heat has a tougher time battling its way back. This essentially means the heater is running all the time, which can get expensive. Knowing that the cold was likely temporary, I just left the heat alone. This meant there were times it got fairly cold in my house. The cats have fur coats and are likely warmer than I am, but that doesn't mean they like it. They would much, much rather have a warm house.
An upshot of this temperature change is that Jake and Jenny are often cuddled up together sleeping so they can stay warmer...
Now, to be clear, my cats get along fine. Other than occasional play-fights and nightly incidents of them chasing each other around the house, they mostly just ignore each other. This works out great for me because they take turns seeking attention...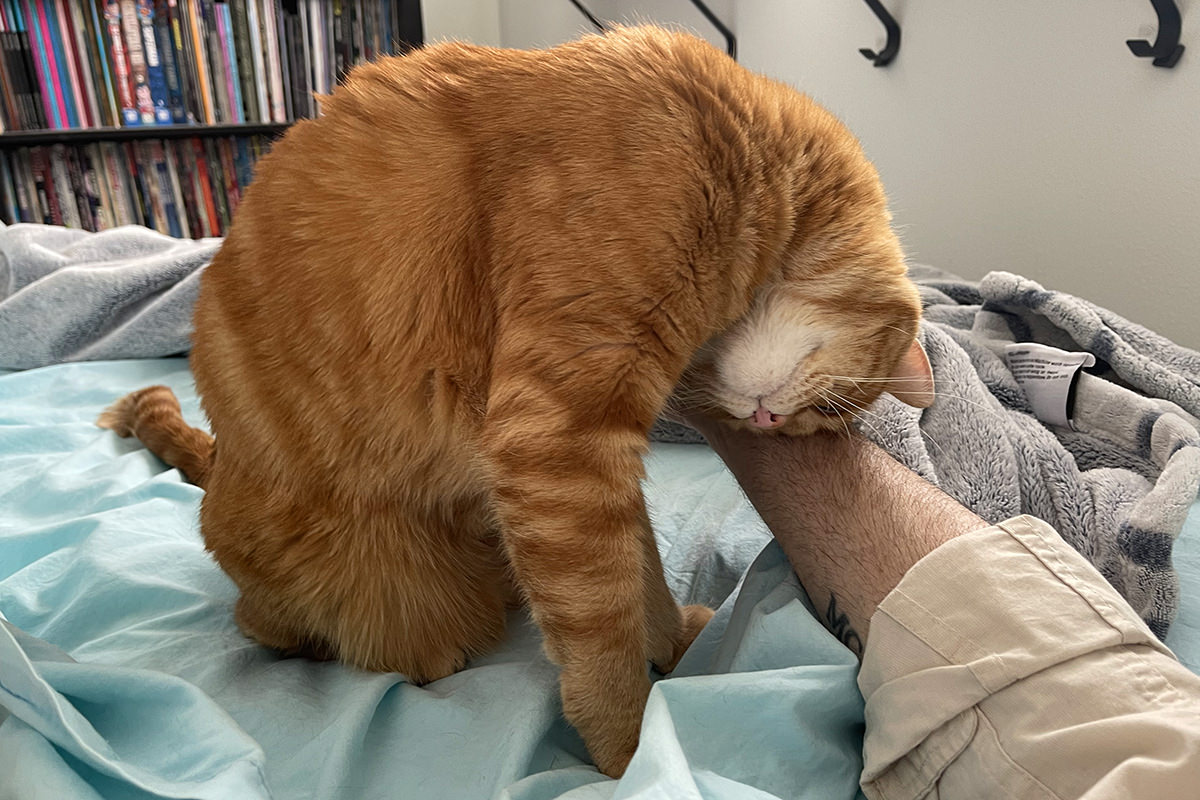 But now that they'd rather spend their non-stop nap-time together, the only way I see them is on the guest room security camera, day and night (except feeding time, of course...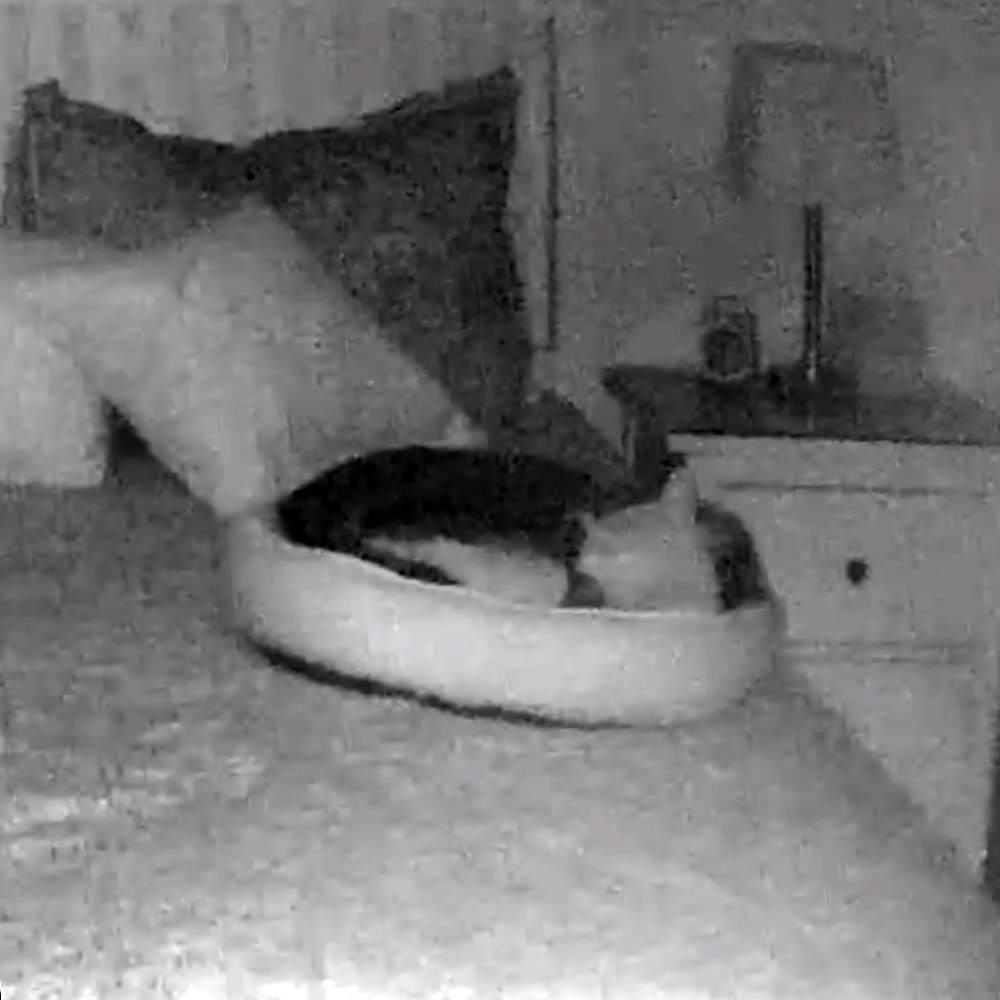 Kind of a bummer, but it beats a $40 increase on my power bill.
I'm confident that in another week or two they'll be back to their normal ignoring each other... and paying more attention to me.
Posted on February 13th, 2021

Next Tuesday is Jake & Jenny's adoption day. Which means five years ago is when I rescued them from the local Humane Society so my mom would have a distraction to keep her company while I was at work. As her dementia progressed, it became more and more important to have distractions, and two kittens was a good one.
After my mom was gone, Jake & Jenny were a distraction for me, and they've been doing a perfect job of this. Even when I'm not at home. Because my iPhone has a photo block which pulls photos out of my library. And since 90% of my photos are of my cats, 90% of the time it's a photo of one of them. Usually it's cute photos that I have favorited like this one...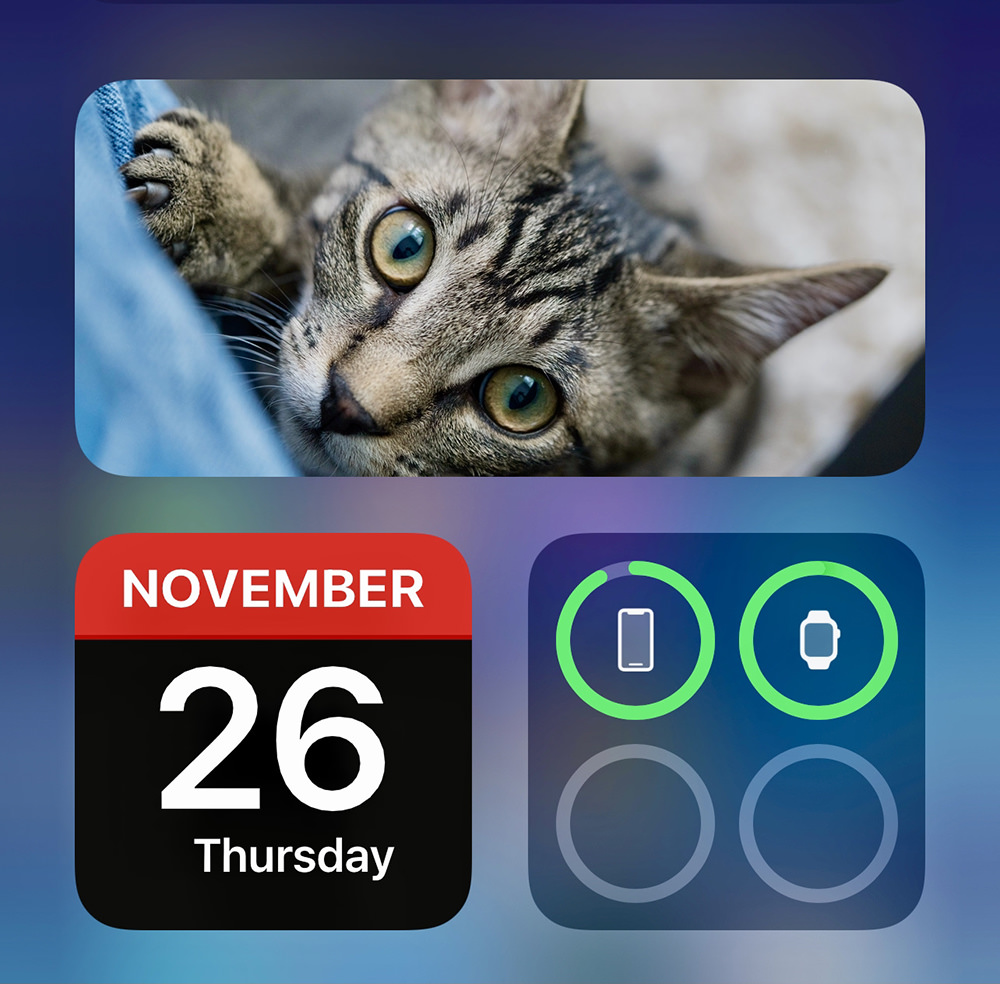 Other times it's photos I would just as soon forget.
Like this one which popped up yesterday morning...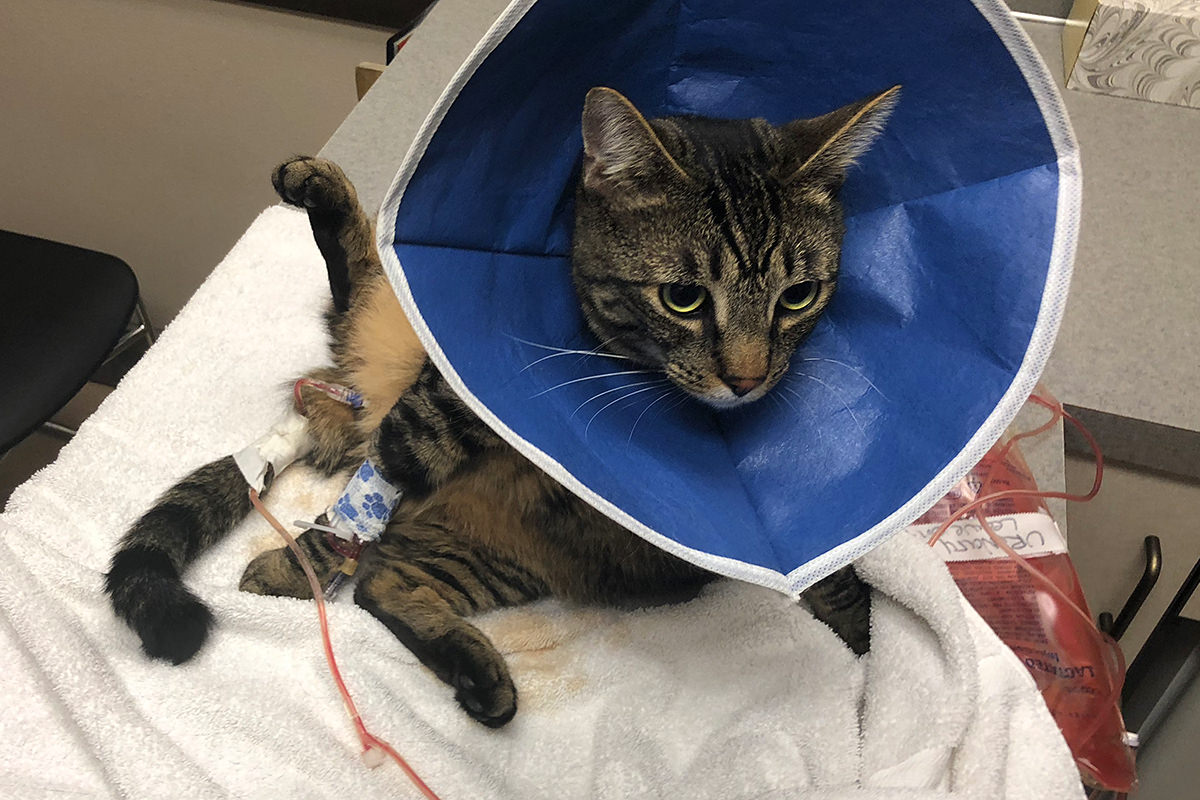 It's from when Jake had a very bad urinary tract infection... just before I was due to fly to Hawaii for a wedding. Which means I had to leave the poor thing at the vet hospital... and leave Jenny home alone... while I was half-way across the Pacific Ocean. And even though I pared my trip down from ten days to three days, I was still a wreck leaving the poor thing behind when he was so confused and upset...
Flew to Hawaii October 5th. Photographed a wedding October 6th. Flew home October 7th.
And I was a wreck the entire time.
On the morning of 8th I flew down to the vet's office to visit Jake and see if I could bring him home, which I could, because his urine was finally clear. But that just lead to further trauma, because he smelled like the hospital and Jenny was a hissy ball of hate towards him...

It all worked out eventually and they were back to tolerating each other (at least until Jake fell down the stairwell six months later... the day before I had to fly to L.A. for work).
Oh well. It could have been the photo from when I had to rush him back into the vet a couple weeks later... where I made the huge mistake of letting Jake out of his carrier on the return trip. Sure it looked cute on the surface of it all...

...but it was sensory overload, and the poor thing was even more upset than when I kept him in the carrier the entire time. That's probably the time I felt the most awful, because it was entirely my fault.
I feel extremely fortunate that my cats haven't required many trips to the vet (knock wood). The visits I have are tough enough, which is why my iPhone really shouldn't be surprising me with those photos like that. Isn't waking up in a global pandemic every day torture enough?
Posted on February 6th, 2021

Jenny has me completely wrapped around her paw. And she knows it.
Unlike Jake, who can't meow for some reason, Jenny can... and does... meow when it suits her to do so. When she's upset? Meow. When she wants something? Meow. When she's frustrated? Meow. Last night she hopped up on the dining room table (which mean I had to disinfect it) which is someplace she knows she's not supposed to be. As I was walking by to make dinner, she let out a meow so dramatic that I was compelled to stop and find out what she wanted. Which was to have her head scratched.
Most of the time she just meows to get attention though...
Yesterday morning I got an alert on my phone that I ignored. Then I got more and was compelled to check. VOICES IN MY HOUSE?!?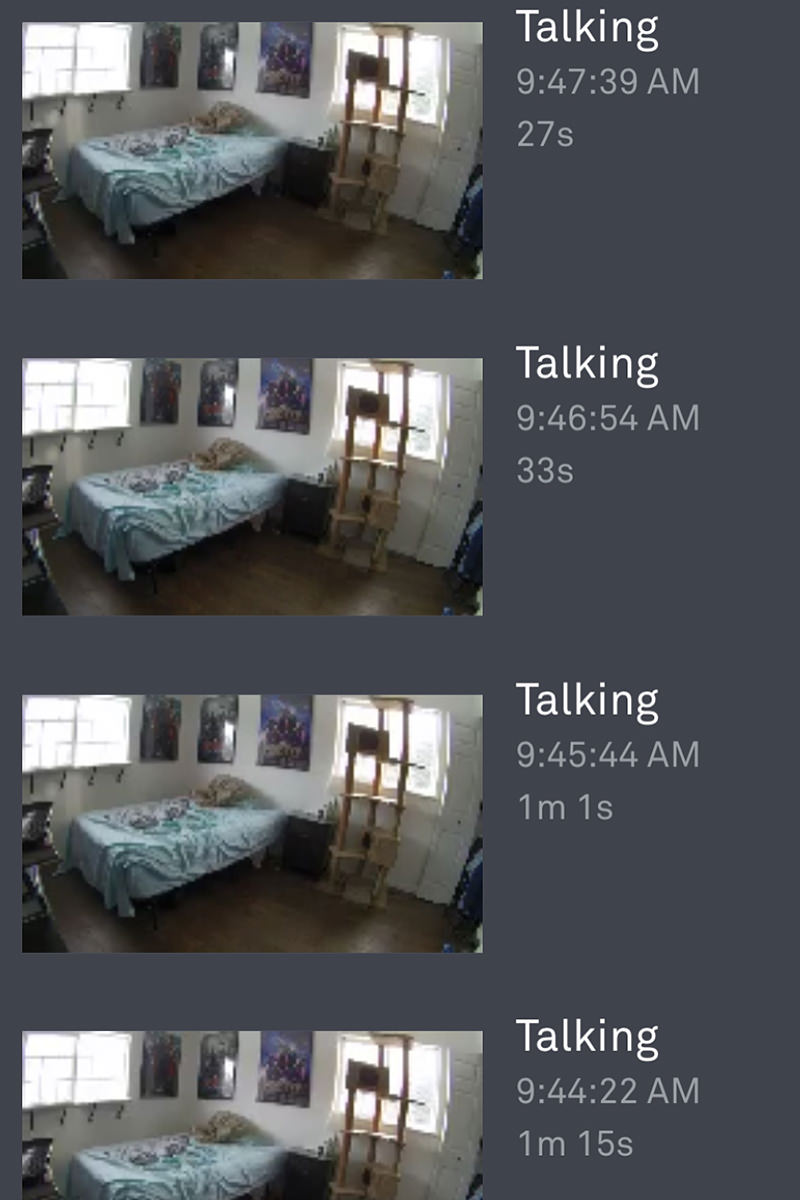 So I listened in and found that... the cats had turned on the television. Apparently I left the remote out.
And now it's time for my weekly steam-cleaning of the cat feeding station, the cat drinking fountain, and the cat Litter-Robots. When did my weekend start revolving around cat maintenance? Since I first got them five years ago ten days from now, I'd imagine.