Posted on September 9th, 2017

As I had mentioned earlier, much of this week was spent with the catio closed for business because of smoke. This was met with much confusion and disdain by Jake and Jenny, who have become very much accustomed to being able to go outside whenever they want.
When not trying to bite the door... or trying to figure out how to open it... they would try to get out by other avenues. Jenny, for example kept clawing at the window. It's like she knew it was futile, but just had to let her frustration be known...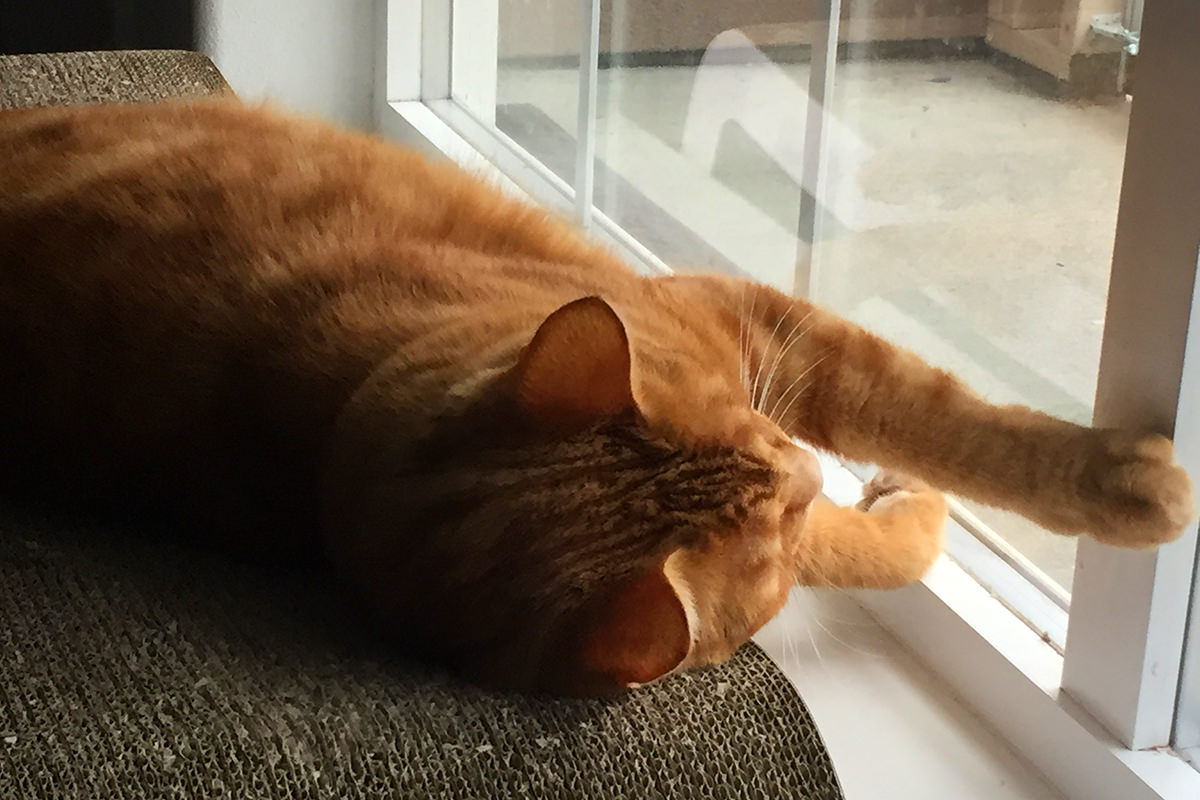 Eventually she gave up and tried to get into the laundry room instead...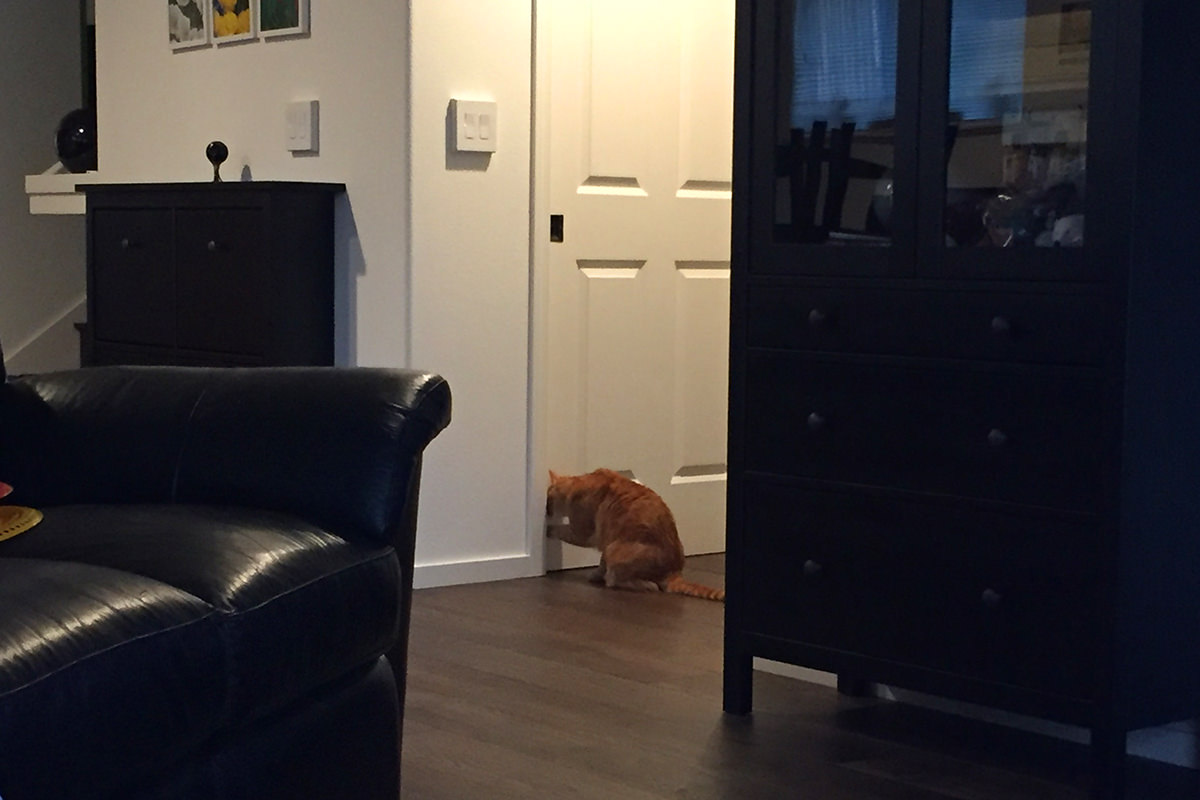 I felt bad about it, but it just wasn't healthy out...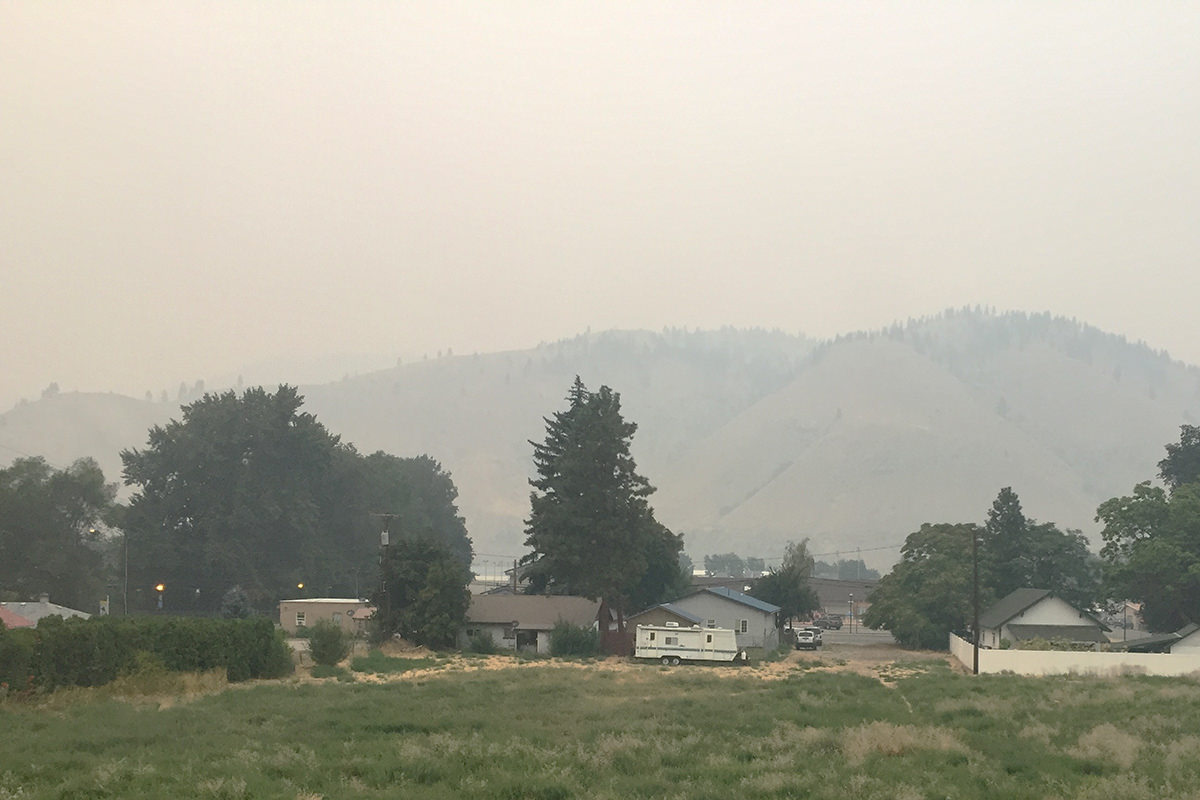 And so they spent all their time hanging around being bored...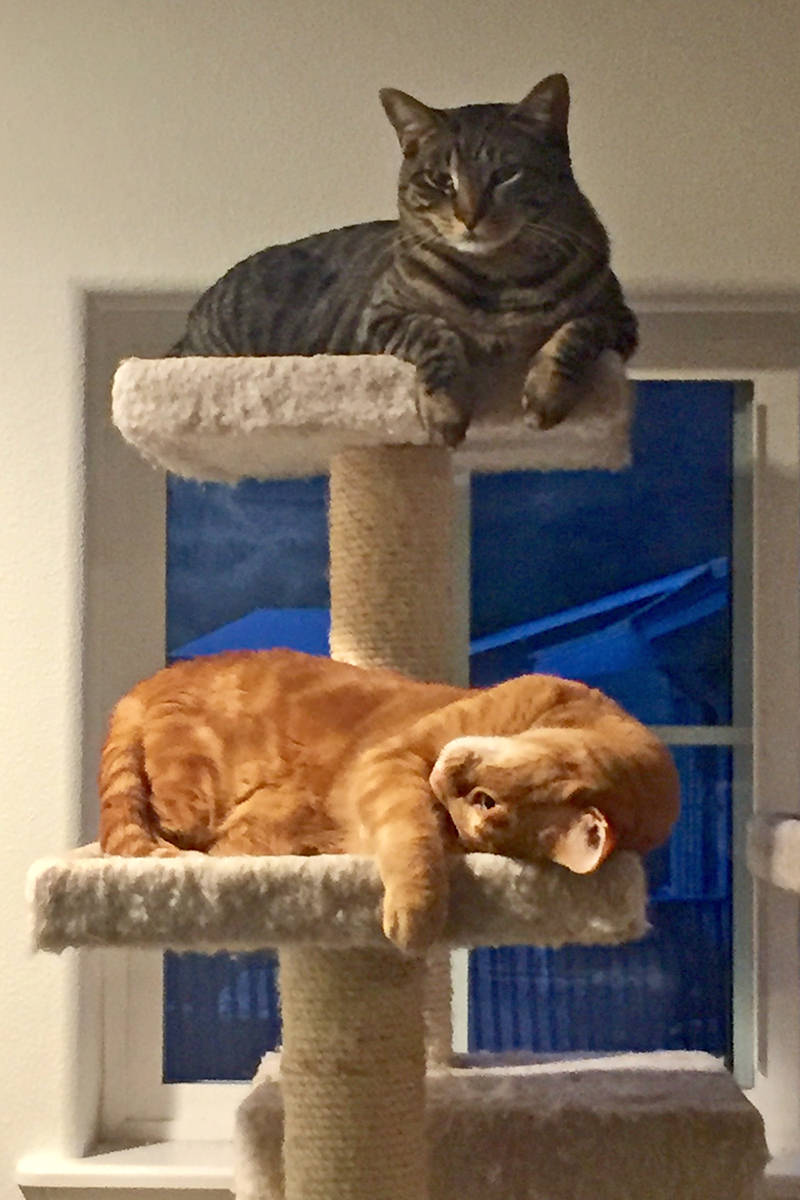 Or beating up on Carl when he runs out of juice...
Or taking my spot on the couch...

The good news is that, now that they can go outside again, things have returned to normal. Or what passes for "normal" when you have cats.
Jake is back to glomming all over me while I try to work...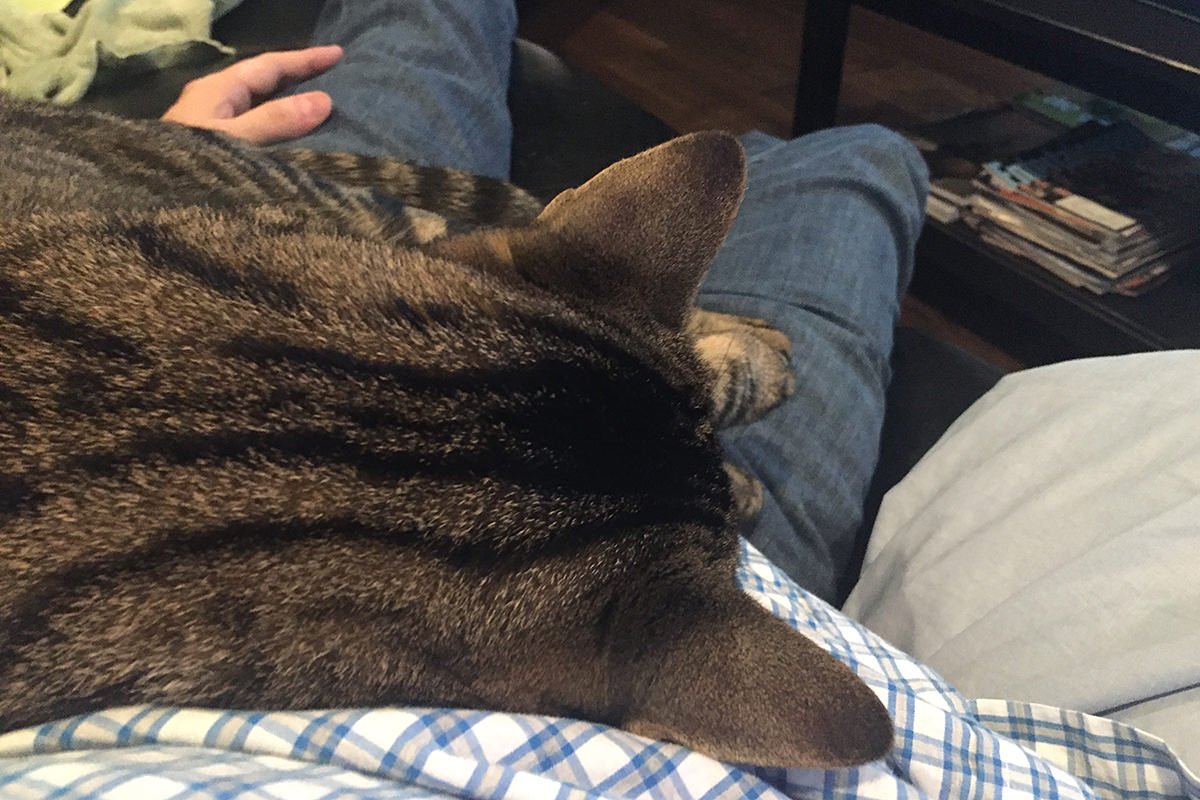 And Jenny? Well... she's back to being the best bedtime snuggle pal you could hope for...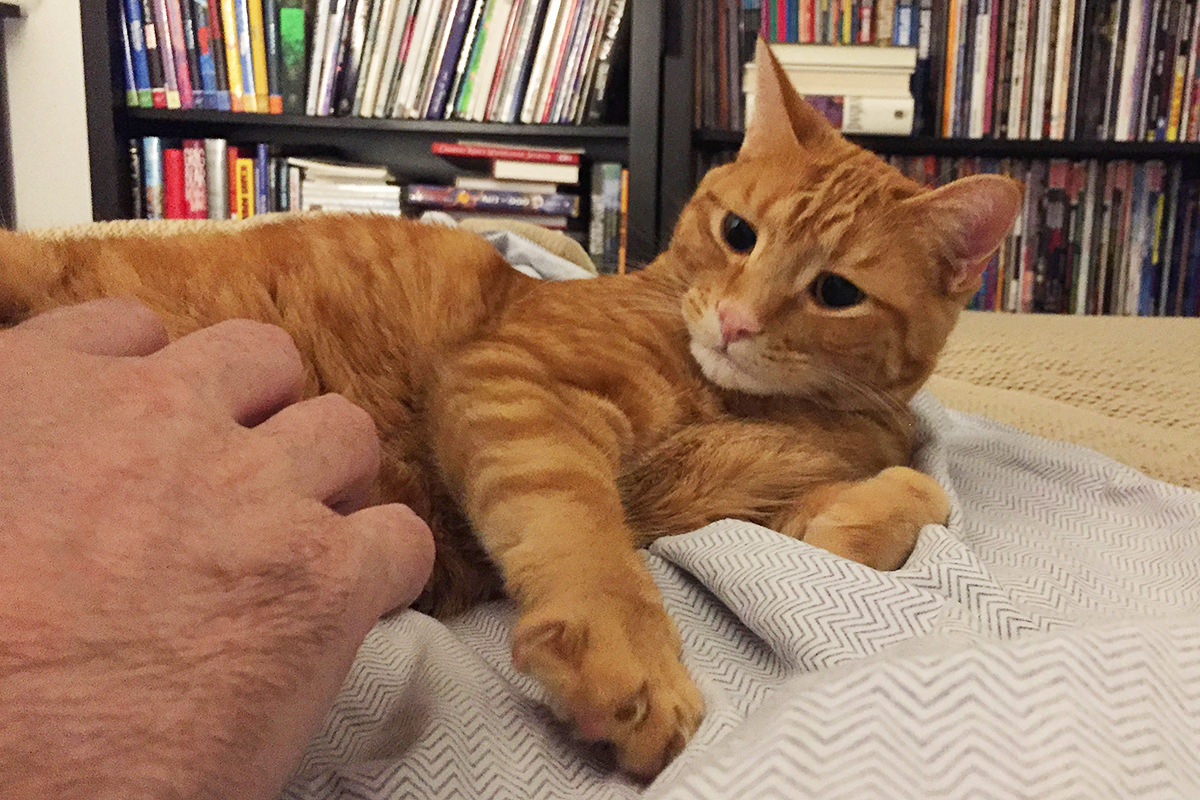 Hoping for the best for all my friends, family, and co-workers facing off fires and hurricanes. Stay safe, people.
Posted on September 2nd, 2017

Cats are so weird.
I would give just about anything to be able to climb inside their little heads and find out what is going on in their brains. I mean, I'm sure they act the way they do for a reason... I'll just be darned if I know what that reason is most of the time.
Sure some of the time it's just common sense. Like the way they act around meal time...
That kind of crazy I can understand.
Everything else? A mystery.
Jenny has gotten to the point where all she wants to do is spend the whole day in bed with me. She runs to hang with me the minute I head up to go to sleep... and stays with me until I fall asleep. Mornings are the same thing. Once I'm awake, she will hang with me wanting to be petted until I get up to take a shower. Then she comes and waits by the shower so she can lead me back to bed for more belly-rubs...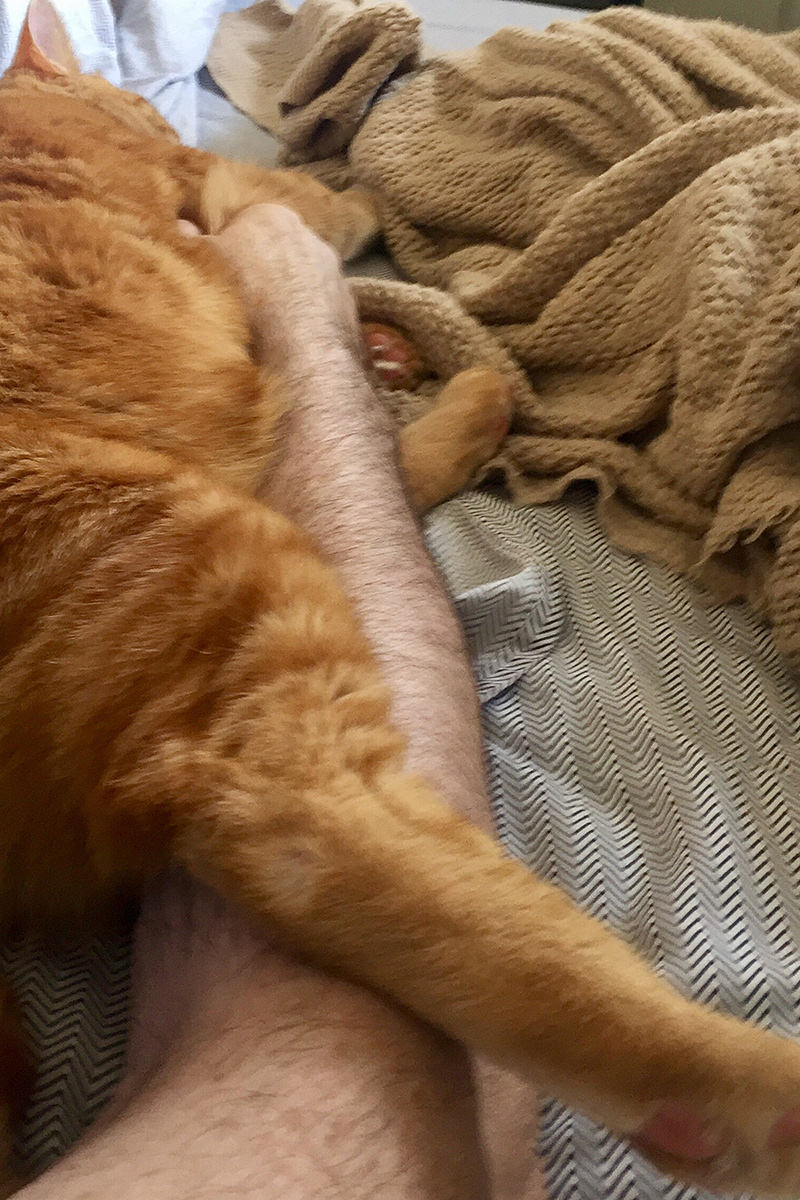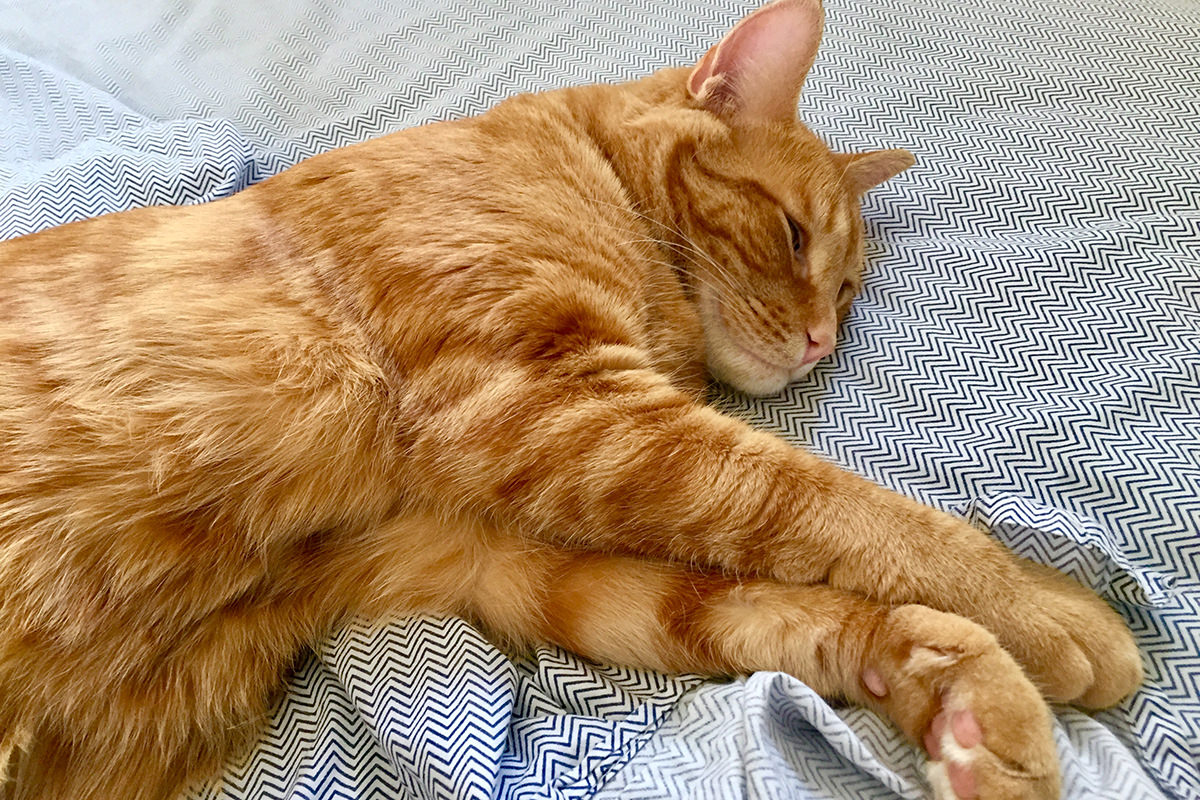 Jake has started getting very clingy when I get home from work. He will lay on me for hours... only wanting to leave when it's time to eat...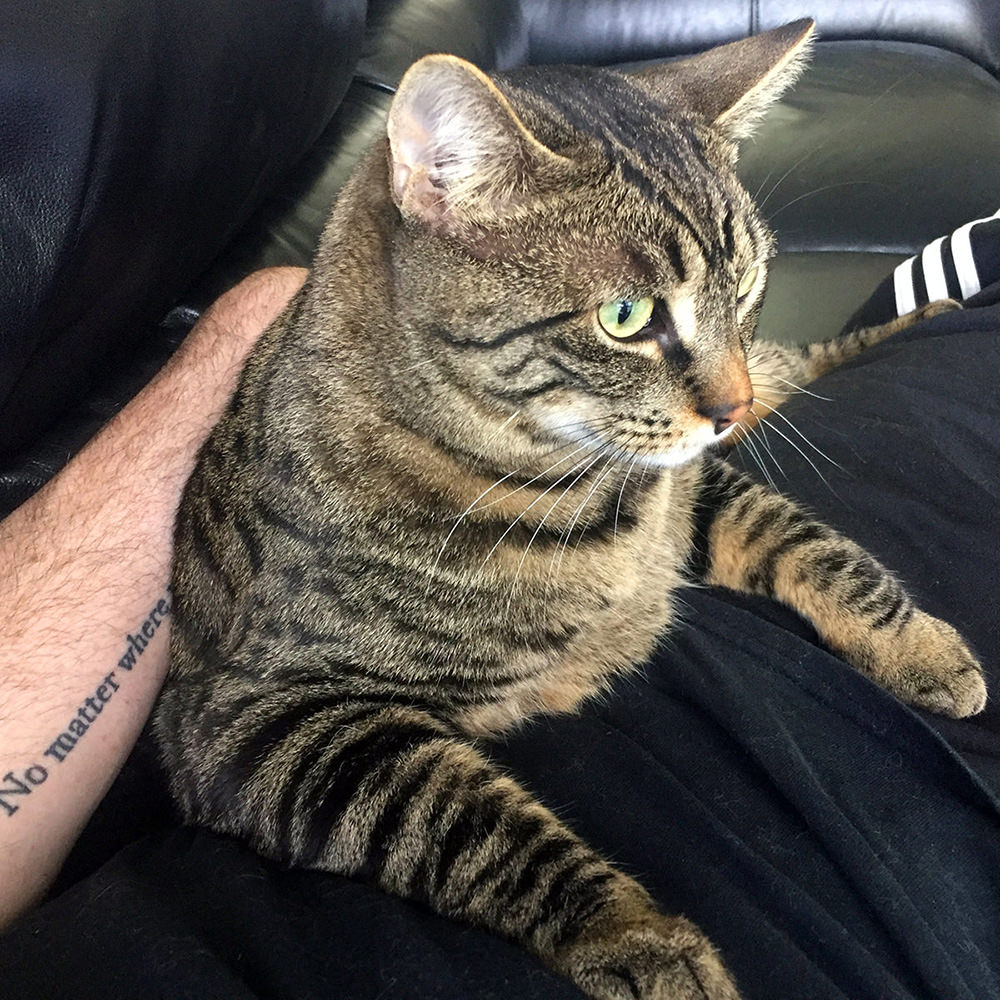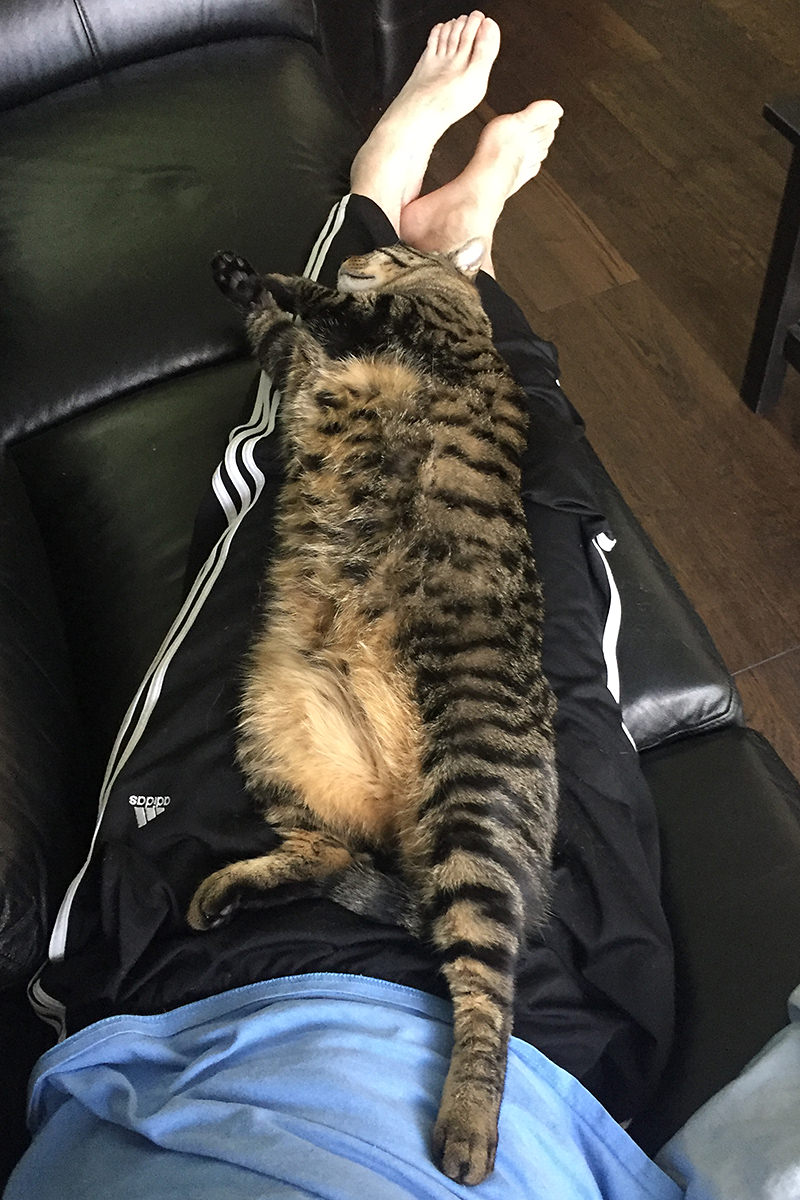 For anybody wondering... yes, Jenny does still bring me toys every morning as tributes. And she's getting good at making a whole production out of it, complete with drama...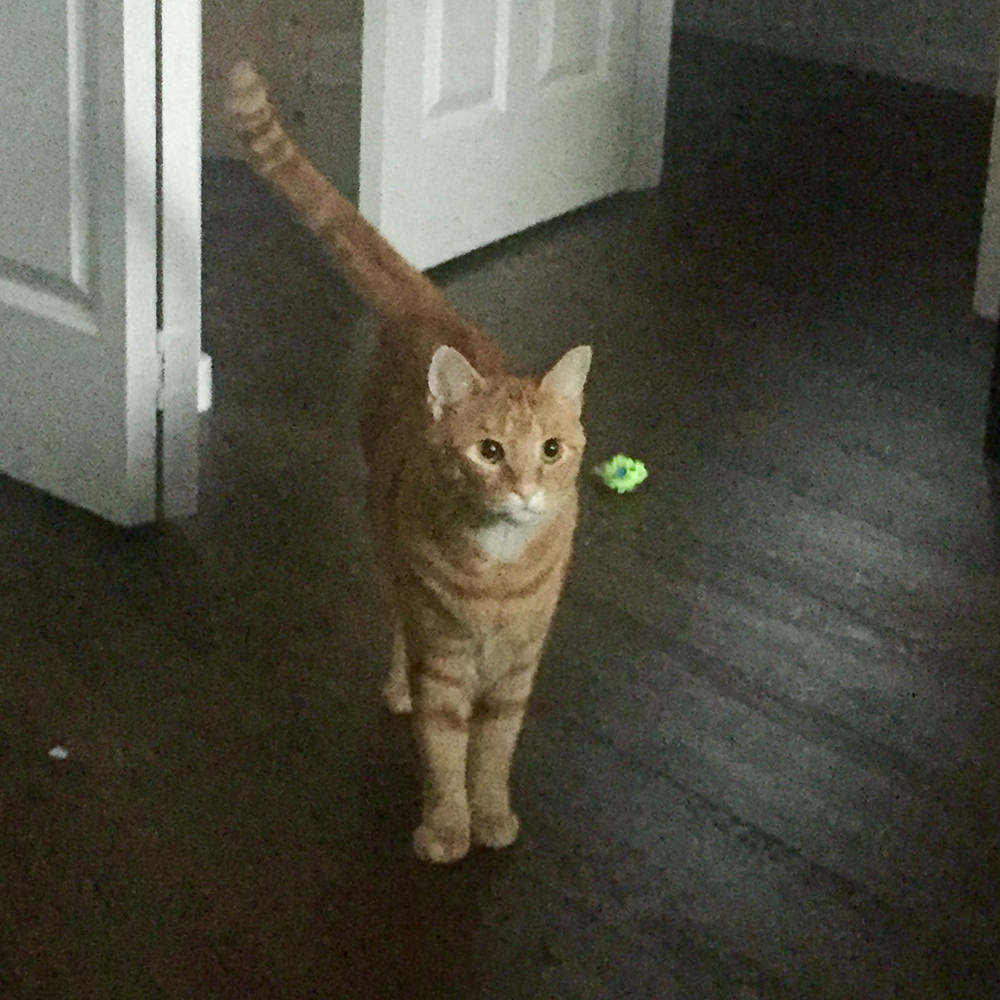 "If you won't feed me, I suppose I'll just put my head down and die..."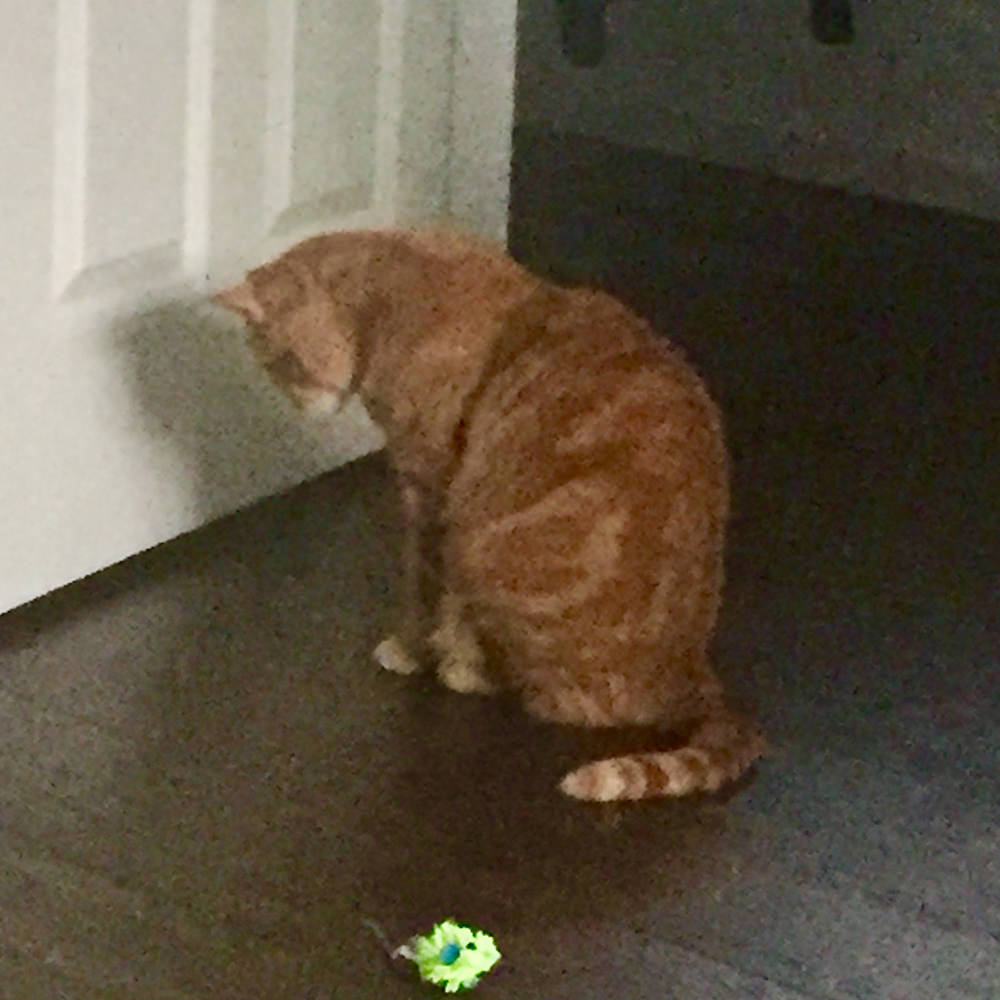 Sometimes she manages to surprise me. Like when she brought DOUBLE PRETZELS as tributes. I didn't even realize that we had two of them...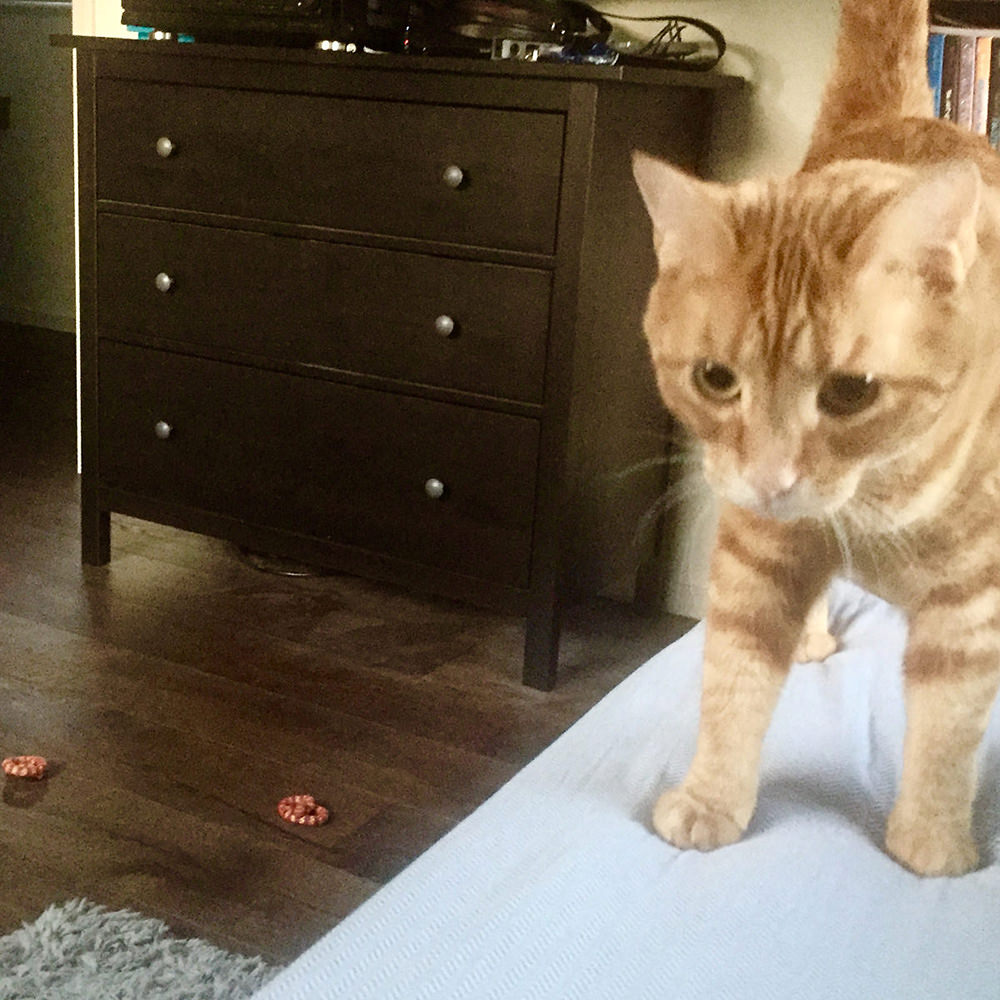 And... that's enough cats for one day. See you next Caturday...
Posted on August 26th, 2017

As I mentioned in an earlier post, my cats' behaviors continue to evolve.
It used to be that my cats would happily share my affections... climbing on me or next to me at the same time. Usually when I was n the couch trying to work while watching television...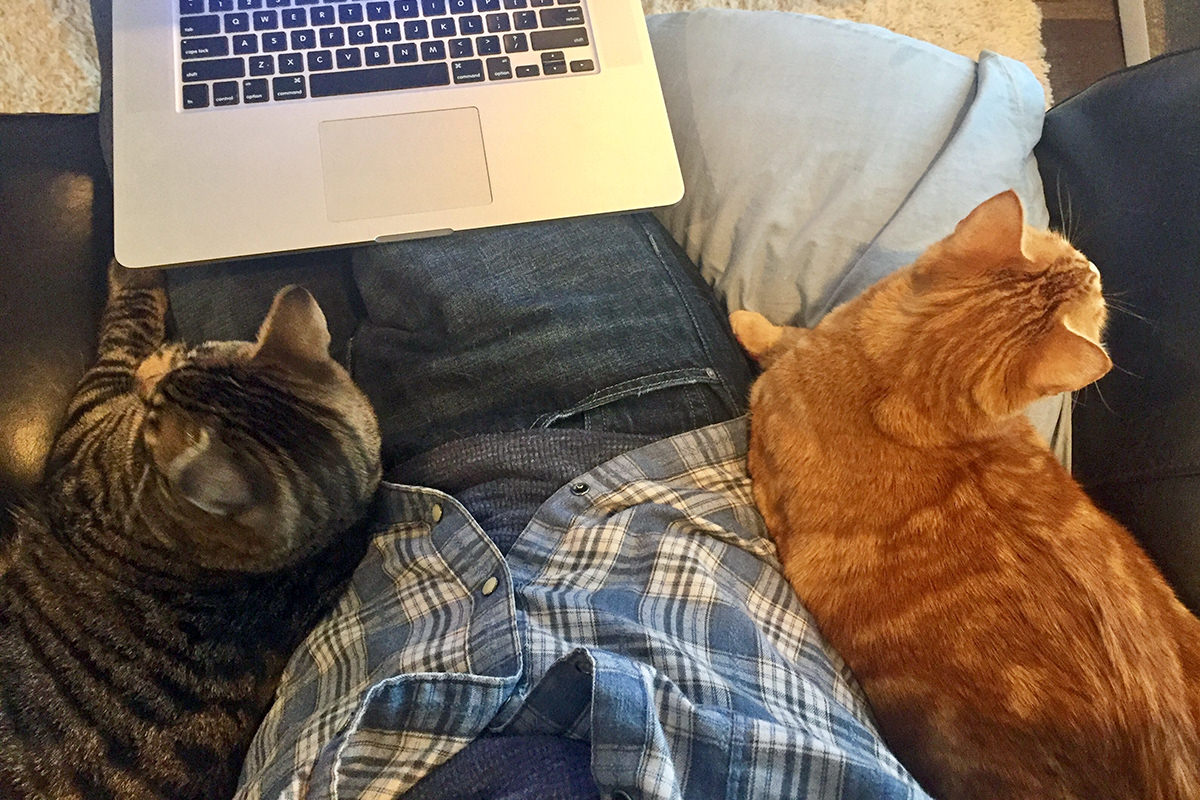 This hasn't been the case for several months. Now if one cat is near me, the other one will avoid me. And they seem to have come to some kind of mutual agreement as to who gets to be where.
Jake gets the couch. Jenny almost never jumps on my lap while I'm sitting there anymore...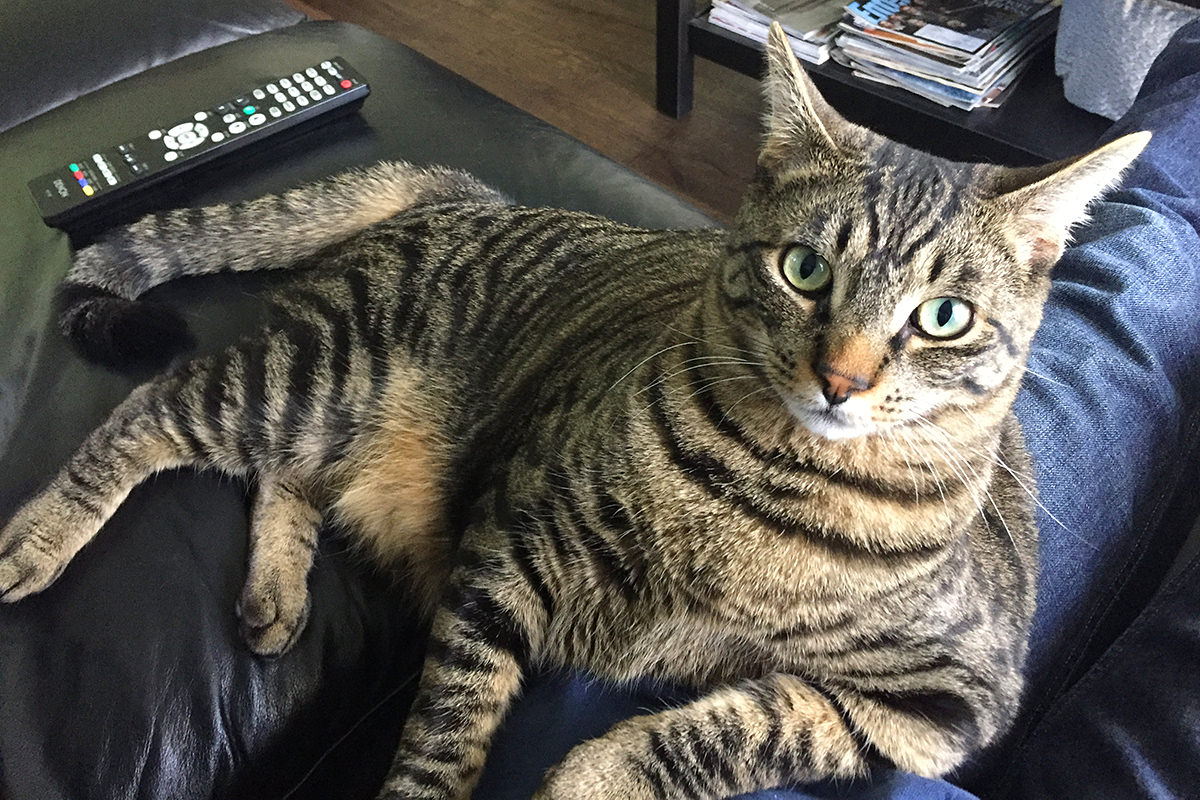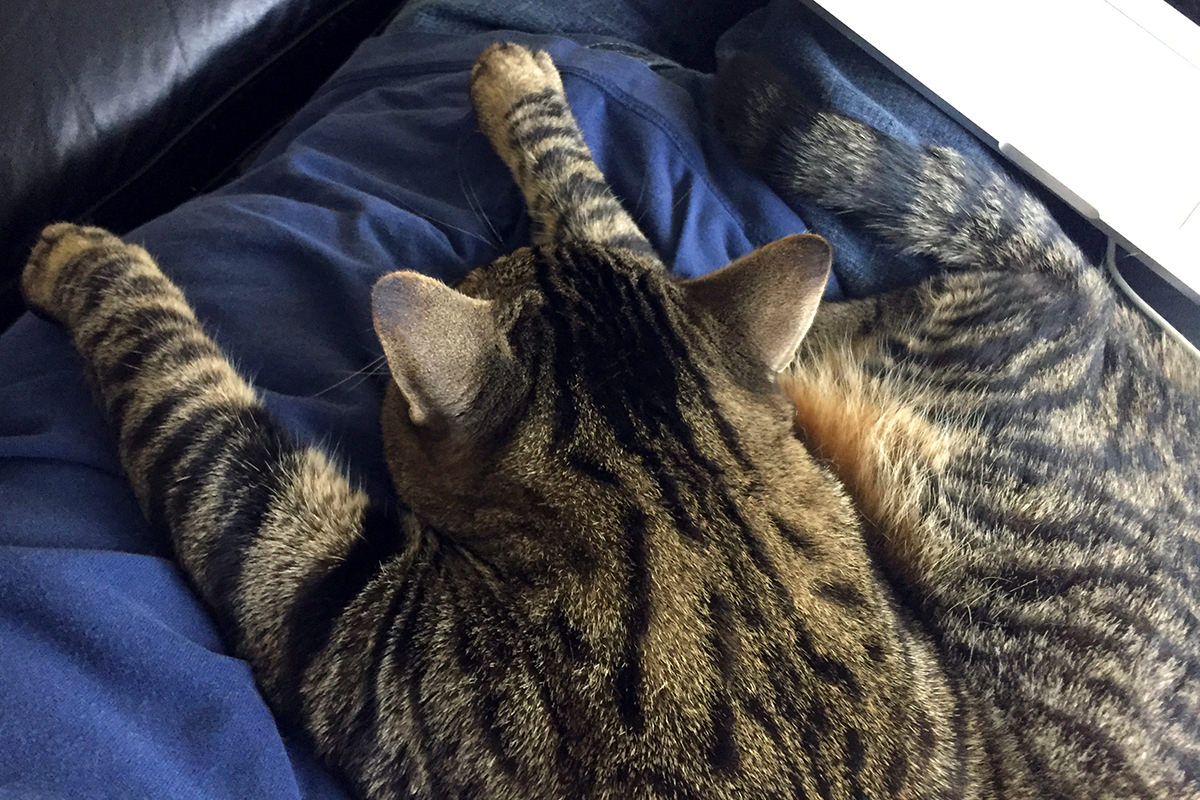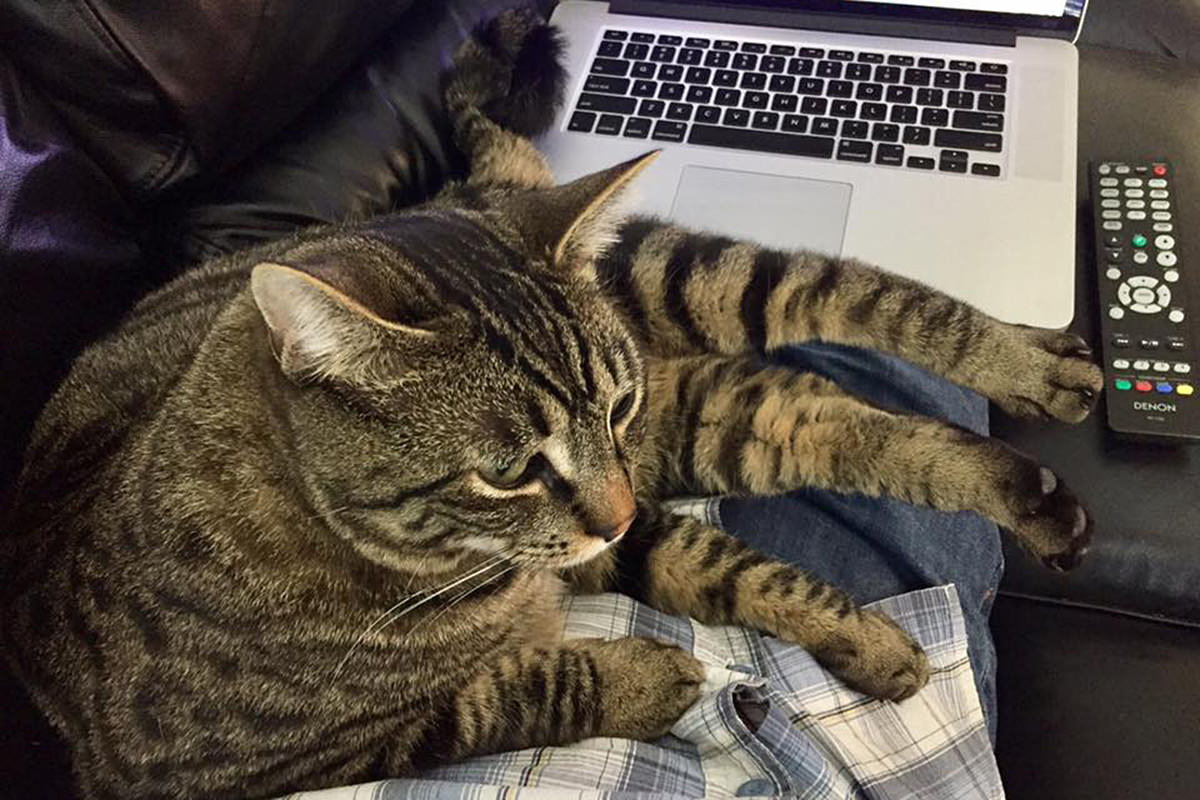 Jenny gets the bed. Jake will still hop on the bed next to me from time to time, but only if Jenny hasn't gotten there first...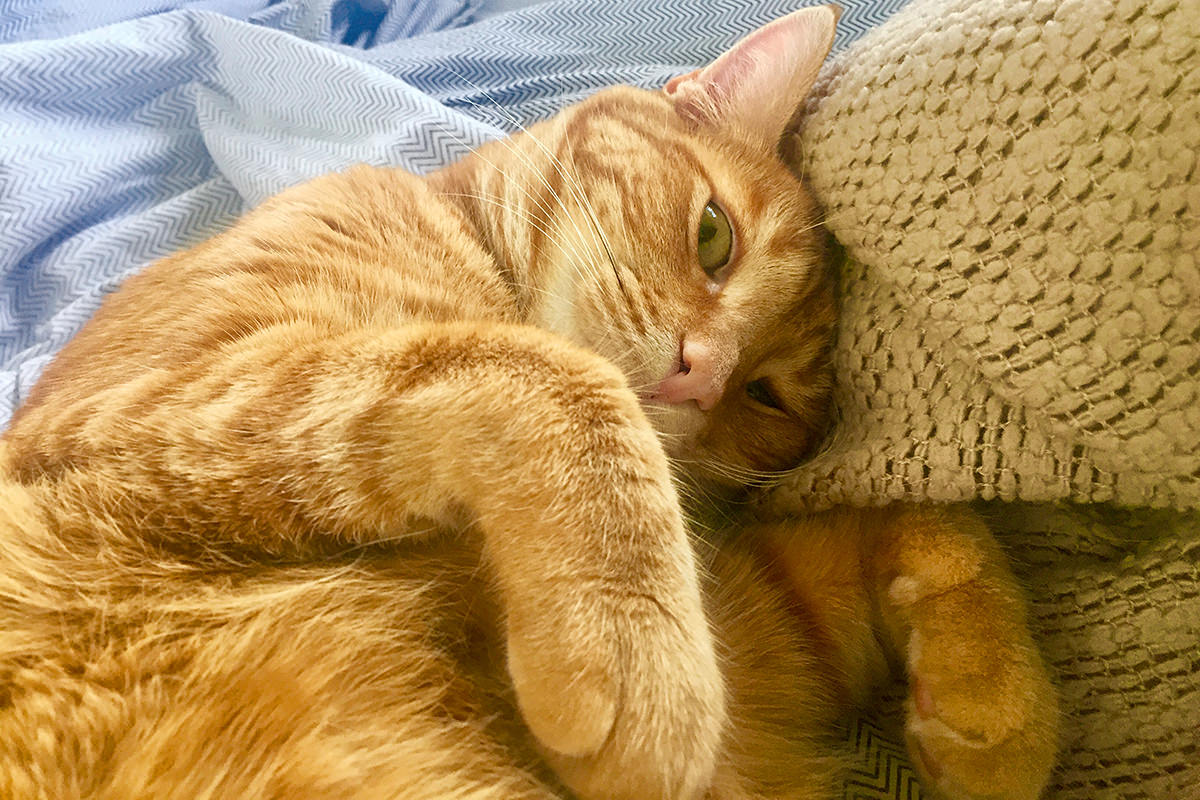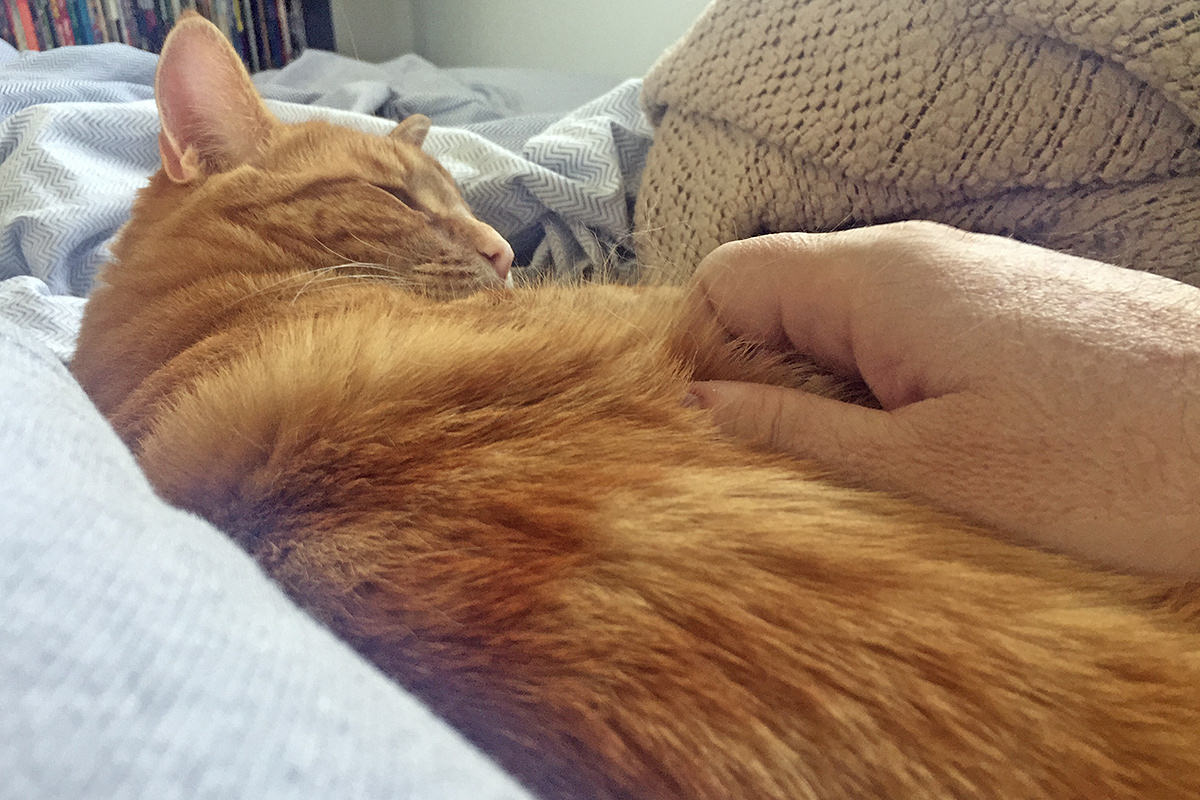 Jenny is still claiming the stereo receiver as her personal space. It's a great spot to satisfy her television addiction...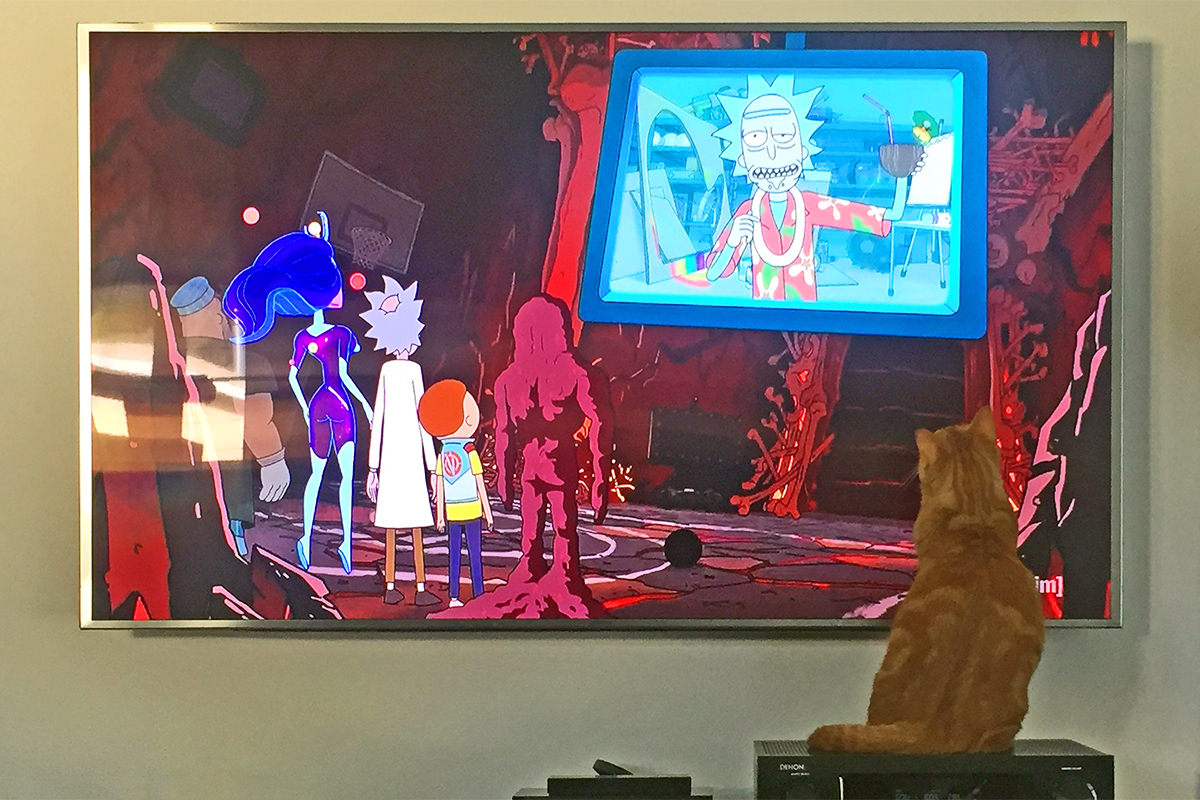 For whatever reason, Jenny is particularly fond of Rick from Rick and Morty. When she hears his voice, she perks right up.
My efforts at cat-proofing the cupboard where I keep the cat food and cat toy supply has met with failure. My first attempt was a latch that adhered to the doors. It took Jake all of one night to figure out how to move the latch so he could get inside. My second attempt was with a plastic clip that added resistance to pulling open the doors. Jake just pulled harder and opened them right up.
Since he can't open the cans and pouches of food, he settles for stealing toys. I'm forever finding them... still attached to their cards... scattered around the house...
Ever since the eclipse, Fake Jake has been visiting with increasing regularity. He stops by at least once a day now, usually more. This is a source of great excitement for the cats. Especially Jake, who watches for Fake Jake out the side window, then goes tearing towards the catio whenever he spots Fake Jake headed in that direction. After visiting for a while, Fake Jake gets bored and wanders off. Jake will then come tearing back inside so he can follow Fake Jake to the guest bedroom window. Whenever I hear kitty claws running at top speed on my wood floors, I know exactly what's happening...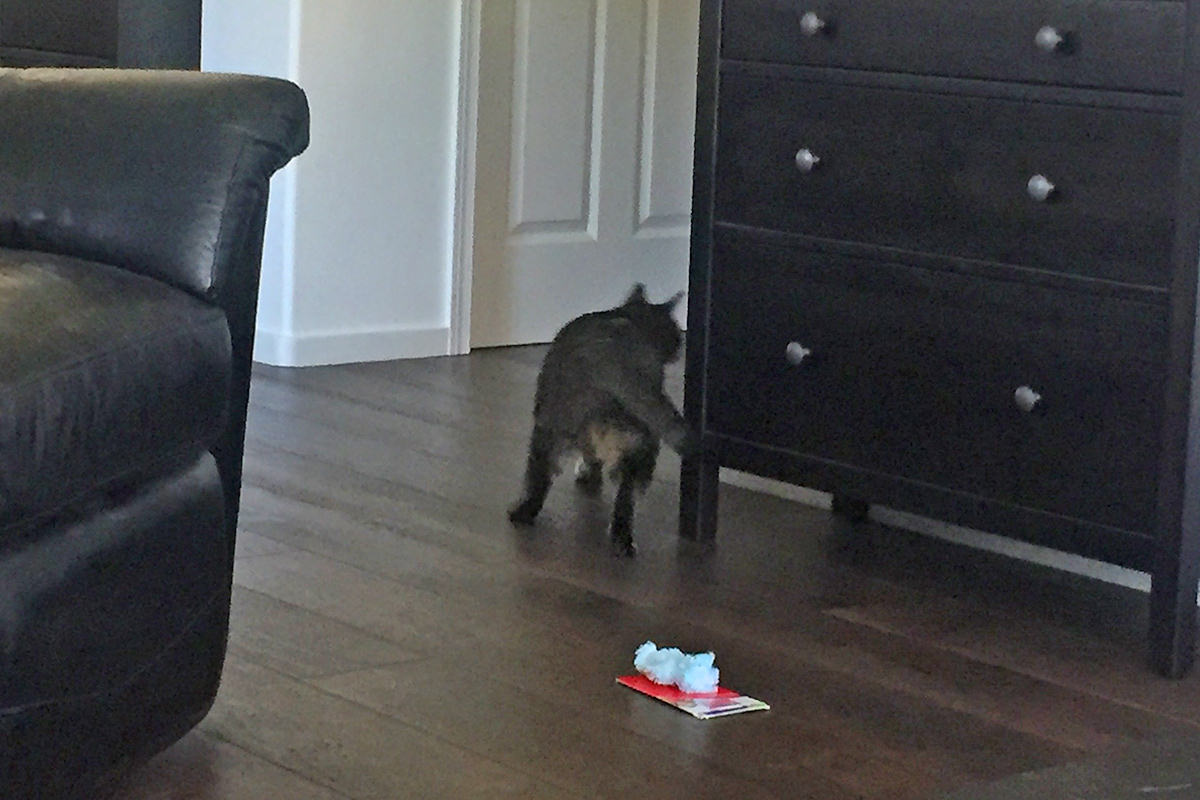 Jake is obsessed with Fake Jake encroaching on his territory, and will follow him from window to window to window to keep an eye on him.

And now it's time for me to set Caturday aside so I can see how big of a disaster the Netflix Death Note adaptation is. The original manga and animated series were pretty great, so my expectations are at an all-time low.
Posted on August 19th, 2017

My inability to sleep has nothing to do with my cats. They've always been oddly respectful of sleepy-time. On those rare occasions I do manage to fall asleep, they leave me alone. Even if I just pretend to be asleep, they'll walk in the room, take a look, then walk right back out. It's weird them being so unselfish while being cats and all, but I'm not going to complain.
Except...
Every once in a while...
Something happens and they go all "cat" again.
Like last night when I woke up to armageddon happening downstairs. The cats were freaking out over... something... and the commotion was nuts. Is there a big bug in the house? Did a mouse climb through the cat door? What could it be?
Nothing showed up on the security cameras.
Until I reviewed outside footage.
A family of five raccoons decided to visit the catio, which caused quite a stir. I've sped-up the footage to double-speed...
Here's a zoom-in on the above footage to see them better...
I especially love the little raccoon at the end who is desperately trying to make friends with Jake, who just isn't having it...

Guess I need to look into getting some Raccoon Chow.
Posted on August 12th, 2017

Thank heavens for cats.
Because, seriously...
Although it's not always sunshine and roses. Jake and Jenny are still evolving in their personalities. And their brother/sister relationship. Which is not always great. Now that Jenny has been more and more enthusiastic about hanging out with me, Jake has occasional fits of jealousy where he'll chase her off so he can have all the attention. Nothing violent... yet, and they are still mostly happy together... but it's a growing concern. Jenny can definitely take care of herself, but Jake is a big bruiser of a cat that has some pounds on her.
She makes up for it in attitude though. Just look at this grumpy face...
Jenny dragged Lion all the way upstairs as her morning tribute, then had to meow so I was sure to see it. Unfortunately, it was still an hour until breakfast time, so my ignoring her did not sit well. She started ripping into poor lion, then getting upset when the fur from his mane got stuck in her mouth...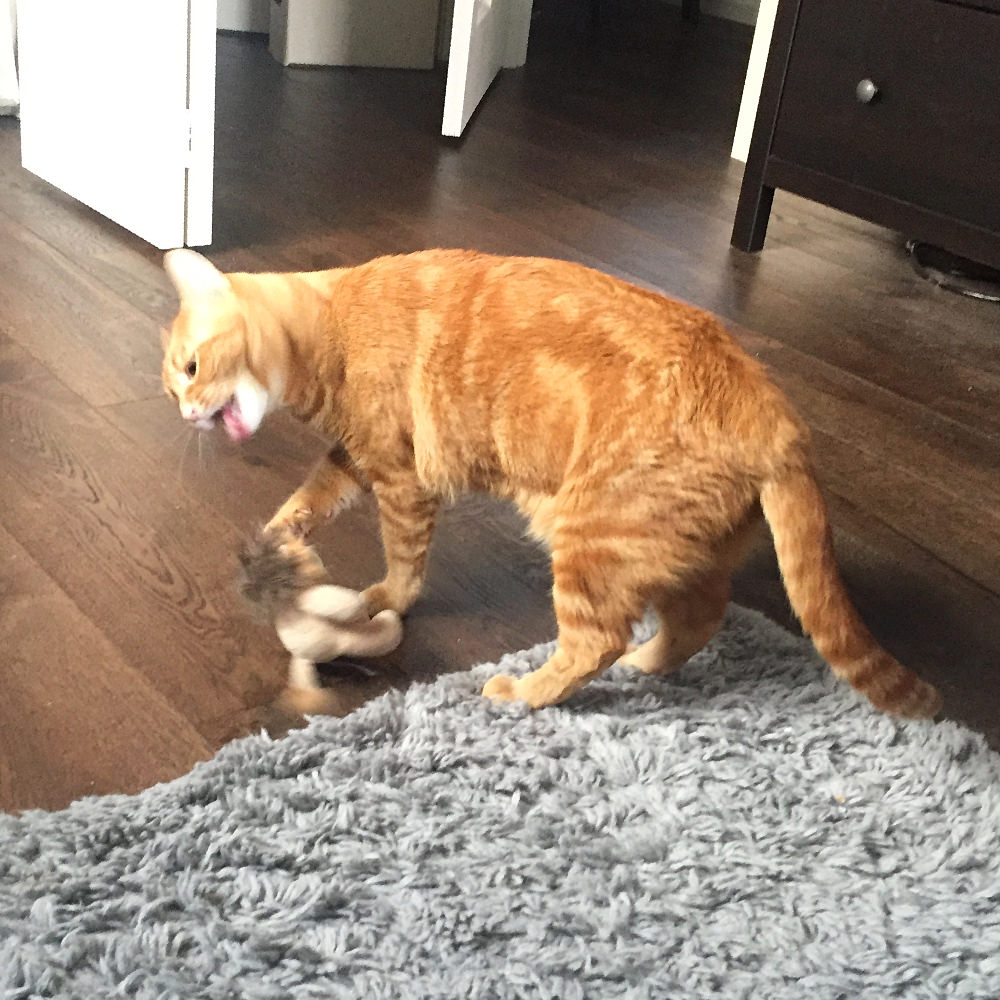 She was triumphant in the end though...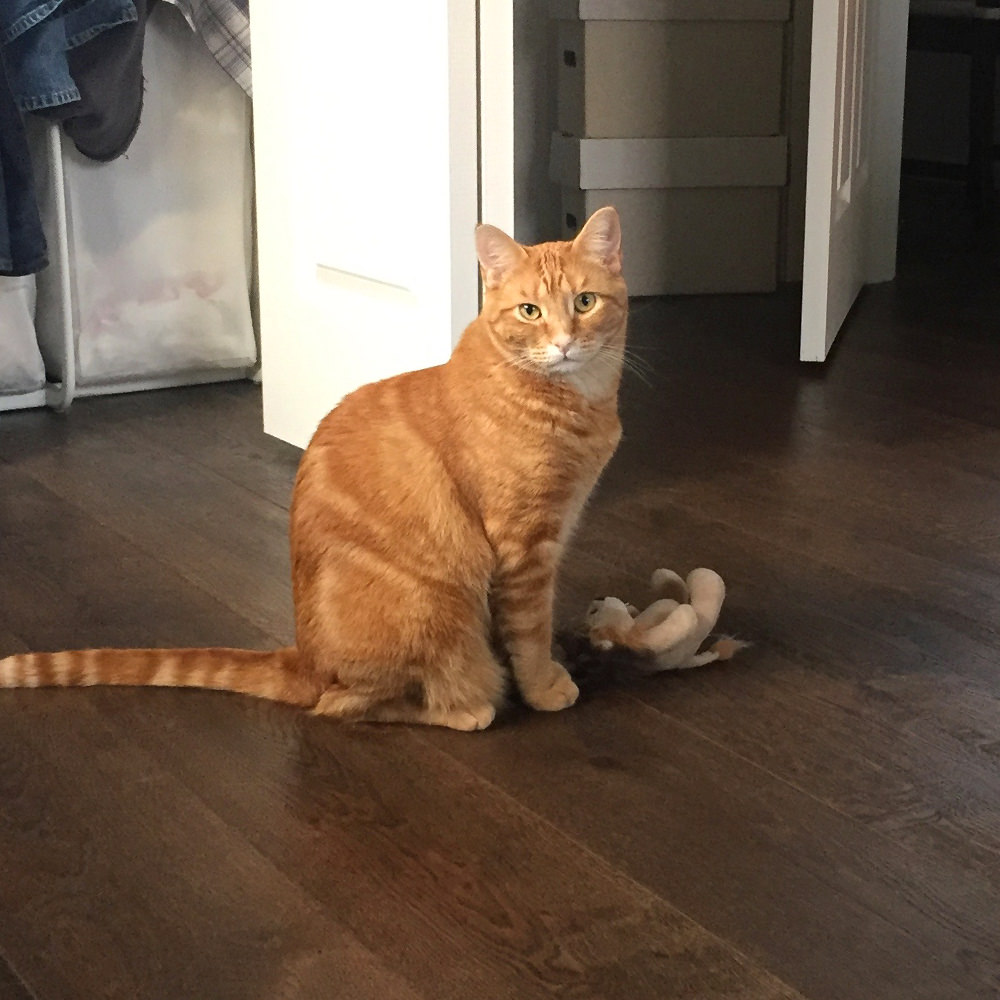 As for Jake? Still loves being Jake. Which means every day when I come home from work, he's all over me...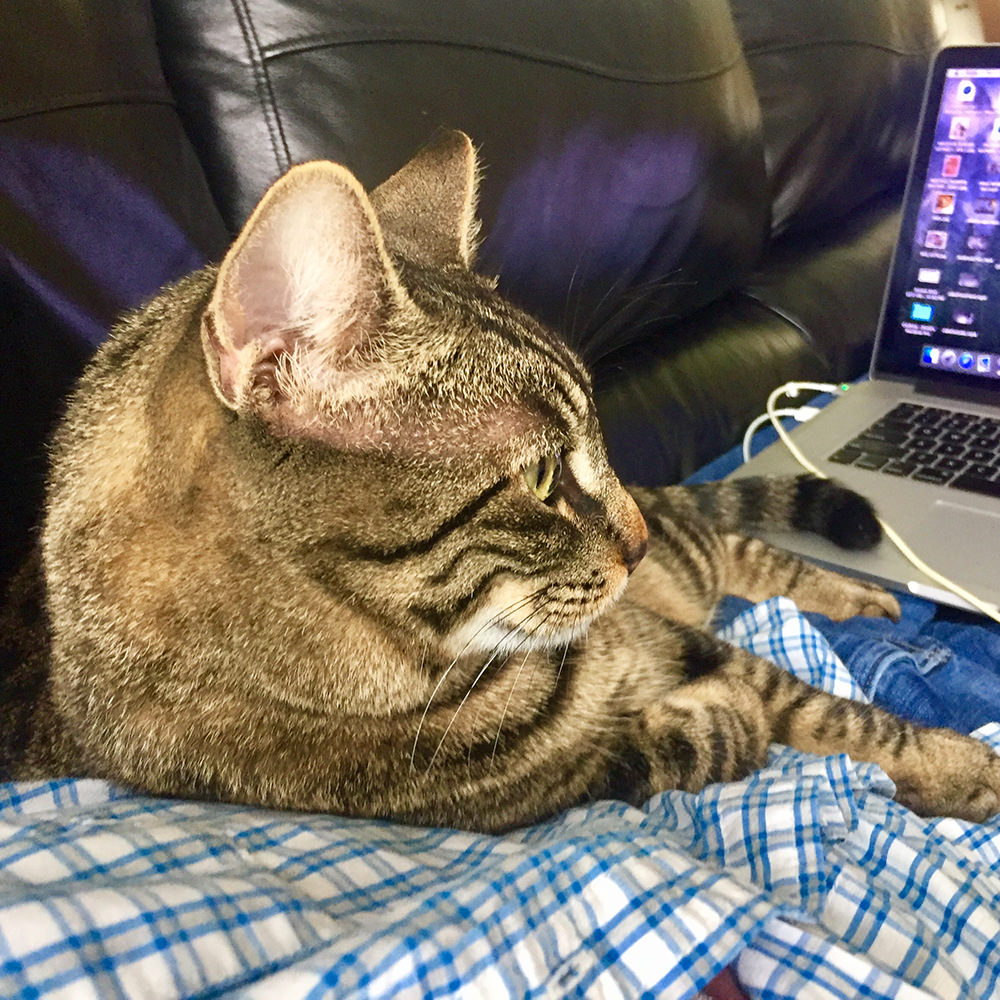 Fake Jake has been hanging around more than usual, which provides endless entertainment for the cats. Jake is no longer afraid of his doppelgänger, which means they actually kind of "hang out" together from time to time. Though I know if the fencing were removed, Fake Jake would likely be on the attack, so catio containment is still critical. This often results in a "Cat Watching Cat Watching Cat Watching Cat" scenario...
Ugh. Unfortunately, they just power-washed the gutters and concrete, so my windows are even dirtier than usual. Such a pity that window-washing is not including with the HOA fees!
And that's it for Caturday Saturday... now I'm off to the other side of the mountains.
Posted on July 22nd, 2017

It's strange how much I worry about my cats when I'm not at home. Not over things like them tearing up the house or making a mess or anything like that... but worry over them being lonely or bored.
Right now I am checking in on them with the security cameras and they are exactly where I saw them when I left yesterday. Jake is on top of the kitty tree and Jenny is laying on the stereo receiver (I think she likes how it gets a little warm... even on the hottest days). She naps there most of the time now...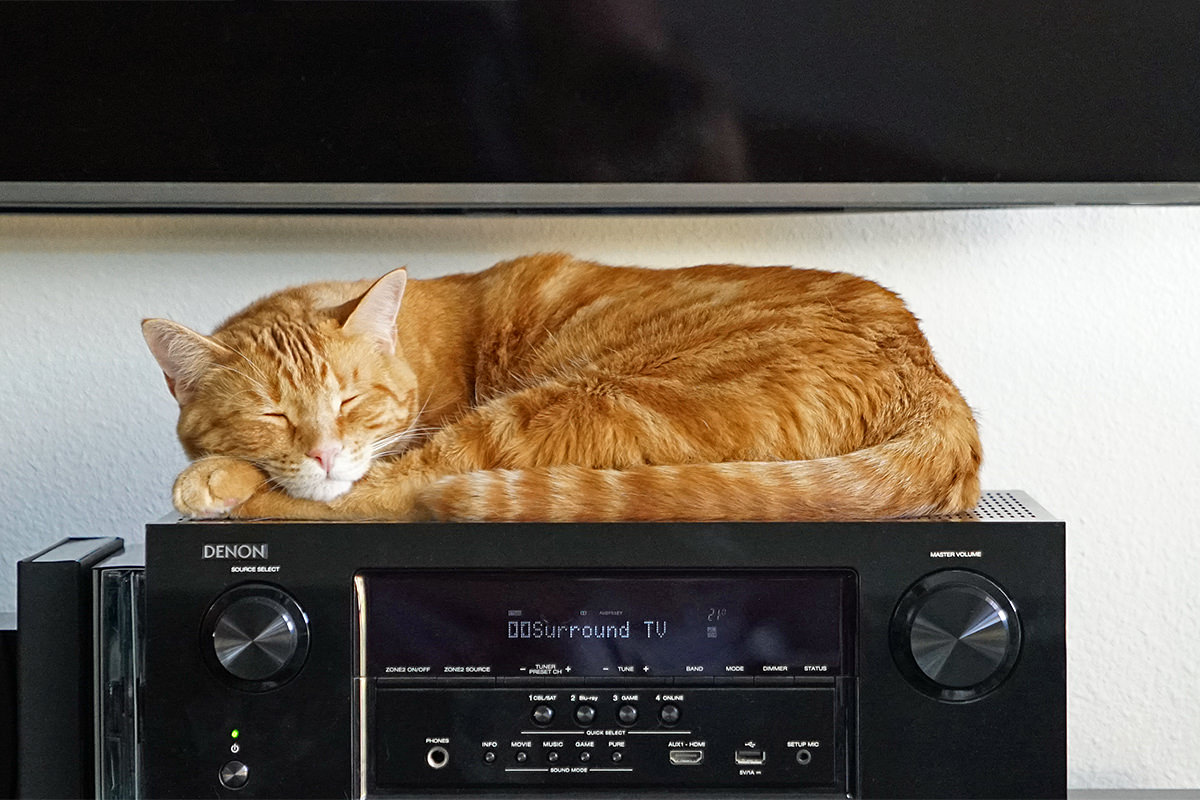 Seriously, she does.
I've been documenting it with my iPhone...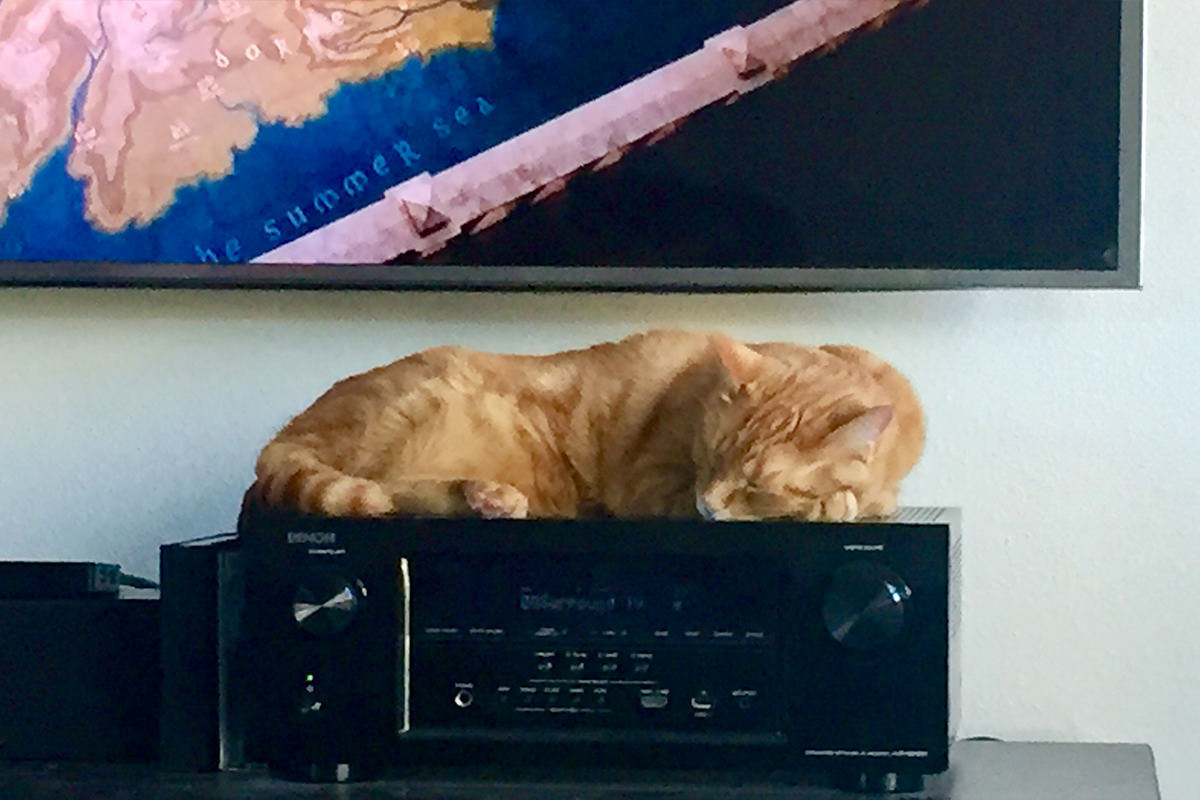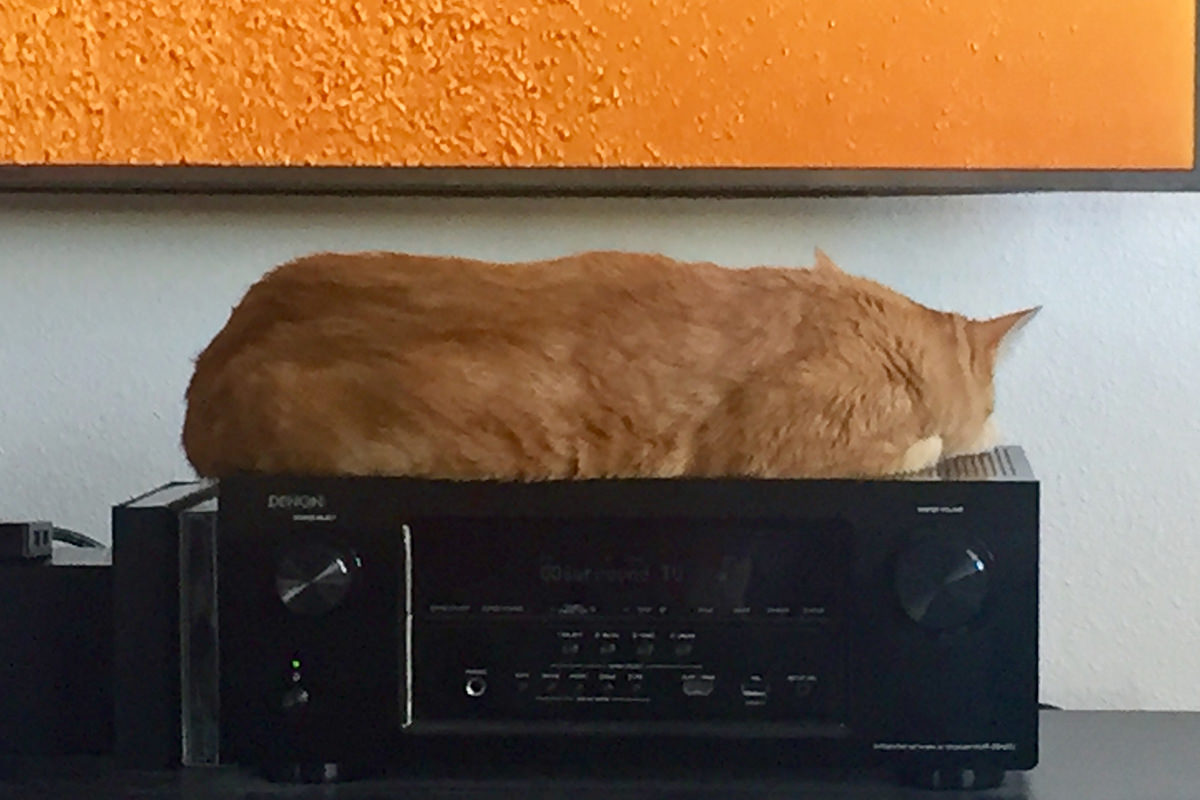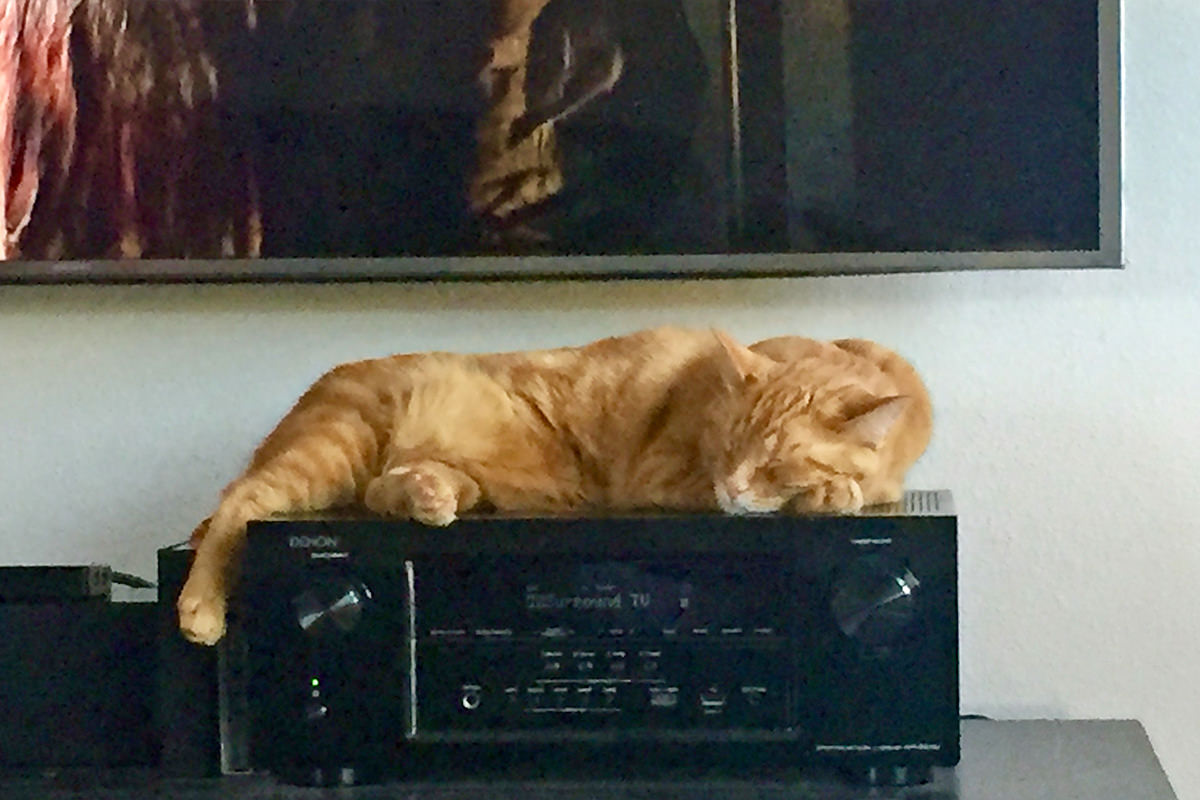 Awwwww... this one is my favorite...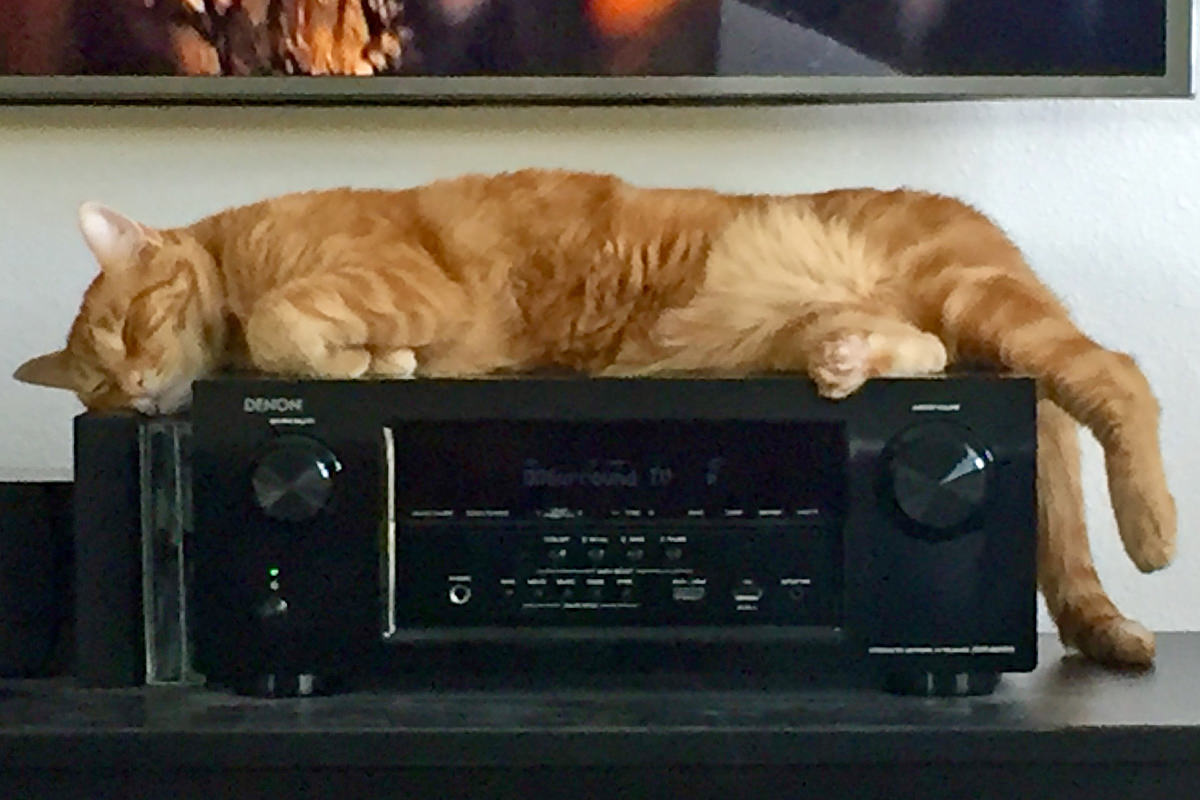 She's making a pillow out of my Star Wars Blu-Ray collections!
As for Jake? He's busy being Jake. When he's not eating, pooping, or napping... he's destroying my expensive books by chewing on them... sometimes as I am reading them...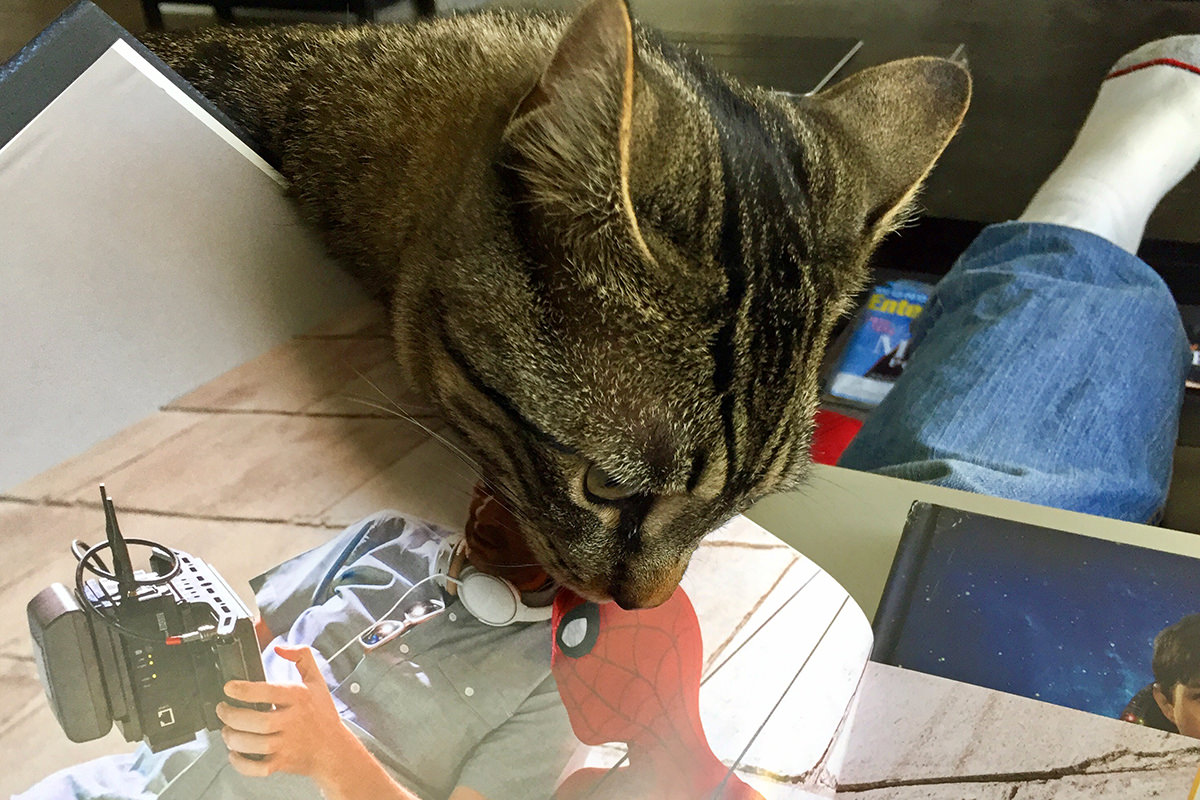 LOOK OUT SPIDER-MAN!!!
And... going to try and be inspired by my cats and get some sleep now.
Which would probably be easier if I were home with them.
Posted on July 15th, 2017

I'd have thought that my cats would have settled into their personalities after a year-and-a-half... that no new big surprises would be on the horizon.
It certainly seemed that way. Until this past week, when big surprises did indeed show up.
When I first got Jake and Jenny, they were terribly frightened and shy...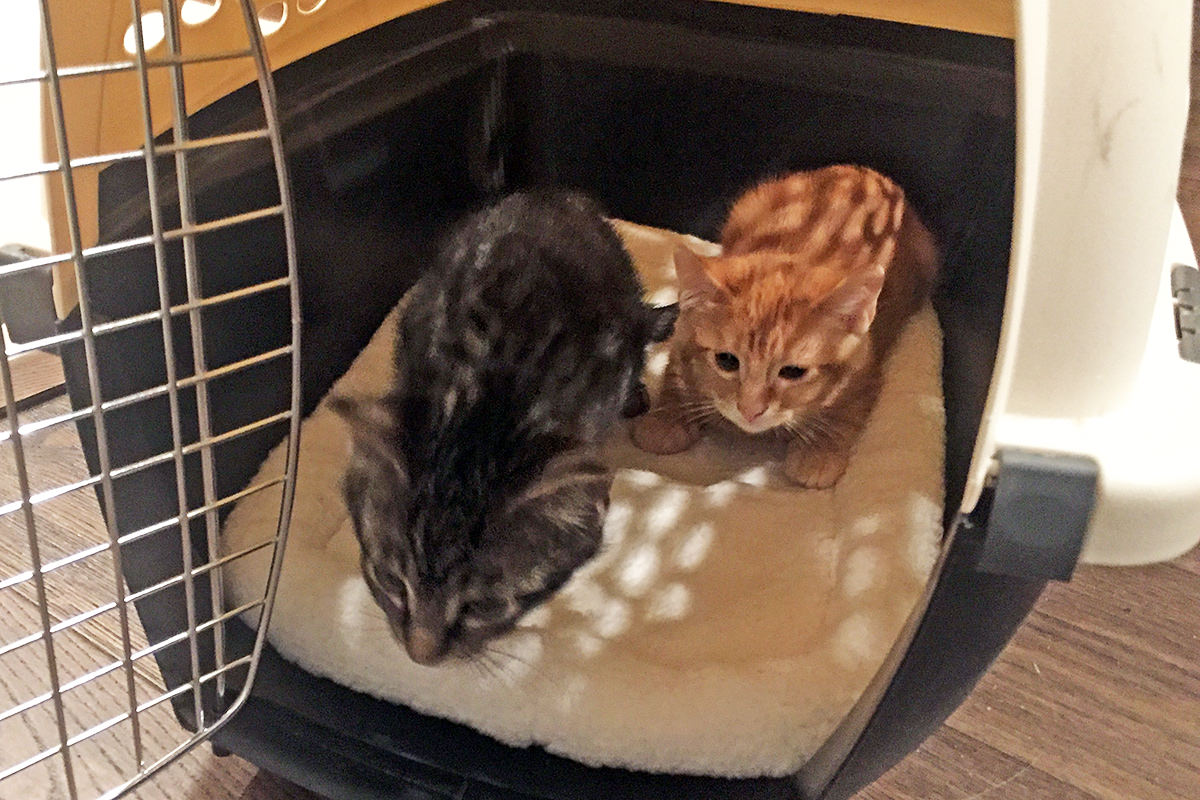 It took a week before I could lure them out from under the couch to play. It took four weeks before Jake would let me touch him... five weeks before Jenny would allow petting. Weeks after that, the cats were fairly sociable and would climb on me if I lured them with a cat charmer. Months after that, Jake would be all over me... Jenny not so much. Eventually she came around, but there were always conditions. If she was laying near me, I couldn't touch her or she'd get scared and run away. Any time I'd be petting her, she'd nervously pace all around me, never laying down or getting comfortable. She'd hop on the bed and watch TV with me for hours... but at a comfortable distance. Every once in a blue moon she'd sit or lay for a few minutes while I'd scratch her ears, but anything more than that just wasn't going to happen.
Until this past week, when all of a sudden she's hanging out with me every morning like this...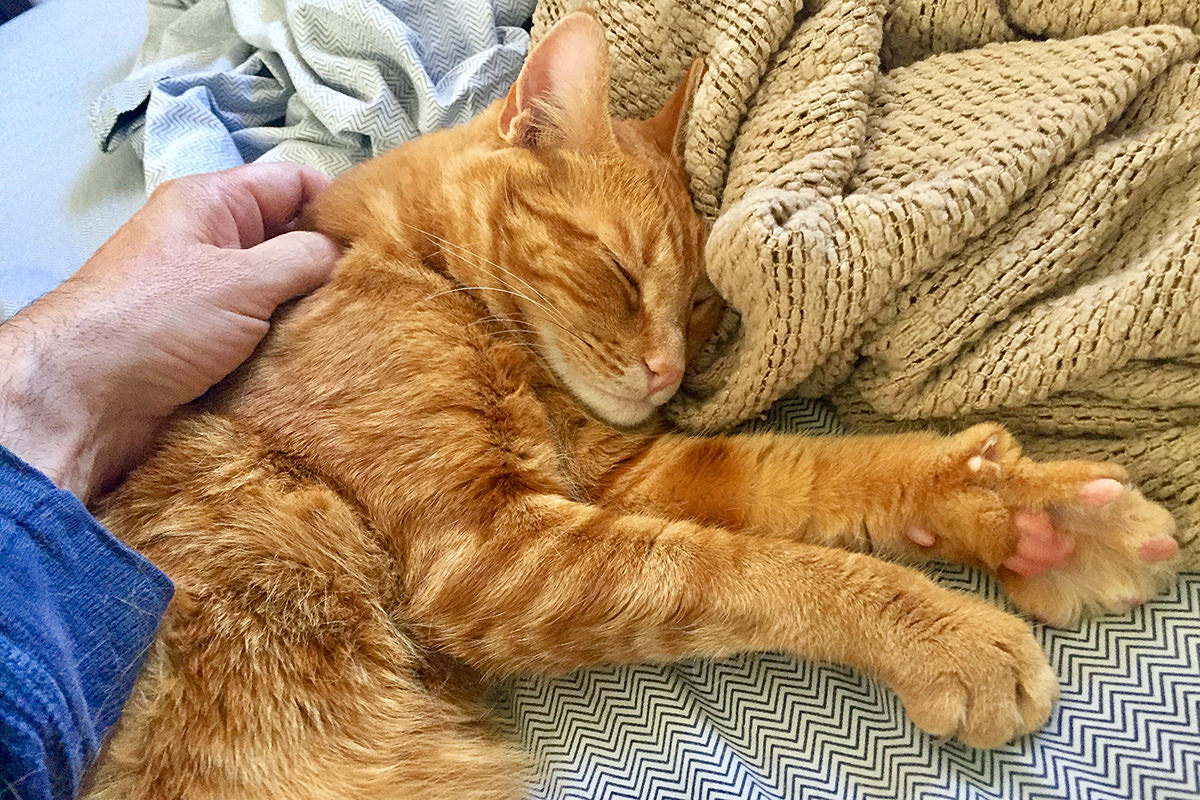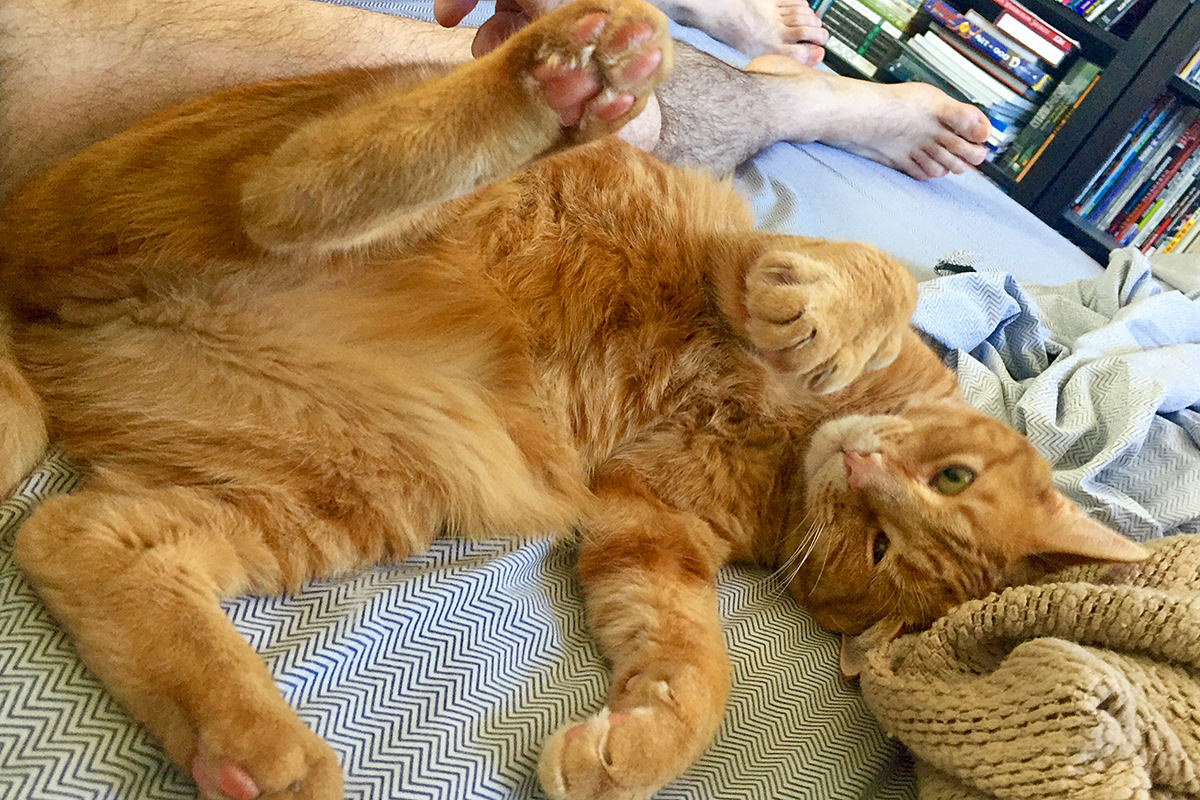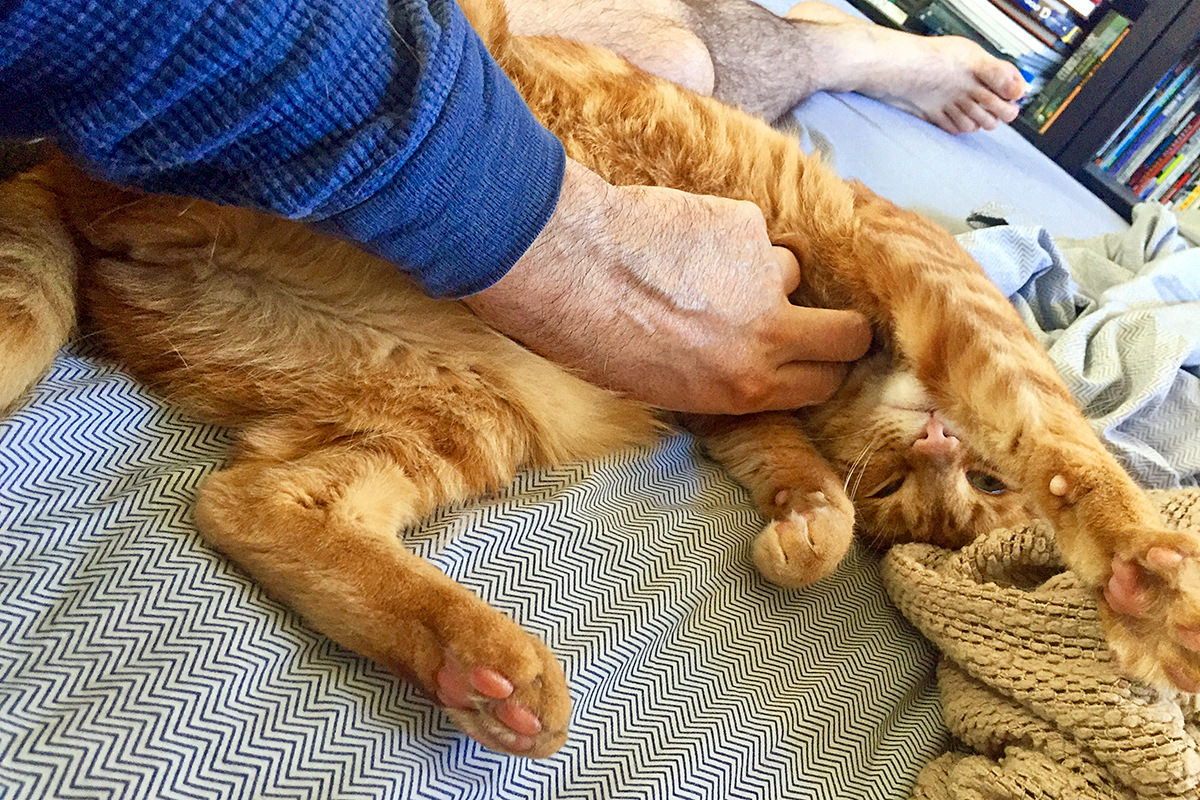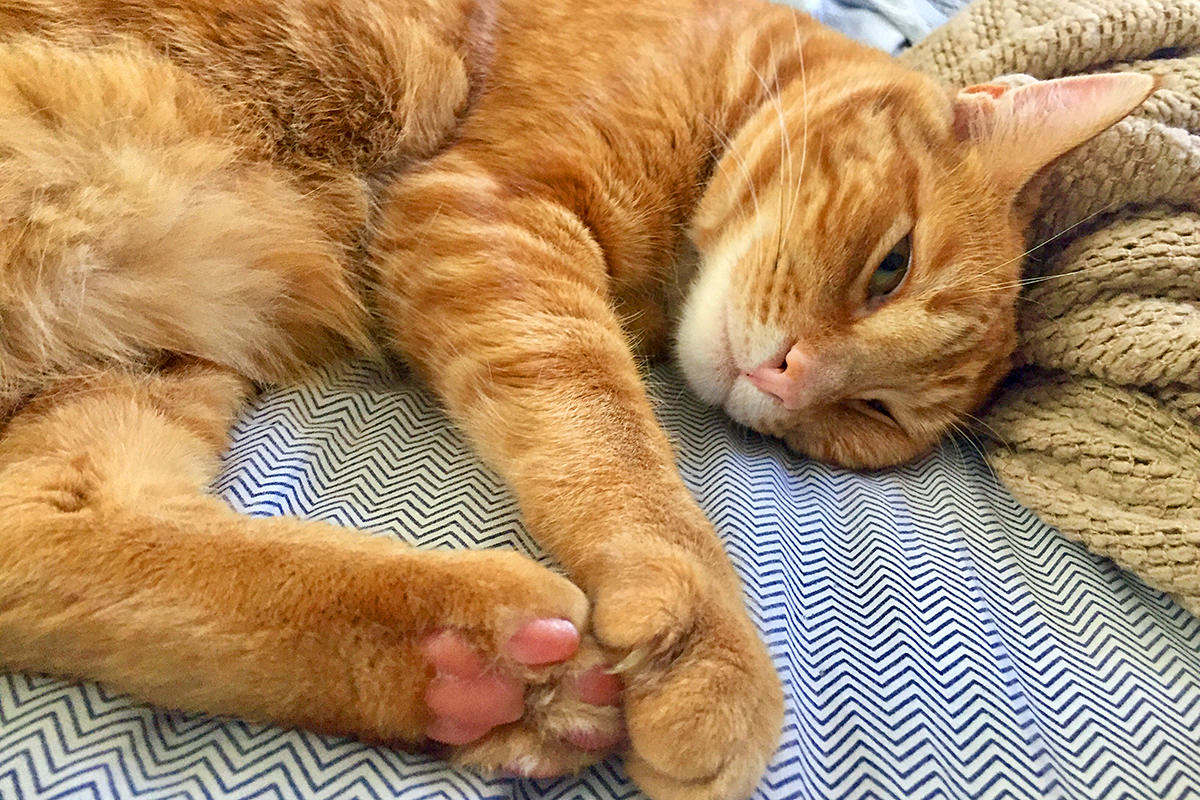 Honestly never thought this would happen.
And then there's Jake.
He'll happily hop next to me on the couch or sit in my lap for an hour at a time. He's been doing this for a long while now. But yesterday it got weird.
I came home early from work around 1:30pm. The minute I walked through the door, Jake was all over me, following my every step... rubbing up against me any time I stopped moving. Then I sat down and he was immediately on me to take a nap...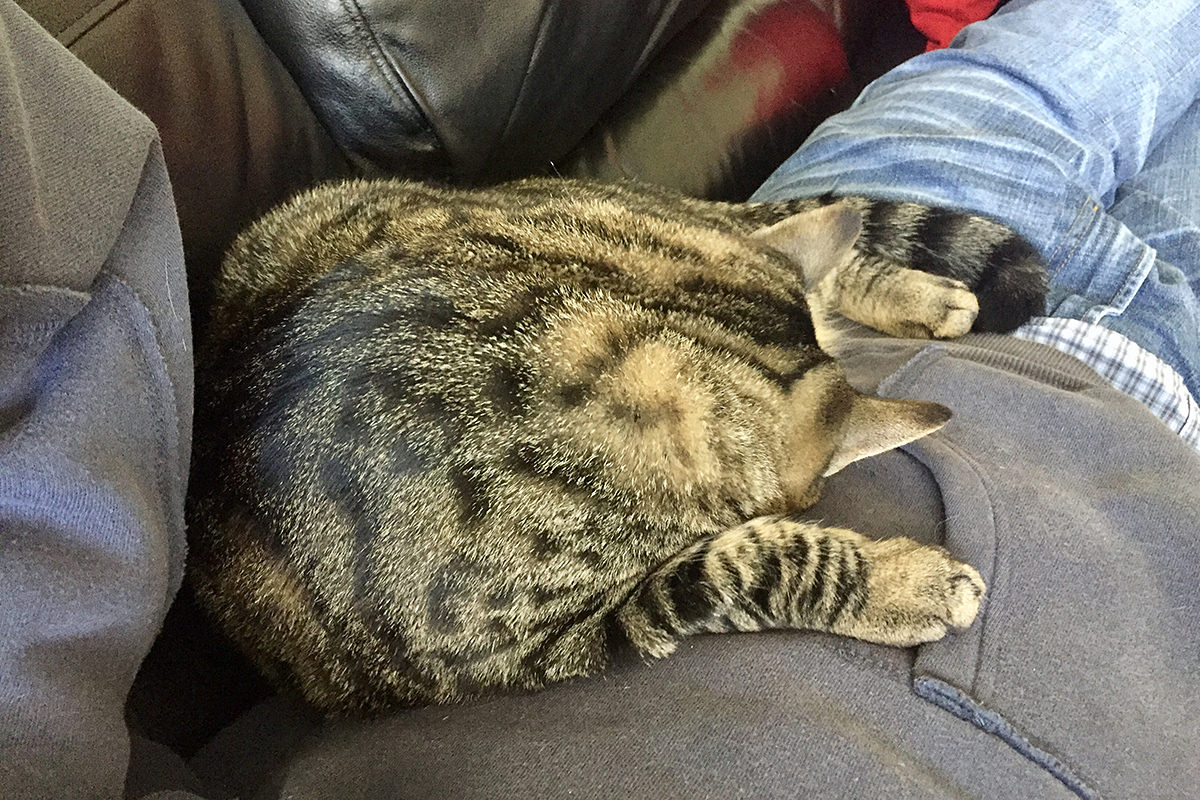 He then stayed on me... for the next ten hours... while I worked, watched TV, and ate dinner. The only time he'd leave is to eat or go to the bathroom. If I got up for any reason, he'd start crying and cling to me. I was starting to wonder if he was sick...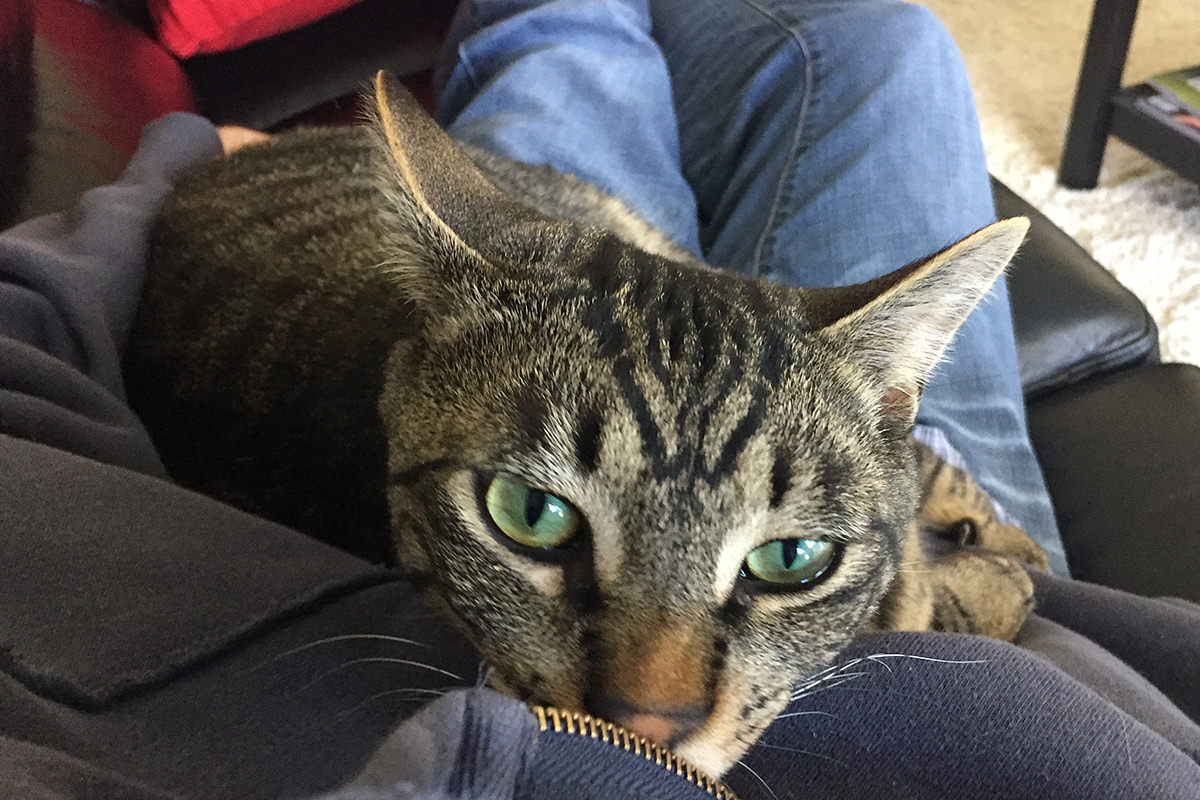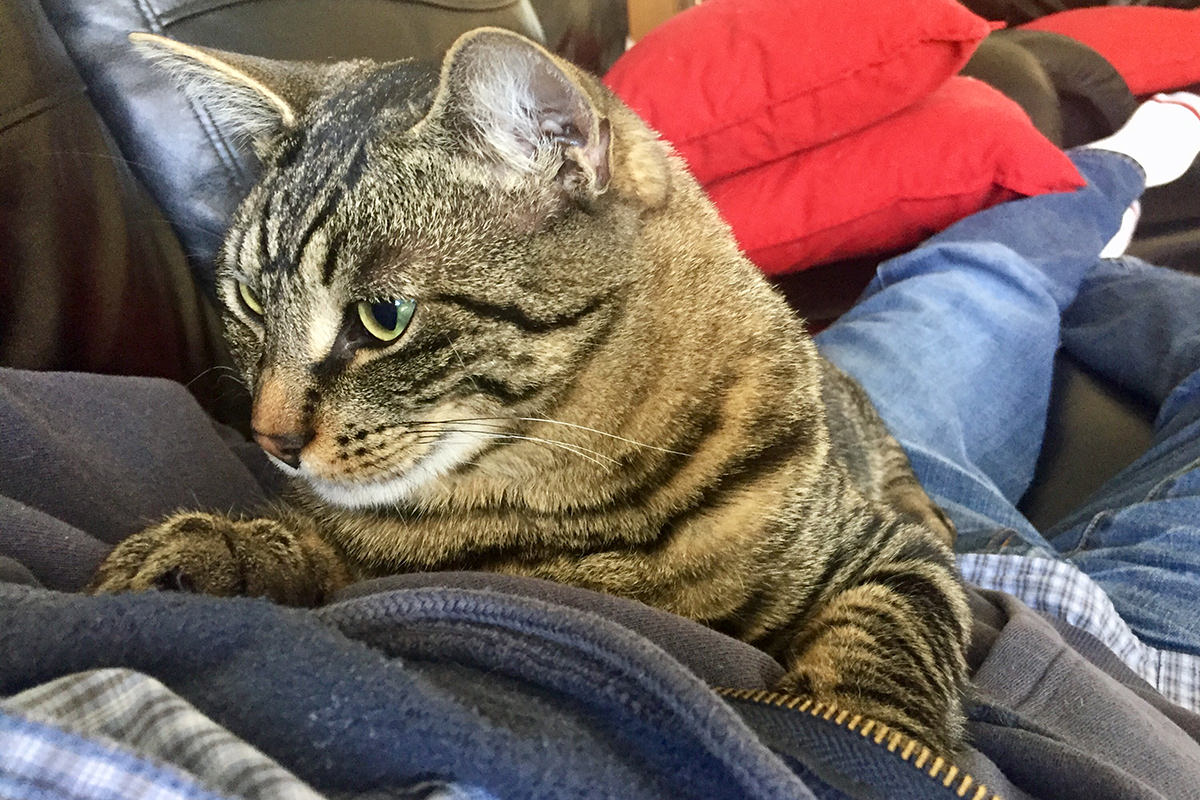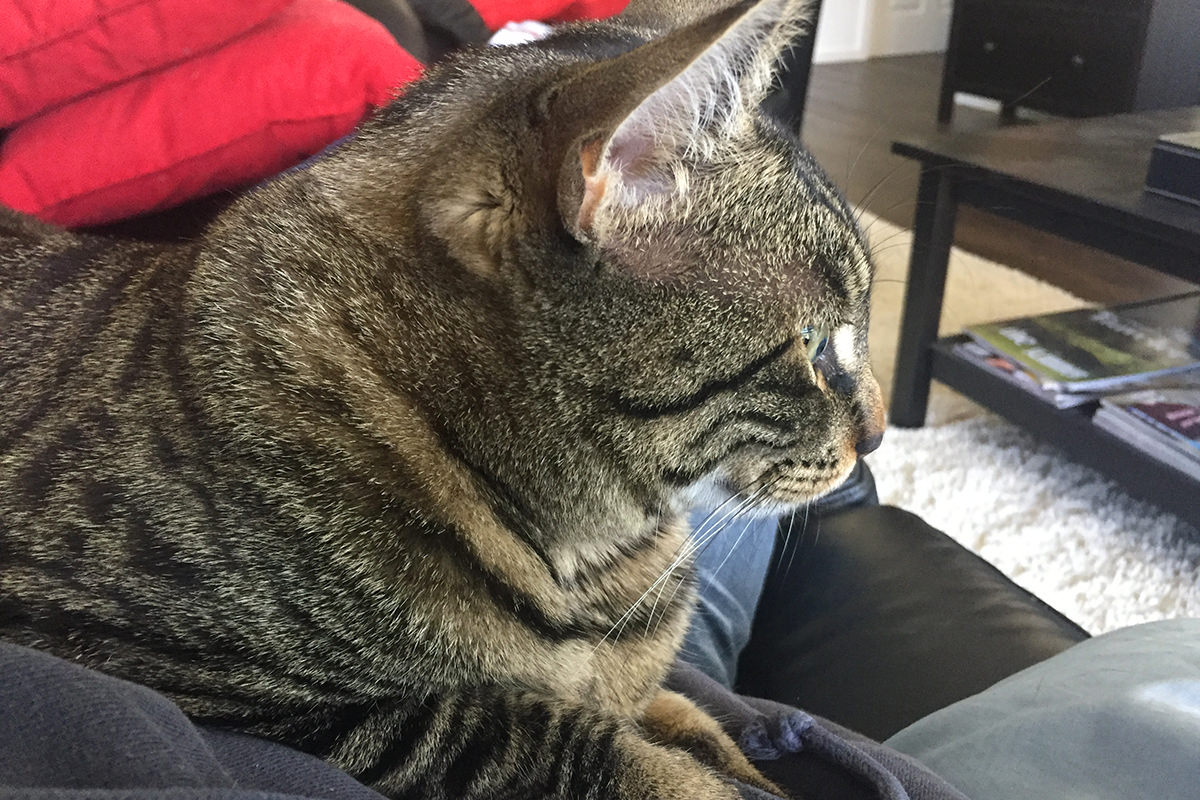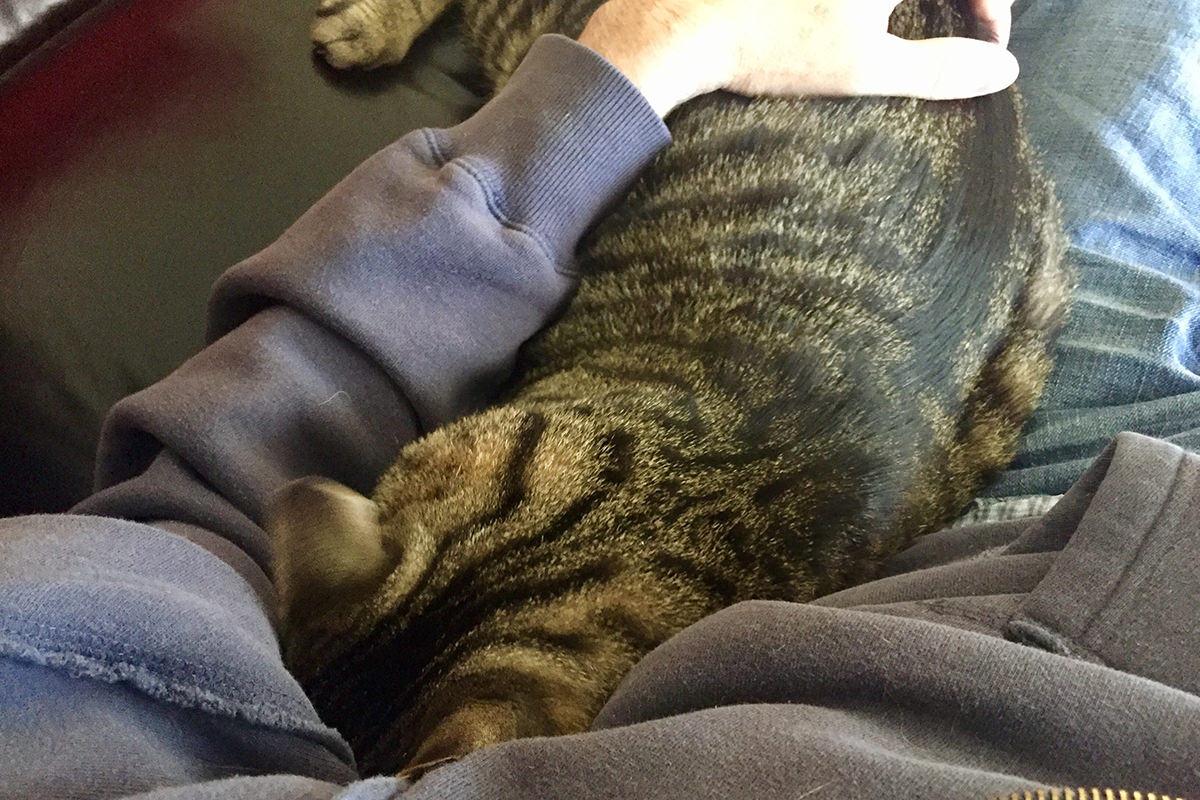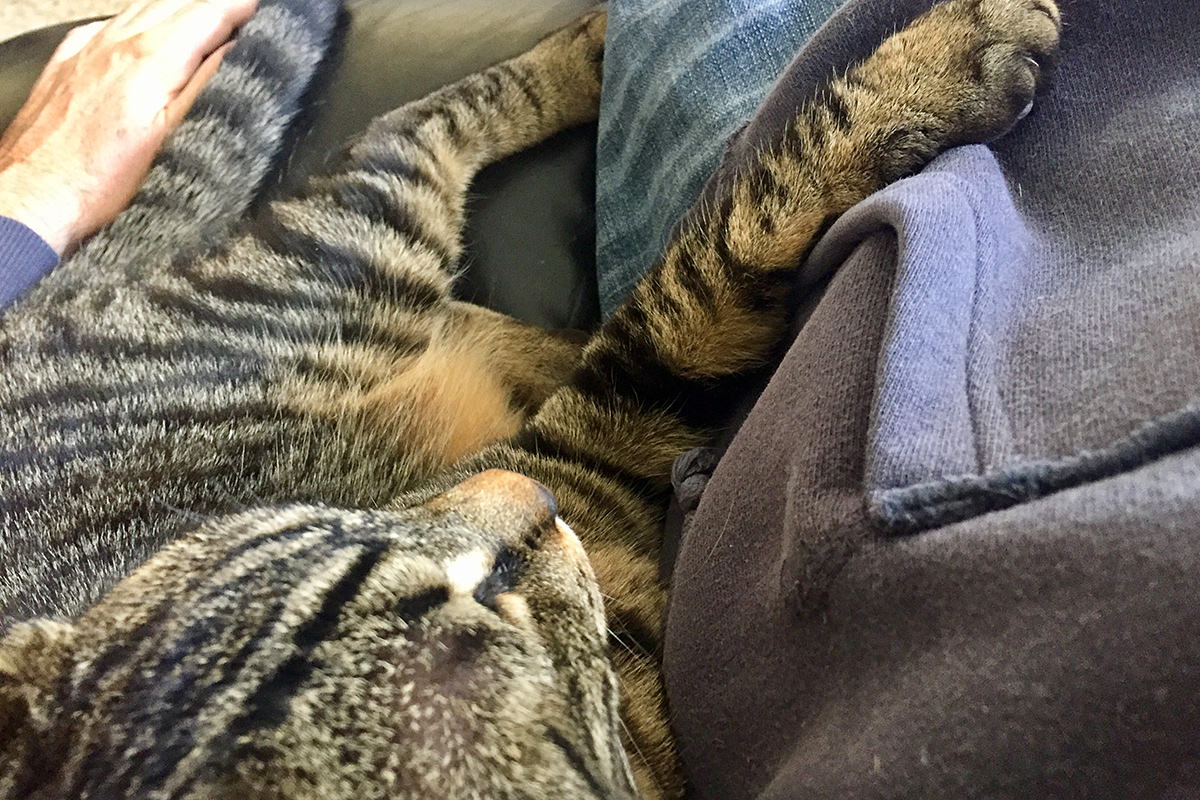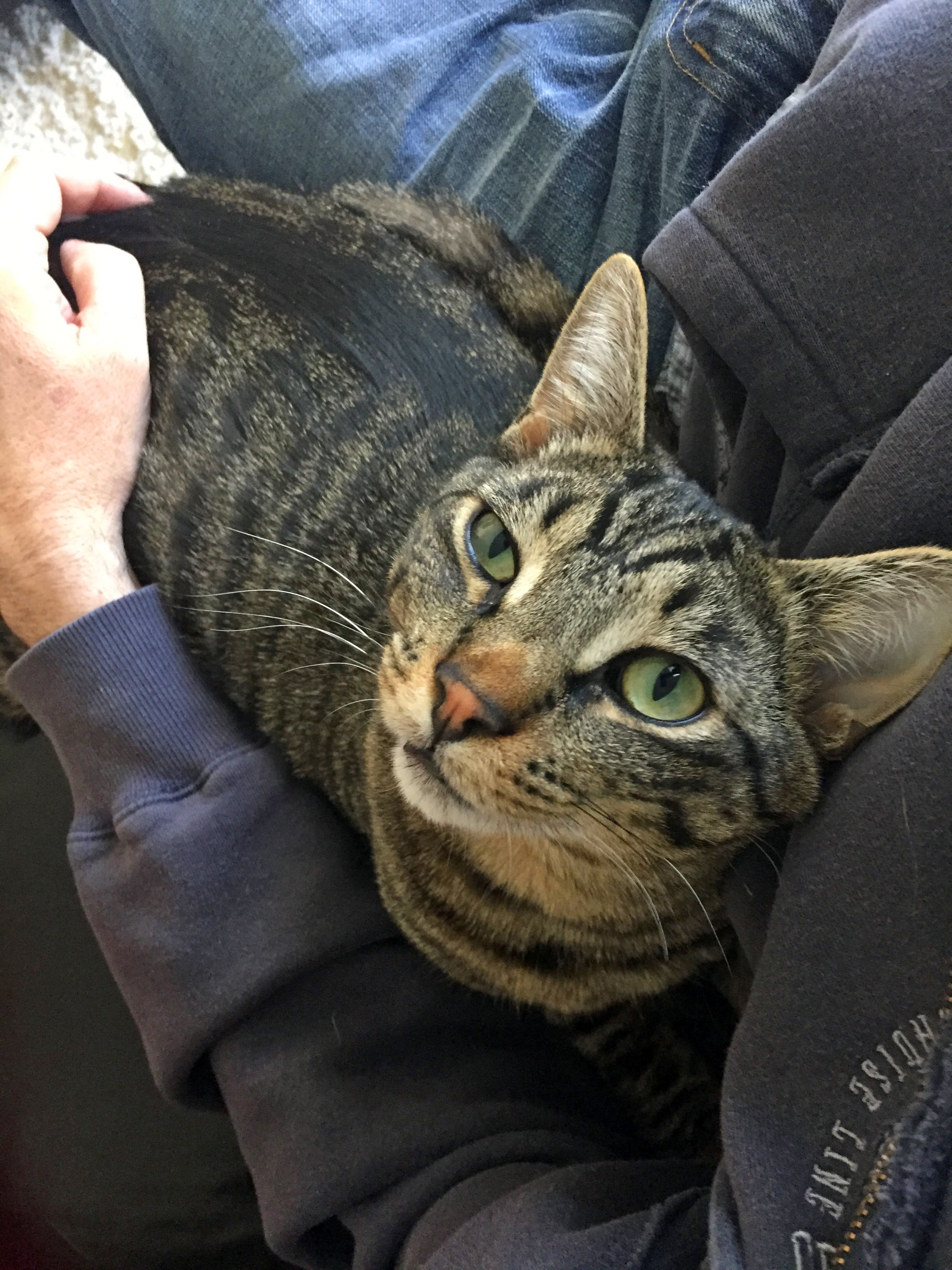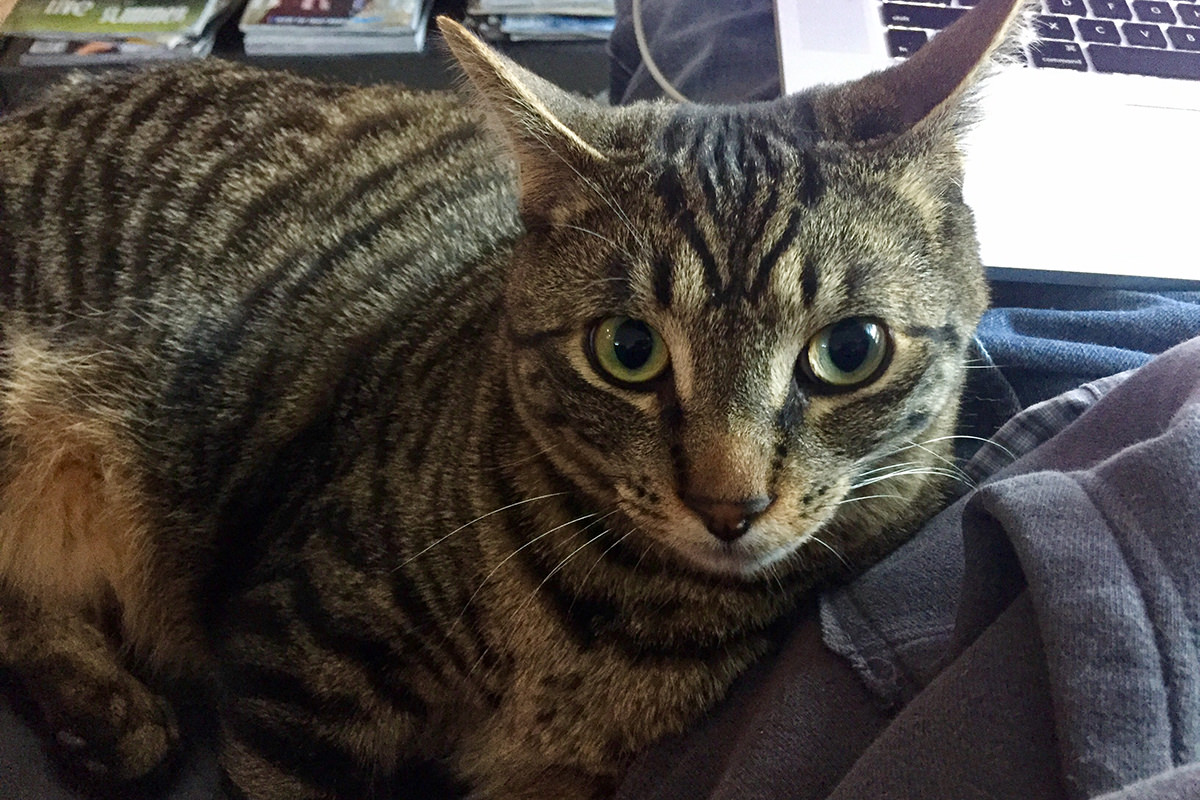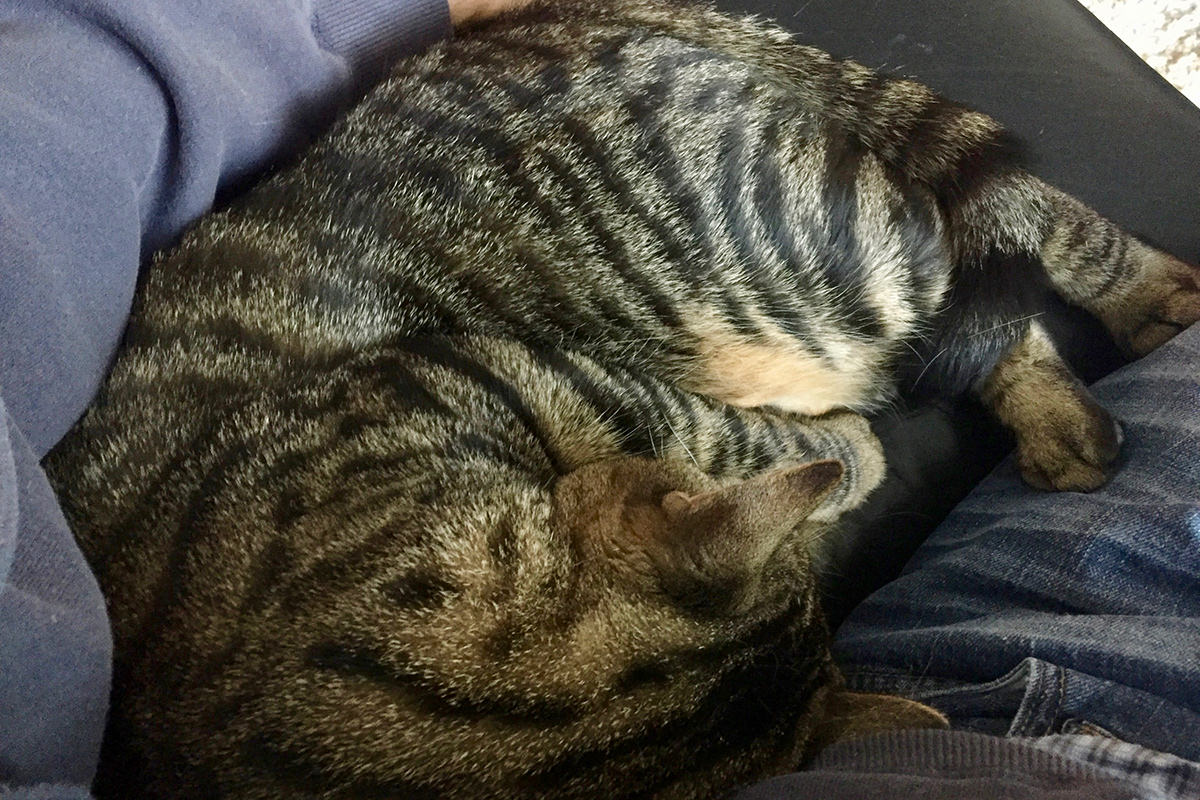 Around 10:30 I went up to bed. He was right there with me until I fell asleep. When I woke around 3am, he was gone. And this morning things seem to be back to normal.
Well, as normal as things can be when you have cats.