Posted on November 21st, 2020

Lockdown isn't boring when you have cats!
This morning while I was getting out of the shower I heard a "whomp! whomp! whomp!" I was pretty sure that it wasn't ghosts, so the only explanation was that Jake or Jenny had found something new to entertain themselves. As I was getting dressed, I heard it again... "whomp! whomp! whomp!" When I ran out into the hallway and didn't see anything, I looked down the stairwell and saw this...
Well, obvious that innocent little face wasn't capable of getting into any trouble, so I was at a loss to explain what happened. Until I was walking downstairs and noticed this...
Apparently Jenny is back to redecorating.
And speaking of Jenny...
If you've ever wondered the look you get when you administer butt scratches wrong, this would be it...
Fortunately I seemed to be able to do belly rubs correctly...
That's better!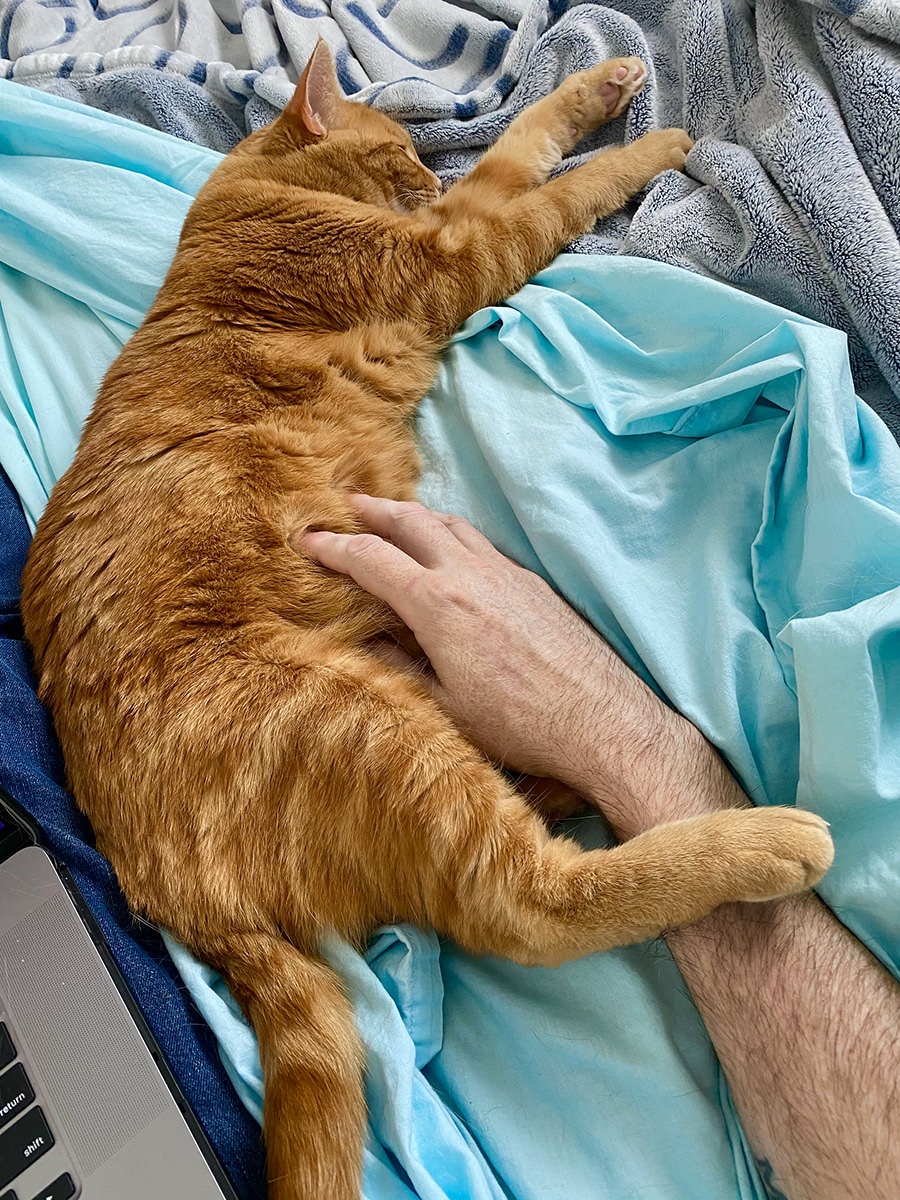 Now I guess I should go straighten all the posters in my stairwell and see how long they stay that way.
Posted on November 14th, 2020

What a day, right?
This evening at 5:10pm, Jenny came running in like she heard the Alexa alarm go off for dinner. I was forced to explain that no, Jenny, you're just being silly... there's 50 minutes until it's dinner time. This was her reaction...
And then I got this for the next 15 minutes until she got bored and took a before-dinner nap...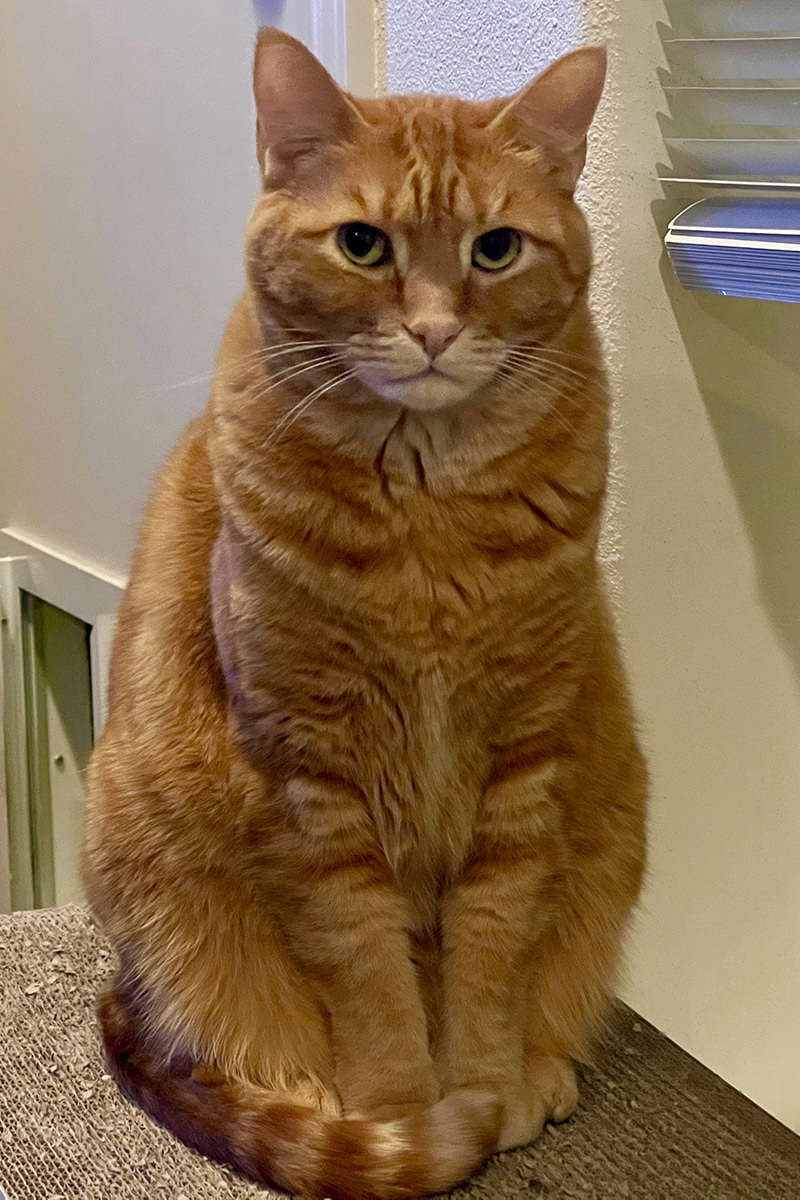 Not that Jake gets a pass. This was him on Friday morning waiting impatiently for breakfast...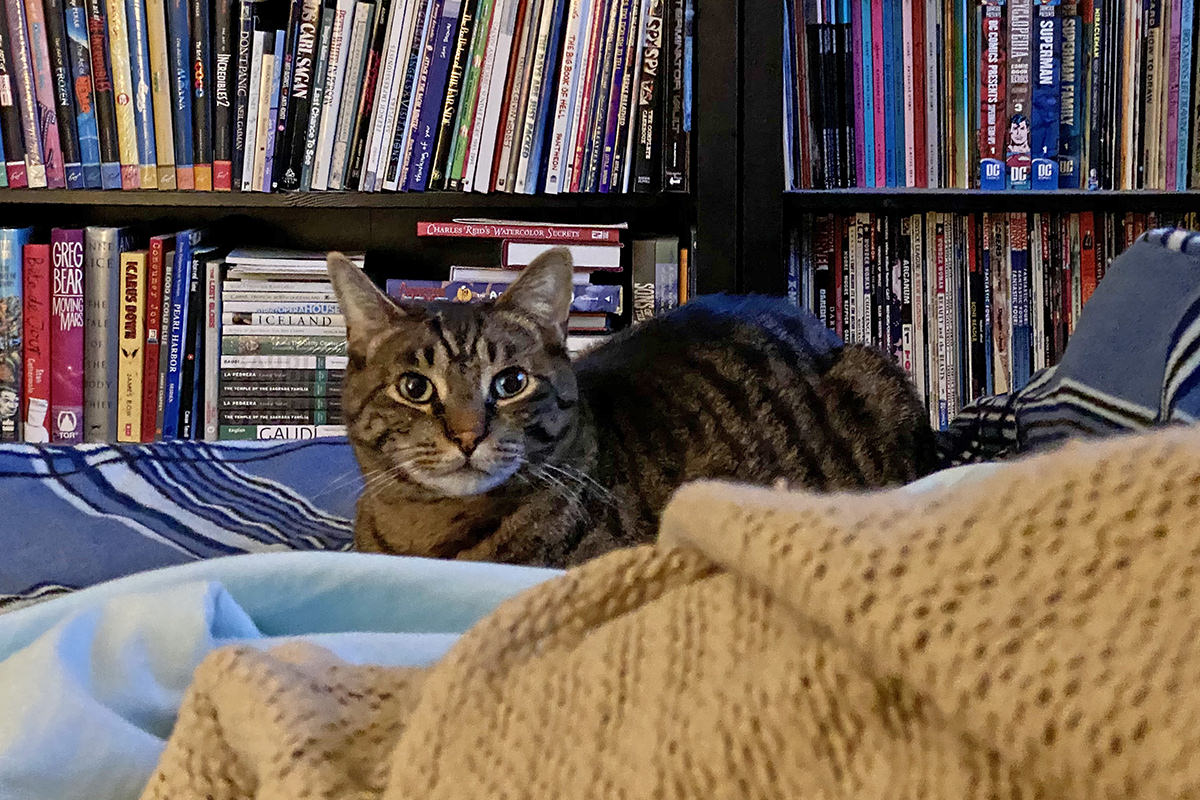 Eventually Jake ran out of the room... but don't worry, he was waiting in his box downstairs for me as usual...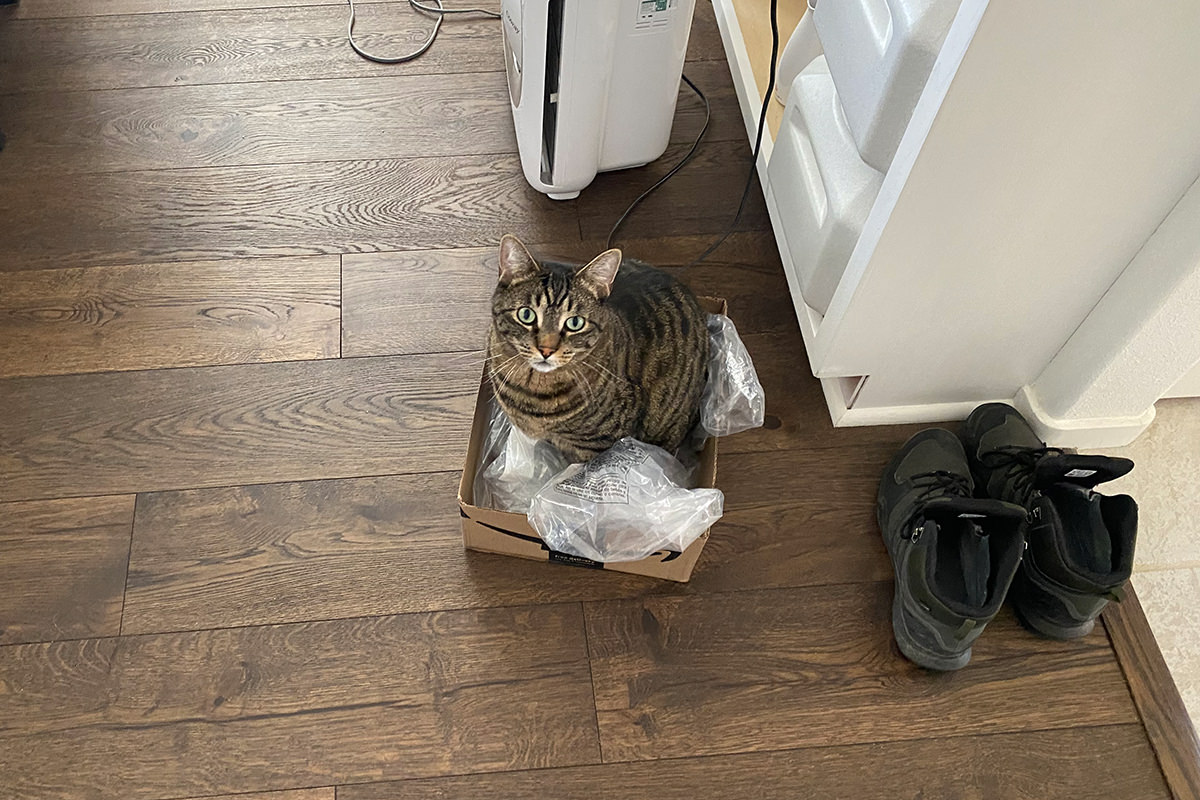 And right now? I just want to put my feet up. But alas...
Such is my life with cats.
Posted on November 7th, 2020

Every Caturday I set aside time to make sure my cats are being well cared for by cleaning everything they come into contact with. I steam-clean their feeding station... take apart and clean their water fountain... make sure their Litter-Robot litter boxes are clean... inspect all their favorite sleeping spots and clean anything that needs it... take a quick look at their toys to make sure that they are all safe and not falling apart... that kind of thing. I'm pretty religious about it all because I know if I depended on somebody for all that stuff that I'd want a clean place to eat, go to the bathroom, sleep, and play.
The one thing I have not yet found a way to clean is the covers on their heated pads. They both love the things and are on them all the time. I've tried washing them in the washing machine, but cat hair and stuff stick to them like glue. I guess at some point I'm going to have to sew replacements that are easier to maintain.
In other heating pad news... they both seem to want to have their rear foot in their face while sleeping on them. I noticed this early in the week and keep seeing it...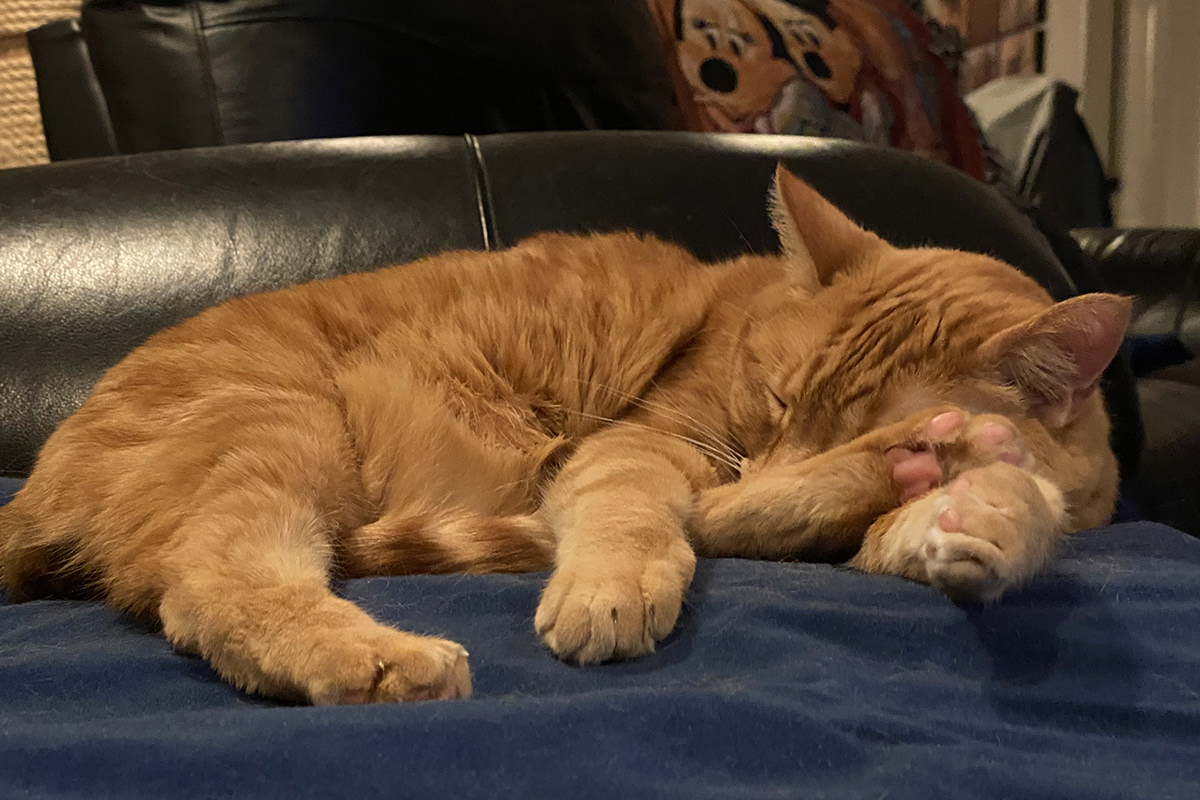 Oh well. Whatever keeps them happy.
I've been keeping a close eye on Fake Jake every night to make sure he's made it to the warming pad in the shelter I set up for him. But sometimes he keeps an eye on me. Or at least comes over for a playdate with Real Jake...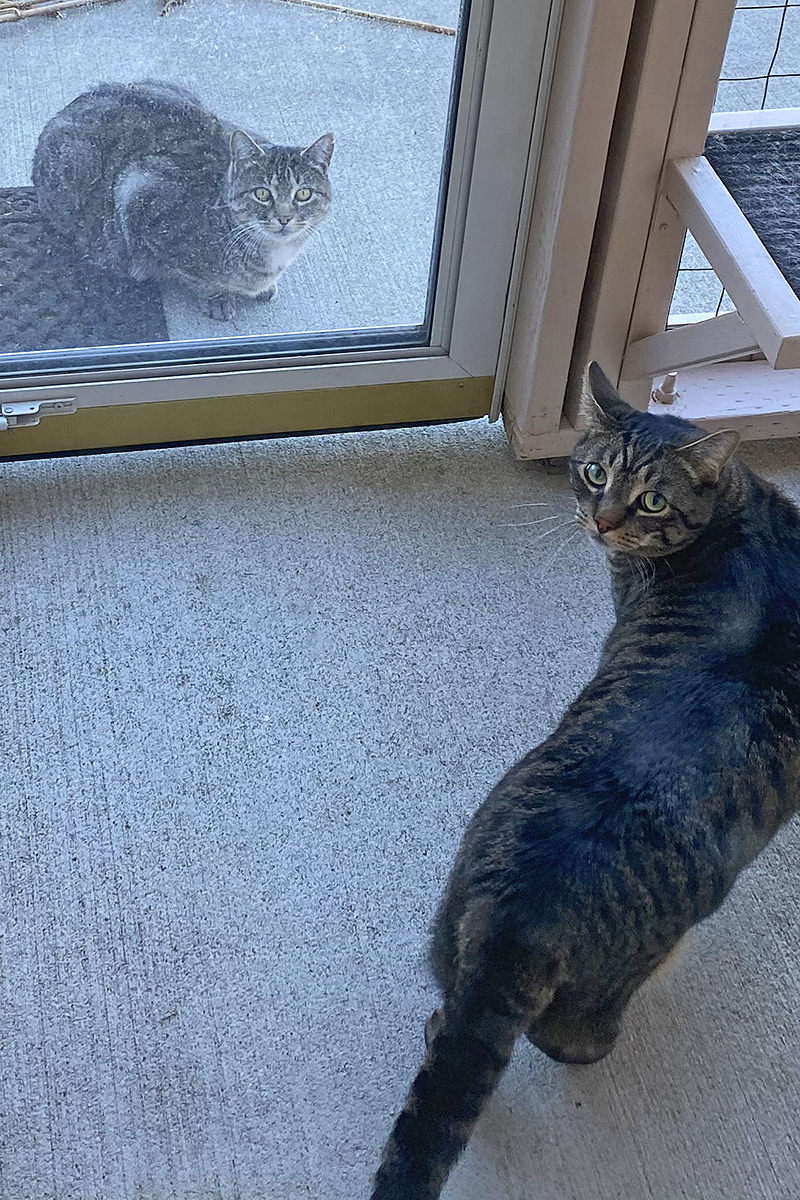 Jake has kinda-sorta adapted to the end of Daylight Saving Time. Or, even if he hasn't, he at least stopped complaining. Jenny on the other hand? Holy crap. Not even a little bit. When 5:00pm rolls around she is ready to eat because to her it's 6:00pm and dinner time, even though I've been easing them into the time change 15 minutes at a time. And when the alarm doesn't sound for food? SO SALTY! She is mad, mad, mad. She just scrunches up into a little anger ball on her heating pad and glares at me...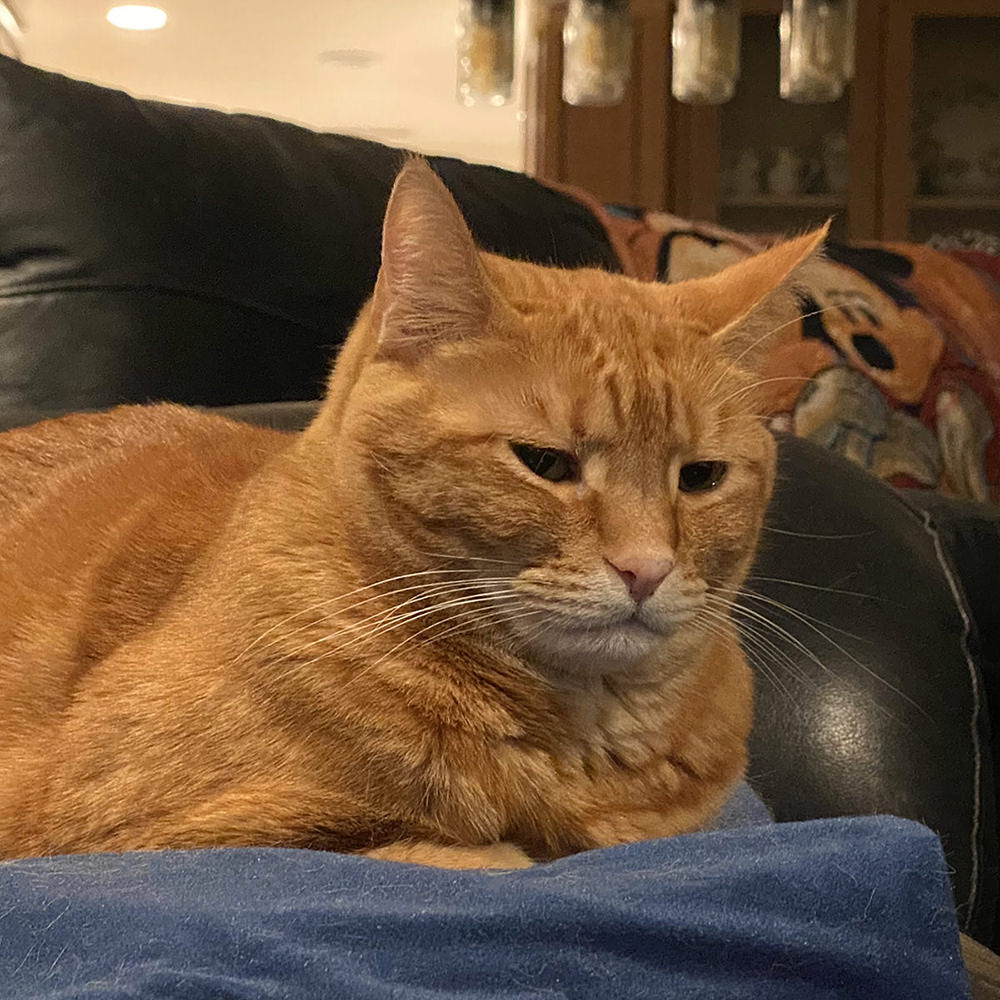 Make no mistake... she is the sweetest cat ever... but she hates the whole dicking-with-the-clocks thing more than even I do, and I didn't think that was even possible.
I sure wish that belly rubs would distract her from things as easily as it does Jake...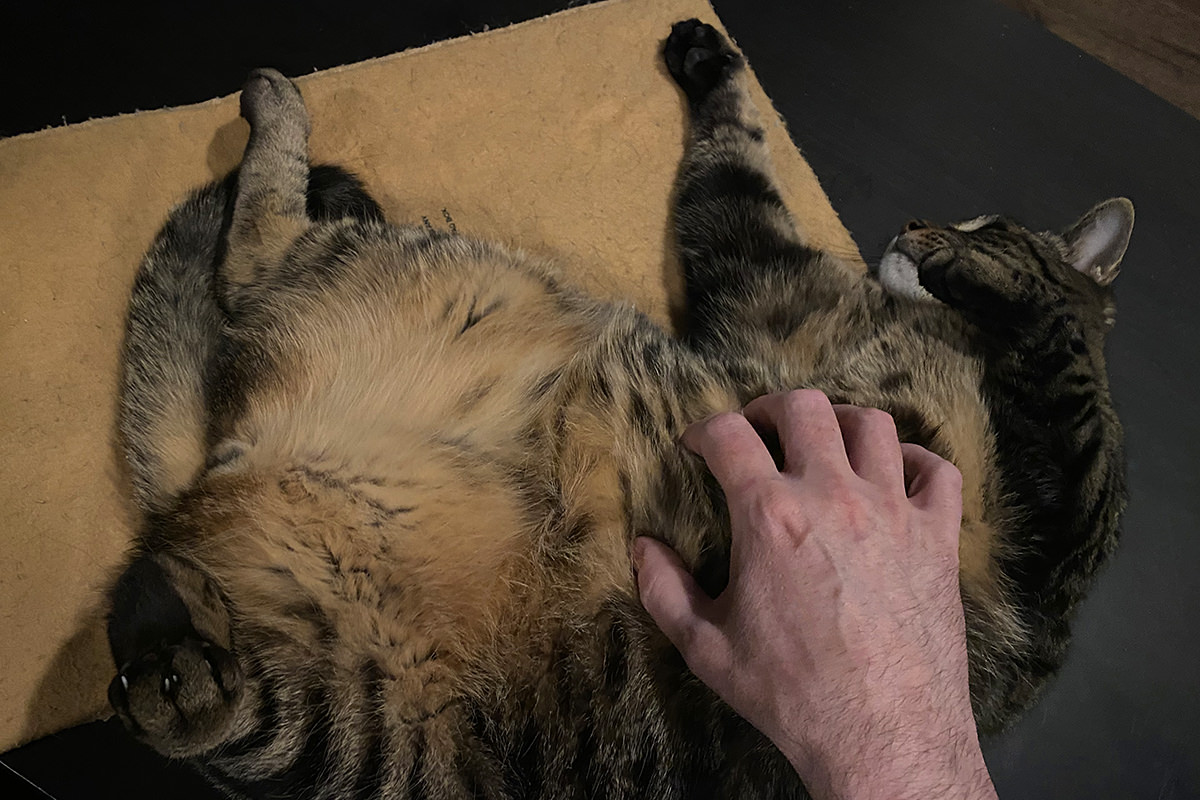 Oh well. So thrilled to think that I get to do it all over again in six months.
Posted on October 31st, 2020

Happy Halloween!
Such as it is.
I bought Halloween candy thinking that I might devise some way of passing it out without the possibility of coming into contact with The COVID. But nope. In the nearly-five-years I've been living in my home, I've never drawn the blinds. I didn't even know if they would work...
On top of that, I had removed the blinds in the cat-tree window so the kitties wouldn't get tangled up in it, so I had to board it up. It's like living in a cave now. Doorbell disconnected. Porch lights off. My cats are not happy...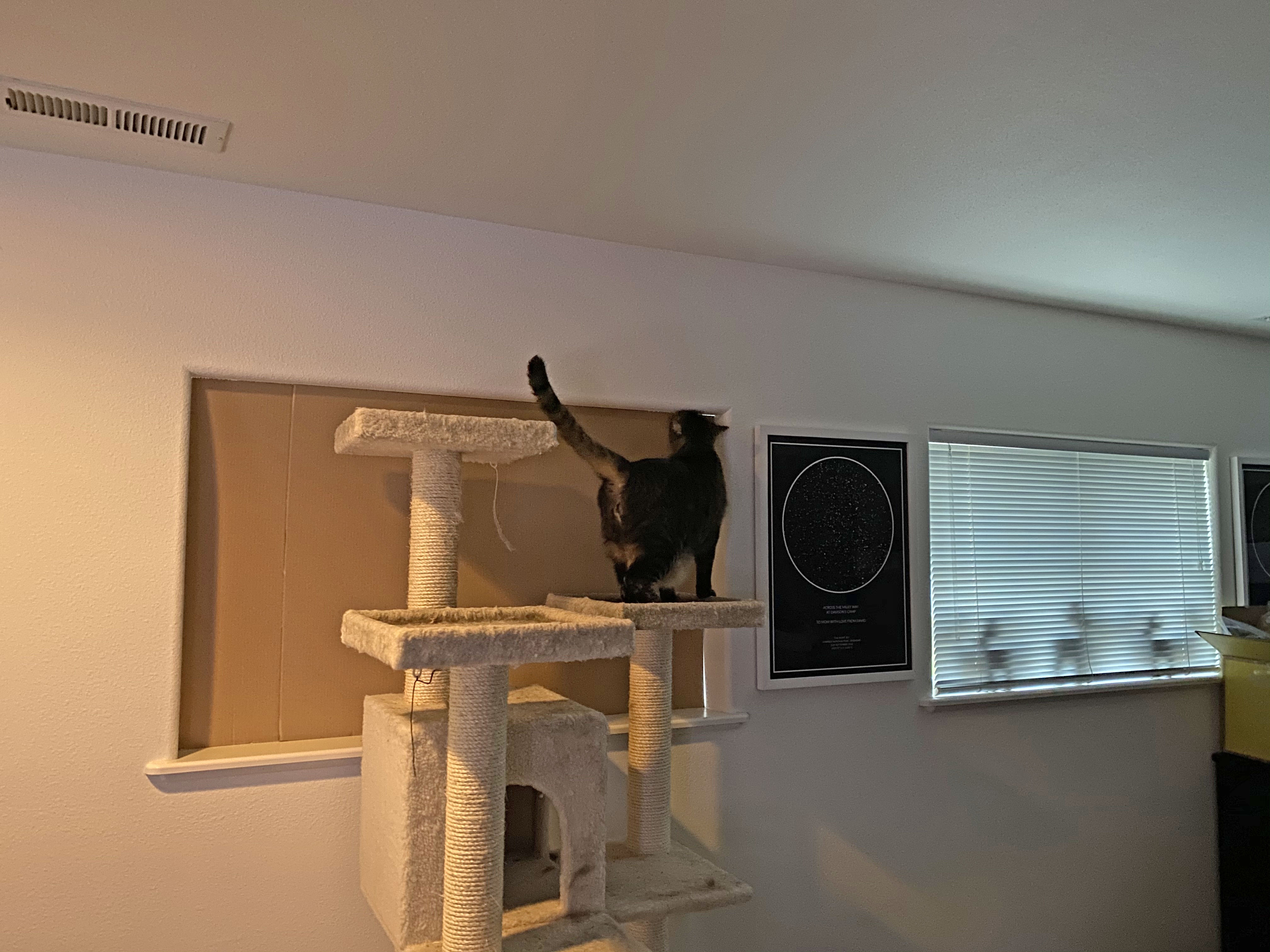 Though they would probably have been even more unhappy with the doorbell ringing and kids screaming "TRICK-OR-TREAT!, so I guess it's one of those six of one, half a dozen of the other situations.
Last week the movie version of Cats landed on HBO Max. It's just as horrific as I was lead to believe and there was just no way I could deal with it all. But then, jussssssst as I was grabbing the remote control, Jenny was suddenly invested...
Luckly, she only lasted about ten minutes, but still... that's something that will haunt my nightmares.
The good news is that I won't be having nightmares all alone. My cats are still all over my electric blanket from the minute I go to bed to the minute I wake up...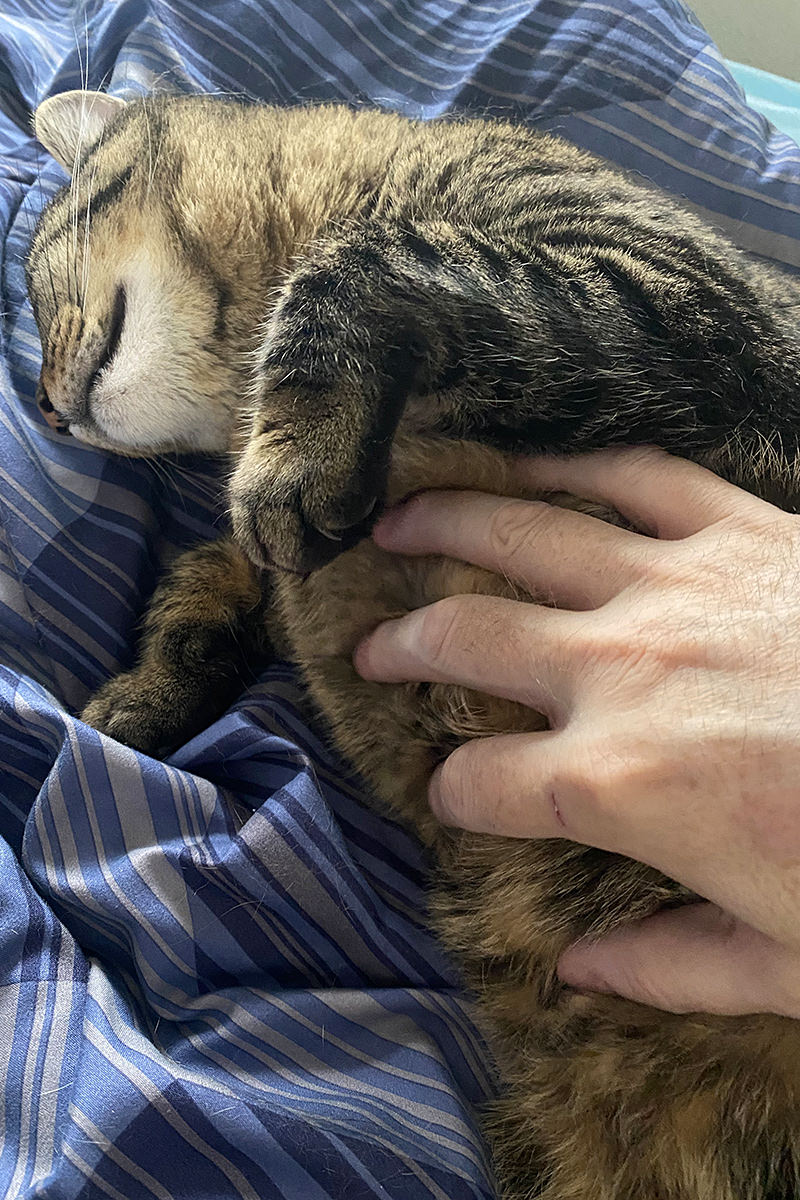 And now I suppose I'll have to deal with two rather upset cats. I explained that they could go out to the catio if they wanted to see outside, but they don't seem to be listening to me. What else is new?
Posted on October 24th, 2020

Thanks to a combination of quarantine and cold weather, I'm spending a lot of time with my cats. They mostly sleep, which is fine. The problem is that they want to sleep on the heating pad that I use for my feet.
I'll get up to take a load of clothes out of the dryer or grab a snack, and they're all over it, which I talked about last Caturday...
In order to get my heating pad back, I bought Jake and Jenny pads of their own. I was even nice enough to spend extra for a large-sized model made specifically for pets. It took them all of two seconds to completely own them. Jenny claimed the one next to me, mostly, and Jake took the one in the loveseat...
They sleep there almost all the time now...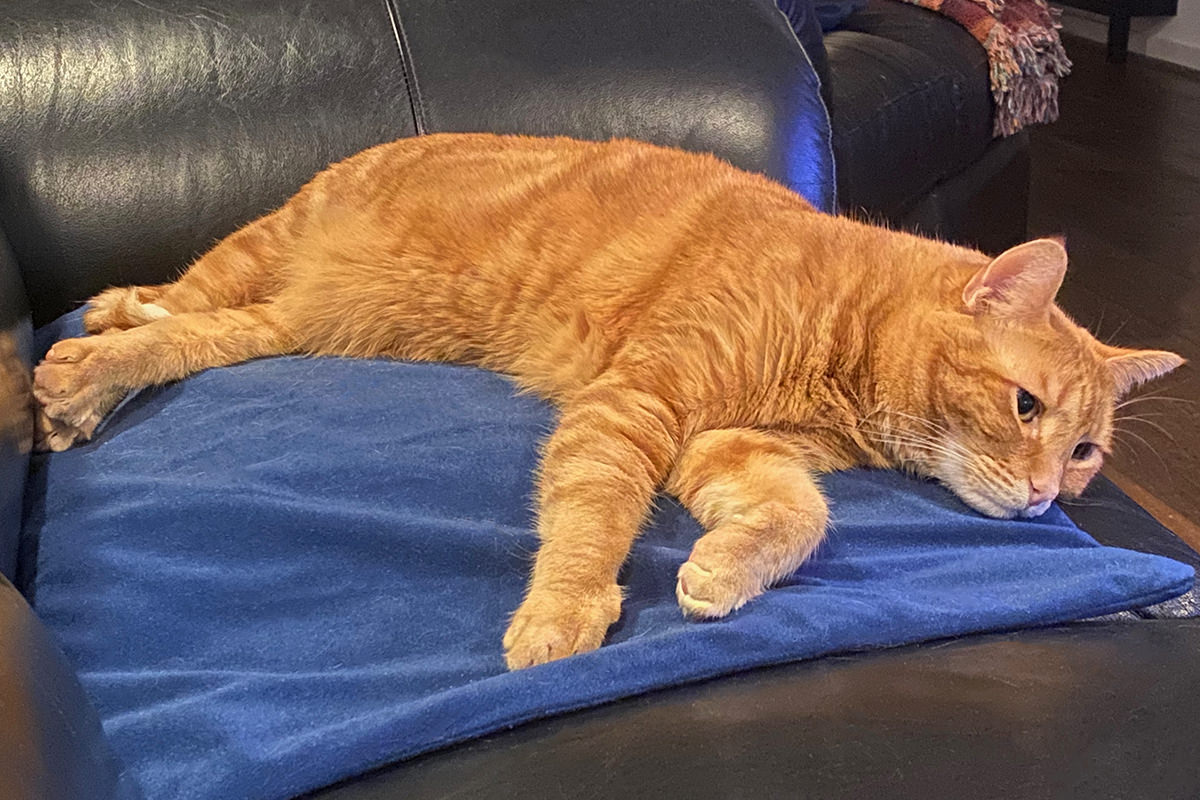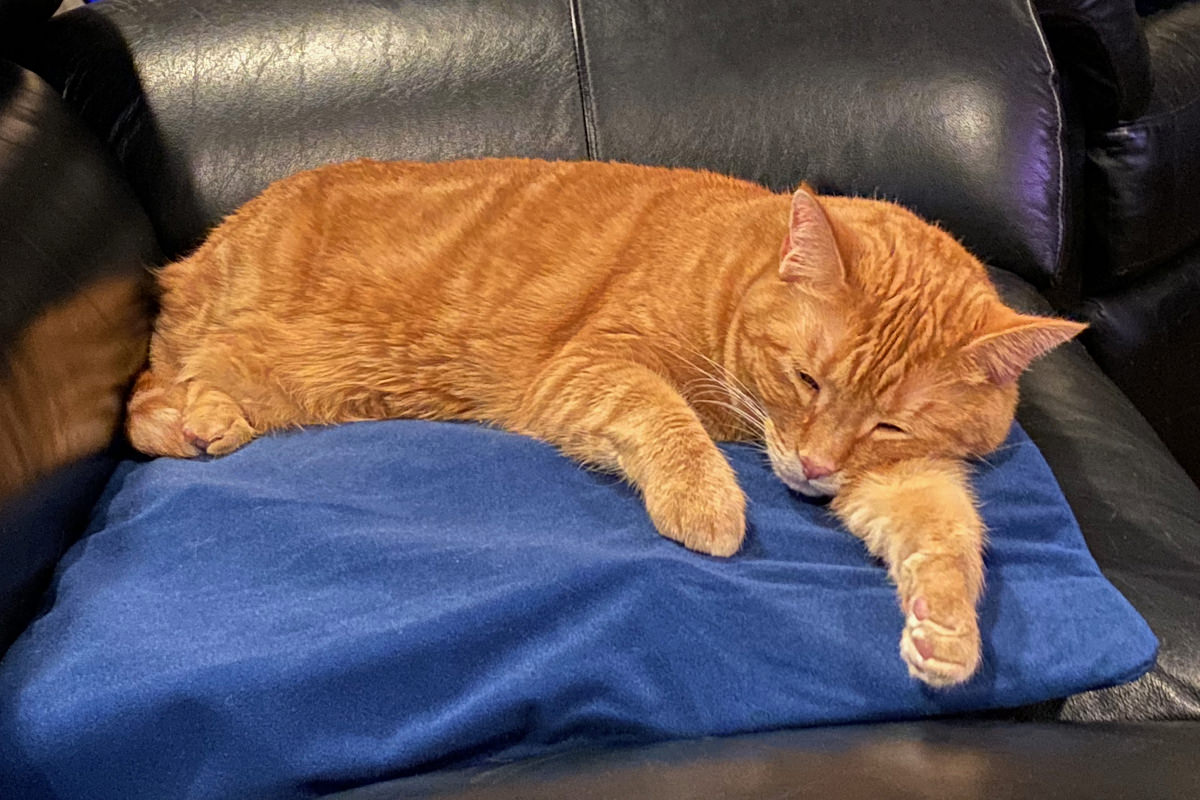 Except... they still want my heating pad too! Here's Jake being all irritated that my feet are in the way of my heating pad...
After he keeps nudging and pushing, I eventually give in...
So I switch to Jenny's heating pad, and... you guessed it...
My feet were trapped for nearly 3 hours.
About the only thing which gets my cats off their heating pads is when a fly that's looking for warmth manages to get inside the house. That gets their attention real quick...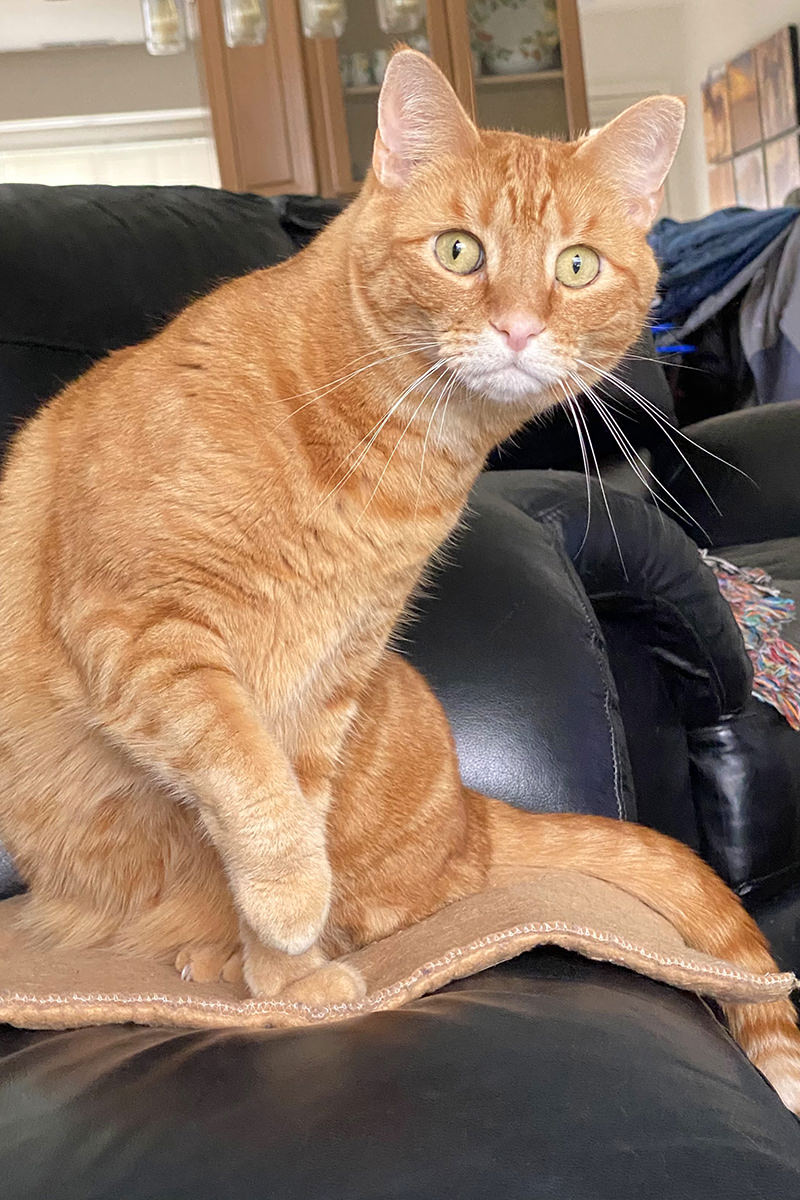 Flies remain the best cat toy ever.
If it wouldn't freak me out more than it ever would my cats, I'd just leave the door open and let the flies in so my cats would be entertained.
Posted on October 17th, 2020

Each year I try to hold off turning on the heat for as long as possible. Most years I get a couple weeks to a month. This year I got a day. But I have the heat low enough that it's still a bit chilly in the mornings when walking on the floors. To combat my feet getting cold, I wear socks and put them under a heating pad while I work or watch television.
When I can, that is.
If I get up to get a load of clothes out of the washer... or go grab a snack... or any reason at all... my cats will spring into action. And most of the time they immediately fall asleep so that they're too cute to kick off of the heating pad...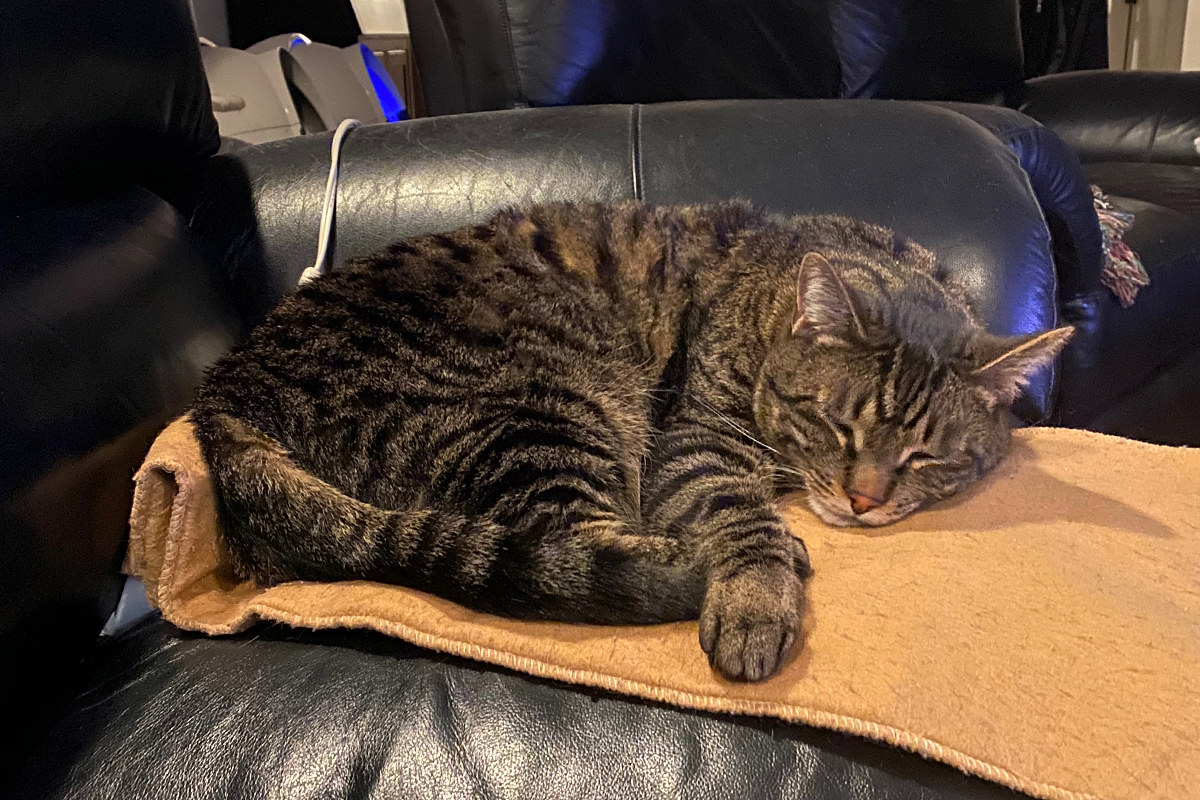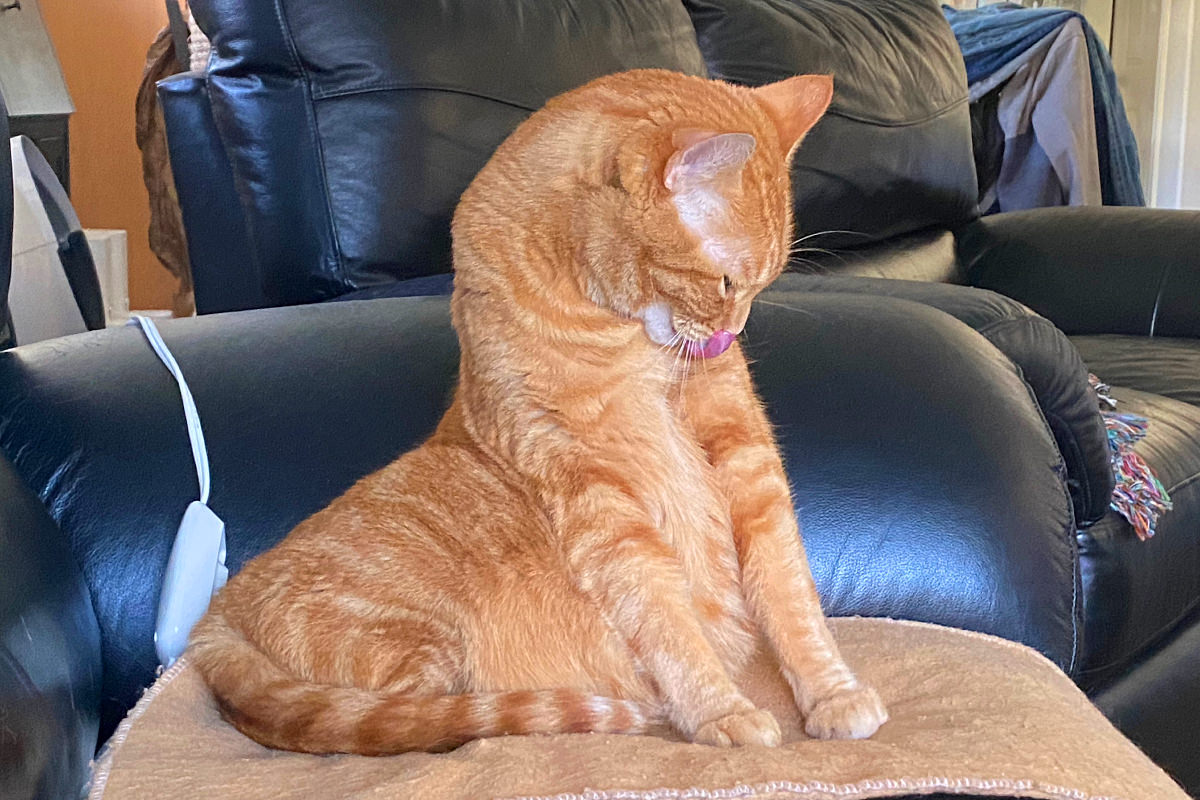 In other news...
After spilling crumbs all over the floor, Jake got his head stuck in a Cheetos bag. Again. First he was shocked and just kinda sat there being all "Well. This isn't all I had hoped for"...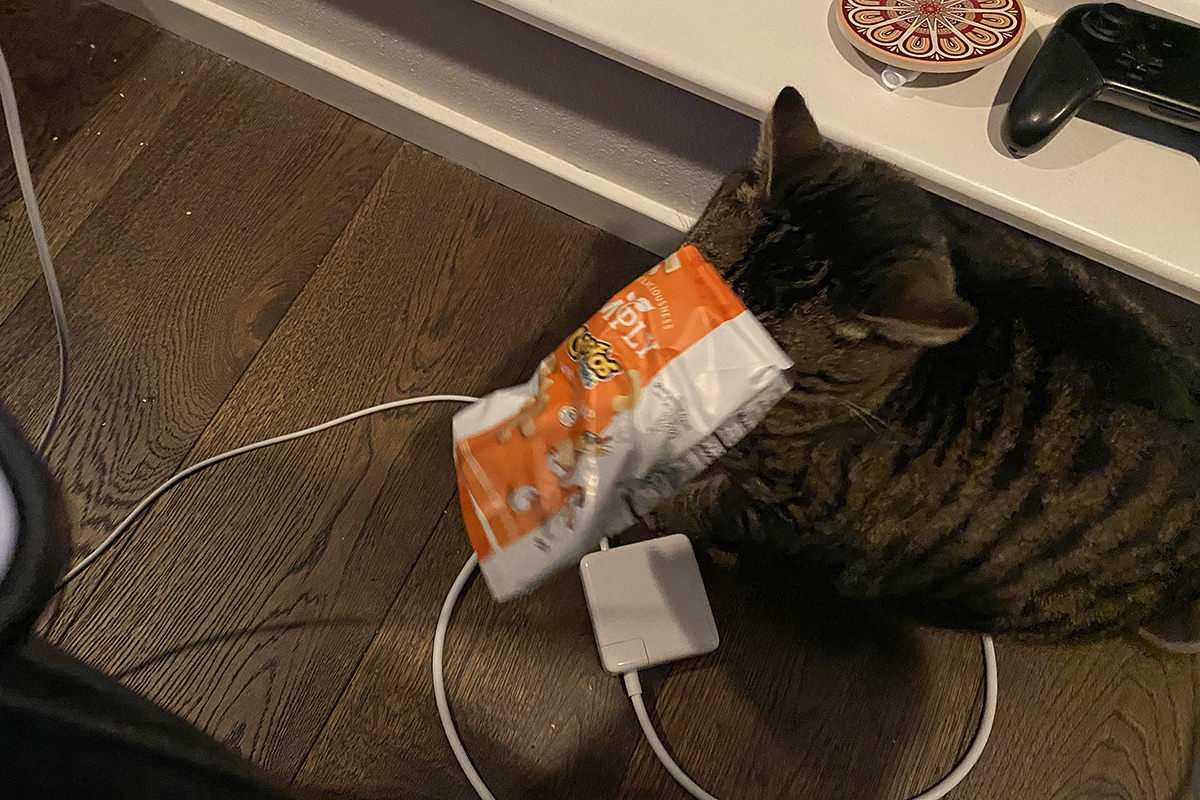 After taking this photo I went to take it off his head. Just as my hand touched it... BEDLAM. I then had to chase him around the living room as he crashed into everything. After the bag was finally off, he was just pissed... AT ME!
I'm having better luck with Fake Jake. I started dropping food down when he's around so as to distract him from running in my house while taking out the trash and stuff. Problem is that now he comes running every single time he hears my door open so he can extort food from me. Except when he came running this last time, he was too distracted to eat because he spotted a grey cat across the street...
This resulted in a fight. Not a real fight, but a play fight...
After which the grey cat came back to eat while Fake Jake stood guard...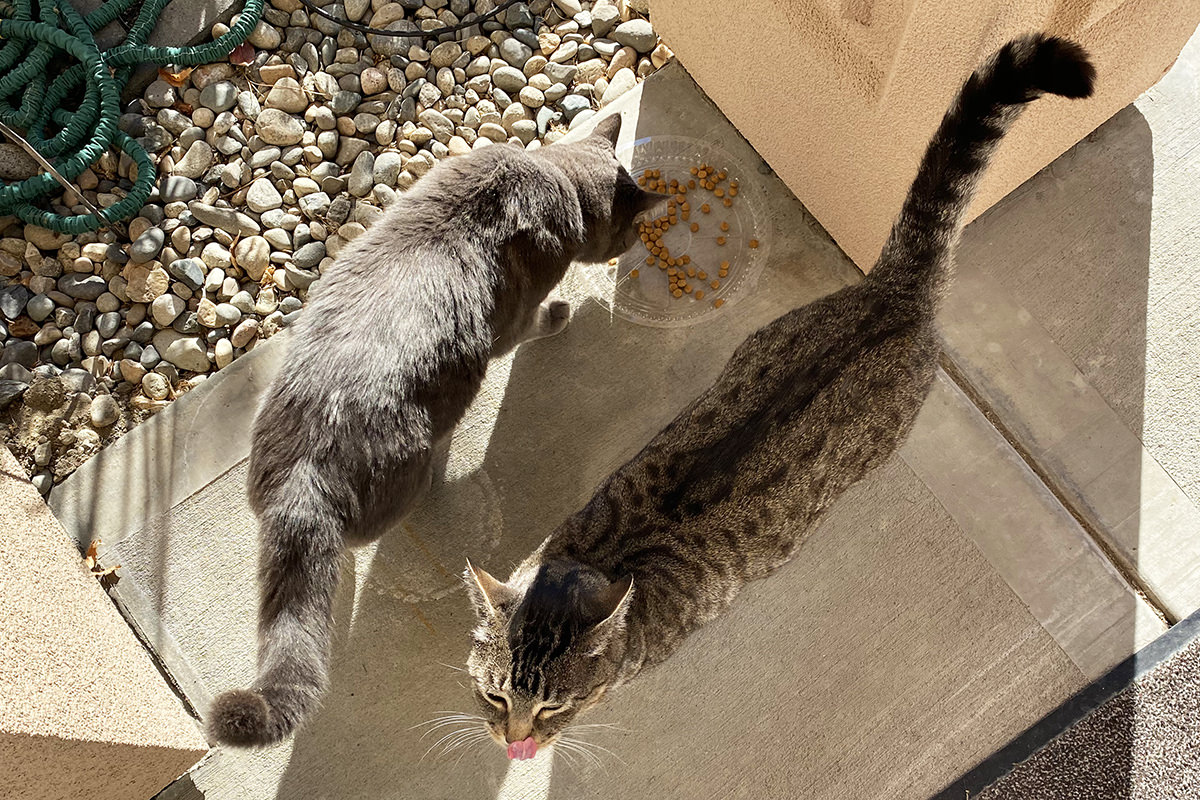 When I mentioned this to a neighbor, she told me that she thought that they were related somehow. Brothers maybe.
I wouldn't know.
All I do know is that now I'll likely have two cats extorting food out of me instead of just one.
Posted on October 10th, 2020

As Summer turns into Fall and bugs start trying to find a way inside to escape the cold, Jake and Jenny are going full-out bonkers. Bugs are like Pokémon to them, and they are compelled to Gotta Catch 'Em All.
The madness was on full display when Jenny started chasing a fly that found its way inside. She was happily batting it in the window... chasing it to another window... and generally having a good ol' time.
But then Jake came running in and things escalated to 11 in a real hurry. He was in Beast Mode and Jenny was having none of it. She ended up hiding from his mad dashes inside the cat scratcher lounger...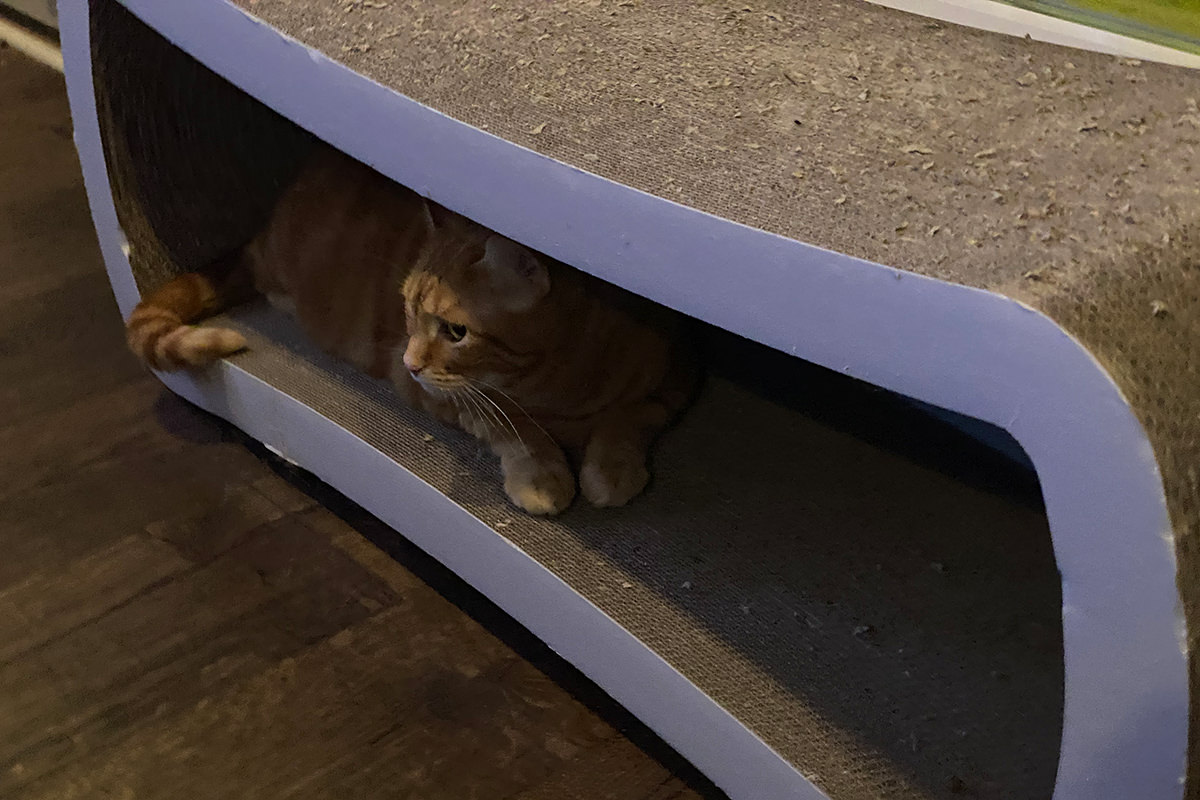 Poor thing. It was her fly first!
Speaking of Jake...
Used to be that Jenny was the one who would come up meowing when she was demanding to be petted. Now Jake is getting in on the action. He can't meow, but he can squawk. Earlier this week he hopped up on the bed, flopped on his back, then squawked until he got belly scratches...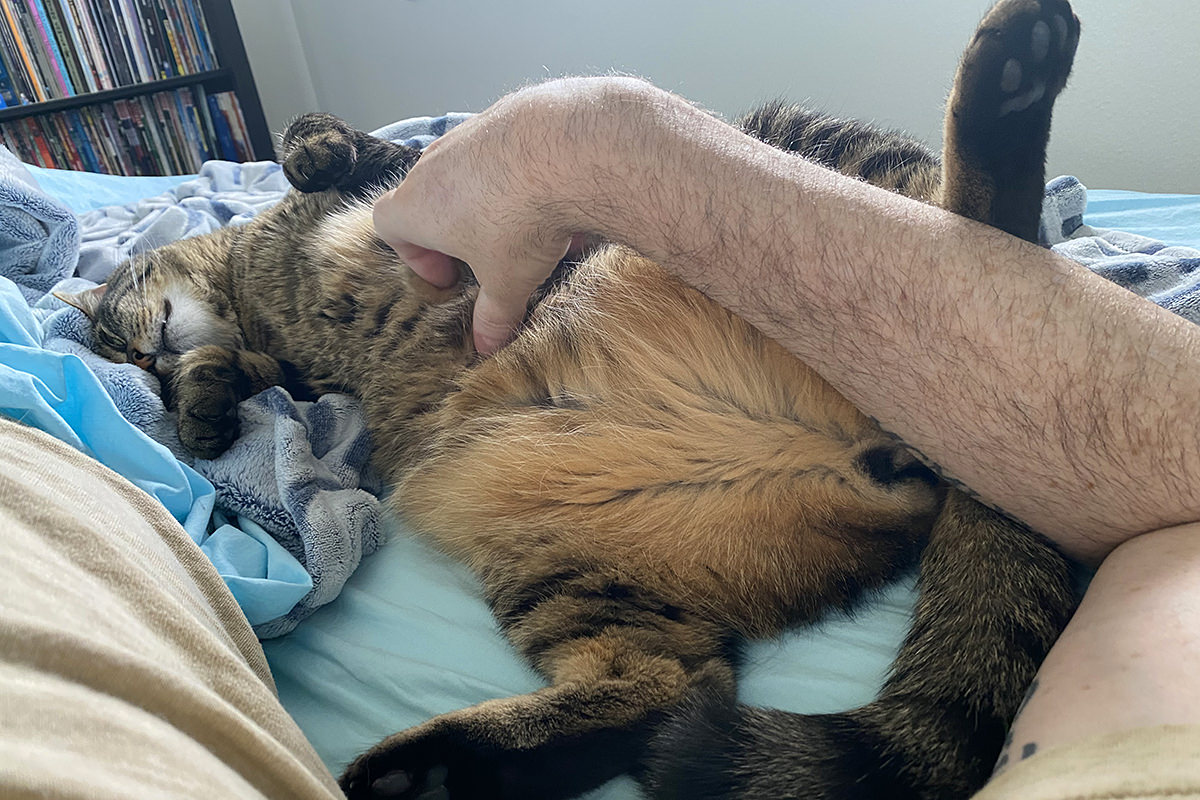 Ahhhh... that's the stuff.
After he was done, he wandered off content.
FOR ABOUT TEN MINUTES!
Then he was back to take a nap...
And, yes, this is his default sleeping position now.
If only I could lay around in bed all day like this. Must be nice.
Posted on October 3rd, 2020

I cannot win with my cats.
In order to climatize them to the absurdly stupid tradition of changing the clocks twice a year, I always move the time in small increments the month prior to the change so it's not a shock to them. As you can imagine, the Fall is far, far more difficult because I am serving their meals progressively later. They do not like this. I get stared at with evil looks because they want their breakfast when they want their breakfast...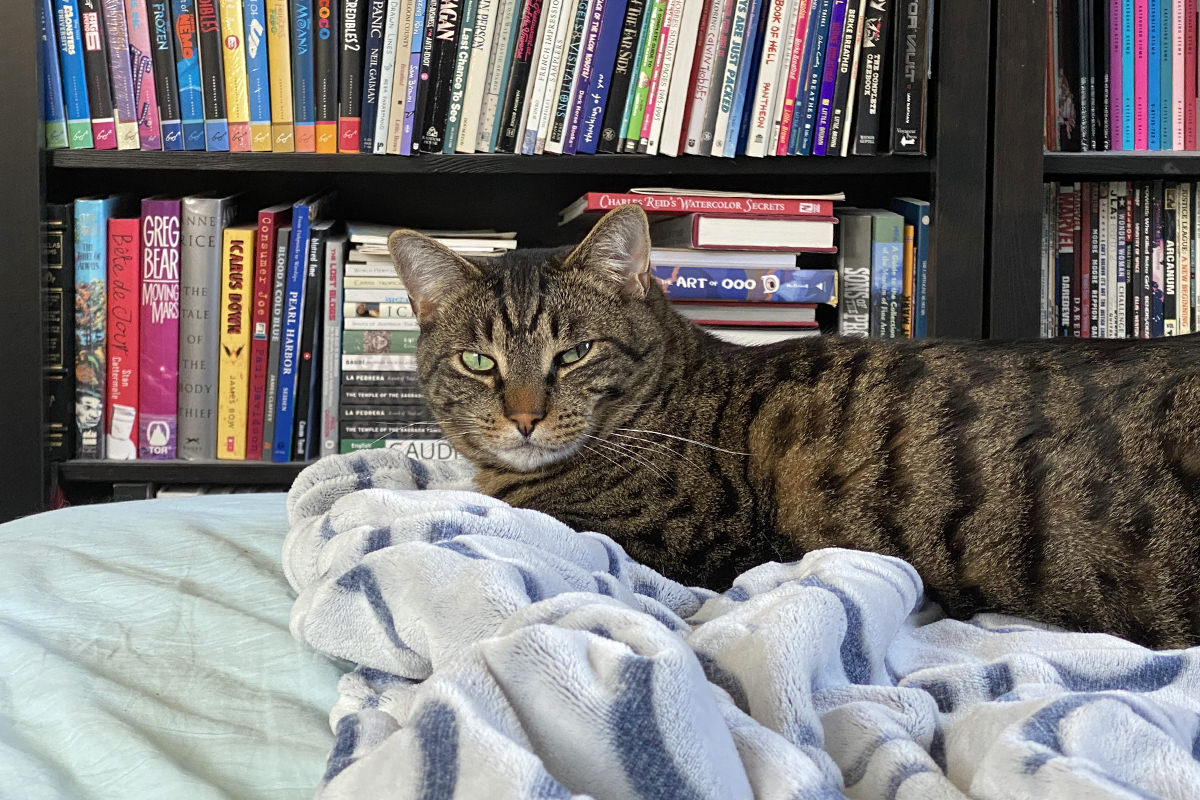 Usually when the feeder goes off? They bolt downstairs to scarf their little mid-day meal. But now? They just lay there glaring at me like food is the worst thing in the universe... then eventually saunter downstairs to begrudgingly eat.
I apologize to them, even though I hate Daylight Saving nonsense more than they ever could.
The time change (15 minutes a week for four weeks) has had a domino effect... ramping up the disdain for even thr smallest inconveniences. Take Jenny wanting to get into the laundry room, for example. The door is tough to open and close. Which is why I leave it open just a bit while washing clothes so it's easier to slide. Sometimes I leave it open a bit too much and Jenny is able to force her way in. But this time I didn't leave it open enough and she was pissed that she couldn't get it open. Pissed...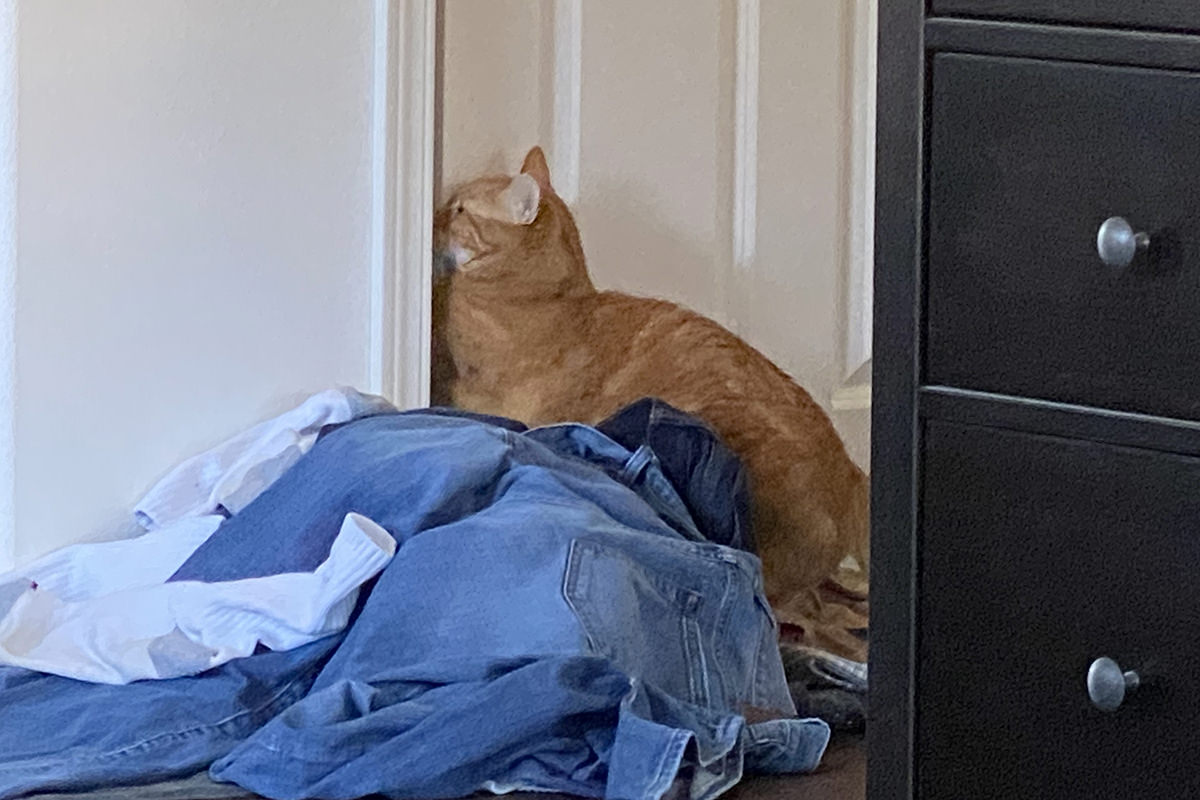 Here she is preparing to unleash a meow of frustration like she's never done before...
Fun!
There is a good thing about Fall arriving. I wake up every morning with Jake snuggled up to me. His favorite spot is behind my knees...
There are better ways to wake up.
But there are many, many worse way to wake up as well.
Posted on September 26th, 2020

Given how Jake is the cat that's a little chonky, you'd think that he would be the one constantly begging for food and first to the bowl when the automated feeder dispenses a snack. But, nope, that would be Jenny.
When the automated cat feeders goes off, she is first to her bowl. And every time I go to the kitchen, she comes running no matter where she is because she's hoping for a treat. It's like she spends her entire day waiting for it to happen. And when I don't give her a treat? Let the meowing commence...
I mean, she is the sweetest, most loving and gentle kitty you'll ever meet. But when she is expecting a treat and doesn't get one?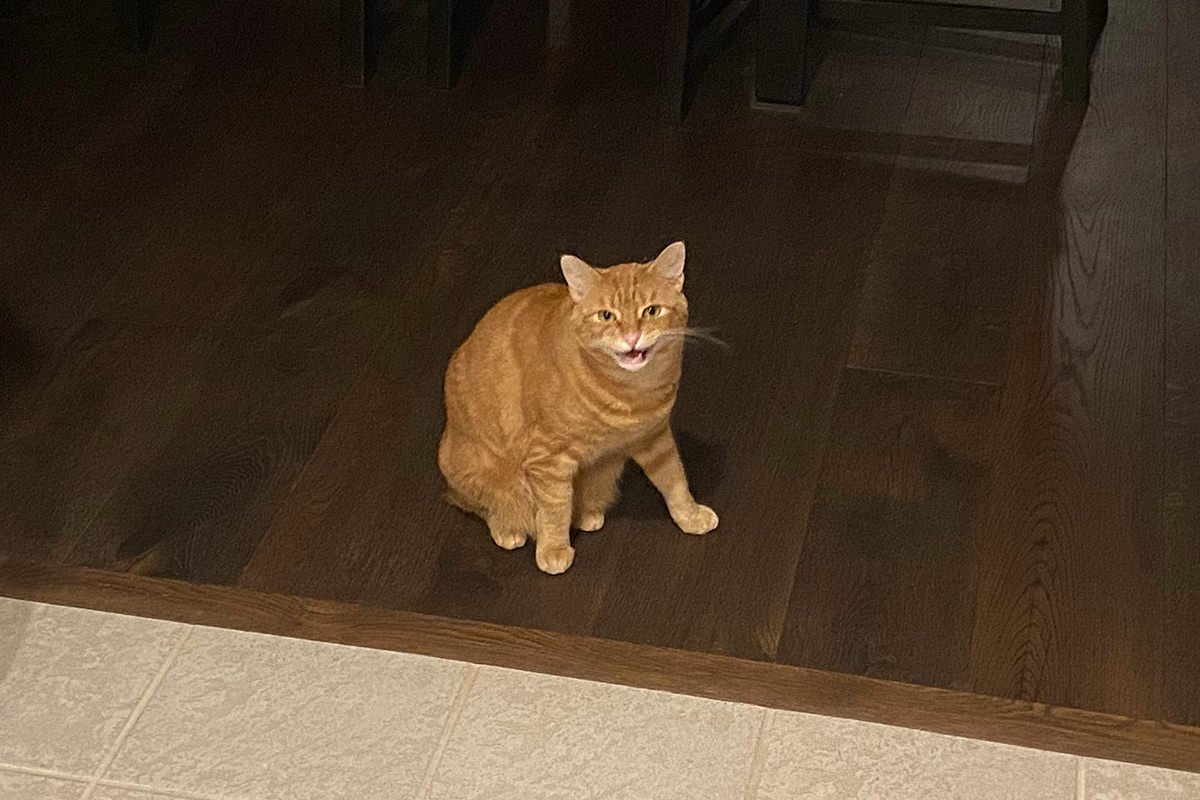 As the weather gets colder, Jake is more inclined to use me as a heating pad. How I don't wake up when he's crawling all over me is a wonder. I finally started putting a pillow out so he will lay on that instead of on me...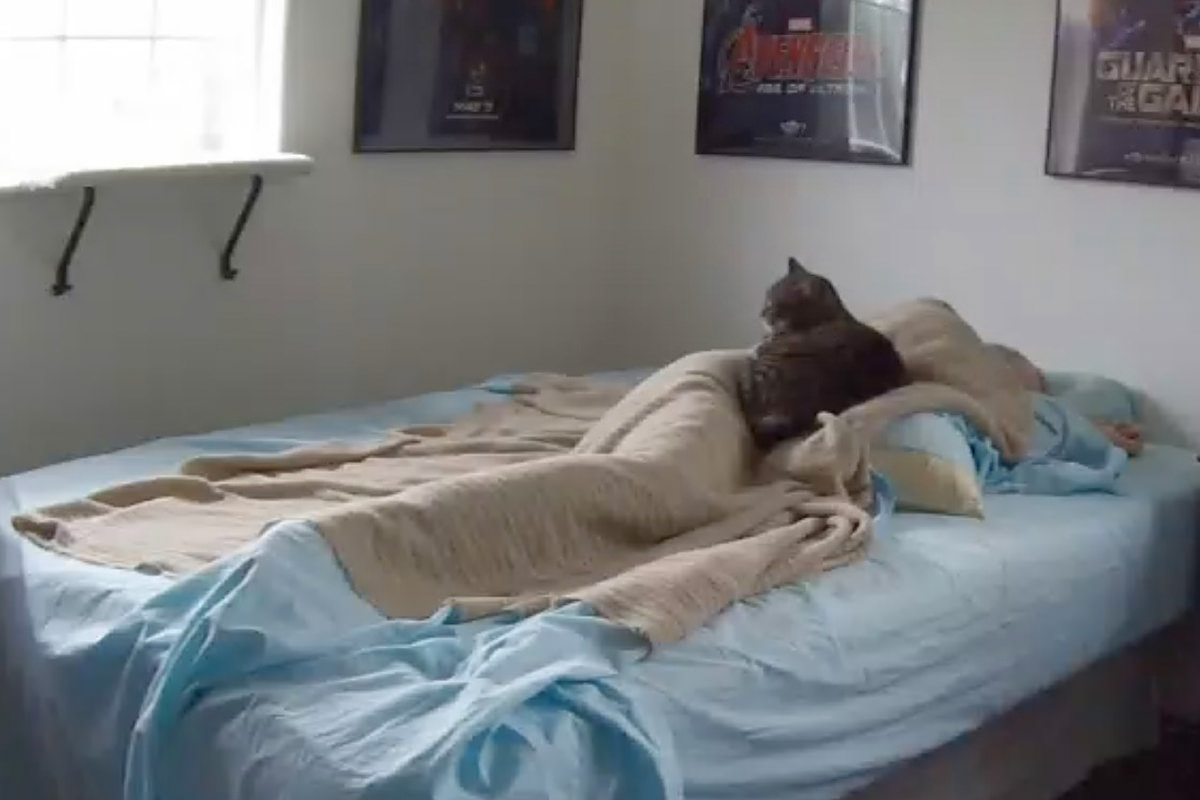 But it is fun waking up and finding him there. He's such a sweet boy...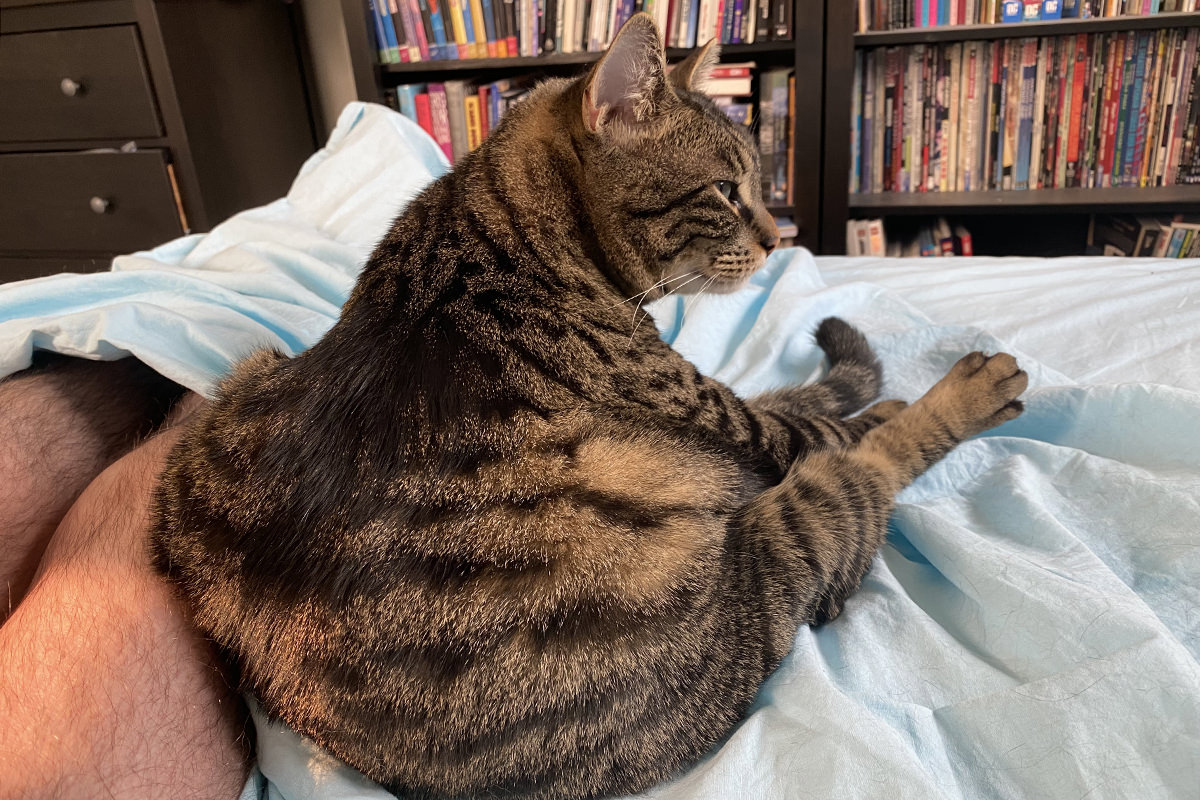 Always happy to remind me I need to take a break from work...
Always happy to remind me that cats love boxes, even when their flat...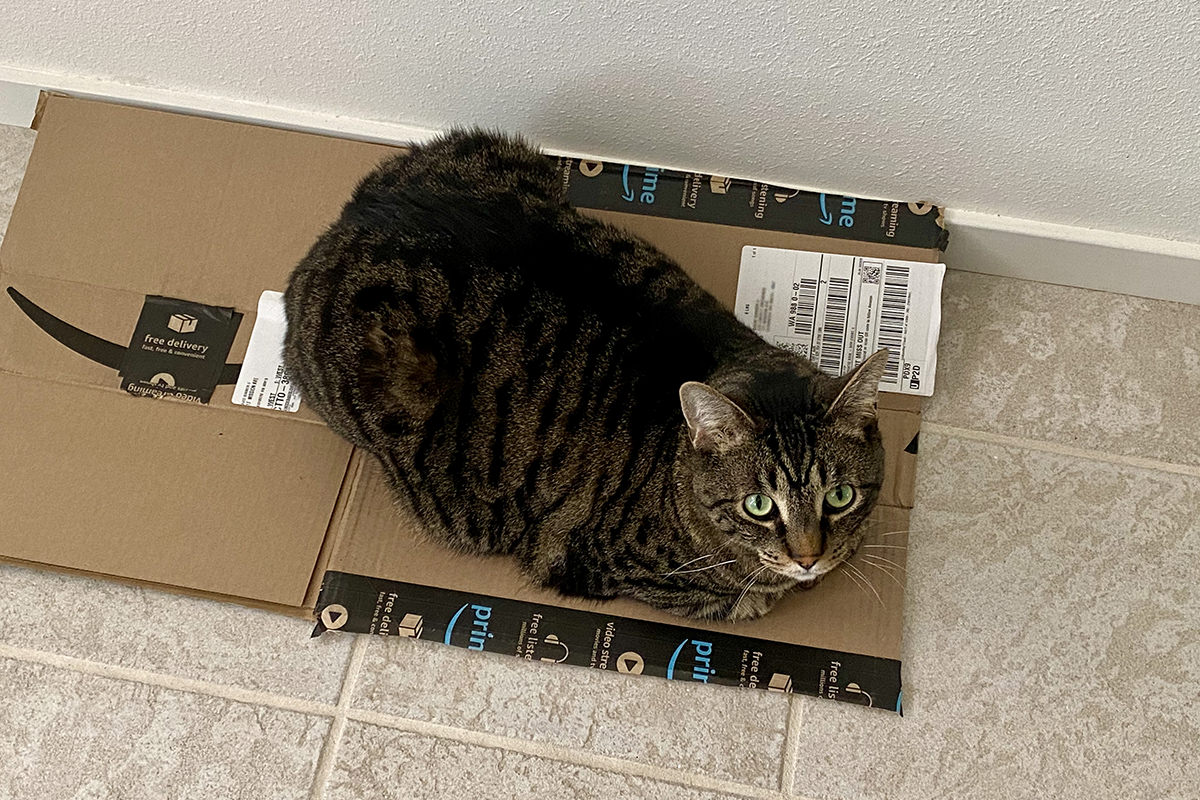 In other cat news, there's a new cat in the neighborhood. My cats are not happy about it. Whenever the cat comes to visit Jake goes running out howling and Jenny goes running out hissing her most intimidating hiss. But the guest cat? Isn't the least bit phased. He just stands there...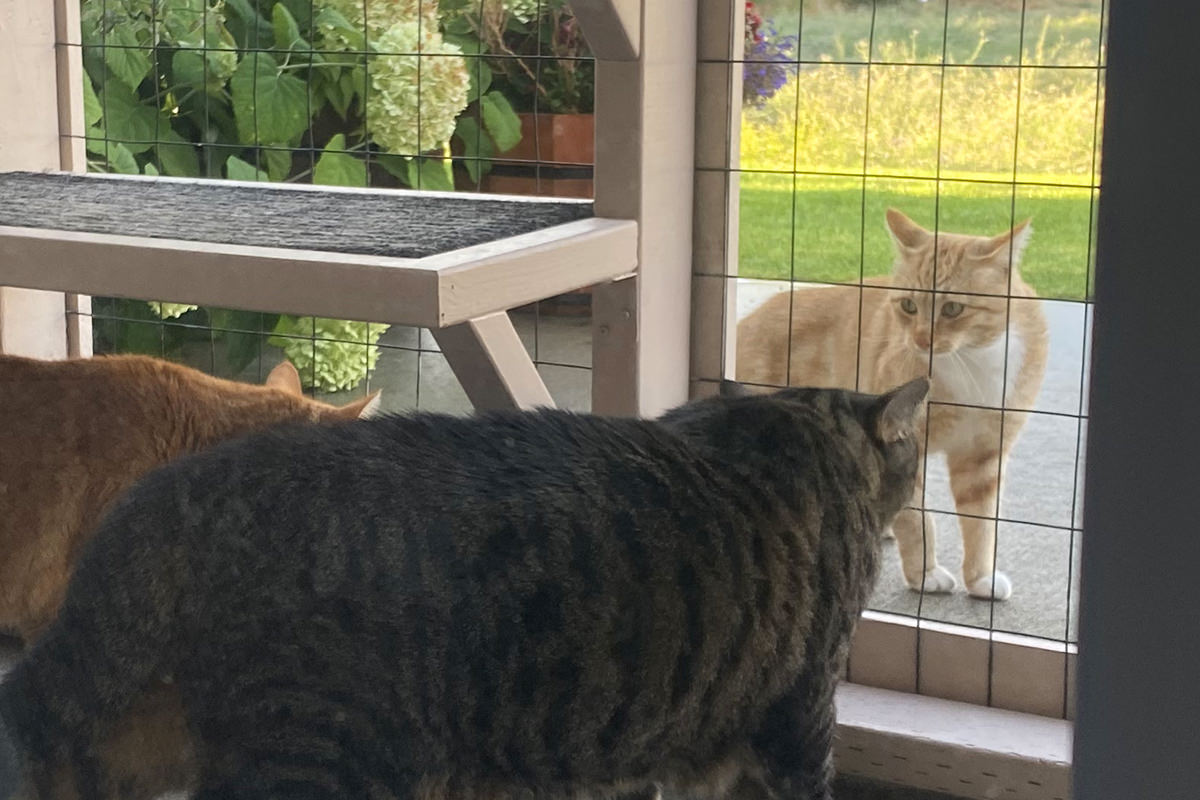 Eventually he gets bored of Jake and Jenny's drama, so he turns and sashays away...
Speaking of the catio... the afternoons are perfect weather right now. Not too hot. Not too cold. And even when it was pour rain out earlier this week, they can't get enough of it. The view from my window is often this...
And that's my Caturday.
Posted on September 19th, 2020

For the first time in weeks we caught a break in air quality. After being Hazardous, Very Unhealthy, Unhealthy, then "Unhealthy for Sensitive Persons"... today air quality was GOOD! This was nice for me, because I might get to not feel sick for a couple days... but really nice for my cats, who have been begging to go out in the catio for way too long.
Seriously. They will sit on the scratcher lounge and look outside for hours...
So I went to the back door... pulled the door off the cat-flap to the catio... then nearly got trampled as Jake and Jenny bolted to go outside...
Jake was laying out there for about 45 minutes. Jenny, on the other hand, would not leave...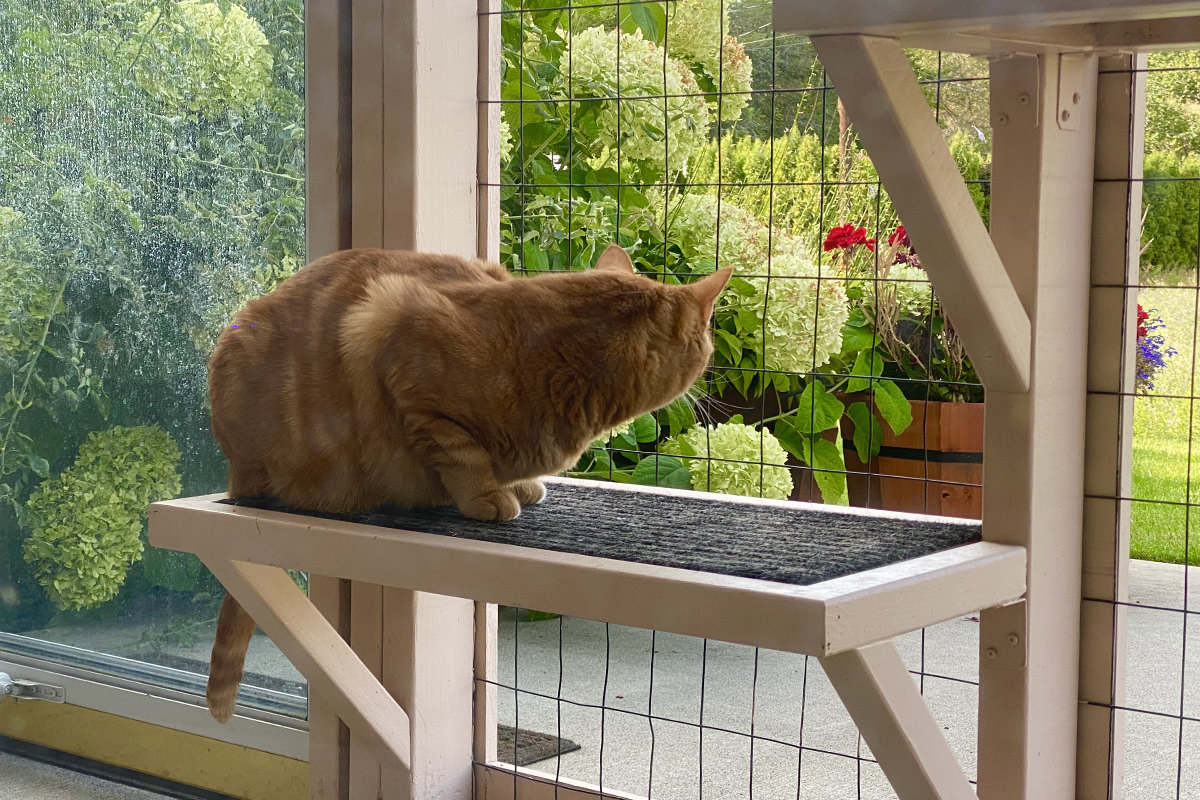 I kept checking security cameras to see if she had come inside without my seeing her, but she was there right up until the Alexa dinner alarm sounded...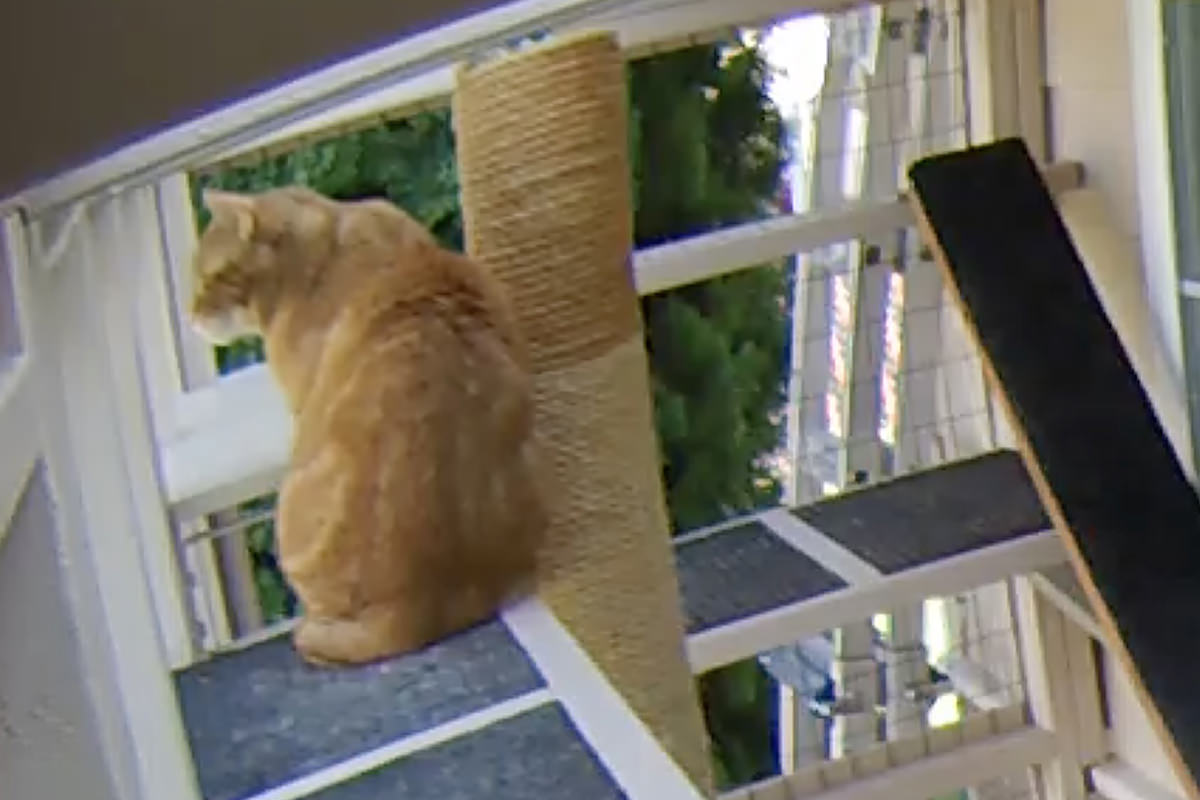 Before the catio re-opened for business, Jenny was occupying her time by watching television with me. I had dusted off my DVD collection of all the James Bond films and was watching them in order. This was my view for a good 20 minutes of Goldfinger...
Methinks she might want to be a Bond girl! She gave me an annoyed stare when I told her that the name "Pussy Galore" had already been taken...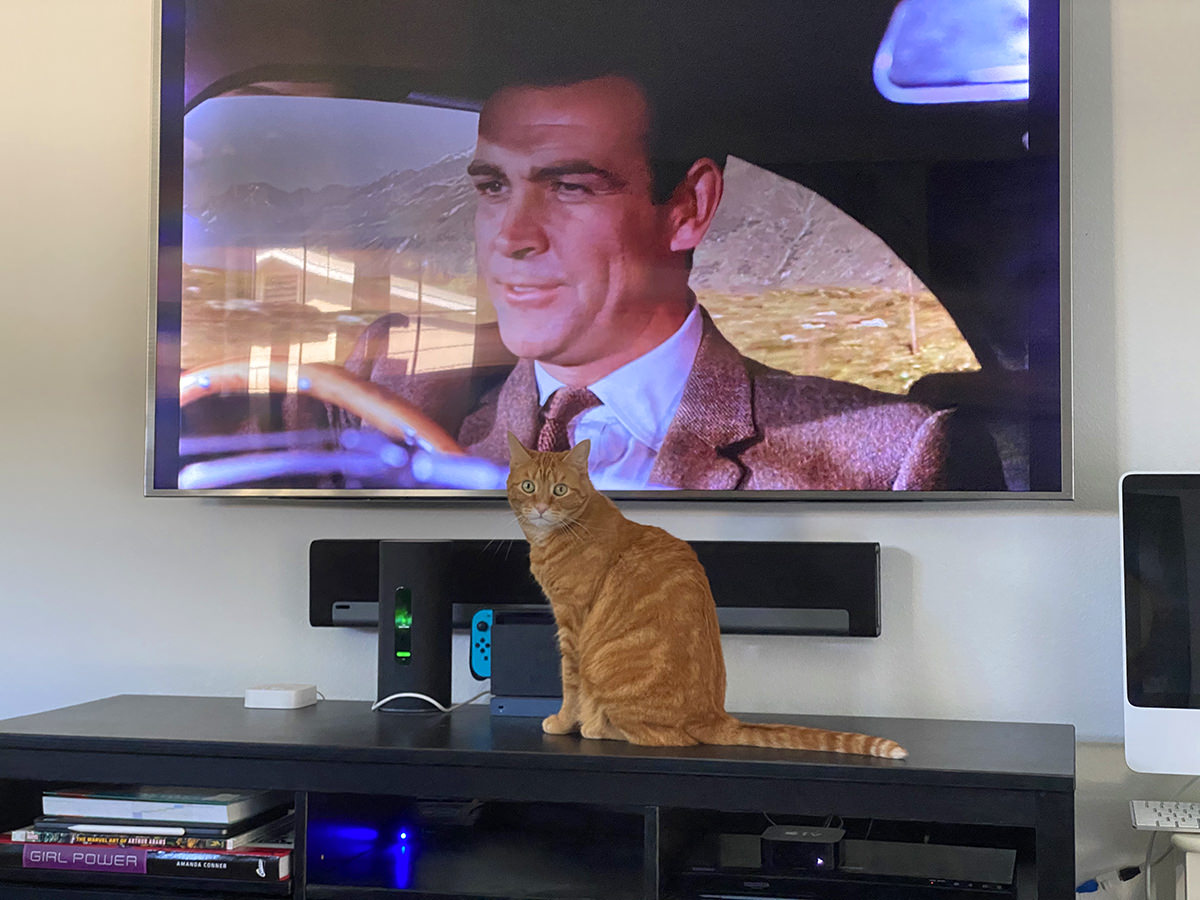 Here's hoping that our air quality remains good so I can keep the catio open.