Posted on November 11th, 2017

Happy Veterans Day, everybody! Thanks to all the men and women who have served or are serving now.
I've been over the mountains since Thursday, letting my robots take care of my cats. For the most part it's an arrangement that works well. Sure my cats miss me, but not enough to keep out of trouble. Like climbing on the kitchen counters so I have to clean and disinfect them when I get home...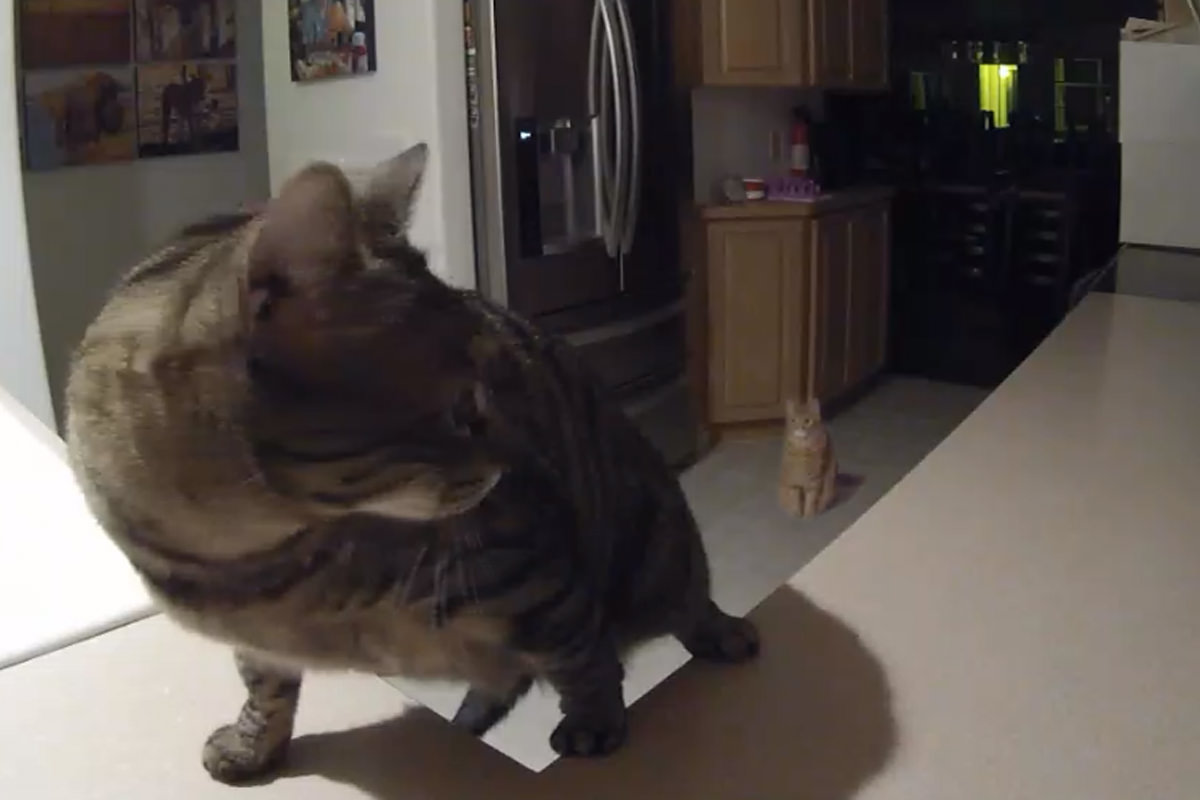 Since the kitchen counters are now the only place the cats are not allowed, it's where they seem to rebel the hardest when I'm gone.
Speaking of not being home...
Jake kept going missing from the security cameras when I checked in. I thought he found a new place to crash in the guest bedroom, but it turns out that wasn't the case at all.
Before I left, I washed a rug and set it across the downstairs bathroom vanity to dry. Jake must have walked across it and sunk it into the sink. Making the perfect place to sleep...
Whenever Jake isn't sleeping on my lap, now he's sleeping in the sink.
I guess I have to buy a new rug since Jake's claimed this one.
Which won't get any complaints from me. Lately Jenny likes to sleep on my arm so I am trapped...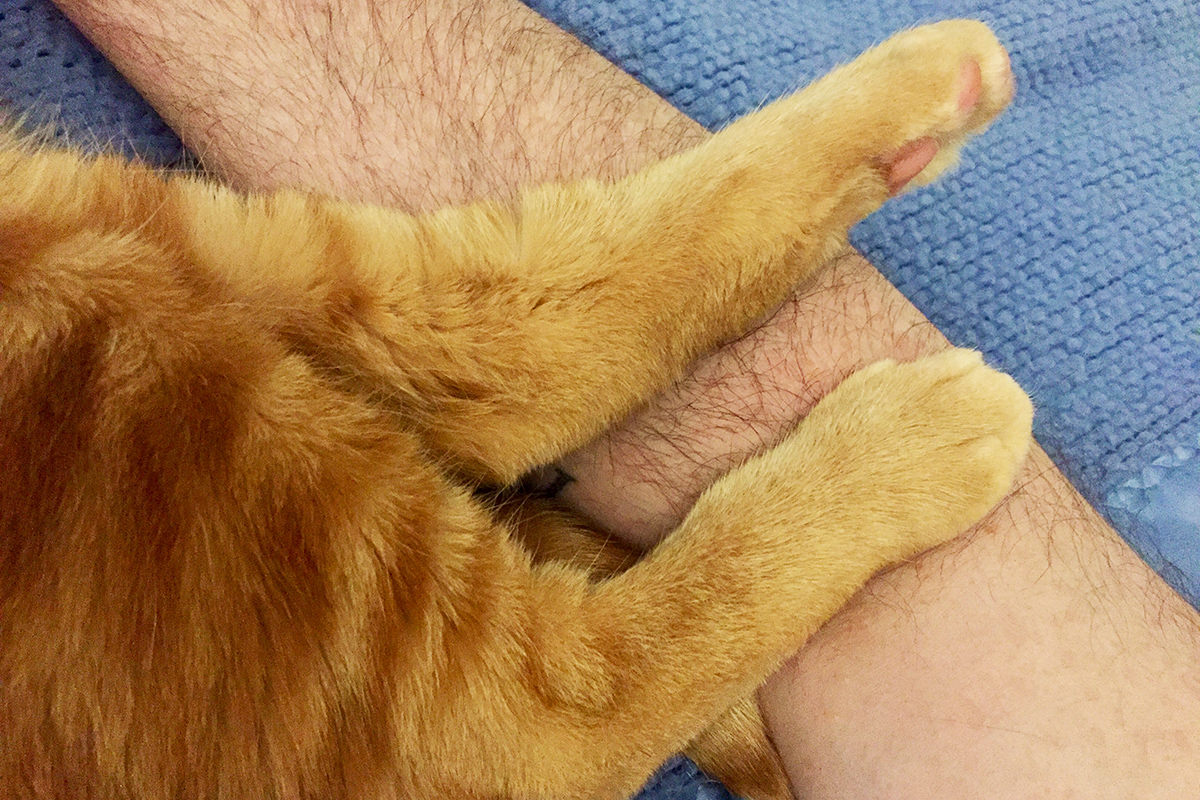 But you can't be upset when you have a cat this adorable...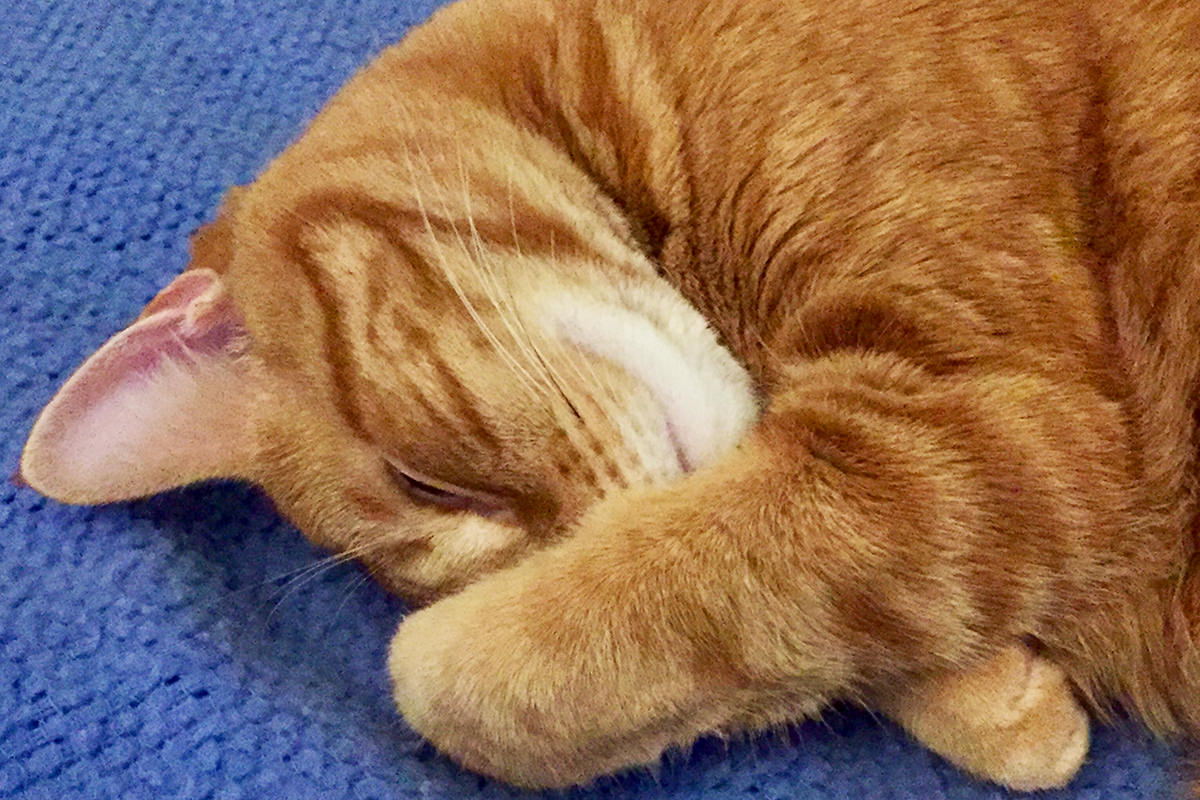 The drive back across the mountains was uneventful and snow-free (though I had my snow tires put on just in case). Exactly what you want a trip to be when winter has come.
The first thing I did when I got home was to put together a new IKEA wall-cabinet I bought so I have somewhere to put my keys and stuff next to the front door. My cats decided to help...
Good thing they're so cute. They're completely worthless when it comes to assembling furniture.
Until next Caturday then...
Posted on November 4th, 2017

Tonight is when the clocks get set back in the USA for Daylight Saving Time ending. You would think that I'd be happy because it means an extra hour of sleep, but I most decidedly am not. First of all, dicking around with the clocks is just plain idiotic in 2017. Second of all, my cats... who don't give a crap what a clock says... will be in my room at 6am tomorrow wondering why in the hell I am not getting my ass out of bed to feed them. What am I supposed to do? Explain to them that they will have to wait an hour because of stupid Daylight Saving stupidity? I suppose I could try, but odds are THEY WON'T UNDERSTAND ME BECAUSE THEY ARE CATS!
Though... the are very smart cats, apparently.
A couple times I've come home and found the television powered on in my bedroom. Each time I didn't think I had left it on, but maybe I'm going senile. On Thursday when I got out of the shower, I head to my bedroom and see my TV on again. This time I KNEW I didn't have it on, so I figured that it is somehow turning itself on. When I go in to turn it off, I notice Jenny laying on my bed staring at the television. I then look at my nightstand and see the AppleTV remote. Suddenly... 2 + 2 snaps together in my head. The AppleTV remote is so overly-sensitive that it will activate if you so much as fart on it. It would be easy for a cat to step on it... even bump it... and turn on the TV. JENNY IS TURNING ON THE TV SO SHE CAN WATCH IT! Except she hasn't figured out how to start up a video, so she ends up staring at the AppleTV menu. Then she gets bored because there's no action, and leaves. Which would be fine, except she doesn't turn the TV off when she's done. I dunno... maybe she comes back when the screensaver activates? Who can tell with her. She's a very private feline...
And then...
After the TV incident, one of my Facebook friends was joking about the cats finding the thermostat control. I laughed it off... as anybody would... BUT THEN I CHECKED ON MY CATS WITH THE SECURITY CAMERAS ON FRIDAY AND I SEE THIS?
Yep. That's Jake. Messing with the thermostat.
While Jenny watches.
CATS!!!
That same morning while I was getting ready for work, I find Jenny biting at her back-right claws over and over again. She was walking on that foot just fine earlier, so I go into a panic thinking that something is wrong with the nails. Then I film her in case the vet wants to see it. THEN I Google the issue only to find out that nothing is wrong... she's just giving herself a pedicure...
She hops down and walks away, her foot looking perfectly normal. I wonder how long until I stop panicking at absolutely everything my cats do that's new to me?
Jake has been especially friendly lately. Though I think it's because he likes my body warmth, since he's been sleeping on my chest while I work and watch TV almost every night. Unfortunately, my need to sing along to 80's music is not compatible with his ability to sleep (which is substantial).
Madonna's Holiday...
Thompson Twins' Hold Me Now...
Poor Jake.
I can't be an easy roommate to live with.
Posted on October 21st, 2017

I haven't posted about my cats in a couple weeks, so let's get caught up then, shall we?
First of all, my efforts to keep my cats out of the cat food/treat/toy cupboard continue to fail. If I tape it, they paw at the tape. If I buy a child-lock, they chew it off. I'm beginning to think that nothing short of a deadbolt is going to do the trick. Especially when I wake up and find this waiting for me downstairs...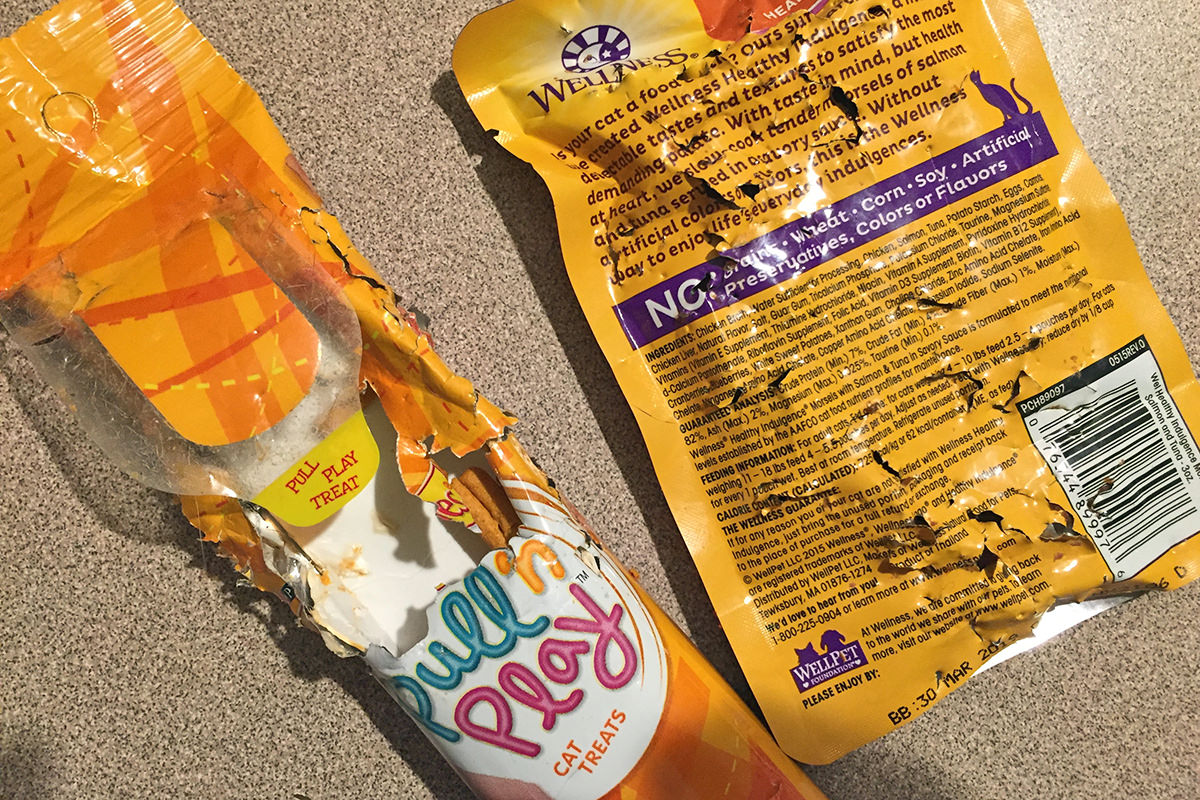 I know it's Jake who does the breaking in, but every time I check the security camera footage, Jenny is most definitely sharing in the spoils.
Second of all, Jenny continues to love the electric blanket. As I mentioned a while ago, she just can't seem to get enough of it. Even though she's perplexed as to how it works. For some reason there's a disconnect between her brain telling her it's not possible and her body sensing its glorious warmth. She still walks around on it like she can't believe what's happening. Though most of the time she's sleeping...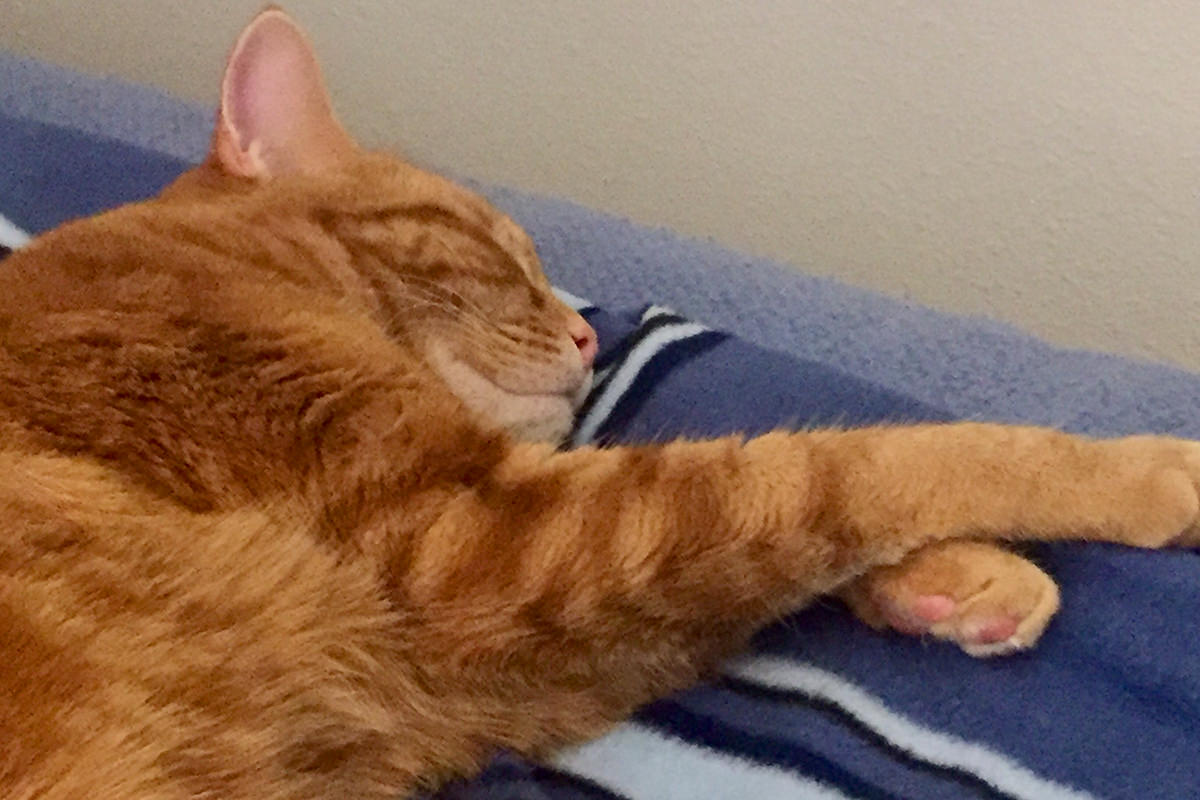 The only thing that will wake her up is when the local high school football team scores a touchdown and they fire off the cannon...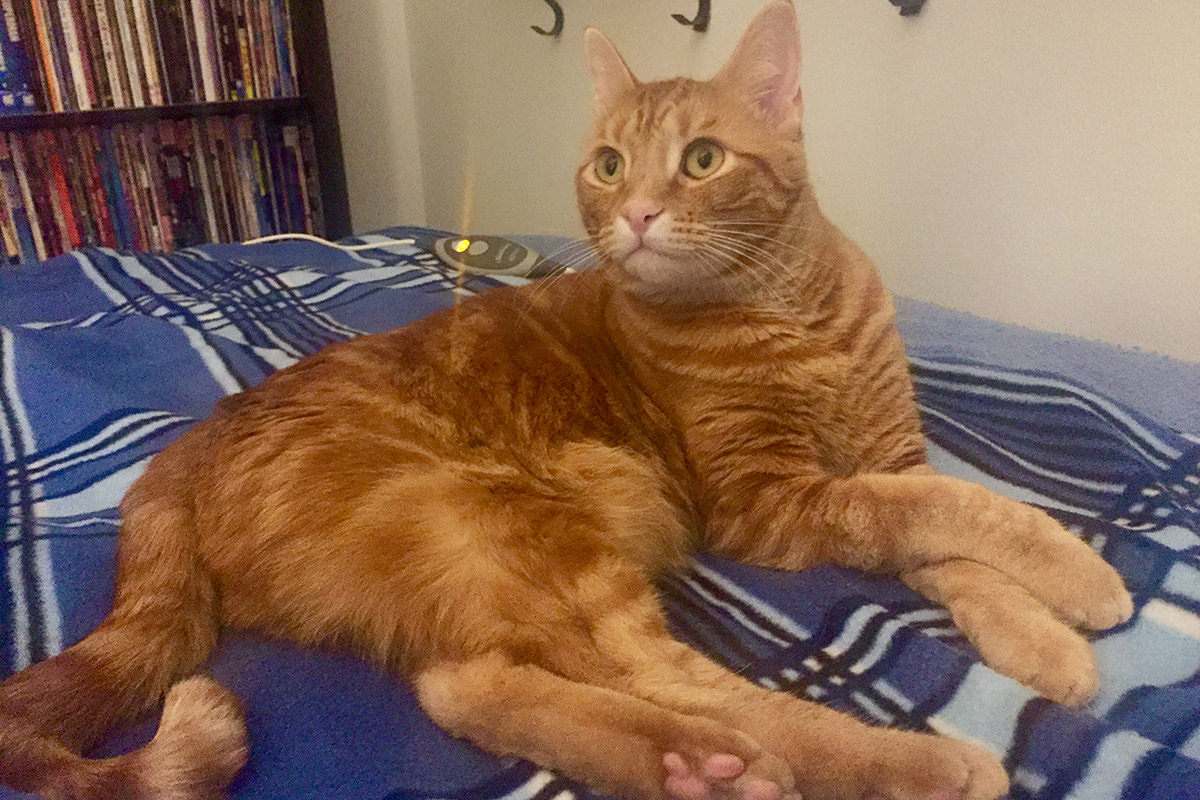 Just look her crossing her legs like the little lady she is!
Well, except when she's torturing bugs, which seems to be her favorite activity after sleeping. When the painters had to leave the doors open, a LOT of bugs who were looking to find a warm spot for the winter came crawling/flying in. I try to capture as many as I can so I can take them outside, but sometimes Jenny has other plans...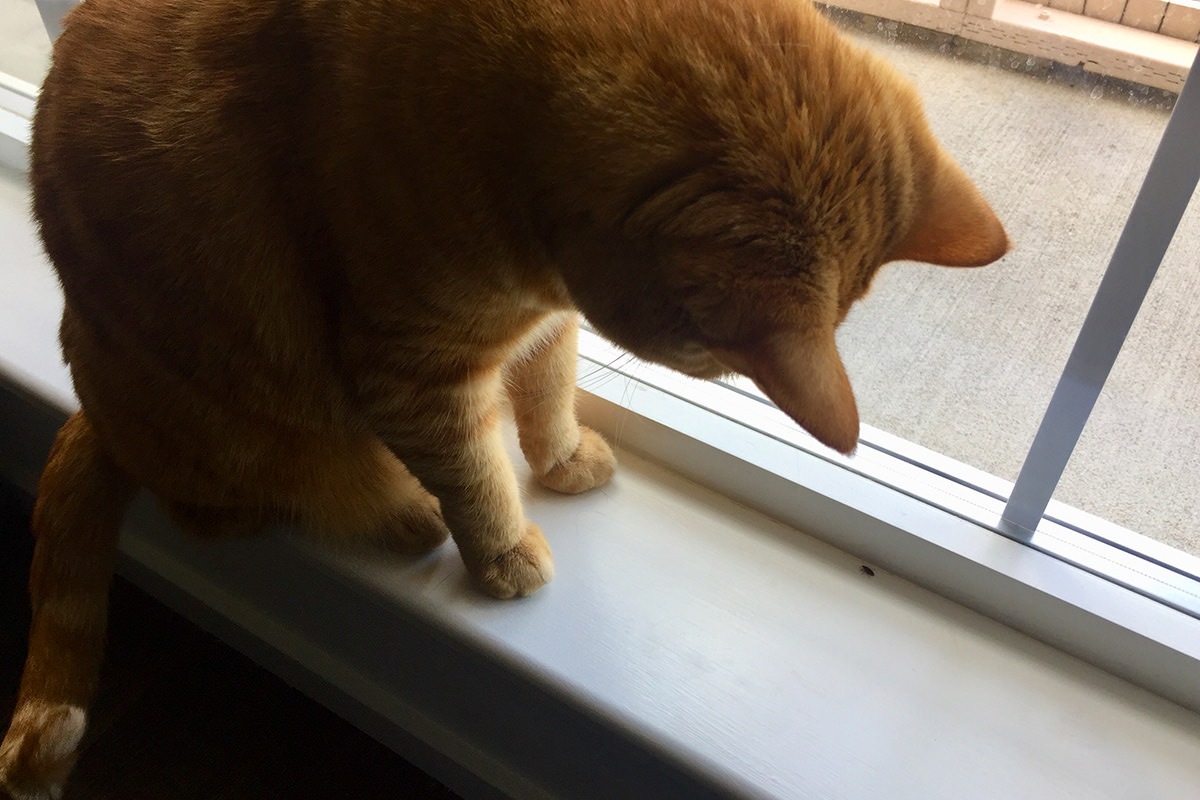 The little monster.
Speaking of Jenny...
People keep asking me if she still brings me tributes in the morning. The answer is, yes. As you can see from this photo I took last week where she was particularly industrious that morning...
Eight... eight... toy tributes. Which has to be some kind of record.
As if that wasn't enough Jenny for this Caturday, I have to share that I think that she has joined in the WAR OF THE ROBOTS that's been going on in my home between Carl the RoboVac and Clay the Litter-Robot. I caught her throwing towels on the floor for Carl to choke on just as he was headed to clean around the couch, THEN SAT THERE WAITING FOR HIM TO ARRIVE...
Clearly Jenny is Team Clay (whom she loves) and not Carl (whom she seems to hate).
And, speaking of Carl, he may soon have a little brother hanging around! More on that next week!
And speaking of hanging around, I think I might have a ghost. I haven't seen them... but will admit I've noticed weird noises going on from time to time. Like one of the cats is walking towards my bedroom, then I look and they are both already in the bedroom. So maybe not just a ghost... IT'S A GHOST CAT?!?? Jake and Jenny seem to spot Ghost Cat often, as sometimes when I check in on them throughout the day I see them acting strangely (well, more strangely than usual). Like they'll be eating and suddenly turn around to look at something...
But when I check the other cameras, there's nothing there. When I captured the above footage, I came home and checked the secondary security camera system (which is on battery back-up and stores locally in case the internet and/or power goes down) but they didn't spot anything either. Then I started scrubbing through the audio thinking it might have been a creak from the house settling or something, but... no. Which is strange, because the microphones are very good at capturing even the softest noises.
So I dunno. Hopefully one of these days I will spot Ghost Cat so I can come up with a name that suits them.
In final Caturday News... it is raining hard while I type this. Really hard. Which has Jenny very upset and confused, as she's raging at the rain she can hear everywhere, but not see (turn your volume way up)...
Jake, however, doesn't seem much bothered by the rain. Here's him "helping" me type up this blog entry...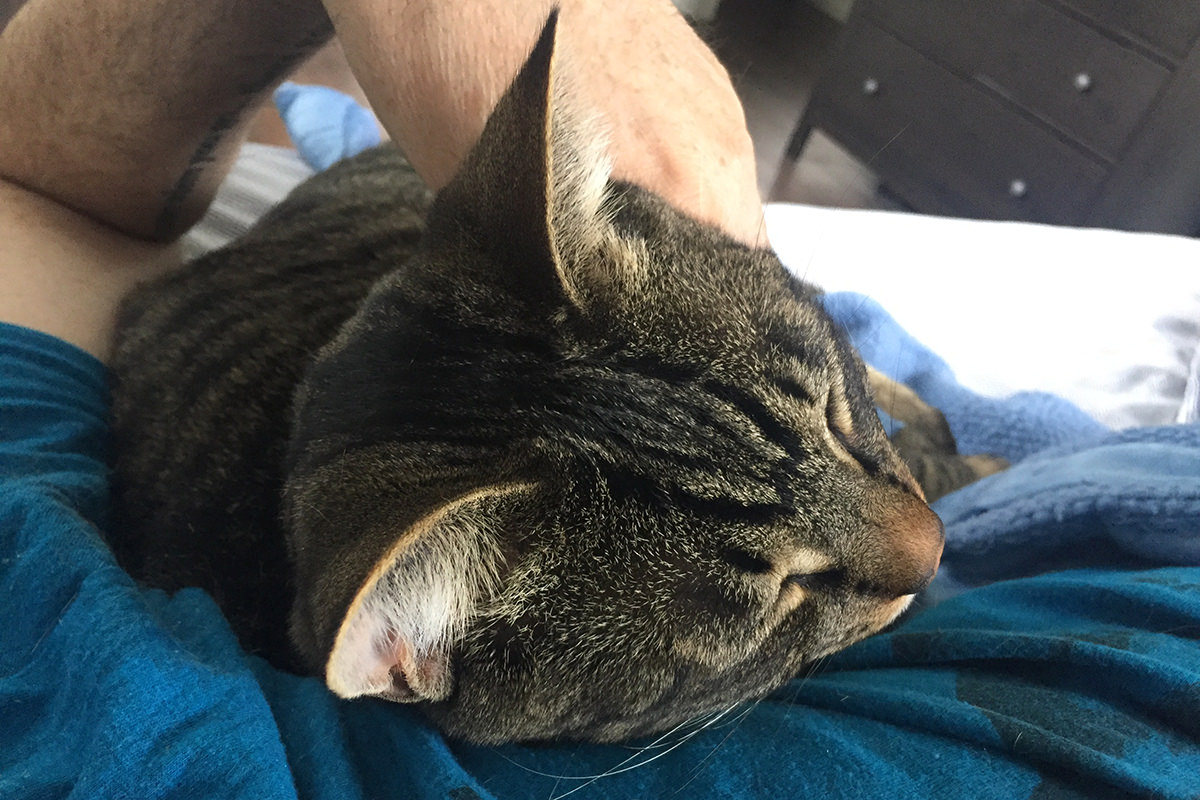 See you next Caturday.
Posted on October 7th, 2017

I keep thinking that the cats will stay indoors now that the weather is getting colder, but they're out in the catio as often as they ever are. Which is all the time.
They do tend to huddle closer together than usual, however...
I haven't turned the heat on yet, so the cats are still vying for the warm spot on top of the stereo receiver. Sometimes this ends up in an awkward pose...
Though they often end up in awkward sleeping poses even when they're alone...
The couch is cold to lay on, which the cats Do Not Like, so I put towels and blankets down to make them more comfortable. They start out nicely-arranged each morning when I straighten everything out, but they don't stay that way for long...
Jenny, who loves to watch television more than any cat I know, is particularly happy to make herself a "nest" in the towels and blankets so she can watch TV with me. She was particularly interested in the season one finale of The Good Fight (fantastic show, by the way)...
At least she was while the show was on. The second the started rolling the credits, she was out...
Speaking of Jenny... I've mentioned how she just loves to have her tummy rubbed... but also resents it at the same time. I just got the best photo to date of how she'll grab my had with her front paws to get that good rubbin'... but will push my hand away with her back paws at the same time...
Even when I manage to get in a position to rub ONLY the spots she wants rubbed, she will change her mind in a second for any reason and every reason at all...
Even with all their antics, they are still the sweetest cats ever...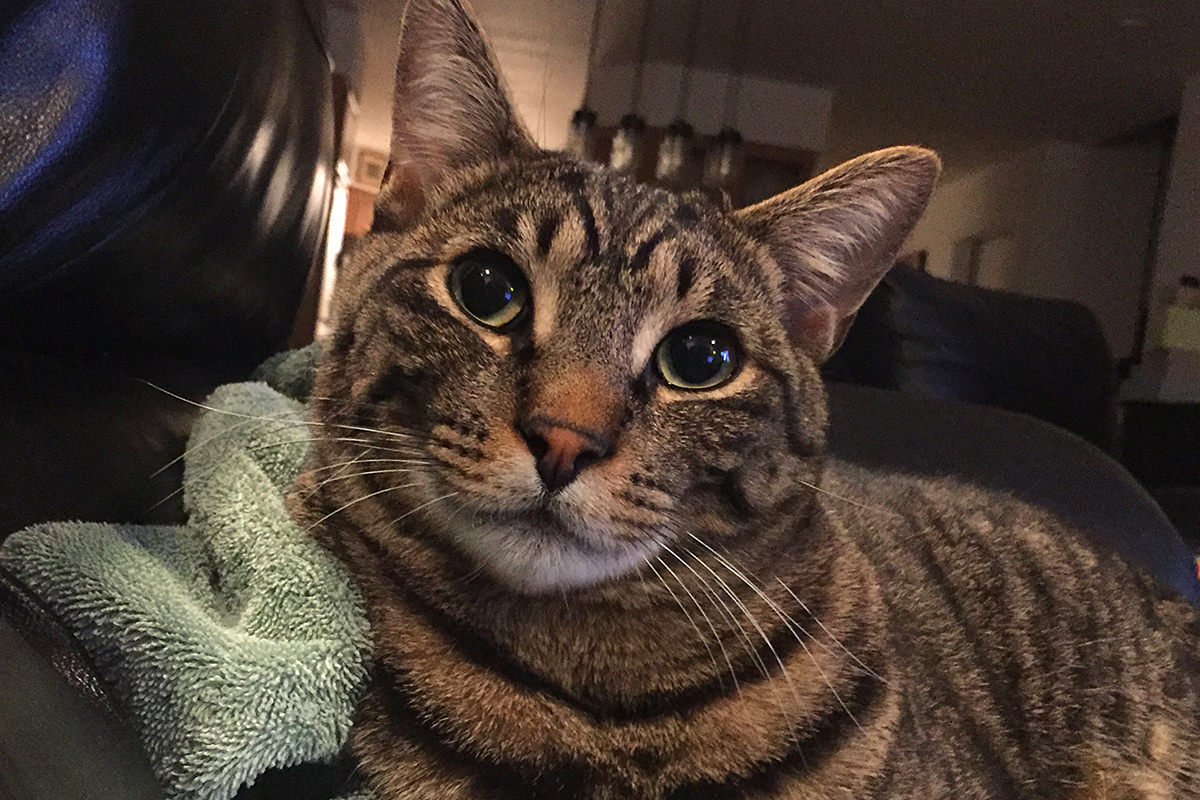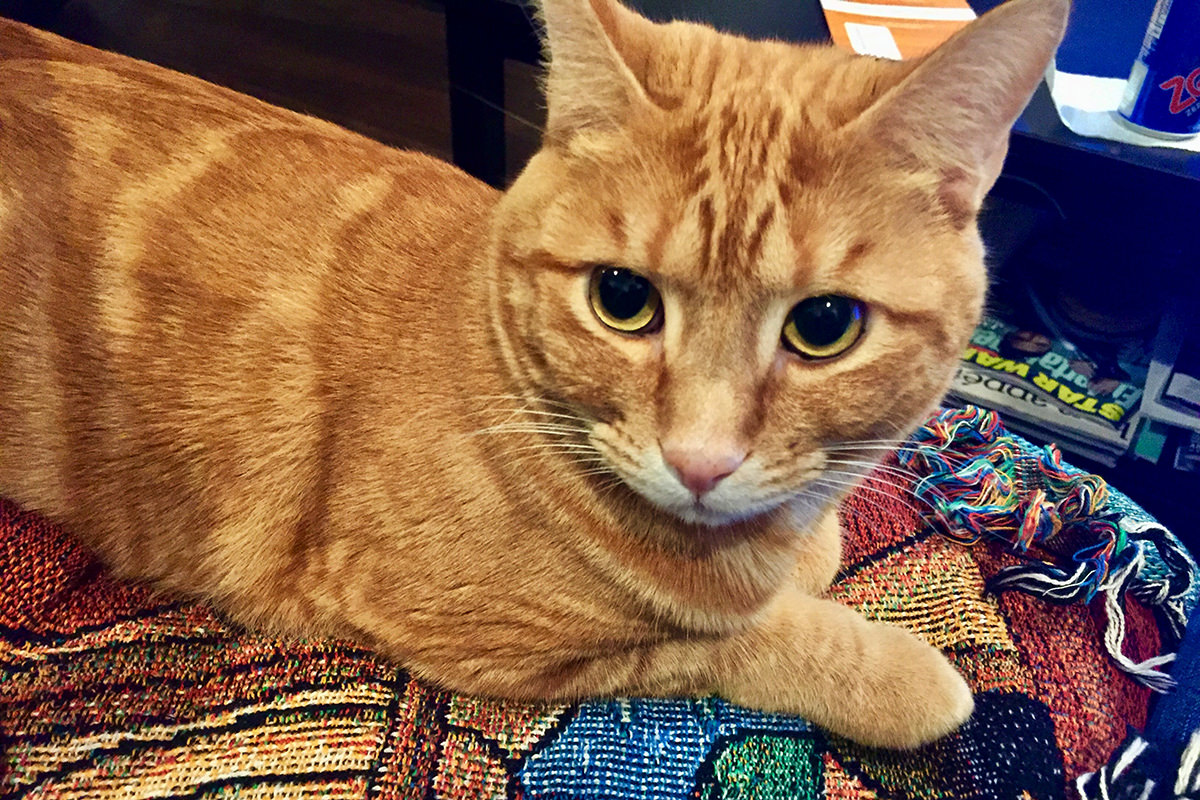 Until next Caturday then...
Posted on September 30th, 2017

At 1:12am this morning, I was awakened by Jenny hopping on my bed and meowing. This is highly unusual. My cats never bother my while I'm sleeping... or even when I'm pretending to be sleeping. I pet her for a little bit, then rolled over and ignored her so I could get some sleep.
At 4:36am this morning, Jenny was back on my bed meowing. This had me worried that Jake was hurt somewhere and she was wanting me to follow her like Lassie. But then... I heard something. The television was turned on with the sound blasting. This happens every once in a while when my DirecTV gets a software update.
And this was what Jenny was trying to tell me all along. So I found my iPhone, fired up the DirecTV app, then turned off the television.
Jenny immediately ran back downstairs.
Where presumably she went to sleep now that the television wasn't going to keep her awake.
The next time Jenny came up was to deliver her morning tribute around 6:30am. Usually I barely notice because she's quite stealthy... but this morning I heard what sounded like a rock being dropped on my floor. Turns out it wasn't a rock... it was a small screwdriver...
Note how she dropped the soft mouse toy on the carpet... but the hard screwdriver on the wood floor. I still have no clue how she managed to carry the thing upstairs. I had left it on the kitchen counter, which means she would have had to knock it to the floor first. I check the security cameras and, sure enough, she was there...
But Jake was as well, so maybe he knocked it on the floor...
The little shits... they know they're not supposed to be on the kitchen counters!
Speaking of Jake... he still likes hanging out with me when I get home from work. Usually he likes to curl up next to me when I plop down for some television. What's new is that if I start to get up when he's not ready to get up... he'll put a paw on my leg to stop me!
The smarter move is to lay on top of me so I can't get up so easy...
So soft and fluffy!
Until next Caturday then...
Posted on September 23rd, 2017

Jenny is turning into one of the most bizarre cats I've ever known. Which is to say she's an average cat. On one hand, she is terrified of everything. If somebody rings the doorbell or there's a loud noise, she vanishes in a flash. Needless to say that if I have a visitor, she hides until well after they leave. If I walk into a room... even carefully, she bolts. She is the very definition of a scardy cat.
And yet... she is demanding as hell. 20 minutes until breakfast? Screw that. She wants to be fed now. You want to work when she wants to be petted? Screw that. She wants to be petted now. She has discovered how to meow, and she uses it when you displease her. And she's completely manipulative about it. If her first meow doesn't work, she will try different meows until she gets results. It's totally adorable, of course. Well, it's adorable so long as you pet her in the way that she wants to be petted. And she will totally supervise your every move to make sure you are doing it right...
And speaking of supervision... Jenny will show up to lord over you whenever you are working on something interesting. When I was rewiring my media center, she sat staring at me for a full 20 minutes...
In other news... Jenny rules my entire house now.
After getting Carl the RoboVac, I had to remove the electrified "Scat Mats" because Carl liked chewing on them. Jake would always hop over them when sneaking into the kitchen, but Jenny rarely crossed over. And, on those rare occasions that she did, it was never while I was around. But now? She puts her little foot out to make sure she isn't going to get zapped... but she goes into the kitchen whenever the hell she feels like it. And that's whether I am there or not. She is fascinated by the refrigerator, and makes a bee-line to the kitchen any time I dare to open it...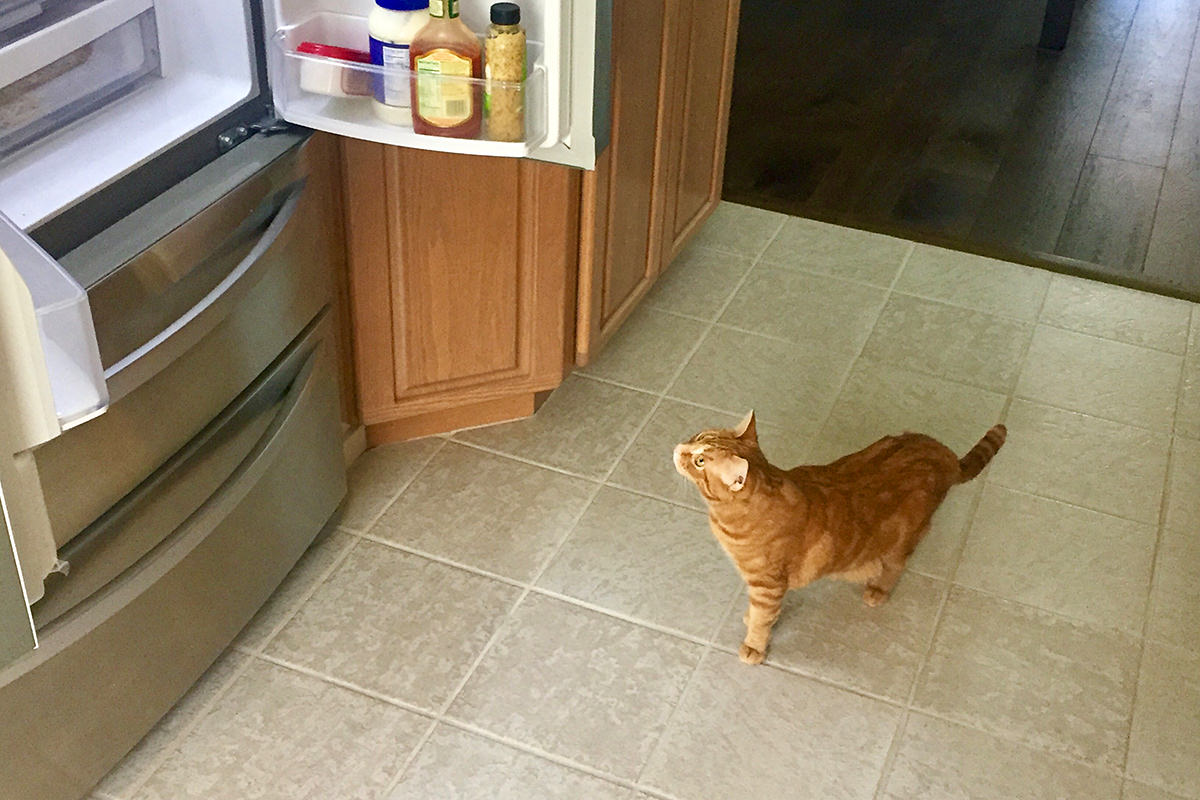 Jake, on the other hand, won't go into the kitchen unless I'm gone or upstairs. And if I ever catch him in the kitchen, he bolts the second he sees me. Jenny, on the other hand, has zero shits to give any more.
And speaking of Jake in my kitchen...
I finally got around to painting two doors that I've been putting off for months. I knew I'd need a third coat, so I just left the paint can on the kitchen counter with the lid barely on and the paintbrush nearby. But then... as I was in bed typing this... I hear a big crash that sounds like it's coming from the kitchen. I take a look at the security cameras to see what the heck is going on, and...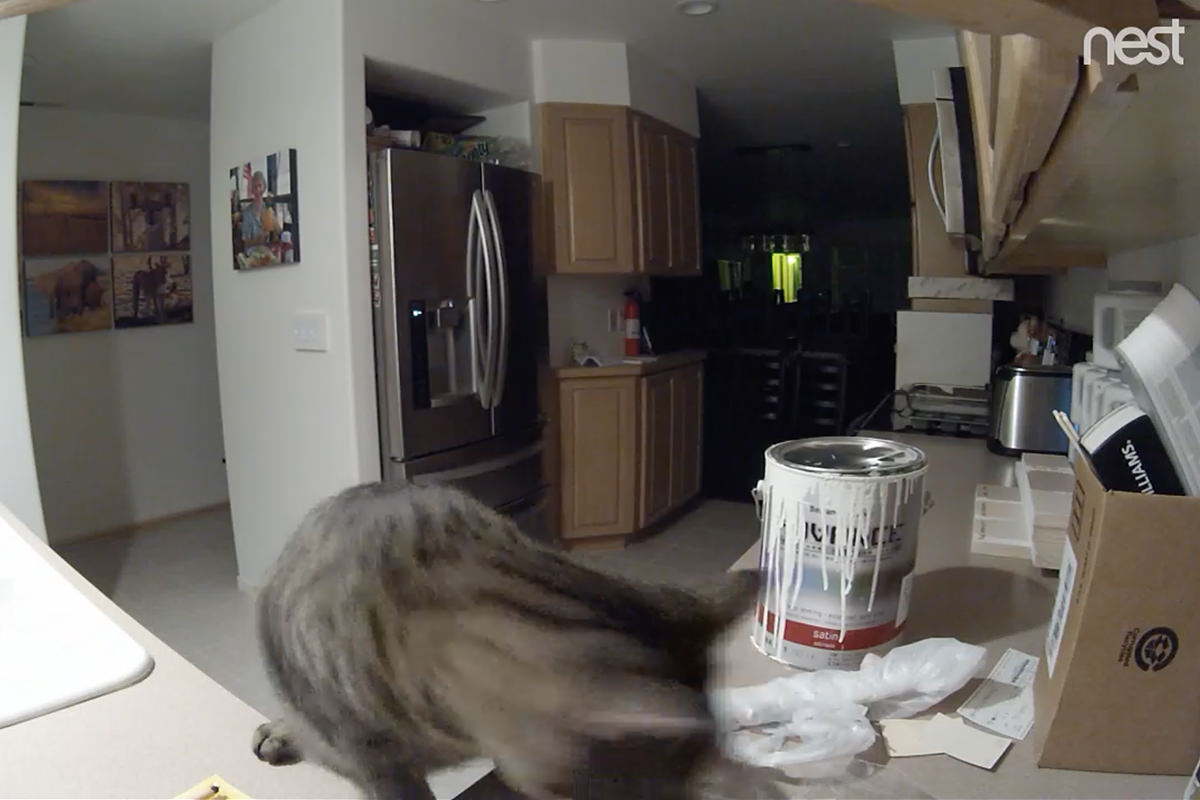 I didn't even wait for the video to finish playing. I tossed aside my laptop and went running downstairs expecting to find my kitchen covered in paint. Except, luckily, didn't happen. Jake walked right by the paint can... went to the cupboard... and pawed a can of PAM cooking spray onto the floor... and that's what I had heard.
In other Jake news... he's been stealing Jenny's new favorite spot on the stereo receiver lately. Though sometimes they do share it. Usually when it's getting close to dinner time and they feel like staring at me in an attempt to get an early meal...
At least until one of them passes out from hunger...
And, since I mentioned Carl the RoboVac earlier...
Apparently Carlthe RoboVac has declared all-out war on Litter Robot. It's robot vs. robot...
I attempted to tell Carl to be nice since his fellow robot is literally cleaning up shit all day long... but Carl is having none of it.
Probably because he's cleaning up shit every day too.
Though, not literal shit. That would be horrifying.
Posted on September 9th, 2017

As I had mentioned earlier, much of this week was spent with the catio closed for business because of smoke. This was met with much confusion and disdain by Jake and Jenny, who have become very much accustomed to being able to go outside whenever they want.
When not trying to bite the door... or trying to figure out how to open it... they would try to get out by other avenues. Jenny, for example kept clawing at the window. It's like she knew it was futile, but just had to let her frustration be known...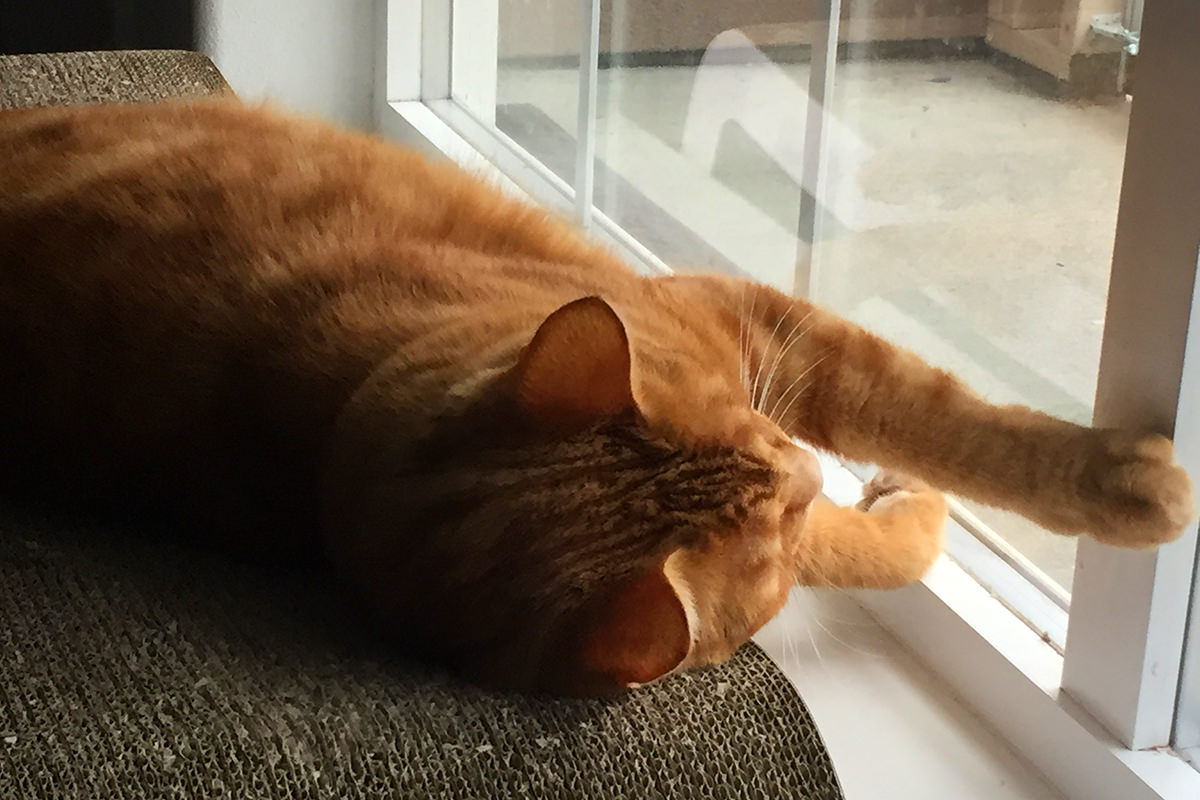 Eventually she gave up and tried to get into the laundry room instead...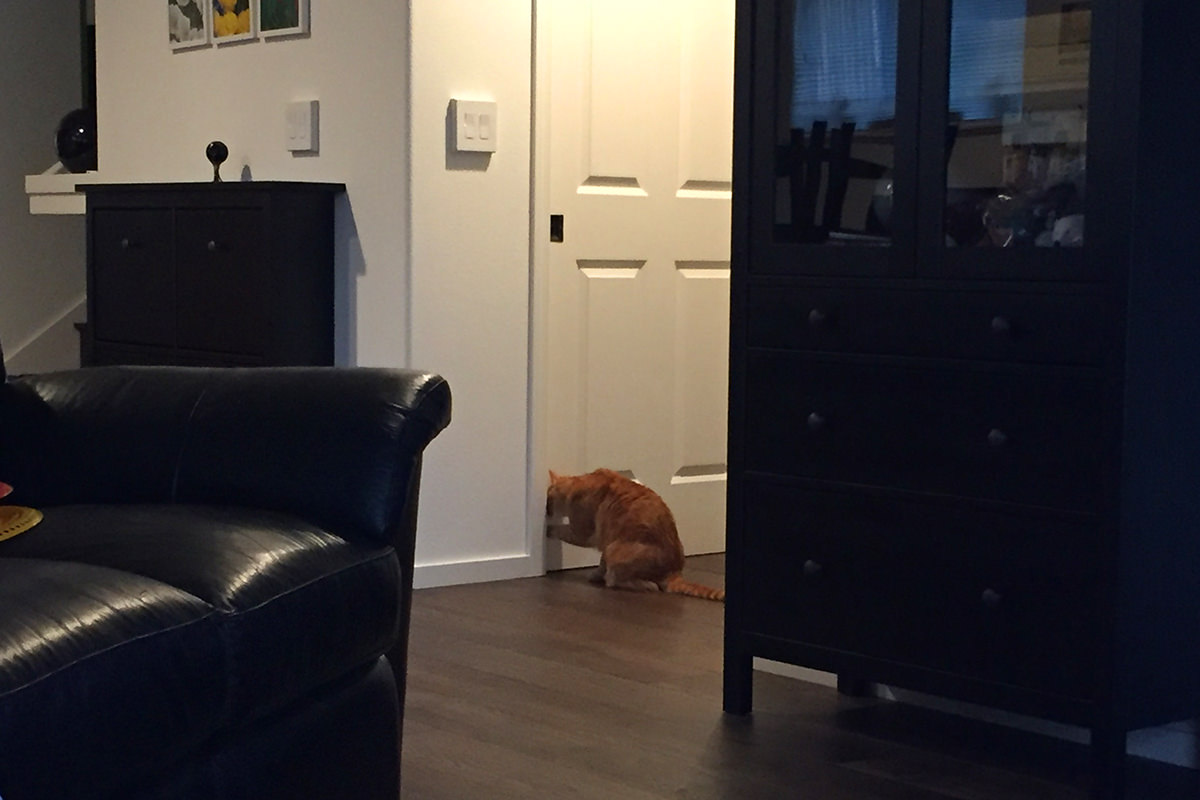 I felt bad about it, but it just wasn't healthy out...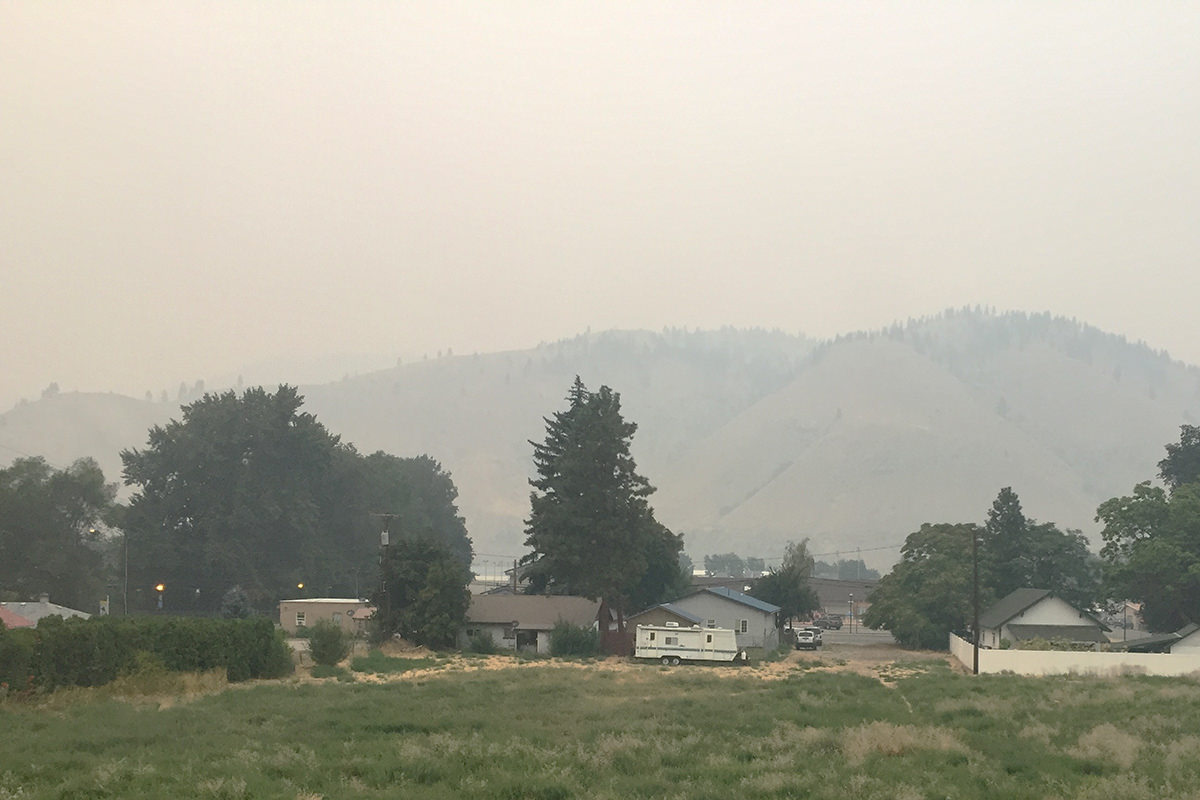 And so they spent all their time hanging around being bored...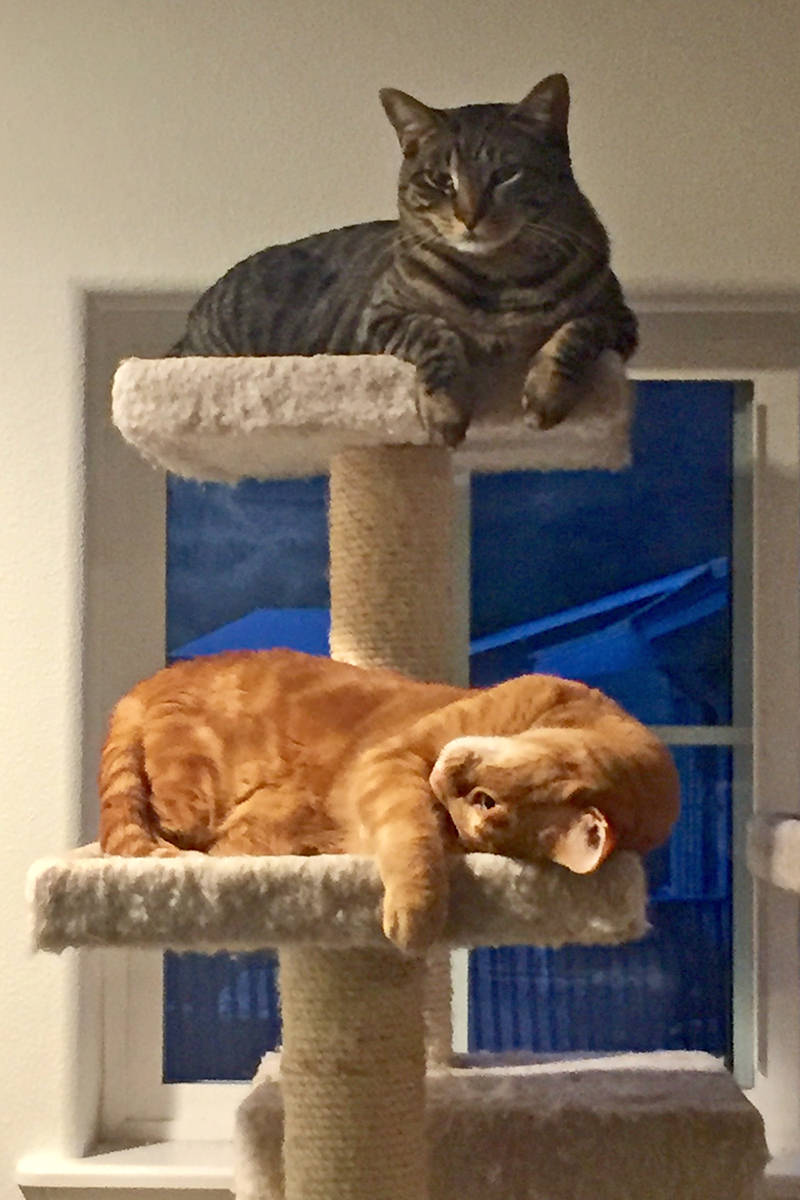 Or beating up on Carl when he runs out of juice...
Or taking my spot on the couch...

The good news is that, now that they can go outside again, things have returned to normal. Or what passes for "normal" when you have cats.
Jake is back to glomming all over me while I try to work...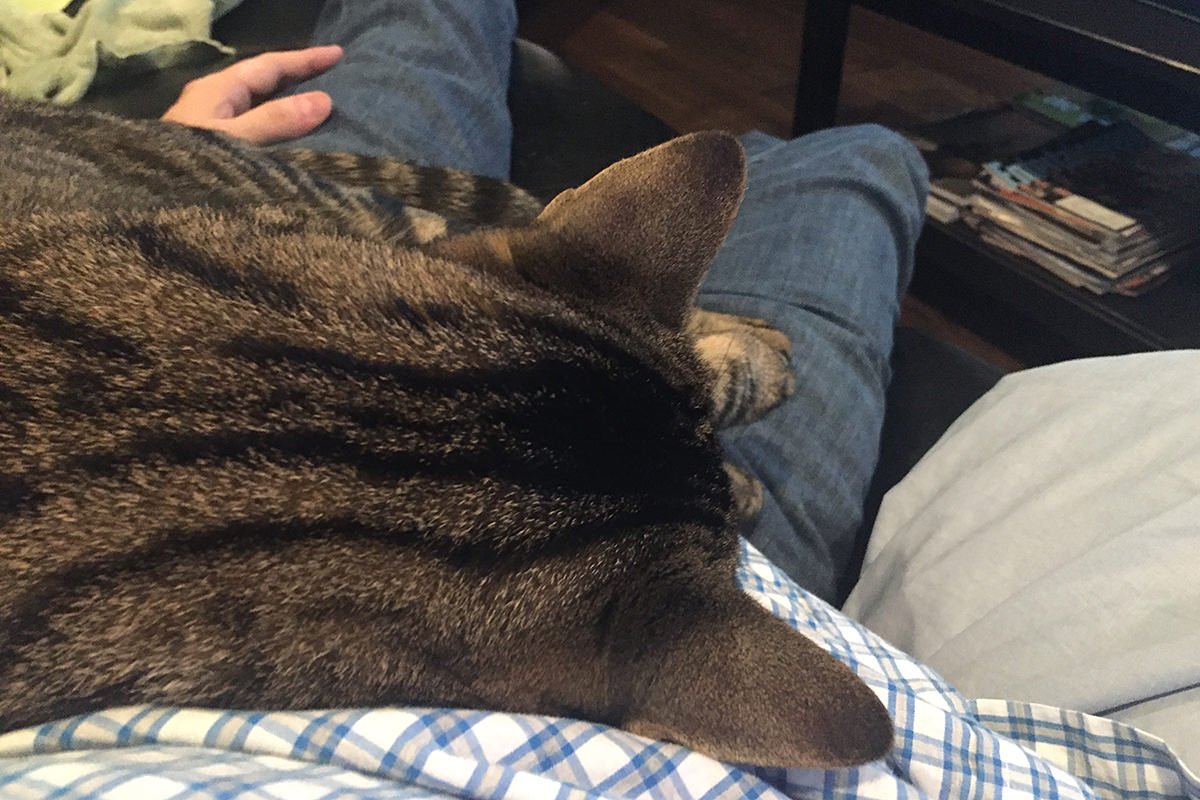 And Jenny? Well... she's back to being the best bedtime snuggle pal you could hope for...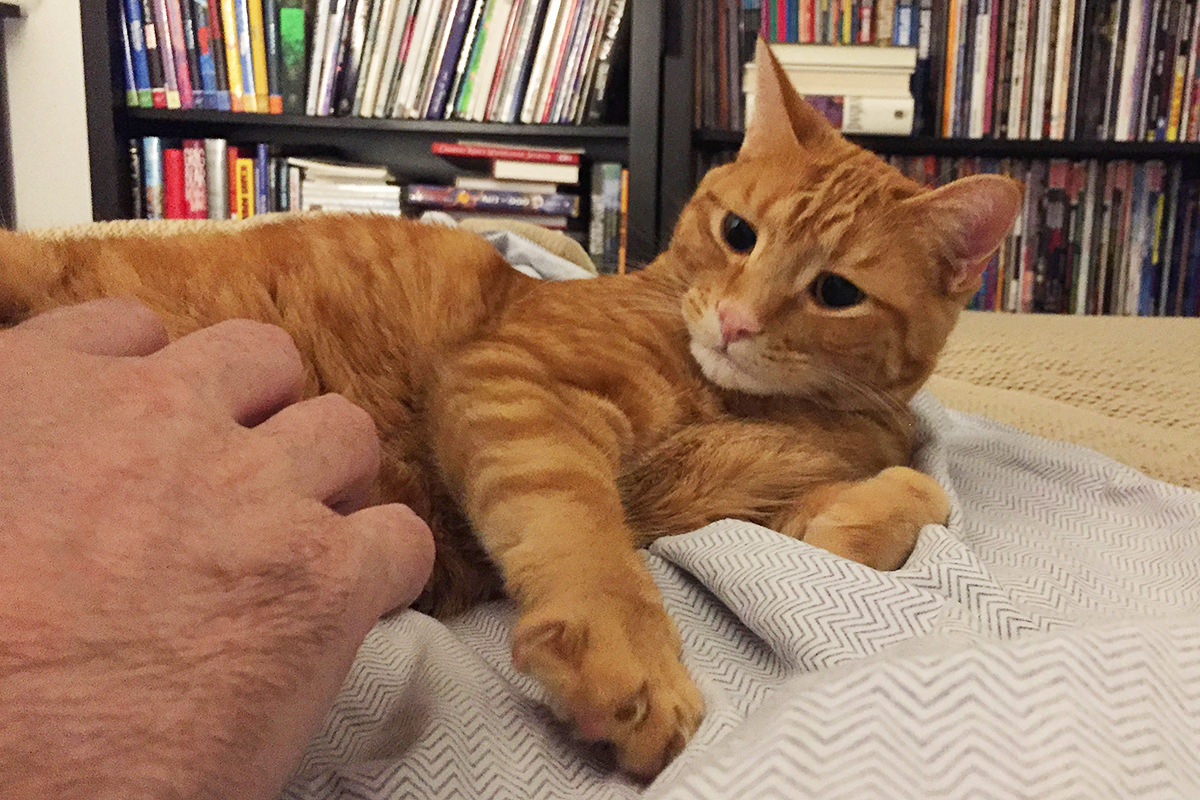 Hoping for the best for all my friends, family, and co-workers facing off fires and hurricanes. Stay safe, people.