Posted on March 25th, 2023

I'm not at home today. I'm over the mountains celebrating Birthday Weekend with my friends.
Meanwhile back at the ol' homestead, Jake and Jenny spend most of their time sleeping (whenever they aren't eating or pooping).
I've learned my lesson and now leave my bed all messed up, which is how they like to sleep on it. I think they like to squish into the folds or something. If I make my bed, they will avoid it...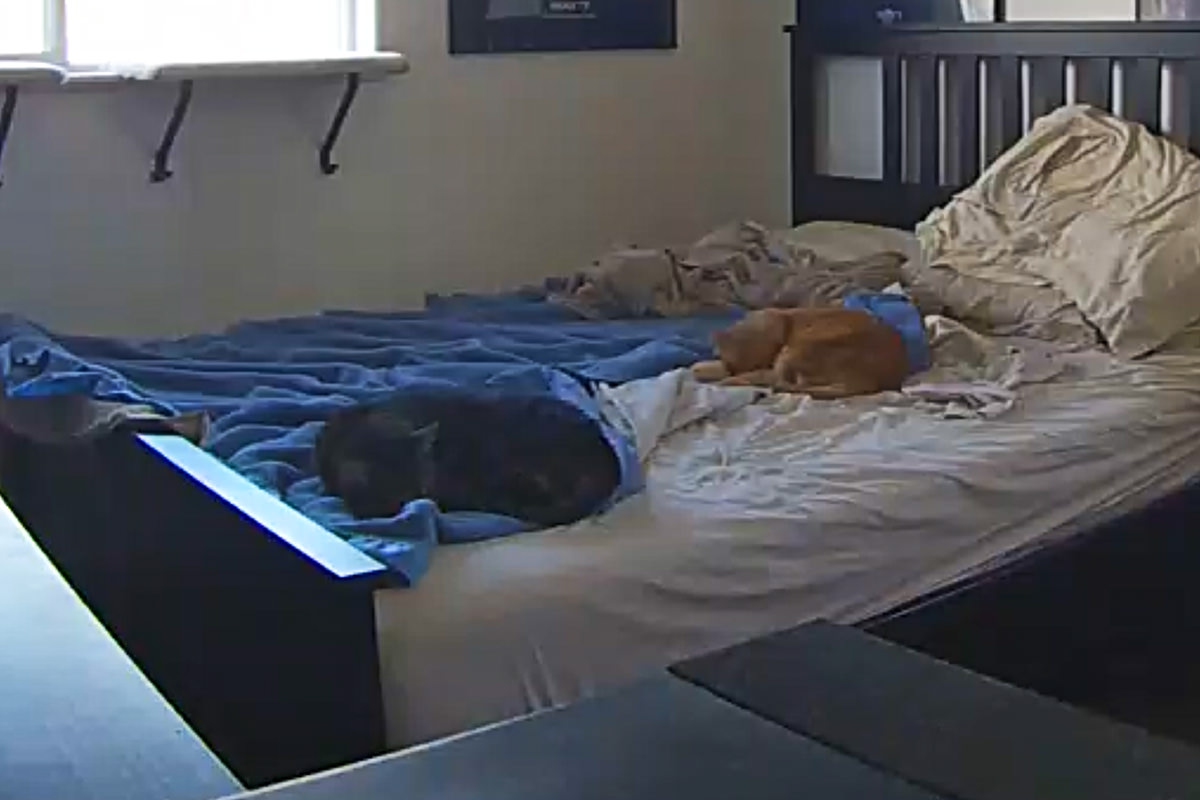 Earlier this past week I noted that Jake and Jenny's entire personality can be summed up by how they sleep...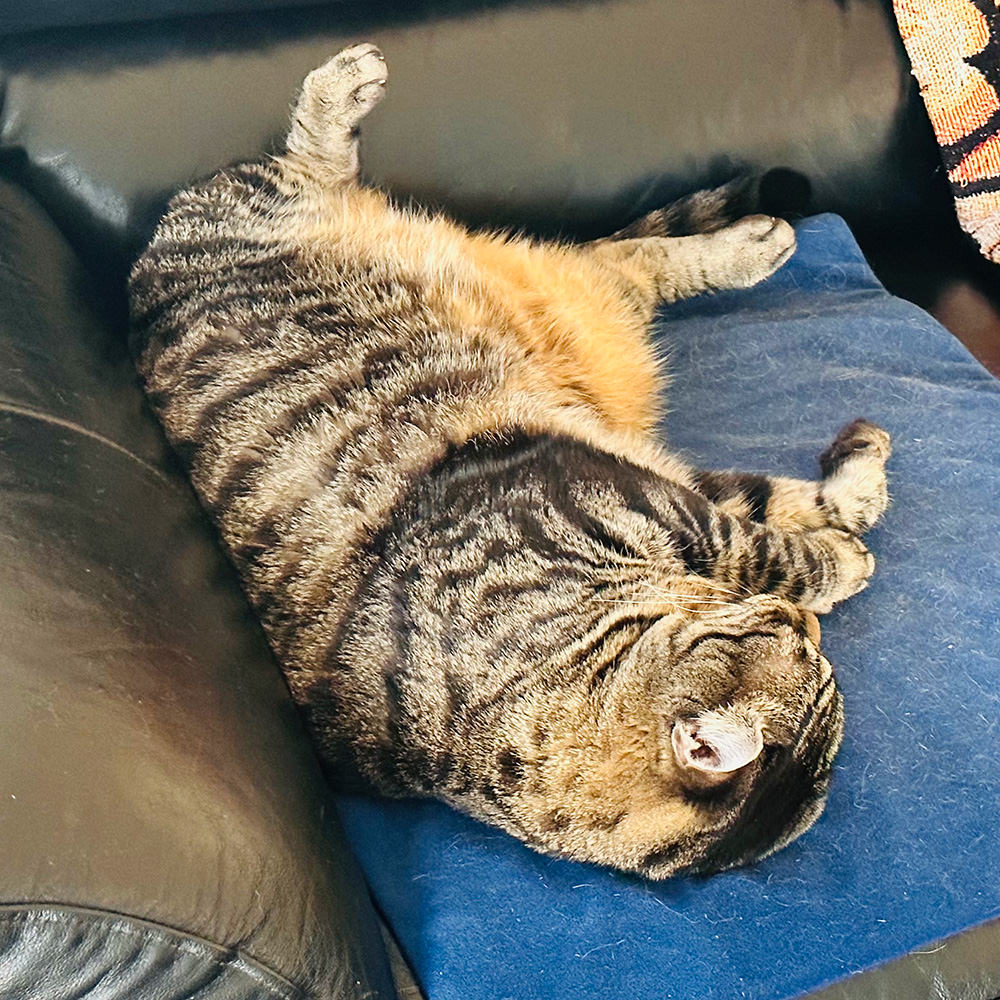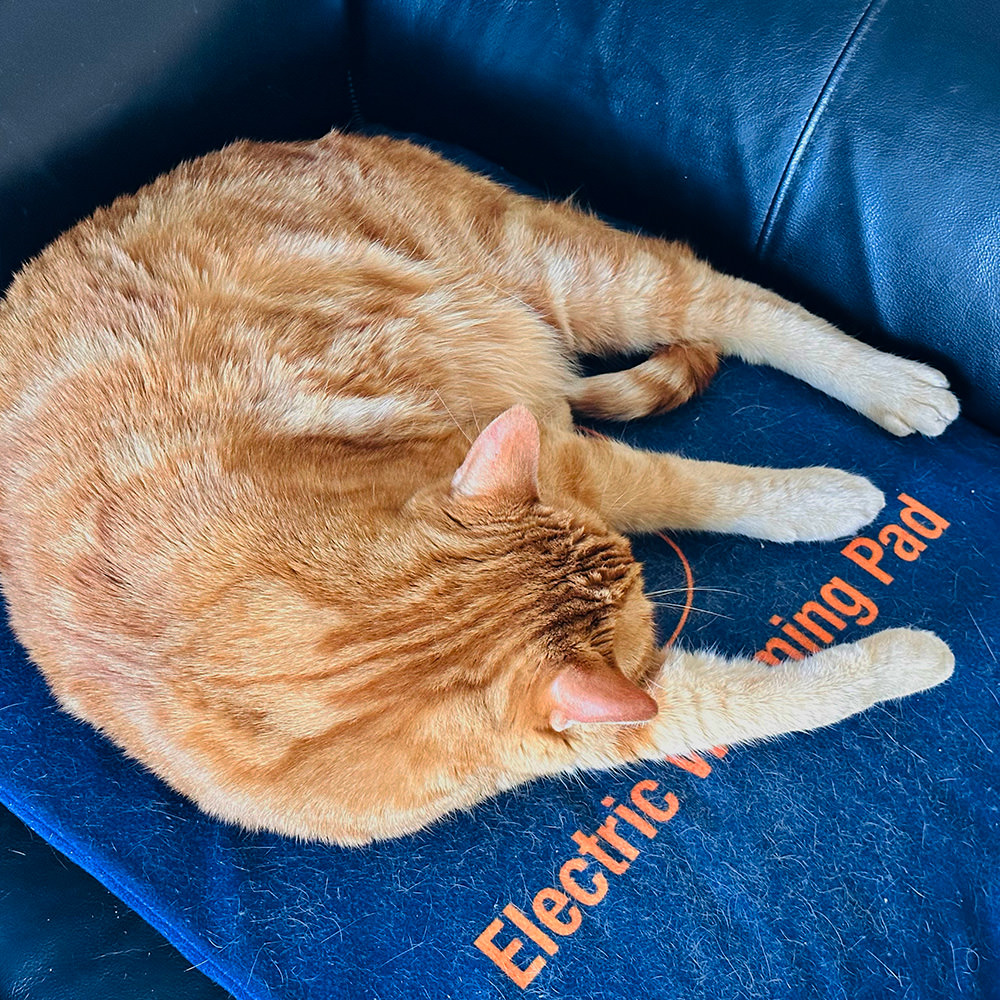 Jake's a total dude-bro who sleeps spread-eagle and likes to leave it all hanging out.
Jenny's a proper little lady who reveals nothing and is a bit more reserved.
I'm happy that they have such wildly different personalities, because it makes me appreciate them more in their uniqueness.
Posted on March 17th, 2023

Wait... what's happening? This week's Caturday is on... Friday?!?
I'm afraid so. Today UPS showed up with a Very Important Package, and I will need my Saturday post to run through that bit of excitement. So kitty drama comes a day early.
The "Broths" food that the cats love best is "Broths with Tuna, Anchovies & Whitefish"... but it's my least favorite because there are WHOLE little fish in there. Which I give to Jake because Jenny only licks them, she doesn't eat them.
And so that Jakey-Bear doesn't get a whole fish stuck in his throat, I always cut the poor little creature into three pieces for him. WHILE FREAKING OUT THE ENTIRE TIME. But my consolation is that there's only ever one little fish in the entire bag. EXCEPT THIS TIME I GOT THREE OF THEM IN THE BAG THAT I HAD TO CUT UP! GAAAAAAAAHHH!
So gross.
Earlier this week I saw something that kinda blew my mind. Jake jumped down off the cat tree to climb over Jenny, at which point she usually scampers away at top speed. As I was going to film this, Jake decided to stop and sit on her...
Jenny still laid there for a bit before she realized that Jake wasn't going to move on.
I was sure to give her extra belly rubs...
At least I did until Jake decided he wanted to sit on her there too. This time she wasted no time scampering off. Jake took that as an invitation to watch TV with me. So what can you do?
It's tough to be mad at a cat for doing cat things, but I sure wish Jake would let Jenny have her space.
Posted on March 11th, 2023

For the first four days of vacation, me and my houseguest stayed at my place. This is always an interesting prospect because my feral rescue cats do not react well to strangers and spend most of their time in hiding.
But every once in a while...
Jake, who usually takes 3 or 4 days to make an appearance showed up on Day Two. Even more remarkable? The Dutch Bitch was able to coax him into more than remote glaring...
Jenny even made a brief appearance on Day Three!
The final four days we were in Seattle, so my cats were left to their own devices.
The drive back over the mountains was lovely. And then I arrived home to Jake squawking his head off at me... demanding pets. Jenny couldn't be found, so I went looking. As I was wandering, I went into the guest room and found a MASSACRED BAG OF CAT TREATS!
Which means either my guest wanted a midnight snack and was unfamiliar with how to open a package... or Jake and Jenny decided to help themselves to a treat in my absence.
ROLL THE TAPE! — It was Jake who managed to get the package. But it was Jenny who dragged them into the guest room hours later to shift the blame...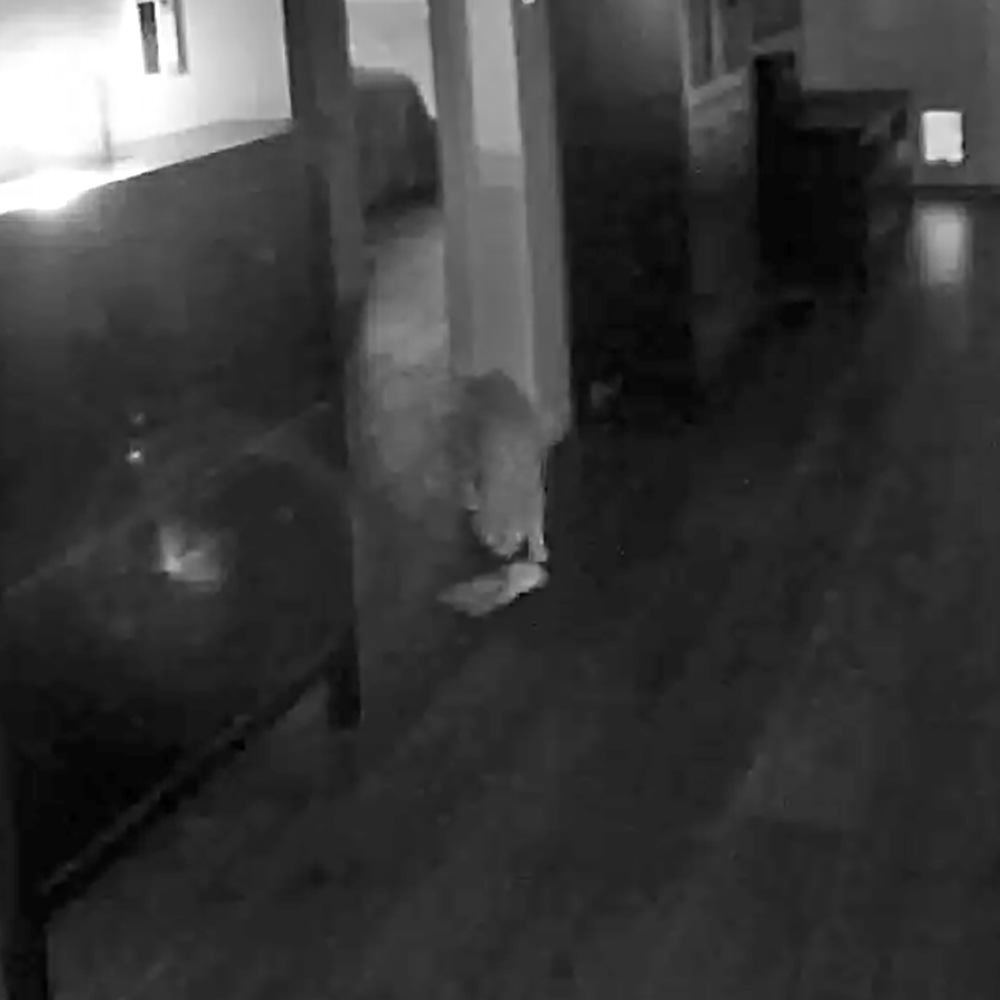 Jakey-Bear is happy to have me home... though you'd never know it from this photo...
Jenny is being a little more cautious and still hasn't graced me with her presence.
Posted on February 25th, 2023

Jake and Jenny are so ready to be done with our indecisive weather... and so am I.
It warms up, at which time they start shedding like crazy. Then it gets bitter cold at which time they stop shedding so badly. Lather, rinse, repeat. They are also not happy that Spring isn't warming up the catio, because every time they go out, they turn right back around and come inside... then complain to me about it! And it's like, sorry besties, I don't control the weather.
But I can attempt to stop the massive amount of fur piling up in my house. Fortunately Jenny just loves The Furminator, because it will pull out enough hair for me to build another cat...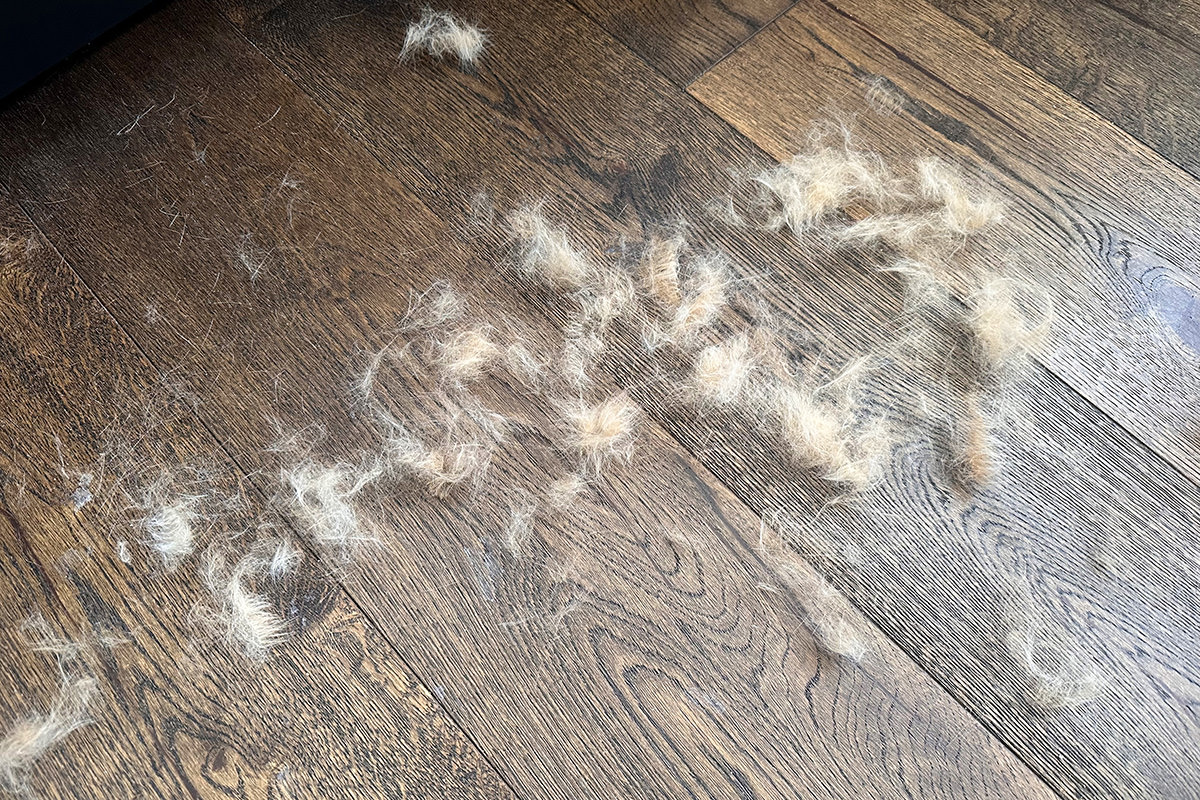 Seriously, Jenny is almost euphoric after getting Furminated...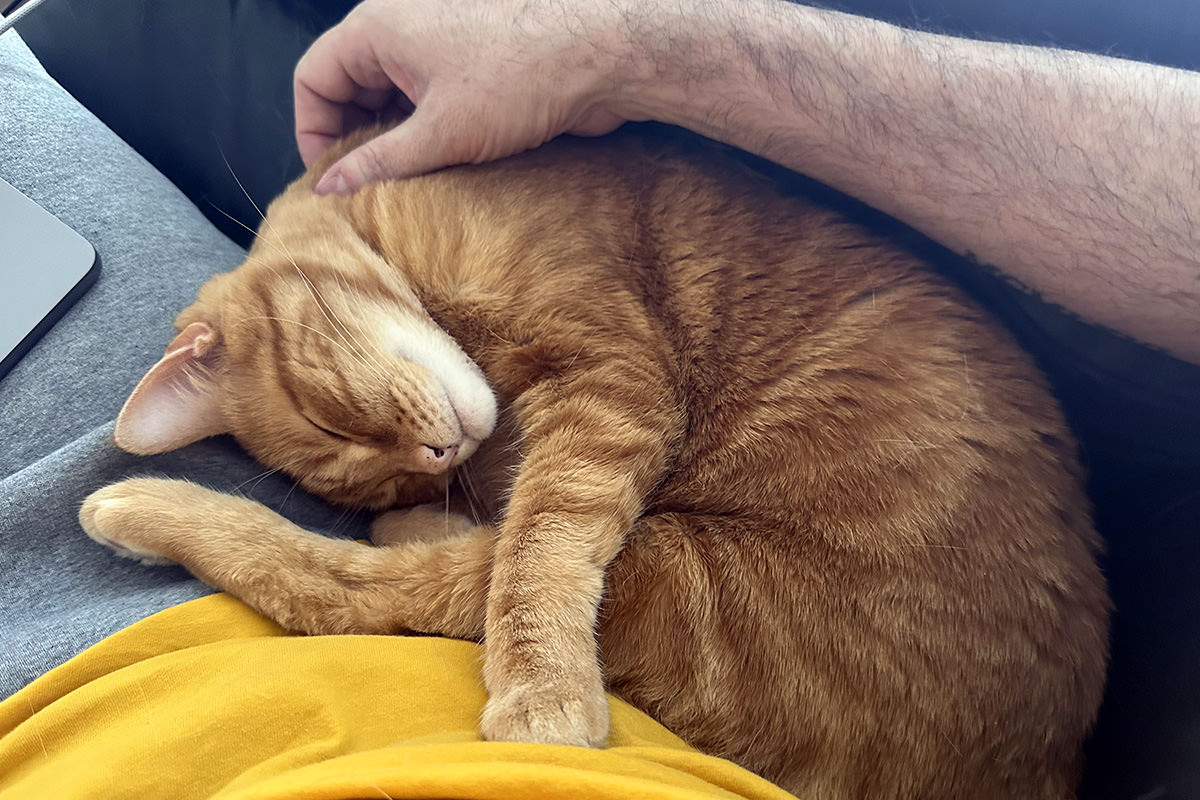 Jake is more hit-or-miss. Sometimes he's okay with The Furminator. Other times he most definitely is not. What he's definitely okay with is climbing all over his sister when she's on the warming pad he wants to be on...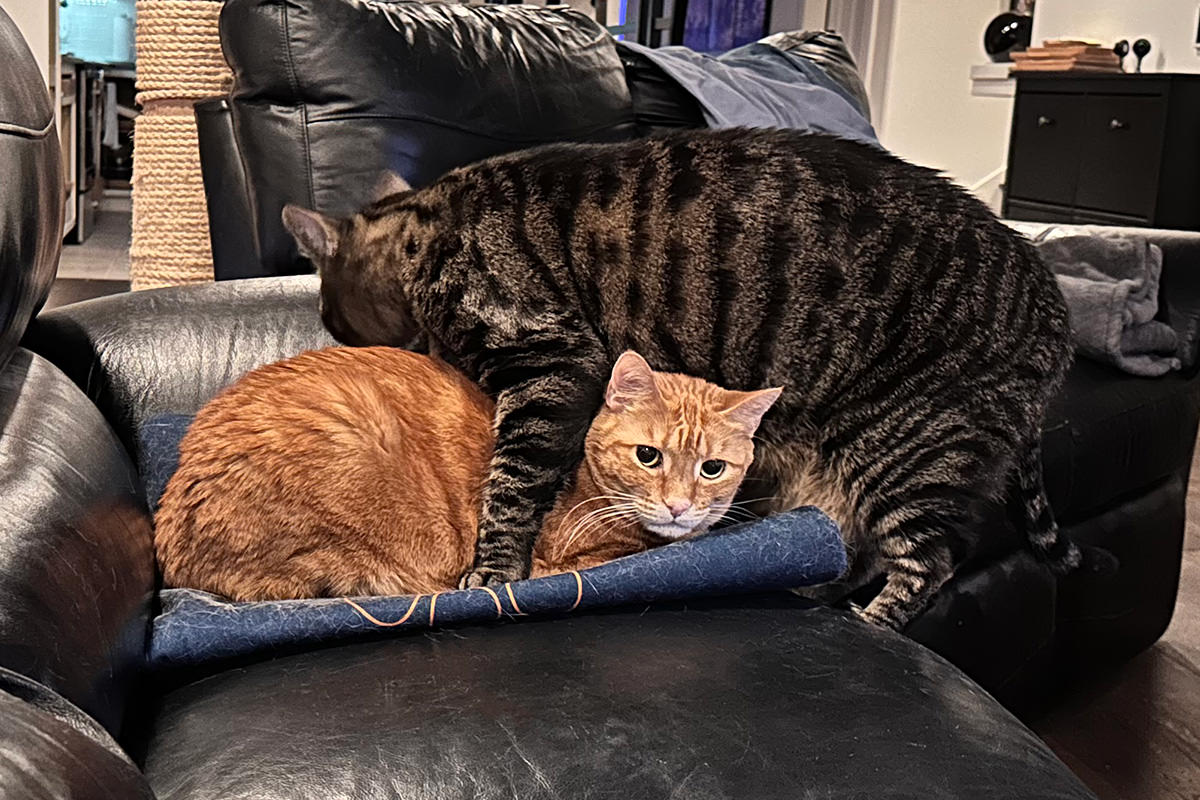 The cat tree that I buy always comes with little fuzzy balls that hang down off of it. They last maybe a week before they've been ripped off of it. When I got home from work the other day, Jake had pulled his fuzzy balls out of the cat toy box and brought them out, so I re-attached them to the cat tree.
He was less than impressed...
Hoping Spring actually gets here very soon so I don't have to live with my cats' disappointment.
Posted on February 18th, 2023

I buy my cats a lot of toys in an effort to keep them from getting bored. Like a lot a lot. Every time I see something interesting.
If they take an interest at all, it's fleeting. They get bored easily.
What they haven't gotten bored with? The packing paper that my picture frames came wrapped in from Target. The stuff is magic to them. They never get tired of playing in it... sleeping in it... and dragging it everywhere. There's no way I can bring myself to throw the stuff away...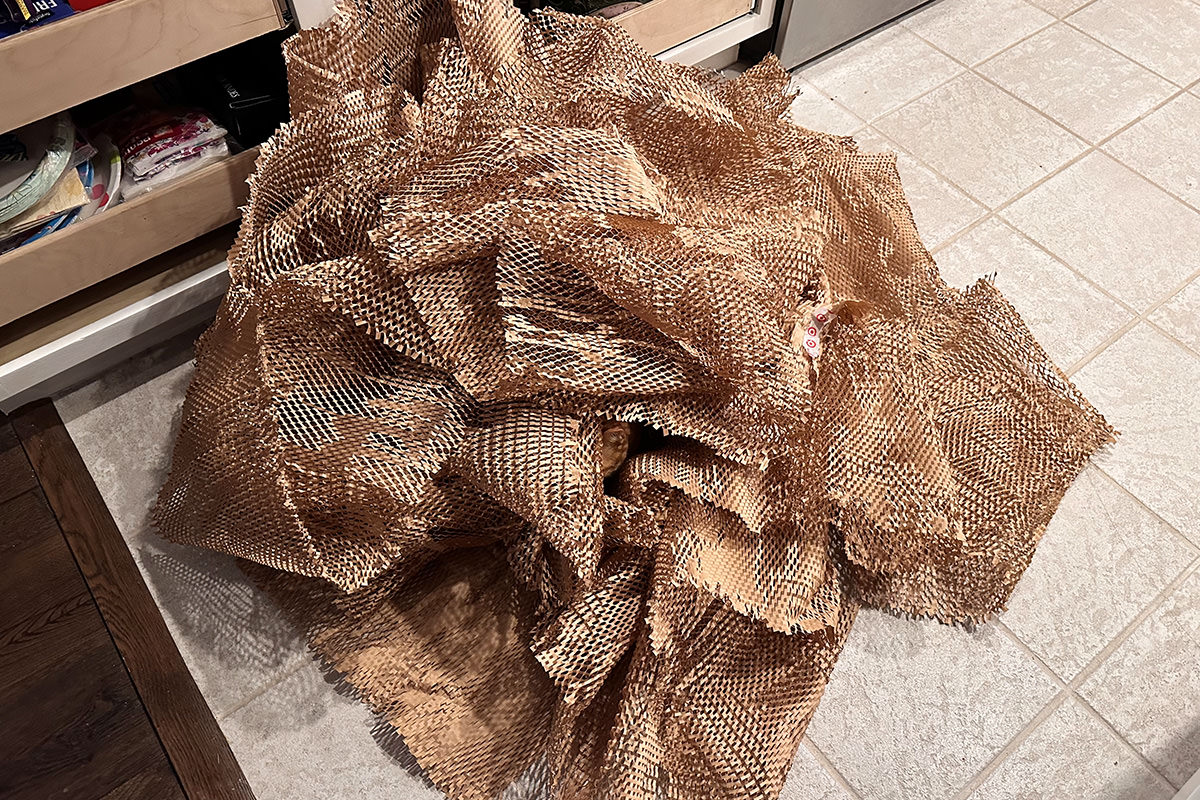 Though Jenny likes to terrorize me because she's the same color as the paper. She hides and then pounces when I walk by. I mean, do you see her in that pile above? Oh. Here she is...
Jake is easier to spot. Mostly because he's a completely different color than the paper... but also because he doesn't dig himself in deep like Jenny does...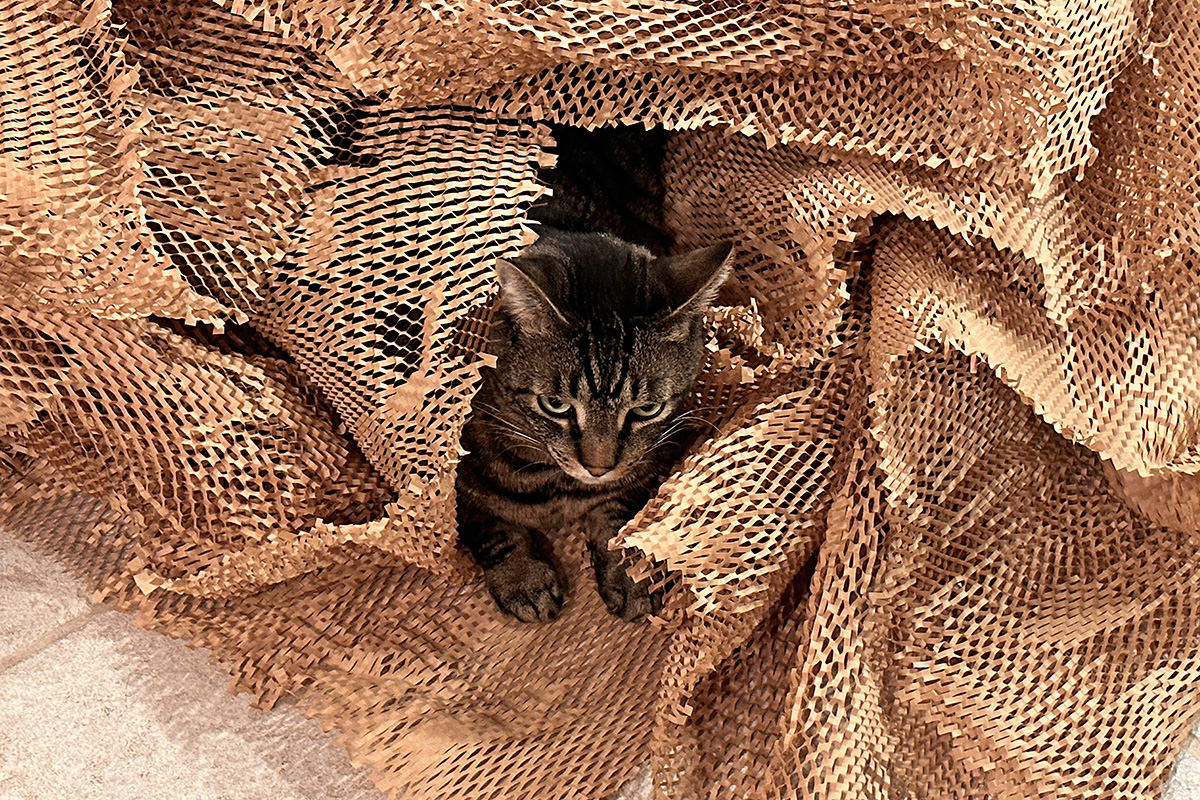 Jake is much more at home staring at me while I'm on Zoom calls...
Toy money wasted. I should just give my cats boxes and packaging material from here on out.
Posted on February 11th, 2023

This morning I gave the cats their treats. Jake ripped through his so fast that I saw him starting to try and get in on Jenny's treats. I lifted him out of the way, said "No," and waited for him to start pouting like he does. Instead he went back to his bowl and started licking it. I found this sad enough that I said "Aww, buddy! You just had breakfast!" I also found it amusing enough that I was laughing while I said it.
Poor deprived kitties.
There are times that I think back to the fact that I was only going to the shelter to pick up Jake. I had no idea he had a sister there until I showed up. It took me no time at all to say "Yeah, I'll take them both" once I found out.
And when I try to imagine what I almost missed out on...
Don't get me wrong. If I only ended up with Jake, I'd still be one of the luckiest pet owners on the planet. But the true joy from these two knuckleheads is the fact that they're so much better together.
In five days I will have had them for seven years.
I can't imagine my life without them.
Posted on February 4th, 2023

Last Caturday I waxed poetic about the "Broths" that I've been feeding my cats. This week I'm diving into cat treats.
For the longest time I resisted giving my cats treats. Jake was heavy enough, and I didn't know that it was very good for them. But then I started factoring treats into their feeding quantities and schedule because I needed some way of luring them into the kitty carriers when it's time for a checkup at the vet.
Besides, I was using the Royal Canin treats, so at least it was quality.
Until COVID happened and the Royal Canin were increasingly hard to find. Then I just started buying whatever treats I could get my hands onto. Since the cats were each getting less than a tablespoon a day, I wasn't terribly concerned.
And lately I've been raising the stakes on my treat game...
I've been sticking mainly to Friskies "Party Mix" because Jenny hasn't had an issue with any of them. She mows through them regardless of the flavor I pick. Which lately includes...
Meow Luau
Cheezy Craze Crunch (made with real cheese!)
Lobster Mac 'n' Cheese
Chicken & Waffle
Morning Munch Crunch (egg, bacon, and cheese!)
I don't know if there's any real difference. They could all taste the exact same, for all I know.
And I will never know, because I am not going to be snacking on them any time soon.
Posted on January 28th, 2023

Vets can't come to a consensus on whether dry food or wet food is best for cats. So I feed them both. At 6:55am they each get a spoonful of wet food. At 7:00am they each get a small amount of dry food. At 7:20 they get an even smaller amount of dry food... AKA "Second Breakfast," because they will scarf it all down at once and might get sick if I don't split it up. At noon they get a small amount of food for lunch. At 5:55pm they get a spoonful of wet food. At 6:00pm they get a small amount of dry food. At 6:20 they get "Second Dinner." Then at 9:00 they get a tiny-tiny snack to carry them through the night.
These small amounts of food given throughout the day have worked best for Jake and Jenny, and there's no scarf-and-puke sessions when I go this route.
The wet food is indeed a small amount... 1/6th of a can twice a day. Jenny refuses to chomp anything wet, she just licks it, so hers is mixed with a little tap-water.
Last year I changed things up a bit. After each can was done, I split a packed of "Broths" between them. So it's 1/6 can at dinner, 1/6 can at breakfast, 1/6 can at dinner, then 1/2 a packet of broth for breakfast. Repeat.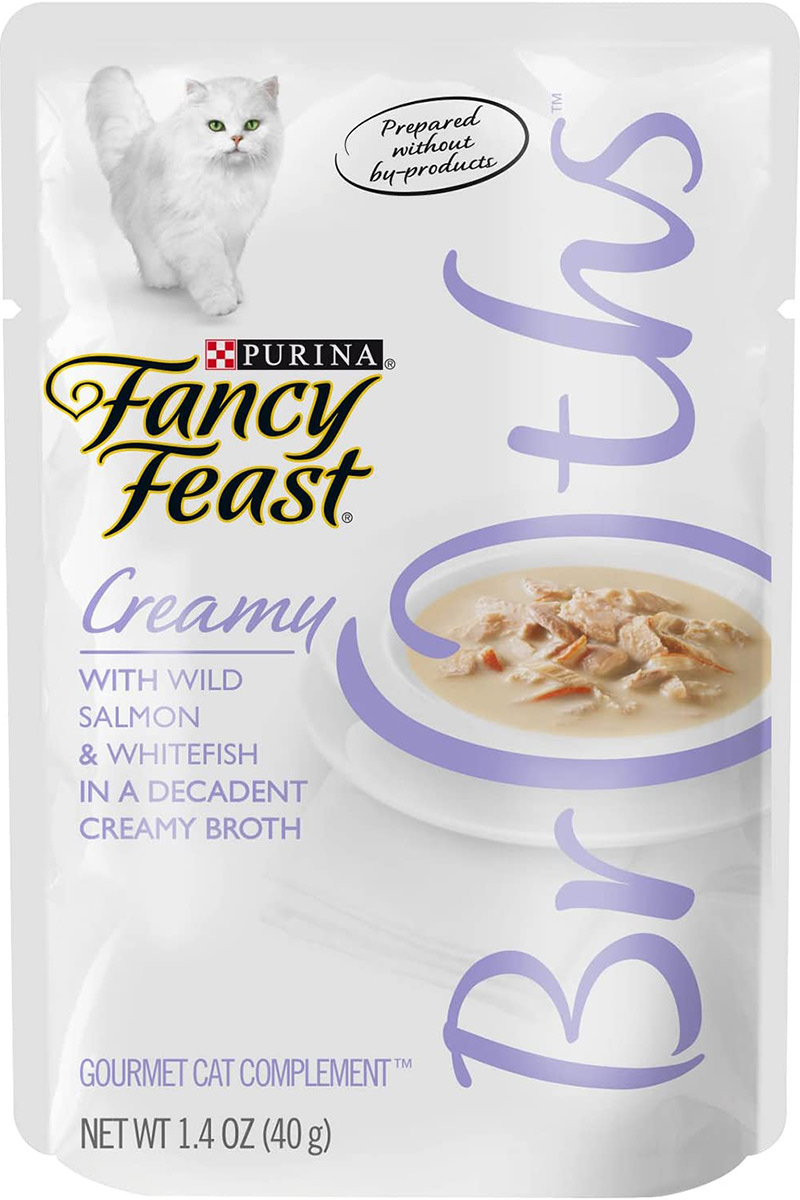 The stinkiest of all Broths... and Jenny's favorite!
I added the Broths for two reasons:
A) The fish oil in it does wonders for their coats... so soft!
B) The cats go bananas for the stuff.
Jenny's sense of smell is diminished, so her meal needs to stink a bit. Broths stink a lot, so it's like the best thing ever to her. The minute I tear open the packet and she gets a whiff, she meows and meows and meows until I hurry up and get it to her. Jake gets most of the fish chunks, Jenny gets the small pieces and most of the liquid so she can lick it up.
Then my house reeks of fish for hours, which is why they get it at breakfast before I leave for work. If they got it for dinner, I would be gagging while trying to eat my dinner, then trying to sleep through the stench of it all.
The things I do as a cat dad.
Posted on January 21st, 2023

Jake had been carting Mufasa around all day. The only time he was been without his favorite toy was using the litter box or eating. Just now as I was heading into the kitchen, I saw him sitting on the steps taking a break... and he managed to sit Mufasa down in front of him UPRIGHT. Which doesn't happen very often. I sneaked back into the living room to grab my phone, expecting him to move, but he didn't. So I managed to get a photo of it. Wouldn't look at me though. Intentionally looked away!
And then...
I decided I wanted to see him set Mufasa down upright, so I went back through the security tapes. And that wasn't even the best part of what happened.
First he set Mufasa down on the step...
Then he leaves!
Then he comes back...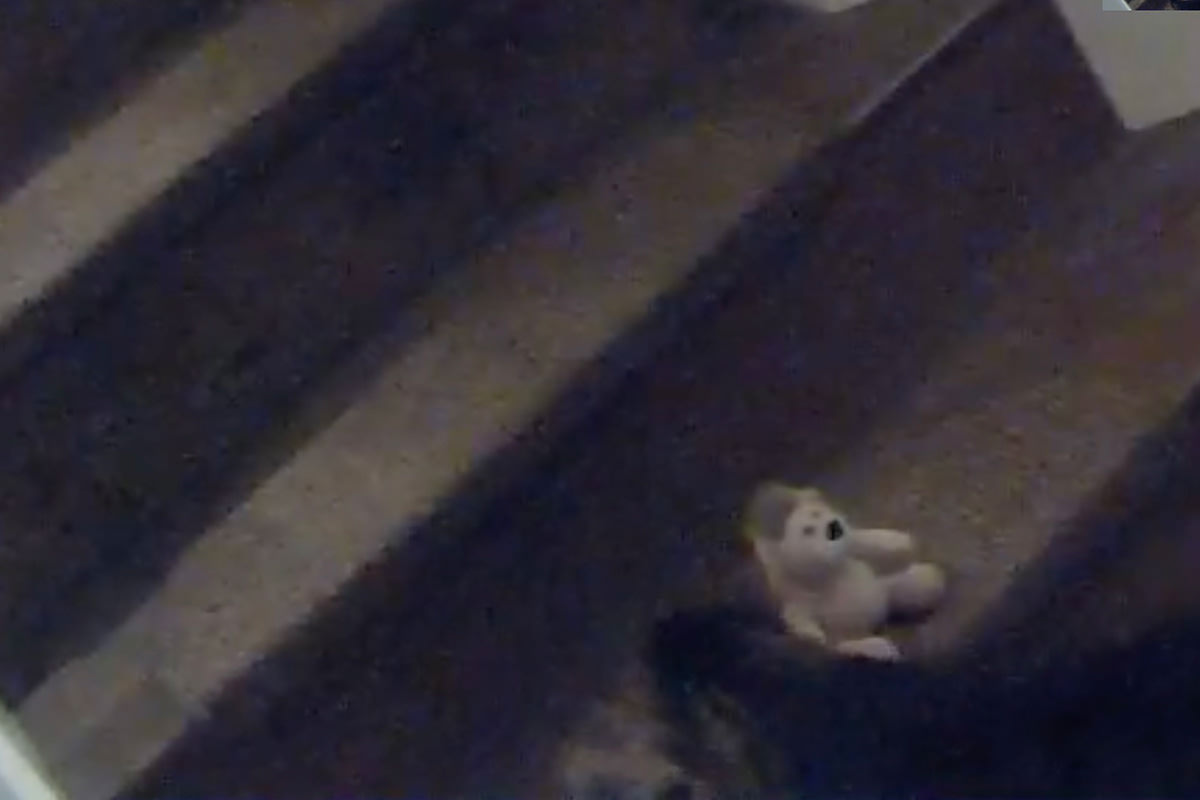 And plops down in front of Mufasa...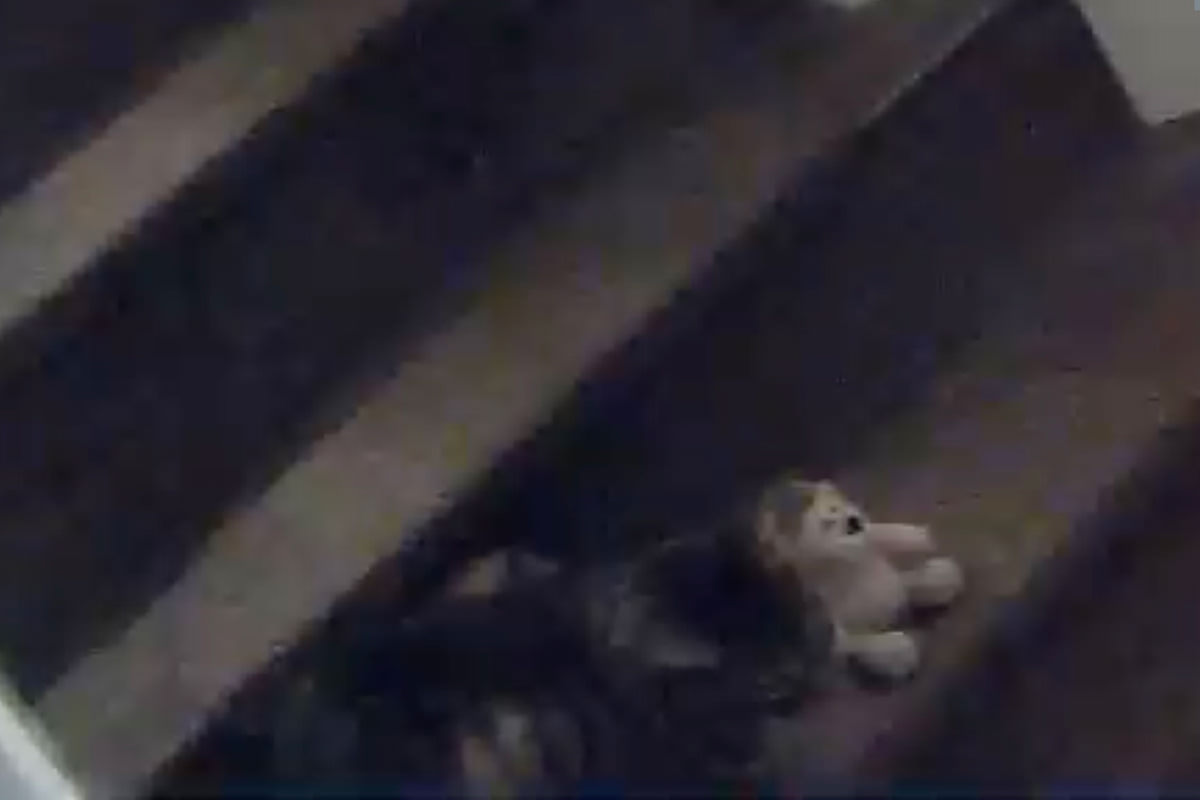 Which is when I saw him and got my phone to take a photo.
Posted on January 14th, 2023

This morning Jenny came in crying at 2:30am, waking me up. This is a rare occurrence, as my cats usually don't interrupt me when I'm sleeping. Unless it's an emergency. So you can understand my concern. I thought maybe something was wrong with Jake or the Litter-Robot needed to be filled or some other catastrophe. But when I wandered downstairs Jake was asleep on the cat tree and everything seemed to be well. When I got back upstairs, Jenny hopped on the bed and demanded to be petted... so I can only guess she had a nightmare or just woke up and needed to be petted.
At 2:30am.
A half hour later she wandered off.
After breakfast I nodded off and awoke to this...
I couldn't resist, could you?
Sorry, buddy.