Posted on April 22nd, 2017

My cats are frickin' adorable.
I mean, most cats are adorable, but every cat is adorable to their human in different ways. Jake and Jenny are very different cats with entirely different personalities and behaviors. And yet... they somehow still manage to get along. They still play together. They still groom each other. They sometimes still sleep together, though Jake has gotten so big that this isn't as practical as it once was.
While reading through a cat forum recently, I saw that people were posting things about their cats they find adorable. I came up with a list of my own, which I am re-posting here for Caturday...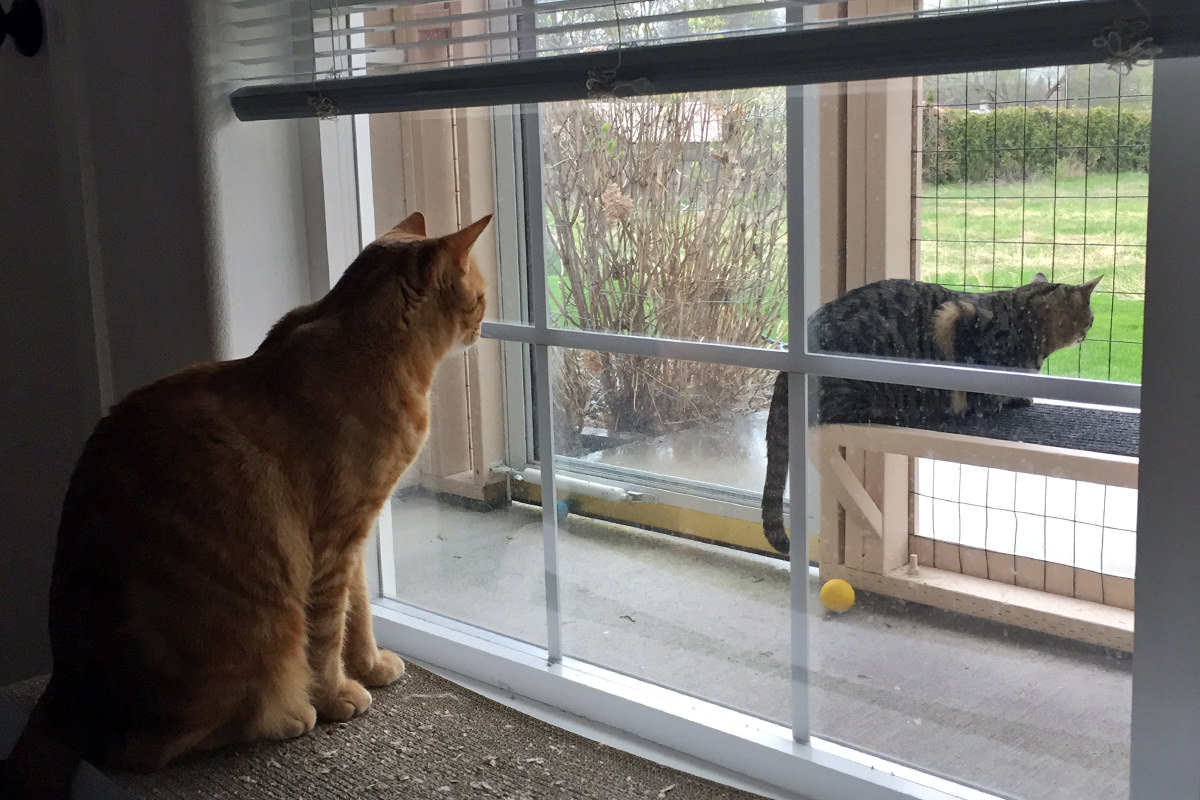 Both cats run to meet me when I get home from work. But it's Jake that gets so excited he just can't stand it. Yesterday when I got home, I had groceries to unload and Jake got impatient waiting for his daily head scratches. So I look down and he's looking up at me with one one paw stepped into the kitchen... a place he knows he is not supposed to go. I look down and say "Jake, Nnnnoooooooo!"... and he draws the paw back. ADORABLE!
When Jenny hears me turn on the shower in the morning, she rushes to the bathroom and patiently waits for me to get out so she can get her head scratches. When I open the door and grab a towel to dry off, Jenny will wait for a minute or two... but start meowing if I don't dry off fast enough. That's already pretty adorable, but last Tuesday she yawned mid-meow and I nearly died it was so cute. ADORABLE!
When I climb the stairs, Jake will sometimes go racing past me and stop on the step so he can cut me off and get petted. I'll pet him for a minute then climb over him. If he's not done being petted, he'll race past and cut me off again so I'll have to pet him more. ADORABLE!
Jenny's favorite thing is smacking her brother in the face. At first she would wait for him to get settled in for a good poop in the Litter Robot, run up and bitch-slap him, then run off. But eventually she got tired of waiting for Jake to poop, and decided to find other ways of smacking him. The latest? She'll haul ass ahead of Jake up the perches in the catio, wait for him to catch up, then smack him in the face as he makes the last jump. ADORABLE?
I think I've mentioned before that Jake can't meow. He just kind of "squawks" instead. Like he opens his mouth wide but can't get anything to come out. It's adorable... but even more adorable is that he doesn't seem to realize he isn't making noise. The other day he wanted my attention, but I just started meowing at him. Each time he'd respond with a longer and longer squawk until I couldn't take it any more and gave him pets. ADORABLE!
When I turn off the lights and go to bed, Jenny will follow me up and hop on my bed with me because she wants to watch TV. This happens almost every night, but sometimes I don't feel like watching television and leave it off. Jenny will meow until I turn it on. ADORABLE!
And... I'm out of adorable for today.
Posted on April 15th, 2017

Originally, my guest room was upstairs next to my bedroom. Eventually I decided to move the guest room downstairs so that everybody has a bit more privacy. This left me with an empty room that I decided to turn into an office.
And so I moved a desk and some shelving into the spare room and all was good.
Except the cats decided that they wanted the room. Anything I put in there was immediately thrown on the floor and shredded.
I finally got the message and removed my office stuff. Then I tossed in a litter box, some toys, and a couple cat tunnels. The cats wasted no time taking it over. They have their own play room now and they love it.
And while I usually work from the couch so I can watch television, every once in a while I still need a desk to work at. And so I dug out the laminated slab from my garage that used to be at the head of my stairs... extended it... re-covered it in leftover wood from my floors... then bolted it to the walls.
Voilà... my beautiful new desk...
I then built a roly cart for my laser printer since I didn't have room for it on the desktop.
Needless to say, Jake and Jenny wasted no time taking over my new office space. Just like they have every other space in the house.
Posted on April 8th, 2017

Jake has started thinking he's the Alpha Cat of the house.
I don't know when the shift occurred, and it's not always consistent, but it's as if he realized that he's got four pounds on his sister and decided to take advantage of it. Sometimes. Other times he just can't be bothered...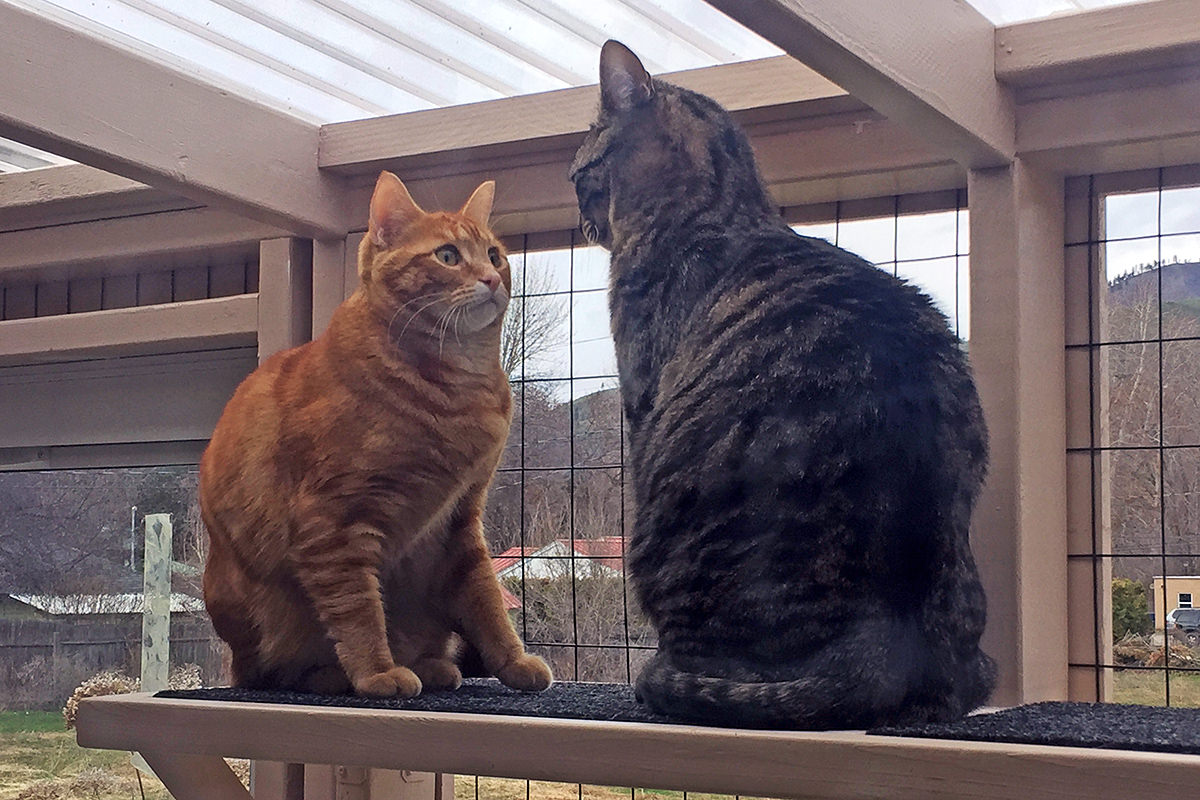 Jenny was birdwatching and Jake snuck up on her. Surprise.
Mostly this Alpha Cat mentality manifests itself on the kitty tower.
Jenny always wants the top perch. If Jake's already on it, she'll take a lower perch, but it's the top one she prefers. Jake doesn't care which perch he's on. But 50% of the time when Jenny is on the top one, he'll knock her out of it just because he can. Sometimes she'll fight him for a little while, but eventually she relents.
This is not to say that Jenny is putting up with Jake's delusions of grandeur. She not only stands up to him when it suits her, she is not above jacking up Jake's shit on a daily basis...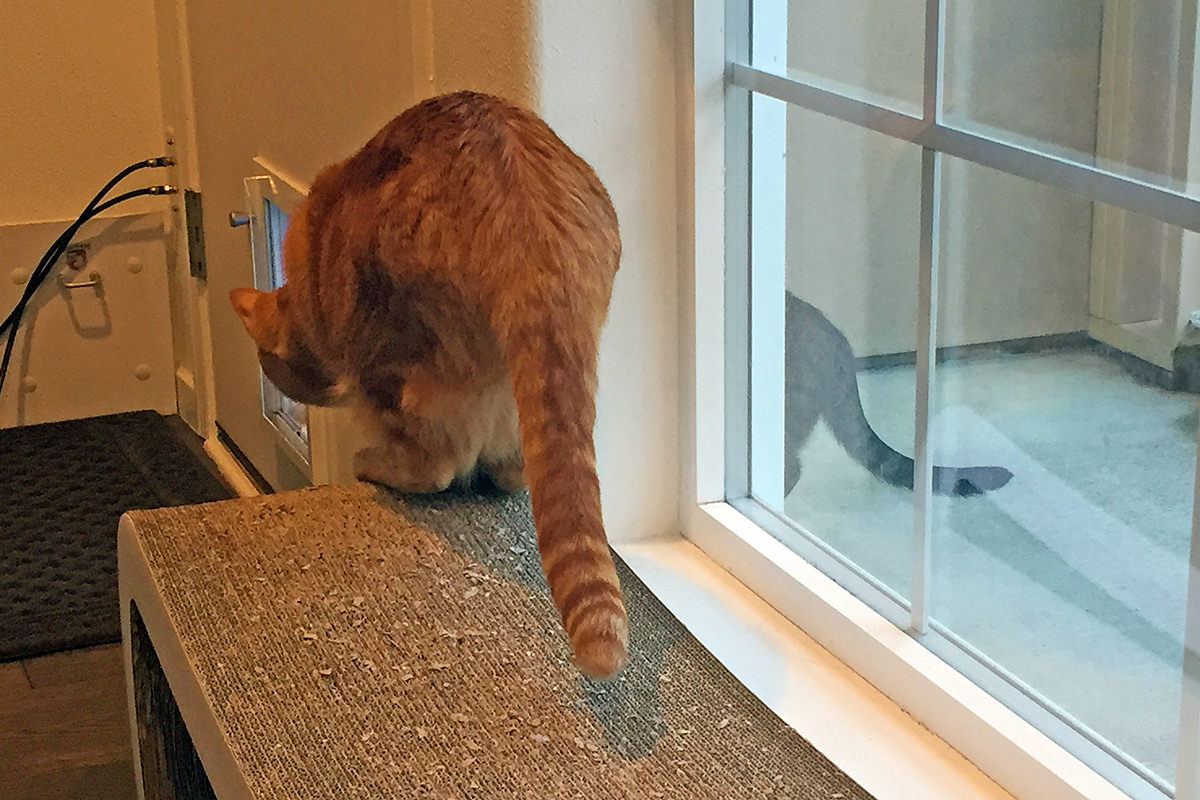 She ended up nailing him good... he didn't know what hit him.
I just feel lucky that they still get along.
Needless to say, as the weather gets better and better the cats are spending more and more time out in the catio. They're even napping out there when the sun is shining. I only hope that if Jenny pukes from the bugs she's eating, that she pukes out there as well.
I think next weekend is the weekend I set up the garage as my wood shop. Then I'll be adding even more catio fun. The construction of which will be fun for me too.
Posted on March 25th, 2017

It seems as though my cats are getting more and more attached to me as time goes on.
Which means that it's more and more difficult to leave them when I have to travel. Despite their automated litter box, their automated feeder, and their automated neighbor checking in on them... they want me to be at home. And when I return after being gone a while, they cling to me constantly.
This morning while I was working in bed, Jenny laid right beside me the entire time...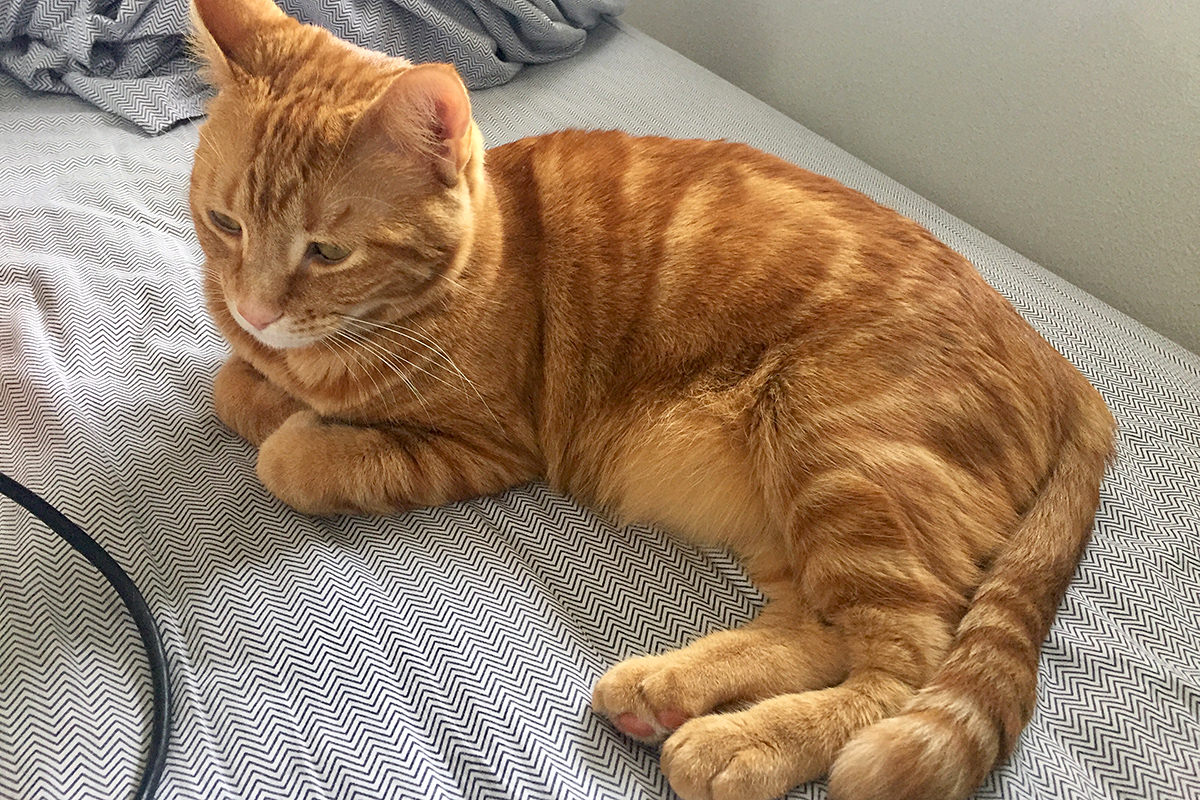 And Jake was snuggled up wanting pets every ten minutes...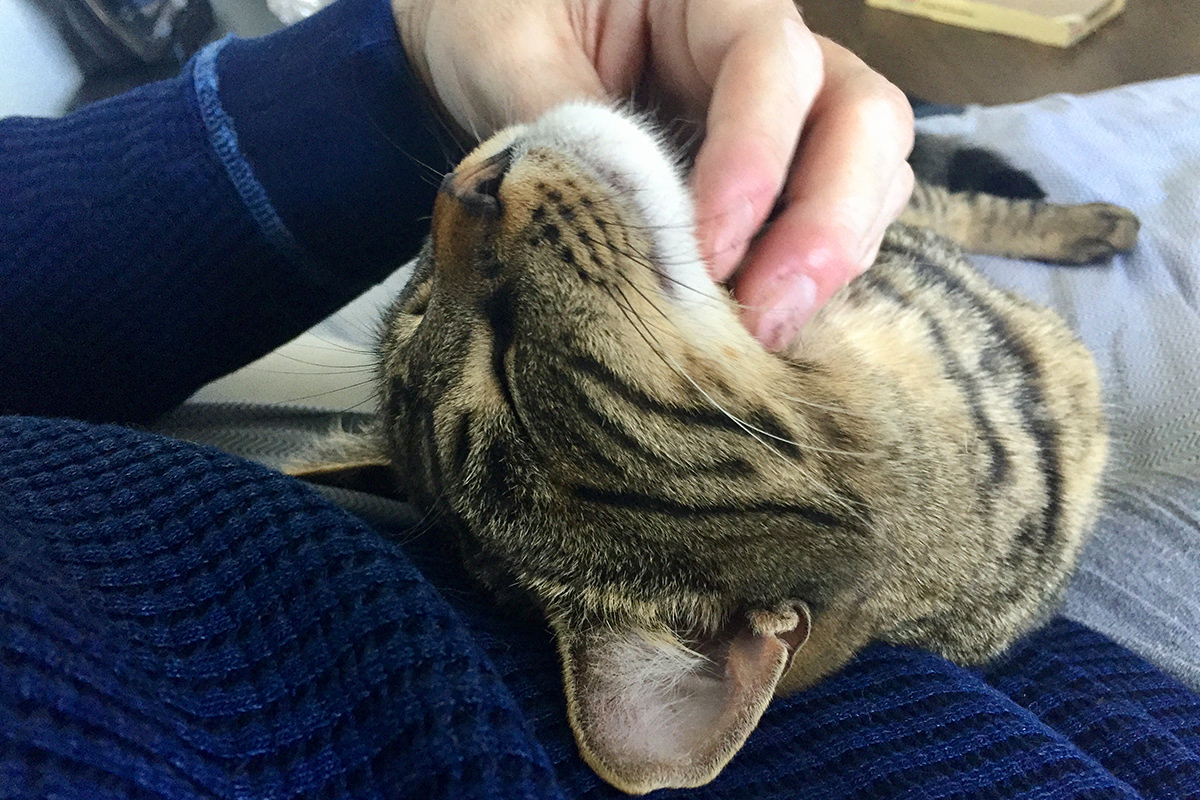 Poor babies.
The good news for them is that the weather is getting nicer, so I'll be able to start working on Catio Phase Two soon. They seem to spend most of their time out there now-a-days, so spicing things up a bit will make their days more exciting.
Hopefully exciting enough that they won't notice me being gone when I have to leave again.
Posted on March 18th, 2017

And now I'm off again.
Of course the cats figured it out, they always do.
Jenny was particularly upset by the news. So much so that she thought it a good idea to prevent me from packing my suitcase...
I distracted them with kitty treats and... away I went.
The drive over to Seattle was pretty bleak for March. Usually we're in almost-Spring mode here by then, but not this time...
Oh well. The roads were pretty much clear, which is all that really matters.
Las Vegas, here I come.
Posted on March 11th, 2017

Adopting Jake and Jenny have me contemplating a lot of "What If?" scenarios.
The biggest "What If?" being... What if I hadn't adopted them? What would have happened? I came very close to not getting them because I didn't understand the rules at the Humane Society. If it wasn't me, I'm sure somebody would have adopted the kittens... they were tiny and adorable after all. But they likely would not have been adopted together, and I have a mild panic attack at the thought of Jenny having been separated from her brother at the beginning. Now she would do fine. But, as a kitten, she took a lot longer to come around. The only thing that helped keep her from being terrified for months was that she had her brother to lean on.
Another "What If?" that plagues me is... What if I had gotten to adopt Jake and Jenny's brother? I certainly wanted to once I learned there were three siblings. But somebody had "reserved" the third kitten, which was something I didn't even know was allowed...
The only thing I do know is that his name would have been Roger. The name I wanted to give Jenny before my mom forbid it.
Ultimately, two cats is what I wanted, and I do think that a third would have added some difficulty with my travel. Litter Robot would need to be emptied faster, so I couldn't be gone as long. Feeding would also be more complicated. So... all's well that ends well. At least I hope that's true for Could-Have-Been-Roger.
Anyway...
Jenny has become addicted to television. Every night she waits for me to head upstairs, then runs ahead of me... excited that we get to watch TV in bed. And heaven help me if I don't turn it on fast enough! She will start meowing at the television until I do...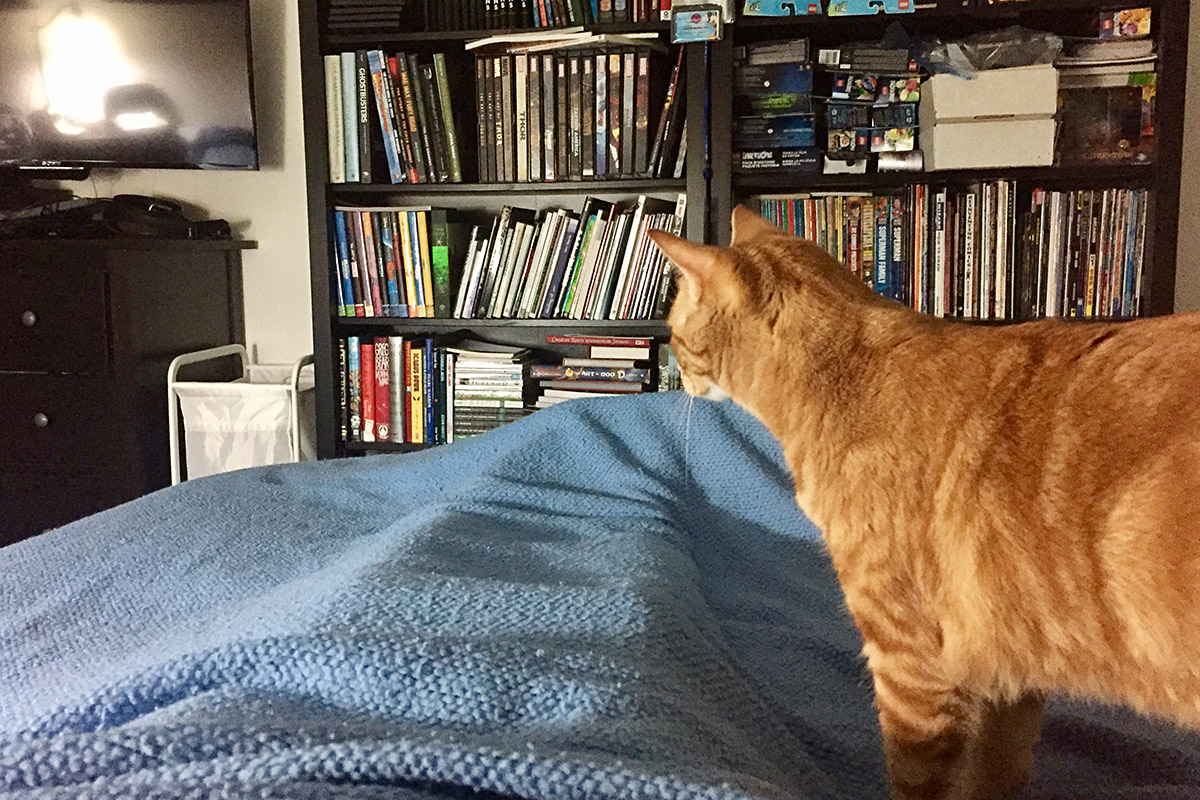 Once it's on, she'll have a seat...
And watch for an hour or more...
She likes shows with people talking the best. The West Wing is a favorite. She does not like action-packed shows very much. The noise and fast camera swaps seems to be a turn-off.
If it's too late... or I am concentrating on work and don't want the TV on... Jenny will sit and stare at me with a disapproving look on her face if I ignore her meowing...
When that doesn't work, she throws herself down and pouts...
Other than TV time in bed, Jenny doesn't hang out with me very often. Could be because Jake has been really clingy lately. He's on me in the morning before I go to work. Taking a nap while Jenny hauls up her morning tributes...
And on me in the evening when I get home from work...
Covered in cats from sunrise to sunset.
There are worse ways to spend a day.
Posted on March 4th, 2017

Traveling when you've got pets back home is the worst.
Not only are you missing your pets while you're gone, but you're worrying about any trouble they might get into as well. And so, even though I have spent a crazy amount of time cat-proofing my house and making sure there's no trouble they can get into, I'm still checking the security cameras several times a day...
...so I can watch them get into trouble.
Yesterday I posted about them jumping on the kitchen counters where they know they're not supposed to be.
But that was just the tip of the iceberg...
• Jenny dragged most of her toys upstairs, as expected. She also dragged up an iPhone cable, which one of the cats conveniently bit in two. No idea where she got it.
• I left my Hanes hoodie hanging on the back of a chair. It was pulled down, scratched up, chewed on, and dragged around the house.
• My upstairs office is now officially the cat's play room. I've had to pull all of my stuff out because they love to "play" with it. The only thing I had left in there was a desk, book case, and a box of envelopes. Now all I have is a desk and a book case.
• I'm working on a family photo collage in my stairway. Since it's an odd-shaped wall, I've used masking tape to section off where the photos go. Jake ripped down every bit of it he could reach.
• Which was a prelude to him ripping down a "DO NOT LET CATS OUT!" sign that's been in the catio for months. Apparently he's been hating it for a while and suddenly decided he'd had enough. So then, without hesitation...
Thanks, Jake.

When I got home last night after midnight, the cats went crazy ove me. Which was nice. Until Jenny decided she needed petting at 1:00am.
And 2:30am.
And 3:45am.
And 5:00am.
Neither her nor Jake have ever bothered me while I'm sleeping, so I'm guessing that she's just making up for lost time?
Anyway... today they had calmed down to their normal(?) selves and spent most of the day outside in the catio because it was just too beautiful out to be inside.
When I left, the weather was like this...
L.A. was like this...
Now that I'm back? This is the view the cats have from their catio...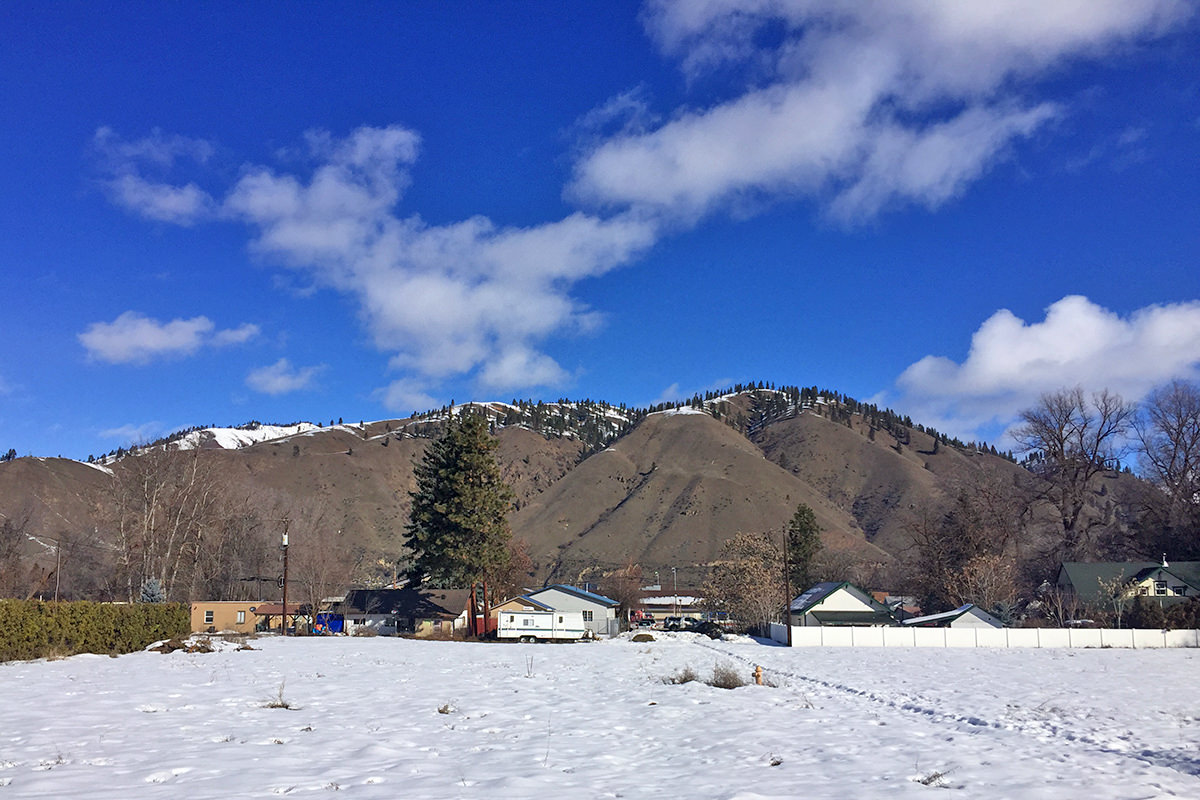 Looks like I brought California skies back with me.
Which is great, because this snow can just go away any time now.