Posted on June 19th, 2021

I am not home for today's Caturday... I'm at the airport!
It is very, very strange to be at the SeaTac International after so long. Pre-pandemic I was here twenty times a year... then there was nothing since November 2019! I'm not here to travel, alas, but to go to my TSA interview for renewing my Global Entry card. Really wish I could have done that via Zoom, but every effort to make a Zoom appointment failed. So I had to take a 2-1/2 hour drive over the mountains instead.
In other news... Jake has suddenly realized that the alarm that sounds for breakfast and dinner comes from the Alexa speakers.
I know this because now when he's hungry in the morning and wants his breakfast, he no longer bugs me... he is wanting to bug the magical box where the alarm sounds. Apparently so he can convince Alexa to chime earlier or something...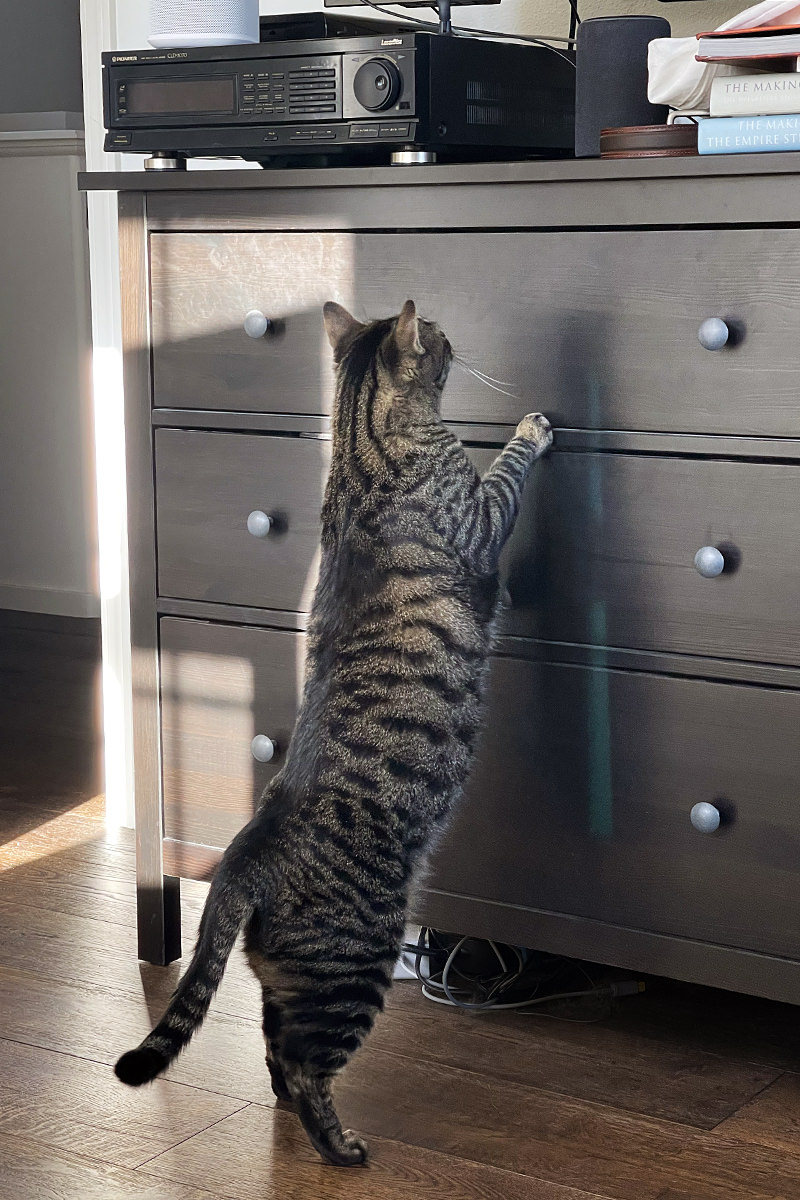 He's done this three times this past week. Patience is apparently not something Jake feels like dealing with when food is on the line.
In other, other news... bring cats...
Here's hoping that my cats are having fun without me back home.
Posted on June 12th, 2021

Still no sign of the kitten I'm trying to rescue. I should probably just accept the fact that he's move on and try to do the same. It's tough though.
Now that Summer is (mostly) here, the cats can't seem to tear themselves away from the catio. More often than not when I come home from work they'll be out there sleeping or keeping watch over their kingdom. Oh... and another thing they do? Chatter at bugs and birds running around on the roof. Usually one of them will run up when they see something interesting to chatter at whatever's going on... then the other one will get FOMO and have to run up and see what's going on...
Sometimes I'll get an alert on the catio security camera only see my cats taking serious chances trying to catch bugs or swat at birds. It's heart-stopping given that I can't really afford a vet bill right now if they fall and hurt themselves...
And speaking of the catio... It really is the gift that keeps on giving. I finally got a good video of one of my cats climbing my massive pole where they're at a good enough angle that you can actually see them...
Go, Jenny! Usually they are climing on the far side of the pole so all you can see is their little paws moving up the pole, but every once in a while they climb up the side. Fortunately I actually though to save it this time!
And now it's time to go change the food in the trap so that assuming the kitten does come back, he's not eating old, crusty junk. Fingers crossed.
Tags:
Cats
,
Caturday
Categories:
Uncategorized —
Click To It:
Permalink
—
0 Comments: Click To Add Yours!
Posted on June 5th, 2021

Still hacked.
I honestly don't understand how this stuff happens. Apprently there was a vulnerability somewhere that my protection plugin didn't catch. It only alerted me to the fact that files had changed, and when I look at the source code, I see it there... I just don't know where it's being injected yet.
Reeeeealy hope I don't have to restore from backup.
This will be the look on my face if I have to do a restore from backup...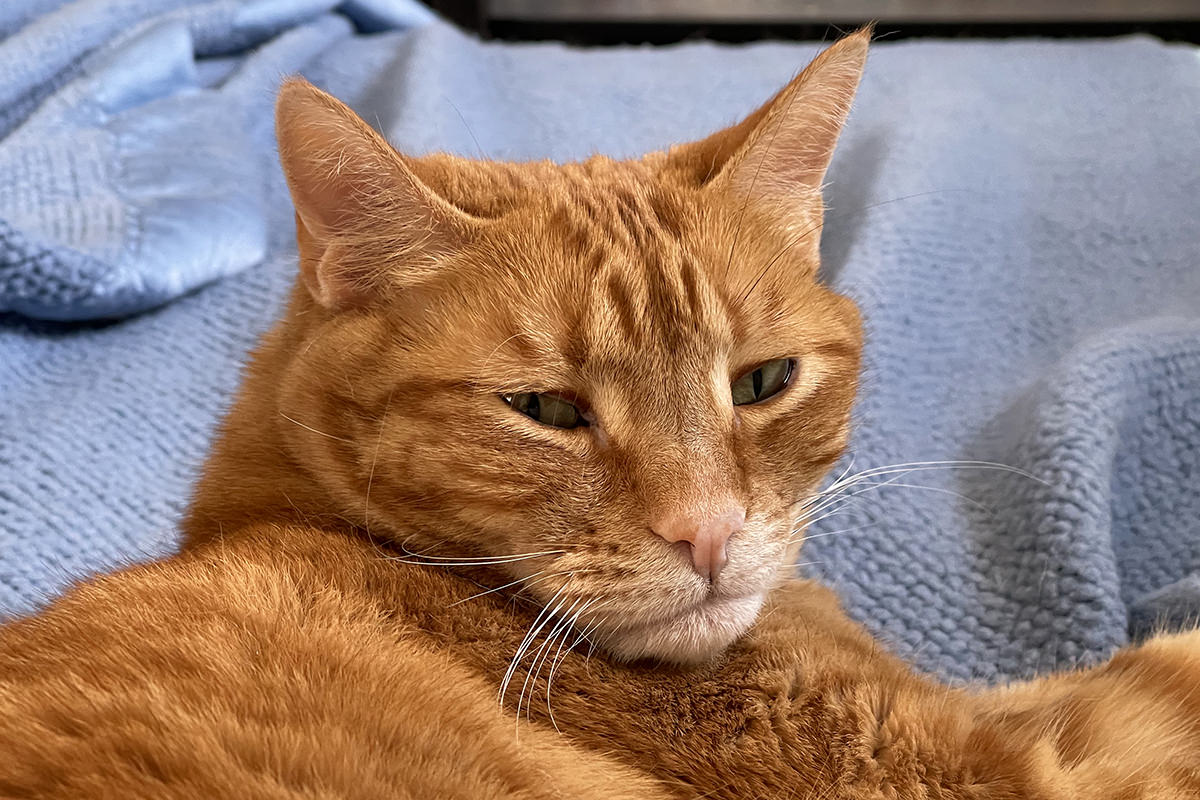 It's Caturday, after all.
Posted on May 29th, 2021

I have loads of photos of my cats. But photo after photo gets boring, so I was looking for something different. I didn't know exactly what that was going to be until I saw one of my long-time blogging friends was painting rocks that she hides for people to find. She paints a lot of cats, so I thought I'd ask about hiring her for a commissioned set for Jake and Jenny. Lucky for me, she accepted. And today they arrived!
There's Kitten Jenny, Adult Jenny, Kitten Jake, and Adult Jake hugging Mufasa. Kim also gave me two Taco Cat rocks to hide.
The only thing I told her is that Jenny needs to have her trademark frowny-face. Everything else... including Mufasa... she came up with entirely on her own! How awesome is that? She captured them perfectly, and I couldn't be happier.
Now I need to build a shadow box to display them.
You can find Kim's Instagram by clicking here.
You can also find her on her Facebook page right here.
Posted on May 22nd, 2021

Whenever I see another cat exploring the great outdoors of my back yard while Jake and Jenny gaze out at them from the catio, I can't help but feel a little bad about it. They're such scaredy-cats that roaming free would probably be traumatic for them (it certainly was for Jake when he escaped!) and even more traumatic for any birds in the area, so I try not to let it bother me too much though.
In an effort to take the guilt away, I bought a "Fresh Patch Cat XL" to drop in the catio so they could at least have some nature to walk on or roll around in or whatever. The stuff is available in different sizes, but I opted for the largest 2' × 4' size to make it more lawn-like. What fun is a miniscule patch? It's grown without dirt and only requires a daily spritzing with water to stay fresh. It's supposed to last three to four weeks, but I'm hoping that it last longer since Jake and Jenny won't be peeing on it and taking dumps on it like a dog would.
The smaller patches come in a waxed-back box. The largest patches do not, so I ordered a tray to go with it. I thought it would be a flimsy thing and was prepared to build a frame for it, but the thing was really tough! The grass itself is okay... though it had sludgey spots and was yellowed already along one side.
After flopping the tray down, all I had to do was roll out the grass and it was ready.
At first, Jake wanted nothing to do with it. But Jenny? she was very curious...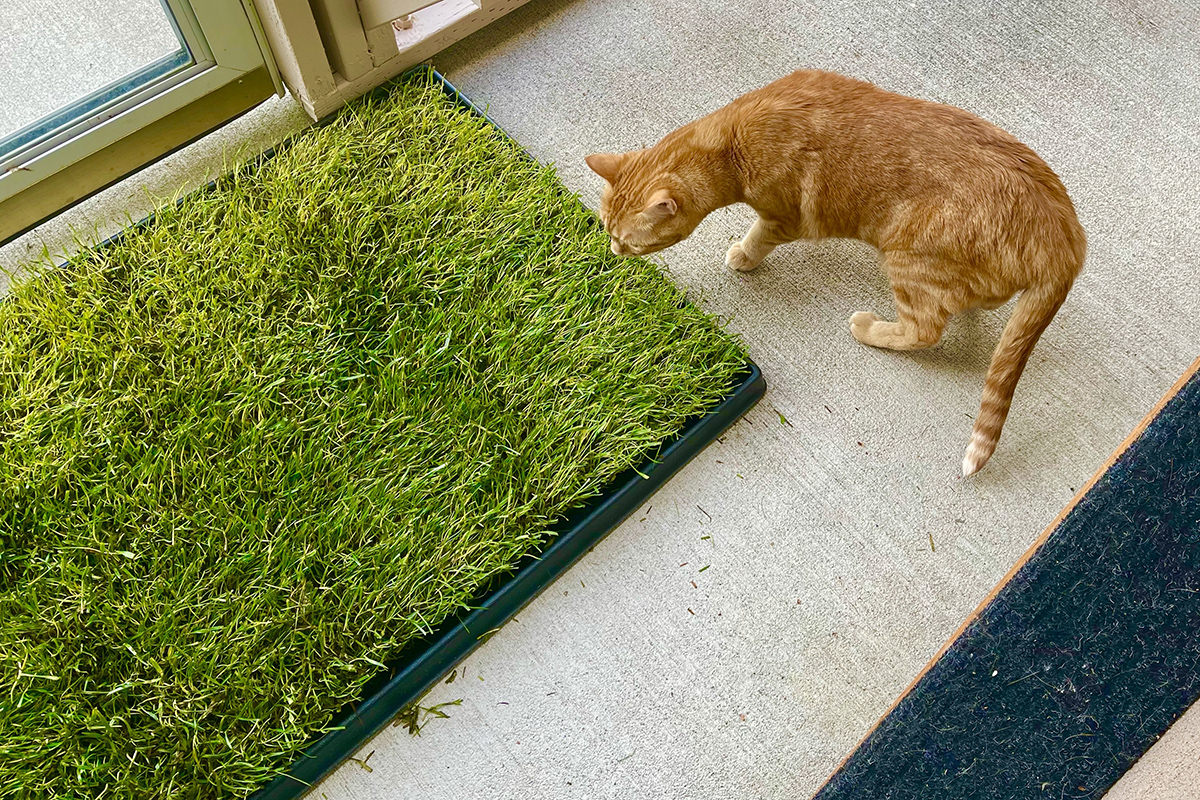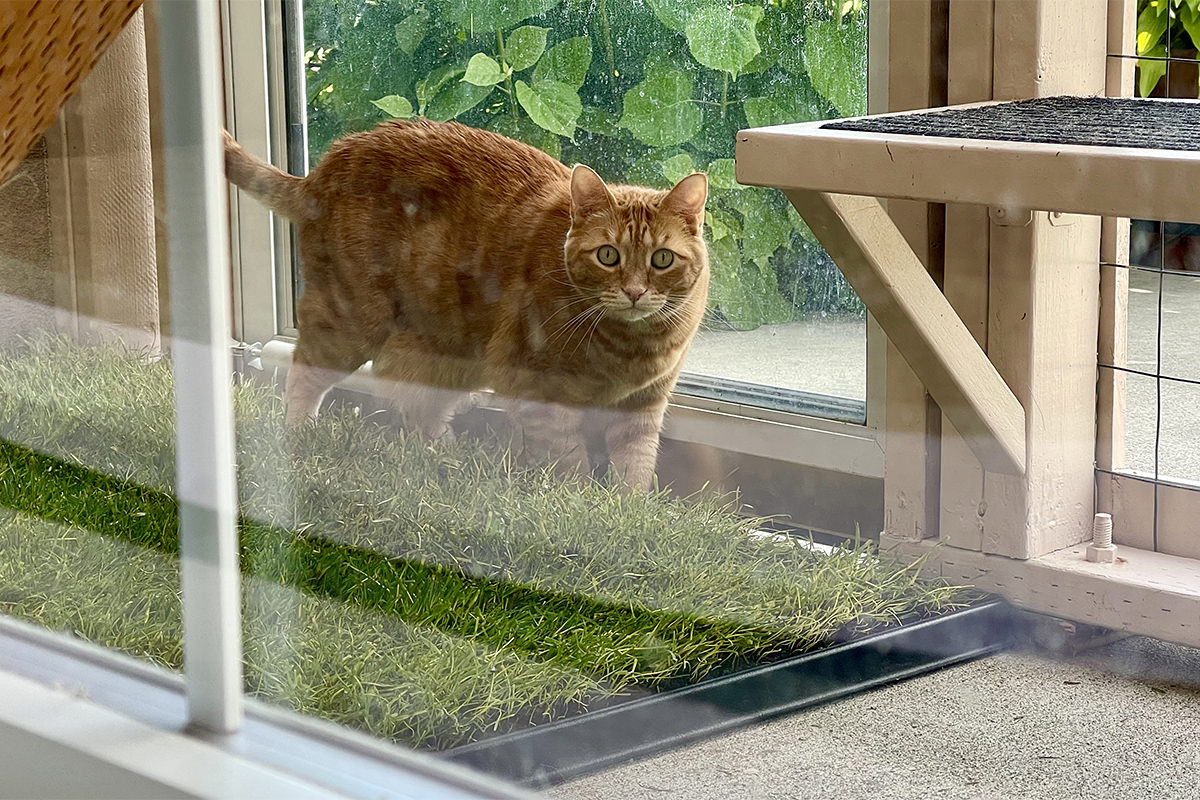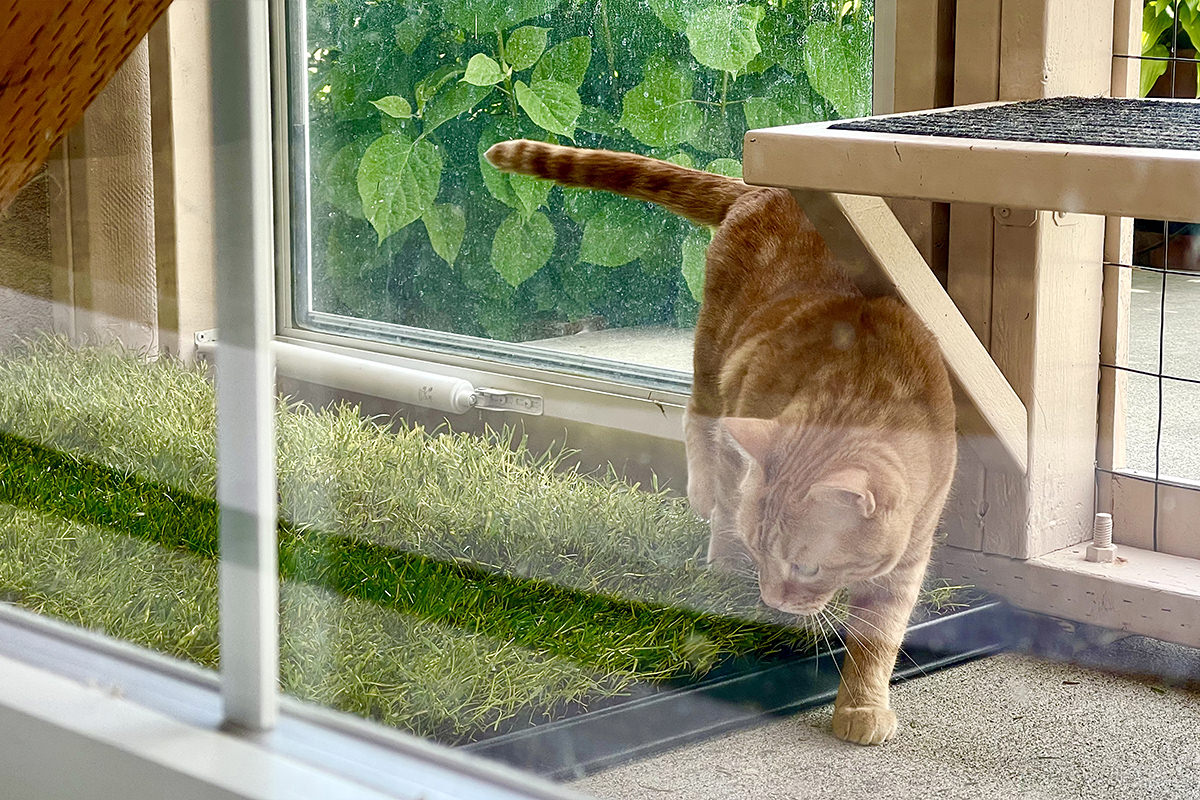 Eventually Jake was onboard though...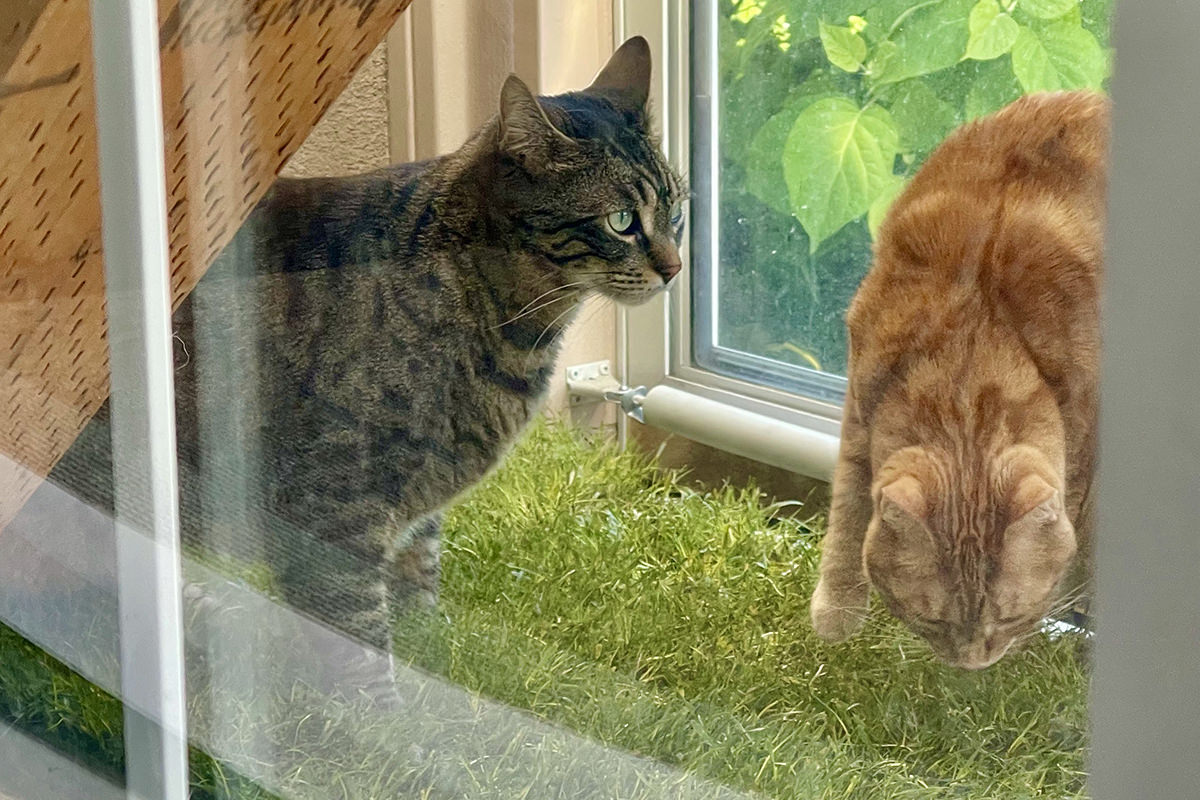 I'm not sure if this will be a passing phase like just about every toy they've ever owned... or if they're in it for the long-haul. I'll have to see how things pan out before having to re-order in three or four weeks.
Posted on May 15th, 2021

A couple days ago when I got out of the shower, I heard Jenny WAILING out the door. I immediately ran out into the hall naked and soaking wet in order to find out what had gone wrong. And there she was... just sitting there meowing her head off. So I start examining her and feeling around trying to find out if she broke some bones or got cut somehow or was otherwise injured. But... nothing. After getting tired of being man-handled by me and my wet hands, Jenny wandered downstairs... apparently no worse for wear.
So I get dried off, brush my teeth, get dressed, gather my work stuff and head downstairs.
Where Jenny is sitting next to the feeding station wailing her head off. Again.
Turns out all this drama was because she was tired of waiting for her morning treat.
So I'm like "Oh thank heavens" and "Holy crap... are you kidding me, Jenny?" Because I've worked hard to resist the urge to reward bad behavior in my cats, and here's Jenny just not giving a crap about anything I have planned. But I be darned if this doesn't make me love my cranky girl even more than I already did. What an amazing cat...
Jake is a lazy boy. He eats when it's time to eat. He never bothers me for food, but it happy to sit and sniff while I eat my food. Jenny, on the other hand, is constantly wanting to be fed. If I even LOOK like I'm headed to the kitchen, she's off like a rocket to follow me in and ask for a treat. What's worse is that now she's the one to snarf up her brother's food if he doesn't get to it quick enough. It used to be the other way around. Earlier this week I tried to correct her at lunch time so Jake could get to his bowl. And she was NOT having it. I ended up having to grab some food out and add new food back to her bowl so that her brother could get something to eat.
I wonder what that's all about?
And speaking of wondering what's this all about with my cats... here's Jake, snuggled up against me as usual. Except he keeps moving north from my feet. Now he insists on sleeping while snuggled up against my butt...
This would be fine... if not for the fact that Jake has a body temperature of 180°. The guy is on fire. Which is not comfortable after a while. So I gently move away... only to have Jake rearrange himself to be snuggled up against me tighter...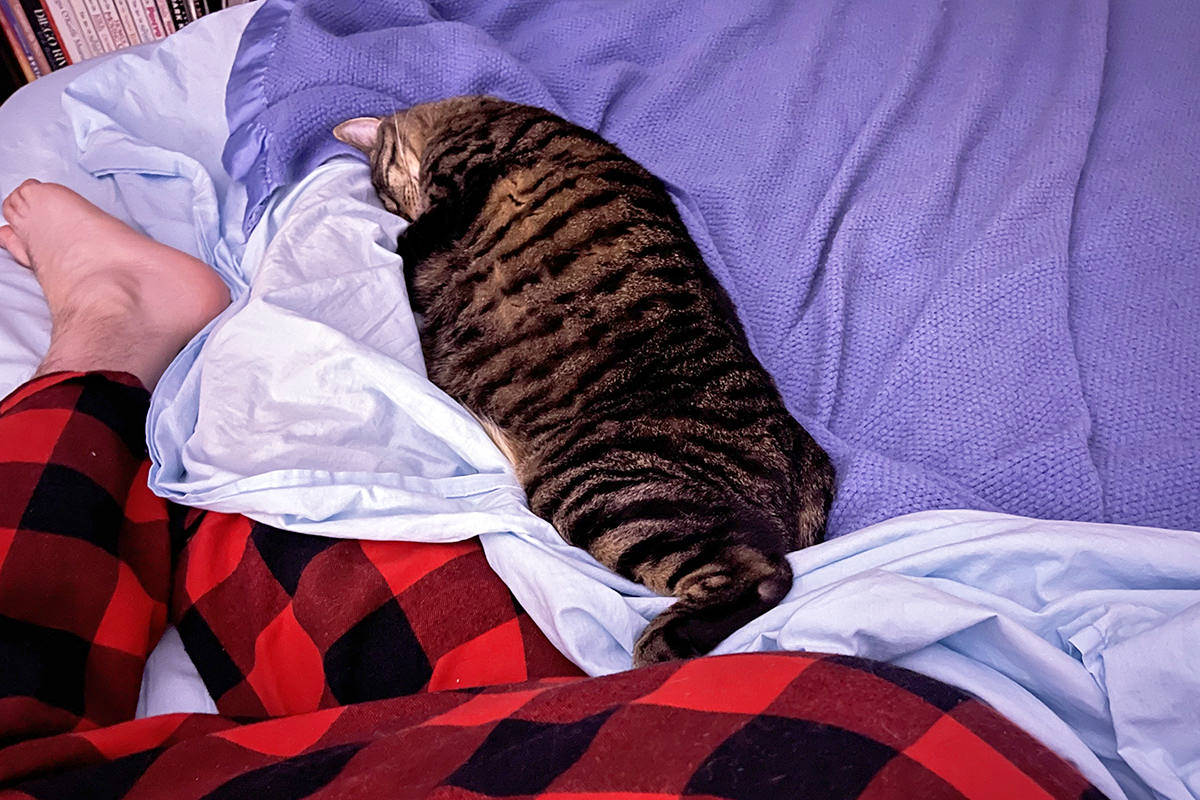 Eventually he's grabbing my leg so I can't escape so easily...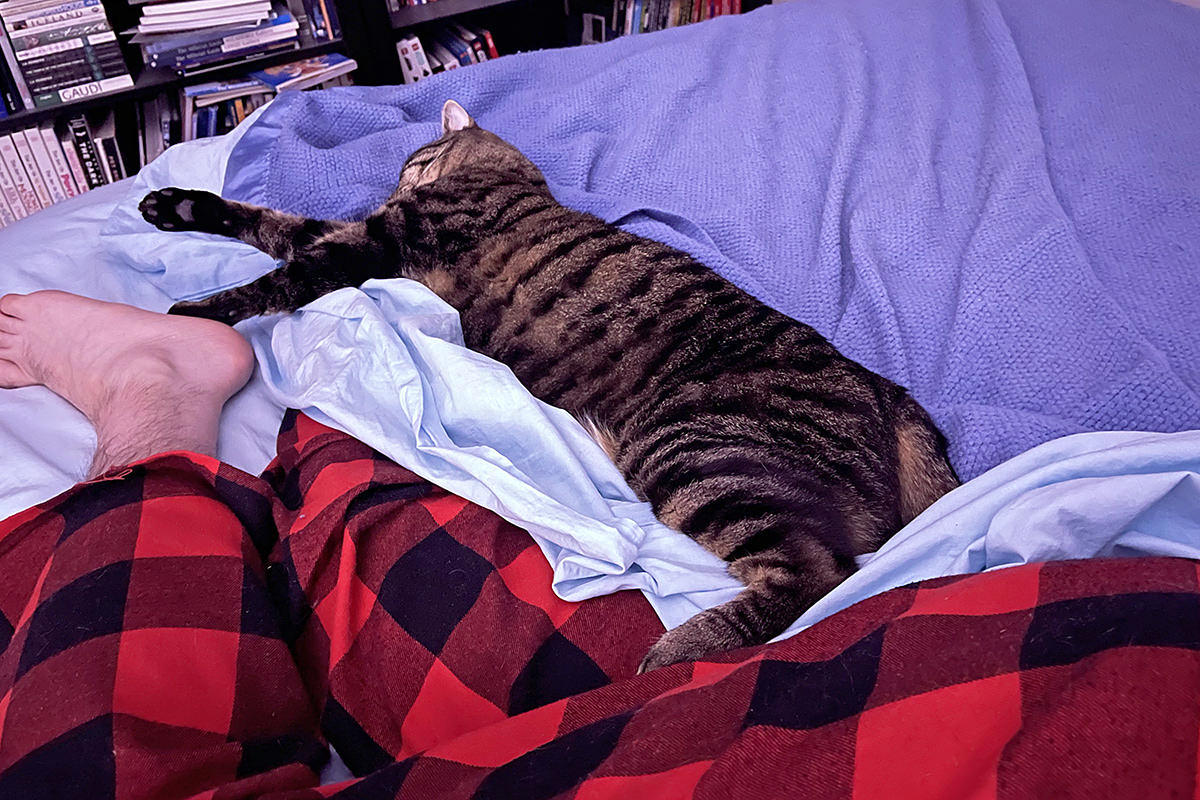 Which would be fine if he didn't have a body temperature of 180° AND HAVE HIS FOOT UP MY ASS...
No exaggeration... I had to pull his little foot out my ass...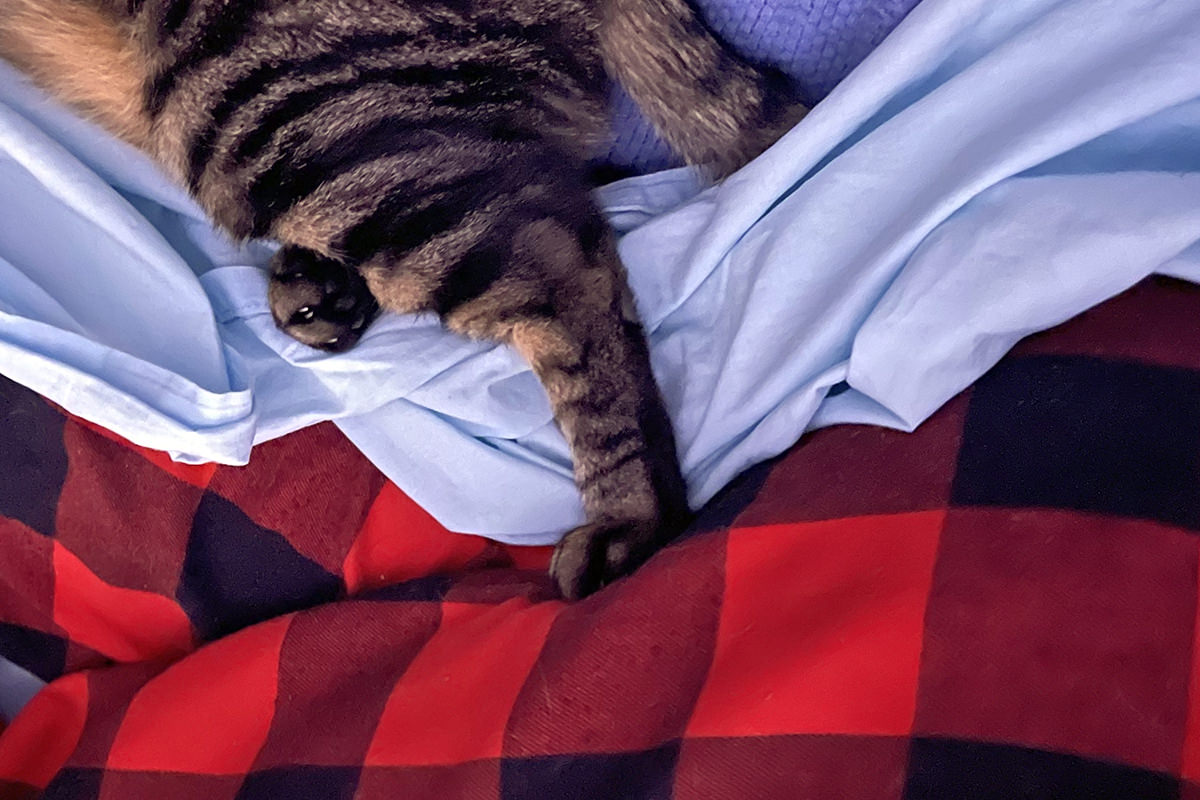 But don't worry. Jake just adjusted himself again. How he does this without waking up just amazes me. I finally couldn't take it any more. My legs (and ass) were on fire. So I freed my legs and swung them over him to have some space. And he didn't even flinch...
Nope. He just snuggled up next to the other side!
After moving over yet again, he finally got the hint and snuggled up to himself instead of snuggling up to my leg...
But then I had to get out of bed. When he finally woke up. And was not happy about it...
But no worries. When dinner time came around, all was forgiven.
Fortunately Jenny didn't eat his food.
Posted on April 24th, 2021

Every year around mid-April my Facebook Memories® start showing photos of when Jake and Jenny were finally starting to trust me. Jake was mostly okay with me in mid-March... but Jenny? No way. She would only start letting me pet her instead of running away in terror about mid-April five years ago.
It's kinda emotional seeing what caring and patience can do.
For the first month, I was worried that they may never let me near them. But then... gradually...
My cats factor into just about every major decision I make. How long I travel. Where I travel. If I'm going to move to a new city or not. What job I have. And even minor decisions I make. How I arrange the furniture. Whether I leave the window open. What time I wake up.
They're both such a massively huge part of my life.
And having photo memories like this one pop up on Facebook is why I don't mind at all. This is about the time I wanted then to be a massively huge part of my life.
Posted on April 17th, 2021

It never ceases to amaze me just how easy it is to dump a bunch of money on your pets.
I've done more than my share. Mostly in the form of toys that Jake and Jenny get tired of quickly... which means it's time to go buy more toys. Fortunately, Jake only really cares about one toy... his stuffed lion Mufasa... but he does like new stuff too, as it keeps his life interesting.
One of the most expensive investments happened before my cats even arrived. I knew I would be getting at least one of them to keep my mom company, and worried that the wall-to-wall hardwood floors would be uncomfortable for a cat to walk on all the time. So I bought a bunch of rugs to put throughout the house. I also bought carpeted stair treads to make it more comfortable for them to go up and down the staircase.
It was money wasted.
I found out very quickly that Jake and Jenny will avoid walking on carpet. They will avoid laying on carpet. They want nothing to do with carpet. I mean, look at this...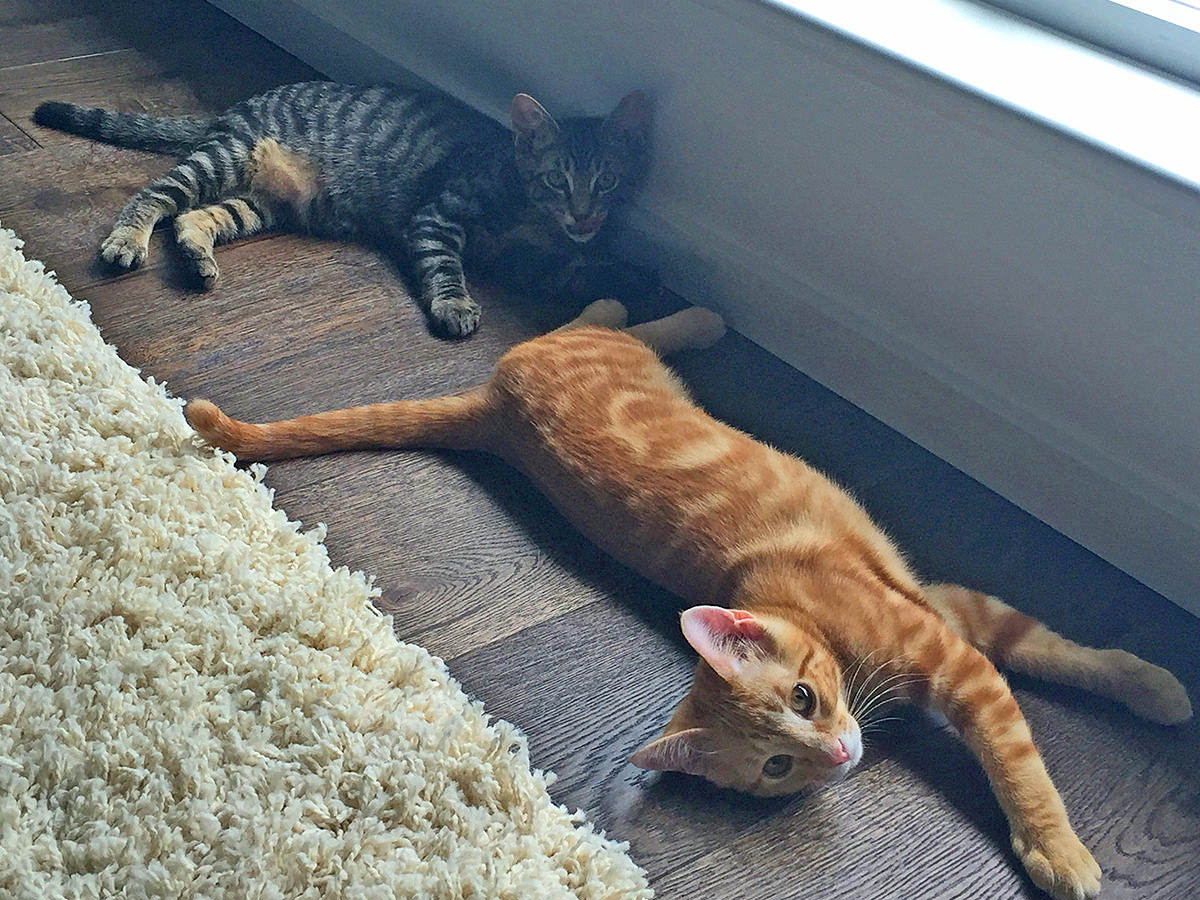 Well, fine by me. I didn't want the carpet anyway. Especially that ugly shag monstrosity I bought for my living room. Within six months all the pricey carpets I had purchased were tossed. Except for the carpeted stair treads. I left them because even though both cats avoid wallking on it... they do run on it. When they are chasing each other at top speed, they grip that carpet tread with their claws and shred the things. So... better the carpet than my hardwood, I suppose.
You would think that I had learned my lesson by now on buying stuff my cats will ignore.
But nope.
I just bought a cew chirpy ball to delight them and annoy me. For a few days anyway. They'll be ignoring it within a week.
Posted on April 10th, 2021

I have been feeling "off" all day. Sick to my stomach... assorted aches and pains... headache... unable to get comfortable... it all added up to a day of sitting/laying on the couch trying to distract myself with television.
When I finally just called it a day and went to bed, my stomache decided to go into revolt. After a half hour of lying in bed trying to decide whether I should ride it out or go puke out whatever is going on, Jake arrives.
"Jake, I'm not feeling very well... maybe you should sleep somewhere else tonight?"
I then put my feet together so he couldn't sleep between them like he usually does.
The little scrubber forced his way between my shins, then kept twisting and pushing so he'd have his favorite sleeping spot. Eventually I relented because he was not giving up...
After this, my decision was made for me. I will be riding out my nausea until I fell asleep.
But first I have to write this blog post. Because it's Caturday, after all.
Posted on April 3rd, 2021

Jake stares out into the catio from on top of the cat tree across the room. Every once in a while he will spot something going on outside and bolt for the catio door at top speed. When you need to worry is when he bolts from the tree up to the catio door then goes into stealth mode. Most times it's birds outside the catio or a moth on the window or something else he wants to murder. No big deal.
But when I look out the window and see that there's a bird who flew inside the catio? Yikes. I open the window and shout "DO YOU HAVE A DEATH-WISH?!?" which causes the bird to fly off.
No idea how he was able to flap his way through the tiny opening in the fence. Good timing, I guess!
This made Jake very salty indeed...
And I'm like "Hey, be mad all you want... but I'm not having you drag a half-dead bird into the house. Or, worse yet, a live bird that I have to trap and release!"
But then he took things up a notch.
Completely ignores me for messing up his fun. And when I do see him? Let's just say that he's holding a grudge juuuuuust fine...
Now I'm starting to wonder if having him murder a bird is better than him murdering me?
Jenny gets salty, but doesn't seem to hold a grudge for any length of time. Whish is a good thing, because she gets upset with me all the time. Mostly when I "pet her wrong." This gets her very cross indeed, and I never know exactly what I've done wrong. I'm guessing that she doesn't even know. She just knows what she doesn't like. To combat this, I've started moving a knuckle up and down so she can manouver where she wants to be scratched and all is good in the world...
Jake on the other hand? He just flops down and says "Do me." He's happy to get scratched anywhere...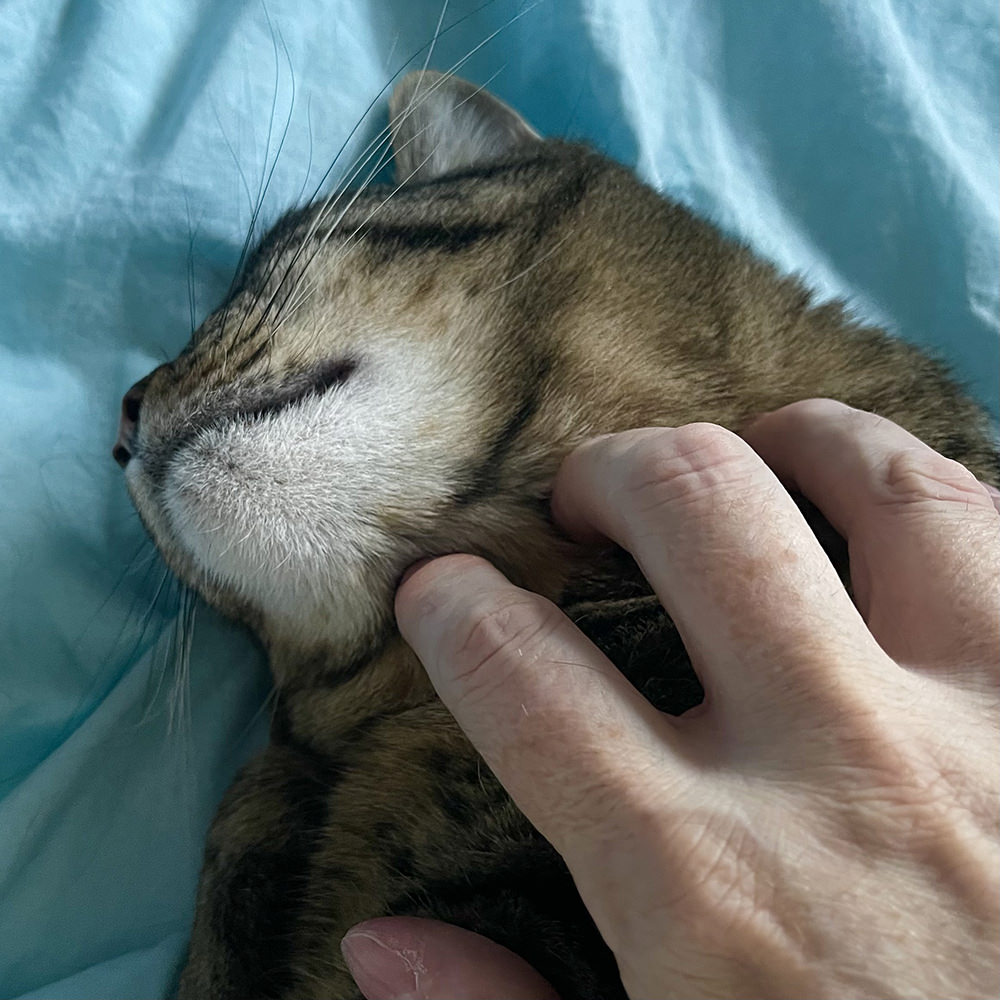 Sometimes he is less receptive to belly rubs than others, so I usually avoid unless he specifically asks for scritches on the belly.
And now we go back to Jake wanting to murder me, already in progress...