Posted on June 17th, 2017

Life with cats is never boring. Well, actually it's mostly boring. Cats sleep... like... an insane amount of time. But the bits where they are awake is interesting. Mostly because my cats do not exhibit consistent behavior. Just when you think you have a handle on them, they mix it up, and start doing something entirely different.
Jenny, for example, did not "meow" the first 8 months I had her. Unlike Jake, who seems physically unable to "meow," apparently it was because she just didn't feel like it. Then... it started. Just weak little meows from time to time when she wanted attention. That transitioned into this kind of forlorner meow (that was bordering on a wail) when she wanted attention, which breaks your heart. And now? When Jenny really wants your attention, the meows are unleashed. They still sound a bit "sad," but they are numerous and loud.
At first I went running whenever she exhibited this behavior, because I was worried something was seriously wrong. More than once I've gone tearing down the stairs worried that she's sick or trapped under a rogue meteorite that crashed through the ceiling. Nope. She just wanted to be petted, and didn't feel like climbing up the stairs for it.
Most mornings now she will patiently wait for me outside the shower. Apparently she loves rubbing against you when you're damp. Once the water turns off, the clock is ticking. If I take too long drying off, she will start meowing for me to hurry up.
That pussy ain't gonna pet itself, so it would seem.
As I've mentioned many times, Jenny brings me a morning "tribute" in exchange for me getting out of bed and serving her breakfast. She'll waltz in with a toy (or several) and drop them on the floor by my bed anywhere from 30 minutes to 2 hours before she's due to be fed. Here, for example, she's just dropped off Tan Mouse and is looking up at me in expectation of food...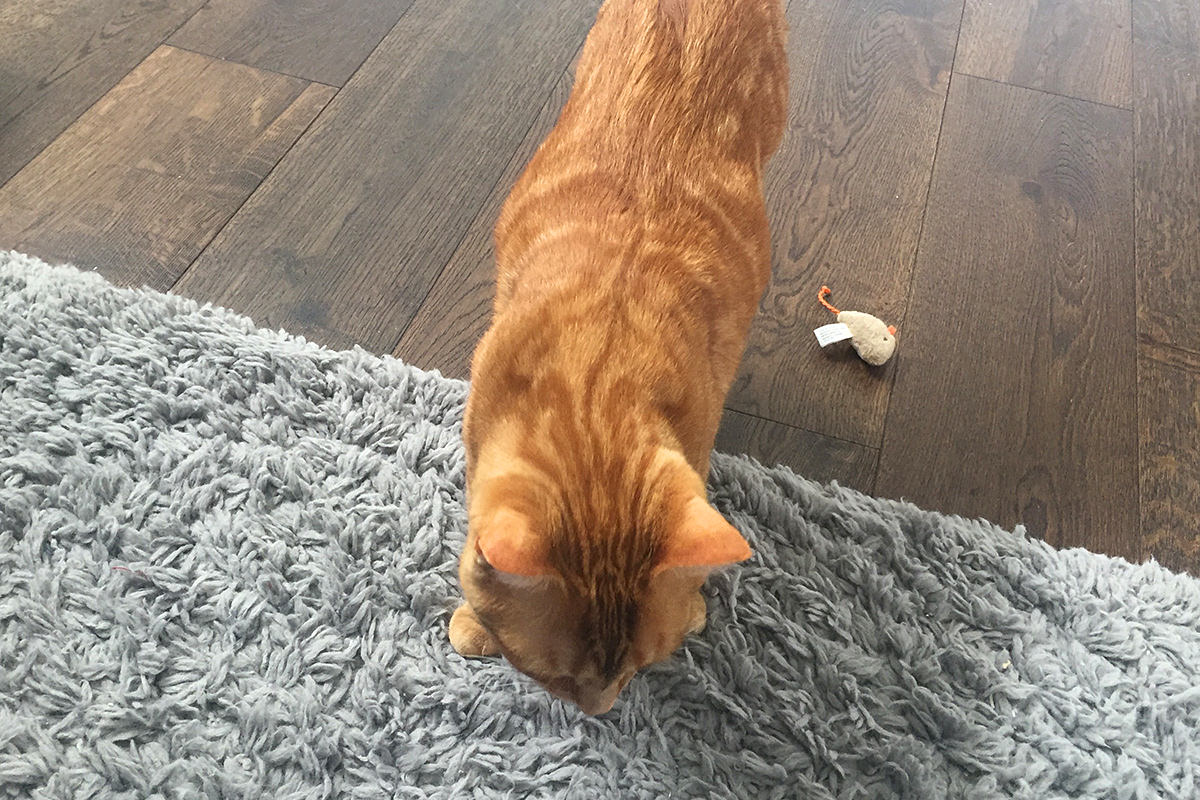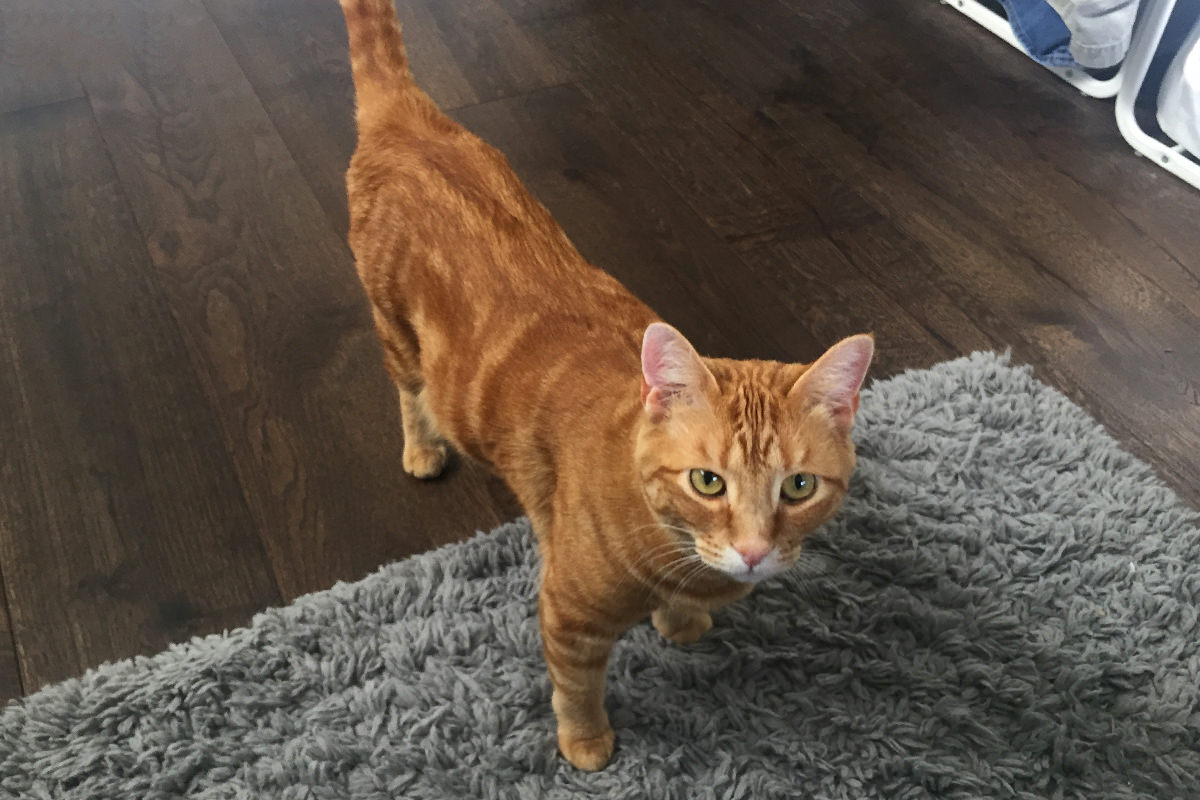 Some mornings she will haul a tribute toy all the way upstairs, but discard it before she gets to my bedroom in favor of a different toy...
There are times this results in a kind of interesting art installation on my stairs...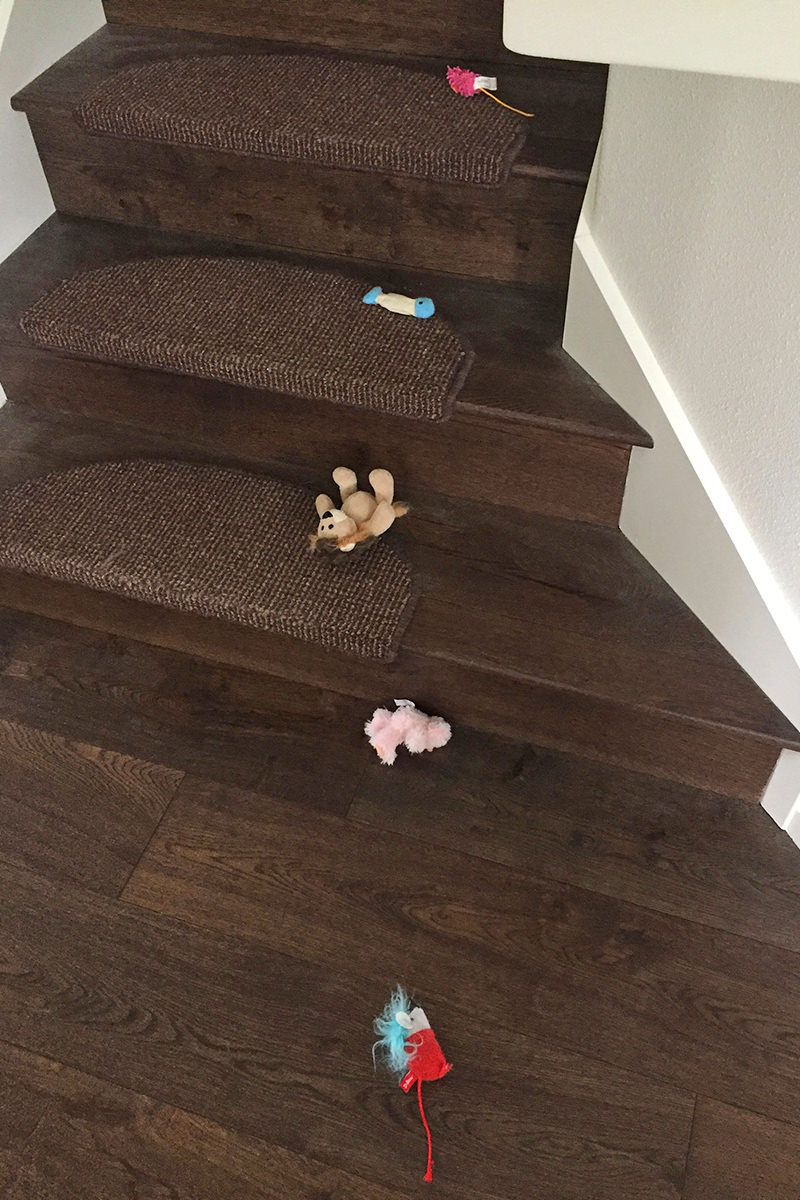 Her favorite toys, these crinkle-fish that have catnip in them, are rarely offered as tribute. She prefers to keep them with her so Jake can't take them, especially when she's ready for a nap. She'll hunt one or two of them down, then crawl into bed. Like she did here with Blue Fish...
You can't tell in this photo (because I was too slow) but she's hugging Green Fish in her little paws...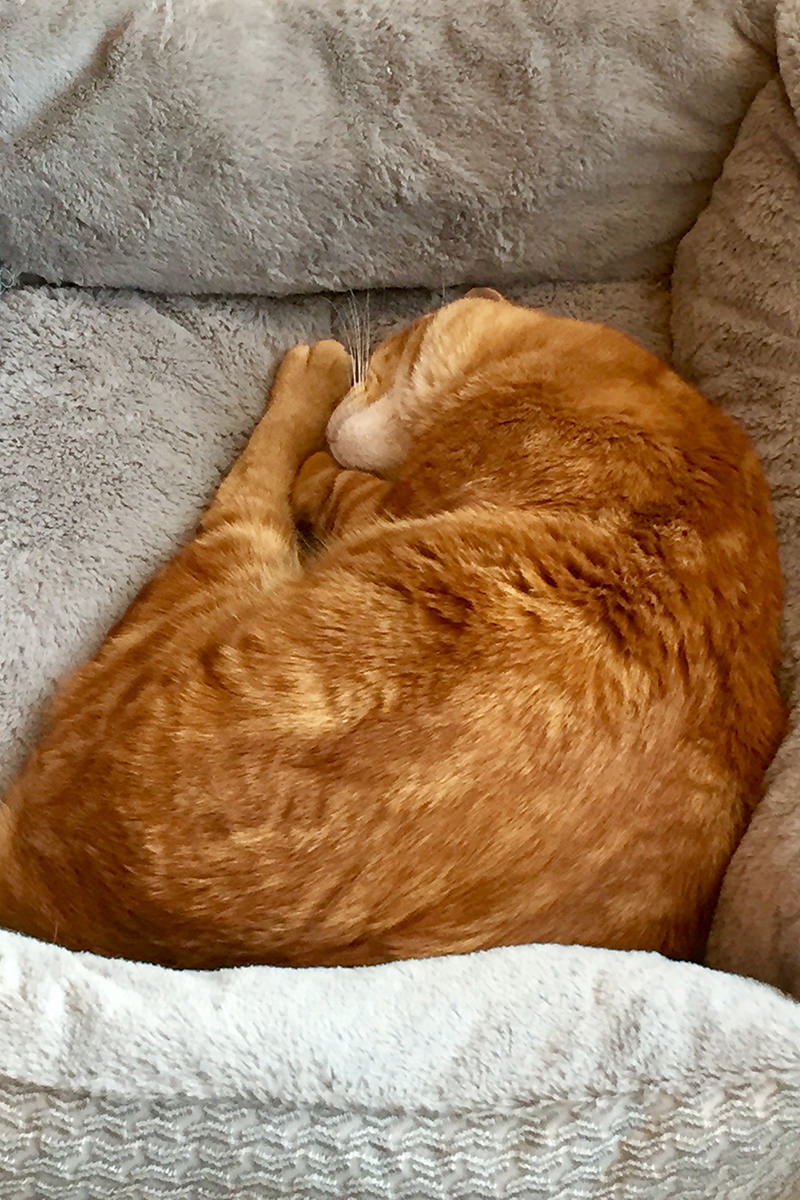 Also new? Jenny has started moving furniture in the mornings while waiting for breakfast to be served. She starts by dragging all the couch pillows onto the floor then moving them around. Then she goes after anything she can physically move. Like the box I've been using for garbage while cleaning out my filing cabinet. Or the brush loop. Or her little scratcher lounge...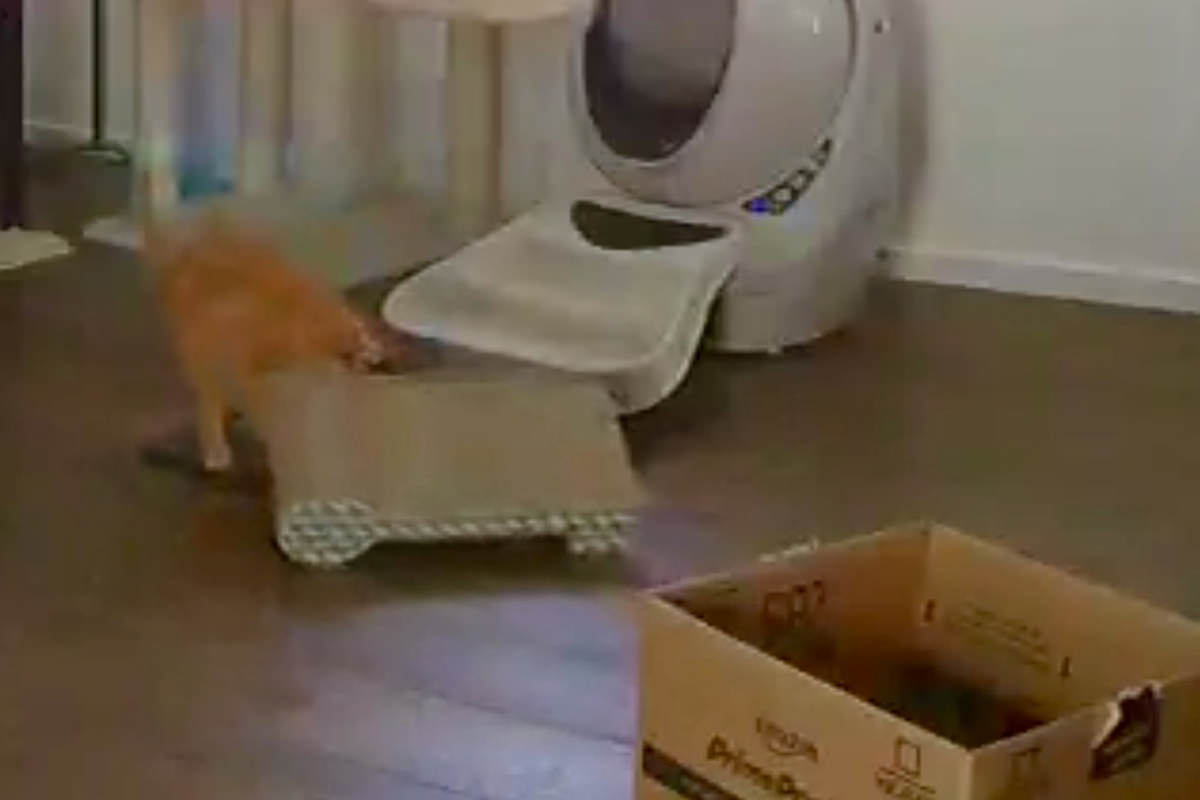 If I hadn't heard it going on and seen it on security camera footage, I would never have believed it. She will drag/push that thing across the entire house. And it's almost as big as she is! I have no idea why she's decided to become an interior decorator, but here we are.
As for Jake?
Still being Jake. Though a little bit grumpier because I've had him on a veterinarian-dictated diet. And since he's a fairly active cat, he's been losing weight quite nicely. His pronounced belly is almost gone...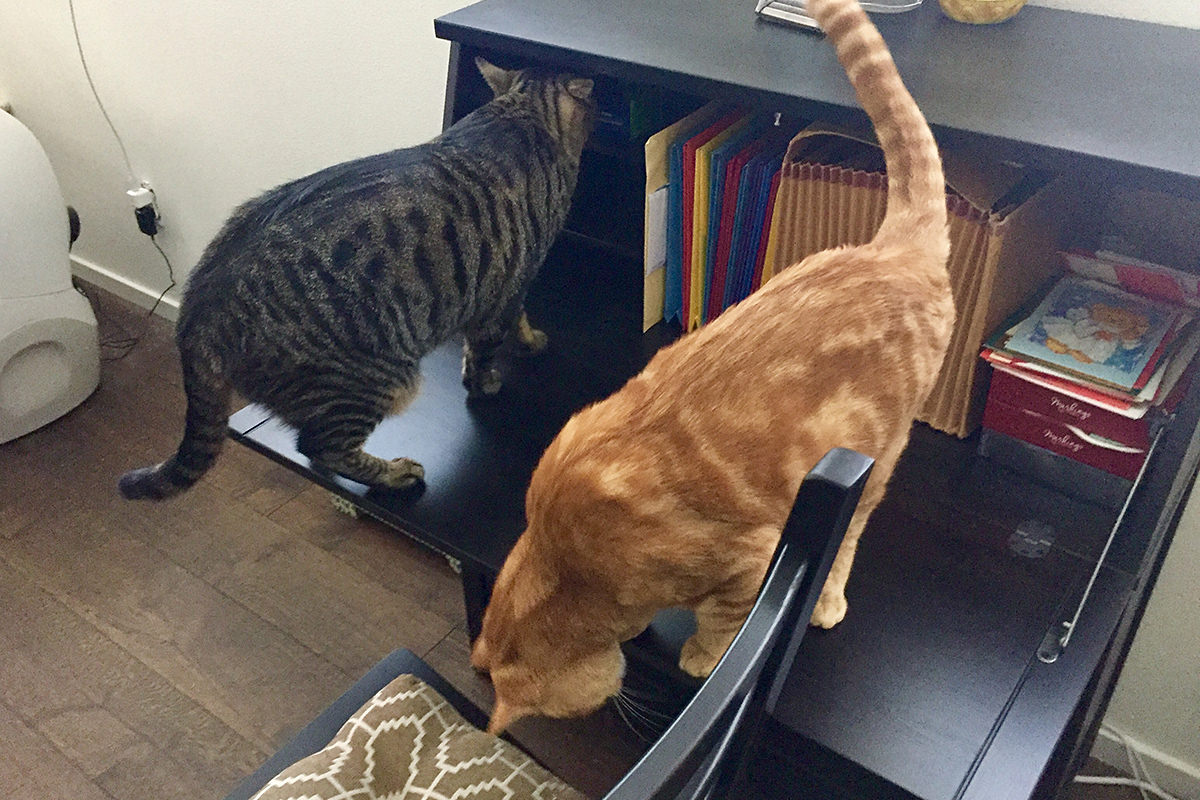 Jake and Jenny's favorite place remains the catio. Now that it's warmer, they are out there all day long. Jenny will even stay out all night, because that's the best time for catching and eating bugs, apparently. Earlier this week they were both out there while I was working on the couch. All of a sudden they come dashing in the house, then take up residence on the loveseat so they can observe the catio from afar. Turns out the giant dopey black lab was back for a visit, which they do not like at all...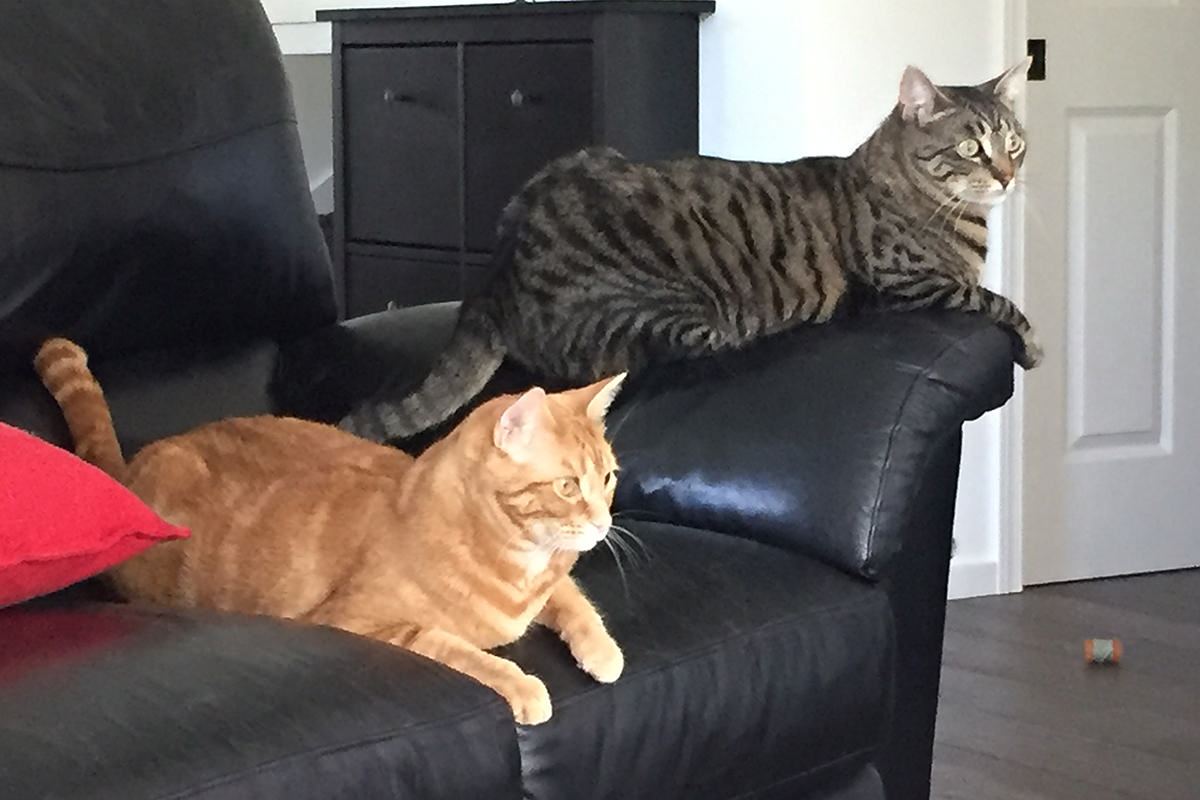 Though Jenny tried to make the best of a bad situation, as always...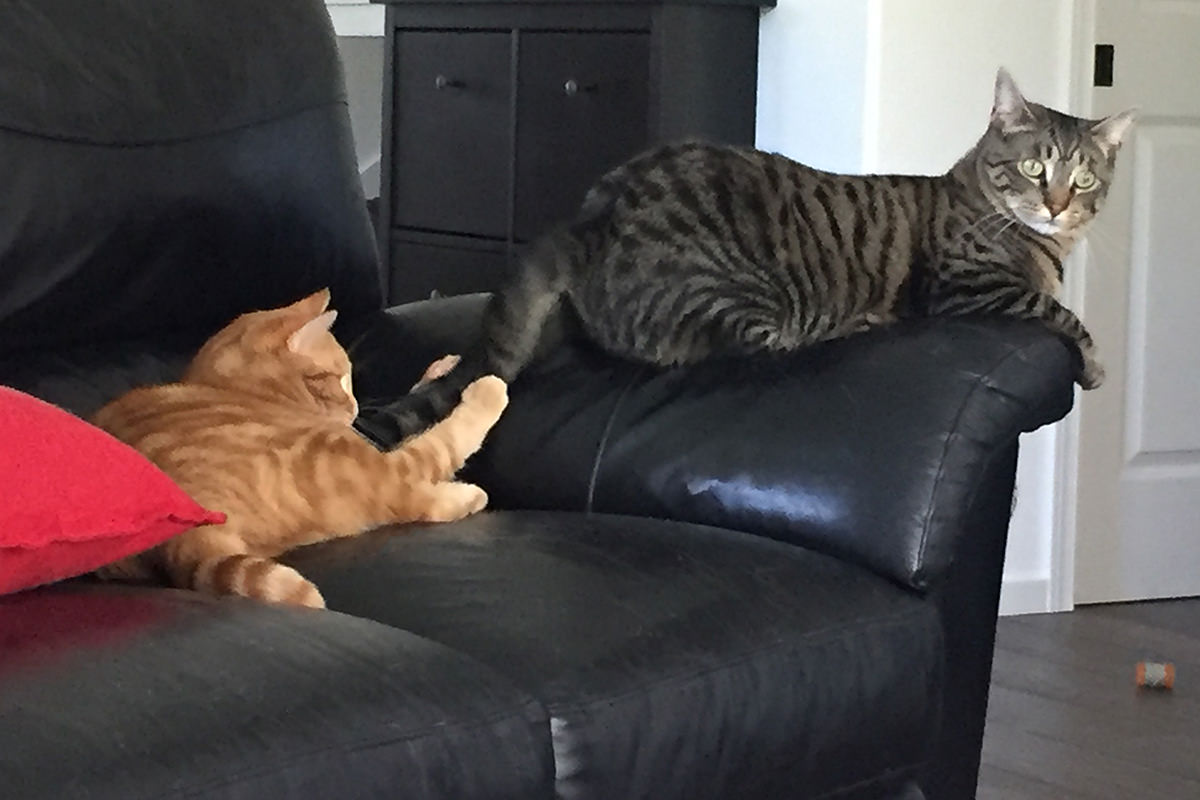 More excitement was to be had this week because they are repairing the stucco on the condos. This included the stucco in the catio, which meant I had to finally use the pet door blocker to keep them from running out...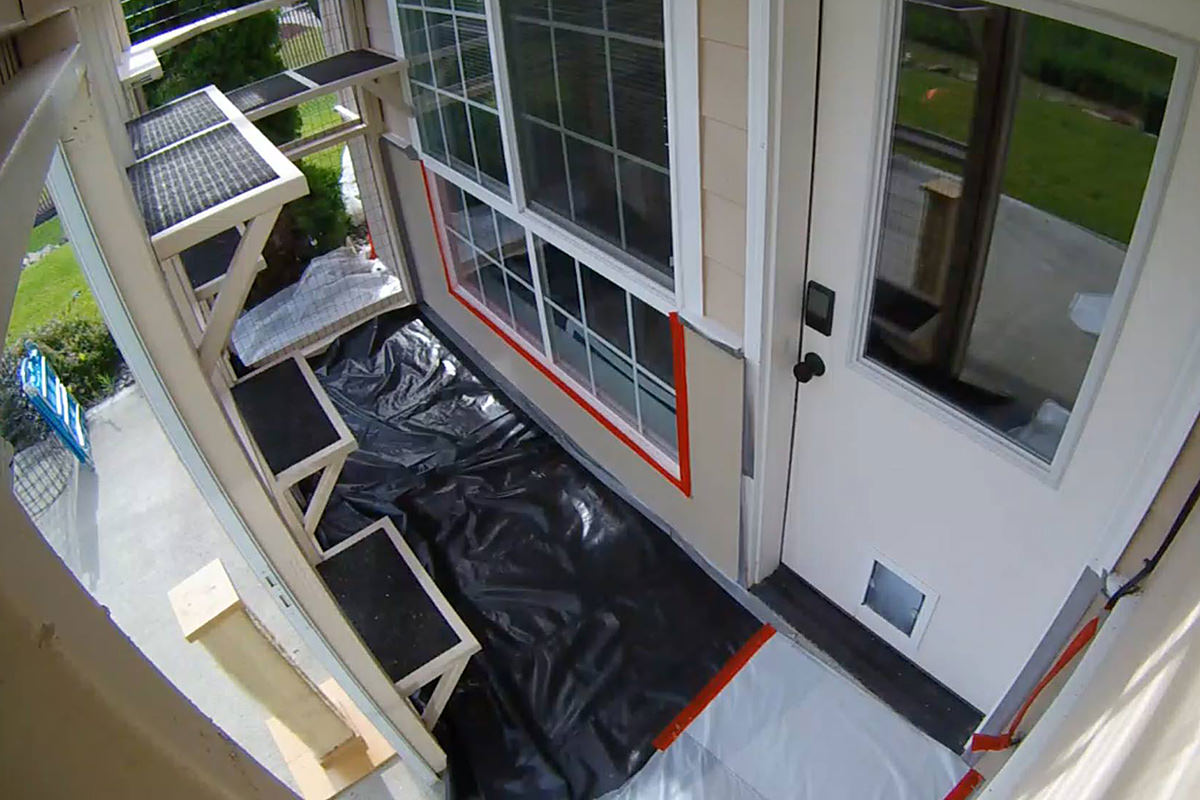 Jake was most definitely not okay with having his catio privileges revoked, because the catio is his favorite place to be. He decided to compensate for his disappointment by being a BAD, BAD KITTY and crawling on the kitchen counters, regardless of how many times I told him to GET OFF OF THERE...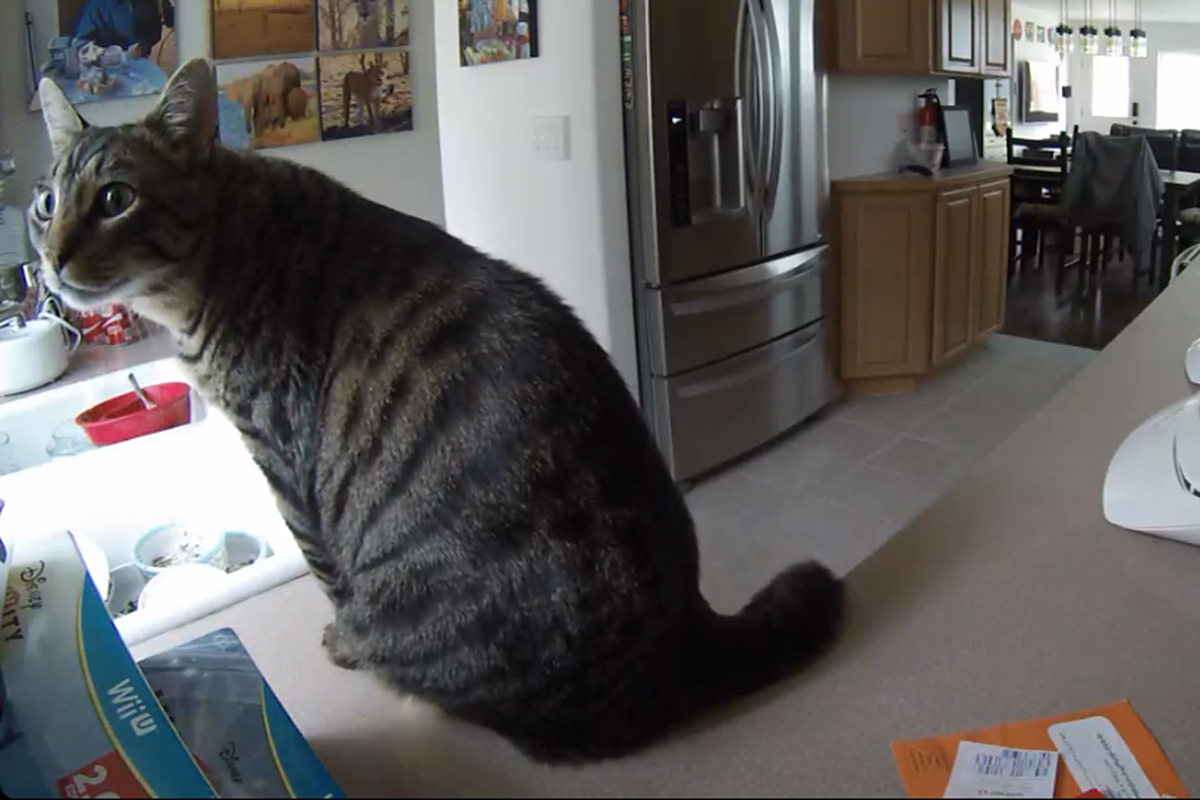 Time for the Clorox Wipes. Again.
Why can't he stay out of the kitchen like his sister?
Oh well. Jake wouldn't be Jake if he wasn't thumbing his paw at authority.
Posted on June 10th, 2017

I've been doing some construction in my bedroom, which has been a source of much anguish for my cats. They don't like the smell of the paint. They don't like the dust. They don't like the noise of my power tools. They really don't like the noise of the vacuum cleaner running all the time. I try to keep the door closed so that Jake and Jenny don't walk in paint or get hurt on something, and that's the thing they seem to hate most. They are used to going where they please and telling them they can't is tantamount to tragedy for them.
The thing they do like is that the bedroom windows are open for ventilation. Never mind that they have an entire catio open to the outside world... they like experiencing the outdoors from up high...
It worries me that they might find a way to punch through the screen and escape, so I've been closing the bedroom door every day when I leave. But last week I realized I forgot, and had to rush home to make sure they hadn't escaped. Which they hadn't. Thankfully.
Speaking of the outdoors...
Fake Jake still comes running for petting whenever he sees me. One day this past week he got a little bit more... aggressively affectionate... when I was giving him a rubdown and split my thumb open...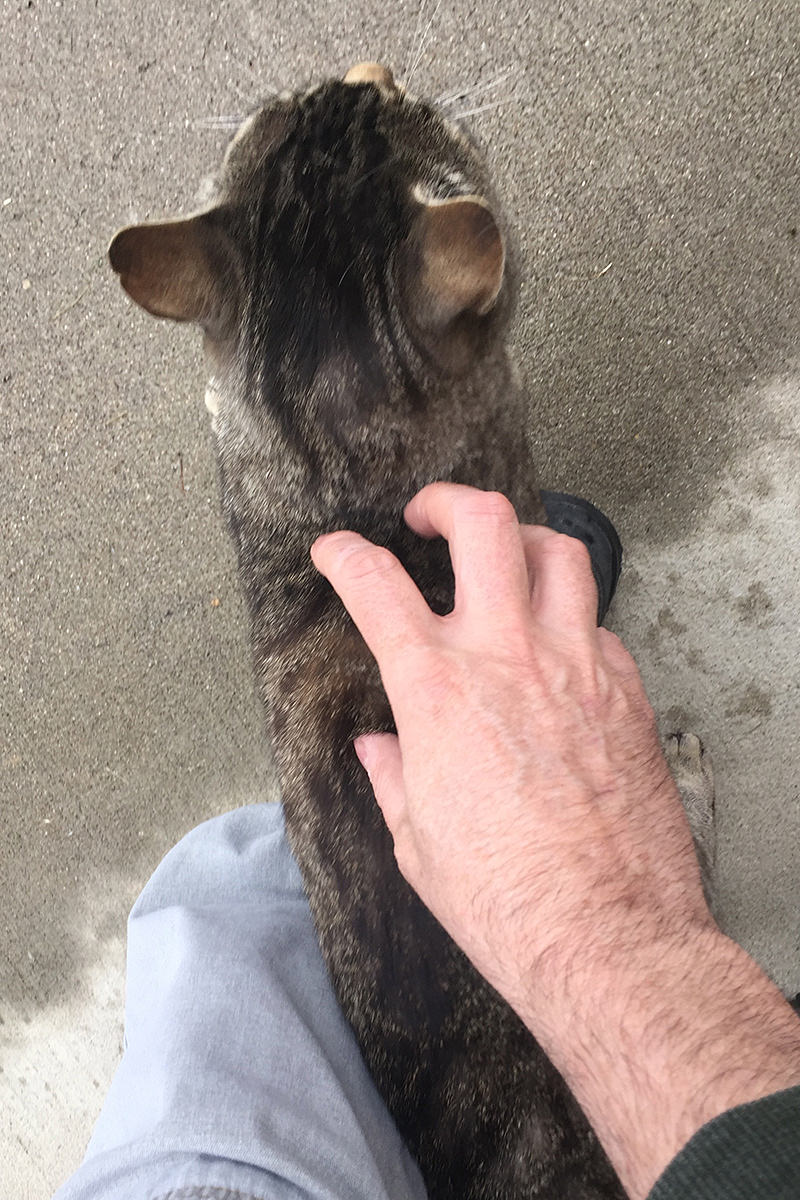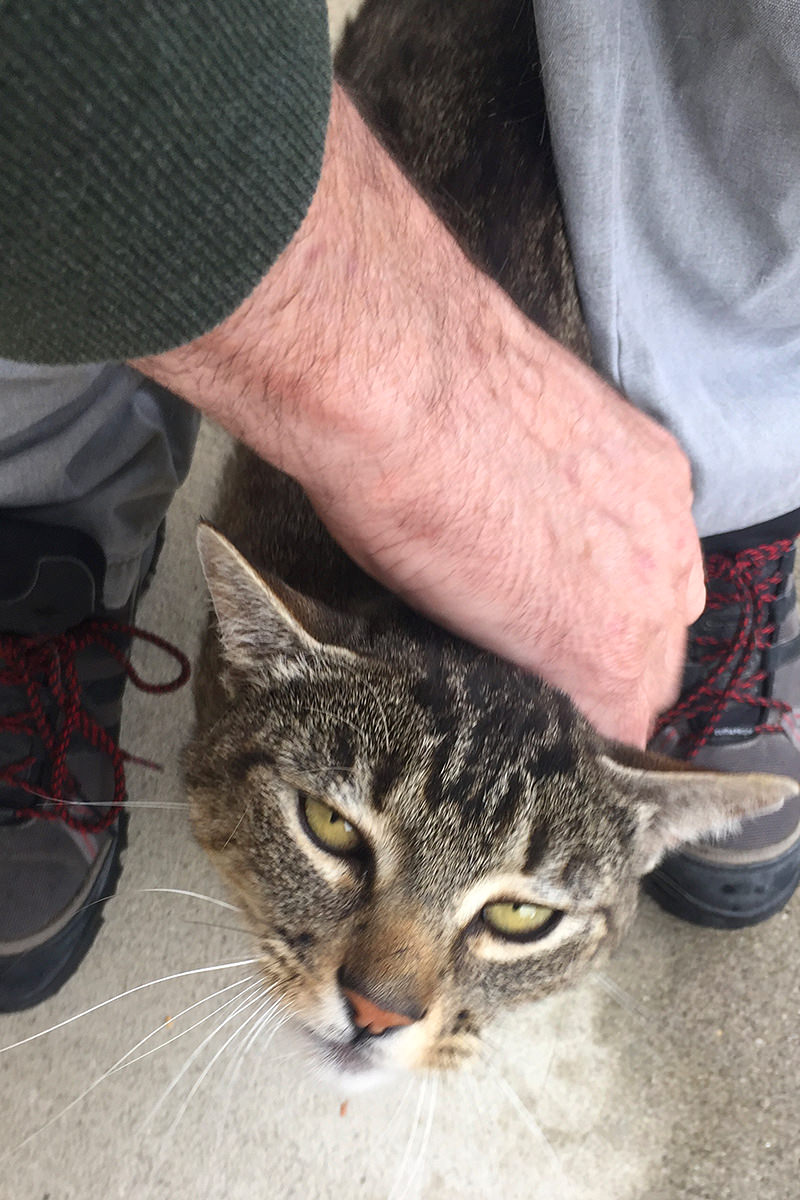 I was taking photos of him, so I actually caught the moment when it happened...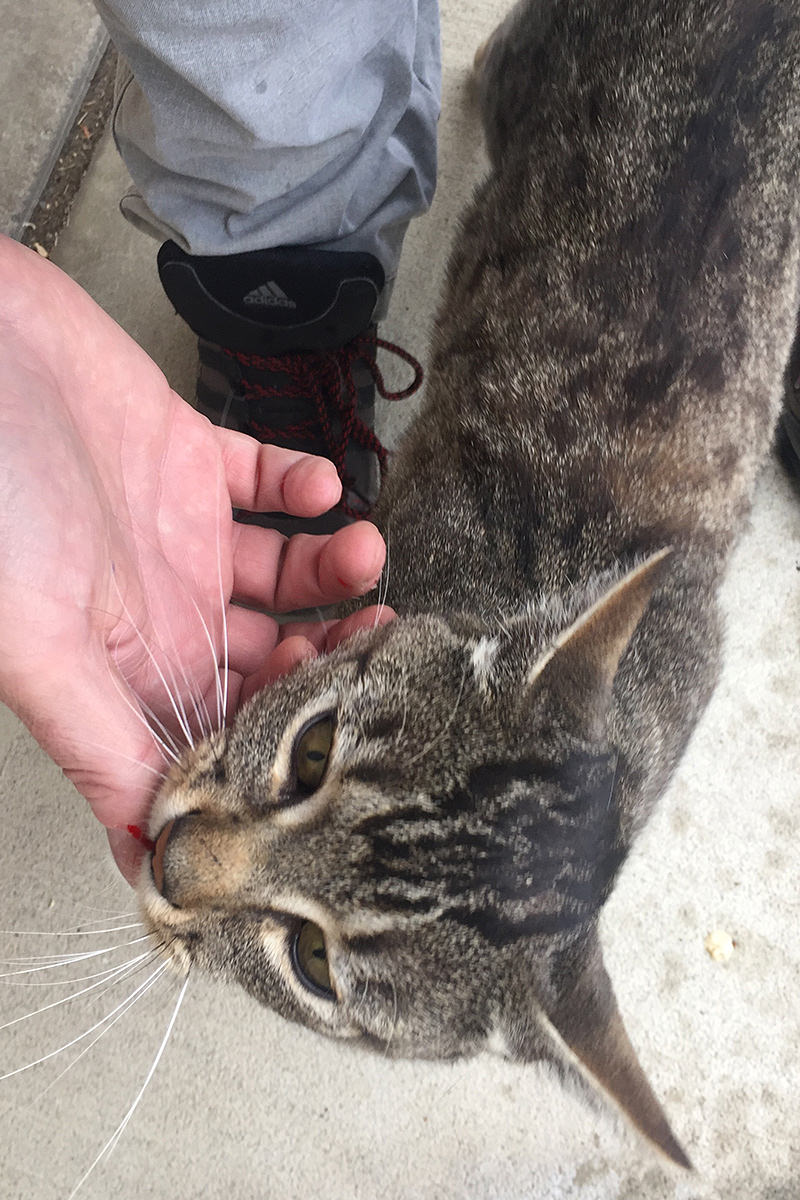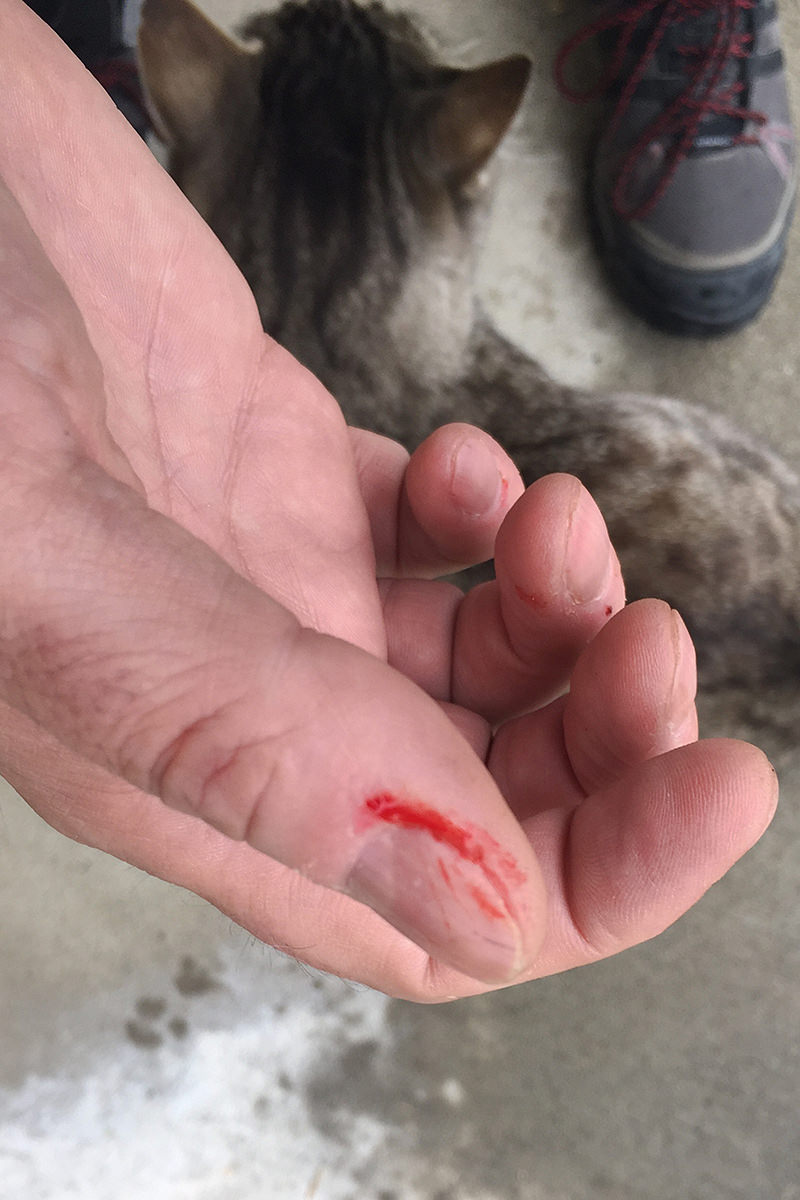 He was undeterred by my pain and didn't let up on wanting more petting...
Such a sweetheart to people... well, he tries to be a sweetheart when he doesn't have you running for antibiotic cream. Not such a sweetheart to other cats though.
Real Jake is as sweet as ever, often laying down with me when I'm in bed watching television or reading...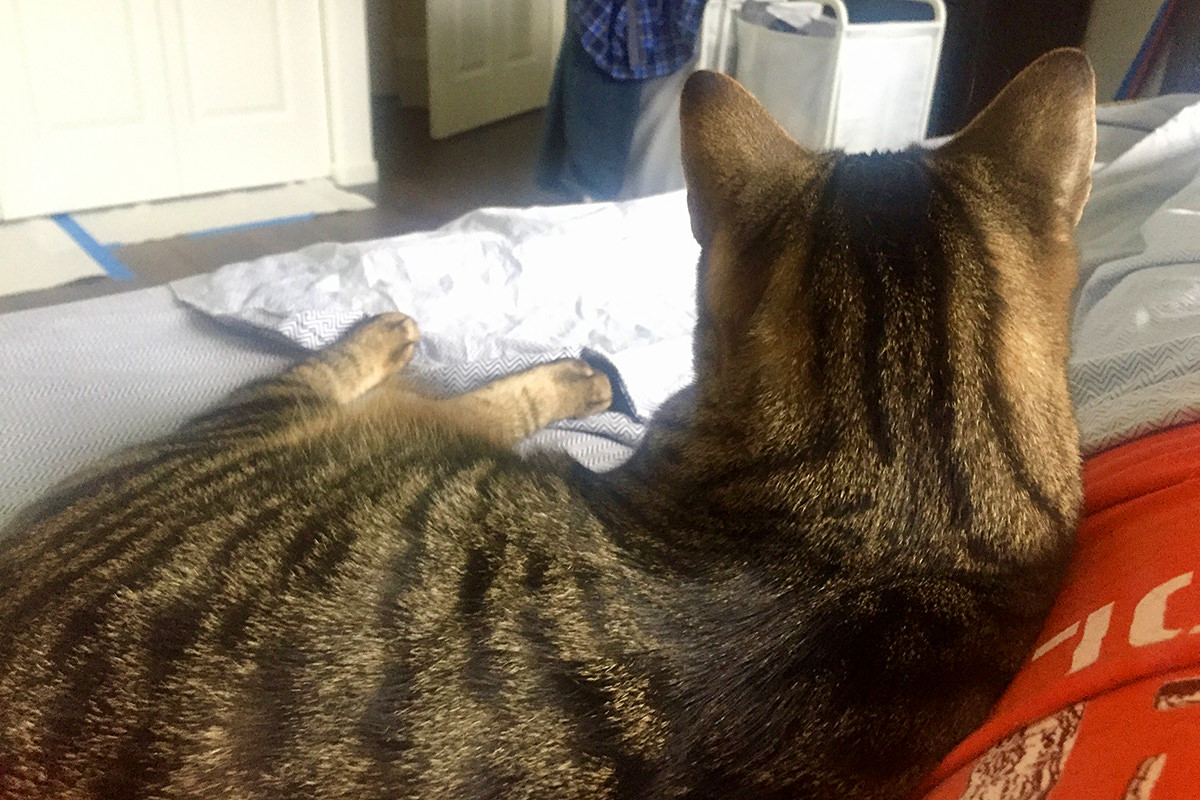 He's not so sweet when he's busting the heck out of the last two crackers in the package...
But at least he eats what he kills...
Jenny has been really skittish as of late. Unless I walk towards her slowly and talk to her, she'll run off and hide. She hasn't acted like this since she was a kitten, so I'm not sure what's going on. Like Jake, she spends most of her time hanging out in the catio. Though with her it's a little more literal...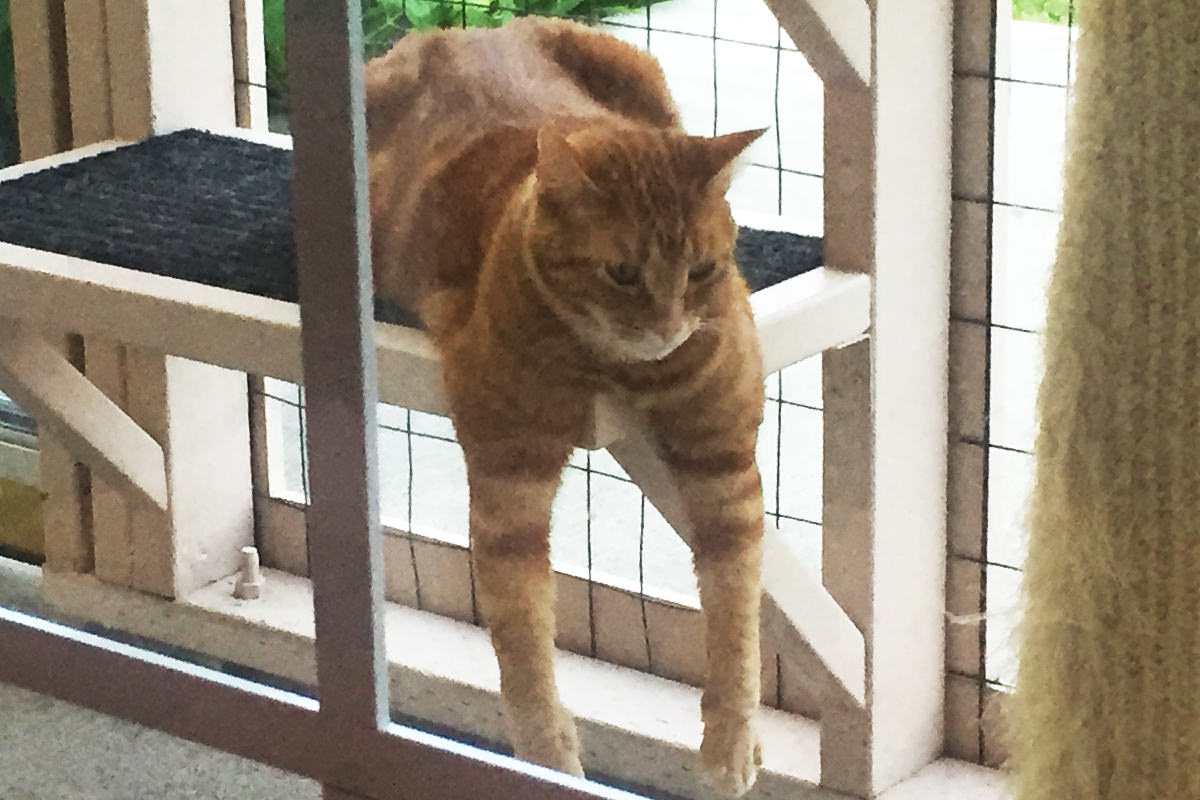 Along with being far more skittish, she no longer allows me to pick her up. And any touching has to be on her terms now. Fortunately, she wants a lot of attention, so I'm not deprived...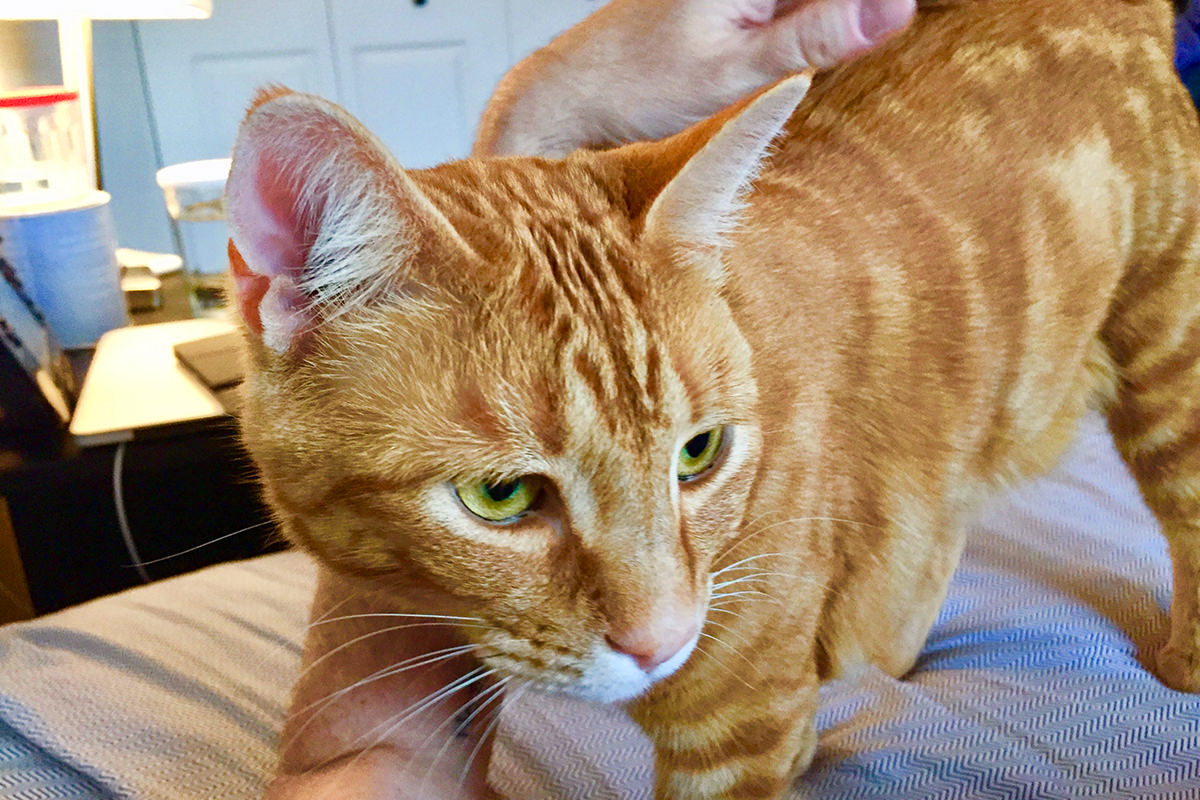 Such a pretty girl.
And, with that, I'm off to make more noise, dust, and stink in my bedroom.
Posted on May 13th, 2017

I am a hundred miles away from my cats this Caturday... which means I'm checking in on them several times a day via the plethora of security cameras that activated the minute I walked out the door. Usually they are out in the catio, but this morning they were nowhere to be found. In order to solve the mystery, I reviewed camera footage and found out where they went, but it's an area served by a battery-backup local camera, so I'll have to wait until I get home until I find out what mayhem they are up to.
The big cat-news this week that I didn't realize would be "cat-news" until it happened: I bought new couch pillows from IKEA.
Jake and Jenny were all over them the minute I set them down...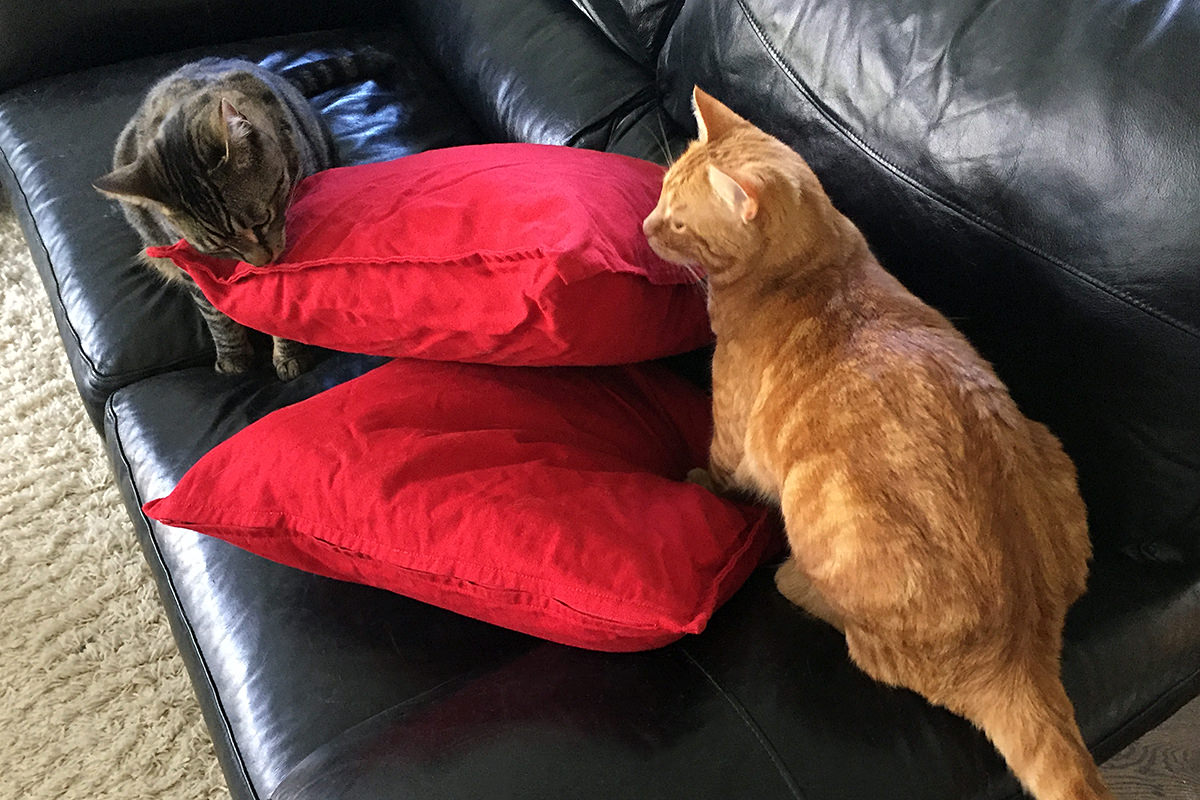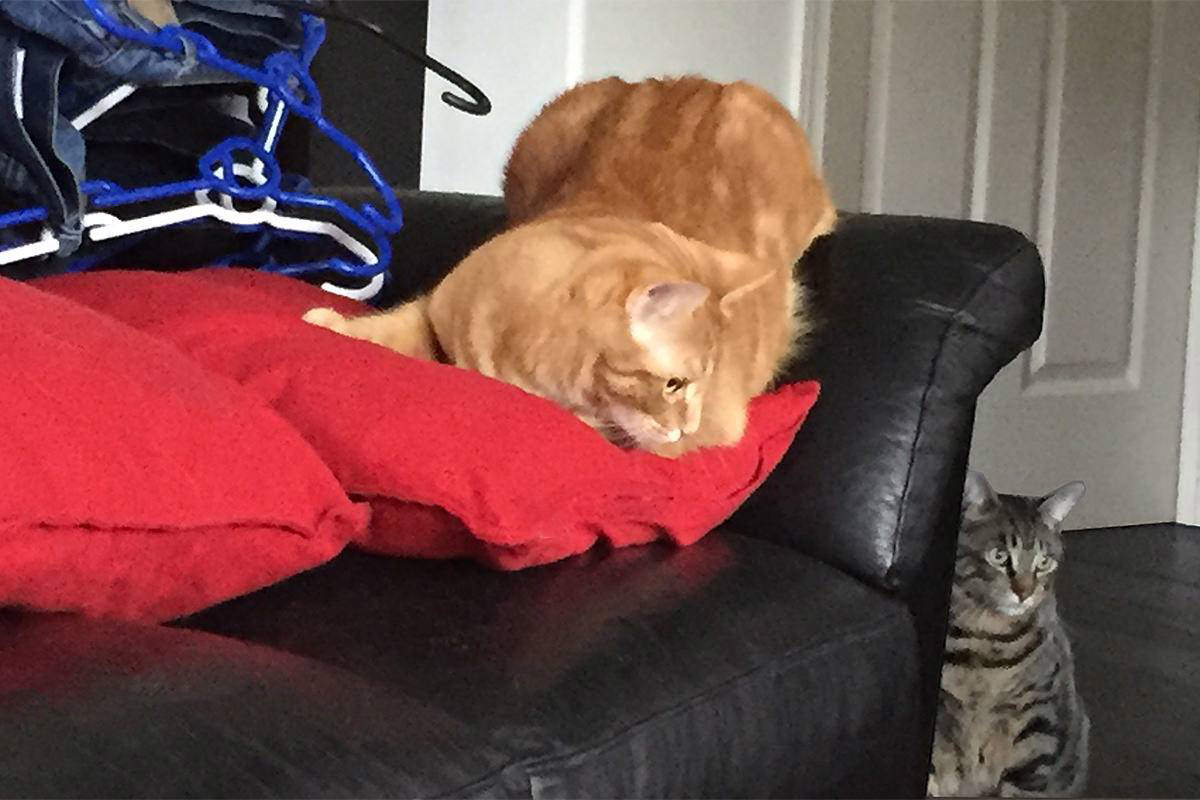 Jenny, in particular, just loves them. She will roll around on them... move them around... bite them... even attempt to tunnel under them like she's building some kind of pillow fort...
The first morning after I set them out, I walked downstairs to find all four thrown on the floor. I went back to the security camera footage and found that Jenny had thrown them off the couches in the middle of the night so she could sit on them. She'd even drag them from place to place so she would have someplace new to sit...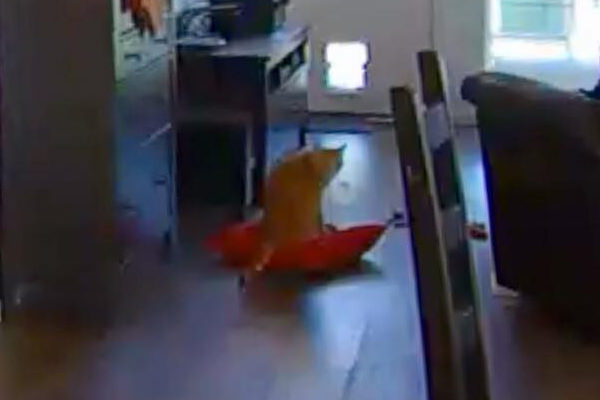 Most of the day she leaves them on the couch, thankfully, preferring to use them as a throne from which to survey her kingdom...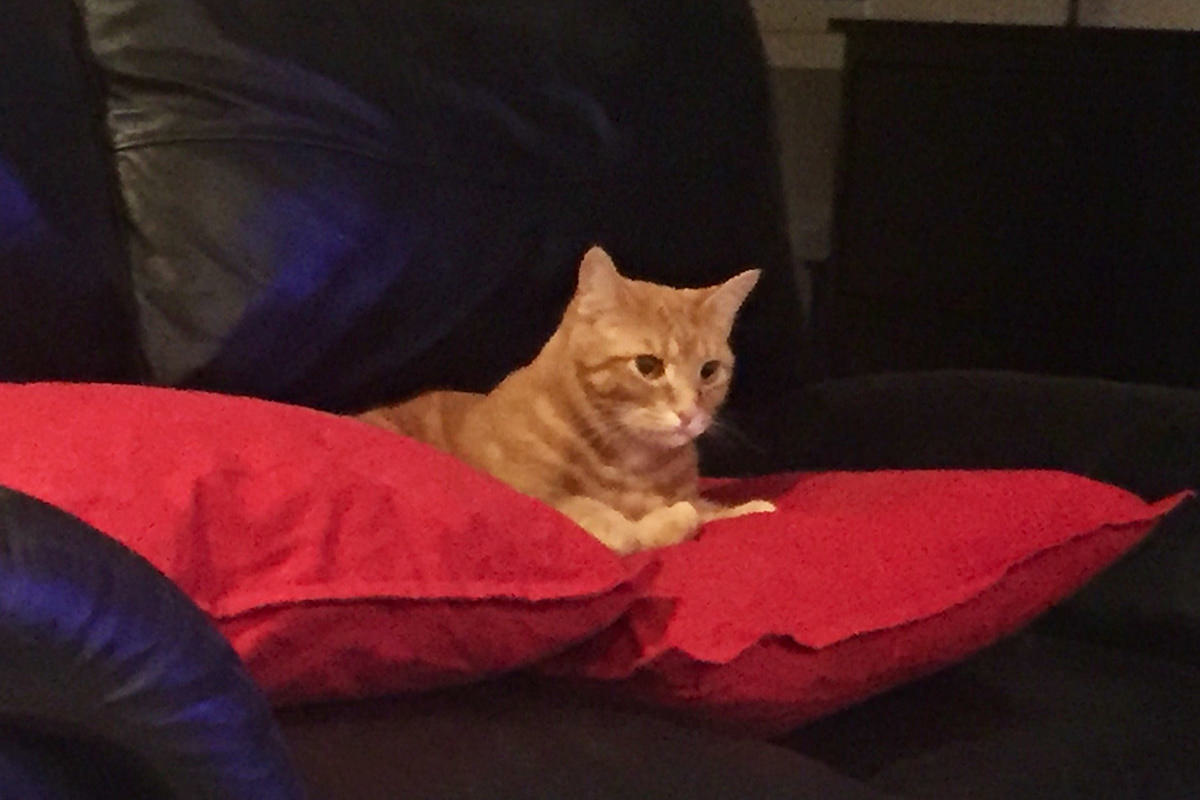 Jake likes to think he's the queen when Jenny is off eating bugs in the catio...
Speaking of Jake... the minute he sees that I've woken up each morning, he's been hopping up to snuggle. Usually with his butt in my face so he can get rump-scratches...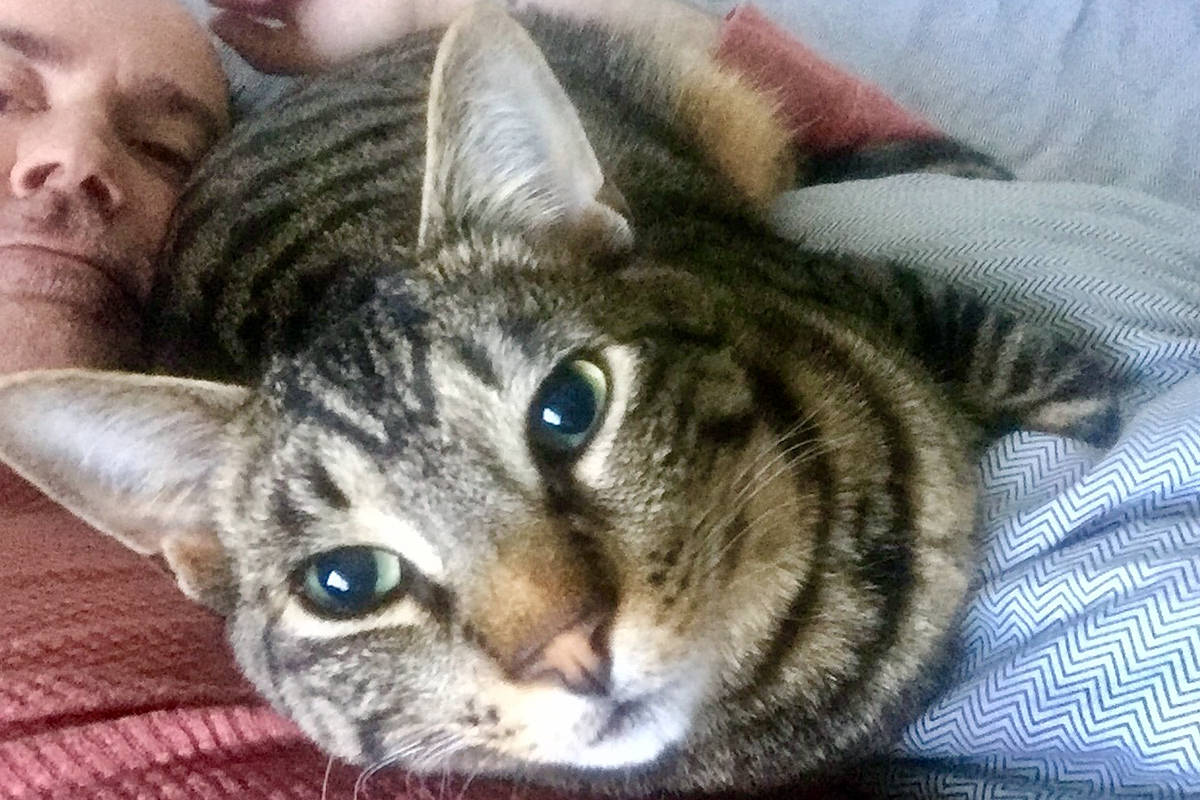 In other cat news... I noticed that there was kitty litter E-V-E-R-Y-W-H-E-R-E when I got back from Denver. Much more than usual. I couldn't quite figure out what had happened, as I didn't remember seeing a kitty-litter fight when I was checking in...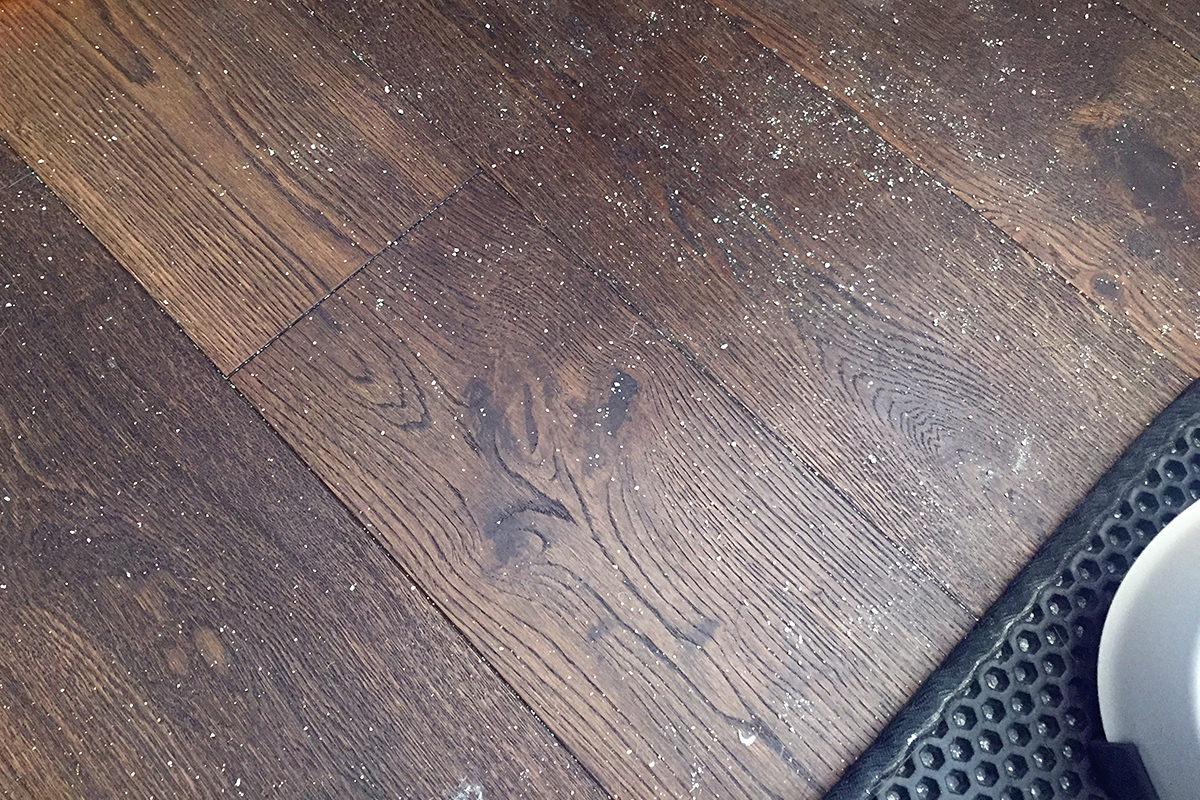 Then it happened again. And last night I finally figured out why. Both cats are trying to climb in the Litter Robot at the same time... something that hasn't happened before... and it's making a big mess. Not sure how to handle this. But if it gets to be a common thing, I'll have to think of something, because kitty litter is expensive.
This evening when I got a text alert that the Feed-And-Go feeders went off, I didn't see either can running up to eat supper. I pulled up the cameras and saw that they were both out in the catio and must not have heard them cycle. So I use the speaker on the camera to tell them "It's dinner time! Go eat dinner!" which is usually all it takes. When I'm home. When I'm talking through the speaker, they get confused...
"HOW DID YOU GET IN THAT TINY BOX, HUMAN?!? WHY ARE YOU NOT HERE FEEDING US?!?"
And lastly...
Meet Barnaby, a cat I found on Facebook...
Barnaby is a 15 year old sweetheart who came to us as a stray. This super affectionate fellow shouldn't be spending his golden years in the shelter. Please come meet dear Barnaby at the VAO soon. He promises to melt your heart.
When I went to the shelter, this is the kind of cat I honestly thought I'd be walking out with. I told them I'd take whatever cat had an eye missing or three legs or whatever it was that was making them unadoptable. I was told "Oh wow... usually we love people like you... but we don't have any cats like that right now." And instead I ended up with two of the most perfect kittens you've ever seen. I hope this sweet older kitty finds a home.
UPDATE: And he has...
Thank you for the outpouring of love and concern for Barnaby. We are no longer accepting applications for him. Barnaby has already received multiple applications and will most likely be going home soon.
Sometimes people are good.
Posted on April 29th, 2017

Cats are still alive and doing well.
So I guess that's a win for me on Caturday then.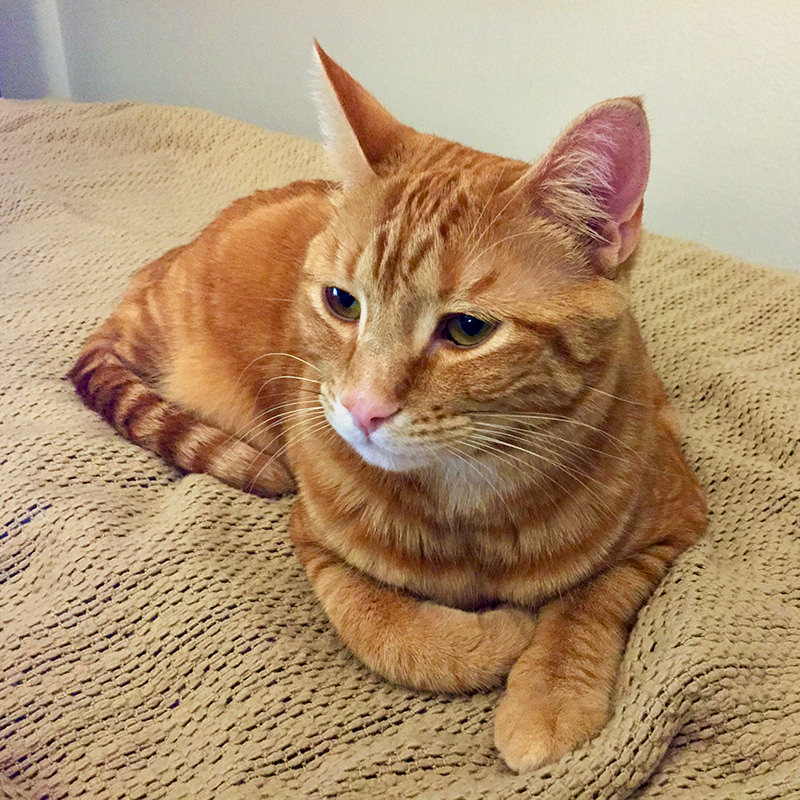 &nbsp
Probably a sign that I need more cats.
Posted on April 22nd, 2017

My cats are frickin' adorable.
I mean, most cats are adorable, but every cat is adorable to their human in different ways. Jake and Jenny are very different cats with entirely different personalities and behaviors. And yet... they somehow still manage to get along. They still play together. They still groom each other. They sometimes still sleep together, though Jake has gotten so big that this isn't as practical as it once was.
While reading through a cat forum recently, I saw that people were posting things about their cats they find adorable. I came up with a list of my own, which I am re-posting here for Caturday...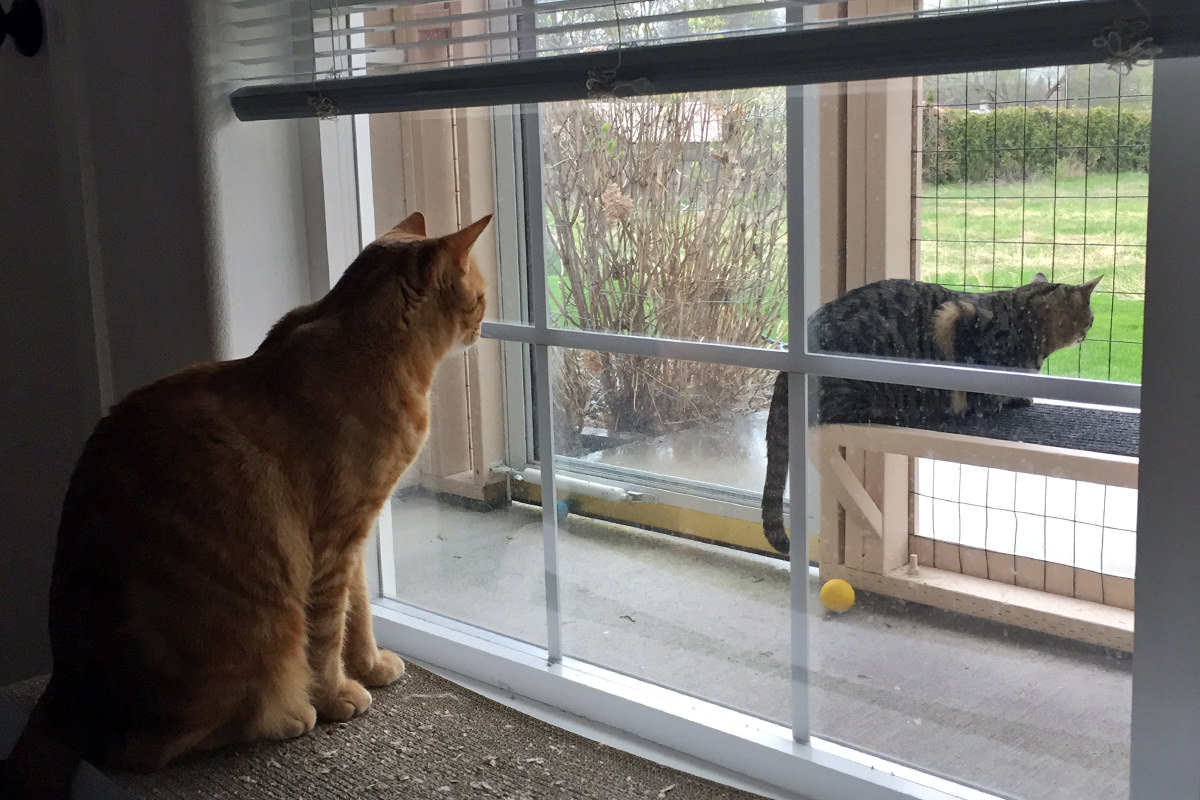 Both cats run to meet me when I get home from work. But it's Jake that gets so excited he just can't stand it. Yesterday when I got home, I had groceries to unload and Jake got impatient waiting for his daily head scratches. So I look down and he's looking up at me with one one paw stepped into the kitchen... a place he knows he is not supposed to go. I look down and say "Jake, Nnnnoooooooo!"... and he draws the paw back. ADORABLE!
When Jenny hears me turn on the shower in the morning, she rushes to the bathroom and patiently waits for me to get out so she can get her head scratches. When I open the door and grab a towel to dry off, Jenny will wait for a minute or two... but start meowing if I don't dry off fast enough. That's already pretty adorable, but last Tuesday she yawned mid-meow and I nearly died it was so cute. ADORABLE!
When I climb the stairs, Jake will sometimes go racing past me and stop on the step so he can cut me off and get petted. I'll pet him for a minute then climb over him. If he's not done being petted, he'll race past and cut me off again so I'll have to pet him more. ADORABLE!
Jenny's favorite thing is smacking her brother in the face. At first she would wait for him to get settled in for a good poop in the Litter Robot, run up and bitch-slap him, then run off. But eventually she got tired of waiting for Jake to poop, and decided to find other ways of smacking him. The latest? She'll haul ass ahead of Jake up the perches in the catio, wait for him to catch up, then smack him in the face as he makes the last jump. ADORABLE?
I think I've mentioned before that Jake can't meow. He just kind of "squawks" instead. Like he opens his mouth wide but can't get anything to come out. It's adorable... but even more adorable is that he doesn't seem to realize he isn't making noise. The other day he wanted my attention, but I just started meowing at him. Each time he'd respond with a longer and longer squawk until I couldn't take it any more and gave him pets. ADORABLE!
When I turn off the lights and go to bed, Jenny will follow me up and hop on my bed with me because she wants to watch TV. This happens almost every night, but sometimes I don't feel like watching television and leave it off. Jenny will meow until I turn it on. ADORABLE!
And... I'm out of adorable for today.
Posted on April 15th, 2017

Originally, my guest room was upstairs next to my bedroom. Eventually I decided to move the guest room downstairs so that everybody has a bit more privacy. This left me with an empty room that I decided to turn into an office.
And so I moved a desk and some shelving into the spare room and all was good.
Except the cats decided that they wanted the room. Anything I put in there was immediately thrown on the floor and shredded.
I finally got the message and removed my office stuff. Then I tossed in a litter box, some toys, and a couple cat tunnels. The cats wasted no time taking it over. They have their own play room now and they love it.
And while I usually work from the couch so I can watch television, every once in a while I still need a desk to work at. And so I dug out the laminated slab from my garage that used to be at the head of my stairs... extended it... re-covered it in leftover wood from my floors... then bolted it to the walls.
Voilà... my beautiful new desk...
I then built a roly cart for my laser printer since I didn't have room for it on the desktop.
Needless to say, Jake and Jenny wasted no time taking over my new office space. Just like they have every other space in the house.
Posted on April 8th, 2017

Jake has started thinking he's the Alpha Cat of the house.
I don't know when the shift occurred, and it's not always consistent, but it's as if he realized that he's got four pounds on his sister and decided to take advantage of it. Sometimes. Other times he just can't be bothered...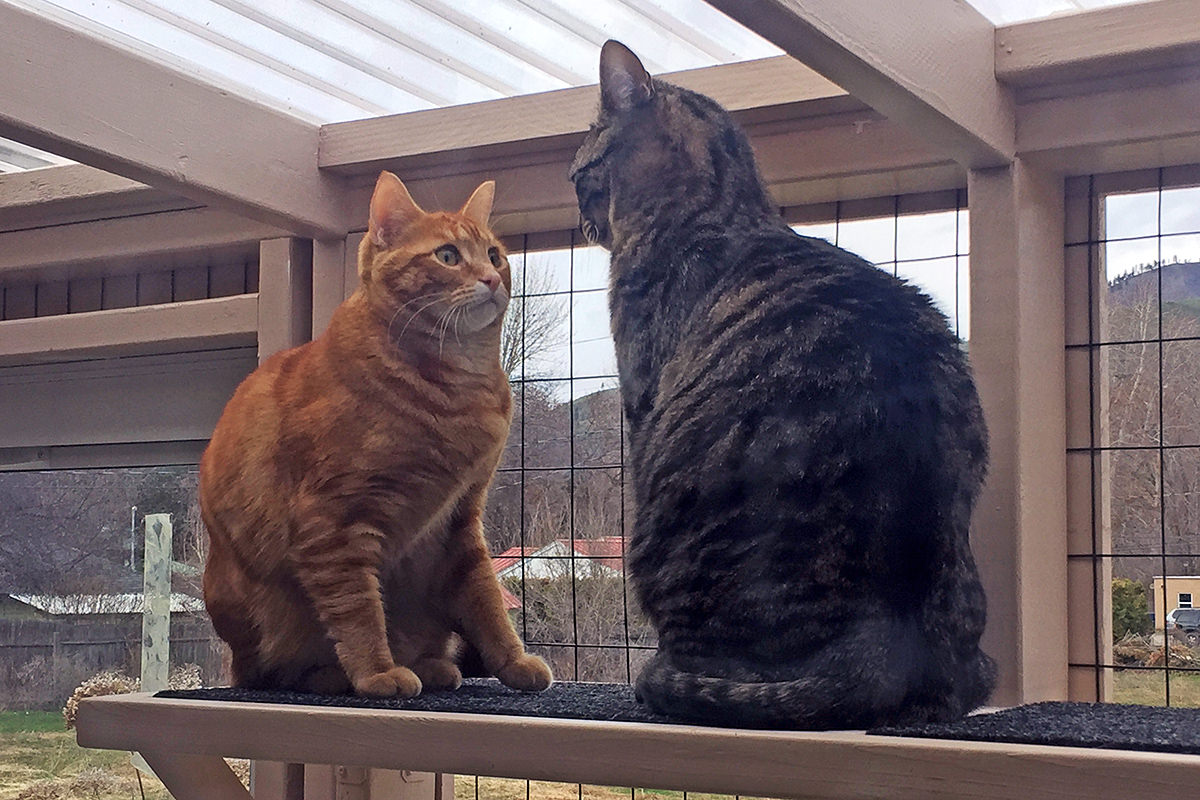 Jenny was birdwatching and Jake snuck up on her. Surprise.
Mostly this Alpha Cat mentality manifests itself on the kitty tower.
Jenny always wants the top perch. If Jake's already on it, she'll take a lower perch, but it's the top one she prefers. Jake doesn't care which perch he's on. But 50% of the time when Jenny is on the top one, he'll knock her out of it just because he can. Sometimes she'll fight him for a little while, but eventually she relents.
This is not to say that Jenny is putting up with Jake's delusions of grandeur. She not only stands up to him when it suits her, she is not above jacking up Jake's shit on a daily basis...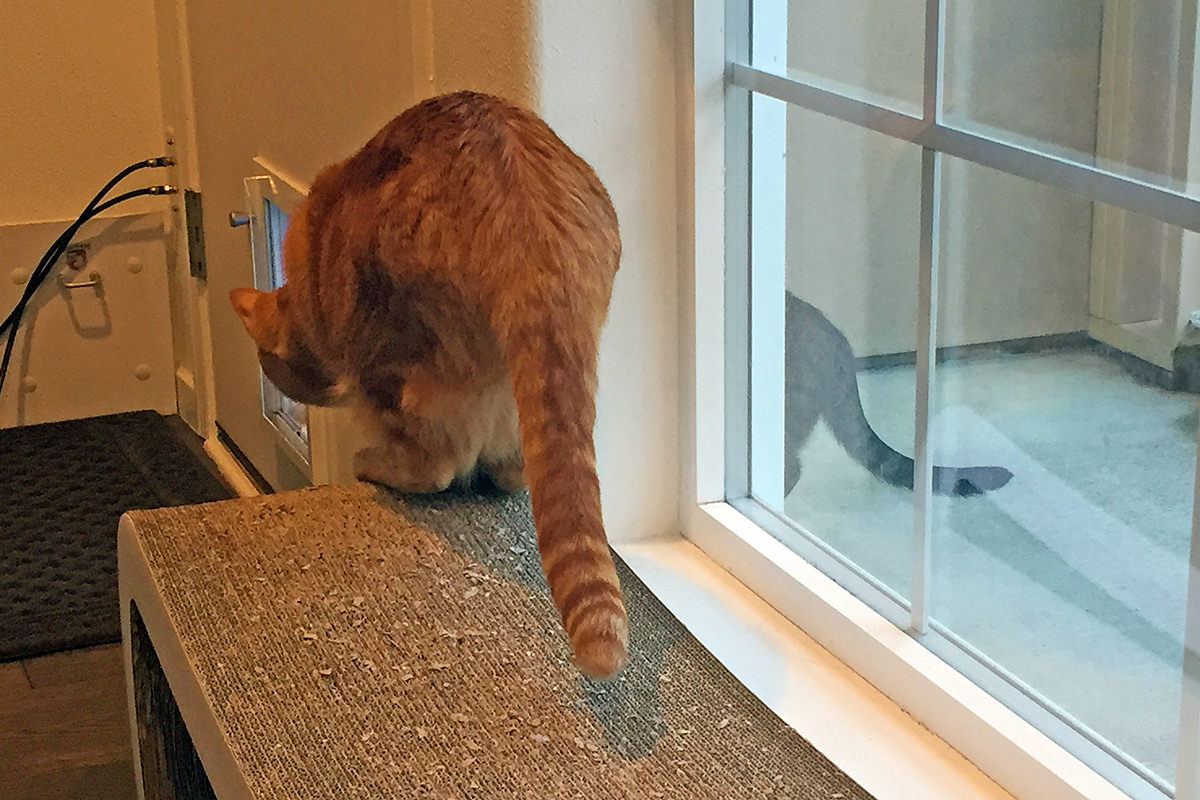 She ended up nailing him good... he didn't know what hit him.
I just feel lucky that they still get along.
Needless to say, as the weather gets better and better the cats are spending more and more time out in the catio. They're even napping out there when the sun is shining. I only hope that if Jenny pukes from the bugs she's eating, that she pukes out there as well.
I think next weekend is the weekend I set up the garage as my wood shop. Then I'll be adding even more catio fun. The construction of which will be fun for me too.