Posted on January 23rd, 2021

This biggest news to come out of this past week? I made a major discovery about Jenny, and I have no idea how I failed to realize it before now.
As I've mentioned a couple times, there are nights that Jenny refuses to eat her wet food. It's the same stuff she always gets... mixed with water and mooshed up so she can lick it up... and yet she is 100% uninterested. It drives me crazy, because it's NOT because she's not hungry. That cat is always hungry. So why? Why does she take one sniff and walk away until the dry food is dispensed? Why?
I'll tell you why... odds are I cooked with yellow onions.
There I was having just cooked the filling for some bean and onion flautas. The Alexa alarm rings for dinner time and Jake and Jenny are incredibly excited about it because I'm already in the kitchen. So I dish up the food, mix Jenny's up, microwave for 6 seconds to take the chill off, then set it down. Jake starts wolfing it down immediately. Jenny walks away.
The next evening she's back to normal and laps it right up.
The evening after I am frying up the rest of the onion to use in a tomato sauce. The Alexa alarm rings. I put the food out. And... nothing.
It was as if a light switch turned on in my head.
So I tested my theory three nights later... and yep, there it is. Onion stank is the reason. Apparently if the house has that smell in it she can't smell the wet food enough to think it's "safe to eat" and takes a big ol' pass.
And so I guess any time I am cooking onions I need to start after the cats have been fed and make a late dinner of it. Problem solved.
In other food-related news... last night I had baked potatoes for dinner. Right after taking them out of the oven and getting them dresssed up for consumption, Jake was all over me. He followed me from the kitchen into the living room and stared at me the entire time I was eating...
Look at those owl ears!
I tried multiple times to explain that this was my dinner and he had finished his dinner just ten minutes ago, but he was having none of it.
And in other Jake news... When I came home earlier this week, he didn't come running to the door to meet me like he usually does. When this happens it's 95% likely that the heat is running. And if the heat is running, he climbs the cat tree so it will blow down on him. He loves that. So I take a look and, sure enough, he's up in the cat tree with the heat on. And that's when I notice that this is not the only thing that has happened.
Apparently his lunch did not agree with him, because he projectile vomited it onto the window where it slid down and piled on the window sill...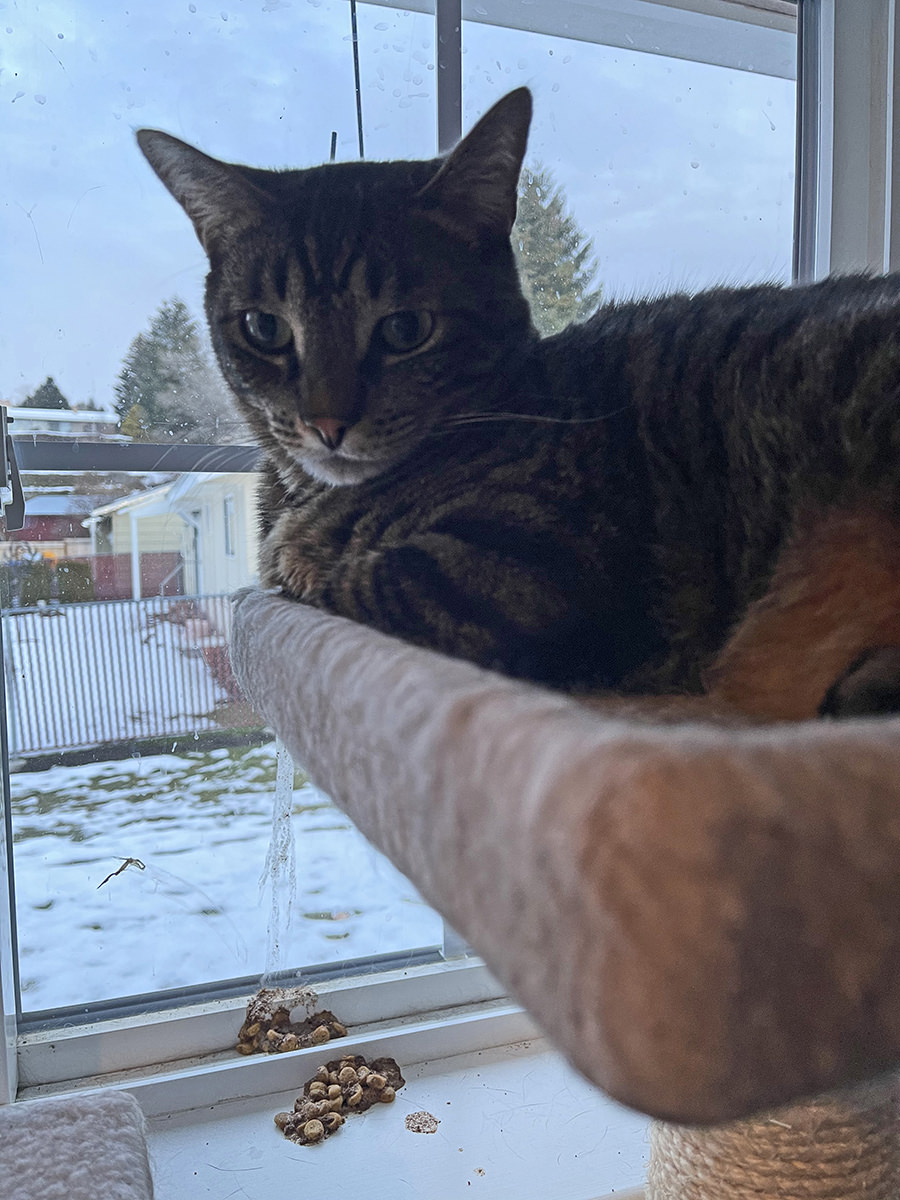 Lovely.
Since he pukes so rarely, I guess I really don't have cause to complain. It's just that he really knows how to pick his moments, doesn't he?
Oh well. It could always be worse. He could have puked on my bed.
Posted on January 16th, 2021

When I first got Jake and Jenny, it was recommended I get a Feliway diffuser which releases pheromones that calm nervous cats. I kept using them even after they had acclimated, because I felt it probably helped when I was away traveling as well. The other night I noticed that the diffuser had ran out, which helped to explain why my cats had been curiously cautious lately. Like when I come home and they book up the stairs and won't come down right away when I call them...
So I replaced it. The next day they were all over each other. When I came home they didn't even come greet me. They were too busy giving each other a bath and couldn't be bothered...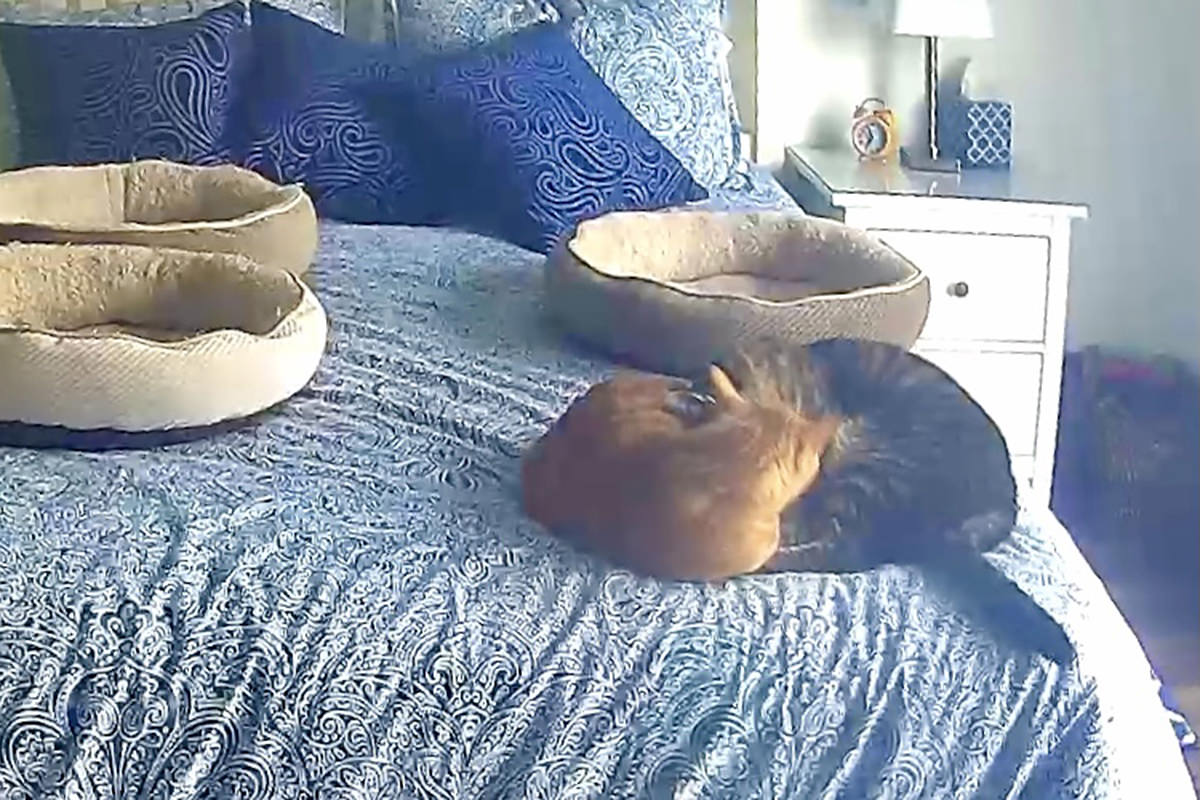 When I looked at the security camera footage I saw they were being sweet to each other all night as well...
In other cat news... Jake came in crying one morning while I was working in bed. I assumed that he couldn't find Mufasa, so I went to look (otherwise I wouldn't be able to get back to work). Mufasa was on top of a pile of toys that Jenny was building, so I grabbed him and went to give him to Jake. He turned his head and would not even look at his favorite toy...
I thought they were friends again when Jake dragged him in the next morning...
But then throughout the day, Mufasa was left on my bed...
I went to bed at midnight, but Jenny woke me up at 2am crying her head off. I had no idea why, so it was back to the security camera footage. Turns out that Jenny was sleeping when Jake came up and woke her up. This made her so upset that she decided to wake ME up. And that's when I noticed that Mufasa was still where Jake had left him...
So is the honeymoon between Jake and Mufasa over?
Keep tuning in to find out!
Posted on January 9th, 2021

The holidays being over aren't all that sad for me... I don't celebrate any of them... but I kinda feel bad for my cats. Always something new and exciting for them. Lights hanging outside the windows... Christmas cards they can chew on (which is appropriate considering 5 out of the 8 I received were addressed to them)... and all kinds of other stuff that's new and different...
One thing that I wasn't anticipating was Jake and Jenny shedding like it's the middle of Summer when there are some weeks of Winter left to be had. The fur is literally flying everywhere, and petting them results in handfuls coming off in my hand...
And apparently all that shedding is itchy, because my cats will not leave me alone. They want to be petted and scratched and scrubbed...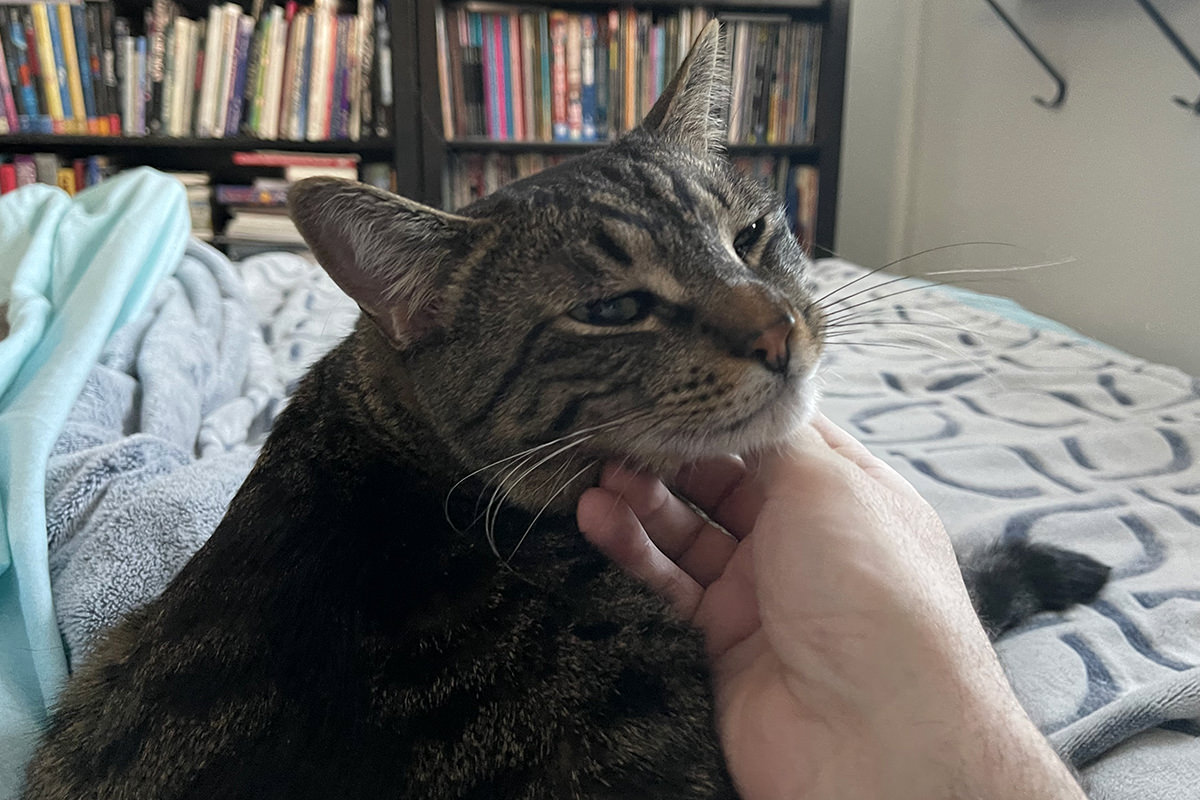 From the minute I get home until the minute I fall asleep, they are wanting never-ending scratches.
I'd write more exciting details about my needy cats but, well, my cats are being needy.
Posted on January 2nd, 2021

When I got my cats, they were inseparable. They would hide together, play together, sleep under the couch together, sneak out to eat together... there was not a single minute that they spent apart. Part of this came from them being rescues that were scared shitless of anything and everything. Over a long period of time I was eventually able to gain their trust, but I was so worried at the beginning that I actually planned for them never wanting to be apart.
One of the first purchases I bought was a dog bed. I figured that when they eventually grew up that they would outgrown sleeping in the cat bed together. Eventually they were able to spend time apart without problem, and the dog bed sat empty. Jenny occasionally slept in it, but it went largely ignored.
Until this past month.
Jenny started sleeping in it all the time. And, of course, once Jake saw that his sister had something she was enjoying, he just had to have it as well.
So now they take turns crashing in it. Or, if you're Jake, crashing out of it...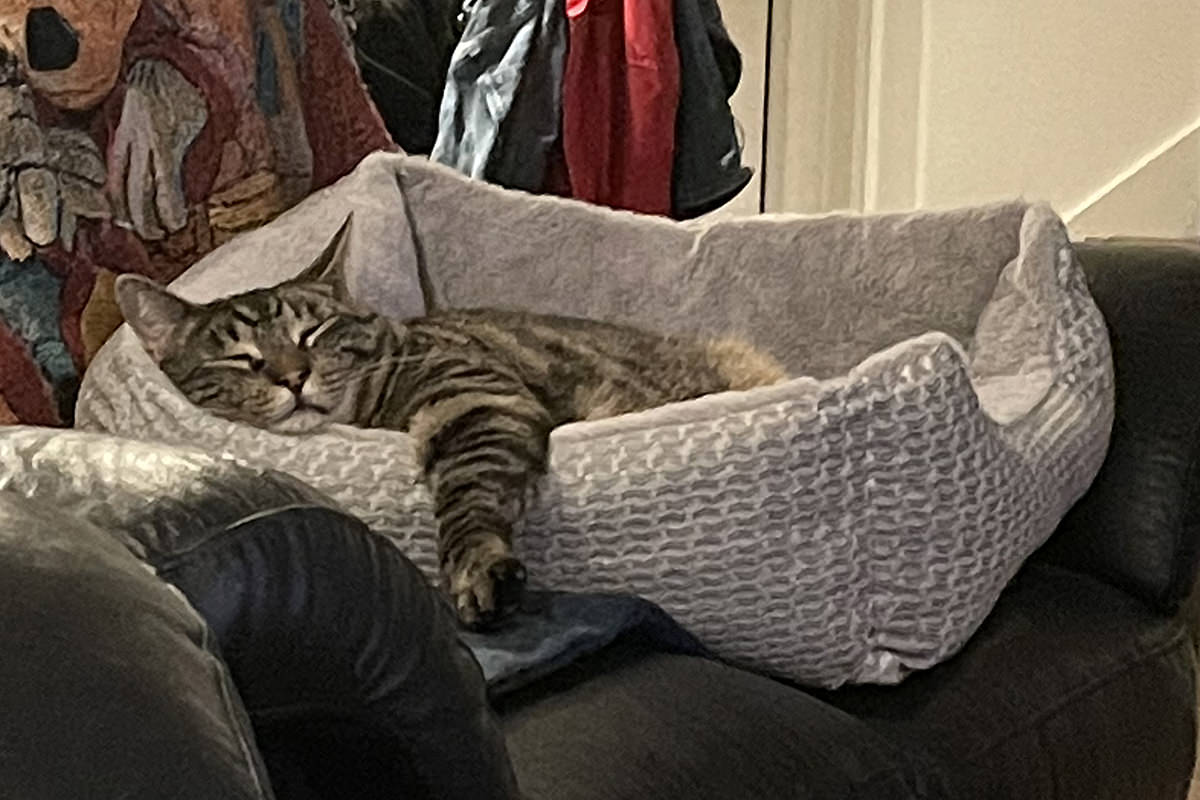 Not that Jenny's immune. For some strange reason, she's started sleeping in the thing riiiiiiiiight on the edge of the couch...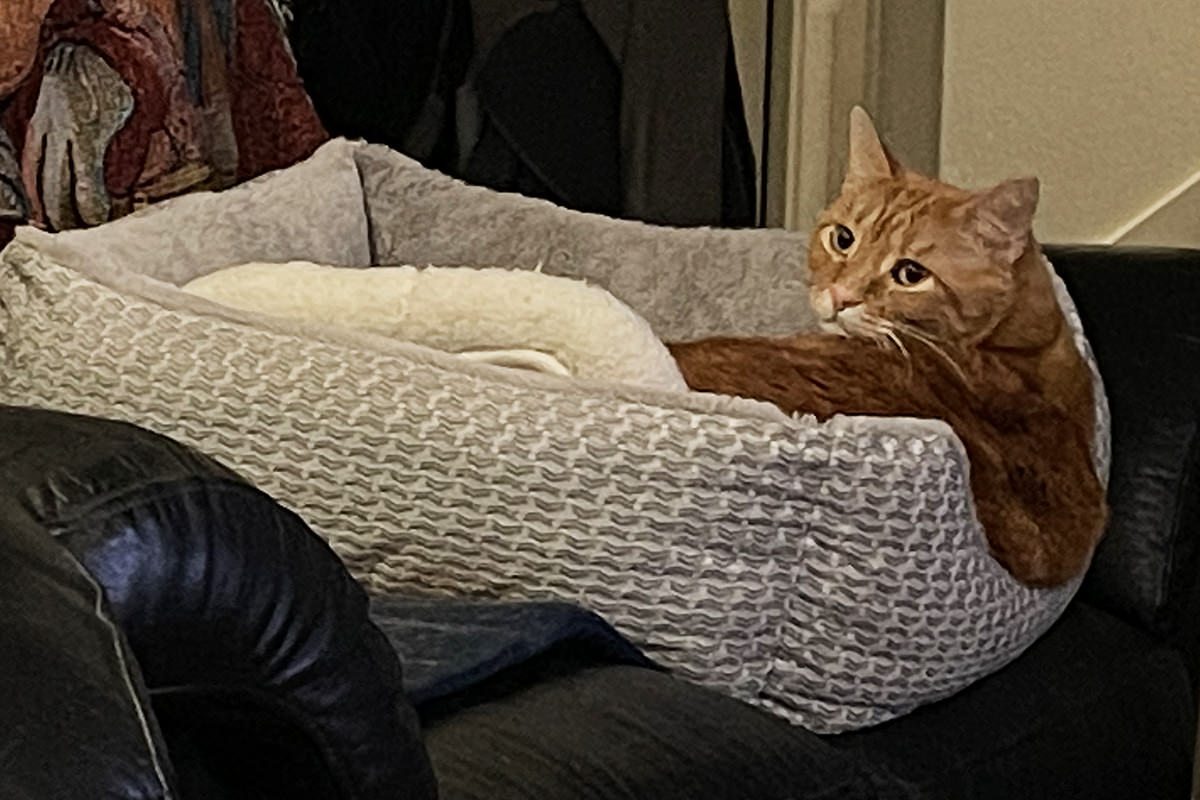 AND THEN... I looked up a couple evenings ago and saw this...
Now, finding them sleeping together is not impossible. I was treated to this sight just a couple weeks ago...
But I had never seen them together in the doggy bed. Needless to say I had to get up and investigate further...
So sweet!
Tonight Jake has laid claim to it all by his lonesome again, however. He's watching television with me all comfy-like...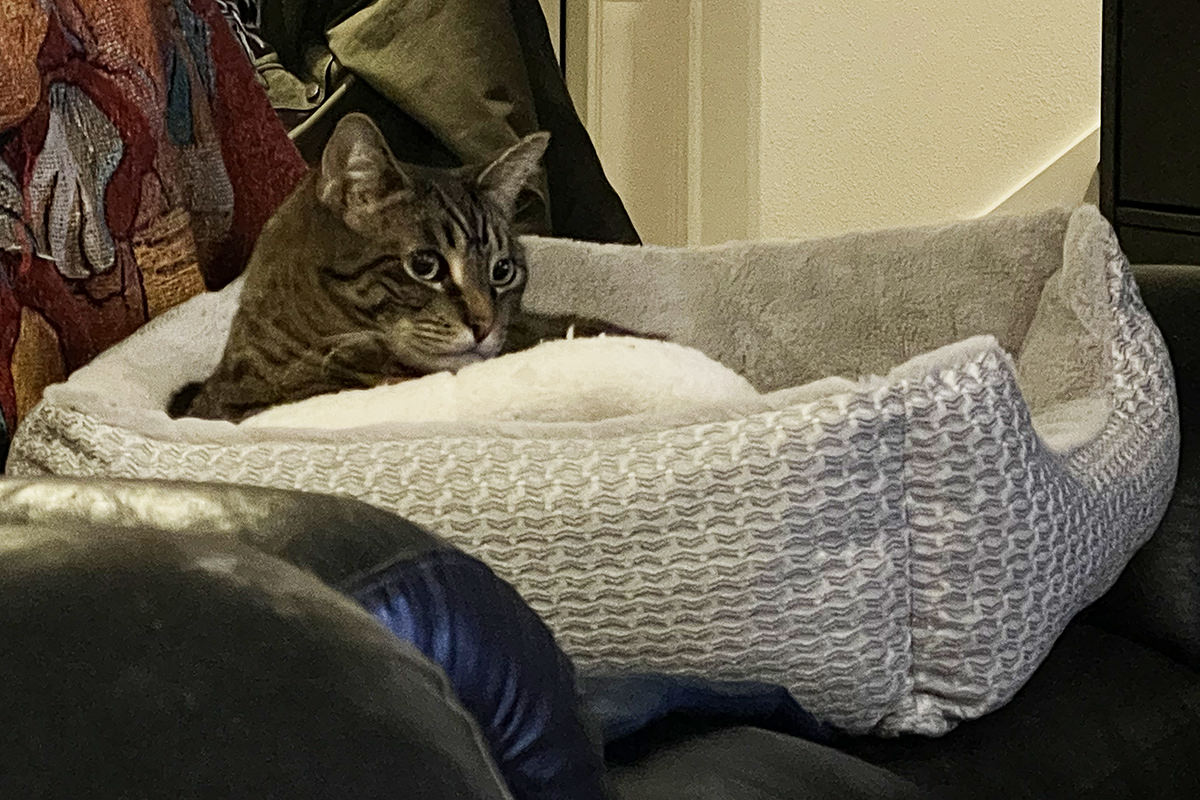 I was a part of a holiday gift exchange. As what has become a tradition, my cats end up getting gifts as well. This year it was these adorable "Baby Yoda" (Grogu) ornaments filled with catnip...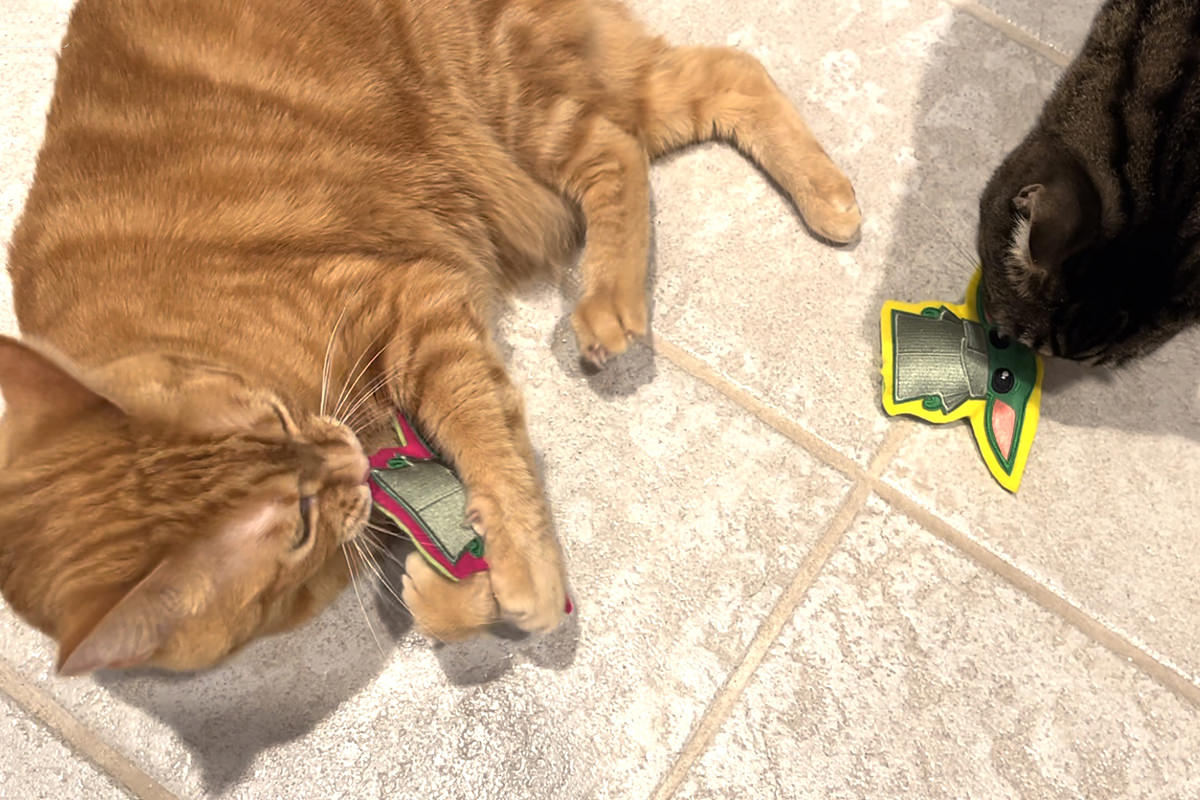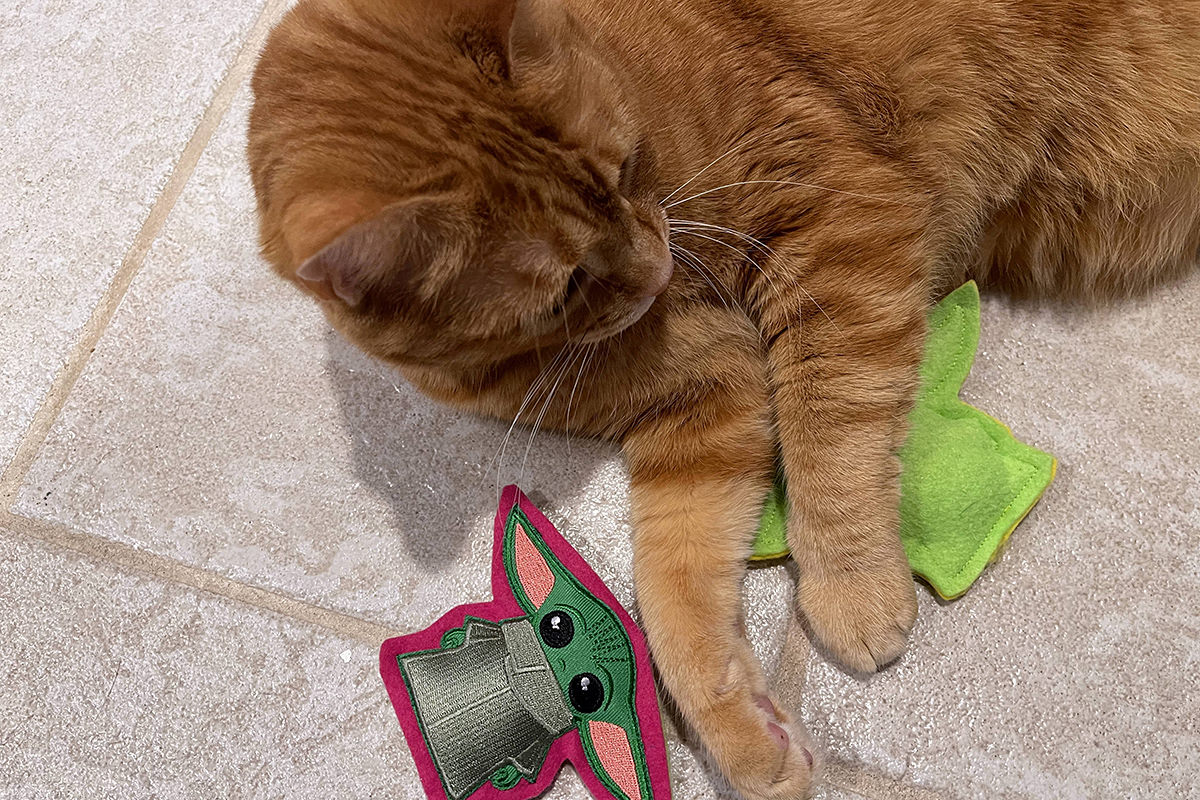 Jenny really goes nuts over the things...
Not surprisingly... Jake, of course, still only has eyes for Mufasa. Other toys come and go, but his stuffed lion is always the favorite.
Posted on December 19th, 2020

Today would have been my mom's 76th birthday. Despite the fact that I tell myself over and over that this was a long life by a number of metrics... it still seems so short. Technically she died at 73-1/2 years old, but the person she was had been dying for years before then. That's the way dementia works.
It's impossible for me to overlook that the reason I have a Caturday at all today is because I got Jake and Jenny to keep mom company while I was at work. She was confused most of the time, but she seemed far less agitated when she was hanging out with Spanky, an abandoned cat we took in to save it from starving or freezing to death...
Never-before-shared video of mom sharing her popcorn with Spanky, who was such a great cat...
When mom's second-story apartment became too dangerous for her and I had to find a safer home, my intent was always to bring Spanky with us. Alas, he disappeared before I ever had the chance.
And so... a week after moving in, I was off to the Humane Society to adopt two feral rescues that warmed up to mom before they ever warmed up to me...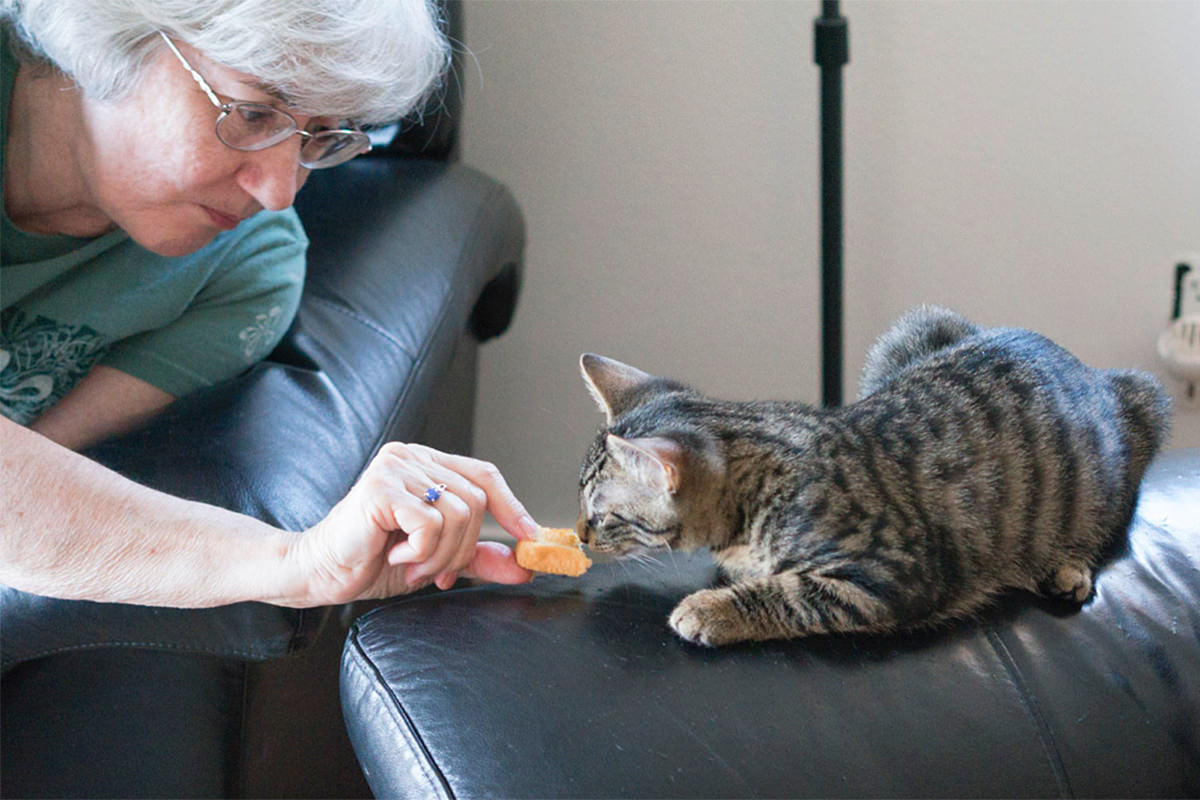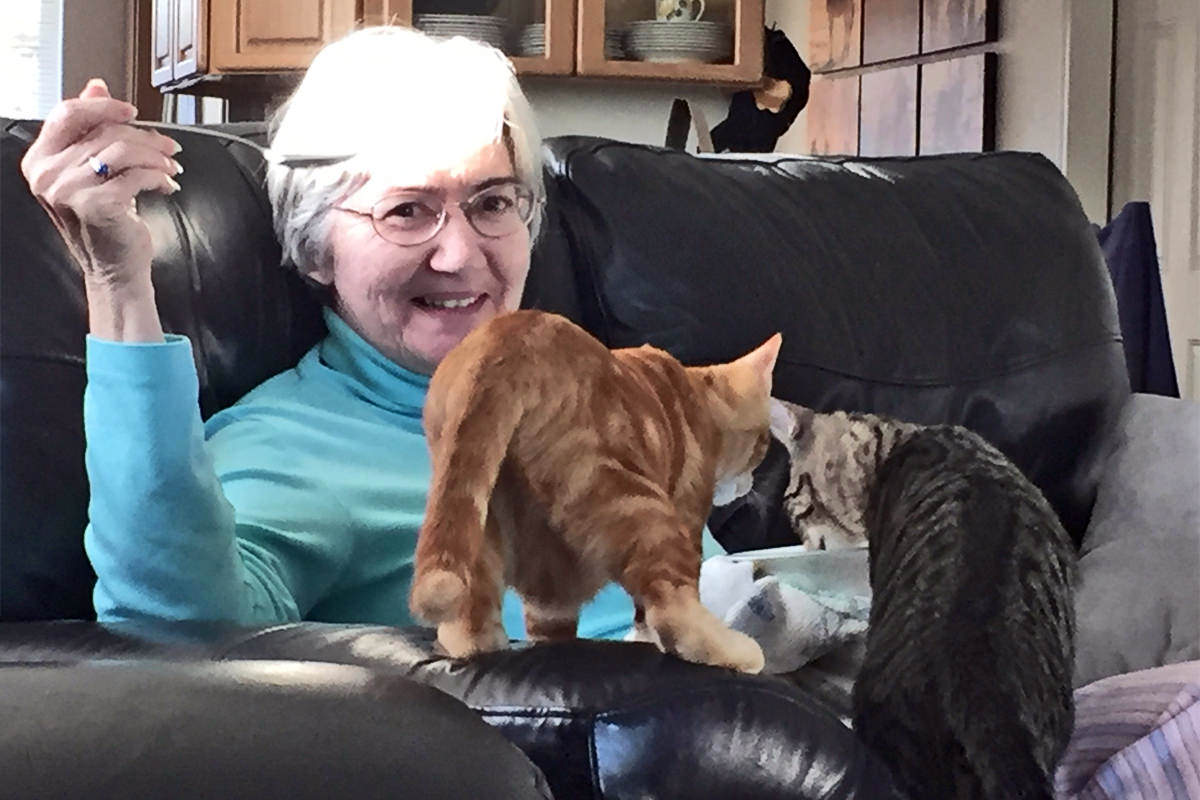 Her life was so much better with constant companions in it. I'd come home to check on her and find her curled up with the cats sleeping, or playing with them, or even just talking to them. They had one job... keep my mom occupied... and they did it perfectly.
After mom left, Jake and Jenny kept me going. And 190 Caturdays later, they're still keeping me going. More or less.
Check in with me tomorrow.
Posted on December 12th, 2020

For whatever reason, my cats have started getting all anxious and agitated when the Alexa alarm goes off for their feeding. This morning Jake was wandering around in circles... Jenny was fretting and pacing... then Jake started squawking as I was dishing up breakfast which encouraged Jenny to start making those nervous meows she makes when she's frustrated.
Other than that? The cats have been pretty chill. Mostly because they have warming pads to sleep on...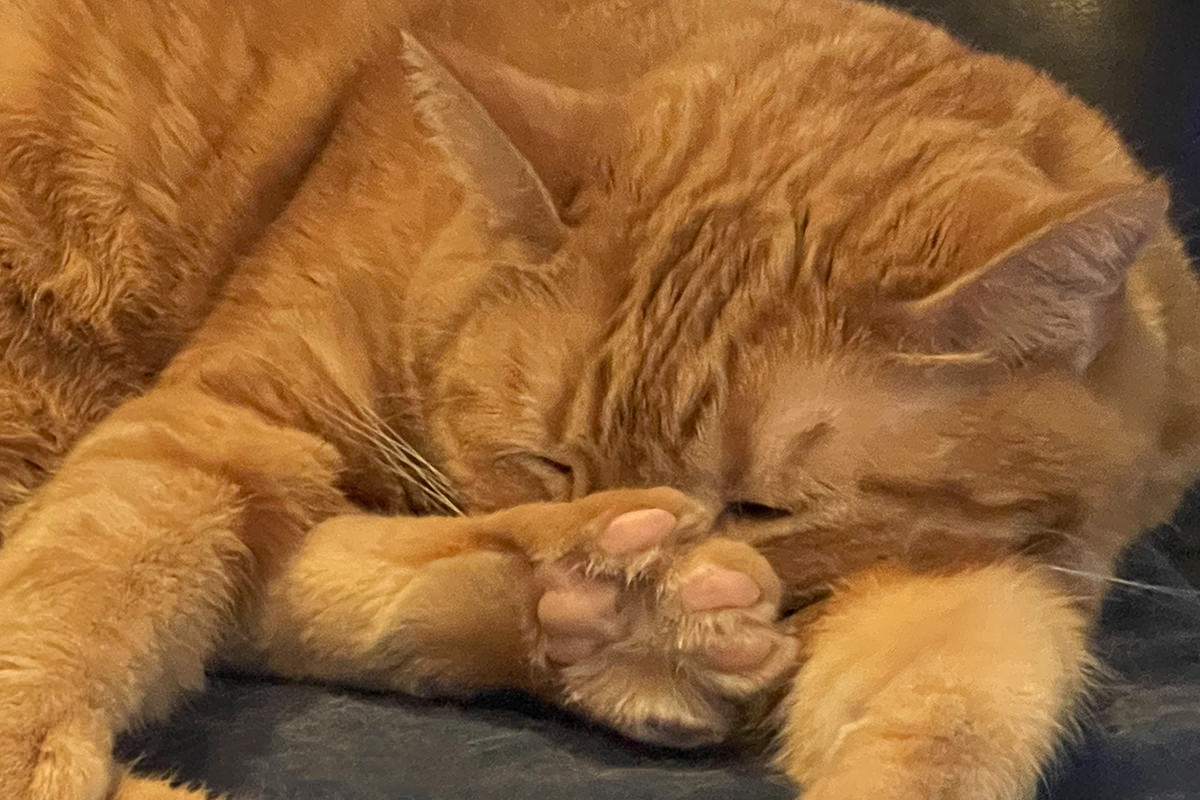 Or stealing my heating pad...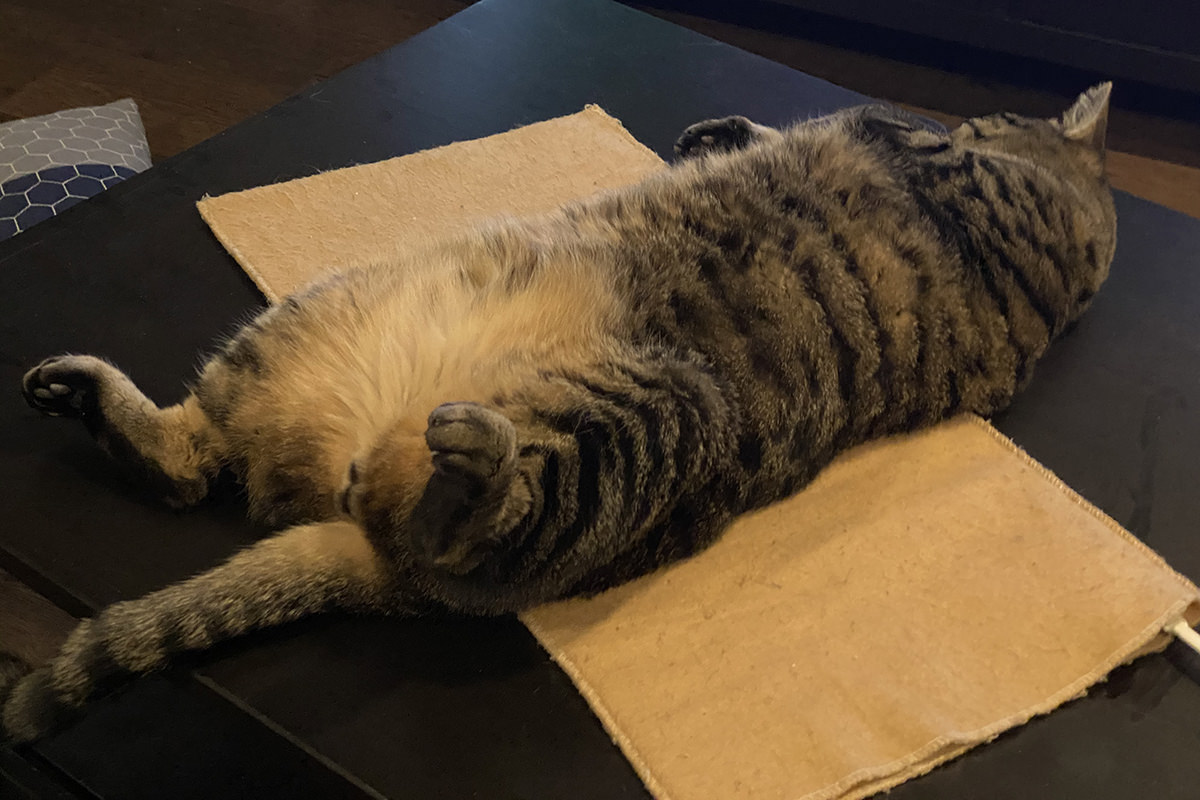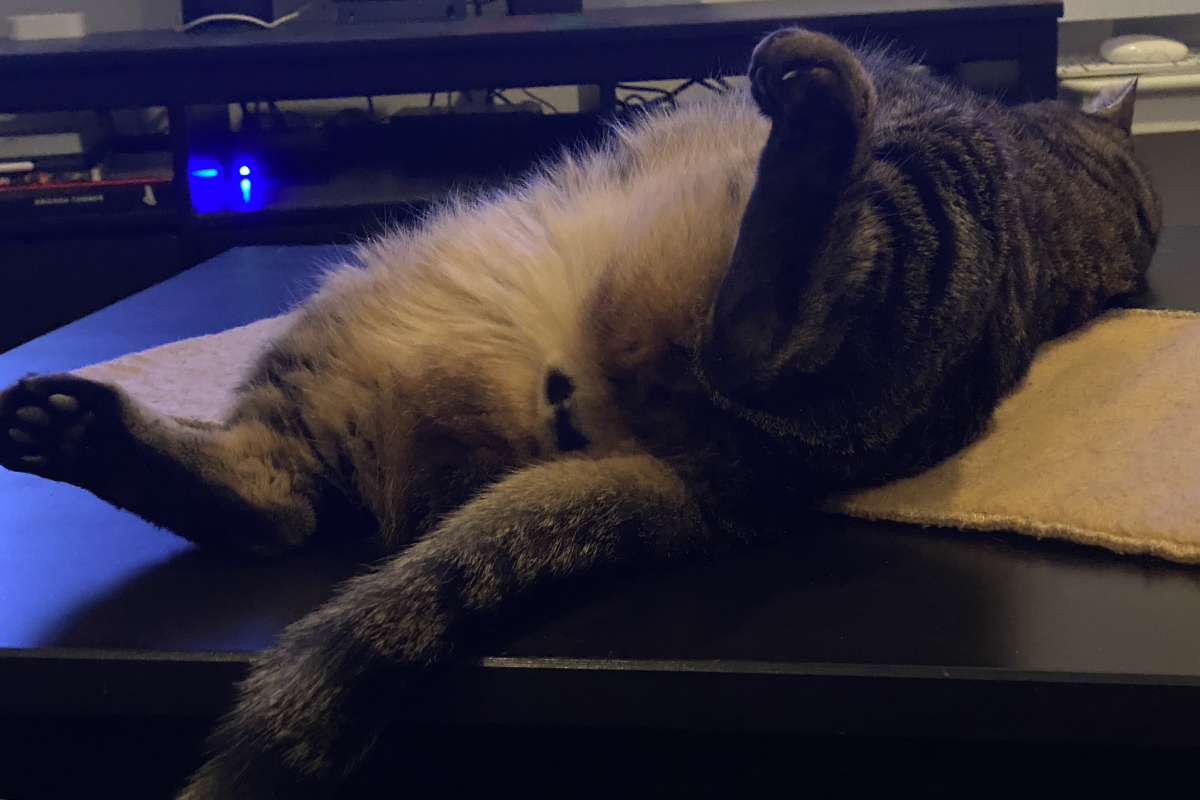 How cats manage to sleep in the positions they get into is a mystery.
I was wrapping up some presents last night so I can get them sent out, only to have Jake drag Mufasa onto the table and lay across the wrapping paper box. I can only guess he was trying to help, but all he did was put off the task fifteen minutes while I waited for him to get out of the way...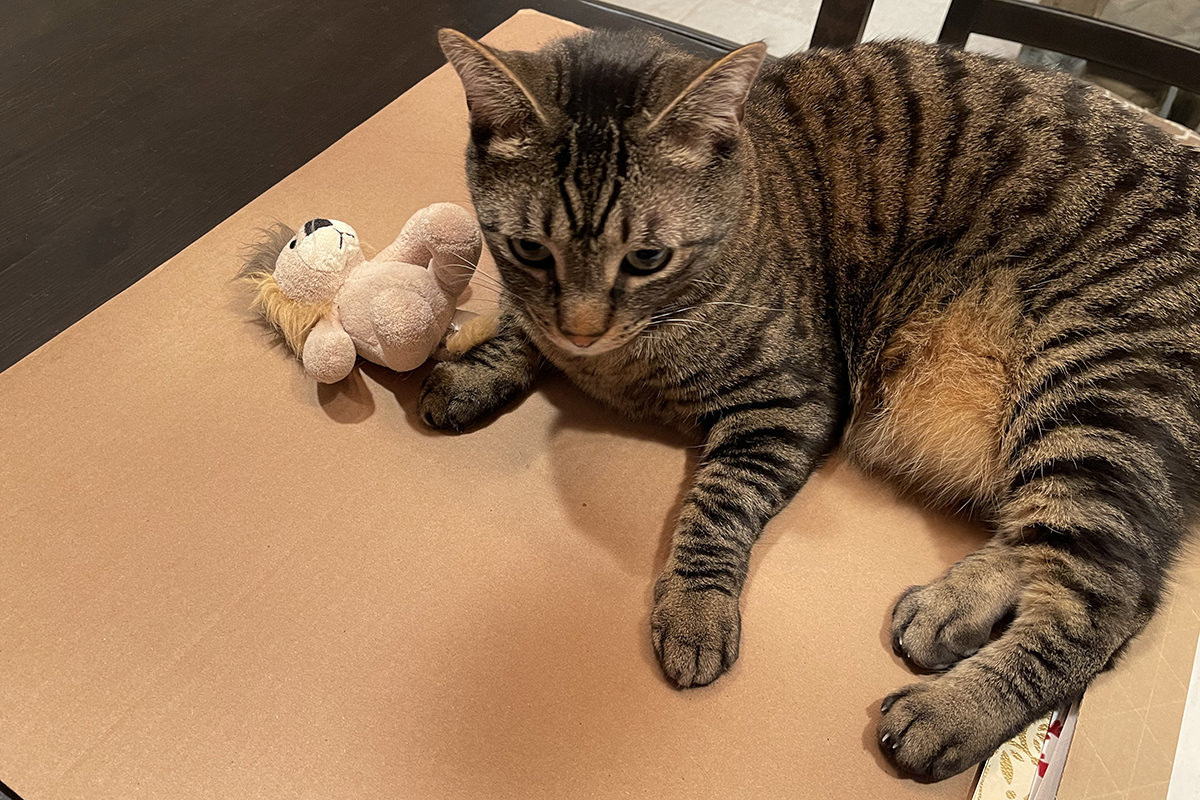 Which he did... when he joined Jenny on the cat tree to watch television...
Mufasa was left behind. Which means Jake will be walking around crying while looking for his favorite toy because he always forgets where he had it last.
Posted on December 5th, 2020

Jake and Jenny have been spending more and more of their day sleeping. I guess Winter isn't very exciting time for a cat, so this is their coping mechanism. Not that I can blame them. Thanks to COVID lockdown, all I want to do is sleep the days away as well.
On Thursday I had the plumber come and rip open the kitchen ceiling to repair a pipe leak. The cats hid upstairs in my storage closet, as they always do when strangers invade the house. Once the repairs were complete, I called up to let them know that they could come back downstairs. It's amazing how they are able to understand me and immediately come running downstairs every time...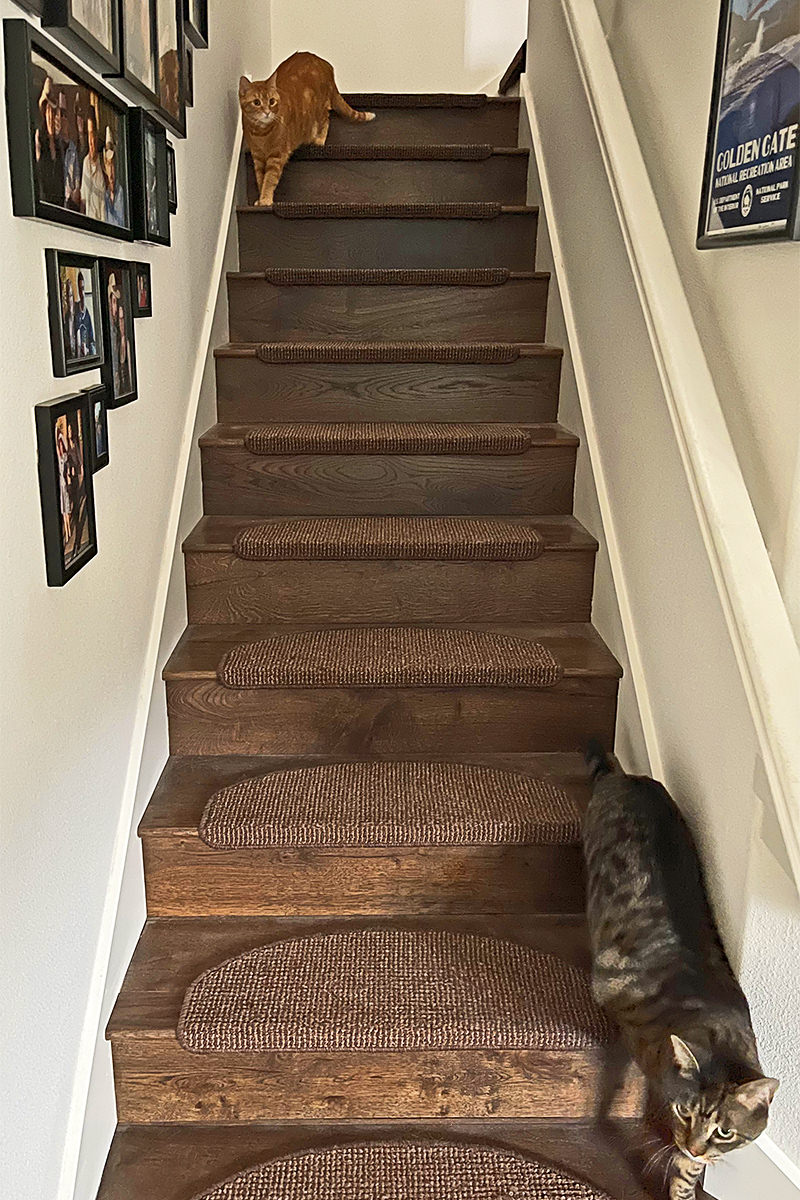 Not that they 100% trusted me. They had to go sniffing around everywhere to make sure the intruder was really gone.
Early in the week I was startled when BOTH cats ran out to the catio after one of them was in the Litter-Robot. I knew that the impending smell must be extraordinarily bad. But once it reached me and I was gagging and feeling my eyes tear up, I had to go to the video feed so I could find out which one of them was responsible so I could check to make sure that they hadn't blown their asshole out. Turns out it was BOTH of them! They BOTH took a dump at the same time!
I don't know that this has ever happened before! I was worried that my home would probably have to be fumigated... or possibly burned down... because it was just that bad. Fortunately the Litter-Robots cycled and got things under control.
And then...
There I was... working away at the office... when I get a PERSON ALERT! on my iPhone. I ignore it because sometimes my cats register as a person to the security system. Then, ten minutes later, PERSON ALERT! — Now I'm really freaking out because I've been convinced that there is, in fact, a person in my home. NOPE!
I guess it was my fault for leaving the kitchen blinds open and having a stepladder staircase left out for them. And I had JUST disinfected the countertops the night before! I had to steam them and scrub them clean AGAIN that night. Blergh. I wonder how come Jake and Jenny never seem to realize that I don't have time for these shenanigans?
And now I guess I had better get back to work. But quietly so I don't interrupt my cats' busy day of sleeping.
Posted on November 28th, 2020

Jenny has now 100% embraced her power over me, and she's getting better at manipulating me every day. She knows that all she has to do is meow and I'm going to do whatever she is wants. Give you a treat? Okay. Get your ball from under the couch? Okay. Rub your belly? Okay.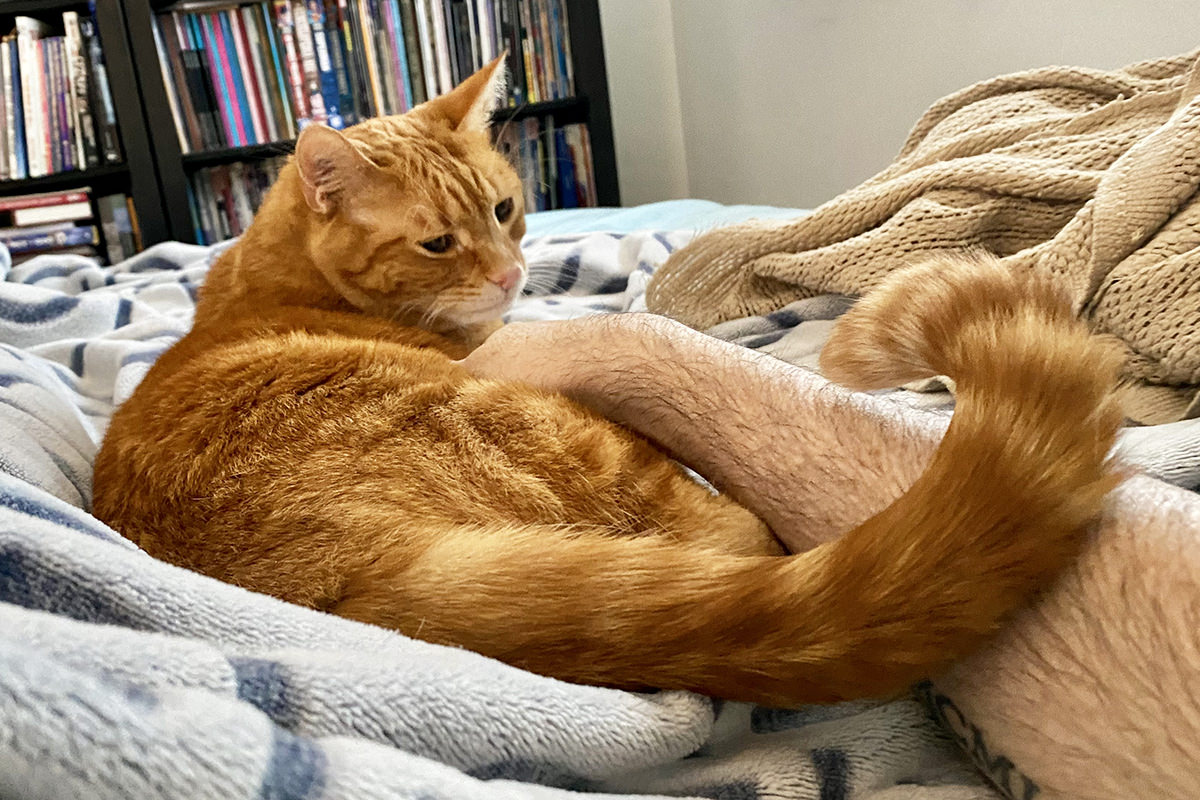 Here she is after she meowed at me to come fix her bed. The pad inside was flipped up and she wanted it put back down...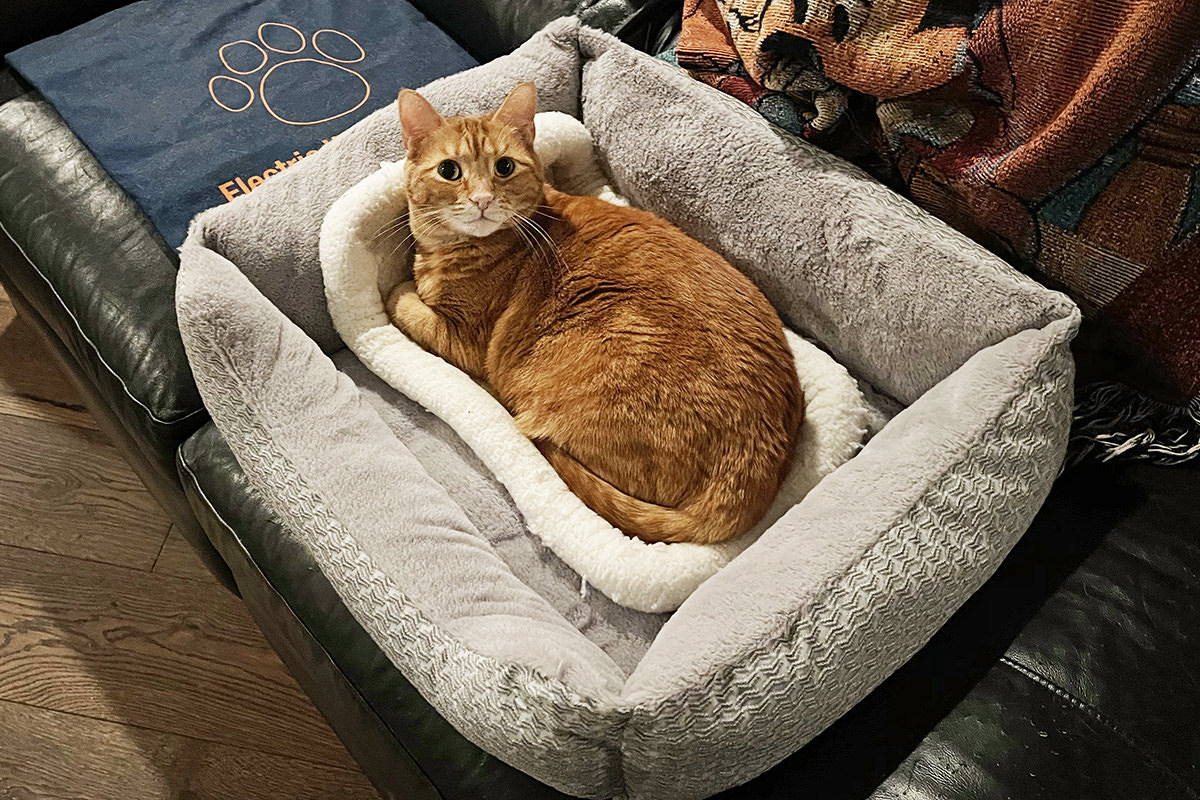 As I think I've mentioned, I don't trim my cats' claws. They don't really scratch anything up and are perfectly capable of maintaining their claws themselves...
Though every once in a while Jake really gets aggressive about it, and that makes me wonder if maybe I should face certain death by attempting to use clippers on them...
As the weather gets colder and colder I am more and more happy that I bought some warming pads to keep Jake and Jenny comfy. They sure do love them.
"You know, there are two of them, guys. You don't have to share."
"I SAID THAT YOU EACH HAVE ONE SO YOU DON'T HAVE TO SHARE!"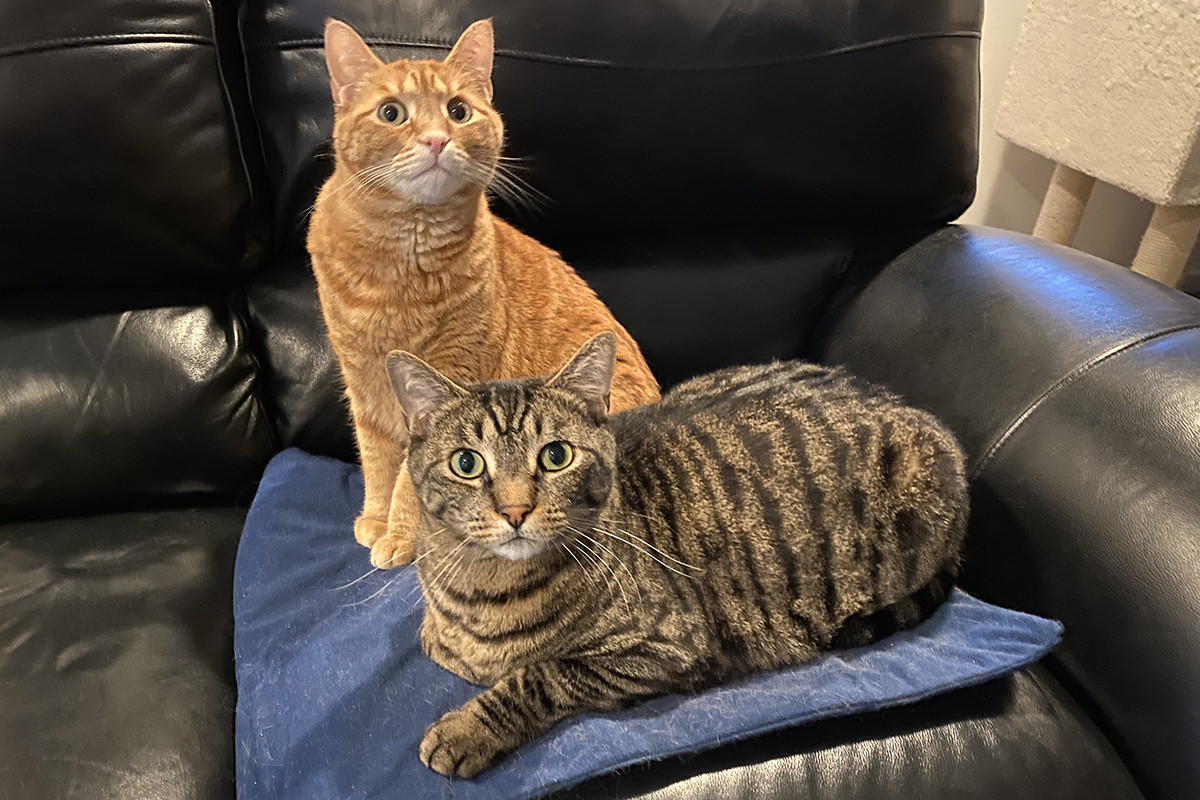 They've spent ten minutes waiting for the other one to move. Eventually the dinner alarm rang and they left at the same time.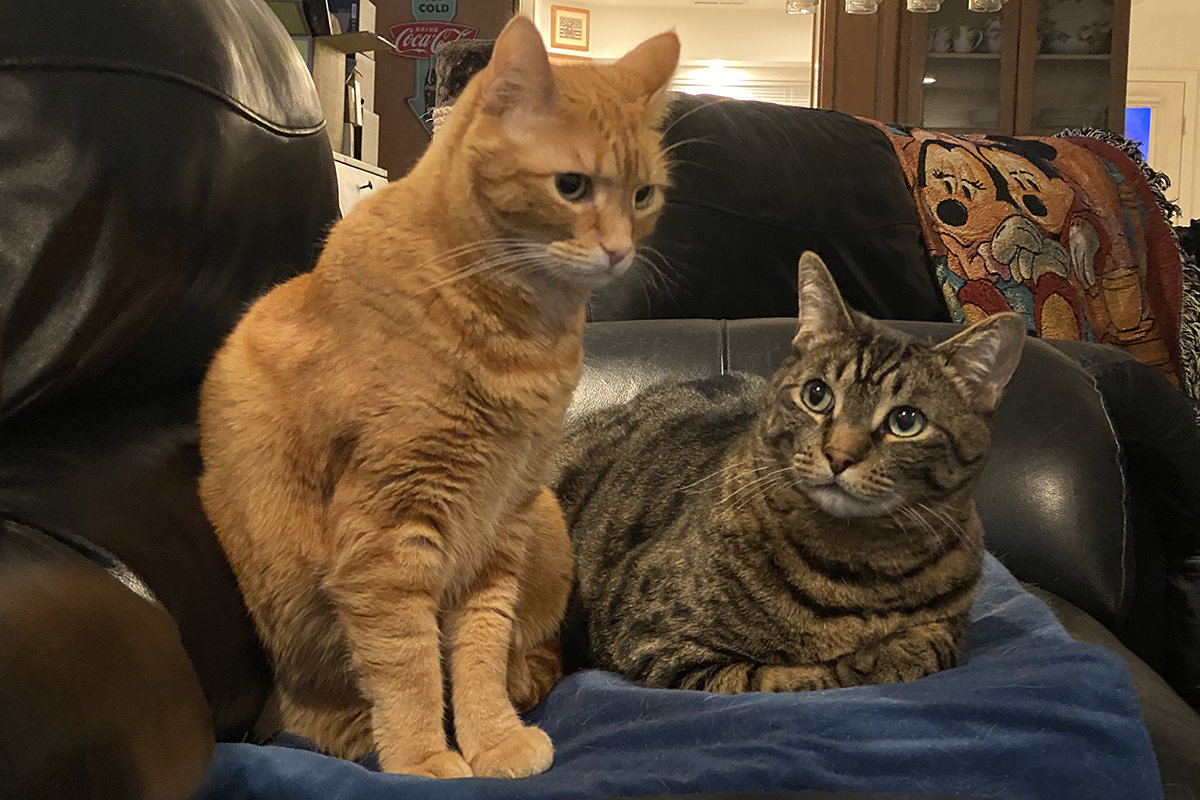 I guess that the only thing cats love more than warmth is food.
Posted on November 21st, 2020

Lockdown isn't boring when you have cats!
This morning while I was getting out of the shower I heard a "whomp! whomp! whomp!" I was pretty sure that it wasn't ghosts, so the only explanation was that Jake or Jenny had found something new to entertain themselves. As I was getting dressed, I heard it again... "whomp! whomp! whomp!" When I ran out into the hallway and didn't see anything, I looked down the stairwell and saw this...
Well, obvious that innocent little face wasn't capable of getting into any trouble, so I was at a loss to explain what happened. Until I was walking downstairs and noticed this...
Apparently Jenny is back to redecorating.
And speaking of Jenny...
If you've ever wondered the look you get when you administer butt scratches wrong, this would be it...
Fortunately I seemed to be able to do belly rubs correctly...
That's better!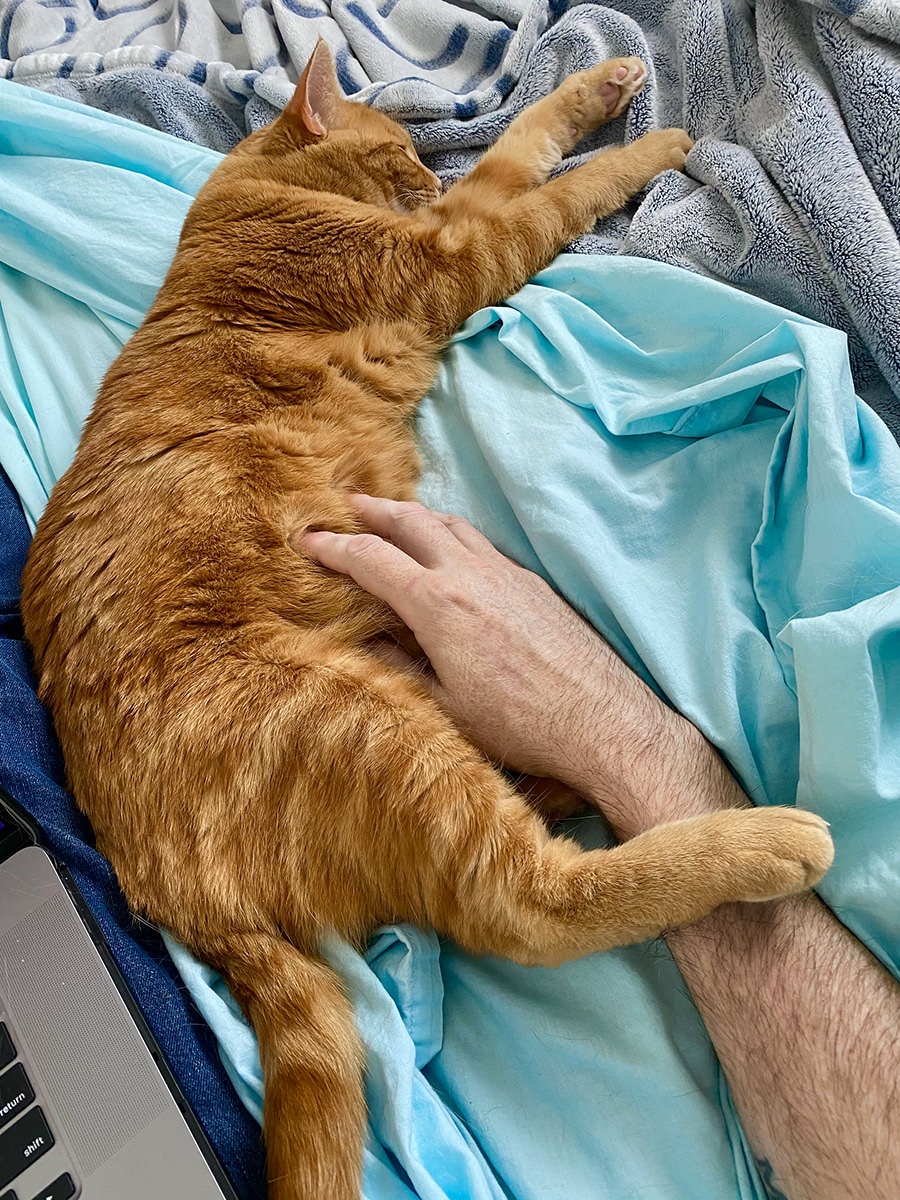 Now I guess I should go straighten all the posters in my stairwell and see how long they stay that way.
Posted on November 14th, 2020

What a day, right?
This evening at 5:10pm, Jenny came running in like she heard the Alexa alarm go off for dinner. I was forced to explain that no, Jenny, you're just being silly... there's 50 minutes until it's dinner time. This was her reaction...
And then I got this for the next 15 minutes until she got bored and took a before-dinner nap...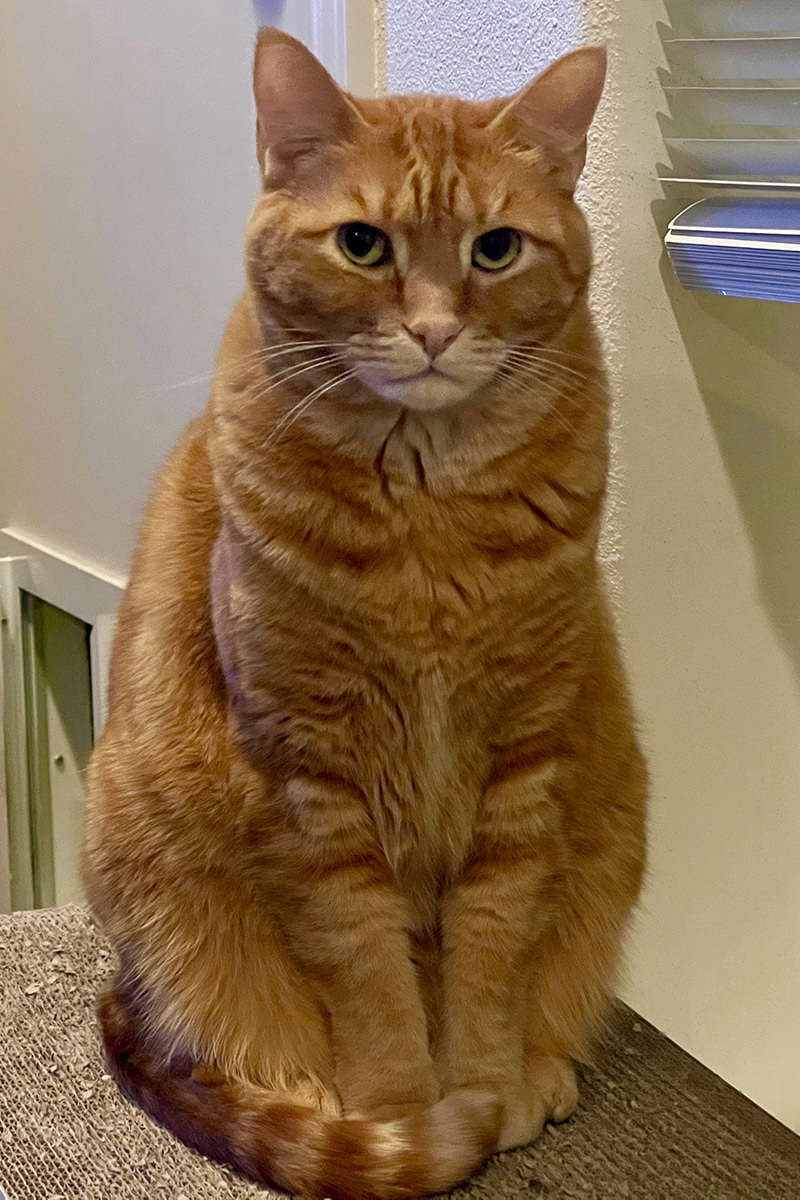 Not that Jake gets a pass. This was him on Friday morning waiting impatiently for breakfast...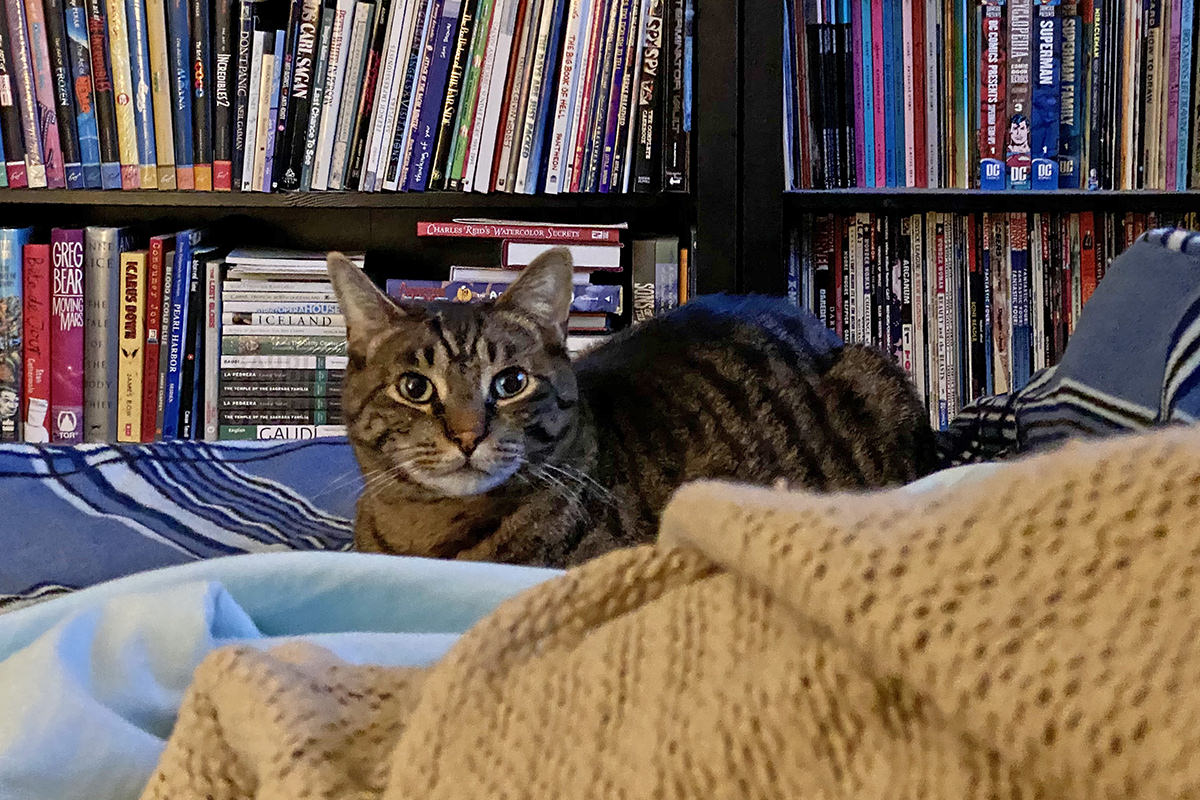 Eventually Jake ran out of the room... but don't worry, he was waiting in his box downstairs for me as usual...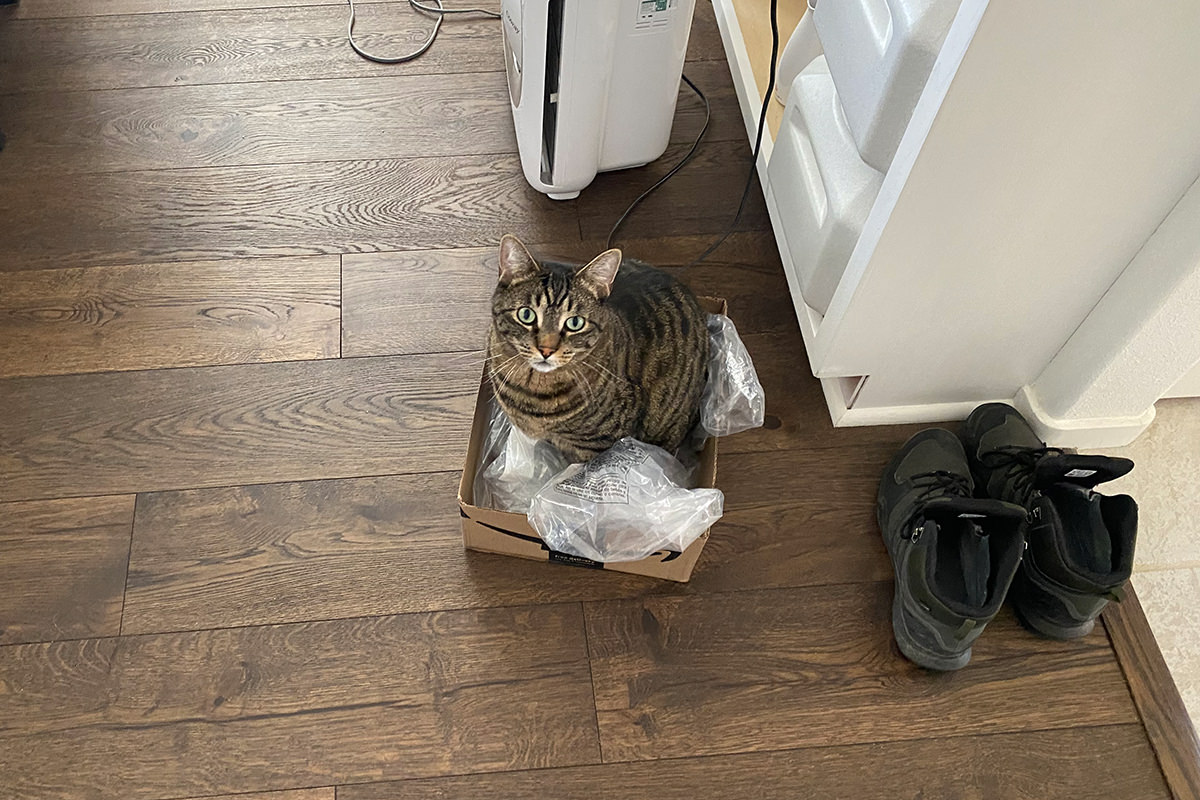 And right now? I just want to put my feet up. But alas...
Such is my life with cats.