Posted on May 19th, 2018

It's kind of strange how having cats has changed my behavior. I am slowly becoming a different person, and it's a direct result of hanging around Jake and Jenny.
Yesterday I received a couple of questions from somebody who found my Antarctica trip in a Google search. I didn't have the answers off-hand, so I had to retrieve my souvenir box. My cats see a box and are instantly in attendance, pawing through everything and chewing on papers, pamphlets, and postcards. And I just didn't care. Two years ago if a cat was chewing on my precious souvenirs I would have ripped them out of their mouths, shooed them away, then been upset for days that my property had been destroyed. But now? It's just stuff. In the grand scheme of things, does it really matter if a postcard has a corner missing? Not to me. Not anymore. They could set the entire box on fire for all I care. I'd rather have happy cats than any amount of stuff. Unless it's going to hurt them, there's nothing I own that's important enough to smack a cat away. Nothing.
But the biggest change has been learning to accept things for what they are. This is a primary concept of Buddhism, and something I've been trying to get a handle on for decades. Jake and Jenny are "just cats." Given their relatively small stature and lack of opposable thumbs, there isn't much in their lives that they can change. Rather than wallow in misery if their attempts to alter their environment fail, they just accept it and do their best to live with it... or they move on. And that's the key. There are some things in life that simply cannot be changed no matter how hard I wish it were otherwise. Rather than dwell on that and be miserable, I've been doing a lot more accepting... and a lot more moving on. And I have been far happier because of it.
Maybe this world would be a better place if more people in charge of things had cats.
But anyway...
So there I was consumed by work when I hear much thrashing and squawking coming from the dining room. Jake is going crazy about SOMETHING, so I get up to see what's going on. Turns out it's just a boy and his mule. Jake is rolling around on the table with Moose...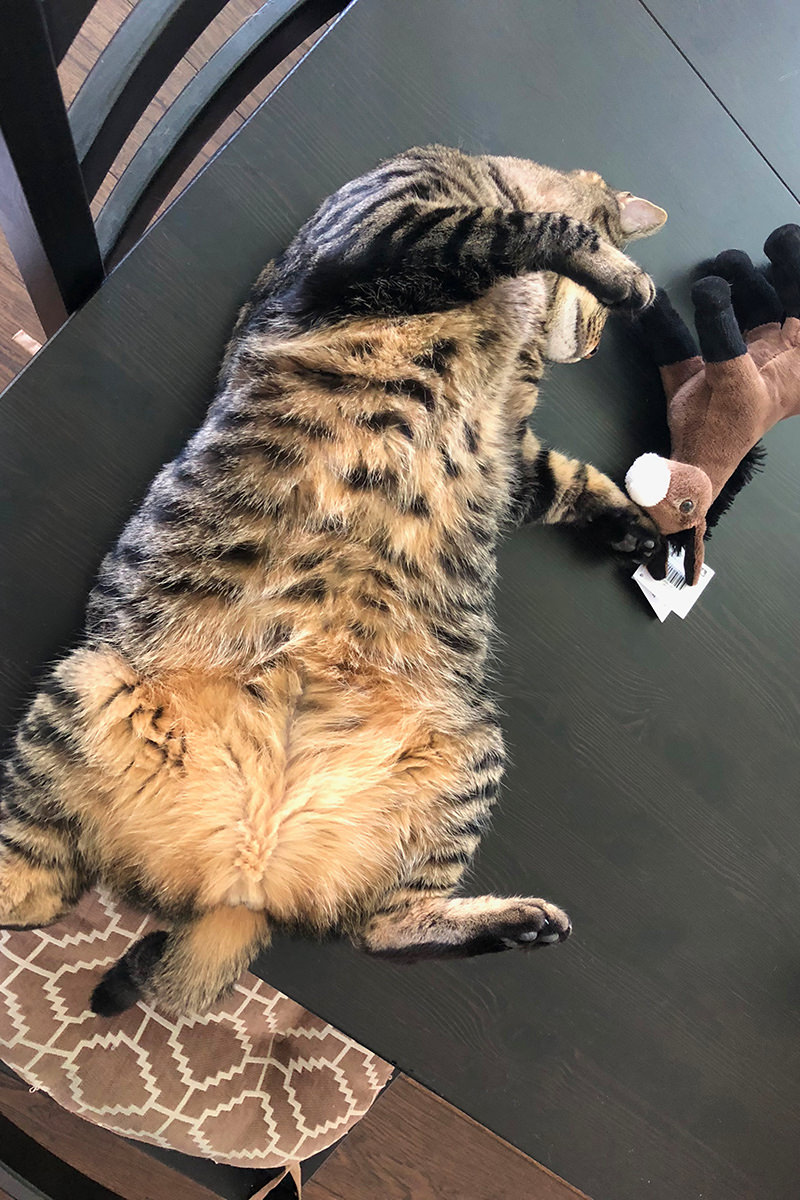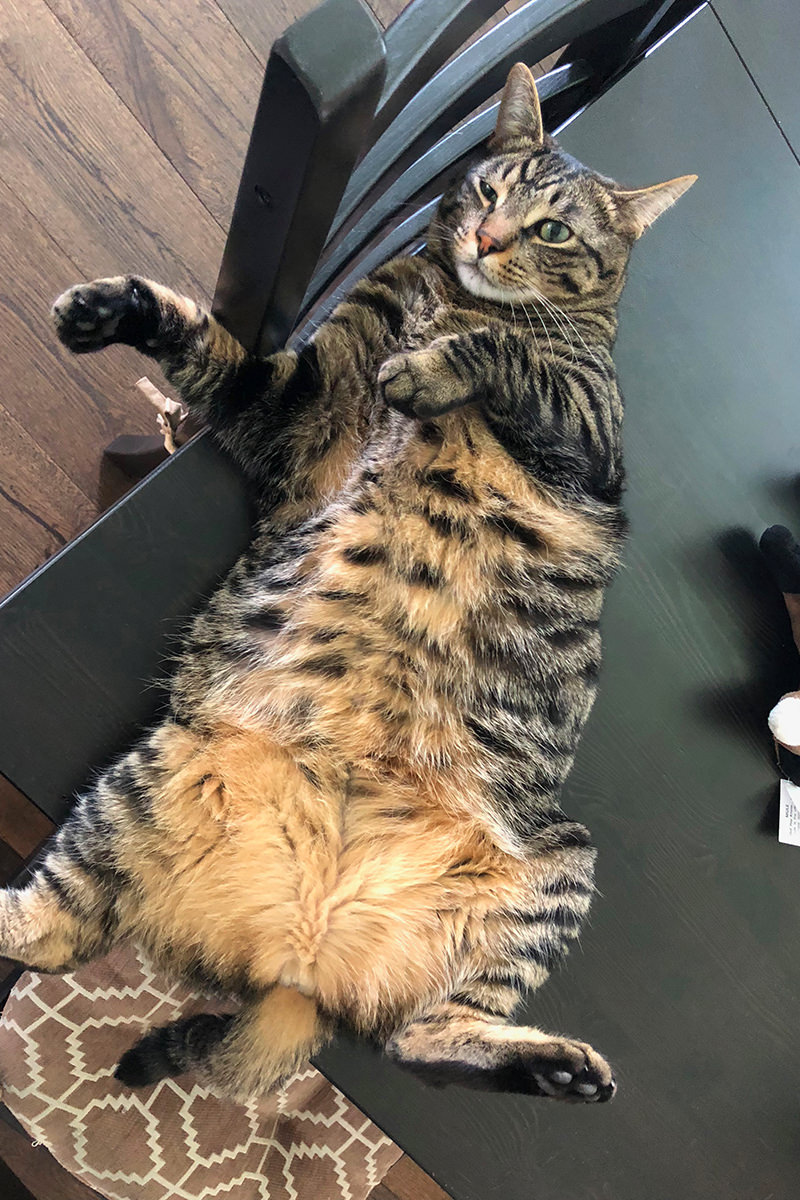 Which makes me SO happy because dividing their attention between multiple stuffed animals means that Mufasa, Jakes prized stuffed lion, might stay in one piece a bit longer.
In other non-news, Jenny's television addiction is still going strong. Her favorite place in the living room is the coffee table where she can lay and watch TV. Many nights she'll fall asleep while watching...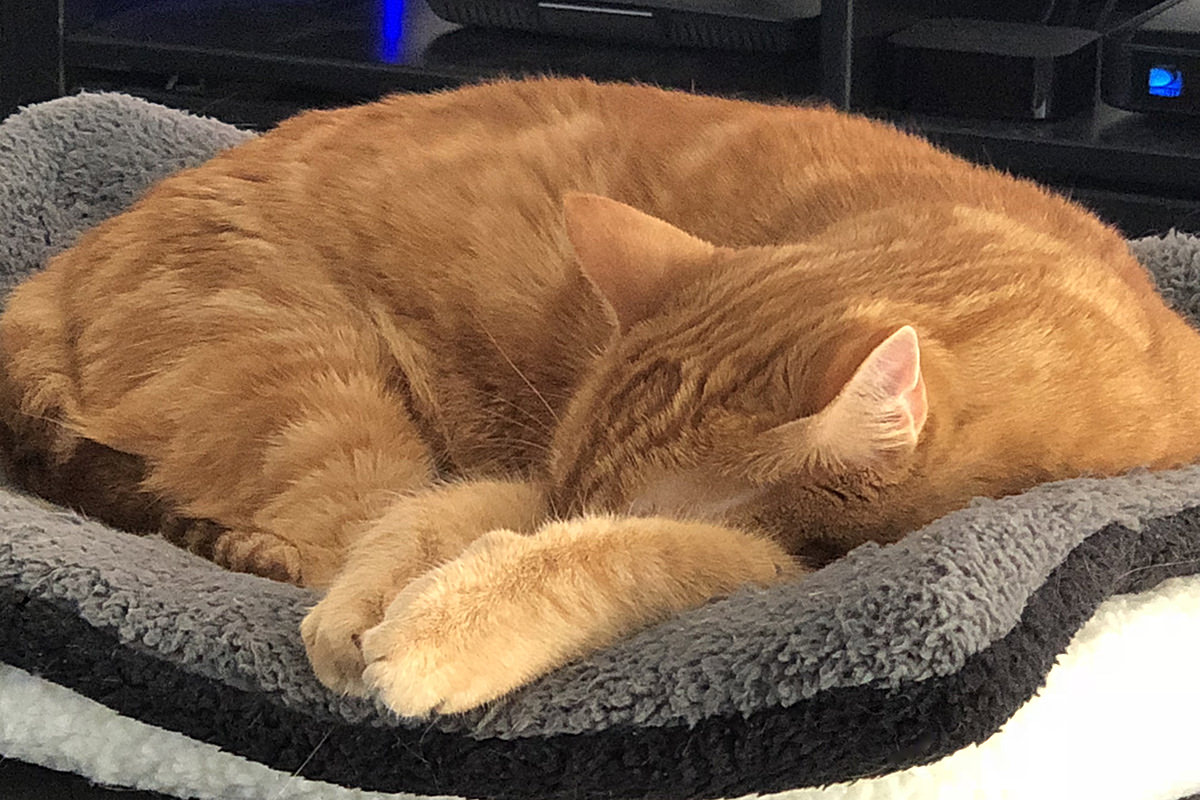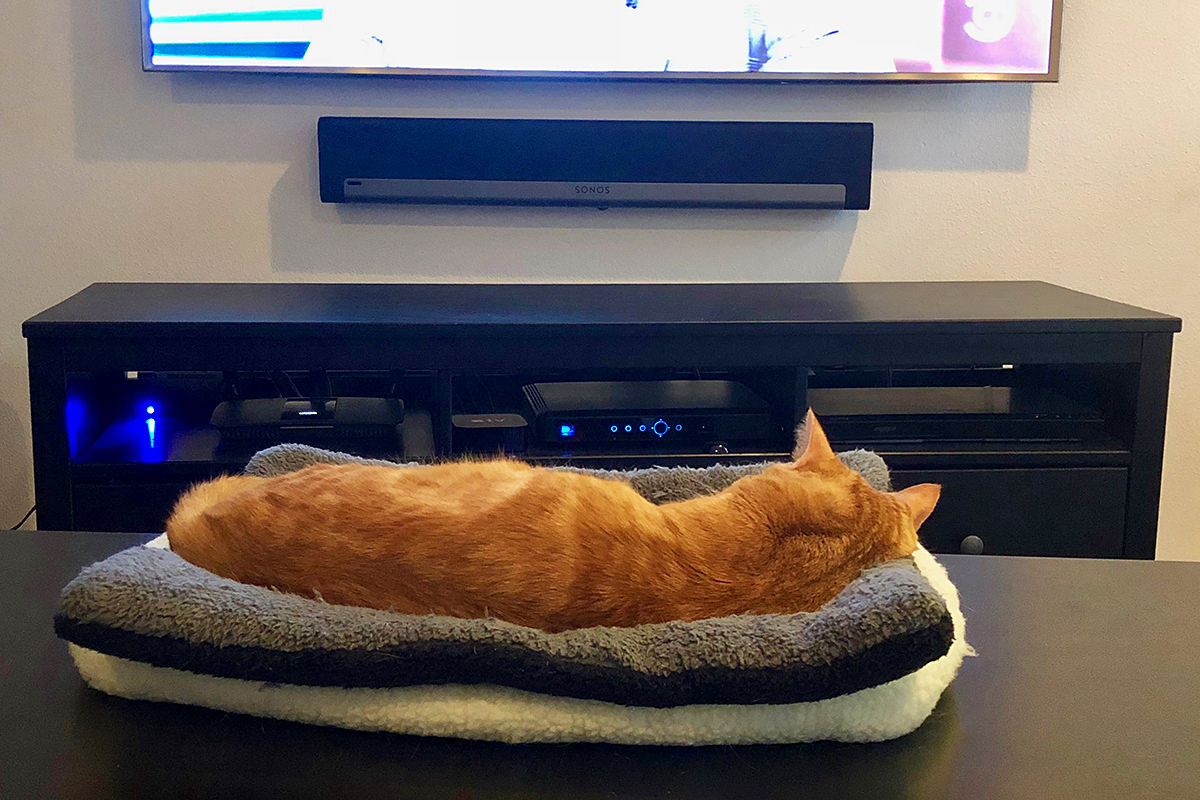 Which is better than the cats' latest trend... wedging themselves in-between me and my work so they can get petted and fall asleep. They are doing this ALL THE TIME NOW. Even worse? They work in shifts. One of them will squeeze between me and my laptop so I have to set it down... then the minute they leave and I go to pick up my computer again... the other one will do the same damn thing...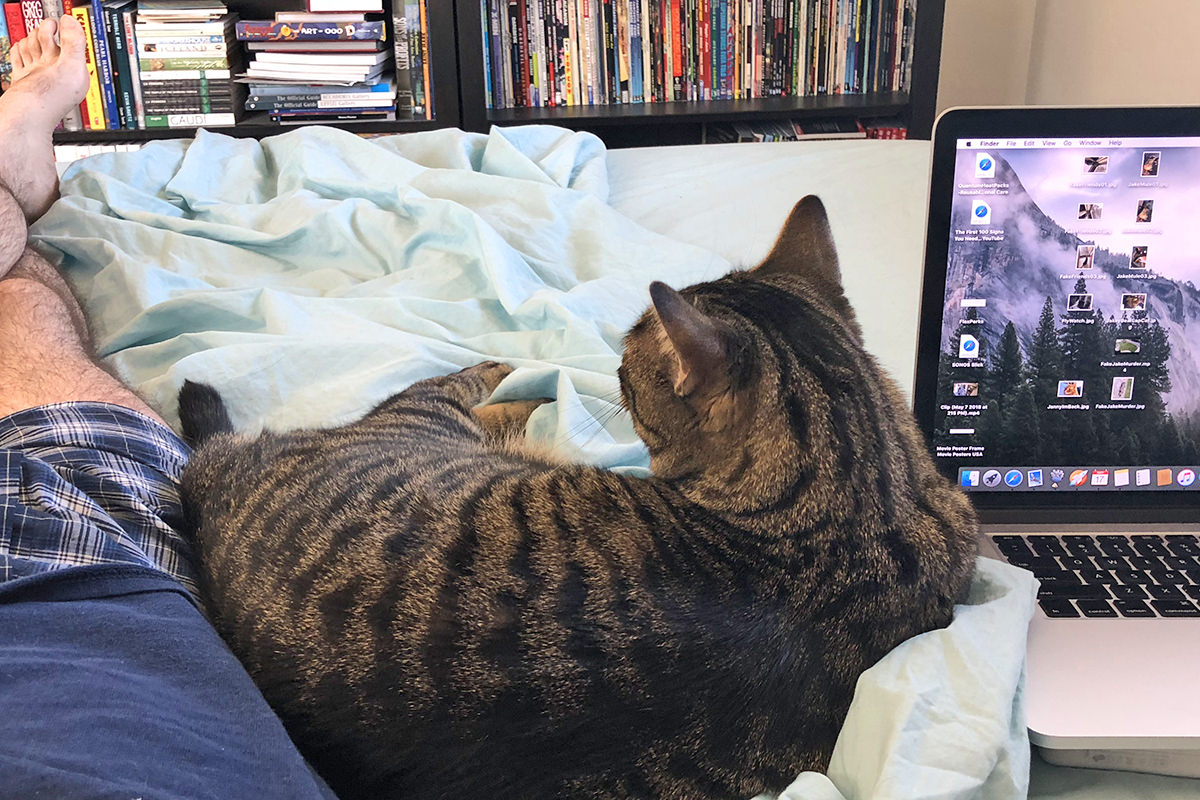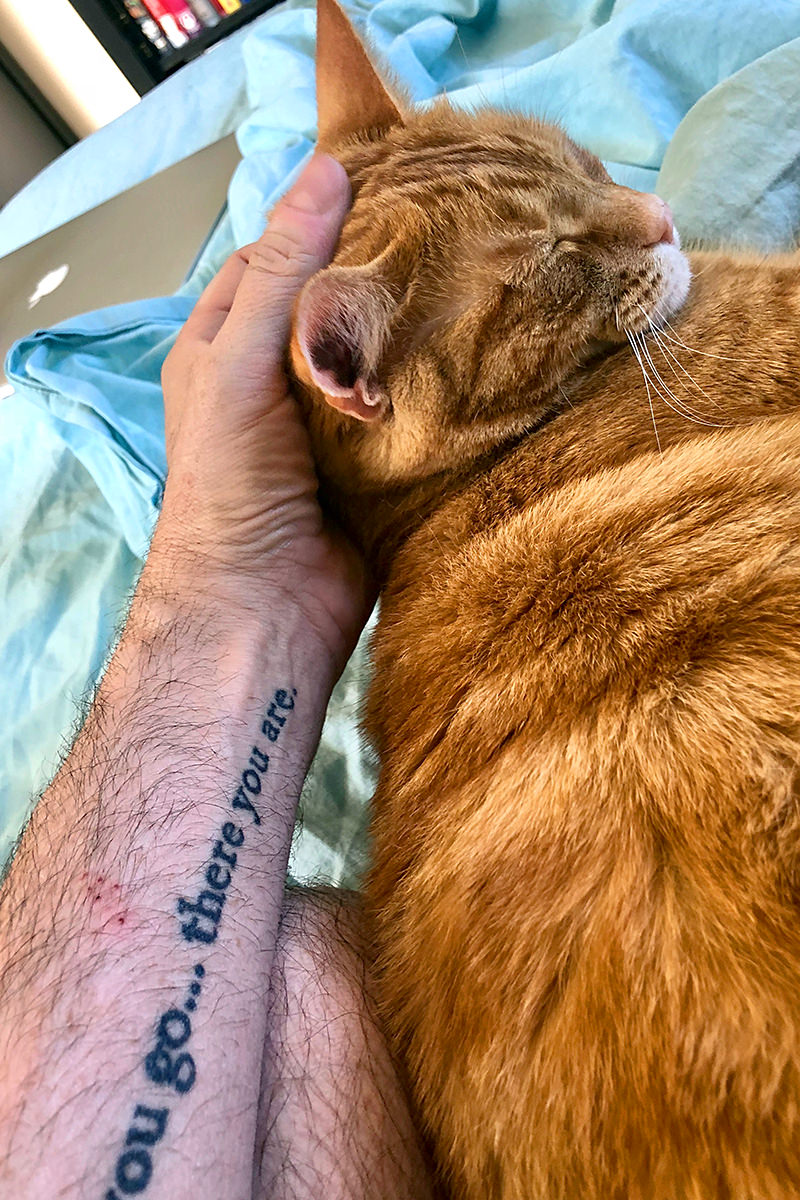 And, lastly, I've been leaving windows and doors open in the mornings before it gets hot in an attempt to keep things cool and let in some fresh air. This cuts down on the expense of having to run my air conditioner as much. This has resulted in Jake and Fake Jake having a couple of "play dates" through the screen door...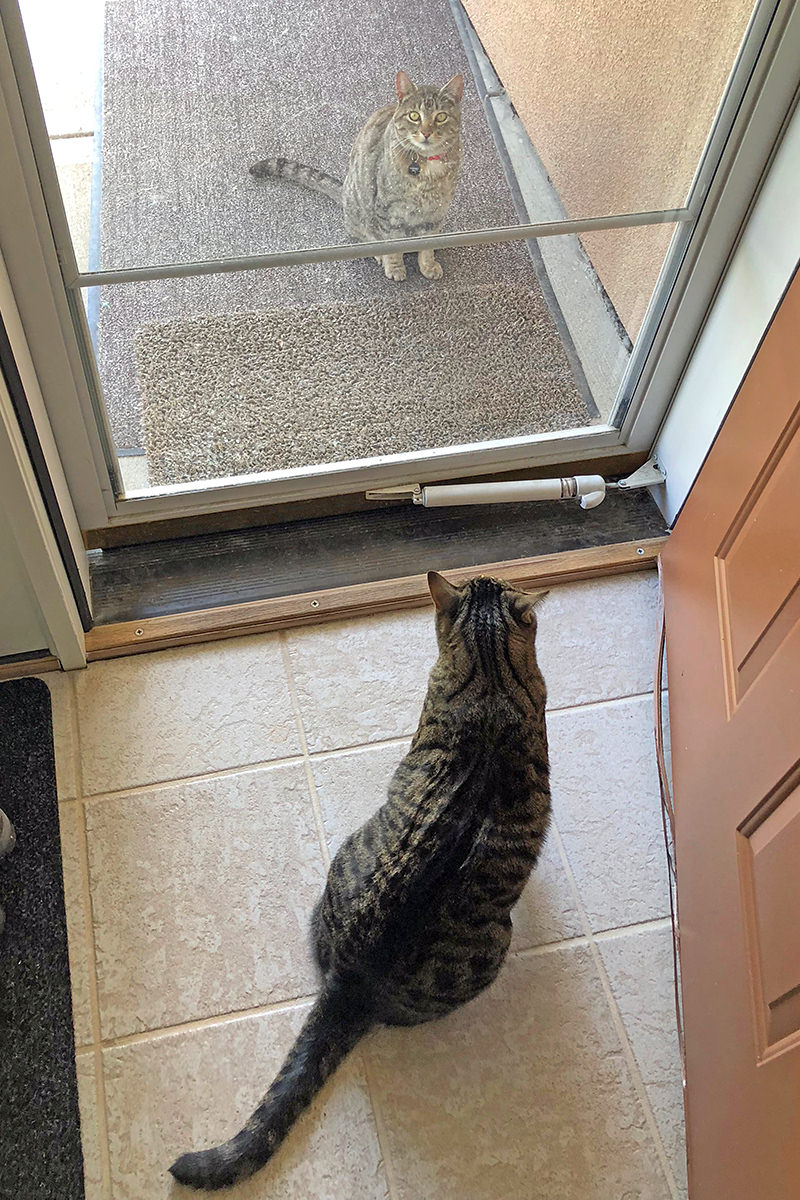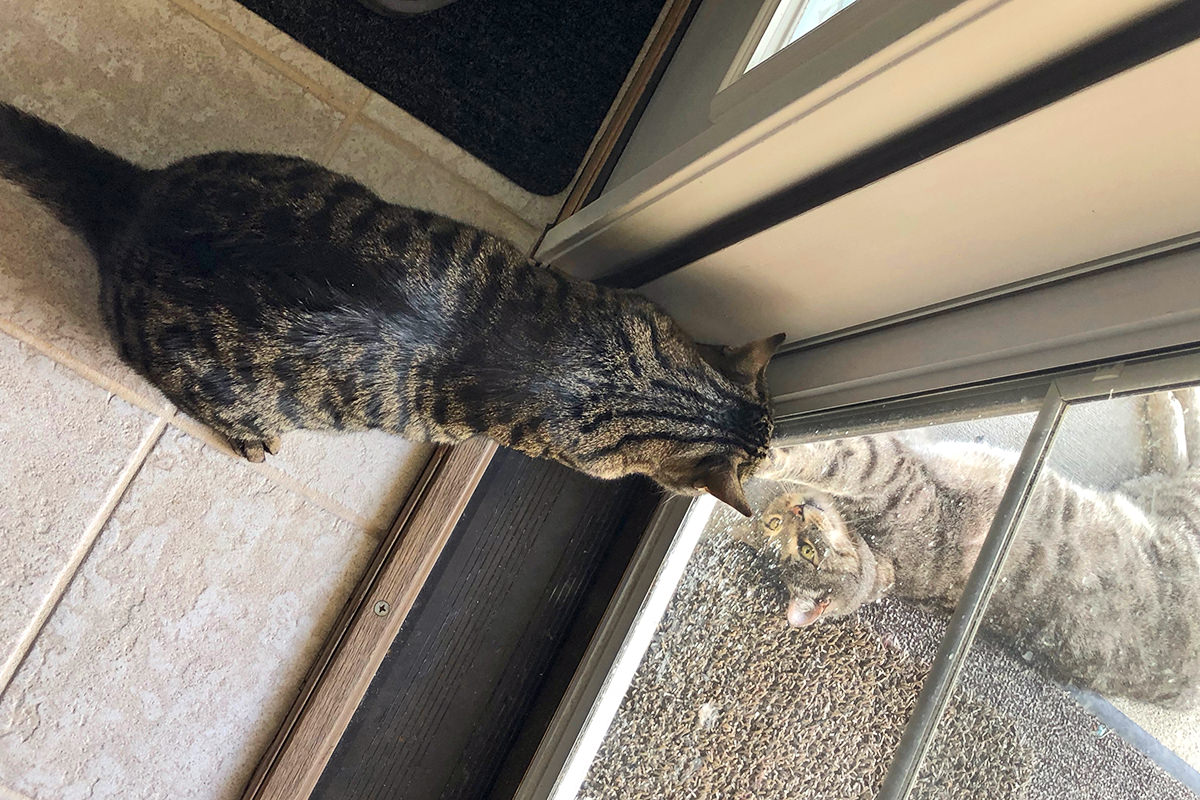 Though how they can see each other through that filthy window I do not know.
A part of me wonders if I'll eventually be able to let Fake Jake in for a visit... but I honestly don't think this will ever happen. Fake Jake can get very aggressive, and I think that would traumatize Jenny quite a lot. She may be able to hold her own when there's a fence between them, but up close and personal? Probably not.
Oh well.
I removed the heater and berm from Fake Jake's shelter, then cleaned it inside and out, so he should have a nice cool place to hide from the sun this summer. That will have to do. If we end up with a heatwave, I can always let him hang out in my garage.
Until next Caturday then...
Posted on April 28th, 2018

And it's officially Catio Season!
Jake and Jenny are out in the catio almost every day, regardless of weather. Freezing temperatures, snow or rain, they love being outdoors. But now is the time of year where they spend more time out in the catio than inside. The sun has changed position, so they can bask in its glory while enjoying fresh air as well...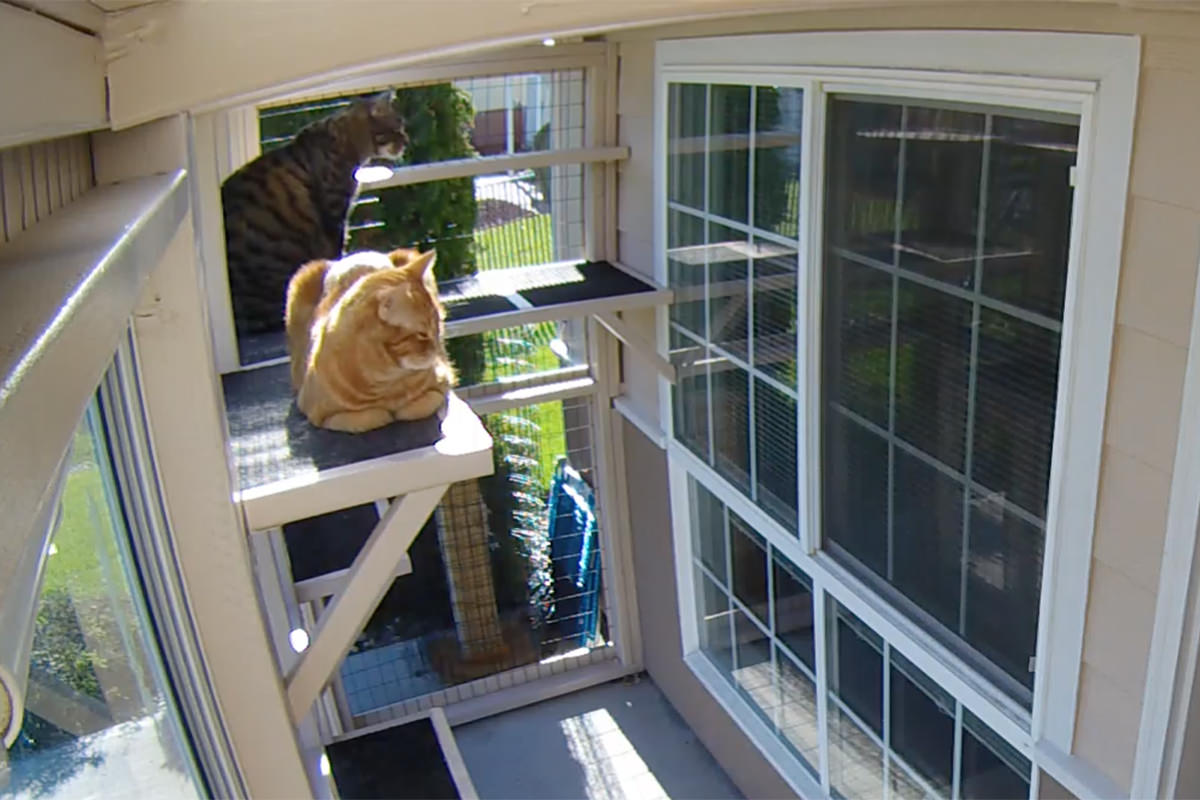 Jenny especially loves it. Jake is happy to lay on top of the cat tree in the window to get his sunlight fix. Jenny will always choose the catio...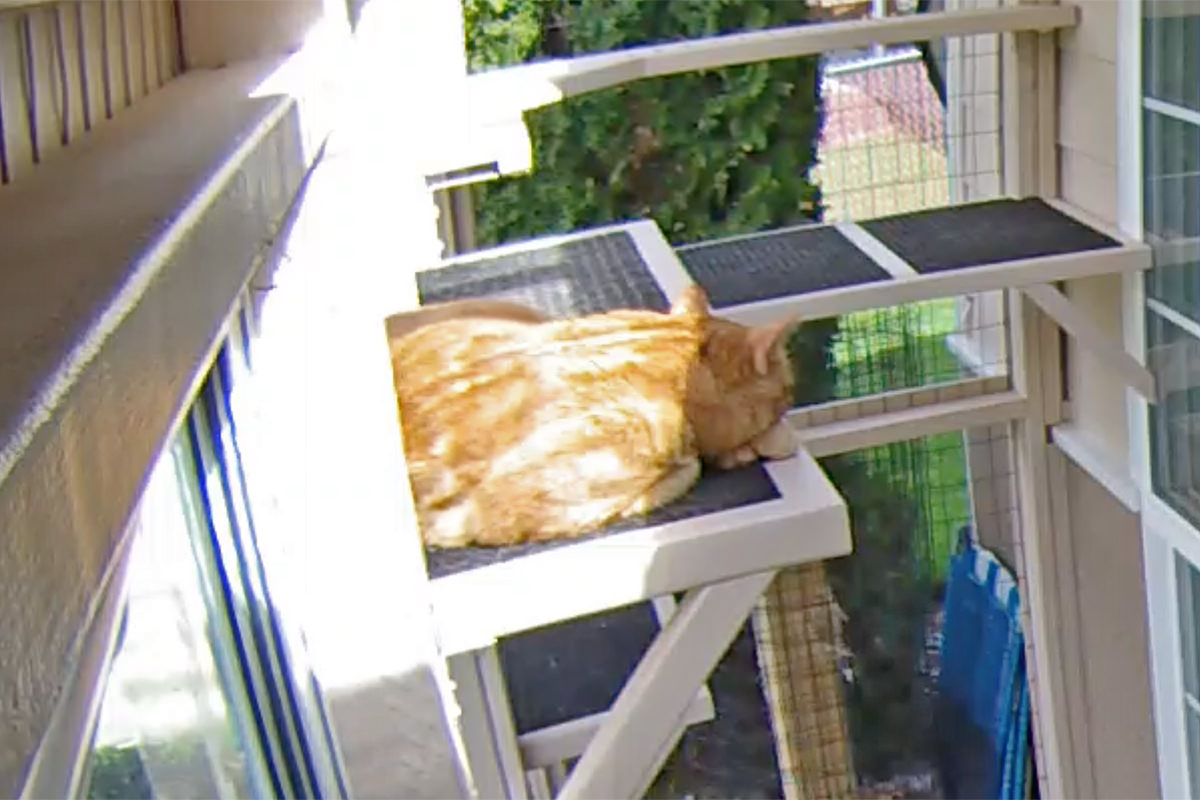 Not that Jake doesn't have his moments. While I was in Europe, he spent the night out in the catio, which I've never seen happen before. And... he still loves keeping a look out for Fake Jake, where confrontations are ramping up as the weather improves...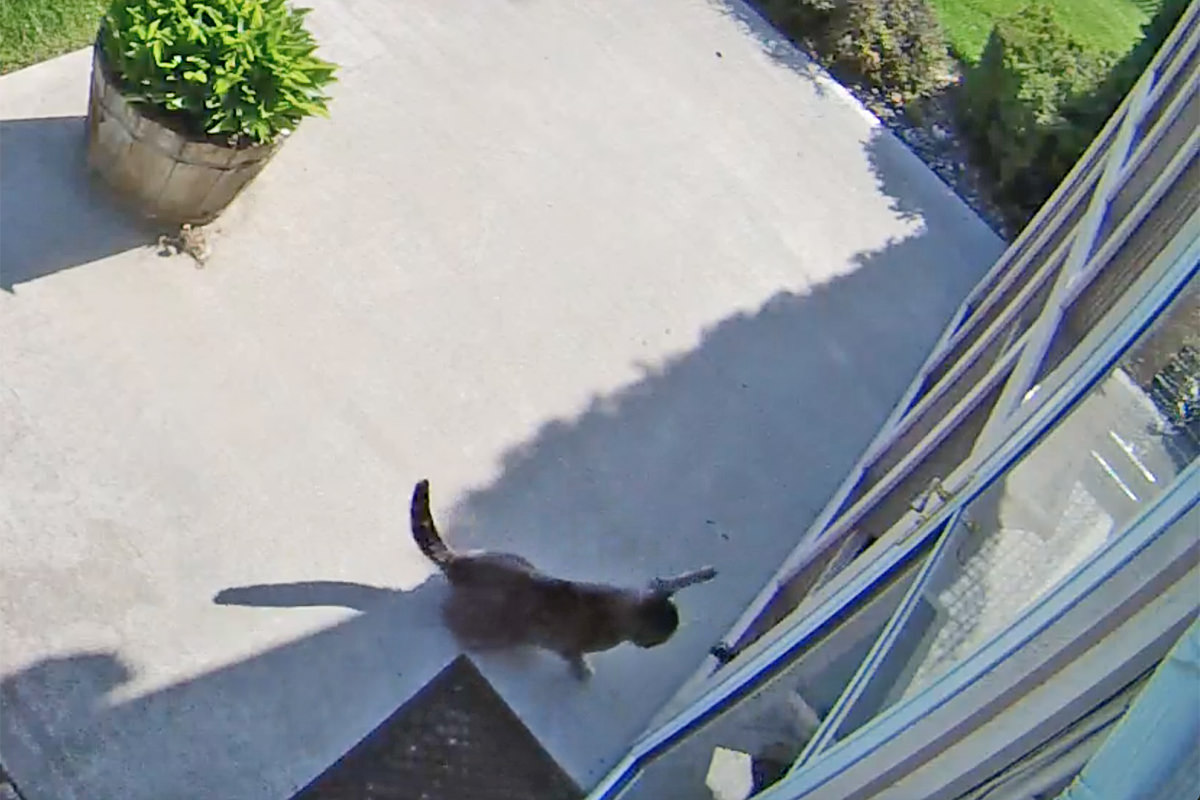 Trying to get a jump on packing for my next trip later this week, I've run into the usual obstacle...

I was expecting that as my cats got older they would become more independent and want nothing to do with me. If anything, the opposite is happening. No matter where Jenny is in the house, if she hears me turn on the television in my bedroom, she dashes up right away. She can sit there watching television for hours...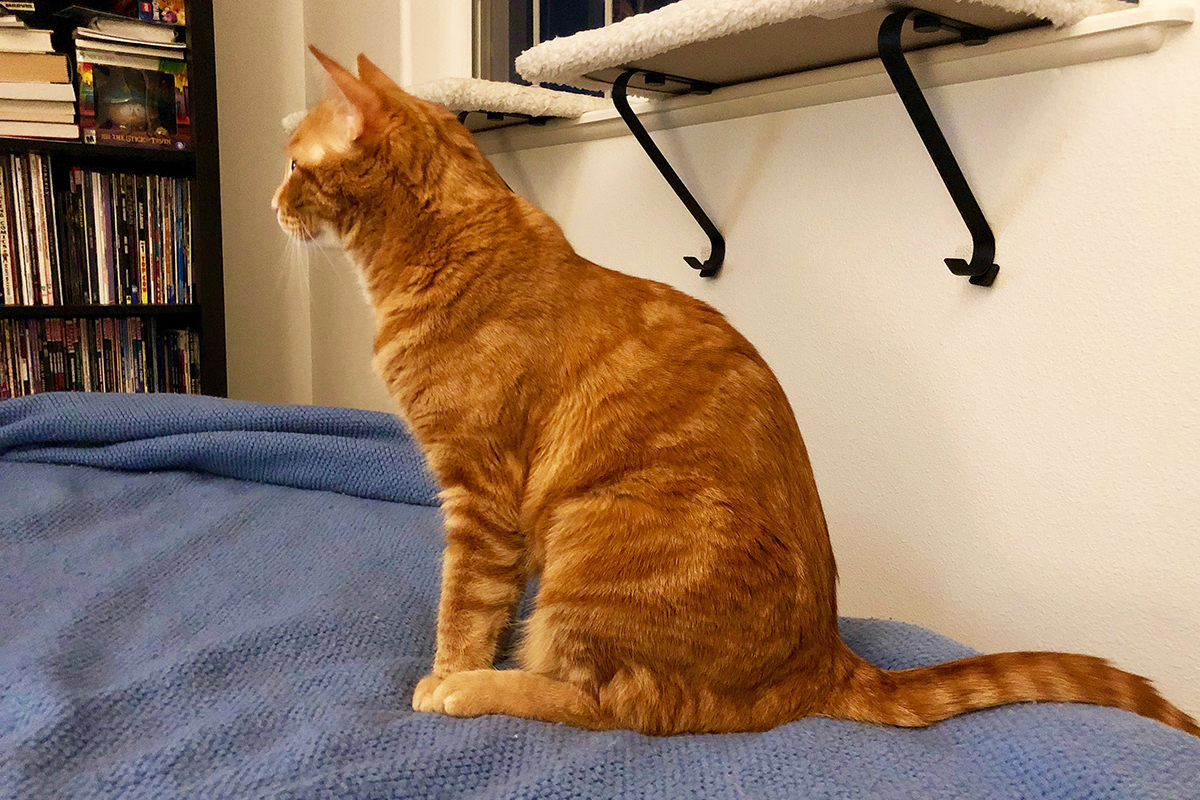 Jake has no interest in television, but he does have a huge interest in sleeping. Last night he spent the night on my bed, which has never happened before. I dozed off and was surprised to find him still around when I woke up...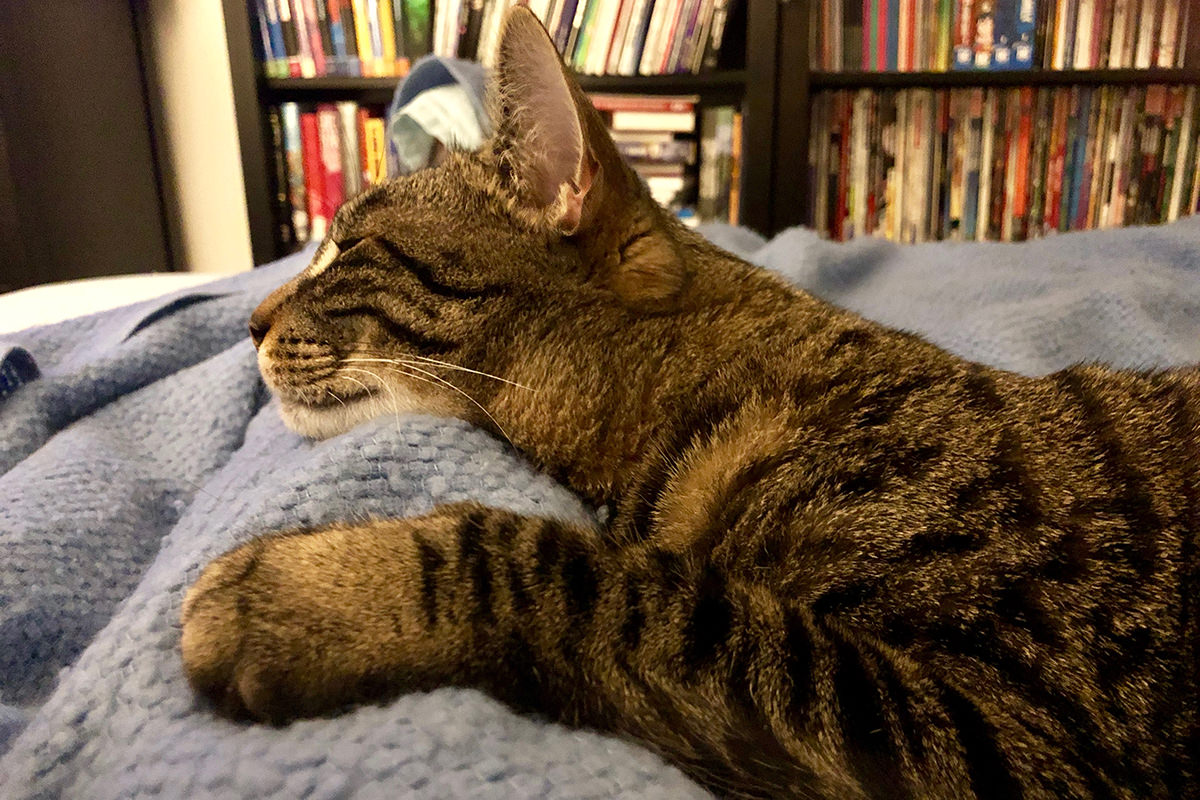 As I turned off the lights and was falling back asleep, Jake started purring like a motorboat. I couldn't see what he was so happy about, so I used the flash on my iPhone...
Apparently he's liking the ceiling fan drying off his undercarriage.
This morning he was still there...

And speaking of things still being around... Jake dragged Mufasa in this morning. I hadn't seen his prized lion since I got back from Europe, so I thought he had been lost or destroyed. Nope...
He probably hid it. Forgot where he hid it. Then found it again.
Why he hides Mufasa was apparent just minutes after Jake ran downstairs for a drink of water. Jenny started tearing into him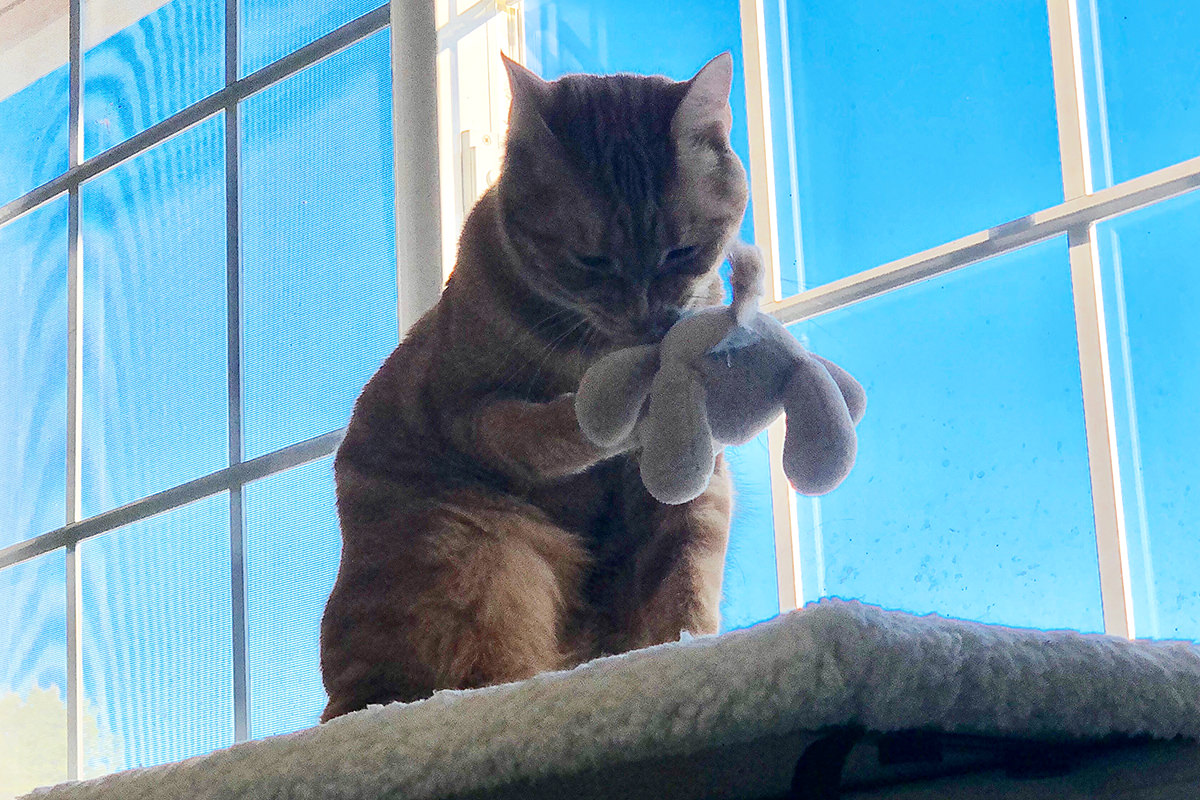 I'm shocked that she hasn't shredded Mufasa to bits by now. Really hoping that one of my friends passing through Johannesburg O. R. Tambo International Airport can pick up some more Mufasas because I'm not sure how upset Jake will be if he ever loses the one he has.
And... so much for the last Caturday in April.
Posted on April 21st, 2018

And so I'm sick.
Which should come as no surprise. I spent over 10 hours trapped on a plane with a girl sitting behind me who was coughing her head off. Of course she wasn't even trying to cover her mouth... parents apparently don't teach that anymore... so I was in the blast zone of the little germ factory as I crossed the Atlantic and then the country.
Luckily, I've got cats who are sympathetic to my Man Cold and willing to offer comfort...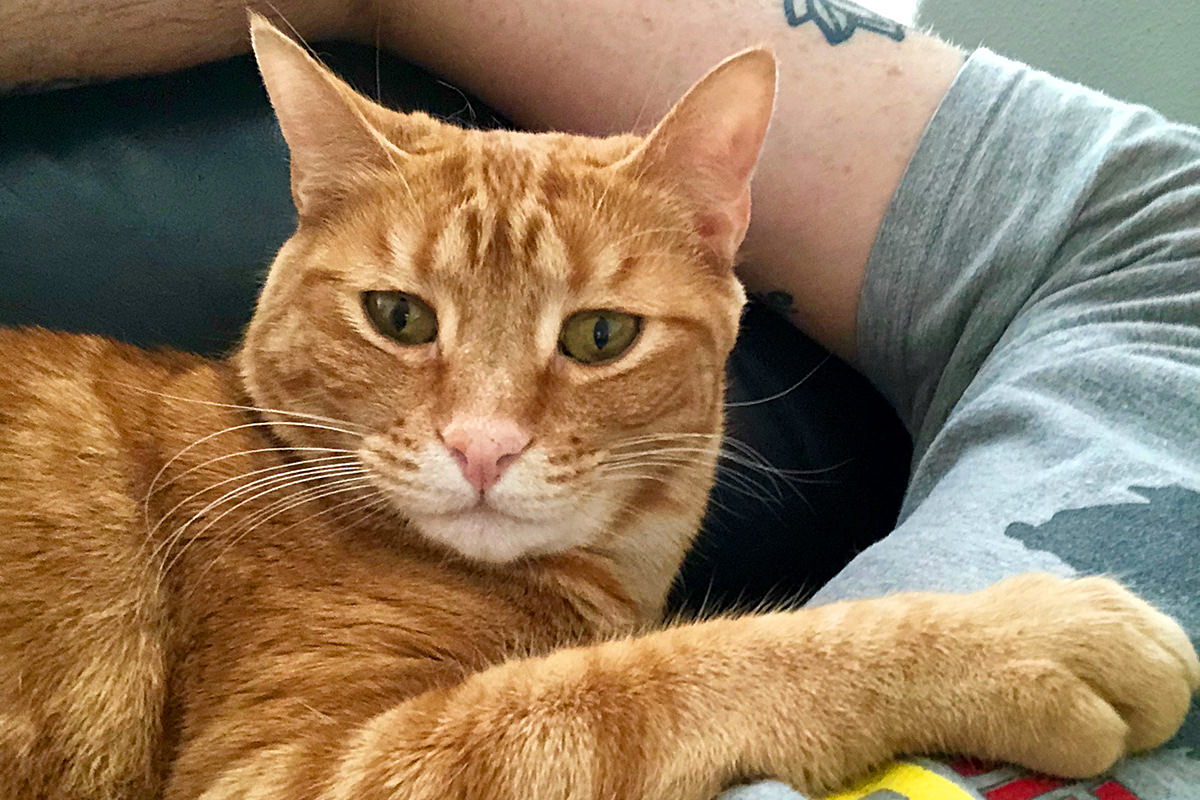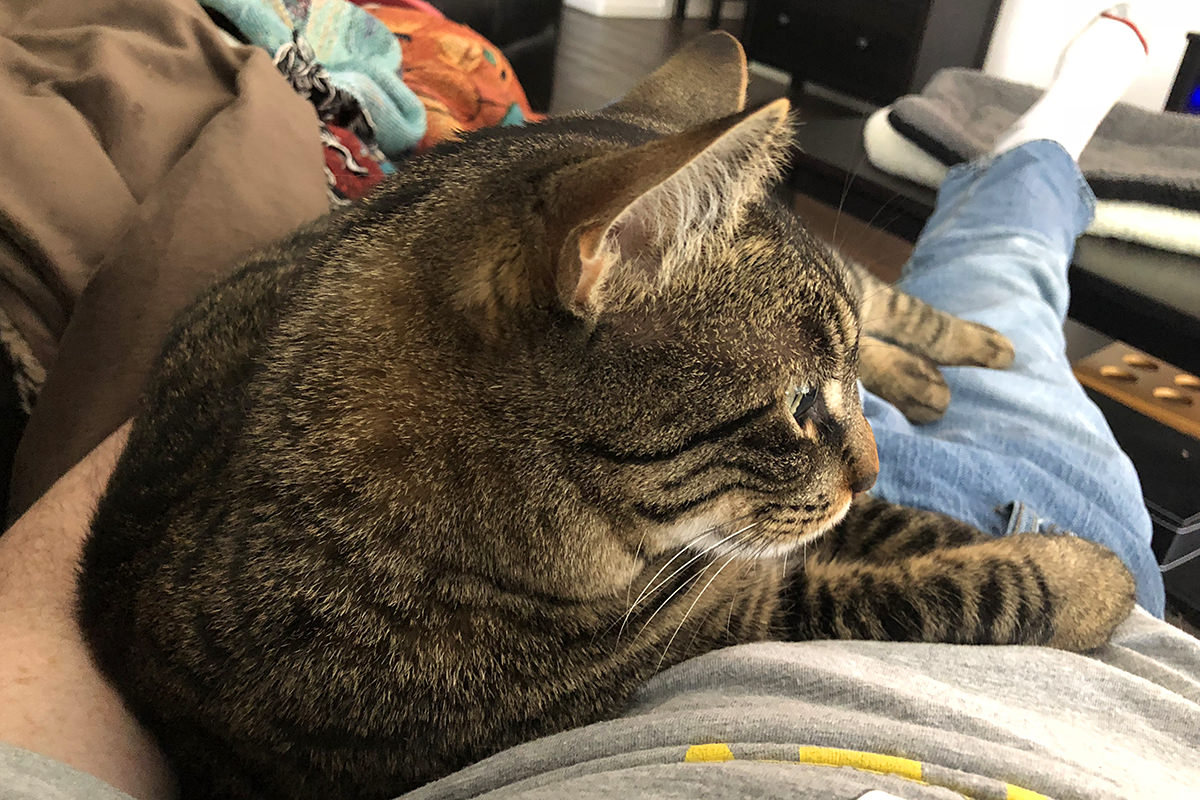 In other news... I heard a big bang against the screen on the catio and knew that Fake Jake was back. What I didn't expect to see was Jenny out there facing him down. If her brother was there with her, then maybe. But alone? That's my girl...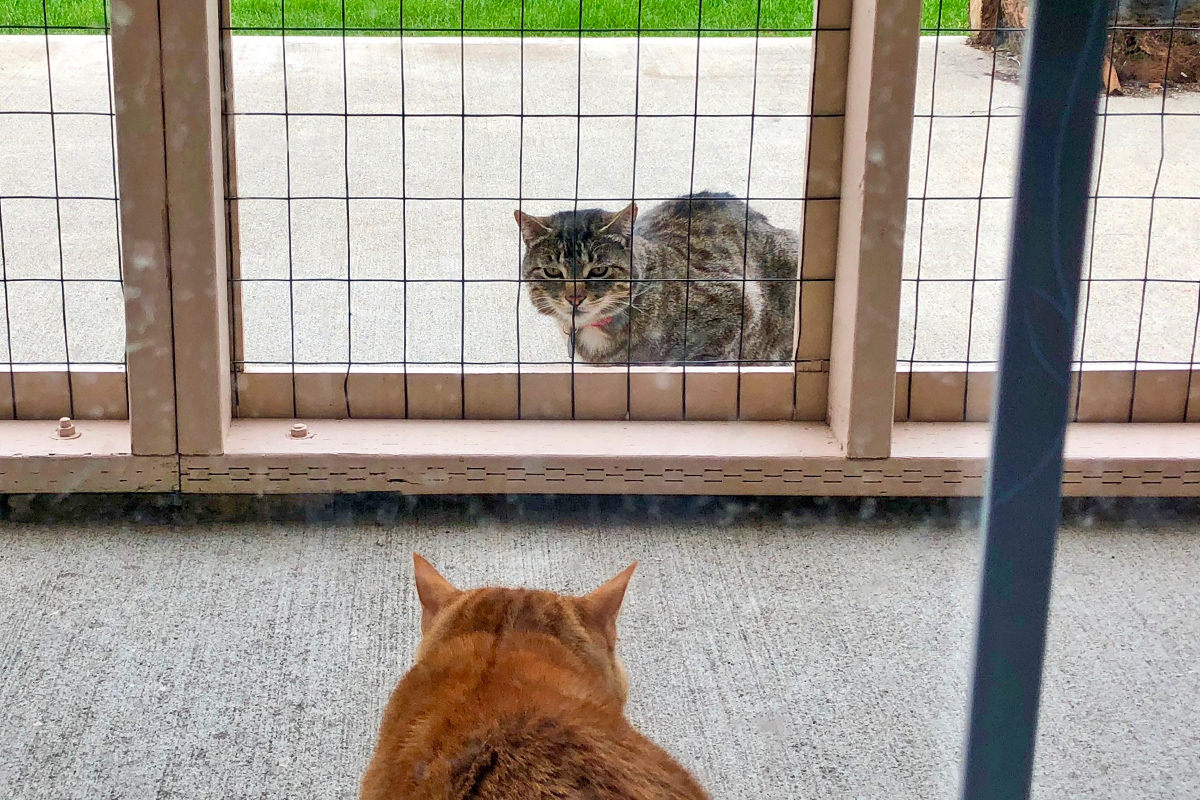 Sheesh. I really do need to clean those windows.
And one last thing before I go... when I was in Vienna waiting for my flight back to Amsterdam, I found a box of chocolates with Kitten Jake and Kitten Jenny on the front...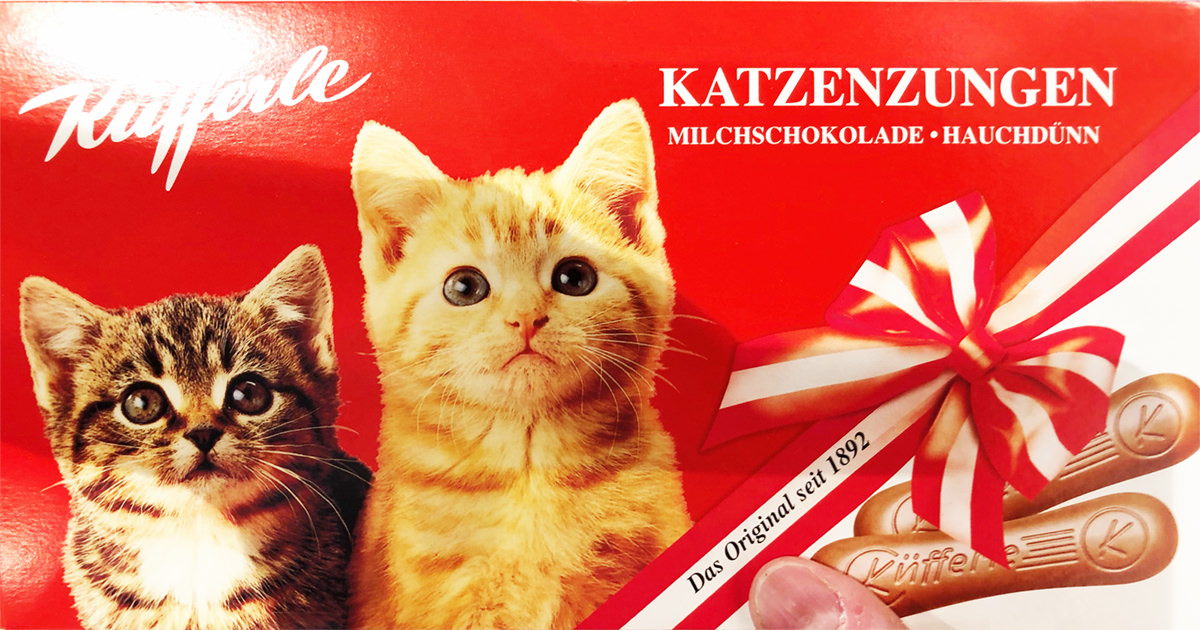 At first I thought it was chocolate cat treats meant for cats, but since chocolate isn't good for cats, I'm assuming it must be for cat-lovers who also like chocolate?
Or maybe chocolate-lovers who also like cats. Who can really say?
Posted on April 7th, 2018

And so Jenny is terrified of my MacBook power adapter for some reason.
No clue as to why, but if she's near me and I so much as move it from one spot on the arm rest to another, she runs away. My guess is that it fell on her while she was goofing around with the cord, and she's been afraid of it ever since. I can't hide it under anything because it would overheat, so I've just started setting it as far out of her sight as I can.
Because heaven only knows I don't want to miss this...

In other Caturday news... Jake's relationship with his stuffed lion, Mufasa, just continues to go deeper. In addition to carting it around with him, he's started taking it to his favorite nap spots so he can sleep with it (probably so Jenny won't take it)...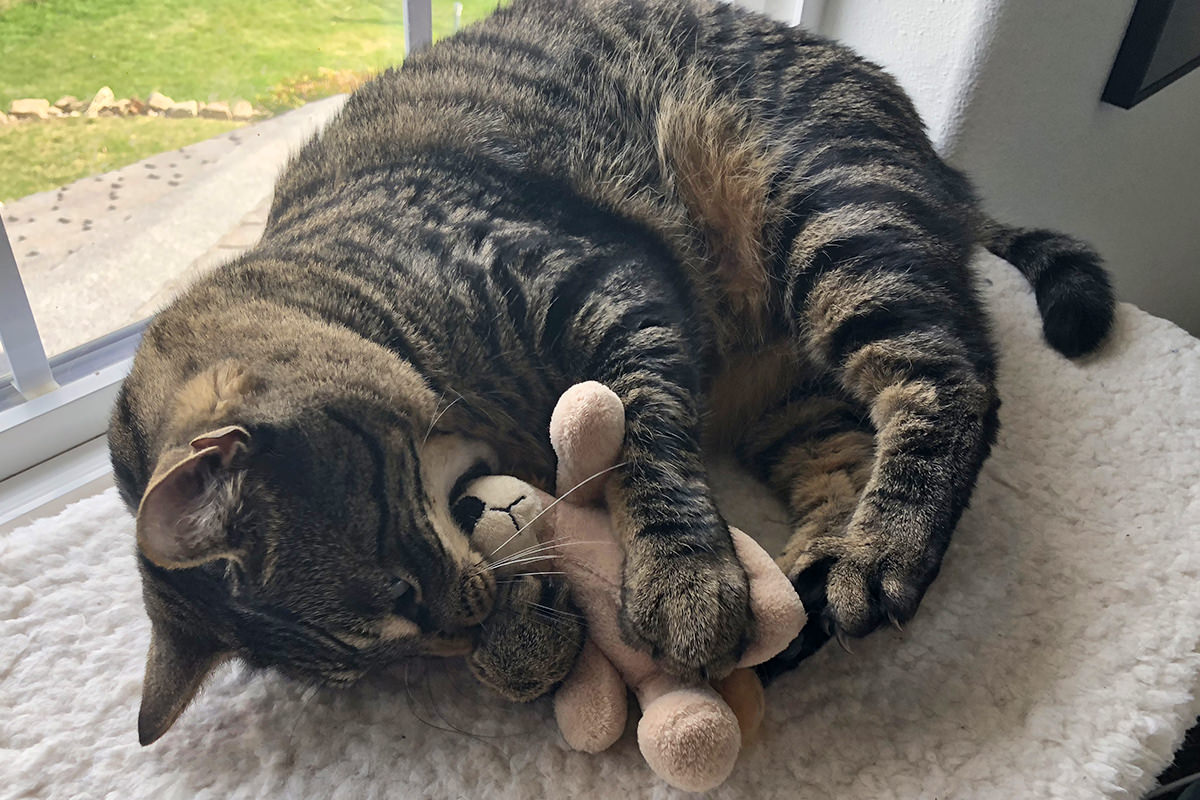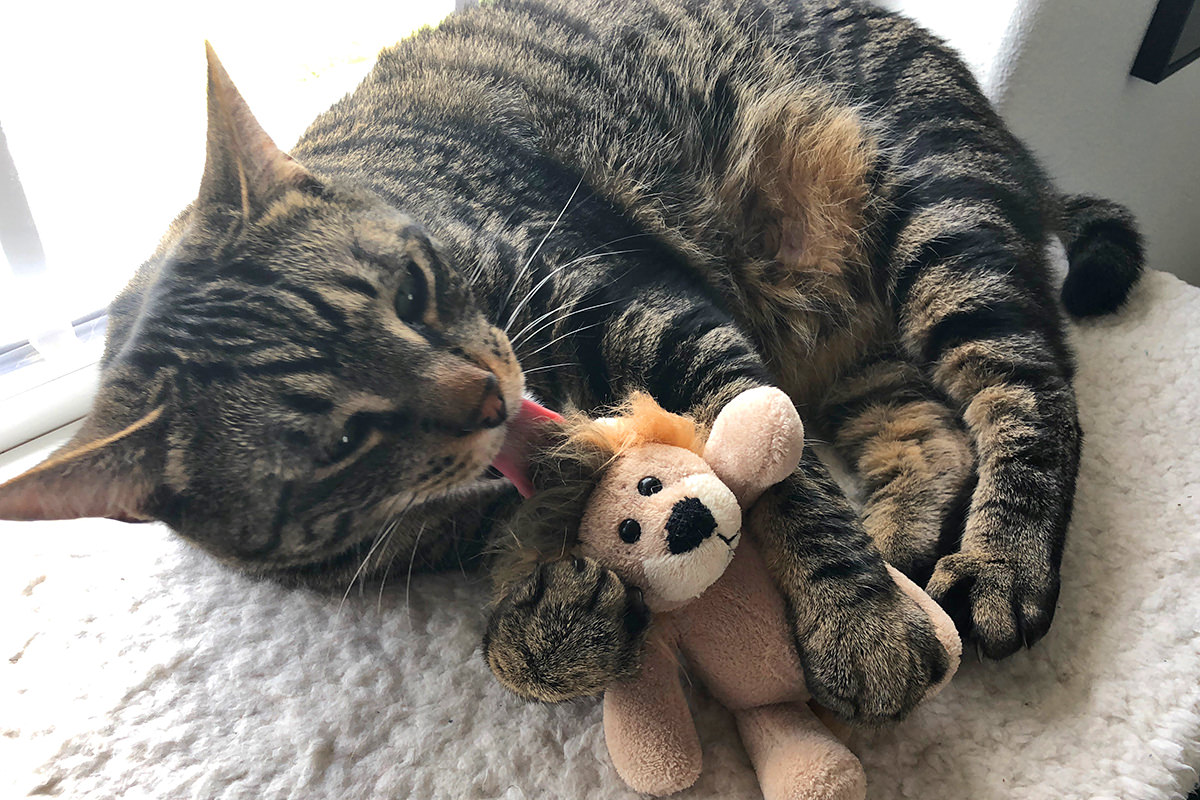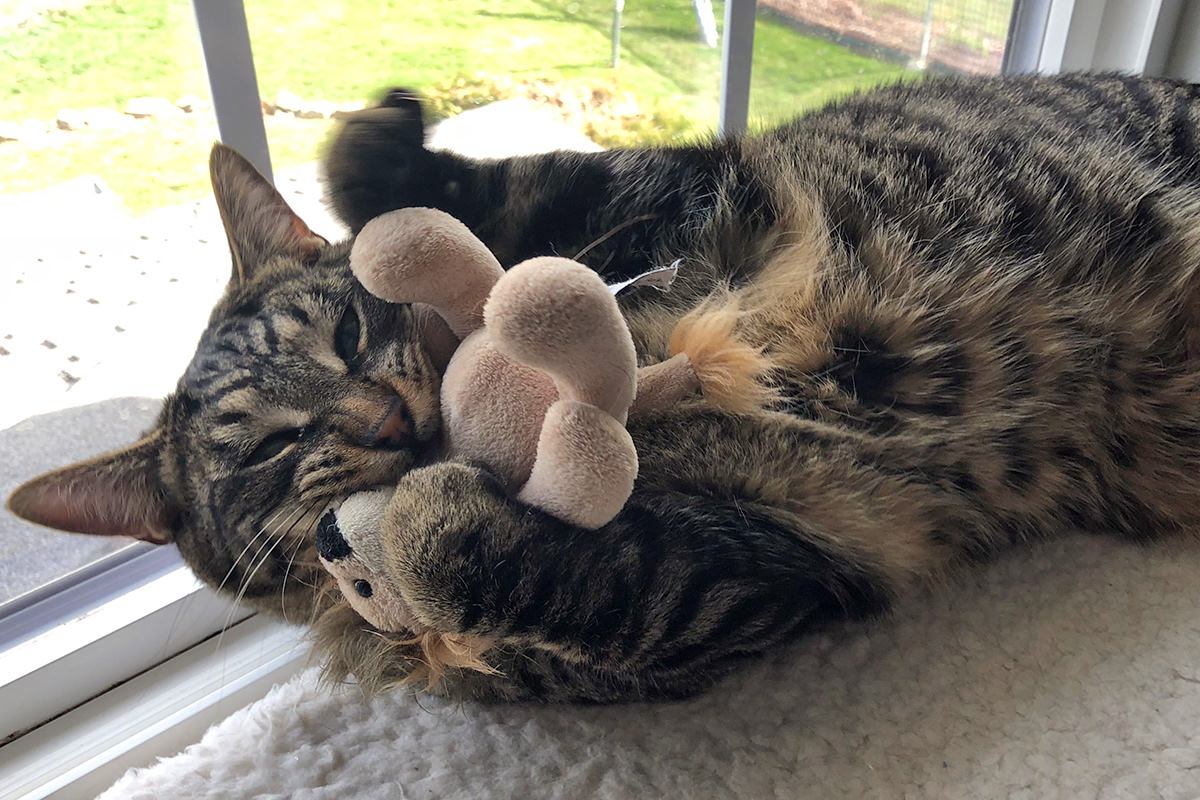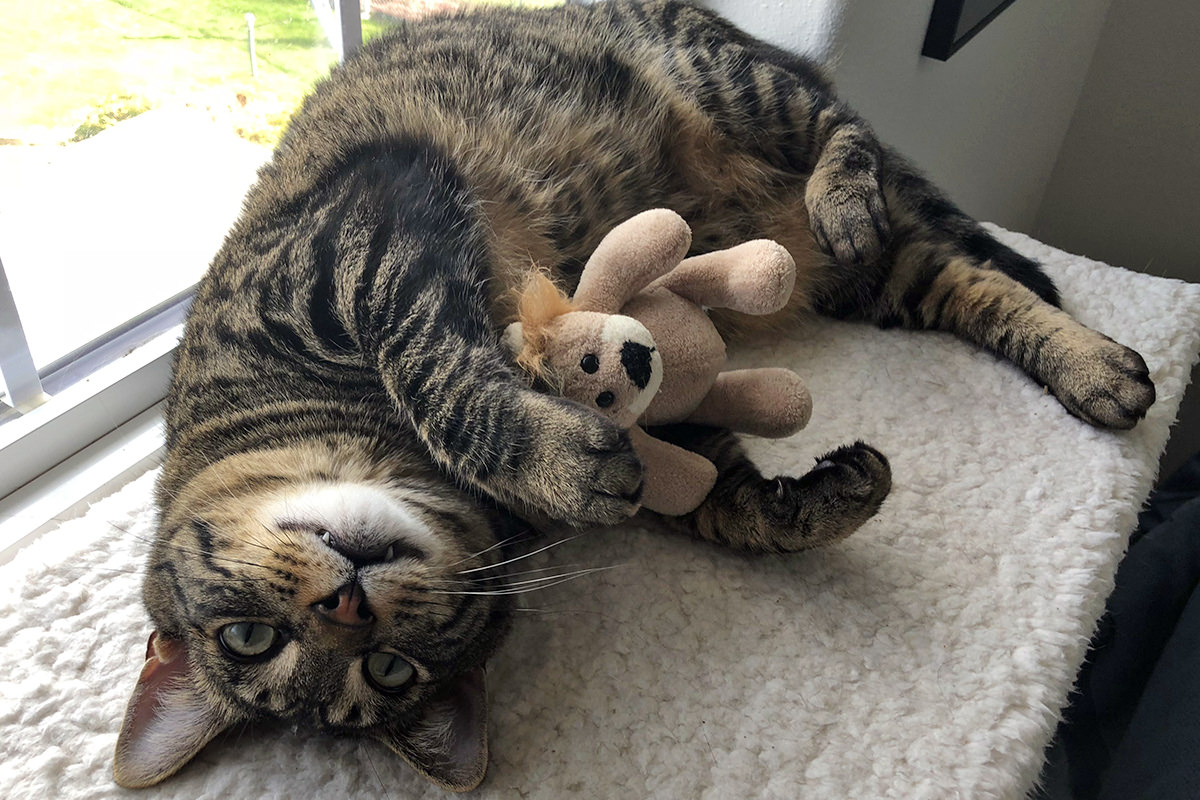 Not that Jenny is in any way dissuaded. She knows exactly how to push Jake's buttons... and the quickest way to do that is to steal his most prized possession.
Last night just before midnight, I heard a major ruckus downstairs which goes on long enough that I climb out of bed to go check it out. That's when Jenny comes tearing into my room with Mufasa in her mouth, dumps him off, then stands there waiting for Jake so she can snatch Mufasa and run off again...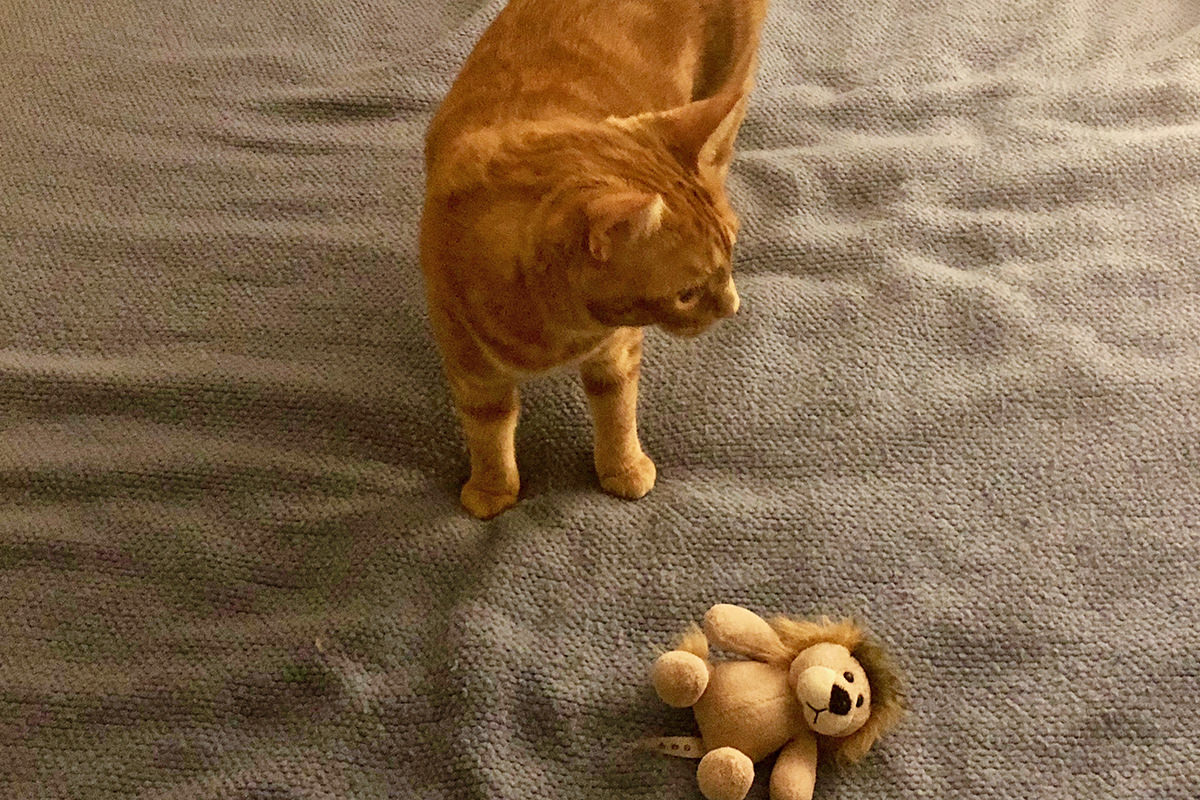 Don't feel too sorry for Jake. He probably ate some scraps of food left in her bowl... or pushed her off the top perch on the cat condo post... or did something else to set her off. That's usually how it goes.
Whether taking Mufasa is better or worse than running up and smacking Jake while he's pooping is open to debate. Jake seems equally irritated by both.
Posted on March 24th, 2018

Sardines are my cats' new favorite thing.
Even Jenny will eat the disgusting giant chunks after she's sucked all the sauce off of them. This is the one food that is guaranteed to be licked clean out of the dish every time. So who cares that my house smells like I'm storing a kettle of fish? My cats are in heaven. =gag=
I mean, just look at this nightmare...
I can't say that sardines are responsible, but Jenny is sure turning into a heck of a lap cat. Used to be that her jumping on the couch was a rarity. But now she's all over me almost every day...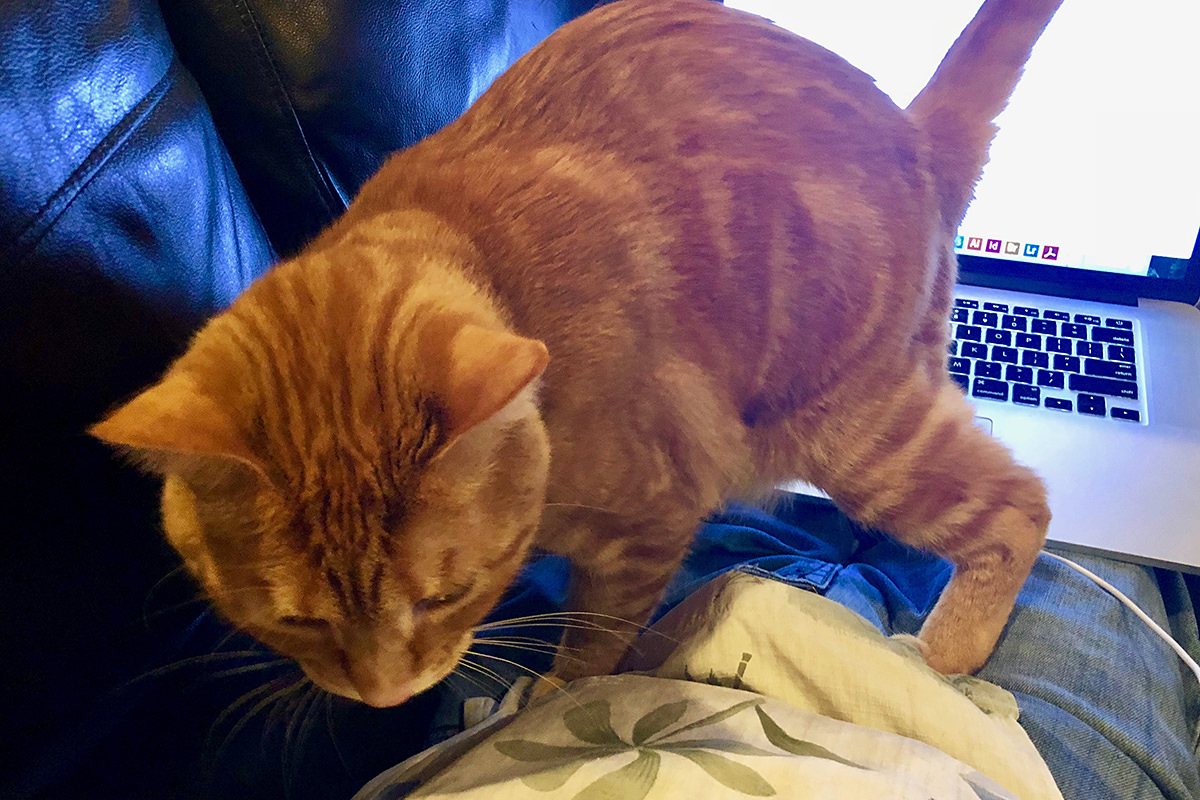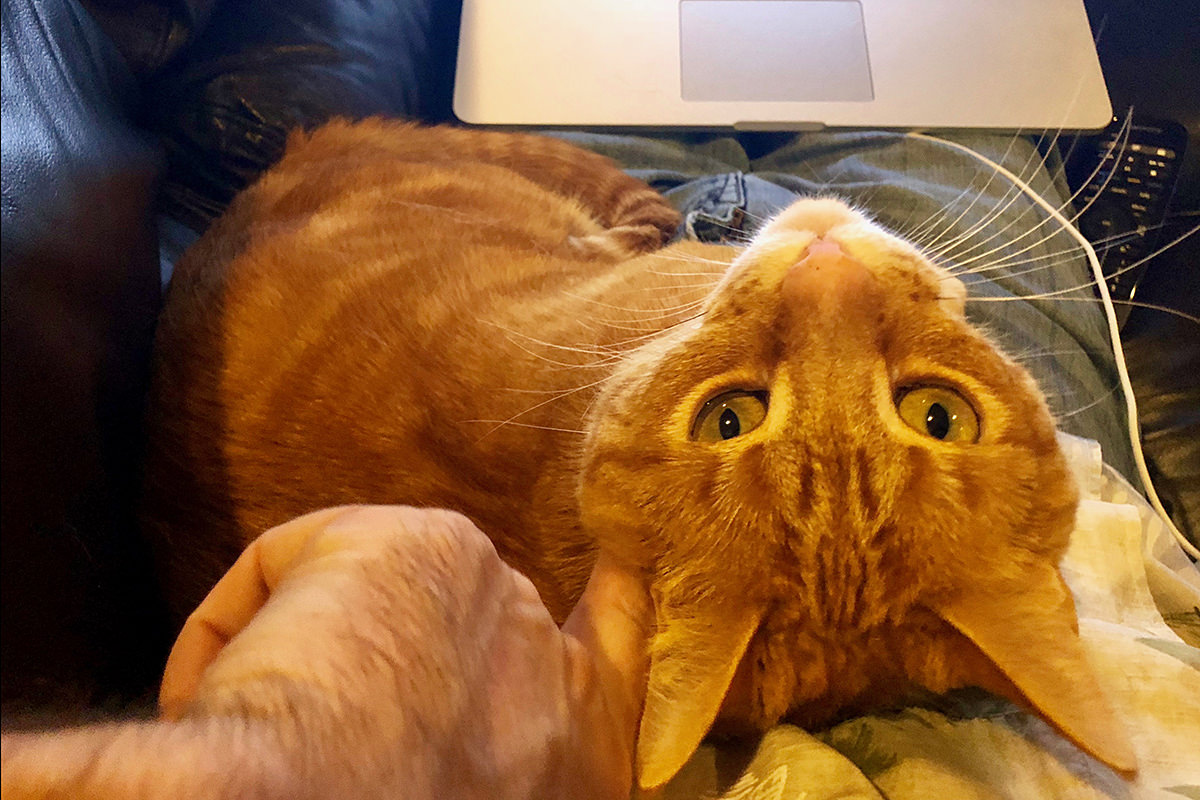 Makes it tough to get much work done, but she's just so darn adorable that I can't say no...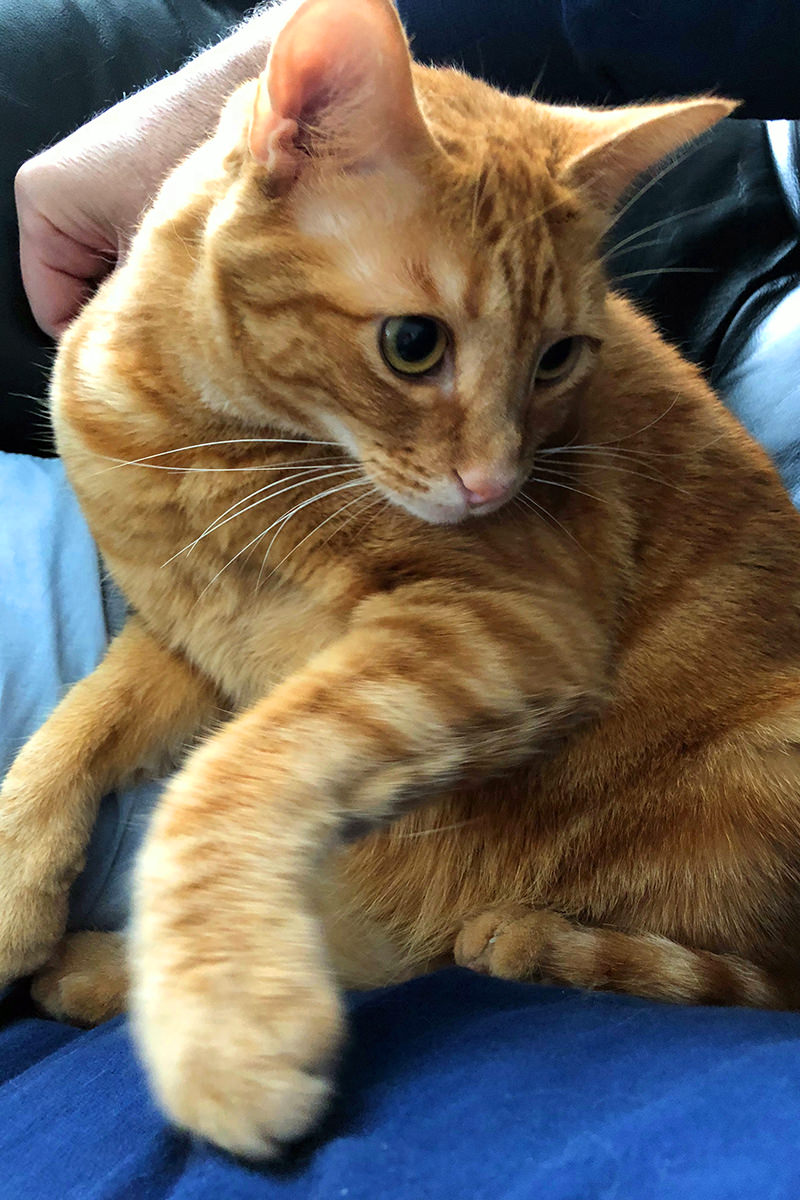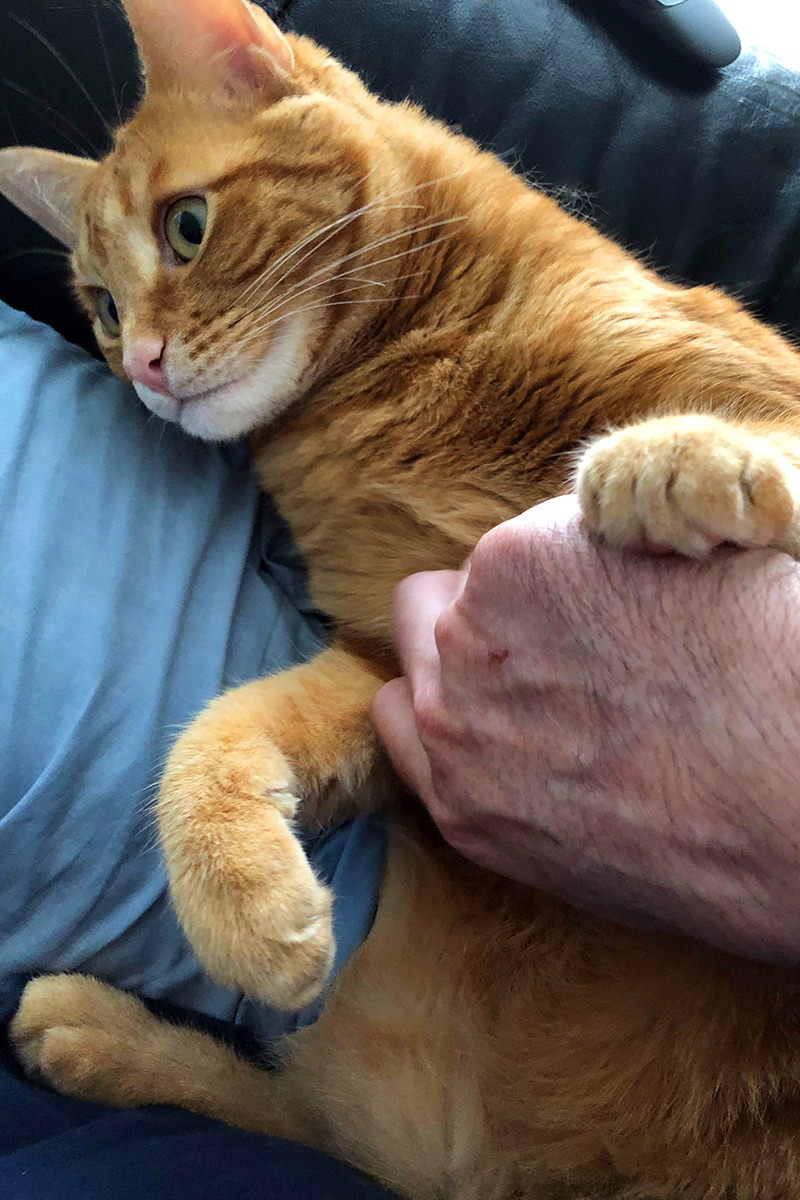 Even when she gets irritated because she wants more space. Then she just keeps kick-kick-kicking me until I move over...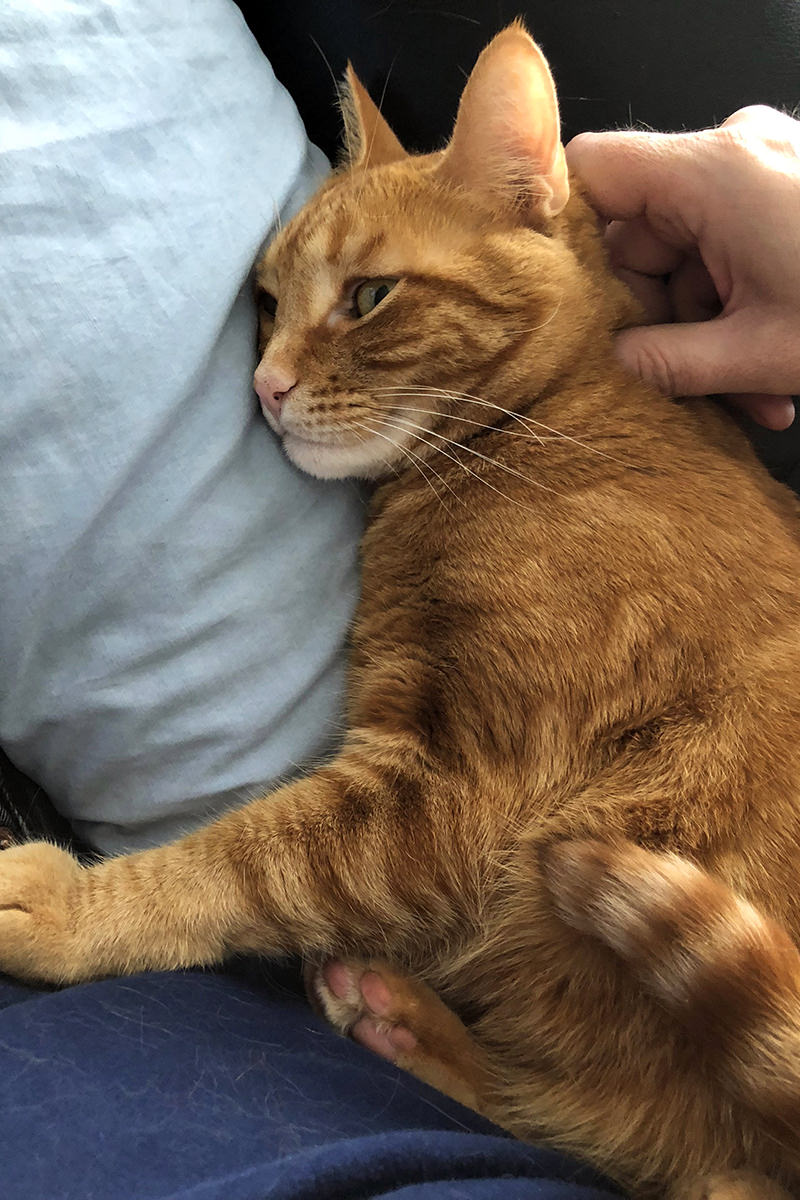 But, so long as she's happy...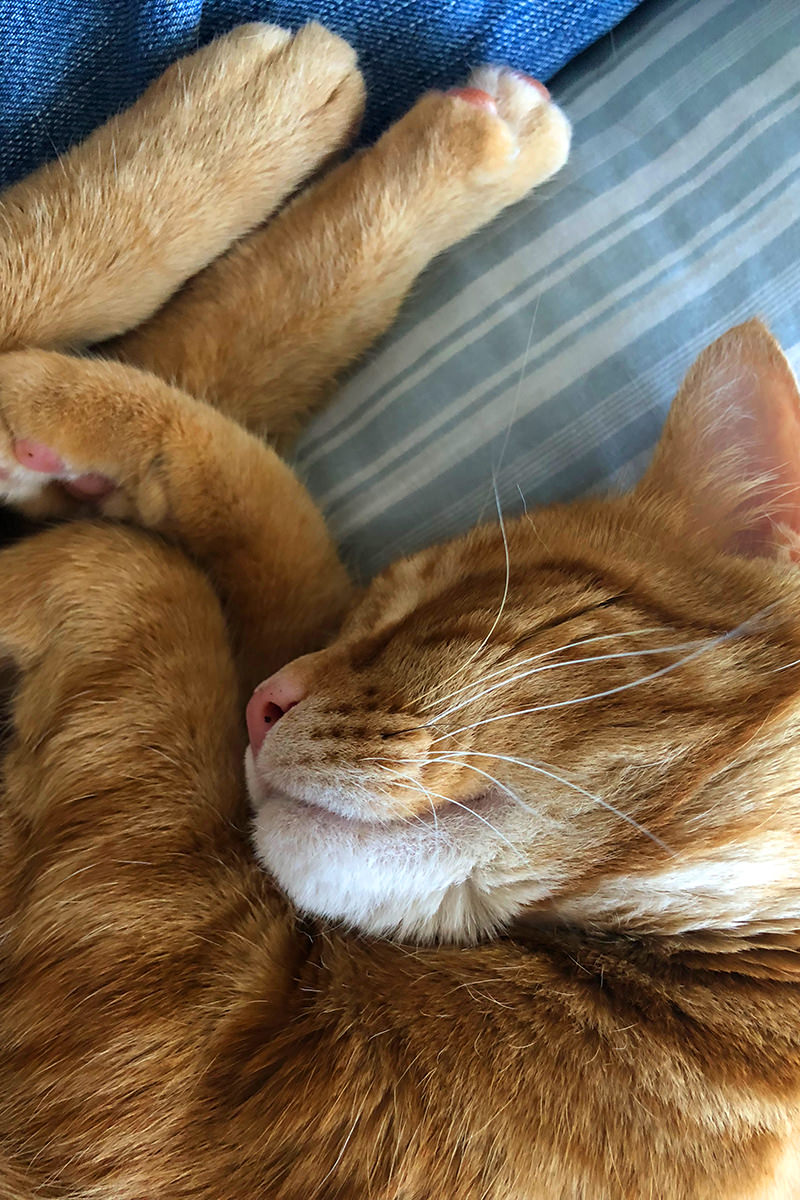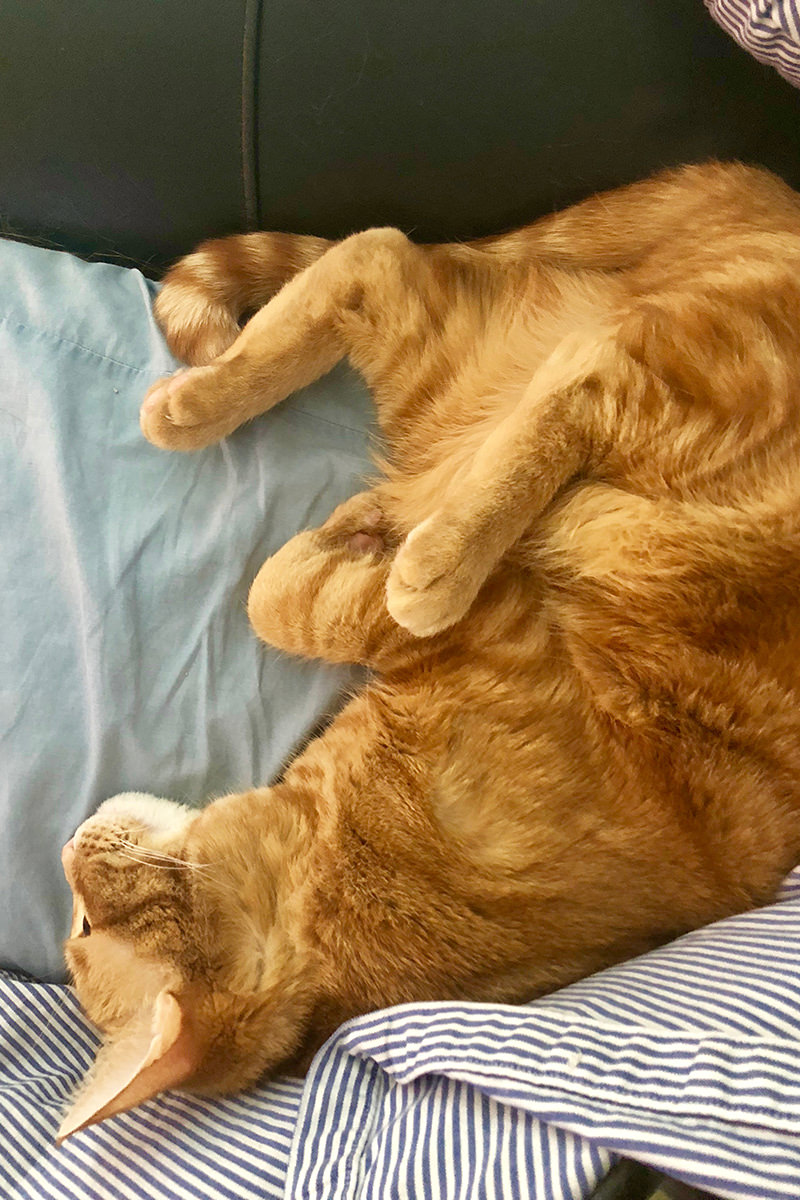 And don't worry about Jake... he still gets plenty of lap-time too...

And now? Time to bring out the bottle of Febreeze. That sardine smell ain't going away on its own.
Posted on March 10th, 2018

After dealing with Jenny's stomach bug and having a growing worry that she's becoming diabetic due to her crazy water consumption, I started looking for low-carb foods to hopefully head that off at the pass. This isn't that tough, because there are many wet foods which are no-carb. They're all meat. But Jenny doesn't want to chew wet food... she only wants to lick the gravy off of it. The gravy being the part with carbs. If I buy wet food with no gravy, she still tries to lick it, but won't eat it. The only food she wants to eat is dry food. But most dry foods are carb-heavy.
I started making my own low-carb gravy she can eat by puréeing paté canned food with water. It worked fantastic, but was so gross (I'm never using that blender for my food again!). Then I found Tiki Cat brand, which has a "velvet mousse" which is already blended. I just stir in a half-tablespoon of water and away she goes.
Even better? Tiki Cat also makes low-carb dry food!
The stuff is crazy-expensive, but my cats love it. And, if they're being honest about the contents, it's a much healthier option for Jake and Jenny than anything else I've found.
I'm also trying out the Tiki Cat Grill, which is a series of flaked fish recipes that have shellfish garnish. Or, in the case of the sardine cutlets varieties, disgusting chunks of sardines in shellfish sauce. Opening a can is gag-inducing for me, but the cats love love love to eat it (or, in Jenny's case, love to lick it).
I still want to investigate making my own raw food to work into their diet though... I'm reading way too many good things about it to let it go. Even with Tiki Cat in the picture.
Posted on March 3rd, 2018

Well, Jenny might be in trouble.
She keeps puking, but it's never food... it's always mostly water. She gorges herself on water, then pukes it up. When I Google this, there's a lot of things that come up, but diabetes is the most common result. Since Jenny is two-years-old and not overweight that's unlikely, but I'm taking no chances. I'm going to make some changes to try and get her stabilized, then go through the trauma of taking her back to the vet (my nightmare).
First thing I'm doing is changing Jake and Jenny's diet. Jake is overweight, so it's probably better to make changes anyway. Jenny eats dry food and licks the gravy off the wet food I serve... both are loaded in carbs, which are not natural to a cat's diet. My ultimate goal is to move to a 100% raw food diet (more on that later) but, in the meanwhile, I'm going to blend pâté food with warm water and rinse the gravy off the chunky food.
This morning my cats looks at me like I was insane when I set it down, but hunger eventually won out. Jenny was all over the pâté gravy I made, but didn't eat the chunks. Jake ate a little of both. From there, it was me hanging out with Jenny to see if she puked up the pâté gravy. She had small convulsions, but kept everything down. Next time I'm going to add less water to see if that makes things easier.
Second thing I'm doing is temporarily getting rid of the drinking fountain. In the wild, cats usually get their hydration from the food they eat and rarely drink much water. If I'm going to put water in her food and serve raw food, hopefully that will alleviate the need for a water fountain. But... the last thing I want is for my cats to get a urinary problem, so I'm going to put a fountain back after a few days to see what happens. I've also replaced my plastic fountain with a ceramic one.
And then there's raw food.
Many, many pet owners and veterinarians advocate a raw food diet for cats because it more closely mimics the diet which their digestive system has evolved to handle. This is not as simple as it sounds, however. You can't just go buy a chicken at the grocery store, grind it up, and slop out a portion. First of all, refrigeration only slows salmonella poisoning, it doesn't stop it. You would either have to use freshly-killed chicken... or fresh-frozen to eliminate risk of salmonella. Second of all, cats need taurine to survive. Raw meats have taurine but not enough when ground, so you have to supplement it. Ultimately what this all means is that you partially cook the store-bought meat enough to kill any salmonella, add a cat supplement, then grind it all up. Or... order fresh-frozen and use that (which is a lot more expensive, but the best option for some meats).
But, first thing's first... I have to order up an industrial meat grinder.
Then? Research, research, research. Starting here.
In other cat news...
I finally managed to make it to Petco so I could pick up new Blue Moppy Mouses for Jenny after she shredded the last one...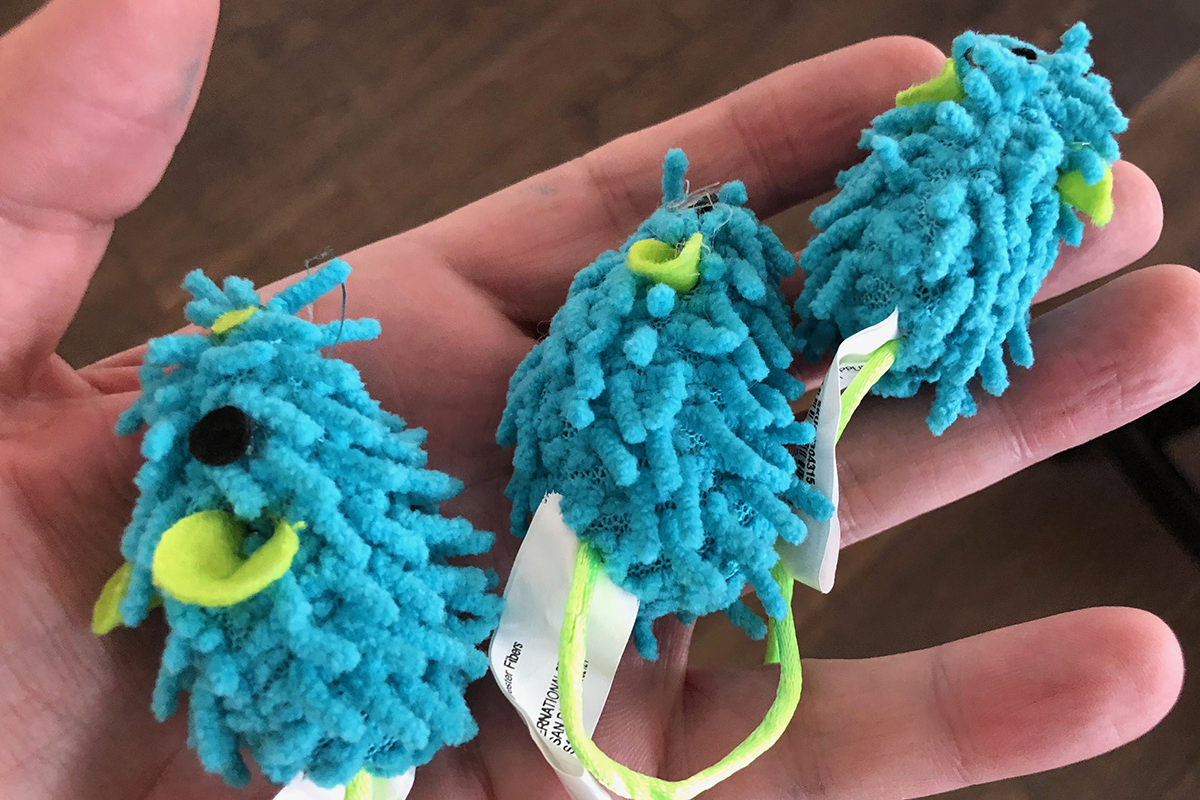 That should last her the rest of the year. Assuming she hasn't changed her mind and wants something else.