Posted on September 19th, 2020

For the first time in weeks we caught a break in air quality. After being Hazardous, Very Unhealthy, Unhealthy, then "Unhealthy for Sensitive Persons"... today air quality was GOOD! This was nice for me, because I might get to not feel sick for a couple days... but really nice for my cats, who have been begging to go out in the catio for way too long.
Seriously. They will sit on the scratcher lounge and look outside for hours...
So I went to the back door... pulled the door off the cat-flap to the catio... then nearly got trampled as Jake and Jenny bolted to go outside...
Jake was laying out there for about 45 minutes. Jenny, on the other hand, would not leave...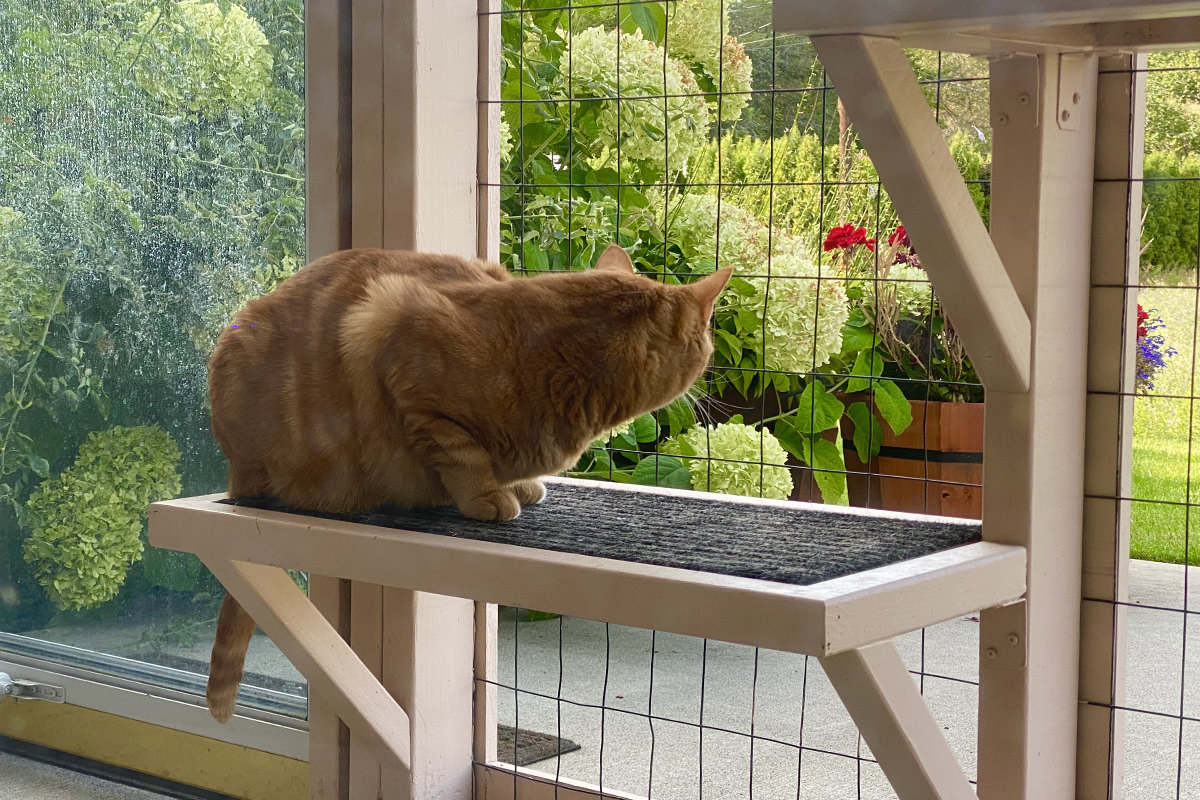 I kept checking security cameras to see if she had come inside without my seeing her, but she was there right up until the Alexa dinner alarm sounded...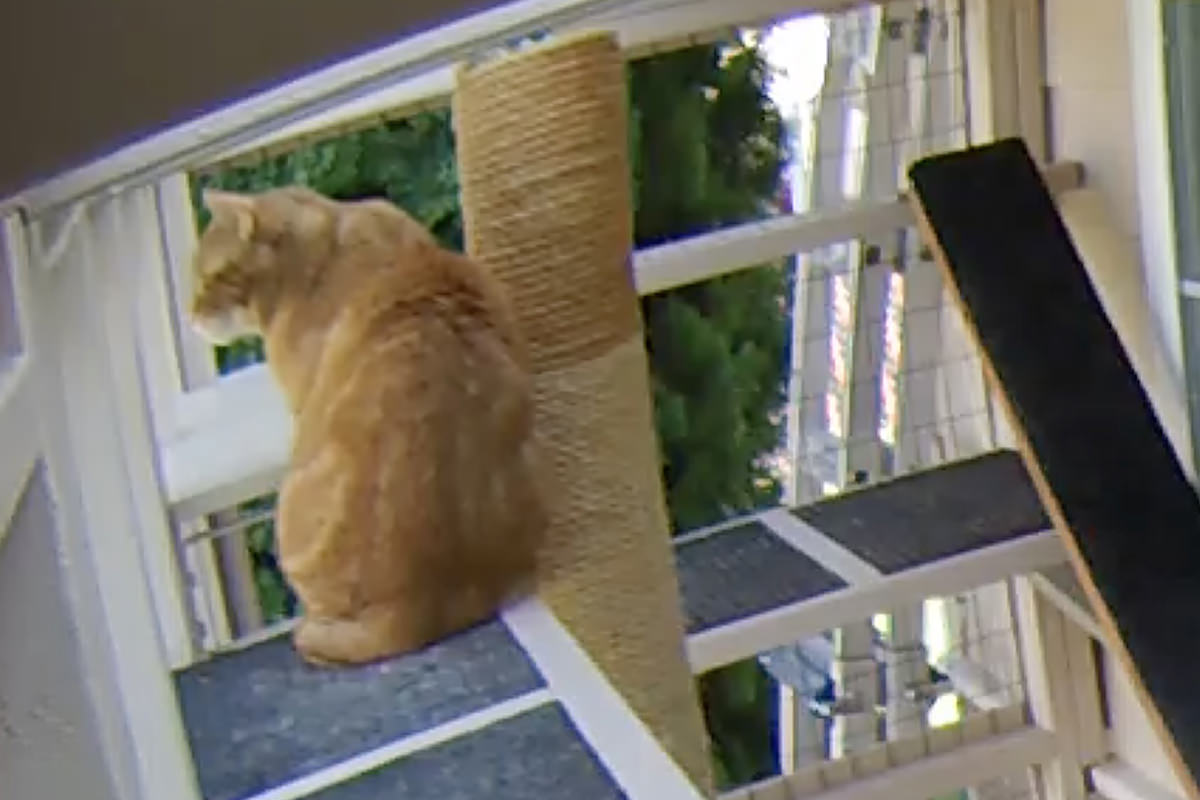 Before the catio re-opened for business, Jenny was occupying her time by watching television with me. I had dusted off my DVD collection of all the James Bond films and was watching them in order. This was my view for a good 20 minutes of Goldfinger...
Methinks she might want to be a Bond girl! She gave me an annoyed stare when I told her that the name "Pussy Galore" had already been taken...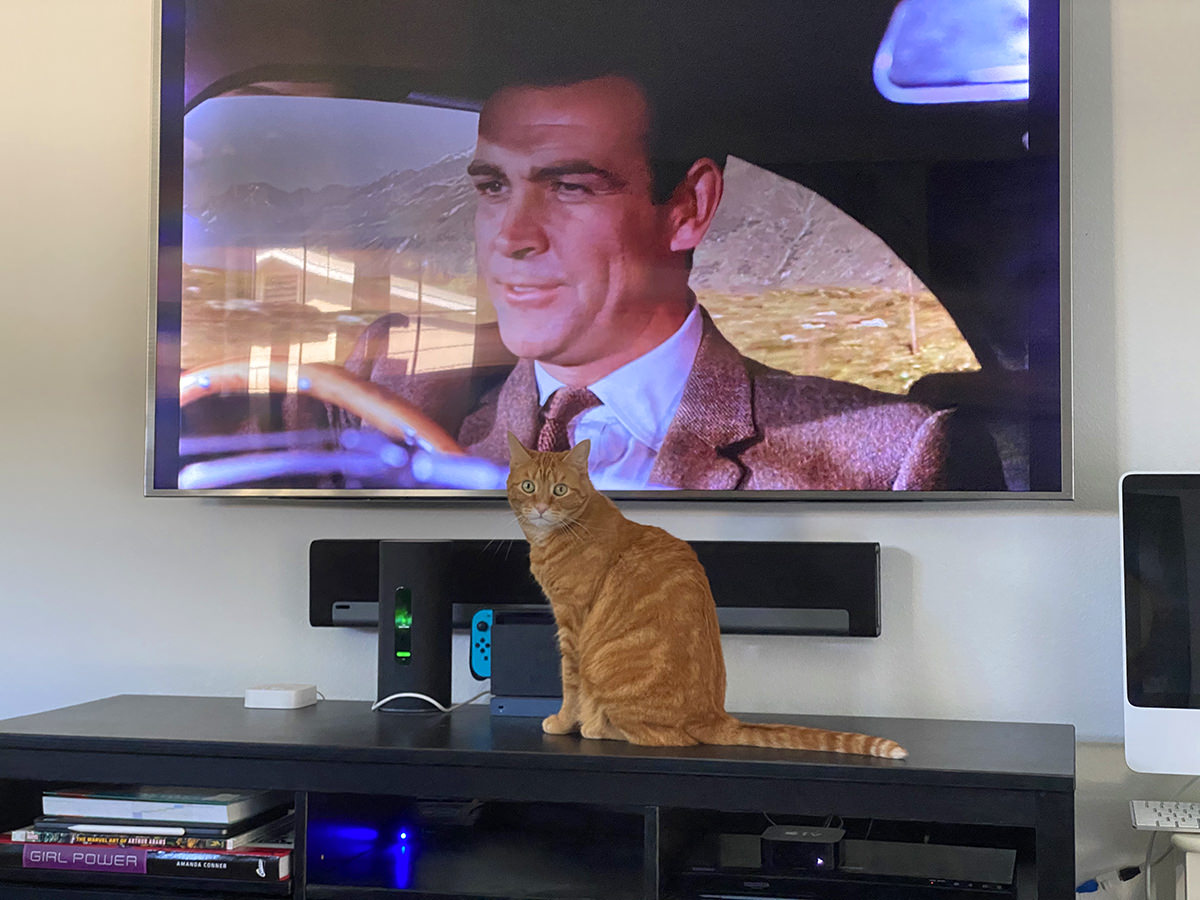 Here's hoping that our air quality remains good so I can keep the catio open.
Posted on September 12th, 2020

The smoke, which was getting better, has taken a turn for the worse as winds push the contaminated air from Oregon and California up our way.
And as hard as it is on me and my allergies, it's double-tough on my cats.
Usually, I let them go outside in the catio while wildfires are burning because they don't last long out there when the smoke is bad. But, for whatever reason, Jake and Jenny were spending way too long out there given how bad the air quality is...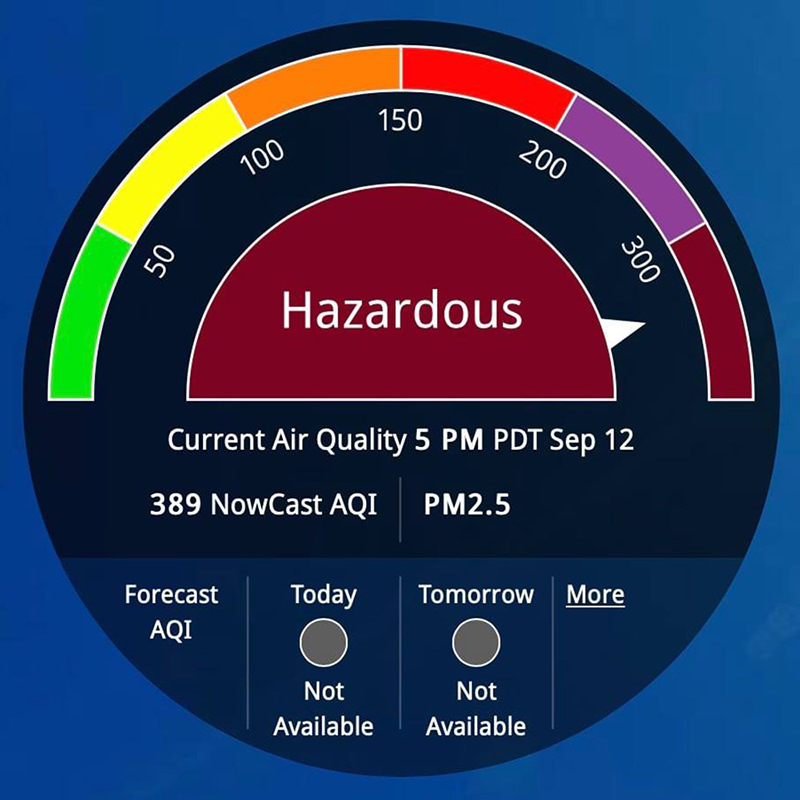 I worry about their little kitty lungs, so I went ahead and blocked the catio door so they can't get out. They are not at all happy about this... especially Jake, who sat and stared out the window for over an hour...
And, as expected lately, he will not leave my side. He's on me when I fall asleep...
And he's there when I wake up...
And if I wait too long in bed, I'll have both of them on me...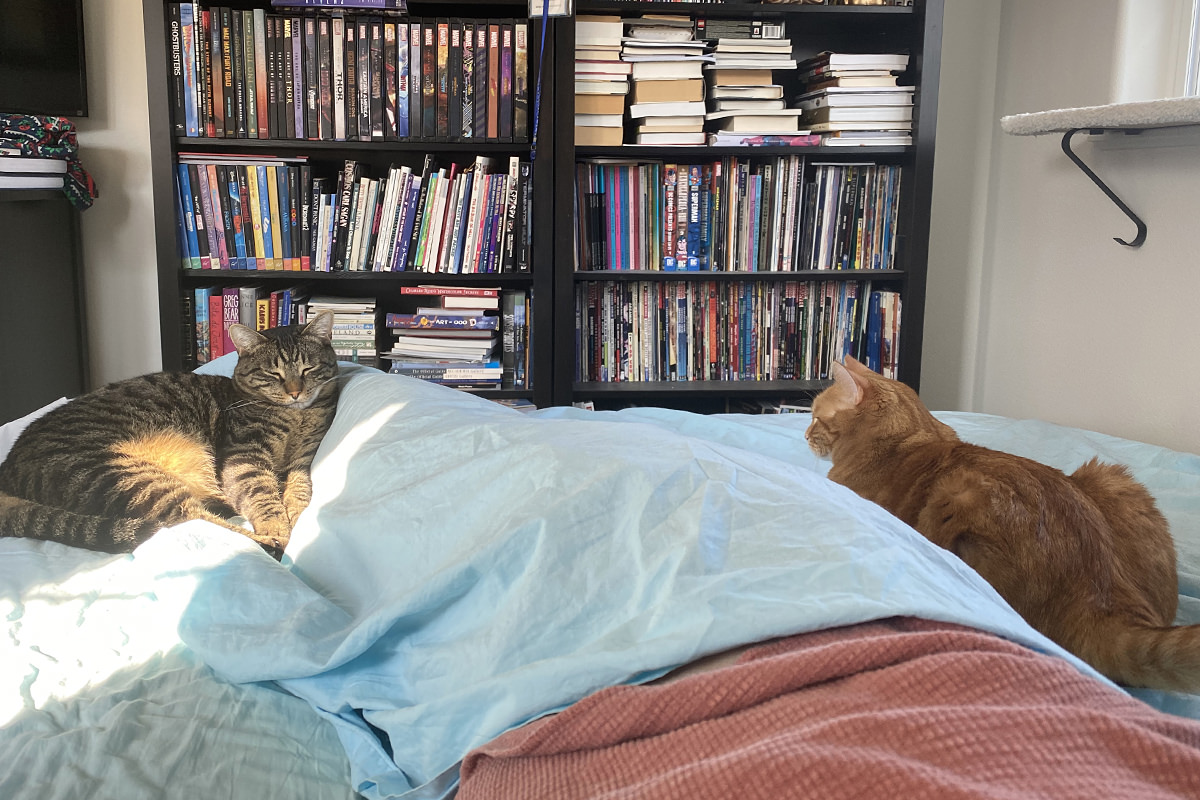 Jake is clingy when he's upset...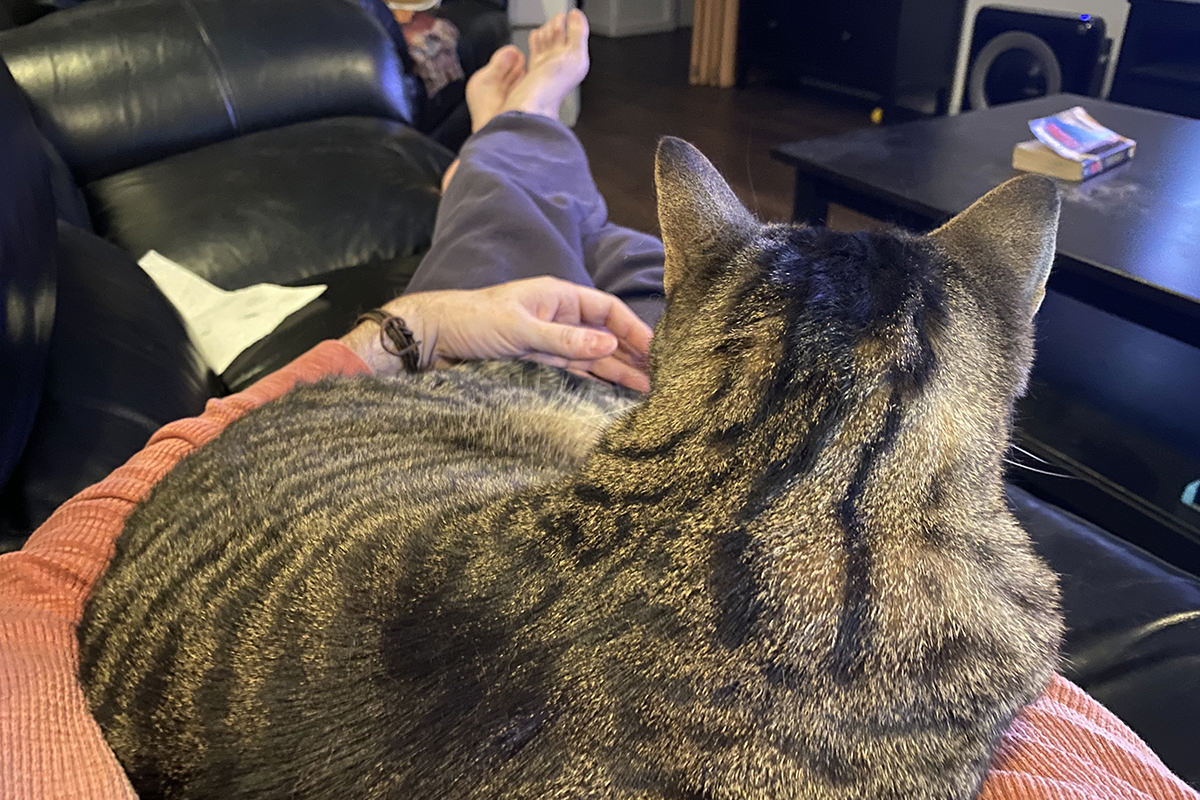 Jenny is looking for inspiration elsewhere...
Really, really hoping that this smoke subsides next week. Between my allergies and nausea and the cats' anxiety... this is more than enough.
Posted on September 5th, 2020

Well, the raccoons are back.
And this time they seem to be making friends with Jake. Used to be that when Jake would spot them and run out to the catio, they would scamper away. But now they actually come up to the fencing and make noises at him. Assumably trying to communicate.
Tonight at 11:00pm on the dot, Jake ran out to the catio at top speed. I assumed that Fake Jake was out there, but when I looked out, I saw four sets of beady little glowing eyes looking back to me.
The video footage is pretty awesome...

Jake just ponies up to the fencing and stares at them...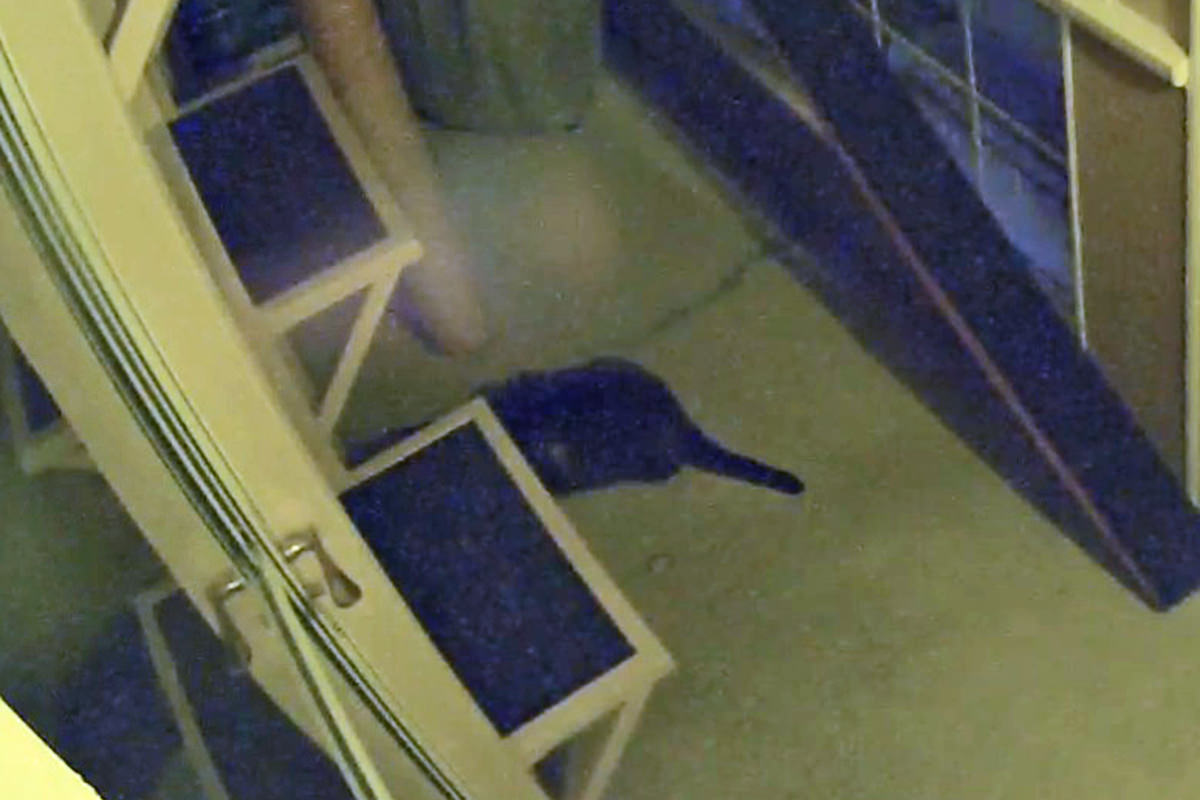 What's surprising is that they came back three times after. The first time they kind of do a walk-by. The second time one of the raccoons at the end approaches the catio. The last time they just go marching right up to the catio looking for their buddy...

As for Jenny? Not a chance that she's going out there when raccoons are in the area...

But, hey, it was Ginger Cat Appreciation Day this past Tuesday, so I'm pretty sure she's been coasting on that through now...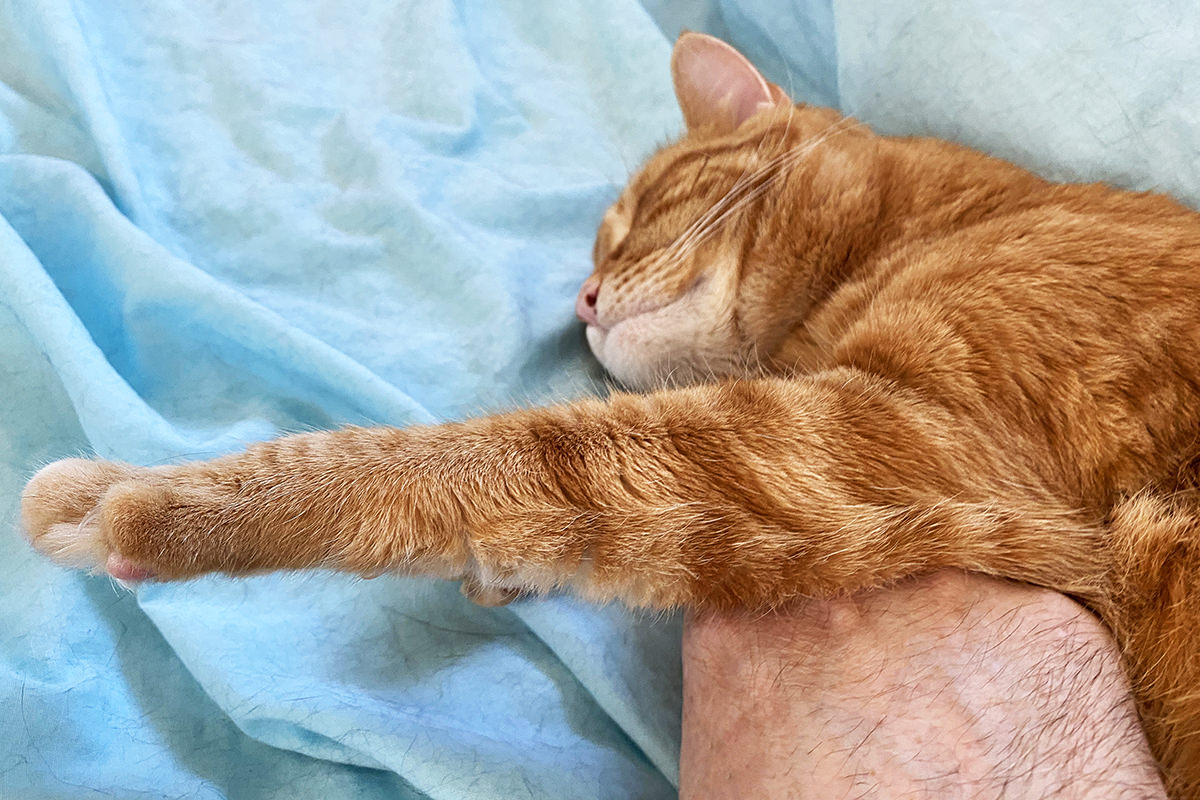 Of course, here at my house EVERY DAY IS GINGER CAT APPRECIATION DAY, and don't think that she doesn't know this. She is aware.
Posted on August 29th, 2020

I've had a headache for since I woke up with it on Wednesday. It's worse in the mornings so I've been taking an aspirin and a nap before starting my day.
At least I try.
After they've had their breakfast, Jake and Jenny take turns wanting belly rubs. And who am I to say no? So I check my email with one hand while taking care of business with my other hand...

They never return the favor, however.
Posted on August 22nd, 2020

My cats have no problem whatsoever letting me know when they are upset.
Jenny will whine her sad little meow when she wants to be petted or wants to be fed. Jake never bothers me for food, oddly enough, but he definitely lets me know when he wants attention.
Or I'm making too much noise.
My kitchen renovation is in high gear and it's not something he's happy about. Jenny just runs and hides when I am using power tools. Jake kinda-sorta sleeps through it. But then I had to buy a more powerful belt sander which is far noisier than my old one, and Jake can't sleep through it. So he runs and complains to me, then goes and hides with his sister.
But this morning I started sanding again with the expectation that he would come running to complain, but he didn't. I looked in on the cat tree and he was... sleeping?
Guess he's adapting. By the time I'm finished he'll probably be completely accustomed to it. Typical.
And speaking of complaining...
Jake loves potato chips. And every time I open a bag, he comes running because he knows I'll be passing a couple his way...
And a couple chips is usually enough. He'll smack on them for a while until they're gone, then wander off. But lately he complains that he wants more. So much for not bothering me for food.
He's still adorable in all the right ways though, so it's all good...
And speaking of adorable...
I do not close the door when I have to use the bathroom. But, like the good kitties they are, Jake and Jenny don't disturb me. Though they are often waiting for me when I get out...
See you next Saturday, cat-fans.
Posted on August 15th, 2020

Jenny has been irritable lately and I am fairly certain it's because of the kitchen remodel I've got going on. She doesn't like change, and having everything ripped apart certainly qualifies. Most of her irritability is reserved for her brother. Usually she's able to ignore Jake's shenanigans, but now? Not so much.
Earlier in the week her brother wanted to lick her head for some reason. Instead of just walking away like she usually does, Jenny kept pushing him away until he got the message...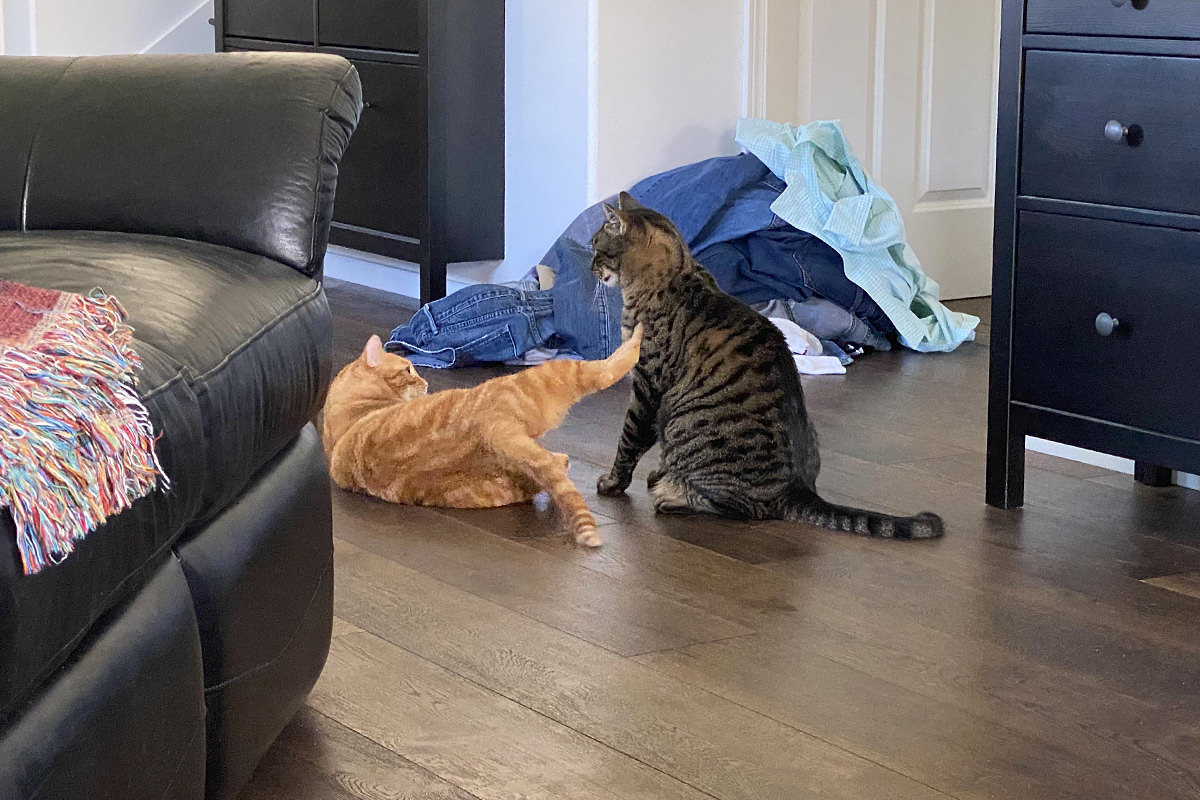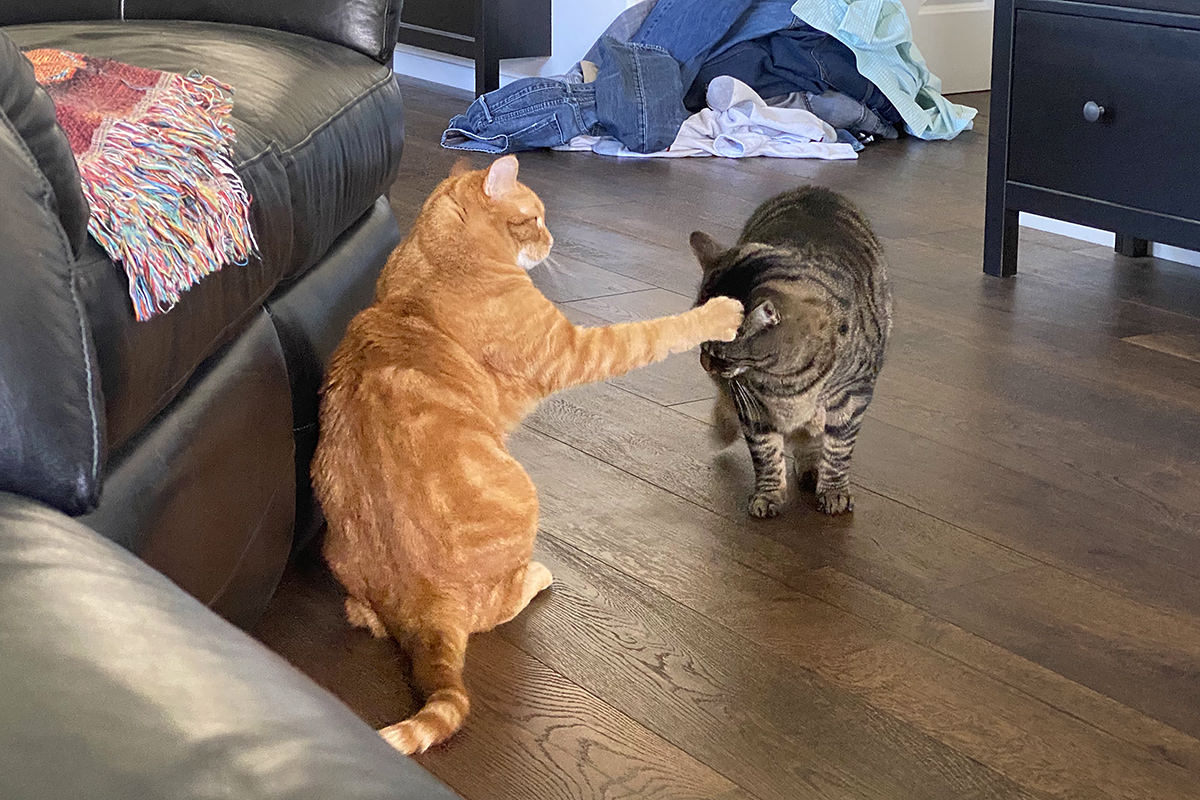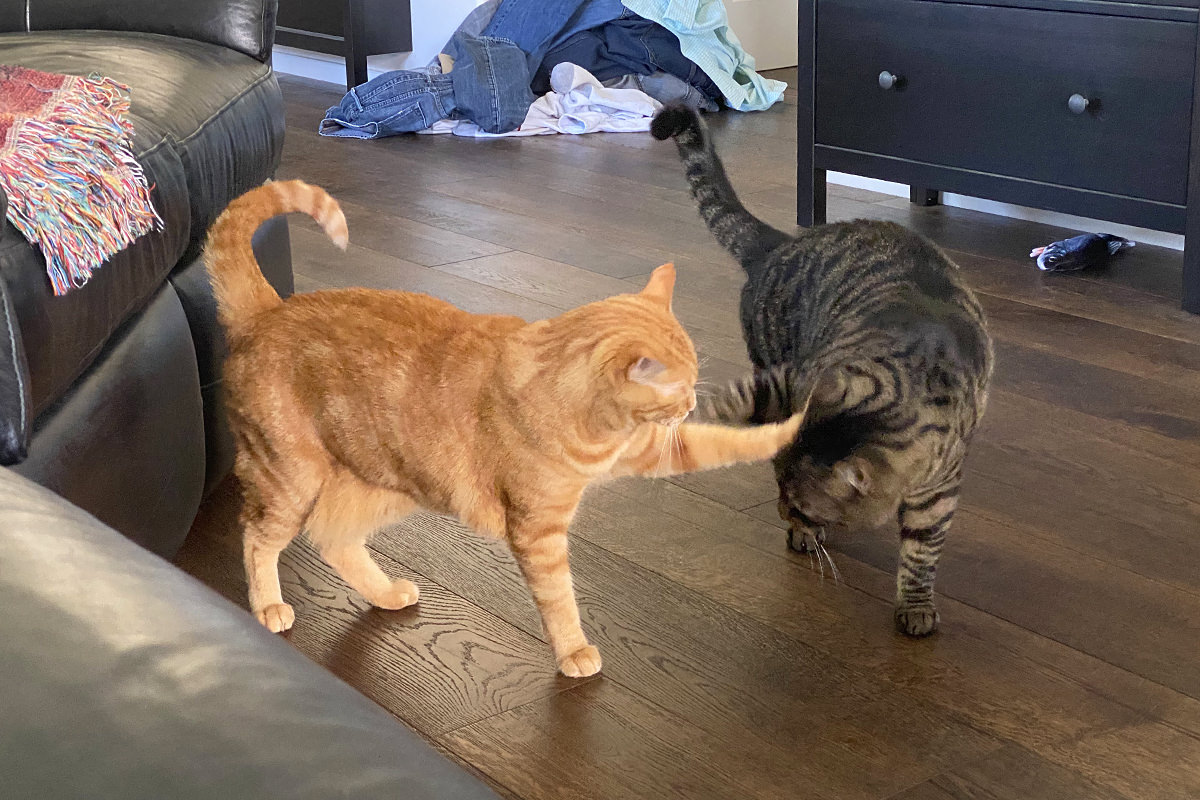 If Jake's upset by the remodel, he doesn't show it. His favorite place to seep now is on top of the dishwasher after it's been run because it's toasty warm up there without a counter carrying it up...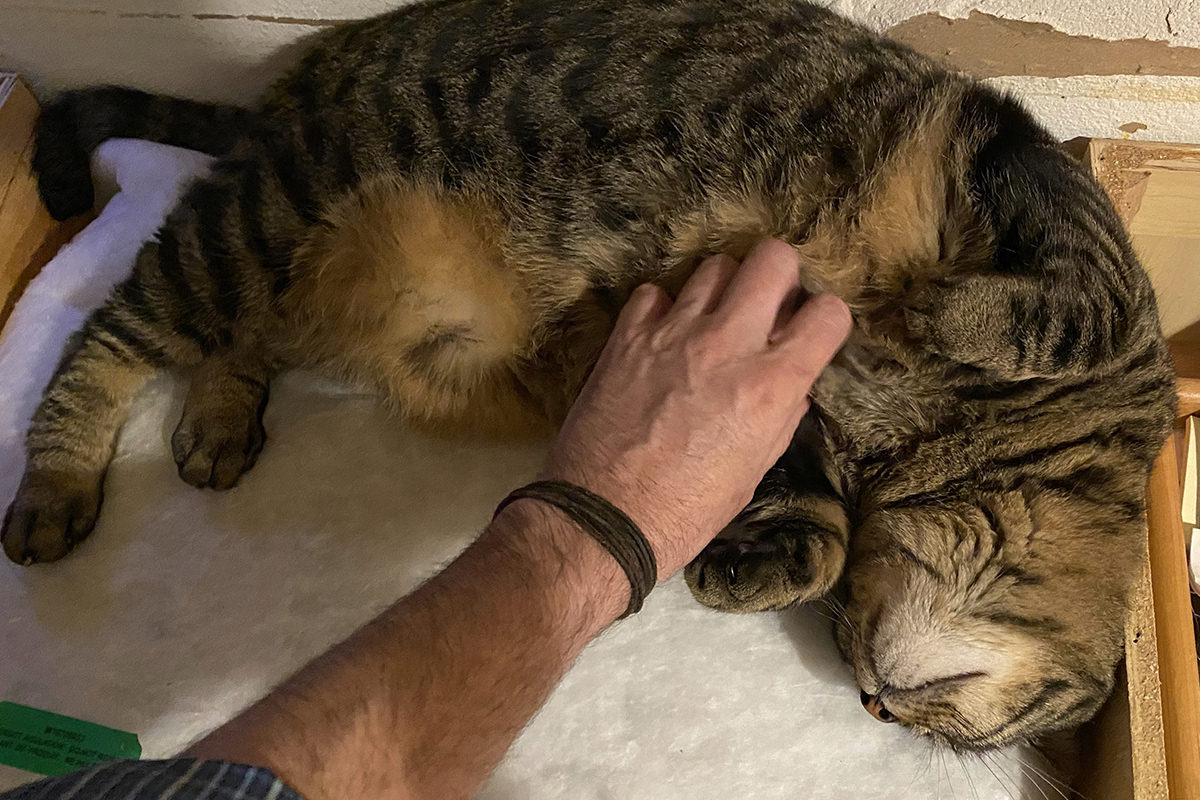 When the dishwasher isn't running, I guess I'm the next best thing...
The rest of the time Jake is chewing on my tools...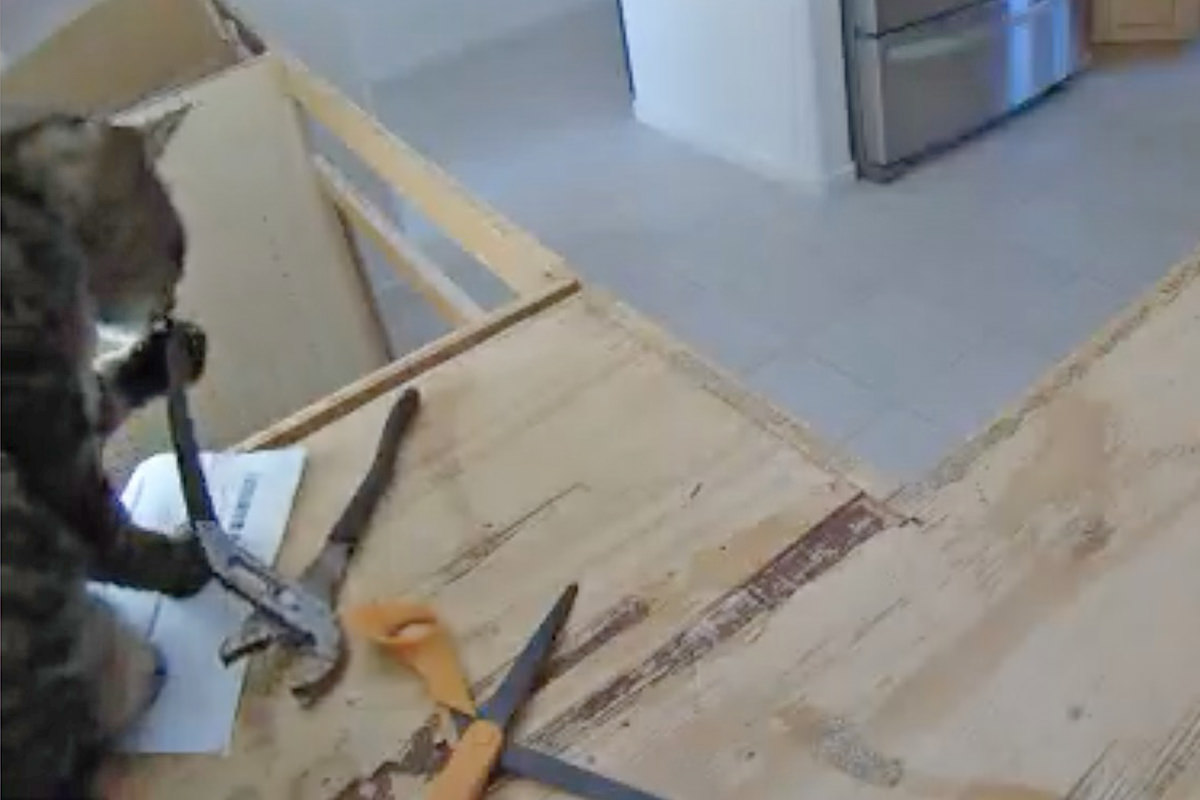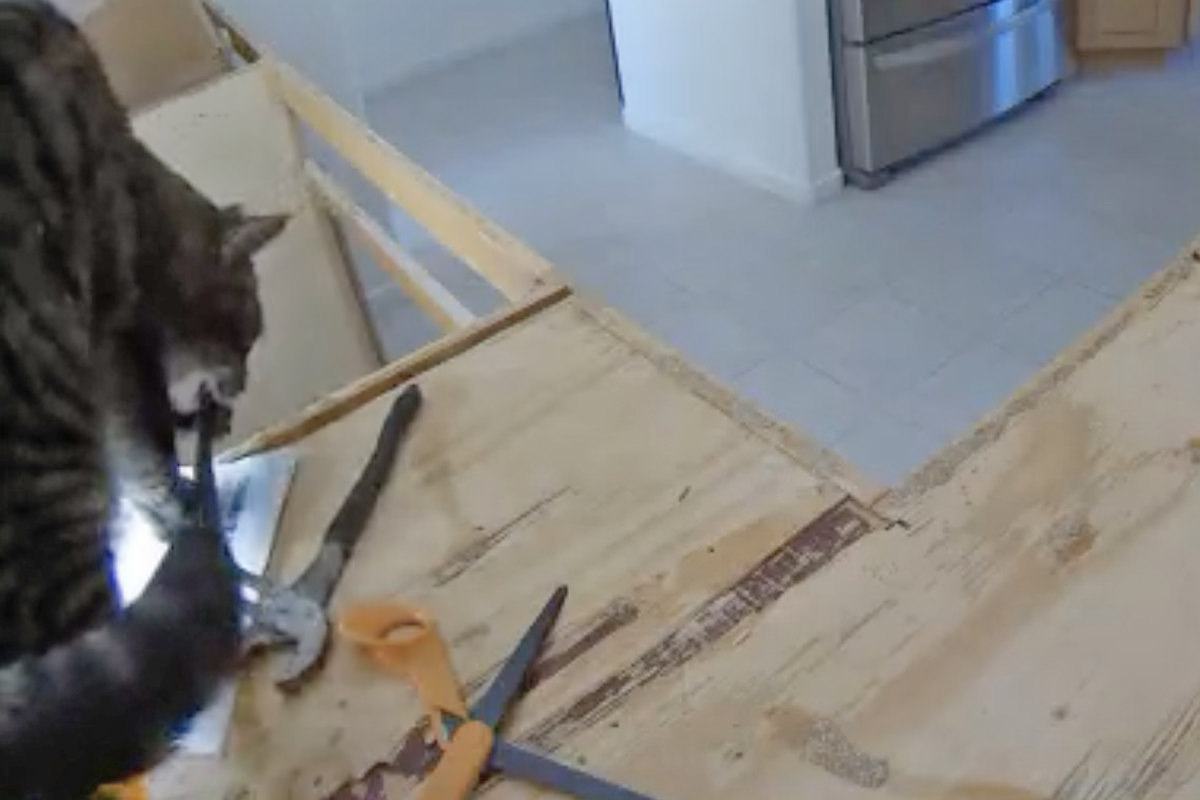 Mmmm... tasty pliers.
Three more weeks. Fingers crossed.
Posted on August 8th, 2020

Happy International Cat Day, everybody! Though when it comes to my cats, EVERY DAY IS INTERNATIONAL CAT DAY so it's nothing special in my house.
I spent my early morning of the day hanging out with Jake, who wasn't feeling well for some reason. Eventually he snapped back to normal and went running upstairs for bed as if he hadn't just spent the early, early hours of the morning howling and upset.
And speaking of bedtime...
As I've mentioned a few times now, Jake sleeps at my feet every night. He's there when I fall asleep. He's there when I wake up. But here's the thing... I toss and turn constantly during sleep. I sleep on my back. I sleep on my front. I sleep on my side. I sleep on my other side. And for the past couple mornings I've woken up with a kink in my neck, so I decided to put a security camera in my room to try and figure out what I've been doing to cause it.
Nothing on the camera explains it.
But I did get an explanation as to how Jake manages to get through the night at my feet with all my tossing and turning. He wakes up. He repositions himself. He falls immediately back to sleep...
What's amazing to me is how I manage to stay asleep when he's crawling all over me all night long.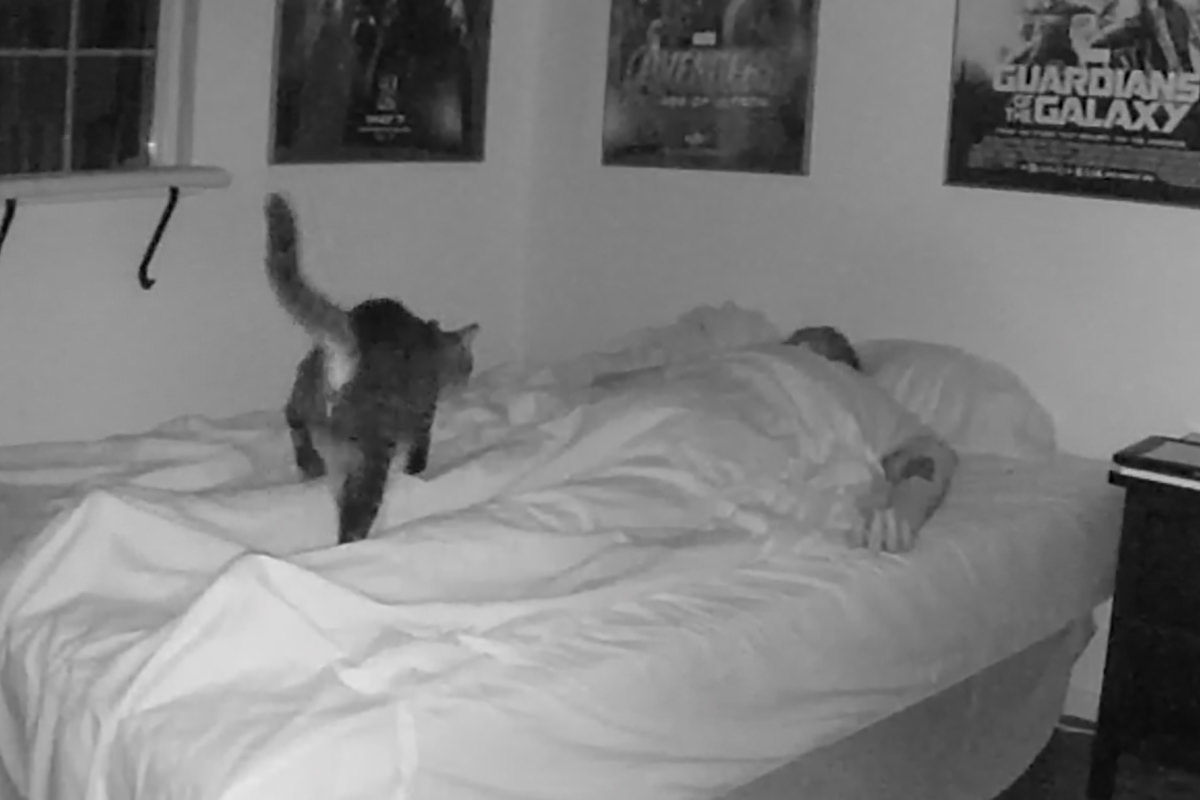 And as it gets closer to breakfast, he gets a little more aggressive... poking me to wake up and feed him...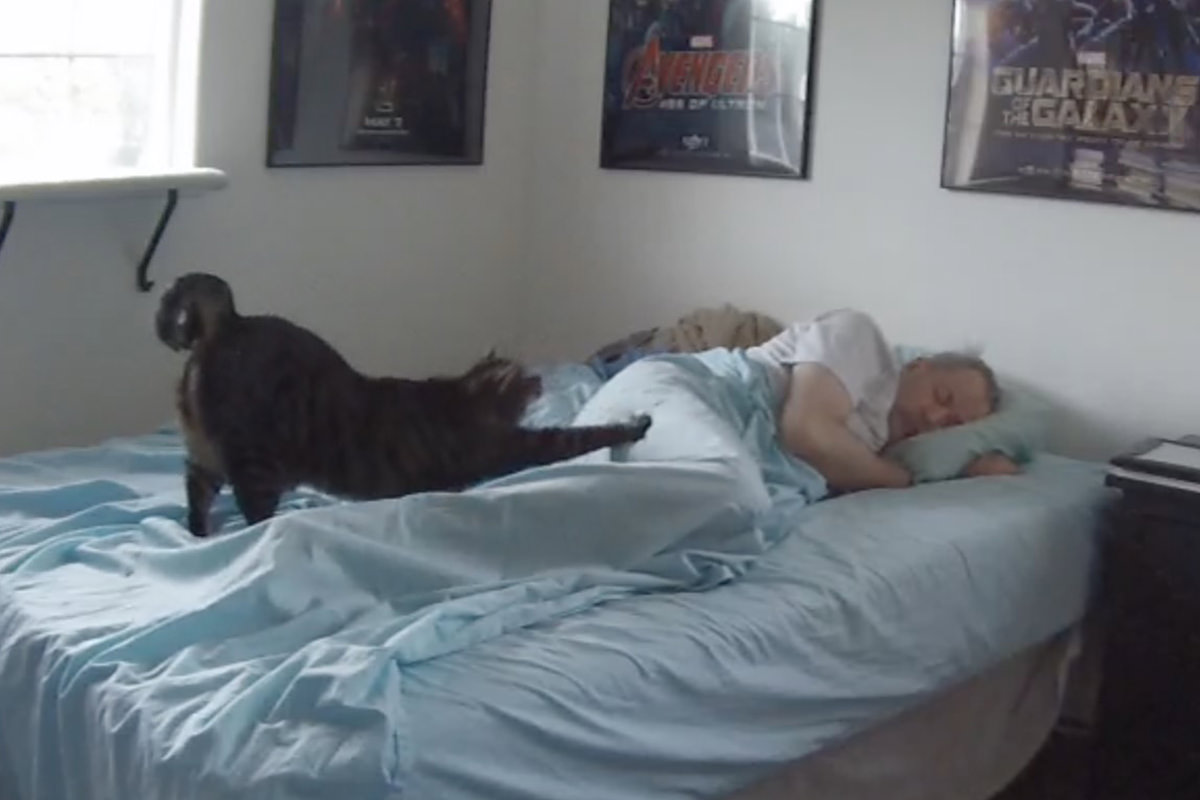 I've been subscribed to Dr. Uri's Vancouver Vet YouTube channel for a couple years now, ever since I watched a video on how to pick up cats since mine don't like to be picked up AT ALL. The first thing you notice about this video is that Dr. Uri has two of the most chill cats ever...
A video I missed was the story of how he got his first cat, Mr. Pirate...
A very good cat indeed.
Posted on August 1st, 2020

As I've mentioned, I don't discipline my cats. There's no reason for it because they just don't do bad things. On the rare occasion they do something that I'd rather they not do, it's not because they're bad, it's because they're cats doing cat stuff and I failed to provide a more desirable alternative. And that's on me.
Then today something happened.
I was doing laundry while Jenny was watching. I apparently didn't give her the attention she was wanting, because next thing I know she's clawing on the chair in the guest room.
"Jenny? What are you doing? Why can't you sit in the chair like a good girl?"
Which, of course, she did the minute I caught her...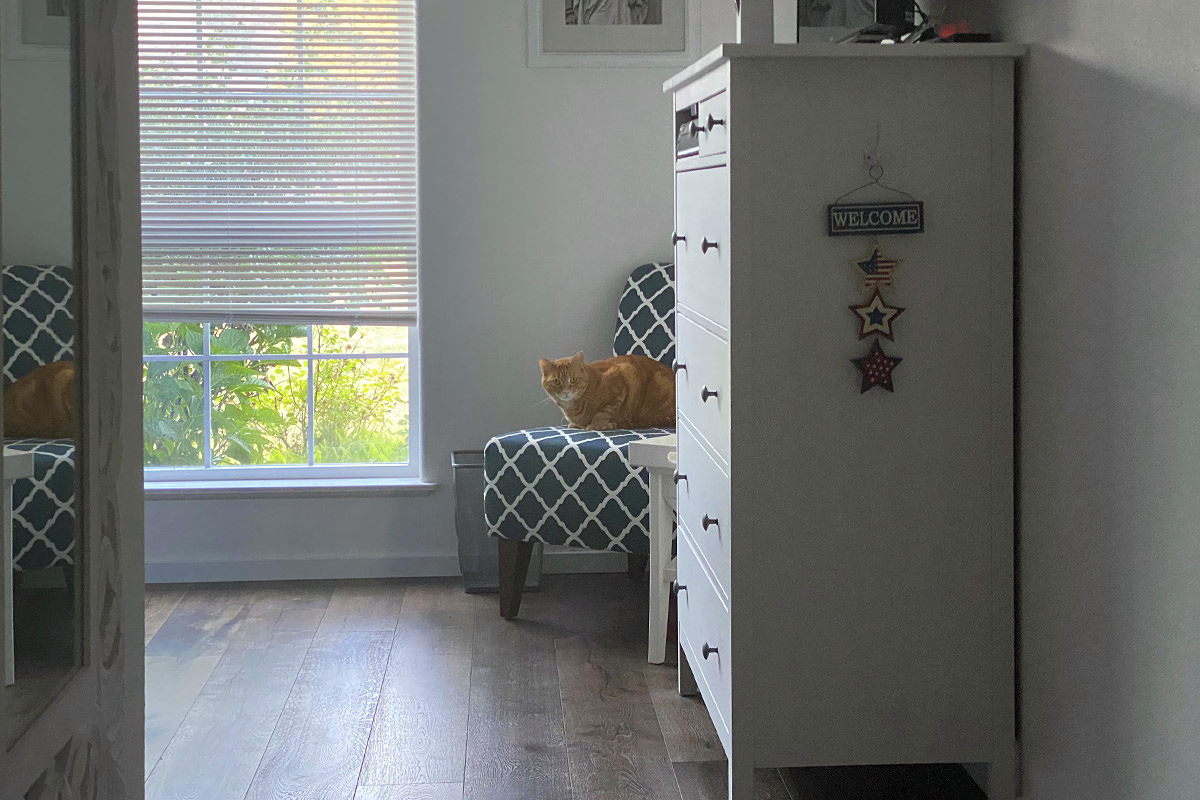 Because she actually is a good girl.
When she's getting the attention she demands, of course.
Posted on July 25th, 2020

If it weren't for my cats, I probably wouldn't have survived my mother's death. Waking up each morning to feed them was my reason for getting out of bed each day. And now that I've been stuck at home in isolation for six months, they're my reason for getting out of bed each morning... again.
Except after breakfast Jake comes right back upstairs and would probably like nothing better than hanging out in bed with me each morning. Especially if it means he can get belly rubs...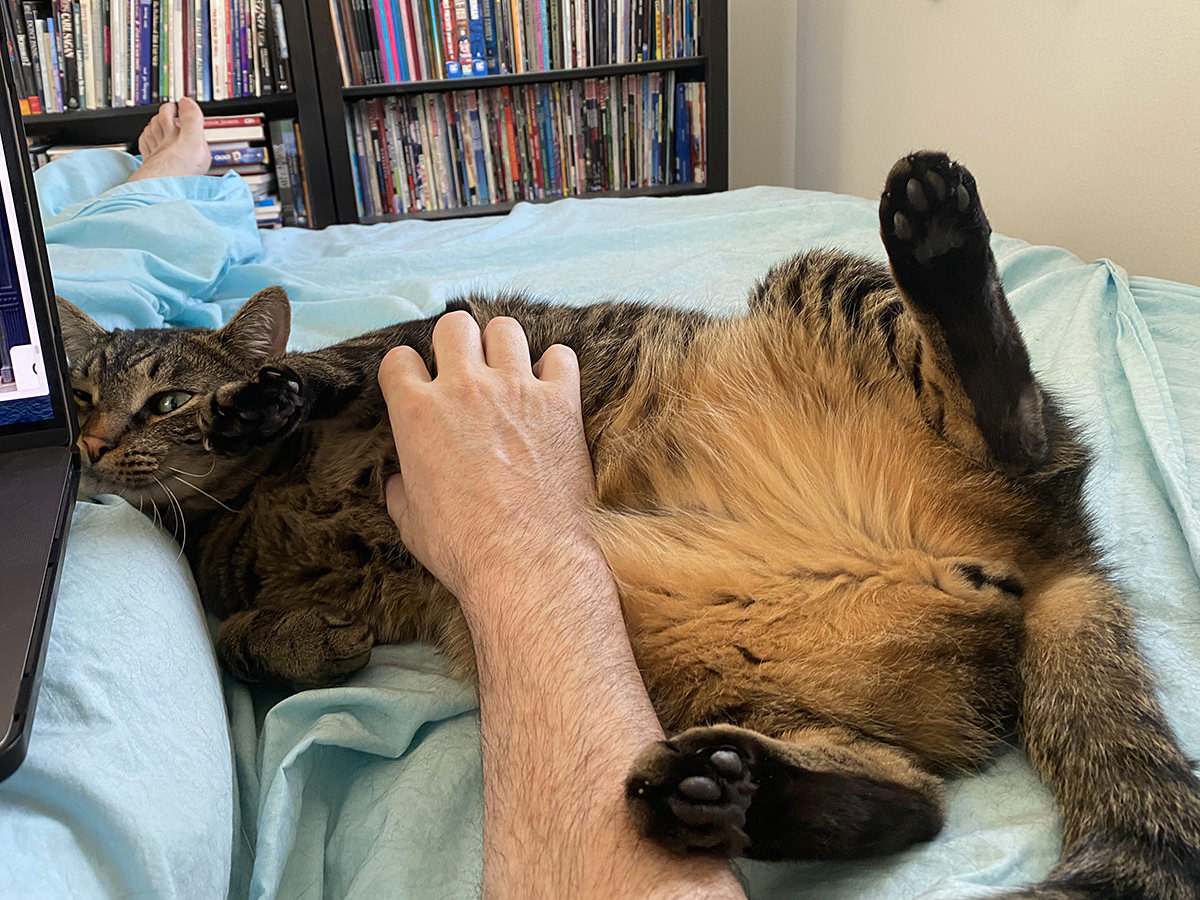 Though sometimes you have to wonder if what he wants is belly rubs... or to tempt you into attempting to give him belly rubs so he can spring a trap...
99% of the time, it's just belly rubs though...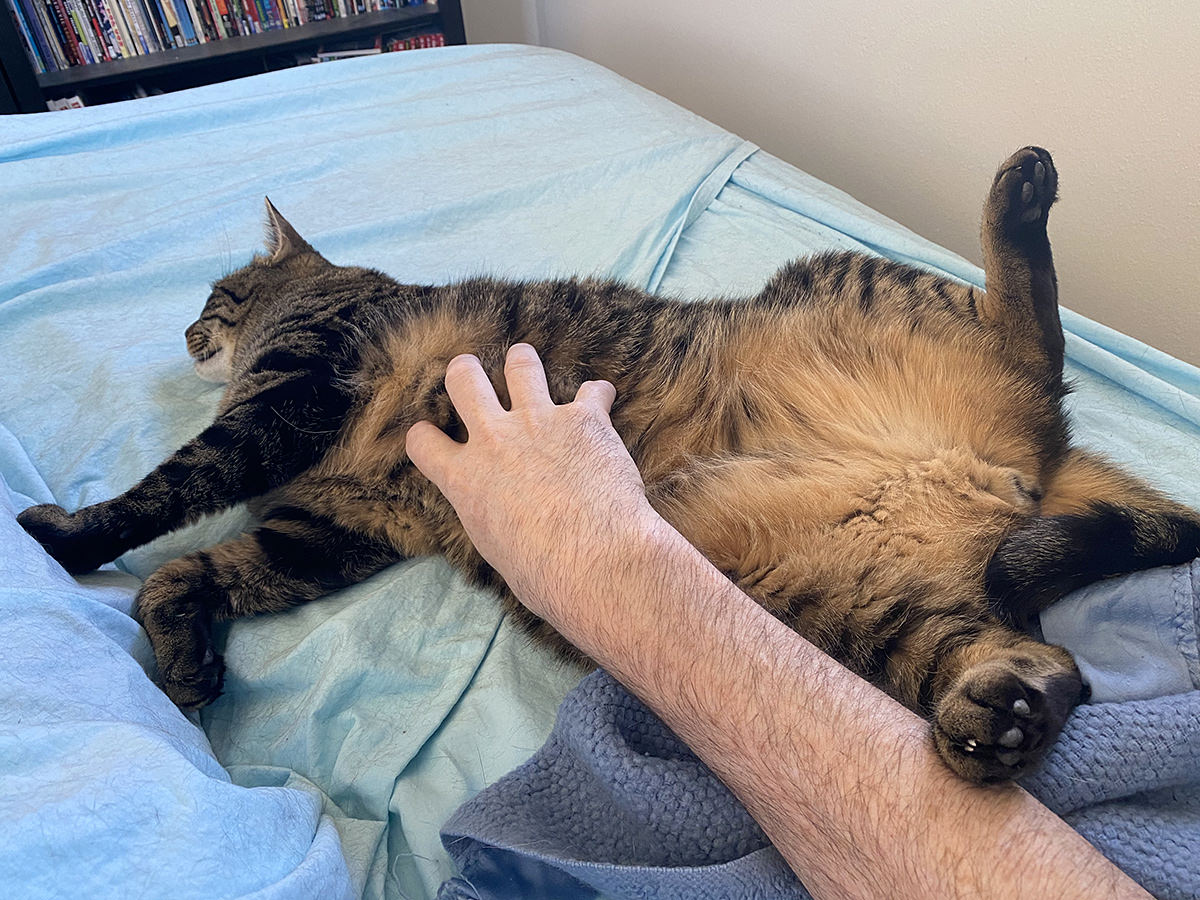 And sometimes all he wants is an audience while he gives himself a bath...
Jenny still likes to hang out in bed with me if Jake isn't already there. Otherwise she's happy to sit with me on the couch...
Doesn't get much better than that.
Posted on July 18th, 2020

Something has been making Jake one unhappy camper for a few days now, and tonight when Alexa chimed for the cats' dinner I found out just how cranky he actually is. I told Alexa to stop, then went to throw clothes in the dryer before dishing up the cat food. Jake stood at the doorway to the laundry room and squawked and squawked and squawked until I threw down my wet clothes and ran to fix his meal.
He. Was. Pissed.
Which is strange considering how he just seems to adore hanging around me. Still sleeping at the foot of my bed each morning...
He also seems to be making friends with Fake Jake, because they'll hang out together sometimes now...
Remember how they used to throw themselves at each other whenever they saw each other through the catio fencing like this?
Jenny, of course, wants nothing of it. This is how she prefers to interact with Fake Jake when he's hanging around the catio...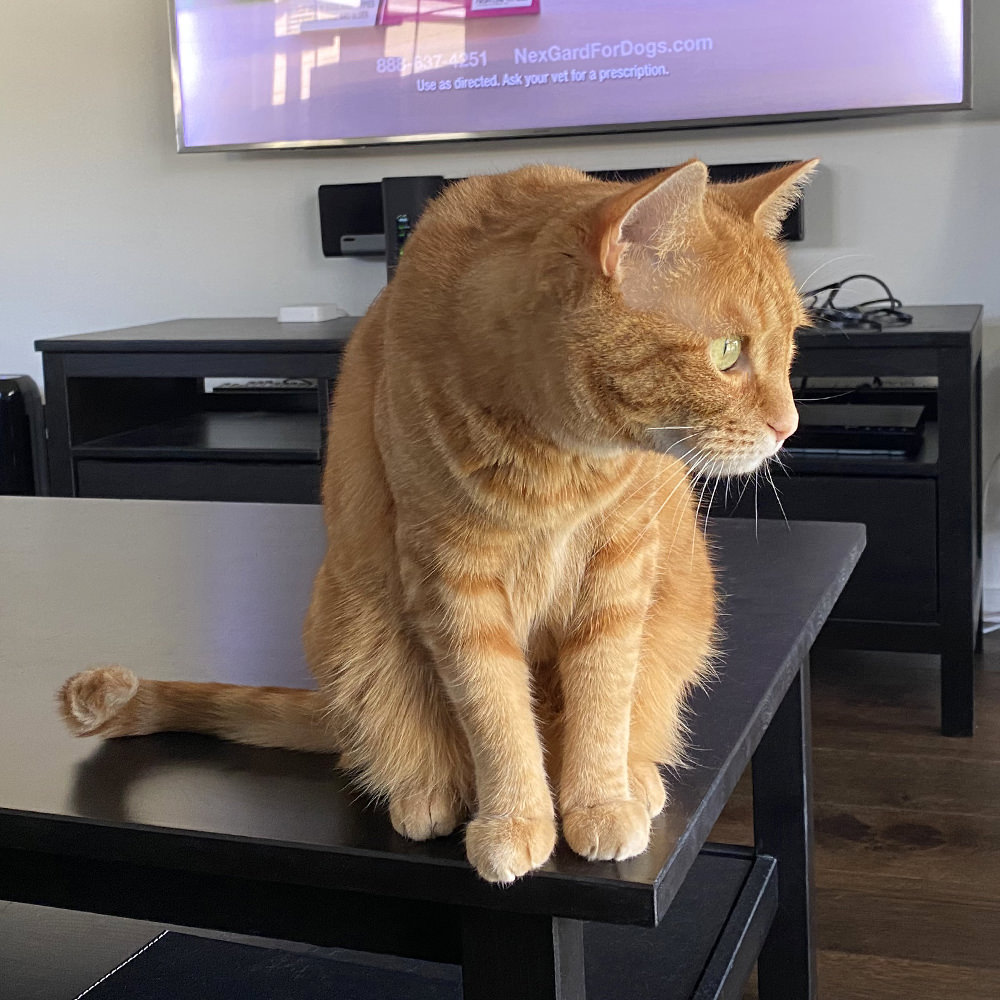 Adorable, isn't she?
Helps when she's managed to get her beauty sleep in and doesn't get interrupted like she was here...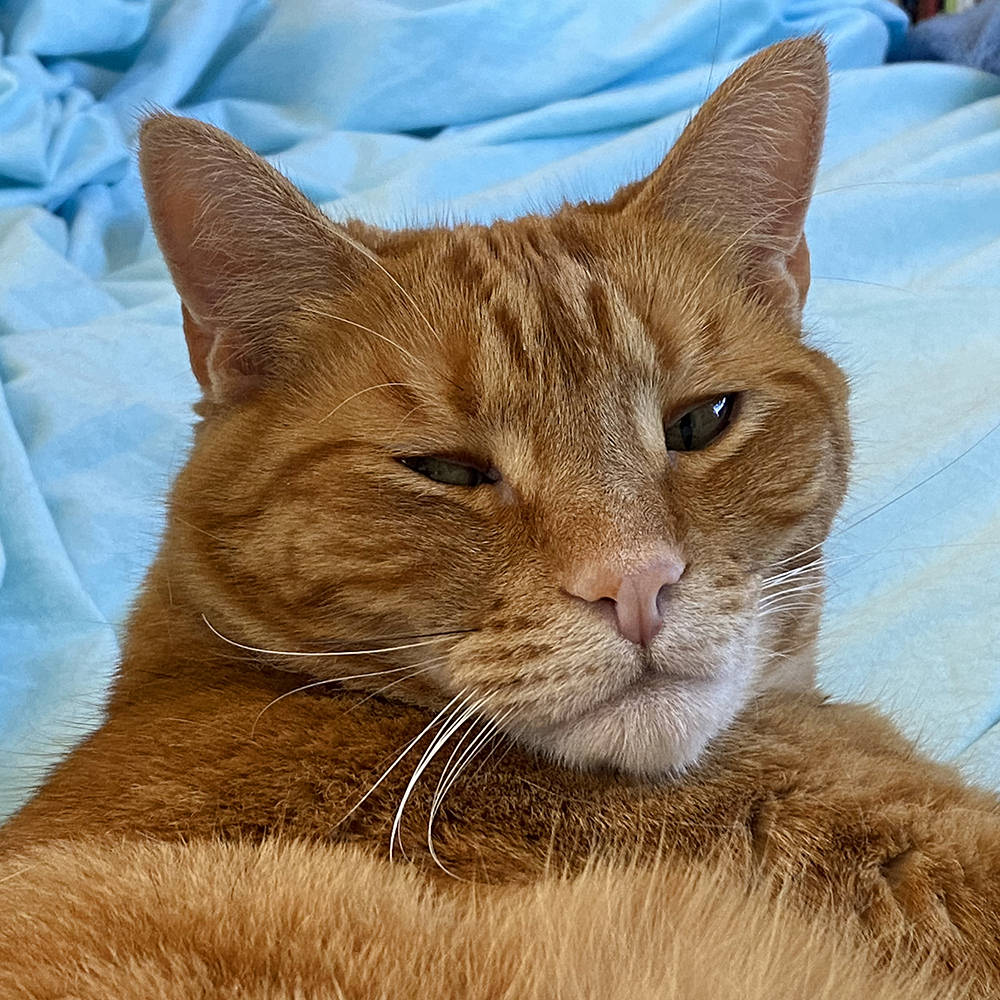 Until next Caturday, fellow humans.