Posted on August 13th, 2022

I got a late start to my day.
After serving my cats breakfast, I went to read emails and look through my newsfeed before tackling the massive list of things I needed to get done. Last weekend I hurt my back, so I didn't want to waste too much time. Except my cats did something unusual... they immediately headed back upstairs to take a post-breakfast nap...
Not wanting to interrupt their busy sleeping schedule, I waited 45 minutes for Jenny to wake up before I got started on chores.
First up was cleaning out my bookshelves to make room for new books. Then I cleaned out my kitchen pantry. Then I washed all my dirty clothes. Then I decided to clean out my drawers, which ended with my re-folding all my ties. Jenny wasted no time "helping out"...
While Jake watched...
Once I took away the last tie, she decided she wanted to walk all over them...
I used to have to wear ties a lot. I had over 50 of them. I narrowed it down to my favorites since I rarely wear them now. I saved mostly my Disney ties (half of which are Hidden Mickey ties) and my cartoon ties.
Not like I ever want to start wearing ties again... but I'm saving them just in case. Even though they're now covered in cat hair.
Posted on August 6th, 2022

Always looking for new things to entertain my cats, I purchased a big "puzzle box" for treats that they can poke into. Figured it would be a more interesting time for them than just putting treats in a bowl.
Both cats were intrigued. At first.
But after a while Jake found that he could just wait for Jenny to pull out treats, then attempt to take them from her. Surprisingly, she never got all that upset about it... she would just go poking around for another treat. To her, the challenge was as important as the treat...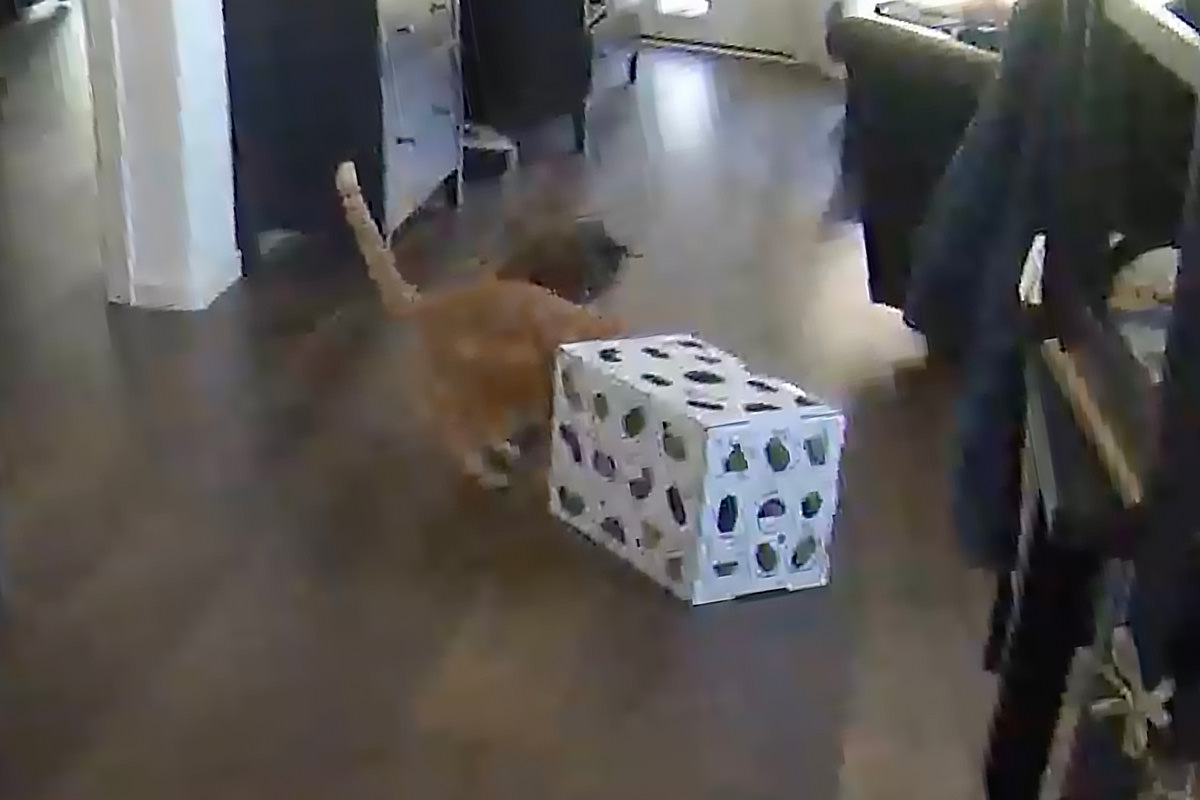 Eventually Jenny started waiting until Jake was not in the area before she would go back to digging for treats...
Earlier this week I noted that Jake was laying down chillin' with Mufasa...
It was funny to me how Mufasa was sitting upright. I thought it was nice how Jake set him up like that. But then I took a look at the security camera footage and saw that Jake threw Mufasa down the stairs and he happened to land. One could almost say... he set himself upright, because just look at this!
GHOSTS!
Or maybe not. I think that my cats would let me know if we had ghosts.
Posted on July 30th, 2022

I've been performing an experiment on my cats. Well, not both of them, it's just Jenny.
It was curious to me how she always always always follows me up to bed... unless it's before her 9:00pm nighttime snack. If I head up at 9:30... 10:00... 11:00... midnight... she is right on my heels. But if I decide to work upstairs and head up at sayyyy... 8:45? Nope. She will wait for the feeder to go, then come up after.
But is there a lower limit?
Turns out there is. Experimenting for the past 4 weeks, I confirmed that it's around 40 minutes. I head up before 8:20pm and she will come up and wait for her snack upstairs with me. But anything after that and she stays put for the snack she knows is coming.
Jake's sense of time is not nearly as acute, but he still knows when his dinner is late!
Posted on July 23rd, 2022

I am a very nervous cat dad. I worry about everything all the time even though I really don't have cause to do so. As an example... yesterday morning Jenny didn't come when I shook the bag of treats. This is highly unusual. I thought she might be trapped or hurt somewhere, so I went looking for her. But nope! She was just lounging on the cat cushion I put on the guest bed. So after giving an impatient Jake his treats, I put some in a bowl and took them to Jenny... who was completely uninterested in them!
This has never happened before.
My cats refusing treats is a serious cause for concern.
And concerned I was. I put a security camera in the guest room so I could check in on her from work. All I saw was her resting comfortably every time I checked. Which was about every 15 minutes.
But then lunch time came and she was off the bed like a shot, running to the auto-feeders at top speed. So I have no idea what her deal was. Maybe she was full because she ate some of Jake's food.
And, oh yeah, that's something she does now.
Since the beginning, my cats have been fairly respectful of each other's food. Jake will happily head to her food bowls if she doesn't finish her meal, but rarely does he actually try to get in there while she's actively eating. But now apparently this is something that Jenny does. One day I was preparing my dinner when I look at the cats eating and Jenny has totally horned in on Jake's dinner. I was stunned. Jake just sat there staring at me like "What do I do now?" I seriously hope that this doesn't become a trend.
In other news... we had a small family of quail visit us this morning...
The babies were particularly cute. But quail usually lay a lot of eggs... like one per day or something like that... which means their families are usually quite large. It's sad to see only two chicks when usually you see much more... because that means the other chicks probably perished. Google says that quail chicks have only a 5% to 30% chance to grow into adults...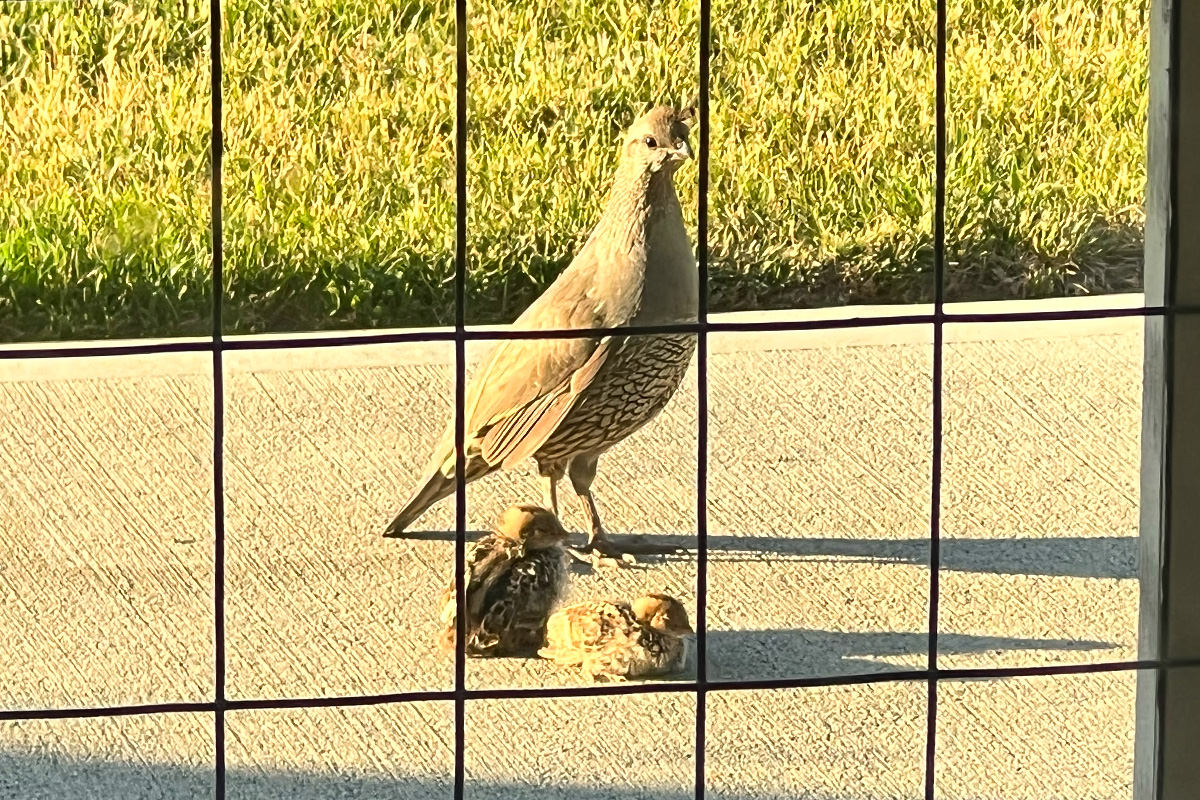 I have no idea why they would sit out in full sunlight in 100º heat on hot concrete... that can't be good because the poor things are getting cooked. Eventually they got up and scrambled off to do whatever it is that quail do. Probably look for food.
Thankfully my cats are contained and aren't contributing to the quail mortality rate. But you just know that they would like to, as they went rushing to the windows right after they spotted the quail (which is how I knew to look!)...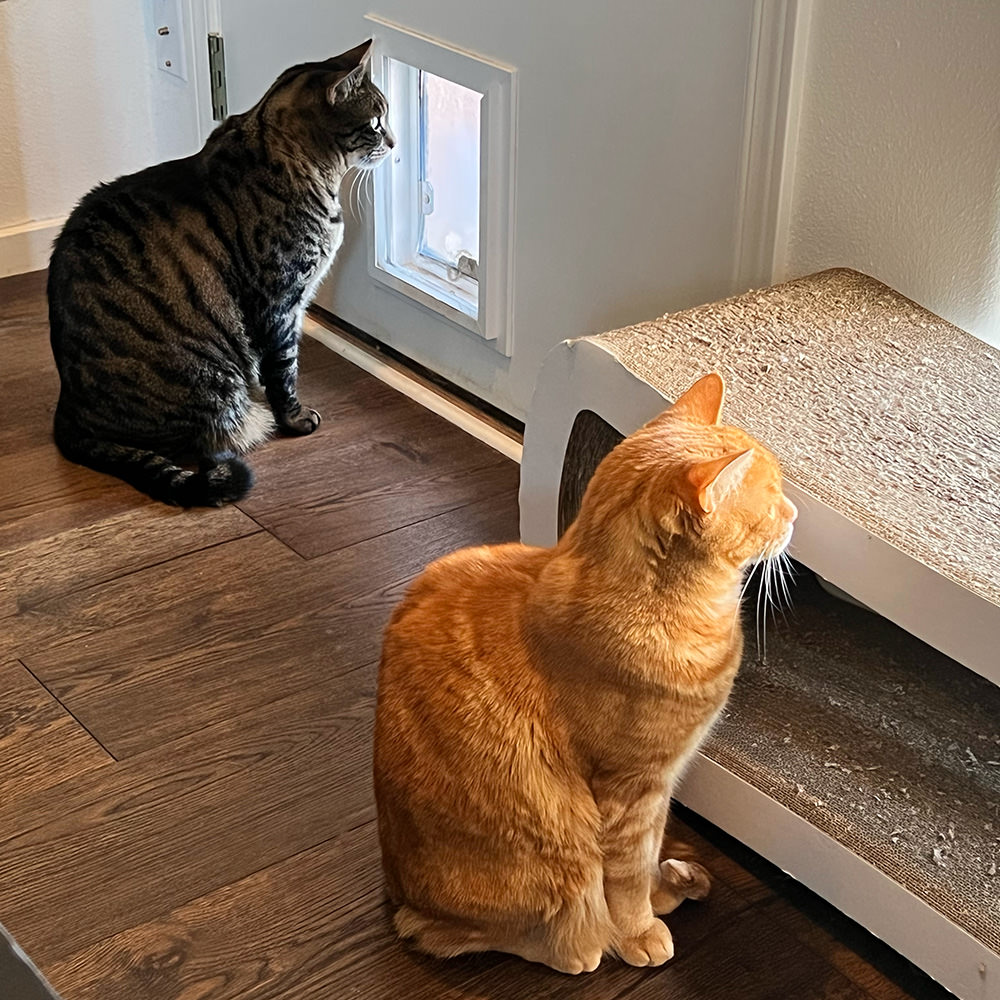 Best of luck to those baby quail. I hope they make it.
Posted on July 16th, 2022

After returning home from my work trip to Seattle, I ended up having to deal with Jake's separation anxiety. I honestly think that it gets worse the shorter my trip is. If I'm gone for a week, he's happy to see me, but not the clingy mess he is when I'm only gone for just a night or two.
Thursday was about as bad as it's ever been, with him waking me up with his howling at both 10:30pm and 3:30am. This wouldn't be bad, except for the fact that I was desperately trying to get caught up on some sleep...
So much for going to bed two hours early.
And Jake doesn't really make much sense. He comes to bed with me, then leaves to get a drink or go to the bathroom or whatever... forgets that I'm upstairs in bed... and starts walking around the house howling at full volume. I holler down at him to come upstairs, he does, he falls asleep, then I fall asleep, then he wakes up and wanders away, only to end up howling again.
Poor guy.
Jenny doesn't keep me up at night after I return from a trip, but she does have a tough time deciding whether or not she wants belly rubs. Which is nothing new. Except now she's much more likely to let me know when she's had enough by using claws...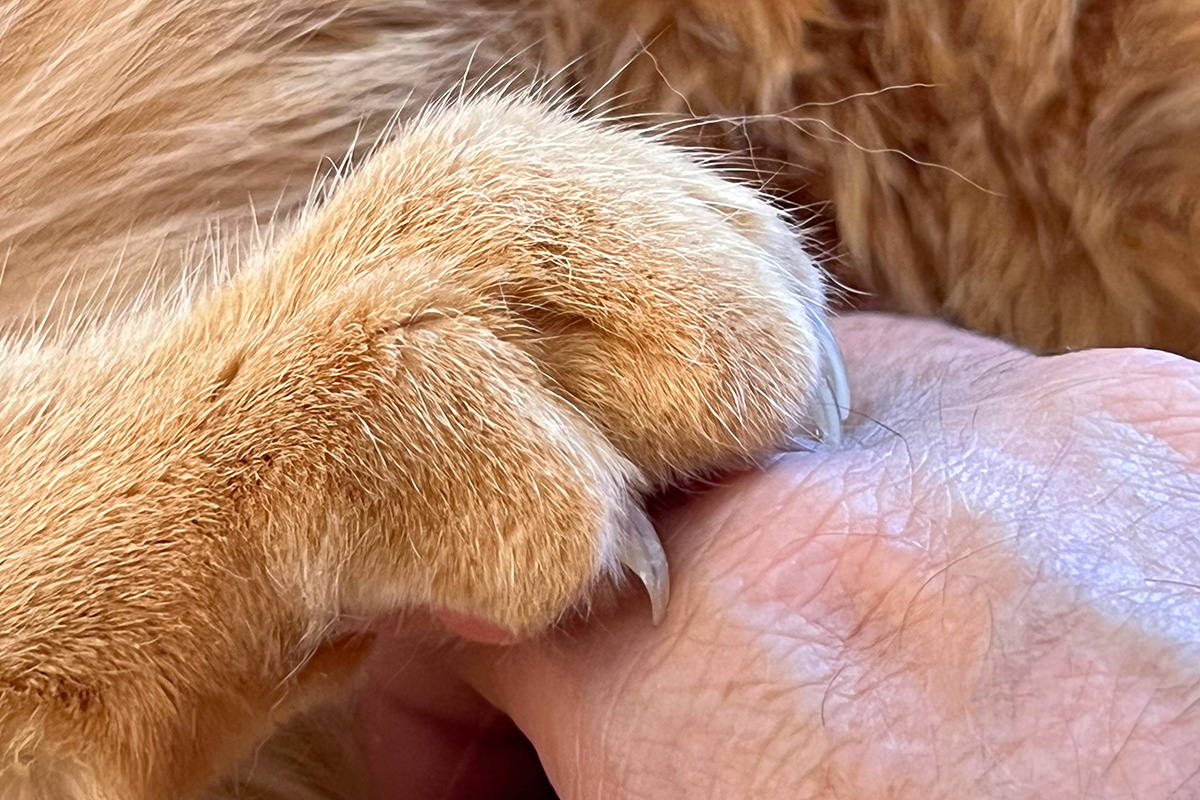 Now, don't think that she's going for blood here... she's not. Neither of my cats have ever really done this. Jenny clawed me once when she was a kitten because I grabbed her to cut her surgery collar off. And Jake clawed me once when I grabbed him after he escaped out of the catio. But in both cases they were terrified. I was forced to grab them... they were forced to try and defend themselves.
Jake is mostly back to normal now. He's still following me around like a lost puppy any time I'm home, but he's not howling any more.
I hope.
Posted on July 9th, 2022

My cats have a great life.
The full run of my home. The best-quality food. Auto-cleaning litter boxes. Plenty of toys, scratching posts, perches, and places to explore. An outdoor catio enclosure. There's really nothing they could want for. And yet... they do get irritated by their situation. Especially Jenny, who will definitely let you know if she's unhappy about something.
The other day I was working in bed when she hopped up after her breakfast. I was typing out an email and couldn't pet her right away. This was UNACCEPTABLE! Meow! Meow! Meeeeeowwww! I finished up as quickly as I could, started petting her back... then head... then she was comfortable enough to want belly rubs...
No matter what I did, she was not happy. Eventually she just started glaring at me as if to say "HOW DARE YOU BE THIS INCOMPETENT!"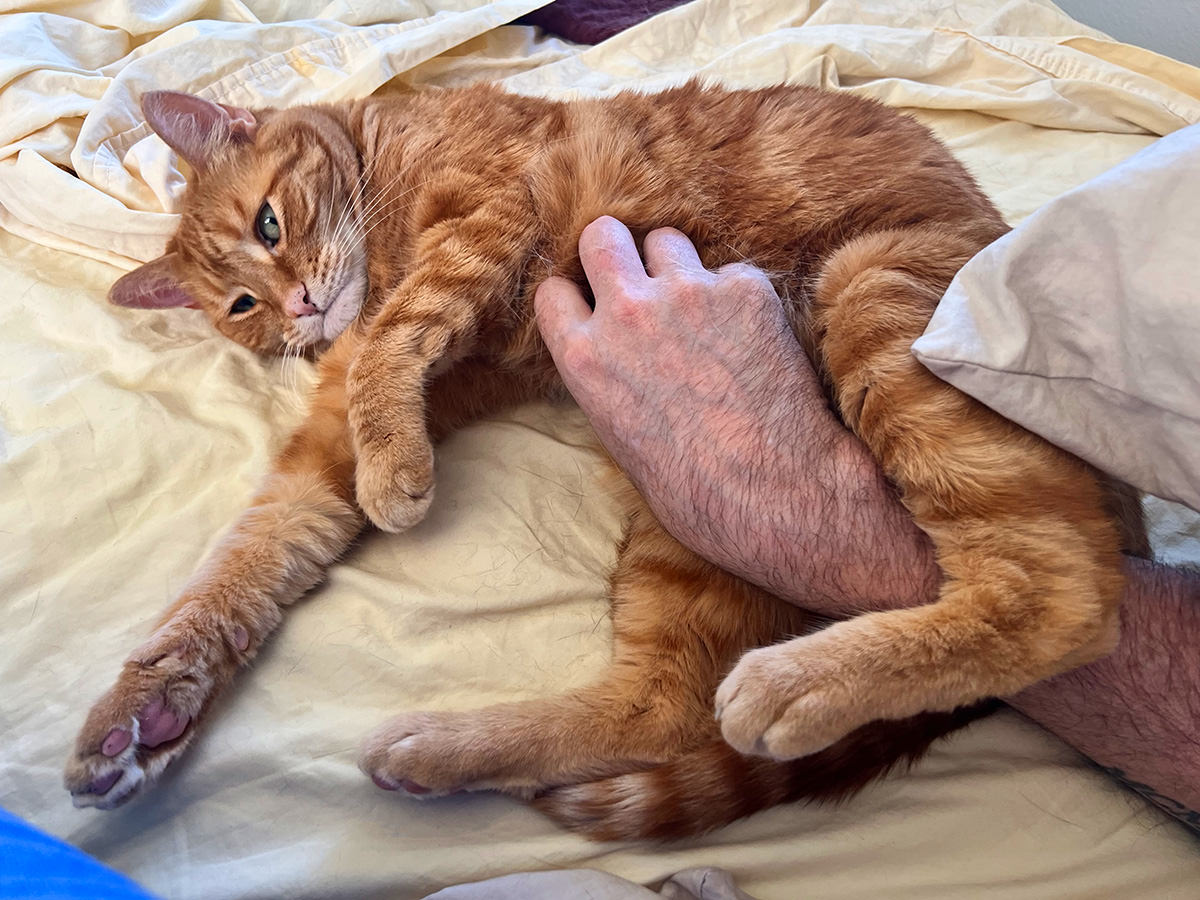 A few minutes later, she left in disgust.
Still, it was better than the time that she hopped up and didn't want to be petted... she just wanted to use me as a support so she could reach her butt...
I've never felt so useful.
Fortunately, I'm not the only one she is unhappy with. Jake is a snuggler. Jenny keeps her distance, even when I am rubbing her belly. Jake? He tries to get as close as possible when I'm petting him. And if I'm already petting Jenny, he will try and get as close as possible to her. This is what happened when Jenny was laying down getting a back massage... and Jake flopped down on her right paw...
Eventually she managed to work her paw free, at which time she started smacking Jake until she got up and left in a huff.
Jake was unbothered. As he so often is.
Posted on July 2nd, 2022

This past week I finally had a day to start putting back together my studio. I kinda had to rebuild it once the shelves I had toppled over in the middle of the night. First I bought a new drafting table... then bought some new IKEA shelves. Since my cats like to watch me when I'm drawing, I decided that I would put a catwalk around the perimeter of the room so my cats could hang our and look down at me. But how to get them up to the catwalk?
I decided to punch out the sides of my shelves in order to create a staircase for my cats.
I still have to trim it out, but I managed to get everything screwed together and bolted to the wall for safety. I also built guardrails so that my cats wouldn't fall out if they tried to pass each other on their way up or down...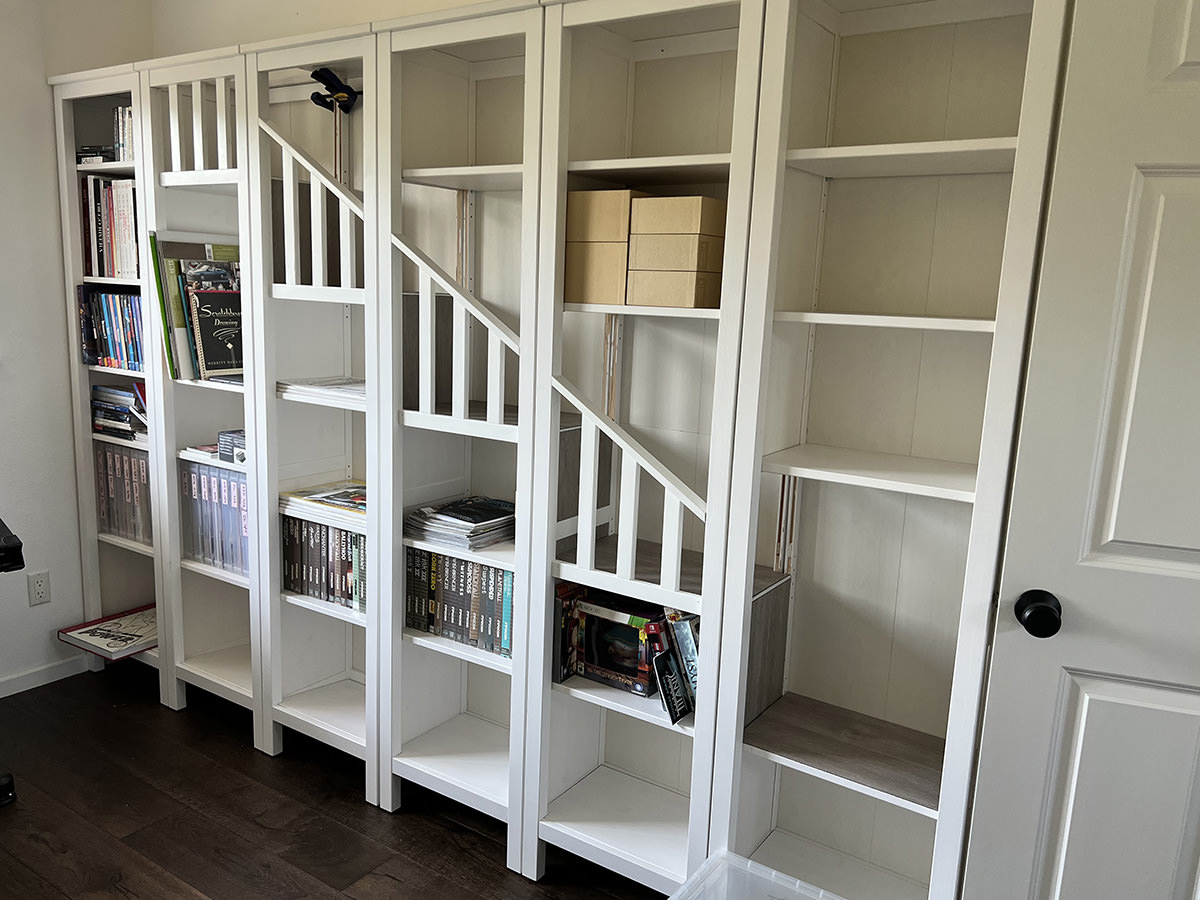 The last one there has a hole in the top so that they can get to the top of the shelves. This is looking down the staircase from the top...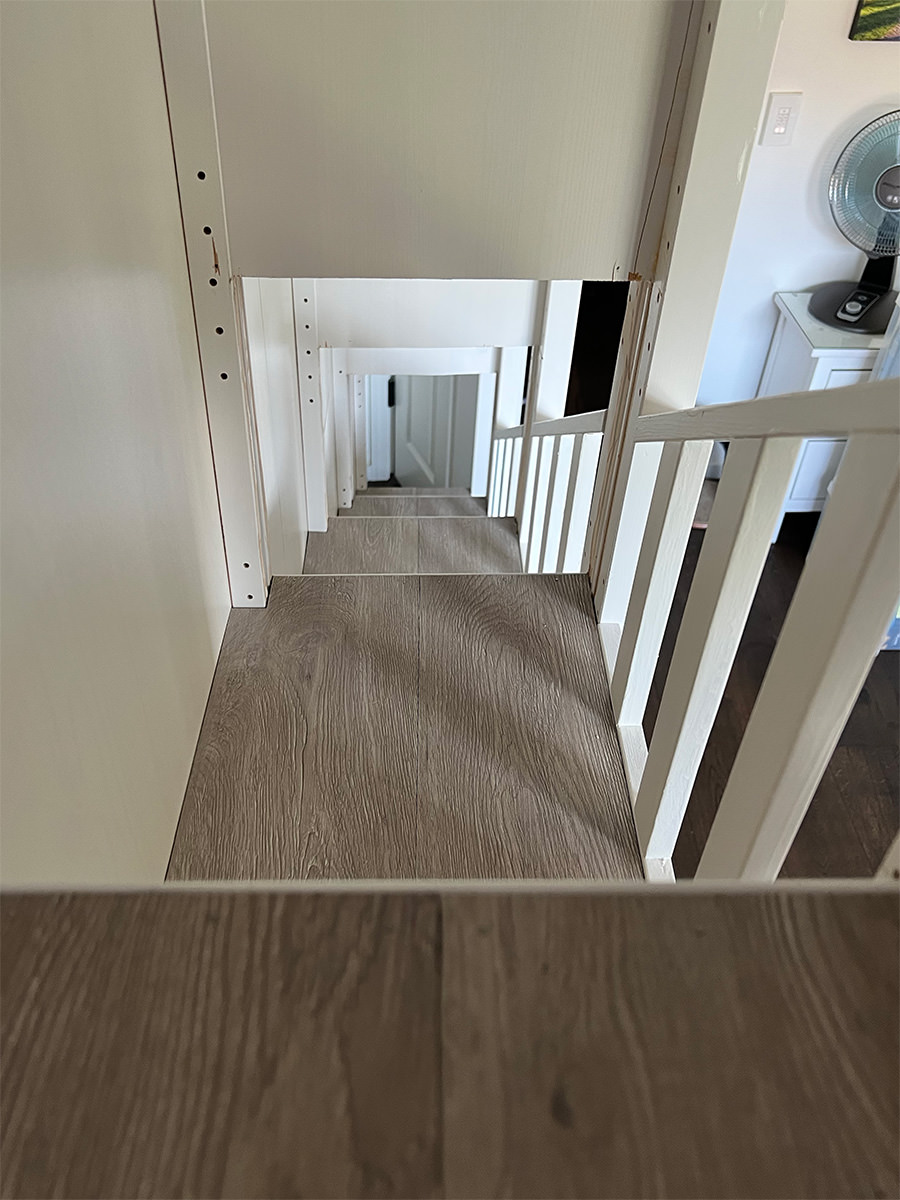 The guardrails are built from scrap wood that I painted to match the shelves...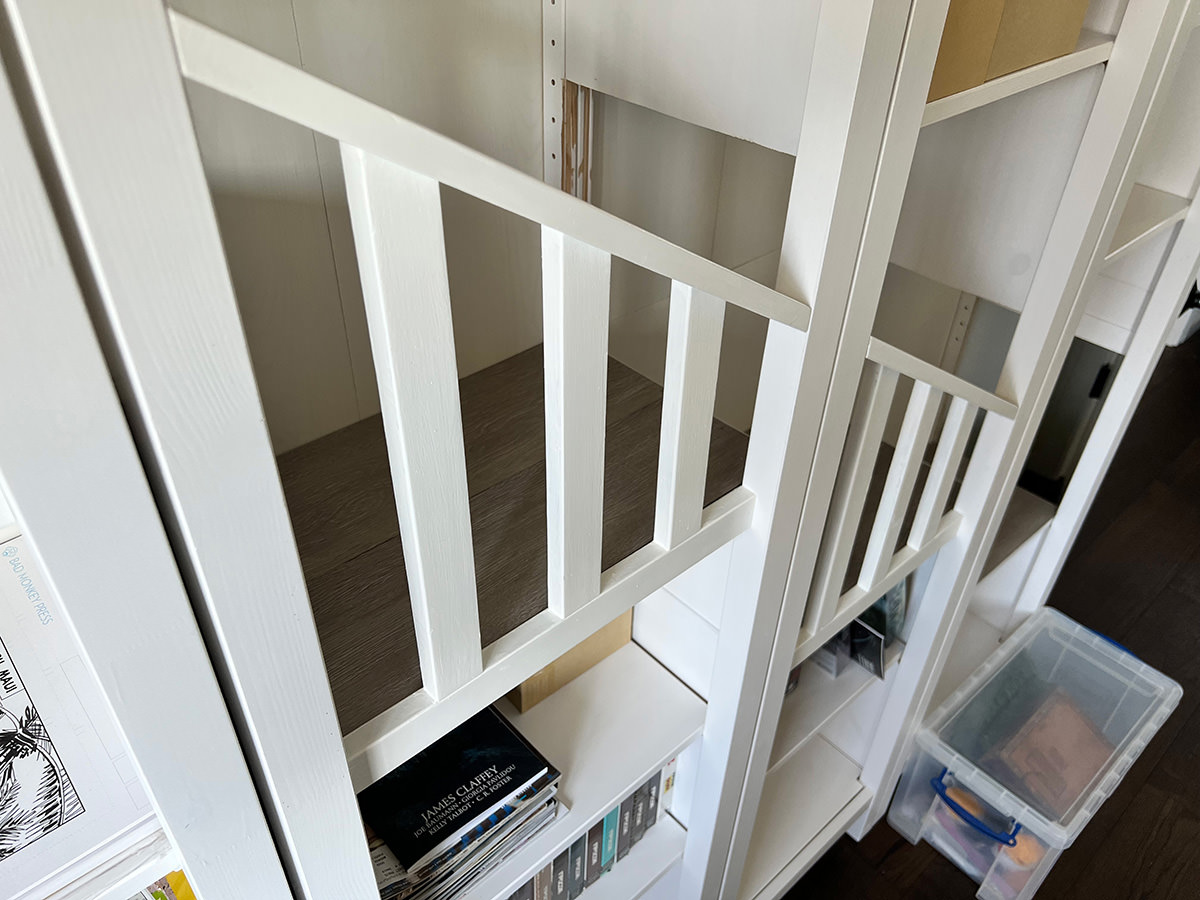 Next up? Guess I need to build that catwalk.
Posted on June 25th, 2022

When Jake wants to be petted, it'd dealer's choice. He flops down next to you and is happy to take whatever he gets. Not so with Jenny.
She is very particular. You can never start anywhere near her head at the beginning. Only her back. She will let you know when you can proceed to the top of her head. Then she will let you know when you can move to the sides of her face. Then under her chin. Then her belly. And the process... which never changes... can take a while. Which is fine when I have time. But not so fine when I don't.
And speaking of Jake flopping down anywhere... he really does. He can sleep anywhere low or high...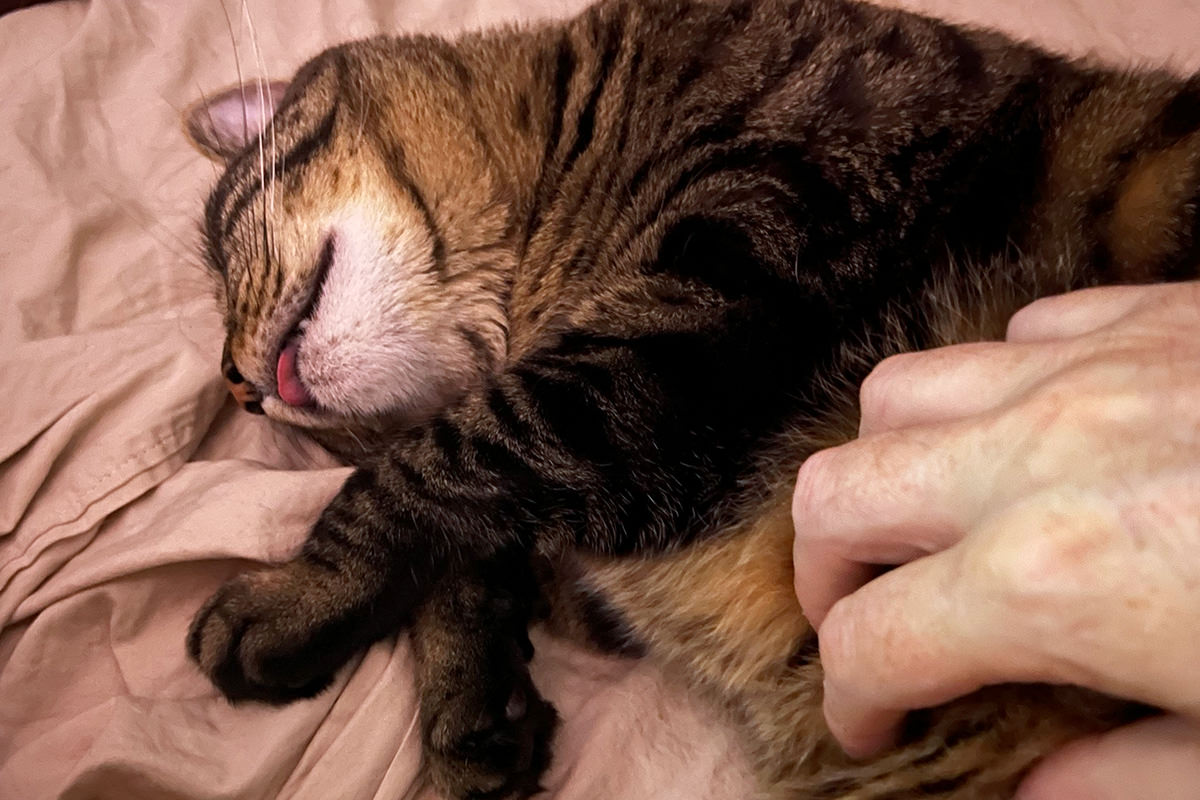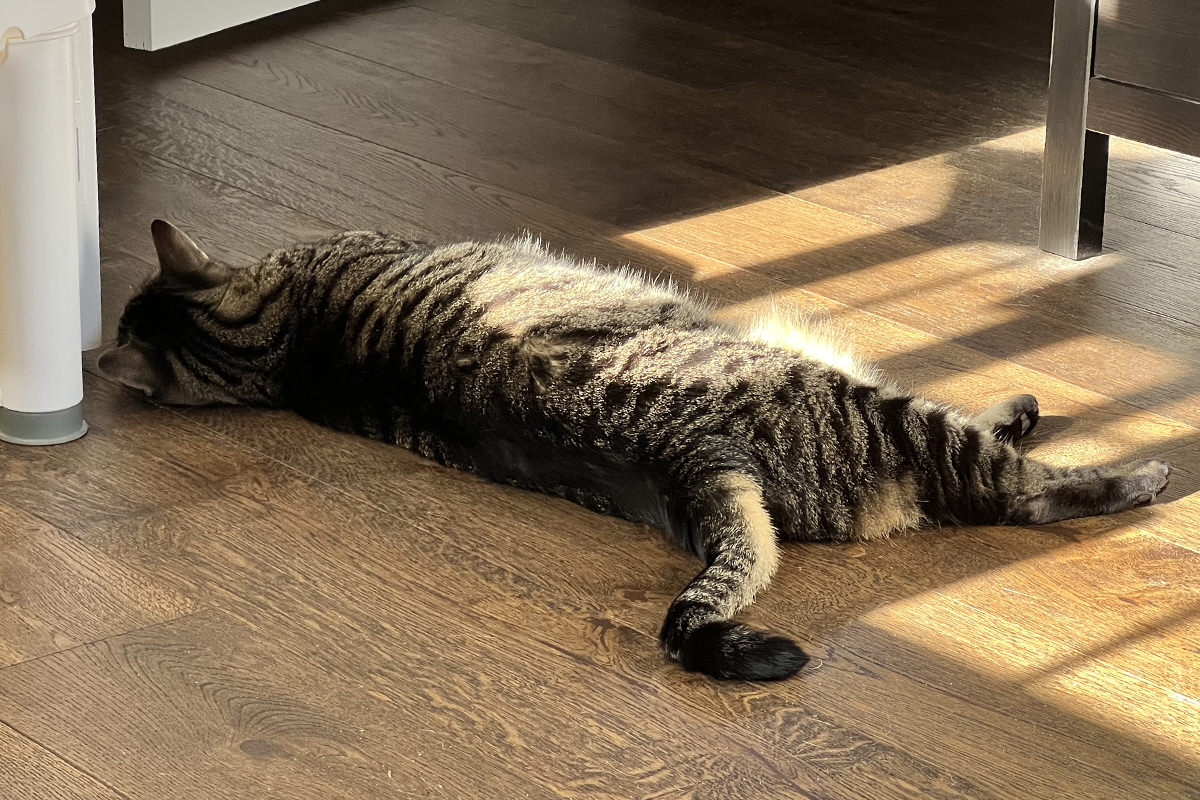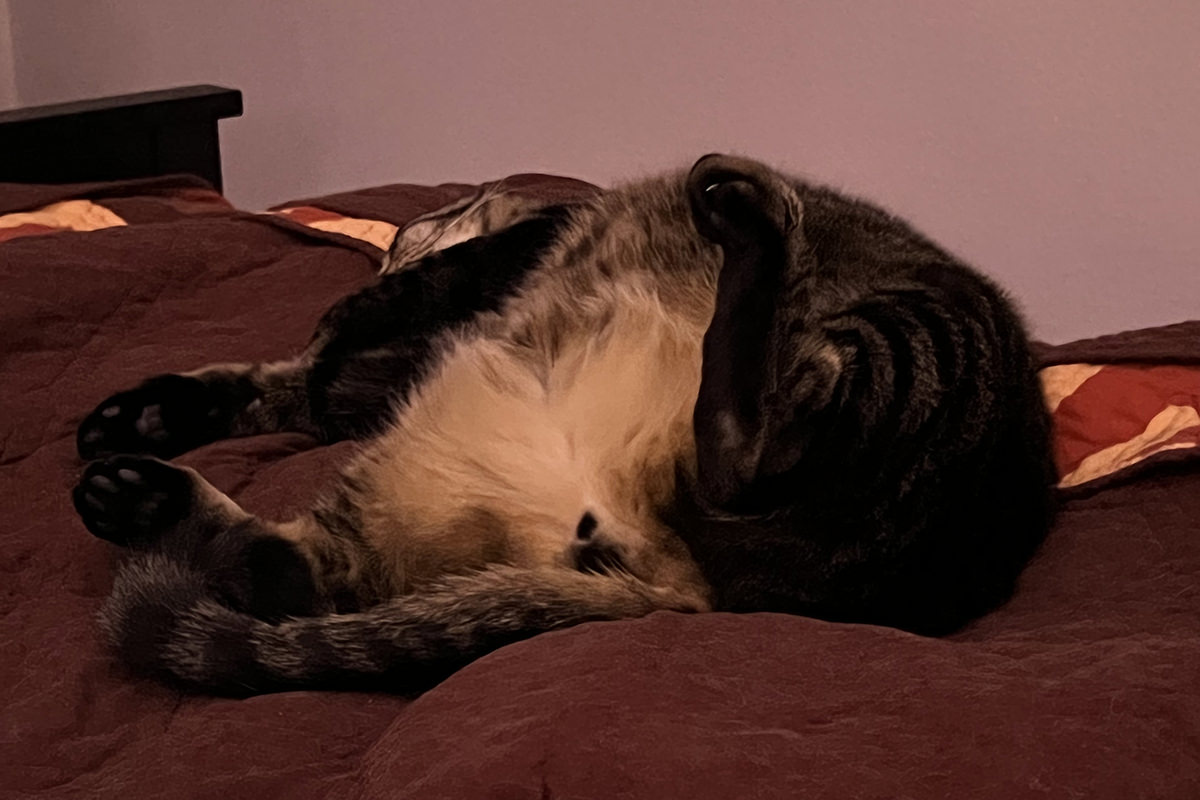 Oh how I envy him. I have a tough time sleeping in a comfy bed.
Posted on June 18th, 2022

From the moment I got home yesterday, Jenny was following me around the house. Up to and including when I went to the bathroom.She is, of course, too much of a little lady to actually follow me inside, but she was not at all above waiting outside for me to leave...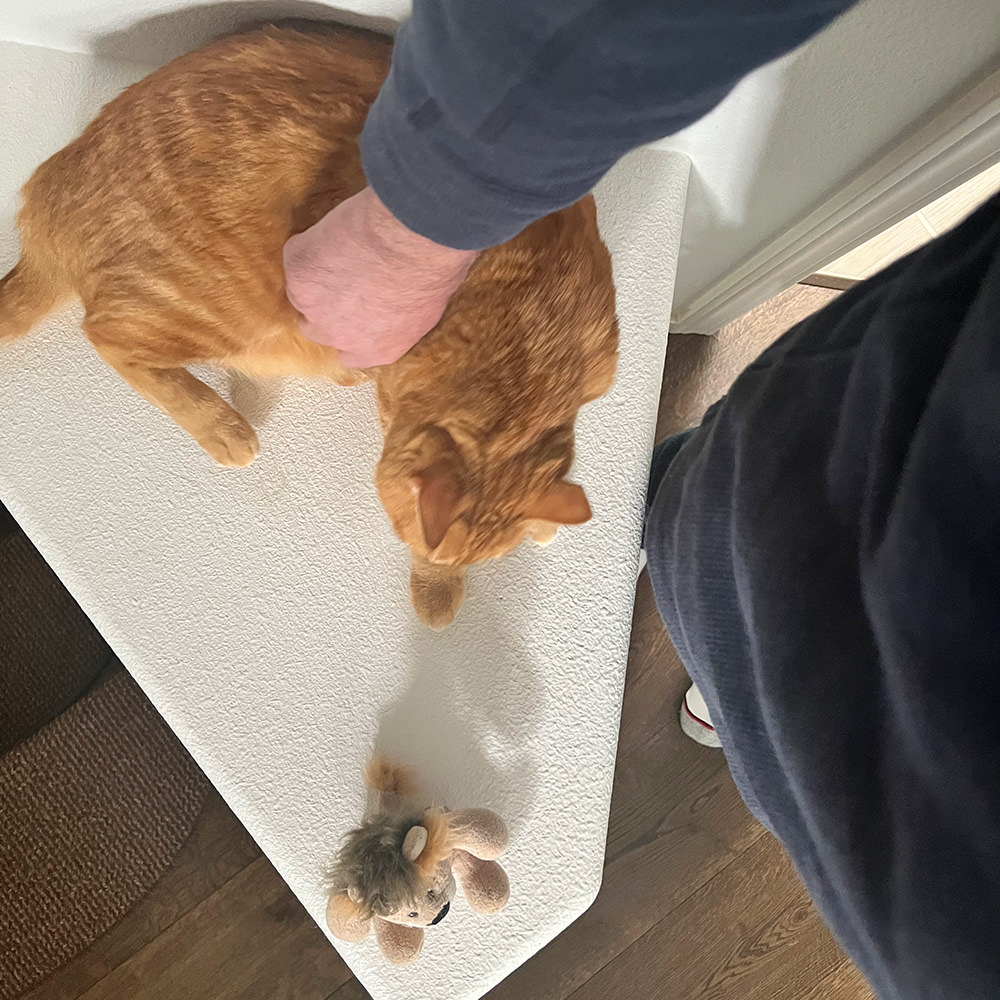 Don't worry... she followed me back downstairs.
Posted on June 11th, 2022

Jenny is quite the little princess, and expects me to wait on her hand and foot. And she's getting more demanding with each passing day.
This past week I had to get out of bed for my early morning Zoom call and she hissed at me because I stopped petting her! I had to push sheets against her and pet her a bit so she would calm down...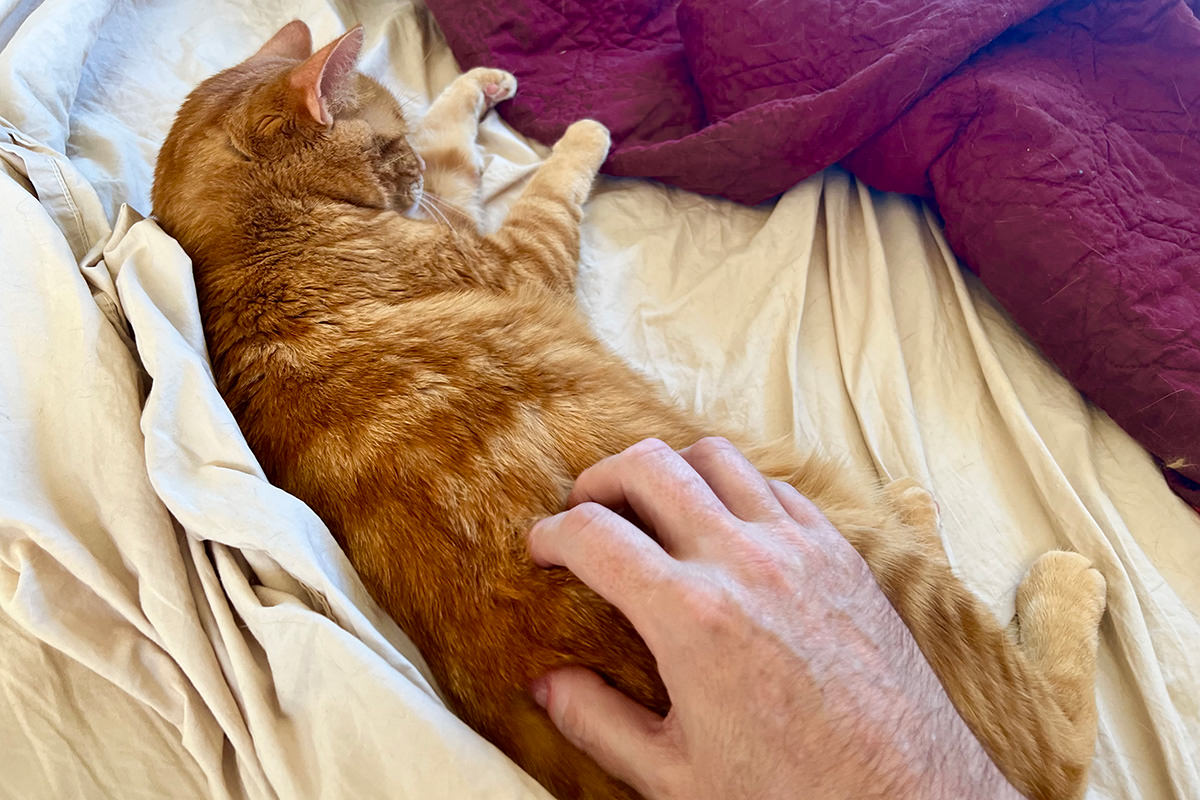 So spicy.
Jake isn't quite so demanding. But, then again, he's been sleeping with his foot in his face lately...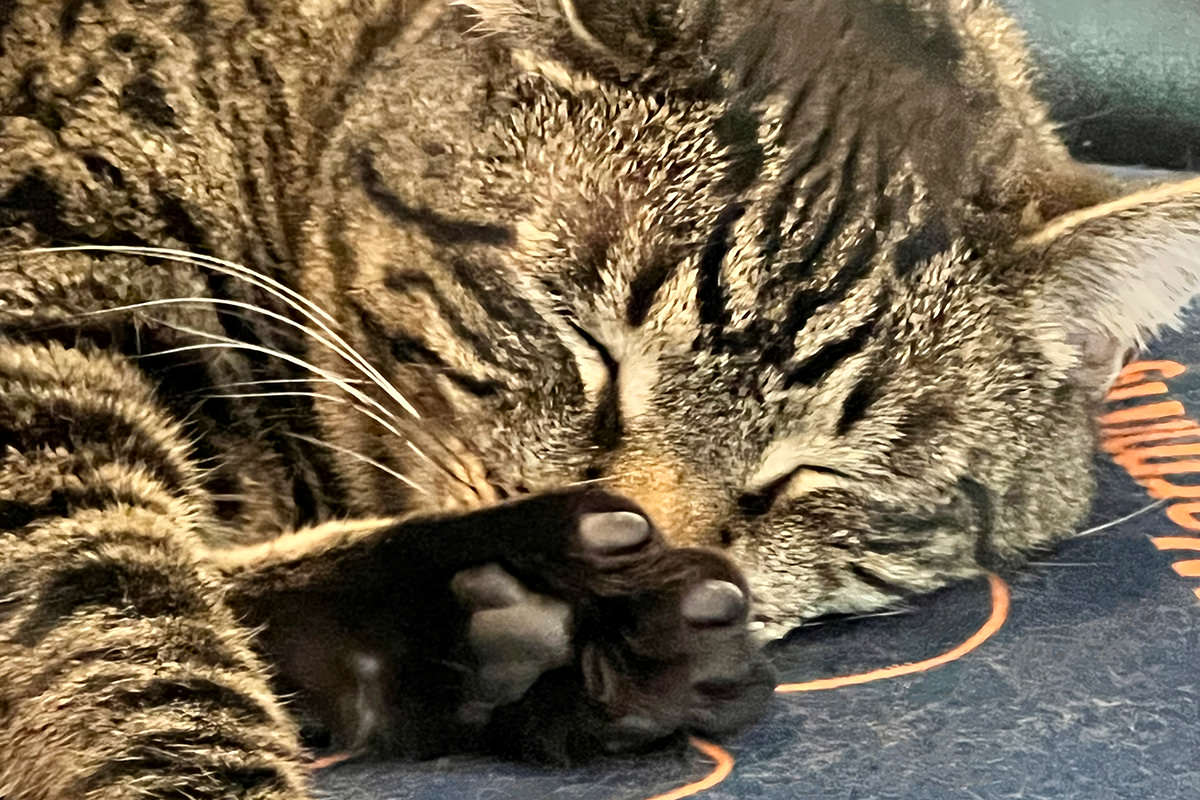 In other Caturday news... my cats are thieves!
This past week I heard shenanigans downstairs after I had already gone to bed. I took a look at the security cameras to see if I needed to intervene and saw that Jake was attempting to steal cat treats up on the counter... WHILE JENNY KEPT WATCH DOWN BELOW! Seriously, she kept looking up the stairs to make sure I wasn't coming!
I didn't bother to go downstairs. I figured that if they managed to get the bag open, they deserved to have the treats...
On Friday night Jake walked up and informed me it's his dinner time. I informed him that it's 15 minutes until dinner time. He did not like this. He proceeded to jump up next to me on the couch and squawk and squawk and squawk. It's times like this I am happy that he can't meow. Usually I feel sorry for him, but I would go bonkers if he was able to meow at me every time he was upset about something.
Eventually Jake's shenanigans caused Jenny to think that it's dinner time so she woke up and came down. When she found out that it wasn't, she sat and stared at me like it's my fault that Jake can't tell time!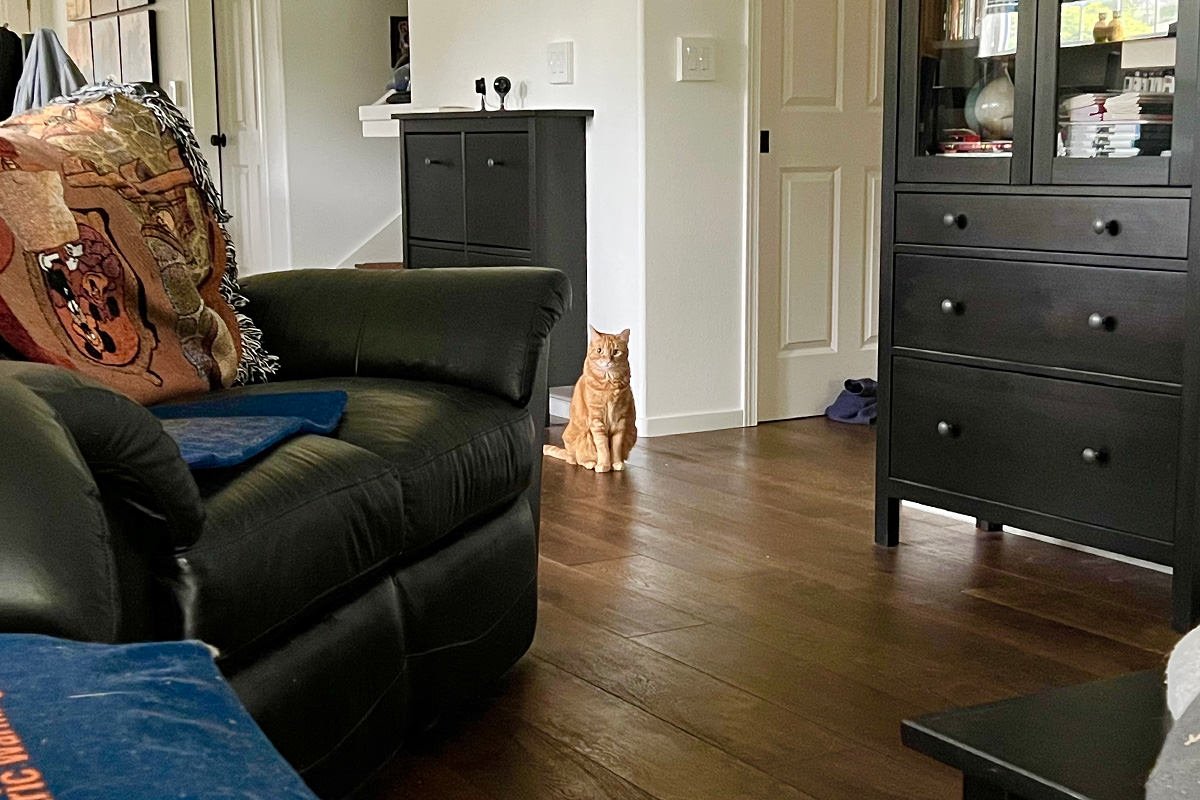 And maybe it is. But, in my defense, Jake doesn't really listen when I try to teach him stuff.