Posted on February 17th, 2018

When I bought a house, I truly was not prepared for how much work it would be. My HOA fees cover the yard care and the snow removal... what else is there?
Turns out there's a lot.
Tons of little tasks that add up and overwhelm you day after day. For the longest time I just ignored them until forced to deal with them, but then I started writing all the little things down on a "Daily Chores List" and tackle a new task every day. Sometimes it's something quick and easy... like washing the bathroom mirrors. Other times it's something more involved like fixing the toilet handle or replacing the washers in my kitchen faucet.
Today's chore was three-and-a-half hours of cleaning out my toolbox and organizing my screws/nails/fasteners/etc. storage chests.
It would have probably gone faster, except I had "help" from my cats...
They simply would not stop "helping." They'd climb in any open box or bag. They'd root through every container and bag of garbage. Half my time was spent wrangling cats.
Jake and Jenny just loooooove to "help." Like when they "helped" with my taxes...
And, of course, they were right there to "help" when I was cleaning out my dresser and end-table...
When a new order of food and toys arrives from Chewy, the only "help" they're interested in is composting the packing paper...

I suppose I should be grateful that I have such kind-hearted and helpful cats?
Probably.
Posted on February 10th, 2018

Jenny's brain works differently from most cats.
Given how smart she is, just figuring out how to get a toy out of the puzzle box is too boring for her. I found this out as I saw her goofing around with it tonight.

At first I couldn't figure out what she was doing...

Then I saw she had found a toy mouse and was apparently trying to put it into the cat puzzle box...

When she couldn't get it into one hole, she walked around the box and dragged the mouse to a different hole...

She managed to poke it through the hole into the box, but then decided she wanted it back. She couldn't reach where it landed, so she had to circle around to snatch it...

And... success...

I've never seen a cat who plays with toys the way that Jenny does. It's as if just batting them around is beneath her somehow, and she has to find other ways to amuse herself with them.
I amuse myself by watching her try.
Posted on February 3rd, 2018

Seventeen days and counting.
Seventeen days and counting until Jake and Jenny have their annual vet appointment. Something that has been stressing me most every day since their last vet appointment. Now that they're two years old (25 in human years), it would be nice to think that they've matured enough that we won't be having a repeat of that insanity that permeated their first trip... but I know better. They are still very much feral cats at heart and not at all accustomed to adventures outside the house or seeing other people.
In order to help ease them into their appointment, I bought Feliway diffusers last month to get them in a more calmed state of mind. I've purchased calming treats for the week before and pulled some of their favorite toys.
And then today I pulled out the kitty carriers for them to get used to. My hope is that, being cats with tiny brains, they've forgotten about anything negative to do with them so I'll manage to lure them in when the time comes...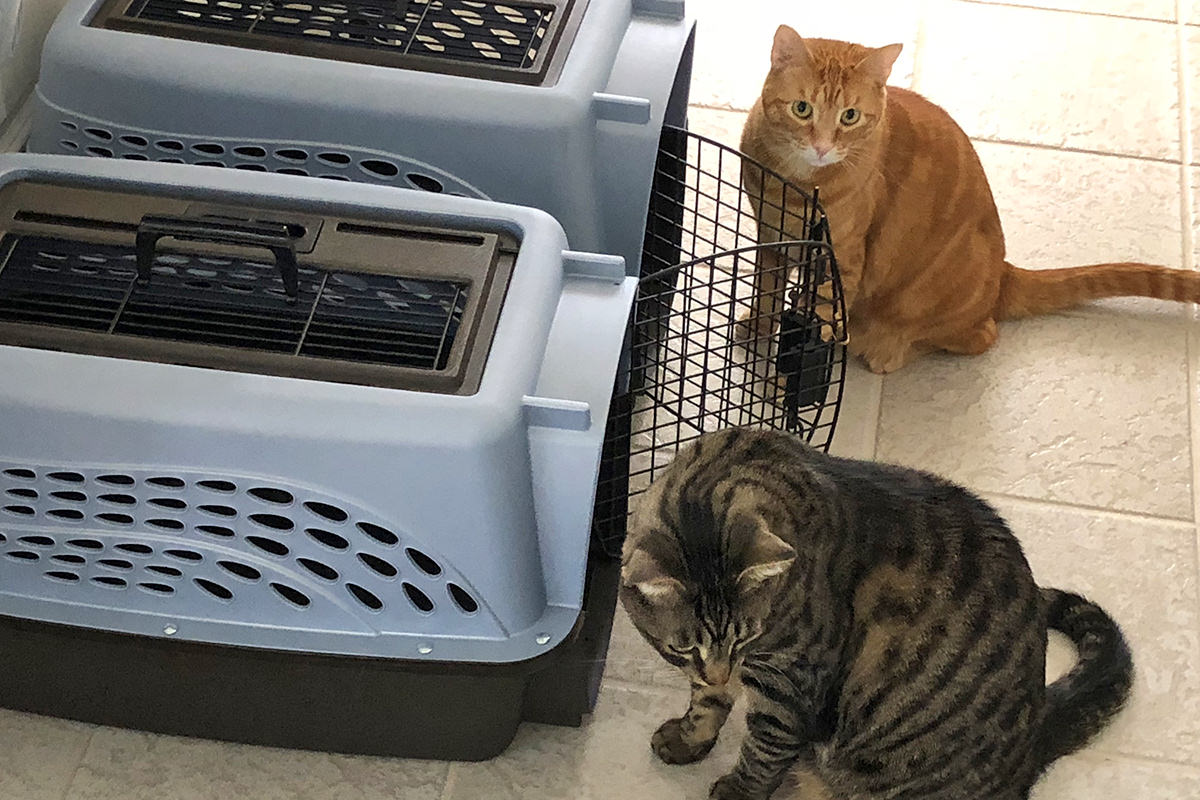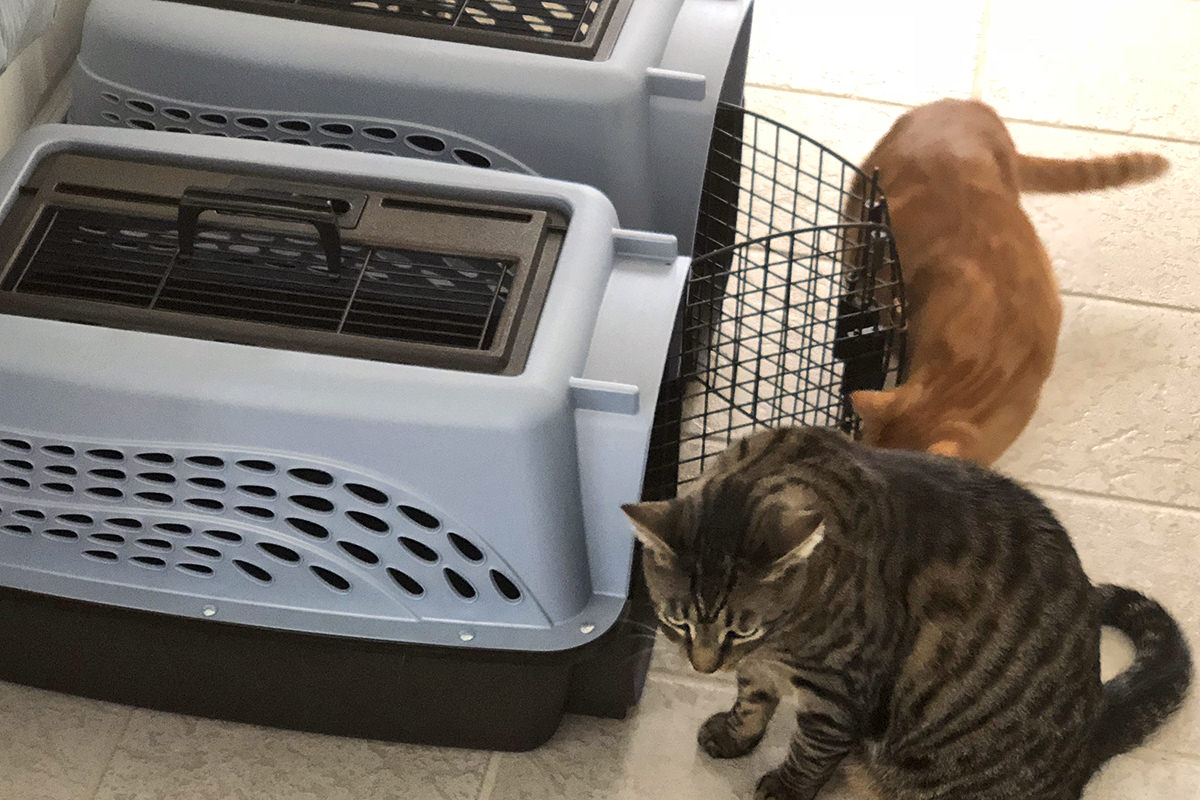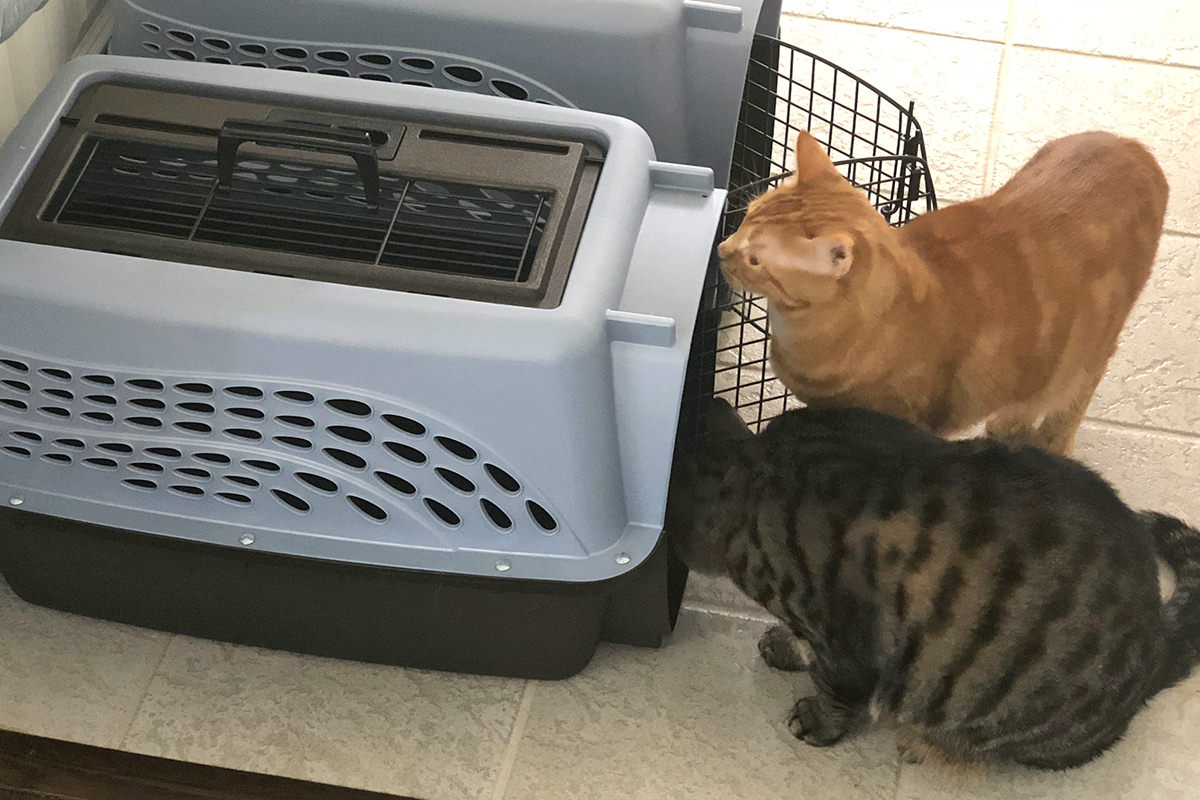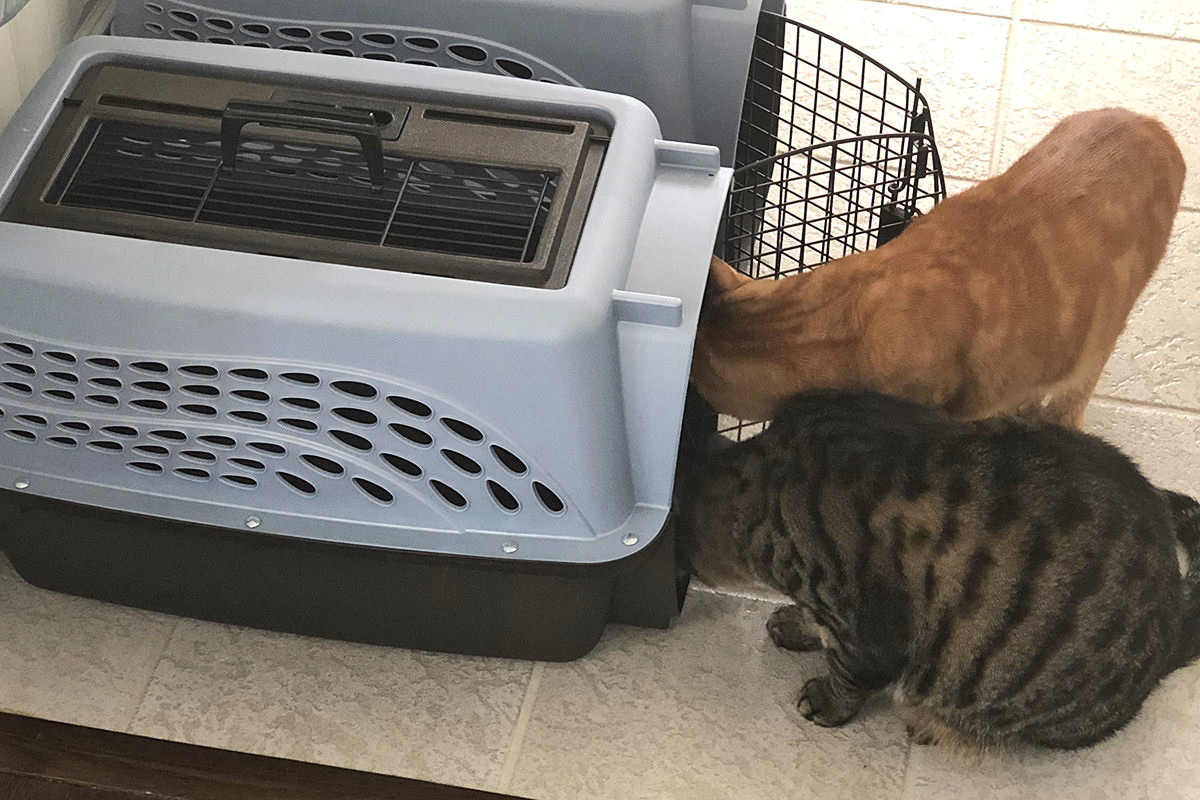 Just the thought of having to drag them to the vet again...
=shudder=
But, for now... it's business as usual. Sleeping, pooping, and trying to stare me into feeding them early...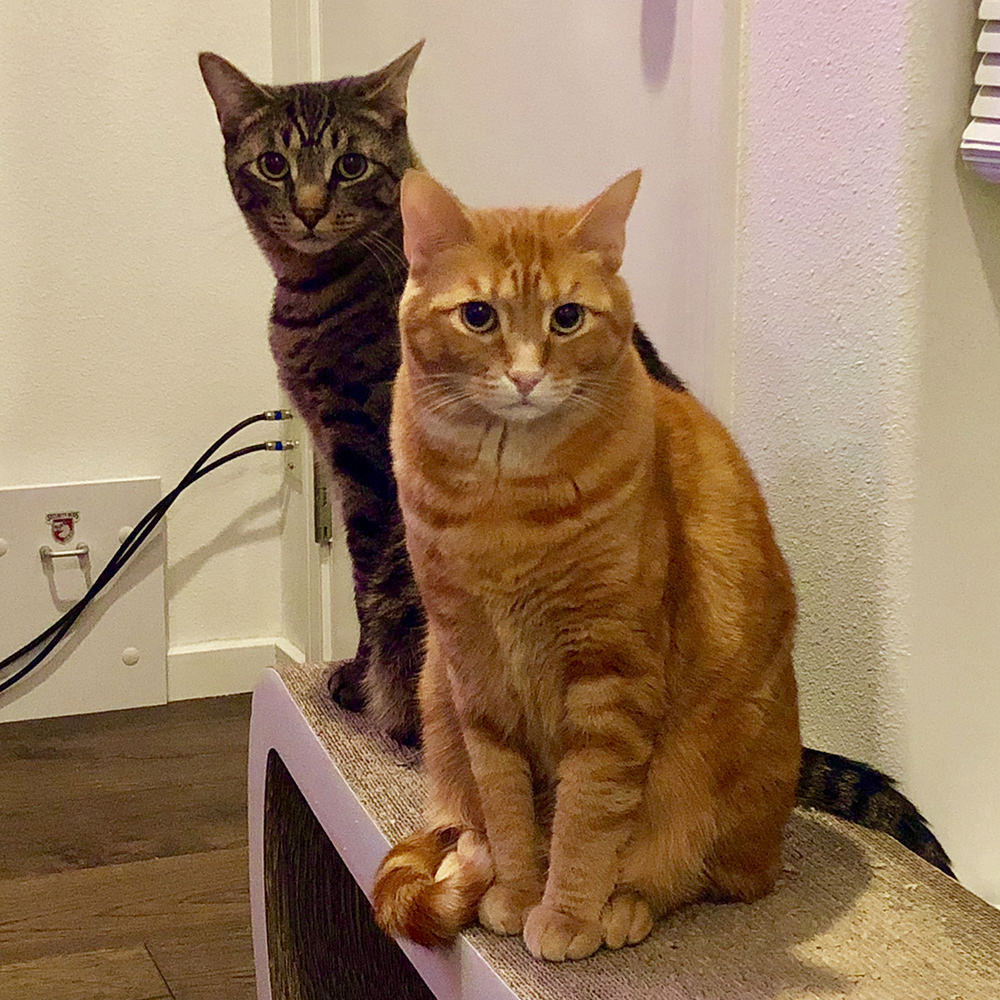 Seventeen days and counting.
Posted on January 27th, 2018

I cannot get over how smart Jenny is.
She's just bizarrely intelligent, and every day she does something to remind me of it. At first she didn't like the anti-itch liquid on her neck because it made her wet. But now that she understands what it does? She knows to frickin' ask me for it. Then, when I spray it on my hand to rub it into her skin, she turns around so I'm not reaching across her face. It's like she comprehends how things work.
Including me.
She tries different kinds of "meows" until she finds one I respond to (the most pathetic sounding meow, of course)... and then she uses that particular meow until I stop responding to it... then she tries different meows again so she can get her way. She acts all submissive towards her brother, but she also totally manipulates him. It's just gets more and more weird and wacky the more I see what's going on in that little fuzzy head of hers.
As for Jake? Bless his heart.
When it comes to scratching stuff, both my cats are pretty smart though. When they were kittens they would scratch anything, anywhere (my furniture has the marks to prove it) and I was happy to just let it go. As they got older, they learned where they should scratch and where they shouldn't. A part of this had to do with me providing plenty of things that were desirable scratching places. Scratching posts, scratching loungers, scratching cat trees, scratching pads... they've got it all.
And to make sure they don't get bored, I'm always swapping out old, worn scratchers for new ones. The first scratching post they ever had actually wasn't their's... I bought it for Spanky. Needless to say, it's a mess, which is why I've got it out in the catio. The other day I was watching them scratch on it and realized that they like to stretch out vertically on it. Indoors, they don't have anywhere to do vertical stretches, so I decided to buy a new post that was nice and tall.
The cats were scared shitless of the big pole when I brought it in... but the minute I set a toy mouse on top, they were all over it. They love the height, and it's tall enough to even do some climbing...
It's a great scratching post... especially at only $38. Nice and sturdy. Both of them can be climbing all over it at once and it won't tip over.
They love it so much that I'm thinking of buying a couple more. It would be nice to have one in their bedroom. Though I'm still a bit upset that I spent an hour cleaning it and they had it trashed the next day...
The messy little monsters.
Posted on January 20th, 2018

And so... Jenny comes running in from the guest room meowing for attention.
Turns out she's tattling on her brother. I go in to see what he's up to... and he's up on the wall shelves where he knows he's not supposed to be. I go to scold him and then... HE SITS NEXT TO THE RABBIT STATUES AND STAYS PERFECTLY STILL. HE IS CAMOUFLAGING HIMSELF AS A STATUE SO I WON'T SEE HIM!!!
Not the most convincing wabbit I've ever seen, and yet... not the worst either. But don't tell that to him. He sat there being a statue long enough that I had time to run and get my phone so I could take a photo.
Eventually he realized the gig was ip...
No idea how he gets up there. But at least I know who is responsible for knocking my rabbits off the shelf and busting them...
Eventually he pretended to be sorry and dropped by to watch television with me...
Just look how sorry he is!
As for Jenny?
Still letting her smarts lead her into trouble. She watches everything I do, and now I'm thinking that she is trying to figure out light switches...
I think she's also taken up Taekwondo. The other night I was rubbing her butt to distract her from the rain falling on the roof (something she really hates for some reason)...
But apparently she didn't want to be distracted, and...
She decided to distract herself by hunting mice...
Nom! Nom! Nom!
I went to bed at 11:00 last night but couldn't get to sleep. Fortunately(?) my cats saved me from a boring night of staring at the ceiling. Since they new I was awake, they took that as an excuse to go nuts. Shortly after midnight I heard them sliding things along the floor. When I looked at the security cameras, it seemed to be wet food packets. They dragged them out of the cupboard before, but the worst they've ever been able to do is bite a few holes in the bags...
Every time they would fail to get a packet open, they would run and get a different one...
After a few packets had been dragged out, I saw that Jenny had managed to get one open. She was chowing down...
As I lay in bed being horrified at the idea of wet food being scattered all over my house, I decided to run down and clean it up before it dried. Sure enough, they broke the bank...
Much to my relief, the packet that Jenny got open was
not
wet food, but a bag of treats...
Ironically, it was CALMING TREATS I bought for when I take Jake and Jenny to the vet next month...
I'd like to tell you that they calmed right down after eating all those "calming treat," but... not so much. Oh well. At least they didn't look pissed off, like the cat on the front of the package after I put all their food away.
And... what cat antics will tomorrow bring?
Posted on January 13th, 2018

When it comes to cats, I really did luck out. Jake and Jenny are healthy, well-behaved, loving, all-around wonderful pets and I honestly have no complaints. Yes, I wish they would let me pick them up... neither of them (especially Jenny) likes that at all... but it's such a small thing in the grand scheme of things that I don't dwell on it.
When it comes to smarts, they both seem like intelligent cats. Jake has pretty good puzzle-solving abilities and can use process of elimination to find stuff. I was afraid that Carl the RoboVac would choke on Mufasa, a toy lion I brought back from Africa for Spanky which Jake inherited, so I picked it up off the floor and tossed it on the couch. Later that day I checked in on the cats with the security cameras and saw him hunting around the house looking for something. Eventually he found what he was looking for... which was Mufasa...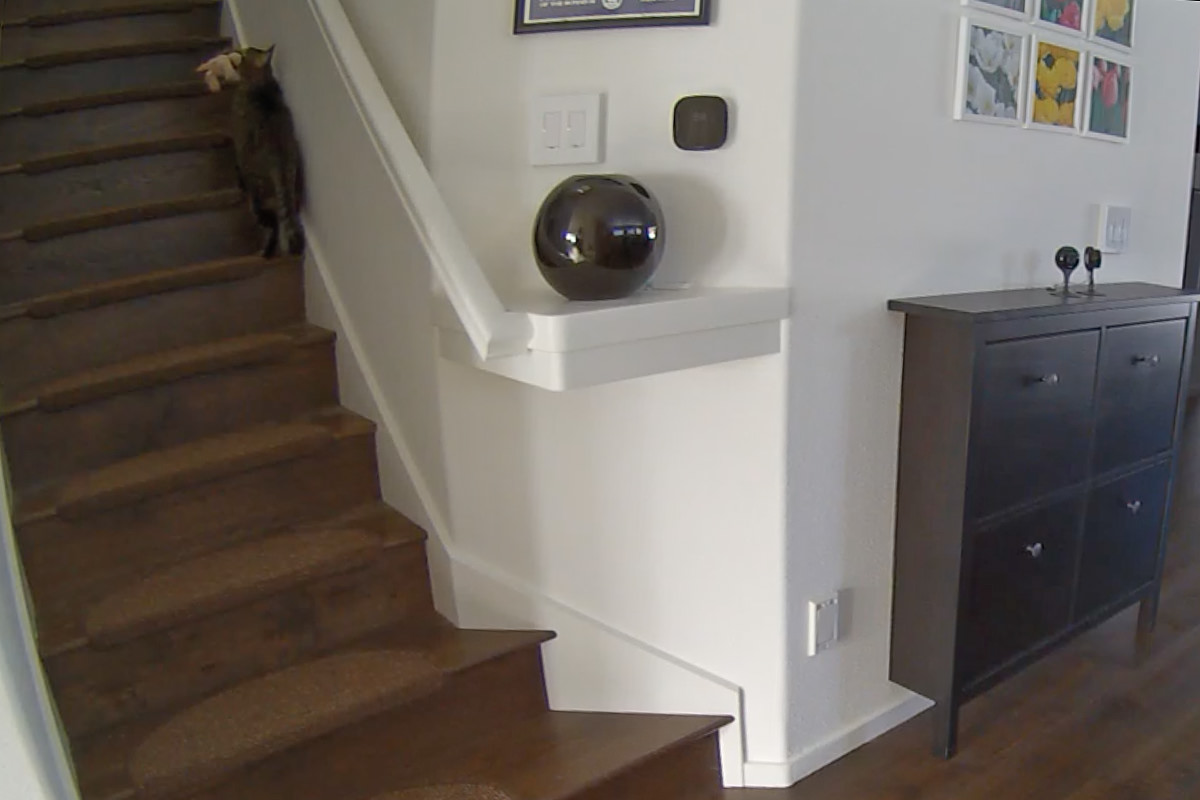 Once he found it, Jake took Mufasa upstairs, assumably to hide it from me so I wouldn't hide it from him. Pretty smart.
And then there's Jenny.
As far as intelligence goes, Jenny operates on an entirely different level. Not just from Jake, but from most cats I've ever seen. She's super smart. When her brother found her secret sleeping spot in the room I use for comic book storage, she went and found another spot to get away from him. Now she sleeps in the guest room closet. To get in, she has to separate the doors by pulling the door out. Something Jake hasn't figured out how to do, and it drives him absolutely nuts.
She's also incredibly devious and crafty.
One morning as I was working in bed, I realized I hadn't seen my cats in a while. Using the security cameras, I found Jake out in the catio pawing at the door trying to get back inside. I couldn't figure out what his problem was, so I went downstairs to see if the door was broke. It wasn't. Jenny had pushed the scratcher lounge in front of the door, then sat on it so he couldn't push through...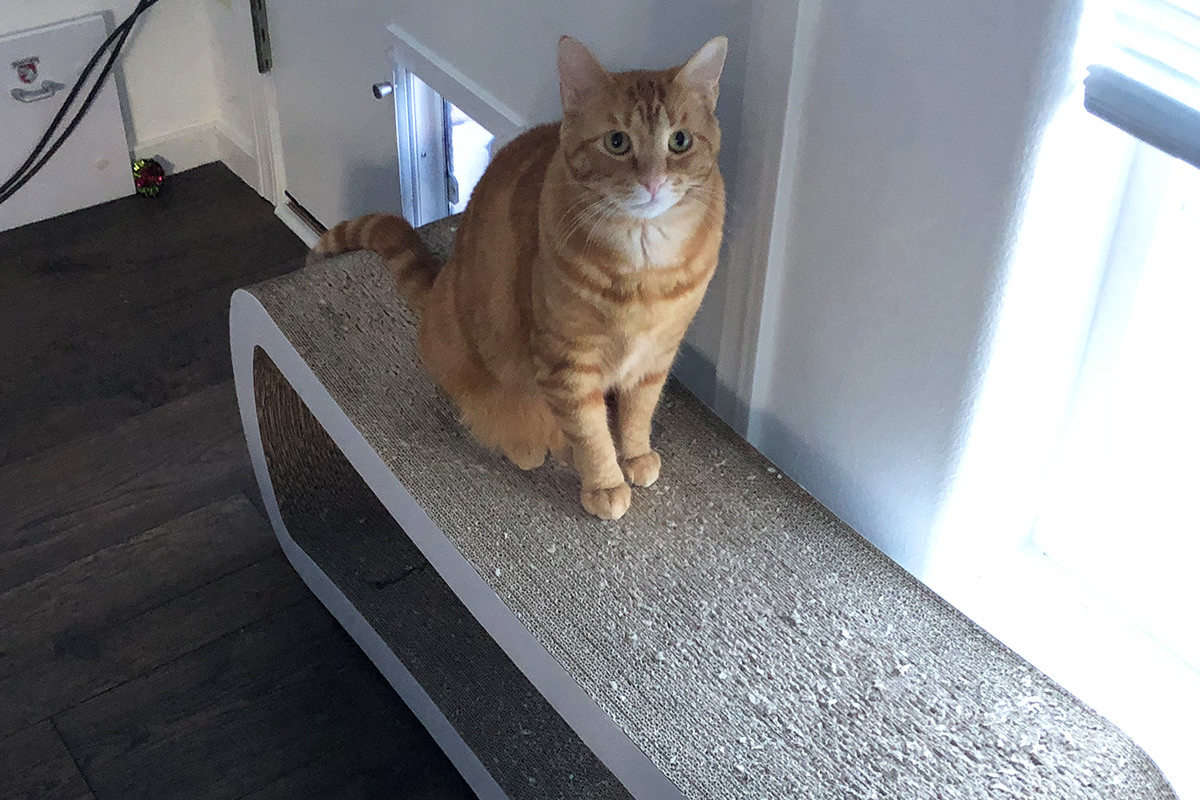 I can only guess this was revenge from when she was asleep on the scratcher lounge and Jake kicked her off of it...

She was not happy about it, and was staring daggers at her brother...

Jake is a bigger cat that Jenny and uses his size to get what he wants. Whether it's the scratcher lounge, the top spot of the cat tree, or whatever. There's times that Jenny is having none of it though. Like the other night when she was chewing on her catnip-infused paper bag and Jake decided he wanted it. She plopped down on it and refused to let him near...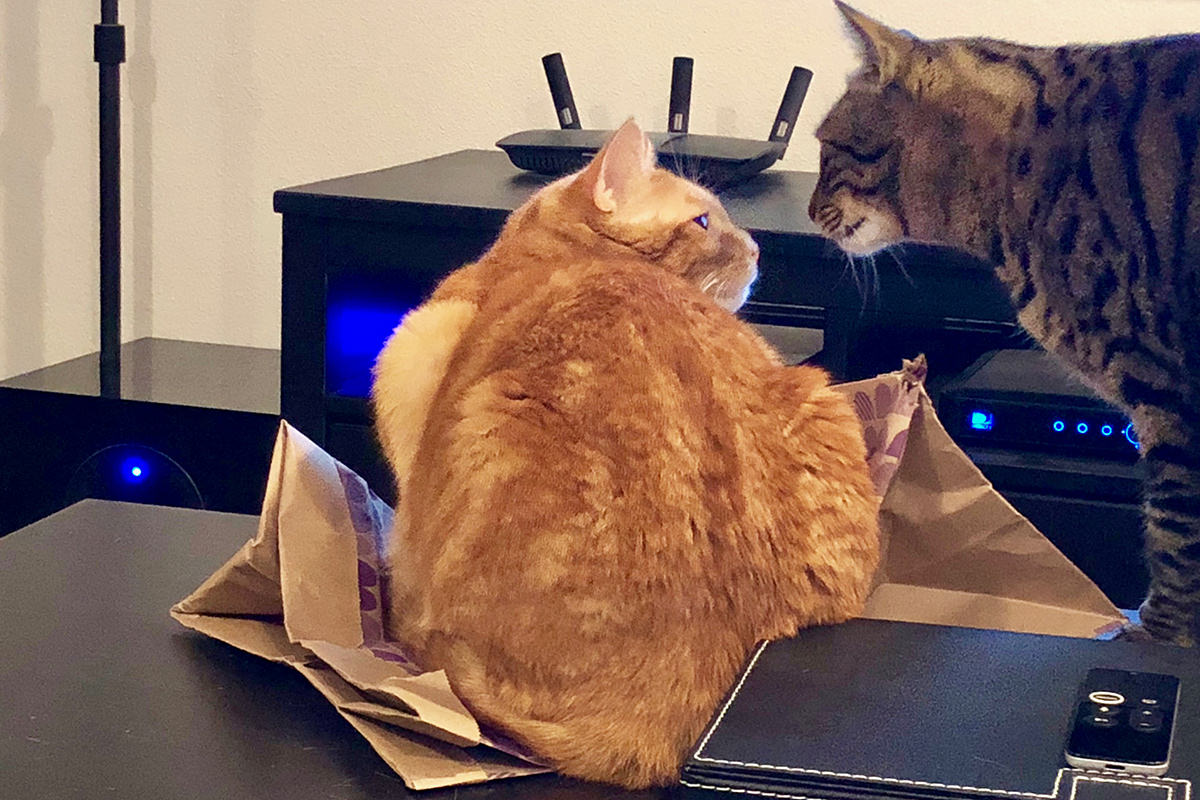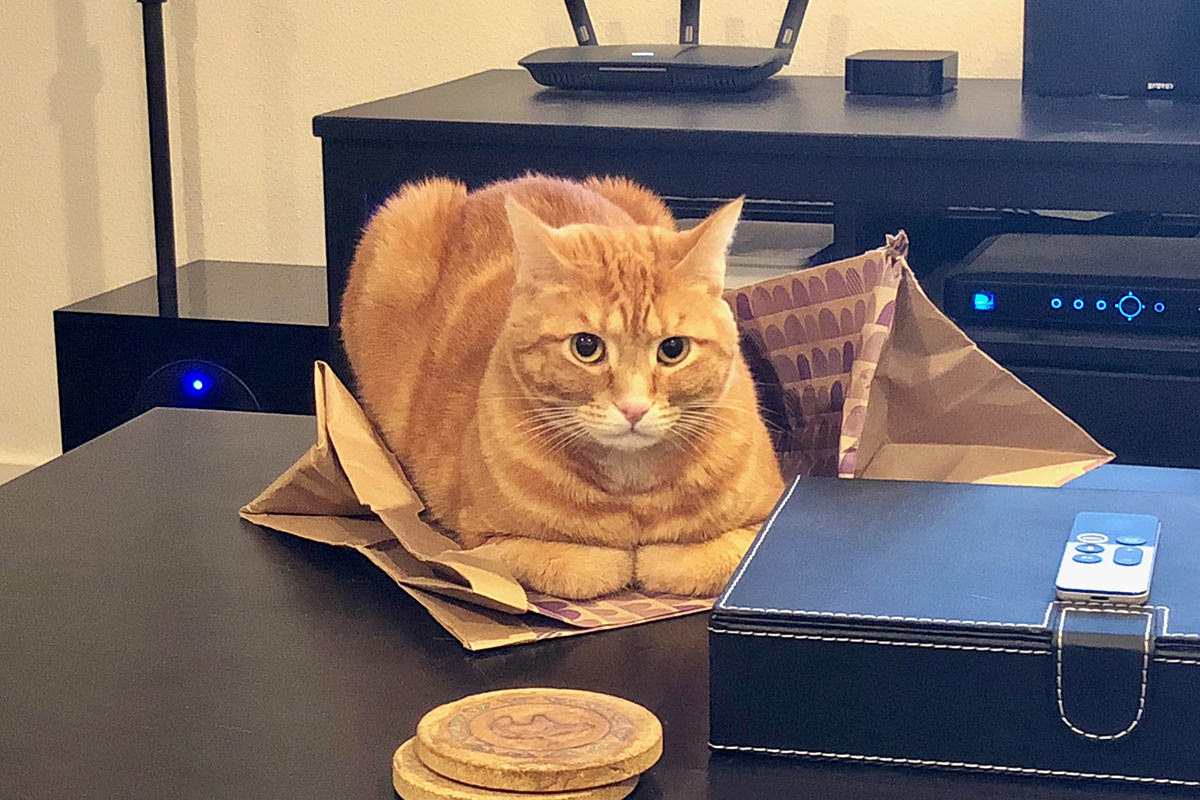 Once he left, she went back to chewing on the thing. Though I have no idea why. Apparently it doesn't taste very good...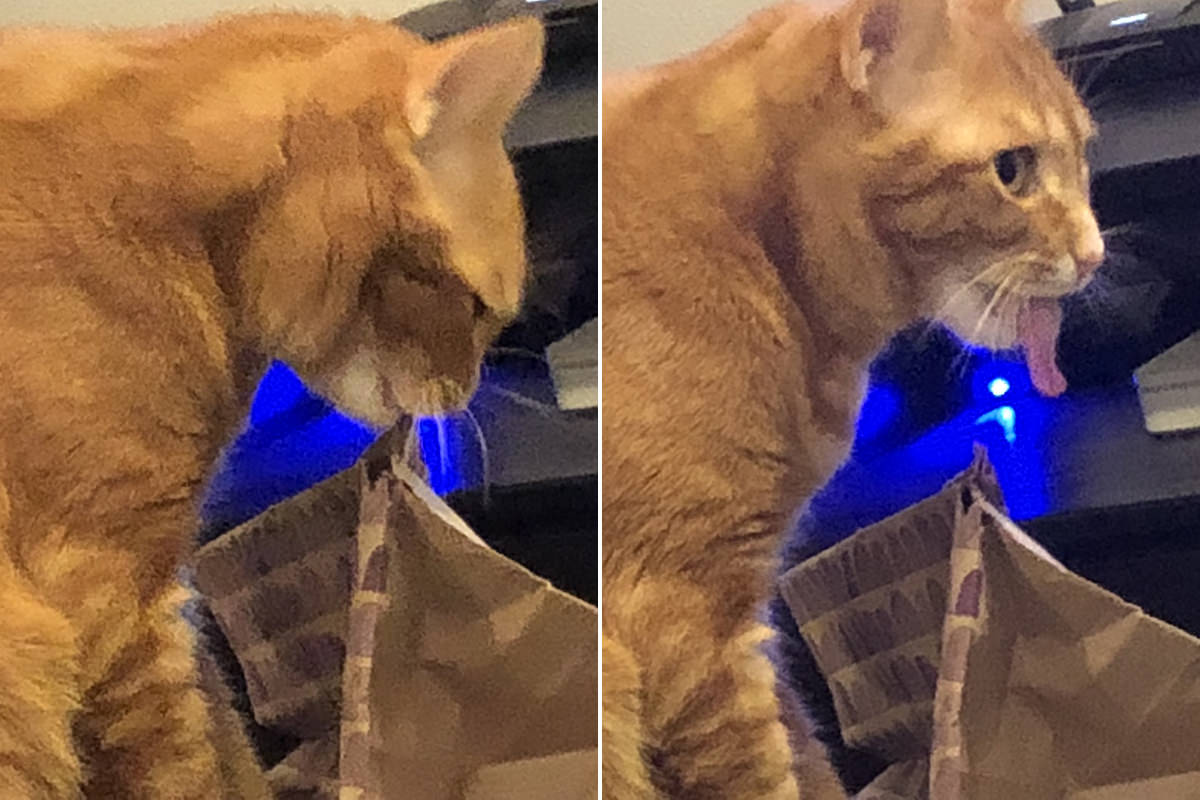 If there's one thing Jenny loves, it's ambushing her brother when he least expects it. Usually she does this by running up and smacking him in the face while he's pooping. But sometimes she gets deviously crafty. Like dragging her paper bag in front of the cat door so she can hide behind it and jump on Jake when he comes through...

Like I said... next-level smart. And clever and devious.
I really lucked out.
Posted on January 6th, 2018

While I was on vacation, I could have lowered the heat to save money. I absolutely did not. My cats were still home, and they were accustomed to the temperature as it was set. $26 was a small price to pay... and a drop in the bucket compared to how much my vacation cost.
Now that I'm home?
Jake and Jenny spend half the day (and night) wandering in and out of the catio when the temperatures are freezing.
Jake likes to then run back in the house and hop on me in order to get his feet warmed up. And then promptly fall asleep...
Jenny prefers the electric blanket on my bed. Few things make her happier than rolling around on the luxurious warmth from her favorite spot...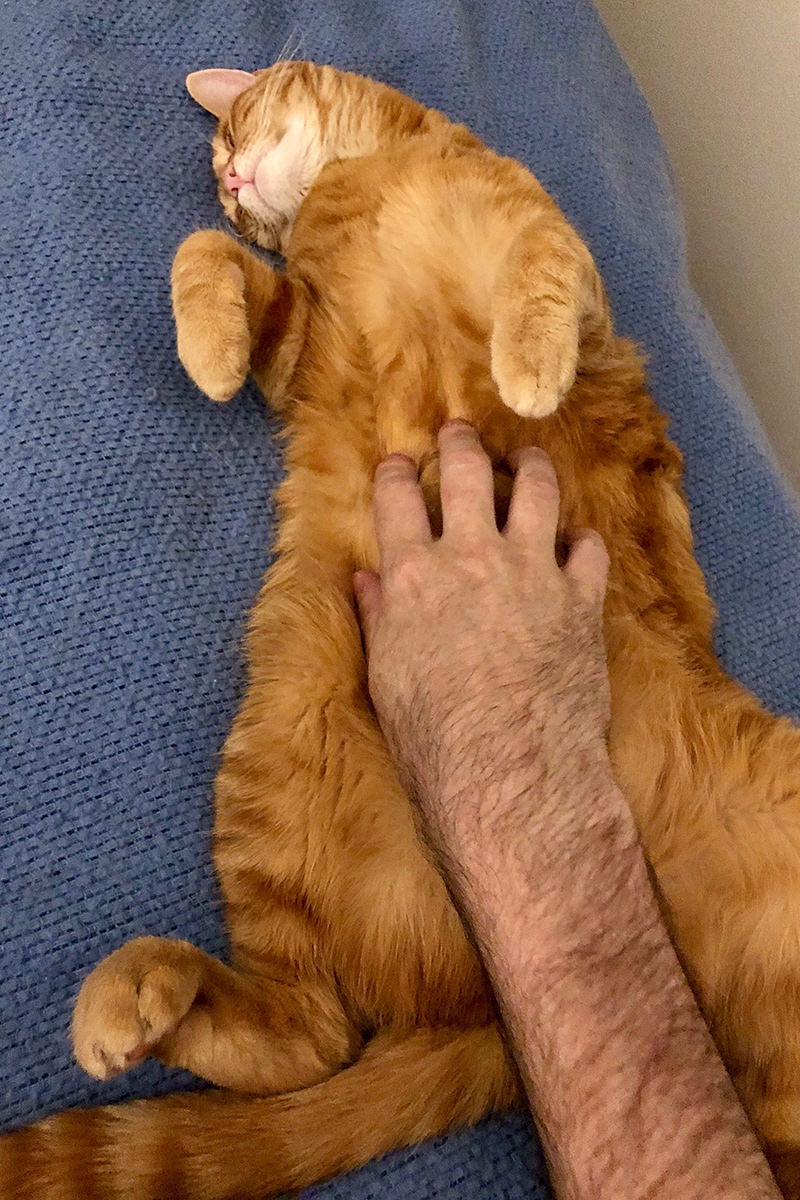 Such a cute kitty...

Speaking of "cute"... earlier this week I compiled the nicknames I call my cats...
Nicknames for Jake: Jakey Bear
Pooh Bear
Poo Head
Pookey Bear
Fuzzy Butt
Chunky Butt
Handsome
Nicknames for Jenny: Jenny Bean
Baby Girl
Pretty Girl
Sweetie Girl
Sweetheart
MEOWSTRESS OF DESTRUCTION!

And... no more cat cuteness for you.