Posted on Monday, January 2nd, 2023

For a while I couldn't hop on social media without seeing people raving about the "Ninja Creami"... which is a very powerful blender that creams hard-frozen foods and liquids. This sounded familiar to me, because I have a friend who is a chef with a "Pacojet" that essentially does the exact same thing. Except Pacojet costs $8,000. The Ninja Creami costs under $200. The Pacojet is used for a wide variety of cooking purposes... like creating blended soups that can be heated up... as well as gelatos, ice creams, sorbets and stuff. And while the Creami can probably do whatever you want, it's mainly geared towards ice creams, gelatos, sorbets, and frozen drinks. I bought the "deluxe" version because it was on sale for only $20 more than the original version. It's not necessary, but it does give you a larger container, meaning you can make more ice cream in a single go...
Long story short? This thing is darn good, and worth the hype.
I thought that "creamifying" a can of peaches would result in a peach snowcone. But it actually turns into a luscious peach sorbet. I thought "creamifying" frozen cream and sugar would result in gritty, frozen milky ice. But it really does actually turn into creamy ice cream.
And it's so easy.
My favorite is sorbets. Dump a can of pineapple chunks in the Creami container, mix in sugar, freeze it, creamify it, and you've got pineapple sorbet. Dump a can of peaches in heavy syrup into the Creami container, use a pair of kitchen shears to chop it into pieces, freeze it, creamify it, and you've got peach sorbet...

Seriously! This was a frickin' can of peaches yesterday!
The biggest shock is how good Creami ice creams and gelatos are. They are not not at all gritty and fake-tasting. Heck, they're better than most of the stuff you can buy at a store. The recipe is just heavy cream, whole milk, sugar, a bit of cream cheese, and whatever flavors you want to put in it. Vanilla, chocolate, strawberries, most anything, really...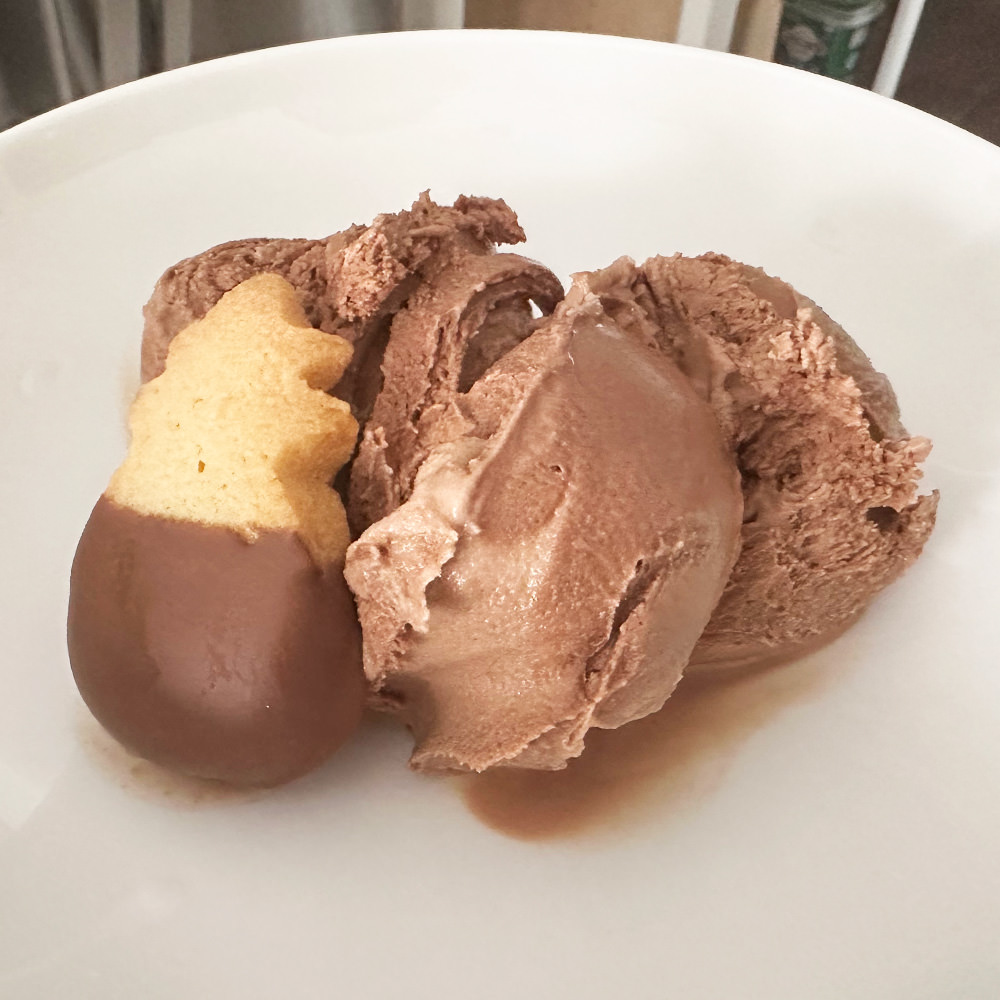 Cookie from Honolulu Cookie Co., not me!
There are recipes for "lite" ice creams (which are okay, but not great), pretty good frozen yogurts (ingredients: YOGURT!), and all kinds of frozen drinks (shakes, ices, slushes, and the like).
PROS
This ain't a poor substitute for actual ice creams, sorbets, and the like... it makes the real deal. Often better than what you can buy at the store. And with better ingredients.
Comparatively, the machine is dirt-cheap. Remember that it is a $200 alternative to a machine that costs in excess of $8,0000 (and I have no idea how Ninja isn't getting sued into oblivion by Pacojet for it).
So fast. Just toss it all together and freeze for 24 hours. Then put it in the Creami and have your treat in minutes.
You can make whatever flavors you can dream of. I've mixed just about every kind of fruit you can think of for sorbet and it mostly always tastes fantastic. Note that fruits in heavy syrup taste great. Fruits packed in juice (like pineapple) lack sweetness, so I dissolve in some sugar.
There is a mix-in feature where you can add nuts, crushed cookies, fruit, whatever. I am addicted to adding graham crackers (plain, chocolate, or cinnamon... all delicious additions!).
CONS
This machine is loud. I mean LOUD. I fired it up in my kitchen and traumatized my cats! It now resides in my garage, where I'm sure I'm traumatizing the neighborhood.
In order to make sure that ice crystals don't form in your ice cream and it ends up nice and smooth, you have to add something which minimizes the possibility. The Creami recipes use cream cheese. This is a good option because it's easy to find and works great. But even though it's just a tablespoon, it's still there. I may look into some options like guar gum or fruit pectin or something that doesn't intrude on the flavor profile.
The ingredients for sorbet is pretty cheap, but ice cream ingredients are heinously expensive. Have you seen the price of heavy cream? Even putting aside the cost of the machine, you are paying more for ice cream and gelato than what you pay in the store. Maybe if you buy in bulk at Costco you can come out ahead, but do not live under the illusion that Creami is saving you money by making cheap ice cream.
My intent on buying Creami from the start was to make "lite" ice creams that (hopefully) tasted great, because that's what everybody was raving about. Nope! All the monk fruit and coconut milk in the world ain't going to make that happen. Luckily the sorbets work for me, because... yikes. Maybe one day I'll find that magic combination of chemicals to make great "lite" ice cream, but I haven't found it yet.
While what I've gotten out of the Creami is darn good compared to store-bought, it will never come close to what you can get from the local creamery.
The reason the Ninja Creami isn't $8,000 is because it's cheap-ass plastic. I use mine around three times a week and don't have much hope for much longevity. Also, there are crap design choices that are frustrating in how it operates (like their shitty blender where the blade is ALWAYS falling out).
I always end up having to "re-spin" in order to get the creamiest product. Even though I've lowered the temp of my freezer, the initial "creamification" is more powder-like than creamy. Fortunately the re-spin fixes this, but it's still one more thing you have to do.
If you don't eat all of it in one go, there's a bit of an ordeal to eat the remainder. First you have to pack the leftovers down nice and flat... then you have to reprocess it when you want to eat it. You can't just take it out of the freezer and eat it. I was told that you can just let it thaw a bit so it softens, but that doesn't taste as good.
Mixing in stuff is a bit more manual than you'd hope. After you process it, you have a make a hole, put your mix-ins in there, then process it again with the "mix-ins" function. And while it's a more gentle cycle than the initial "creamification," it's still pretty harsh. Cookie pieces get turned into crumbs. Nuts are pulverized. Especially soft nuts like walnuts.
CONCLUSION
Knowing the caveats that I know now, I'd still buy me a Creami. And if it's of interest to you, you may want to get one before the inevitable Pacojet lawsuit shuts them down (I'm being 100% serious, as this is a very clear rip-off of their product... just look at the blade!). Being able to freeze up a bunch of options and have them available any time I want fresh frozen desserts is too good to be true. And the result is not a trade-off, but something that tastes pretty amazing. And once you figure out the recipes that end up with the treat you like best, you're ever only 24 hours away from having it.
Posted on Tuesday, January 17th, 2023

Today my new HelloFresh box arrived and I was excited to have a good dinner when I got home. Then I actually got home and decided I didn't want to cook. Fortunately in the box there was a 10-minute meal of Pesto Caprese Sandwiches with an Almond-Studded Green Salad that didn't require cooking... just some light chopping, so that was dinner. It was okay. Not as delicious as the other options, but the idea of not spending over a half-hour in the kitchen was worth more than the flavor.
While chowing down, I took a look at HBO's adaptation of The Last of Us, an epic video game that I loved playing...
Interesting to note that at first I was going to take a pass because I just got out of The Walking Dead which they ran into the ground with similar zombi-apocalypse story. But I changed my mind for two reasons...
The cast. Pedro Pascal is one of my favorite actors. And playing Ellie is Bella Ramsey, who played Lyanna Mormont (ruler of Bear Island) in Game of Throm=nes. She played the role so well that she outshined other actors in major roles despite having very little screen-time.
The first season of 9 episodes tells the ENTIRE STORY of the first video game. No drawing shit out so long that it makes you wish you never started watching. Nope. Nine episodes and done. Assumably the second season will tell the entire story of the second game, and the third season will tell the entire story of the third game (that isn't due for three years or so). GOOD ON THEM FOR NOT STRETCHING SHIT OUT AD NAUSEAM!
The show was actually very, very good.
Absolutely everything about it was well done.
Color me absolutely shocked.
Posted on Thursday, January 19th, 2023

When HelloFresh has recipes I want to try or revisit, I place my order and have darn good meals I can make once they arrive. When they don't have recipes that interest me, I take a pass and eat garbage instead. Usually frozen or boxed stuff. I just don't want to go to the grocery store to buy fresh veggies to make great food.
This week was a HelloFresh week, and it's been great.
Last night I had the single best meal I've ever had from HelloFresh, Vegan Shawarma-Spiced Chickpeas with Pistachio Rice, Cucumber Salad, and Garlicky White Sauce...
So good that I get chills just thinking about it. I was licking the dang bowl it was so good.
Then tonight was another triumph, Coconut Curry with Chickpeas and Basmati Rice Topped with Yogurt...
I swear... Garam Masala is one of the most beautiful spice blends ever. It is wonderfully complex, but when it's blended properly, it unites to create a flavor that hits as a singular expression. The stuff is so good, and I use it more places than I probably should.
This weekend I might just bite the bullet and head to the grocery store so I can make more of both of these. I have everything I need except bell peppers, lemon, cucumber, and grape tomatoes. That should be relatively painless to get... shouldn't it?
And if there's anybody out there who hasn't tried HelloFresh but wants to, I have a few codes for a free trial box that works for new customers, cancel any time! Just hit me up and if I have any, I'll send you one.
Posted on Sunday, January 22nd, 2023

I'm hungry, but not hungry enough to stop on bullets... because an all new Bullet Sunday starts... now...

• It's a Hoot! I love this video. I've watched it way too many times (here's a link in case TikTok is being a dick)...

• Kids! Legit dead (here's a link in case TikTok is being a dick)...
Things like this are why I can never give up TikTok.

• Shave and a Haircut! Or Instagram...
Cats make the world better.

• NOTHING! I can so relate (here's a link in case TikTok is being a dick)...

• Hair! How can you not love this? Samuel L. Jackson is having the time of his life... plus it's got Muppets in it!
Appearing on Sesame Street has got to be one of the biggest honors in existence.

• Hello Tomorrow! Wow. OH WOW!
This has incredible promise. Exactly the kind of retro-futurism that works for me... assuming it works as a show.

• Empty! California has "packaging waste" laws which are designed to keep manufacturers from putting a tiny amount of product in a massive box. Wonder what they think of this travesty from Hot Pockets? I am trying their new Deliwich frozen cheese sandwiches. There's 4 in a box. A massively huge box which could easily hold TWELVE OF THEM!
WTF?!? But the worst part was not the feeling that I was deceived and ripped off... it's the fact that these Deliwich things are awful. Pasty, doughy, gross. I was expecting something flakey and light. It's like a bad salty biscuit with a little cheese jammed inside. How did this ever make it to market? Did they taste-test it?

Time for dinner!
Posted on Thursday, January 26th, 2023

I have a high predisposition towards addiction. This could lead to serious trouble if I'm not careful, so I remain vigilant.
But sometimes I'm far from vigilant when the stakes are low. Take, for example, food. If I find something I like, I go back and buy loads of it. Right now my freezer is packed with a dozen Home Run Inn Cheese Pizzas and at least a dozen TaDah! Falafel Street Wraps. I'm terrified that my local stores will stop carrying them, so I buy loads of them whenever I see them in stores. I'm addicted and can't stop myself. Oh well. There are certainly worse things to be addicted to.
My latest addiction? STAGG Vegetarian Garden 4-Bean Chili...
On Monday I woke up craving it, but didn't have any crackers to go with. You can't eat chili without saltines, so I went to the store after work and bought some.
I've have had it every day for lunch and dinner since. The stuff is just spicy enough to be entertaining on my tastebuds. Any hotter and I wouldn't be able to taste the vegetables. Any less hot and it would be boring. It's just perfectly balanced, which is why I like it so much.
Tonight I'm opening my last can, which means I will have to pick up a dozen the next time I'm at the one store that has some in the valley.
The worst part to food addiction is not buying shitloads of something you love (despite the ridiculous price of food now)... it's what happens when you get tired of it.
If I get tired of eating my Home Run Inn Cheese Pizzas and TaDah! Falafel Street Wraps, that means half my freezer is filled up with something I'm not eating and I don't have room for my latest addiction. If I buy a dozen cans of chili and stop eating it, then I've got my cupboard filled up for nothing. Until I start eating it again, which might be a while.
Now, if you'll excuse me, it's time to heat up my dinner of you-know-what.
Posted on Sunday, January 29th, 2023

Don't be sad about that asteroid missing earth so you have to go to work tomorrow ... because an all new Bullet Sunday starts... now...

• My my my my my Poker Face! I was sorely tempted to have every bullet today be the same thing... begging you to take a look at the new series from Peacock called Poker Face...
If you're old like me and used to love watching Columbo mysteries, this is like that... but with a cool twist. If you've never heard of Columbo, it was a series where you are shown who the murderer is right at the start, and the fun is watching the detective piece it together. I would watch Natasha Lyonne in absolutely anything, and she is flawless in this series. The first episode is a good setup, but the series really kicks into gear with the second episode. Then they just keep getting better. This is guaranteed to be on my "Best Of..." list for 2023. No doubt.

• Revolutionary! First of all... I played this pinball machine a lot back in the day. Between Xenon and Pinbot, a lot of quarters were lost! Which is why I think this video about the voice/music designer for Xenon, Suzanne Ciani, is just beyond cool...
Now, my favorite pinball machine of all time was The Addams Family back in the early 90's... but Xenon would certainly be on my list of all-time greats.

• Addams! And speaking of Addams Family Pinball... I just searched YouTube and found this...
If I could afford to track down one of these and buy it, I would 1000% do that. And clear a spot in my living room to put it. Just fantastic entertainment all the way around. I never got tired of it.

• MORTY! NEWSLASH: Justin Roiland: Rick and Morty creator dropped by Hulu as well as Adult Swim. Holy crap. I mean... It had to happen, but wow. I have no idea how this is going to affect Rick and Morty, which has been so good this past season.

• Expensive Air! California has "packaging waste" laws which are designed to keep manufacturers from putting a tiny amount of product in a massive box. Wonder what they think of this travesty from Hot Pockets?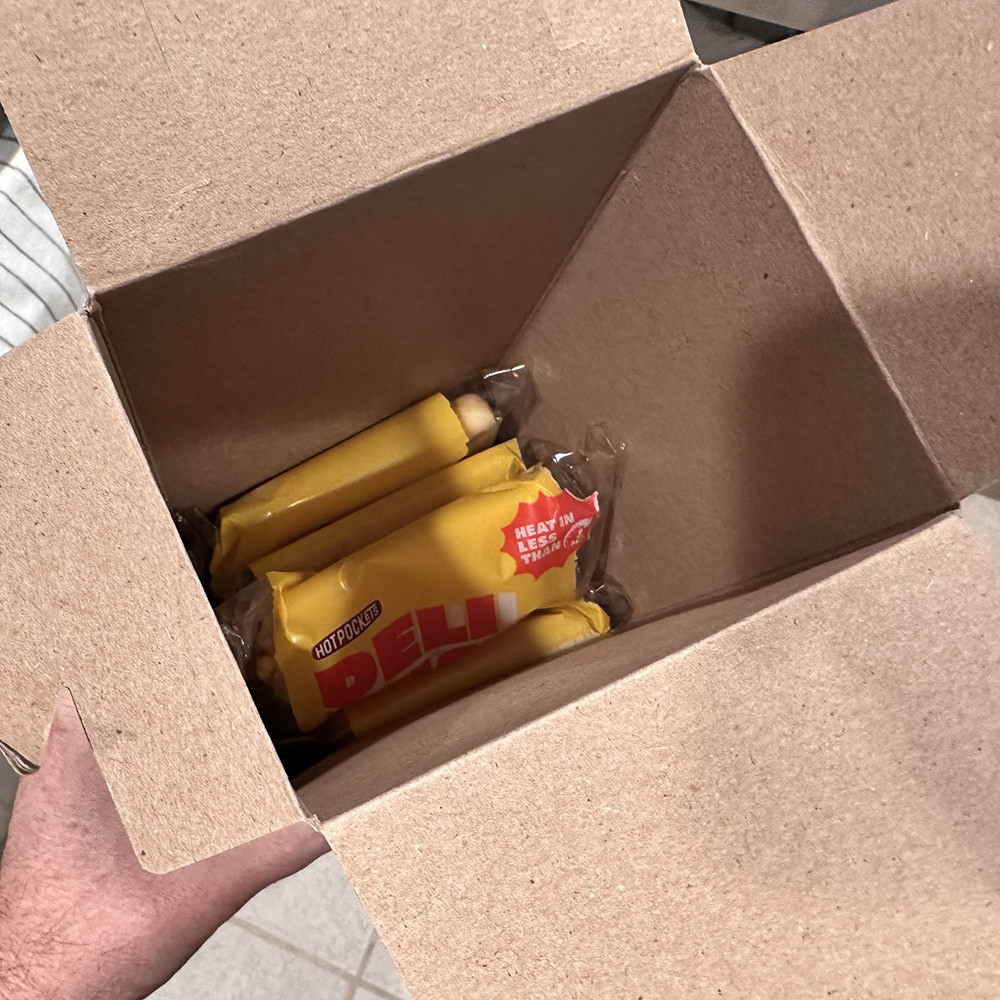 I am trying their new Deliwich frozen cheese sandwiches. There's 4 in a box. A massively huge box which could easily hold TWELVE OF THEM! WTF?!? I thought that they'd be a hell of a lot bigger than this. But the worst part was not the feeling that I was deceived and ripped off... it's the fact that these Deliwich things are awful. Pasty, doughy, gross. I was expecting something flakey and light. It's like a bad salty biscuit with a little cheese jammed inside. How did this ever make it to market? Did they taste-test it?

• Shoresy! I am going to wrap up this most excellent Bullet Sunday with some very good news... Shoresy has been renewed for a second season over at Hulu! And the best news? It's coming this year...
Easily one of my favorite shows of 2022 (it ranked #5 on my Best Of... list), I wasn't sure that we'd get a second season, but here we are.

Fingers crossed that more giant asteroids are incoming, but until then... see you next Sunday!