Posted on April 11th, 2023

GAAAAAAAAAAAH!
We have to wait until NOVEMBER to get to see The Marvels, which is many months too long.
Especially when you look at this incredible new trailer that just dropped...
They came up with a great way to make this crossover happen, and Kamala Khan is adorable.
But it's seven+ months away.
Bummer.
An even bigger bummer is that Disney is dictating that Marvel slow down its output. "Quality over Quantity." And yet... in my mind it's not the movies that are suffering. Granted, I haven't seen Ant-Man and The Wasp: Quantumania yet, but there hasn't been many missteps (only Eternals comes to mind, because it was a bit of a mess... but it's also a fun watch). No, for me it's the television shows that aren't up to the quality they should be.
But I haven't hated any of them.
I thought WandaVision and The Falcon and the Winter Soldier were okay. Loki was good. Hawkeye was fantastic. Moon Knight was a disappointment. Ms. Marvel didn't live up to its potential. And I thought She-Hulk was good, but the ending leaned too hard into the whole fourth-wall-breaking stuff and short-changed the emotional stakes of the show.
Of the upcoming shows... Secret Invasion looks fantastic. Loki will likely be good. Ironheart could be great... if the story is worth watching. Echo I don't care about... unless it is guest-star heavy. Agatha: Coven of Chaos will likely not be my cup of tea (although I will absolutely watch it). And then there's Daredevil: Born Again... holy crap am I excited for this series. Charlie Cox's Netflix show was amazing, and his guest spot in She-Hulk was as good as it gets. I love the idea that he might be a little more upbeat and fun rather than the never-ending gloom of the Netflix show. She-Hulk shows that he can be serious... but also fun and exciting to watch. I hope they give him an overwhelming villain to really show off his abilities.
Marvel has done a great job bringing their comic book characters to live action. I seriously hope that their "stepping back" doesn't kill the momentum they've been building. Because we've got Secret Wars coming up, and that has such exciting possibilities that the potential for success is extremely high (assuming they really take advantage of what Secret Wars was and could be).
Posted on June 14th, 2022

=sigh=
The second episode of "Ms. Marvel" was wonderful from start to finish. AND YES I STAYED UP UNTIL MIDNIGHT SO I COULD WATCH IT! The cast... story... cinematography... all incredible. This is quickly getting to be right up there with Hawkeye as the best Disney+ series for me. It's inconceivable that this is Iman Vellani's first acting job! She plays Kamala Khan so effortlessly and believably. Well, as believably as you can get with a comic book movie...
There have been numerous changes from the comic book to accommodate video media... but there were more than a couple scenes in the second episode that were right out of the source material, which was wonderful to see. The showrunners are absolutely respecting the spirit of the original character in very good ways.
If you're not watching Ms. Marvel, you really should be.
Posted on June 9th, 2022

When it comes to translating their comic book properties to non-comic media, Marvel has done a darn good job when it comes to the compromises which have to be made. The way costumes look... the way powers work... the way continuity has been built... choices have to be made every step of the way, and there has been shockingly little that I've not felt was smart, cool, and appropriate.
Ms. Marvel, based on a highly successful character from the comics, is an American girl of Pakistani Muslim heritage who idolizes Captain Marvel and wants to be a super-hero just like her. Then one day she gets her shot, and her life becomes a balance between being a hero and being a girl trying to fit into her life and school while still holding true to her family's traditions and values.
In the comics, Ms. Marvel is a "polymorph" who has the ability to stretch and embiggen parts of her body. She got her abilities after being exposed to the Terrigen Mists, which is how Marvel's Inhumans characters gain powers (meaning that Ms. Marvel is technically an Inhuman).
In the television series, Ms. Marvel finds a family heirloom (a "bangle") which gives her the ability to make cosmic energy constructs. You can see it on her wrist here...
Now, even though her powers are very, very different in the MCU, she still uses them in a way that harkens back to the comic books. If she wants to catch somebody, she generates a giant hand out of cosmic energy and stretches it out to make the catch. As opposed to making her actual hand grow to giant size and then stretching her actual arm out to make the catch.
I know some fanboys are going to be upset by this change, but I think it's pretty smart. First of all, her powers look kinda ridiculous in the comic books and probably wouldn't translate very well to television and movies. Second of all, part of her powers is basically a copy of Mister Fantastic's stretching abilities, which means that the Marvel Cinematic Universe would have two people with a confusingly-similar gimmick once The Fantastic Four movie arrives.
Which is to say that the MCU Ms. Marvel is more "Green Lantern" than "Mister Fantastic."
I'm not sure if I approve of the whole "cosmic bangle" source of her powers, but the powers she has been given I definitely approve of.
I also approve very much of the show itself.
Ms. Marvel streamlines the comic book narrative into something that works for television very well. The core aspects of her character are very much the same, and that's more important than most anything else because it's those aspects which make her unique.
Visually the show is quite good... using auxiliary graphic elements to give the series a unique flavor and make it fit the youthful vibe of the character.
The cast is phenomenal. Iman Vellani IS Ms. Marvel, and they fill out her family, friends, and acquaintances with equally-capable actors. It seems as if Marvel Studios is simply incapable of making bad casting decisions...
We've only gotten one episode to look at, but the storytelling is on-point and things move at a brisk enough pace that the episode doesn't feel bogged down (as what happens with so many origin stories). But the best surprise of all? MS. MARVEL IS ACTUALLY IN THE SHOW! After the way Moon Knight had practically no actual Moon Knight in it, I was mortified that this might be a new trend. But nope!
I don't know that Ms. Marvel will overtake Hawkeye as my favorite MCU Disney+ series... but maybe it will get there. The pieces are certainly in place to make it a fantastic show, so fingers crossed.
Posted on March 15th, 2022

I hate to say it... but I was a bit underwhelmed by WandaVision and The Falcon and The Winter Soldier. WandaVision was not what I was hoping to see from those characters and The Falcon and The Winter Soldier was too convoluted and the overall story was lacking (though the magical chemistry between Anthony Mackie and Sebastian Stan made it totally worth watching).
Then came Hawkeye and Marvel Studios totally redeemed themselves. That series was SO good. Very faithful to the original Matt Fraction and David Aja comics and incredibly entertaining thanks to fantastic performances from Jeremy Renner and Hailee Steinfeld (not to mention every other actor in that series... it was impeccably cast). All of a sudden I was excited for the Disney+ series again.
Then we got the trailer for Moon Knight and that looks fantastic too.
And now Ms. Marvel...
The original Ms. Marvel comic book series was great. I absolutely loved how it blended so many elements into something that felt new. If you haven't read it, you should really take a look.
When I heard that the character was coming to the MCU, I was thrilled. But also worried. Because Ms. Marvel's powers are essentially Mister Fantastic (of the Fantastic Four) but come across more like Plastic Man. Since Fantastic Four is coming to the MCU in their own movie fairly soon... it would be weird to have the stretching/distorting powers already belonging to an existing character...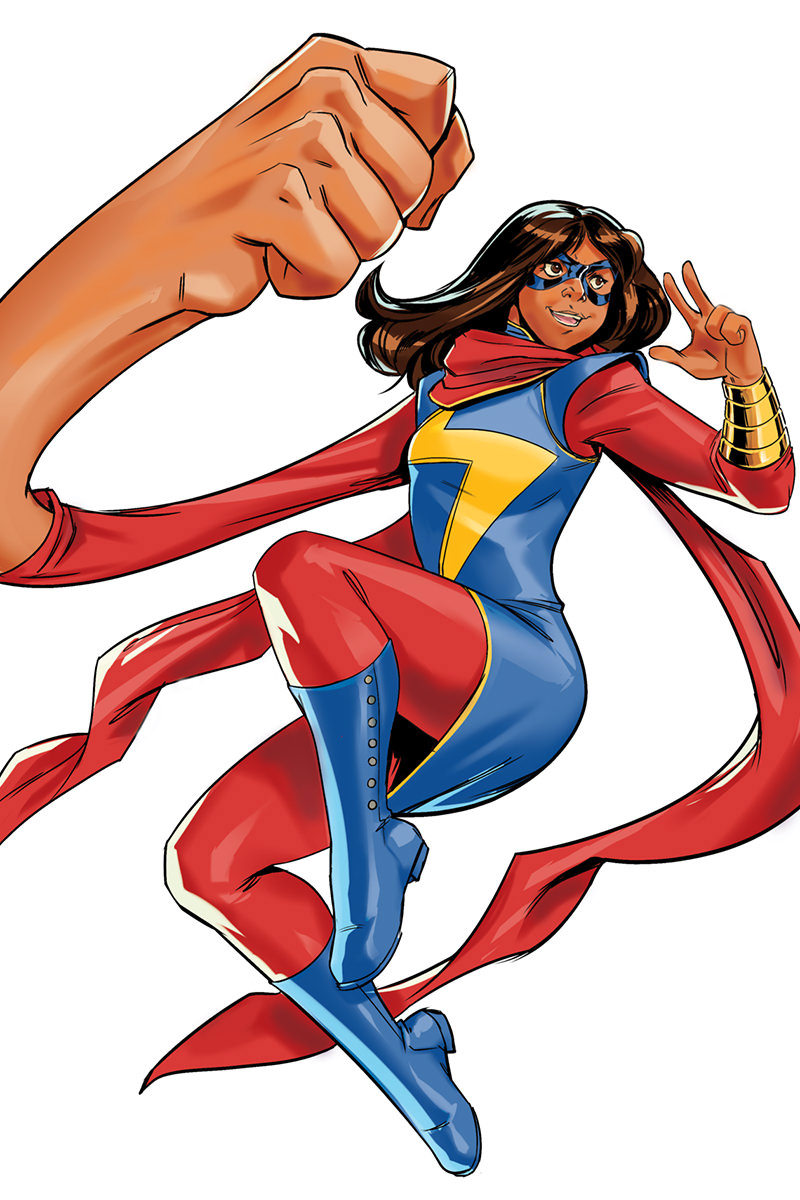 @2022 Marvel
But (fortunately) Kevin Feige and Marvel Studios aren't falling into this trap.
So they adjusted Kamala Khan's powers to be more energy-based, like her hero, Captain Marvel. And they look fantastic, don't they? She's kinda got what we were hoping that Green Lantern would have... and yet it very much harkens back to her comic book powers with the giant fist projecting like that. Cool.
What's so wonderful about what Marvel Studios is doing is trying to give all their franchises a different feel. And Ms. Marvel looks completely different from anything we've seen yet. Sure, the Spider-Man movies have played on Peter Parker's high school life... but it wasn't rooted there. And now we have it, which will be fun to see.
Alas, we have to wait until June 8th... which seems a very long time from now.