Posted on June 25th, 2023

Storm clouds are a' brewin' out my window but I'm still blogging... because an all new Bullet Sunday starts... now...

• Storm! No joke. As I started to type this, all the lights in my house that are on a light sensor came on, thunder could be heard in the distance, and my weather station said that there are lightning strikes in the area...
I swear that it was sunny just two minutes ago.

• Spell! In preparation for the new Wham! Documentary that's dropping on Netflix any day now, I've been re-watching all the old Wham! videos. When I got to Wake Me Up Before You Go Go I was shocked to see that Deon Estus was there...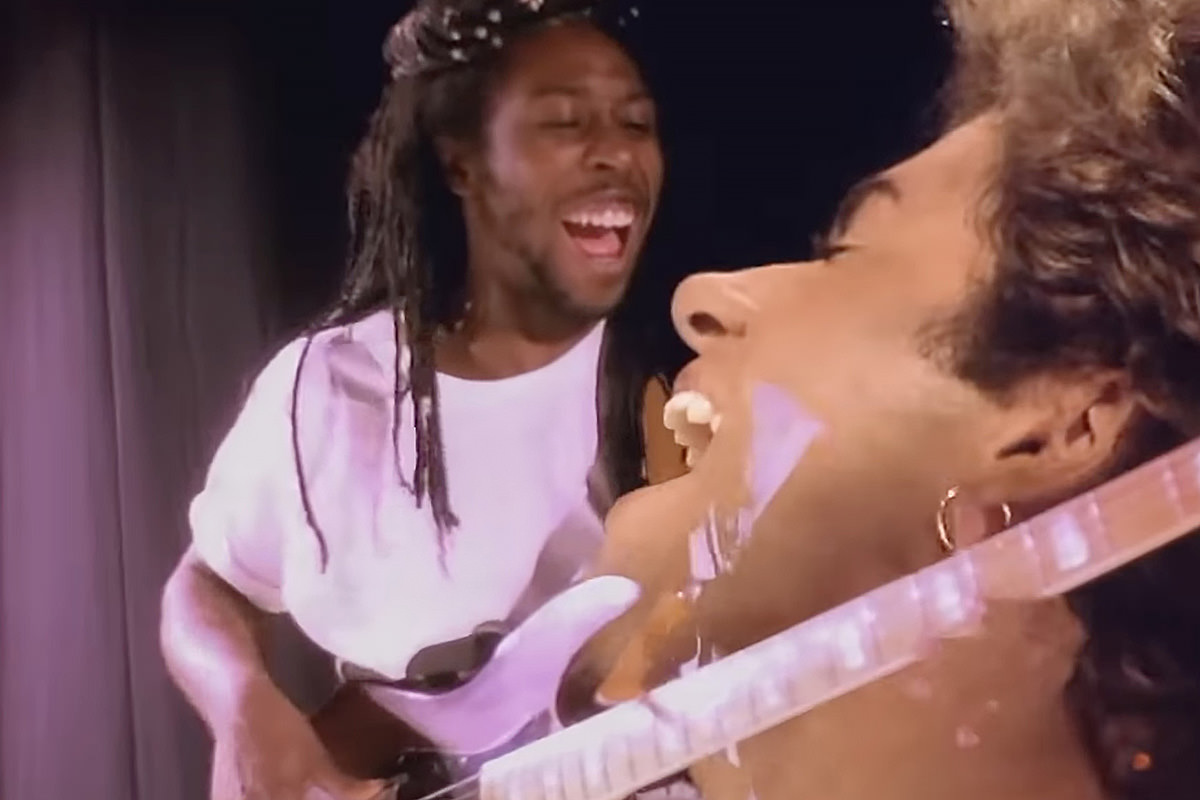 Holy crap! I always knew that Pepsi and Shirlie were backup singers in that video, but I have ZERO memory of Deon Estus being on bass! BUT THERE HE IS! Oh man I loved Deon's album Spell which I listened to constantly. You might remember one of the bigger hits to come off of it, Heaven Help Me...
I was always sad that he never released a follow-up album. And I am very sad now to learn that he died in 2021. He was incredibly talented.

• Strange! New! Different! I'm late to watching the S02E02 Ad Astra Per Aspera episode of Star Trek: Strange New Worlds. I remained shocked at just how frickin good this show is. This episode didn't have any space battles or crazy situations... it was 100% a courtroom case. It was Law & Order in space. And yet it was beautiful to see...
The performances were incredible, as usual... but it was the guest appearance by Yetide Badaki that was the highlight. Holy crap! The ENTIRE EPISODE hinged on her performance, and she did not falter. Amazing, amazing stuff. If you're not watching, you should be. This may very well be my favorite Trek of all.

• Deep Sea Tragedy. James Cameron has one of the few opinions I even care about on any of this Titanic submersible stuff given his massive experience on deep-sea dives... and it's exactly what you'd expect. Those people didn't need to die...
And, like I said a bit ago, billionaires in a preventable situation is still in the news cycle while poor immigrants sinking off the coast of Greece barely gets a mention and is given the "Oh, that's too bad" treatment. Your wealth is directly proportional to your value in this sick, sad world. And that ain't changing any time soon.

• Happy Pride! Crying is gay now? Well, happy Pride to all the gay men who cried when they saw their future wife walk down the aisle at their wedding then. Christ...
Toxic Masculinity at work. The fact that men aren't supposed to have any emotions at all is fucked up beyond all rational thought...
Repressed emotions aren't healthy. And this kind of anti-male trash being propagated creates an environment which leads nowhere good. Just look at the news from the world today.

• Sandwiches! I'm kinda going through a sandwich renaissance. It started with egg salad sandwiches. Then I moved to (f)BLTC on toast (fake bacon, lettuce, tomato, and cheese). And now I am eating grilled cheddar and cream cheese sandwiches with tomato and pesto.
Sandwiches are awesome! Fried egg Sammies are next on the menu. And I really want to fry up a pizza sandwich one of these days soon.

• Mobile Mobile! So when T-Mobile says that my rate is locked in... and I signed up for their service using ApplePay autopay... and now they're saying that if I continue to use ApplePay that I will have to pay $5 additional. Isn't that a breach of contract? I changed nothing from when I signed up and will now have to pay $5 more a month...
Oh how I fucking hate these asshole companies that lie to you when they sign you up and get away with it because they have politicians in their deep pockets. $60 additional a year is not fucking "locking in my rate." And sugar-coating it with "Well, your base rate is the same, we're just changing the conditions of your discount" IS STILL CHANGING CONDITIONS OF THE TERMS I WAS GIVEN WHEN I SIGNED UP!! It's like... "Oh, we mis-promised because expenses are going up, and we are losing money that our CEO needs to fuel his private jet, so how can we squeeze it out of our customers? Oh... by eliminating credit card fees we pay! Genius! Fuck our stupid-ass customers for trusting us! Or CEO needs a new gold-plated toilet for his third house!"
What's interesting is that T-Mobile bought out Mint Mobile. And if I switch to Mint Mobile, I'll pay half of what I pay now. So essentially T-Mobile is going to make a $50 a month customer become a $25 a month customer. OVER $18 A YEAR IN CREDIT CARD FEES?!? Who the fuck is the genius who came up with this money-making scheme? "LET'S MAKE FEWER MORE PROFITABLE CUSTOMERS! THAT'LL MAKE THE MONEY ROLL IN!"

Now, if you'll excuse me, it looks like rain.
Tags:
Bullet Sunday
,
Food
,
Grilled Cheese Sandwiches
,
Music
,
News
,
T-Mobile
,
Television
,
Weather
Categories:
Bullet Sunday 2023
,
Food 2023
,
Music 2023
,
Television 2023
—
Click To It:
Permalink
—
0 Comments: Click To Add Yours!
Posted on October 19th, 2021

I think that I lived with the horrific, byzantine, and abusive billing at AT&T for so long that I am in complete shock now that I'm with the no-nonsense billing at T-Mobile. It's just a text once a month saying "Your bill is $50. Period. And we've paid it from your credit card. Your balance is now $0. Have a great day." Or something like that.
My God. When I think back to the MONTHS I spent just trying to just pay the for the damn plan that I purchased with AT&T... but could never get straightened out... it's nigh-traumatic. Every month the amount was wrong. Then I'd end up having to call, then end up with a credit, then I'd get some mysterious charge nobody could explain, then my credit would disappear, then the amount would change, then they'd want me to switch plans to fix it(!), then they would say it was fixed but it was never fixed, then they would pro-rate a correction to the correction of the correction. And it was still wrong. HOURS of my life gone... and for what? Having to do it all over again the next month!
So relieved those days are over!
Posted on September 29th, 2021

When T-Mobile was rolling out their "new and improved" 5G Ultra Capacity Network, I thought for sure that it would be at least 2025 before it arrived in my podunk little redneck town. BUT NOPE! I got an email that said my area now has it and, sure enough, I gots a new 5GUC logo on my iPhone...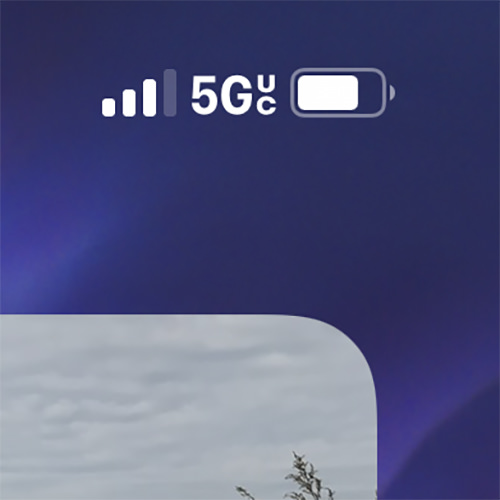 The T-Mobile 5G here was already fast, so I'm not sure of the speed difference... but it's definitely feels zippy. I guess it's supposed to help more when lots of people are using the network at the same time? I dunno. All I DO know is that T-Mobile really blew past my minimal expectations for a mobile carrier, so good on them for that.
Happy hump day, everybody...
I have no idea why I think a panda eating needs to be here, but it really does.
Posted on April 30th, 2021

Not much happened today... but everything happened. Do you know what I mean?
As I mentioned, my incredibly expensive Samsung television died after 5-1/2 years. I couldn't afford to buy another top-tier television, so I opted for something 1/3 the price, but still highly rated. Because I live in a small city, mail order is pretty much my only option. Last time I bought with Amazon because they offered installation at $119 which I was happy to pay. This time I went with Walmart because they offered installation at $79. Same price on the TV, it's just that Walmart had the total cheaper cost by $40. And I'm all for saving my $40.
The company that was supposed to do the installation dragged things out for a week. My requested appointment was literally ANY day and ANY time, but no installer apparently wanted the job. When I asked "HelloTech" what would happen if nobody took the job, they assured me that they would then contract it out with a local installer, no problem. So I waited and waited. Then this morning they canceled the install. Made me wait a week and two days, then just outright canceled. And of course Walmart didn't bother to back up what they sold. So now my option is to pay a local company $250 plus tax... or get a friend to help me do it for myself. I can only afford Option B.
Then I went to work. Then I had a doctor follow-up. Apparently I'm going to live. For now.
After my appointment I went to pick up a new vaccination record with all the various shots I've had for my travels over the years. While I was there, I went to the pet store to pick up more kitty litter for Jake and Jenny to do their duty in. And it was here... in the parking lot of the pet store... that I noticed a T-Mobile store was on the other side of the parking lot.
And so... I took a slight detour.
20 minutes later, I'm a T-Mobile customer.
Ultimately it feels like T-Mobile wants your business.... AT&T just wants your money. I switched from Verizon to AT&T in 2004 because I had to in order to get service for the brand new iPhone. The customer service was better at Verizon, but AT&T was just fine. At the start. Things steadily declined with AT&T… then went into a complete nosedive after they bought DirecTV. They went from being an okay company to an outright awful company. Always making promises. Always breaking them. Quote you a price, then charge you something different. And somehow it's all your fault even when you've got the receipts. They lost such a huge amount of money with DirecTV (which I eventually canceled because it got so awful after being acquired) that they've been trying to make up for the lost money by making the mobile division get less for more. And failing. In the past 3 years I went from being ambivalent about AT&T to outright hating the company, mostly because of the billing problems... but also because of the cellular service.
So now I am gone.
T-Mobile has a $50 flat rate for those 55 years and older, and it's a better plan than I had... WITH taxes and fees included. They waived the bullshit activation fee because I got my iPhone through Apple and they didn't have to give me $650 to pay it off. So I'm chalking this one up as a win.
There is ONE thing that bothers me about T-Mobile, however. If you have two lines, you get free Netflix SD. If you have one line, you get NOTHING. That's shitty. I pay more per line than somebody with two lines, but get less? And how does that work? A man and his wife sign up, get Netflix, then the man dies and T-Mobile is all "Sorry your husband is dead, but fuck you… we're yanking your Netflix!" Is that really how it works? This is gross and highly unfair. I pay more for my one line than somebody with two lines on their plan pays per line, but I don't get Netflix because I'm single? Do better, T-Mobile!
Then I got my kitty litter.
Then I went to Burger King because they had a "Buy One Impossible Whopper at Regular Price and We'll Give You A Second Impossible Whopper for $1" special going on. And my two meat-free burgers were GLORIOUS! We're at the time of year where lettuce and tomatoes are perfect, onions are tasty, and you're guaranteed a good meal. I was not disappointed.
Then I went back to work when what I really wanted to do was go to bed. That was quite a day I had.
Hey, we're in the middle of a pandemic. Every day you don't end up with COVID and are out of the house is quite a day.