Posted on Wednesday, September 24th, 2003
Posted on Thursday, September 25th, 2003
Posted on Sunday, October 5th, 2003
Posted on Friday, December 5th, 2003
Posted on Sunday, December 7th, 2003
Posted on Sunday, December 7th, 2003
Posted on Monday, December 8th, 2003
Posted on Tuesday, December 16th, 2003
Posted on Saturday, December 20th, 2003
Posted on Saturday, April 10th, 2004
Posted on Tuesday, May 4th, 2004
Posted on Monday, May 17th, 2004
Posted on Thursday, May 27th, 2004
Posted on Thursday, May 27th, 2004
Posted on Friday, May 28th, 2004
Posted on Saturday, May 29th, 2004
Posted on Saturday, May 29th, 2004
Posted on Saturday, May 29th, 2004
Posted on Sunday, July 25th, 2004
Posted on Thursday, July 29th, 2004
Posted on Sunday, August 1st, 2004
Posted on Sunday, August 1st, 2004
Posted on Monday, August 2nd, 2004
Posted on Wednesday, August 4th, 2004
Posted on Thursday, August 5th, 2004
Posted on Friday, August 6th, 2004
Posted on Friday, August 6th, 2004
Posted on Friday, August 6th, 2004
Posted on Saturday, August 7th, 2004
Posted on Saturday, August 7th, 2004
Posted on Monday, November 15th, 2004
Posted on Saturday, November 27th, 2004
Posted on Thursday, February 3rd, 2005
Posted on Saturday, February 19th, 2005
Posted on Sunday, February 20th, 2005
Posted on Sunday, February 20th, 2005
Posted on Sunday, February 20th, 2005
Posted on Monday, February 21st, 2005
Posted on Thursday, July 14th, 2005
Posted on Thursday, July 14th, 2005
Posted on Thursday, September 1st, 2005
Posted on Wednesday, September 28th, 2005
Posted on Thursday, July 6th, 2006
Posted on Saturday, January 27th, 2007
Posted on Wednesday, January 31st, 2007
Posted on Thursday, February 1st, 2007
Posted on Sunday, March 18th, 2007
Posted on Tuesday, April 10th, 2007
Posted on Saturday, May 5th, 2007
Posted on Friday, May 11th, 2007
Posted on Saturday, January 12th, 2008
Posted on Thursday, January 31st, 2008
Posted on Monday, March 24th, 2008
Posted on Wednesday, March 26th, 2008
Posted on Saturday, November 29th, 2008
Posted on Saturday, April 4th, 2009
Posted on Tuesday, June 9th, 2009
Posted on Thursday, July 30th, 2009
Posted on Monday, August 24th, 2009
Posted on Friday, September 4th, 2009
Posted on Saturday, September 5th, 2009
Posted on Tuesday, October 27th, 2009
Posted on Tuesday, December 8th, 2009
Posted on Sunday, February 7th, 2010
Posted on Saturday, February 20th, 2010
Posted on Monday, March 22nd, 2010
Posted on Thursday, March 25th, 2010
Posted on Wednesday, June 30th, 2010
Posted on Thursday, July 22nd, 2010
Posted on Tuesday, July 27th, 2010
Posted on Sunday, August 8th, 2010
Posted on Sunday, October 24th, 2010
Posted on Tuesday, November 23rd, 2010
Posted on Friday, December 31st, 2010
Posted on Saturday, January 1st, 2011
Posted on Friday, January 28th, 2011
Posted on Tuesday, February 1st, 2011
Posted on Saturday, March 19th, 2011
Posted on Friday, May 6th, 2011
Posted on Sunday, June 12th, 2011
Posted on Tuesday, June 14th, 2011
Posted on Saturday, September 24th, 2011
Posted on Sunday, October 2nd, 2011
Posted on Tuesday, October 4th, 2011
Posted on Saturday, October 29th, 2011
Posted on Sunday, March 11th, 2012
Posted on Friday, March 16th, 2012
Posted on Sunday, March 18th, 2012
Posted on Monday, April 2nd, 2012
Posted on Monday, April 16th, 2012
Posted on Friday, July 6th, 2012
Posted on Saturday, September 8th, 2012
Posted on Saturday, October 27th, 2012
Posted on Tuesday, March 19th, 2013
Posted on Saturday, June 1st, 2013
Posted on Friday, July 26th, 2013
Posted on Sunday, March 23rd, 2014
Posted on Tuesday, March 25th, 2014
Posted on Wednesday, March 26th, 2014
Posted on Thursday, March 27th, 2014
Posted on Tuesday, May 6th, 2014
Posted on Sunday, June 8th, 2014
Posted on Saturday, July 26th, 2014
Posted on Friday, September 19th, 2014
Posted on Monday, December 8th, 2014
Posted on Tuesday, December 9th, 2014
Posted on Wednesday, December 31st, 2014
Posted on Monday, March 23rd, 2015
Posted on Monday, April 20th, 2015
Posted on Monday, May 4th, 2015
Posted on Sunday, May 24th, 2015
Posted on Thursday, December 31st, 2015
---
JULY
• Wrote a love letter to Back to the Future on the event of the film's 30th anniversary.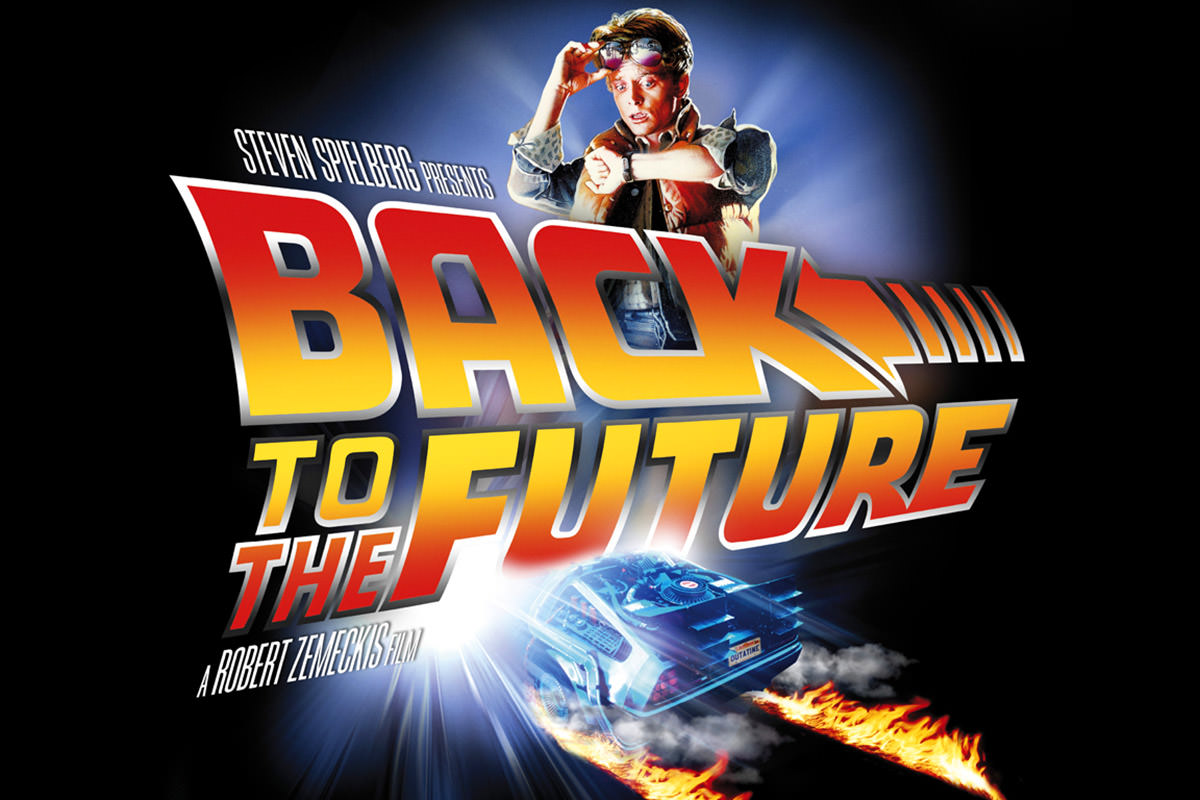 • America. A retrospective of greatness.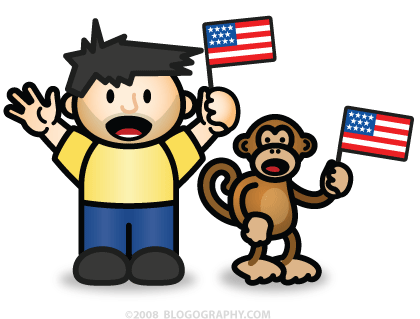 • Took a look back at some of my favorite television commercials from past years.
• Came the closest to death that I ever have.
---
AUGUST
• Said goodbye to The Daily Show.
• Took a trip to Los Angeles and visited The Getty Museum...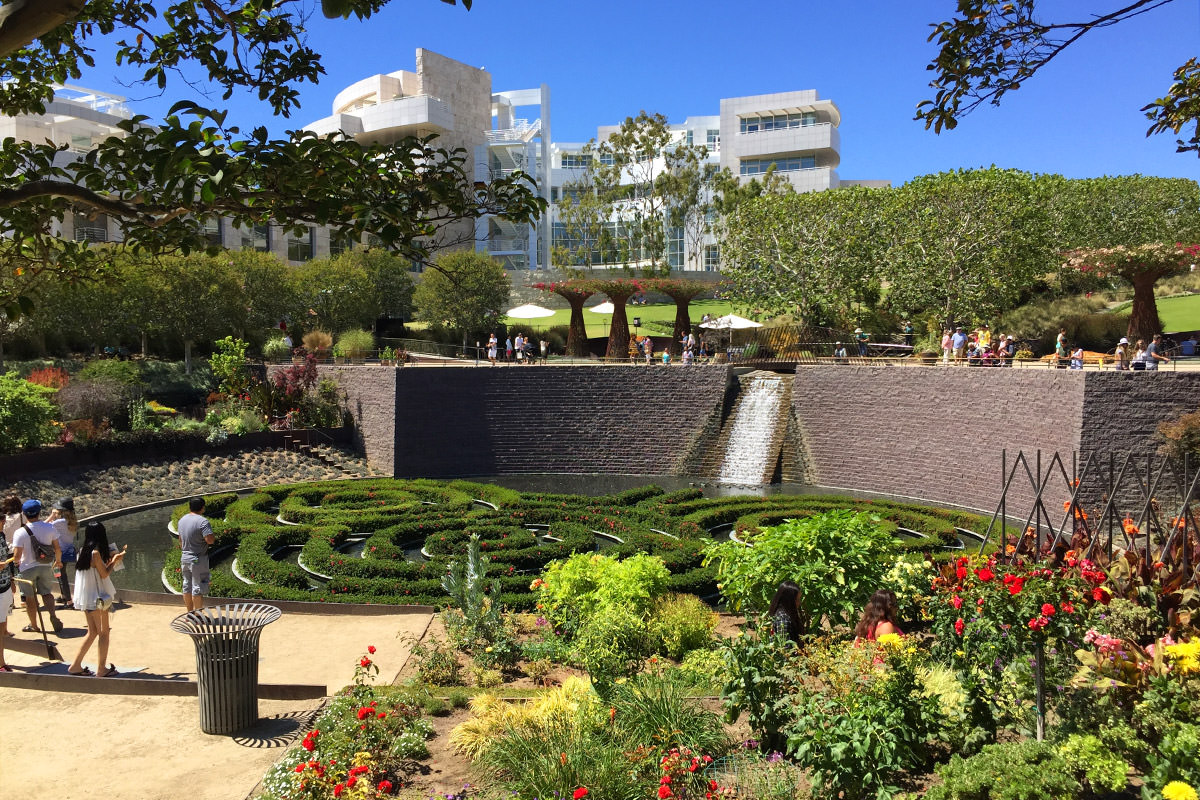 • Was disgusted by being disgusted.
---
SEPTEMBER
• Became enamored with a pencil.
• Said goodbye to PDX carpet after flying to Portland for a wedding...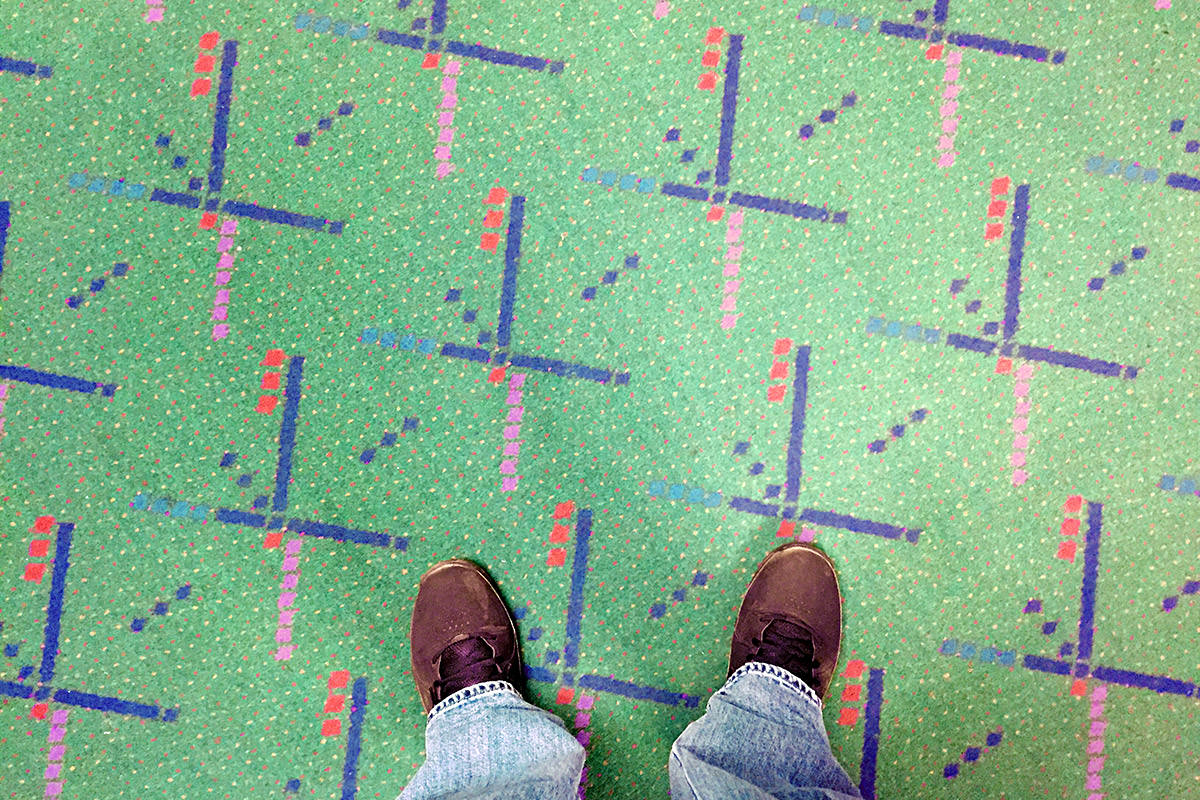 • Finally, finally got to see a concert at Red Rocks... DURAN DURAN!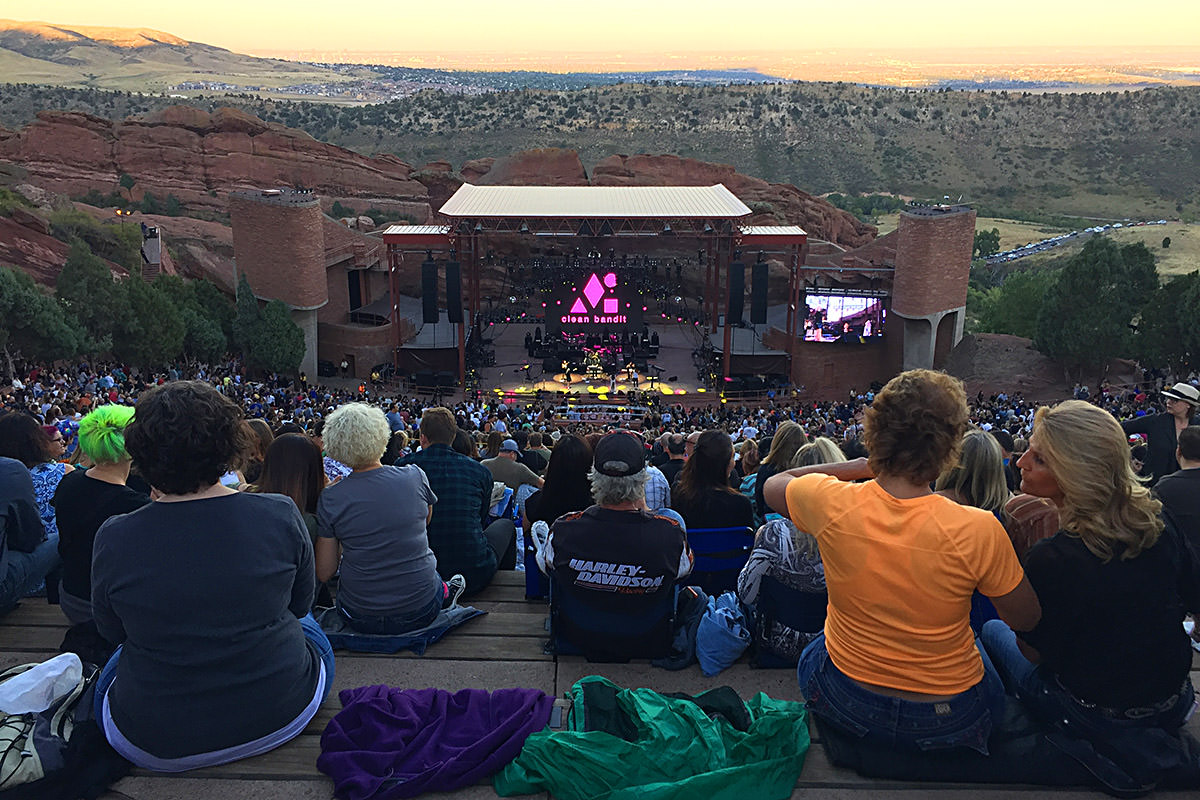 • Became obsessed with LEGO Dimensions...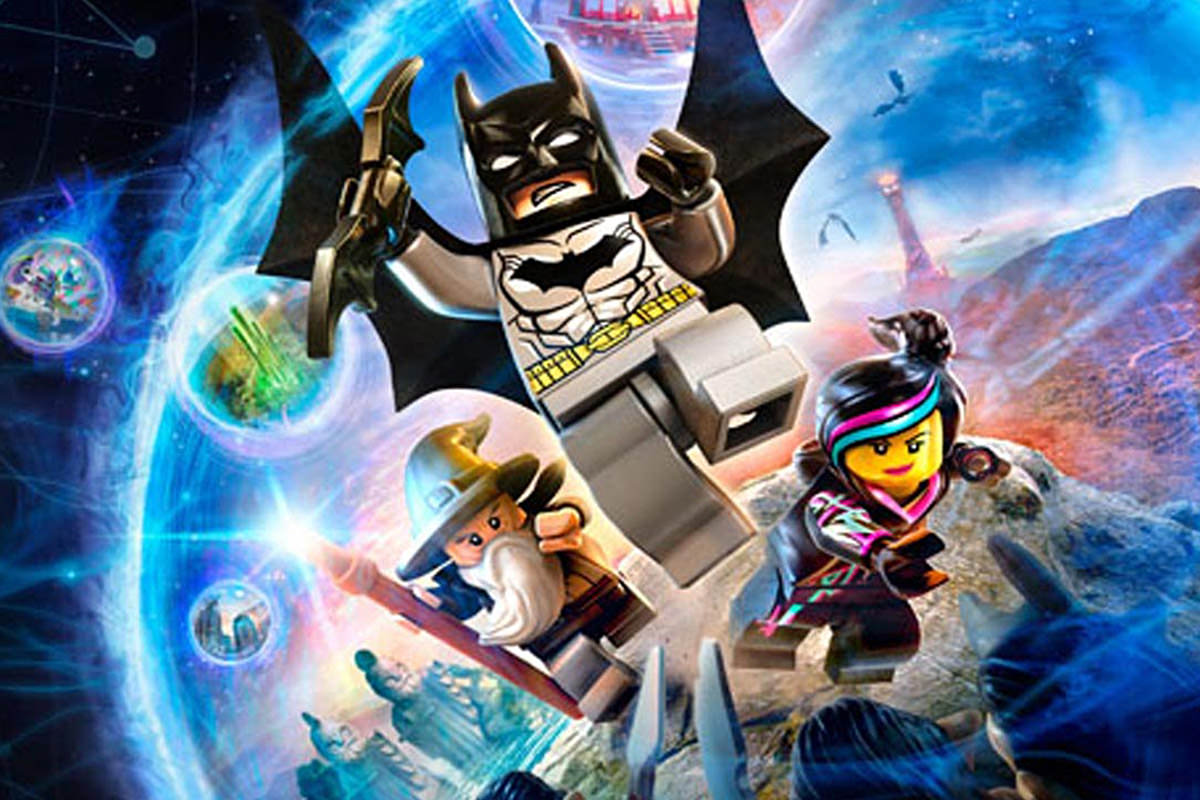 ---
OCTOBER
• Sorry, I'm not Josh...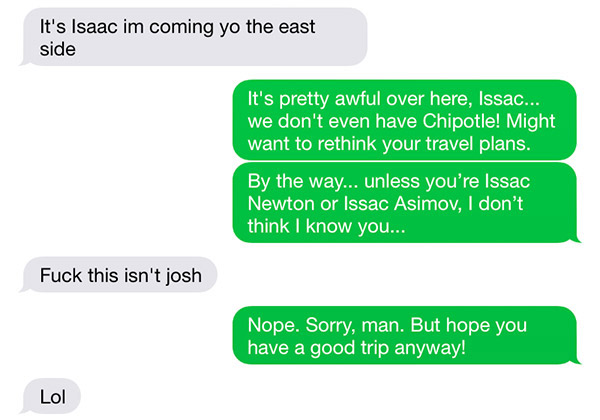 • iTunes is the shittiest software ever.
• Spent a beautiful day in Marin County...

• Went to see Walk the Moon with Jestertunes...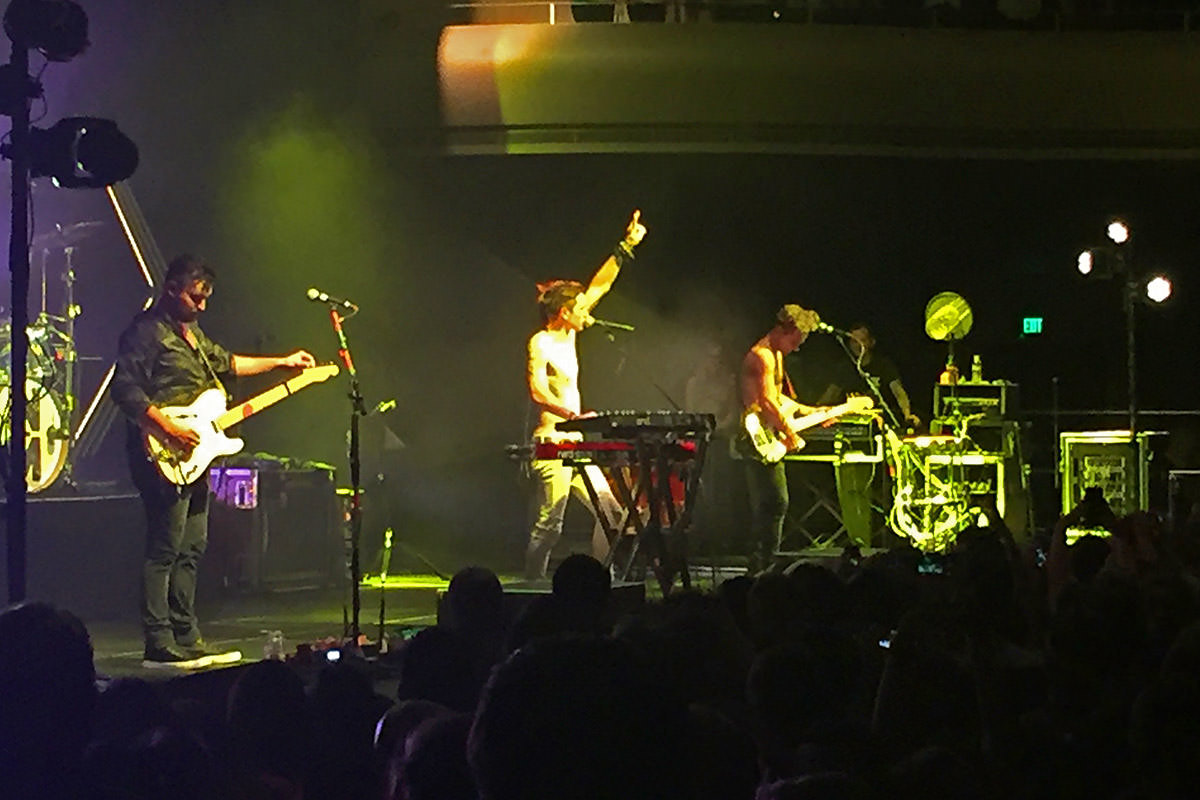 ---
NOVEMBER
• Finally said goodbye to my piece of shit car.
• Took a step towards fulfilling a dream...
---
DECEMBER
• On a trip to Portland, Maine, I discovered that United Airlines Don't Give a Fuck.
• Delved into the world of home automation.
• Closed out my travel year by flying back to San Francisco so I could see The 1975 with Jestertunes.
---
And that was my adventures in 2015.
Here's wishing everybody a terrific 2016!

There's hope for 2017, because an all new Bullet Sunday starts... now...

• WALL! And so now The American People are going to have to pay for President Pussy-Grabber's idiotic Mexico border wall. As if there were ever any doubt. Can I just have the $25 instead? Giving everybody in the US $25 would be just as effective as this HYSTERICAL LEVEL OF DUMBFUCKERY would be in protecting the country. Look, it's not going to work. It's not going to stop drugs. It's not going to stop illegal immigration. And it's FUCKING IMPOSSIBLE TO BUILD THIS BULLSHIT IN THE FIRST PLACE... JUST ASK ANY ARCHITECT! — And Trump's 8 Billion price tag is a joke. It's going to run billions over that in costs AND EVERYBODY KNOWS IT. And the price doesn't even include the outrageous cost of maintaining such a wall... which is BILLIONS more. This is absolutely one of the most stupid fucking things I have ever heard of. It's a security blanket for total morons, and we're all going to have to pay the price. And if you honestly believe that Mexico is going to reimburse us for the final cost of something that doesn't even work? You need a serious reality check.

• Home! I'm a big fan of unique houses, and just when I think I've seen it all, something cool like this comes along...
Yeah... I'd have figured out a way to have a bathroom up there, but other than that? What an awesome place to call home!

• LARSENNNNNNN! I head to Antarctica for a photography expedition in 324 days. After wanting to visit for decades, I finally decided to throw finances to the wind and go this year because every time I see Antarctica in the news, it's because another chunk of the ice shelves is breaking off. And scientists are saying another massive chunk is about to go...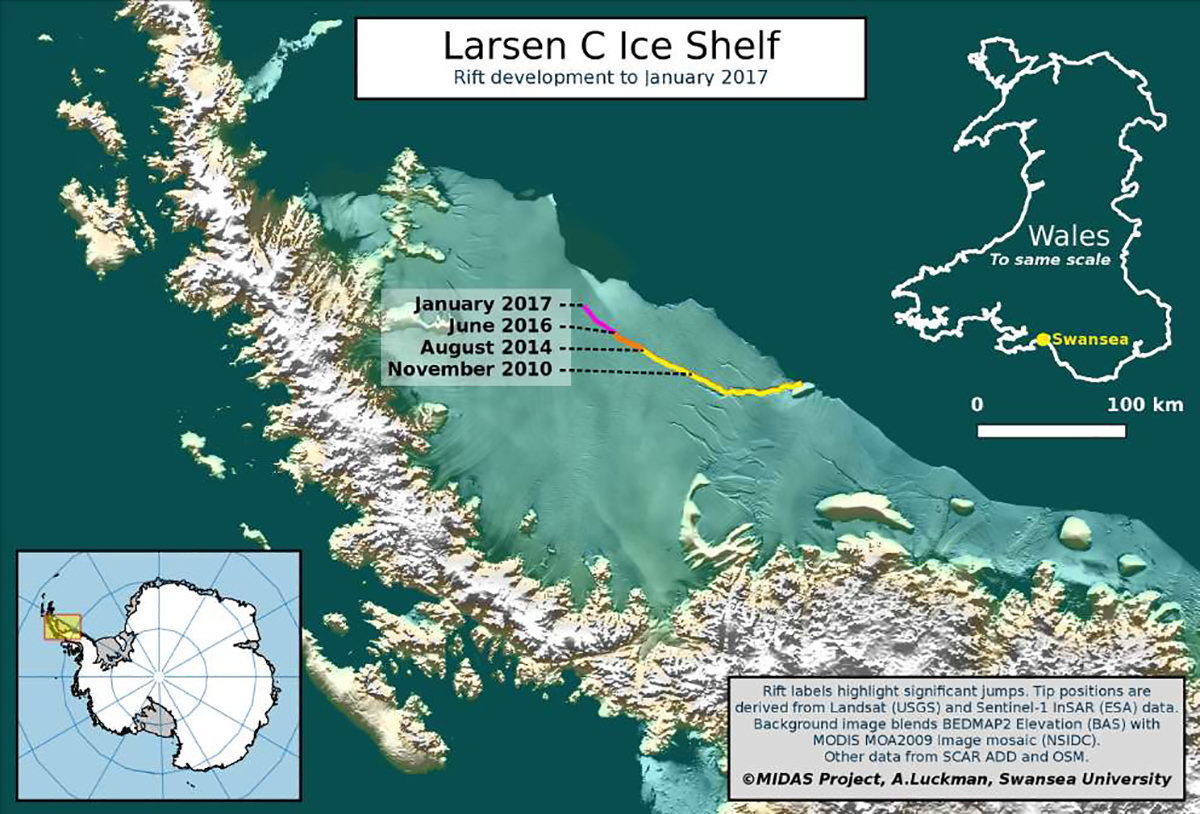 A map of Larsen C's iceberg by MIDAS/Swansea University/Aberystwyth University
Now I'm just hoping that enough of Antarctica holds together for me to see it come December...

• This is It! If you're into cheesy Norman Lear comedies from the 1970's, then have I got a treat for you. Netflix has used that same framework to delve into contemporary issues by remaking One Day At A Time with a Cuban twist. It's a glorious trip back in time that's about as well-done as comedy gets...
As if that weren't enough, they had Gloria Estefan remake the theme song with a latin twist...
I really, really hope that this critically acclaimed show gets a second season. There's a lot more to be said.

• Maui! I was saddened to learn that the Hard Rock Cafe in Maui closed this past week. This was my very first Hard Rock, and is what got me into traveling the world to visit 165 more of them (and counting!). It had the perfect location at the end of Front Street in Lahaina, and was about the most laid-back cafe you could hope for when vacationing in Hawaii. From my DaveCafe blog...
While vacationing with friends in Maui (circa August 1990), we were wandering around Lahaina looking for a place to eat. As we came to the end of the Front Street tourist shopping district, one of us spied a place called "Hard Rock Cafe" in an unassuming building across the street. It sounded like fun, so away we went.

Little did I realize how my life would change after that moment.

At the time I remember thinking "The Hard Rock Cafe is such a great idea… it's like eating in the middle of a Rock-n-Roll museum!" I hadn't seen anything like it, and was so impressed I bought a couple pins at the gift shop. When we went back to Lahaina a few days later, I ended up buying a denim jacket that I still have today.

When I got back home, I discovered that there were 22 other Hard Rock Cafes around the world. But none of them were in Seattle, which is why I hadn't heard of them before. Some were in places I might visit one day (San Francisco, New York, Chicago)… but others seemed like impossible destinations I'd never see (Reykjavik, Stockholm, Singapore).

How wrong I was.

As time went on, I started traveling more and more, and managed to see some Hard Rock Cafes along the way. Pretty soon I found myself traveling to places specifically to see the cafes there. By that point I was becoming obsessed, and set a goal to visit 50 properties before the end of the year 2000, 10 years after my first visit in Maui. That I did in December of 2000 when I vacationed in Rome, Italy. I always thought that once I reached my goal, that would be the end of it all, but I was wrong again. I kept going, visited properties around the globe and adding to my growing collection of pins, T-shirts, and glassware.

I owe a great debt to the Hard Rock Cafe for exposing me to places I probably never would have seen if not for their restaurants, hotels, and such. Amazing places like Warsaw, Poland… Bali, Indonesia… and Lisbon, Portugal (to name a few). Even nifty places here in the USA that I never would have gone to if not for checking another cafe off my list. I may go for the Hard Rock, but I always stay for all the other wonders these places offer.

And there are still so many places yet to see.
You will be missed...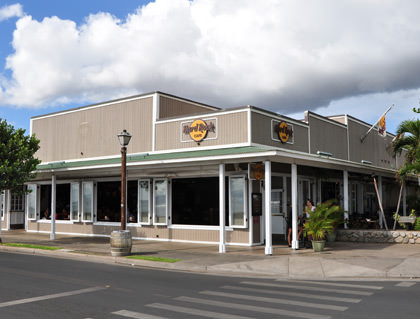 And, while we're on the subject...
The original Hard Rock Cafe in Las Vegas (in front of the Hard Rock Hotel) has also closed. Probably because they opened a second cafe on The Strip, and there wasn't enough room for two of them. This is a shame, because the original had a much better "Hard Rock feel" to it... as opposed to the "Hipster Lounge" style that they've got going now.
Ah well. Progress and all that.

I'm outta bullets, so have a good week, everybody!
So here I am for a single day in Buenos Aires... what to do, what to do, what to do?
After surviving an insane taxi ride into the city, my soon-to-be-cabinmate and I decided to walk around the neighborhood while we waited for our hotel room to be ready.
Coincidentally enough... La Recoleta Cemetery, which happens to be one of the biggest attractions in the city, is directly across from the hotel.
The reason it's famous is not only because it's eclectic and beautiful... but a lot of famous Argentinian people are buried there. Like Evita herself, Eva Perón (the real version, not the Madonna version). And, sure enough, there she was...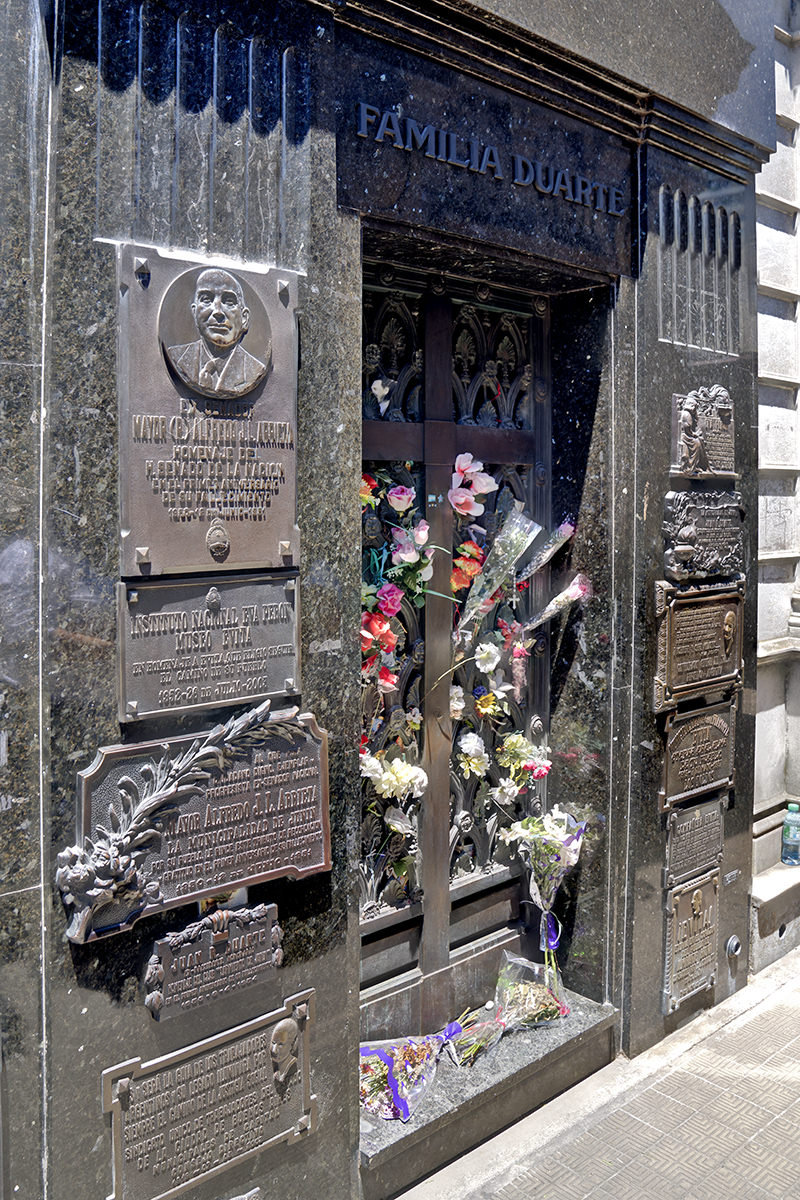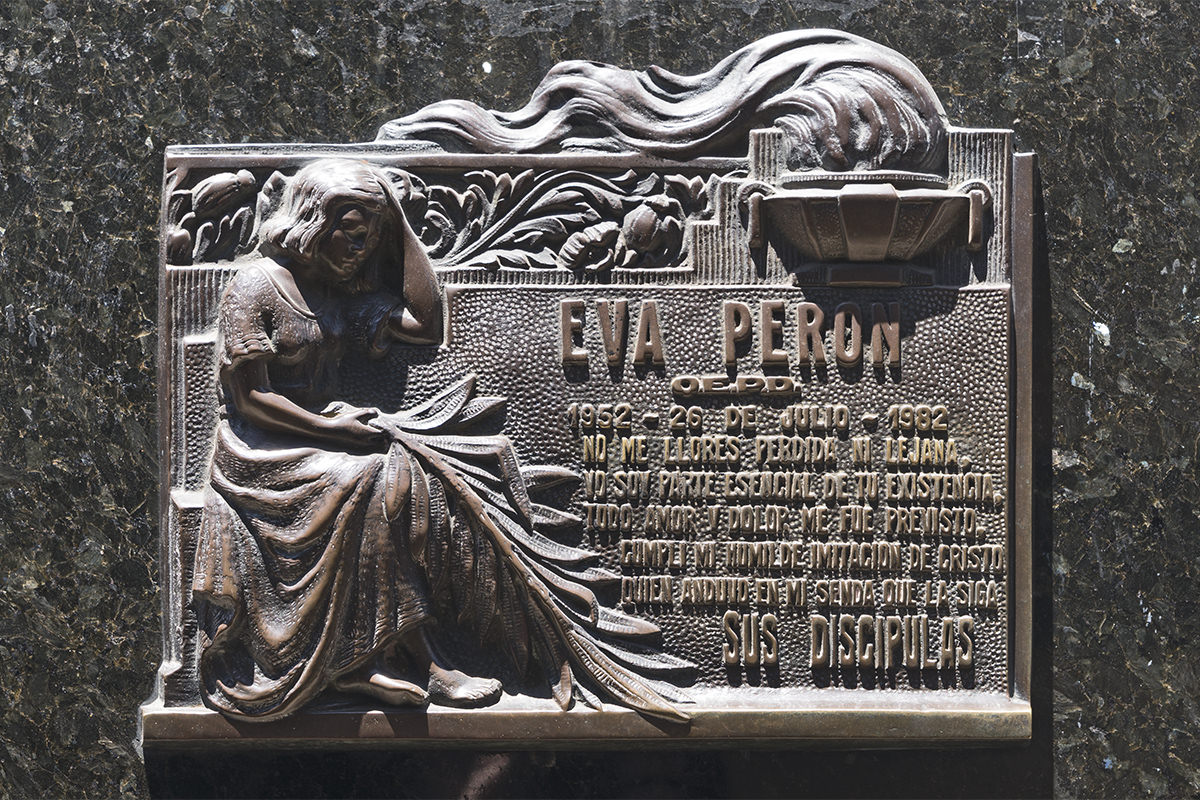 The cemetery itself is quite large (spanning several city blocks) and, as I said, is eclectic. A variety of architectural styles fill the place and something gothic and ornate can sit right next door to something stark and modern. You could spend a day wandering around the place. We breezed through in about an hour...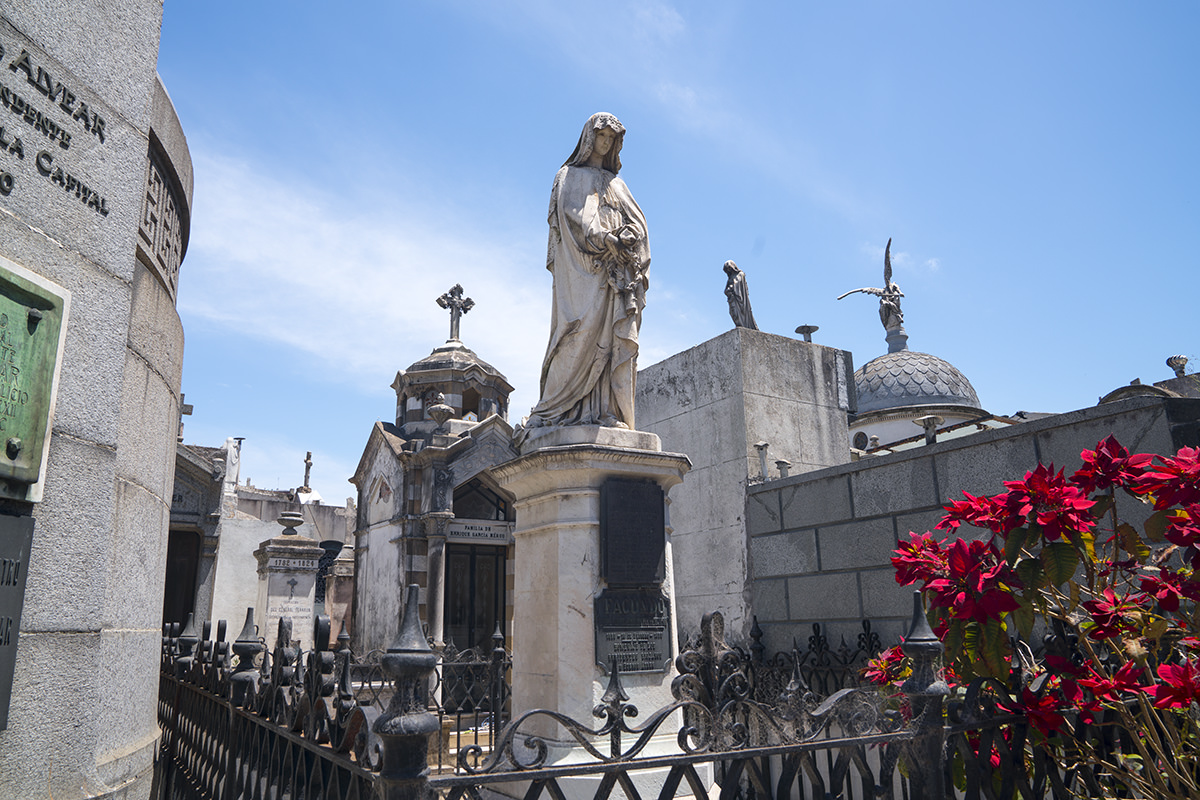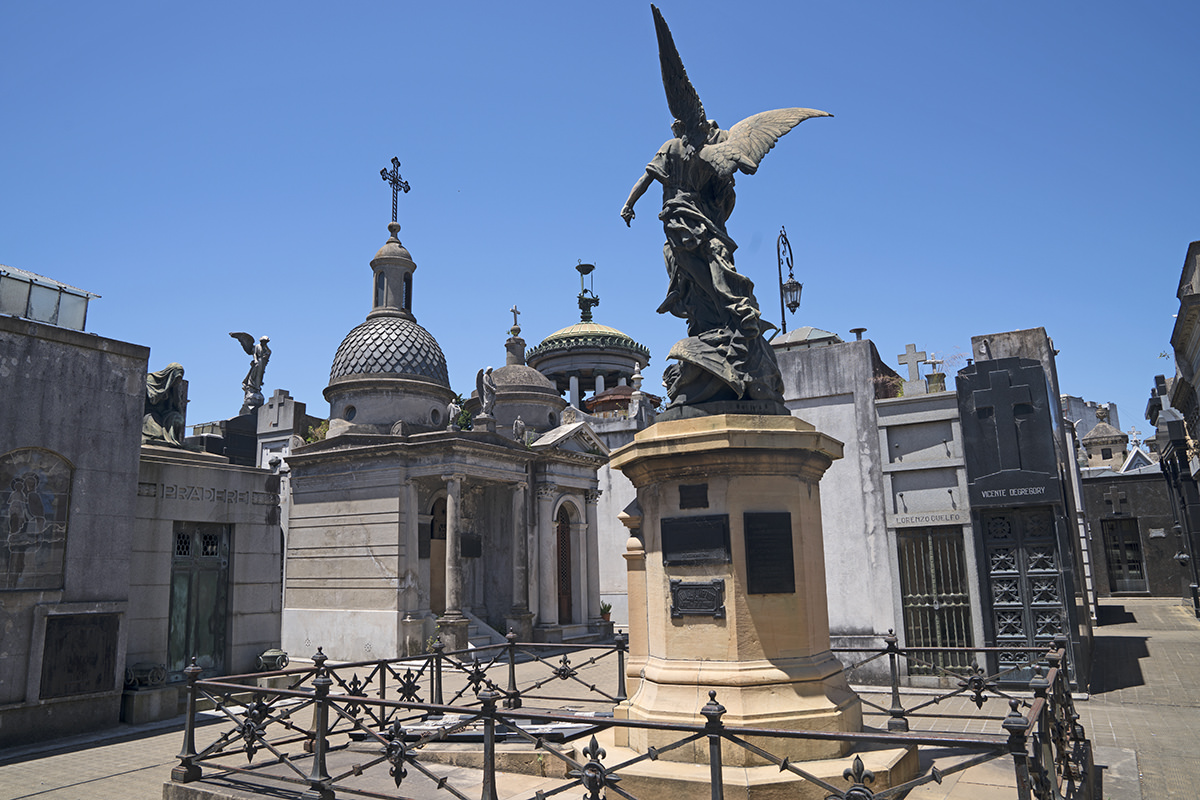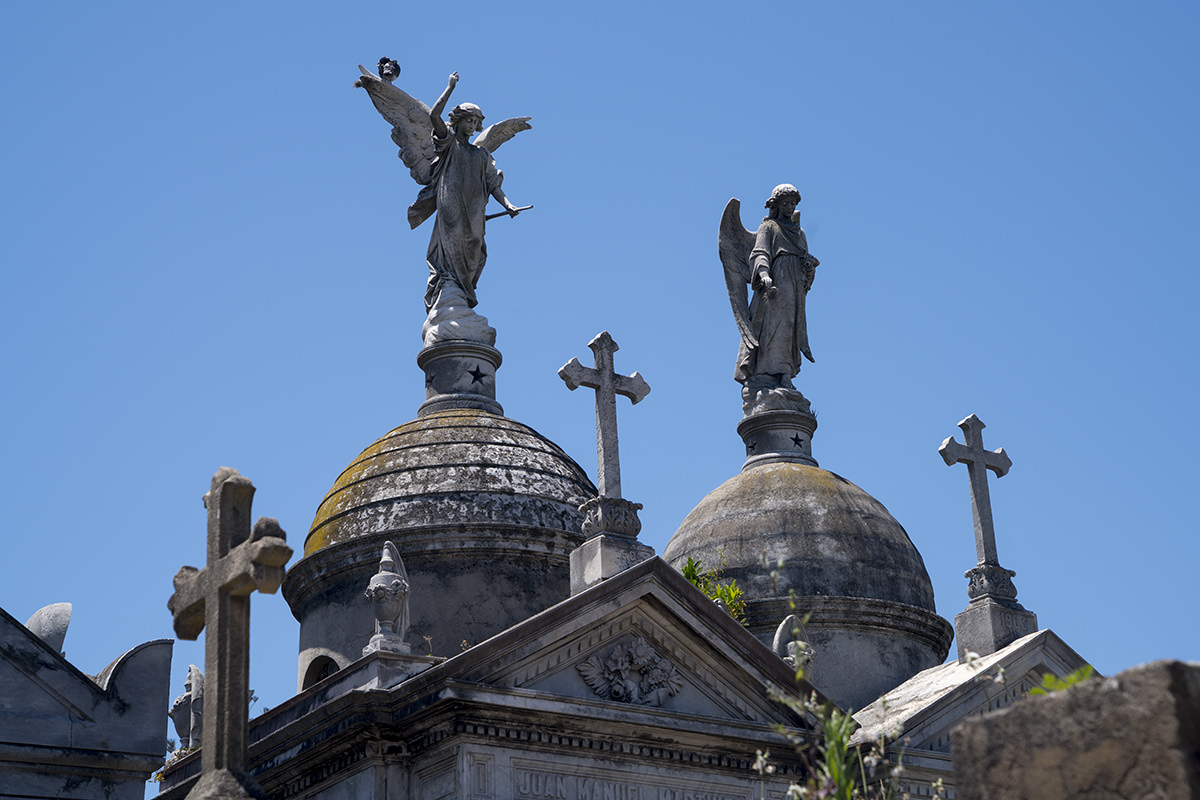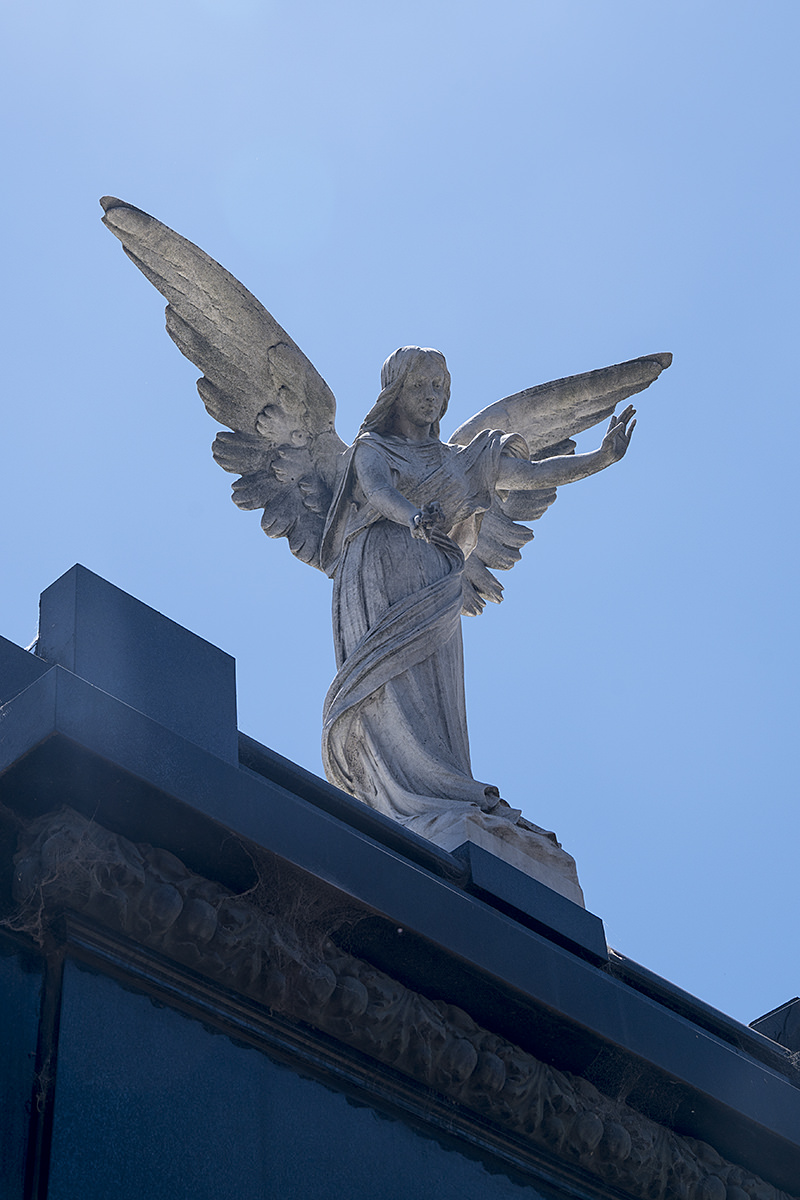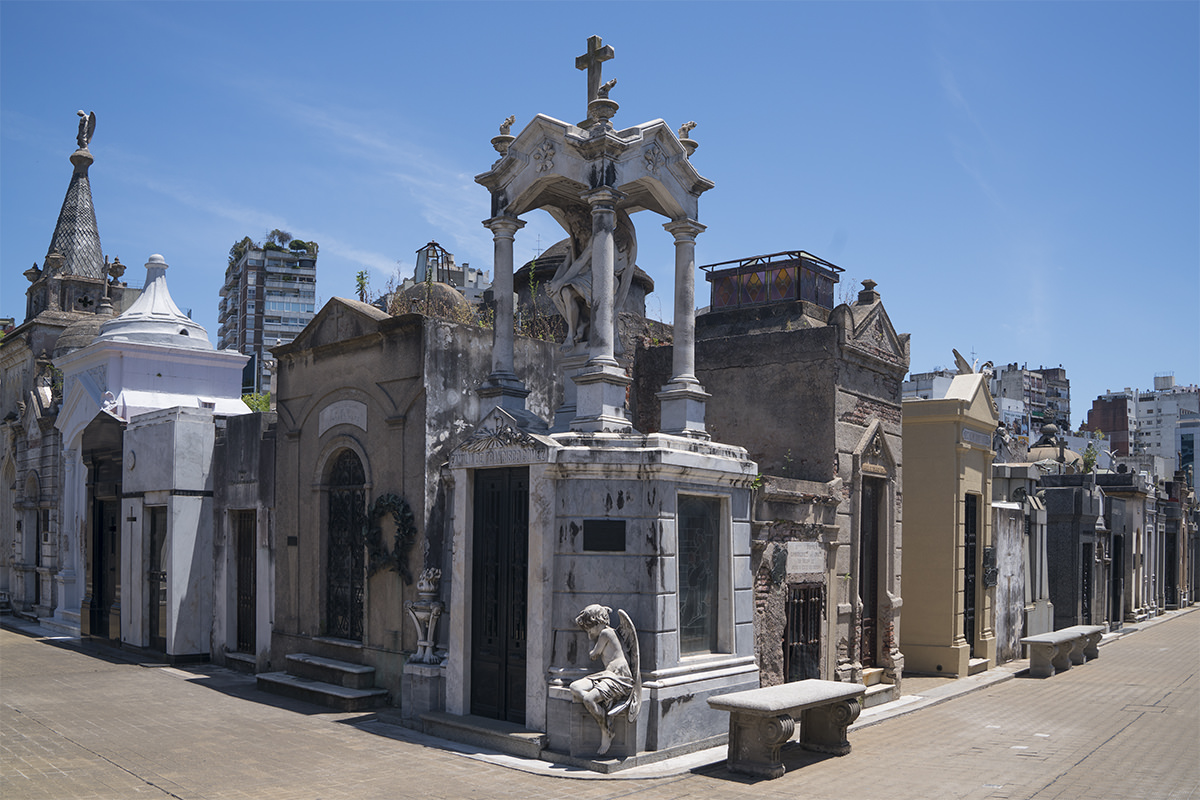 Found a pretty cemetery cat...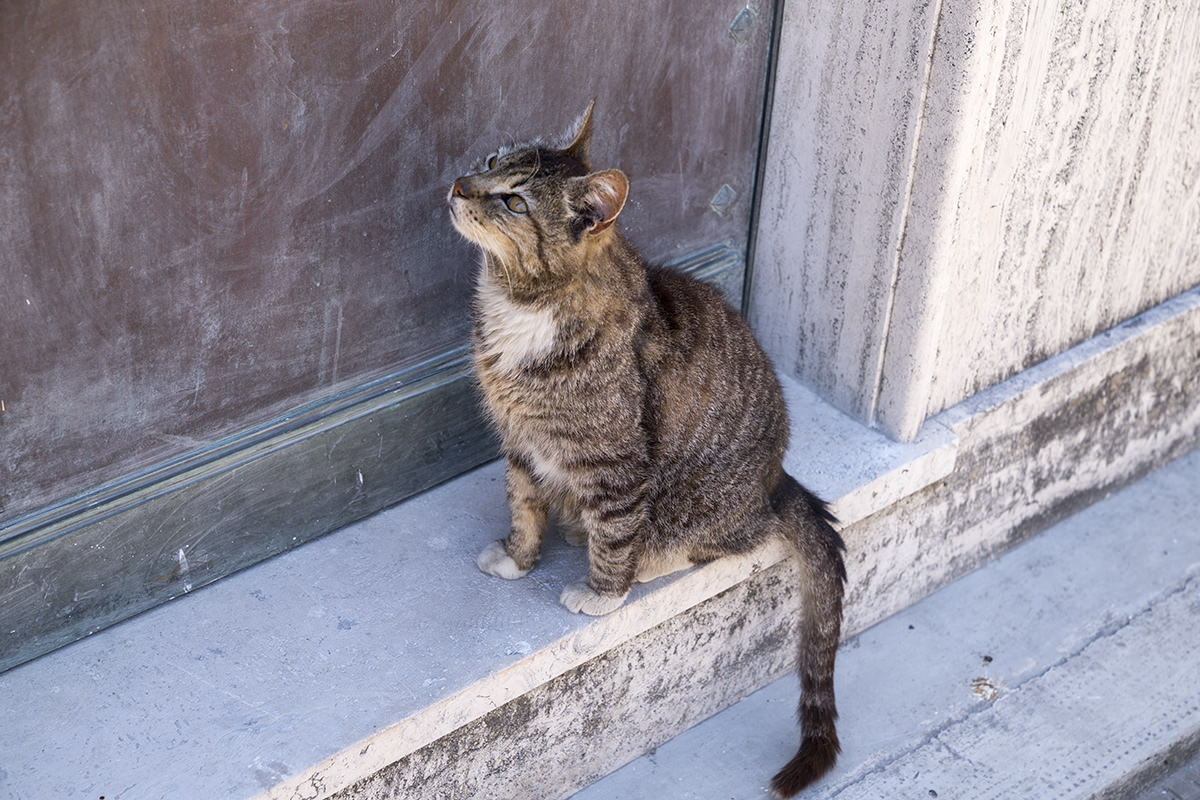 Then it was time for a walk around the corner to Hard Rock Cafe No. 167 for me...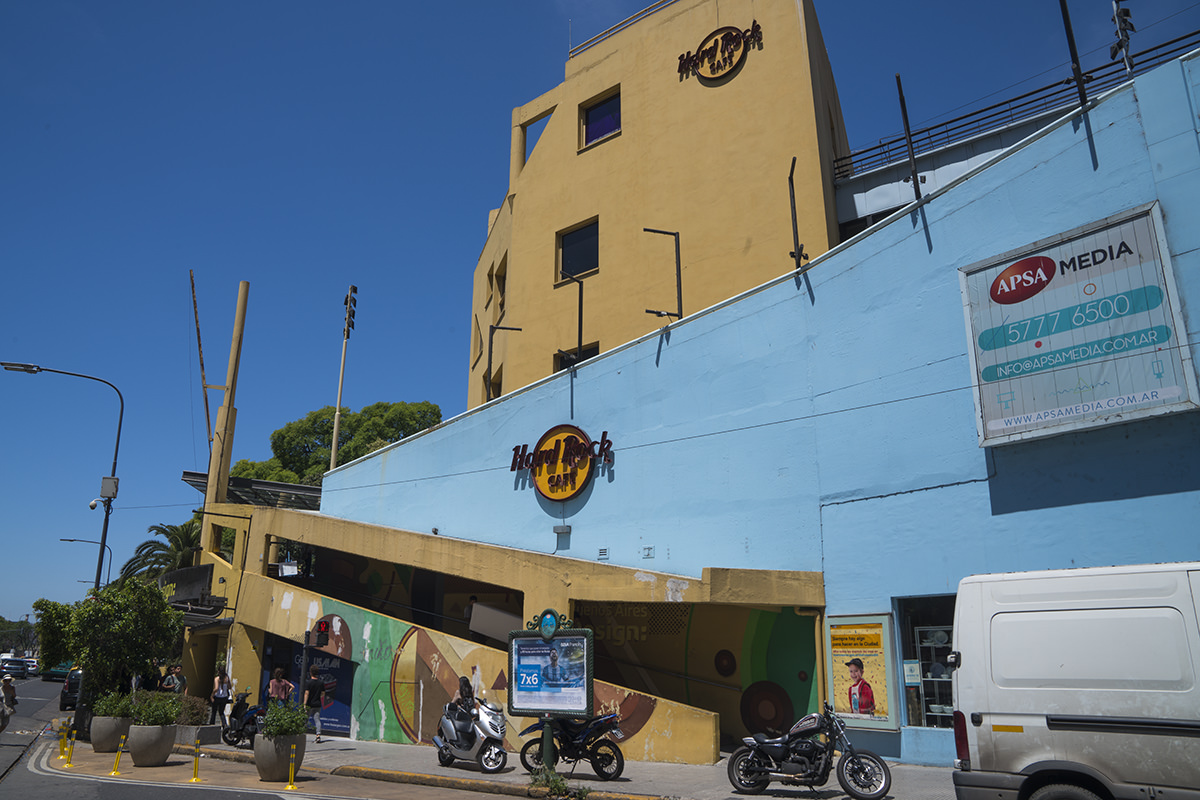 Before we knew it, 2:00 had rolled around and the hotel was ready to receive us. And I wasn't kidding about the cemetery being right across the street... as this view from our balcony will attest...


To see a more detailed view, click on the image to embiggen.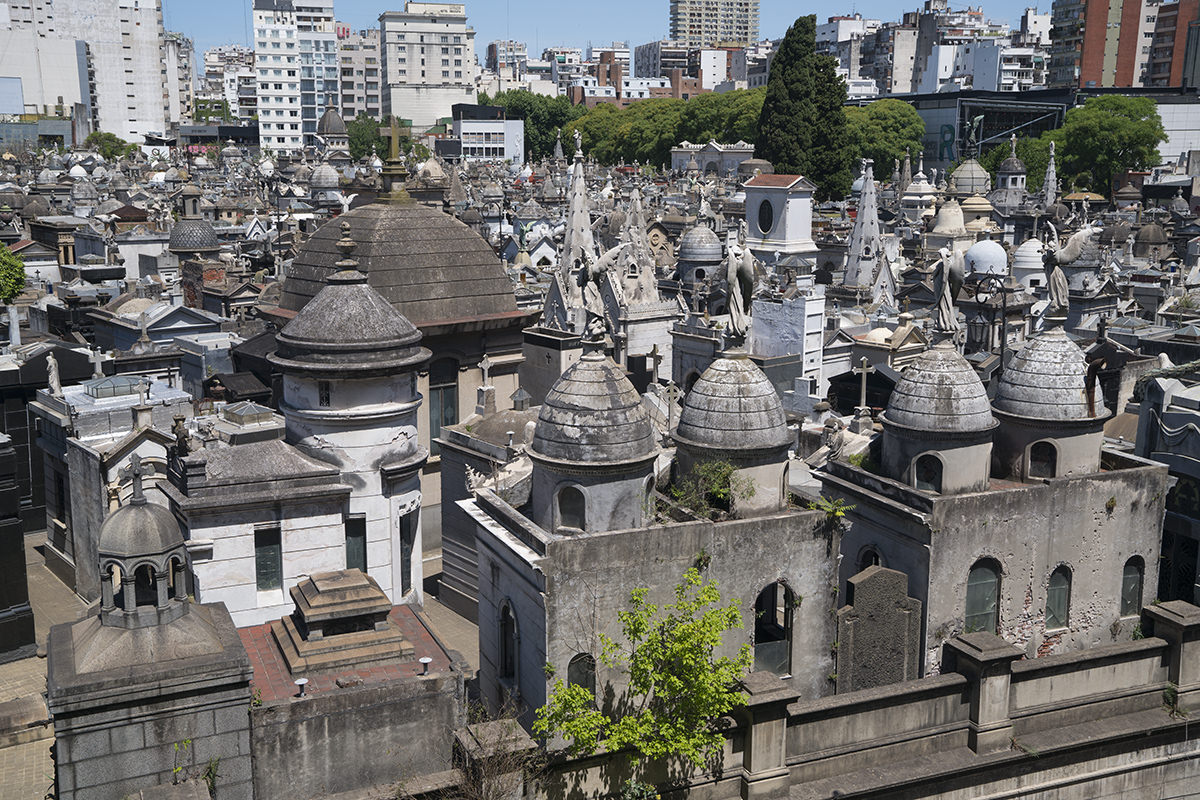 When the dinner hour arrived, we opted to take the hotel desk advice and eat Argentinian empanadas at a local restaurant. I opted for cheese and onion and corn and onion, both of which were delicious...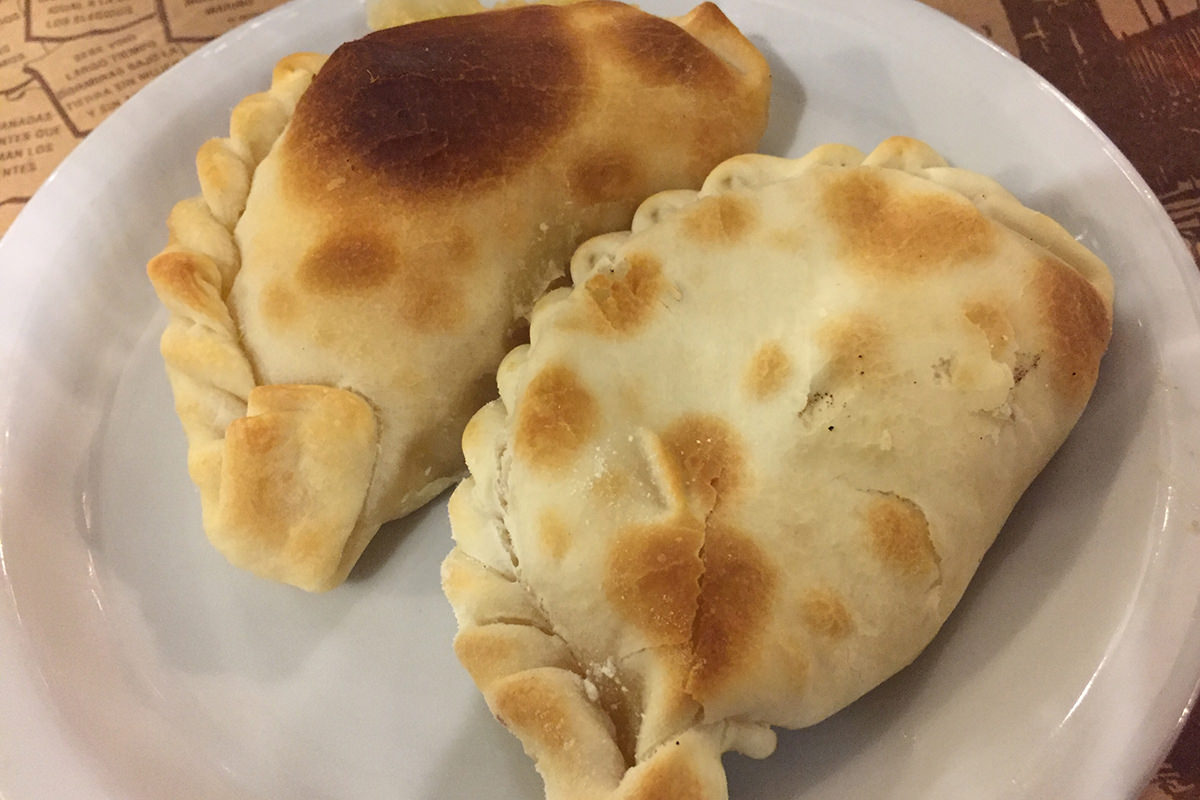 Wish I could say the same for our dinner companion, which was right above my head...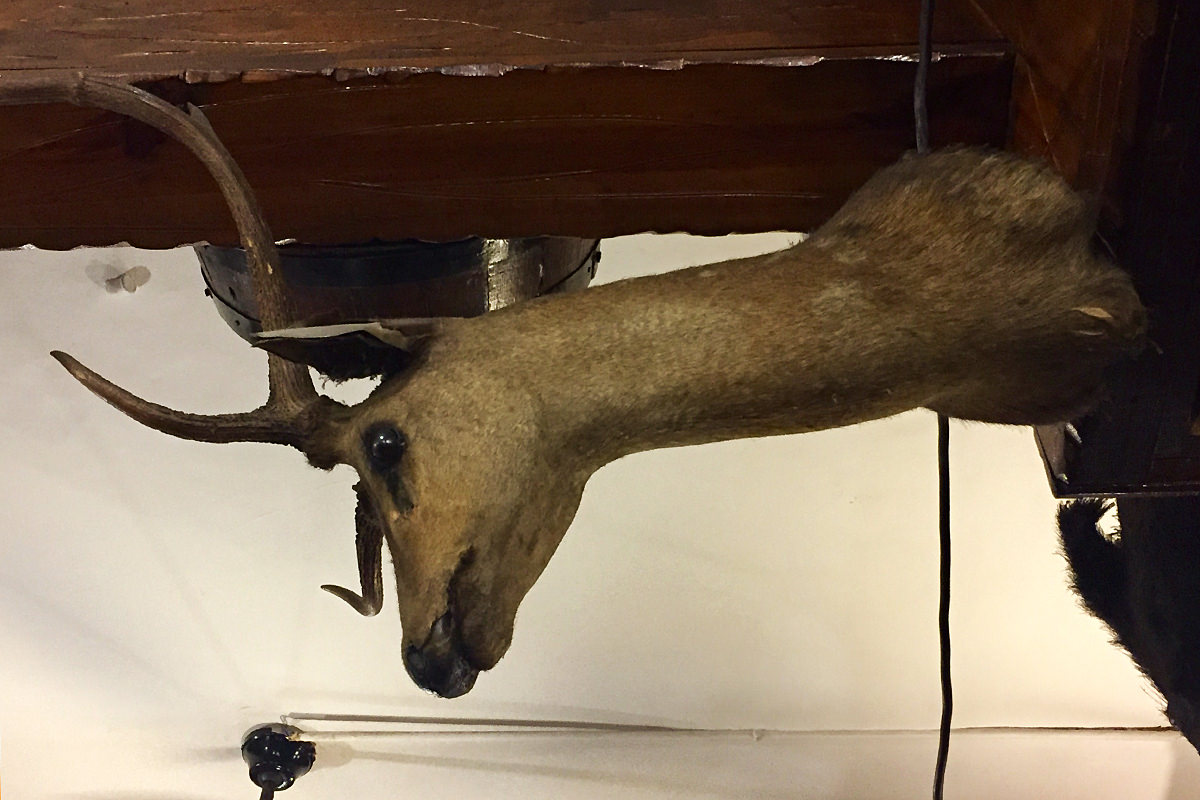 And that's pretty much the extent of my day in Buenos Aires. Which isn't a lot, but probably to be expected after traveling for the better part of 20 hours on no sleep.