The Hard Rock Cafe in Salt Lake City is a bit different than other cafes in two respects: 1) Due to Utah State liquor laws, there is no bar in the cafe... instead, you must purchase a "membership" to "The Brickhouse" which is a private club upstairs where the bar resides. 2) Since the number of rock bands out of Utah are fairly limited, local flavor is a bit sparse. Despite these two small quirks, HRC-SLC is a very nice property in the historic Trolley Square area of the city.

The memorabilia is packed to the rafters, which is what a Hard Rock is all about! Sadly, some of the more recent properties seem to have forgotten this. If you look carefully, you can see the entrance to "The Brickhouse" up the stairs...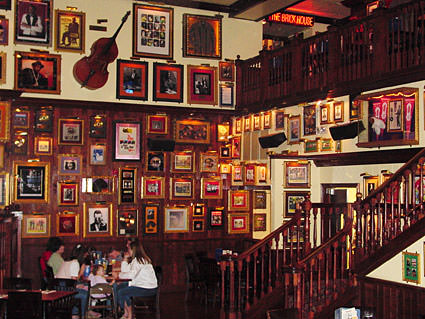 Of course, there is one famous rocker to come out of Utah... Donny "I'm a little bit rock-n-roll" Osmond! Naturally, there's a nice section of memorabilia from the entire Osmond family, but the Donnie and Marie dolls are classic...
Salt Lake City is a bit out of the way for most people, but the Hard Rock is worth the effort if you find yourself in the Southwestern USA.