When I visited my first Hard Rock Cafe in Maui back in 1986, I had no idea that it would lead to an obsession that would carry-on for over a decade. For the past 18 years, I've included Hard Rock visits on my travels wherever I can, and have seen some wonderful parts of the world that I probably never would have travelled to if not for the Hard Rock Cafe. When Perry and I planned this run through Europe, I knew that my 100th visit would occur at the end, and worked the schedule so that it would be someplace special, namely the beautiful cafe in Nottingham, England (home of Robin Hood!)...
What I thought would be a private celebration of an event nearly two decades in the making, ended up being quite a bit different thanks to some sly planning on Perry's part. It turns out the cafe celebrated with me. They gave me a cake along with a T-Shirt signed by the entire staff! What an incredibly memorable way to mark my 100th Hard Rock visit (I turned the cake sideways so you could see the HRC logo that's behind the "100" candles)...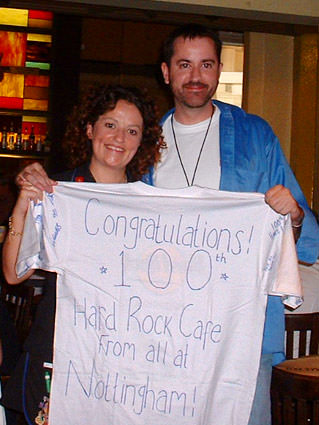 A huge thank you to my very good new friend (and fellow Hard Rocker) Perry and everybody at the Hard Rock Cafe Nottingham for such an amazing, amazing event. I can't imagine a better (or more surprising!) way to celebrate such a crazy pursuit. The Hard Rock has always been so much more than "just a restaurant" to me, and things like this remind me why I love it so much.