Posted on June 20th, 2017

And so I'm off to Las Vegas again. This time for work.
The drive over the mountains was blissfully uneventful. Many times, I was the only person on the road. Which is kind of a weird feeling. Like every other human on earth had vanished or something.
My flight was delayed three times, which is getting to be the new normal. The exact same thing happened with my last flight to Denver. This wouldn't be so bad... I mean, I've had it a lot worse than an hour... except the delay happened at the Seattle-Tacoma International Airport, which is one of the shittiest airports on earth. Not only is everything broken all the time, but they prioritize shopping kiosks and storefronts over passengers needing a place to sit down. Thus most every gate has grossly deficient seating, leaving everybody standing or sitting on the floor. It would be great if the Port of Seattle would one day remodel the airport so it's not total shit and at least attempts to provide for customer comfort... but, alas...
This trip I'm staying on The Strip. This means there's a lot more options for dining I like, but I've seen all the hotels many times over so I am quickly coming to prefer staying in Old Town. Oh well. I get to add another hotel to my checklist of "Strip Hotels I've Stayed At," which is now at half...
Aria
Bellagio
Caesars Palace
Circus Circus
Excalibur
Luxor
Mandalay Bay/Delano
Mandarin Oriental
MGM Grand
Monte Carlo
New York New York
Sarahara (now SLS/The W)
Venetian/Palazzo
Wynn/Encore
The twelve left to go...
Bally's
Cosmopolitan
Flamingo
Harrah's
Linq
Mirage
Paris
Planet Hollywood
Stratosphere
Treasure Island
Tropicana
Vdara
I've stayed at off-strip hotels in Vegas as well... most notably The Hard Rock Hotel and the Hilton, which is no longer a Hilton and has since changed its name to "Westgate."
INTERESTING ASIDE: Google Maps has secretly(?) preserved the memory of the Hilton as it used to be. When you use StreetView within the Hilton Circle, the images are as they used to be...

The old Hilton sign (which was at one point the largest freestanding sign on earth... maybe still is!).
Images ©Google Maps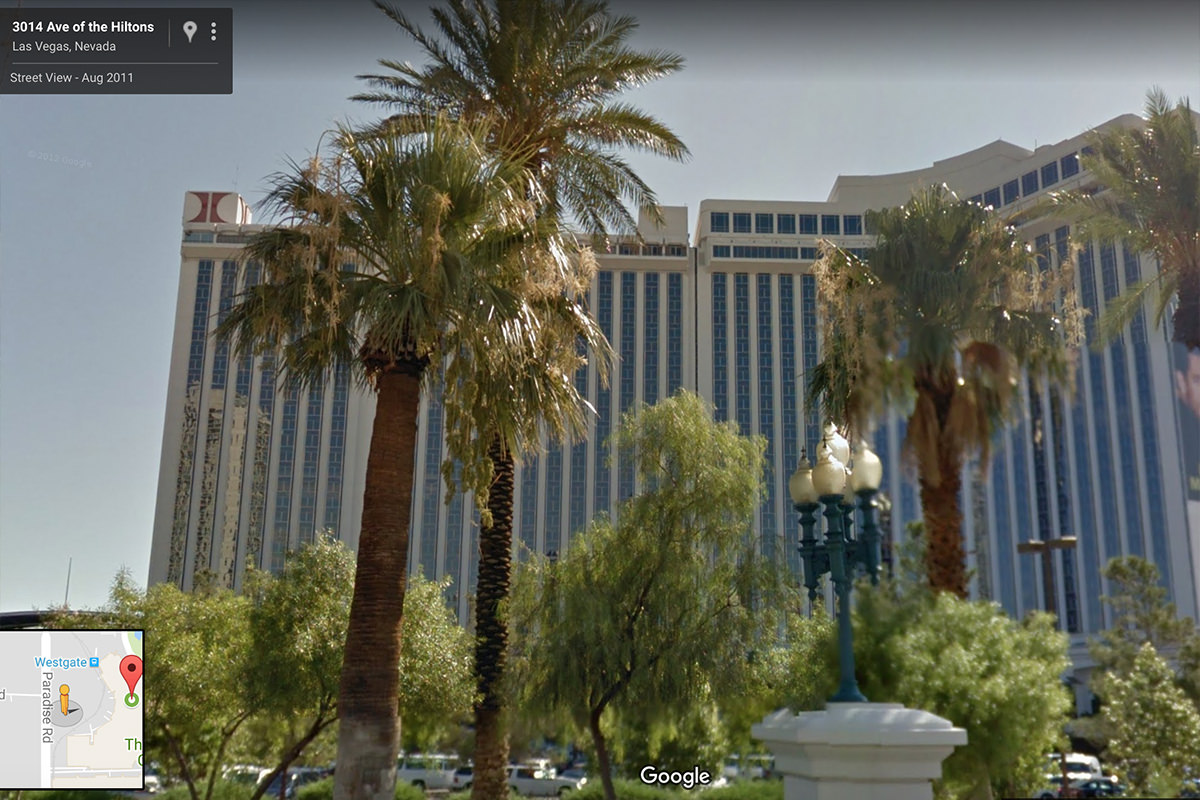 You can still see the Hilton logo-mark in the upper left on the actual hotel there.
Images ©Google Maps

And yet, if you take one step out of the circle, you get an updated view of both sign and hotel...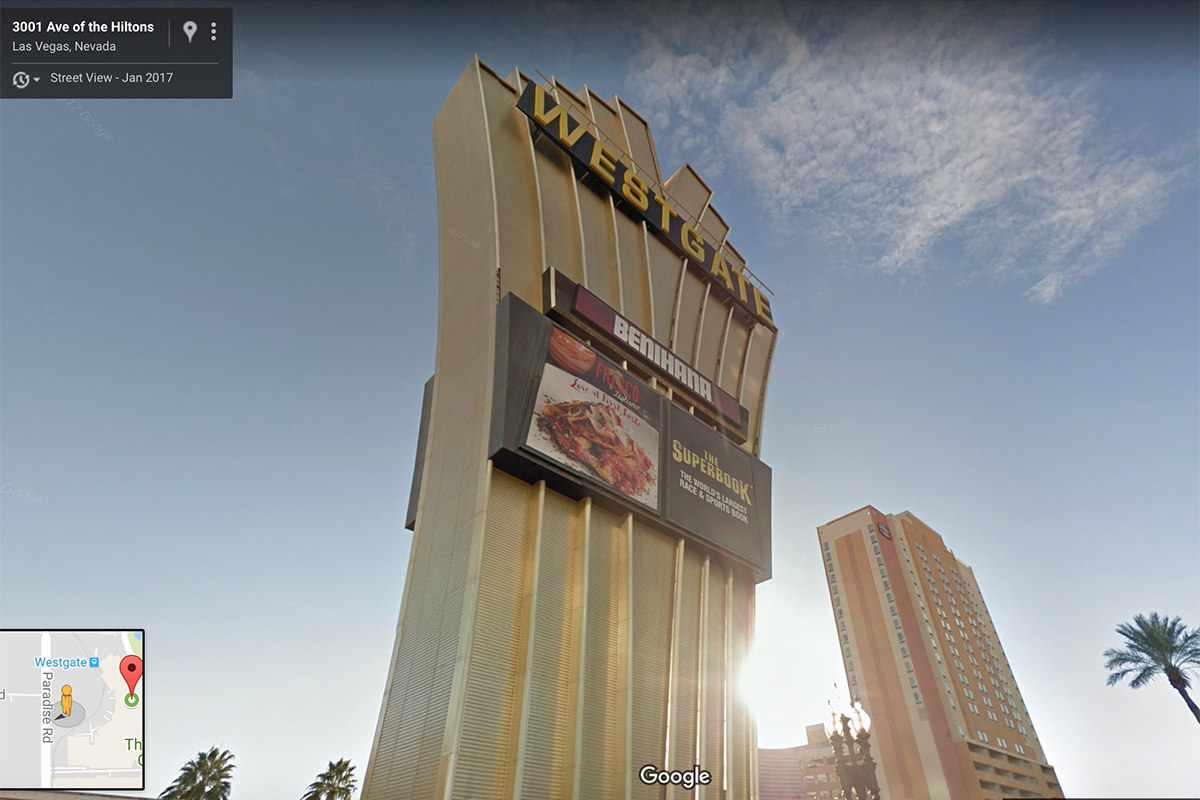 The revised sign, now Westgate. Still home of Benihana's though!
Images ©Google Maps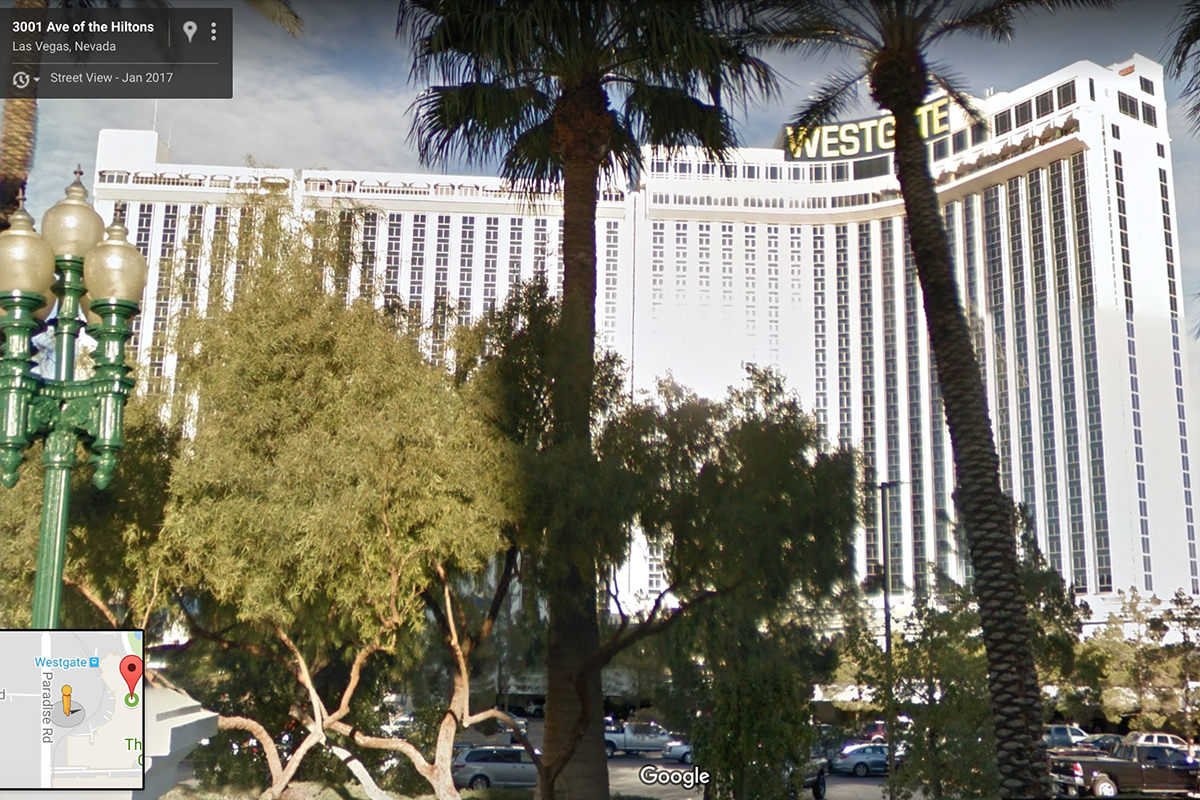 The revised branding on the hotel itself has also been updated.
Images ©Google Maps

Time for cheap eats!
My last trip, I was eating daily at Nacho Daddy off Fremont. I was happy to see that there's another Nacho Daddy on The Strip around the corner from Planet Hollywood. Thus, dinner has been secured...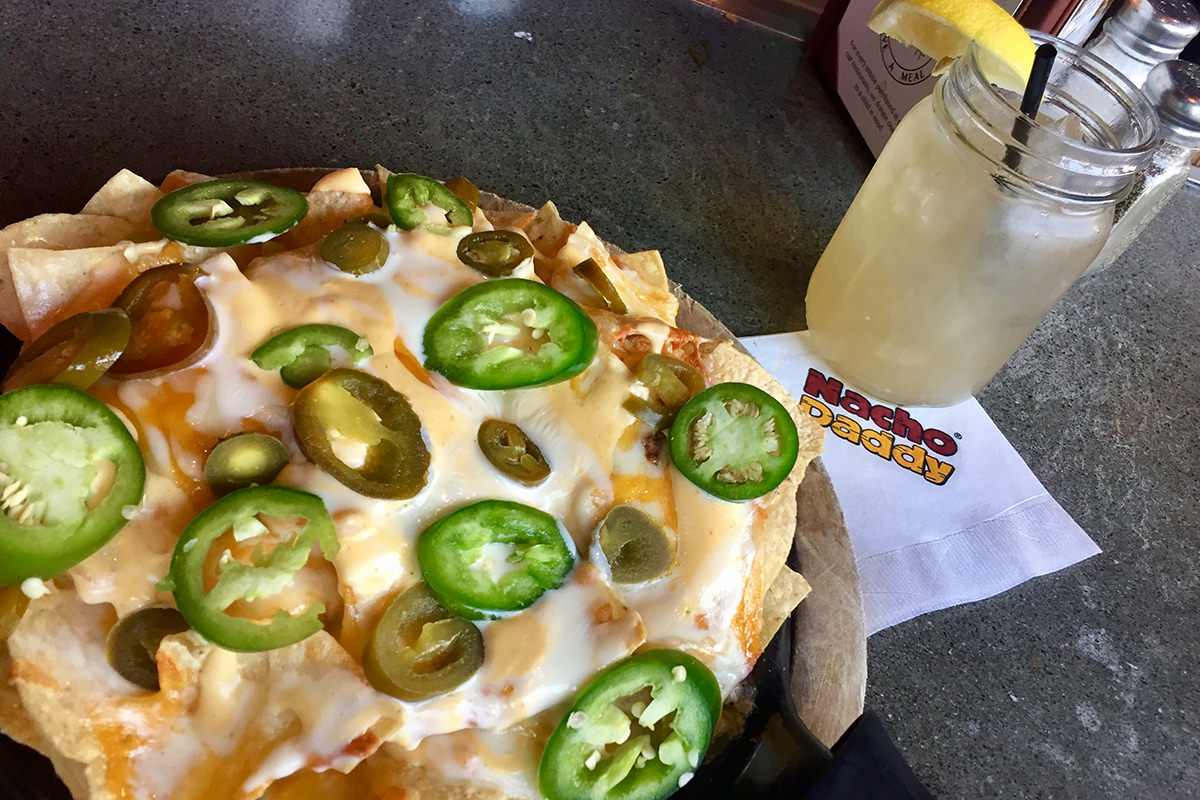 Well, I did my best to try and go with cheap eats. Unfortunately I had four Long Island ice teas, which ended up being $36 added to my $8.50 in nachos. Dooming myself to be poor, I guess.
After Jake's escape from the catio Sunday night, I'm understandably freaked out that my cats will find another way to escape my house... this time while I'm over 800 miles away and can do nothing. So I have been checking in on them at least once an hour. Jake has grown frustrated with the catio since his escape route was blocked and is sleeping inside. Jenny, on the other hand, is out there catching bugs and eating them. So... business as usual, then...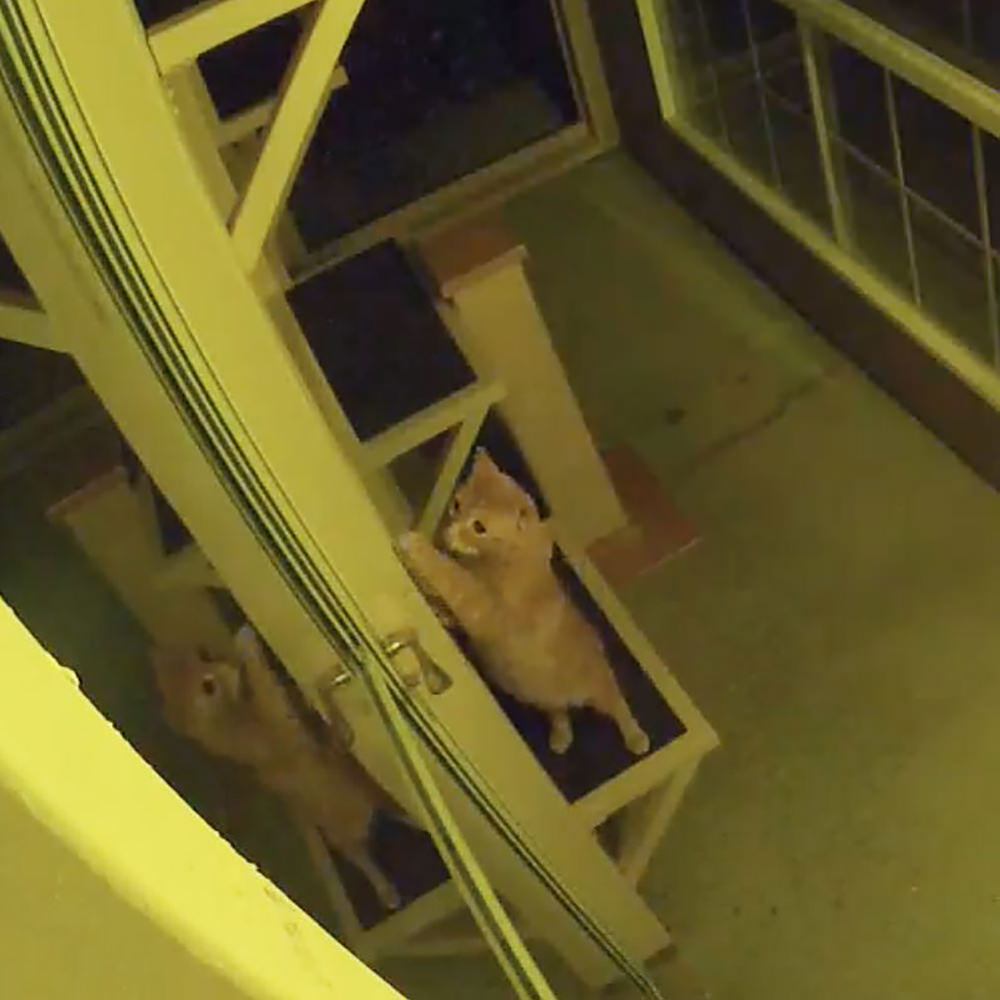 And that's Vegas for you. Now I should probably get some work done or something.
Posted on June 10th, 2014

As usual, my flight home from Pittsburgh was insanely early. The up-side being that between my ass-crack-of-dawn flight and the time change from Eastern to Pacific, I arrived back in Seattle at noon. The plan was to see a movie... maybe have dinner with a friend... possibly exchange the power adapter for my laptop... all the little things I never seem to have time for anymore.
But nooooooo... I grabbed a quick lunch, checked into my hotel, then called it a day.
Or so I thought.
Since every hotel in Seattle I could afford was full-up, I had to stay far south of the city in a remote hotel that's not very accommodating to the business traveler. Or any traveler, really. My room smelled like a combination of vomit, mold, and burning hair. I thought that was about as bad as it could get... until I found out there was no WiFi. All internet access is via ethernet cable.
Except modern computers, like my MacBook Pro, don't have an ethernet port.
Which meant I had to drive to the Apple Store so I could purchase a $30 ethernet-to-thunderbolt adapter... AND some ethernet cable with an RJ45 coupler so I could extend the cable to the bed so I could at least work comfortably.
Dinner was at Subway, because apparently I hate myself.
But don't go being finished feeling sorry for me yet...
When you exit the bathroom in my hotel room, you turn right to head back to your bed. If you walk straight ahead, you end up in the closet. Which happens to be behind by a giant door that's entirely covered by a mirror. In the daylight, this is not a big deal. But in the middle night when the room is dark and you're half asleep... some kind of optical illusion happens where you can't tell it's a mirror. Which meant I ended up walking into the thing not once... but twice! The first time I hit with the side of my face. Lesson not learned, the second time my nose smashed flat into it. I hit so hard that I thought for sure I broke it, but apparently my nose will live to smell another day.
Which is in two hours.
What are the odds I can get a little sleep before my alarm goes off?
Posted on October 24th, 2010

HOW YOU DOIN' ALBUQUERQUE?!
It's a special HARD ROCK Edition of Bullet Sunday, LIVE from the Hard Rock Hotel & Casino in Albuquerque! For those of you who don't care about my Hard Rock obsession, you might want to skip this entry.


About the only Hard Rock logo you'll see outside of their gift shop.

• HARD? Kinda. Like the Hard Rock Hotel & Casino in Tulsa, the Albuquerque property wasn't built as a Hard Rock. It's a tribal casino which has been retrofitted with Hard Rock theming in the public areas. They sprinkled cabinets of rock memorabilia around the place, added a trademark Hard Rock center bar to the casino floor, painted some classic rock lyrics on the walls, hung up some guitars, and changed the door-handles. As with Tulsa, the result is kinda half-baked. It looks like a Hard Rock property in places, but doesn't give you that overall "feel" you get from an "authentic" Hard Rock.
HARD ROCK GRADE: C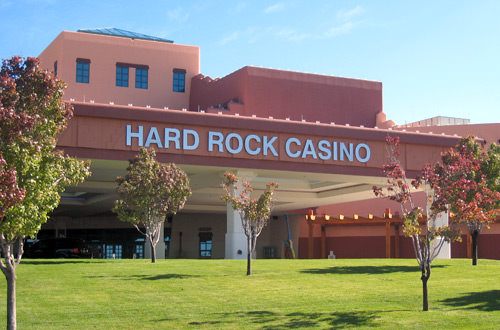 Apparently, this was the best they could do for a sign. How embarrassing.

You could slap this crap signage on a Motel 6, it doesn't make it a Hard Rock.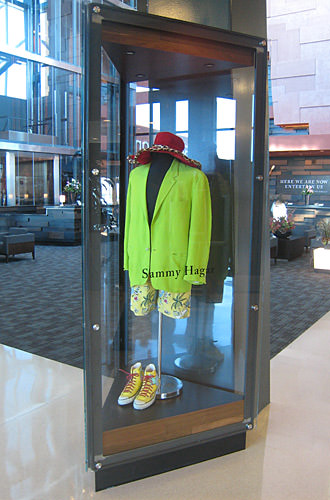 Sammy Hagar suit display case. THIS is Hard Rock.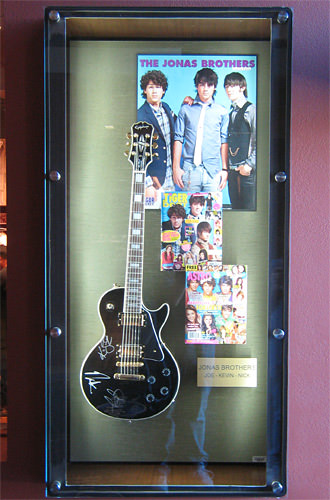 Jonas Brothers guitar display. I have no idea what the fuck this is.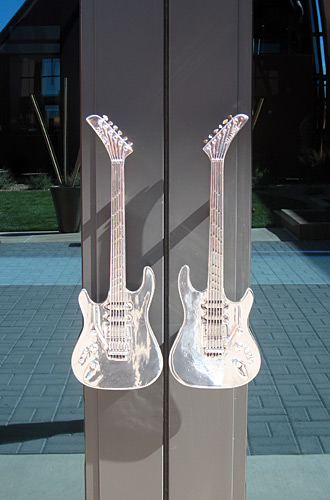 Nice. Guitar-shaped door handles. We need MORE of this kind of stuff here.

• ROCK? Not so much. The property is what it is, but... if you are a Hard Rock fanatic like me, that's not the problem. Once again, my Pin Collector's Card is worthless. No discount. No visitation credit. When I showed my card to the cashier, she literally said "We don't take that. We're not affiliated with the Hard Rock Cafe"... I shit you not. I responded "No... you just brand your hotel with their logo, sell tons of their logo merchandise, and create pins and shot glasses specifically for Hard Rock collectors. You're not affiliated at all!" Then I laughed it off as a joke, but I wasn't joking. Again, if you are licensing the Hard Rock brand and passing yourself off as a Hard Rock property, then BE A FUCKING HARD ROCK PROPERTY! When HRC Corporate licenses out their brand, one of the conditions should be that licensees are required to honor their club cards. Otherwise, you're just going to piss off your most diehard fans and customers. At least they had a good selection of merchandise and people who understood it (unlike the dismal merch shop in Tulsa).
HARD ROCK COLLECTOR GRADE: D+

Never mind the tons of Hard Rock logo merch... they're not affiliated with the Hard Rock!

• CASINO? Nice. While not seeming very "Hard Rock" to me, I must admit that my friends and I had a blast at the casino. Biggest plus is the gorgeous lady dealers at the table games dressed in corsets and stockings! Brutally hot (if only they allowed photos in casinos). You could lose every penny you had and just not care! They also have lots of modern slots (including a small non-smoking area), free coffee & Coke refreshment centers, and a snack bar (with the worst $4.95 nachos I've ever eaten... the "cheese" tasted like motor oil). All in all, it's a classy casino with a great staff which has a nice layout and offers a "full" casino experience (including a Bingo room, table games, and poker parlor). There's a "Rockstar" rewards club for the frequent gambler.
HARD ROCK CASINO GRADE: C • CASINO GRADE: A-

• HOTEL? Boring. The hotel rooms are pretty basic as there is no Hard Rock theming of any kind. With the exception of the hotel services book and the soaps which say "Hard Rock Hotel," you'd never know that this is a Hard Rock at all. The Native American prints on the walls are nice, but not Hard Rock. Even putting all that aside, there are still problems. The clock was not set to the correct time. The room smells funky (like burnt hair?). The wall television didn't work and had a giant annoying glowing light on the bottom that I had to cover so I could sleep. And I had to keep the bathroom door closed because the toilet would start running at random. Ultimately, my $170 "DELUXE" room doesn't seem very "deluxe" and my promised "view" isn't that great. About the only positive I can offer is that it was clean.
HARD ROCK HOTEL GRADE: F • HOTEL GRADE: C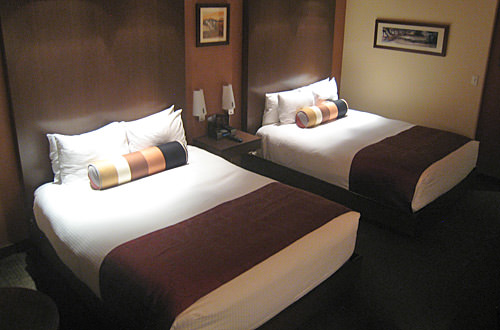 Not bad... but not very Hard Rock either.

See that tiny leather binder and notepad on the desk? The only thing Hard Rock in this entire photo.

• NOISE? FAIL! This hotel is noisy as hell. Rude people are screaming down the hallways at all hours of the day and night. Doors are slamming constantly. Hotel staff are walking around 24-7 screaming into their radios which are blaring at full volume. And you hear everything. Absolutely no effort was made to soundproof anything. Thus I can sum up the relaxation level of my room as "miserable." If you have any aspirations of getting even a little sleep... best bring earplugs. You'll need them.
ROOM NOISE GRADE: D

• FOOD? Okay to Great. In addition to the truly awful "food" being sold at the casino snack bar, there's other dining options available... EAGLE'S NEST BUFFET: While modest by Vegas standards, the buffet still looked decent. I took a pass, because vegetarians will never get their $13.95 worth. LUCHA: A nice Mexican restaurant by day which transforms into a Tequila bar at night. I had dinner here and really enjoyed it. Everything was fresh and flavorful, and the guacamole was fantastic. 505 FUSION: A very nice, upscale nightclub, we had drinks here last night. Pizza and appetizers were okay, but nothing special. The menu looked decent, but none of us were hungry enough to order late supper. CHILL: Great-tasting quality ice cream parlor. TIWA: An upscale cafe, but the menu was definitely meat-oriented, so I took a pass. THE DELI: I had a cheap, bland grilled-cheese sandwich with undercooked, waggy fries that had me chained to the toilet an hour after eating here (thank heavens for Imodium!).
DINING GRADE: C- (LUCHA DINING GRADE: B+) (505 FUSION DINING GRADE: B-)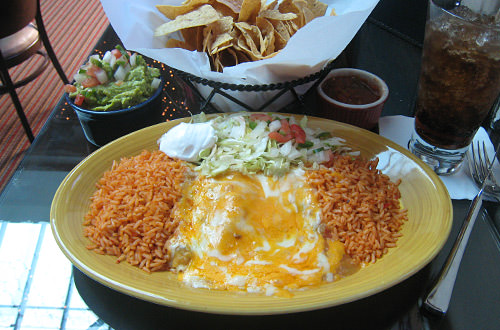 • SERVICES & SHOPS? Good! Much to my total shock and surprise, there's a free round-the-clock shuttle to the airport for registered hotel guests! They will also take you to the Isleta Pueblo station so you can catch the $2 RailRunner train into town (which is nice, because a taxi would be $35+).
There's a nice pool and an interesting spa...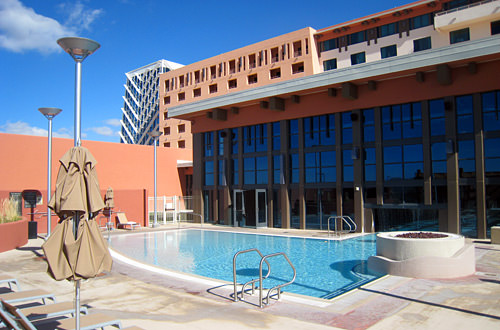 The pool continues under the glass to the inside, which is cool.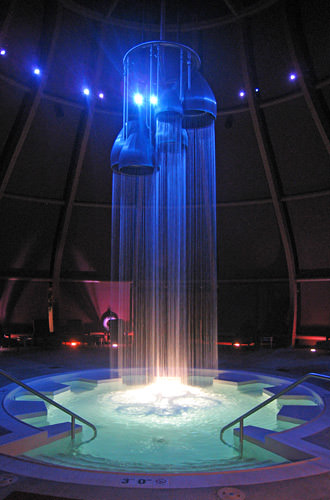 Inside the spa's hot tub pavilion at night. Nifty.
As I mentioned above, there's a Hard Rock Shop filled to the rafters with Hard Rock merchandise (though your Hard Rock All-Access Pass and Pin Club Card are useless here). There's also a very cool tattoo and body modification shop called "The Vault"...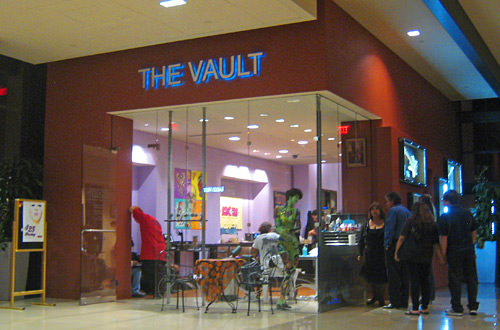 Green tattooed woman mannequin sold separately.
There's also golfing nearby at the Isleta Eagle Golf Club, and camping nearby at the Isleta Lakes Recreation Area. Lastly, there's the "Fun Connection" spot with bowling, laser tag, and an arcade (or so I'm told... I never saw it).
SERVICES GRADE: B

• PROBLEMS? Yes. In order to use the hotel elevator, you have to swipe your room key before the buttons will work. Unfortunately, the card reader in the elevator is shitty. More than once I was riding the damn thing up and down while trying to get my card to work so it would stop on my floor. Several times I'd enter the elevator only to find somebody else has been riding up and down trying to get their card to work as well. This is an obvious and highly frustrating problem, and it's just plain stupid that the hotel doesn't do something about it.

• CONCLUSION: Ultimately, I'd have to give the Hard Rock Hotel & Casino Albuquerque a pass. The hotel doesn't impress me much, and there's nothing "Hard Rock" enough about the resort to make it destination-worthy for fans. If you're in the area, it might be fun to gamble in their nice casino, but I wouldn't stay or eat here again (except perhaps dinner at Lucha).

Anyway... it was nice to meet up with my friends, I had a lot of fun, and I can't complain about the cheap-ass ticket price I paid to get here ($168 round-trip!), so overall this weekender goes in the WIN column. I just wish that these new additions to the Hard Rock family would be worth the effort on their own. They have to be, because otherwise they're just diluting the Hard Rock brand and giving people a mediocre impression of what a Hard Rock property can be when some effort goes into creating them.
Posted on July 13th, 2010

Today I had an early start with a job in Seattle, so I drove over last night to avoid having to get up at 5:00am this morning. My thinking was that I could have a nice dinner, get a haircut, then check into a hotel and relax... getting to wake up at 7:30am instead.
It was a good plan.
Except this is me we're talking about. let's have a quick run-down of my previous five hotel visits...
Lost my reservation, ended up in a stinky smoking room.
Kept awake ALL night by partying neighbors.
Awakened by a fire false-alarm at 2:00am.
No hot water. Restaurant closed.
Shuttle took 50 minutes to arrive.
And now last night?
Blown transformer, NO ELECTRICITY OR INTERNET ALL NIGHT!
I had just checked in and was exhausted from the drive. So I decided to take a quick nap before going out for a late dinner and retrieving my suitcase from the truck of my car. First thing I did was remove my pants so they wouldn't get wrinkled. Then I went to the bathroom.
Which is not something I would usually feel the need to share, except...
=BZZZZZZZ-CLICK= No power.
Fortunately I had dropped my iPhone on the bathroom counter, because my room was now pitch black. And peeing by the light of your iPhone beats peeing in the dark (there's an app for that). Once that was taken care of, I felt my way back to the bed and waited for the power to come back on. But it didn't. So I spent the next 20 minutes on my hands and knees using my iPhone as a flashlight to try and find my pants so I could leave.
Except I couldn't find my pants.
So for the next hour I occupied myself with my iPhone and a dying battery.
Finally, I heard people in the hallway and saw a light under the door. It was then that I did something I never thought I'd do... open the door in my underwear and ask a guy to shine his light in my room so I could find my pants.
Which were draped across the television for some reason.
Now that I had pants, I made my way out to my car so I could retrieve my suitcase. And the leftover Mrs. Fields' Cookies I bought to tide me over until dinner... which suddenly became my dinner, because it seemed way too late to go out to eat.
Then, just as I was falling asleep...
=BZZZZZZZ-CLICK= The power comes back on.
Along with every light in my room. Just try getting back to sleep after that.
After my morning appointment, I went back to the hotel so I could check out. As expected, there was no apology. No asking how my stay was. No sympathetic "sorry for the power outage last night." Nothing. Time was I'd have been offered some kind of compensation... like money off my bill... or a discount on my next stay... or a free meal coupon... or, at the very least, an apology. Because, for better or worse, even if it's not their fault, situations like this reflect poorly on the hotel and it's in their best interest to keep their customers happy.
Or at least it was.
Not so long ago.
Business travel is most decidedly not like it used to be.
But I did stop at IKEA for some fresh Cinnamon Buns and a new supply of Swedish Fish candies before driving home... so I guess my trip wasn't ALL bad.