If it's going to rain in The Caribbean, it's usually just for a bit in the morning until the sun comes out and burns the clouds away. Which is why I'm at a complete loss as to why the ship's itinerary has it docking in Oranjestad, Aruba (an independent part of the Netherlands) at FRICKIN' SEVEN O'CLOCK IN THE MORNING when it was pissing down rain... then leaving at 12:30, just as blue skies were arriving. If I were a sun worshiper coming to enjoy one of Aruba's magnificent beaches, I'd be pissed.
But I'm not, so I don't get all bent out of shape. Heck, cloudy days with a little rain make for some beautiful photos, so I'm perfectly fine with that kind of weather.
Which didn't come until 9:30am, meaning I spent a couple hours getting drenched. Because the rain rolled in just moments after docking...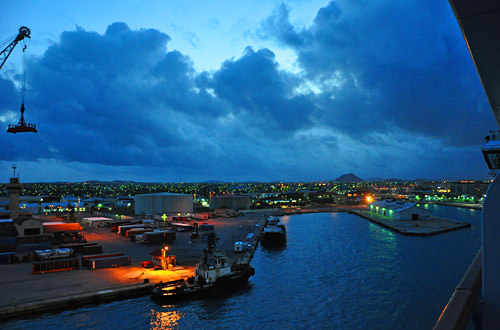 Visiting the "California Lighthouse" (named for a ship that sunk off the coast here) was a wet experience indeed...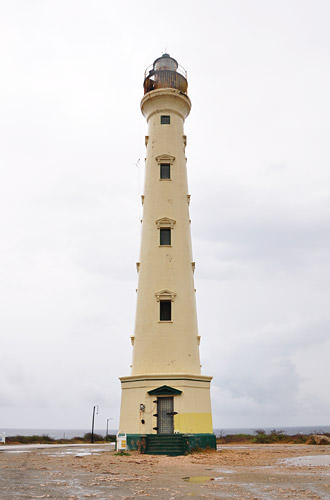 But after a while the sun started breaking through and even the dogs were coming out...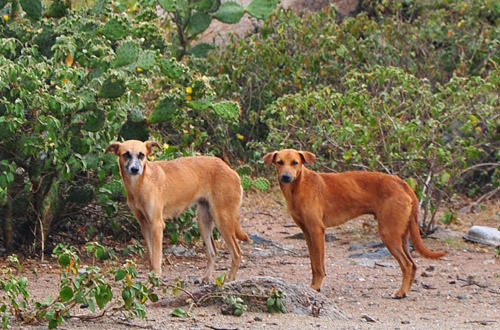 By the time I arrived at "Baby Natural Bridge," the rain had completely stopped and the skies were clearing...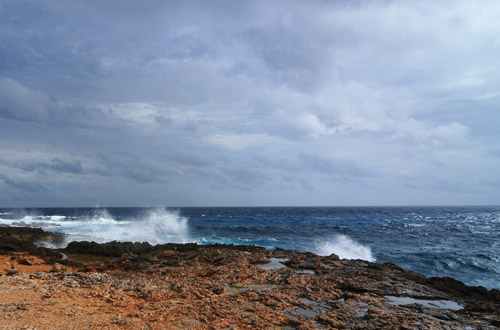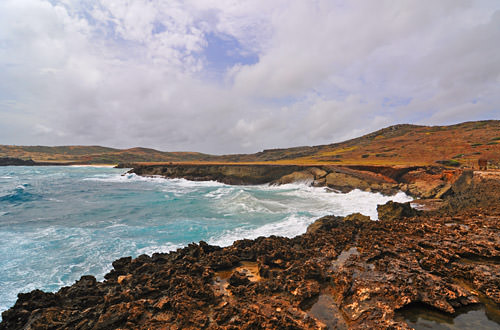 "Baby Natural Bridge" is a land formation where the water has eaten away at the base of a big rock, creating a bridge...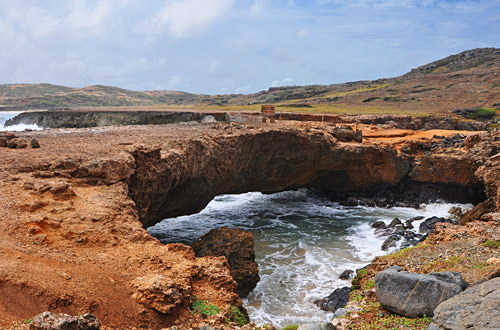 The original "Natural Bridge" was bigger than "Baby Natural Bridge," but it collapsed into the ocean back in 2005. It's the black busted rocks you see on the right there...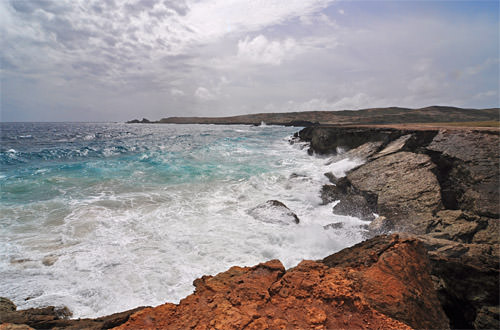 And here's a better view...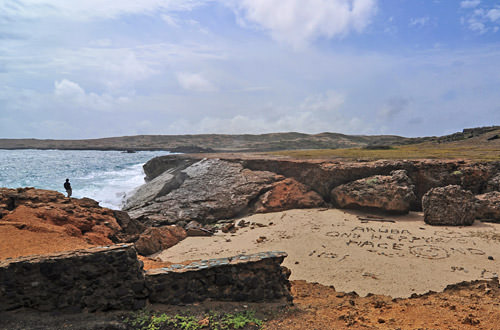 In the above picture, the waterline used to extend all the way up onto the sand there. But when Natural Bridge collapsed, it blocked off the ocean. Apparently, tourists used to walk across the bridge all the time so, luckily, it fell apart in the early morning when nobody was around to get hurt.
There's a few places on the island where giant boulders randomly appear for no reason that geologists understand. This makes them a tourist attraction, and you can even climb on top of one like a mini Stone Mountain!
And, of course, my last stop had to be the Hard Rock Cafe Aruba, so I could pick up a shirt and a few pins...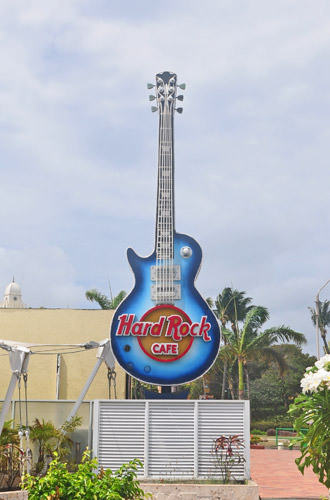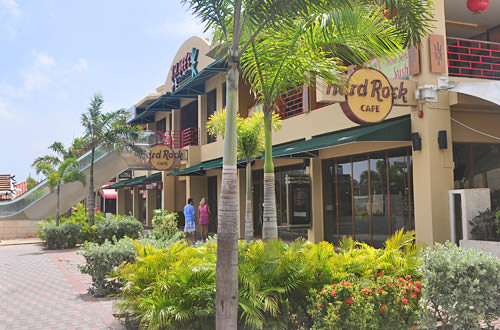 AT LEAST I WOULD HAVE BOUGHT A T-SHIRT IF THE SHOP HAD ANY OF THEM... ABSOLUTELY ANY OF THEM... IN A SIZE LARGE!! How incredibly stupid do you have to be to run out of the one souvenir that everybody wants in the most popular size on earth? It's as if the management at this Hard Rock just said "Fuck it! We don't want the cash!"... and then set a huge pile of money on fire in the middle of the fucking restaurant. I mean, seriously, selling souvenir shirts and pins at a Hard Rock is like printing money. You get guaranteed sales at a massive profit margin, and so it makes zero sense why any Hard Rock would ever... ever... run out.
Unless they were purposely trying to run themselves out of business.
Oh well.
With an hour left to kill, I wandered down the colorful streets of Oranjestad...
And, as you can see, blue skies struck with a vengeance... just as the ship was leaving port.
And that was the first port excursion on my cruise. A welcome event after two days trapped on a giant boat at sea.
30 DAYS DRAWING CHALLENGE: Draw the Turning Point in Your Life...
While there are many turning points in my life, the biggest would be a visit to Thailand back in 1998. My entire outlook on life was completely changed. Suddenly all the things that once seemed so critical to my happiness became trivial and petty. Some of this came from studying Buddhist teachings... but mostly it came from the beautiful example set by the Thai people themselves. It was as if I had been sleepwalking for decades and suddenly started to wake up as to what was important in life.
It doesn't get to be more of a turning point than that.