Oh look, I'm in Greece!
My vacation kind of snuck up on me, because I've been working like a maniac for the past four weeks trying to get all my work caught up before I go. I had a vague notion that the trip was somewhere on the horizon but, until I packed my suitcase for the drive over to Seattle, it wasn't really "real" to me. But after an hour at SeaTac International, a 3-1/2 hour flight to Chicago, a 1-1/2 hour layover, a 9-hour flight to Munich, a 1-hour layover, and a 2-hour flight to Athens, it started getting pretty real, and here I am 18 hours later...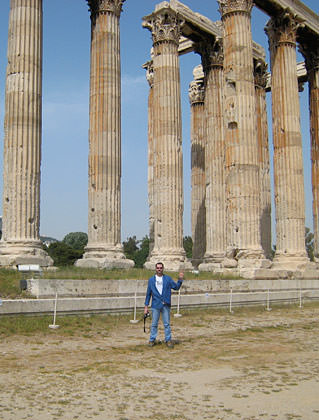 Hello from Athens, Greece, y'all!
I've never been to Greece before, so this is kind of a nifty trip for me. I was heavy into Greek mythology as a kid, so finally being able to walk the grounds where it all started is pretty special.
This first day I was pretty wiped out, so I didn't have any ambitious plans. Just wanted to wander down to Syntagma Square to see the changing of the guard at The Tomb of the Unknown Soldier, and take a look at the Temple of Olympian Zeus, which must have been a massive, massive structure back in the day...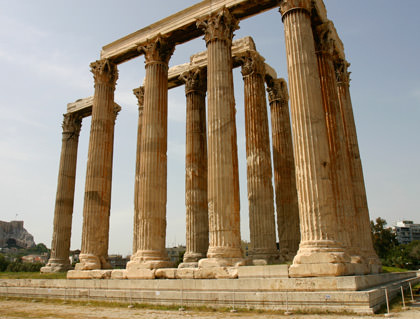 The Temple of Zeus could use some spackle and a coat of paint.
After meandering through some shops on Ermou Street, I decided to call it a day and walk back to my hotel. Along the way, I ran across a billboard ad that I'm guessing is for the local news or something. I don't know about your TV news team, but I dare say that Athens pretty much has them beat on the total hotness scale...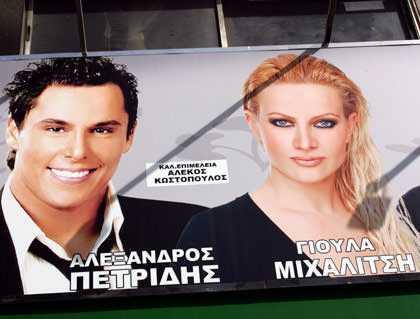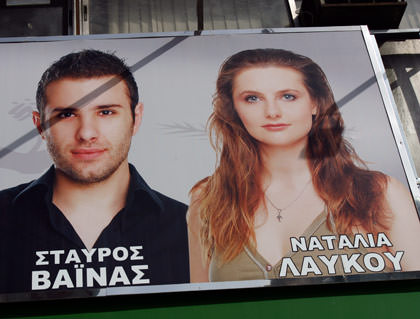 We'll be back with more hotness at eleven...
All in all, a pretty good day! About the only downer was the local Hard Rock Cafe where I went for lunch...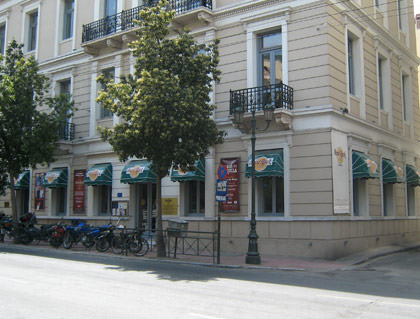 Uhhhh... yeah, not the most exciting Hard Rock I've been to...
It saddens me very much to say that this was about the worst Hard Rock experience I've ever had. And it WASN'T for the following reasons:
The property is kind of boring.
The service is kind of slow.
They got my very simple food order wrong, twice.
They have a cover charge of €1.50 per person.
The atmosphere was pretty dead.
No, the thing that made this the worst HRC experience of the 113 Hard Rock properties I've visited is that THEY DIDN'T HAVE ANY PINS!! NO FUCKING COLLECTOR PINS!! What the bloody fuck? How can you call yourself a Hard Rock Cafe if you aren't selling any pins? This is about the most stupid thing I've ever seen at an HRC. Their famous collector pins are massively high-profit items that sell like mad. Most cafes have too many pins, because selling them is almost like being able to print your own money. I can only guess that the Athens location must not be interested in making money? Maybe they're just too profitable? Nothing quite like traveling 8,410 miles to have lunch at a Hard Rock and walking away empty-handed from the souvenir shop.
Ooog. I haven't slept in two days, so I had probably better at least take a nap or something before playing tourist all day tomorrow.