Bristol (at the Western-most edge of England) is home to the first Hard Rock Bar. We had actually stopped by last night, but it was jam-packed and a band was playing, so we didn't get much of a chance to look around. As this is a bar, food-stuffs are at a bare minimum, but we were told that they did open up for a limited breakfast menu at 8am, so here we are. They advertise wireless internet access from British Telephone, but it's pricey and isn't worth a crap... the speed is painstakingly slow, and drops out constantly (even though I am getting full signal strength).
All that aside, it is a pretty cool property. I think it's kind of nifty that the Hard Rock is coming up with new ways to promote their brand, even in cities like Bristol that may not be able to support a full cafe...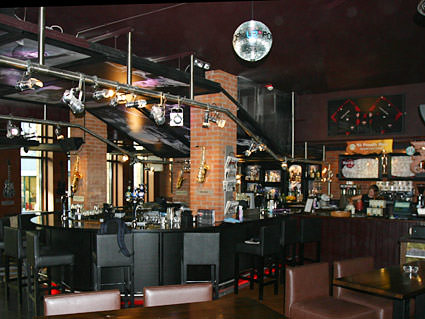 Onward to Cardiff in the neighboring country of Wales...