It' Bullet SUPER BOWL Sunday! Congratulations to the New Orleans Saints... the football team of one of my favorite cities on earth!

• Rock! While I was goofing around in Seattle with The Bombshell, The Ninja, and The Bombja, we wandered by The Hard Rock Cafe Seattle where the Rock Shop is now open (the cafe Grand Opening is on Wednesday). The property is expectedly, but disappointingly, decorated in the new "hipster lounge" style that all the new Hard Rocks get. From what I can see, the memorabilia is somewhat sparse and lacking focus... I didn't even see anything above the bar. So while everything is "official" it sure doesn't feel like a "real" Hard Rock Cafe. Though it does have a Guitar out front, so I guess that's something...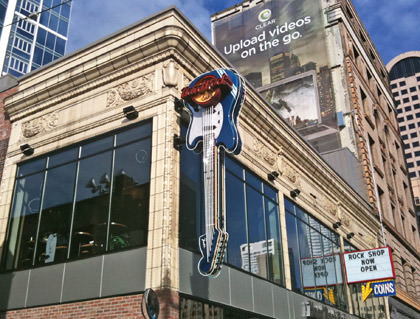 I'm going to try and visit in a couple weeks. After waiting for decades, it's strange to finally have a "local" Hard Rock Cafe (if you can call a 2-1/2 hour drive "local"). This will be my 125th Hard Rock property visit. Every time I add a new one to my list, I can't help but wonder how many more I have in me.

• Gum! Seattle's Famous Gum Wall is a scary work of disease-ridden art that shouldn't be missed. My favorite part this time around was a cool Hawaiian flag...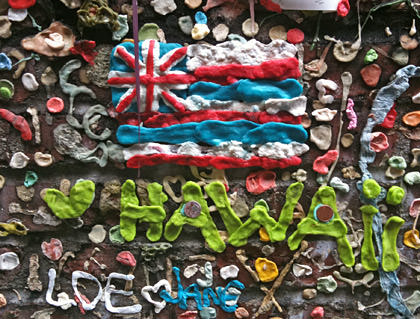 If I could somehow convince myself that sticking my fingers into chewed gum is a good idea, I'd be tempted to add something of my own.

• Snicker! The Mars Company had a flash of sheer genius when they decided to use the amazing Betty White in their new Snickers commercial...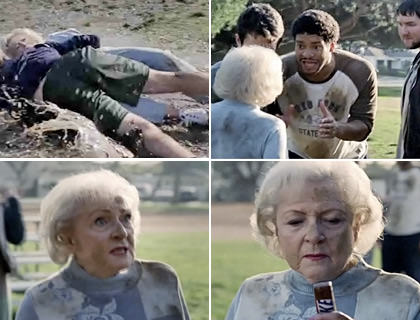 Now I want a Snickers bar. I hope Betty doesn't start doing ads for National Cattlemen's Beef Association... I'm really happy being a vegetarian.

And now I suppose I should probably cut this short and try to get some sleep.