HRC Cologne: A quick hop with the most excellent (and amazingly cheap) GermanWings airlines, and Perry and I were off to the beautiful city of Cologne. Our first stop on Hard Rock Run 2004 was (naturally) the Hard Rock Cafe there, which is a fairly nice dual-level property with an enthusiastic and helpful staff...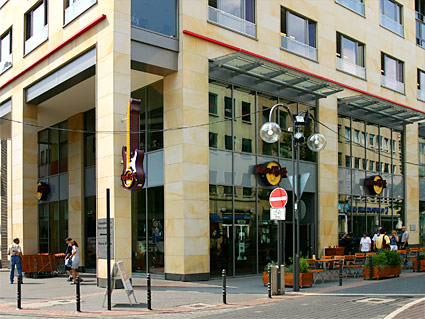 We had planned it so that we could attend the Pin Club Meeting that was going on today and finally meet the famous Hard Rock personality Jens Beckmann (shown here with Perry)...
The turnout at the meeting was better than at any other I had seen, and had guest-traders from all over (including Shanghai, China, believe it or not!).
Dom: Just down the street from the cafe is the breathtaking Cologne Cathedral. Its massive size and enclosed location makes it very difficult to take a photo that does it justice (they are repairing it as well, so the scaffolding didn't help either). The structure itself is just amazing...
Now it's off to Amsterdam.