And so here I am in Knoxville, which is pretty much just a landing point for my real destination: Pigeon Forge, Tennessee. The city is kind of a resort area that built up around Dolly Parton's theme park, Dollywood, and there's all kinds of interesting things to see and do.
But I'm not here for the attractions. The Hard Rock Cafe in Gatlinburg (one of my favorites) closed up shop and moved up the road to Pigeon Forge, so I decided to check it out with some friends who came from Chattanooga. From the outside, it's nothing special. They painted it purple, but it's still incredibly boring. No giant guitar. No unique Tennessee-inspired architecture. Nothing very special at all...
As expected, the interior is inspired by the newer-style Hard Rock "hipster lounge" design aesthetic I loathe. The good news is that they toned it down a bit so it's not quite so douchey. No giant flowing curtains and other crap obscuring the joint. Inexplicably, there's a lot of ropes hanging above the bar. If this were a port city, that might make sense... but Pigeon Forge is about as land-locked as you can get, so I guess it's some kind of S&M-inspired tribute to Fifty Shades of Grey or something...
Holy crap do I miss the "old-style" cafes that were packed to the rafters with rock memorabilia! These newer cafes are style over substance, and all you get are a few scattered pieces of clothing... a few guitars... maybe some hand-penned lyrics or something. It's as if the people designing for the chain now have no fucking clue what the Hard Rock is supposed to be about...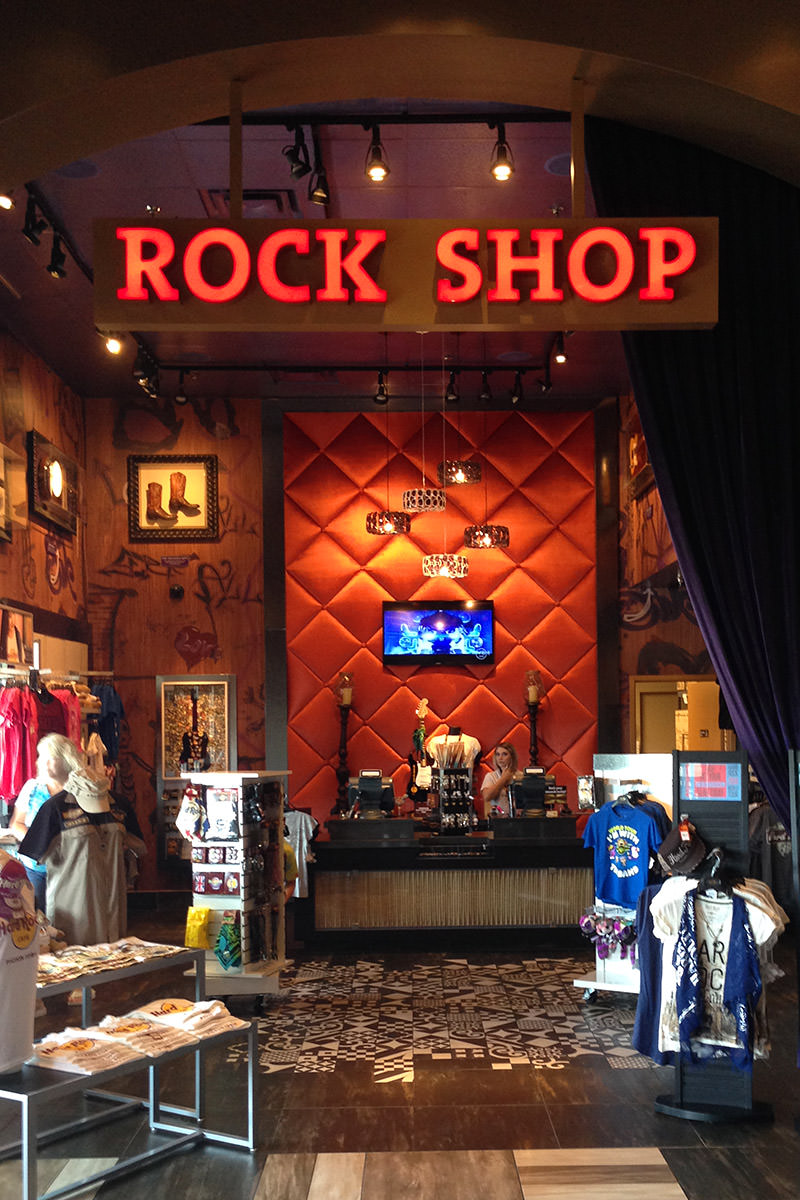 Case in point... they had one of Dolly Parton's dresses hanging on the wall. And while they do have a plaque below the piece explaining its history, there's no photo of Dolly wearing it... or note from Dolly about it... which is what you'd likely find in an old-style cafe where they were more interested in the memorabilia telling a story instead of a merely using it as a design accessory...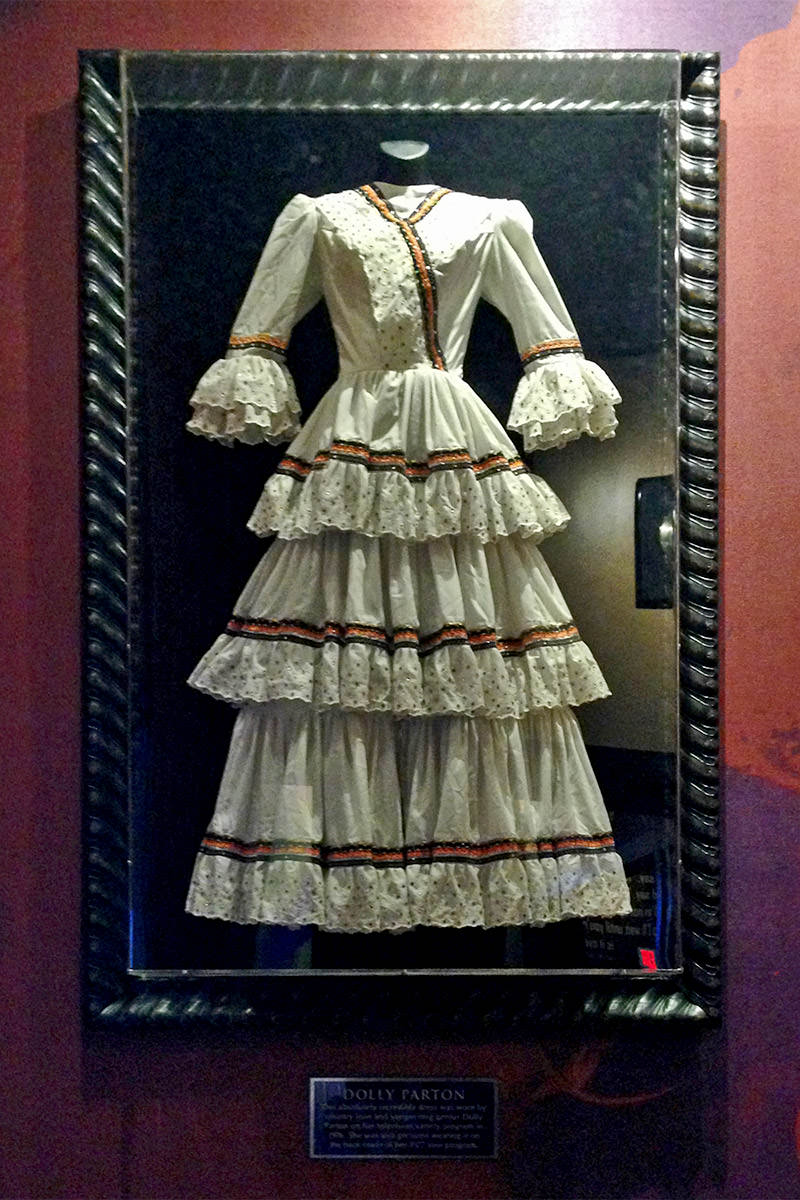 Sad, really.
But anyway...
After parting ways with my friends, I decided to wander down the street to The Titanic Museum. I was curious to see how it stacked up to the "Titanic Experience" I visited in Orlando.
It certainly looks really impressive...
But then, tragedy struck.
I noticed a sign saying "no photos or video"...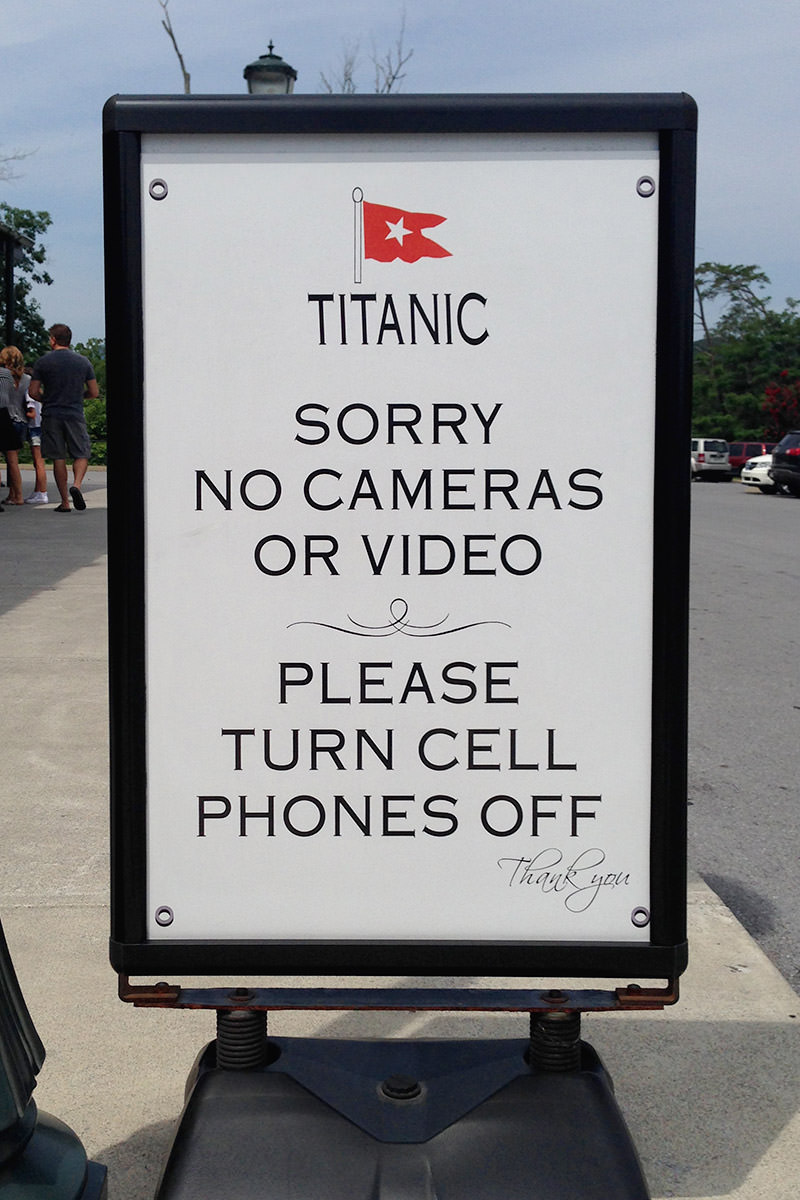 Disappointing, but not a deal-breaker. Yet. Before buying a ticket, I head to the gift shop to see if they have a souvenir guide to the museum. If I can't take pictures, a book will have to do.
Except they don't have a guide book.
Fuck. That. There's the deal-breaker.
I am sick and tired of museums who don't allow you any way to re-visit your visit. Don't want me taking photos? Fine. But sell a fucking guide book so fifteen years from now when I want to remember my visit I have something to actually remind me. I visit a ton of museums, and it's not like I can remember every damn thing I've ever seen in them.
So screw the Titanic Museum. I am done supporting this kind of crap.
My friends recommended that I visit the Pigeon Forge Gem Mine before I left, which sounded interesting...
What you do is buy a bucket of dirt that has a random assortment of gemstones and other goodies hidden in it. There are al kins of choices, depending on what you're interested in, and the prices range from $15 to $200...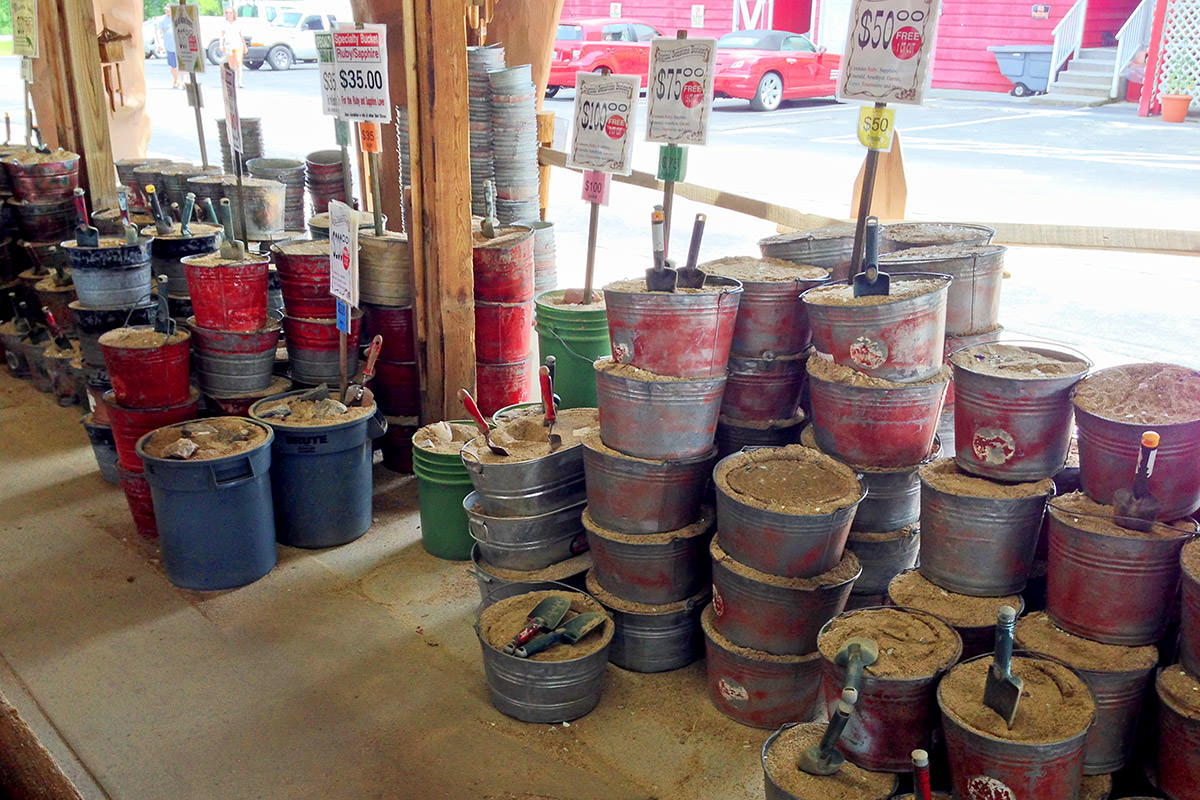 I bought a more modest bucket that was like $20 or something...
Once you've paid for your dirt, you take a seat at a water trough where you can start mining for your treasure...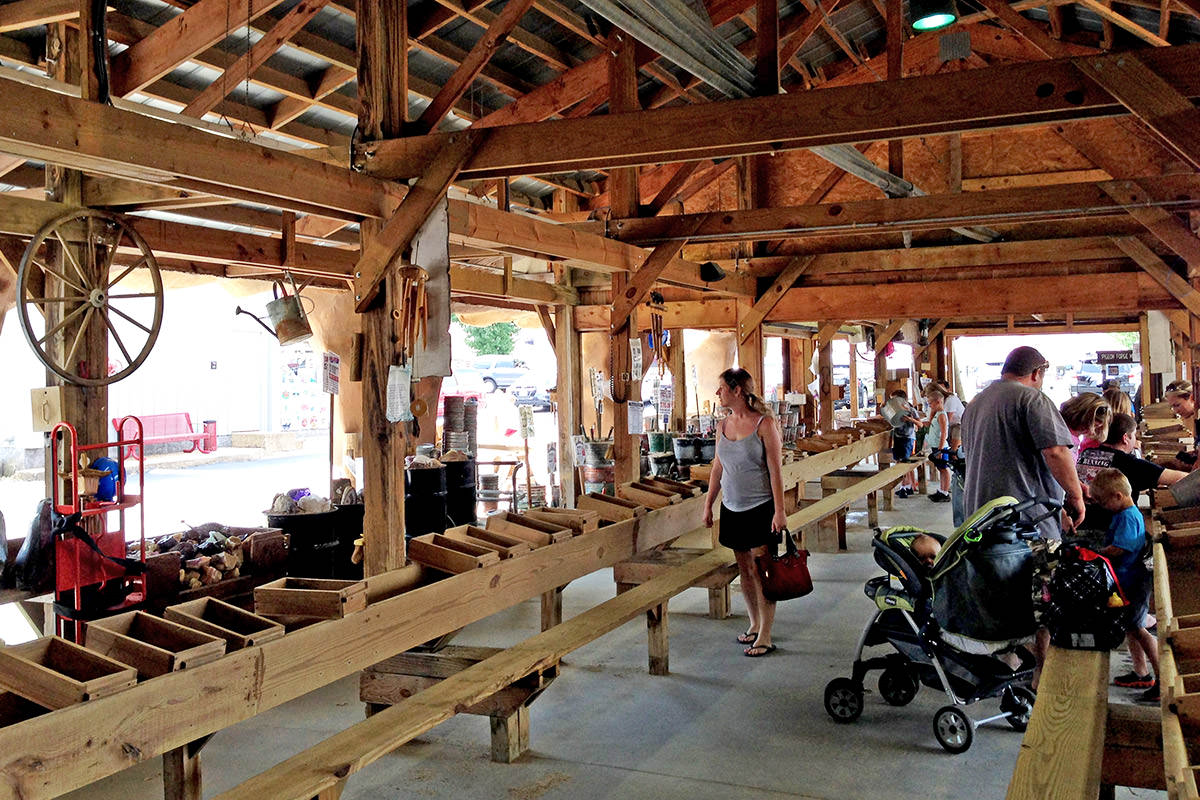 After dumping a couple scoopfuls into your screen box, you shift it in the trough so that the dirt washes away...
That leaves you with gemstones, agates, fossils, and other interesting stuff...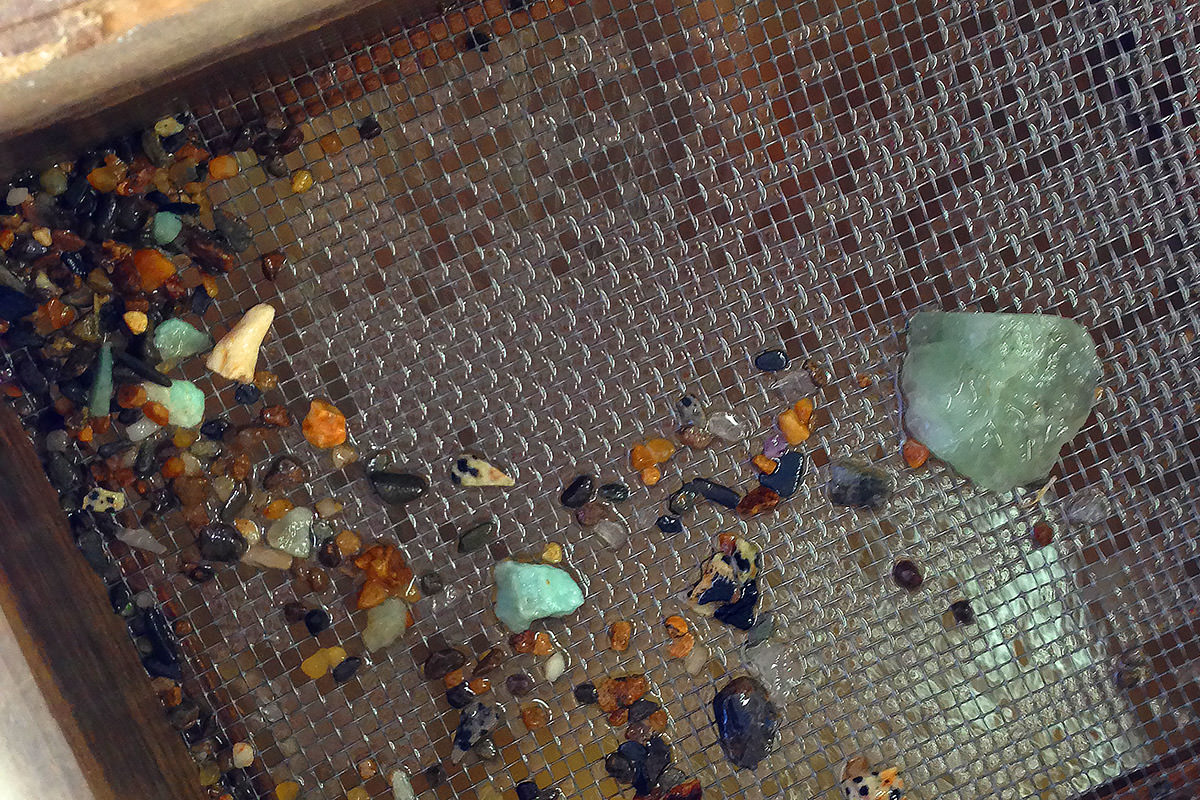 Once you've finished your bucket, you can go inside to have them evaluate your haul. This can take a while. There was only one "assayer" on duty, and she spent twenty minutes with one person who must have been mining for days because she had bags and bags of rocks...
Luckily, I was in no hurry, so I visited the... uhhh... "Gem Museum" they had...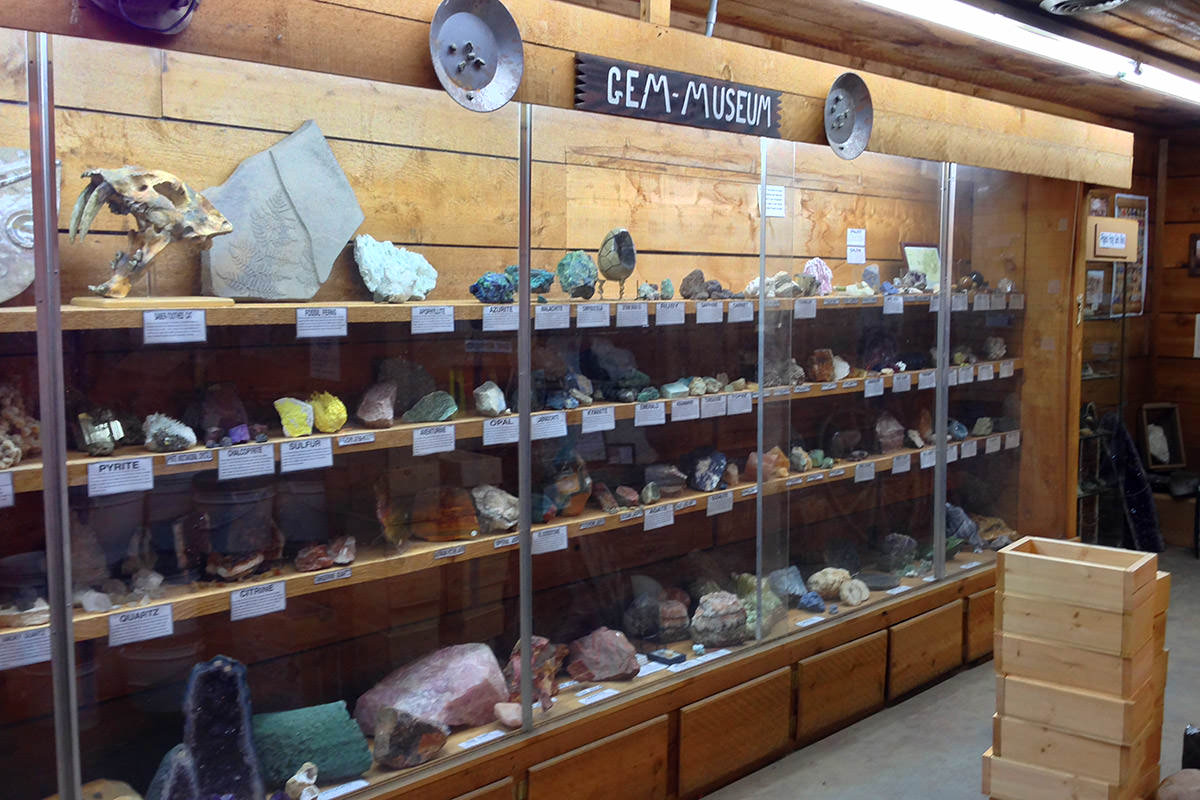 Eventually my name was called and I got to learn what all I had. Which was nothing too spectacular, really. I rather like the nice piece of amethyst I found though (the purple-ish thing at the top)...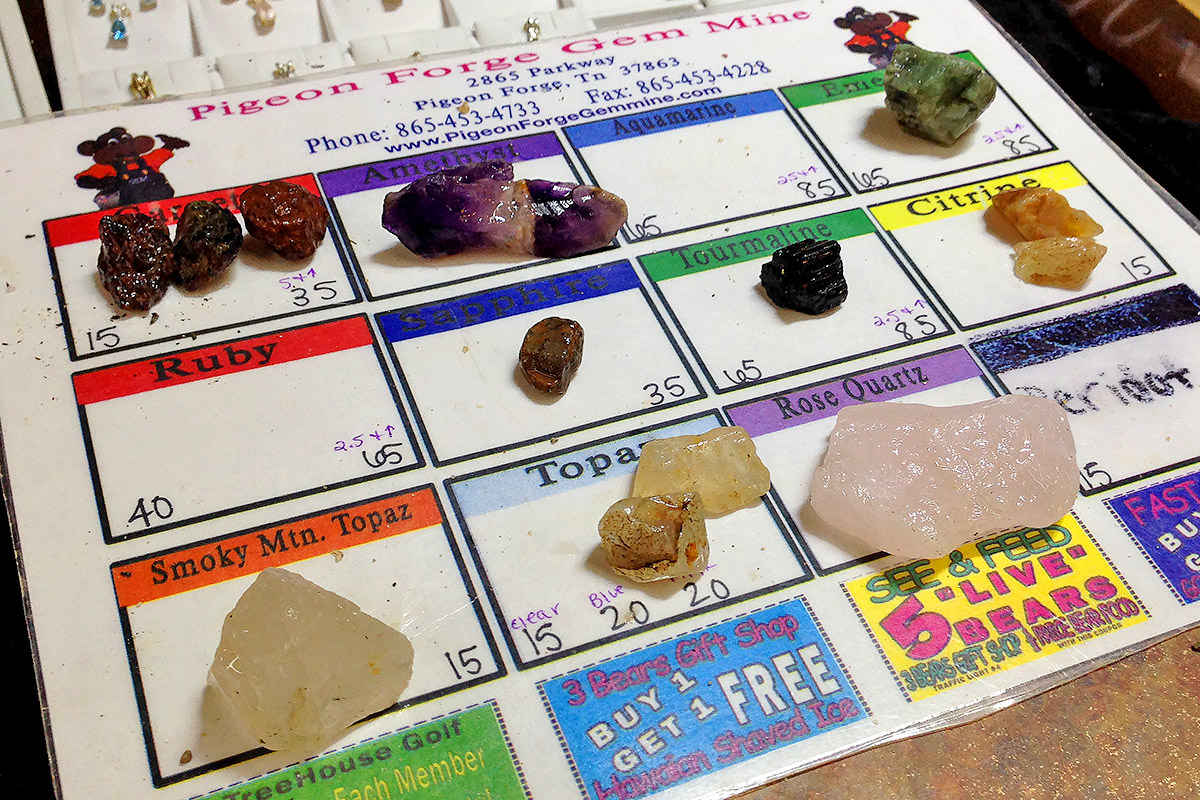 I also got some nifty minerals, a couple fossils, and a really cool agate (on the far left).
If you want, the shop will clean up your pieces, polish them into something pretty, and make it into some jewelry for you in 24 hours. I wasn't interested in spending any more money, so I took my bag of rocks and left.
Overall, the Pigeon Forge Gem Mine was a pretty cool experience, and a good waste of time (I was there for just over an hour). Some people were spending hundreds of dollars on bucket after bucket, so you could probably make a day out of it if you wanted to.
But don't be there too long, or you'll miss out on the many dinner theaters going on. There's musical theater. There's church theater. There's Hatfields vs. McCoys theater. There's all kinds of dinner theaters. There's even Lumberjack Feud theater, which looks like it would be a total bloodbath...
I wasn't sticking around for dinner theater, but I did want to stop at the souvenir shop where Jesus saves...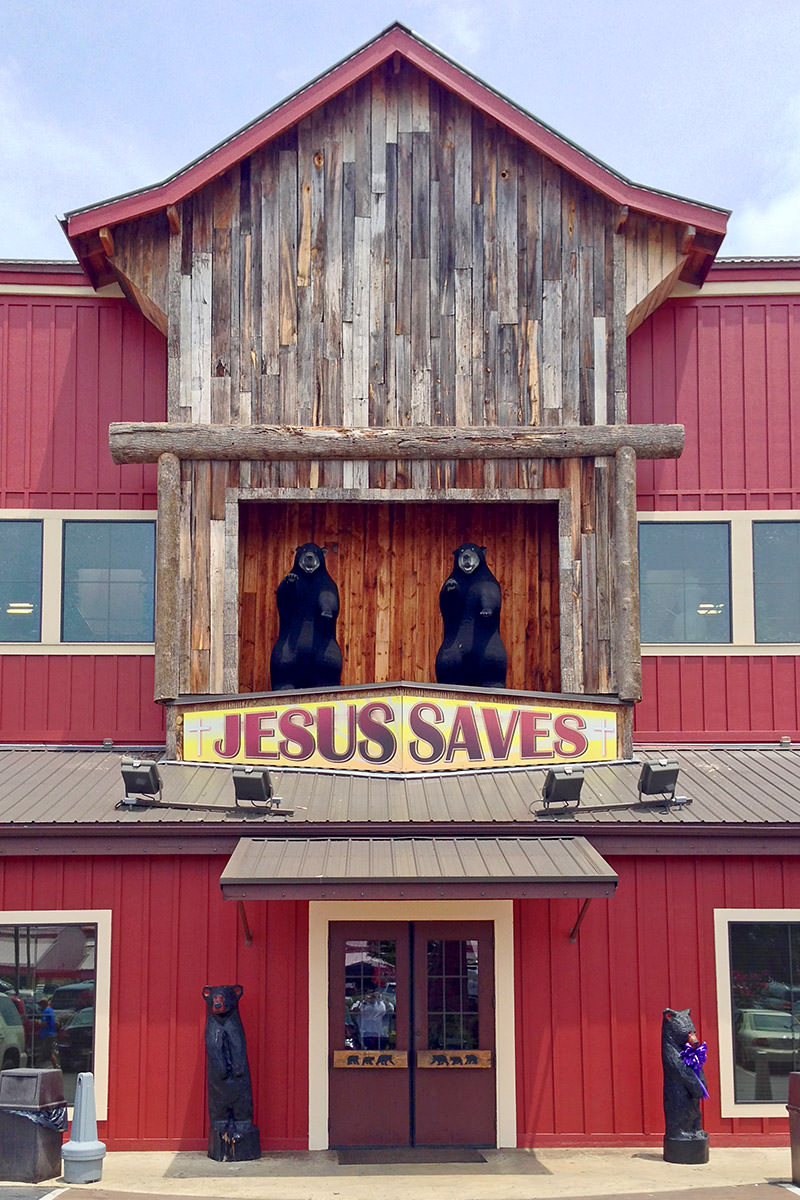 It's a junk-lovers dream come true, as they've got every kind of crap you can think of...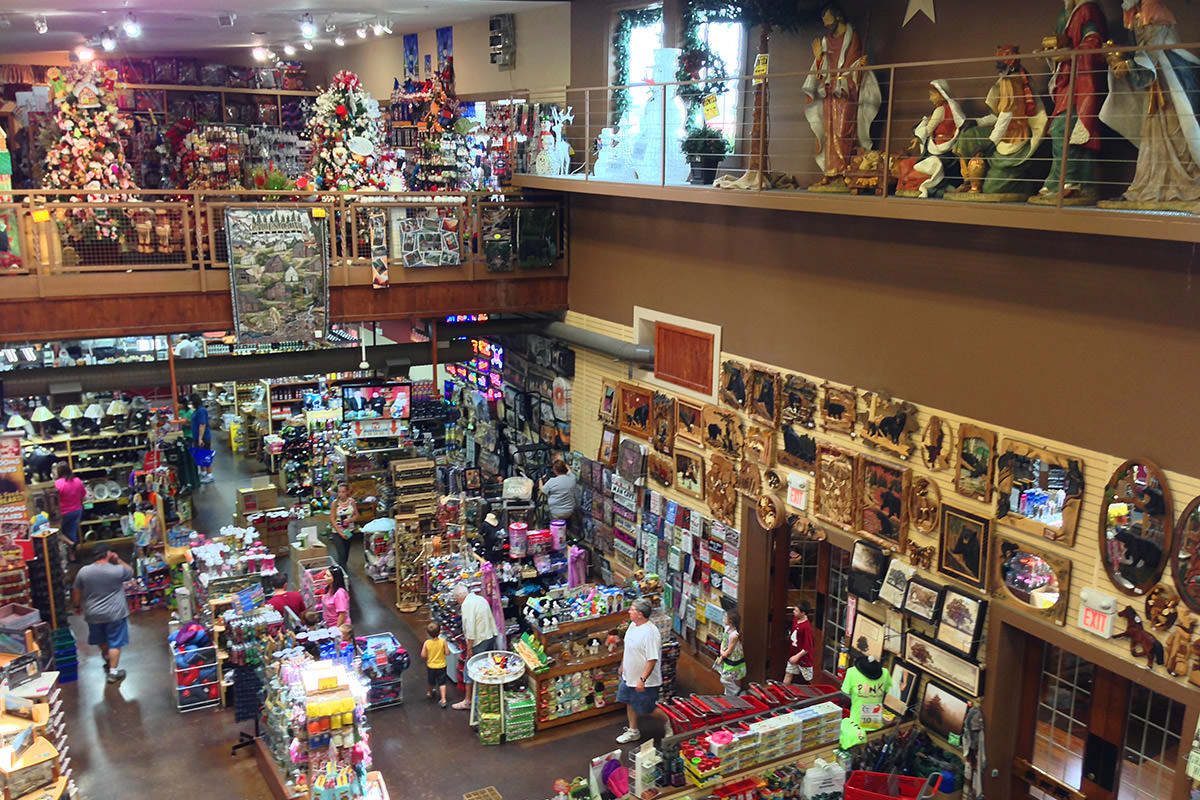 But I didn't have time for shopping (or paying $3.50 to see the live bears they keep out back), so I headed back to Knoxville... where I finally decided to venture into the city, which is quite nice...
The highlight of my visit was the Mast General Store, which was a lot of fun...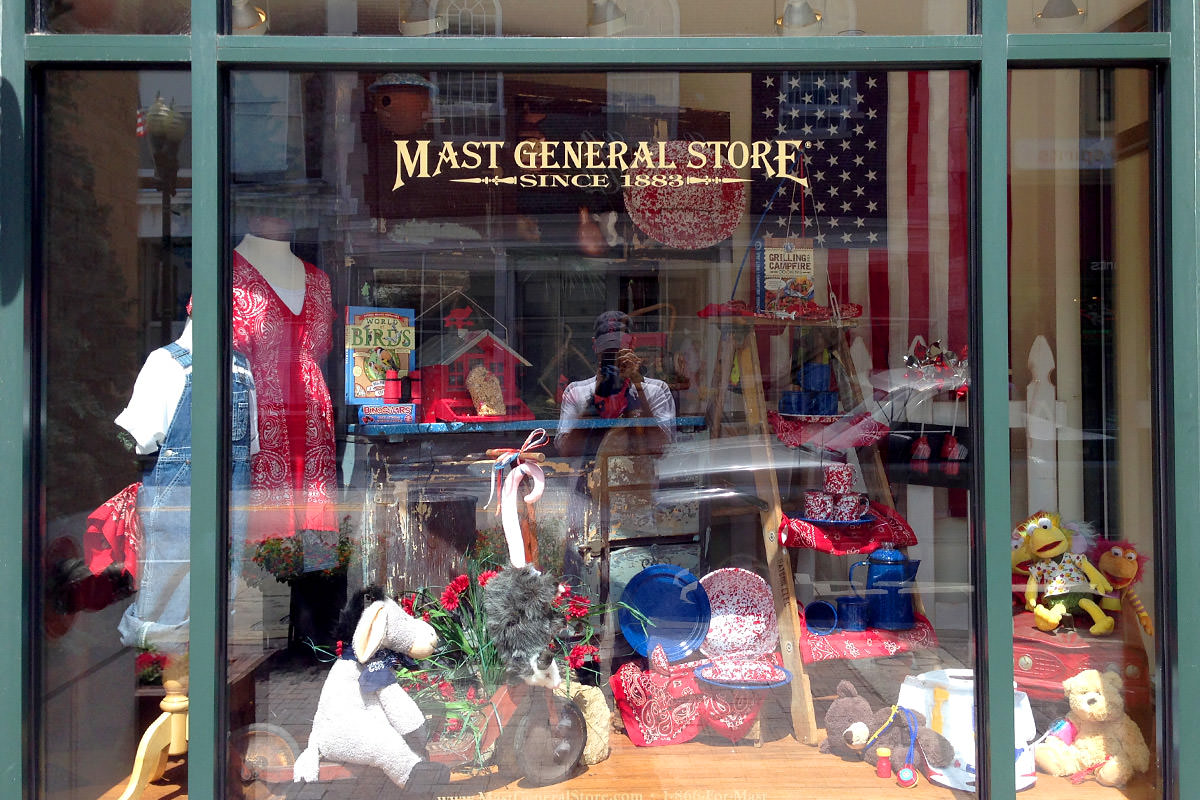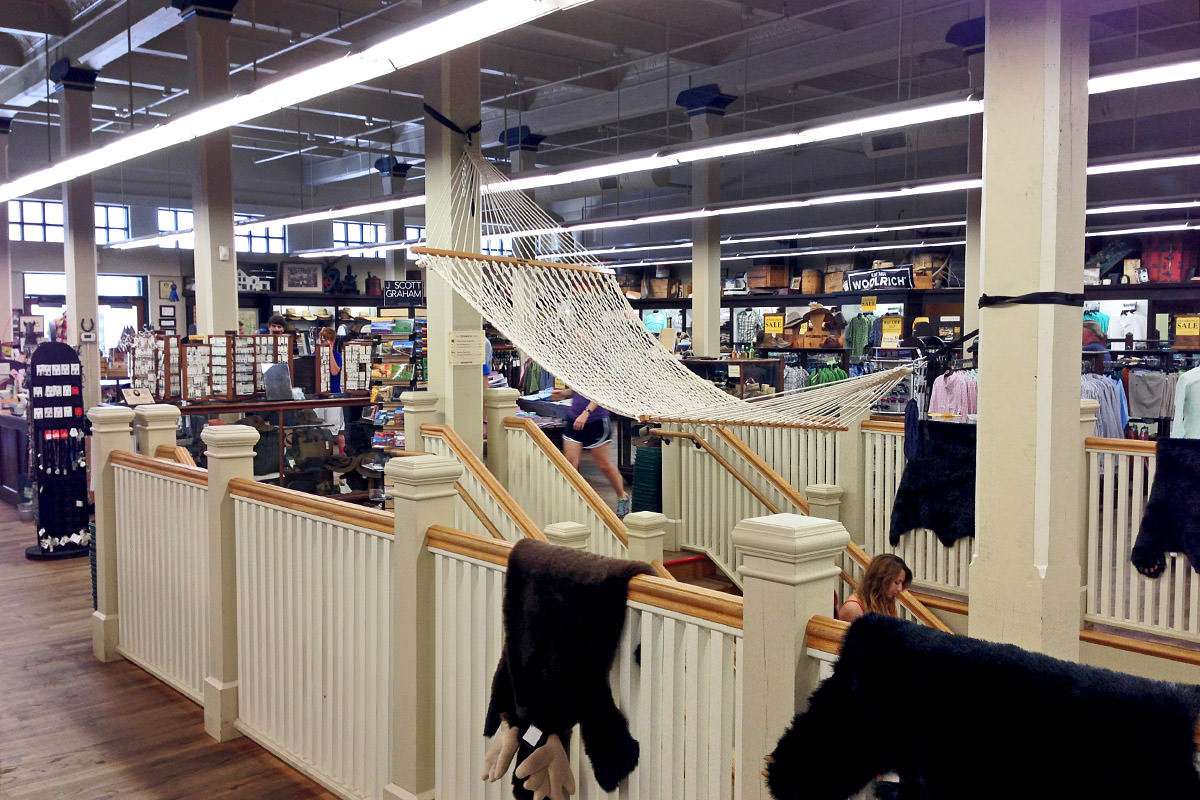 I ended up finding some really nice shirts on sale, so I bought a bunch to take home...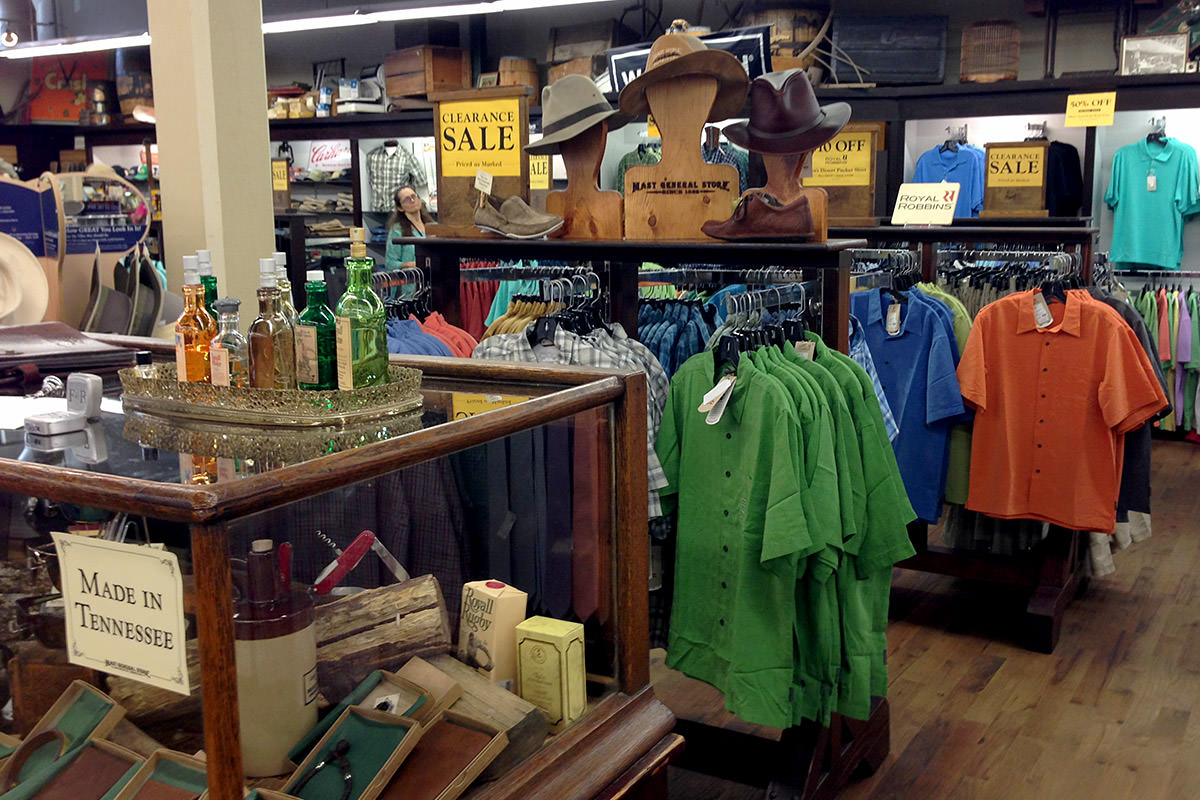 I could have bought a lot of things, but I only have one small suitcase, so I had to pass. I did grab a bag of bulk candies, however...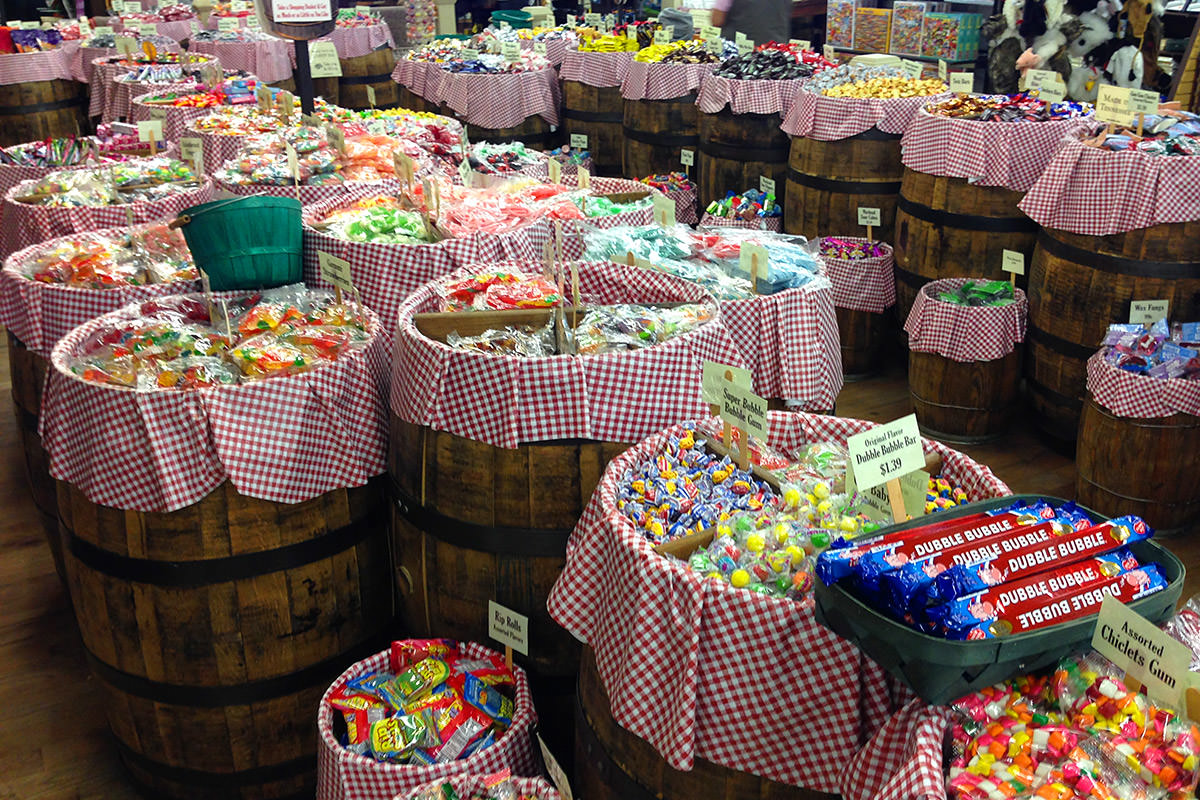 And there you have it. My one day in Tennessee. In a few minutes I'll be off to the movies and then calling it a night so I can pack up for my flight out tomorrow.
After I've eaten all my candy, obviously.