This morning The DutchBitch dropped me off at Schiphol so I could continue onward with the my vacation. That I ended up flying off to Bucharest so I could work is honestly not her fault, but that's basically what I did. This being a Monday, it was pretty much unavoidable. But I made up for it by having an early dinner at the Hard Rock Cafe Bucharest, so all was not lost.
The local Hard Rock is located north of downtown proper in Herastrau Park. As Spring has arrived, the park is just starting to green up, and a fair number of people were taking advantage of the sunshine to wander around the lakeside. After making my way past a small amusement park, I arrived in front of one of the most boring Hard Rock Cafes I've ever seen. I can't say for certain, but it looks as though it might have once been a US embassy. Strip away the wooden arches at the entrance, and it's pretty much just a giant cement brick. It really needs a giant guitar on top or something...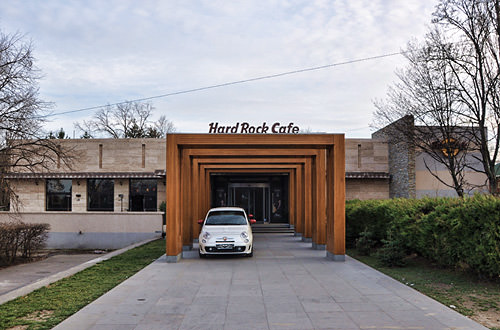 The car in the entryway is a nice touch.
The perimeter of the deck has a concrete wall around it like a penitentiary. All that's missing is electrified razor-wire at the top...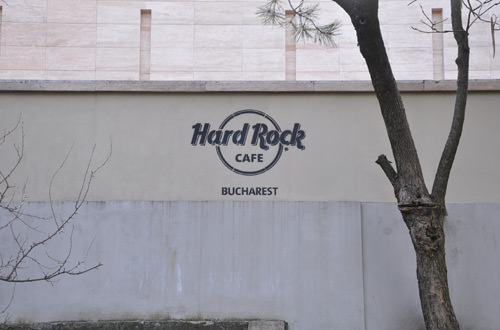 YOU CANNOT ESCAPE FROM HARD ROCK CAFE!
To say I was disappointed is an understatement.
Until I went inside...

Those are clear drum kits with lights in them in the ceiling above the bar, and are really cool-looking in person.
Turns out it's a beautiful property done up in classic "Hard Rock Style" with plenty of memorabilia plastered over every available surface... just as God intended a Hard Rock to be. The interior of the property is positively massive, and is able to hold 300 people (the deck outside can hold an additional 150)...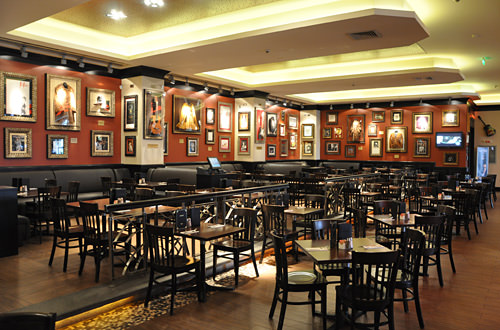 The hidden lighting in the ceiling is just beautiful.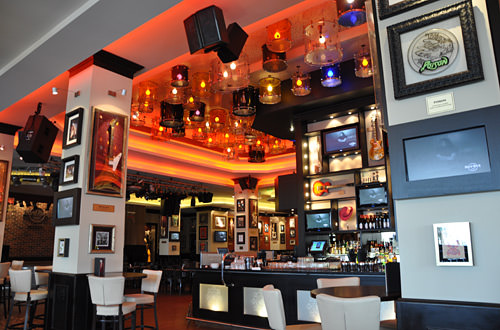 Memorabilia everywhere... now THIS is a Hard Rock!

Facing the deck-side of the building.
So while it may be boring on the outside, it's 100% Hard Rock on the inside... which is where it counts, I guess. They even have a stage for live music...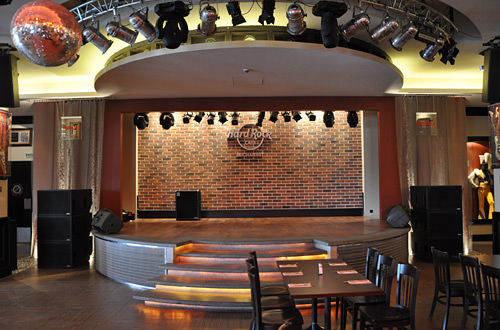 Disco ball included.
My dinner, as expected, was very good. Getting a waiter was a little slow, but I arrived before the actual dinner shift when they were getting everything set up, so that was perfectly understandable. Service was fine after that, and the staff was really nice and friendly, which made my visit all the better.
So... if you happen to be in Bucharest, it's worth taking a quick trip north to Herastrau and a very impressive Hard Rock Cafe.

And, in non-Hard Rock news, Betty White continues her domination of all media by making a brilliant appearance on Ellen today...
Just when I think it's impossible for me to love Betty White even more that I do, she goes and proves me wrong. I can't wait for SNL in May!

And now I suppose I should get some work done so I can see a bit of the city tomorrow.