As I type this, it is 12:30am Saturday, January 29th in Cologne, Germany.
Since I woke up at 3:30am Thursday, January 27th in the US Pacific time zone, this means I have been awake for 37 hours straight. And yet I am still not tired. I tried to sleep on the plane, but ended up watching The Social Network again (a little more boring that the first time, but still awesome), Salt again (liked it even more the second time around), and Scott Pilgrim Saves the World again (which sucked even more the second time around, because whiny, dorky Michael Cera is NOT lady-killer slacker hero Scott Pilgrim... AT ALL. This movie could have been sheer perfection if the lead role weren't so hideously miscast).
Anyway...
The flight from Seattle to Amsterdam via Delta Airlines was bliss. I wasn't upgraded, but the plane was so empty that I had almost an entire row to myself, which was super-sweet. Except for the not-being-able to sleep thing, it truly was a flawless experience. As was my connection at Schiphol, as usual. Looking out the plane-window at sunrise, it was looking like a glorious day in DutchyLand...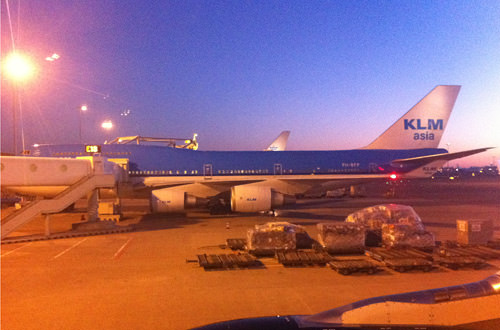 Except... it was freezing cold. Even after the sun was out. Much like it would be when I finally ended up in Cologne. As I landed, I noticed that Gowalla had rolled out their new flight-tracker status updates, which is wickedly cool...


Not shown is my flight from Wenatchee to Seattle... probably because Wenatchee hasn't been considered an airport yet?
Anyway... after checking in at my hotel and then getting some work done, it was time to head up to Essen for some dinner with friends. While waiting at the train station, I ran across an awesome poster... I just love good advertising! That's the hugely tall Cologne Cathedral buried in snow there...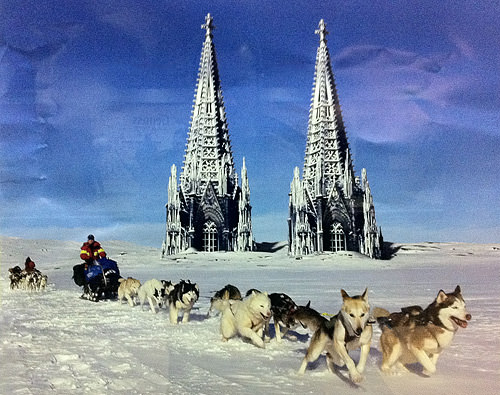 "Ihr Beitrag zum klima? Mehr Bus & Bahn fahren!"
Dinner was with my fellow Hard Rock Cafe fans, Marc & Mechthild... with vegetarian pizza hand-made by Mechthild herself, which was as beautiful to look at as it was delicious...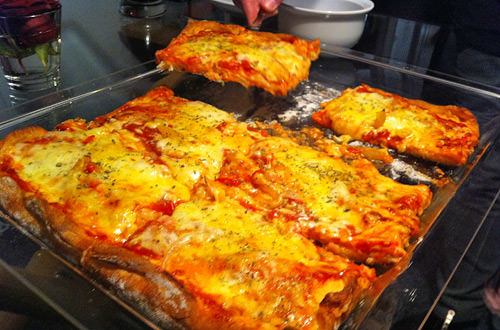 Easily the best pizza you'll find in all of Germany. You may commence being jealous now.
But the truly unexpected surprise of the evening was the beautiful salad that was served. I still have no idea what kind of greens these were... or even if there's a US equivalent... as I had never seen them before. Marc & Mechthild called them "winter salad," as there doesn't seem to be an equivalent name for it in English (they looked!). The greens appear to be some kind of thick four-leaf clover type-thing, tasting buttery and sweet. There's absolutely no bitter notes in the flavor at all, which made the whole thing taste like frickin' candy when tossed up with a lovely vinaigrette. I shit you not, CANDY...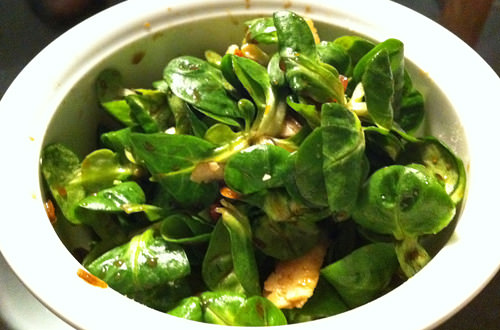 If all salads tasted like this, I'd be eating a lot more fucking salads!
After-dinner conversation was all Hard Rock Cafes and world travel (two of my favorite subjects!). The time went flying by and suddenly it was 11:00 and time to take the train back to Cologne. The evening was loads of fun, despite the fact that I really should have been dead from lack of sleep. Praise be to the power of the internet for continuing to find me wonderful friends around the globe!
And now it's 12:56am here in Cologne, which means I've been awake for 37-and-a-half hours straight.
Still not tired.
I have no idea what my deal is, but I sure don't want to be around when this lack of sleep catches up to me!
Alas, I have no choice...