The drive up from Birmingham wasn't that bad until the rain started coming down... in a torrential flood. I know Seattle has a reputation for rain, but this was about as bad as I've ever seen it in either Seattle or Orlando. It made driving a bit difficult in spots (particularly when passing a truck), but I'm kind of used to the rain from my many drives over to Western Washington.
I've already mentioned how Nashville is an amazing city (even if you don't like country music), but here's the best part... they have one of my favorite hotels in the entire world: The Wyndham Union Station. If you've read my other travel notes, you already know that I have a fondness for unique, quirky, historical properties. This one is cream. What used to be Nashville's train station was turned into a stunning hotel in 1986...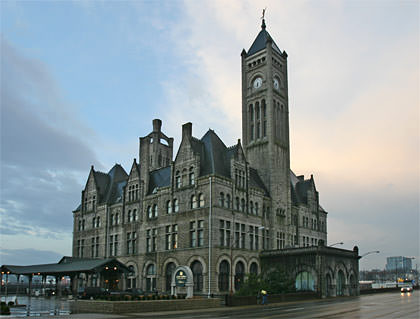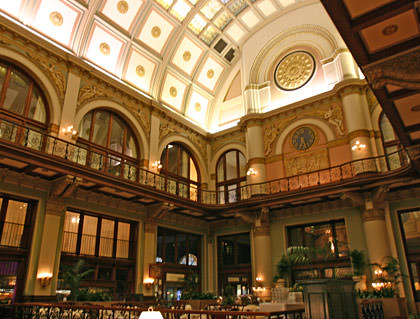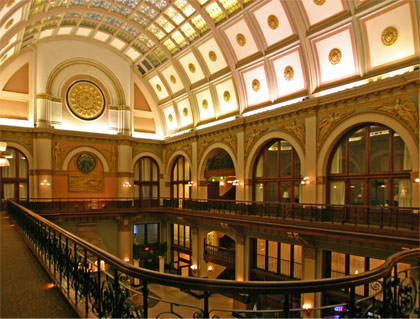 "Beautiful" doesn't even begin to describe this majestic building, or even elude to the meticulous care they took in restoring it (the Tiffany stained glass ceiling could not have been easy). My room is right on the upper terrace, and is cavernous. I swear, it seems as though my ceiling is 20 feet tall! Right now, there was a wedding party below, and I am serenaded with really good music until bedtime, which is kind of a cool way to end the day.
You would think that this opulence would come at a high cost, but it doesn't. Because it's a half-mile from the downtown "scene," it is actually very reasonably priced (my internet rate was a measly $89!!). So if you ever end up in Nashville, there's really only one place to stay... the Wyndham Union Station, which I cannot recommend highly enough.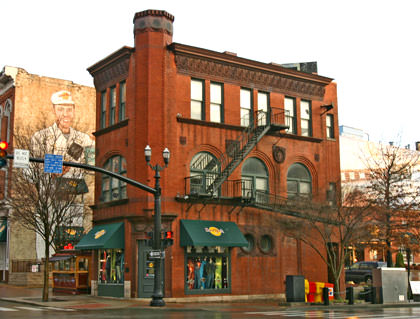 P.S. And, per request, here's a photo of the previously-mentioned Hard Rock Merch Shop, formerly known as the "Silver Dollar Salloon." Like the cafe behind it, the building is very narrow. If I remember correctly, the reason it got the name is because it was decorated with silver dollars pounded in the floor (or something like that).