HOW YOU DOIN' ALBUQUERQUE?!
It's a special HARD ROCK Edition of Bullet Sunday, LIVE from the Hard Rock Hotel & Casino in Albuquerque! For those of you who don't care about my Hard Rock obsession, you might want to skip this entry.


About the only Hard Rock logo you'll see outside of their gift shop.

• HARD? Kinda. Like the Hard Rock Hotel & Casino in Tulsa, the Albuquerque property wasn't built as a Hard Rock. It's a tribal casino which has been retrofitted with Hard Rock theming in the public areas. They sprinkled cabinets of rock memorabilia around the place, added a trademark Hard Rock center bar to the casino floor, painted some classic rock lyrics on the walls, hung up some guitars, and changed the door-handles. As with Tulsa, the result is kinda half-baked. It looks like a Hard Rock property in places, but doesn't give you that overall "feel" you get from an "authentic" Hard Rock.
HARD ROCK GRADE: C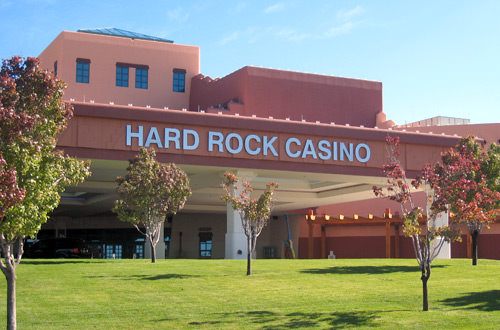 Apparently, this was the best they could do for a sign. How embarrassing.

You could slap this crap signage on a Motel 6, it doesn't make it a Hard Rock.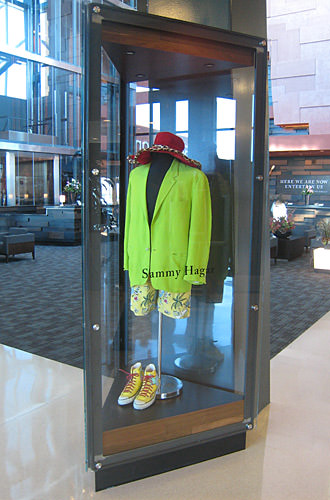 Sammy Hagar suit display case. THIS is Hard Rock.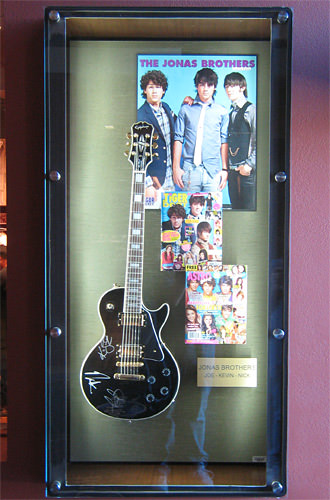 Jonas Brothers guitar display. I have no idea what the fuck this is.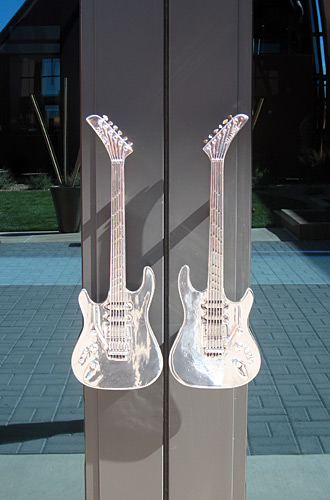 Nice. Guitar-shaped door handles. We need MORE of this kind of stuff here.

• ROCK? Not so much. The property is what it is, but... if you are a Hard Rock fanatic like me, that's not the problem. Once again, my Pin Collector's Card is worthless. No discount. No visitation credit. When I showed my card to the cashier, she literally said "We don't take that. We're not affiliated with the Hard Rock Cafe"... I shit you not. I responded "No... you just brand your hotel with their logo, sell tons of their logo merchandise, and create pins and shot glasses specifically for Hard Rock collectors. You're not affiliated at all!" Then I laughed it off as a joke, but I wasn't joking. Again, if you are licensing the Hard Rock brand and passing yourself off as a Hard Rock property, then BE A FUCKING HARD ROCK PROPERTY! When HRC Corporate licenses out their brand, one of the conditions should be that licensees are required to honor their club cards. Otherwise, you're just going to piss off your most diehard fans and customers. At least they had a good selection of merchandise and people who understood it (unlike the dismal merch shop in Tulsa).
HARD ROCK COLLECTOR GRADE: D+

Never mind the tons of Hard Rock logo merch... they're not affiliated with the Hard Rock!

• CASINO? Nice. While not seeming very "Hard Rock" to me, I must admit that my friends and I had a blast at the casino. Biggest plus is the gorgeous lady dealers at the table games dressed in corsets and stockings! Brutally hot (if only they allowed photos in casinos). You could lose every penny you had and just not care! They also have lots of modern slots (including a small non-smoking area), free coffee & Coke refreshment centers, and a snack bar (with the worst $4.95 nachos I've ever eaten... the "cheese" tasted like motor oil). All in all, it's a classy casino with a great staff which has a nice layout and offers a "full" casino experience (including a Bingo room, table games, and poker parlor). There's a "Rockstar" rewards club for the frequent gambler.
HARD ROCK CASINO GRADE: C • CASINO GRADE: A-

• HOTEL? Boring. The hotel rooms are pretty basic as there is no Hard Rock theming of any kind. With the exception of the hotel services book and the soaps which say "Hard Rock Hotel," you'd never know that this is a Hard Rock at all. The Native American prints on the walls are nice, but not Hard Rock. Even putting all that aside, there are still problems. The clock was not set to the correct time. The room smells funky (like burnt hair?). The wall television didn't work and had a giant annoying glowing light on the bottom that I had to cover so I could sleep. And I had to keep the bathroom door closed because the toilet would start running at random. Ultimately, my $170 "DELUXE" room doesn't seem very "deluxe" and my promised "view" isn't that great. About the only positive I can offer is that it was clean.
HARD ROCK HOTEL GRADE: F • HOTEL GRADE: C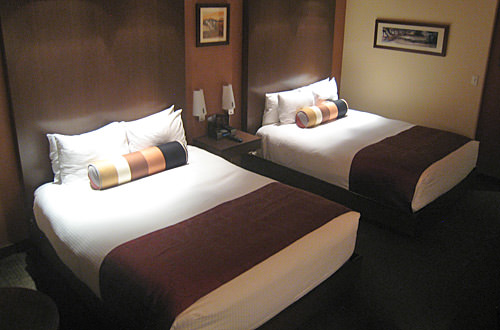 Not bad... but not very Hard Rock either.

See that tiny leather binder and notepad on the desk? The only thing Hard Rock in this entire photo.

• NOISE? FAIL! This hotel is noisy as hell. Rude people are screaming down the hallways at all hours of the day and night. Doors are slamming constantly. Hotel staff are walking around 24-7 screaming into their radios which are blaring at full volume. And you hear everything. Absolutely no effort was made to soundproof anything. Thus I can sum up the relaxation level of my room as "miserable." If you have any aspirations of getting even a little sleep... best bring earplugs. You'll need them.
ROOM NOISE GRADE: D

• FOOD? Okay to Great. In addition to the truly awful "food" being sold at the casino snack bar, there's other dining options available... EAGLE'S NEST BUFFET: While modest by Vegas standards, the buffet still looked decent. I took a pass, because vegetarians will never get their $13.95 worth. LUCHA: A nice Mexican restaurant by day which transforms into a Tequila bar at night. I had dinner here and really enjoyed it. Everything was fresh and flavorful, and the guacamole was fantastic. 505 FUSION: A very nice, upscale nightclub, we had drinks here last night. Pizza and appetizers were okay, but nothing special. The menu looked decent, but none of us were hungry enough to order late supper. CHILL: Great-tasting quality ice cream parlor. TIWA: An upscale cafe, but the menu was definitely meat-oriented, so I took a pass. THE DELI: I had a cheap, bland grilled-cheese sandwich with undercooked, waggy fries that had me chained to the toilet an hour after eating here (thank heavens for Imodium!).
DINING GRADE: C- (LUCHA DINING GRADE: B+) (505 FUSION DINING GRADE: B-)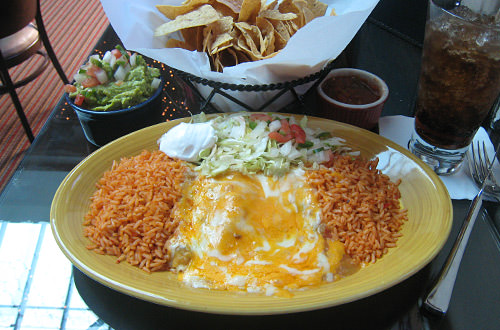 • SERVICES & SHOPS? Good! Much to my total shock and surprise, there's a free round-the-clock shuttle to the airport for registered hotel guests! They will also take you to the Isleta Pueblo station so you can catch the $2 RailRunner train into town (which is nice, because a taxi would be $35+).
There's a nice pool and an interesting spa...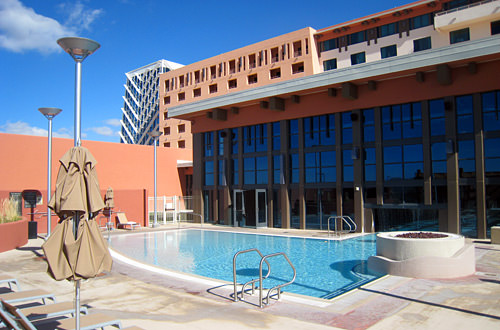 The pool continues under the glass to the inside, which is cool.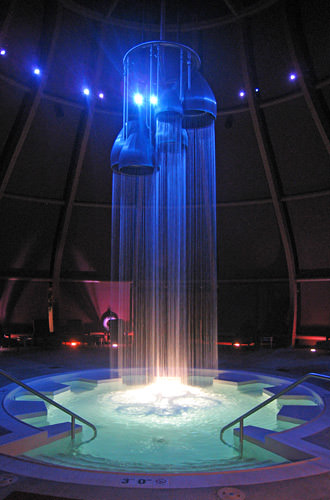 Inside the spa's hot tub pavilion at night. Nifty.
As I mentioned above, there's a Hard Rock Shop filled to the rafters with Hard Rock merchandise (though your Hard Rock All-Access Pass and Pin Club Card are useless here). There's also a very cool tattoo and body modification shop called "The Vault"...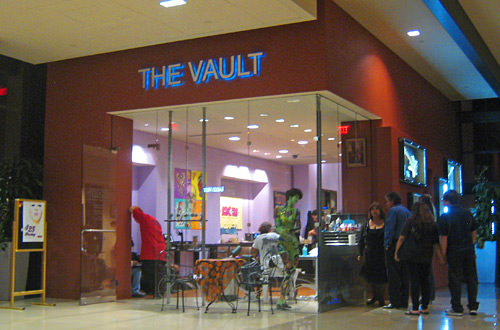 Green tattooed woman mannequin sold separately.
There's also golfing nearby at the Isleta Eagle Golf Club, and camping nearby at the Isleta Lakes Recreation Area. Lastly, there's the "Fun Connection" spot with bowling, laser tag, and an arcade (or so I'm told... I never saw it).
SERVICES GRADE: B

• PROBLEMS? Yes. In order to use the hotel elevator, you have to swipe your room key before the buttons will work. Unfortunately, the card reader in the elevator is shitty. More than once I was riding the damn thing up and down while trying to get my card to work so it would stop on my floor. Several times I'd enter the elevator only to find somebody else has been riding up and down trying to get their card to work as well. This is an obvious and highly frustrating problem, and it's just plain stupid that the hotel doesn't do something about it.

• CONCLUSION: Ultimately, I'd have to give the Hard Rock Hotel & Casino Albuquerque a pass. The hotel doesn't impress me much, and there's nothing "Hard Rock" enough about the resort to make it destination-worthy for fans. If you're in the area, it might be fun to gamble in their nice casino, but I wouldn't stay or eat here again (except perhaps dinner at Lucha).

Anyway... it was nice to meet up with my friends, I had a lot of fun, and I can't complain about the cheap-ass ticket price I paid to get here ($168 round-trip!), so overall this weekender goes in the WIN column. I just wish that these new additions to the Hard Rock family would be worth the effort on their own. They have to be, because otherwise they're just diluting the Hard Rock brand and giving people a mediocre impression of what a Hard Rock property can be when some effort goes into creating them.