I started my morning at 10:30am with a walk to the Star Ferry terminal so that I could make my way over to Hong Kong Island and the city center (known here as "Hong Kong Central"). The five-minute ferry ride has got to be one of the biggest bargains on earth, as it costs a mere 28¢ (2.20 HK) to cross! This would be an indication of things to come, because most all public transportation is fairly cheap.
Unfortunately, the haze that blanketed Seoul has followed me to Hong Kong, and most of the city is obstructed by it...
I quickly notice that the building which represented The Noble House in the television mini series adaptation of the greatest fiction novel of all time... James Clavell's Noble House... was waiting for me right off the terminal. I just bought yet another copy of the book (my fifth) so I can read it yet again (at least my twentieth time). It's very cool to see all the places named in my favorite book come to life!
After a quick bus ride to the base of The Peak, I take a tram to the top that has been operating in the city for over 100 years...
The ride is pleasant, but frightfully steep in parts. The most amazing thing about it is seeing how very tall buildings and numerous roads have all been built into the hill-side. The density of people here has got to be the most concentrated I have ever seen, and it's a wonder that Hong Kong can support itself at all. The view from the top is incredible, even though the haze is so thick I can barely see Kowloon on the other side of the harbor...
The shopping complex at the top houses a Hard Rock Merchandise Shop but, sadly, no cafe...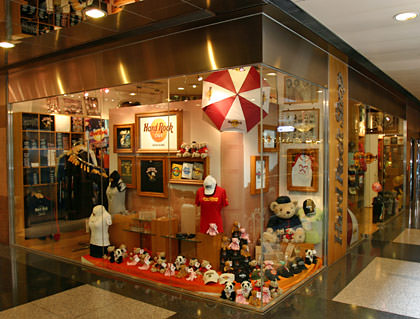 I'm getting thirsty at this point, so I drop by McDonalds at the Galleria. They are featuring a special promotion for "Summer Corn Cup" so I decide to have a quick meal, and get some French Fries and a Red Bean Paste Pie (which is deep-fat fried as The Ronald McDonald intended it to be, instead of the baked pie that tastes like crap we have back in the USA). The corn is okay, but doesn't come close to the deliciously famous Quincy Corn from back home. I wish our McDonalds sold McCorn...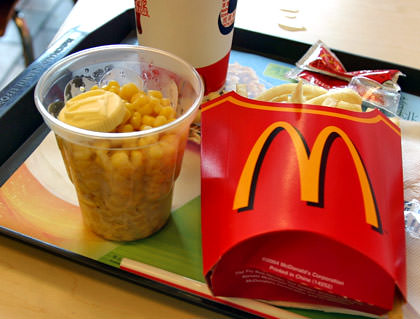 I then take a quick taxi ride down to Queen's Road where I walk to the longest outdoor escalator in the world. It's a quick and painless way to reach the housing and shopping in the Mid-Levels of The Peak. I dump off on Hollywood Road so I can go to Man Mo Temple and get my fortune told. Like so many buildings here, the temple is undergoing repairs...
Fortunately, my "Master Fortune Teller" spoke English, so that made things a little easier...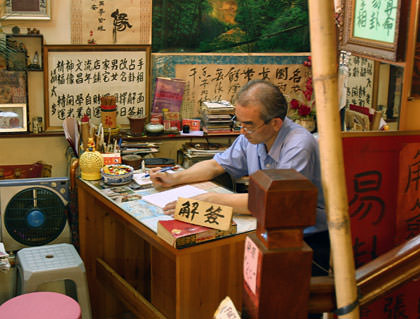 For $2.50 ($20 HK), you could get a quick 1-minute fortune. For $13 ($100 HK), you could get a full fortune and have a question answered. I decided to spend the big money, and asked "Will I live long enough to visit Hong Kong again in this life?" After shaking some coins, consulting some charts, and writing down a lot of Chinese characters, Master Fortune Teller told me that he sees I have some health problems (no doubt, I seem to be falling apart!), but they are all controllable and so I will live to visit Hong Kong again. In fact, he sees me returning to the city as early as October of next year! He further explains that I will fall in love with Hong Kong, and the memories will call me back. This certainly seems feasible to me, so I hand over the $100 HK and buy some crappy souvenirs.
From there, it's back to the Star Ferry so I can have a late lunch at the Hard Rock Cafe, which is Kowloon-side...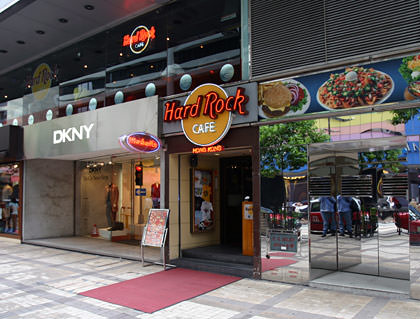 It's a good property, with a nicely appointed merch shop on the first floor and a restaurant spread out over the second. Memorabilia is somewhat sparse, which is quite strange, because they certainly have the room for it. They also have a stage for live music, which should be standard at ALL Hard Rocks.
As I leave, I notice two things... 1) There's a Donna Karan next door, which I am afraid to enter, because I love DK clothing and would probably buy out the store. 2) There's a Pret A Manger across the street, so now I know where I'll be going for breakfast tomorrow morning! Is it too much to hope that they have roasted tomato sandwiches on their morning menu?
I was planning on ending the afternoon at the Hong Kong Museum of Art, but they are closed Thursdays so I am out of luck. Instead I decide to head back to my hotel so I can blog my day, and read a few chapters of Noble House before heading out to the Temple Street Night Market this evening.
All in all, a pretty good first day in Hong Kong, and it's not even over!