A much nicer day today than yesterday.
Probably because I had to leave this morning!
Since my "lakeview" room at the Hard Rock didn't have a view of the actual lake, I stopped off at a "viewpoint" along the way to see if I could get a photo of Lake Tahoe. Sure enough...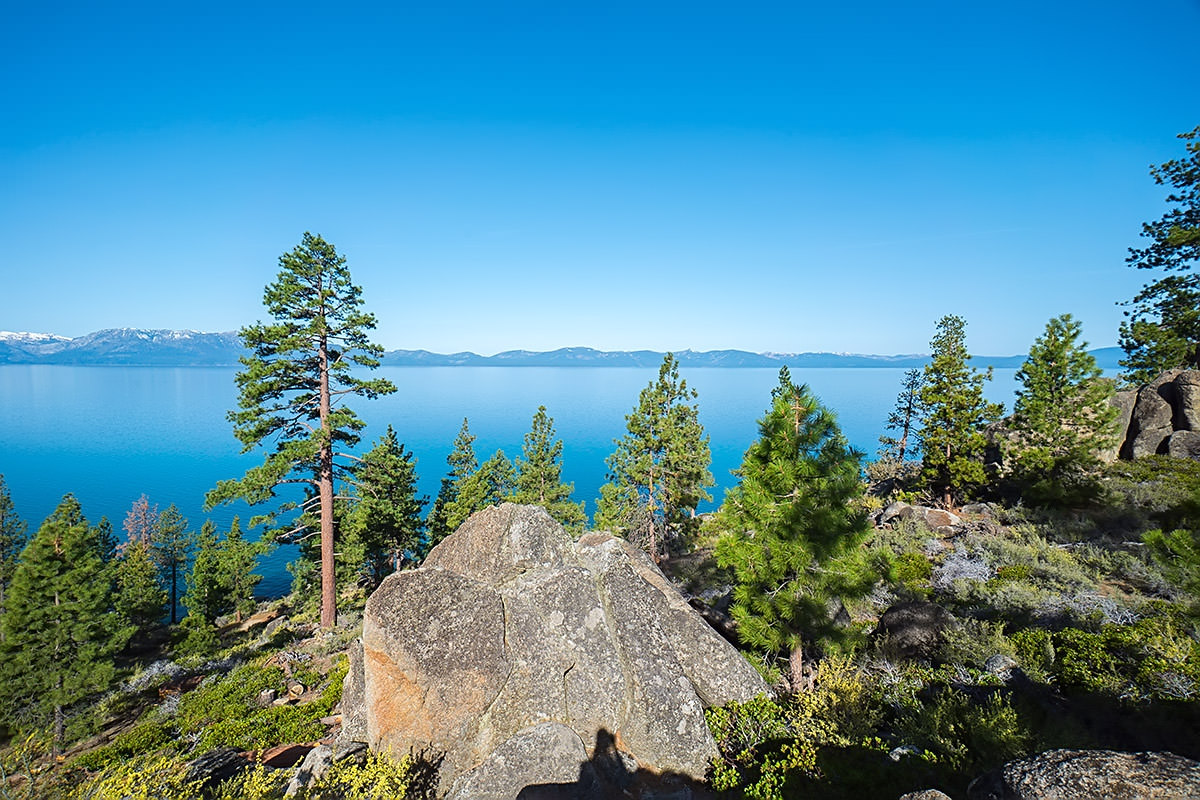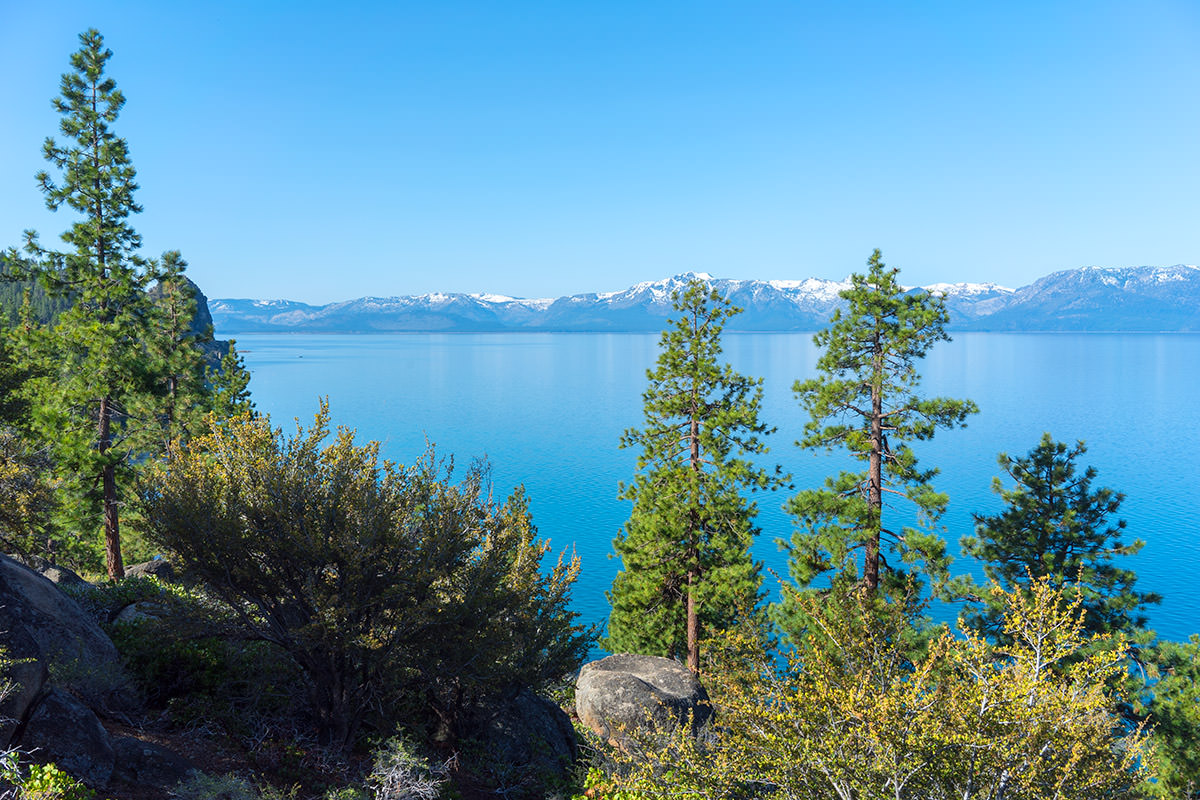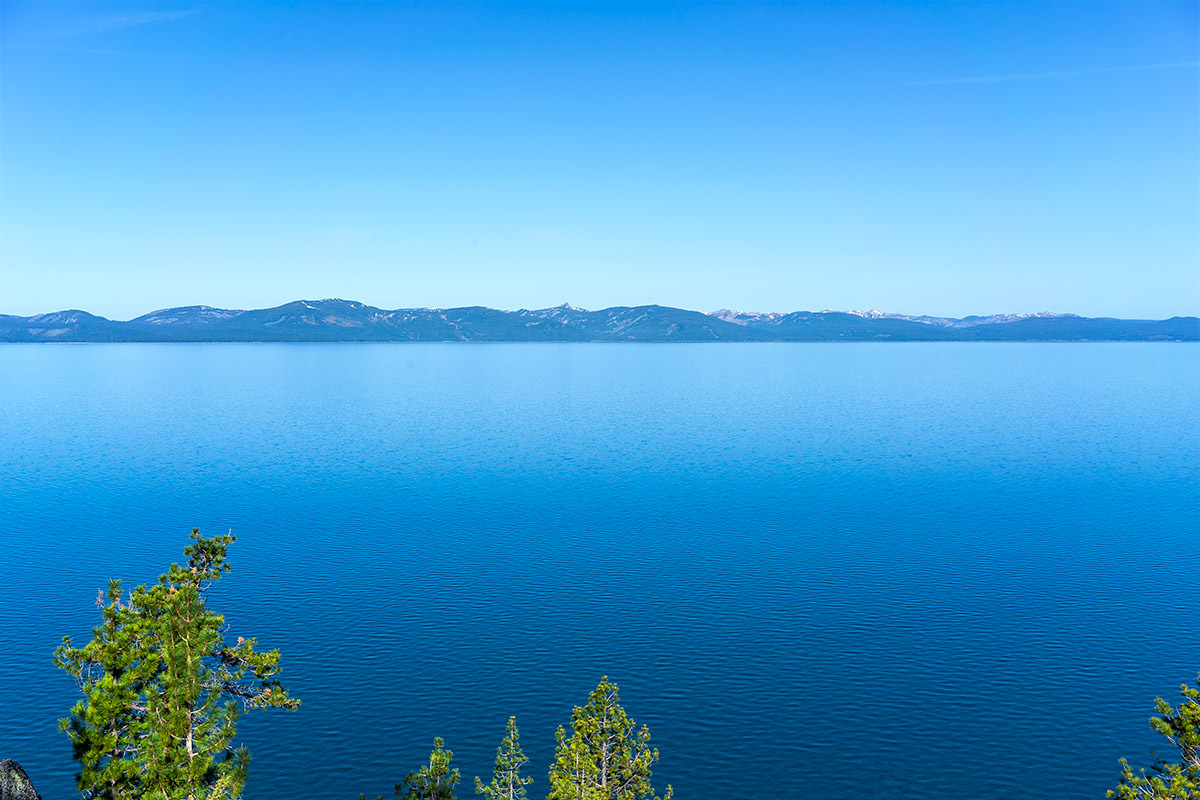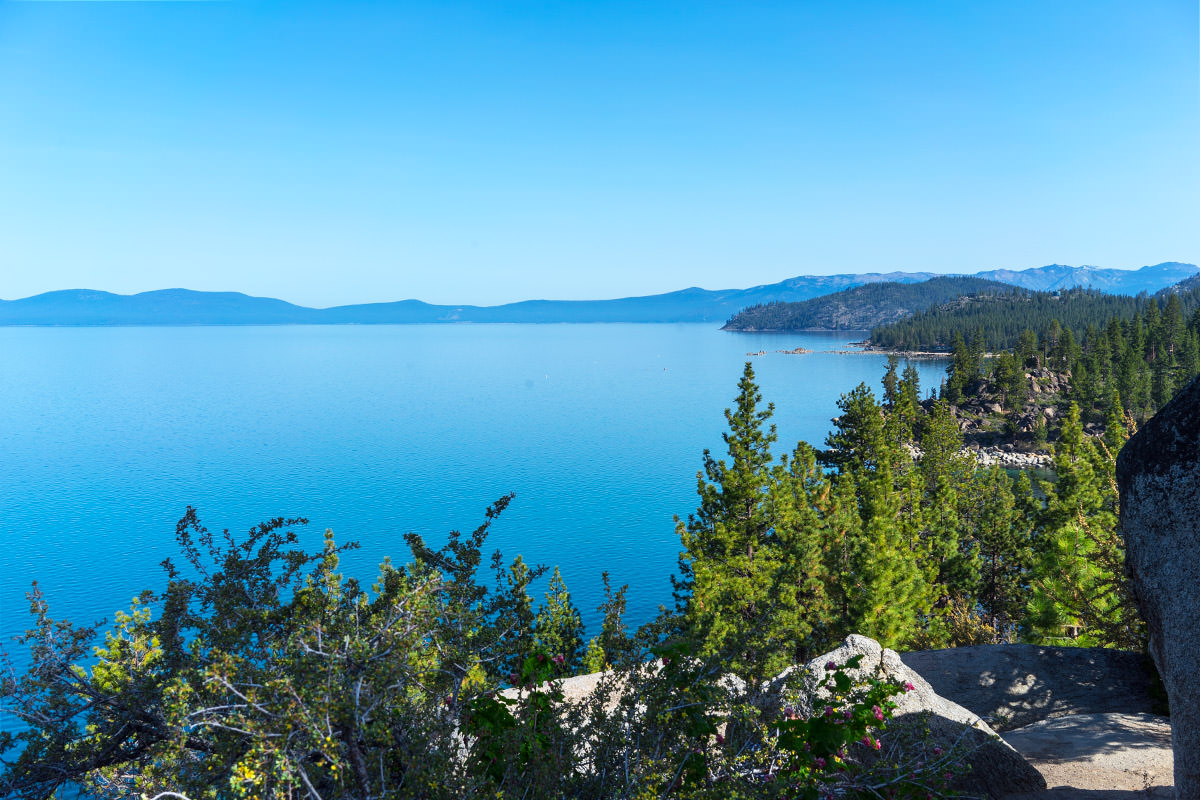 And here's a pano of the whole schebang...

Beautiful, right?
But before I drove back to Reno, I returned to the Lucky Beaver for a fried egg and avocado breakfast sammy... which was amazing. Even though I had to get up at 7:00am to get one...
Anyway...
The drive was fairly uneventful. Though I did run across somebody who loves A) Scotland... and B) Clifford the Big Red Dog... very, very much...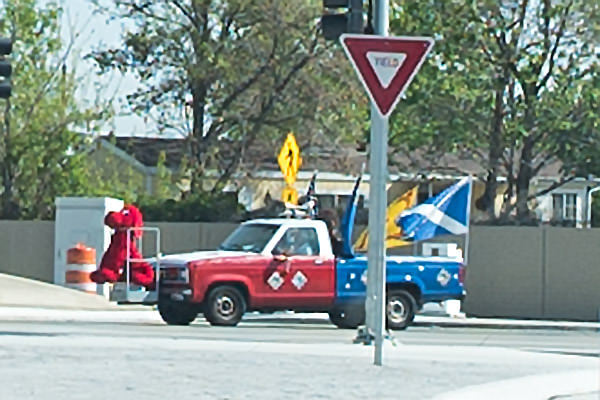 Much to my surprise, I ran across a Back to the Future slot machine at the airport. I refused to waste more than $10 on the thing, so I didn't get to see much... but it was very cool just the same...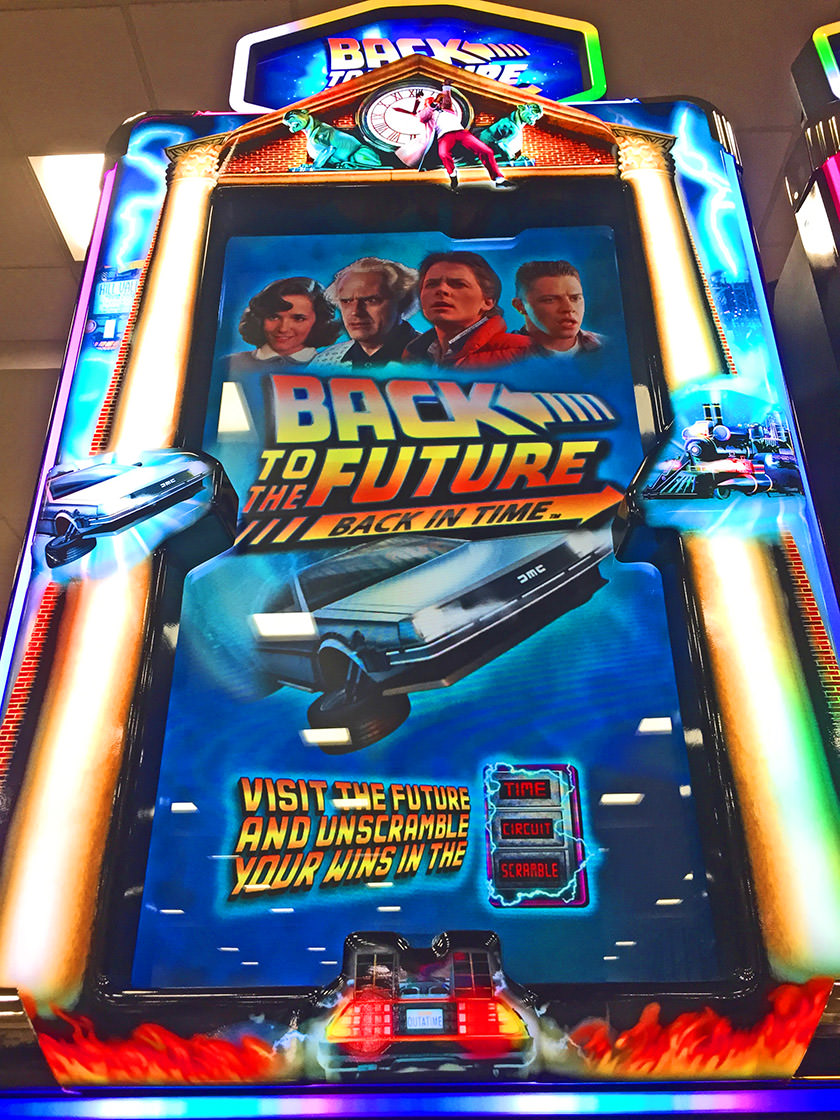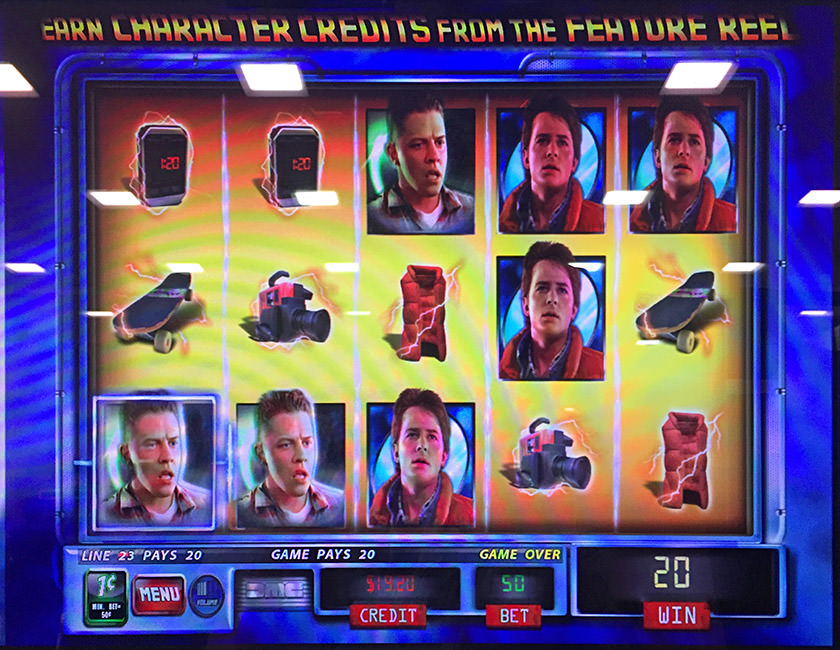 What are you lookin' at, butt-head?!
Annnnnd... so much for my trip to Reno and Lake Tahoe.

"What's the bare minimum amount of money and effort we can sink into this thing and get away with calling it a Hard Rock?" —Warner Hospitality
Or so I assume.
The property currently known as the "Hard Rock Hotel & Casino Lake Tahoe" began as "Del Webb's Sahara Tahoe" and was a pretty big deal back in the early 70's because Elvis performed here regularly...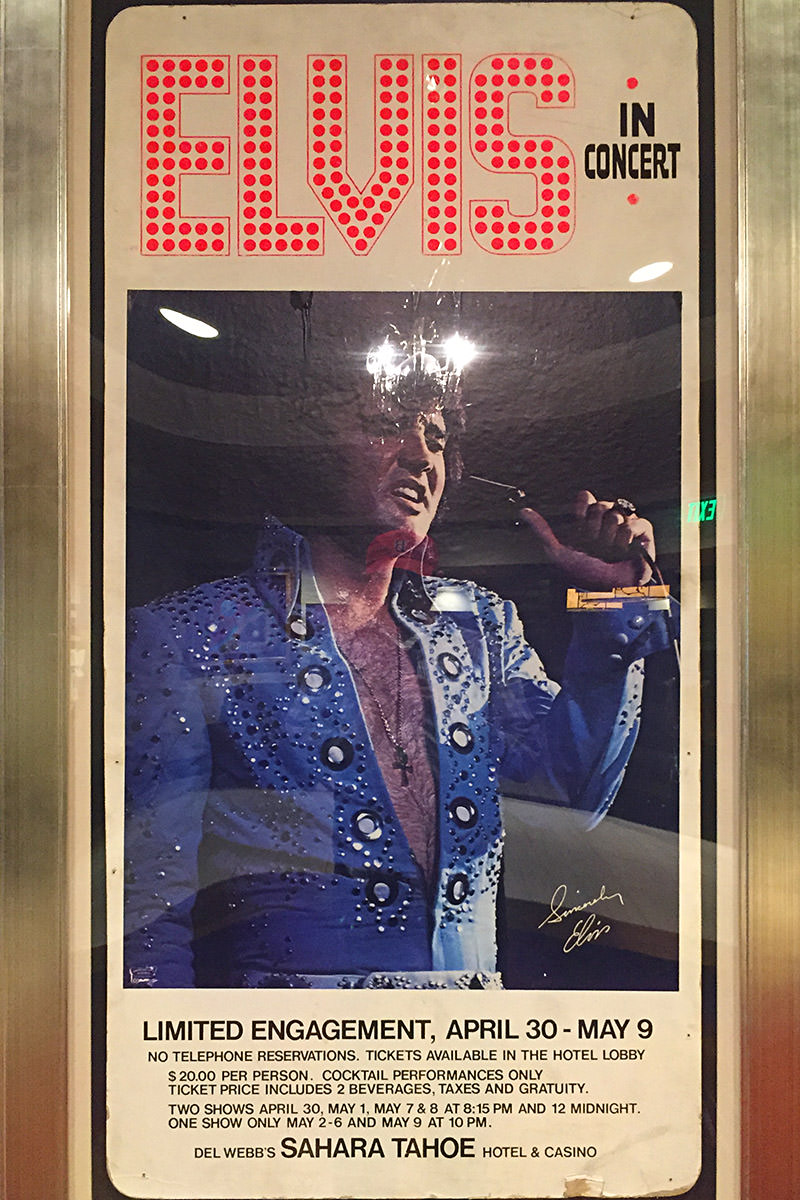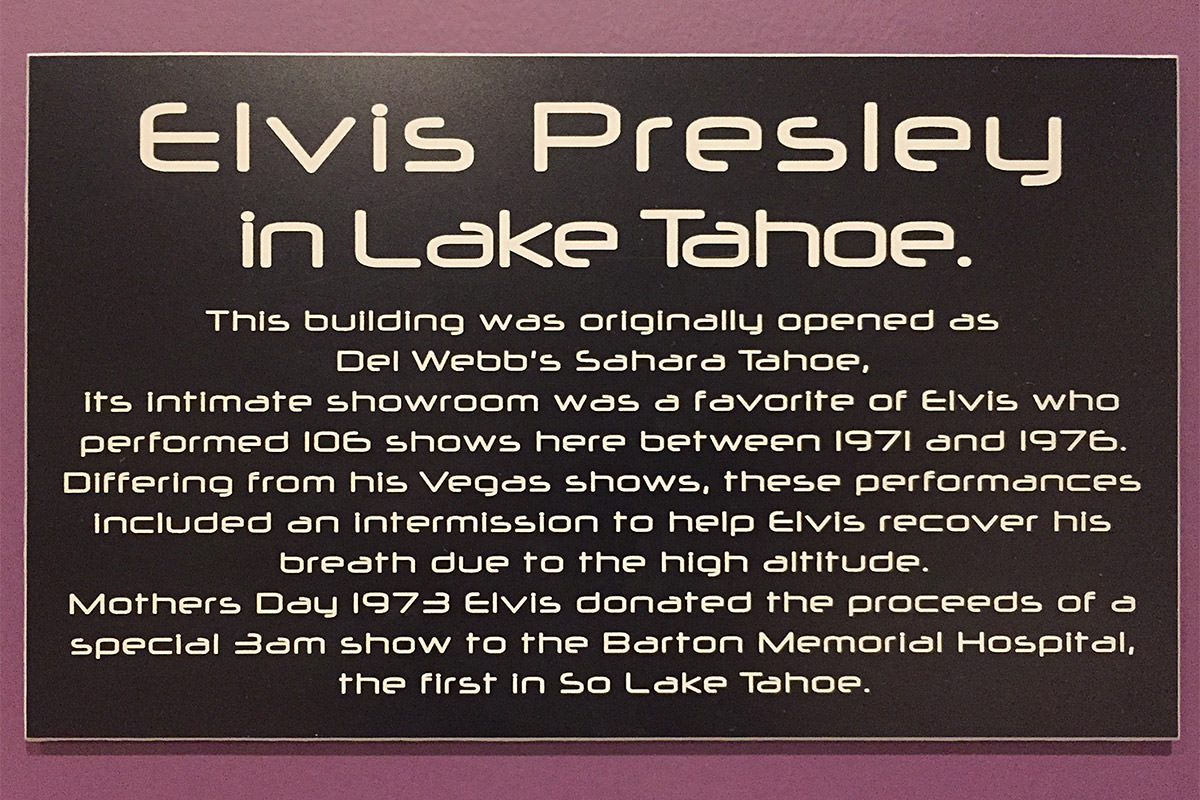 Eventually the property was rebranded as the "Horizon Resort" before ultimately becoming a Hard Rock in January of this year. As it's not part of the "authentic" Hard Rock portfolio owned by the Seminoles, I was prepared for it to be underwhelming. Because they usually are.
But this one didn't even reach that far for me.
Not that it's not a nice hotel... it totally is... but the complete lack of excessiveness and rock-n-roll theming that defines a "Hard Rock" is just not here. And it starts from when you first pull up to this rather boring building...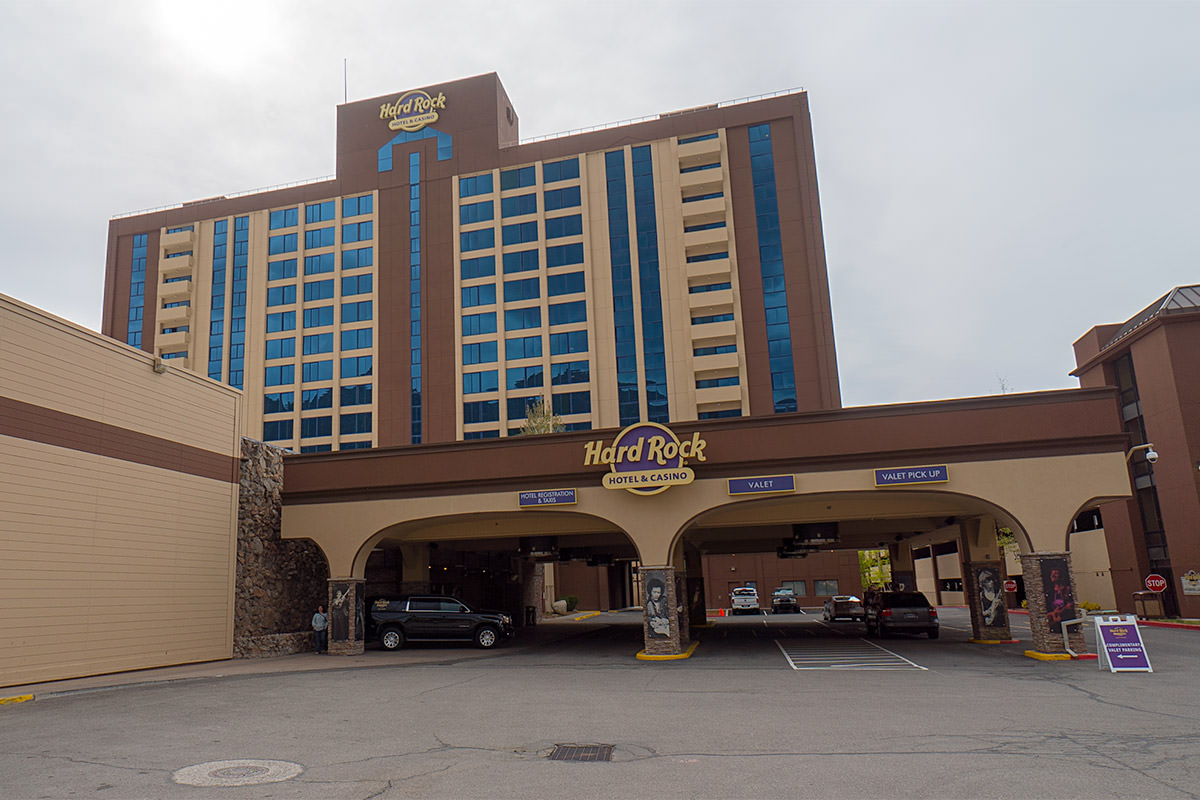 If it weren't for the signs, you'd never guess this was a Hard Rock at all. Things are slightly better on the other side, where at least there's a giant guitar...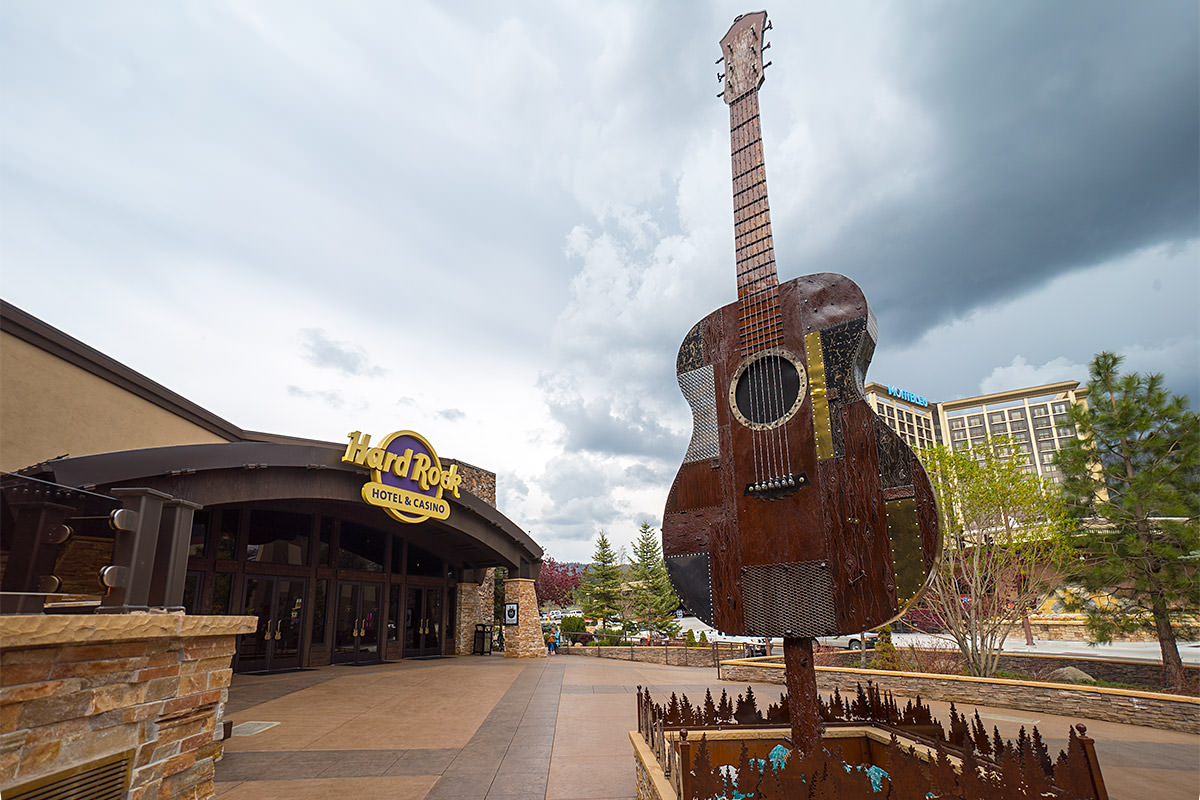 Inside isn't much better. The reception desk is boring as hell. No effort whatsoever was put into making your first contact with the property be special. No guitars. No cymbals. No art. No nothing. Just blank walls to stare at...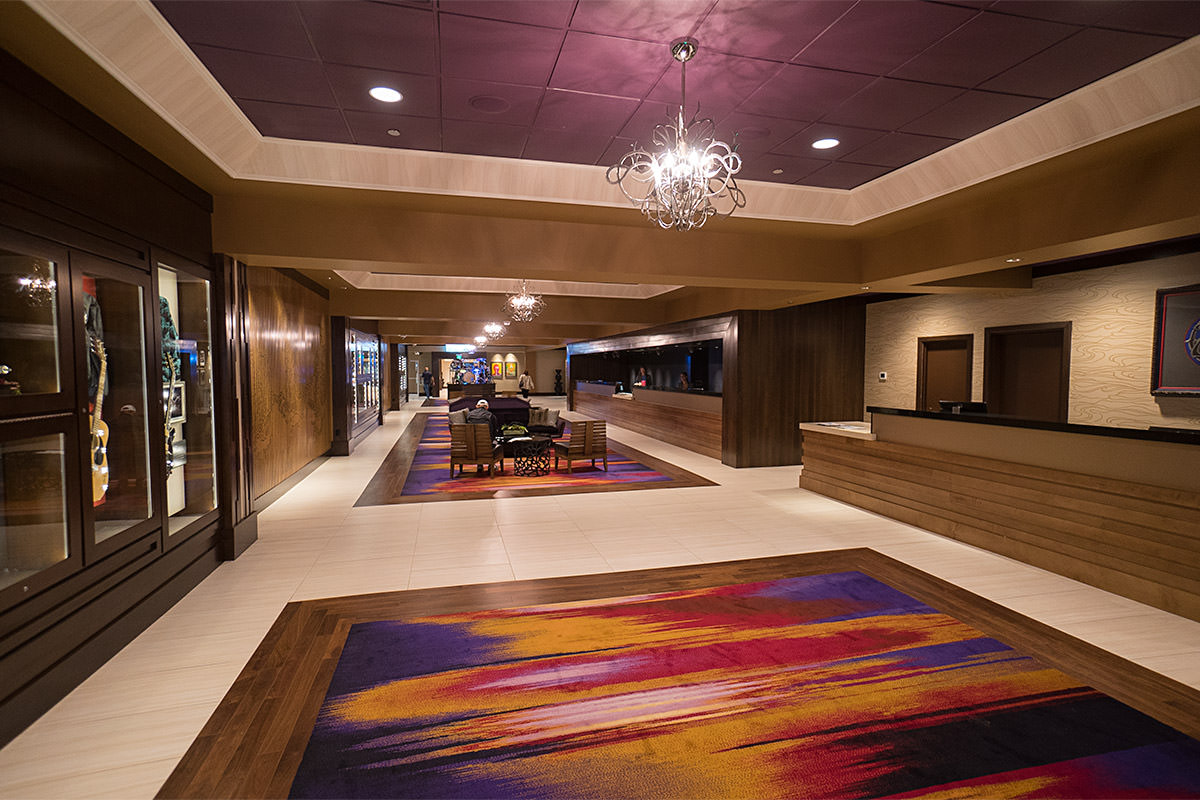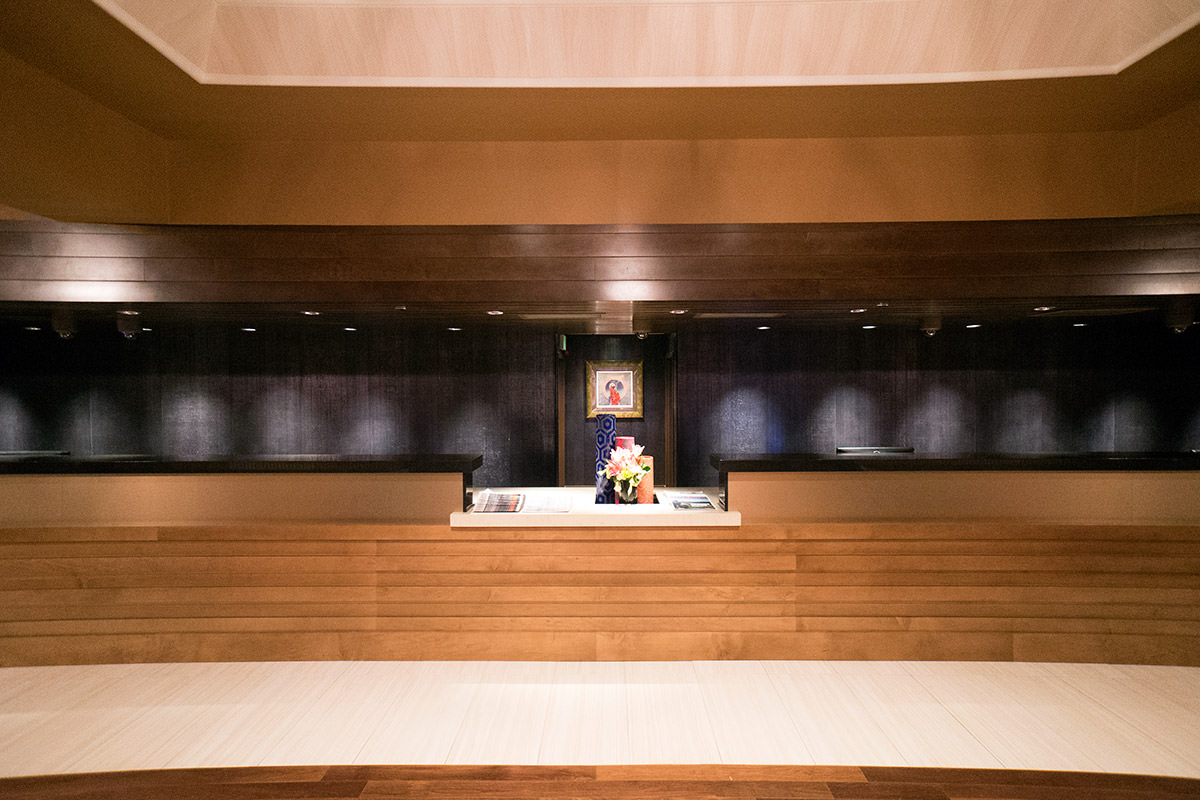 I mean, seriously, what the hell?
There are some nice showcases on the back wall, but it's just not enough...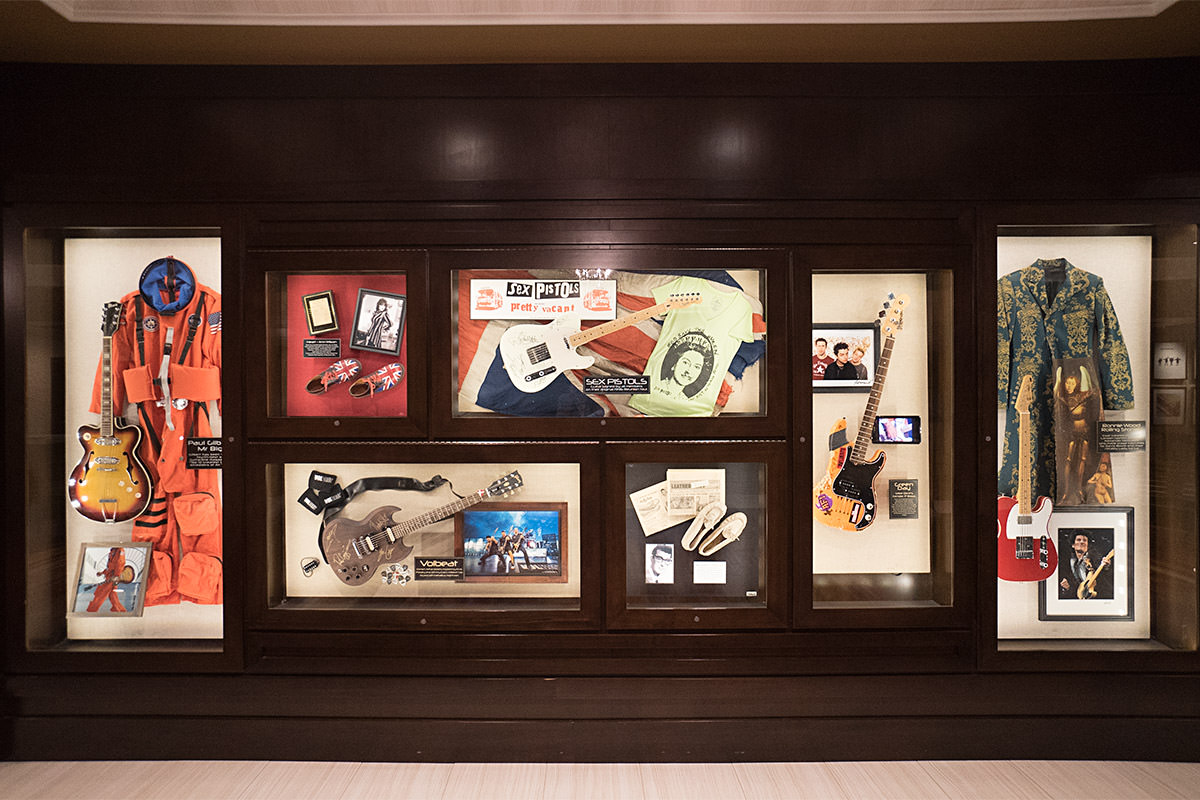 At the far end is my favorite piece, a passport belonging to Johnny Cash...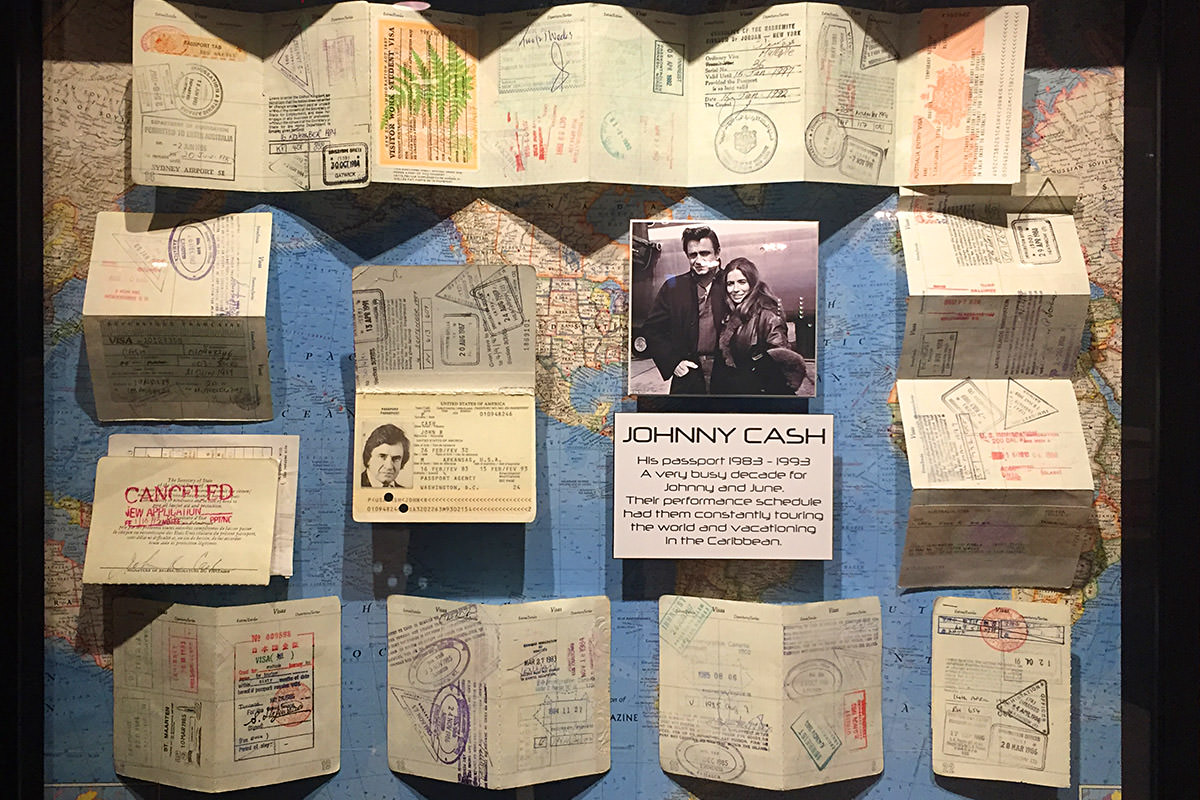 About the only attempt at making the lobby feel in any way special is a display for one of Michael Jackson's gloves. Which is nice, but it does nothing to pull you away from all those blank walls behind it...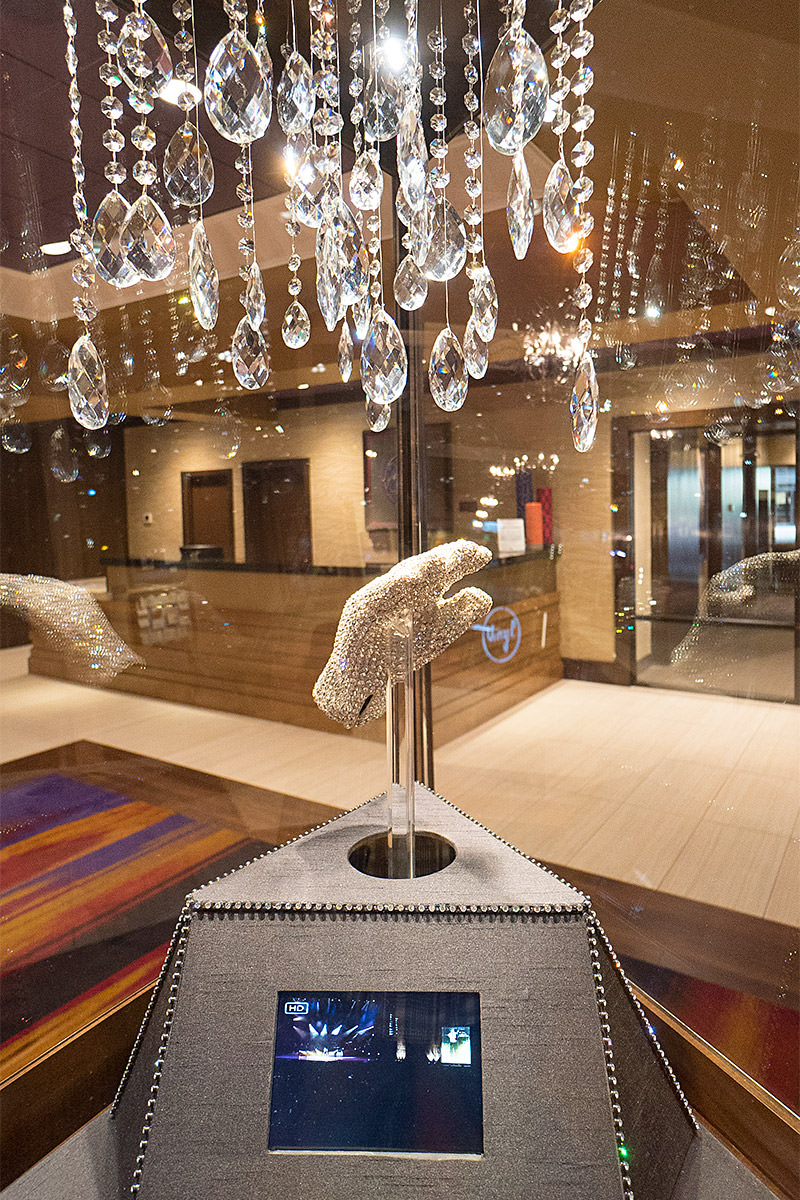 And then there's the rooms. Again, nice... but where's the "Hard Rock" here? An orange wall, a teddy bear, and a couple of prints is all we get?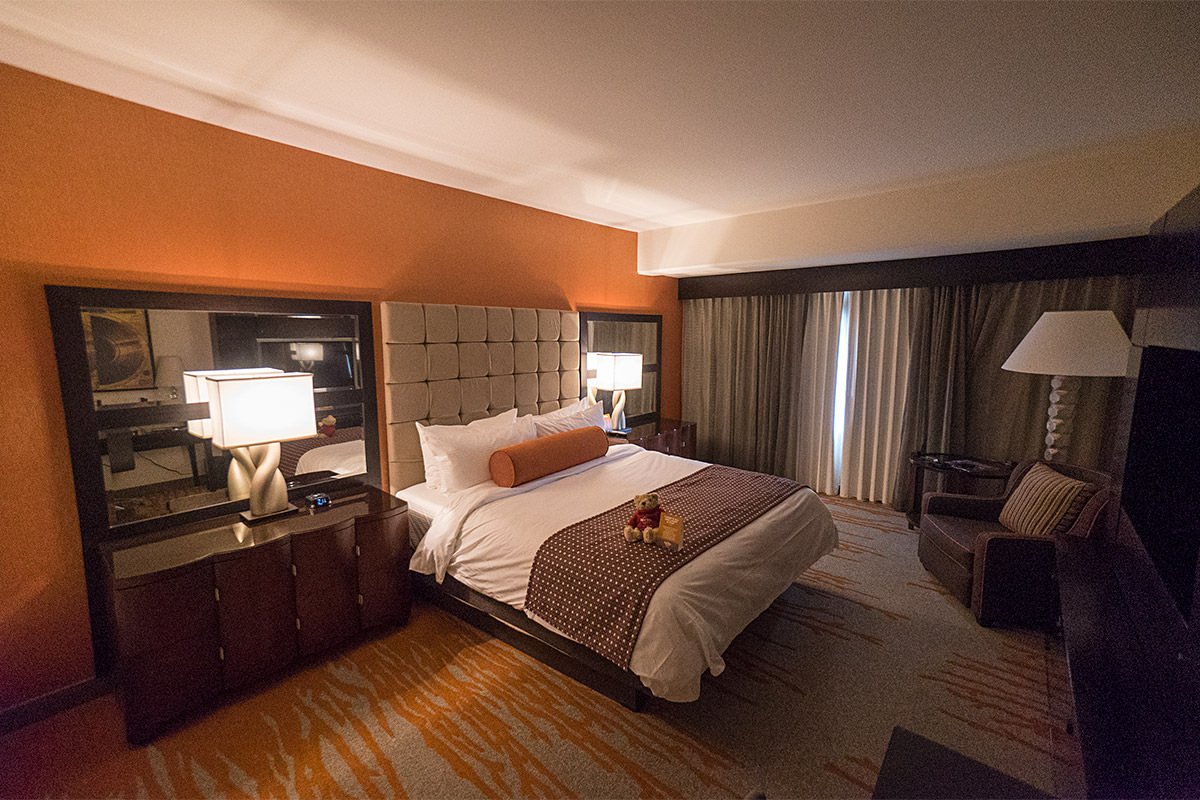 At least the bathroom has something rock-related. Even if it is just a tiny guitar print...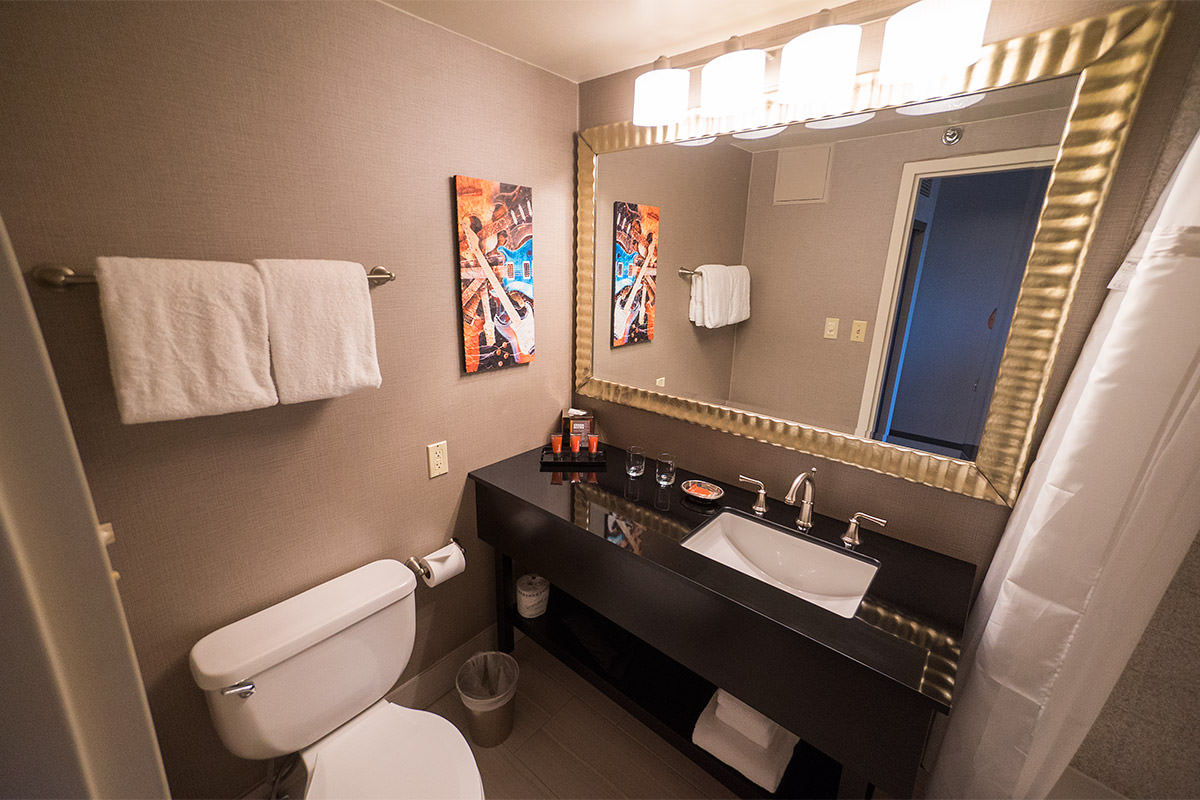 Seriously... this could be any mid-range hotel anywhere in the USA. There is absolutely nothing about it that makes you feel like you're in a Hard Rock except when you look closely at the water bottle tag, the shampoos, and the guest services book. About the only unique thing about it is the fire sprinkler in the closet...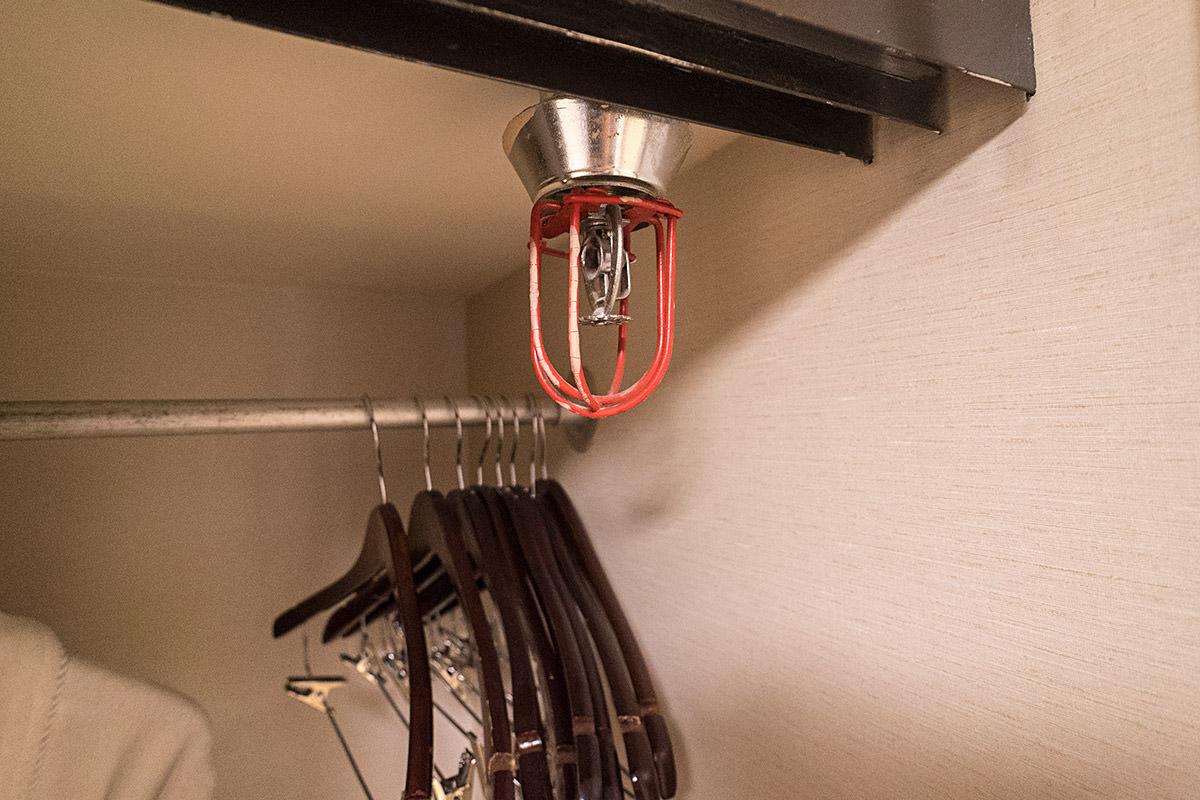 I guess they have a real problem with guest's clothes spontaneously combusting or something.
Oh... and thank God I paid the extra money for a "lake view" room. I would have hated to have missed this beautiful view of... the parking lot?!?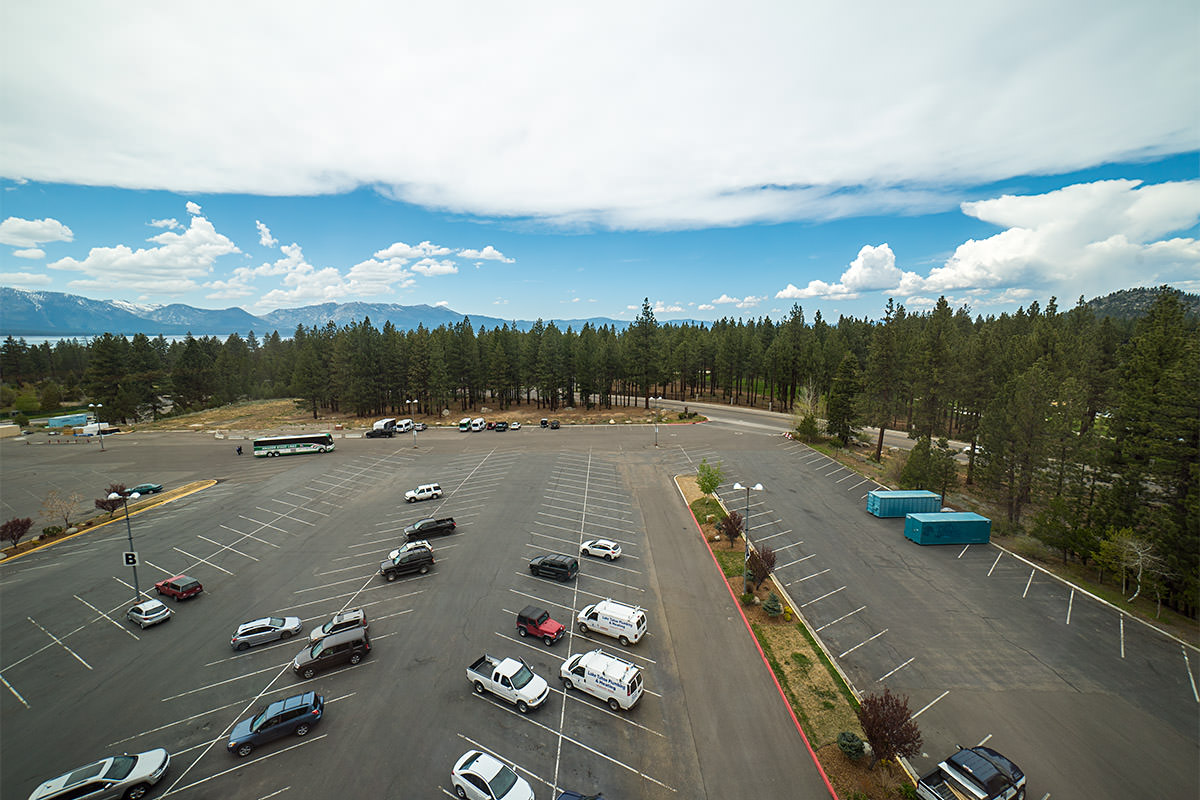 I mean, yeah, there's a lake way back there... but I'd hardly call this a "lake view" room. When I booked it, I was expecting to look out my window and see something like this...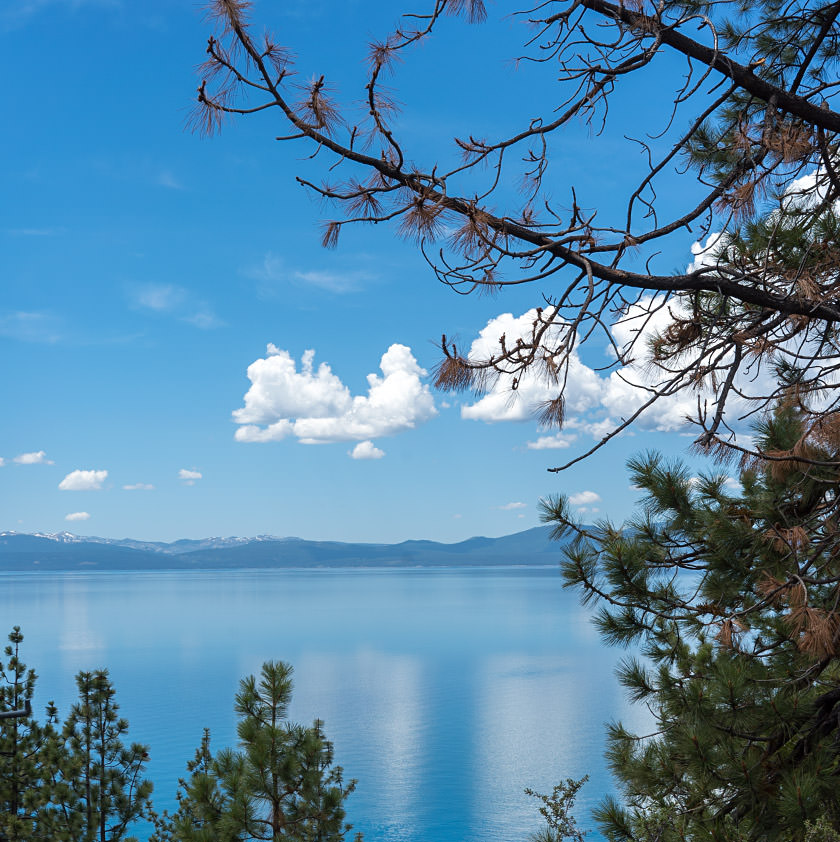 ...which is a shot I took when I pulled off the road on the drive here.
Oh well. The casino isn't much better. Absolutely nothing on the casino floor. Just a couple of cabinets scattered at the entrances...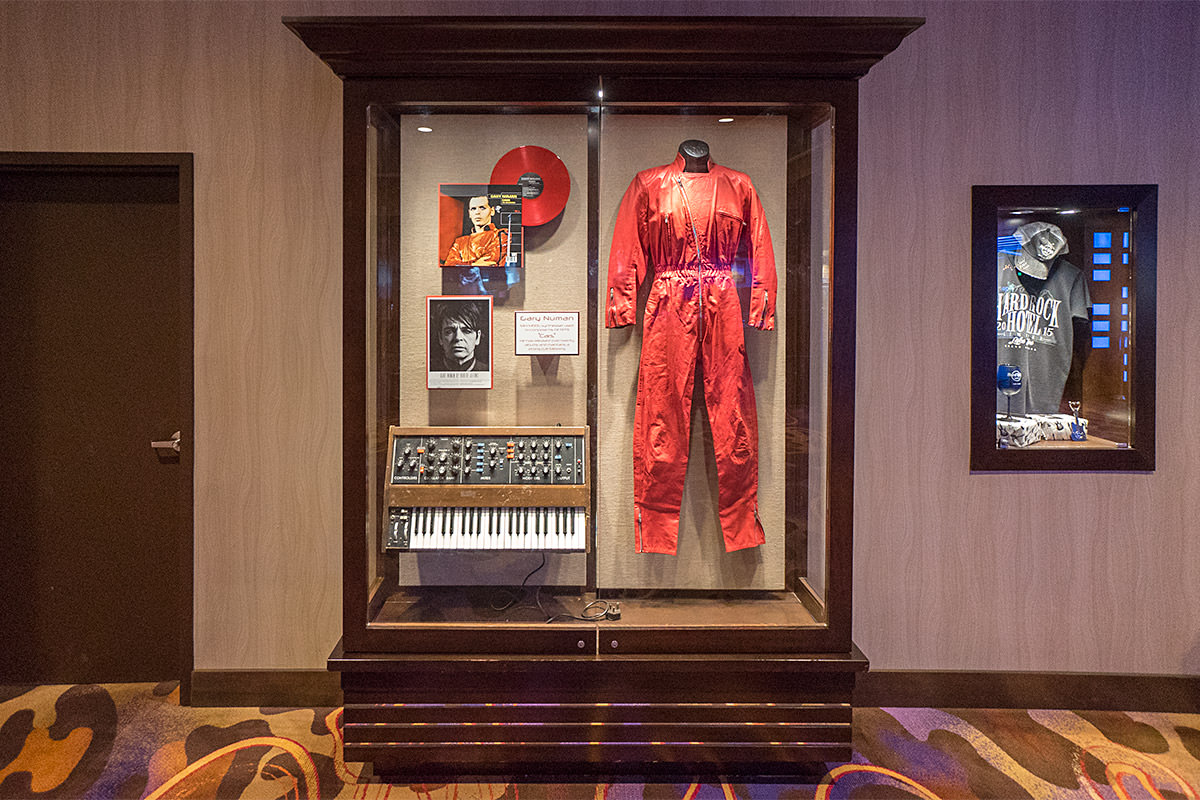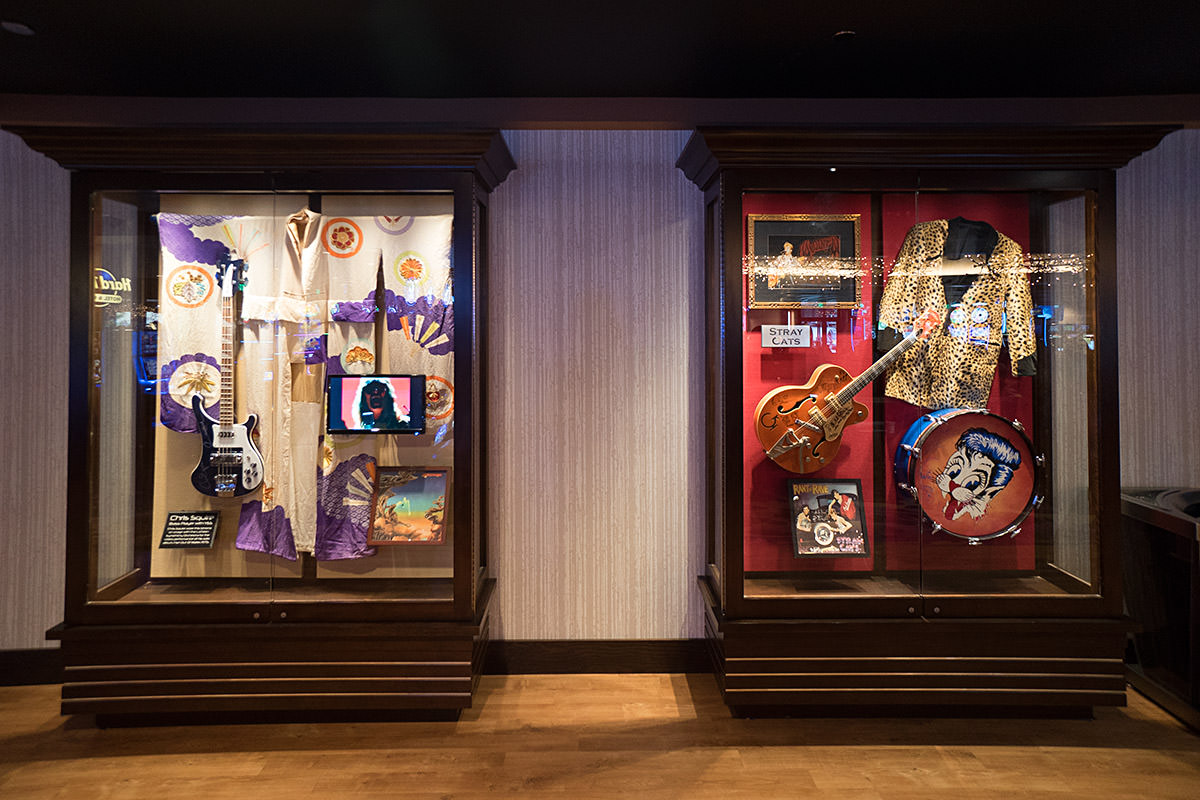 And some guitars scattered without presentation down a random boring hallway you have no reason to visit...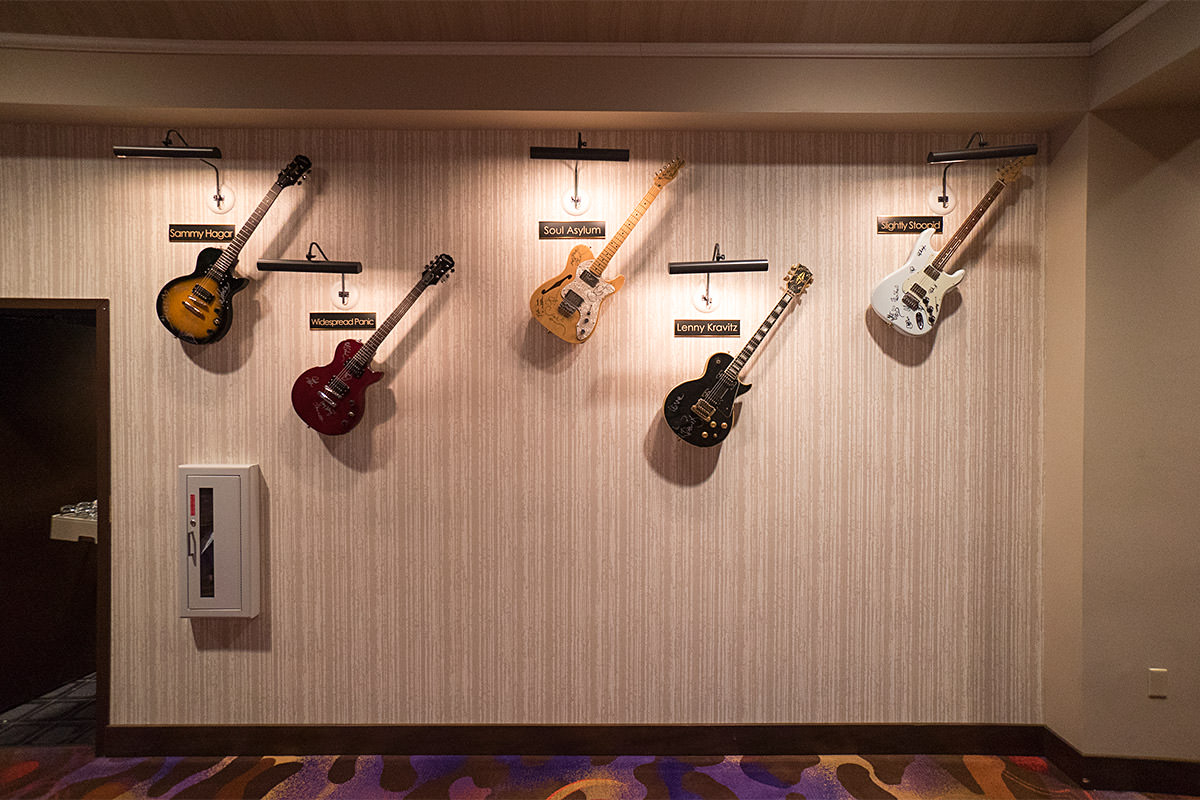 The pool is total shit... though there are signs everywhere about a fantastic new pool area that will be debuting this summer, so maybe it'll improve...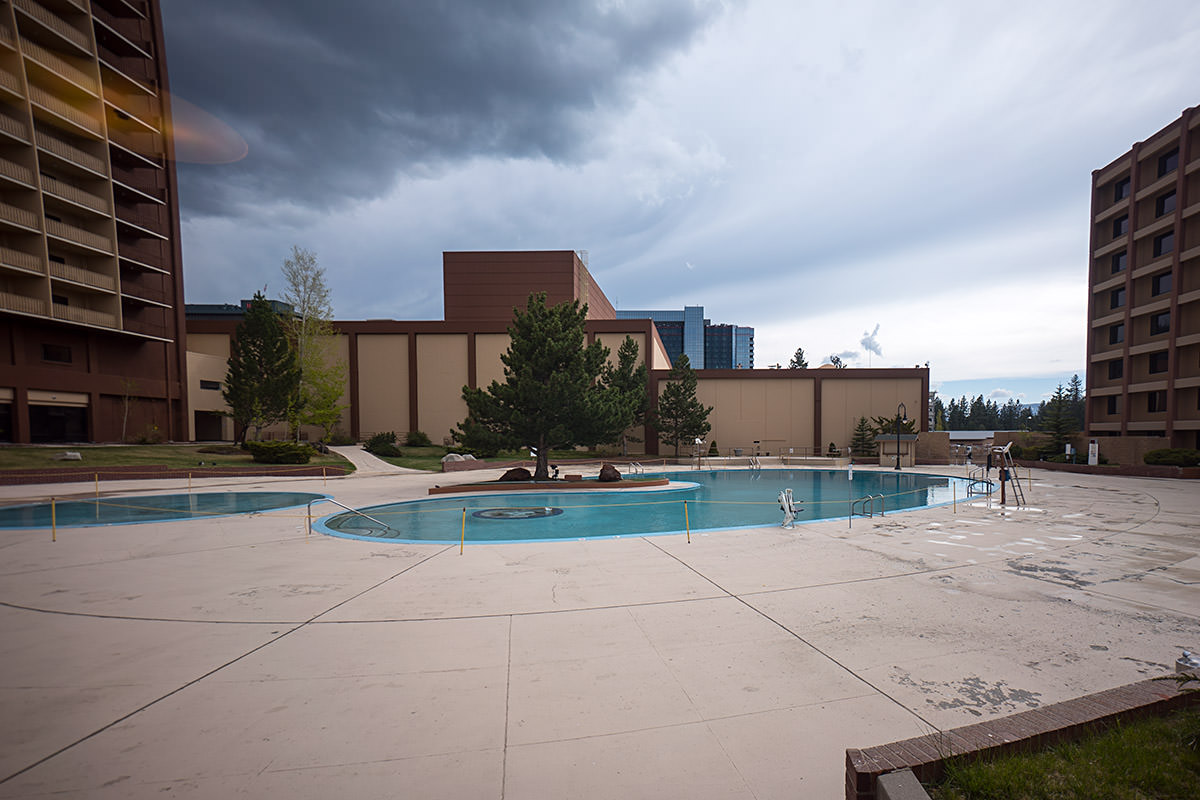 Overall, the Hard Rock Hotel & Casino Lake Tahoe is a massive disappointment for Hard Rock fans. There's just not much here to see. If you don't care about the Hard Rock, it's a nice enough hotel, sure... but for those who do care, it's hardly destination-worthy unless you're a hard-core completist.
Which, unfortunately, is me.
UPDATE 5/5/15: You know, it may not sound like it, but I was trying to stay positive here. But when I went to check out everything kind of came to a boiling point in my head. First of all is the idiotic "resort fee" I had to pay... $22 ($26 with tax) which basically got me internet. It's not like I could go lie by the pool or anything (given there's no furniture). But even worse was the service. When I checked in, you're supposed to get complimentary valet parking, but the ONE guy tending the drive was too busy talking to somebody to bother and, after I had to interrupt to find out what the fuck I do with my car, he positioned valet parking as a "well, if you really want to..." situation, so I ended up self-parking. THEN, when I went to leave in the morning, I asked the guy at the reception desk if they had a postbox. No. Can you put my postcard with your outgoing mail? No. Now that's service! They wouldn't even mail a damn postcard. Seriously, fuck this place. I wish I had never come. A complete stain on the Hard Rock brand if there ever was one.
Contrast and compare to the positively gorgeous "authentic" Hard Rock Cafe next door at Harvey's Casino. It's an absolutely mesmerizing property that's got a "Tahoe Ski Lodge" aesthetic going on. And it's packed to the rafters with fantastic rock-n-roll memorabilia and classic theming. So much love went into this place...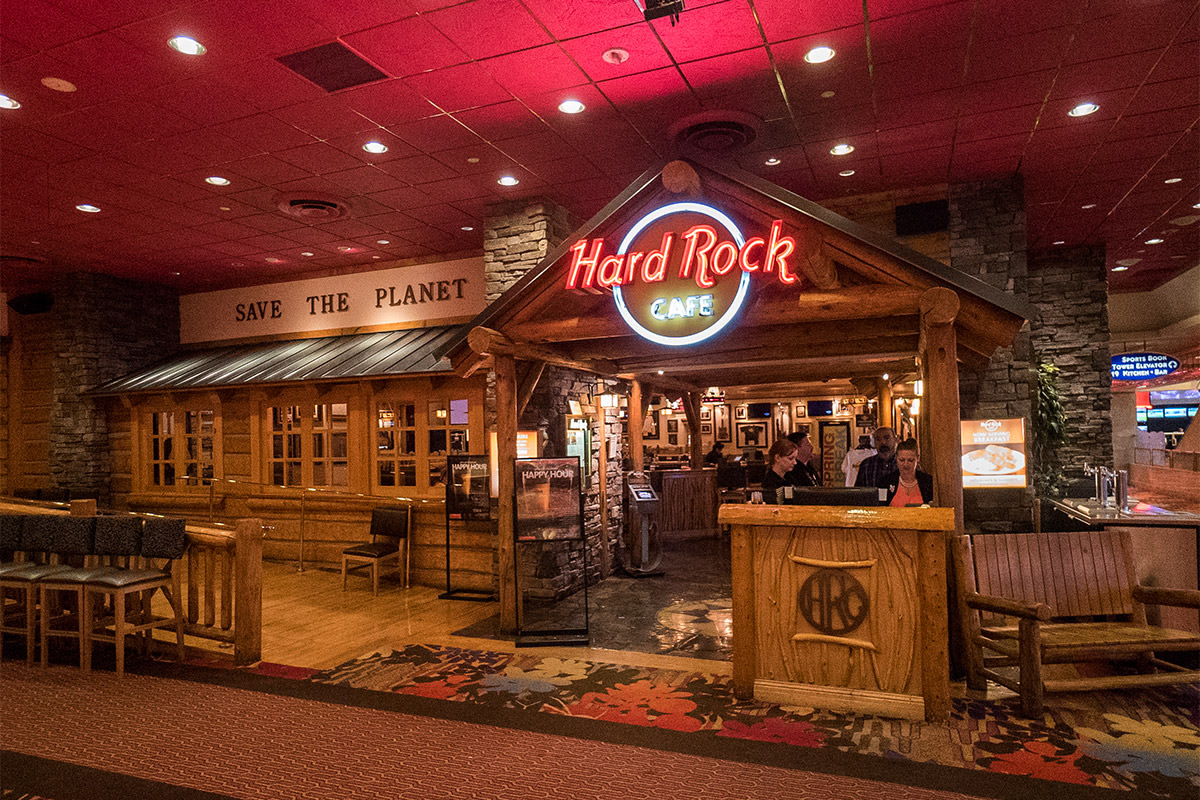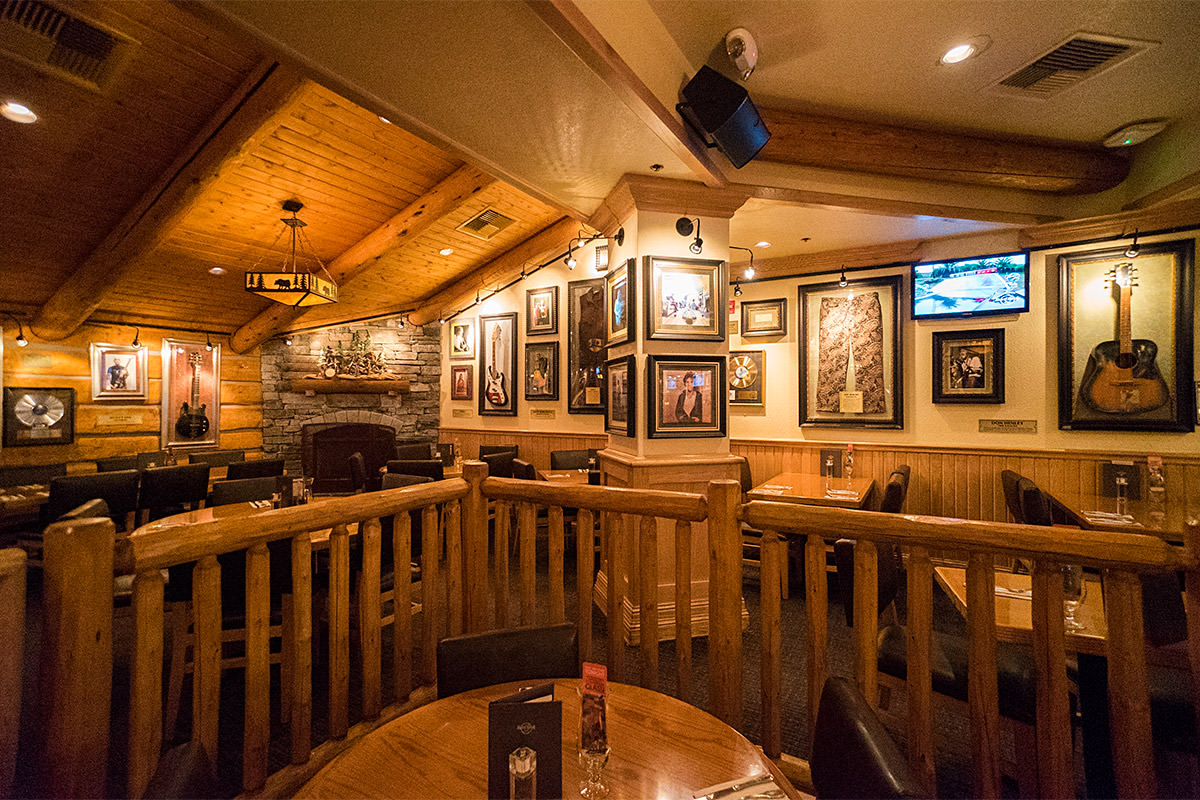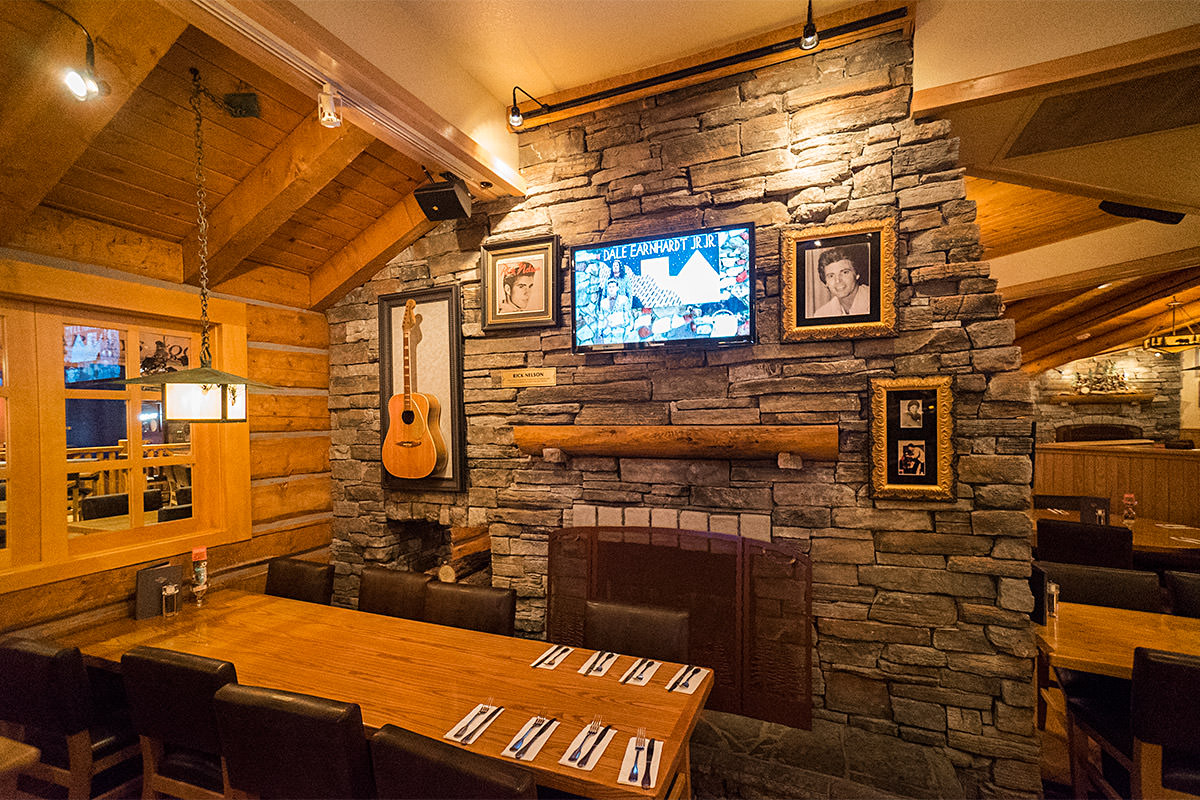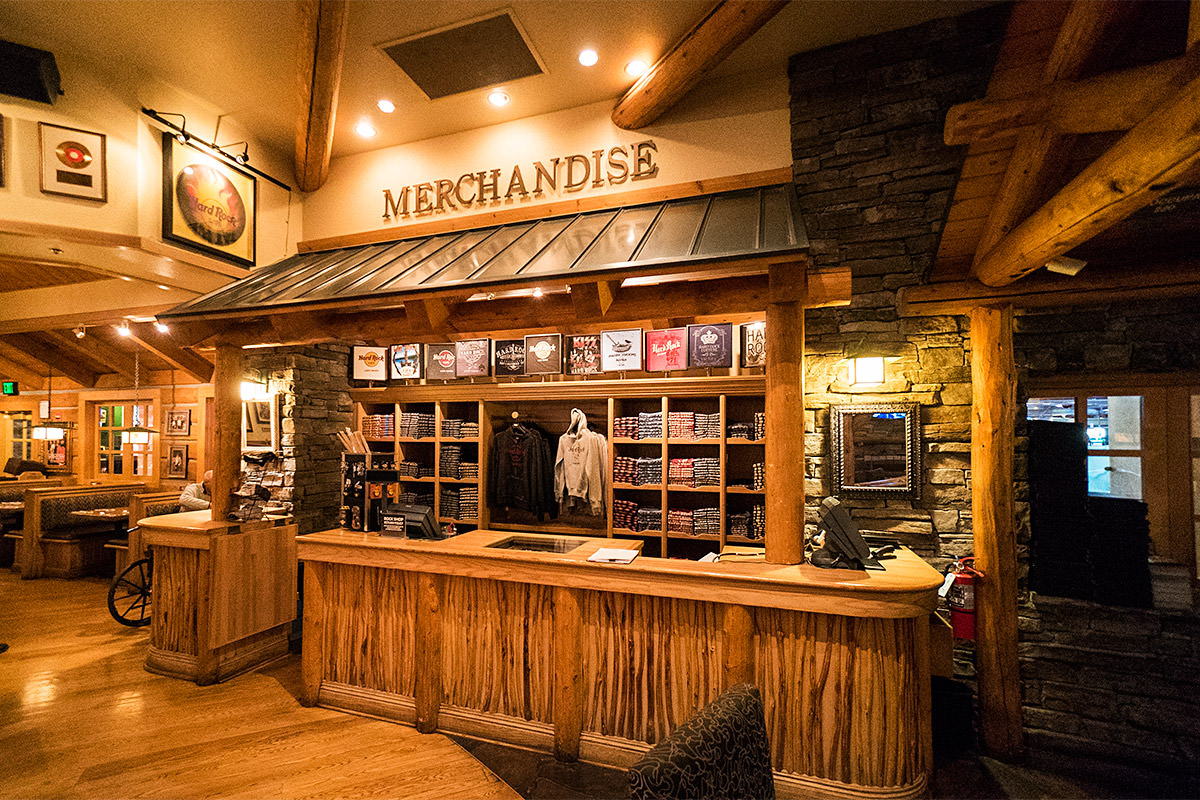 Now THAT'S Hard Rock! That's a destination-worthy property. That's why I am a Hard Rock fan.
sigh.
Anyway...
Before driving to Lake Tahoe, I got to have lunch with the Blogger Formerly Known as Floating Princess, so the day wasn't a total loss. We had most excellent pizza at Pirate's Pizza in Reno... it is, in fact, the best pizza in the whole world...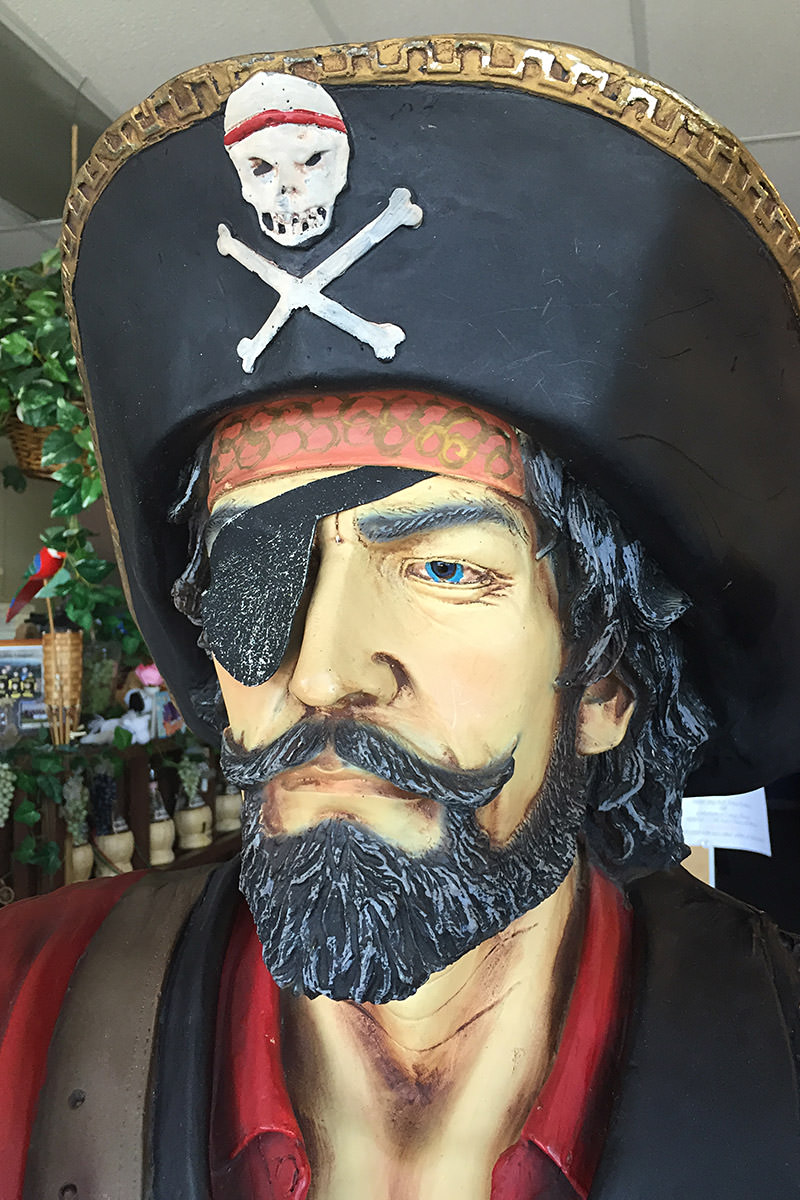 Dinner tonight was another excellent meal... across the street from the Hard Rock Hotel & Casino Lake Tahoe at the Lucky Beaver...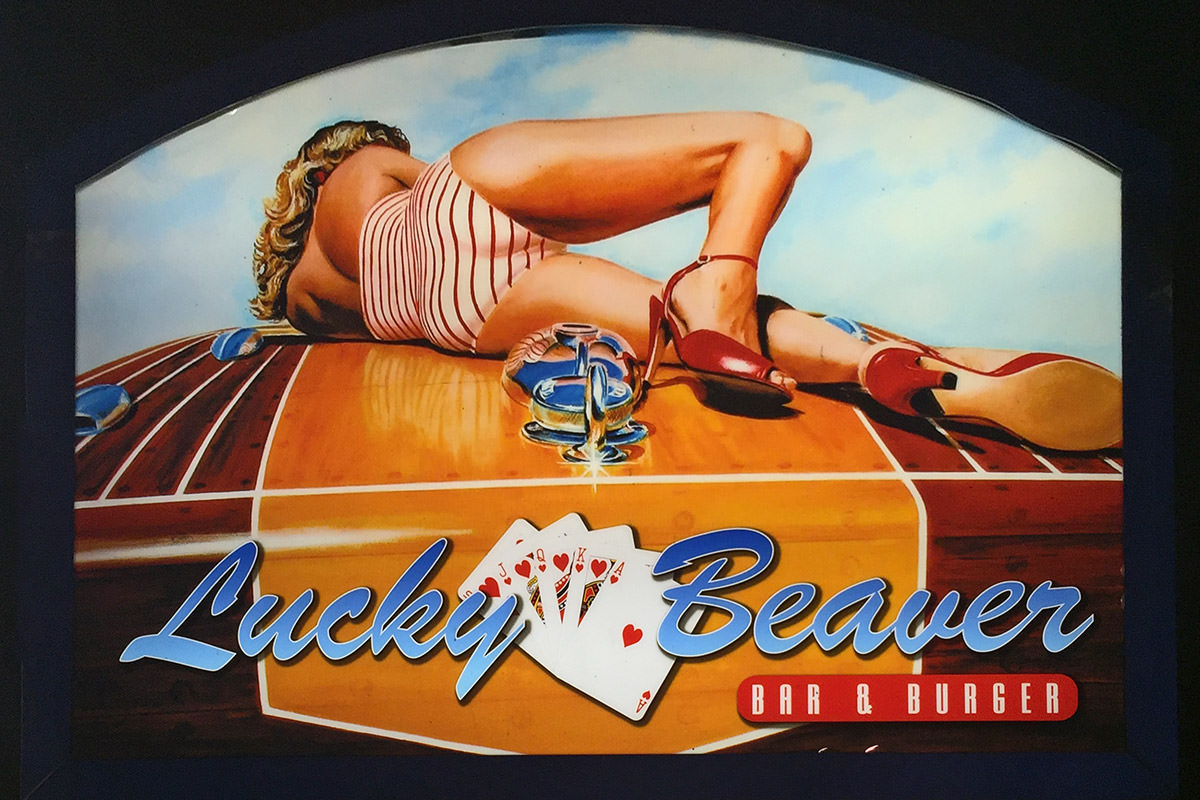 I like the place very much... excellent service and a cozy atmosphere. But the food is way pricey... $12 for a burger and tots! Though their black bean veggie option is really good, so I guess it was worth the money.
And that's my day. Time to walk back to the Hard Rock and see if I can get some sleep.
I'm not much of a gambler, but I was compelled to put money in the "Ellen DeGeneres Show Slot Machine" until something happened. Five dollars later and...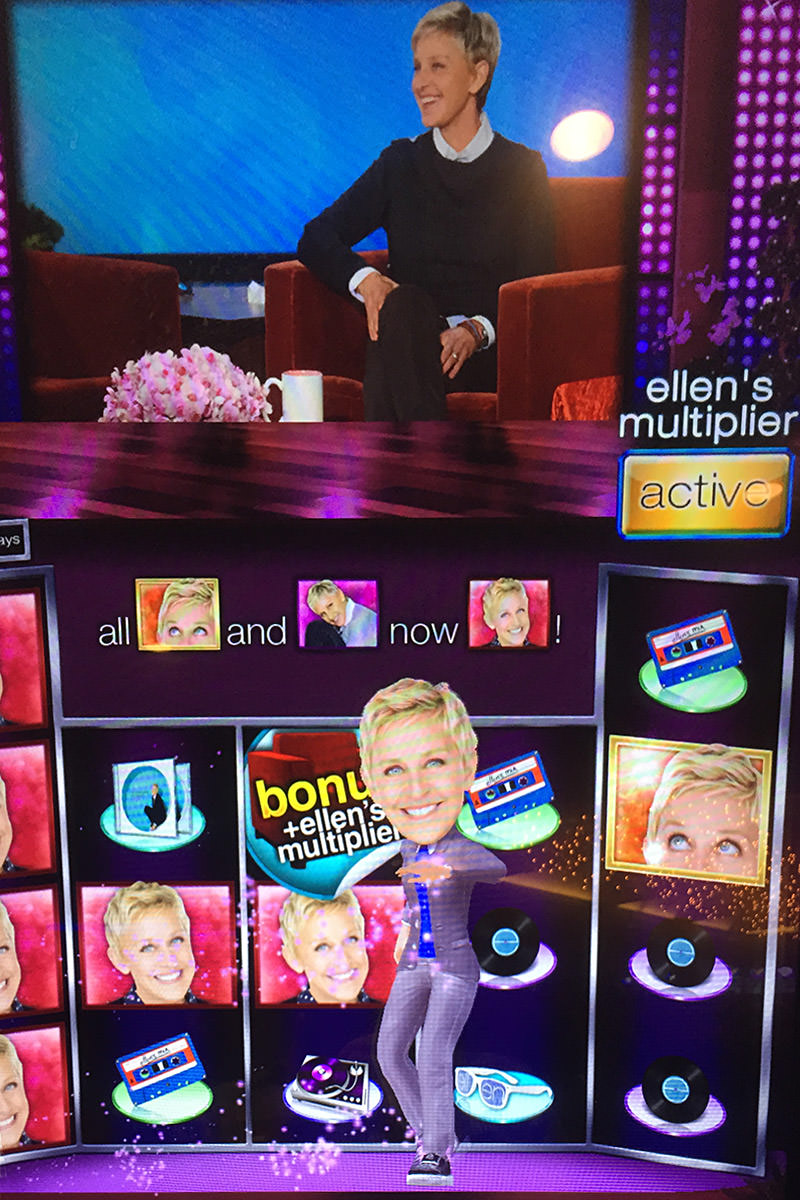 If you win something special, cartoon-body Ellen dances across the screen and she talks to you. Cute.
Tomorrow? The journey back home.