Since this is my only full day in Warsaw, I knew early on that I wanted to make the most of it. Fortunately, a good place to start was right across the street from my hotel.
A gift from the former Soviet Union to the people of Poland, the "Palace of Culture and Science" is a massive building and controversial landmark of the city...
It's also probably the gayest building in Europe, because the exterior features statues of studly guys with their shirts off holding massive power tools and other manly artifacts...
At first I thought it was just me, but when I was researching the building on the internet, the first page I found about the building at IgoUgo featured an ad for "fantabulous gay vacations" with those same three guys...

During Soviet control, the building was known as the "Joseph Stalin Palace of Culture and Science," but all reference to Stalin was eradicated after decentralization when Poland was free again. You can see evidence of that on one of the less titillating (but still very gay) statues outside. He's holding a book that has a blank spot where Stalin's name used to be...
The building also houses the "Museum of Technology" at its base, which was very cool (and a total bargain at only 8 złoty!). Inside there's all kinds of old samples of technology... from computers and automobiles to washing machines and space exploration. My hands-down favorite was the Polish Fiat showroom, which had a number of beautiful antique cars on display...
The "Space" room was nicely done, featuring a good number of models of technology from the US space program...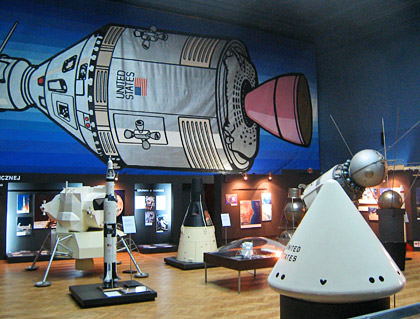 Before we could get on with touring the city, Perry and I had to go back to the Hard Rock Cafe to get a couple of quick photos (last night was far too crowded). This is a really nice split-level property (complete with a stage and radio station built-in!) with a terrific assortment of memorabilia and a very friendly staff...
Despite being so new on the outside, it has a great "classic feel" to it on the inside. About the only place it misses is above the lower bar. They should have featured some nice guitars or other rock artifacts there, but instead have some kind of artsy deco lighting that doesn't really fit with the rest of the cafe's theming...
On an unrelated note, I saw a Polish poster for the new JJ Abrams produced horror flick "Cloverfield" and noted that it has a much more awesome title here - "PROJEKT: MONSTER!" How frickin' sweet is that? I'm sorry, but that should have totally been the US title as well...
And that is part one of my day in Warsaw. For the conclusion, see my next entry.