Posted on Wednesday, September 24th, 2003

Here I am in sunny Baltimore, killing time before my flight to Iceland. For lunch I decided to pop into the Hard Rock and see what's new. Much to my surprise, the Veggie Sandwich is BACK! Much to my horror, it is not the same! First of all, it's not on their famous icebox bread... it's on a crusty roll. So every time you take a bite, the avacado and other goodies go squishing out of it. Second of all, it's much smaller and doesn't come with fries or a baked potato (which, I'm told, they don't even offer anymore). And to top it all off, my chocolate shake was not thick and frosty, it was runny and sloppy (and only 3/4 the way full... there was nearly more whipped cream than actual shake!). So what in the heck is going on at the Hard Rock? It seems they are more about the souvenirs and gift shop than the food anymore, and that sucks!
Posted on Thursday, September 25th, 2003

The Hard Rock Reykjavik is located in the Kringlan Mall complex, east of the city center, but just a 15 minute walk from my hotel. The cafe itself is quite nice in a classical sense... plenty of wood, with memorabilia crammed in every nook and cranny (sometimes in interesting and inventive ways). The chocolate shake here was excellent, but different than I was used to (there were flakes of chocolate inside!). I wasn't hungry enough to eat anything except a side of fries so I have no idea about the food. Service was nothing special, as the staff seemed far more interested in dusting and cleaning than tending to patrons, but at least they were friendly when they did pop 'round.
The merchandise shop is fairly large for an older property, but all that space is wasted because there were NO LARGE T-SHIRTS!! As if that weren't bad enough there were also NO CITY T-SHIRTS in any size!! And when I asked about it, I was told they have been waiting for stock for nearly two months! The money from T-Shirt sales is gravy for a Hard Rock, so it's almost as if the management decided to ceremoniously burn a couple of hundred dollars every day in lost sales. Every time I run into something stupid like this, I'm left wondering if the cafe in question cannot afford to purchase new shirts and will soon be going out of business (this logic comes from actual experience at Planet Hollywood locations that were eventually closed).
Oh well, I'm still quite happy to have visited the city of Reykjavik and the Hard Rock here... after all, how many people can say they've been to Iceland?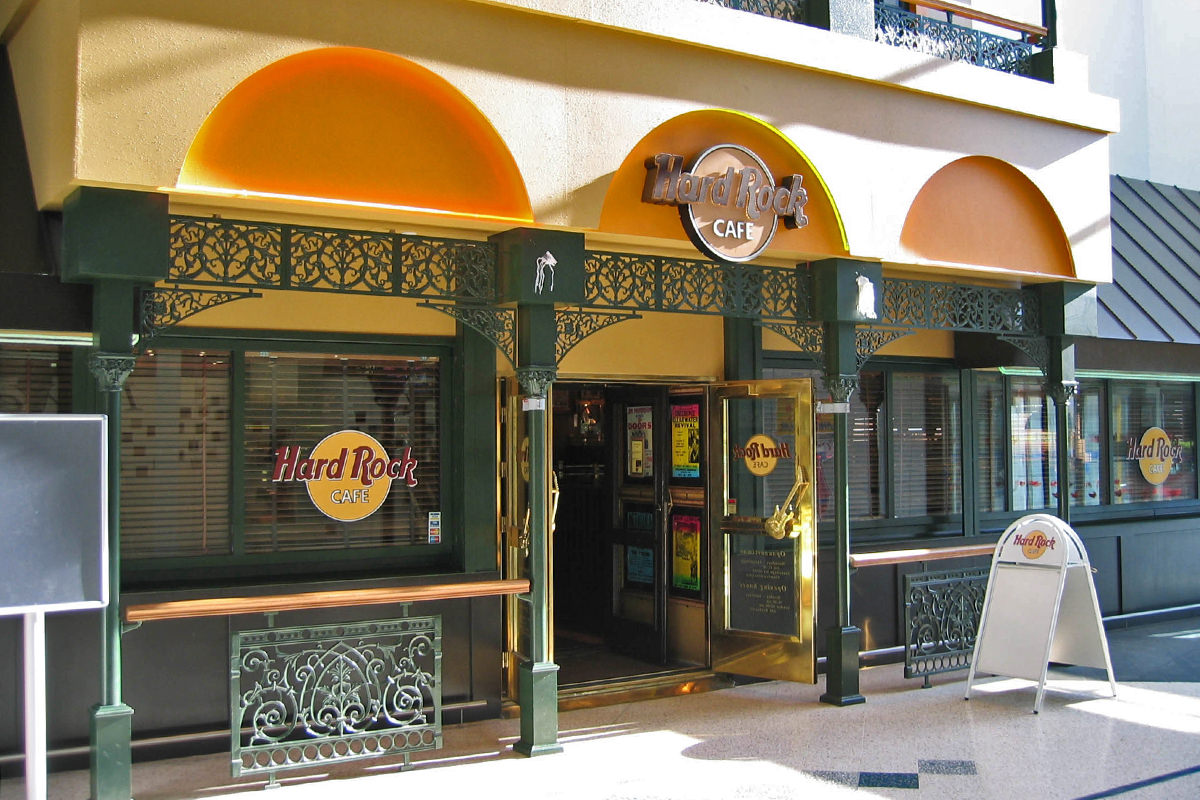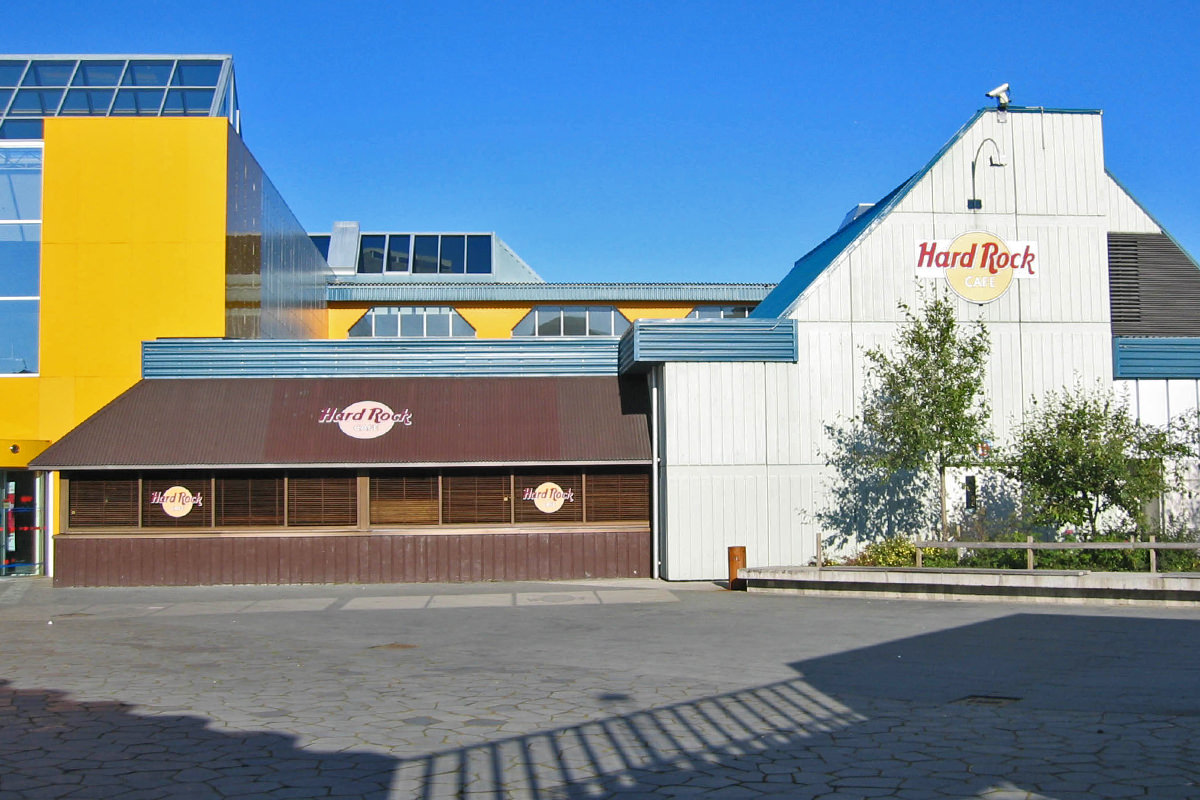 Posted on Sunday, October 5th, 2003

I just finished revising my Hard Rock Cafe pages at DaveCafe.com so that I could add my latest visits to Reykjavik and Stockholm and alter the layout a bit so that it looks a little better on larger displays. There's still some work to do in adding the pins, maps, and stuff, but at least things are current! It's always a mixed bag when doing updates like this...
THE GOOD: It's kind of cool sorting through the seventy-eight cafe's I've visited around the world, remember all the great cities, countries, and cafes I've been to over the years thanks to my HRC obsession!
THE BAD: I hate having to spend hours trying to figure out how to make pages render properly in Microsoft internet Explorer! I always start with Apple's Safari, then move on to Opera, OmniWeb, Netscape Navigator, Camino, and every other browser I can think of, testing to make sure things look right. For the most part, I never run into any problems UNTIL I fire up Explorer. There's always some stupid quirk with the browser that makes no sense. This time, I had a graphic set to a width of "100%" in the top-most row of a cell set to "Automatic" width, and Explorer becomes the piece of shit it really is, rendering the page completely wrong. After over two hours, I figure out what's happening, then changed the width of the graphic to a set pixel-width, and now Explorer is just fine. WHAT THE F#@%?? That doesn't make a lick of sense! It's a bug, it's probably been a bug for a very long time, and Microsoft has absolutely no incentive to fix it because they just don't care. They own the market, they have the monopoly, and so you have to play by their rules... wasting your time to figure out all the problems they're too damn lazy and arrogant to fix. When in the hell are people going to wake up and figure out that Microsoft's bug-ridden shit software and complete lack of security in their OS just isn't worth it?
Posted on Friday, December 5th, 2003

The front of the Hard Rock Seoul has the Hard Rock Cafe motto "Love All, Serve All" emblazoned in big letters above the door... but it turns out this is a crock of shit. First of all, they do not open weekdays for lunch... you can only eat there from 5pm until 10:30pm... a pitiful 5-1/2 hour window. Second of all, the cafe seems to regularly close down for "special functions," meaning that even if you happen to get there at 5:00, there is absolutely no guarantee you can get in.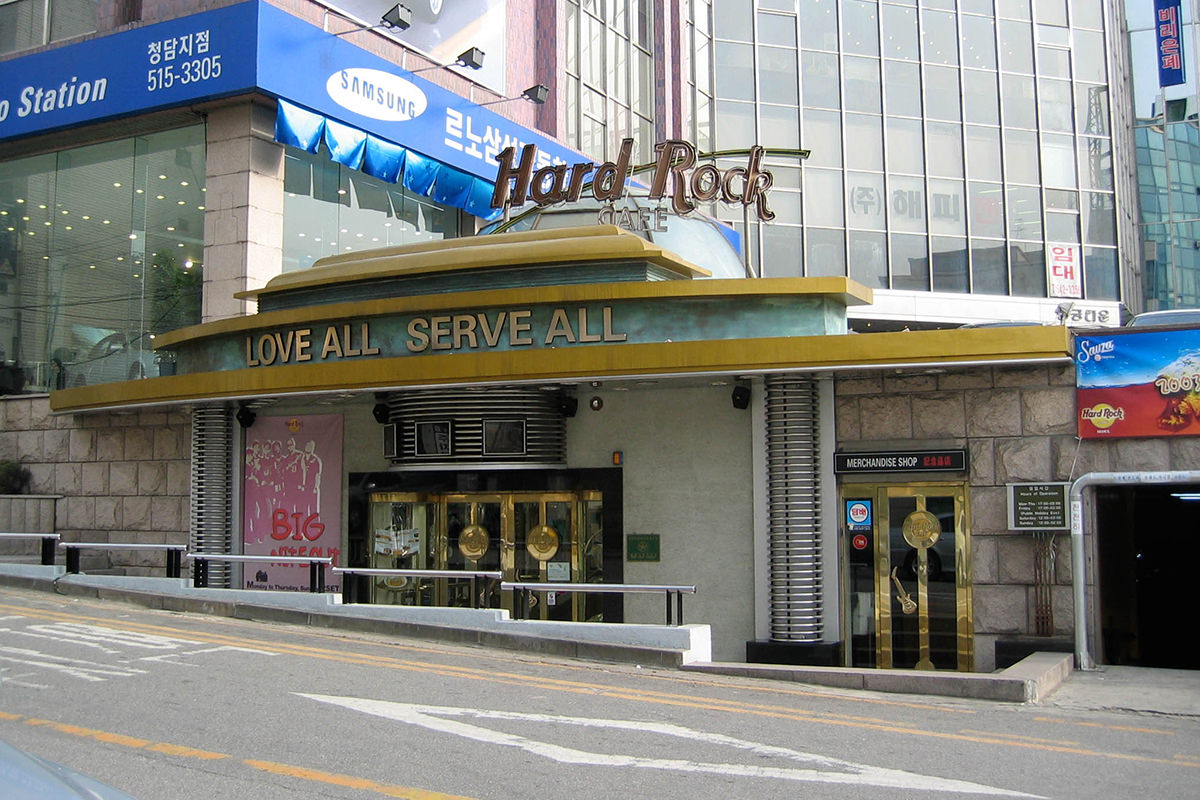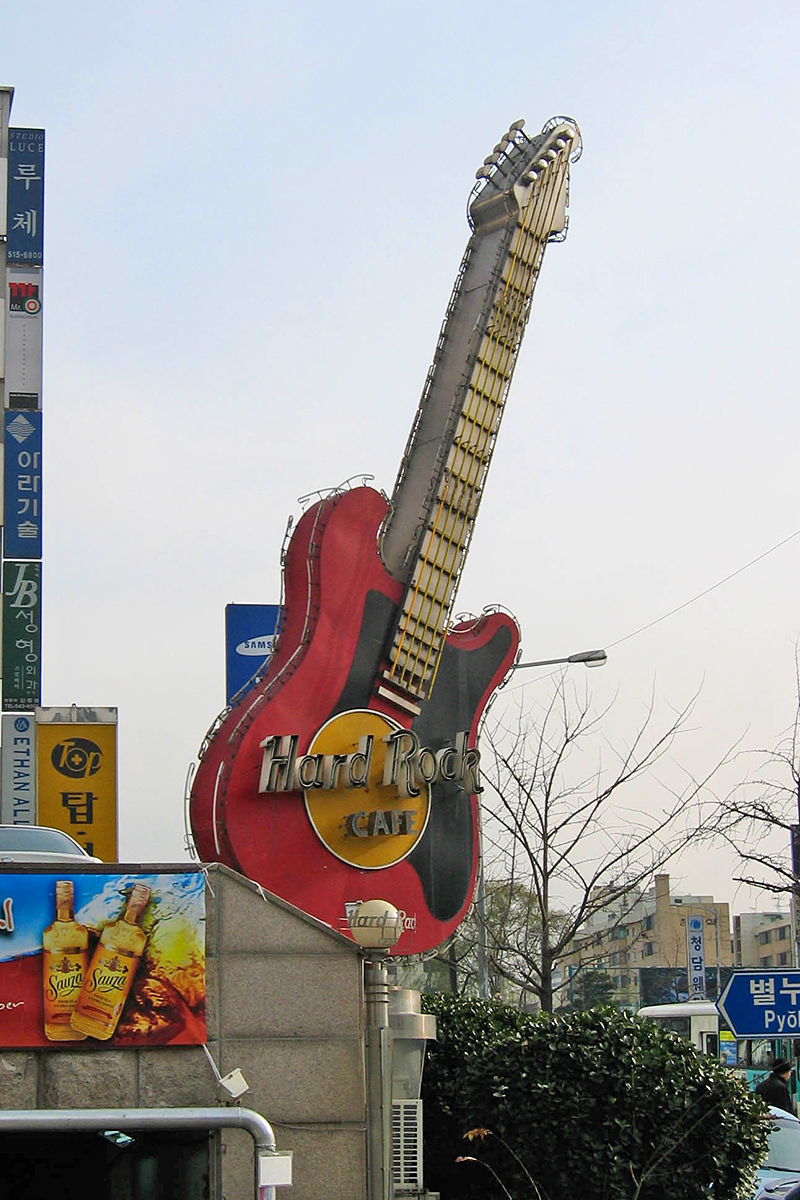 So I show up at 5:00 and of course, there is a "special function" from 7 to closing... luckily I got their early enough to have dinner, right? Wrong! They don't want to open the kitchen for a measly two hours, so all I could do was snap a few photos and then have dinner at TGI-Fridays down the street.
I suppose this means that the Hard Rock Seoul's actual motto is "Love All, Serve You Only if We Can't Whore Out the Restaurant for a Special Event." Given that Hard Rock Cafes are destinations sought out by tourists, collectors, and the like, I find it incredibly stupid that they should be allowed to close down the entire restaurant like this. When you are granted a license for a HRC franchise, you should be required to maintain consistent operating hours... if you want to host private functions, then build a separate room that can be closed off for that purpose (like most other cafes do).
So, while Seoul appears to have a nice cafe and would seem to have a friendly staff, I still think that it sucks ass because of the lame hours of operation that are not actually guaranteed to be hours of operation. When I come back to Seoul, I wonder if I'll even bother to try again?
Posted on Sunday, December 7th, 2003

The Japanese have this astounding ability to orchestrate nature into spaces that are beautiful in their simplicity and elegance. After a fine Japanese dinner with a friend at the Four Seasons at Chinzan-so, we walked the gardens to see the leaves turning on the Japanese maples there.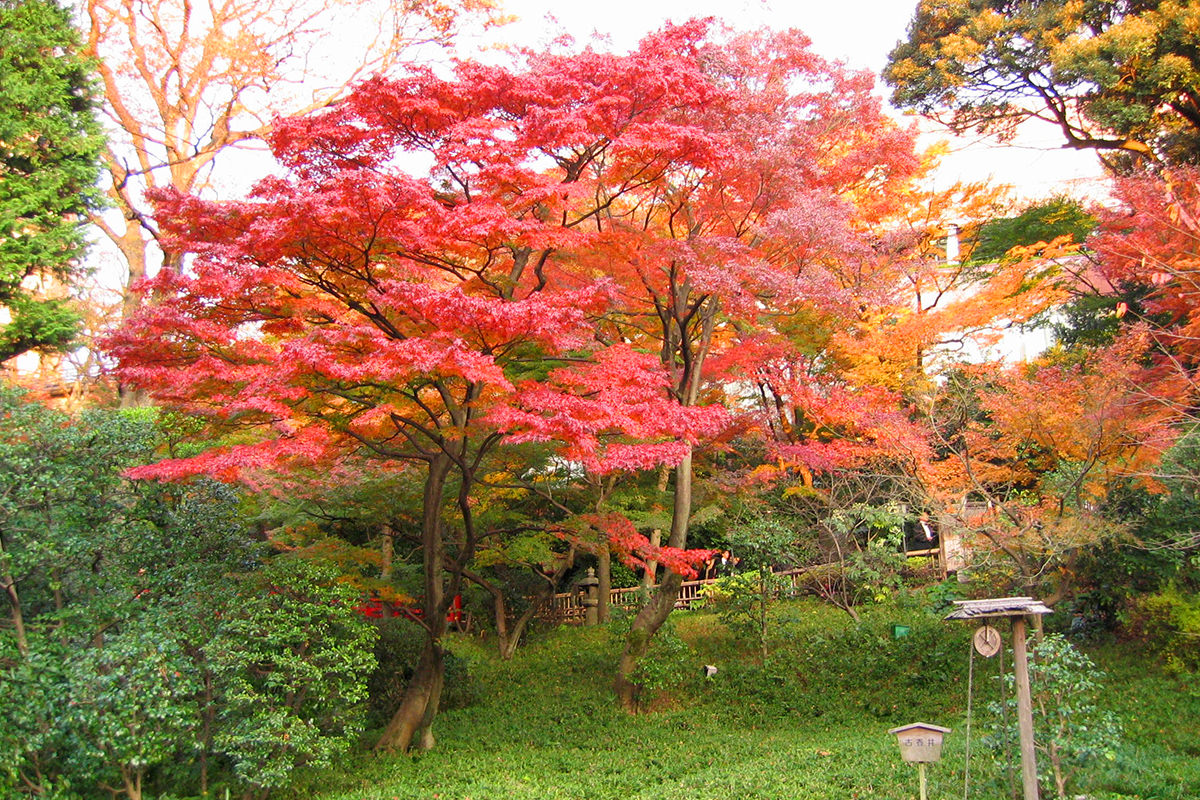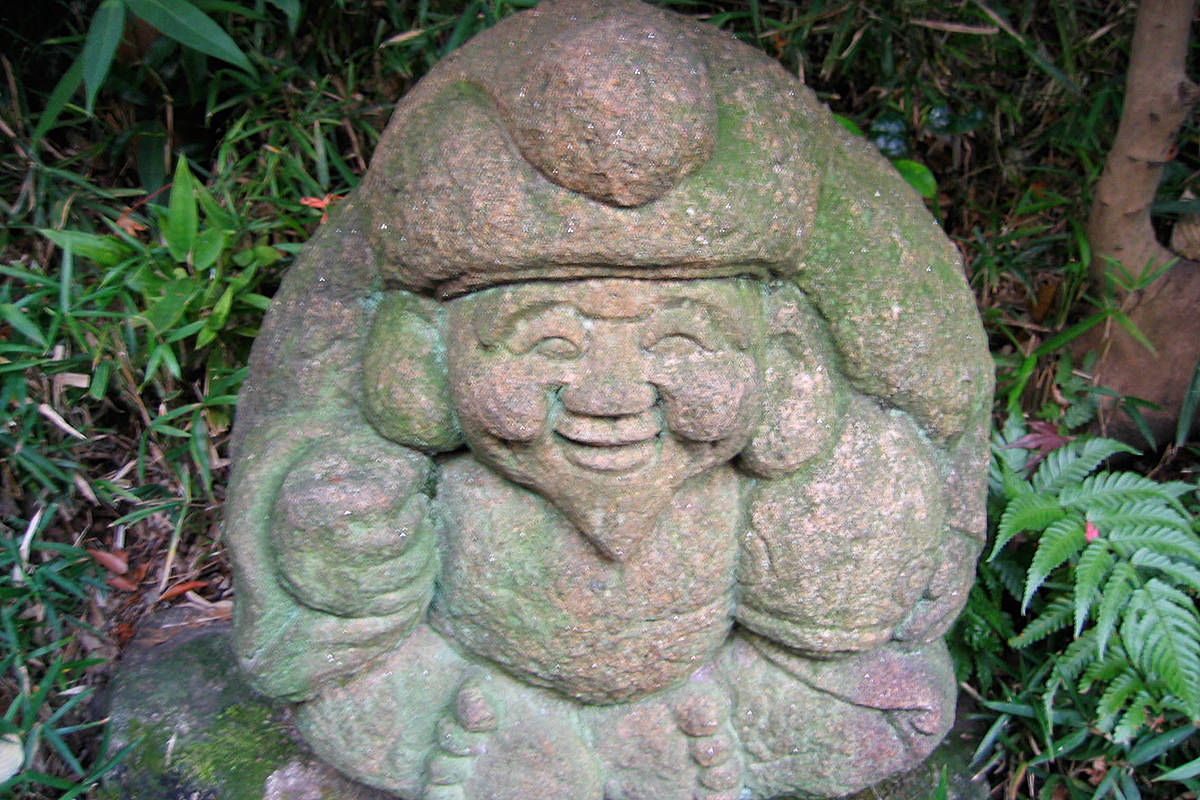 The park here is famous for weddings (there are eight scheduled for today!), and the Four Seasons has a number of "wedding consultants" running at full capacity with young brides-to-be planning extravagant ceremonies for cringing grooms-to-be (who wisely say nothing except "Yes," "Yes," and "Yes")... the dollar total escalating with every minute. I certainly hope that the money spent is truly for a "once in a lifetime event!"
Posted on Sunday, December 7th, 2003

The Hard Rock Uyeno-Eki is located in the JR Eki (Japan Rail train station) building of Ueno. It is easily one of the smallest HRC properties I have ever seen, with very limited seating... I just ate at the bar so I could avoid the line for a table. Like all cafes in Japan, the service is impeccable, which cannot be easy given the cramped quarters that the staff has to operate in. The merch shop, while also quite small, seems huge when compared to the size of the actual restaurant. The atmosphere is a bit subdued, which is the norm for Japanese properties, but you can tell the staff is having a good time and working hard to keep the energy level up.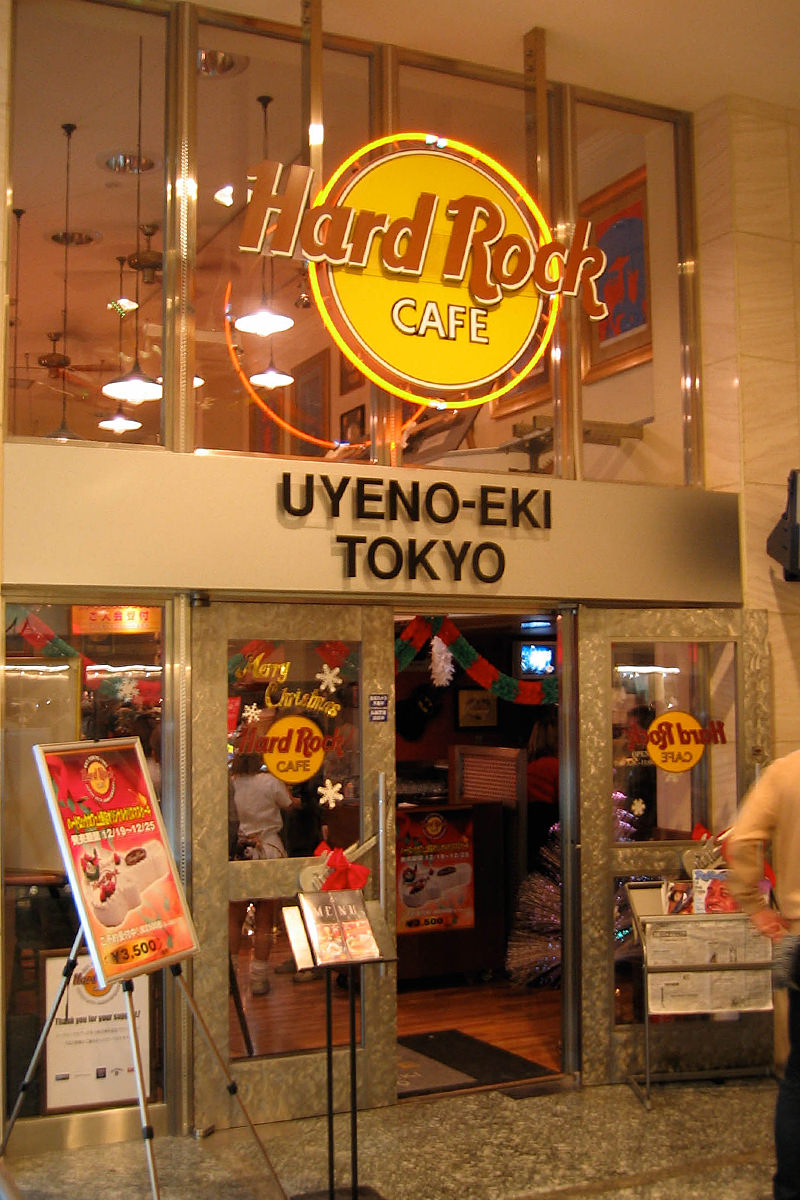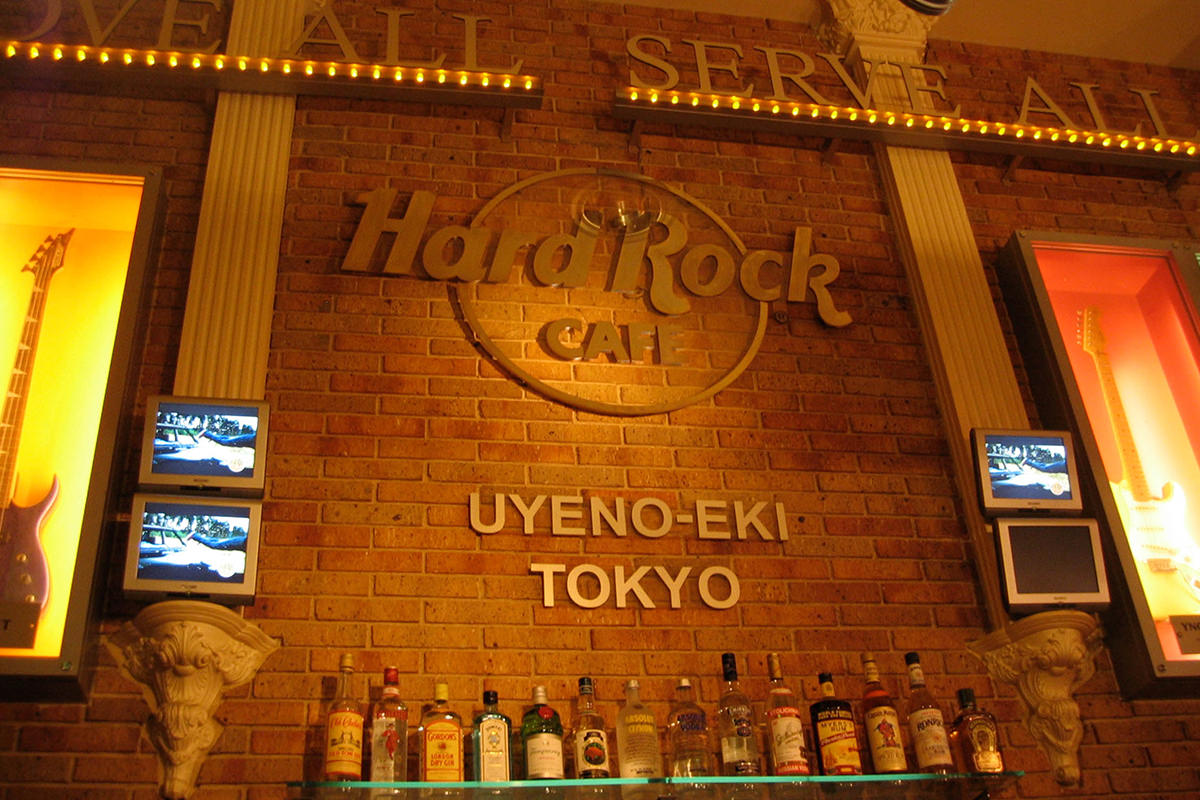 While not quite on the same level as the first Tokyo property in Roppongi, Uyeno-Eki is well worth a visit... especially given how easy the rail and subway lines make it to navigate through Tokyo. I suggest having dinner in Roppongi, then heading over to Uyeno-Eki for dessert (since they don't have veggie burgers there).
Posted on Monday, December 8th, 2003

After 2-1/2 hours on the speedy Shinkansen (bullet train) from Tokyo to Osaka I met up with a fellow Hard Rock Cafe fan, Kimono-san, at the new Hard Rock Cafe Osaka Universal Studios (quite a mouthful!). It's a rather impressive dual-level property directly opposite the main entrance to the park. Though smaller in size, I do like it better than the HRC Universal in California, as it seems to have a bit more personality.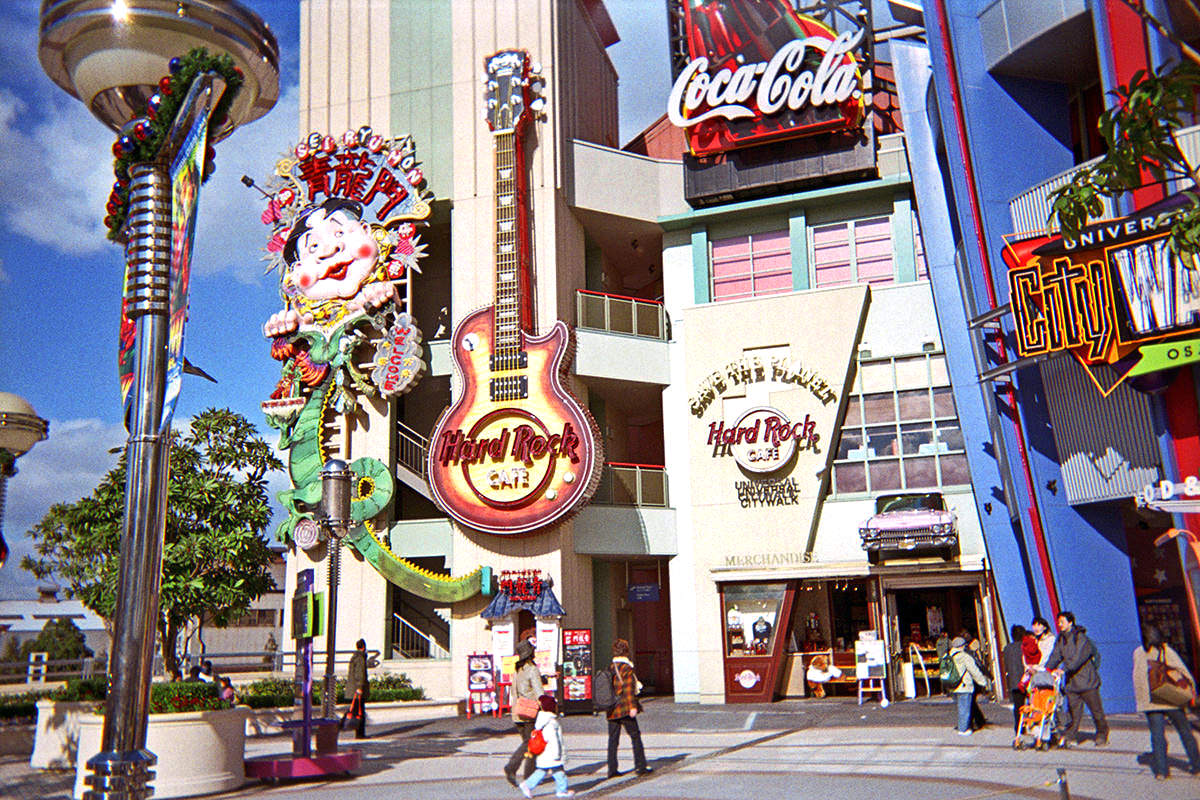 After a great lunch, we headed to the new cafe in downtown Osaka. It has been a very long time since I had been to the first cafe here, so I can't really say if this new one is any better than the original. I can say that it's a great addition to the chain. Kimono-san tells me that the building used to be a bank. And, sure enough, you can see in the back of the cafe where the bank vault used to be. As an homage to its origins, they've put some bars at the "vault bar" entrance, which is a clever touch.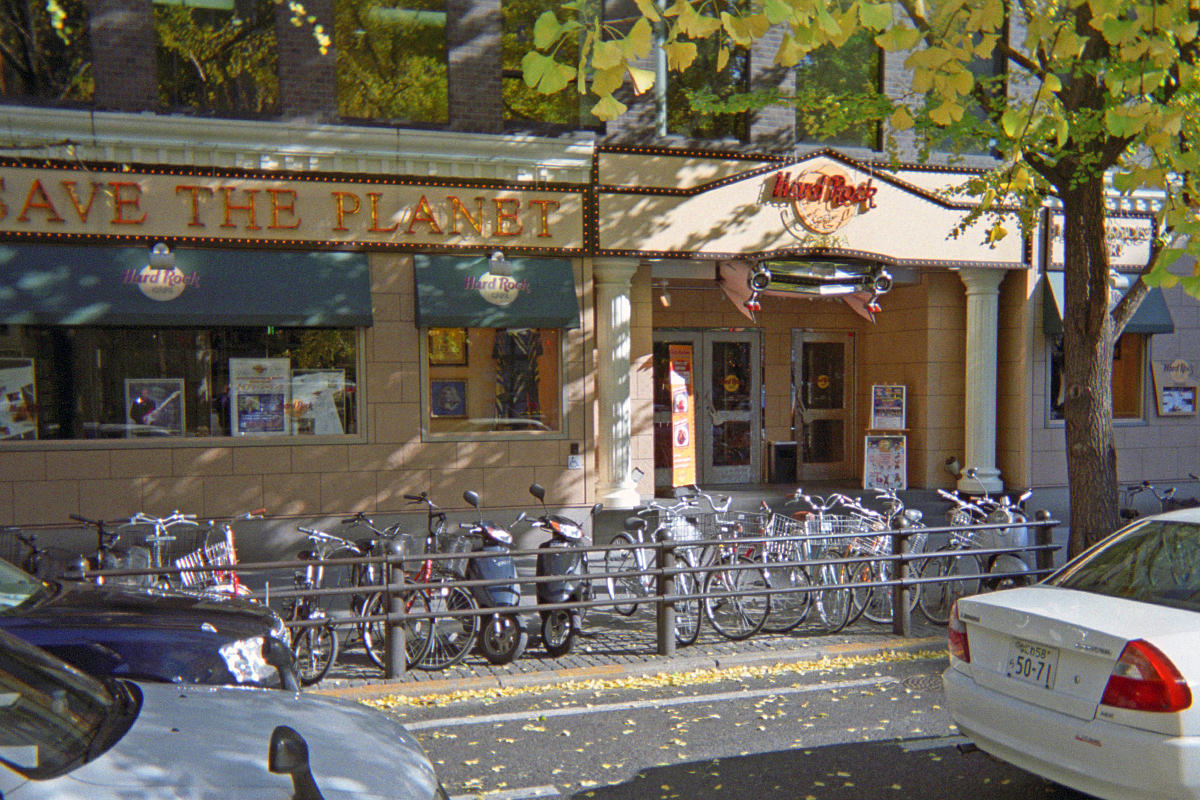 As usual for Japanese cafes, the service is perfect and the staff works very hard to make sure you have the best possible visit. When I got back to Tokyo, I decided to make it a "Hard Rock Day" by going to the Roppongi cafe for dinner (which was also excellent).
Posted on Tuesday, December 16th, 2003

After a l-o-n-g four hour drive out of New Orleans, I finally reached Philadelphia, Mississippi which is listed as the home of the Hard Rock Beach Club in Choctaw"] on the official Hard Rock web site. As it turns out, this is not quite true. The property is not in Philadelphia, but part of the ever-growing Pearl River Casino Resort on the nearby Mississippi Band of Choctaw Indians Reservation. If you don't know where you are going, there are no signs to really help you out, and not much to lead you to it. Since it was dark and there were no signs, I got a bit lost, but eventually found the Beach Club Cafe on Highway 16 (though I took the photo below the next morning)...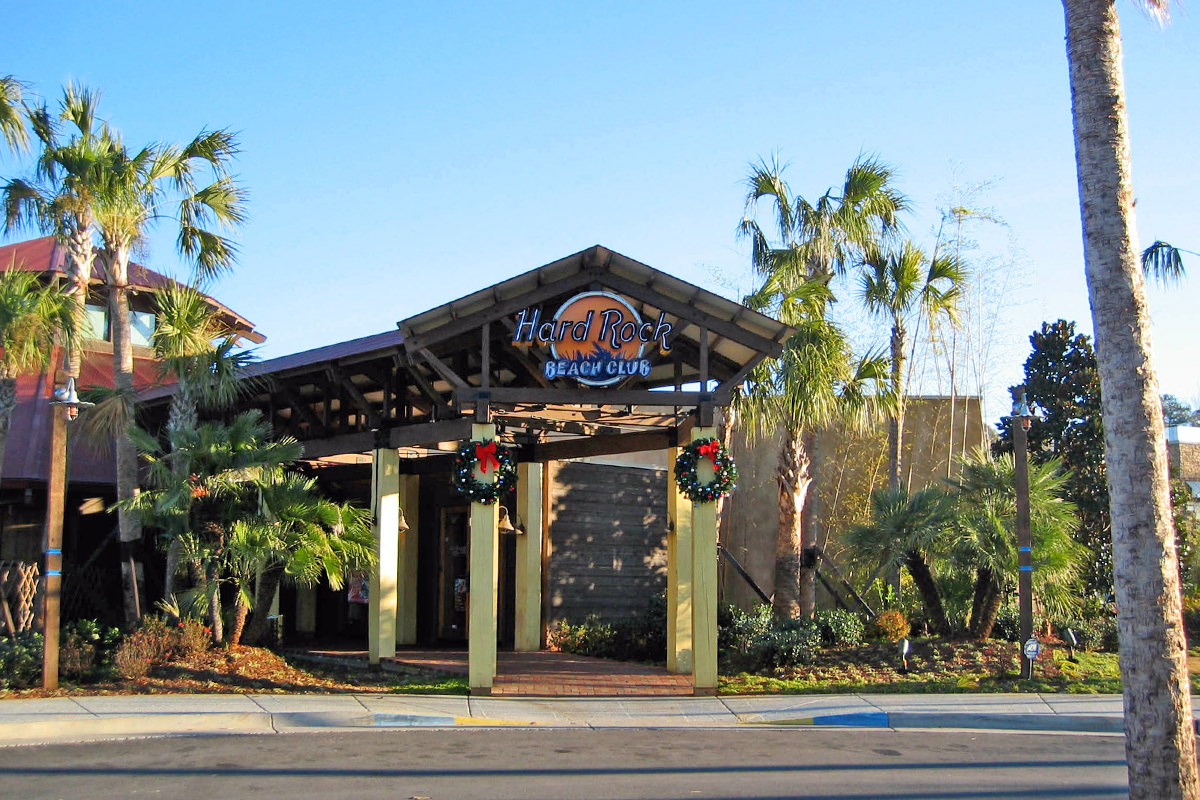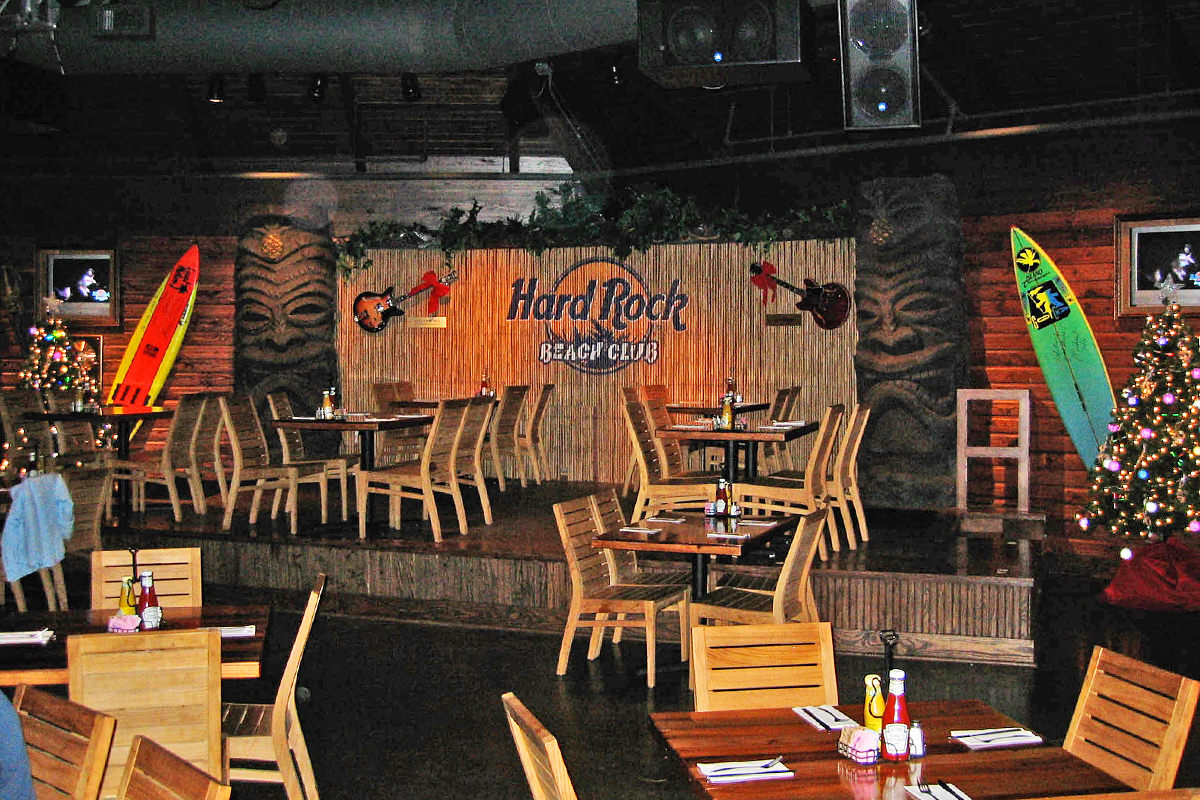 While not even close to the magical extravagance of the Bali Hotel & Beach Club, this is still a pretty cool property. There's a heated pool for year-round enjoyment, a sandy volleyball court, and a really great tiki-themed cafe with a staff that was psyched to have visitors during the slow off-season. Is it worth a four-hour drive? I'm not so sure... certainly it could be if you wanted to gamble at the reservation casino or play at the water park. On its own, however, it could use a Hard Rock Hotel, Hard Rock Casino, or some other Hard Rock-type venue to make it truly worth the trip.
UPDATE: Unfortunately, the Hard Rock Beach Club Choctaw was closed in January 2005.
Posted on Saturday, December 20th, 2003

Today I happen to be in New Orleans on the occasion of the two-hundred year anniversary of one of the most lucrative land deals of all time... the Louisiana Purchase. It was from this event that Napoleon got the money he needed to finance his wars, while the United States got enough land to double its size (at a fire-sale price of just 15 million dollars!).
To celebrate to occasion, a historical reenactment of the event was held in Jackson Square in front of the St. Louis Cathedral... just 4 blocks from my hotel room. It was a fairly boring ordeal, so I didn't bother to stick around, but it was a pretty landmark day to be in the Big Easy. The Hard Rock here even came out with a limited edition pin for the event:
Times like this make me think about how changed the world might be from what we know if history had been just a little different. What if Napoleon was able to come up with some other way to raise the money he needed and didn't have to sell Louisiana Territory? Or what if it had been sold to some other country? That's history for you.