I am entirely too tired to function, but committed to getting today's entry finished before going to bed. I suppose I should be concerned about the rambling nonsense that's to follow, but I'm just too exhausted to care.
Göteborg, which is mostly known as "Gothenburg" outside of Scandinavia (and, as I learned from studying Swedish, is pronounced more like "Yeuo-te-boree" by the locals) is a quick 4-hour train ride from Oslo. The city has a Hard Rock Cafe, so of course I had to make the trip... even if it did mean having to get up at 5:30am so I could pack and make the 7:00am train. I was confident that the scenery would be breathtaking, so I was sure to book a window seat. Since I paid an upgrade for "Komfort Klasse" I ended up getting a sweet giant bay window all to myself...
Unfortunately, the window was filthy, which made it impossible to take any photos of the beautiful world outside. My little camera kept trying to focus on the grime, adding even more blur to an already blurry shot. Even while the train was stopped, my photos turned out pretty bad, so I eventually gave up...
But the scenery was indeed beautiful, filled with snowy wonder and lots to look at...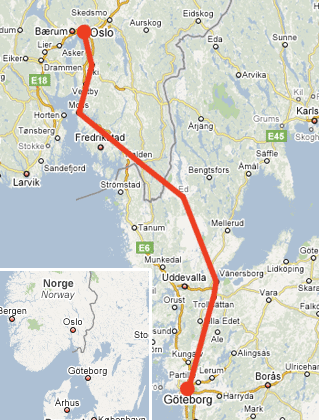 The hotel I'm staying at in Göteborg is located directly above the main train station. It's very nice, surprisingly quiet, and has some freaky-ass graphics on the wall...

Don't mind me and my MASSIVELY HUGE BABY!!
An hour later, it was time to meet with another long-time blogging buddy, Göran from Six Feet Five! He was kind enough to make the three-hour journey from Stockholm so we could have dinner at the Hard Rock Cafe. In the meanwhile, we wandered around the city a bit. The only thing I really wanted to see was the museum, because I had read it was quite good...
Unfortunately they were in the middle of redecorating the interior, so there wasn't much open to see except two small exhibits. This was a bummer, but at least we didn't have to pay (admission is free during the renovation). After a ten-minute tour we headed back through the city...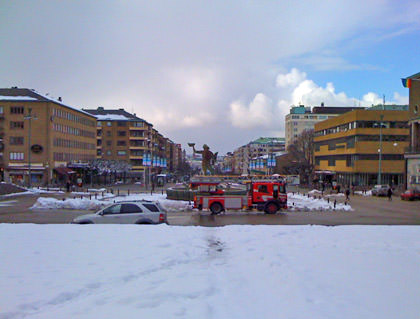 At the other end of town is the city's authorized Apple reseller, which I was surprised to see stocking AppleTV. Since the main purpose of this unit is to purchase or rent movies and shows from the iTunes Music Store, it's practically useless here because they don't have any video content to purchase or rent! I guess you can use it to watch your photos on television or play music, but it seems kind of pointless to shell out the money for just that.
Time for dinner.
The Hard Rock Cafe Gothenburg is a fairly basic property, but it does have the benefit of containing a nice assortment of memorabilia hanging on the walls. Like Oslo, it has a "virtual bowling alley" but, unlike Oslo, it also has a single gaming table for Vegas-style cards(!). Despite it being a Wednesday night, the place was quite busy for the dinner hour, and served up a good meal (even though they don't have milkshakes on the menu)...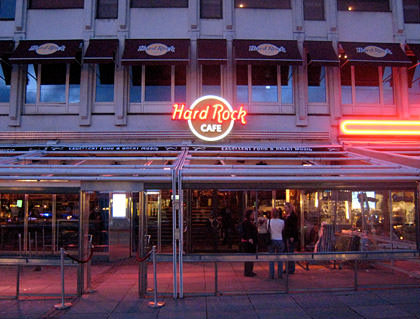 And now, since I am falling asleep while typing this in bed, I'm getting some much-needed rest. The hotel doesn't have wireless, so I guess I'll plug-in to post it in the morning.
I'm lazy like that. But hey, I'm on vacation.
Oh... one last thing before I go... can somebody at Apple PLEASE do something to get better exposure from the iPhone's built-in camera? It was so bright I had to wear sunglasses, yet every photo I took was dark and murky as usual. Having photos that turn out at least somewhat like reality would be nice...