Posted on July 12th, 2017

Today is Net Neutrality Day. Which you'd think would be redundant since we have it, but apparently that may not be for long.
Pig fucker assholes like Chairman of the FCC Ajit Pai are once gain trying kill net neutrality so that big business can control the internet. Never mind that they have to tell lie after lie after lie to sell it to the American people... the money involved is massive, the people involved are all-powerful, and telling lies is not something they really give a fuck about.
I have written about how crucial net neutrality is to a free and open internet many, many times (like here, for example).
And I'm just one voice of many, because the American people have backed net neutrality many, many times.
But it never seems to matter, because the people trying to kill it have an endless supply of money to throw at the pig-fucking assholes who keep assaulting it.
It's at times like this that I sincerely feel we should burn this fucking shithole of a corrupt piece of shit country to the ground and fucking start over. What The United States of America is supposed to be all about is lost when its citizens no longer have a say. People with money are ultimately the only ones allowed to have a voice now. Because they are the only ones with the means of buying off the politicians who make the decisions for all of us...
If Pai and his bought-and-paid-for pig-fucking asshole confederates actually manage to kill net neutrality, I might as well take down Blogography. Because it's only a matter of time before Very Important People decide they don't like me calling them pig-fucking assholes and shut it down for me.
The pig-fucking assholes.
Visit the FCC and tell them that you support Net Neutrality.
UPDATE: And... Mr. Trae Crowder, everybody...
Holy shit what a cluster-fuck.
Posted on May 16th, 2017

If President Obama had disclosed classified information to the Russians under any circumstances, he would have been viciously attacked by the Conservative press until the end of time.
If President Obama had said "I have the absolute right to share information with Russia" after disclosing the classified information to them, a lynch mob would have formed outside The White House within the hour. Hell, there would probably be rioting as the building was set on fire.
And President Obama didn't even have accusations about colluding with the Russians hanging over his head.
But a Republican president with all kinds of sketchy Russian ties discloses classified information to the Russians and says he has the right to do it? The Conservative press is falling all over themselves to claim that the real problem is not President Trump sharing sensitive information with Russia... but that White House staff is undermining the president by leaking classified information on his dealings with Russia to the press.
So leaks are good.
Or bad.
Or good?
I dunno. It's most certainly bad when Hillary Clinton is careless with classified information. We all know that. THAT was enough to cost her the presidency!
So I guess it all depends on what day of the week it is.
And that you're not a Democrat, not black, and not a woman.
Or something like that.
I'd ask questions, but I don't want to be arrested. Because bend me over the Lincoln Memorial and fuck me with a tightly-rolled copy of The Constitution... this happened.
Welcome to fascism.
Posted on May 11th, 2017

I'm going to prove how bigly smart I am by picking a fight with the FBI.
You know... the guys who know where all the bodies are buried. Literally.
Posted on April 16th, 2017

Sure it's Easter, but there are other reasons to celebrate the day, because an all-new Bullet Sunday starts... now...

• Kitty! Everything I love about cats can be found in this one clip of a kitty trying to escape the field at a Marlins game...
What a trooper! Apparently a Marlins' employee adopted the cat, who was named "Don Cattingly" in a Twitter poll.

• Kedi! And, speaking of cats...
Can't believe I have to wait until November for this to come out on video!

• Atomic! Okay... putting aside the fact that the trailer for Atomic Blonde features music by both Depeche Mode and New Order... how badly does watching this make me want to see the movie?
Charlize Theron should be in a lot more movies.

• Ragnarok! Speaking of movie trailers... how amazing is the latest Thor movie looking?
I'm part of the minority who actually likes the Thor films. The first one was really great at establishing the characters. The second stumbled quite a bit, but was still entertaining. But this? Probably the best Thor yet. Possibly one of the best Marvel films yet.

• Spicey! Melissa McCarthy is hosting SNL on May 15th. I'm hoping it's just an hour-and-a-half of her impersonating Sean Spicer, playing out the best of his ongoing fuck-ups. Verbatim. In the meanwhile, we have yet another flawless sketch from last night's episode...
What a big, beautiful slice of chocolate cake.

• Politics! The more you know about how politics work in this country, the more you think that we should burn the entire system to the ground and start over...
Politicians don't act in the best interest of those they represent because they don't have to. That's the underlying reason we're as fucked as we are.

Now go eat some eggs, you animal.
Tags:
Bullet Sunday
,
Cats
,
Dumbassery
,
Movies
,
Politcs
,
SNL
,
Thor
Categories:
Bullet Sunday 2017
,
Cats 2017
,
Movies 2017
,
News – Politics 2017
,
Television 2017
—
Click To It:
Permalink
—
0 Comments: Click To Add Yours!
Posted on February 19th, 2017

Stop what you're doing, because an all-new Bullet Sunday starts... now...

• Phone Home? Are you an American who travels internationally? Or a foreigner visiting the USA? Then here's an article for you: I'll never bring my phone on an international flight again. Neither should you. We're quickly coming to a point where personal privacy and freedom is being tossed right out the window. It's only going to get worse.

• This Guy. Thank heavens John Oliver has returned from hiatus to save our sanity...
And just when you think things can't get worse...

• Sorry. It would seem an apology to Sweden is in order...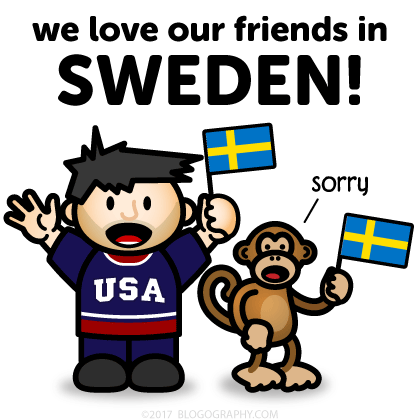 Guess I'm going to have to make apology graphics for all the countries of the world. I'm confident President Trump will get around to saying stupid shit about all of them eventually...
And I thought George W. Bush was a fucking embarrassment.

• Merry Marvel. The little promos that Marvel is releasing in anticipation of the upcoming Thor: Ragnarok have been really funny. This past week they released Team Thor: Part 2...
The surprising thing is that the next Thor movie isn't here until NOVEMBER! Before that we've got Guardians of the Galaxy Vol. 2 on May 5 and Spider-Man: Homecoming on July 7. If you haven't seen it yet, Team Thor: Part 1 can be found on YouTube.

• Gerrymandering. Yes. It's time to stop this fucking bullshit...
We get the government politicians buy for us. Time to start giving a shit.

• PAY! PAY! PAY! As I mentioned a while back, LEGO addressed complaints about having to buy additional toys to complete a mission by adding "Hire a Hero" where you can have temporary access to the toy you need... for a price. A price that gets more expensive the more often you need it. But... hey... beats having to buy a LEGO set you don't want, right?
Not really.
As I found out by playing the LEGO Dimensions Knight Rider fun pack, you need the LEGO Dimensions Mission: Impossible level pack because the 30 seconds you get for "Hire a Hero" Ethan Hunt isn't long enough to solve one of the puzzles. And now I find that I can't really completely LEGO Dimensions A-Team fun pack without the LEGO Dimensions Adventure Time level pack because the 30 seconds you get for "Hire a Hero" Finn the Human isn't long enough to solve one of the puzzles.

I PITY THE FOOL WHO MAKES ME BUY MORE SETS TO COMPLETE THE SET I JUST BOUGHT!
Needless to say, this is pretty shitty. When you "Hire a Hero" you should get to keep that hero until the puzzle has been solved. Anything less is just going right back to a massive paywall that's incredibly unfair. But... there's money to be made, so whatever. Guess buying one toy will never be enough.

AND I AM DONE WITH BULLETS FOR THE WEEK!
Posted on February 5th, 2017

It's the laziest of Super Bowl Sundays, because an all-new Video Edition of Bullet Sunday starts... now...

• The Right God.

• Our Reality.

• Our Reality, Redux.

• What About This Guy?
UPDATE: Here's the full story of Dan Lasko, as told to Pedigree...

• Conan.

Bullet Sunday will be back next week. Assuming there's a Sunday to put bullets on.
Posted on December 16th, 2016

This morning I woke up in a coughing fit so severe that something... snapped?... inside of me and now I'm in horrible pain. Probably just pulled a muscle, but it feels as though I've been stabbed. Getting old sure does suck.
Something else that sucks?
A bunch of stupid fucking bigots are looking to pass anti-transgender "bathroom bill" legislation here in Washington State.
Putting aside the horrendous discrimination that's driving this bill, did none of the assholes who dreamt up this shit learn anything from what happened to North Carolina when they passed a similar bill? Apparently not.
Look, I don't know what kind of freaky shit that dumbass Representatives Taylor, Shea, McCaslin, Young, Klippert, Walsh, Haler, Short, Manweller, Hargrove, Pike, Holy, Rodne, and Buys do when they use the bathroom... but the vast majority of us just want to pee or take a shit, then (hopefully) wash our hands and get the fuck out. And the fact that transgender persons will be doing their business BEHIND A CLOSED STALL DOOR means that it doesn't really matter what the hell genitals they have. Unless you're some kind of pervert who will be looking under the stalls while people are using them... THEIR GENITALS DON'T AFFECT YOU! So pull your minds out of the gutter and stop dragging the rest of us into your fucked up shit.
In truth, I know precious few transgender persons. But when it comes the one I know best (and have talked about previously), I can't help but wonder what the hell she's going to do if this horrendous legislation passes. She may have been born with a penis, but you would not know that to look at her. All you see is A WOMAN, because that's who she is. If she were forced to use a men's bathroom, it would be a woman using a men's bathroom. And can you imagine how dangerous that is for her? Coming across some bigoted piece of trash in the wrong bathroom could end up with her beaten to death. All because she needs to pee.
You may not understand transgender people. You may not agree with who they are. But if you feel they need to die because they have to pee, you're a special kind of asshole. Obviously they are going to be using a stall, so you (or whomever you're concerned about) aren't going to be exposed to anything that might disturb your delicate sensibilities. Which means supporting this absurd legislation is nothing more than hating something for no good reason.
Which is not surprising. That's the way this country seems to work now-a-days.
What's doubly disappointing is that Representative Maureen Walsh, whom I've supported over the years because she's a progressive Republican who spoke so eloquently about marriage equality in my state, is one of the dumbasses supporting a bill THAT'S COMPLETE NONSENSE. Apparently she only gives a shit about equality when it affects her lesbian daughter. A pity she doesn't have a transgender child so she can "speak her heart and mind" and empathize what they go through...
Always amazed when state REPRESENTATIVES don't feel they have to REPRESENT all the people in their care.
You can learn more about how your tax dollars are being used to discriminate against your fellow citizens at Washington Won't Discriminate.