Posted on Saturday, January 12th, 2008

I was originally planning on visiting the Hard Rock Hotel & Casino Biloxi in November of 2005, shortly after its grand opening on September 1st of that year. But then Hurricane Katrina came and completely destroyed it just days before it was due to open. According to that fucking piece of shit televangelist asshole Pat Robertson, this was God's wrath wrecking vengeance on the sinners of New Orleans and the surrounding area. I prefer to think that Pat Robertson is a lunatic opportunist who takes current events and perverts them to make God sound like a jerk so he can con people out of their money. I cannot wait until that fucking douchebag dies and gets to meet God in person so he can find out what His vengeance is really like. Something tells me that hating people in the name of Jesus and speaking for God is not cool with The Almighty.
Well, unless God takes pity on the old bastard because, after all, Pat Robertson is certifiably insane...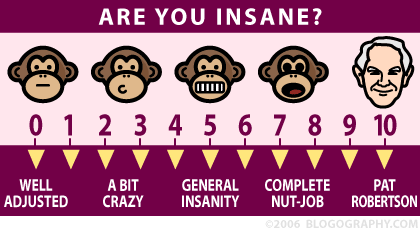 Anyway...
Since my work ended Thursday night, I didn't have a Saturday-night stay to get a cheap airline ticket. To save money on airfare, I decided to add on a weekend adventure in Biloxi so I could finally visit the Hard Rock (it opened for reals on June 30th of last year)...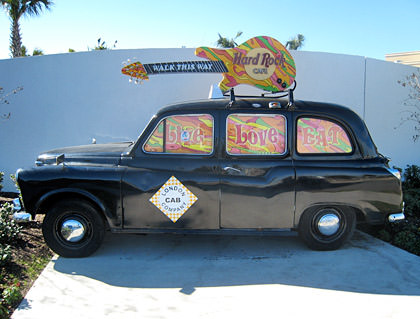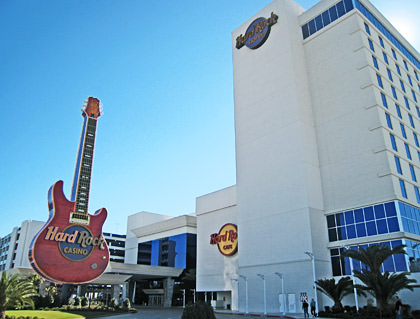 After checking-in and dumping my crap off in my hotel room, I decided to go to the casino where my visit started off with a real bang. I was mere steps away from entering the casino when a woman came running in front of me frantically screaming "SECURITY! SECURITY! SECURITY!" Not wanting to miss out on anything good, I stopped and waited as two employees came running up to her. "THAT MAN RIGHT THERE JUST PUNCHED A POOR WOMAN IN THE FACE!!" she said, pointing to somebody who was quickly approaching the casino exit. The two guys just looked dazed and confused so she said "HE DID! HE PUNCHED HER AND PUSHED HER TO THE GROUND! By this time real security guys showed up, at which point the alleged attacker screamed to them "IT'S OKAY... SHE'S MY WIFE!!" and hurried past them, heading towards the hotel exit (as if beating your wife is somehow okay?). The security guys went after him, but I decided not to follow.
Once I got to the ATM, I withdrew $200 cash... $100 for each day. Within 35 minutes, I had spent $40 and already won $380 playing quarter slots. Deciding there was nowhere to go but down, I cashed out my winnings and called it quits for the night (and because I am completely inflexible on my $100 per day limit, I also added the left-over $60 to my winnings). Then it was time for dinner at the Hard Rock Cafe Biloxi located in the hotel itself...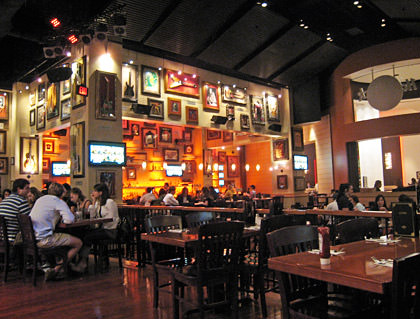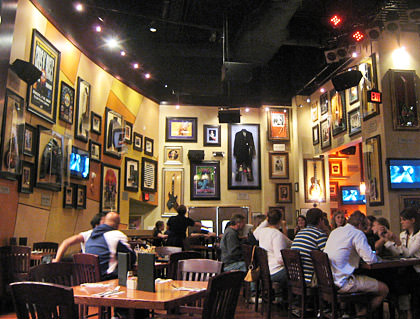 It's a nice, albeit basic, property with no real surprises, But they did a good job maximizing the memorabilia (which is always a good thing) so I'm happy with it. Service was good, though the restaurant itself seemed pretty slow for a Friday night at 7:30pm. Maybe this is the off-season for gambling? I don't know.
Today I am taking it easy. I slept in until 9:30am (a real treat), gambled away $30, ate a nice breakfast at the Hard Rock's "24/7 Grill", wandered around to see a few other casinos in the area, then just now came back to work on my blog entry for tonight and relax for a bit before heading back to the casino and seeing if I can win anything with my remaining $70.
UPDATE: Meh. I gambled it all away while watching the Seahawks get spanked by Green Bay in the snow, but did win $65 on my last $2 (WHEEL. OF. FORTUNE!!), so I'm really only down $35 for the day. When deducted from my $340 in winnings yesterday, I'm ahead $305 total. That almost pays for my hotel room for the two days, which is pretty sweet! I must be lucky at Hard Rock's, because I came out ahead at their Hollywood and Tampa casinos in Florida too.
And now, since I know Hard Rock talk is boring to most people, I'm putting my in-depth review of the Hotel & Casino in an extended entry. I'll probably end tonight early considering that I have to get up at some insane early hour to catch my flights back home (boy I hope I can get some sleep on the plane).
→ Click here to continue reading this entry...
Posted on Thursday, January 31st, 2008

Since this is my only full day in Warsaw, I knew early on that I wanted to make the most of it. Fortunately, a good place to start was right across the street from my hotel.
A gift from the former Soviet Union to the people of Poland, the "Palace of Culture and Science" is a massive building and controversial landmark of the city...
It's also probably the gayest building in Europe, because the exterior features statues of studly guys with their shirts off holding massive power tools and other manly artifacts...
At first I thought it was just me, but when I was researching the building on the internet, the first page I found about the building at IgoUgo featured an ad for "fantabulous gay vacations" with those same three guys...

During Soviet control, the building was known as the "Joseph Stalin Palace of Culture and Science," but all reference to Stalin was eradicated after decentralization when Poland was free again. You can see evidence of that on one of the less titillating (but still very gay) statues outside. He's holding a book that has a blank spot where Stalin's name used to be...
The building also houses the "Museum of Technology" at its base, which was very cool (and a total bargain at only 8 złoty!). Inside there's all kinds of old samples of technology... from computers and automobiles to washing machines and space exploration. My hands-down favorite was the Polish Fiat showroom, which had a number of beautiful antique cars on display...
The "Space" room was nicely done, featuring a good number of models of technology from the US space program...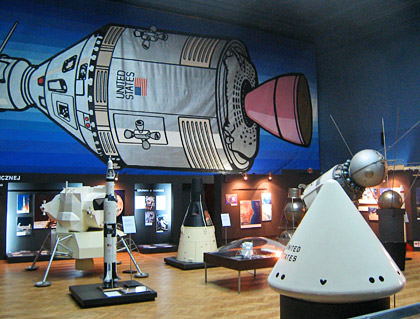 Before we could get on with touring the city, Perry and I had to go back to the Hard Rock Cafe to get a couple of quick photos (last night was far too crowded). This is a really nice split-level property (complete with a stage and radio station built-in!) with a terrific assortment of memorabilia and a very friendly staff...
Despite being so new on the outside, it has a great "classic feel" to it on the inside. About the only place it misses is above the lower bar. They should have featured some nice guitars or other rock artifacts there, but instead have some kind of artsy deco lighting that doesn't really fit with the rest of the cafe's theming...
On an unrelated note, I saw a Polish poster for the new JJ Abrams produced horror flick "Cloverfield" and noted that it has a much more awesome title here - "PROJEKT: MONSTER!" How frickin' sweet is that? I'm sorry, but that should have totally been the US title as well...
And that is part one of my day in Warsaw. For the conclusion, see my next entry.
Posted on Monday, March 24th, 2008

"Huh? You're going to Oslo for vacation?? What in the hell for?" —Just About Everybody I Know
Trying to explain how sometimes I like to travel to places "just because I haven't been there before" is a challenging ordeal. But here I am in the capitol city of Norway for exactly that reason. I've never been here, there's a Hard Rock Cafe in the city, and one of my first blogging buddies (whom I've never met) lives in the area. That's more than enough reason for me, even if people I know have trouble understanding why I'm here instead of Hawaii.
The tough thing about Olso is not the cold, snowy weather this time of year... I'm used to that back home. No, the problem is affording to spend time here. As The World's Most Expensive City, Oslo is a real challenge for the tourist traveler. And when you compound that with the INCREDIBLY F#@%ING WEAK U.S. DOLLAR, an expensive city becomes almost prohibitively expensive. Because, let's face it, on the international market, the American dollar ain't worth shit.
In fact, I'd be willing to wager that if you forced somebody here to choose between our dollar and a pile of shit, they'd actually take the shit because it could be used as a fertilizer, whereas a U.S. Dollar has practically no value at all. And the fun starts the minute you get here... a train from the airport into the city, which would be around $5-$10 anywhere else, is $32 in Oslo. And, since I measure everything compared to the price of a roll of toilet paper, I found out that the Blogography Toilet Paper Index Score for Oslo is $4.50.
If my hotel didn't provide toilet paper, I'd be wiping my ass with the U.S. currency I had left in my pocket... it just makes economic sense.
But enough about the INCREDIBLY F#@%ING WEAK U.S. DOLLAR, here's a few things I saw today...
One of my very first blogging buddies is Karla from "Tales of a Texpatriate." She is funny as hell, loves to travel, and has a similar outlook on things as I do. I'd say this makes her a hotter female version of me, but my ego won't allow it. Instead I'll just say I love her to death, and couldn't wait to meet her at long last. So imagine my excitement when I get a text message on my iPhone telling me she'll meet me by the giant tiger at the train station...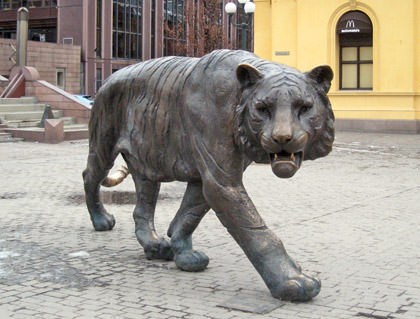 That doesn't look very "giant" so here it is again, but with people so you can see how tall it is...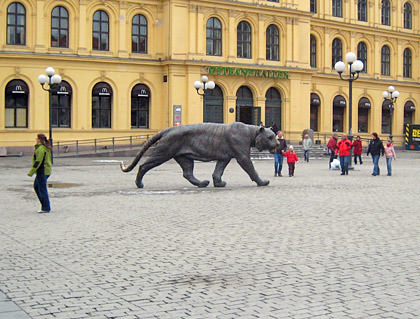 Well, not how tall "IT" is, but how tall "HE" is, ahem...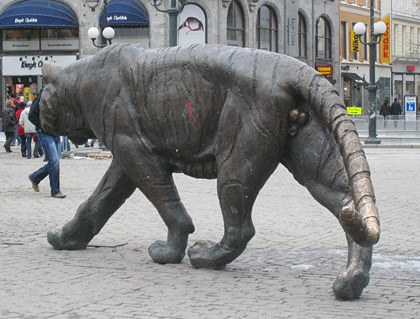 After a walk down the main street "Karl Johans Gate" we arrived at the Hard Rock Cafe Oslo, where Karla bought me birthday dinner! I guess she wanted to delay that inevitable moment where I run out of money and have to sell myself on the street for food...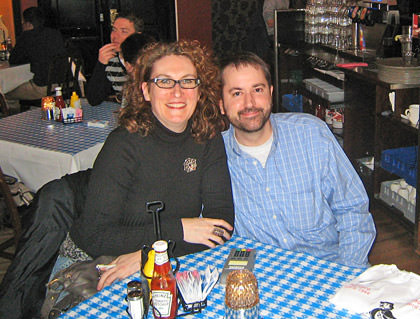 After a lovely chat over potato skins and nachos, we were off to Akershus Castle down the street. Along the way, I was surprised to see a statue of Franklin D. Roosevelt. He's honored here because of the assistance the U.S. offered Norway during the war. It's kind of nice remembering when we had a president that was liked and respected around the world. It's been so long...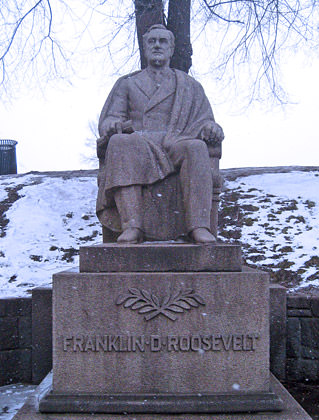 Once at the castle, we could look down into the harbor. It was snowing pretty hard by now, which made taking photos difficult, but I did get a nice foggy panorama out of the deal...

Oslo has a lot of public art, some of it very strange. Like this "Let Your Fingers Do The Walking" kind of thing here...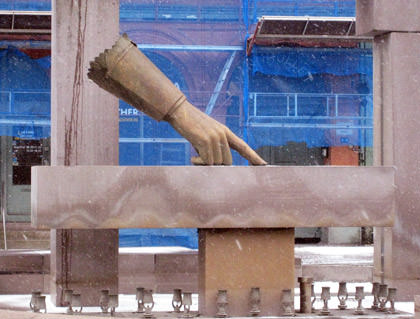 After a a little more wandering around, my lack of sleep from the past 32 hours finally caught up with me and it was time to say goodbye to Karla and head back to my hotel (conveniently located near the train station). Karla warned me that this is a popular area for hookers to hang out, but I haven't seen any yet. At first I was disappointed, but then I figured if hookers are as expensive as everything else here, I probably couldn't afford one. Besides, my bed is barely big enough for me...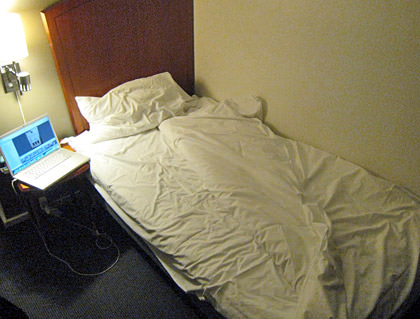 And before I go, a big thanks to everybody who was kind enough to send my birthday wishes via Twitter, blog entries (I'm a holy day now!), comments, text messages, emails, and e-cards! Getting older sucks a little bit less when you know people are thinking kindly of you.
Posted on Wednesday, March 26th, 2008

I am entirely too tired to function, but committed to getting today's entry finished before going to bed. I suppose I should be concerned about the rambling nonsense that's to follow, but I'm just too exhausted to care.
Göteborg, which is mostly known as "Gothenburg" outside of Scandinavia (and, as I learned from studying Swedish, is pronounced more like "Yeuo-te-boree" by the locals) is a quick 4-hour train ride from Oslo. The city has a Hard Rock Cafe, so of course I had to make the trip... even if it did mean having to get up at 5:30am so I could pack and make the 7:00am train. I was confident that the scenery would be breathtaking, so I was sure to book a window seat. Since I paid an upgrade for "Komfort Klasse" I ended up getting a sweet giant bay window all to myself...
Unfortunately, the window was filthy, which made it impossible to take any photos of the beautiful world outside. My little camera kept trying to focus on the grime, adding even more blur to an already blurry shot. Even while the train was stopped, my photos turned out pretty bad, so I eventually gave up...
But the scenery was indeed beautiful, filled with snowy wonder and lots to look at...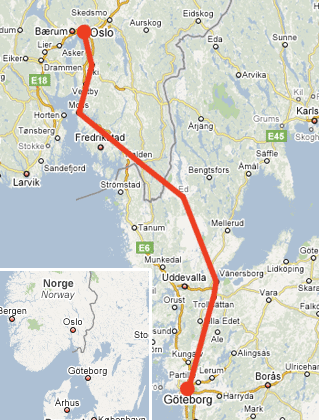 The hotel I'm staying at in Göteborg is located directly above the main train station. It's very nice, surprisingly quiet, and has some freaky-ass graphics on the wall...

Don't mind me and my MASSIVELY HUGE BABY!!
An hour later, it was time to meet with another long-time blogging buddy, Göran from Six Feet Five! He was kind enough to make the three-hour journey from Stockholm so we could have dinner at the Hard Rock Cafe. In the meanwhile, we wandered around the city a bit. The only thing I really wanted to see was the museum, because I had read it was quite good...
Unfortunately they were in the middle of redecorating the interior, so there wasn't much open to see except two small exhibits. This was a bummer, but at least we didn't have to pay (admission is free during the renovation). After a ten-minute tour we headed back through the city...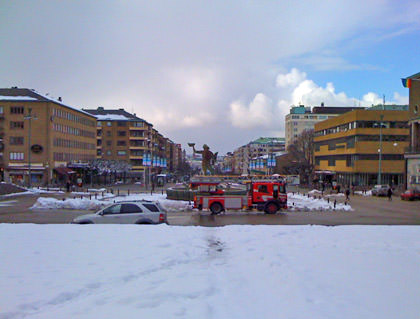 At the other end of town is the city's authorized Apple reseller, which I was surprised to see stocking AppleTV. Since the main purpose of this unit is to purchase or rent movies and shows from the iTunes Music Store, it's practically useless here because they don't have any video content to purchase or rent! I guess you can use it to watch your photos on television or play music, but it seems kind of pointless to shell out the money for just that.
Time for dinner.
The Hard Rock Cafe Gothenburg is a fairly basic property, but it does have the benefit of containing a nice assortment of memorabilia hanging on the walls. Like Oslo, it has a "virtual bowling alley" but, unlike Oslo, it also has a single gaming table for Vegas-style cards(!). Despite it being a Wednesday night, the place was quite busy for the dinner hour, and served up a good meal (even though they don't have milkshakes on the menu)...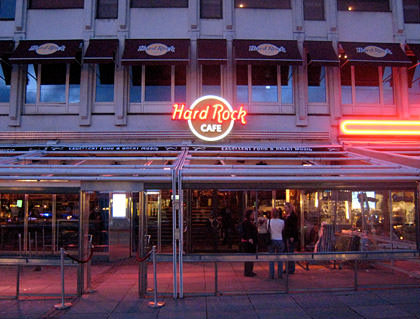 And now, since I am falling asleep while typing this in bed, I'm getting some much-needed rest. The hotel doesn't have wireless, so I guess I'll plug-in to post it in the morning.
I'm lazy like that. But hey, I'm on vacation.
Oh... one last thing before I go... can somebody at Apple PLEASE do something to get better exposure from the iPhone's built-in camera? It was so bright I had to wear sunglasses, yet every photo I took was dark and murky as usual. Having photos that turn out at least somewhat like reality would be nice...
Posted on Saturday, November 29th, 2008

I'm down to just two more trips 'til the end of the year.
Hopefully none of them will involve the horrible troubles I had on my last trip, or I might just have to go stick my head in the microwave and punch "Max Defrost."
Given how completely worn out I am by traveling, I'm trying very hard to clear the month of January so I can just stay home. I was secretly hoping to clear at least half of February as well, but I've already got two trips scheduled in there, so that was just a pipe dream. Then March is my birthday. A time when I prefer to be out of the country so that my friends and family will forget about it. I have no problem acknowledging my birthday, but I don't believe in celebrating it. Last year I went to Oslo and Göteborg so I could hang out with Karla and Göran... this year I have no idea where I will feel like going.
Maybe it's finally time to head to Australia & New Zealand?
Which is not quite as appealing as it used to be now that the Hard Rock Cafes in Sydney, Melbourne, and Queenstown have been closed. Only one lone cafe remains at Surfer's Paradise. Probably should visit that one before it's gone too.
But Australia is such a long flight away.
Maybe it will just be a quick flight to Tijuana.
Except the Tijuana Hard Rock Cafe is closed as well, so I'd have to find something else to do there.
Or I could just ask everybody for suggestions and pull the location for my birthday escape out of a hat...