Posted on September 23rd, 2021

And now this... Idaho COVID crisis: Hospitals overflowing with sicker, younger patients.
Now, I don't celebrate anybody's death or want anybody to get sick. All life is precious, even if you can't see why, and I try very hard to remember this. But when people buy into the reams of misinformation about getting vaccinated, then clog up the hospitals so that somebody who has a heart attack can't get a bed... that's just fucking irresponsible, selfish, and disgusting. I was told that I'm going to die any minute now because I got vaccinated... I was told my DNA is being rewritten because I got vaccinated... I was told all kinds of absurd, stupid, impossible stuff because I got vaccinated. All from people who actually believe it. And yet here I am. Still.
For people on the fence about getting vaccinated... think about this for a second: If the vaccine was actually dangerous, the government would be giving it to poor people and minorities so they would create heard immunity for the rich and powerful people that own our government. But that's not what's happening. The rich and powerful were first in line to get the COVID vaccination because the government knows it's not just safe... it's UNDENIABLY safe. Know your history. Because if you did, you'll know this statement is 100% accurate.
Here's an article to get you started.
Stop believing the anti-vax propaganda nonsense. Start believing that COVID is the actual danger to you and those you care about, then do something about it. It's free.
I mean, for Christ's sake... Dolly Parton helped to fund the Moderna COVID vaccine, then stepped up to get the jab the minute she was eligible. YES, THAT'S RIGHT... DOLLY PARTON IS SUCH A SAINT THAT SHE REFUSED TO CUT IN LINE EVEN THOUGH SHE EASILY COULD HAVE!
If you can't trust Dolly Parton, who the fuck can you trust?
In other news...
When I got my flu shot today THERE WAS NO CANDY AFTERWARDS! NOT EVEN A SINGLE M&M! I WISH SOMEBODY HAD TOLD ME BEFORE-HAND... I WOULD HAVE REFUSED TO GET IT! NO CANDY... NO SHOT!
Wait a second... maybe THIS is why people aren't getting the COVID vaccine? No piece of candy after? Would the CDC please get on this?!? Could it really be as simple as "I would have totes got the COVID jab, but no candy after, so absolutely not!"
It's worth a shot.
Because the shot is worth it.
Posted on September 21st, 2021

Yesterday I took a COVID test so I could be relatively sure that I wasn't infected before heading back to the office. It seemed the responsible thing to do after flying to Hawaii and back... especially when my throat was a bit sore after the trip. We were as careful as we could be and Maui has some of the most restrictive guidelines in the country, so I wasn't overly-surprised when it came back negative... though the incubation period is up to two weeks, so I'm not completely in the clear.
Not that any of us really are.
Thanks, Delta Variant.
A part of me continues to wonder if I've ever been infected with COVID. It's certainly possible. I was a little sick at the end of 2019, and a lot sick in the beginning of 2020. Was it COVID? I dunno. Washington State was where it is thought to have all started, so maybe. I have no idea how the antibody test works... or even if I could even get one. Probably if I could afford to pay for it. Not that it matters. My pre-COVID life isn't going to magically return if I had it way back when. But I am curious. It would be weird not to be, wouldn't it?
Eh, maybe not.
They are discovering new long term effects of having COVID every day. Perhaps it's best not to know so I don't worry about it. If I do end up with COVID problems... it will be a surprise.
And I'll finally know, at last.
Posted on September 11th, 2021

Flying on 9/11 is an interesting concept, to be sure. Couple that with flying during a pandemic and... well... yeah.
My day started at 3:30am because I had an early flight. This wouldn't have been a problem except my cats sensed that something was going on last night and both of them took turns wanting to be petted. For two hours. So instead of going to be at 9:00pm, it was more like 11:00pm. A smarter person might have locked them out of the bedroom so they could get some sleep, but I think we all know that I'm not that guy.
All things considered, today was an uneventful day.
I don't know what I was expecting my first flight in two years to be like, but it wasn't the smooth sailing I got. Made it to the airport. Got checked in. Made it to Seattle. Got my PRE-CLEAR wristband to get me into Hawaii. Got upgraded to First Class. Had an easy flight over the Pacific Ocean. Easy trip to the hotel. Arrived in time for a nice dinner. If I hadn't had to wear a mask the entire time, this was a trip like a hundred others.
No anti-masker meltdown. Nobody being dragged off the flight in handcuffs. Nobody being an asshole even. Just everybody doing whatever they had to do to get to where they were going.
Nice.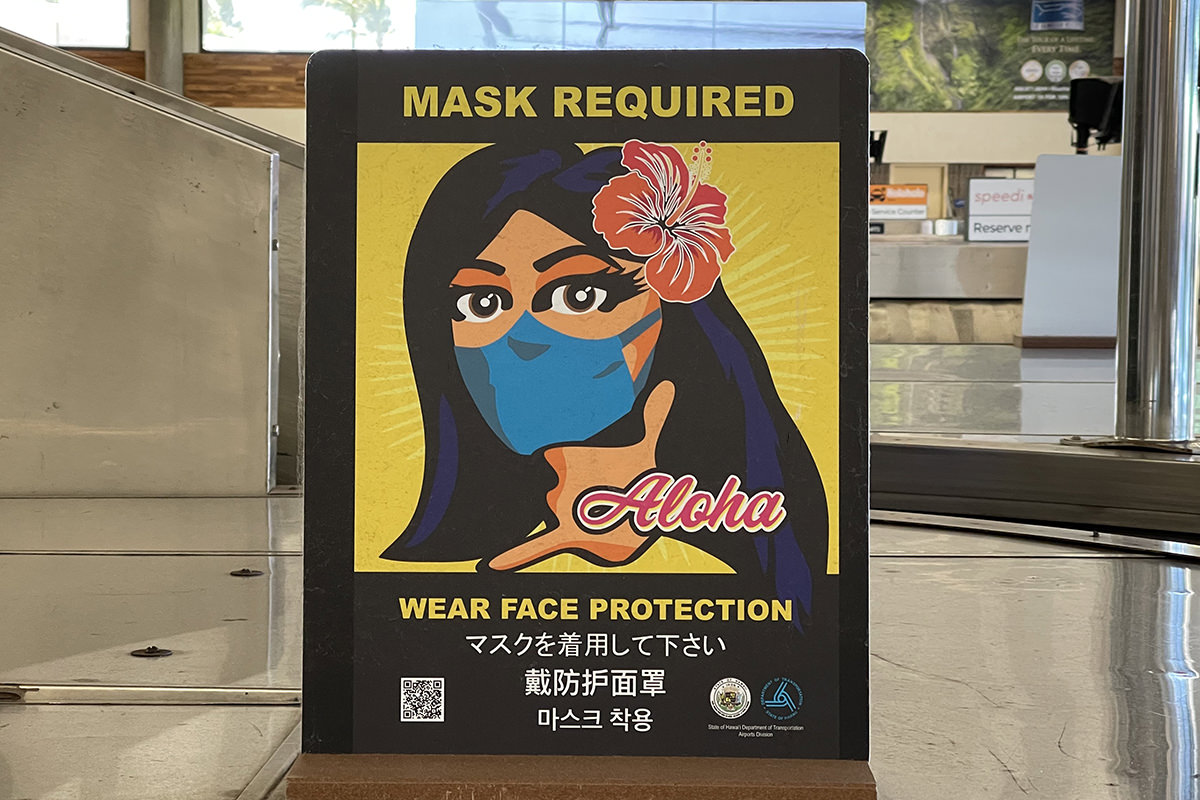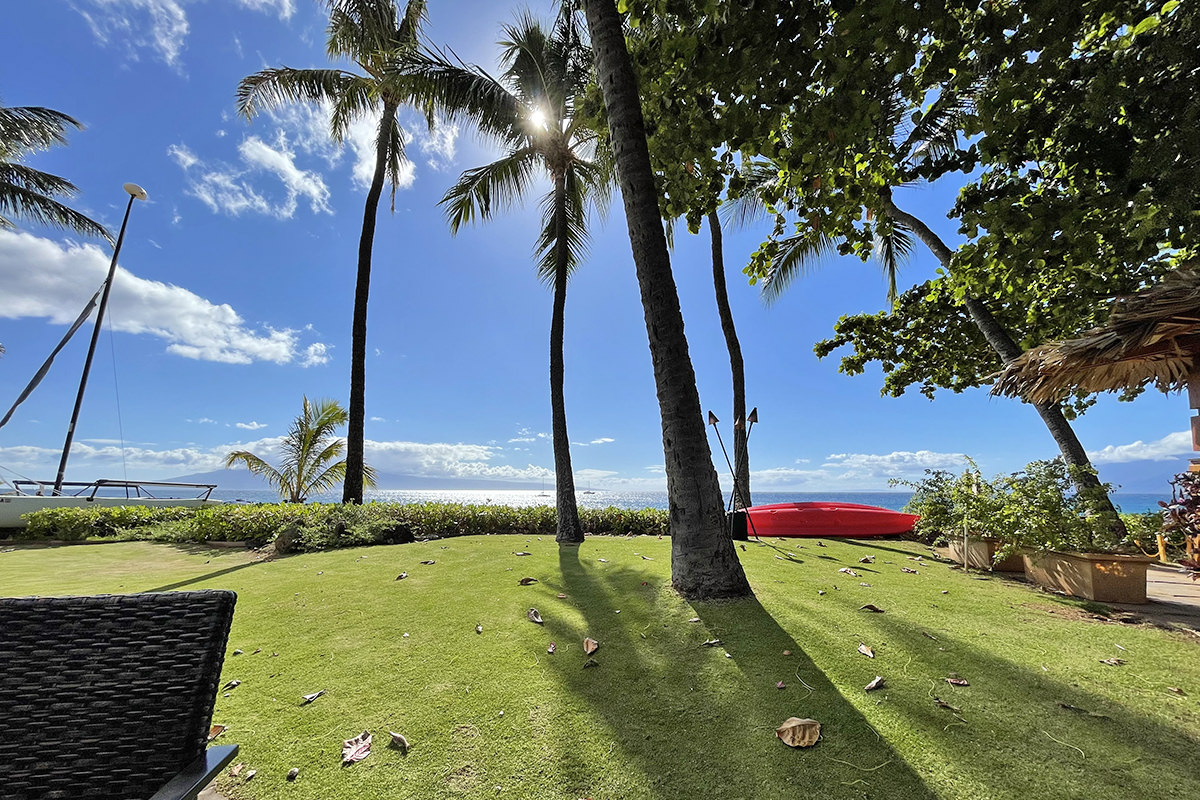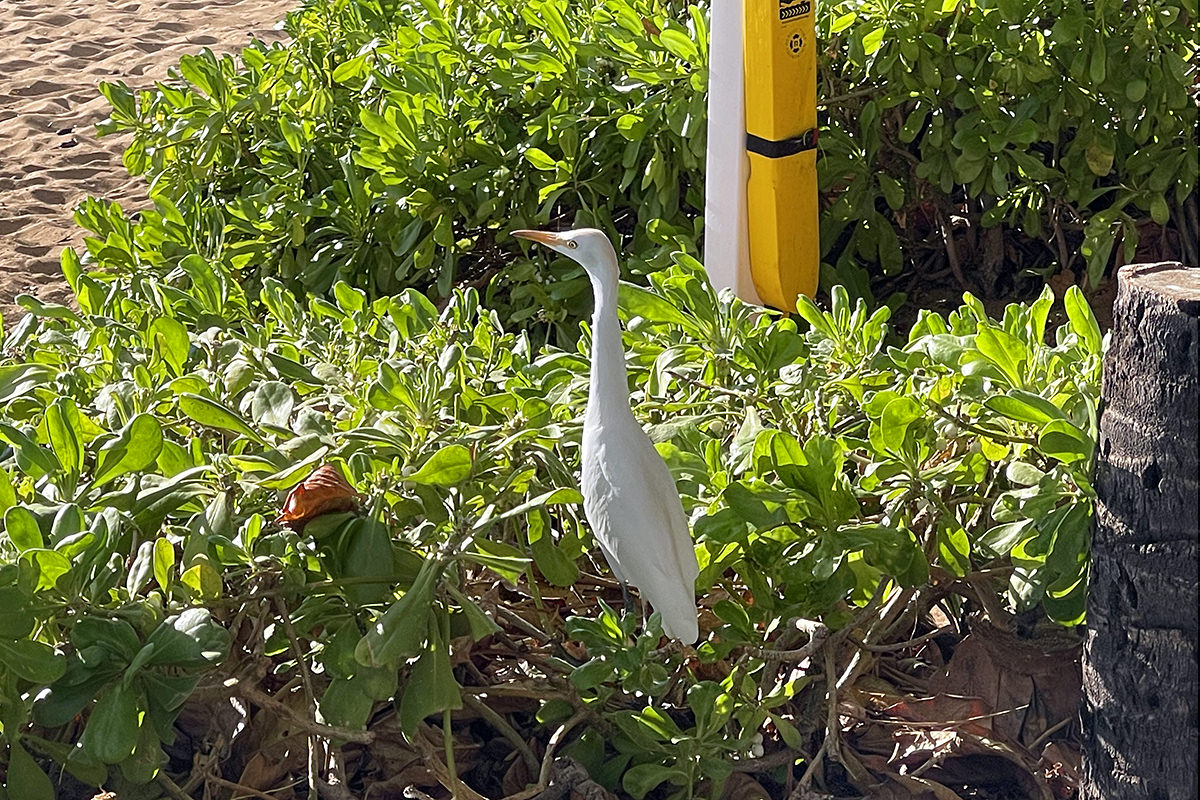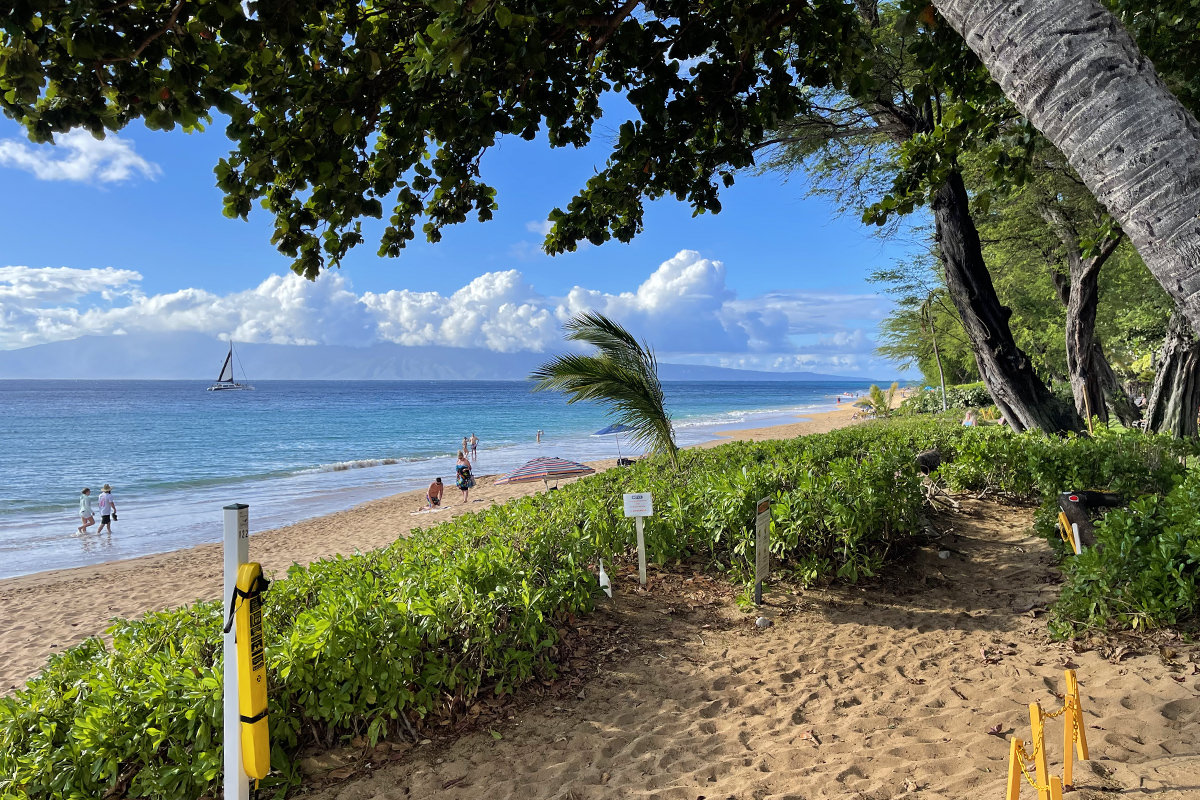 My PRE-CLEAR band managed to survive the trip, so I'm just going to leave it on...
And now for some sleep. It's been a very long day.
Posted on September 10th, 2021

I'm off to Maui for a "celebration of life" ceremony for one of my best friends to scatter his ashes in the waters of a place that he loved. We've had many adventures together in Hawaii. We got certified to SCUBA dive in Maui together. We took a hop over to Kauai to be chased by wild boars... and have even had a guy with a shotgun tell us to get off his property when we made a wrong turn. Along with friends, we've been all over the island, and it only seems appropriate that his ashes end up there.
Originally it was discussed for the Spring of 2020. But COVID. So then the Fall of 2020. Then the Spring of 2021. Then (finally) got planned for Fall of 2021 (which seemed sensible at the time since the vaccine was so widely available... but we all know how misinformation turned that into a fucking shit-show). And so here we are. Getting ready to fly over to Maui tomorrow.
The road to get to The Garden Aisle has been long. And made difficult in order to keep everybody safe as the COVID Delta Variant continues to explode.
In theory, meeting the requirements are a simple matter. But in practice? Not so much.
First of all, Hawaii requires the AlohaSafe Alert app be on your phone and enabled. This is actually pretty smart, because if you've come into contact with somebody who has a COVID diagnosis entered into the system, it will anonymously let everybody know who was in their vicinity. Smart. Assuming people keep it turned on AND enter their diagnosis into the system. Two failure points that will most certainly cause AlohaSafe Alert to be rendered useless. But it's required, so whatever.
Second of all, Hawaii requires a negative COVID test result within 48 hours or proof of vaccination to enter the state... unless you want to quarantine for a couple weeks. I'm vaccinated, so no problem there. I uploaded photos of my vaccination card to the travel.hawaii.gov "Safe Travels Program." No confirmation. No verification. No nothing. Apparently you need a digital pass in order to take care of this on top of the card scans? Who knows.
So I got a digital pass with the VaxYes app, thinking I could link that to Safe Travels. Nope. VaxYes is worthless.
So then I tried to get a CLEAR HealthPass via the CLEAR app. There were some initial problems, but I managed to get it taken care of and linked to my Safe Travels account just fine. Perfect. I can now fly into Hawaii.
BUT THEN... Oahu and Maui announced that they would require negative test results or vaccination proof to eat at restaurants and bars via the state-sanctioned CommonPass. No problem. I download the CommonPass app thinking I can just use my VaxYes, CLEAR, or Safe Travels pass to get that set up. NOPE! In order to use CommonPass, you have to have received a SMART Health Card. But the only way you can get a SMART Health Card is if your vaccination site offered it. My vaccination was from the Washington State Department of Health, and they don't offer SMART Health Cards (of course not... Washington State NEVER is on top of tech shit like this). Which means I have no way... none... of getting CommonPass for eating in restaurants or bars when I'm in Hawaii. Hopefully I can just show one of the other fucking passes I've had to get and that will do. I'll also bring my physical vaccination record card (which is a pain in the fucking ass because whomever designed this stupid shit made sure it doesn't fit in a fucking wallet).
So, essentially, it took two websites, four apps, and my vaccination card to get me this far. And I still have absolutely no idea how any of it works or even if any of it will work.
I guess if I show up in Maui and they refuse to let me in or decide to quarantine me, I'll finally find out that it didn't work.
So fingers crossed.
Posted on August 25th, 2021

Earlier in the week the Pfizer mRNA vaccine received full FDA approval... and a stupid as hell new name "Comirnaty." Boy would I have liked to have been a fly on the wall of that marketing discussion. Because I'm sure if there was an actual marketing professional in the room, they would have objected strongly to branding that sucks this hard. The idea is that the name is a mash-up of "COVID-19, mRNA, Community, and Immunity." Well, yeah... it sounds like a mash-up of too many things trying to do too much. Effective branding is simple and memorable... not a random assortment of letters from different words that sounds like something I would say after drinking a bottle of Jägermeister. This drug is helping to SAVE LIVES and they've shit all over it with idiocy that rivals the whole "New Coke" fiasco.
AND SPEAKING OF NEW COKE...
Coca-Cola Company has taken a dump on my favorite sugar-free beverage... Coke Zero. They've gone and "new and improved it" which is to say that they learned nothing from past mistakes and "New Coked" it...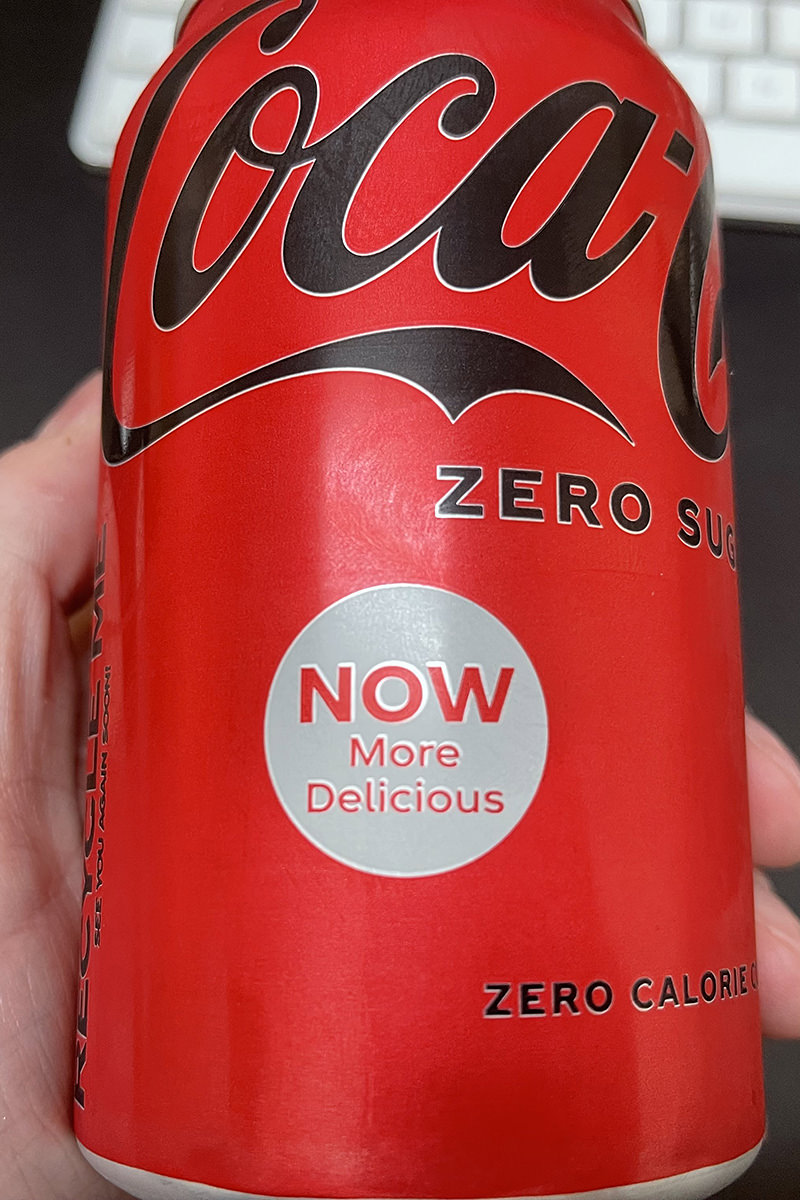 "More delicious?" Are you fucking kidding me? It tastes like shit. It's syrupy, the sweetness is way off, and I'm left with a taste in my mouth that's not at all pleasant. I can't even drink it without food because I don't want to be left with that lingering weirdness on my tongue. But I don't want to drink it with food either. It's an all-around crap product that I hope fails spectacularly. Fuck you Coca-Cola Company, you dumbass pieces of shit. If this is so fucking delicious, then why didn't you change your top-selling "Diet Coke" and leave "Coke Zero" alone?
And the worst part? The can design has changed... but they still have the old 12-pack carton design. Which means I bought 4 cartons of these things without even knowing it. Had they clearly marked the cartons, I would have been more cautious.
Apparently Coca-Cola Company's goal was to create a diet soda that tastes more like regular Coke. Why? If people want the taste of regular Coke, they can just buy regular Coke! Sure it has sugar in it, but it's probably better for you than the chemical sweeteners in diet shit.
Needless to say I am fucking livid, if you couldn't tell.
But back to "Comirnaty"...
I can't help but wonder if the people who didn't get vaccinated because the vaccines were "rushed to release without FDA approval" will now get the vaccine because it's FDA-approved. Probably not. It was just an excuse. They'll find another. It doesn't matter that nothing was actually rushed... that vaccines for coronaviruses have been in research for over eight years... that mRNA vaccine research has been in development for even longer... that all safety protocols were observed and passed in one of the largest human trials ever... and that mRNA vaccines are actually safer that old-style vaccines because all they do is give your body instructions on how to fight COVID by itself, contains no actual viruses, and then fucking disappears... the misinformation campaign has been drummed into people, and that's the end of it. Facts don't matter. Science doesn't matter. Nothing matters except some fucking idiot on YouTube with conspiracy theories that have all been disproven.
We're living in a world where people won't take a safe, FDA-approved vaccine... but will instead wait to get deathly ill from COVID-19 and take horse de-wormer to try and cure themselves. Horse dewormer. Made for horses.
Oh well. According to the dumbasses, everybody who took the vaccine is going to die in three months... in six months... in nine months... any day now... so maybe I'll be lucky and die before drowning in stupid.
And by "drowning in stupid" I mean we get stuck in a perpetual pandemic so the virus just continues to mutate until it kills us all.
And we deserve it.
Well, not me specifically... I got my fuckiing "Comirnaty" vaccinations and wear a mask... but humanity in general deserves it.
God gave us science and discovery so we could understand His miracle of life better... but half of us choose pestilence and death. More often than not in His name. That's an irony that cuts pretty deep.
Posted on August 22nd, 2021

I hate to break it to you, but I'm still blogging here... because an all new Bullet Sunday starts... now...

• Ted! My third time watching the latest Ted Lasso. ALL THEY ARE DOING IS WALKING BY AND COLLECTING NESPRESSO MACHINES AND I AM AM DYING. Each time I go back and watch the player reactions in the background as they're picking up their machines. And this time I noticed that Paul didn't grab one? And if he didn't... then why couldn't Nate have his? And I love how Isaac is a big guy... but carries his with two hands so he doesn't drop it while all bundled up...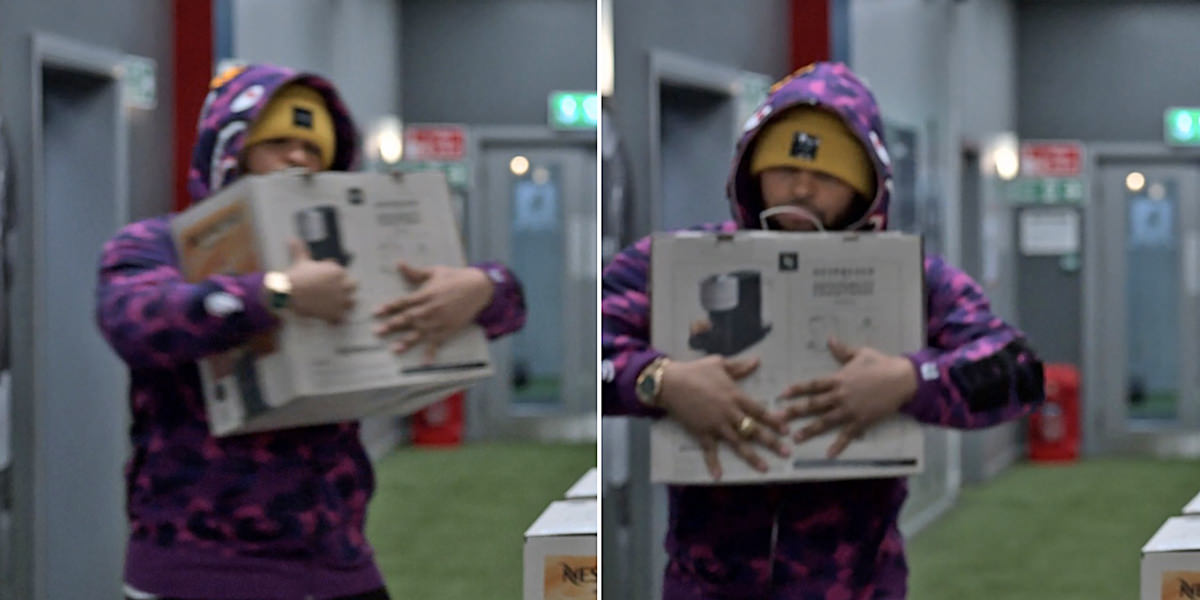 And how Jamie looks like he's trying to figure out what it is that he's getting! BWAH HA HA HA. And this is what I mean when I say that this show just nails the details. Even the tiniest things are well-realized. Oh how I love this show. And then there's Roy...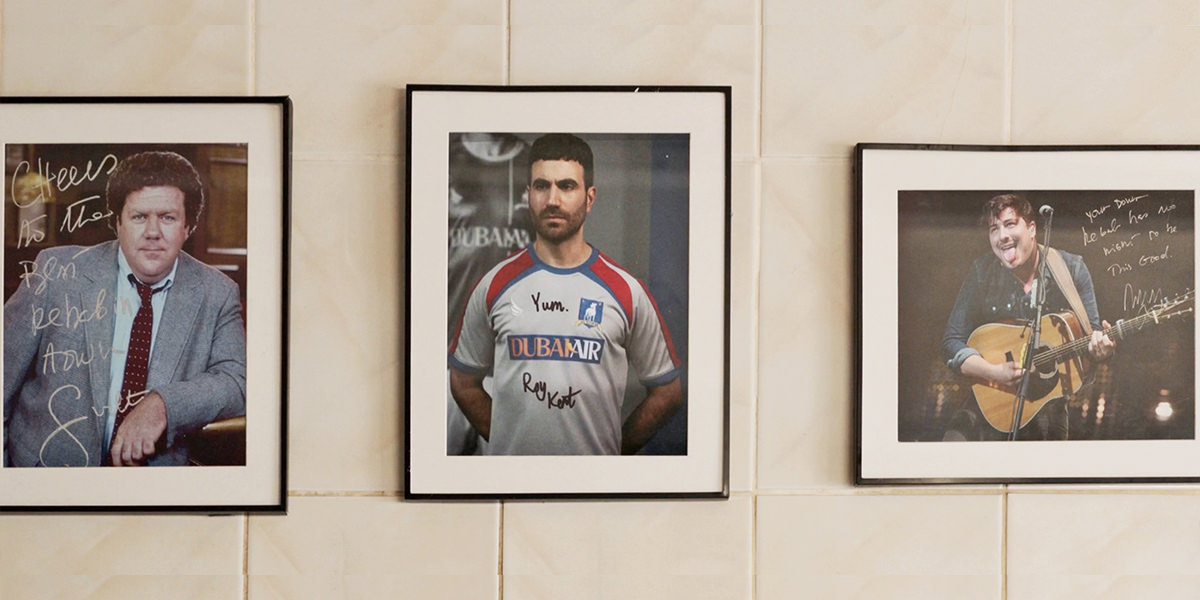 =sigh= Roy Kent is easily my favorite television character of all time and this episode just cemented it. If you are not watching this show... please stop hurting yourself!

• I'll Take a New Host for $500! I guess I was in the minority in that I actually LIKED Mike Richards' job as Jeopardy host. But with all that's come to light about his past actions, I am not sad for him to step down as permanent host. He's not a good choice to fill Alex's tremendous shoes. I suppose that I am also in the minority in saying that I hope Aaron Rodgers gets the gig now...
By the end of his episodes he was relaxed, fun, charming, smart, personable, and let the contestants shine in a way that was a bit lacking with the other hosts. My least favorite was Ken Jennings, but apparently he's the frontrunner? I dunno. I'll still watch Jeopardy regardless... the reason I watch is to see how much I know and learn new stuff. But it would be nice to have a host I like as well.

• Trust! Okay. I don't mind saying that I teared up a little bit... 103 days, and FINALLY the pet seagull landed on his hand!
I swear I've been watching for 80 of those 103 days! Good job buddy!

• I HAVE THE POWER! I was hugely disappointed in the He-Man reboot... but this? THIS HE-MAN?!? Looks awesome...
He-Man for kids that's actually more interesting than the show for adults. Sweet. And it looks visually fantastic to boot.

• A Seldon Crisis! Another Foundation trailer. I'll say it again... this looks spectacular. But it also looks like they made the same mistake that Jupiter's Legacy made. Rather than adapting the original books that people love, they're folding in stuff from the sequel prequels that people don't give a shit about...
And I think we all know what happened to the Jupiter's Legacy series.

• MANDATE! I hesitate over the idea of mandatory vaccines. Sure I believe that employers and private companies should be able to mandate vaccines if you want to work there or shop there or use their service... I support that 100%. If an airline says "We require vaccination for you to fly with us"... well, there you go. You can make a choice as to whether you want to fly with them or work there. What I'm talking about is making it mandatory for people who just sit around the house and hang out with their neighbors in their back yard and stuff. A part of me is like... well, sadly, that's their choice and they'll have to live with it. So long as they mask-up when requested outside their home in enclosed spaces, you do you. Except now the latest COVID wave has gotten so bad that such people are filling up hospitals and infecting kids too young to be vaccinated. It's a serious problem that many people are making decisions for themselves and their family out of ignorance and misinformation. They listen to absolute nutjobs who have no idea what the fuck they are talking about, and it ends up being a public safety risk. This is perfectly encapsulated in this video from The New York Times...
I mean... what do you do here? The people refusing the vaccine are getting deathly sick at a rate monumentally higher than vaccinated people. And they are filling up our hospitals. As it gets worse, a vaccinated person who was careful as they can be who has a heart attack may not have a hospital bed available to them because they're full up with unvaccinated COVID patients. Patients who were given every opportunity to get vaccinated but didn't. How is it fair? I read an article that talked about the very real possibility of unvaccinated COVID patients being cut loose and denied a hospital bed in favor of vaccinated patients. The thought of it terrifies me. But... it certainly seems more fair than shafting vaccinated people who at least tried their best to be safe when it comes to COVID. So I dunno. I am grateful I don't have to make those kind of decisions. But it sure seems unfair that doctors will have to. So-called "death panels" may be coming and it has nothing to do with "Obamacare."

And on that horrific note, I guess we're out of bullets.
Posted on July 1st, 2021

And... just like that... the year is half over.
And on a frickin' Thursday of all days. After having 2020 pass so slowly thanks to a COVID-mandated hallscape, we're back to time flying by again, I guess?
Posted on May 16th, 2021

Feeling lost? Feeling that the internet has let you down? Want to be let down even further? Well have no fear... because an all new Bullet Sunday starts... now...

• BREAKING NEWS! Holy fucking shit... CANADA DOESN'T EXIST, y'all...
I KNEW IT! THANKS FOR THE LIES, NASA!!! This is Antarctica all over again!

• It's a Dip! I had Wavy Lay's potato chips and Rold Gold pretzels with my grandma's dip for breakfast. AND I DON'T NEED YOUR JUDGEMENT! Anyway, here's the non-recipe for the dip ("non-recipe" because it's all to taste, and there aren't measurements I've ever used because I start with small amounts and add more as needed by dipping a chip to taste test as I go)...
One brick of Cream Cheese, set out to soften.
Two heaping tablespoons of mayo.
A splash of lemon juice (to taste).
Garlic Powder or Granules (to taste).
Ground Black Pepper (to taste).
Shredded Colby-Jack Cheese (to taste).
Mash together with a fork until well-blended (yes, it looks like barf, but it tastes amazing!)...
Now, my grandmother used a splash of Worcestershire Sauce (to taste) instead of the Colby-Jack, but when I became a vegetarian, she made a separate bowl without it because Worcestershire contains anchovies that I don't eat. It tastes great without, but something was missing. I tried adding a lot of different spices and other stuff to try and replicate the original and was about ready to give up… when my (now-ex) girlfriend said that it would be good with cheese in it. So I tried all kinds of cheeses… but it was Shredded Colby-Jack I liked best. Medium Cheddar is also very good. Yes, yes, I know it looks awful… but this is my most favorite dip ever.

• Hello Victor! I was recently re-introduced to the theme song from Hulu's Love, Victor, the sequel series to Love, Simon...
Such a pretty pop track. A little surprising that it's so short! Two minutes and forty-eight seconds is all you get.

• Arena! Wait... Magic the Gathering: Arena was released for iPhone back in March and nobody told me?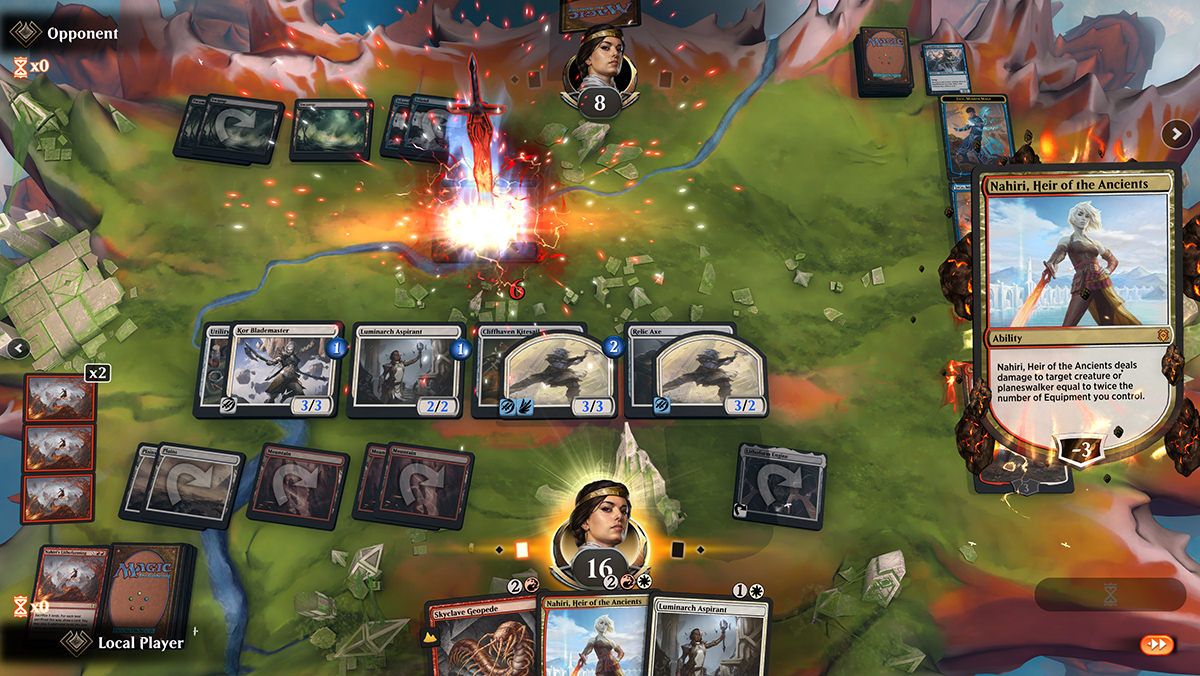 It looks and plays beautifully. And, unlike Magic The Gathering Online, it seems more geared towards casual play. But do I really want to get back into the game that financially wrecked me in the early 90's? Turns out it's actually not that expensive to play... IF you're content to grind your way through games to earn coin. If you just want all the good cards right away, then you'll have to spend real cash. I barely have time to play a game of Minecraft Dungeons each day. But maybe a quick game of Arena before bed is in the cards for me? Guess I'll have to tap my land cards to find out.

• DEER! I constricted the event trigger area for my back yard to just my patio because it was being triggered by raccoons too often, but a neighbor told me that the deer are back, so I extended it. And, sure enough, they wander by every day in the early morning. If you look closely, you can see some out in the field in addition to the one that walks across my back yard...
I don't know where they come from or where they go, but they graze in the field then leave. Really hope they don't get hurt... wherever they go.

• WHAT! Wait... Saturday Night Live is funny again?
Keegan Michael Key was the guest-host, and this disturbing take on The Muppet Show was funnier than it should have been given the violence against a Muppet...
Dang. Poor Statler! Serves him right, I guess?

• FUCK! The fact that people are THIS stupid should not still surprise me. But here we are...
Oh yeah! Because I just LOVE wearing a mask! We all do! Just LOVE it!
The CDC saying that fully-vaccinated people don't have to wear masks indoors is fucking stupid too. It's supposed to incentivize people to get vaccinated. But all it's actually going to do is cause anti-vax dipshits to lie and say they're vaccinated so they don't have to wear a mask any more... which is something they never wanted to do in the first place. Well, I'm fully-vaccinated. But people who are vaccinated can still get COVID and may not know they have it because their immune system has been programmed to attack it... which means they can still pass it to others. So I'm going to continue wearing my fucking mask inside public places so I'm doing my part to keep COVID deniers out of the fucking hospital. You know, in case I get a heart attack and need to be in the hospital or something. Jesus Christ. The people most pissed off about COVID precautions and restrictions ARE THE PEOPLE RESPONSIBLE FOR MAKING IT LAST SO LONG! Hope you break a dick.

And I am done. No more bullets for you! (which is probably a good thing given my rage level right now).
Tags:
Bullet Sunday
,
COVID Deniers
,
COVID-19
,
Deer
,
Food
,
Gaming
,
Music
,
Recipes
,
Saturday Night Live
,
Television
,
TikTok
,
Video Games
,
Videos
Categories:
Bullet Sunday 2021
,
Food 2021
,
Music 2021
,
Television 2021
—
Click To It:
Permalink
—
4 Comments: Click To Add Yours!
Posted on May 11th, 2021

No amount of facts or science will convince an anti-masker that they are FULL. OF. SHIT. Even their legal arguments are fucking stupid... just as they are. Believe whatever the hell you want to believe, but businesses have the right to refuse service if you aren't wearing a mask and they require it, just like they are able to have you arrested for trespassing. Don't want to wear a mask? Afraid to wear a mask? Order online. Order curbside pickup. Or just stay the fuck home. We just don't give a shit about your drama...
Legal Dad is so great. His take-downs on absurd bullshit are always worth watching. Like this one about voter fraud nonsense in my home state of Washington...
I mean... I've changed my signature twice. I developed my first signature when I first started having to sign stuff. This is how it looked when I got a checking account, registered for the draft, got a driver's license, and registered to vote...
Eventually I found myself losing my middle initial and changing the "II" after my name to "2"...
And do you know what happened? THE COUNTY CLERK'S OFFICE CALLED ME IN TO SIGN A NEW VOTER REGISTRATION CARD SO THAT THEY COULD VERIFY MY BALLOT!
Eventually I changed my signature again so that I could write it faster (I sign my official stuff differently than what you see below... this is how I sign my artwork... but it's kinda-sorta in the same vein as this Mickey-Mouse-looking thing)...
And do you know what happened? THE COUNTY CLERK'S OFFICE CALLED ME IN AGAIN TO SIGN ANOTHER NEW VOTER REGISTRATION CARD SO THAT THEY COULD VERIFY MY BALLOT AGAIN!
But I guess all these stupid rumors by hucksters and liars are all anybody cares to listen to anymore, not actual experiences by actual people telling the truth about shit.
Between the anti-maskers, anti-vaxers, COVID-deniers, voter fraud conspiracy theorists, flat earthers, anti-science dumbasses, and all the rest... I am just so fucking tired. Can I go to sleep until Star Trek times happen?
Posted on May 10th, 2021

My official "Vaccination Complete" date was last Wednesday on Cinco de Mayo. That was two weeks after my second dose. It was my intent to go out for dinner... sitting down in an actual restaurant... but it never ended up happening. I watched television with Jake while drinking margaritas and Pacifico.
But tonight was the night.
Now that my sister and I are on the vaccinated train, she stayed over last night... the first time in a year-and-a-half... and we decided to celebrate by going out to dinner. It was so wonderful. The last time I ate out in a restaurant was probably early December 2019, and I forgot how nice it is to leave the cooking to somebody else and just enjoy being out of the house again.
Afterwards we went to a favorite Redneckistan bar for beer and pulltabs. Oh... and I played video-trivia games! I for 100% certain caught COVID from touching the screen for an hour, but it was worth it because I got high score!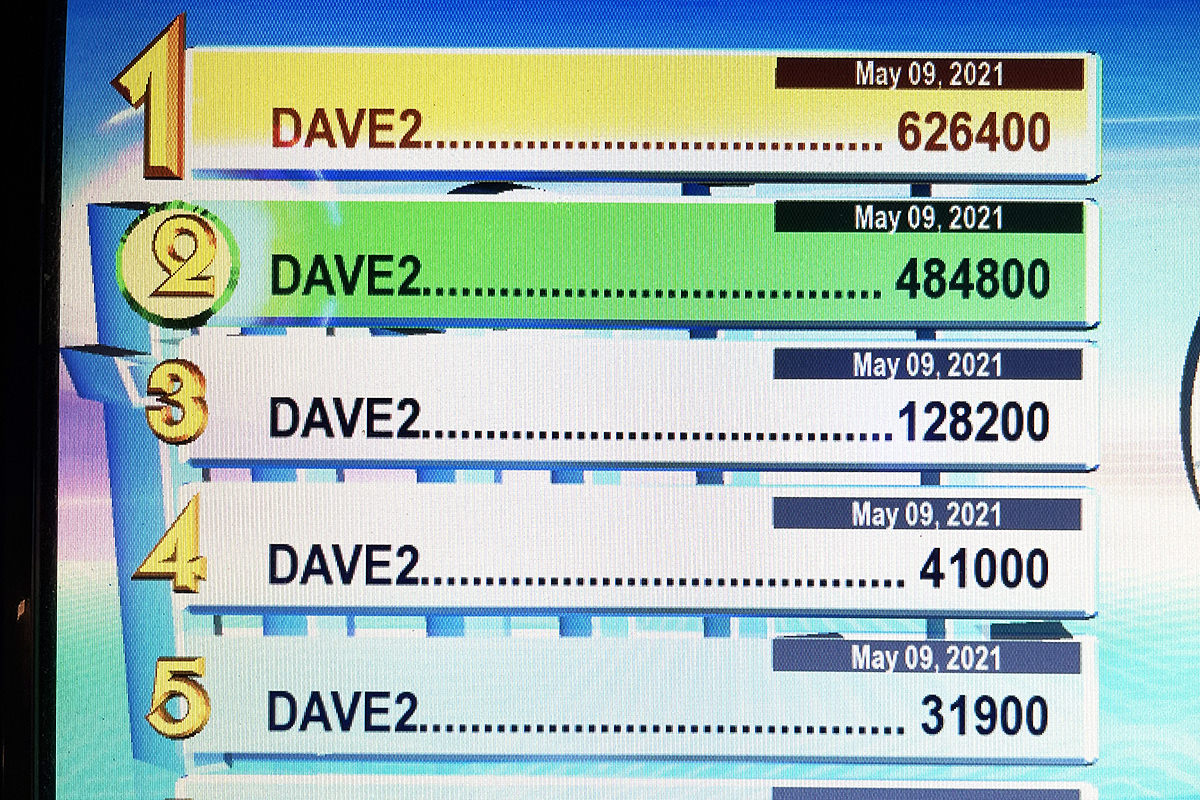 It's a strange feeling having people in my house again. Before the pandemic, my home was a revolving door of houseguests and good times. During the pandemic it was just day after day after day of me and my cats watching television.
Life is not "back to normal" yet. Probably won't be for years. But it was sure nice to get a glimpse of "normal"... if only for one evening.