Today's word in the TWENTY/TWENTY meme is "rock."
And it's kind of strange exactly how many ways that this word can be interpreted for a photo meme like this. It's music. It's a stone. It's a motion. It's an assault of the senses. It's a lot of things.
But the first thing that came to mind was when @CopaseticBeth and @HoustonsProblem were nice enough to take me to Stone Mountain, which happens to be the biggest rock on earth. It's indescribably massively huge... and yet most of it is buried, so you're not even seeing all of it. As you look down from the cable car, people are like ants on the thing...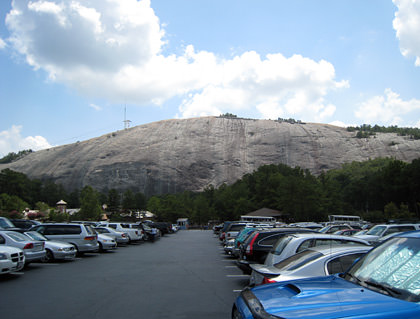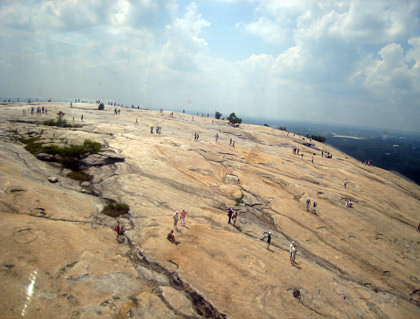 What probably should be first in my mind is the Hard Rock Cafe, seeing as how I've been to 128 of them around the world...


In other news... something which doesn't rock today would be Wonder Woman's new costume. Writer Michael J. Straczynski apparently desired a tougher more modern look, and wanted to address fan outrage over Princess Diana not having pockets. So what do we get? Wonder Woman as a biker chick, complete with retro 80's mini jacket, throat choker, and latex pants. It's apparently a more feminist approach to the character's look, but I'd argue that with her tits hanging out of that jacket and all those prominent ass shots, it's a giant step backwards for woman-super-hero-kind...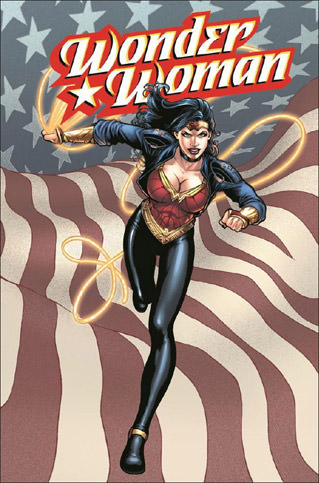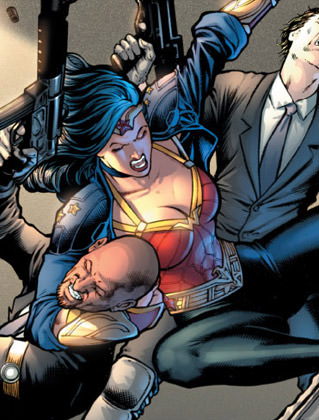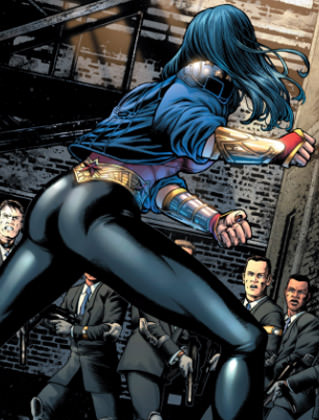 Wonder Woman is one of the most powerful heroes in the DC Comics Universe. She's a frickin' AMAZON WARRIOR! She's the equivalent of Marvel Comics' Thor, for heaven sakes. She is not a biker chick! Want to make her tougher? Just add armor and big-ass weapons to the iconic costume she already wears, like George Pérez did...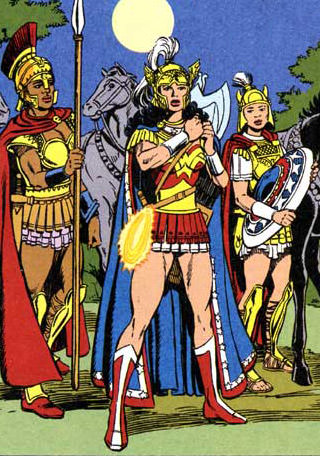 And then there's that giant battle-axe she carries. Would you fuck with somebody who was packing THIS...?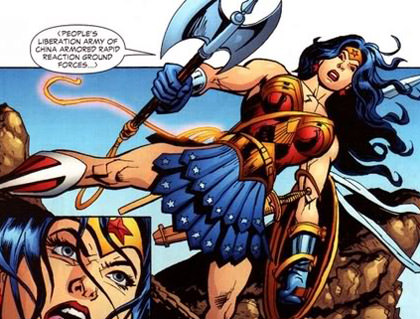 It doesn't get much tougher than that!
I admit that I am interested in what Straczynski has planned for the character, but don't feel the costume is that great. It's neither memorable nor iconic... and is a complete disservice to Wonder Woman's roots as an American hero. George Pérez did a masterful job of reinventing Princess Diana of Themyscira back in the 80's, but this time it smells of desperation, looking kind of cheap and sad... like she's wearing Black Canary's 80's era hand-me-downs or something.
Oh well. Something tells me it will not last...