I am posting this at 11:11 on 1-1-11 because it seemed like a good thing to do.
When it comes to New Year's resolutions, I'm pretty boring because I have the exact same New Year's resolutions every year. The same five goals going on for heaven only knows how long. This year is no different, except I am working on some projects which will definitely add some excitement to my 2011. More on that later.
Here's my score card for fulfilling my resolutions in 2010...
Try a Pop-Tart flavor I've never had before

. DONE! Vanilla Milkshake. I agree with Poppy... truly horrible.

Travel somewhere I've never been before

. DONE! Traveled to Alkmaar, Bucharest, Prague, Malta, Tunisia, Corsica, Portofino, Monaco, and the Amalfi Coast.

Visit a Hard Rock Cafe I haven't seen before

. DONE! Visited Malta Cafe, Valletta Bar, Albuquerque Hotel, Tulsa Hotel, Hollywood Blvd. Cafe, Berlin 2 Cafe, Prague Cafe, and Bucharest Cafe.

Drink a beer I've never drank before

. DONE! I drank several new beers, but the most memorable was the Watermelon Wheat Beer by 5 Seasons West in Atlanta.

Get another Apple product

. DONE! iPhone 4, Apple TV, iPad (which I gave to my mom).
Here's hoping that the Pop-Tart people keep making new flavors so I can fulfill my resolutions again this year!
And now for what's new this decade...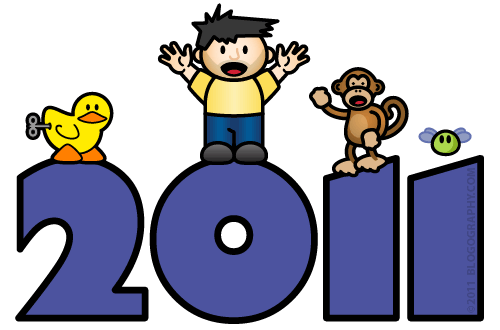 I work. A lot. And while it's work I love, the fact that it's non-stop and never-ending has sucked most of the joy out of what I do. This year I am trying to rediscover the joys to be found in creativity by coming up with projects just for me. Five new projects to go with the same five resolutions I do every year. Five projects centering around stuff I like to do, but don't get to do so much any more...
Collecting Hard Rock stuff.
Creating DaveToon products for Artificial Duck Co.
Writing fiction.
Drawing pictures and comics.
Keeping secrets.
And here we go...
DAVE'S FIVE PROJECTS FOR 2011
• The Hard Rock Project. I owe the Hard Rock Cafe a huge debt for continuing to inspire me to travel to new places. When I think of all the awesome cities I've discovered that I would have never visited if not for a Hard Rock being there, my gratitude knows no bounds. Coming up with a project to celebrate my love of Hard Rock collectibles wasn't easy, but then I saw my closet packed full of their T-shirts and the HARD ROCK 100 PROJECT was born. For 100 days I'll be wearing a favorite Hard Rock T-shirt from my collection and sharing the photo both on my DaveCafe fan site and my DaveCafe Flickr feed. Here is Day One (which you can read about by clicking on it)...

• The Artificial Duck Project. After losing my T-shirt printer, twice, I kind of let the Artificial Duck Co. store languish for a year. That's going to change. I've been working on some new T-Shirts and will be getting that set up at yet another printer soon. But that's not all... more totally sweet crap you can't live without is being planned and should be appearing this Summer.

• The Writing Project. After being invited to RW's house for pizza and plenty of good conversation, I realized that I wanted to start writing again. I used to write stories all the time, and loved the escape I got from it. But then my blog kind of took over all my writing time and I stopped. This Spring that's going to change in a big way. You'll be finding out all about it sometime in March.

• The Drawing Project. Before computers took over all my design work, I used to draw, paint, and even sculpt. Don't get me wrong, I love designing on the computer, but it's not the same as "getting your hands dirty" with a pencil and a drawing pad. Proving that one thing leads to another, The Writing Project led to me finding The Drawing project. It's been a lot of fun, and should also be debuting in March.

• The Secret Project. Yeah, this one is going to take a while... most of the year, in fact. I'm waaaayyyy over my head this time. And loving every minute of it. So far.

And that's it. Plans are already in motion.
Here's to an interesting 2011.