Gatlinburg, as it were, is a charming little town on the entrance to the Great Smokey Mountains. The fact that it has turned into a tourist destination worthy of Disney-esque envy is beside the point. The traffic getting in and out of the area is murder. Three lanes of automobile hell guaranteed to drive you mad.
Even when DollyWood is closed for the season.
And that's a shame, because I would absolutely go! But anyway, once you finally reach Gatlinburg, you'll be treated to a cozy little Hard Rock that is one of my all-time favorites...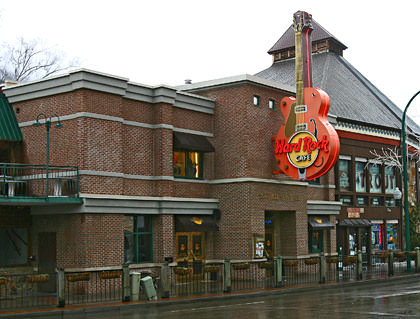 As you can see, I somehow angered the rain gods, because it was pouring the entire two hours I was in town. This is kind of a pity, because one of the reasons I wanted to return here was so I could get a better photo of the exterior (my previous trip was at night - which means that, until now, this was the only Hard Rock property I had not seen in daylight).
Oh well. My veggie burger and chocolate shake were excellent, so it was worth the seven hours out of my way to visit. At least, that's what I tell myself as I sit here in my big-ass Buick LeSabre rental car watching the rain fall so heavy on the windshield that I can't see out. It's going to be a fun 3-1/3 hour drive to Nashville!