I make it a point to keep up with every Hard Rock Cafe that opens in the USA so I don't risk having a property close before I can get there (like Aspen). The latest cafe to open is located inside the Four Winds Casino in New Buffalo, Michigan. Lucky for me, it's just a short hour-and-a-half drive from Chicago, which made it ridiculously easy to rent a car and drive on over.
The Hard Rock Cafe Four Winds is directly off the main casino floor on the west side of the building...
I was shocked at how big the place is. Larger properties always worry me because the capacity can be hard to fill, which means it's more likely to close down...
The style of the cafe is kind of hard to pin down. It has elements from the shitty "new-style" cafes that look like some kind of hipster lounge... but it's been mercifully toned down to a more classic look. Even better, there's quite a bit of rock memorabilia, which has been badly lacking in the "new-style" properties...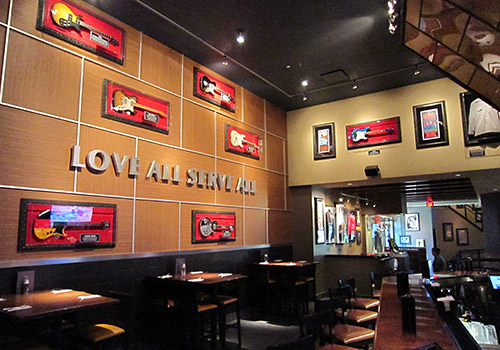 Overall, a pleasant surprise. Not as great as the older properties which helped to define the "Hard Rock look," but a drastic improvement over the later properties that have been popping up.
As for the Four Winds Casino itself... it's absolutely beautiful. Gorgeous wood construction and accents make for a warm, earthy feel. They then artfully blended in some very nice stone work and tribal decorations. I was very much impressed...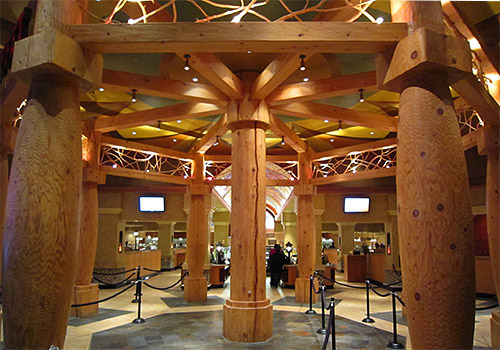 The rest of my day was spent doing something I absolutely hate... shopping.
But I don't have much choice, because my tennis shoes are falling apart and I need some clothes for my upcoming trips. My favorite place to shop for shoes is a Nike Factory Outlet, and my iPhone told me there just happened to be one in nearby Michigan City. A mere 20 minutes from the casino (but not actually in Michigan as the name would imply, instead it's in Indiana).
Pulling into town, I was greeted by a big surprise...
Holy crap! That's really close to civilization for a nuclear power plant! But then I recalled a trivia question asking which states don't have nuclear power, and remembered that Indiana was one of them. Turns out it's a cooling tower for a gas & coal plant.
Anyway...
The selection at the Nike store was pretty bad. Almost every style I'd be willing to wear was in crazy colors I wouldn't be caught dead in. This was really disappointing because I love the way that Nikes feel on my feet. Instead I ended up going to the Adidas Outlet Store, which was a blessing in disguise because they were having a store-wide 30% off sale. This was in addition to the already discounted close-out prices, which meant I got two really nice pairs of shoes for $60 instead of the $170 they originally retailed for. Heaven only knows I love a bargain, so this was a great start.
Unfortunately, my plan to buy a bunch of shirts and pants was doomed to failure, as most everything I found that I might wear was either not in my size or more money than I was willing to pay. After four hours of looking at two different malls, I finally gave up after finding only two shirts. This sucks ass, because it means I'm going to have to go shopping again when I get home.
I eventually got back to O'Hare around 6:00, which would have been a perfect opportunity to head into town for some awesome Chicago food. But I was so exhausted that I just couldn't bring myself to do it. I'd blame my tiredness on all the driving, but I know darn well it was the stupid shopping that wore me out. I just cannot fathom how there are people who actually go shopping for fun when, to me at least, it's the ultimate torture.
Much like the KIA Soul I was stuck with from the rental car company. This is the third time I've ended up with one, and they make me insane. Not because they're bad to drive... on the contrary, they handle just fine. It's the BLIND SPOTS in the rear corners that are fucking insane...
Just like the KIA Soul I got when I was in Hawaii, I was constantly freaking out over not being able to see in one of the most important places that a driver needs to be looking when changing lanes. An entire car... hell, an entire semi-truck... could be hiding there and you'd never know. So instead you have to be overly-reliant on your rear-view mirrors and tiny back window, which is hardly the safest way to drive. It's as if KIA fucking wants you to crash into another car... it's the only thing that explains such idiotic design.
I can't believe that these things are legal. I have an even harder time believing that car rental agencies actually buy these things knowing how difficult and dangerous they are to drive.
And now I suppose I should try and get some sleep since I have to fly out early tomorrow morning. Oh how I wish I could have taken a later flight. But the price was quite a bit higher, so it is what it is.
Here's hoping the pilots are more awake than I'll be.