The Hard Rock Hotel & Casino Hollywood, Florida is an impressive property, and it isn't even done yet! Apparently they are adding another 1000 rooms, a shopping court, and Hard Rock Live venue as well. In comparing it with other HR Hotels I've been to, it kind of falls short... for now. It doesn't have the grandeur of Las Vegas, the class & history of Chicago, the fun attractions of Orlando, or the sheer magic of Bali going for it, but it is still a heck of a fun place to spend your time...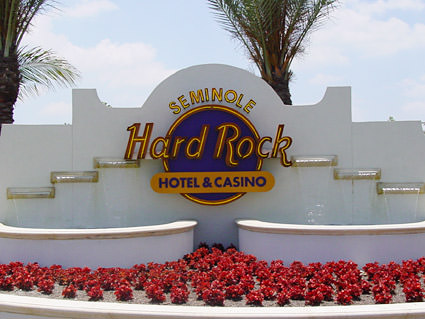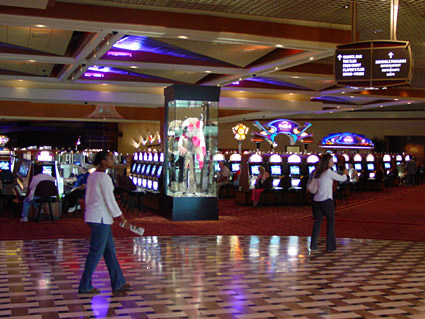 When I arrived my "King-Style" pool-side room wasn't ready, so they upgraded me to a "Ruby Suite" at no extra charge. The room is amazing, but pretty ugly... I like "eclectic" but the hodgepodge of random colors, patterns and textures is a bit overboard...
The sense of humor that makes Hard Rock resorts so entertaining is everywhere. This is my favorite...
Sadly, the cafe is built into the hotel instead of being a separate building. I hate it when they do this, because the cafe does not have a separate identity outside of the hotel...
The interior is kind of boring... just a square room... but the nifty slatted rafters and the HUGE memorabilia wall is great...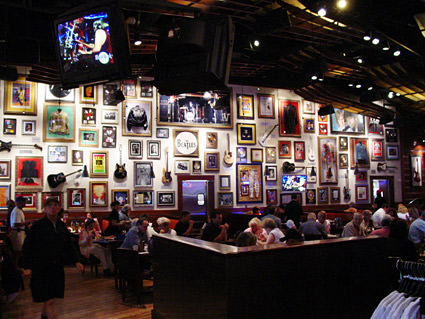 I'm not much of a gambler, but it would be a shame not to go play the slots while I am here, so I suppose I am off to lose my hard-earned money. Wish me luck.